This spicy and savory Masala Oatmeal is absolutely comforting! It's a flavorful breakfast/brunch with an Indian twist. Its is simple to make and is a healthy vegan porridge.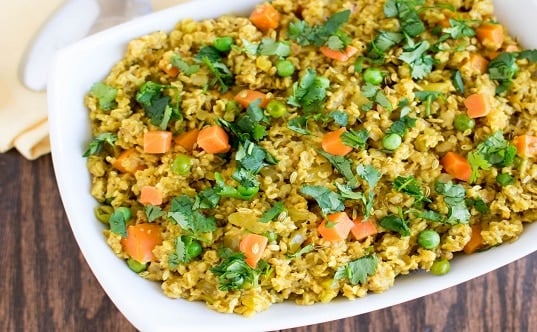 I loves oats in many forms whether it is sweet or savory. However, since I believe in eating healthy I decided to convert my favorite Maggi into masala oats.
It took me a while to get the exact taste and flavor but when I nailed it, this savory oats was my best lunch.
My husband who is a traditional food lover also loved it and finished his bowl.
I have worked on many oats recipes like peanut butter overnight oats, oats and chickpeas pilaf, blueberry oatmeal cookies, carrot oatmeal breakfast patties.
However, this Indian style oats recipe is our favorite and absolutely frequent in my home.
Infact, my toddler has gotten the hang of it and she loves it too.
Its a simple one pot recipe where I have used spices from the pantry. At the same time I have used absolutely simple and very handy vegetables that we usually have in our freezer or refrigerator.
Therefore, today I am here to share this my family's favorite masala oatmeal recipe with you all.
Ingredients you will need:
Olive oil
Fennel seeds
Garlic
onions
Veggies
Turmeric powder
Cumin powder
Dry mango powder (amchur)
Chili powder
Garam masala
Water
Old fashion/steel cut oats
Salt
Cilantro (to garnish)
I have used these easily available ingredients which you may buy from any local grocery store. However, I have provided links to few of them here for your convenience.
If you plan to buy from these affiliate links then I get a small commission which in turn encourages me to bring in more delicious recipes for you all.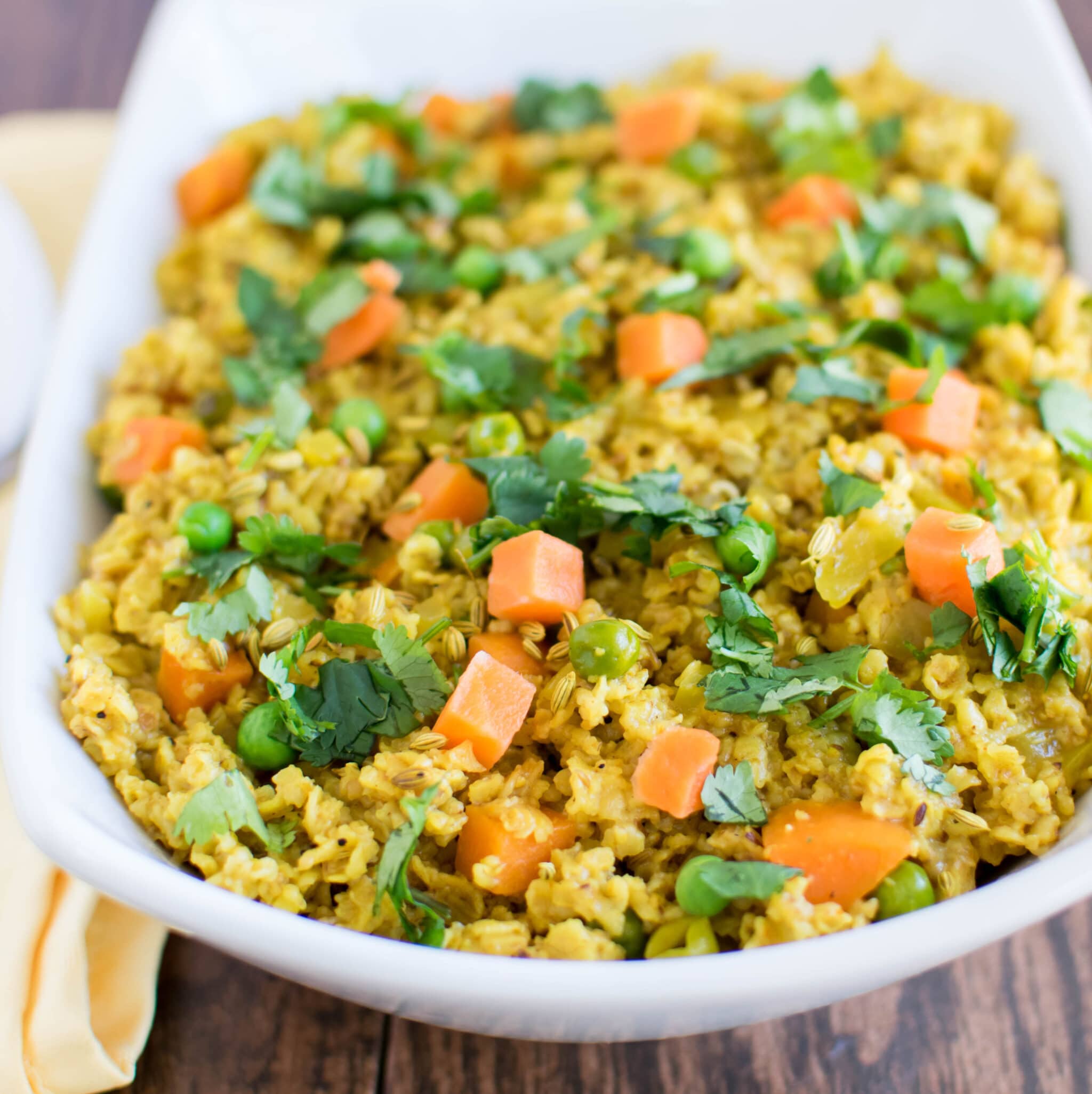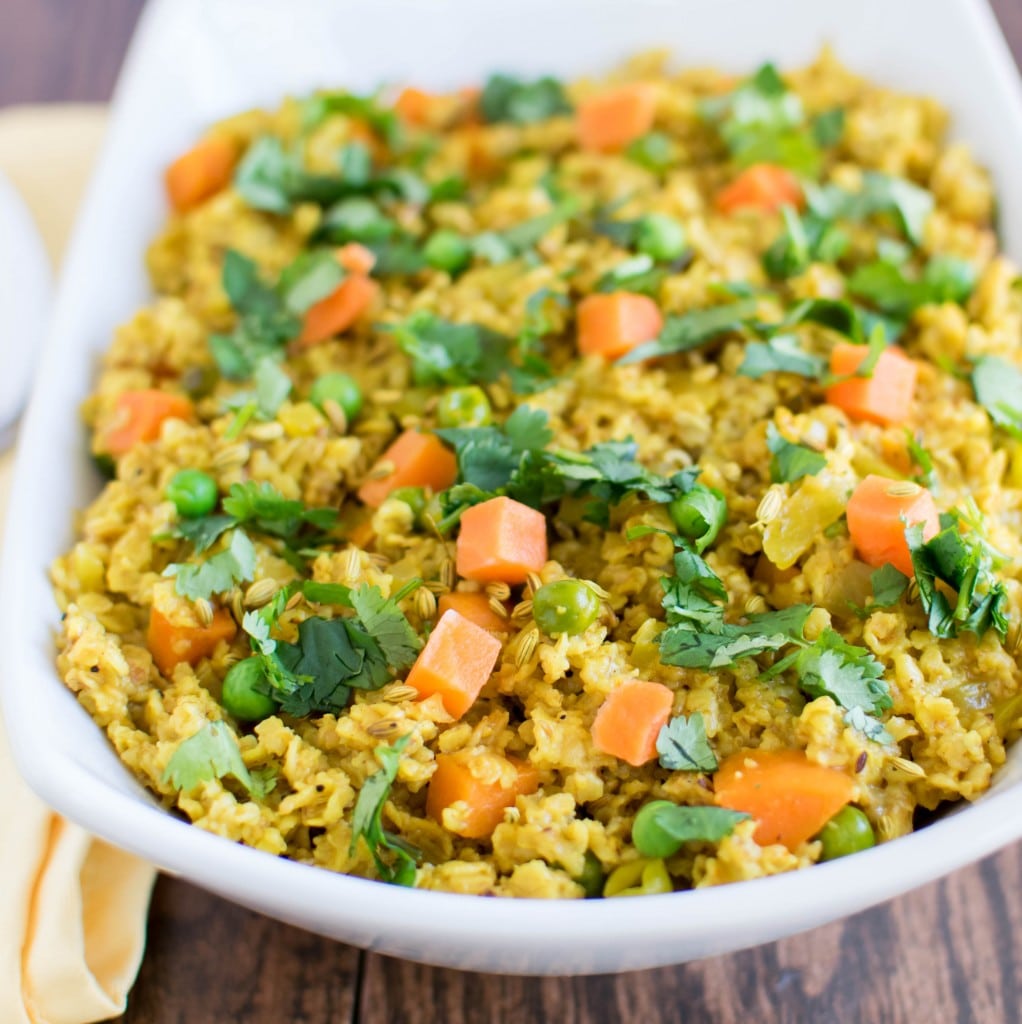 Ingredients notes:
Olive oil – any oil of your choice can be used in this recipe. I used olive oil because its healthier comparatively.
Fennel seeds – its called saunf in India and is easily available in many households. I used its raw form which bring out great flavors here.
Dry mango powder – this plays an important role here to bring out the tangy and spicy flavor which complements other spices very well.
Garam masala – it gives a finishing touch to this spicy oats recipe and is important to add in here as in mentioned quantity.
Oats – I personally prefer old fashioned oats. its chewy yet cooks faster and brings out a nice texture. However, steel cut oats also works great here.
After going through the ingredients in details I am sure you must be excited to get started with it.
So, I insists you to quickly read through the steps and make it in your home. Its aromatic and satisfying all year round.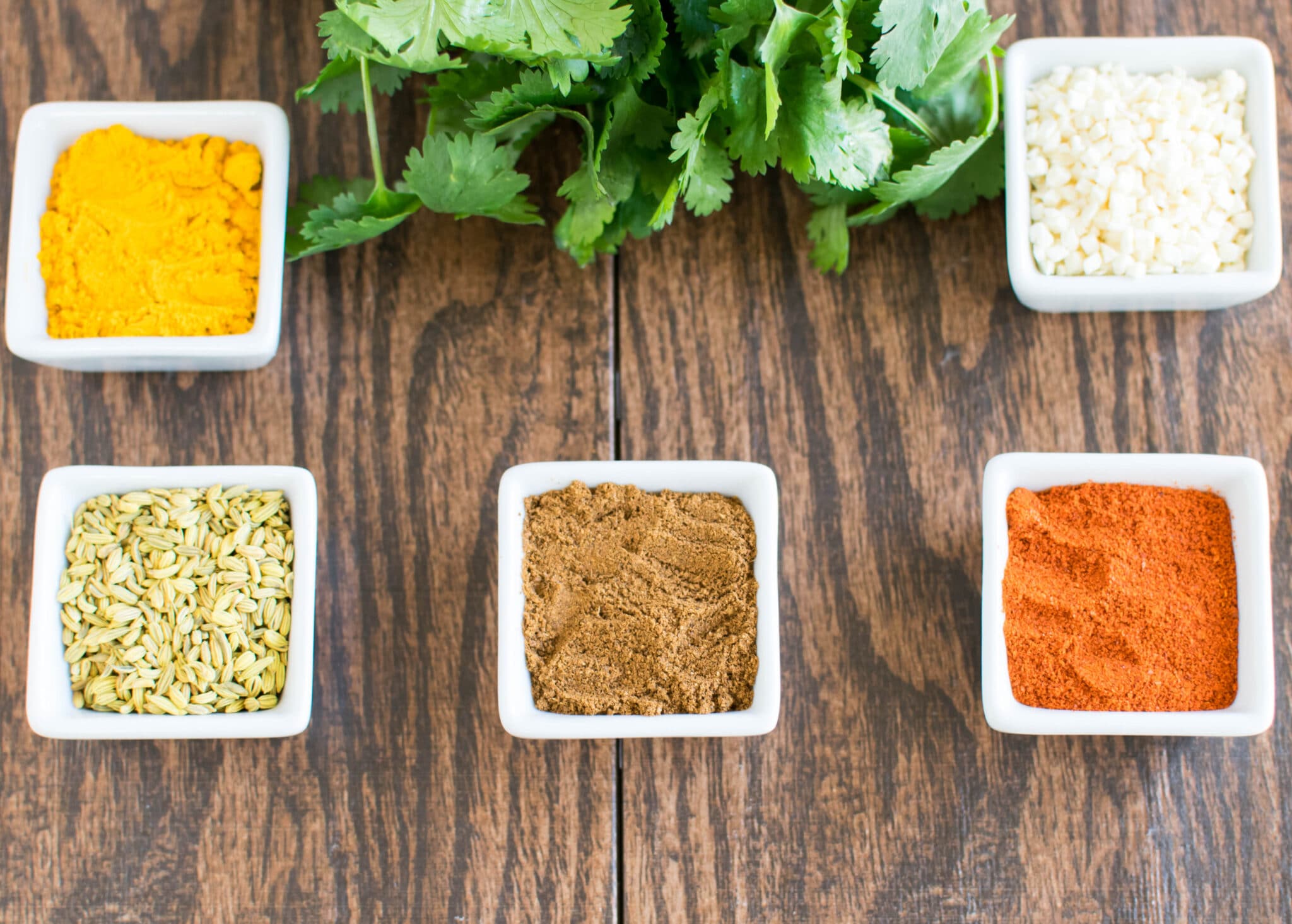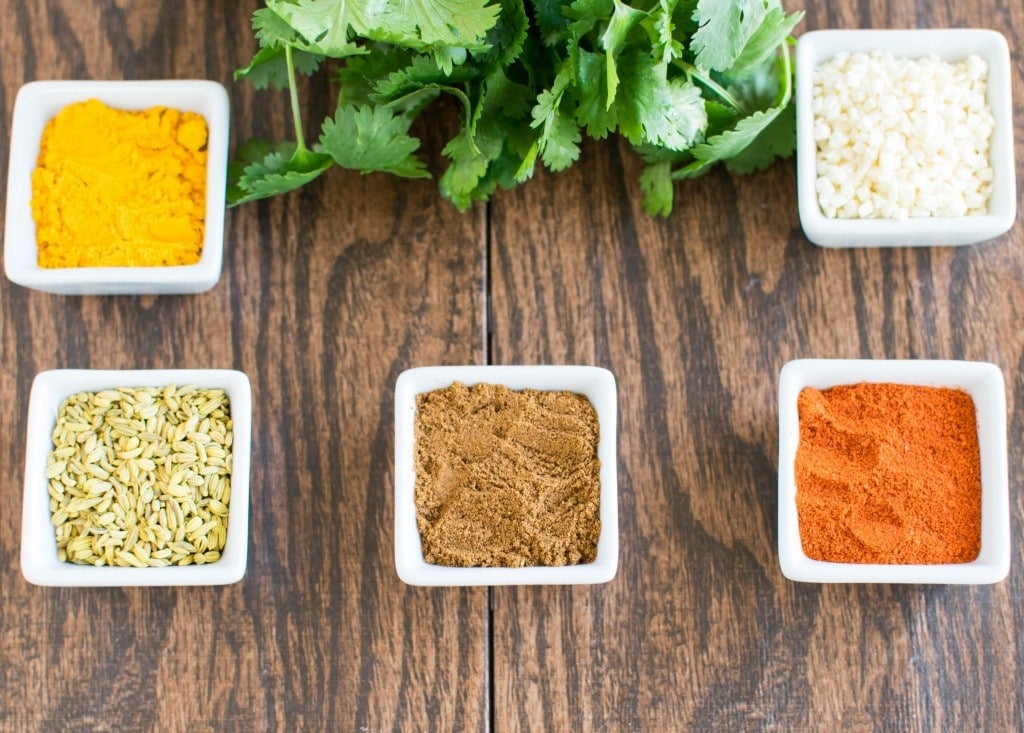 How to make Masala Oatmeal
Step1: how to dry roast oats
Firstly, I warmed up a nonstick pan on a medium flame and sautéed oats in it for few minutes or until it started to brown.
After that, I quickly turned off the flame and removed from heat. Then, i kept it aside to cool down.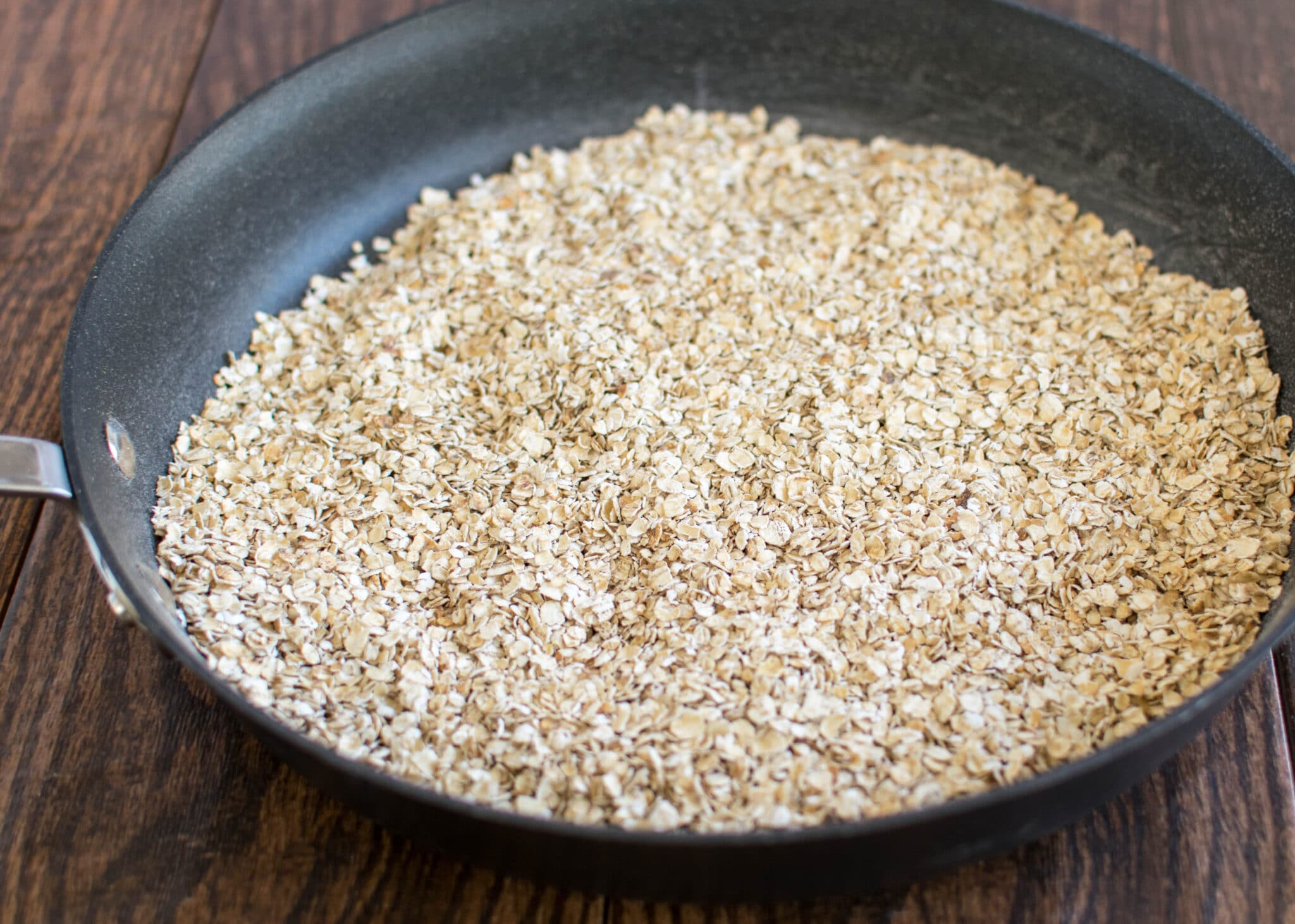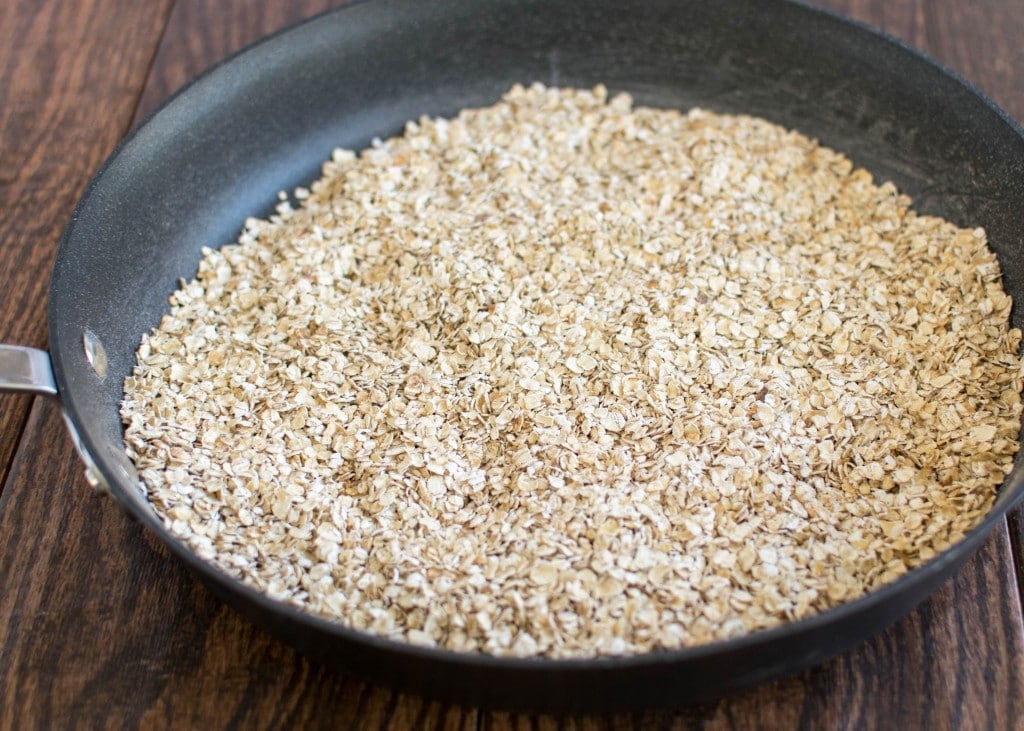 Step2: how to cook
Firstly, I heated oil in a saucepan and flavored it wiht fennel seeds and garlic.
Secondly, I sautéed in onions and vegetables until they were cooked proeprly.
Thereafter, I tossed in all the spices and mixed well.
Afterwards, I added water to it along with roasted oats and salt. Then, I let it cook covered until oats started to thicken. You may turn it off and serve if you like porridge consistency.
I liked it in a drier pilaf form so I cooked it a bit more. Then, I mixed it and garnished with cilantro and enjoyed it hot.
It had such great flavors and was absolutely divine in every bite.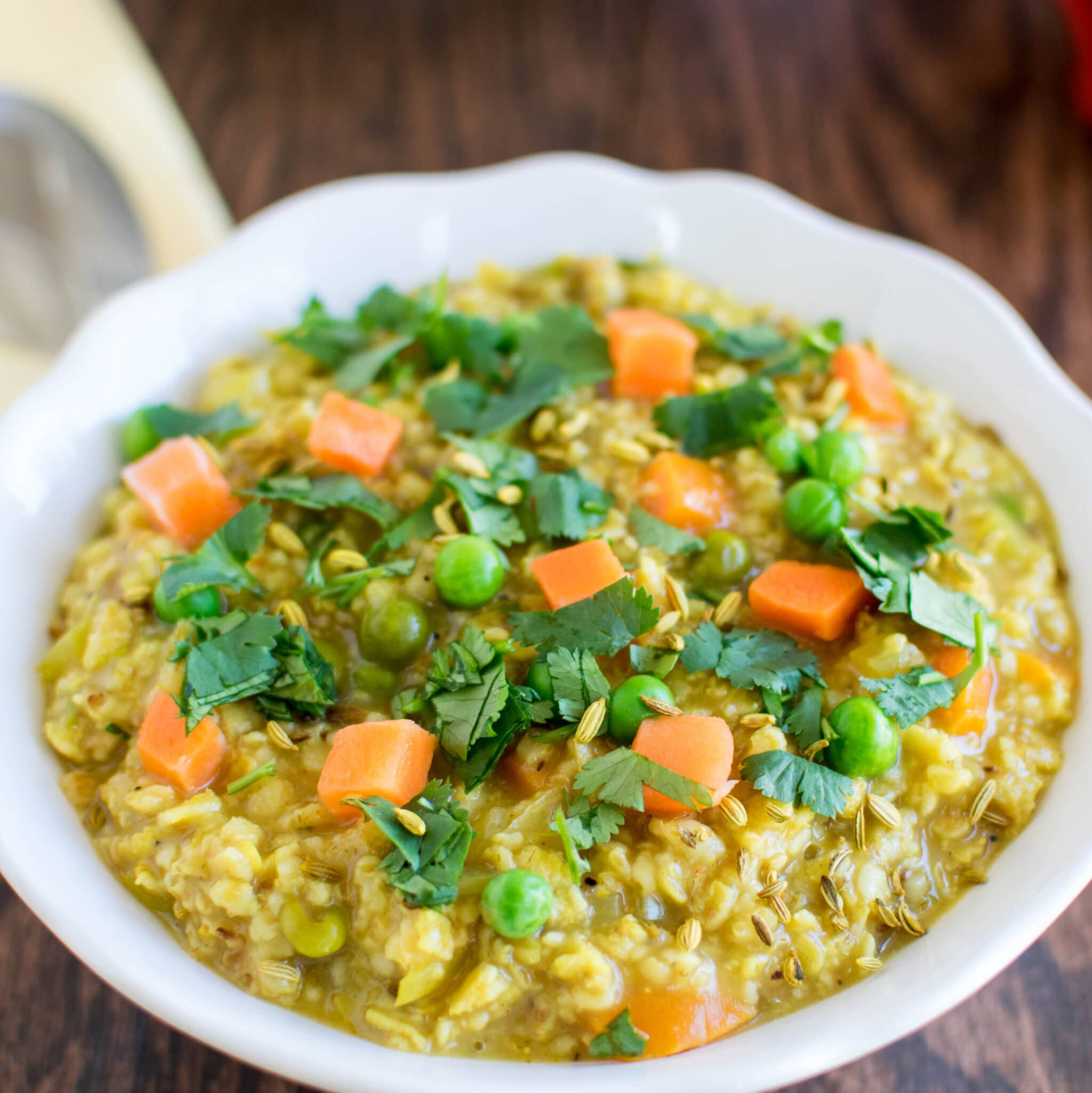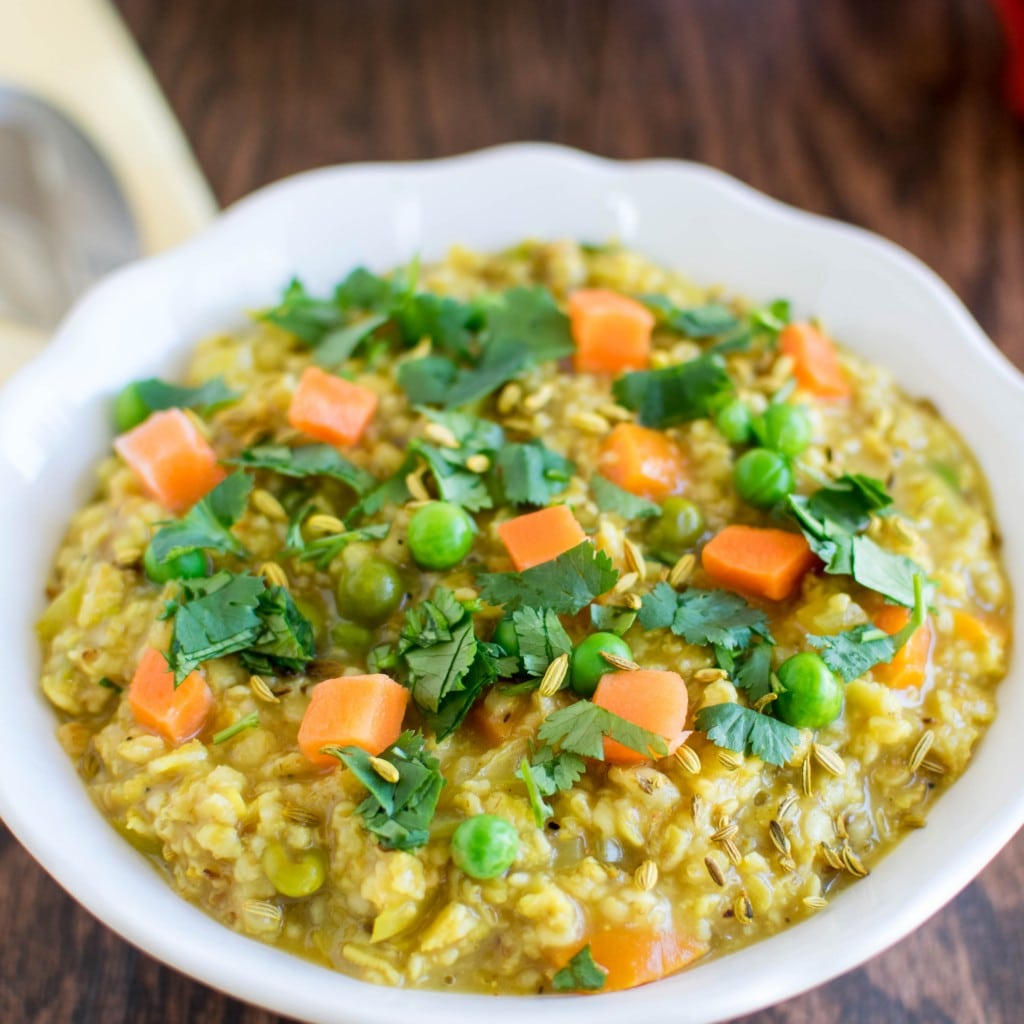 Even if you are a beginner with oats or are still figuring it out this recipe is a must try.
I am sure you will love this vegetable oats with your family. So get started with it ASAP and enjoy its deliciousness.
My other recipes that you may like:
Carrot Cake Overnight Oats
No Bake Coffee Oats Energy Bars
Turmeric Tofu Oatmeal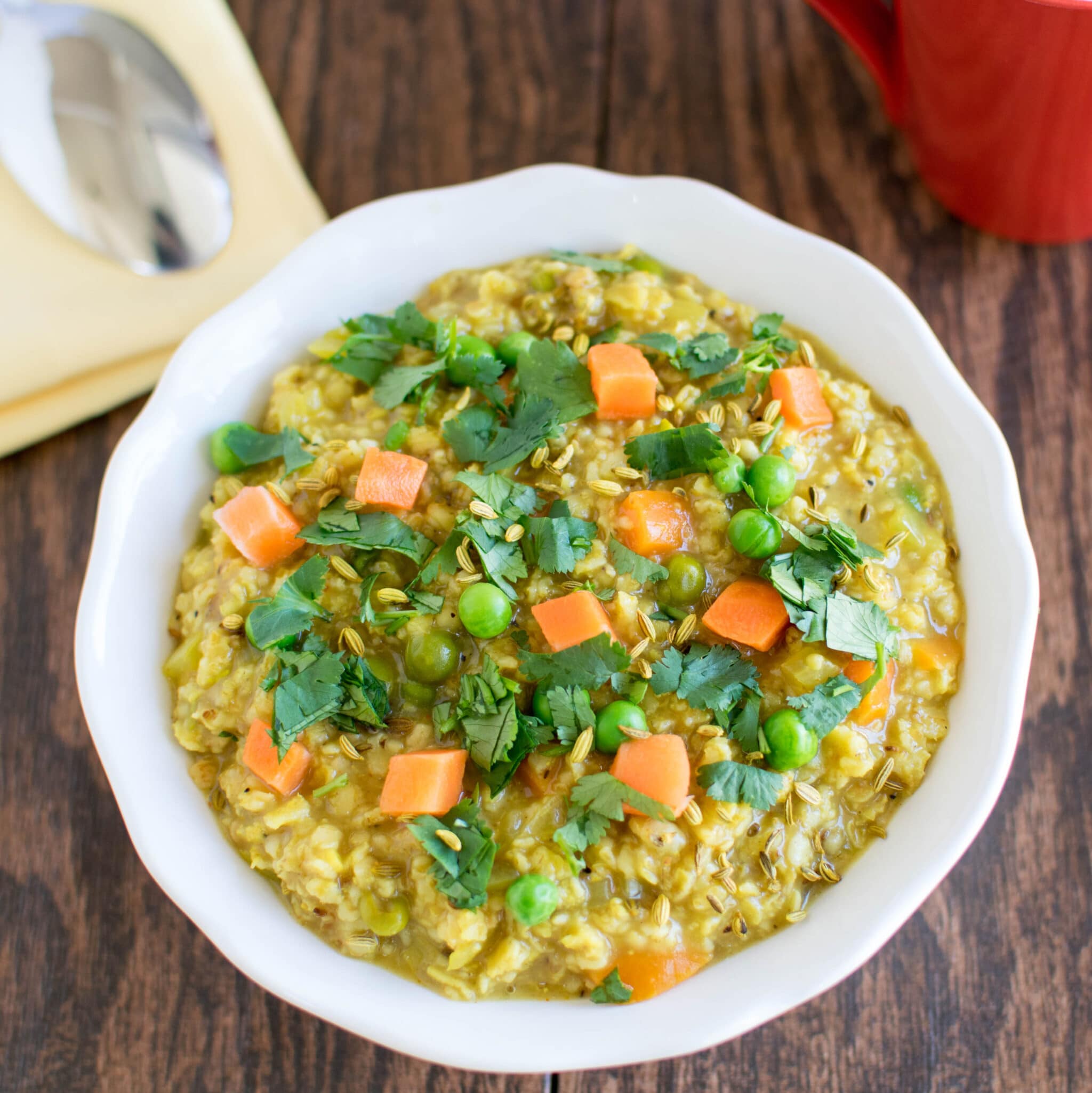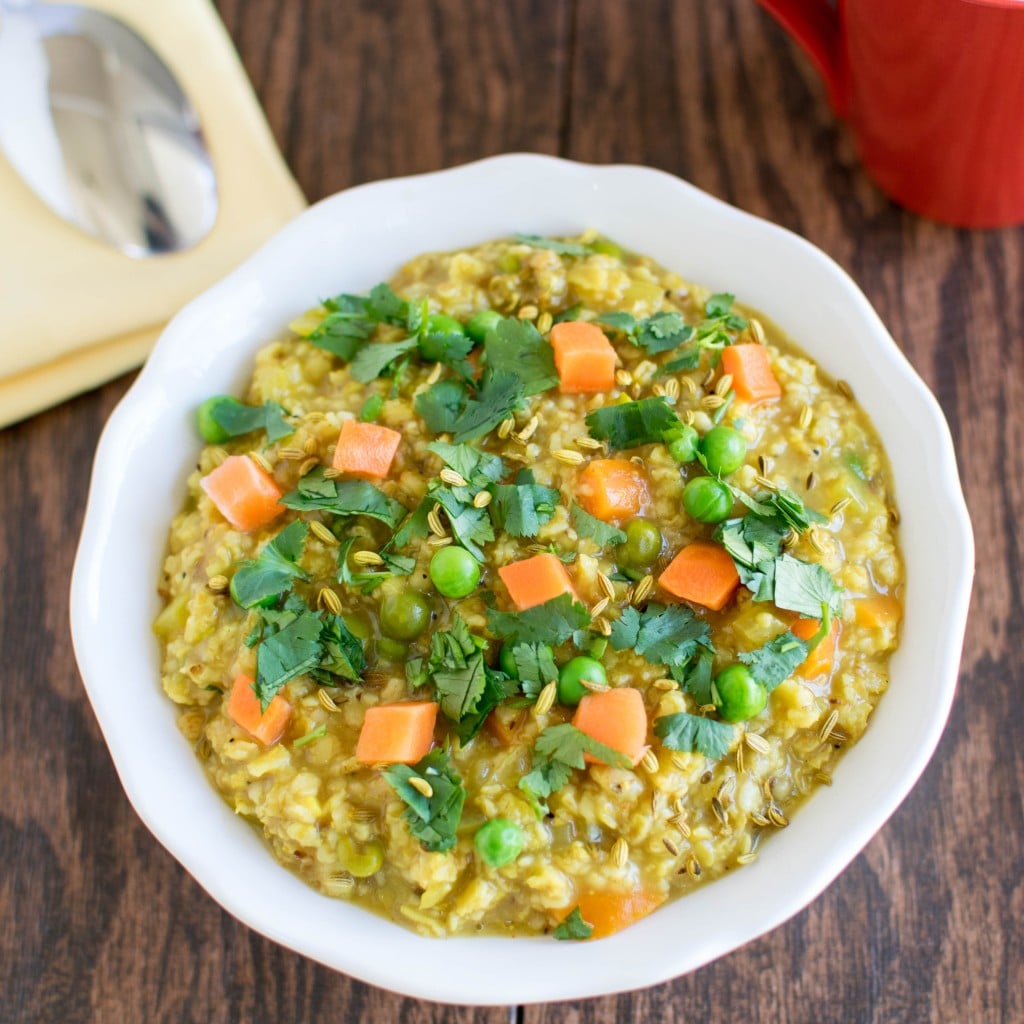 Masala Oatmeal FAQs
How long does it last?
This recipe tastes best when served immediately. If refrigerated, oats tends to soak up all the liquid.
What type of oats should I use for this recipe?
I personally like old fashion oats. However, instant oats or steel cut oats can also be used here. But the cooking time may vary.
Is it healthy?
Yes! Oats are high in fiber and has complex carbohydrates. it is also rich in other nutrition and is a low GI food ingredient. I have used very little olive oil to it so as to add healthy fats and tossed in lots of vegetables to add to its nutrition. The spices are mostly antioxidants. Therefore, Overall it is healthy and can be enjoyed frequently.
Did you make it?
If you get a chance to make this recipe then please leave your feedback in the comments below along with a 5-star rating. In addition you may tag @kiipfit on Instagram with your recipe remake images because we love to see what you cooked.
You may also checkout my cookbook for everyday comforting vegan recipes.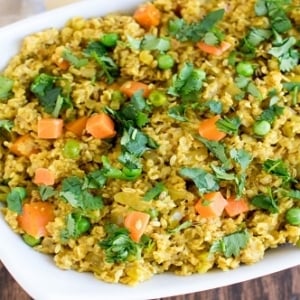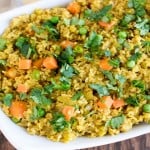 Print Recipe
Masala Oatmeal
This spicy and savory Masala Oatmeal is absolutely comforting! It's a flavorful breakfast/brunch with an Indian twist. Its is simple to make and is a healthy vegan porridge.
Instructions
Heat oil in a nonstick sauce pan. Add fennel seeds and garlic. Just when garlic starts to brown add onions and saute until translucent.

Add peas & carrots, turmeric powder, cumin powder,dry mango powder (amchur),chili powder, garam masala and saute well.

Cover and cook until carrots are tender for 2 minutes.

Now, add water, oats, salt and stir.

Let it cook covered on a medium flame until it thickens. Stir at intervals to avoid sticking to the bottom of the pan. Once it reaches the porridge consistency open the lid and stir again. Let it cook uncovered for only 1 minute.

Turn off the flame, garnish with cilantro and serve immediately.
Notes
Feel free to adjust the spice level according to taste.
For a pilaf form or drier oatmeal start with 6 1/2 cups water. For thinner consistency add 1/2 cup warm water and adjust the seasonings while cooking again for 30 seconds.
To dry roast the oats –  Just heat a non stick pan and saute oats for few minutes until it starts to brown a little. Make sure its not completely brown. Turn off the flame just when the browning starts.
Nutrition
Calories:
258
kcal
|
Carbohydrates:
44
g
|
Protein:
11
g
|
Fat:
5
g
|
Saturated Fat:
2
g
|
Sodium:
110
mg
|
Potassium:
36
mg
|
Fiber:
2
g
|
Sugar:
1
g
|
Vitamin A:
297
IU
|
Calcium:
95
mg
|
Iron:
2
mg