This spicy and savory Masala Oatmeal is absolutely comforting! It's a flavorful breakfast/brunch with a twist on stereotype oat recipes.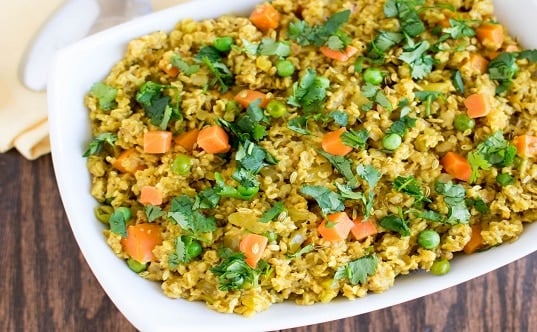 Few years back I thought that oatmeal can be consumed only sweet and except for Sundays I hate eating sweet breakfast. It makes me feel lethargic. But Sundays are different; they are bound to be lazy.
When I started blogging, I started with some dessert recipes of oatmeal. Never thought that I would be able to create my very own savory oatmeal recipes. I am happy to share another savory oatmeal recipe which I derived the idea from my childhood days when I used to eat Maggi/Top Ramen. Good old days. 🙂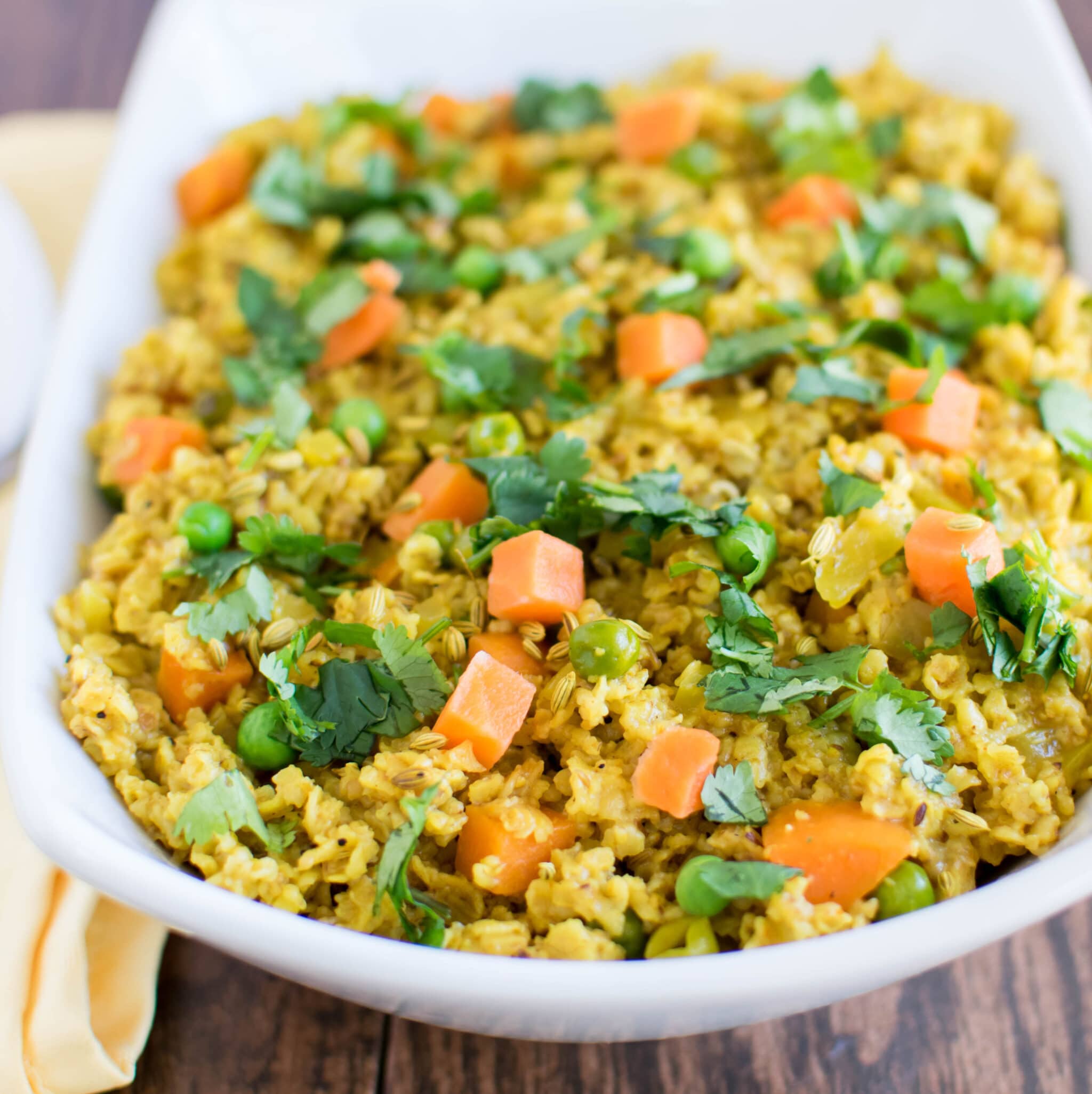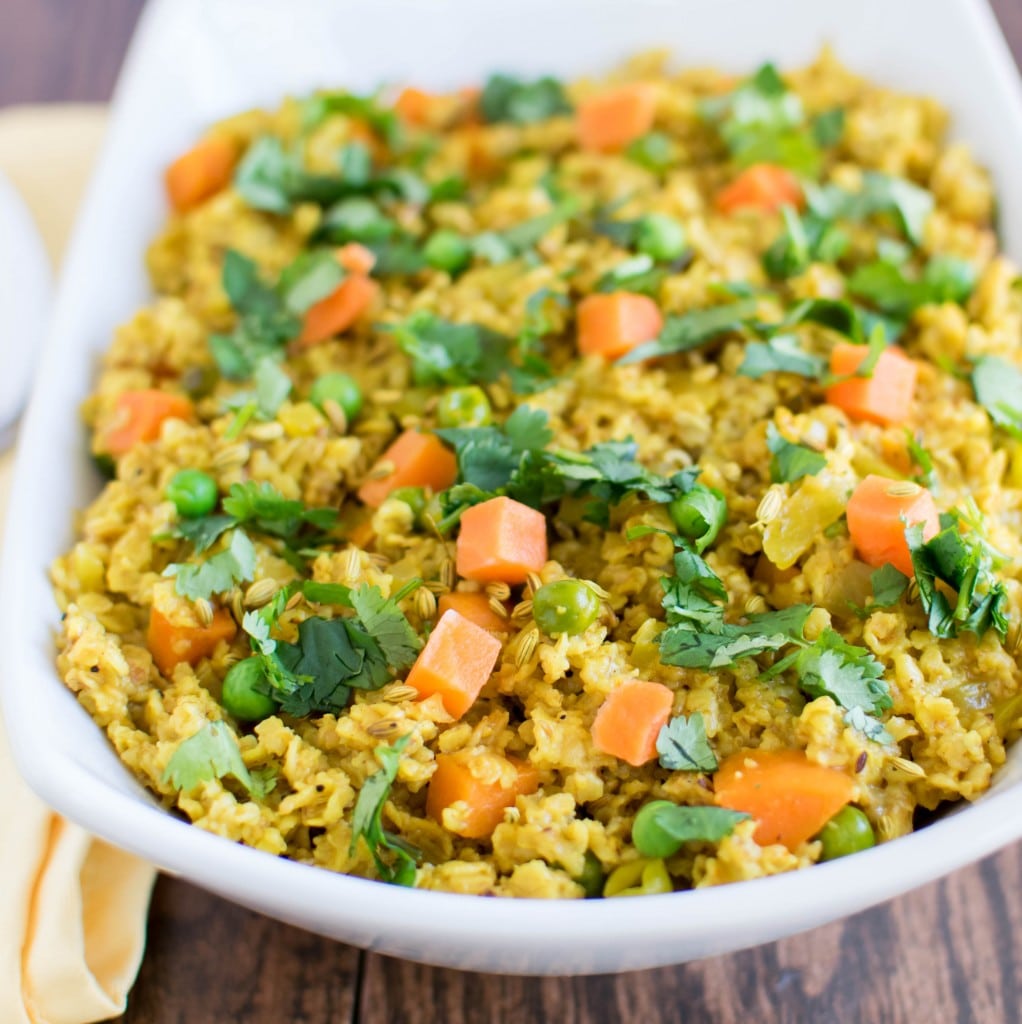 Nowadays, oats have become a major whole grain in my healthy diet and yet I was missing that old Maggi flavor. So I decided to create Masala Oatmeal that has almost the same flavor as Maggi and instead of unhealthy white noodles I incorporated whole grain oats.
I used the spices that are usually available in our Indian homes and relived my childhood memories of eating anything and everything guilt free. 🙂
However, for those who do not have these spices at home, I must tell you that these are easily available in any local super market. Also, all the spices are available in any Indian store.
Ingredients for Masala Oatmeal
Olive oil
Fennel seeds
Garlic
onions
Veggies
Turmeric powder
Cumin powder
Dry mango powder (amchur)
Chili powder
Garam masala
Water
Old fashion/steel cut oats
Salt
Cilantro (to garnish)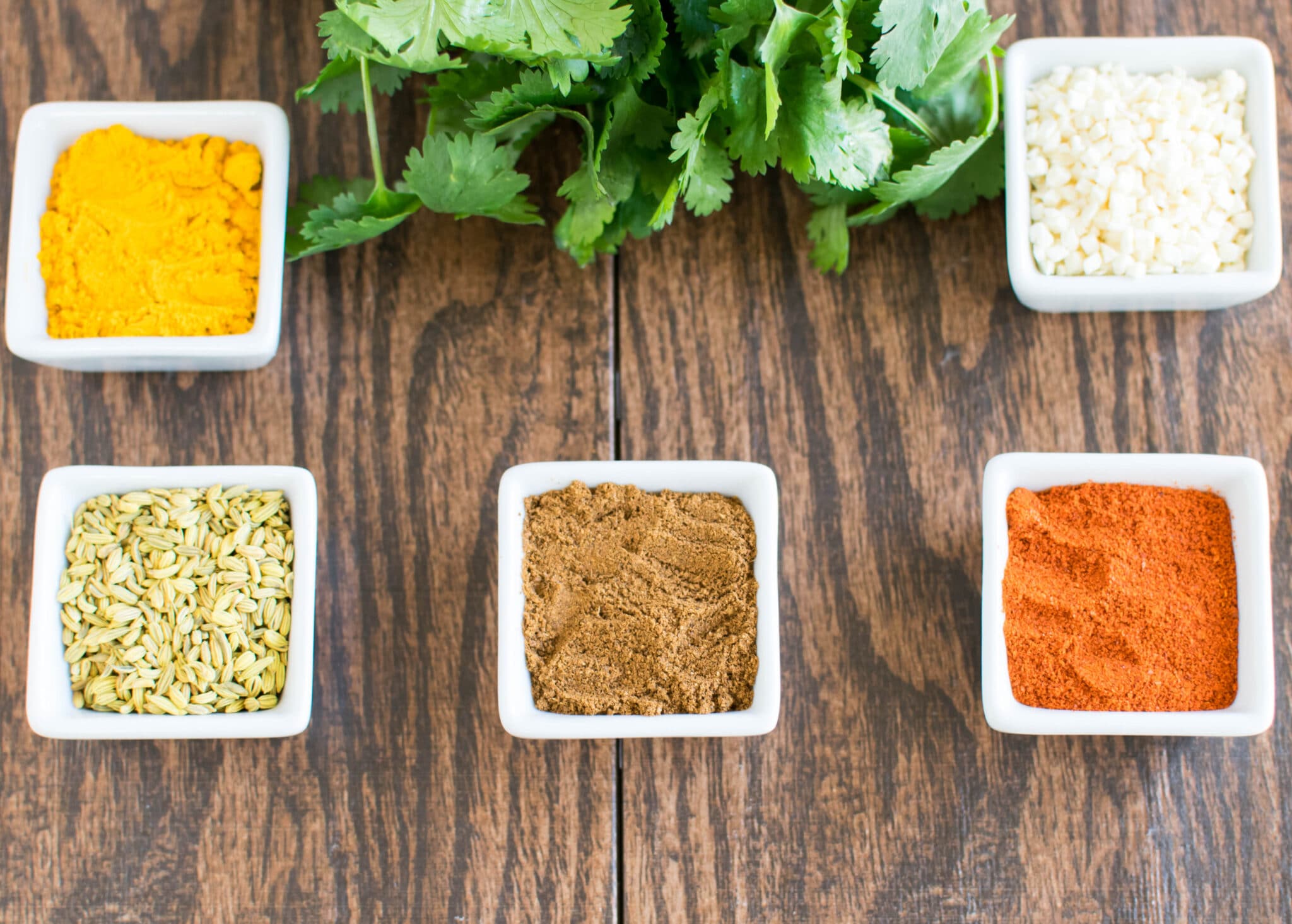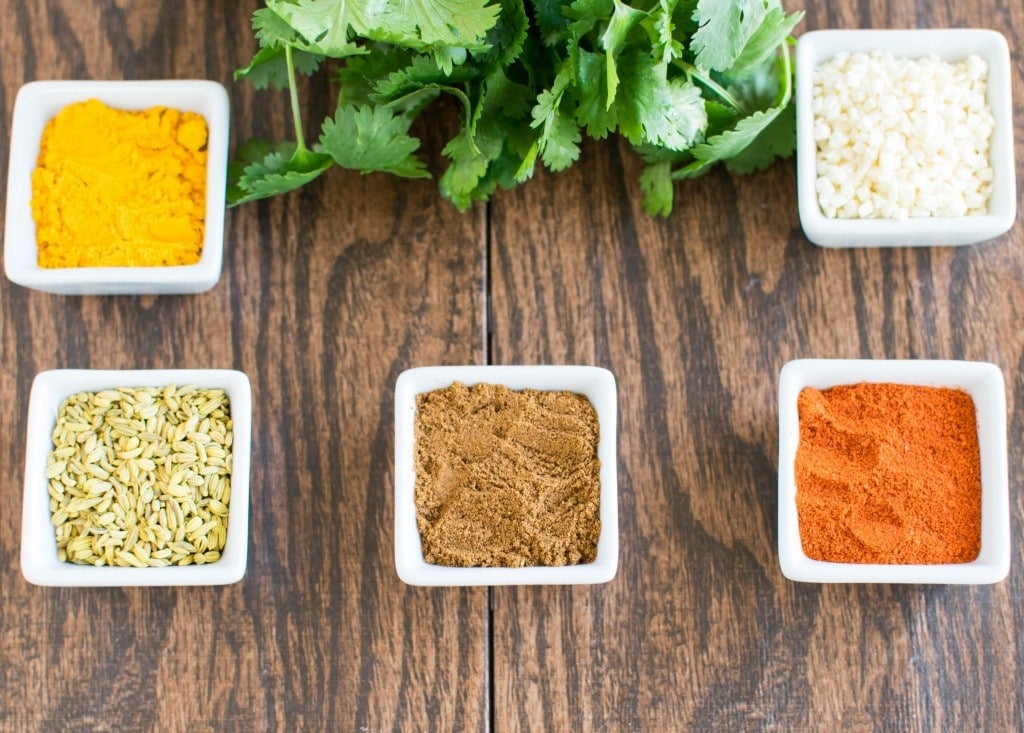 How to Dry Roast Oats
The first and foremost step in this recipe is to dry roast the oats. For this I warmed up a nonstick frying pan on a medium flame and sauteed oats in it for few minutes or until it started browning.
After that, I quickly turned off the flame and kept it aside.

How to cook Masala Oatmeal
For this, I firstly flavored the warm oil with fennel seeds and garlic.
Next, I sauteed in some onions and vegetables.
Then, I added turmeric which is a natural antibiotic and some more spices for flavoring and spiced it up with chili powder and garam masala.
Afterwards I added water, oats and salt. Thereafter, I let it cook covered until oats thickened. As a result my whole kitchen was so aromatic and my dish was ready in just few minutes.
Lastly, I garnished it with cilantro and enjoyed a warm bowl of deliciousness.
I fell in love with it in the first bite and all the flavors were just playing around my taste buds. Subsequently, I experimented further by adding a little more water to bring out a porridge texture and that tasted equally delicious.
I like my oatmeal slightly dry but for my husband I added half a cup of more water and gave a boil to it.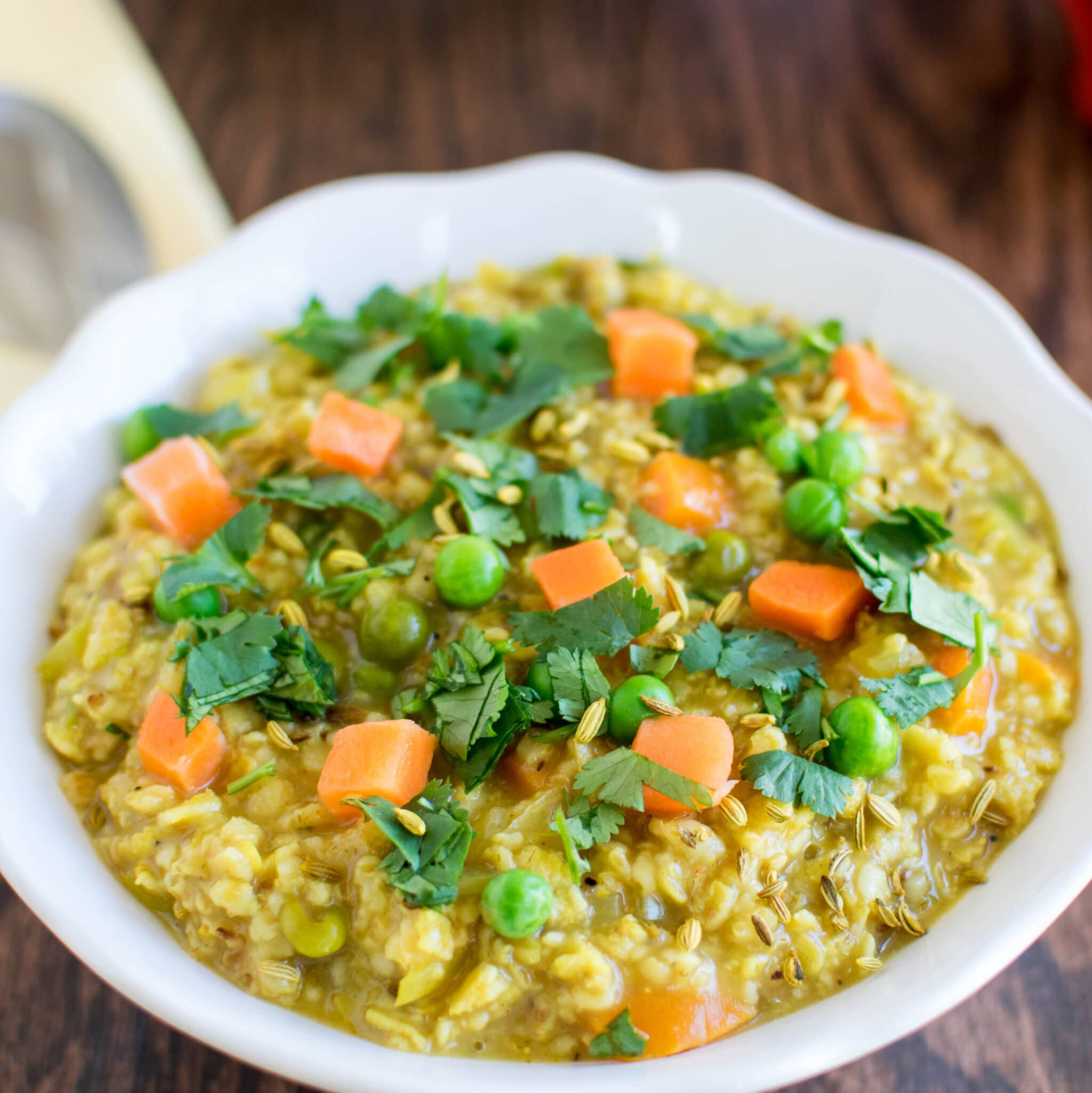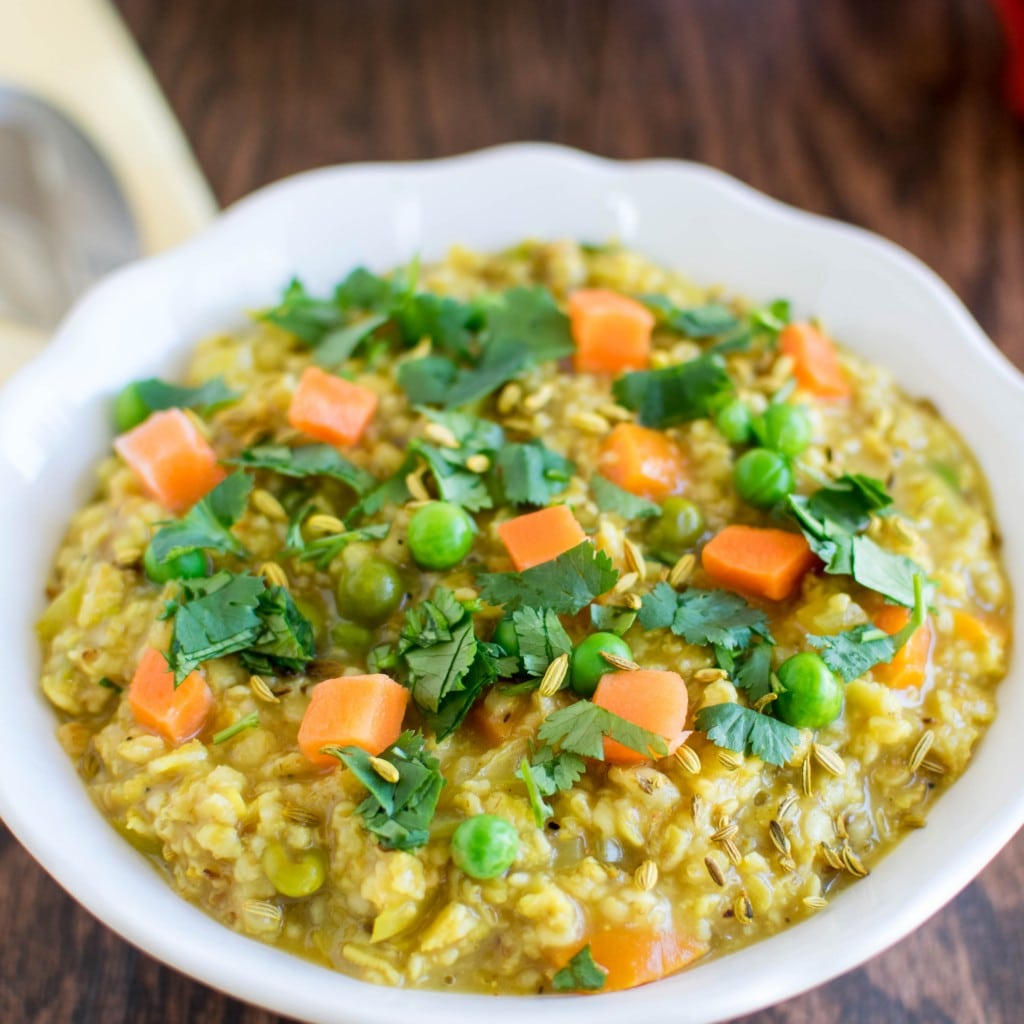 Now, oatmeal is not only my favorite breakfast or brunch but my husband also joins me when it's oatmeal breakfast day. 🙂
My other popular oat recipes are:
Carrot Cake Overnight Oats
No Bake Coffee Oats Energy Bars
Turmeric Tofu Oatmeal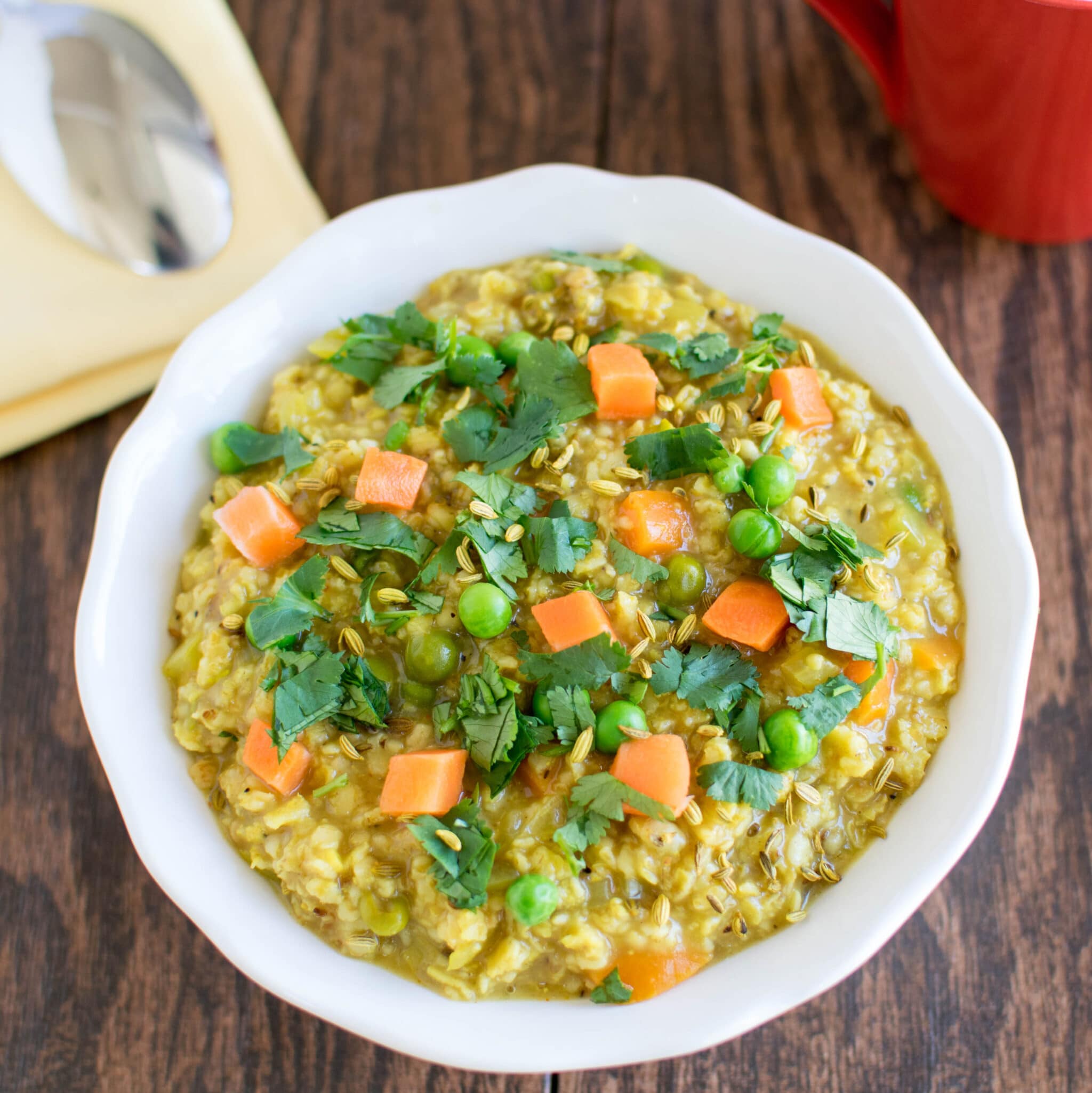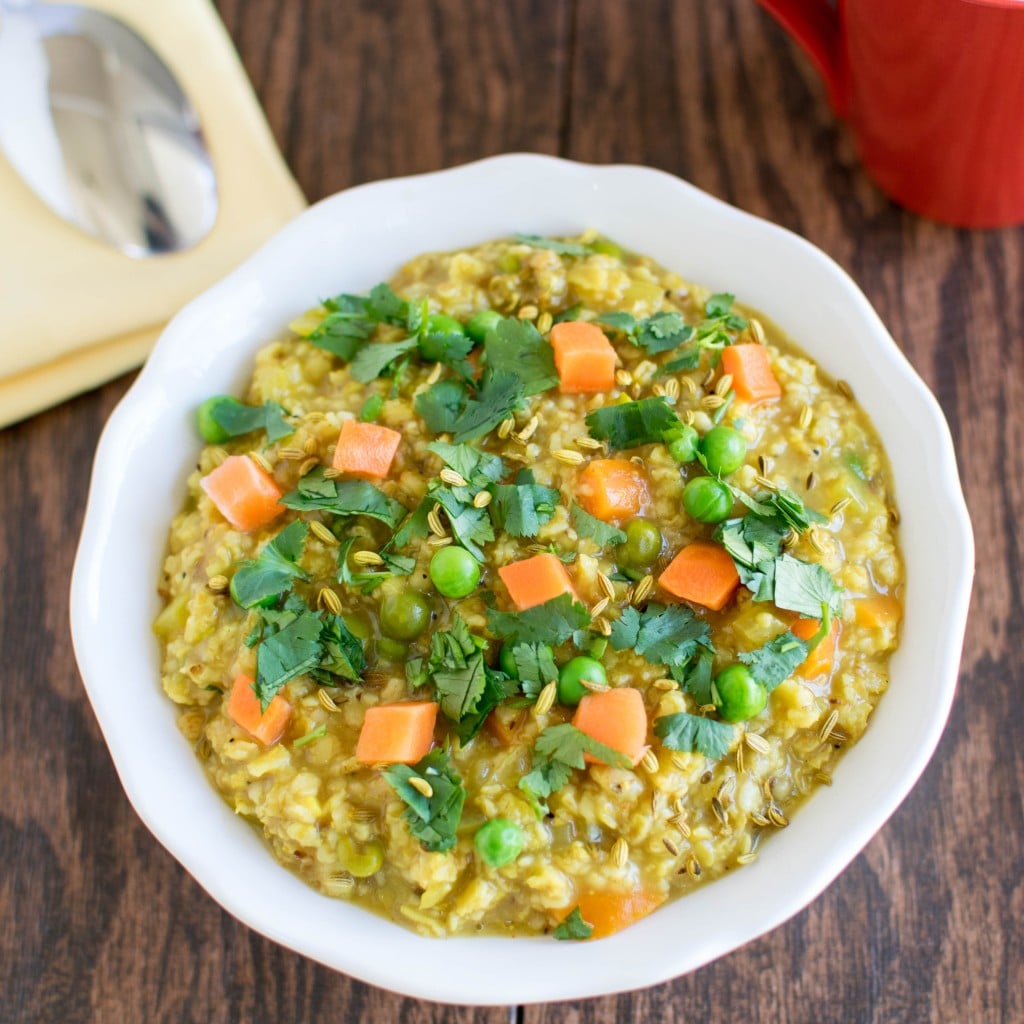 FAQs
This recipe tastes best when served immediately. If refrigerated, oats tends to soak up all the liquid.
Instant oats can also be used in this recipe. However, the cooking time will vary. it is important to keep in mind instant oats cooks very quickly so you may have to baby sit.
If you get a chance to make this recipe then please leave your feedback in the comments below. Do not forget to rate this recipe also. You may tag @kiipfit on Instagram and I will definitely shout it out there.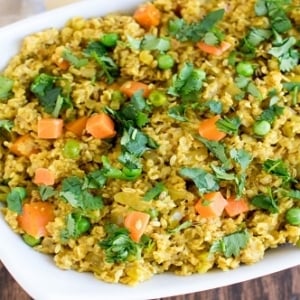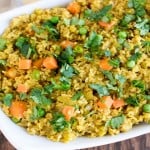 Print Recipe
Masala Oatmeal
This spicy and savory Masala Oatmeal is absolutely comforting! It's a flavorful breakfast/brunch with a twist on stereotype oat recipes. 
Ingredients
1

tbsp

olive oil

1

tsp

fennel seeds

1

tsp

dried/chopped garlic

1

cup

chopped onion

1

cup

peas & carrots

(frozen)

1/2

tsp

turmeric powder

1

tsp

cumin powder

1/2

tsp

dry mango powder or amchur

1/2

tsp

chili powder

1/2

tsp

garam masala

7

cups

water

3

cups

old fashioned/steel cut oats

(dry roasted)

2

tsp

salt or as per taste

1-2

tbsp

chopped fresh cilantro
Instructions
Heat oil in a nonstick sauce pan. Add fennel seeds and garlic. Just when garlic starts to brown add onions and saute until translucent.

Add peas & carrots, turmeric powder, cumin powder,dry mango powder (amchur),chili powder, garam masala and saute well.

Cover and cook until carrots are tender for 2 minutes.

Now, add water, oats, salt and stir.

Let it cook covered on a medium flame until it thickens. Stir at intervals to avoid sticking to the bottom of the pan. Once it reaches the porridge consistency open the lid and stir again. Let it cook uncovered for only 1 minute.

Turn off the flame, garnish with cilantro and serve immediately.
Notes
Feel free to adjust the spice level according to taste.
For a pilaf form or drier oatmeal start with 6 1/2 cups water. For thinner consistency add 1/2 cup warm water and adjust the seasonings while cooking again for 30 seconds.
To dry roast the oats -  Just heat a non stick pan and saute oats for few minutes until it starts to brown a little. Make sure its not completely brown. Turn off the flame just when the browning starts.
Nutrition
Calories:
258
kcal
|
Carbohydrates:
44
g
|
Protein:
11
g
|
Fat:
5
g
|
Saturated Fat:
2
g
|
Sodium:
110
mg
|
Potassium:
36
mg
|
Fiber:
2
g
|
Sugar:
1
g
|
Vitamin A:
297
IU
|
Calcium:
95
mg
|
Iron:
2
mg