Healthy and quick, this Creamy Sriracha Silken Tofu Salad Dressing is made with only 5 ingredients and in only 5 minutes. It's oil free with a nice spicy taste to it.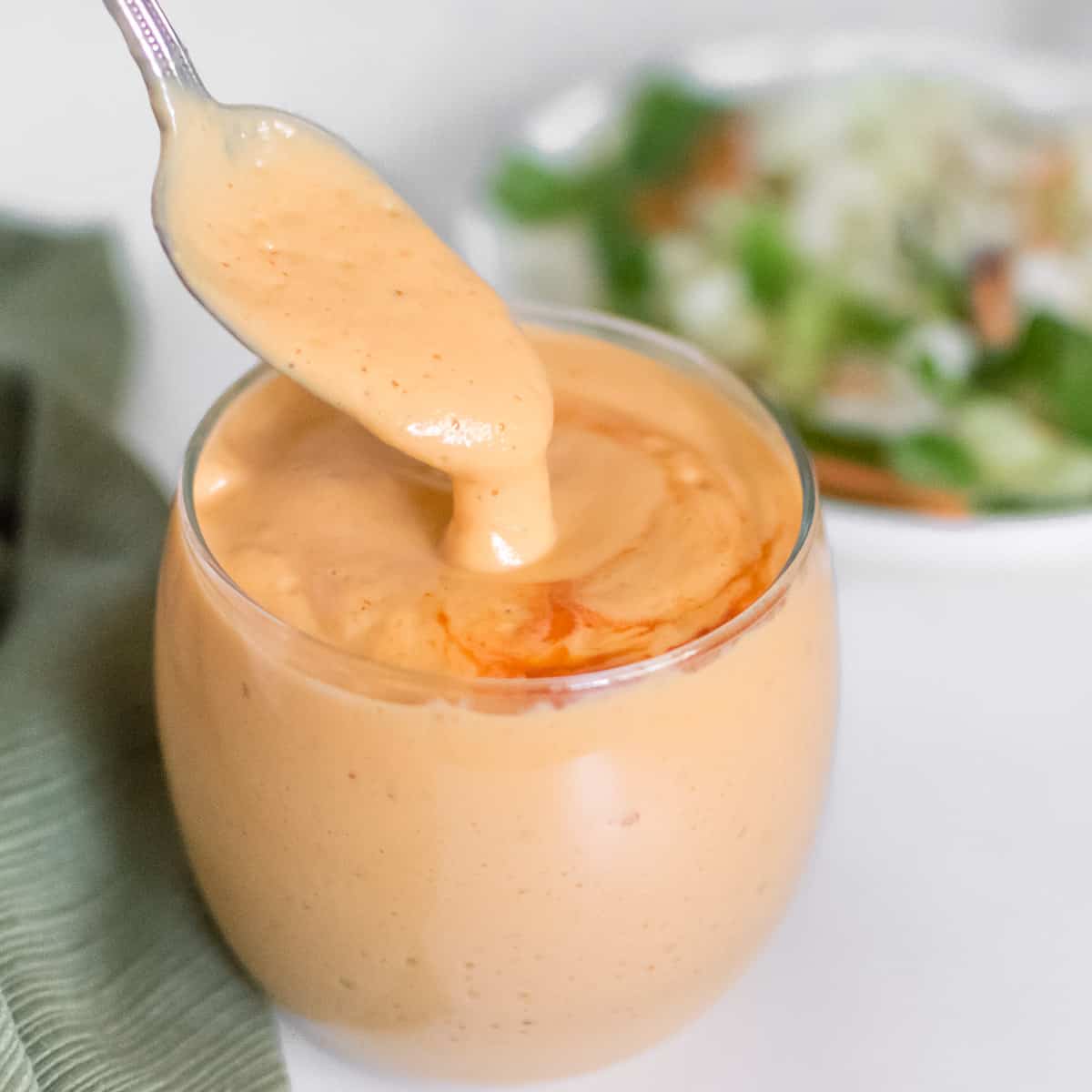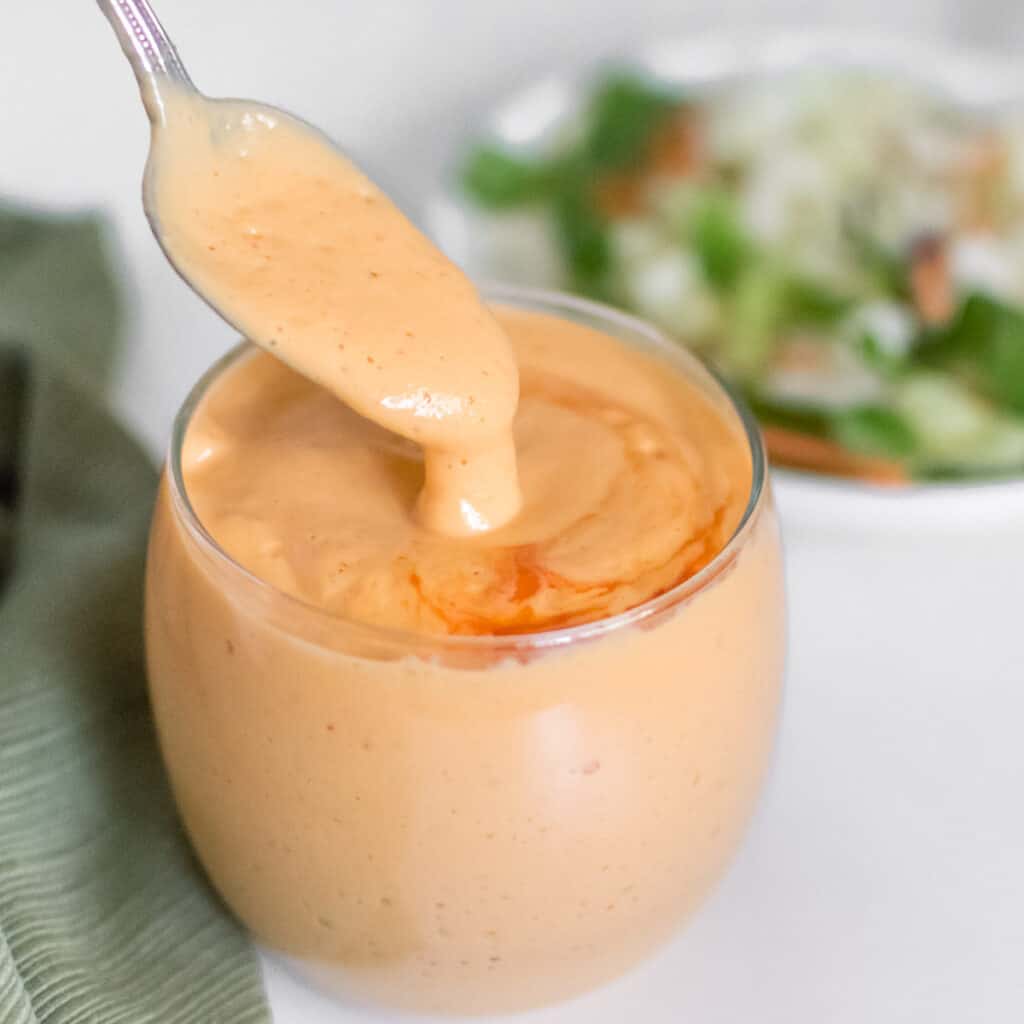 Silken tofu is my favorite ingredient when it comes to making dips and dressings. It adds protein and many other nutrition to my recipes.
When I crave for dessert I make my very popular vegan chocolate mousse which is made from silken tofu.
I often bend my vegan ranch when I want a bit more fancy dip especially with my raw veggies.
Quite frequently, I make vegan omelette in which is also made from silken tofu.
What is silken tofu?
Silken tofu is also a kind of tofu mad from soy milk with the only difference that its coagulated without curdling the milk. Also, it is unpressed and is soften than other varieties of tofu.
Health benefits of silken tofu
Apart from being high in protein silken tofu contains several anti-inflammatory properties. Its is also high in calcium, magnesium and supports heart health. This is also low in calories thereby facilitating weight loss.
Ingredients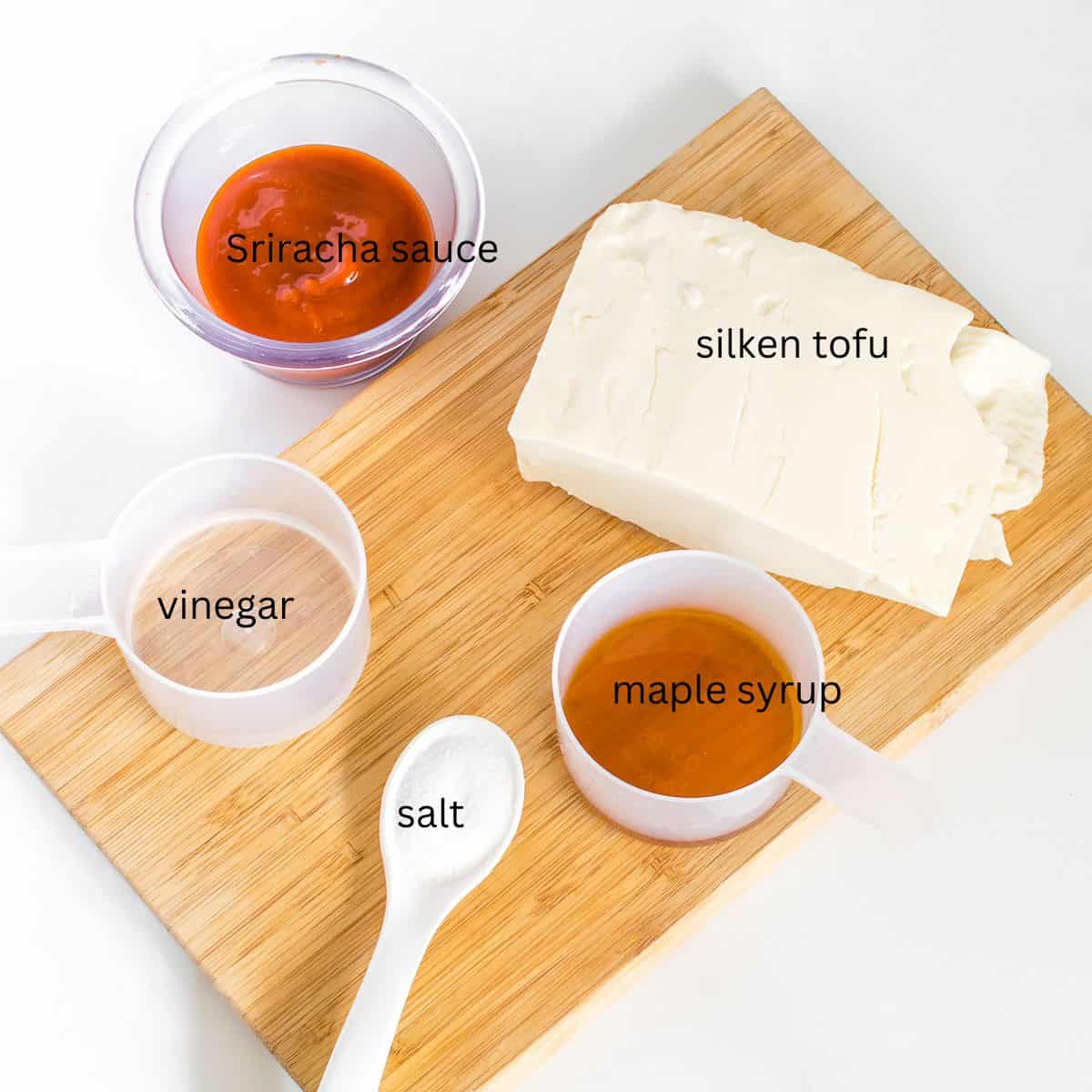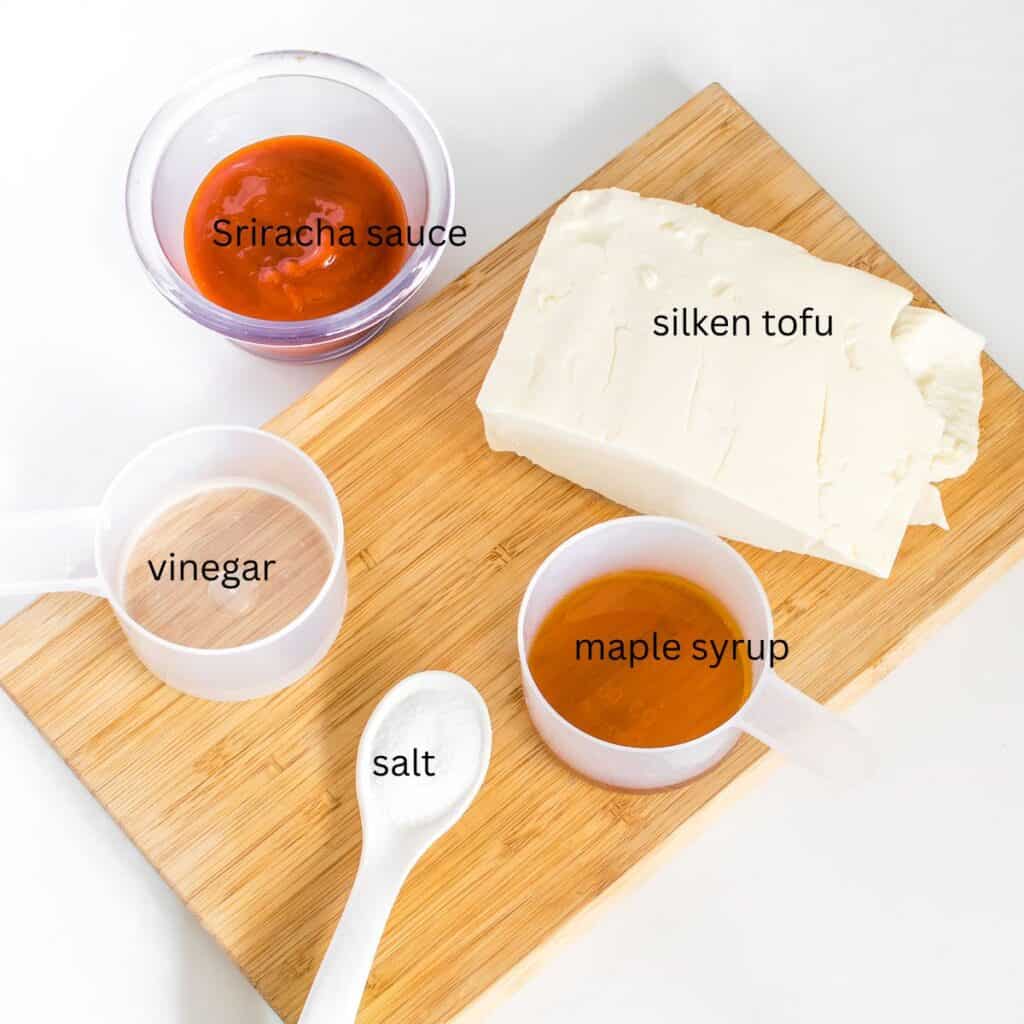 Here I have used simple ingredients but I promise you will love this tofu salad dressing. It will be your next favorite. It is also gluten free.
Ingredients notes
Silken tofu – any silken tofu works in this sriracha dressing just make sure to remove the extra liquid from the pack.
Sriracha sauce – I used the sriracha sauce that is easily available in the store in a bottle.
Vinegar – this add a bit tang to this tofu dressing. I used regular white vinegar but apple cider vinegar and rice vinegar also works in this recipe.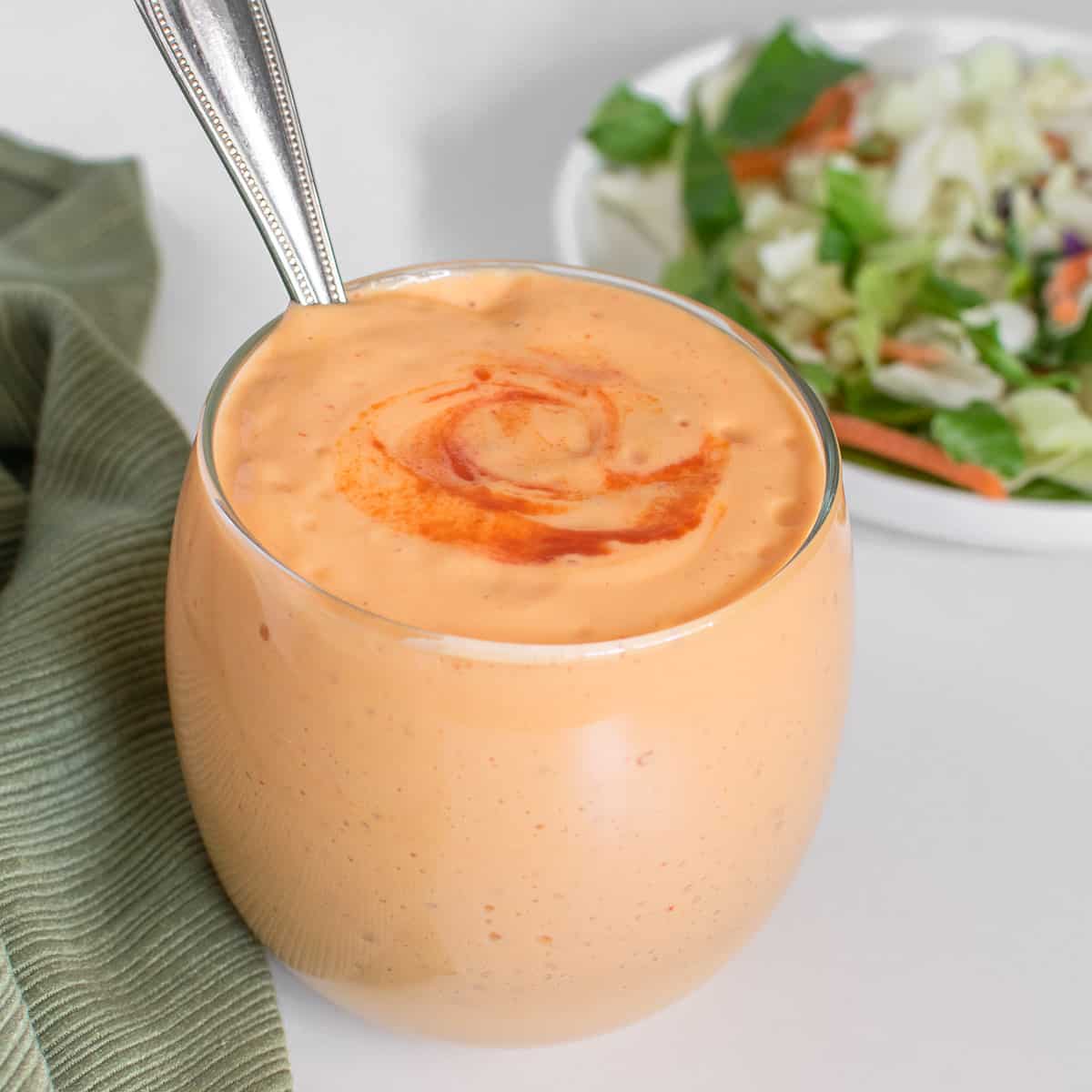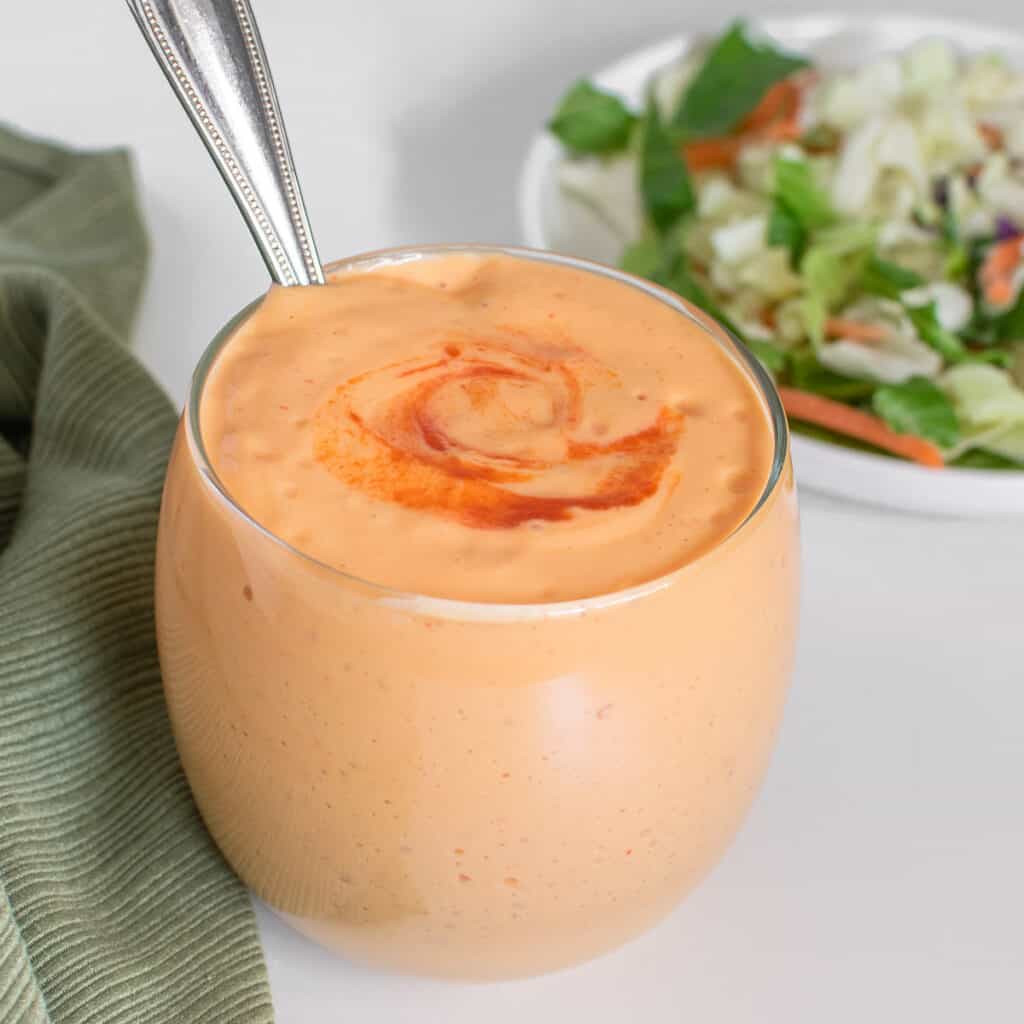 For detailed measurement of ingredients, please scroll down to the printable recipe card at the bottom of this post.
How to make
Firstly, I roughly drained the silken tofu without pressing it.
Secondly, in a blender, I combined roughly broken tofu, sriracha sauce, salt, maple syrup and vinegar.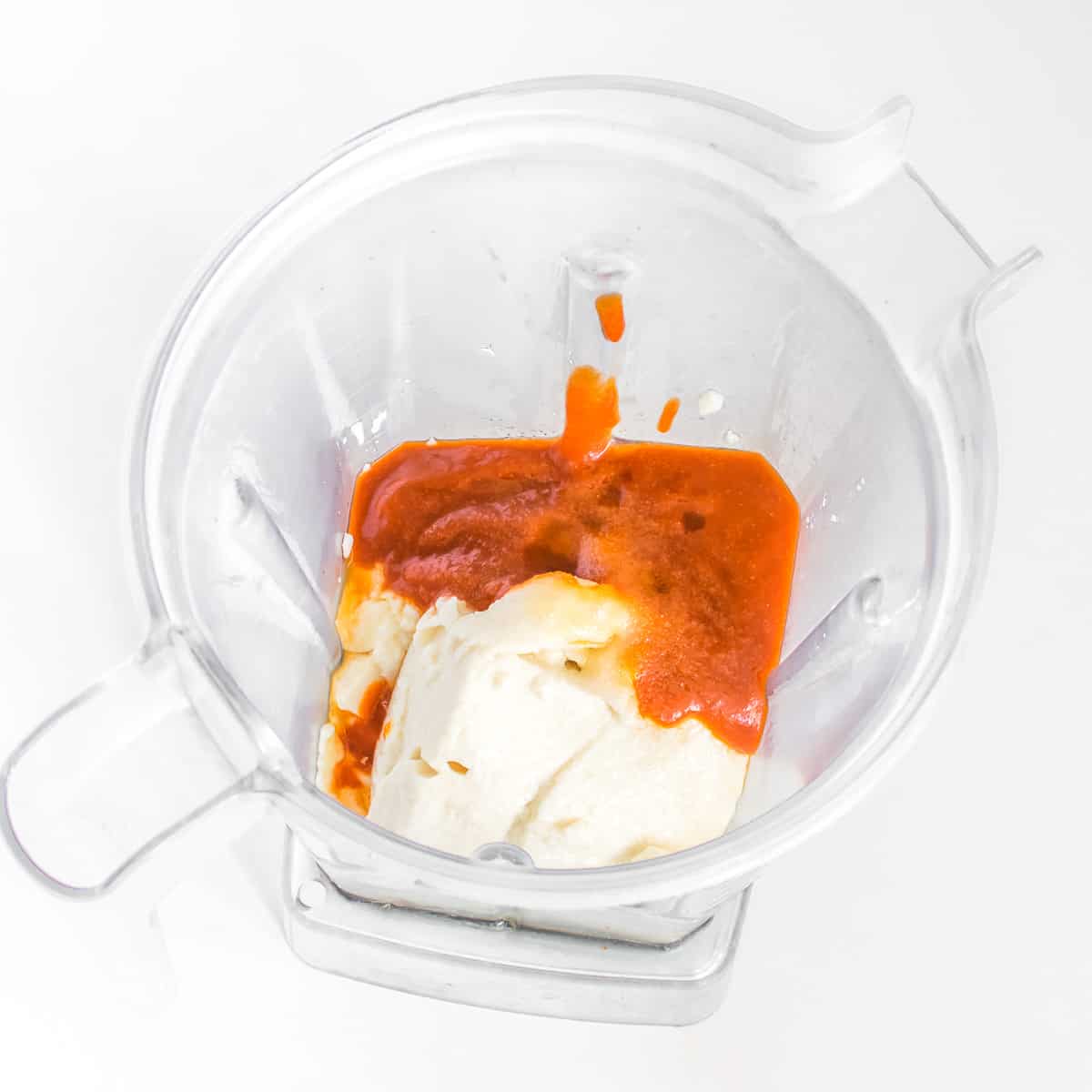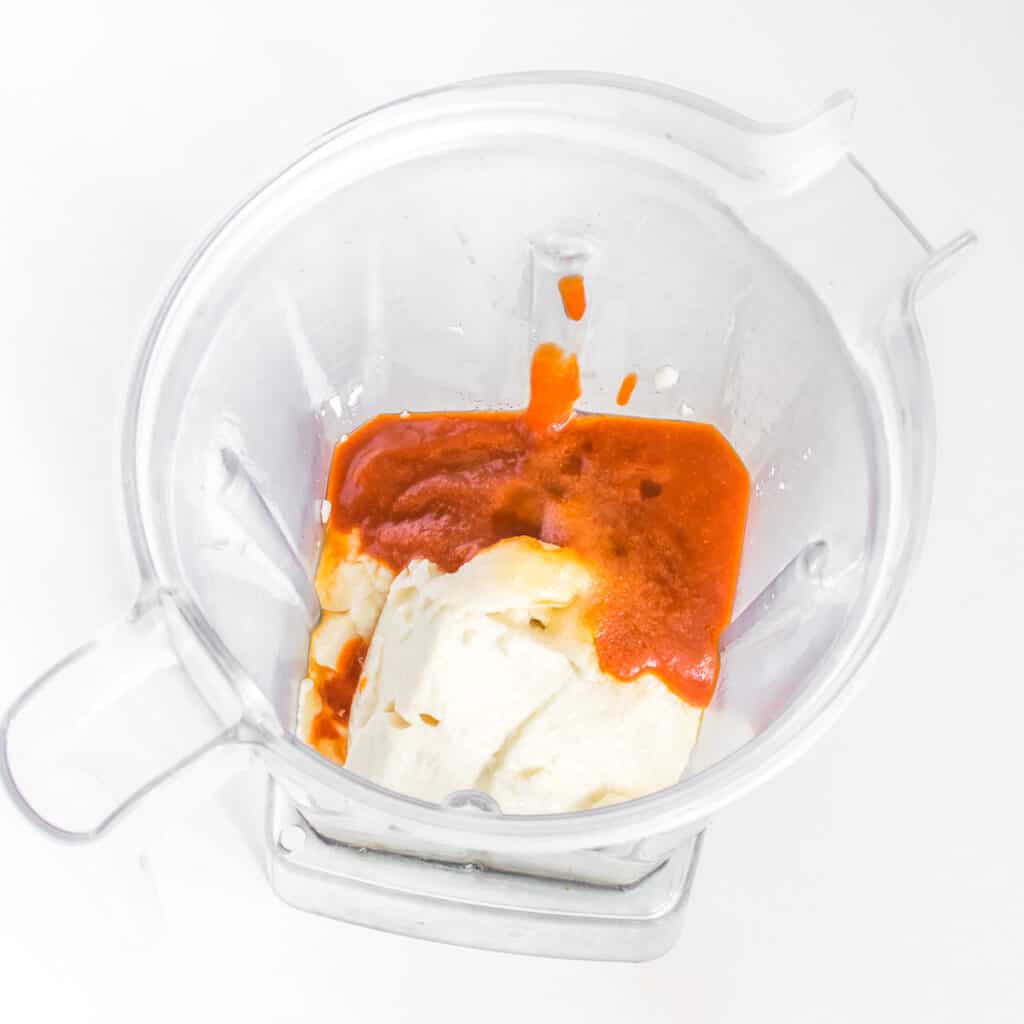 Next, I blended it smooth until it was creamy and smooth.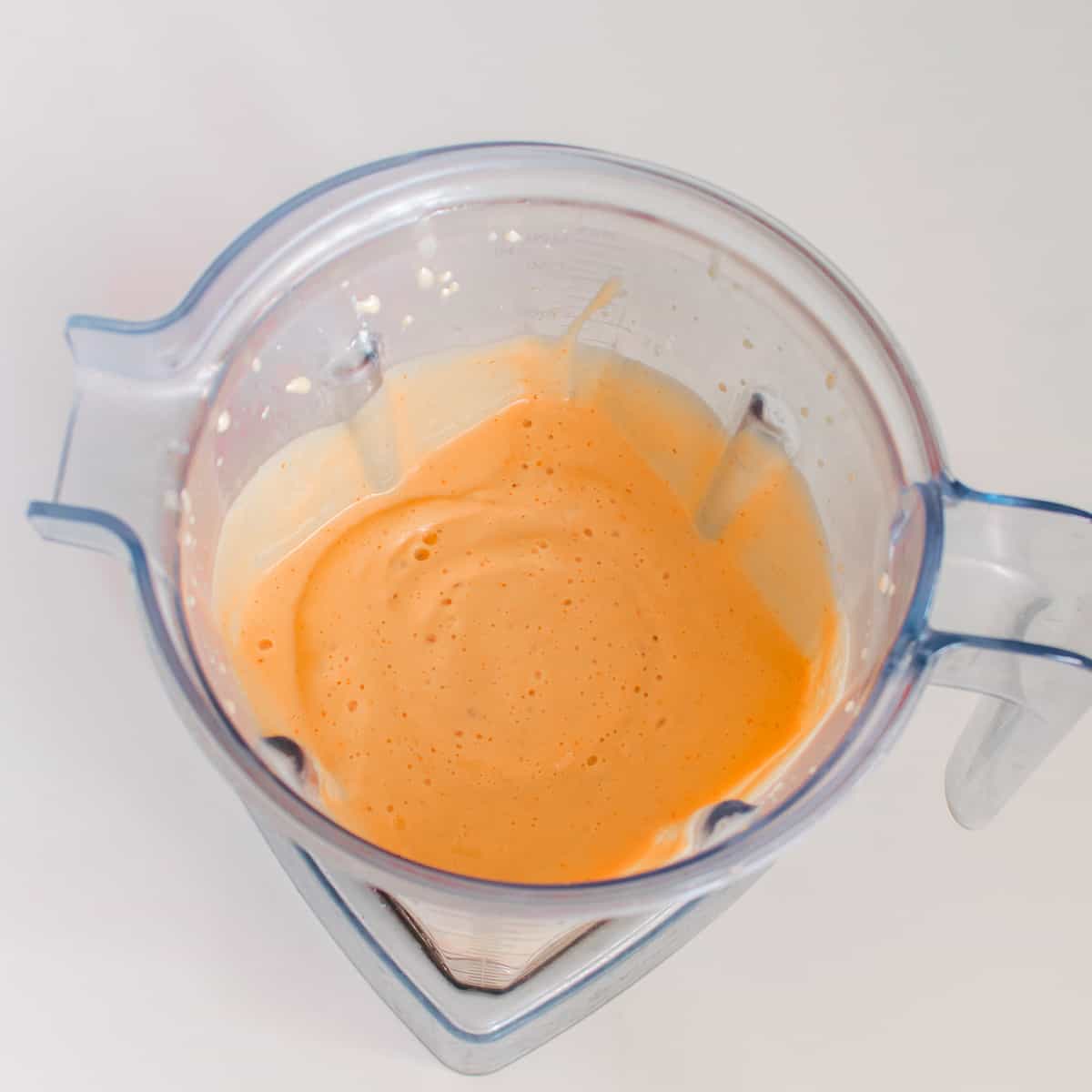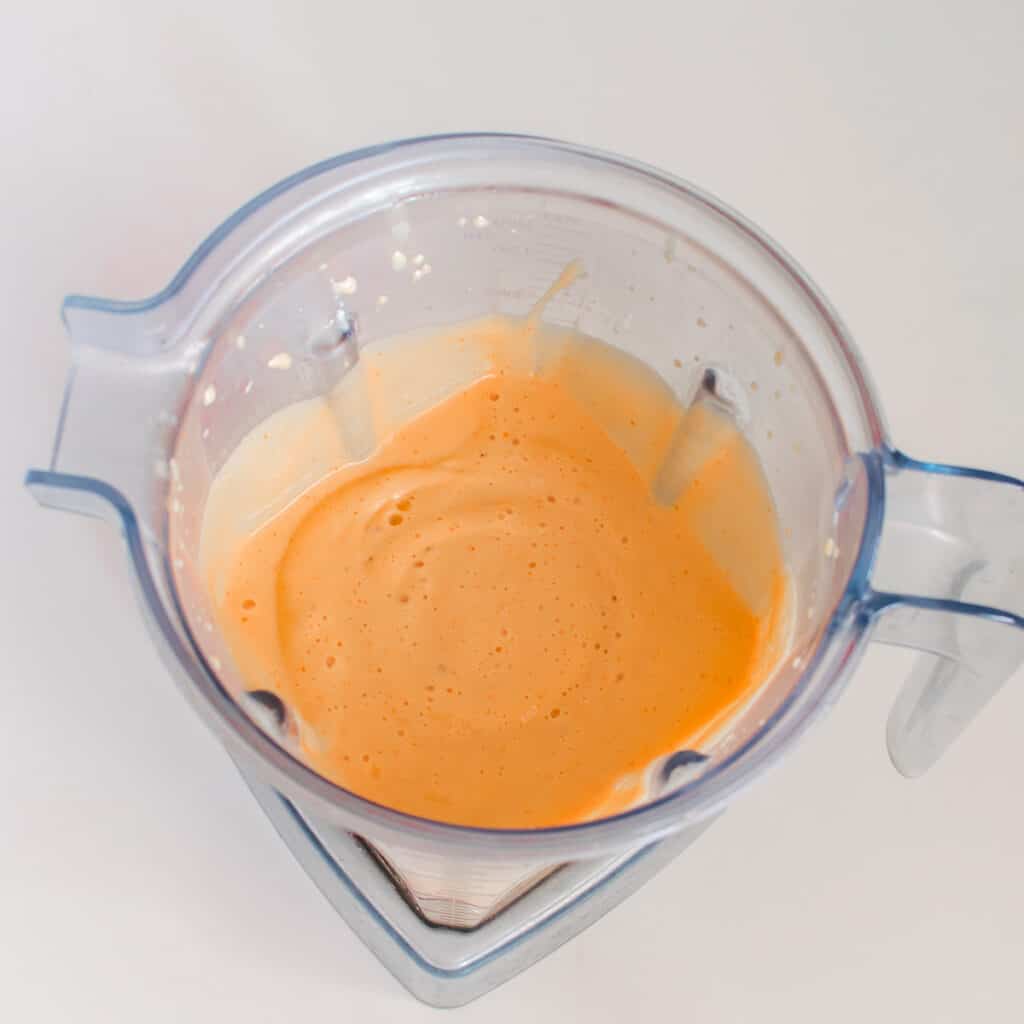 Lastly, I spooned it out in a glass bowl.
I licked it immediately and it tasted so good that I drizzled it over my salad for my lunch.
Its my favorite go to salad dressing.
Storing tips
This vegan tofu salad dressing tastes best at room temperature and when served the same day. However, it can be refrigerated in an air tight glass container for about 1 week.
Serving tips
This silken tofu salad dressing can be paired with raw veggies or as a side dip with vegan spring rolls or air fryer zucchini or air fryer avocado fries. You may simply simply drizzle it over your choice of salad too. Sometimes, I like to use it as a spread over my whole wheat bread or in a sandwich.
Expert tips
It is important to not press silken tofu. However, you must crumble it with your hands before putting it in your food processor.
Most importantly, blend it well and do not rush through this step for the best results.
Frequently Asked Question (FAQs)
What is the consistency for this tofu dressing?
Its thick and creamy. It can be spooned out and not liquidy at all.
Can I make it thinner?
You may add about 2 tbsp of unsweetened almond/coconut milk to make this tofu salad dressing a bit thinner. Adjust salt as per taste if needed.
It is healthy?
Yes! its very nutritious and very healthy because it had protein and many other vitamins and minerals.
Is it spicy in taste?
Yes! This silken tofu salad dressing is seasoned mainly with sriracha sauce which is spicy hit sauce. But the overall flavor is amazingly delicious and very satisfying.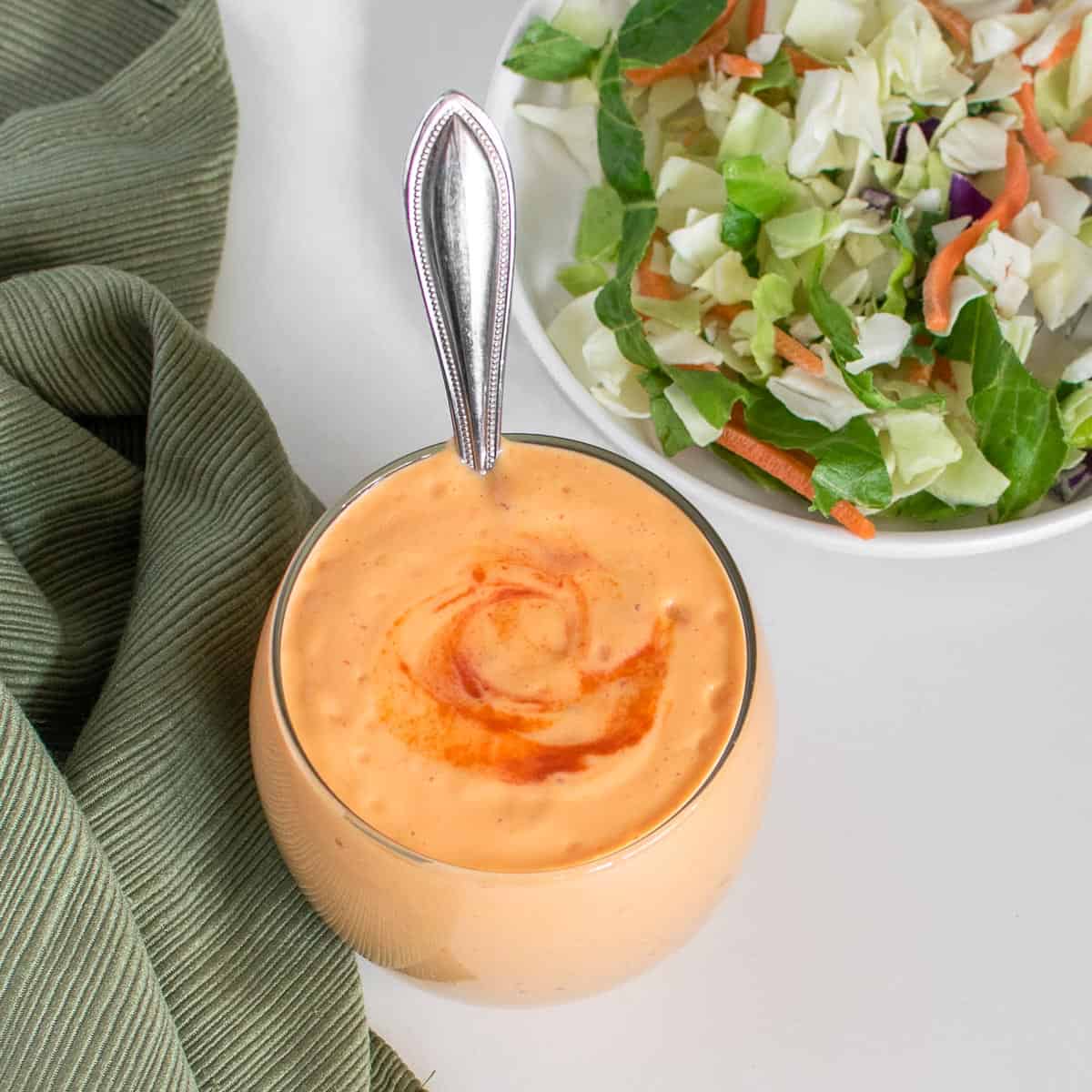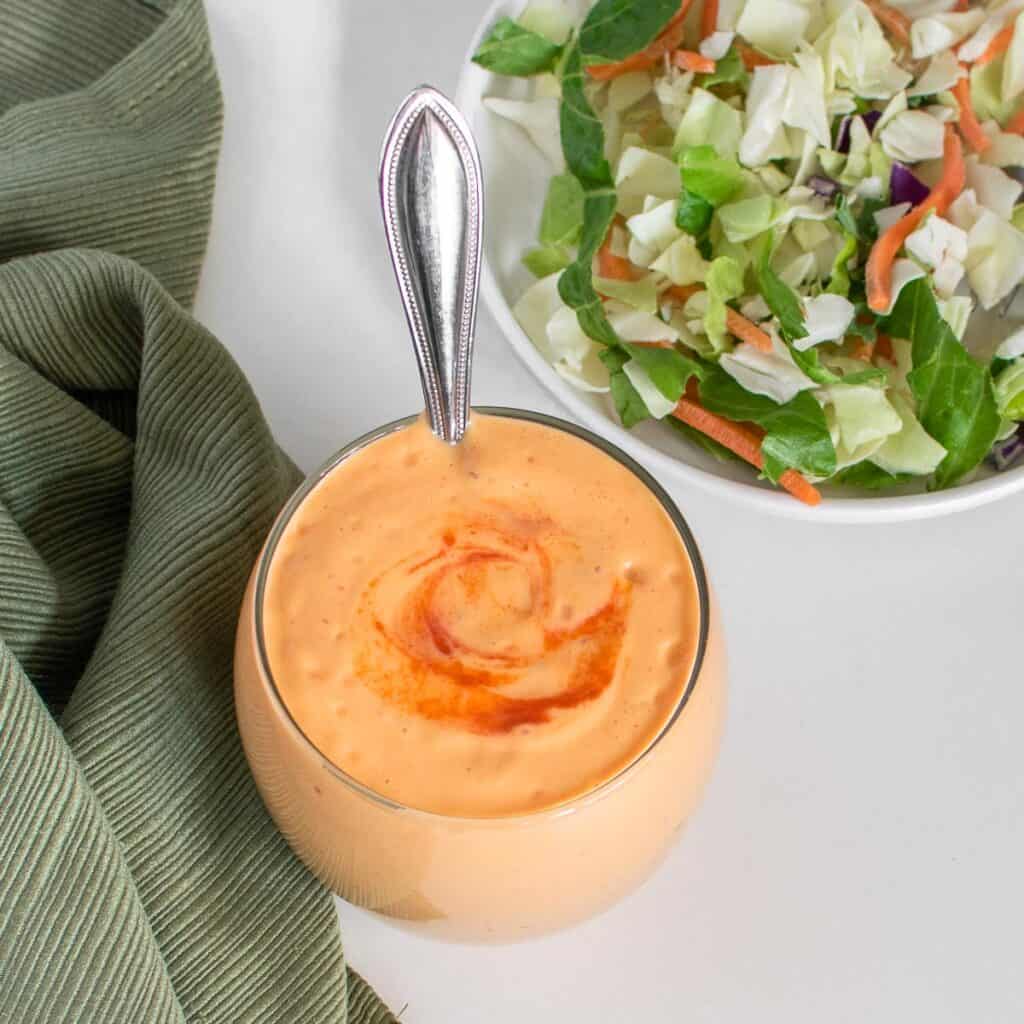 More vegan salad dressing recipes
Caesar dressing
Oil free vegan mayo
Chipotle mayo
Tahini dressing
This post may contain affiliate links which means that if you click on them and make a purchase, I will get a small commission. Moreover, I share only those products which I use personally and love.
I hope you enjoy this recipe as much as we did. I am very excited to hear back from you.
Where to find me?
Follow me on Facebook or on Twitter. You may tag @kiipfit on Instagram with your recipe remake images because I would love to see what you cooked.
Did you make it?
If you get a chance to make this recipe then please leave your feedback in the comments below along with a 5-star rating.
In addition, you may checkout my cookbook for everyday comfort vegan recipes.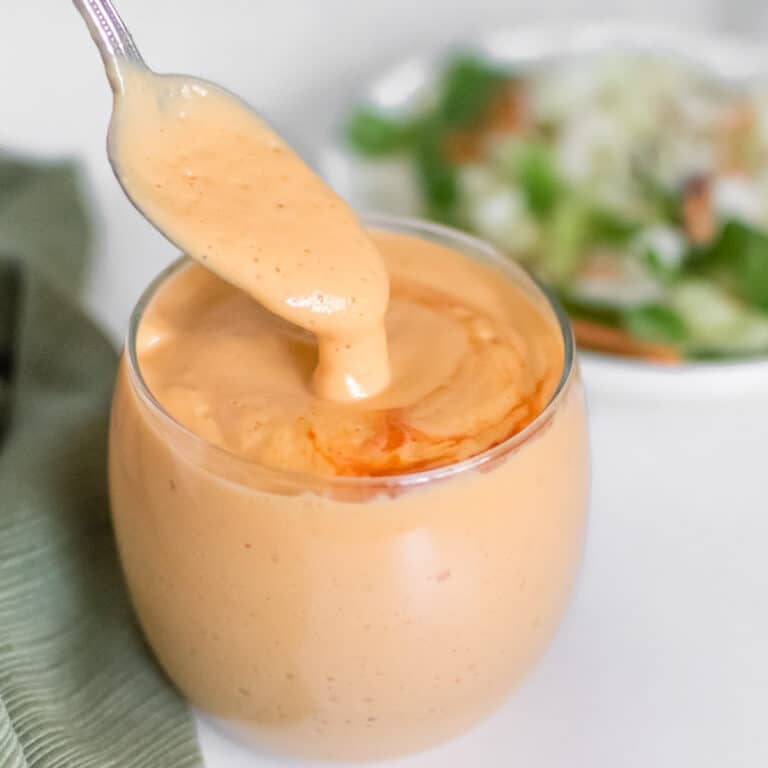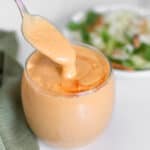 Print Recipe
Creamy Sriracha Silken Tofu Salad Dressing
Healthy and quick, this Creamy Sriracha Silken Tofu Salad Dressing is made with only 5 ingredients and in only 5 minutes. It's oil free with a nice spicy taste to it. 
Instructions
Drain the excess water from silken tofu but do not press the tofu.

Combine all the ingredients in the food processor/blender and blend it smooth until creamy.

Spoon out the dressing into the serving bowl and enjoy!
Notes
This salad dressing tastes best when served the same day. It can be refrigerated in an air tight glass container for about 1 week.
This dressing is thick and creamy very similar to mayonnaise style. If you want a thinner consistence then just add 2 tbsp of almond/coconut milk while blending it in the blender or food processor.
Nutrition
Calories:
26
kcal
|
Carbohydrates:
3
g
|
Protein:
2
g
|
Fat:
1
g
|
Saturated Fat:
0.004
g
|
Polyunsaturated Fat:
0.02
g
|
Monounsaturated Fat:
0.002
g
|
Sodium:
386
mg
|
Potassium:
12
mg
|
Fiber:
0.02
g
|
Sugar:
0.3
g
|
Vitamin A:
13
IU
|
Vitamin C:
6
mg
|
Calcium:
1
mg
|
Iron:
0.04
mg