This 100% Whole Wheat Bread is vegan and soft from inside with a nice crust from the outside. Its easy and perfect for beginners. Its oil free and healthy along with a wonderful texture and aroma.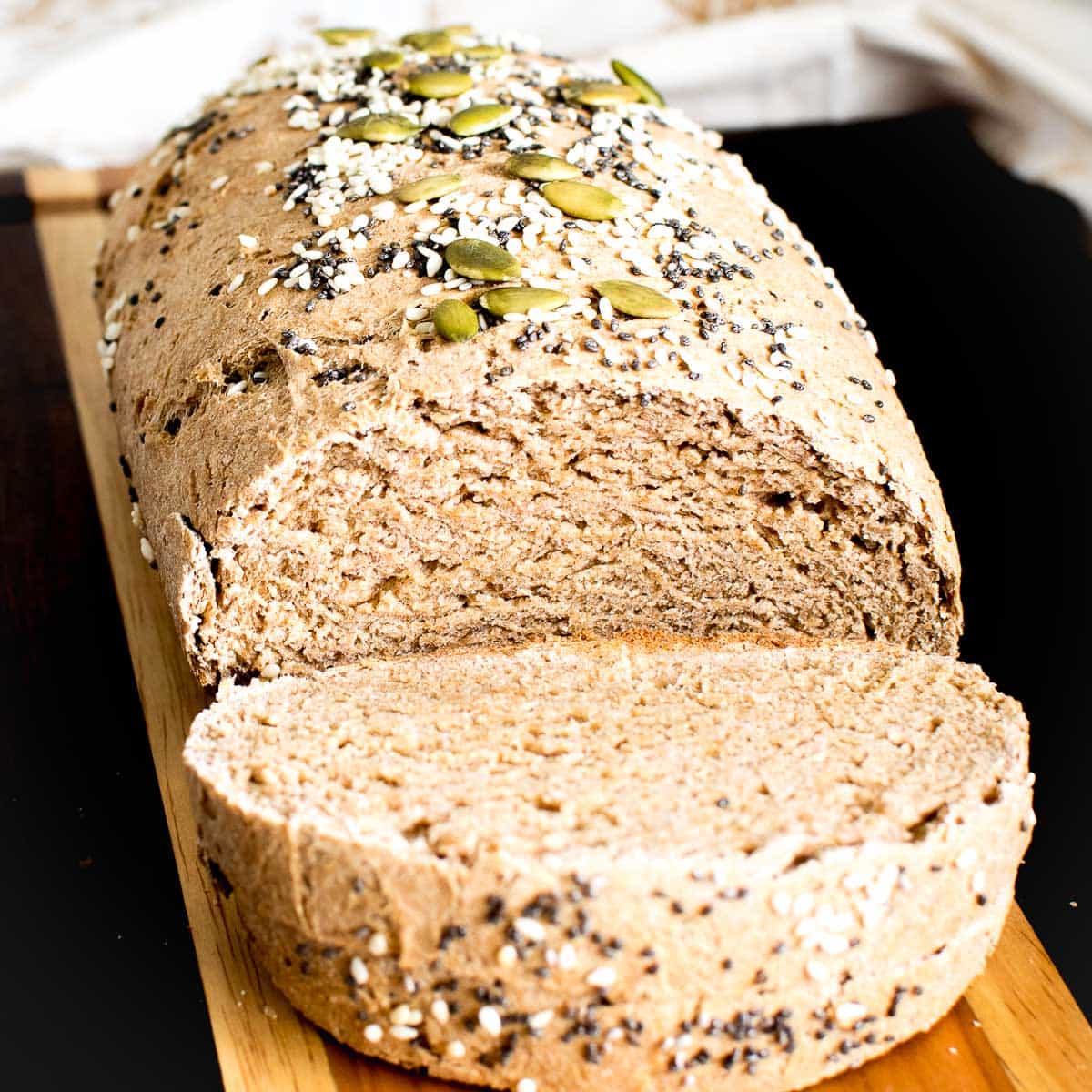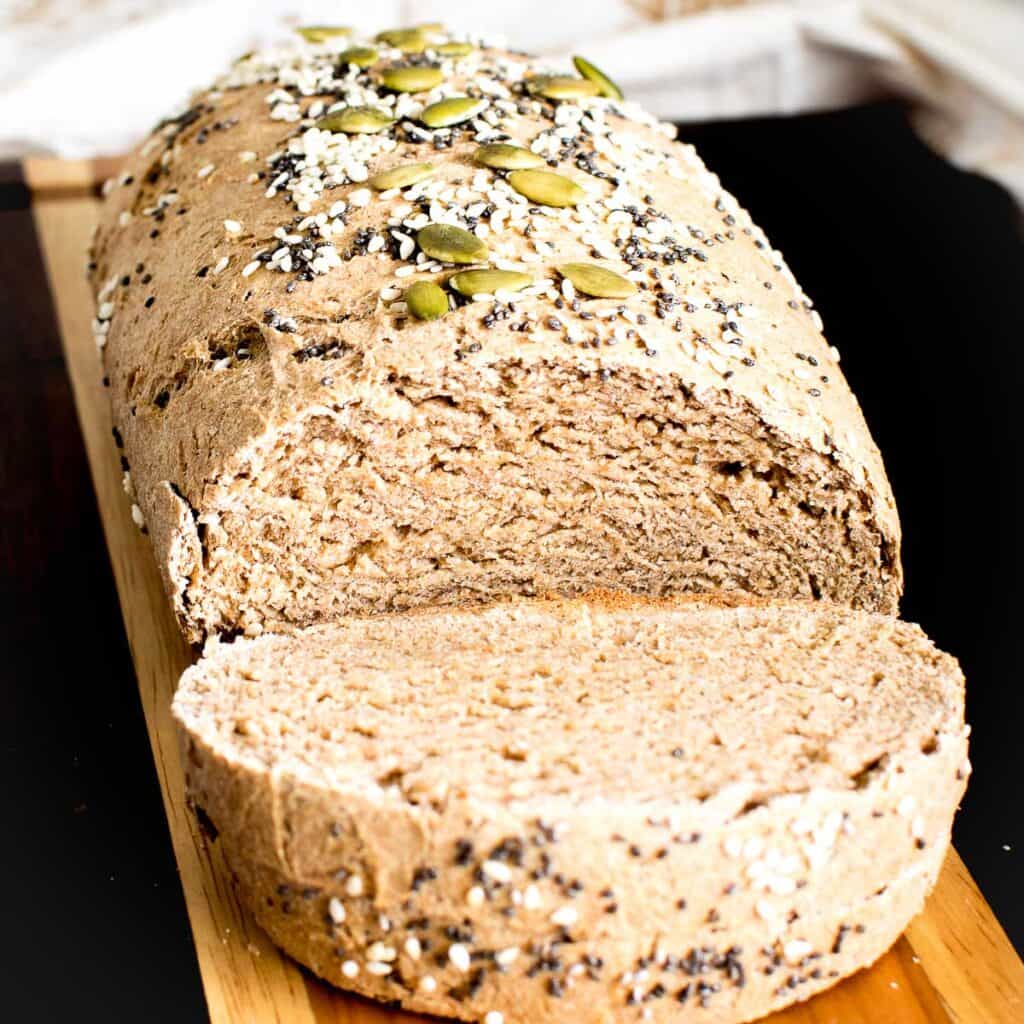 I am sure breads are a staple in many households just like ours. So, I always try and bake healthy breads at home. Likewise, you must also be wanting to bake it at home. I can totally relate.
Homemade breads have absolute different taste, flavor and aroma to it. But most of all, I like its freshness. Also, I know my ingredients which definitely helps me in counting carbohydrate intake.
Even though I have tried many varieties of breads earlier but this recipe for whole wheat bread is absolutely delish and of another level altogether. It is made with only 6 simple ingredients.
My other bread recipes that you may like:
Applesauce Bread
Vegan Cornbread
Roasted Onion Oatmeal Bread
Teff Wheat Bran Chia Bread
Savory Sweet Potato Bread
Quick Spinach Sauce Bread
Tomato Herbed Spelt Bread
Pan Roasted Raspberry Bread
Coming back to this recipe, it was actually lot of fun baking it. Since my brother is visiting us, he made sure that I baked it many times so as to come to that perfection. He is quite fussy when it comes to breads. Therefore, it was a lot of excitement generated each time I tested it.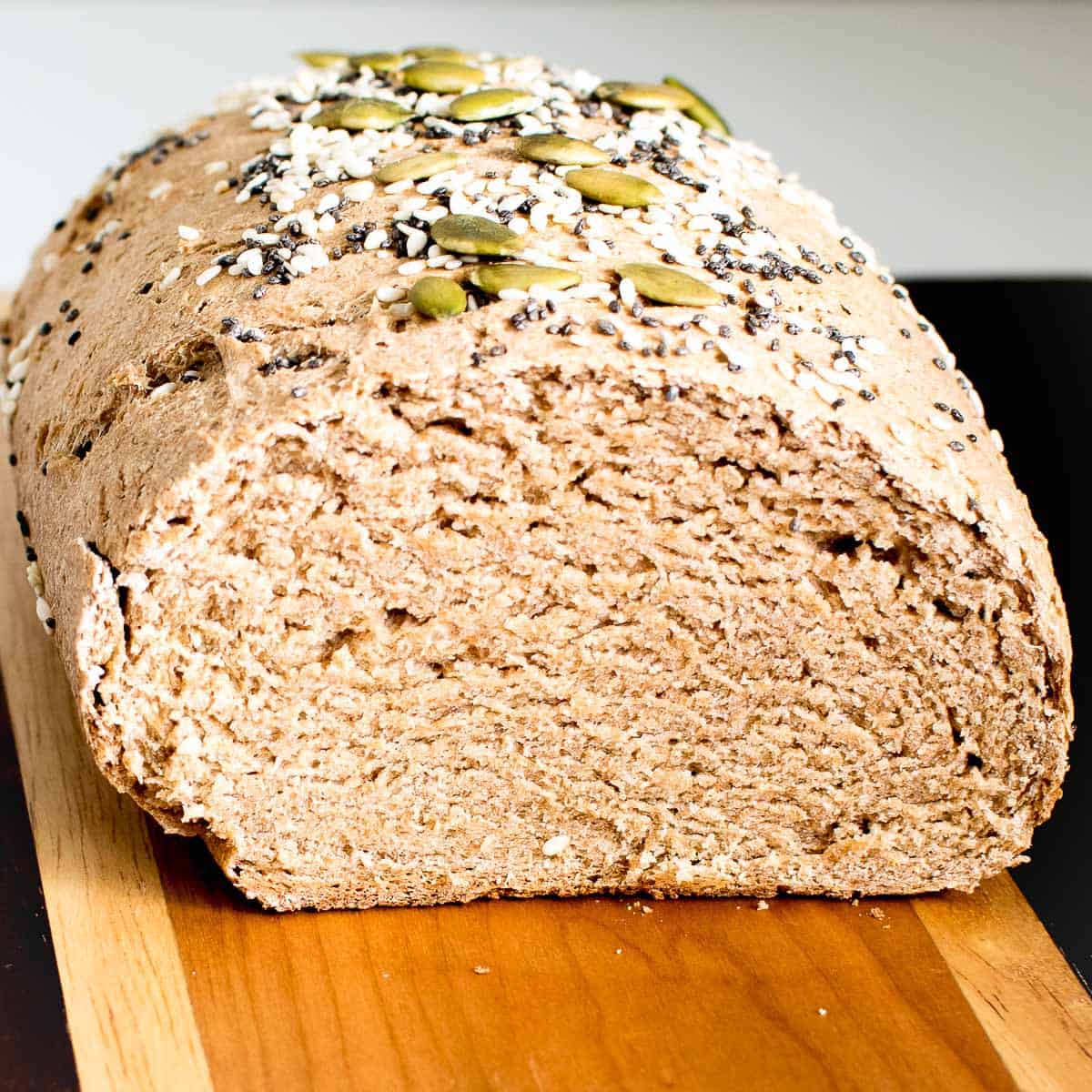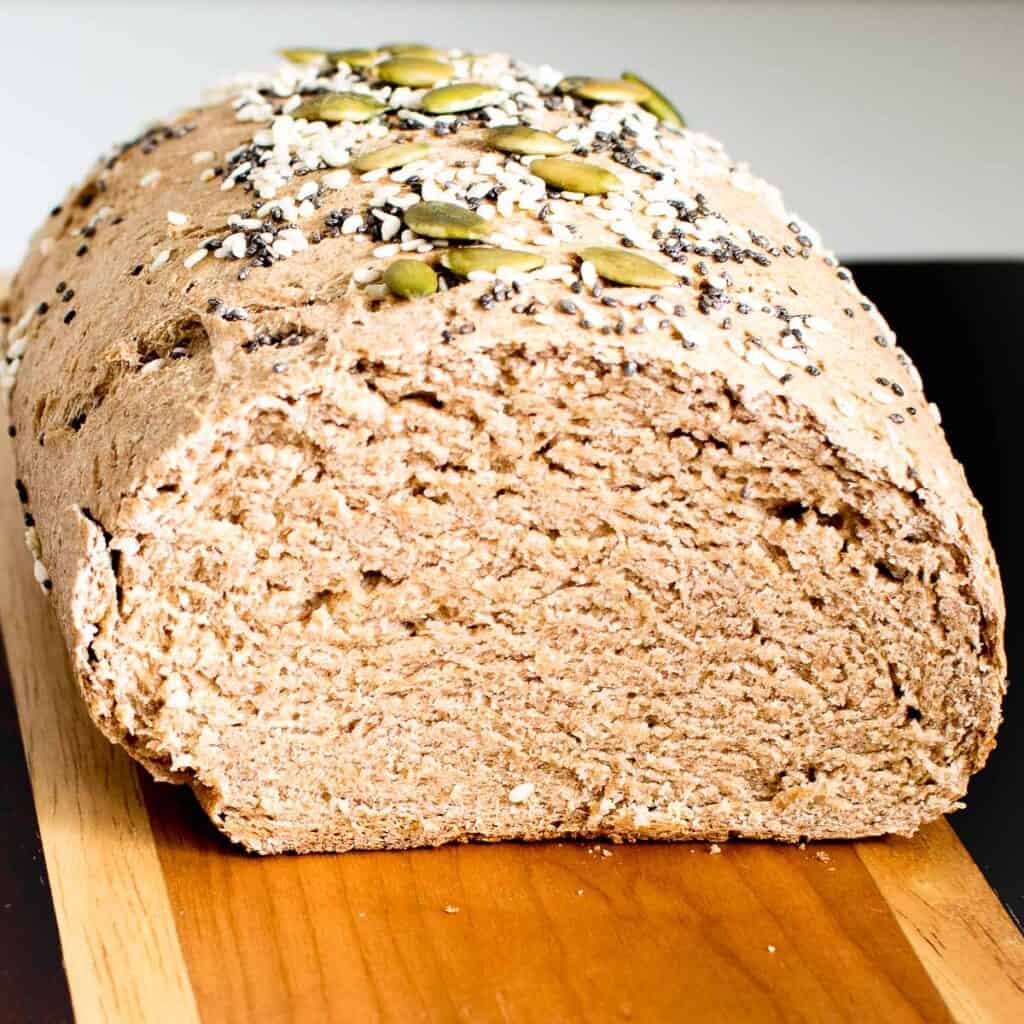 Finally, he approved it and I was delighted. So, here I am to share this amazing whole wheat bread recipe.
Ingredients you will need:
Whole wheat flour
Rapid rise instant yeast
Water
Dairy free milk
Maple syrup
Salt
I have used these easily available ingredients here which you may buy from any local grocery store. However, I have provided links to few of them here for your convenience.
If you plan to buy from these affiliate links then I get a small commission which in turn encourages me to bring in more delicious recipes for you all.
Ingredients notes:
Whole wheat flour – I used 100% whole wheat flour for this recipe so as to make it healthier. While testing it, I tried both Indian atta and American flour and both works great. However, if you want the beautiful brown color then I would recommend going with Whole wheat flour from American store.
Yeast – I used rapid rise instant yeast. Its great for beginners since it only needs one rise and can be mixed into the dry ingredient.
Dairy free milk – any dairy free milk works here but I personally like it the best with oat milk.
Maple syrup – I added this sweetener in a tiny amount to balance the flavors of this bread.
So therefore, you must have noticed that these are very simple ingredients in this bread recipe. All you have to do it to go through the simple steps which I have explained in detail and get started with it.
How to make Whole Wheat Bread
Firstly, I mixed in whole wheat flour and yeast in a large mixing bowl and kept it aside.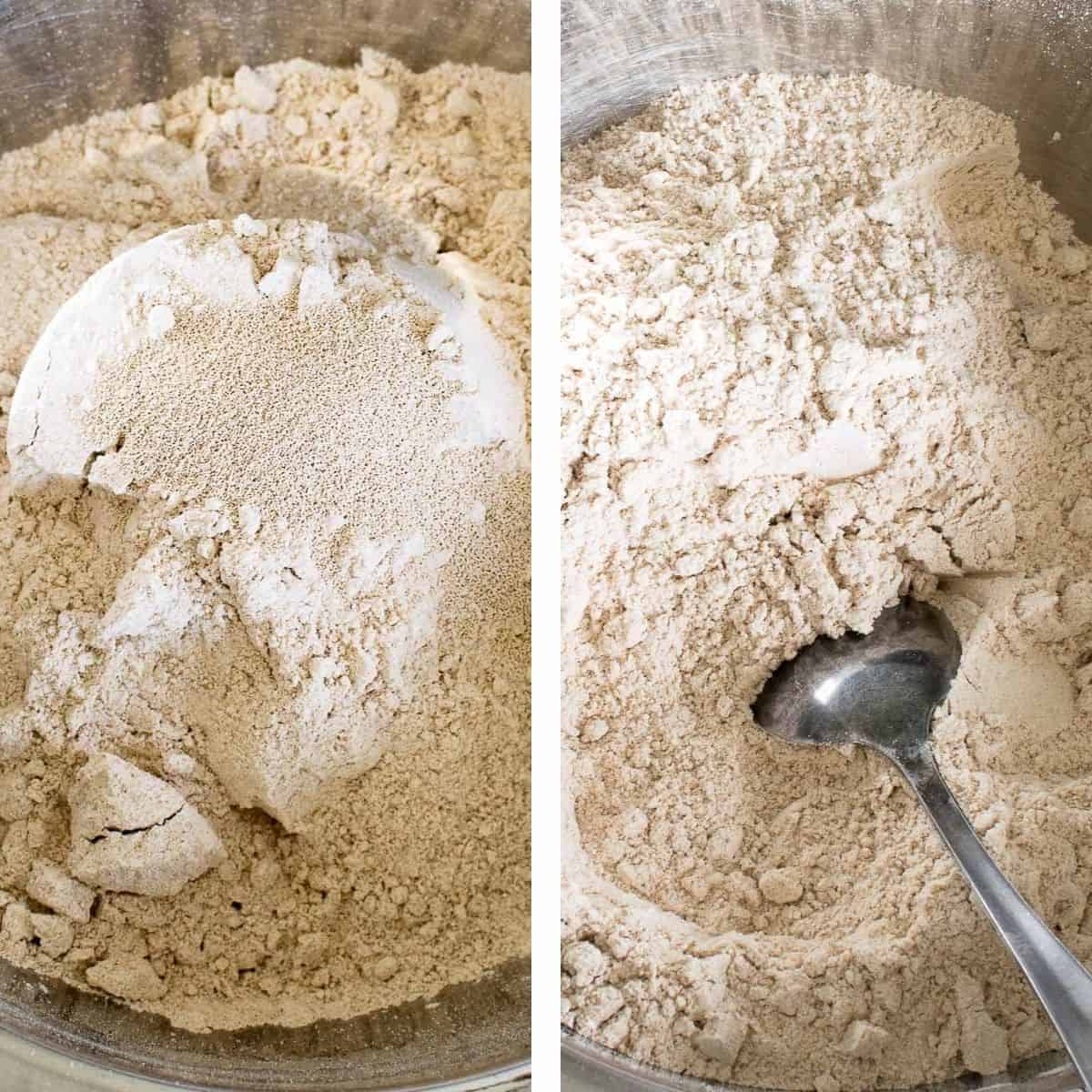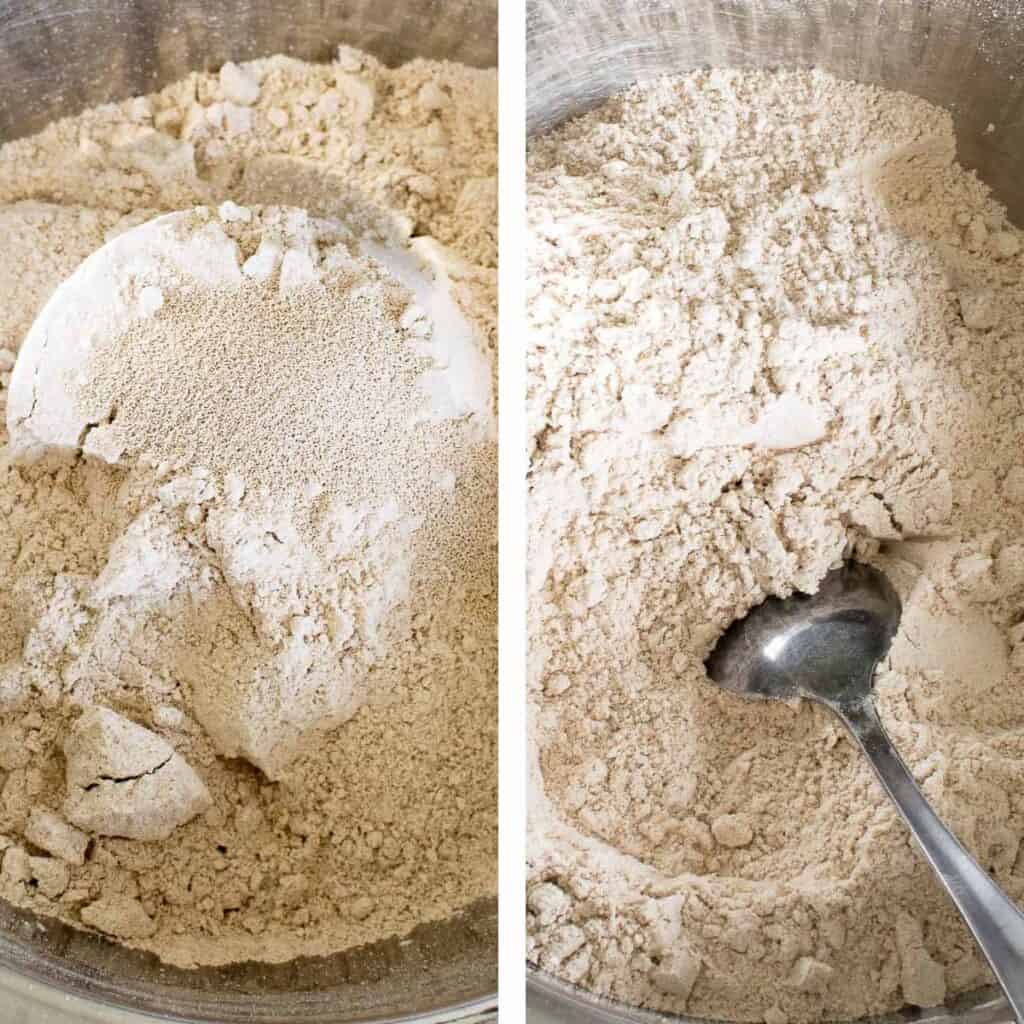 Secondly, I microwaved the rest of the ingredients up to 120-degree Fahrenheit.

Next, I folded in the wet ingredients into the dry ingredients while it is still very warm.
Thereafter, I kneaded it like a dough until it starts sticking to each other.

Afterwards, on a flat surface I kneaded the dough until it was a smooth round ball.
Later, I rolled it flat with the help of a rolling pin.

Then, I folded it in a bread shape and smoothened it out further.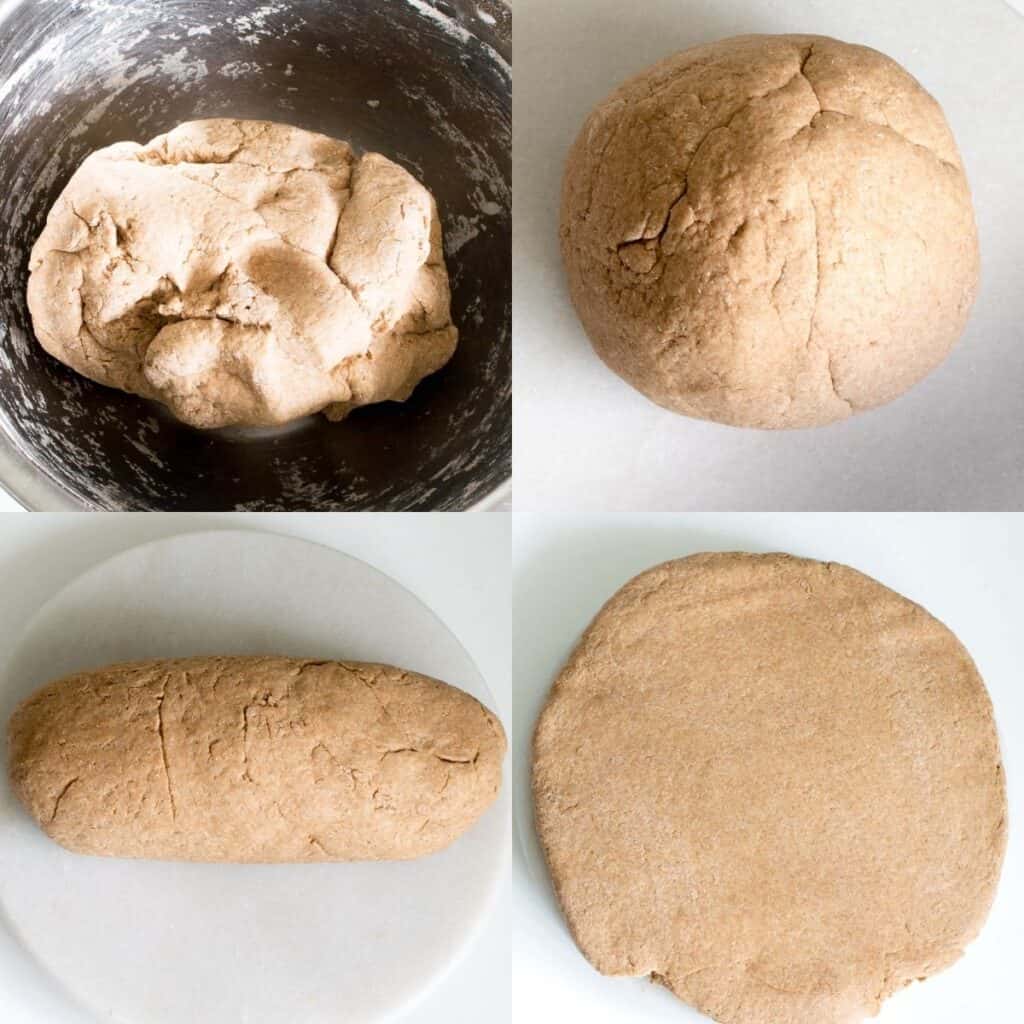 Next, I place it in the prepared bread pan and covered it with a kitchen towel.

Then, I let it proof for about 1 hour.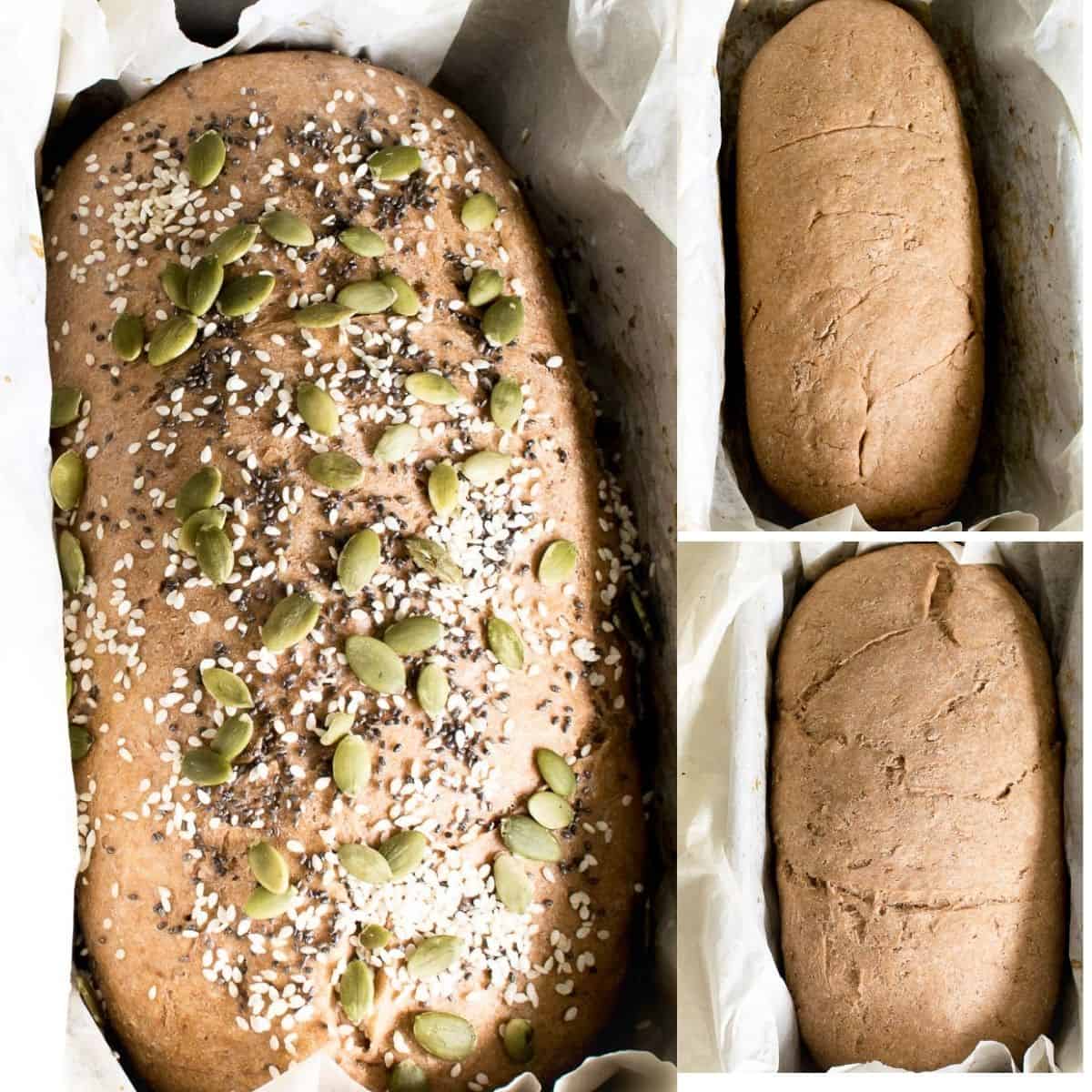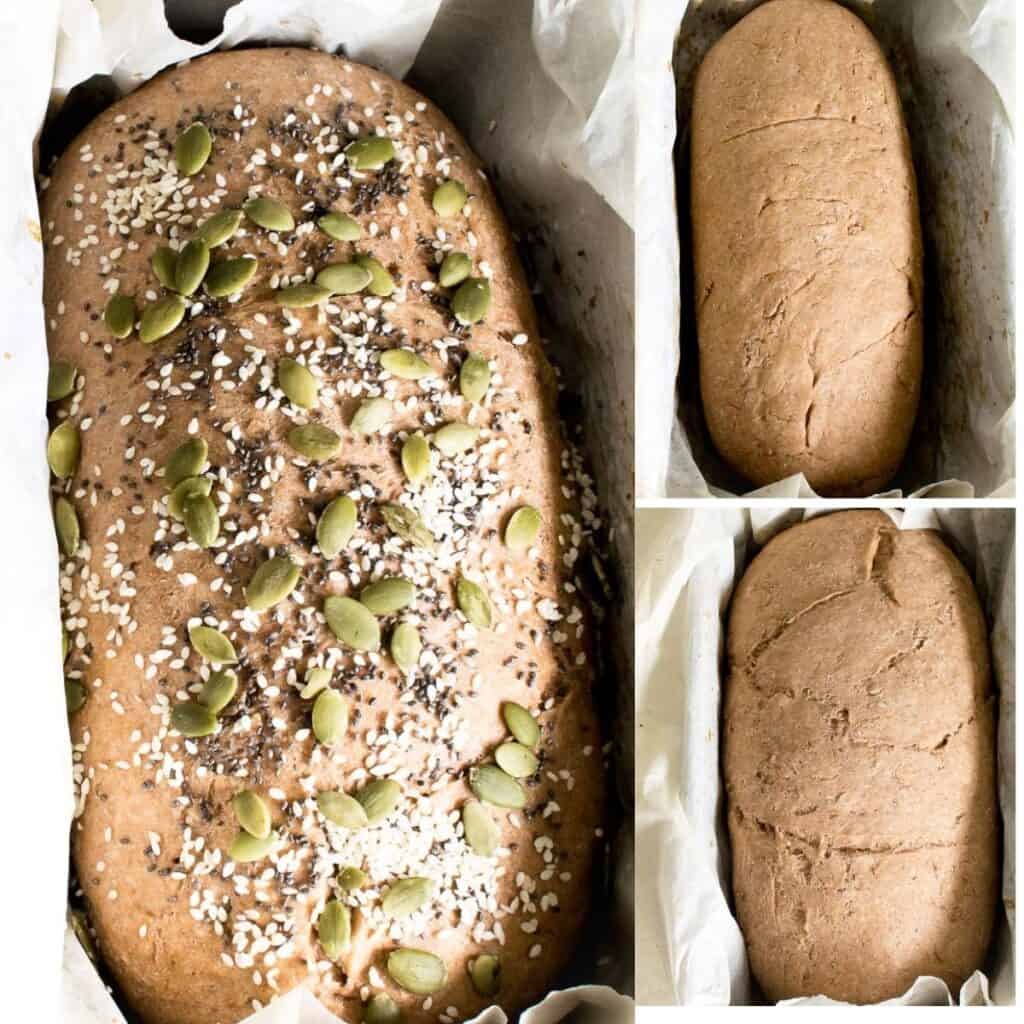 When done, I placed it uncovered in a preheat oven at 350-degree Fahrenheit and baked it for 40 minutes.
Lastly, I turned it off and took it out and let it cool completely before slicing.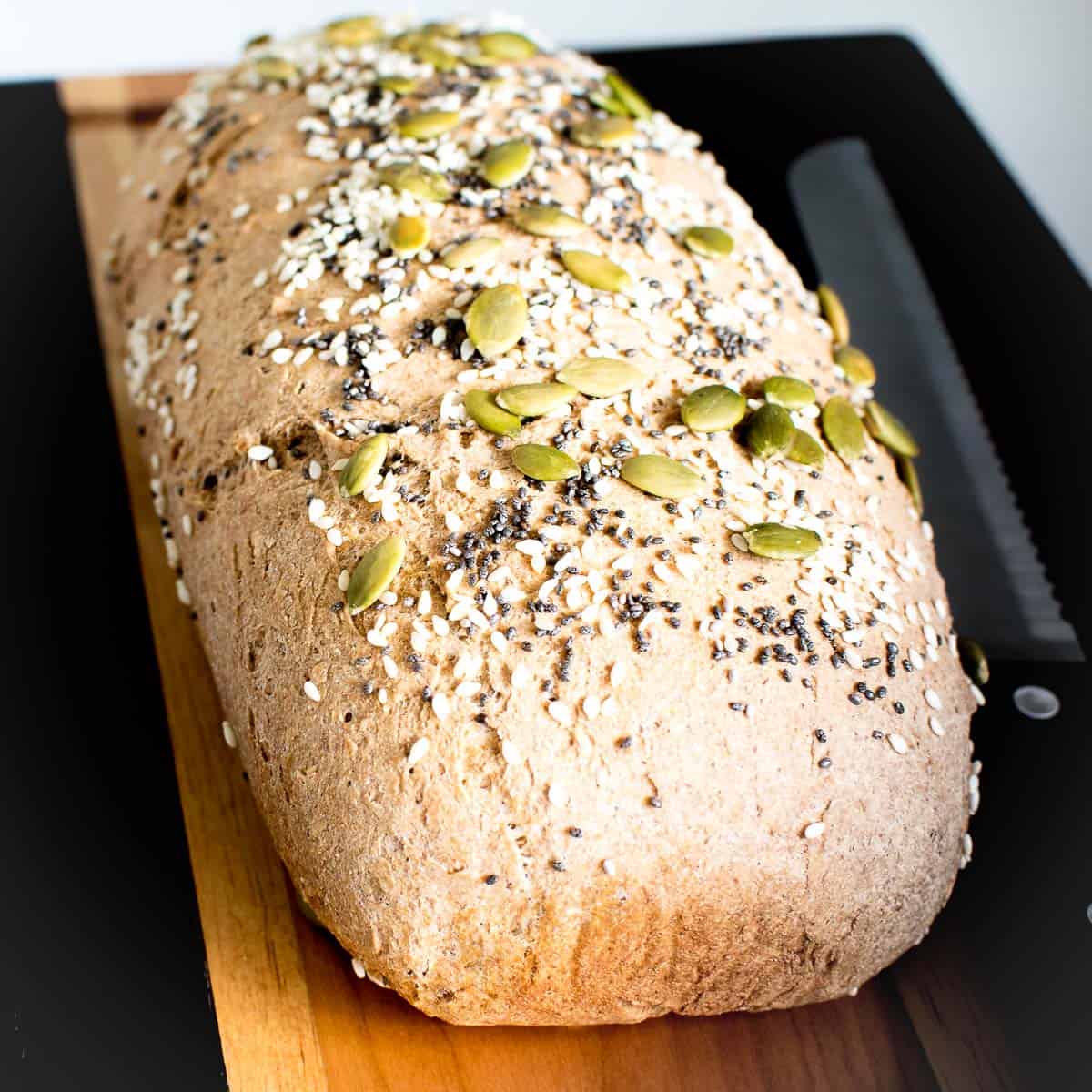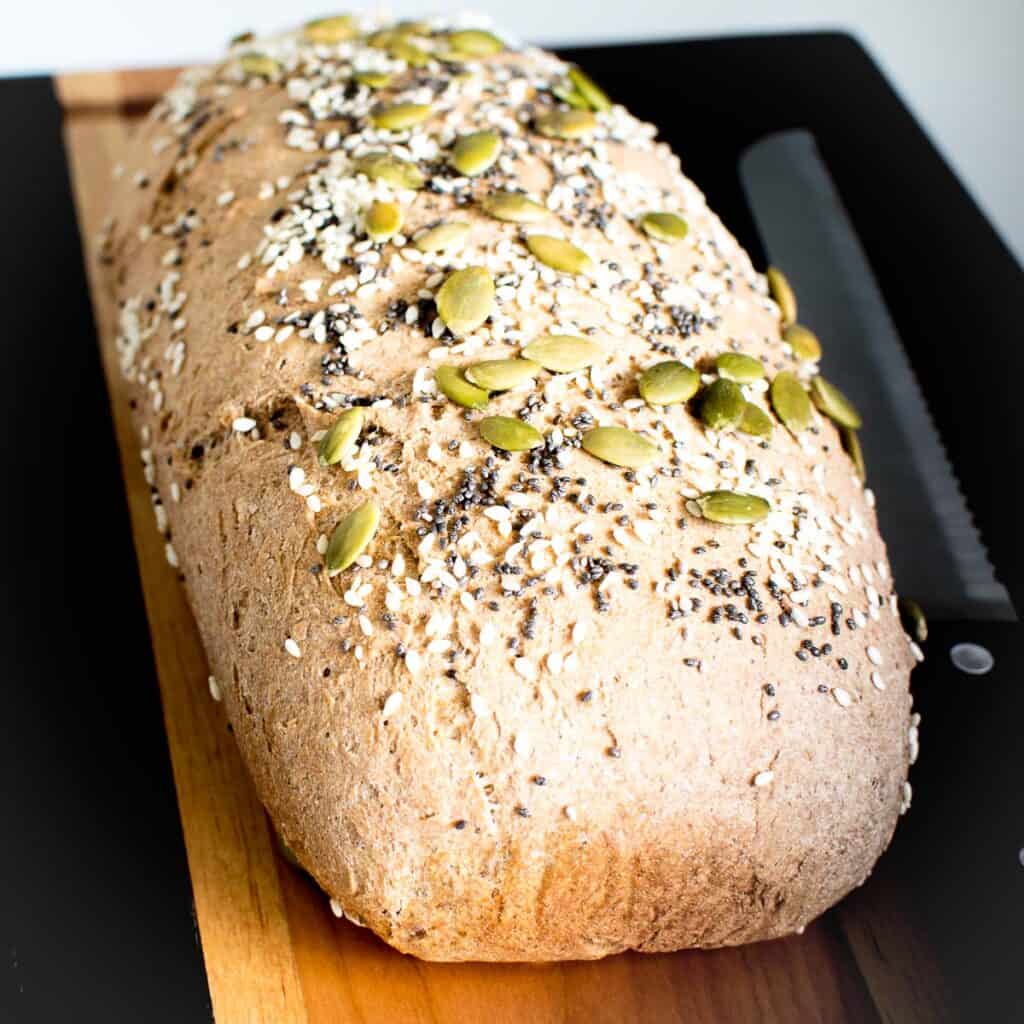 We instantly liked it and was all gone the same day.
We enjoyed it with hummus and vegan butter topped with avocado slices.
Voila!!! We all loved it so much that now I bake this vegan bread recipe once every week.
Therefore, I have stopped buying breads from the store and this homemade whole what bread is our top favorite now.
Expert tips:
This recipe works best when kneaded with hands. When kneading it on a flat surface keep folding it into each other which helps in airing out.
It is important to roll flat with a rolling pin. However, it should not be too flat nor too thick. The moment you feel that the edges would break and its impossible to join them start folding into oblong brad pan shape. At this time 2-3 folds are sufficient. Do not roll it like thin baguette.
Most importantly, the liquid should be very warm when mixing it into dry ingredients. So, use kitchen thermometer to get the right temperature.
It is important to note that salt should be added with liquid ingredients and not in the dry ingredients with yeast. This would help yeast to work better and make the bread softer.
Whole Wheat Bread FAQs
How long do they last?
Let it cool completely and then slice and store in an air tight container in the room temperature for about 4-5 days.
Is it healthy?
Its homemade so definitely I know my ingredients. It is made with no preservatives. I used 100% whole wheat flour and its oil free. Therefore, it can be enjoyed every day.
How much should it rise?
It will become double and form a slight dome shape at it top on the middle. So therefore, make sure to shape it as even as possible at its top before proofing.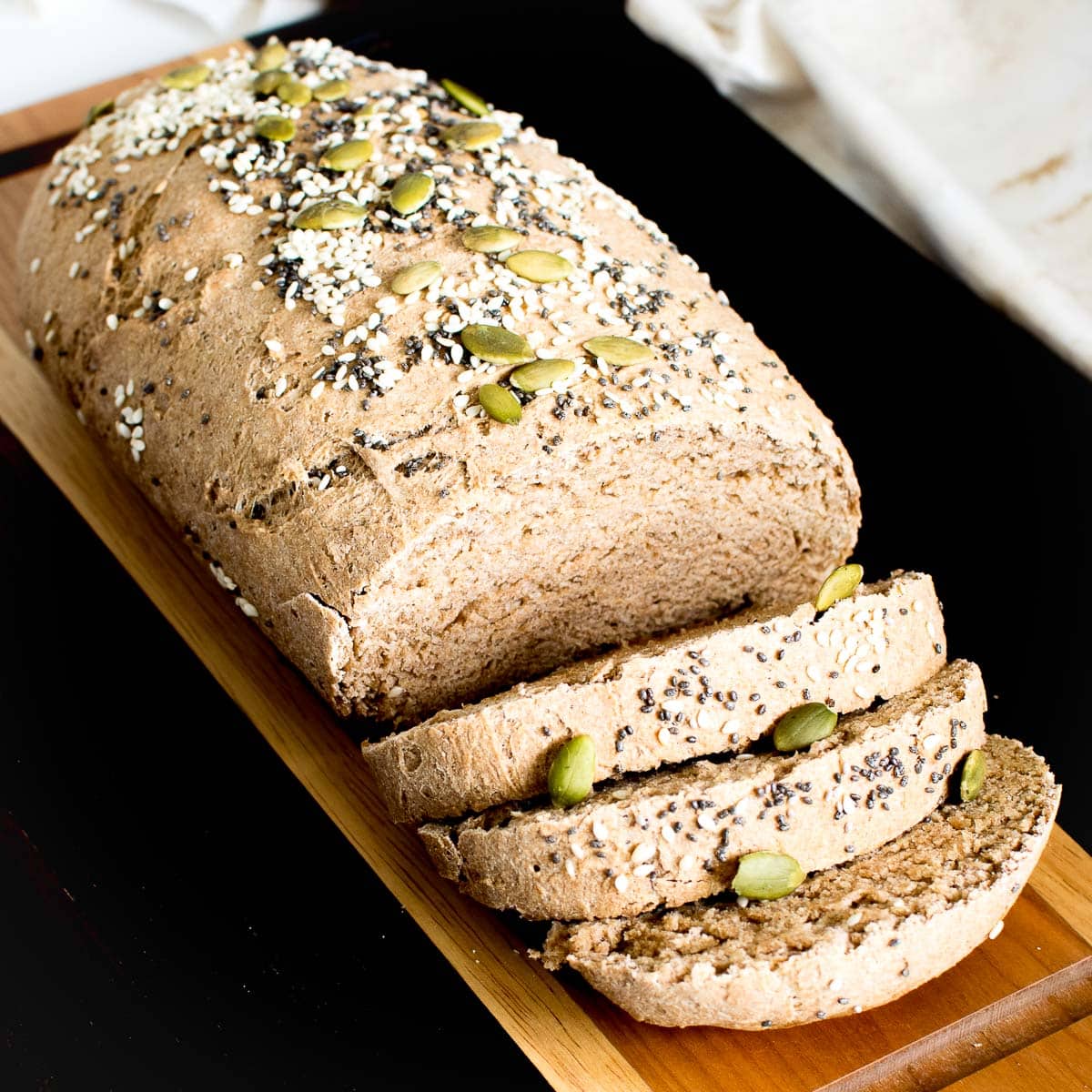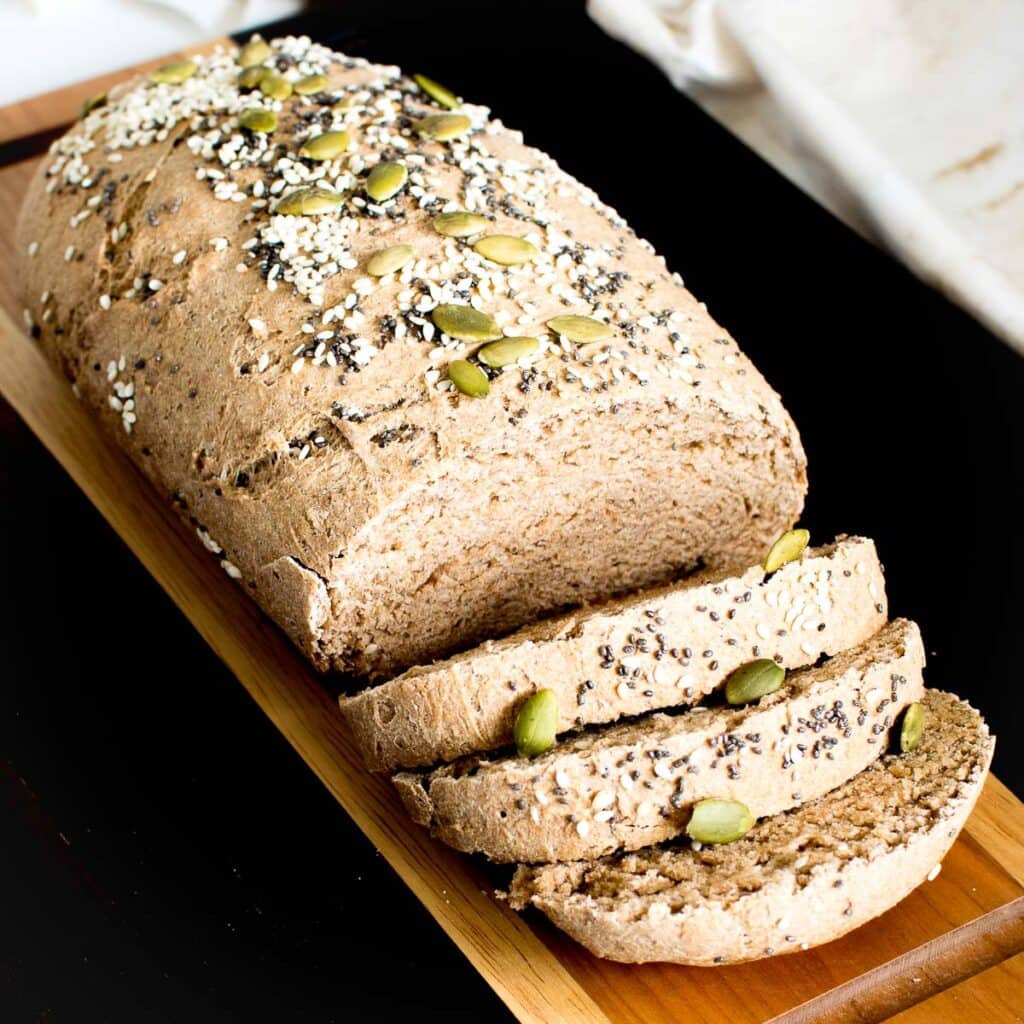 Did you make it?
If you get a d chance to make this recipe then please leave your feedback in the comments along with the ratings. In addition, you may tag @kiipfit on Instagram with your recipe image because we would love to see what you cooked.
In addition, if you desire to explore more of my delicious recipes then you may check out my cookbooks.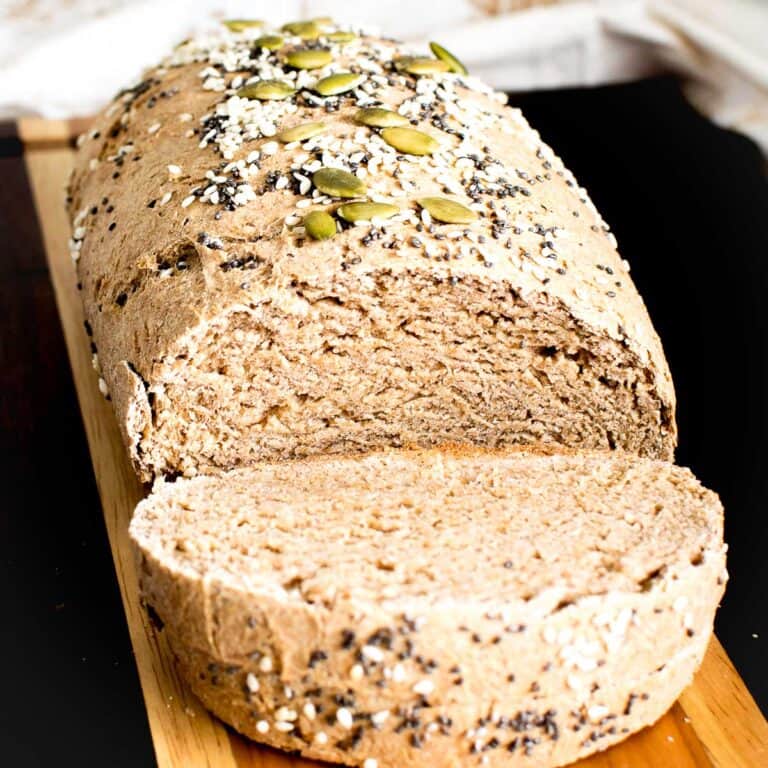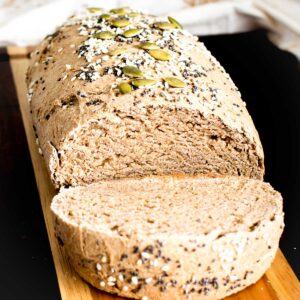 Print Recipe
Whole Wheat Bread
This 100% Whole Wheat Bread is vegan and soft from inside with a nice crust from the outside. Its easy and perfect for beginners. Its oil free and healthy along with a wonderful texture and aroma.
Ingredients
topping (optional)
Instructions
Prepare a bread pan ( 8 inch or 9 inch) by greasing it with a cooking spray and then stick the parchment paper in it. In a mixing bowl combine whole wheat flour and dry yeast. Mix it with a spoon and keep it aside.

In a microwavable bowl combine water, dairy free milk, maple syrup and salt. Stir and warm it up to 120-degree Fahrenheit. Use kitchen thermometer to check its temperature. (about 2-3 minutes on high in microwave).

Fold in the wet ingredients into dry ingredients while the liquid is very warm. This helps yeast to activate. Then with your hands start kneading it. (go slow since it will be very warm). Once it gets better knead well until it all sticks together.

Then, on a flat surface (not dusted) knead it very well folding oblong every time until it is a smooth ball.

Then, with the help of a rolling pin roll it flat. It should not be very thin but not thick also. Stop if you edges start to break and cannot be joined back easily.

Then, in an oblong shape fold it or roll it and smoothen it a bit while shaping it as per your bread pan. Place the dough in the bread pan. Cover the top with a kitchen towel and let it proof for about 60 minutes. I use the bread proofing function of the oven for convenience. Any slightly warm place would work.

Once done, preheat the oven to 350-degree Fahrenheit. In the mean while milk brush the top of the bread generously with the dairy free milk and brush. Then garnish it with chia seeds, white sesame seeds and pumpkin seeds. Place it in the middle rack of the oven and let it bake for 40 minutes or until little brown in color. Once done, turn it off and take it out of the oven. Place it on a flat surface and let it cool completely before slicing.
Notes
While shaping the bread keep the bread pan in mind and then roll the dough oblong.
You may use your dough maker to knead the dough. Then, take it out and knead it again on a flat surface with hands. However, kneading the entire dough from the beginning gives the best results.
I used dry yeast which need only 1 rise and is to be used dry. Therefore, mix it with flour as described and not in the liquid.
I used 100% whole grain whole wheat flour for this recipe. 
Make sure the liquid is warm enough. Use kitchen thermometer to measure the temperature for the best results. However, if you use the ingredients directly out of fridge then usually about 3 minutes in microwave brings about to that temperature.
Do not seal the bread pan while proofing with cling wrap. Use a loose kitchen towel for it to breathe and rise. It will double and form a slight dome shape at the top.
This is a slight dense bread with a nice crust on the top and soft and chewy from inside. Try to slice it as thin as possible with a bread knife.
Cool it completely before slicing and make sure to cool each slice before storing in an air tight container for about 4-5 days at room temperature.
This recipe makes about 12-14 slices depending on the thickness of the slices and the serving size is1 slice per person.
Nutrition
Calories:
100
kcal
|
Carbohydrates:
20
g
|
Protein:
4
g
|
Fat:
1
g
|
Saturated Fat:
1
g
|
Sodium:
172
mg
|
Potassium:
108
mg
|
Fiber:
3
g
|
Sugar:
1
g
|
Vitamin A:
35
IU
|
Vitamin C:
1
mg
|
Calcium:
23
mg
|
Iron:
1
mg