This Vegan Omelette is a protein packed healthy breakfast with utmost comfort taste. It is made with tofu, nutritional yeast and lots of veggies. Its fluffy, soft and so flavorful that no one will believe there are no eggs in it.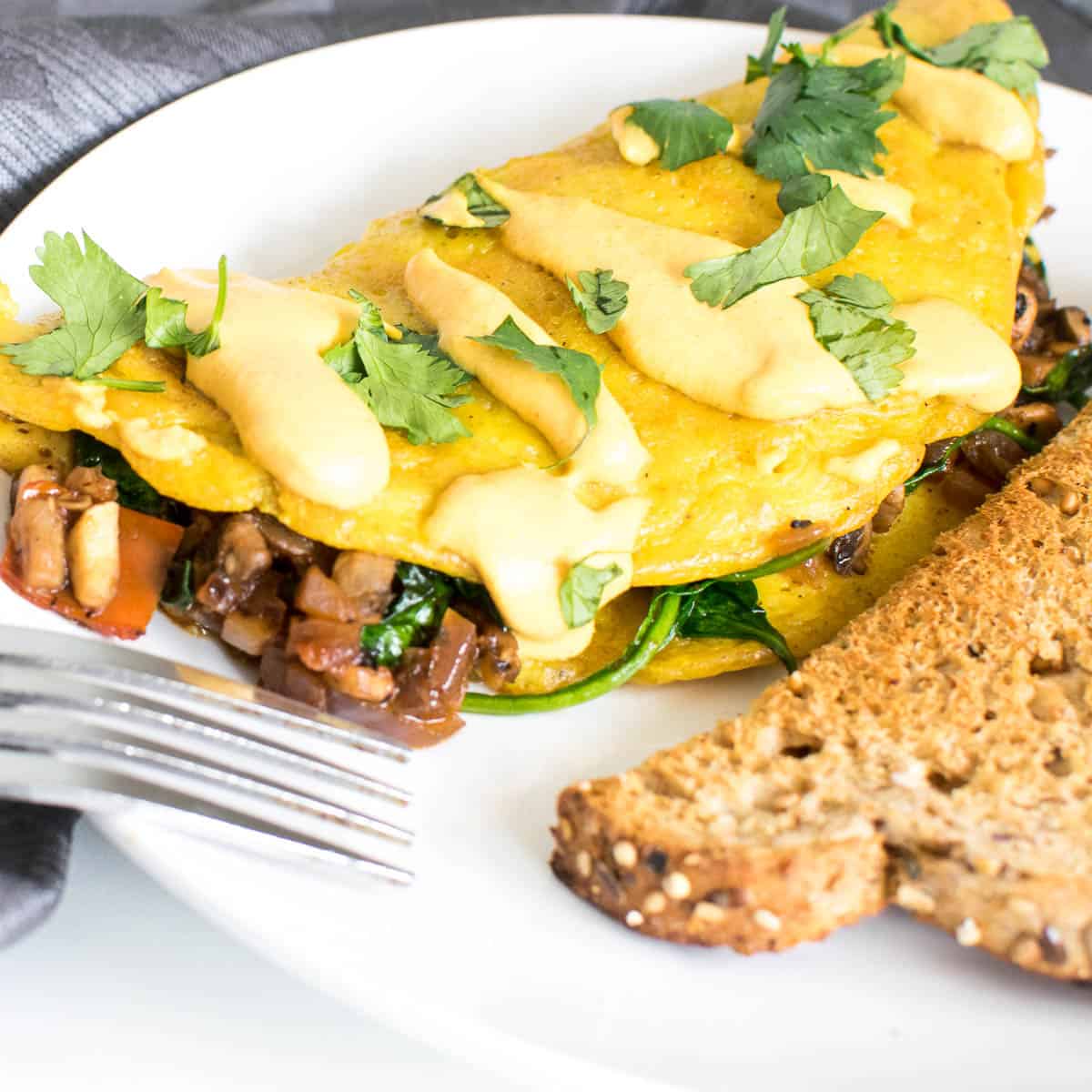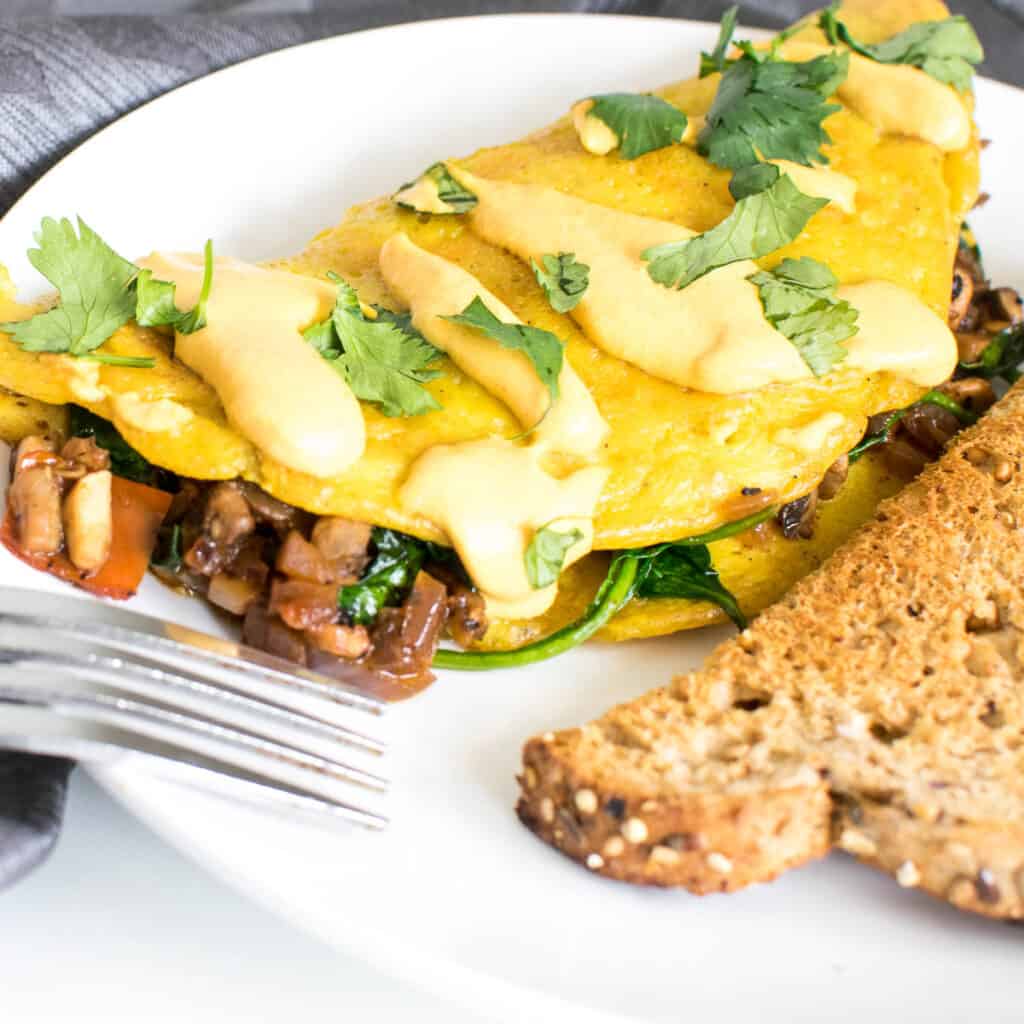 I have been craving eggs for a while. Even though I have tried few vegan substitute recipes but I was wanted something more out of it.
I often make spicy salad dressing also with silken tofu which is stunning and delicious.
Therefore, I came up with omelette recipe including tofu and I was thrilled. Finally, I got the same taste, texture and satisfaction.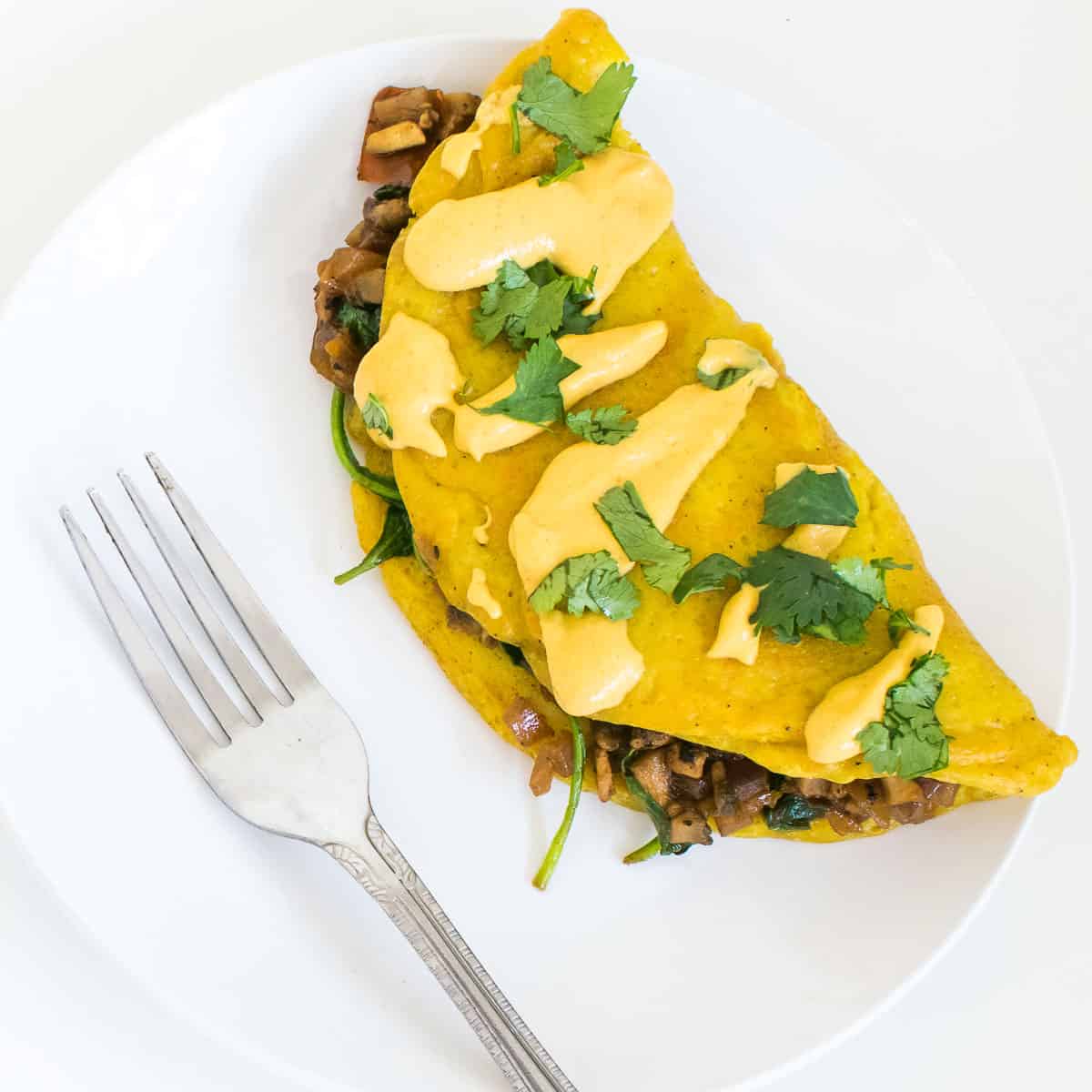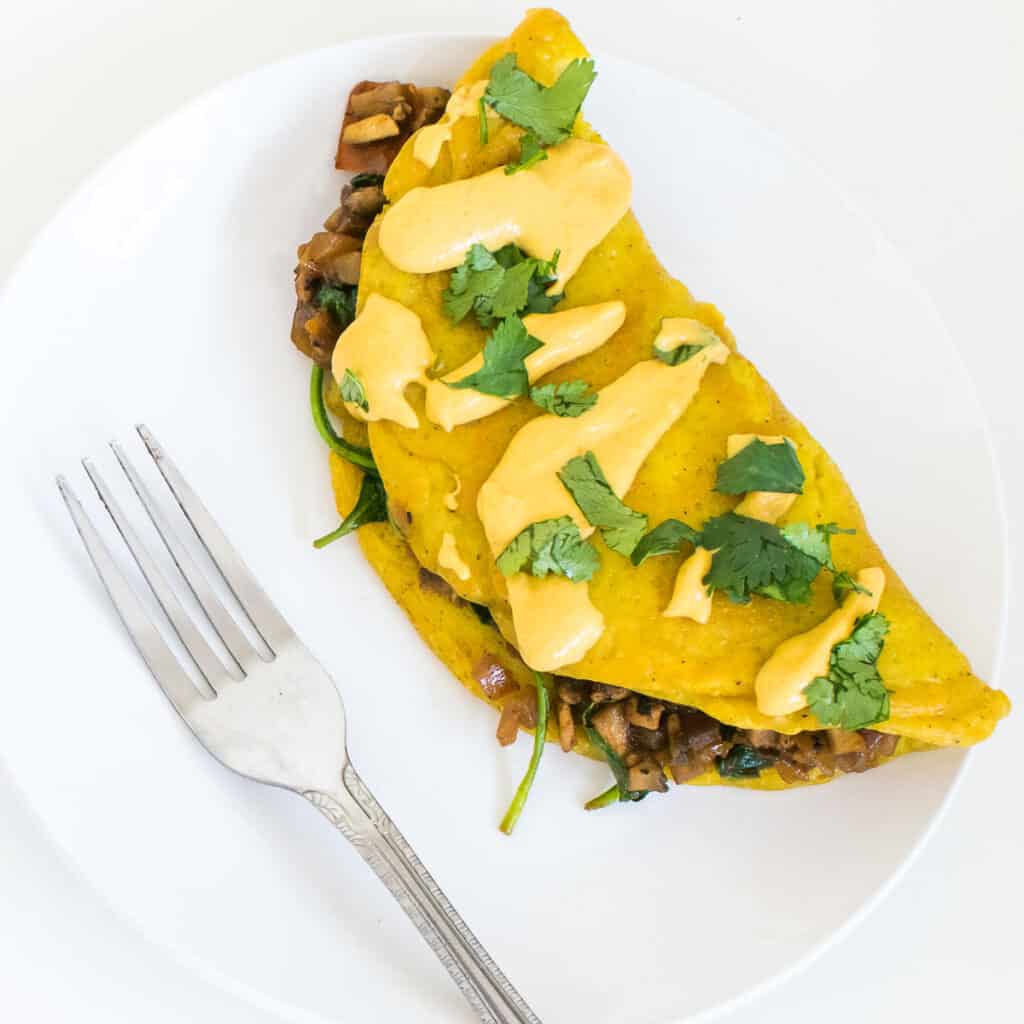 So, I had to share this awesome vegan omelette recipe with you all.
Ingredients you will need:
Silken tofu
Cornstarch
Nutritional yeast
Turmeric
Dairy free milk
Salt
Pepper
For the stuffing
Olive oil
Onion
Tomato
Mushrooms
Spinach
Salt
Cayenne pepper powder
Toppings
Vegan Queso
cilantro
I have used these easily available ingredients in this recipe which you may buy from any grocery store. However, I have provided links to few of them here for your convenience.
If you plan to buy from these affiliate links then I get a small commission which in turn encourages me to bring in more delicious recipe for you all.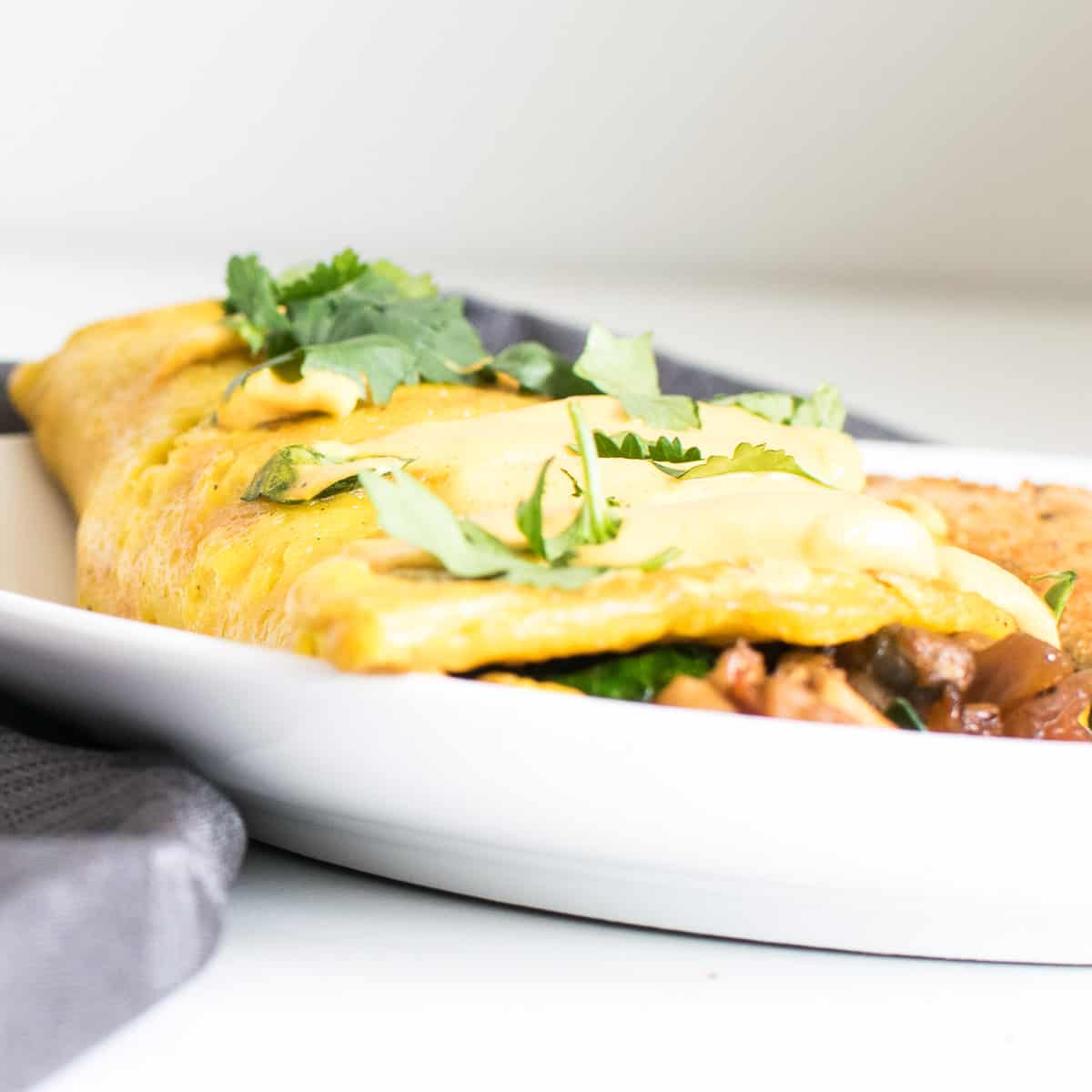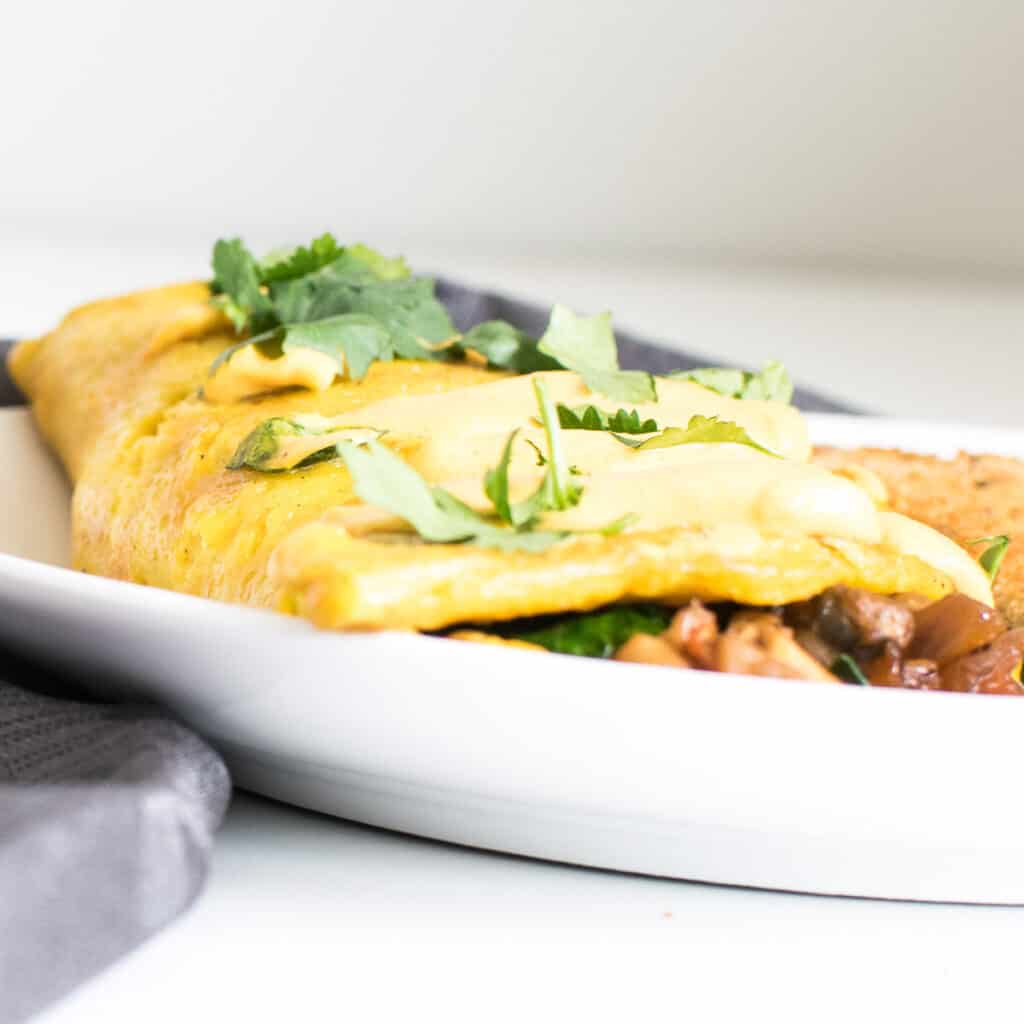 Ingredients notes:
Silken tofu – it's a softer version of tofu that blends easily and makes the batter smooth. It is a soy product and is high in protein. This is also a great egg substitute and works perfectly well in this recipe.
Cornstarch – I used the gluten free cornstarch. I used it in a minimum quantity just to bind this omelet recipe while cooking.
Nutritional yeast – this brings out a nice color, texture and flavor which resembles a lot similar to regular omelette. It is also very nutritious being a great source of vitamin B12.
Turmeric – along with having medicinal properties, turmeric is great to add the color to this breakfast recipe which would resemble the original one.
Dairy free milk – I used oat milk since it was handy for me but you may use any unsweetened dairy free milk of your choice for this recipe. However, you may want to make sure of the measurements because we do not want an excessive runny batter.
How to make Vegan Omelette
Firstly, I blended all the omelette ingredients in the blender and kept it aside.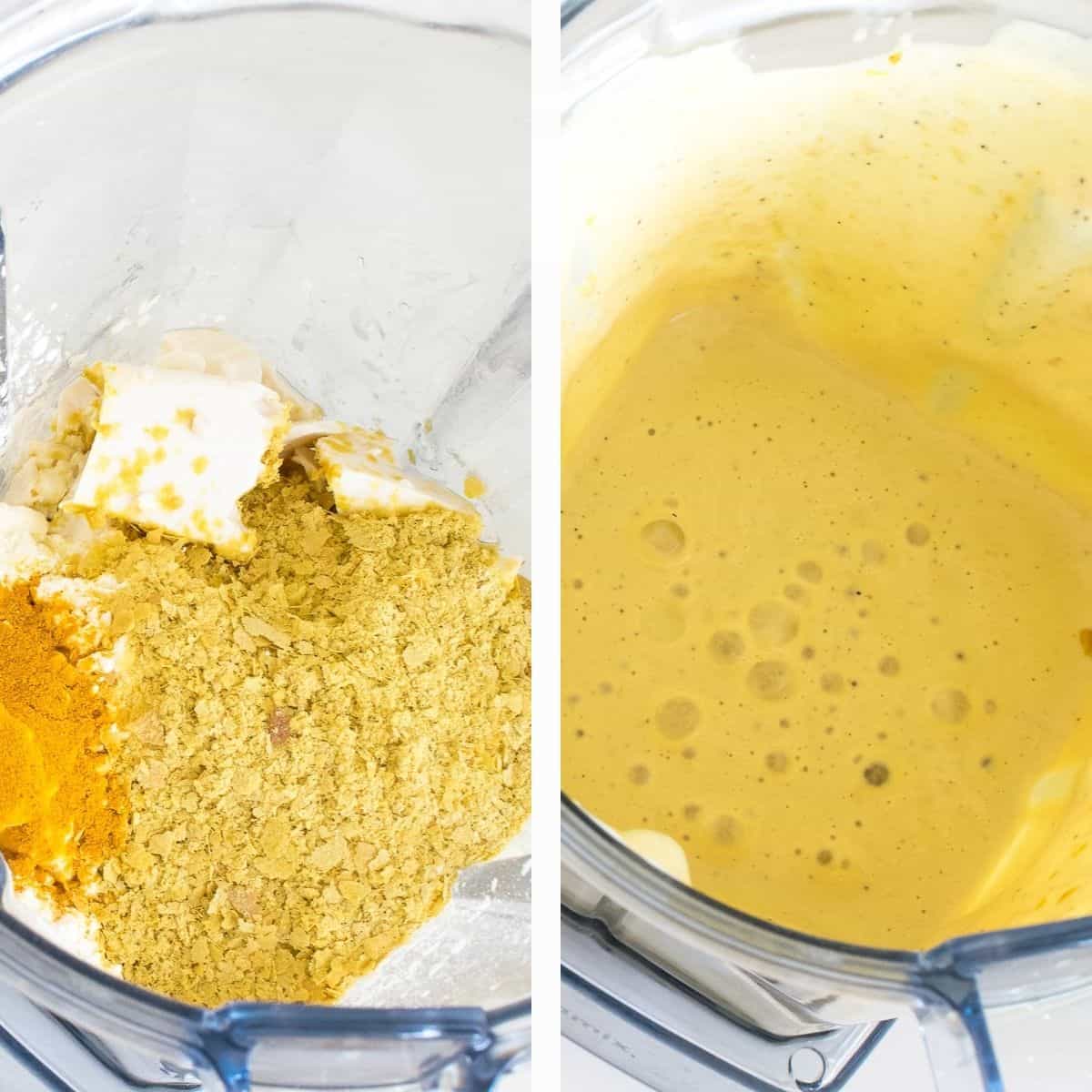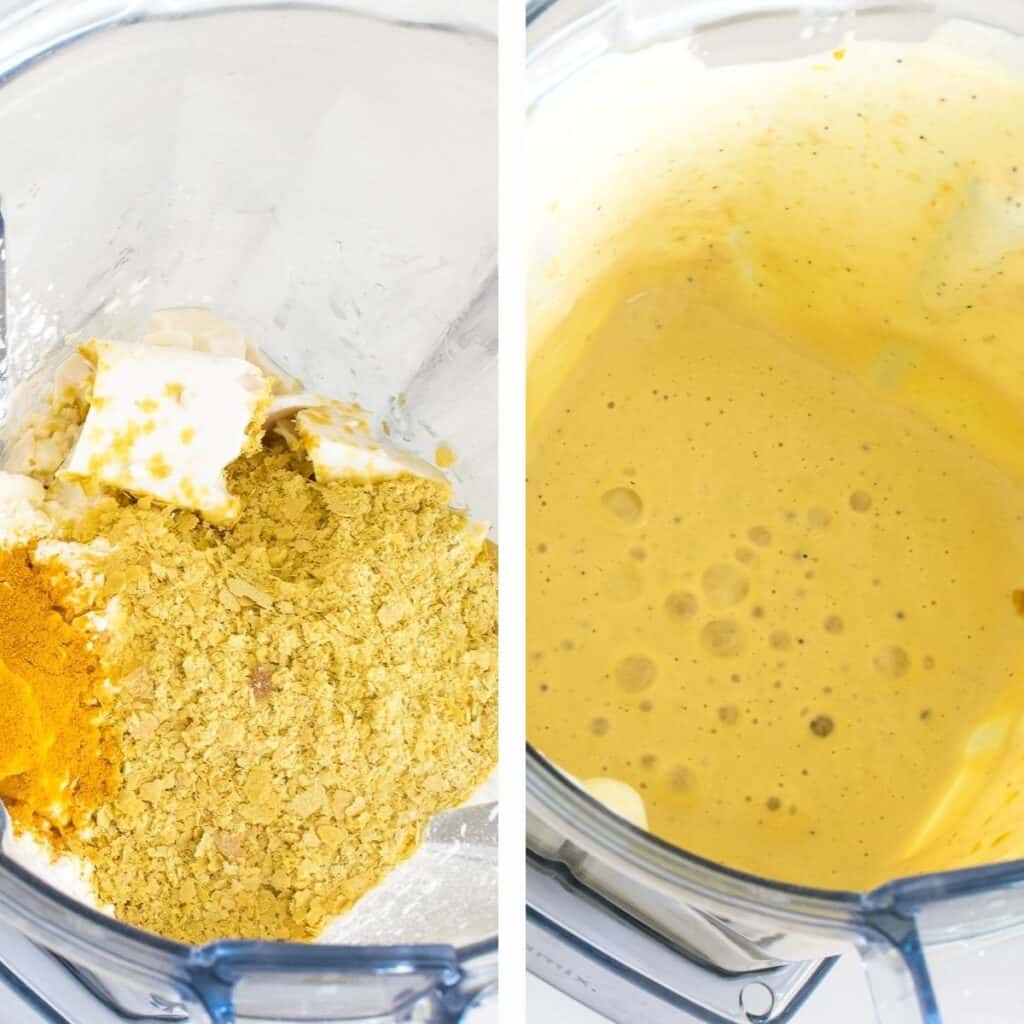 Secondly, I heated oil in a nonstick pan and sauteed onion until it starts to change into brown color.
Next, I tossed in tomatoes and cooked it until they were mushy.
Thereafter, I tossed in mushrooms and let it cook for 3-4 minutes at medium heat.
Afterwards, I added spinach, salt and cayenne pepper to it and mixed it well.
Then, I turned it off and removed from the heat.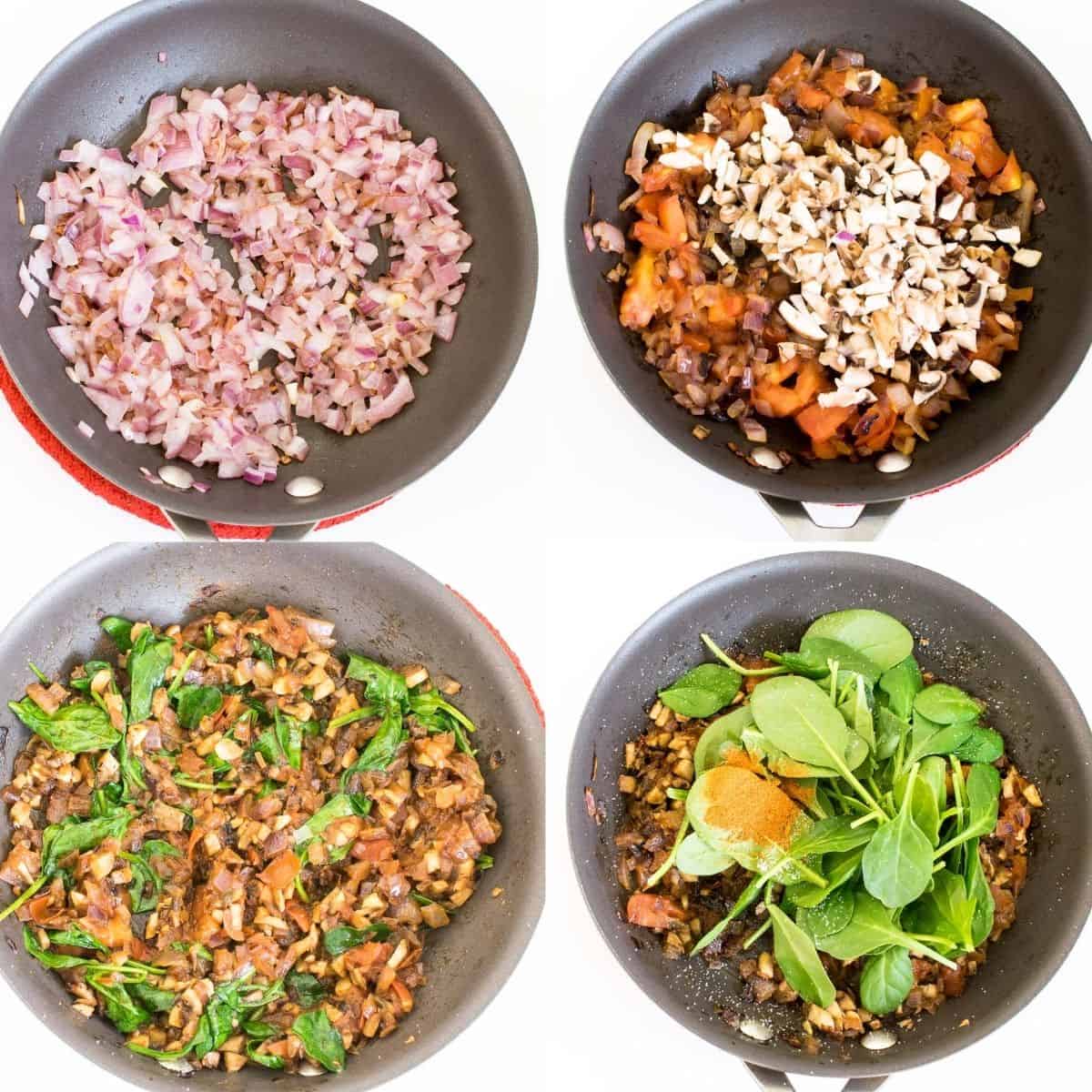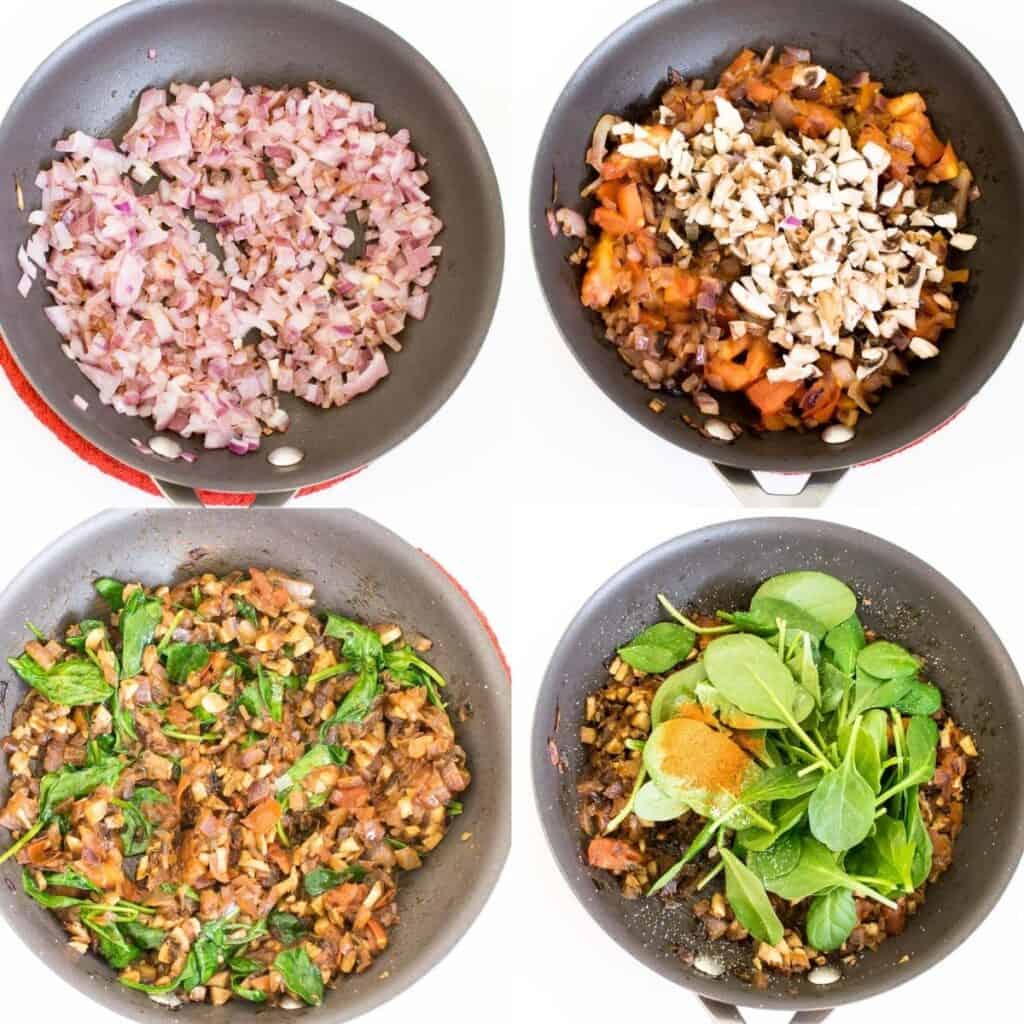 In the same pan or in another nonstick pan, I heated 1-2 tbsp of olive oil again and poured about 1/2 cup of the batter at its center.
Then, I immediately, lowered the flame to medium. Next, I cooked it covered until it was dry at the top and ready.
Then, I topped it with about 2 tbsp of the stuffing at it center and gently folded the tofu omelette.
Later, I turned of the flame and left it in the hot pan for 1-2 minutes for it to firm up.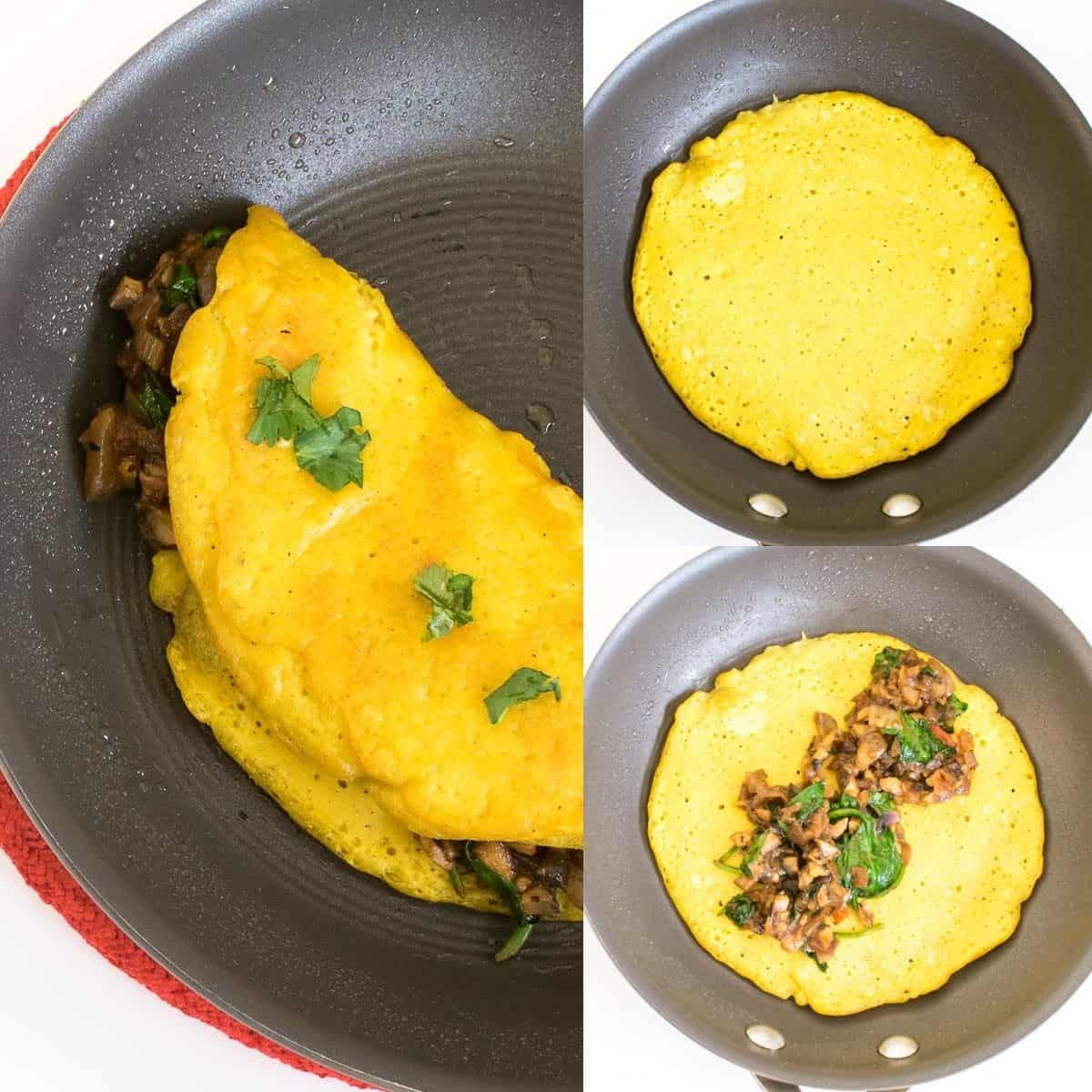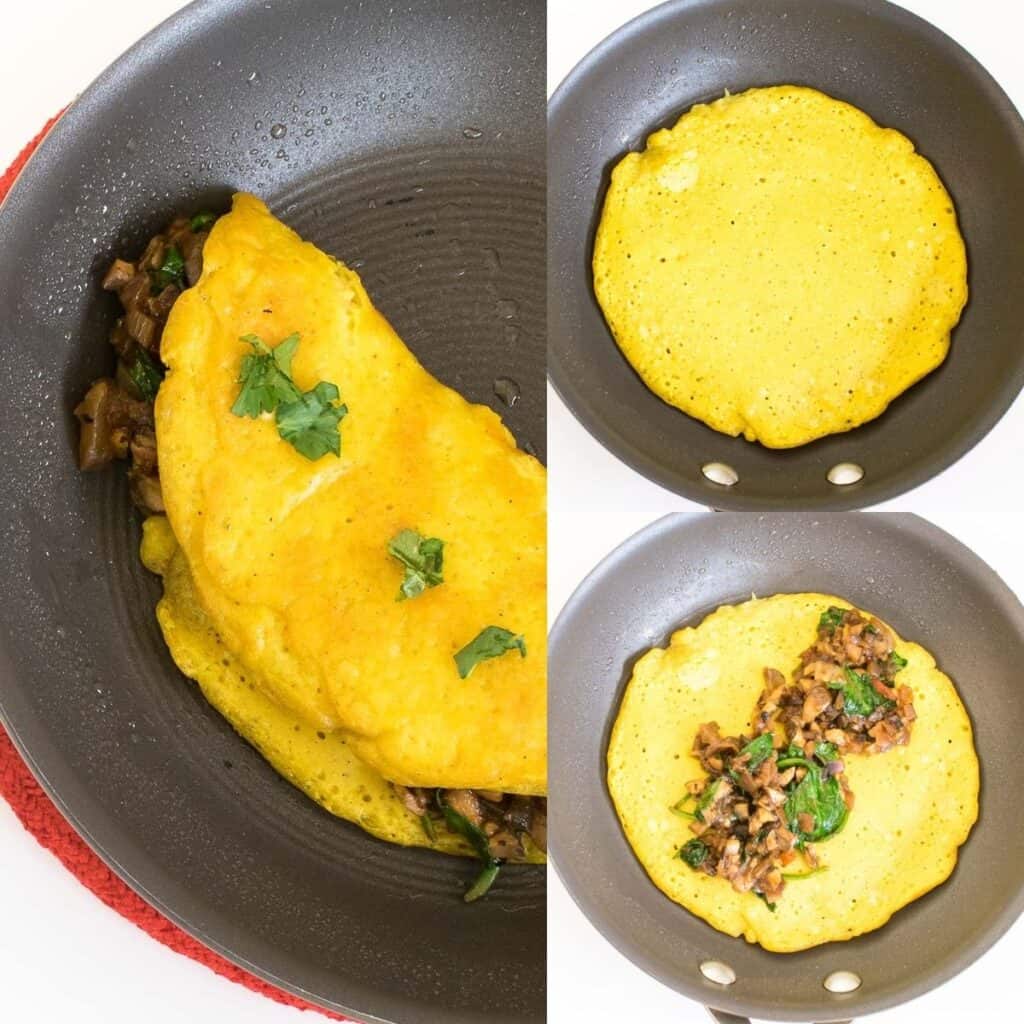 Lastly, I gently scooped it out of the pan with the help of a spatula on the serving plate and garnished with vegan queso and chopped cilantro.
I served it with toast to my family but I preferred eating it as is.
It was amazingly delicious and satisfying. Finally, I could satisfy my egg cravings. So, now it's our regular breakfast.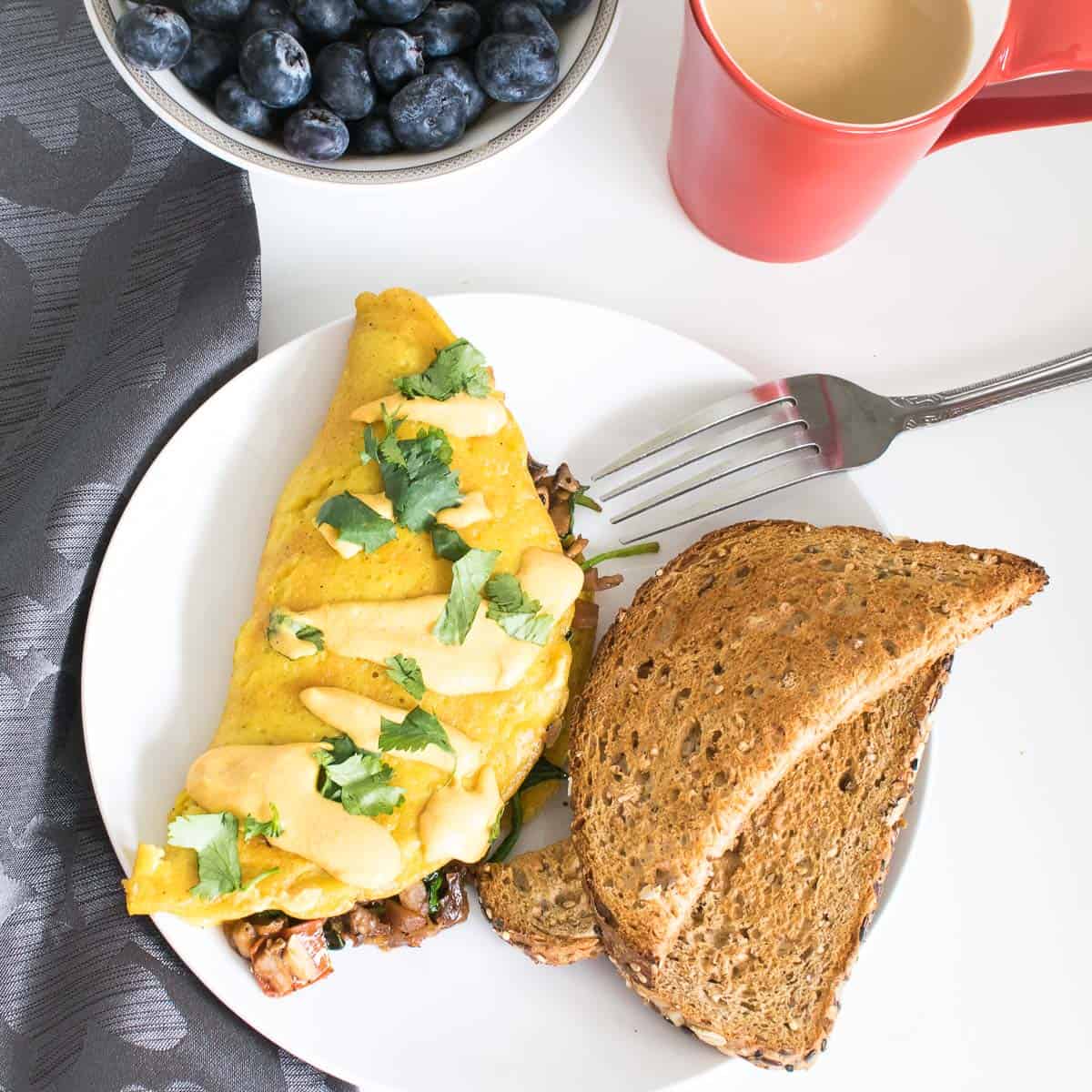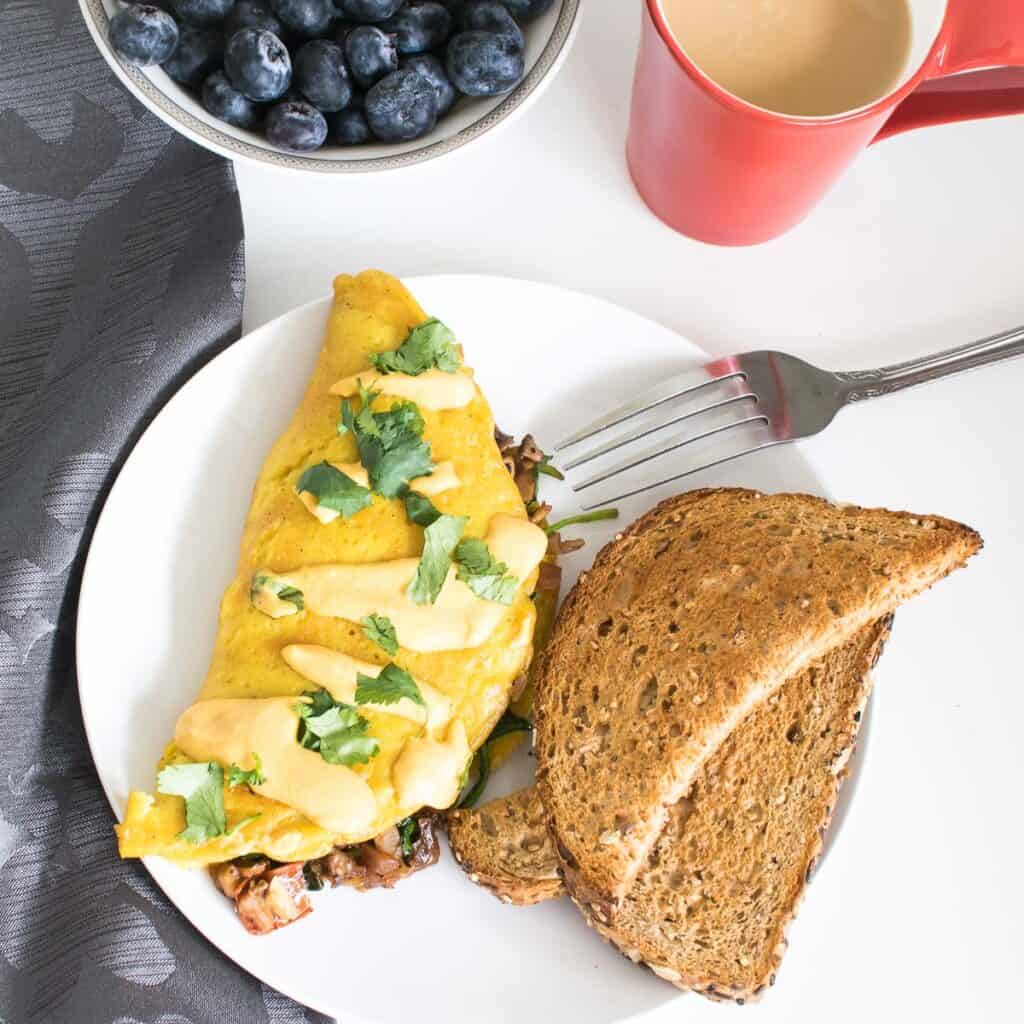 So, by now, you must have realized how easy this recipe is and once you make it you will know how wonderfully satisfying it is. At the same, its loaded with protein and other nutrition, making it a perfect way to start your day.
Expert tips:
While blending the ingredients pour the milk first in the blender and then other ingredients for a smooth and easy blending experience.
Be careful with the measurements and do not add more liquid other than recommended because we do not want an excessive runny batter.
Oil is a must in this recipe so that this vegan omelette doe not break or dry up. Oil helps in cooking this recipe better and brings out a good texture.
While cooking the omelette, once you pour the batter on the greased pan cover and cook at medium flame, it should rise and bubbles should form. Remove the lid at this point and gently check with your finger if you feel the top dry. Or else cook cover and cook for another few minutes. Do not be in a rush to take it out or stuff it.
Vegan Omelette FAQs
How long does it last?
This tastes best when served immediately.
How can I prepare for it ahead of time?
You may blend the batter and refrigerate it for 2-3 days in an air tight glass container. Also, you may prepare the stuffing and refrigerate for about a week. When ready just microwave the stuffing and start cooking the omelette. Might take a bit more time to cook but it will still work the same.
Is it healthy?
Yes, absolutely. It's a protein packed breakfast option with being high in fiber and low in carbohydrates. It is stuffed with nutritious veggies and overall, this recipe consists of healthy fats. It can be enjoyed every day.
How does it taste like?
It has a nice fluffy texture and soft from inside. It tastes very similar to original one, infact no one can make out it's a vegan omelette.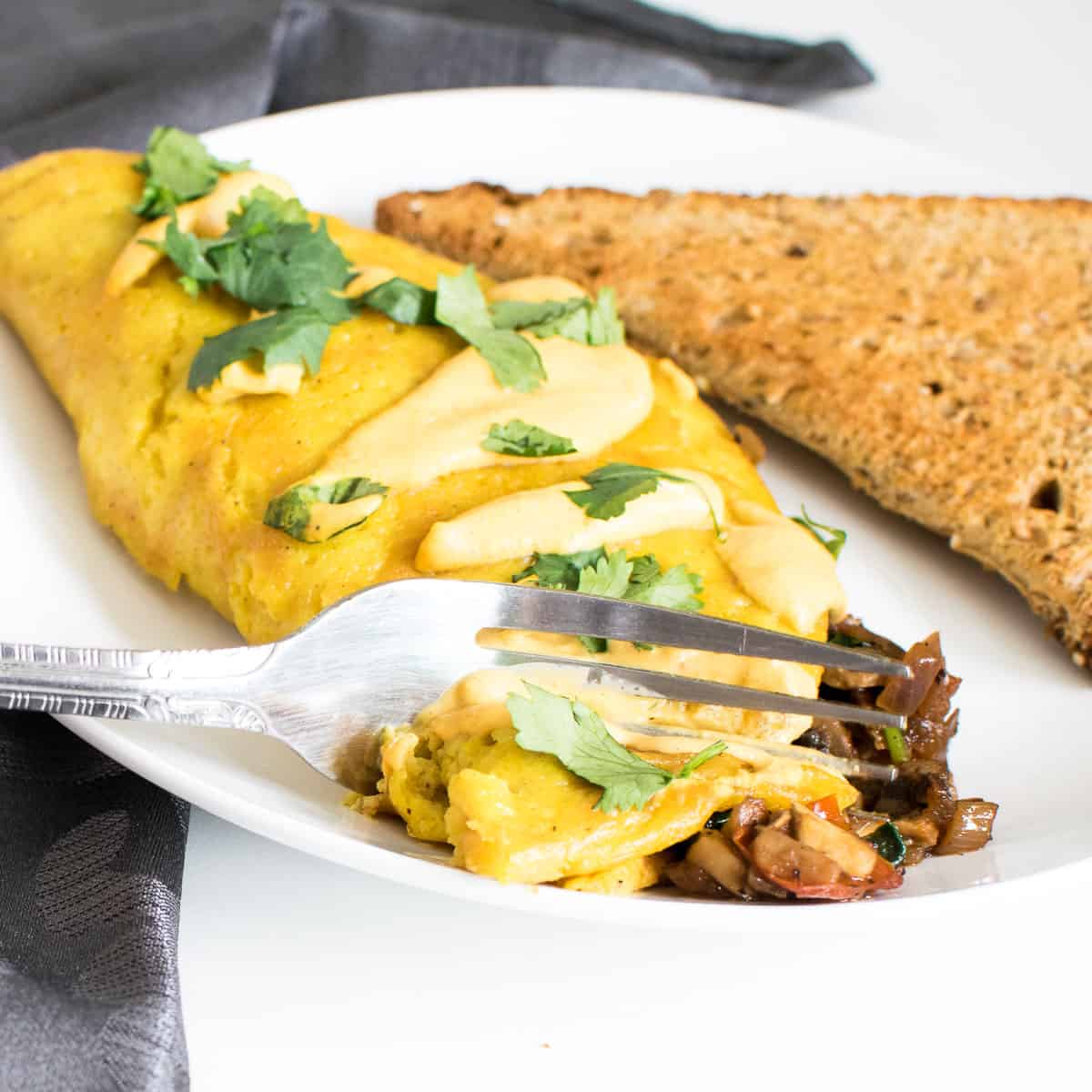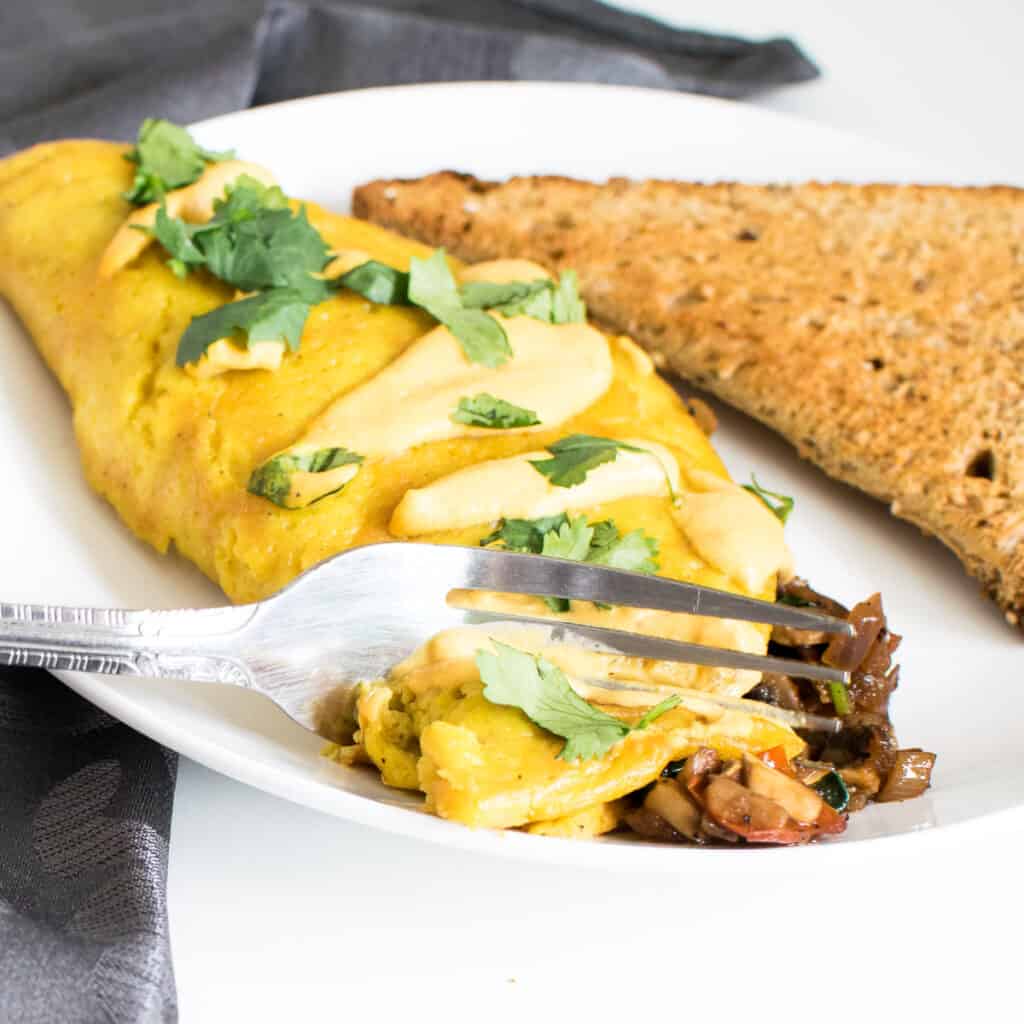 You may also like:
Tofu Zucchini Herb Scramble
Air Fryer Tempeh Bacon
Spicy Savory French Toast
Flourless Zucchini Breakfast Muffins
Did you make it?
If you get a chance to make this recipe then please leave your feedback in the comments below along with the ratings. In addition, you may tag @kiipfit on Instagram with your recipe images because we would love to see what you cooked.
If you desire to explore more of my delicious recipes then checkout my cookbooks.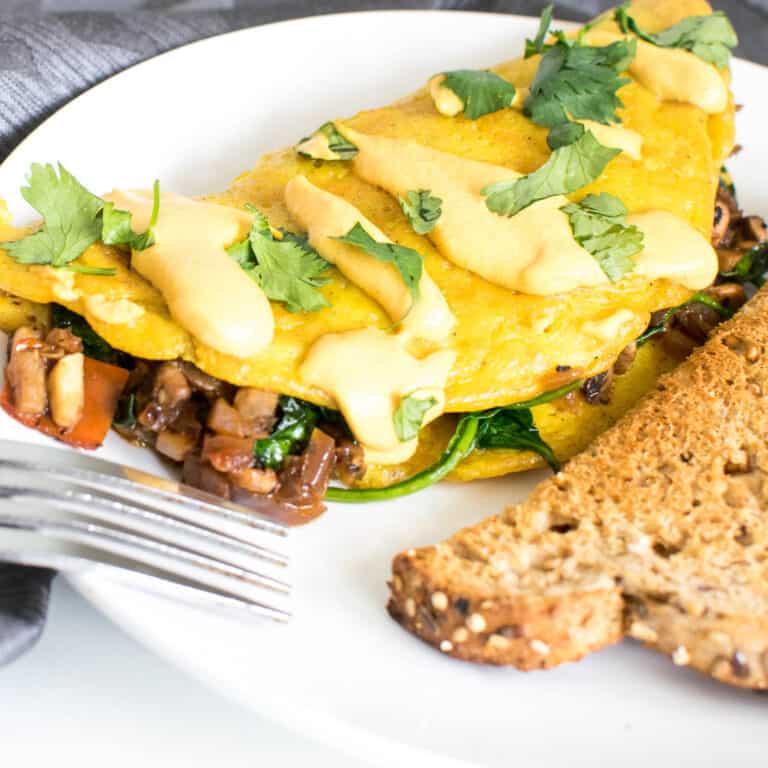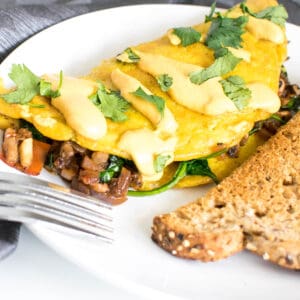 Print Recipe
Vegan Omelette
This Vegan Omelette is a protein packed healthy breakfast with utmost comfort taste. It is made with tofu, nutritional yeast and lots of veggies. Its fluffy, soft and so flavorful that no one will believe there are no eggs in it.
Ingredients
For the stuffing
1

tbsp

olive oil

1

cup

finely chopped onion

1

cup

chopped tomato

1

cup

finely chopped bella mushrooms

1

cup

baby spinach

1/2

tsp

cayenne pepper powder

salt as per taste
Instructions
In a blender combine omellete ingredients and blend it smooth. (pour the milk at the bottom of the blender and then add the rest of the ingredients for efficient blending). Keep it aside.

Heat oil in a nonstick pan and sauté onions until it starts to change into brown.

Toss in tomatoes and cook until mushy and add mushrooms. Mix and let it cook at medium flame until for 3-4 minutes.

Then add spinach, salt and cayenne pepper powder. Sauté for few minutes. Turn it off and keep it aside.

Now, in the same nonstick pan or another pan, heat 1-2 tbsp olive and pour about ¼ – ½ cup of the batter at its center depending on the size of your pan. It will spread and take its own shape. You may gently shape it with a spatula too. Bring the flame to medium heat and cook covered until it starts to rise and bubbles form. At this point remove the lid and check with the tip of the finger if the top is dry. If not then cook covered again for 3-4 minutes at low-medium heat. As soon at the top feels dry add 1-2tbsp of the stuffing at the center of the omelette.

With the help of the spatula, gently fold it once and turn it off. Let the omelette sit for 1-2 minutes in the warm pan to firm up. Gently, scoop it in the serving plate and enjoy!
Notes
You may make the stuffing and refrigerate for about a week and use it as and when required.
You may refrigerate the leftover batter in an air tight container for about 2-3 days.
Make sure to drain out excess liquid from silken tofu.
This recipe serves 3-4 depending on the amount of batter you pour in your pan which again depends on its size. However, do not pour a very thick batter as the top may not cook well. The thick should be about ¼-1/2 inch and not more than that for the right texture.
Nutrition
Calories:
254
kcal
|
Carbohydrates:
12
g
|
Protein:
11
g
|
Fat:
18
g
|
Saturated Fat:
1
g
|
Sodium:
93
mg
|
Potassium:
265
mg
|
Fiber:
2
g
|
Sugar:
1
g
|
Vitamin A:
773
IU
|
Vitamin C:
8
mg
|
Calcium:
26
mg
|
Iron:
1
mg