This dairy free refreshing Iced Matcha Latte recipe is made in only 5 minutes with 5 simple ingredients. Enjoy this homemade healthy beverage just like your favorite coffee shop. Its lightly sweetened and made with almond milk.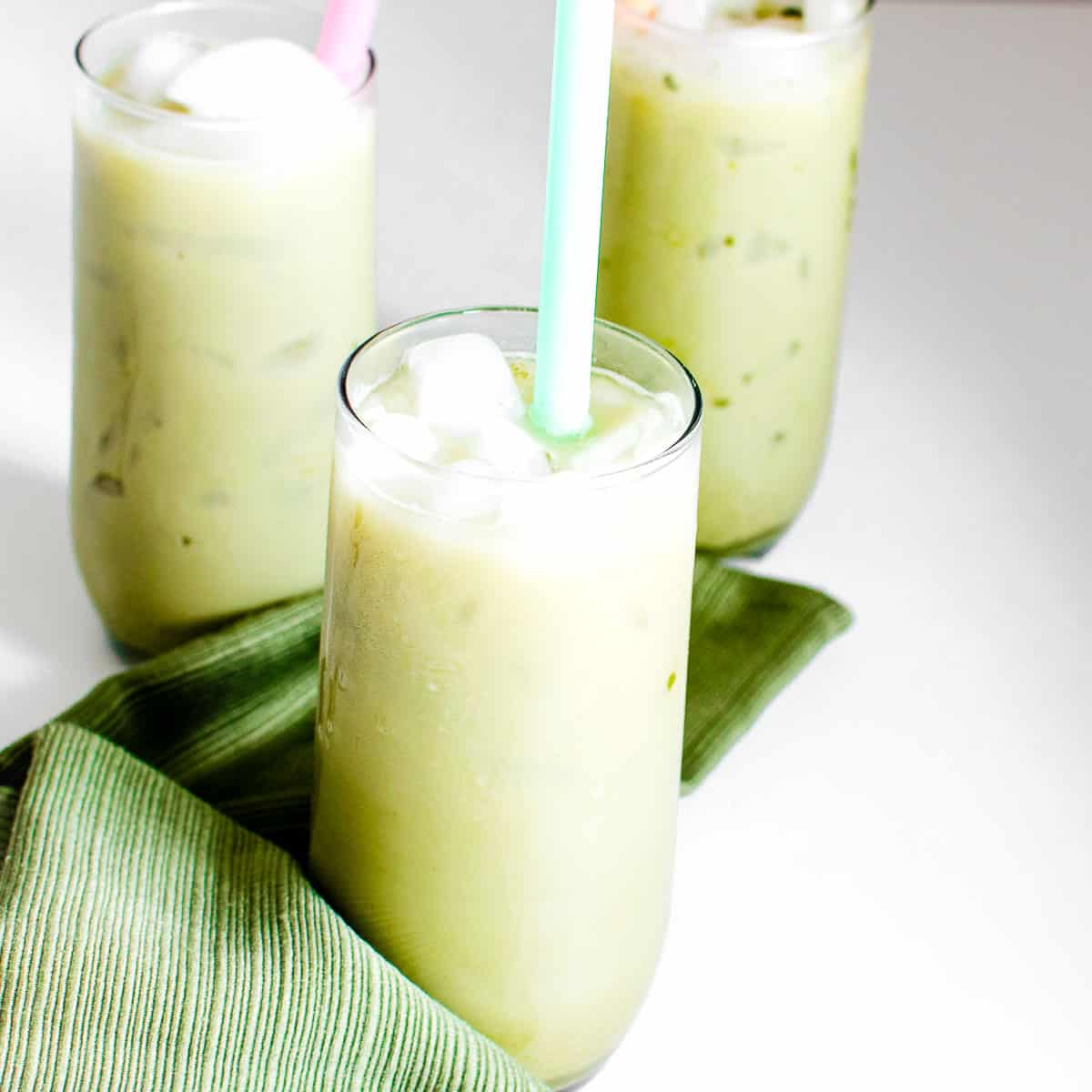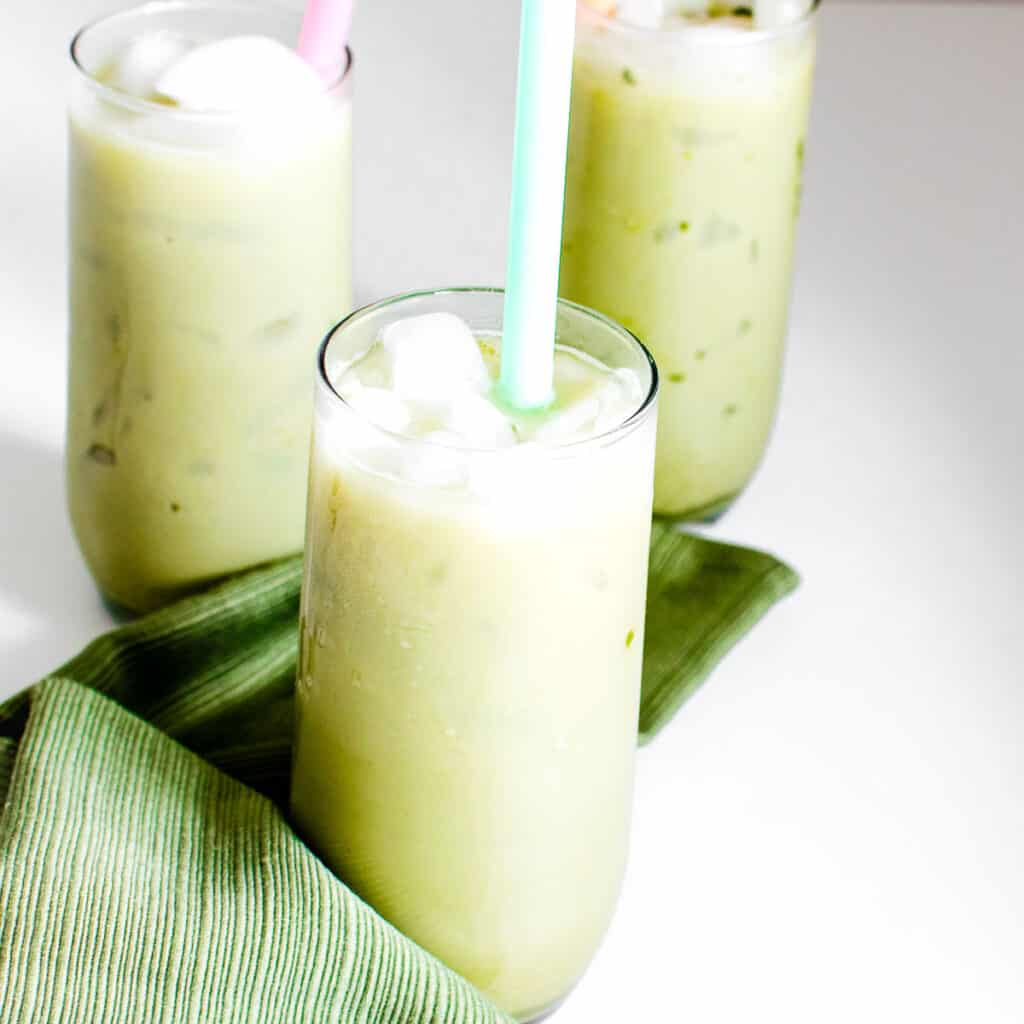 What is matcha powder?
It's a Japanese green tea in a ground form. It's a great coffee substitute and has many health benefits. Since it consists of chlorophyll it's also a natural detox. It can be blended into warm or cold milk. It has many health benefits along with providing clean skin and prevents wrinkles.
Since, I have discovered this great ingredient, I frequently indulge in this easy antioxidant drink especially when I craving for iced cappuccino and iced pumpkin latte.
I personally like it in it in a cold latte form and its very satisfying. Moreover, its easy and quick. Since, I am a big smoothie fan, I enjoy matcha smoothie as well.
Other times, I try and get into healthier turmeric latte as well which has many medicinal benefits.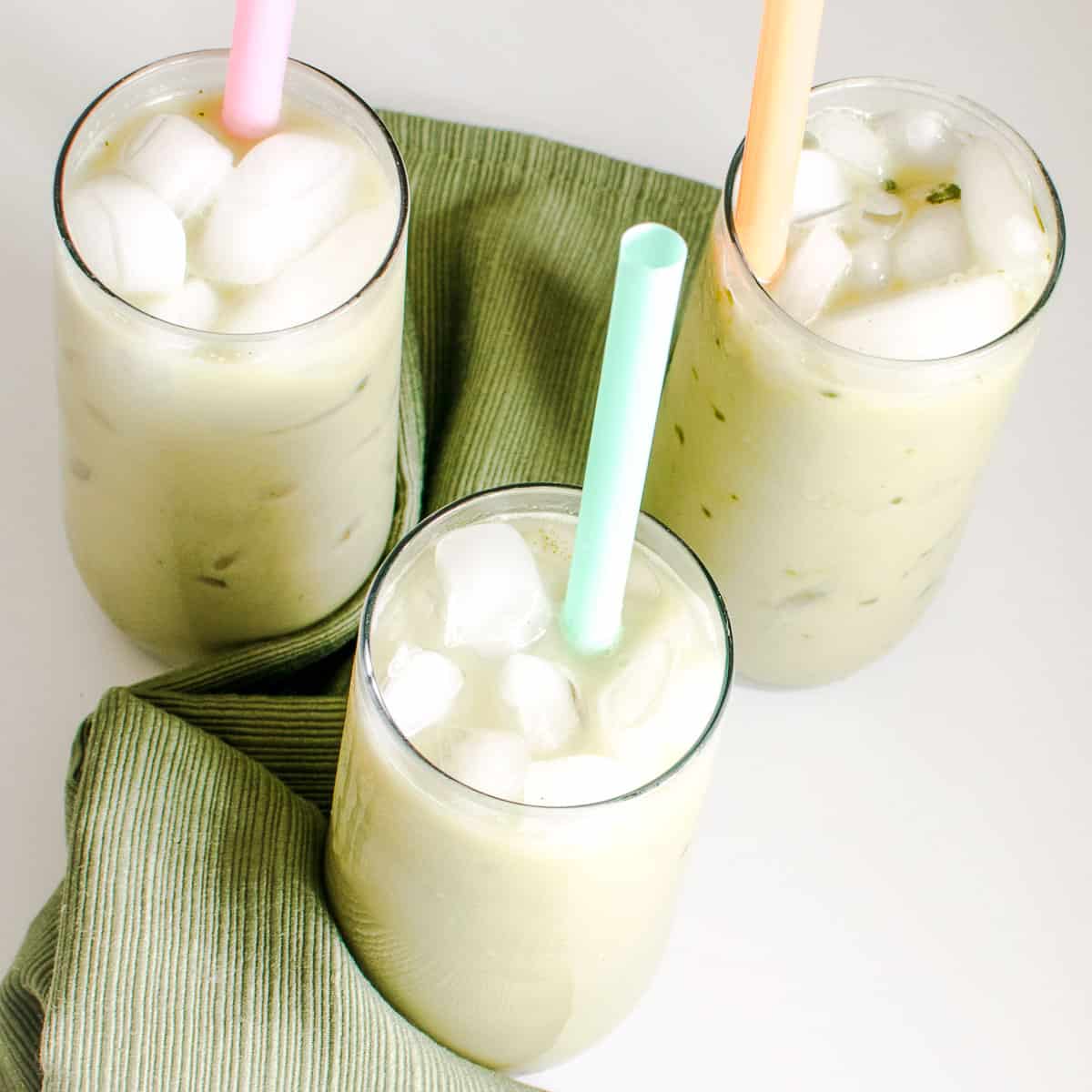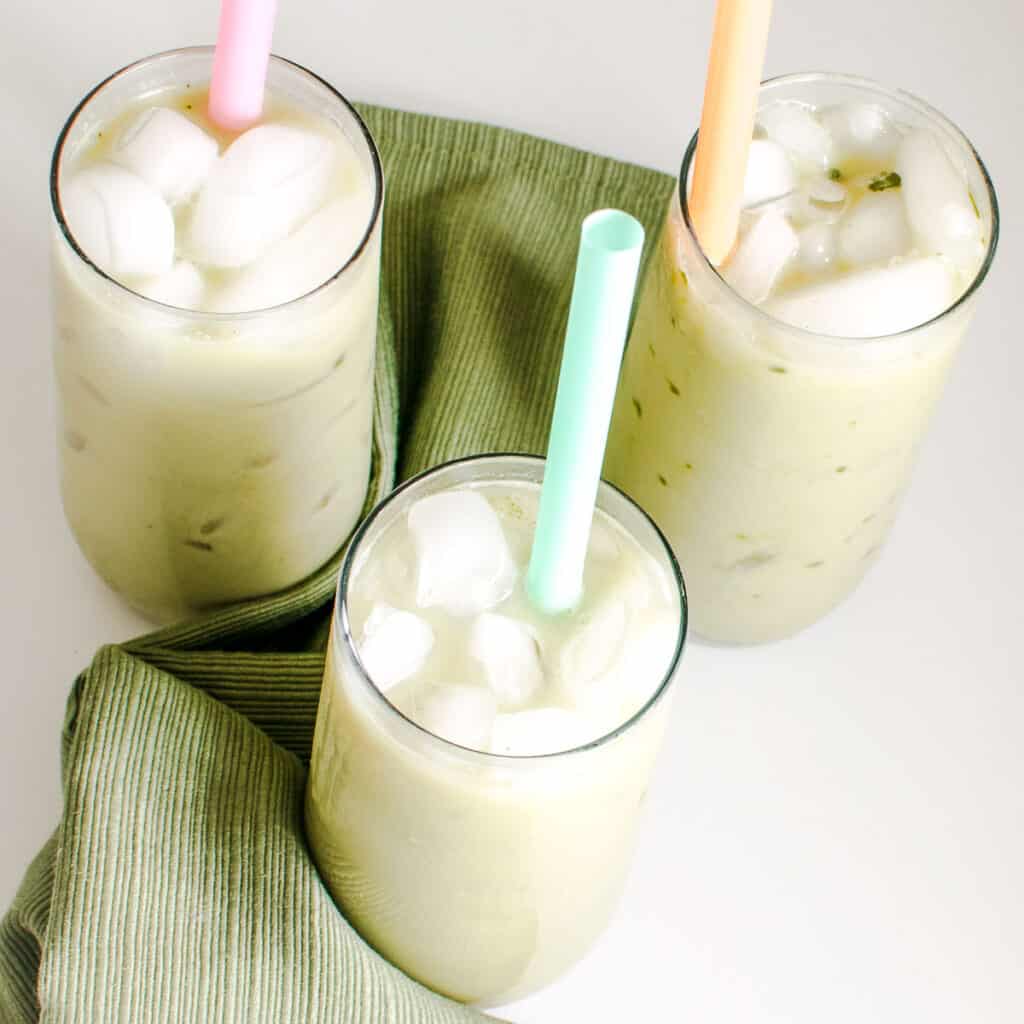 I am yet to explore more variety of recipe with matcha powder and baking is definitely on my mind but for now, I am enjoying it in my beverages.
My husband is a green tea drinker on a regular basis. So, when I innovated my homemade version, he quickly grabbed a glass of this healthy iced matcha latte and thoroughly enjoyed every bit of it.
Now, he has stopped buying it from any coffee shop because he says that homemade one is better. Moreover, I like the flexibility of mixing ingredients as per my own taste.
Therefore, I am here to share this iced matcha latte recipe with you.
Ingredients you will need

Matcha powder
Hot water
Maple syrup
Almond milk
Ice cubes
I have used these easily available ingredients which you may buy from any local grocery store. However, I have provided links to few of them here for your convenience.
If you plan to buy from these affiliate links then I get a small commission which in turn encourages me to bring in more delicious recipes for you all.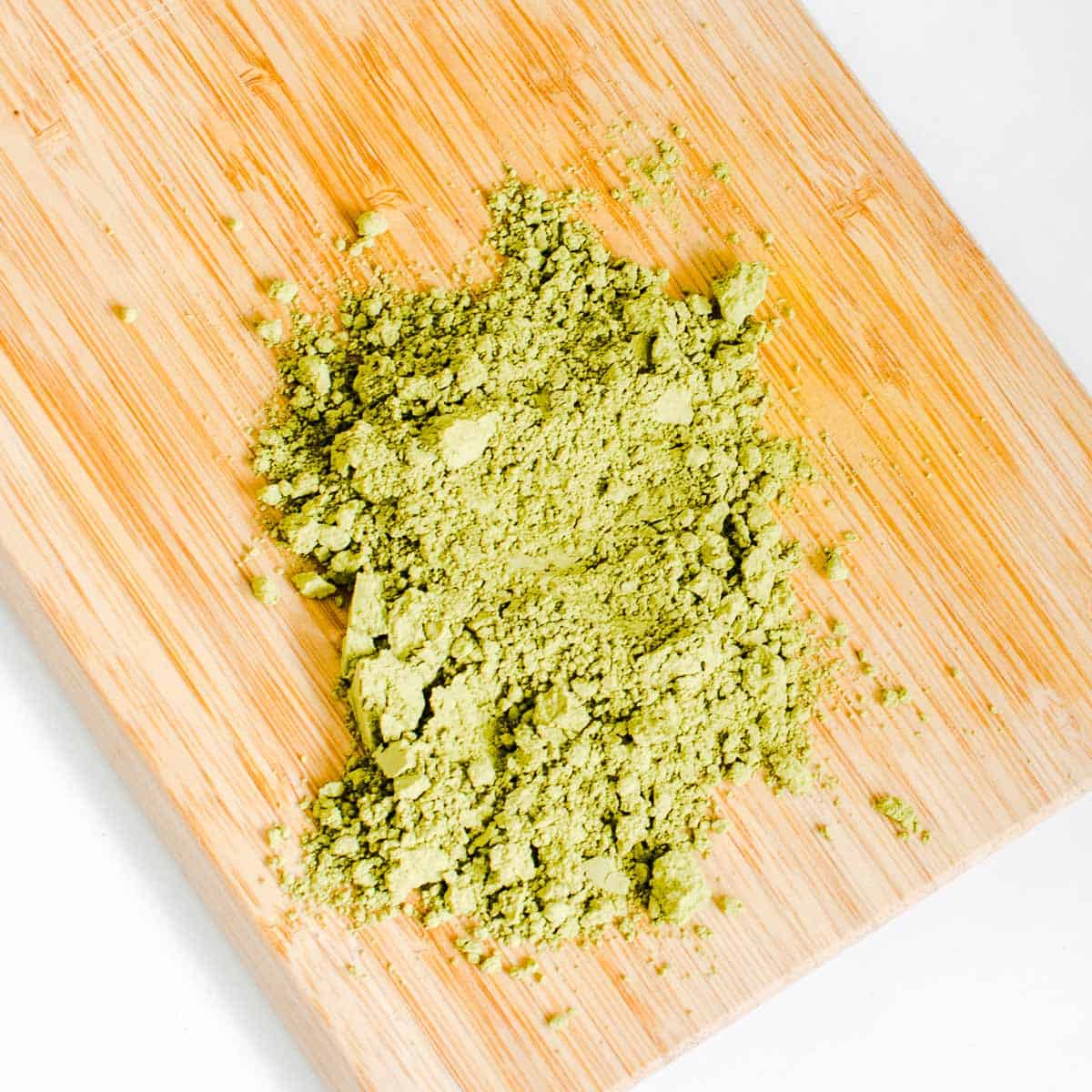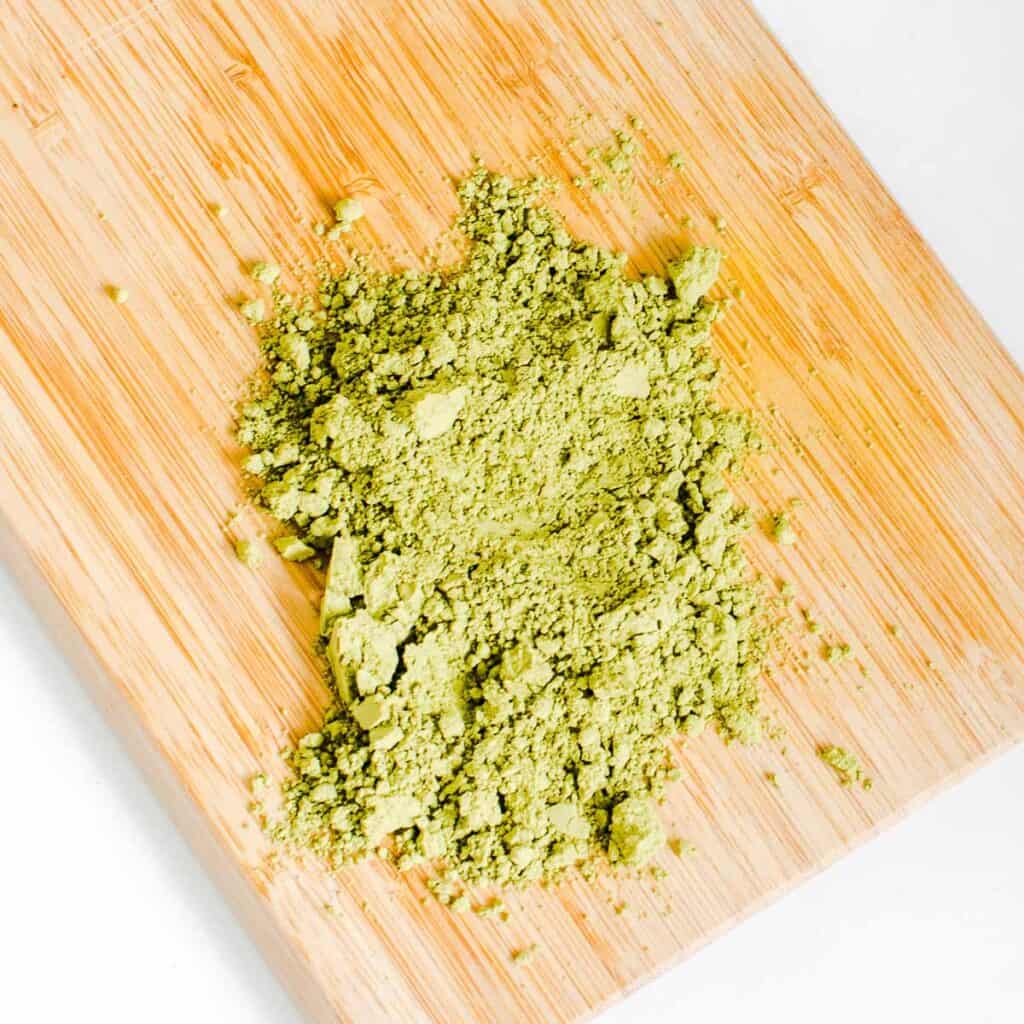 Ingredients notes:
Matcha powder – it has a strong earthy flavor and is a great coffee substitute. It has a bit of caffeine and after mixing with milk it turns out a nice light green in color. You may add more of it in your latte if desired but it may turn out bitter. So, make sure to start with the measurements as mentioned and then tweak it as per your taste.
Hot water – I mixed hot boiling water to dissolve the powder or else you may find lumps. This also makes a nice smooth liquid paste which when blended with milk becomes absolutely perfect.
Maple syrup – you may use any sweetener of your choice. However, for us maples syrup tastes the best. I tried it with agave and it tasted good as well but a bit different since agave has a bit rough and stronger taste of its own. You may also add regular sugar or brown sugar if desired. But for healthier version maple syrup or agave works best here.
Almond milk – even though any dairy free milk works in this recipe I went with unsweetened almond milk to make it lighter and low in calories. You may use oat milk here which will give it a creamier texture if you like that and will make this matcha latte sweeter. I liked the subtle and smooth taste after mixing almond milk and therefore healthier since almond milk is fortified with calcium.
Now, after going through the ingredients in detail, all you have to read the easy steps and blend this easy drink for yourself.
How to make Iced Matcha Latte
Firstly, I combined matcha powder in a jar and poured in hot boiling water in it.
Secondly, I whisked it nicely until it was well blended.
Next, I added maple syrup to it and stirred again.
Thereafter, I added almond milk to it and frothed using a frothed. You may blend it in a blender if desired.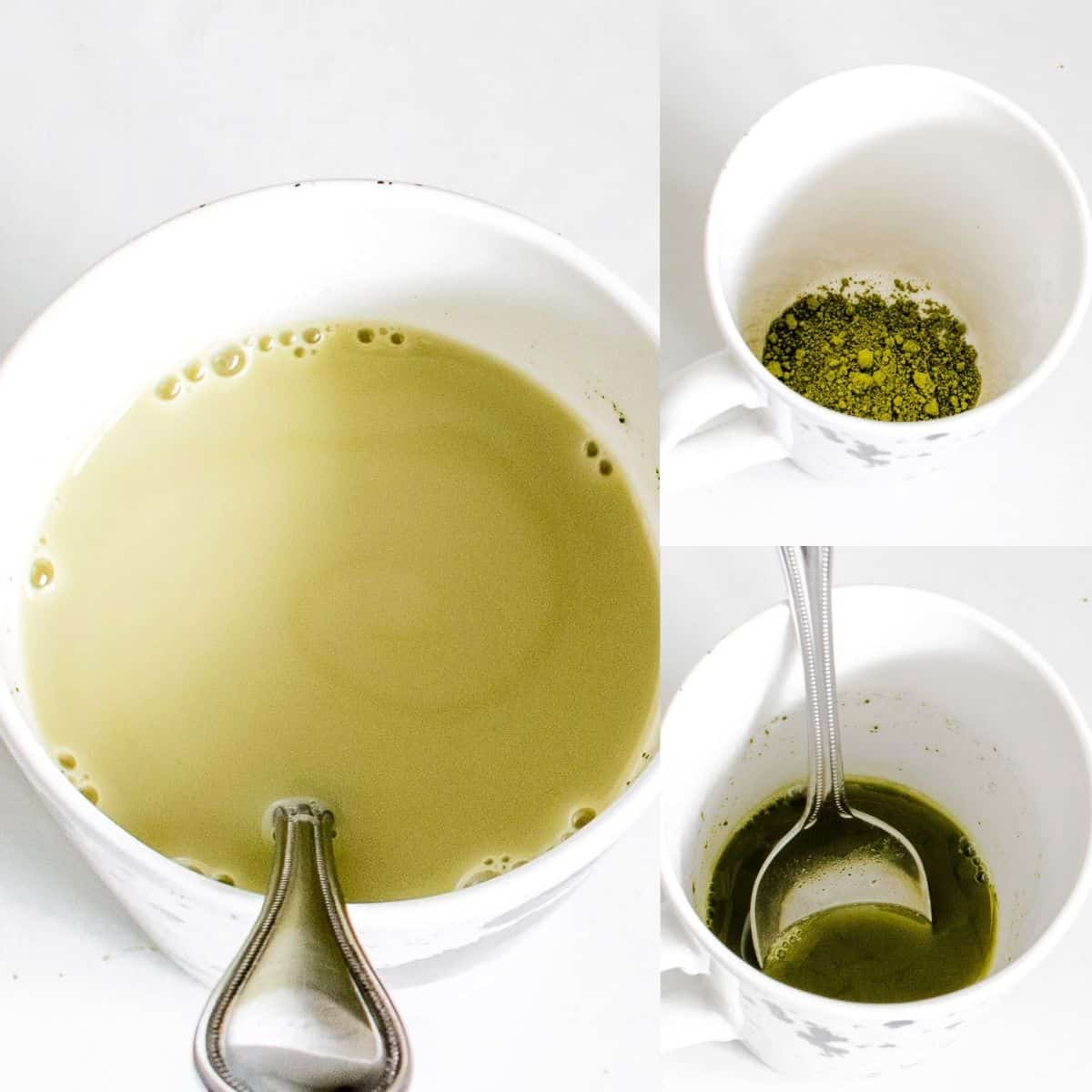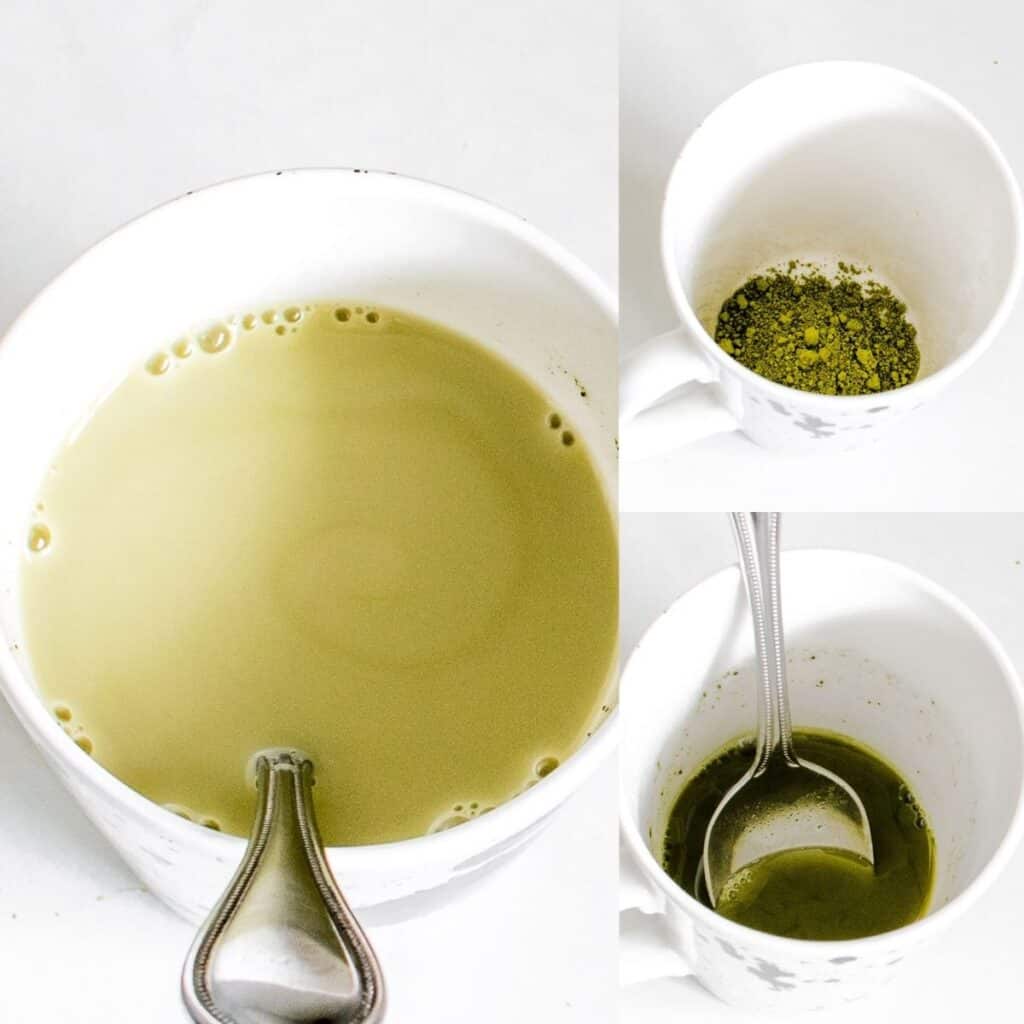 Lastly, I poured this beverage over ice in the serving glasses and served it immediately.
We enjoyed it for our mid-morning beverage.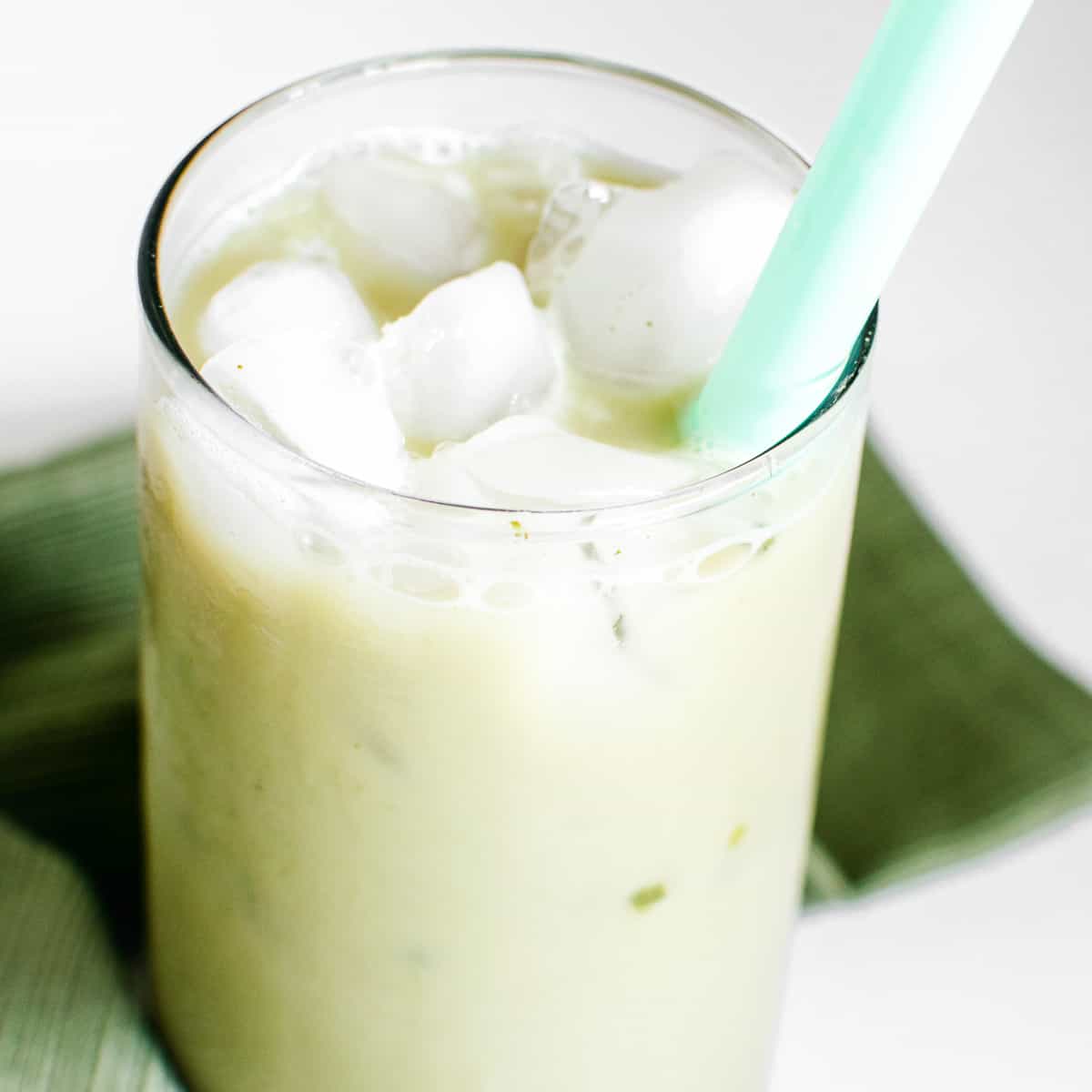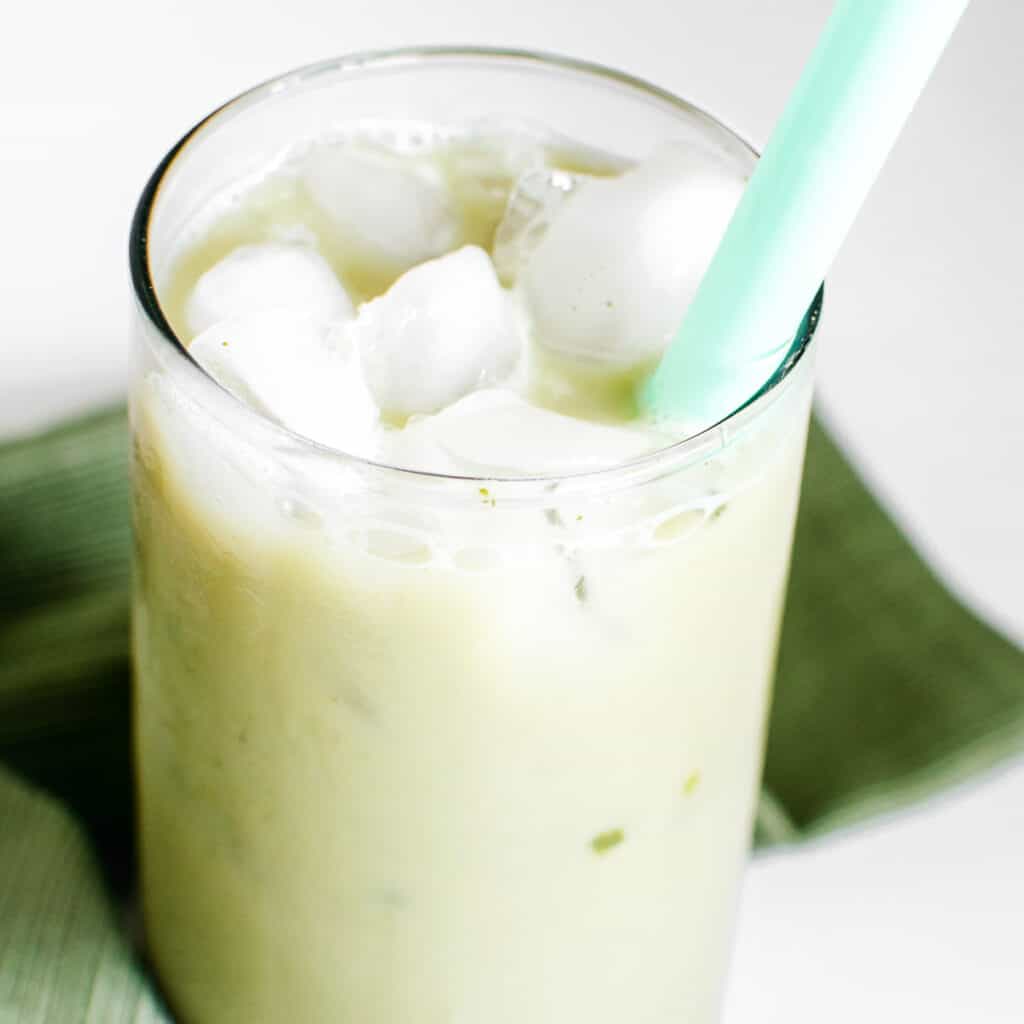 By mid-morning we usually crave for some caffeinated drink. Sometimes, its energy drink and sometimes I whip up cold coffee. This time I frothed this vegan iced matcha latte and we were delighted.
I am so happy to add a variety of beverage drinks into our menu.
I insist that you must try this. Its very simple and easy and moreover its super quick.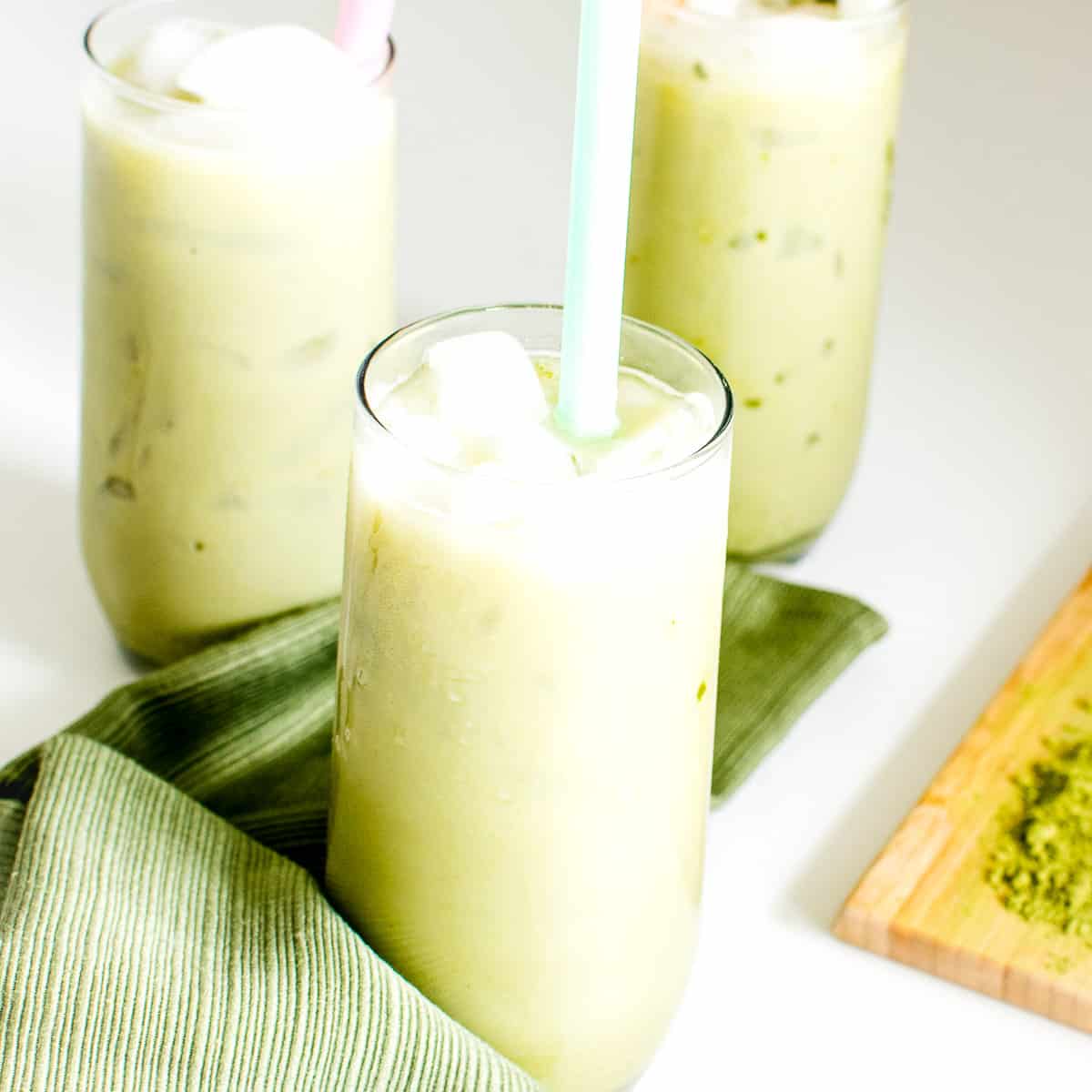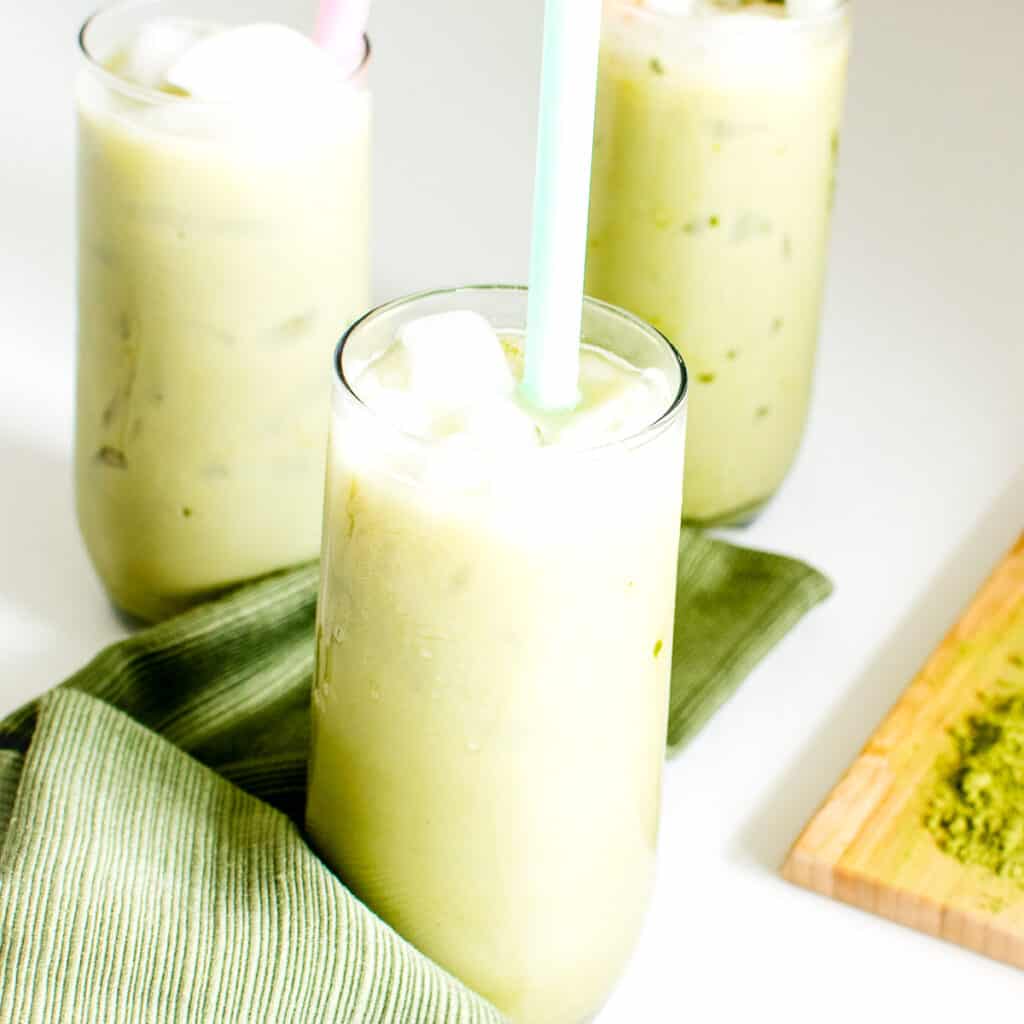 Expert tips:
Make sure to whisk matcha powder with hot water before blending it with almond milk. This helps in dissolving the powder well.
Make sure to add the sweetener while the water mixture is still warm so it easily blends.
It's the simplest and the easiest latte which you can make it every morning before work. Its a great morning beverage because it keeps you alert and boosts your energy in a positive way. Moreover, it helps to detoxify as well.
Iced Matcha Latte FAQs
How long does it last?
It tastes best when served immediately. However, you may blend all the ingredients and refrigerate for 1 day. When ready simply stir and pour over ice. Then serve.
Is it healthy?
Matcha powder is believed to have many health benefits. I personally like this latte without any sweetener so I save on some calories. However, I have used healthier sweeteners in this recipe so definitely its not processed ingredients. Almond milk is low in calories and is dairy free along with being calcium fortified. Moreover, it's an anti-inflammatory and antioxidant packed beverage. Overall, it's a healthy beverage which you may enjoy it frequently.
Does it have caffeine?
Green tea is said to have a small quantity of caffeine in it which helps boost energy in a healthy way without making you over caffeinated.
Does it help in weight loss?
Green tea is believed to boost metabolism and therefore helps in weight loss. Along with a moderate exercise increased fat burn can also be achieved.
How does it taste like?
Matcha powder has a strong and slight bitter earthy flavor. Therefore, when mixed with other ingredients it definitely mellows down leaving a slight after taste but a satisfying one.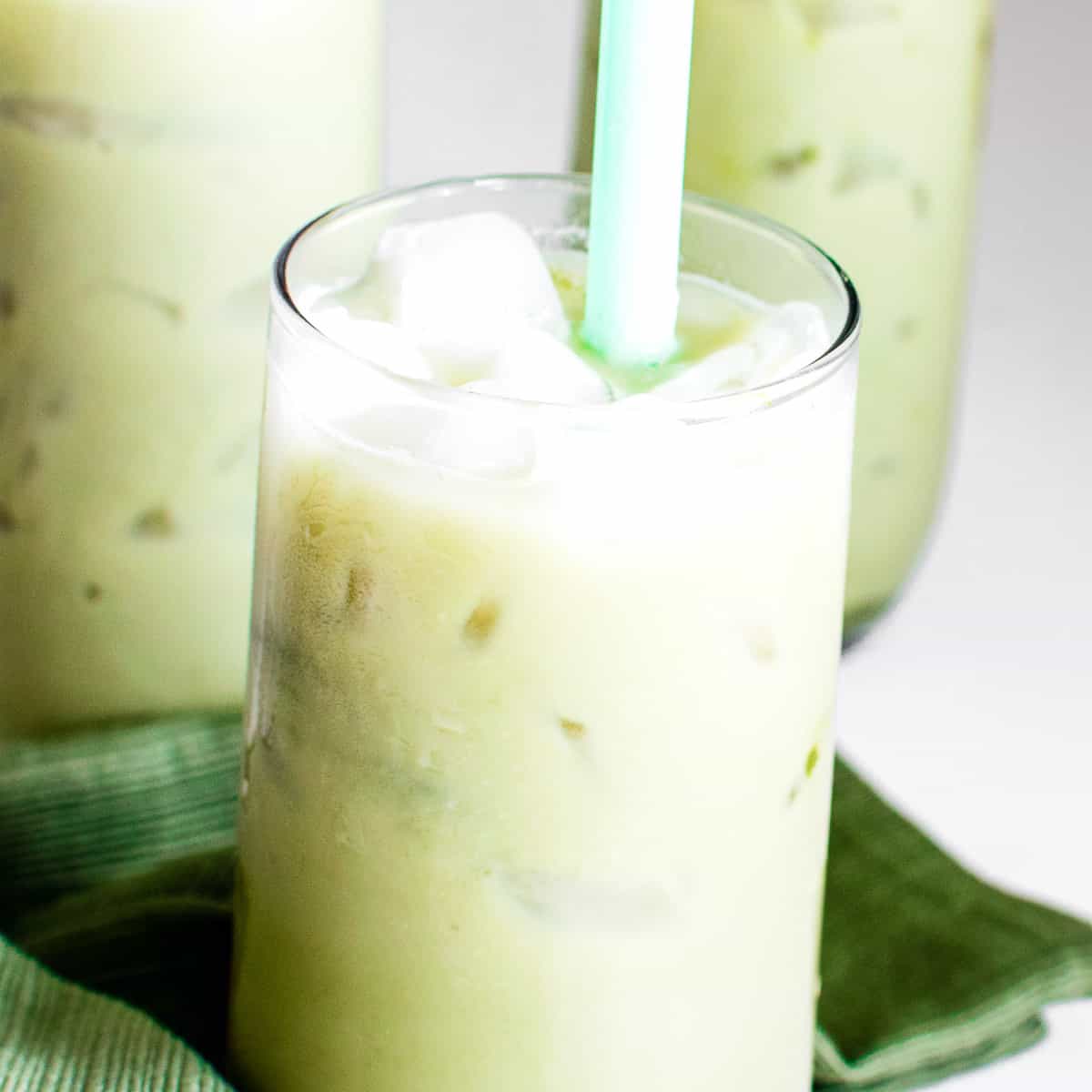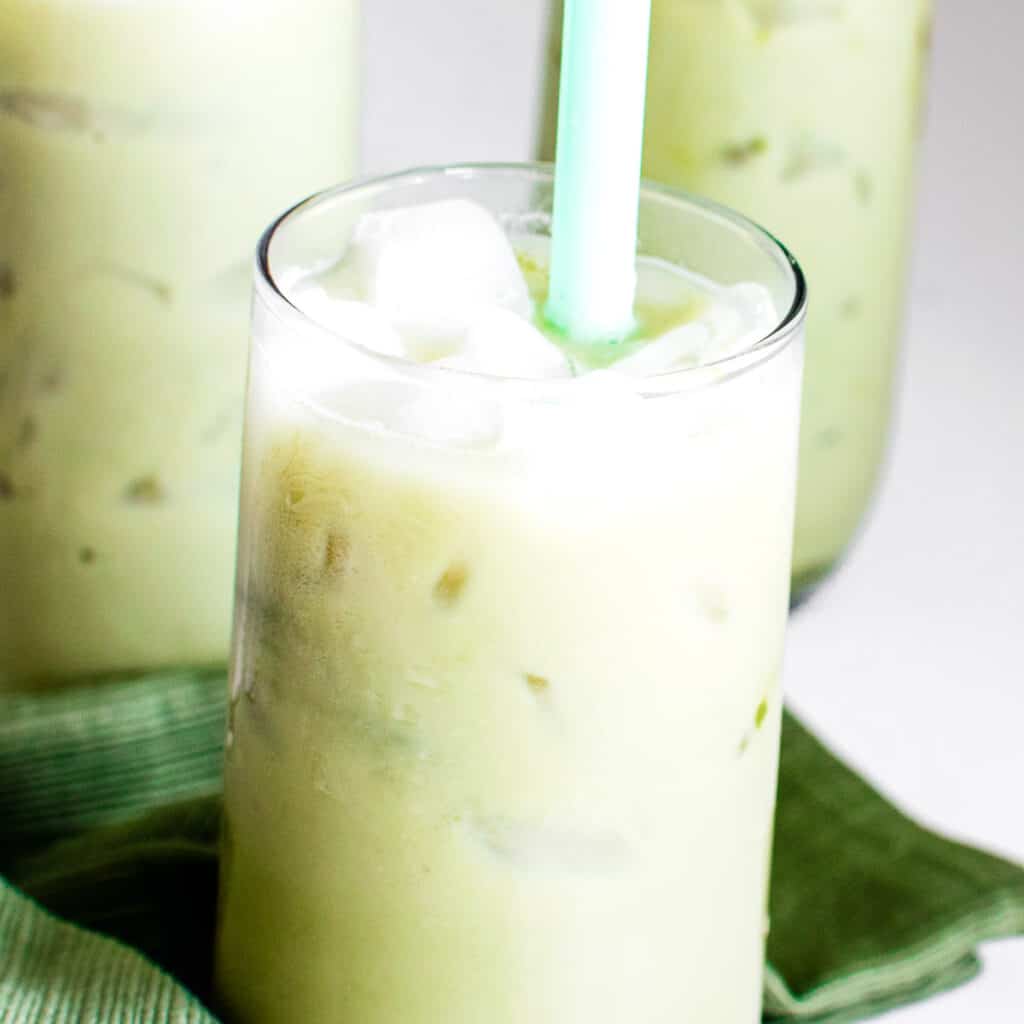 Did you make it?
If you get a chance to make this Iced Matcha Latte then please leave your feedback in the comments. Also, if you genuinely like this recipe then please rate it with 5 stars.
In addition, you may tag @kiipfit on Instagram with your remake image and or follow me on Facebook for more frequent updates.
You may also checkout my cookbook if you are looking for more delicious everyday vegan recipes.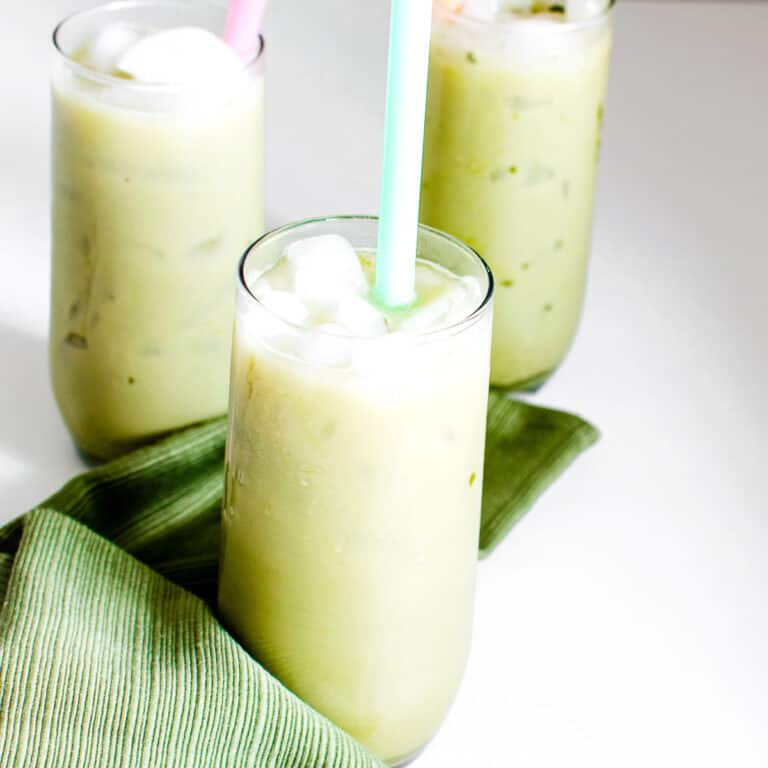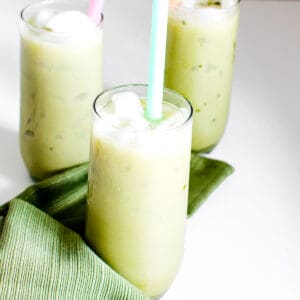 Print Recipe
Iced Matcha Latte
This dairy free refreshing Iced Matcha Latte recipe is made in only 5 minutes with 5 simple ingredients. Enjoy this homemade healthy beverage just like your favorite coffee shop. Its lightly sweetened and made with almond milk.
Instructions
In a jar or a bowl or a cup combine matcha powder and pour hot water in it. Whisk it very well until the powder is well blended and there are no lumps. Add maple syrup also in this step while the mixture is still warm.

Now, pour cold almond milk to the water mixture and use a milk frother to froth or blend it in a blender until smooth.

Prepare serving glasses half filled with ice cubes. Pour the latte over the ice till the rim and serve immediately.
Notes
This recipe tastes best when served immediately.
To prepare ahead of time you may mix matcha powder and hot water along with sweetener. Keep it refrigerated for a day or overnight. When ready blend it in dairy free milk and pour over ice.
You may use agave to substitute maple syrup if desired but the taste will be slightly stronger. For a smoother taste you may use brown sugar.
You may substitute almond milk with oat milk if desired.
Nutrition
Calories:
66
kcal
|
Carbohydrates:
10
g
|
Protein:
2
g
|
Fat:
3
g
|
Sodium:
1
mg
|
Potassium:
23
mg
|
Sugar:
6
g
|
Vitamin A:
200
IU
|
Calcium:
11
mg
|
Iron:
1
mg