This antioxidant rich Turmeric Ginger Lemonade is a refreshing summer drink with vibrant color and exotic flavor. It's made with fresh spices and has the right tang and zest, thereby helps to fight fatigue and reduce inflammation.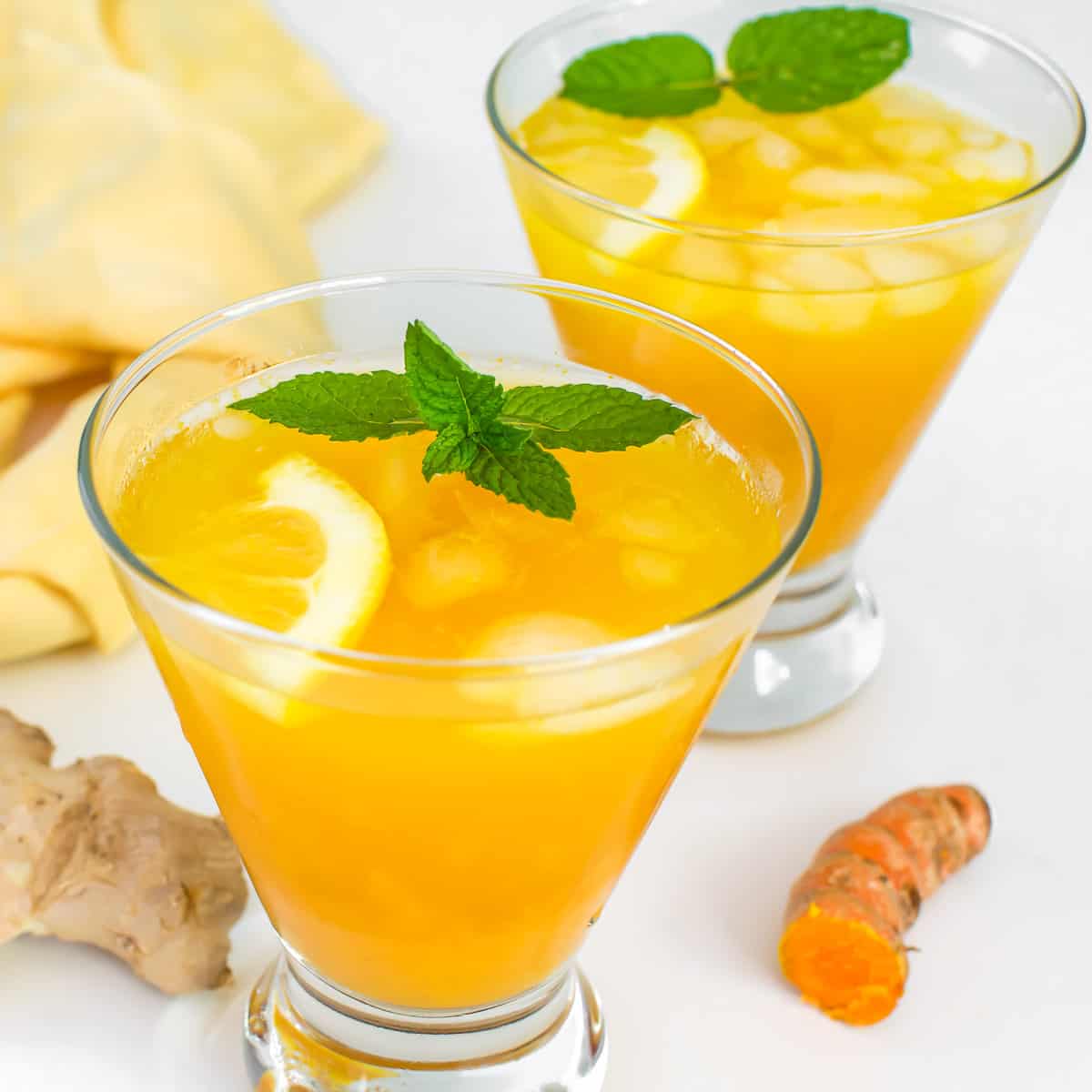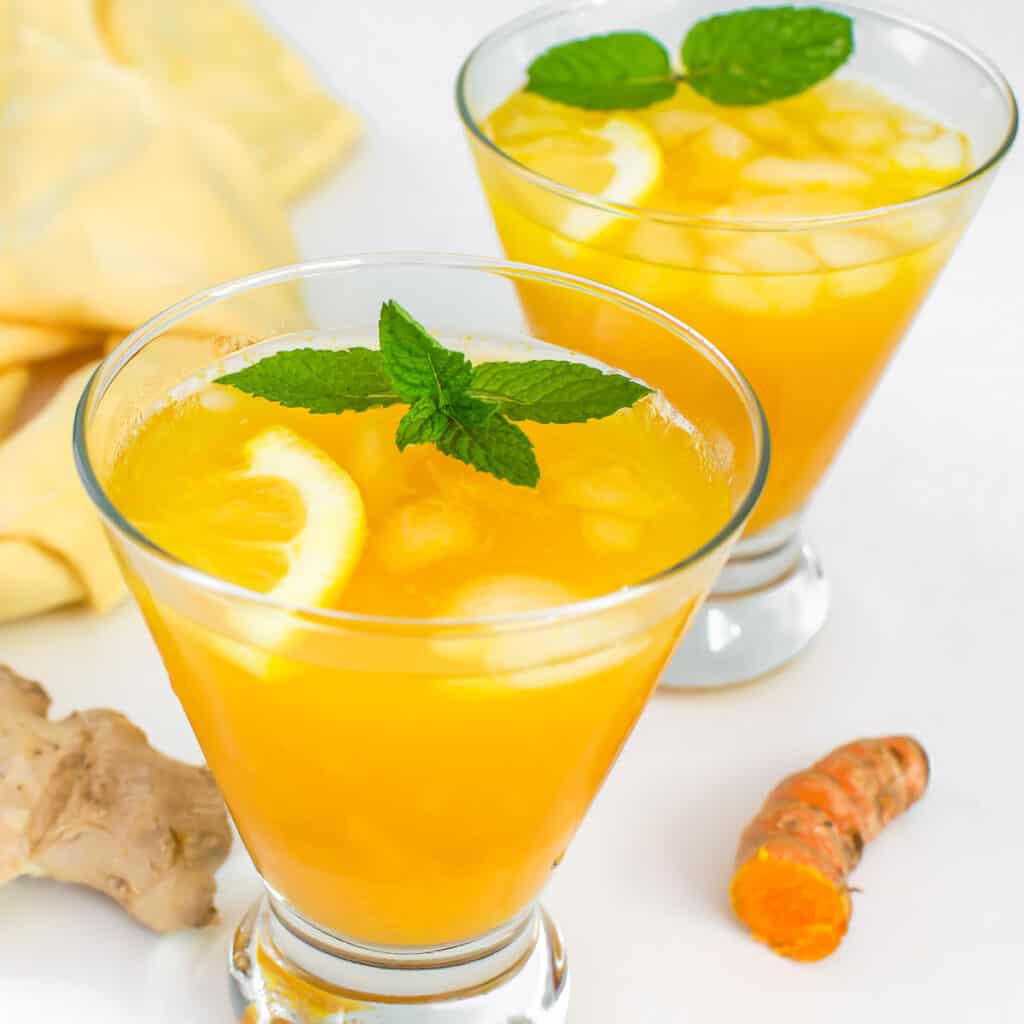 The combination of ginger and turmeric is soothing and has healing properties. Often times, I make turmeric latte in winters but this time I innovated summer ginger turmeric lemonade.
It was so refreshing with so much health benefits. Moreover, it's a hydrating beverage and its so good to for after sport activity.
What is a Lemonade
Originally, it is simply a sweetened lemon juice beverage where whole lemons are firstly blended and mixed with sugar syrup and water. It's a popular North American beverage for all ages.
Here, I made a variation by adding fresh spices to it. This way its more of a detoxing drink and so perfect for all ages.
Health benefits of turmeric
Turmeric is a common ingredient in any Indian recipe and is commonly known as haldi. But the more powerful way to use it the raw turmeric or root turmeric in any form. It has healing properties and is the best antioxidant thereby helping in reducing inflammation. Also, helps protect from many viruses and reduces infections.
More turmeric recipes for you try:
Turmeric Tofu Oatmeal
Vegan Turmeric Pancakes
Tropical Turmeric Smoothie
Health benefits of ginger
Ginger is mostly advised to pregnant women to overcome nausea. It helps in easy digestion and supports heart health along with managing blood sugar and blood pressure.
Turmeric Lemonade Benefits:
Reduces inflammation
Antioxidant
Fights fatigue and hydrates well
Anti-depressant
Detoxifying and glowing skin
Promotes heart health
Helps fight infections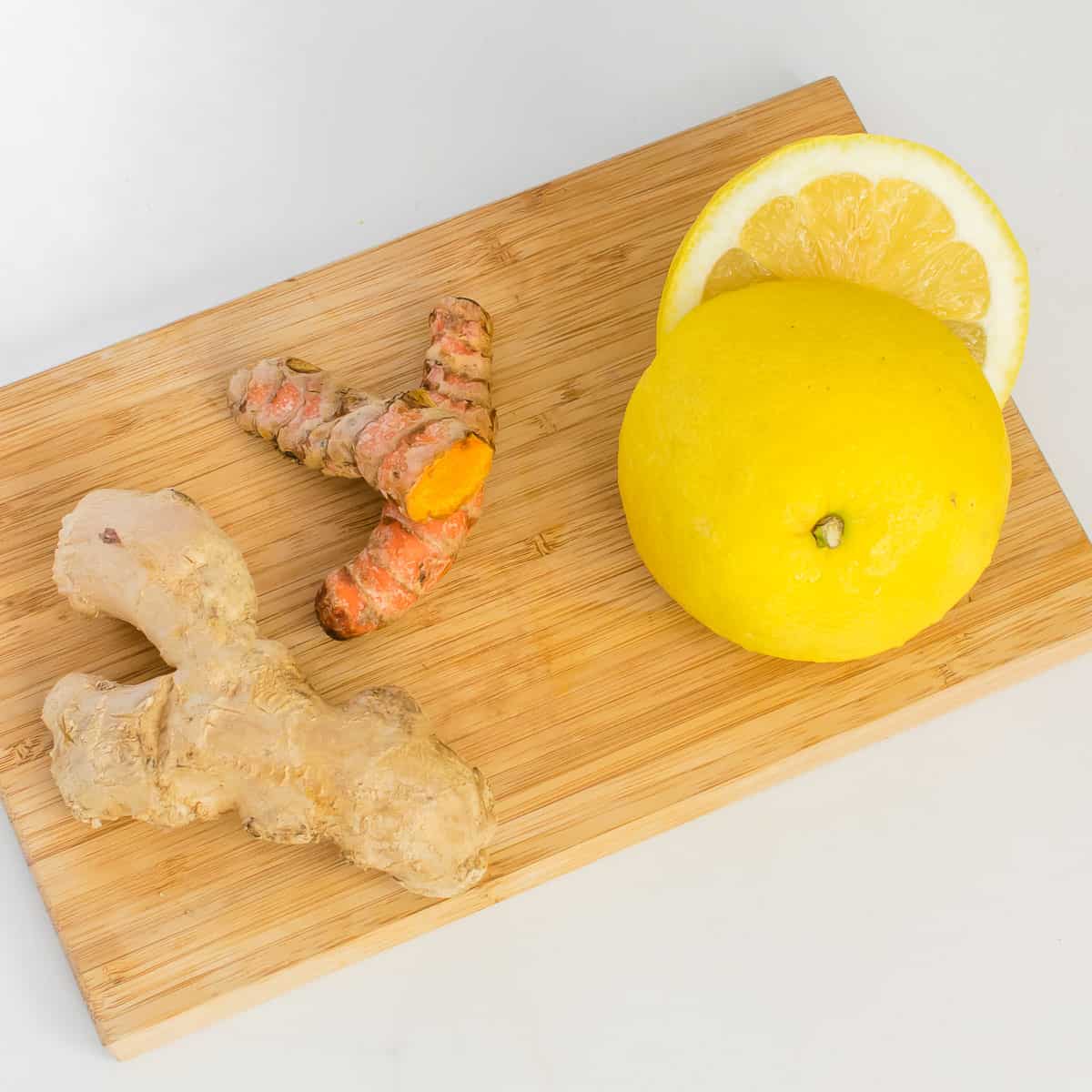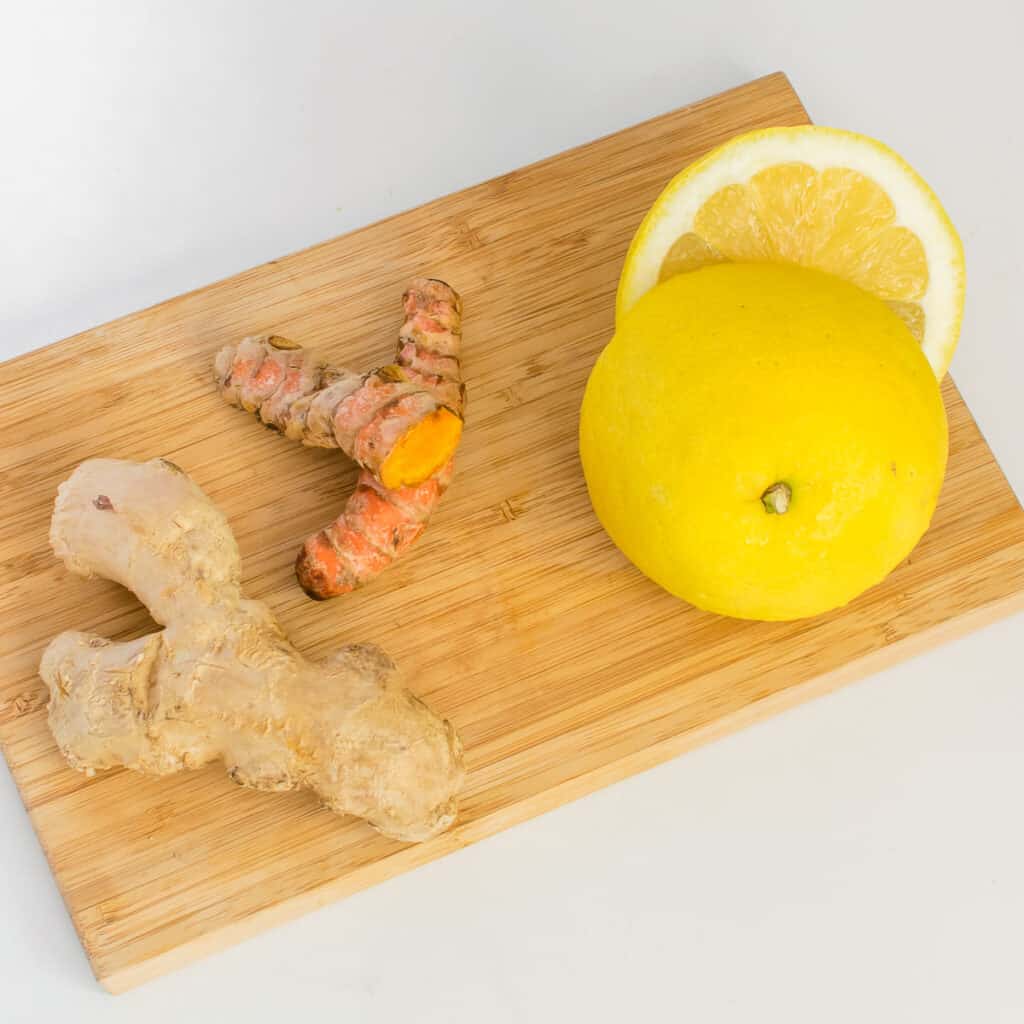 Ingredients for turmeric ginger lemonade recipe
Maple syrup
Root ginger
Water
Root turmeric
Lemon
I used only 5 ingredients to make this delicious and satisfying turmeric and ginger drink.
Ingredient notes:
Maple syrup – I like to use maple syrup for my lemonade because it gives a nice caramelized flavor and also its less processed as compared to the regular white sugar.
Ginger – I used root ginger with its skin on for a stronger flavor and aroma.
Turmeric – this is the best part. The color of this paleo turmeric drink will vary depending on the quantity you use but make sure to peel its skin before using.
Lemon – I like to squeeze fresh lemon here in this recipe because this brings a nice aromatic citrus flavor.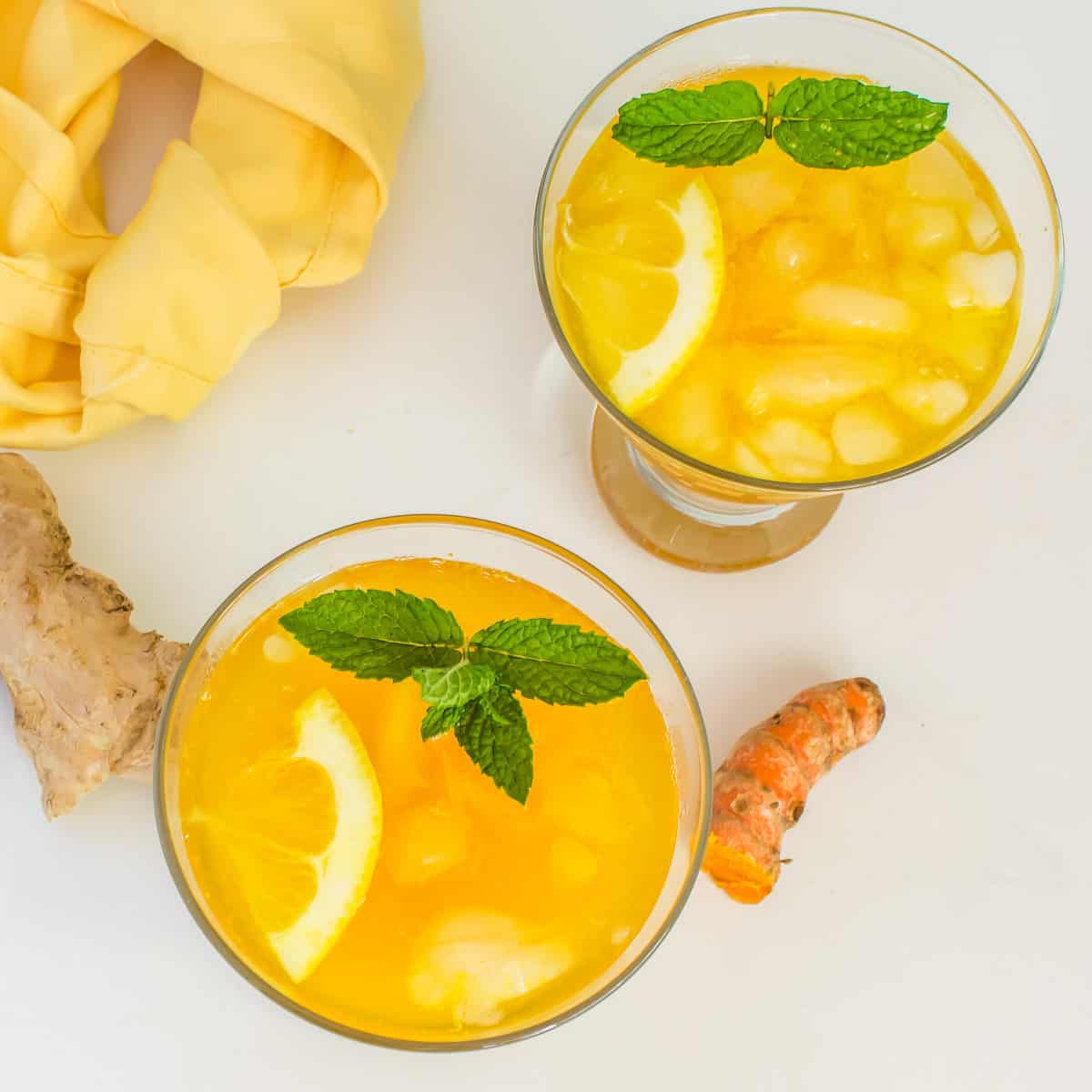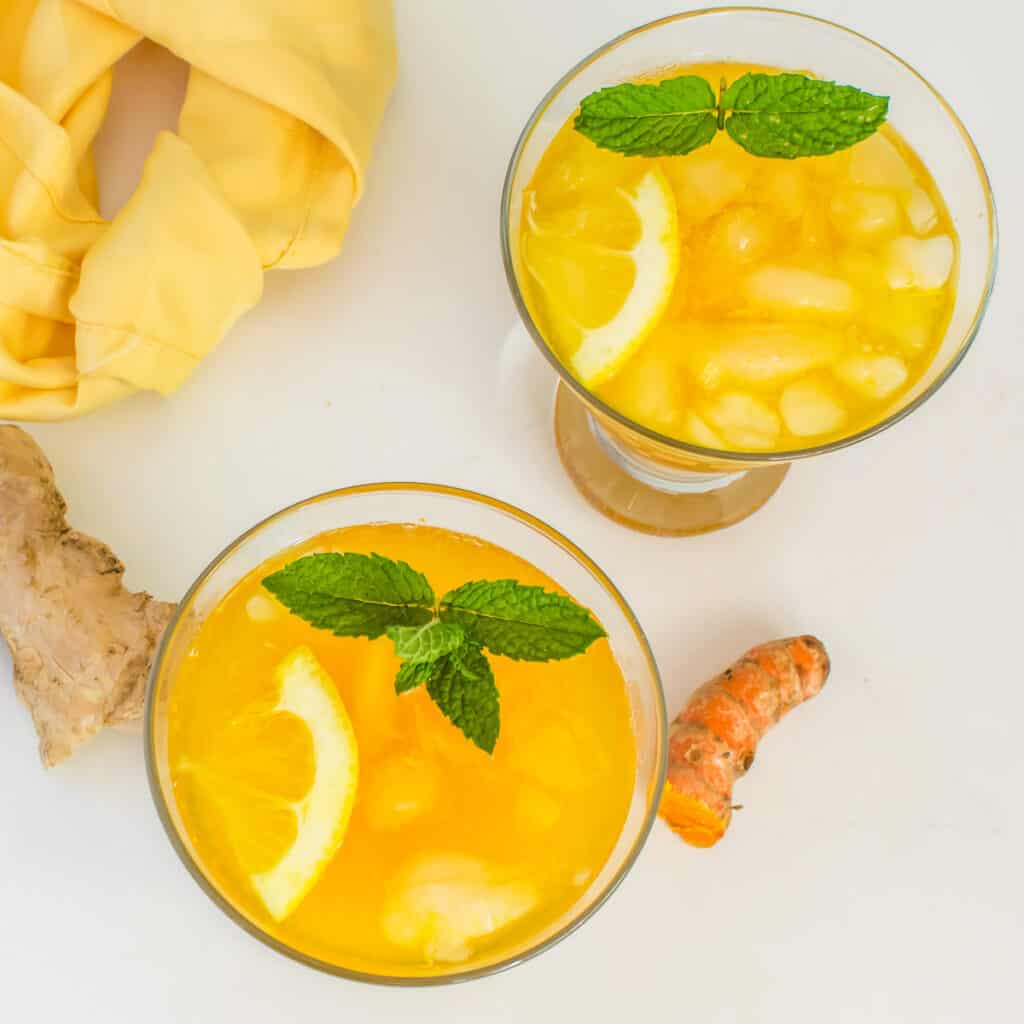 For detailed measurement of ingredients, please scroll down to the printable recipe card at the bottom of this post.
How to make Turmeric Ginger Lemonade
Firstly, I cooked maple syrup and grated ginger together in a saucepan. I continuously whisked it for 2 minutes and then I let it cool completely.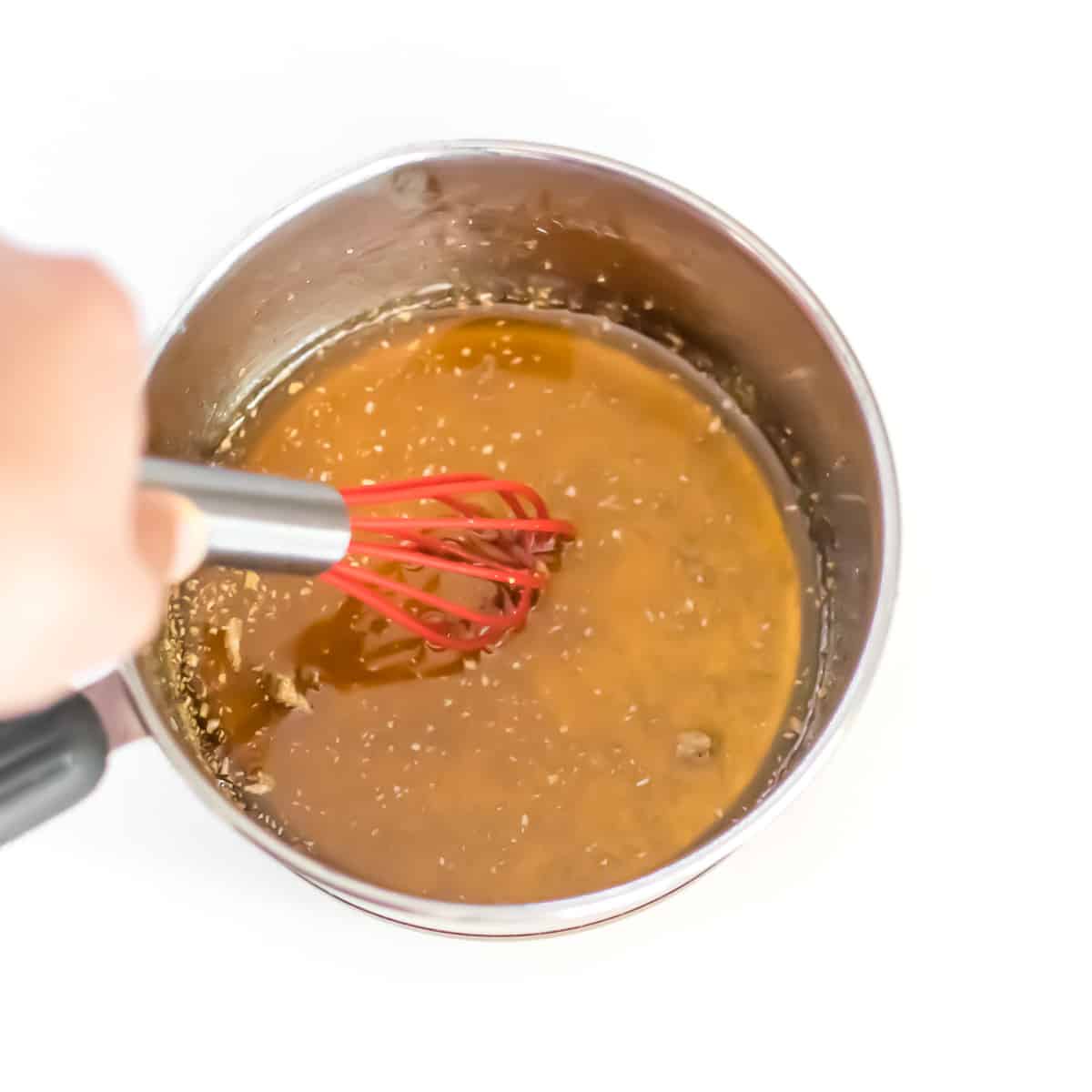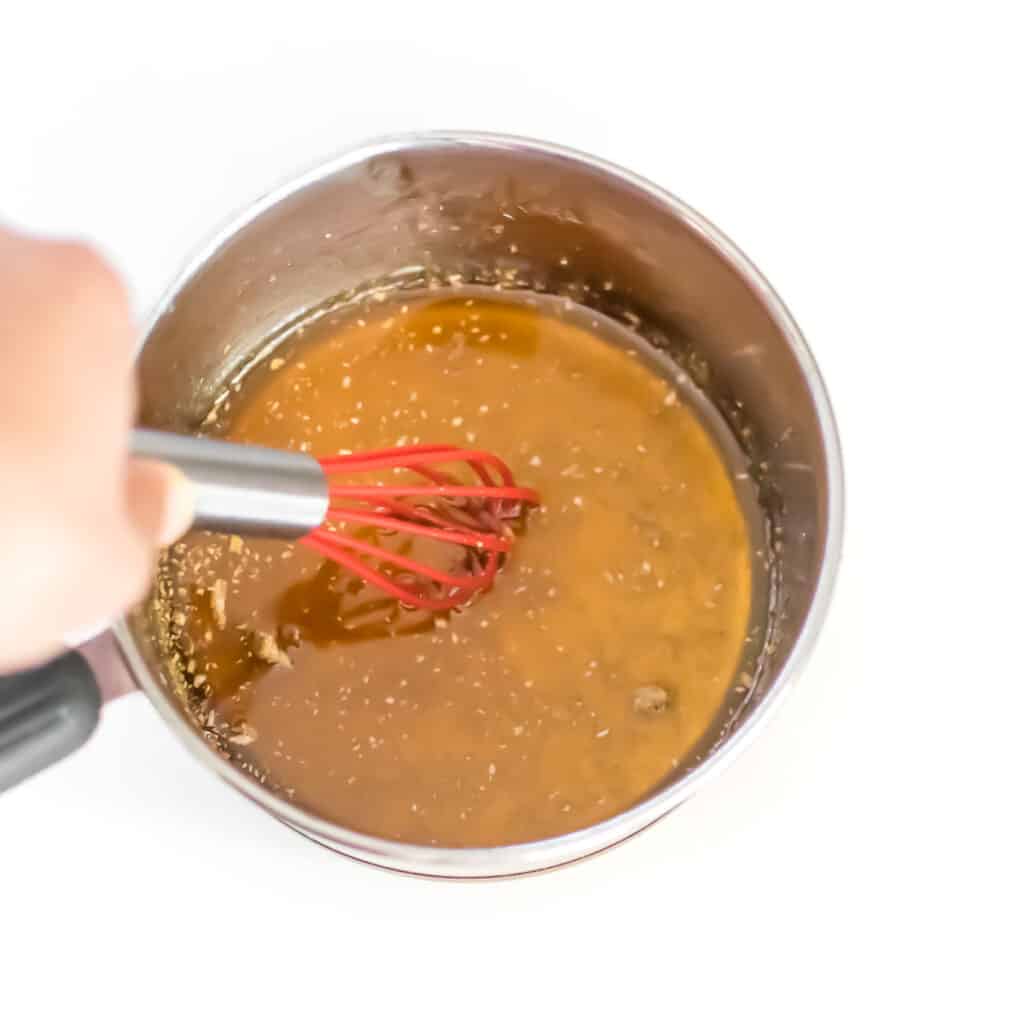 Secondly, I combined turmeric with water in a blender.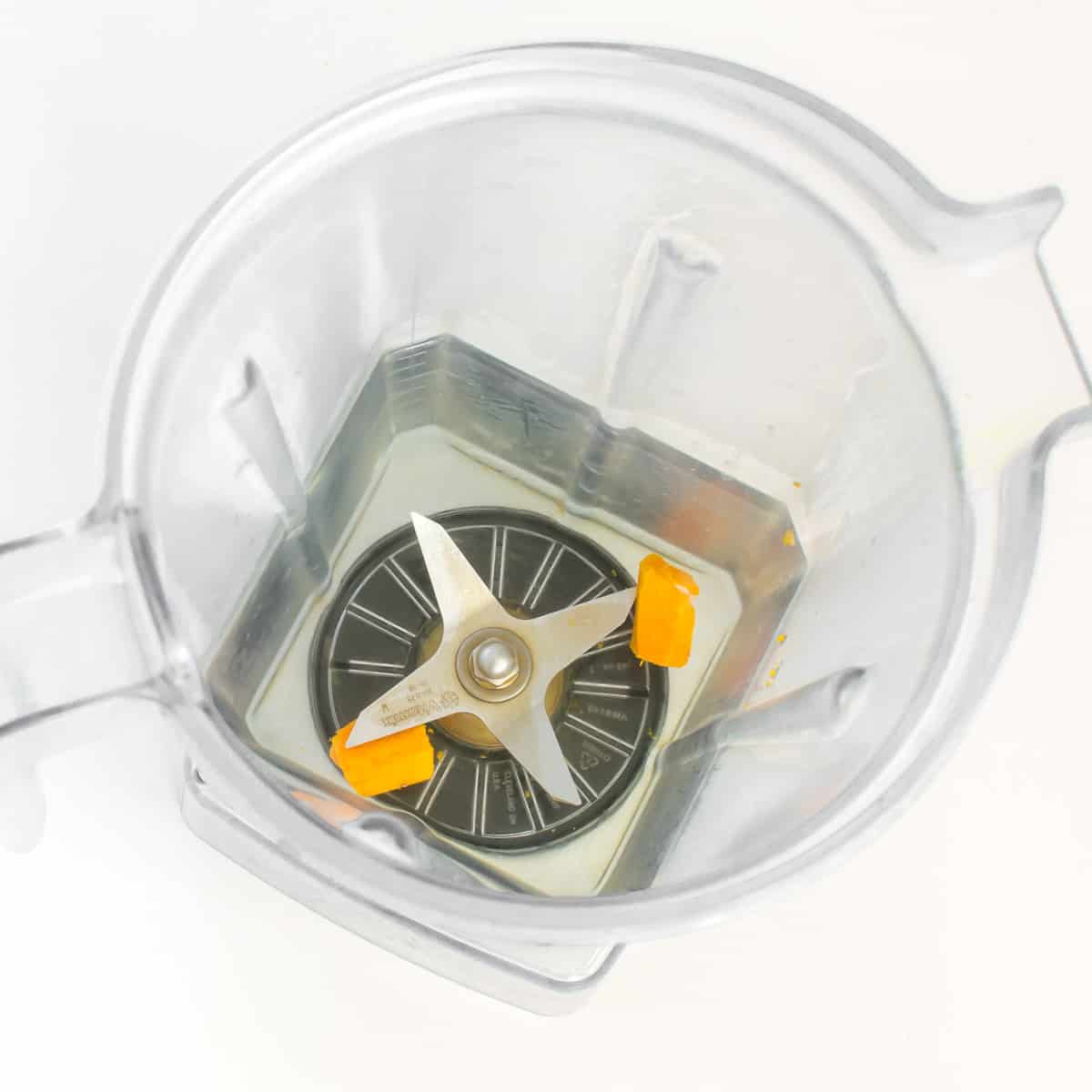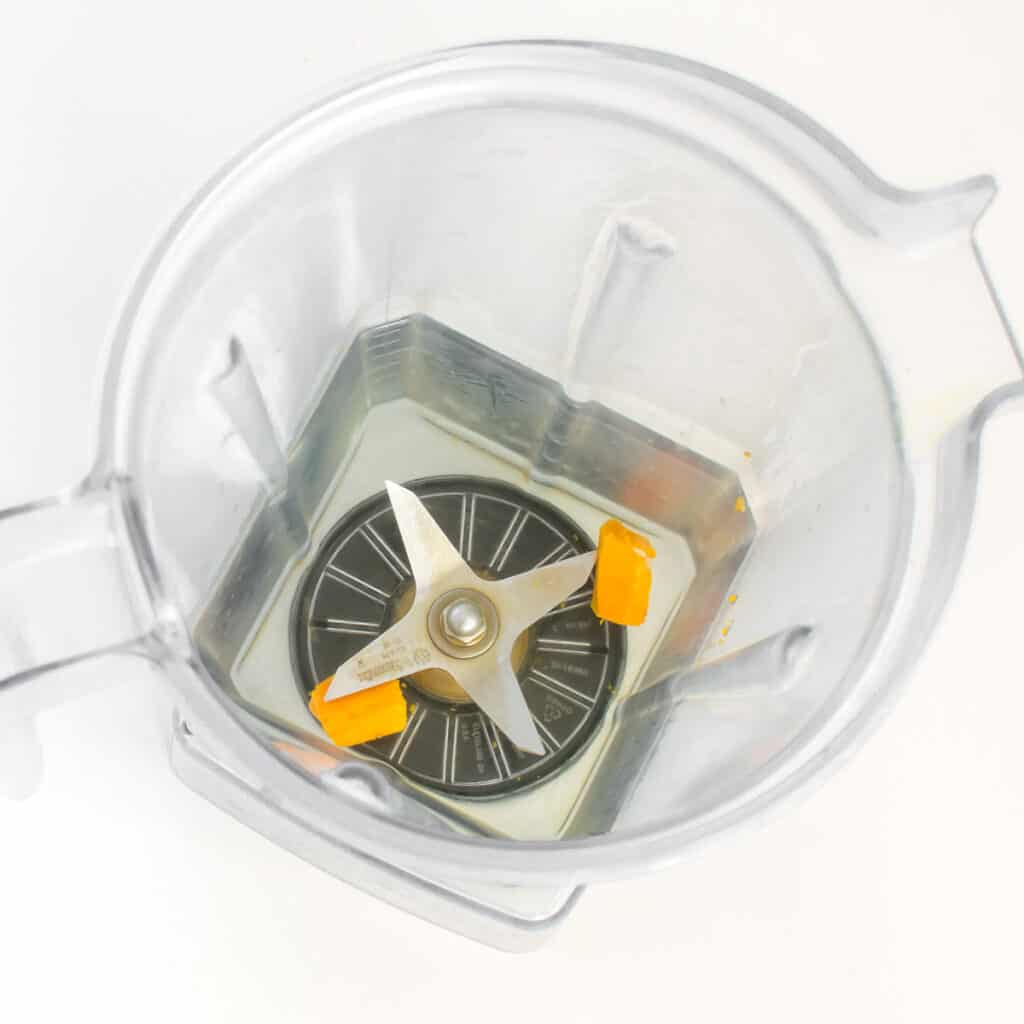 Then, I blended until it was smooth.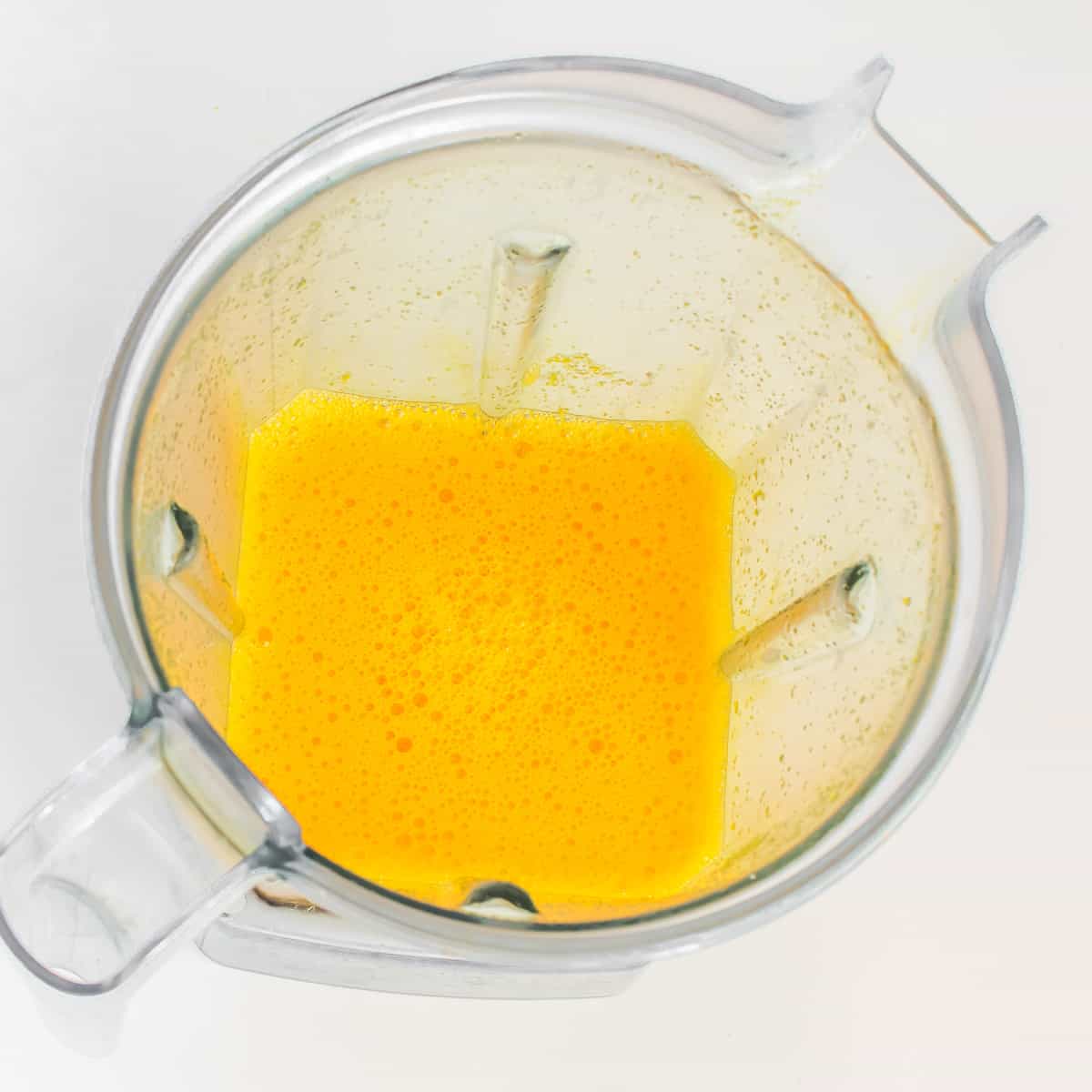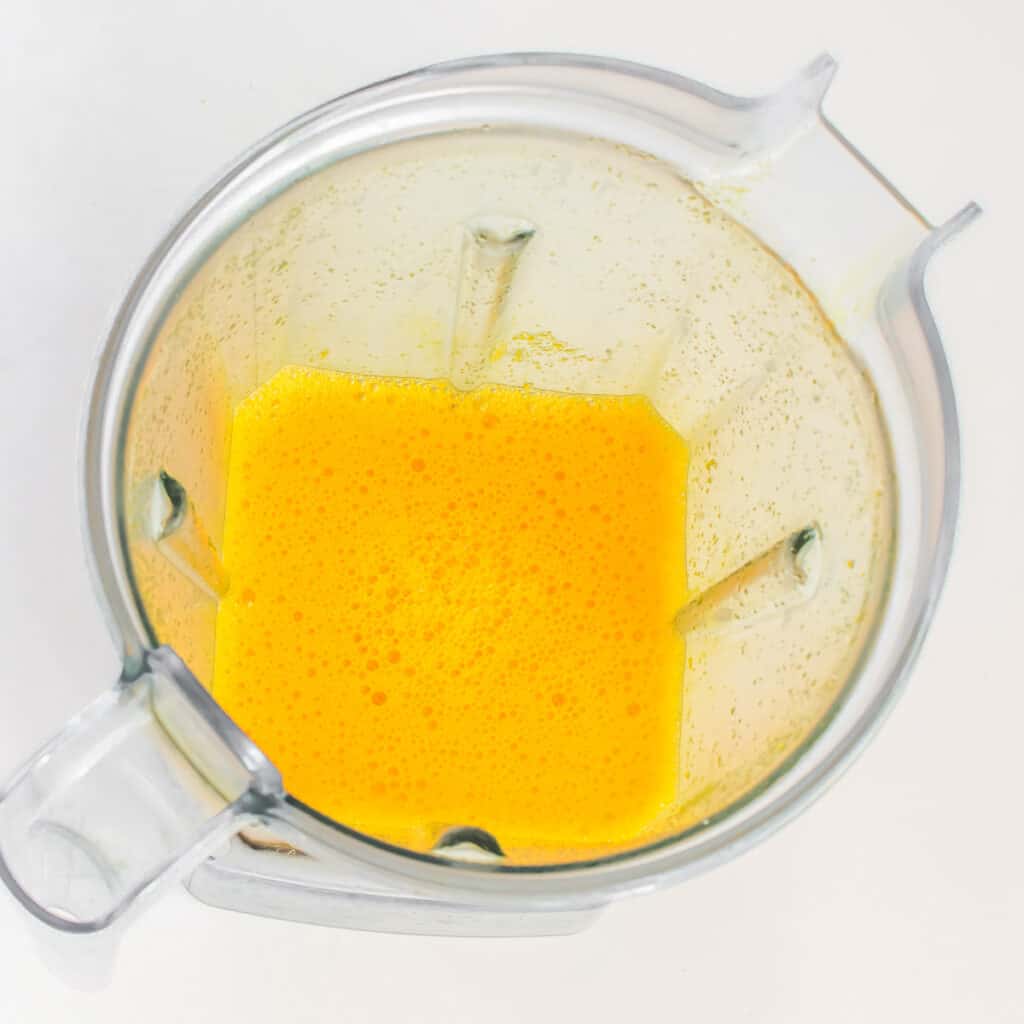 Next, I placed a strainer/sieve on a large bowl and strained cooked maple syrup.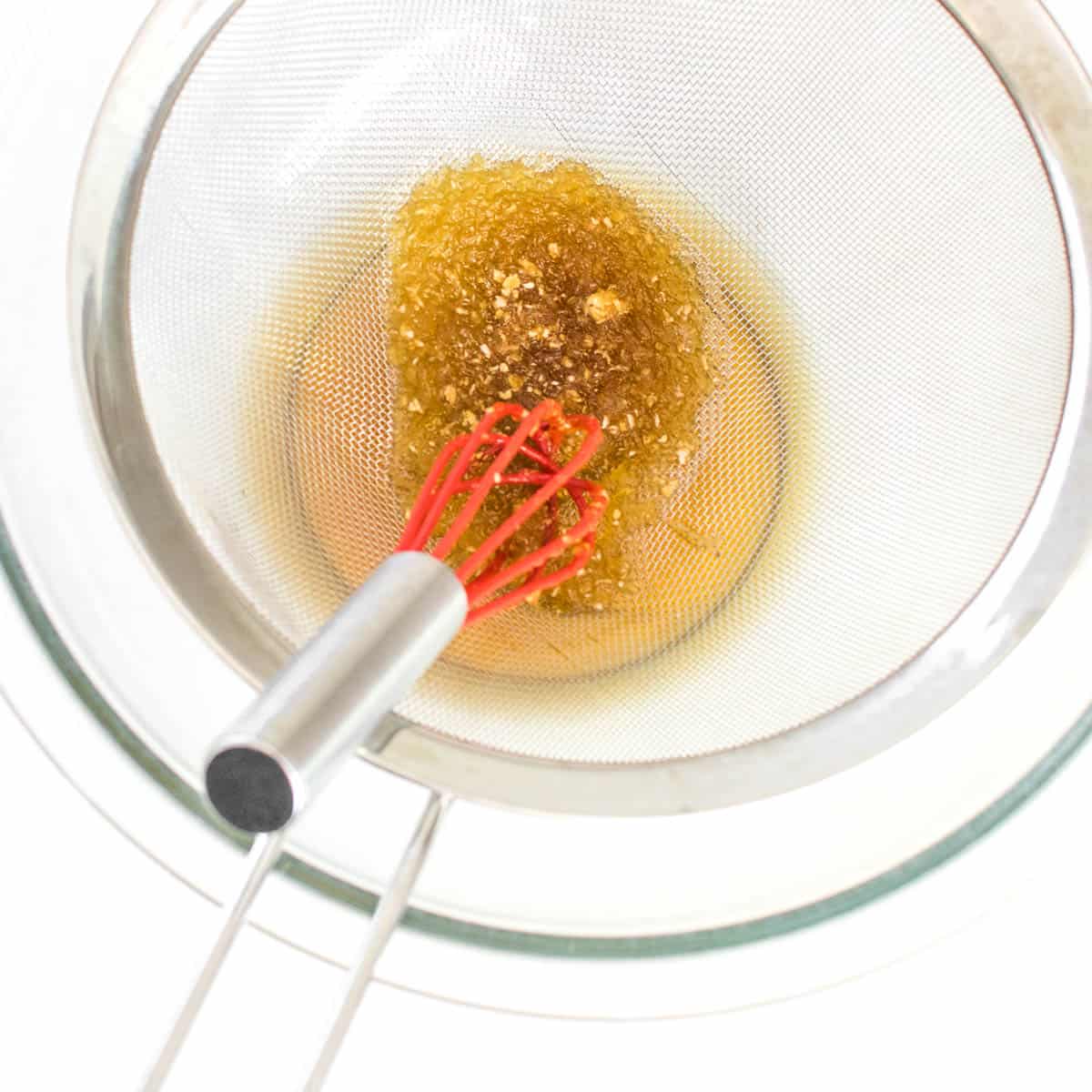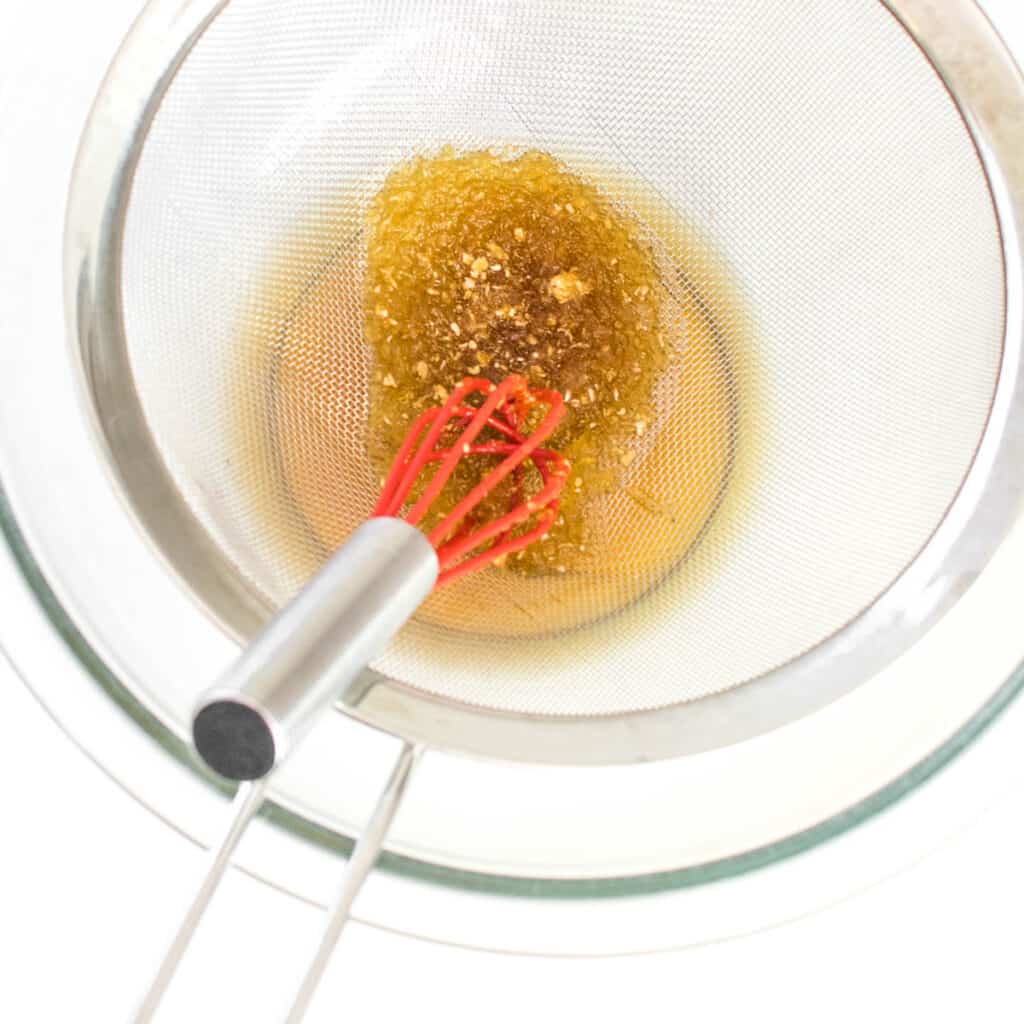 Thereafter, I strained blended turmeric in the same strainer.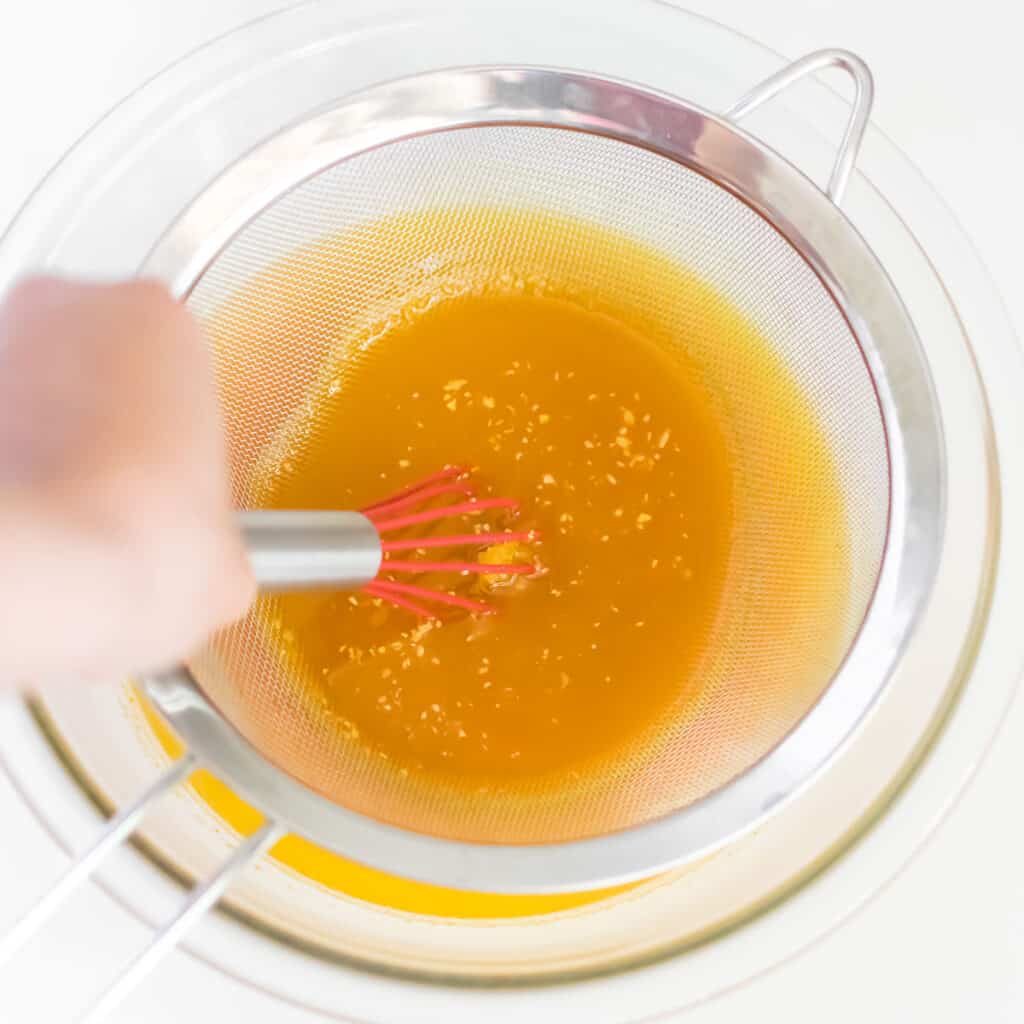 Then, I stirred it nicely making sure that all the liquid was well strained and discarded the leftover fiber or extra pulp.
Afterwards, I stirred in freshly squeezed lemon juice.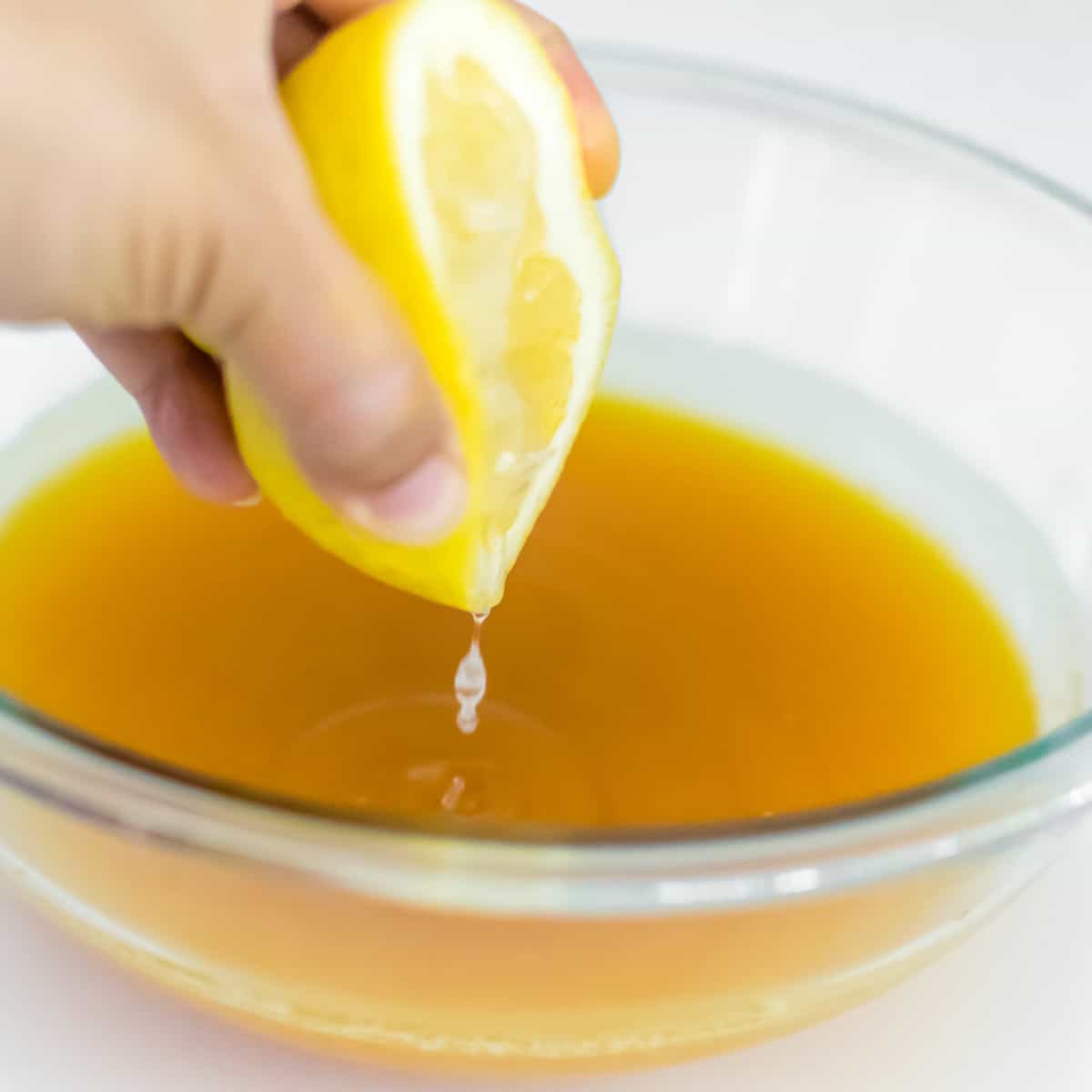 Lastly, I filled my serving glasses with crushed ice and poured the beverage in it. Then, I garnished with more lemon slices and fresh mint leaves.
It looks extremely beautiful to present and it was even tastier to drink it.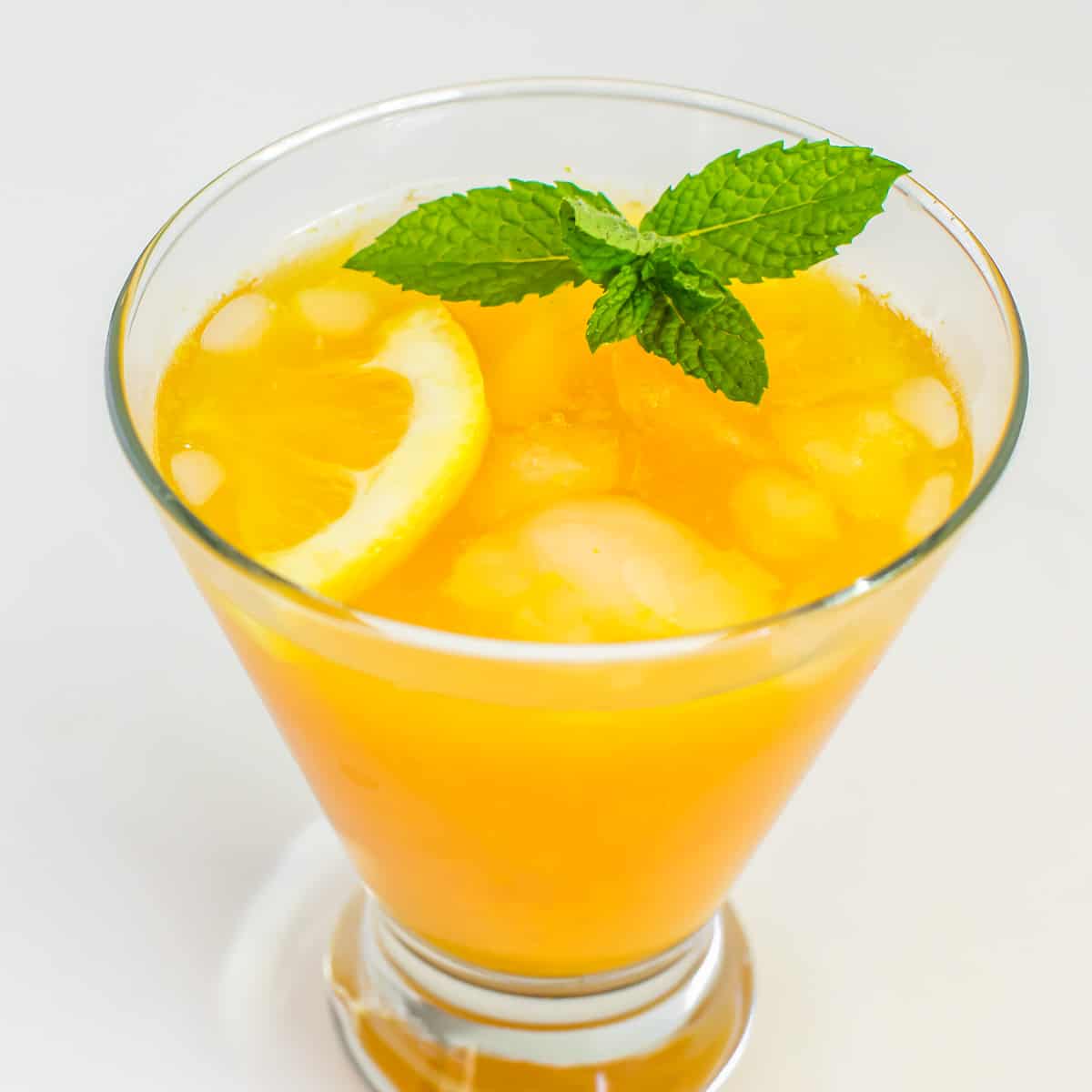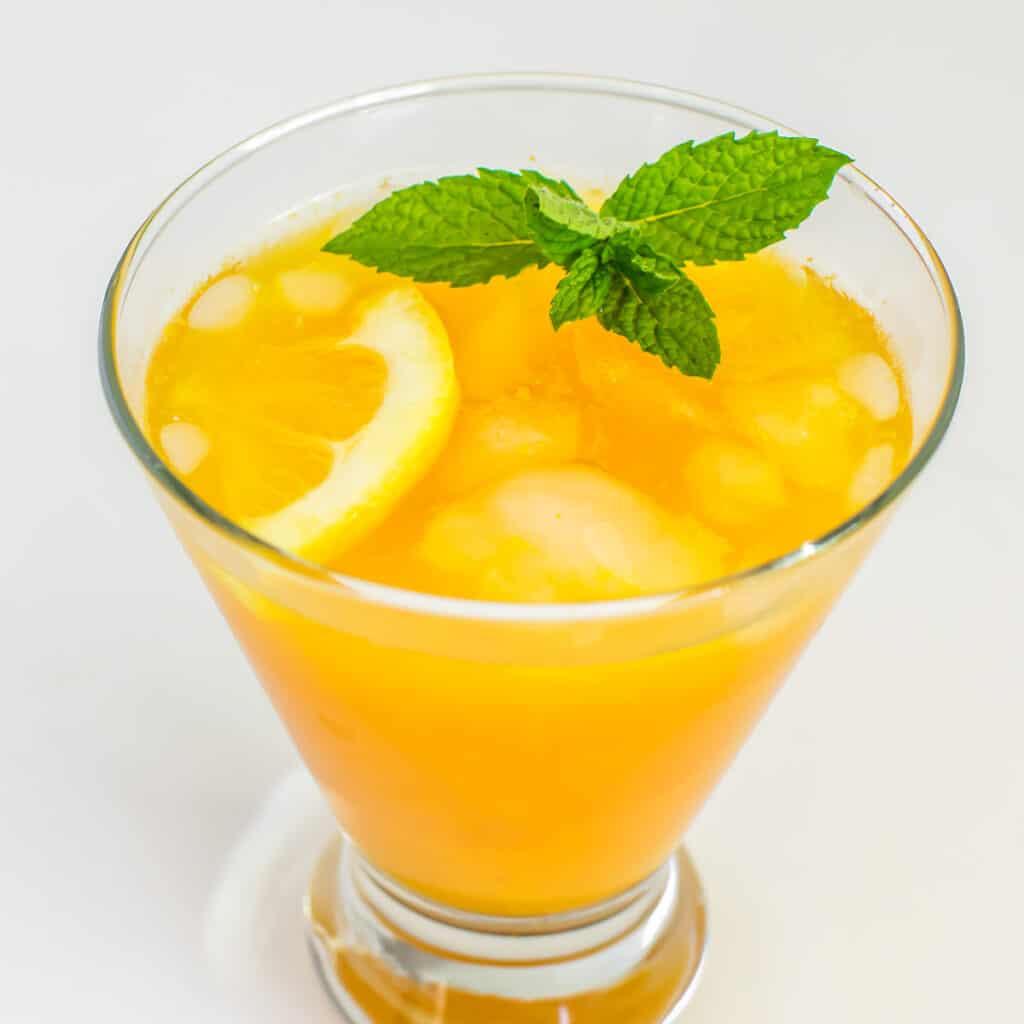 In fact, I made a double batch of it and refrigerated to hydrate every day while its still summer outside.
Can I make Turmeric Ginger Lemonade ahead
Yes! Of course. Simply make it and refrigerate in a large pitcher. When ready fill your glass with crushed ice and pour this lemonade into the glasses. Garnish and serve.
Expert tips:
It is important to whisk maple syrup while cooking to make sure it does not stick in the pan.
Make sure to use fine strainer in order to make it a smooth texture.
Turmeric Ginger Lemonade FAQs
How long does it last?
This taste best when served chilled. It can be refrigerated for 3-4 days in a glass pitcher.
Can I drink it every day?
Yes, it has healing properties and made with pure and healthy ingredients. I would recommend hydrating with this turmeric lemonade every day to boosts immunity.
Can ginger and turmeric be taken together?
Absolutely. To fight cold and cough usually ginger and turmeric are grated together and mixed with raw honey. For vegan option, I mix it with maple syrup or date syrup. So, therefore, ginger and turmeric are a great combination with medicinal properties.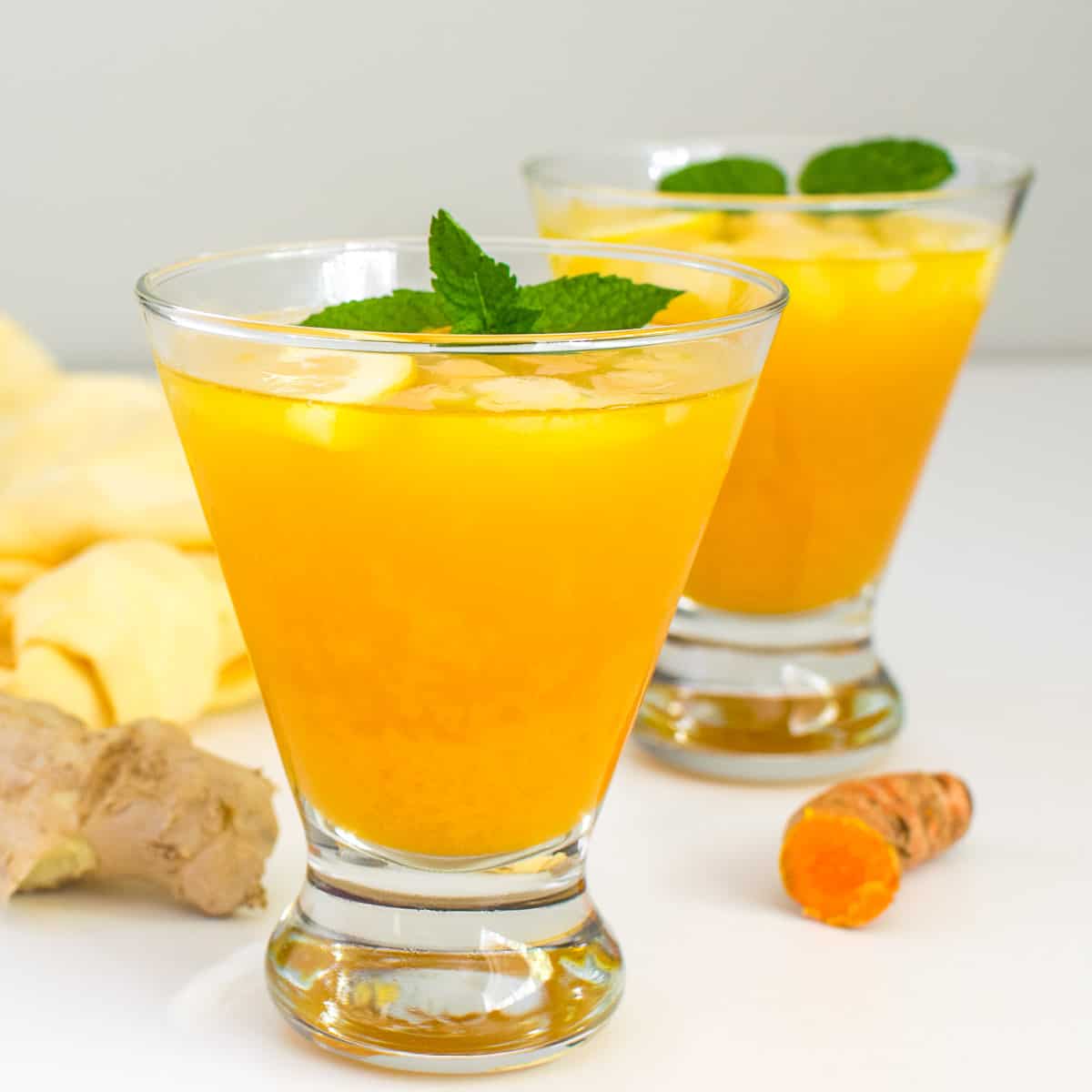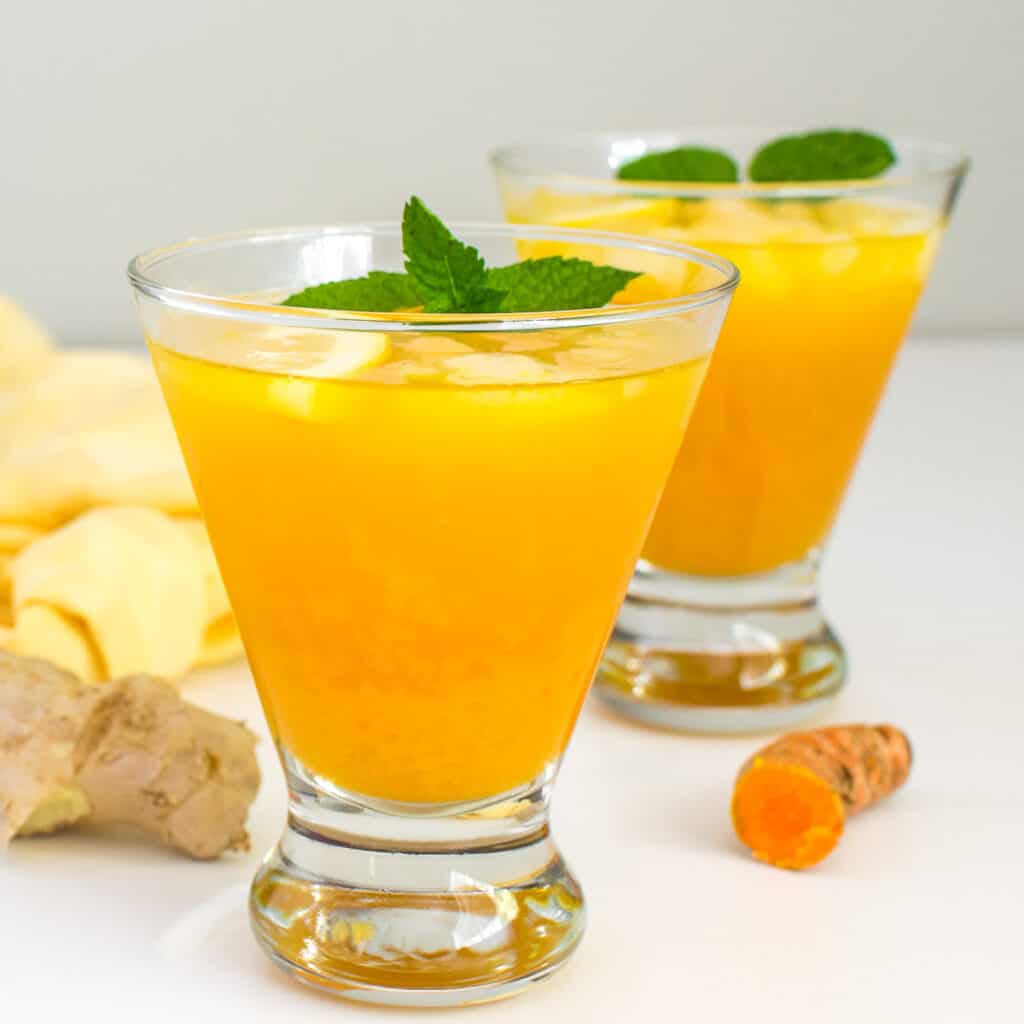 My other summer beverages that you might like:
Vegan Mango Lassi
Lemon Smoothie
Pineapple Banana Smoothie
Mango Lemonade
Avocado Milkshake
Banana Milkshake
Ice Matcha Latte
This post may contain affiliate links which means that if you click on them and also make a purchase, I will get a small commission. Moreover, I share only those products which I use personally and love.
I hope you enjoy this recipe as much as we did. I am very excited to hear back from you.
Where to find me?
Follow me on Facebook or on Twitter. You may tag @kiipfit on Instagram with your recipe remake images because I would love to see what you cooked.
Did you make it?
If you get a chance to make this recipe then please leave your feedback in the comments below along with a 5-star rating.
In addition, you may checkout my cookbook for everyday comfort vegan recipes.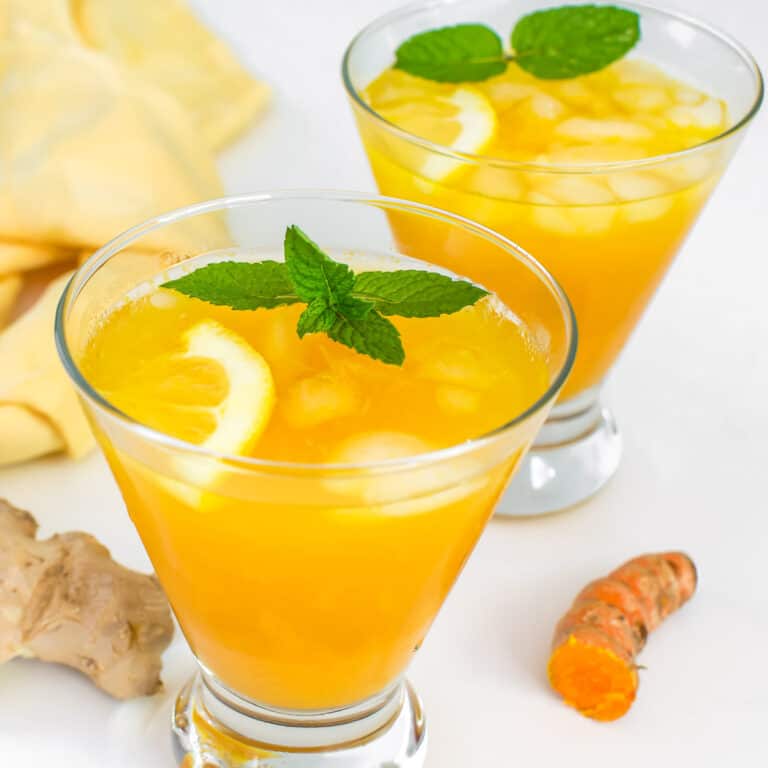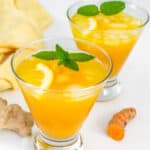 Print Recipe
Turmeric Ginger Lemonade
This antioxidant rich Turmeric Ginger Lemonade is a refreshing summer drink with vibrant color and exotic flavor. It's made with fresh spices and has the right tang and zest, thereby helps to fight fatigue and reduce inflammation.
Ingredients
1/4

cup

maple syrup

1/2

inch

root ginger

1 1/2

cups

water

1/4 – 1/2

inch

root turmeric

(skin peeled)

1

large lemon
Instructions
In a saucepan, combine maple syrup and grate ginger in it. (Make sure to grate it with its skin). Cook at high flame for 2-3 minutes by continuously whisking it. Turn it off and remove from the flame. Let it cool at room temperature.

In a blender combine water and turmeric. Blend it smooth.

Place a strainer in a bowl or a pitcher and strain maple syrup mixture first. Then strain blended turmeric through the same strainer into the same bowl. Stir it making sure that all the liquid is well strained. Discard the leftover extra fiber from the strainer.

Squeeze lemon juice into the bowl/pitcher and stir well. Taste test at this stage. You may squeeze some more lemon juice in it for a strong sour flavor. Fill ¾ of the serving glasses with crushed ice and pour the lemonade. Garnish with sliced lemons and mint leaves. Enjoy!
Notes
You may make this lemonade in a glass jar or pitcher and refrigerate for 3-4 days. When ready fill the glasses with crushed ice and pour and garnish.
We personally like the flavor of spices and it's a bit strong in taste here. If you want softer taste then you may use ¼ inch ginger and ¼ inch turmeric. The color of the lemonade may be little lighter. But if you like the strong taste then the above measurements are absolutely delish.
This lemonade is perfectly balanced with sweet and sour taste but if you like your lemonade on a sour taste then feel free to adjust it by adding more lemon juice as per taste.
Feel free to double the quantity of this recipe and refrigerate.
The serving size and its nutritional value will vary depending on the size of your serving glass.
Nutrition
Calories:
51
kcal
|
Carbohydrates:
14
g
|
Protein:
0.01
g
|
Fat:
0.01
g
|
Saturated Fat:
0.003
g
|
Polyunsaturated Fat:
0.003
g
|
Monounsaturated Fat:
0.003
g
|
Sodium:
6
mg
|
Potassium:
49
mg
|
Fiber:
0.02
g
|
Sugar:
12
g
|
Vitamin C:
0.04
mg
|
Calcium:
25
mg
|
Iron:
0.03
mg