These soft, fluffy and flavorful Blueberry Smoothie Spelt Pancakes are healthy with being oil free and sugar free. Its made vegan, super easy to whip and so satisfying.
Even though blueberries are available all trhough the year these are the sweetest during summers.
Hence, I love baking and cooking with blueberries.
Health benefits of blueberries
Blueberries are high in fiber, vitamin C and vitami B6 becasue of wihcih this fruit supports heart health. Its a low calorie fruit and helps control cholesterol.
More blueberry recipes for you to try:
Vegan blueberry bread
Oil free vegan blueberry muffins
Blueberry Oatmeal Cookies
Why spelt flour?
Spelt flour has a very high content of fiber and is healtheir than wheat. Its a great source of vitamins and minerals and is more water-soluble than wheat thereby easier to digest.
Whole grain spelt flour vs white spelt flour
Whole grain spelt flour is very similar to whole wheat flour and has coarser texture. However, white spelt flour is more similar to all purpose flour which is ground the outer bran thereby, resulting in finer texture.
What to make with spelt flour?
Since, I work on making healthier recipes I prefer using whole grain spelt flour. So apart from making these pancakes so my tomato herb spelt bread is very much liked by my friends. However, I enjoying pumpkin waffles and butternut squash waffles that I often make with spelt flour.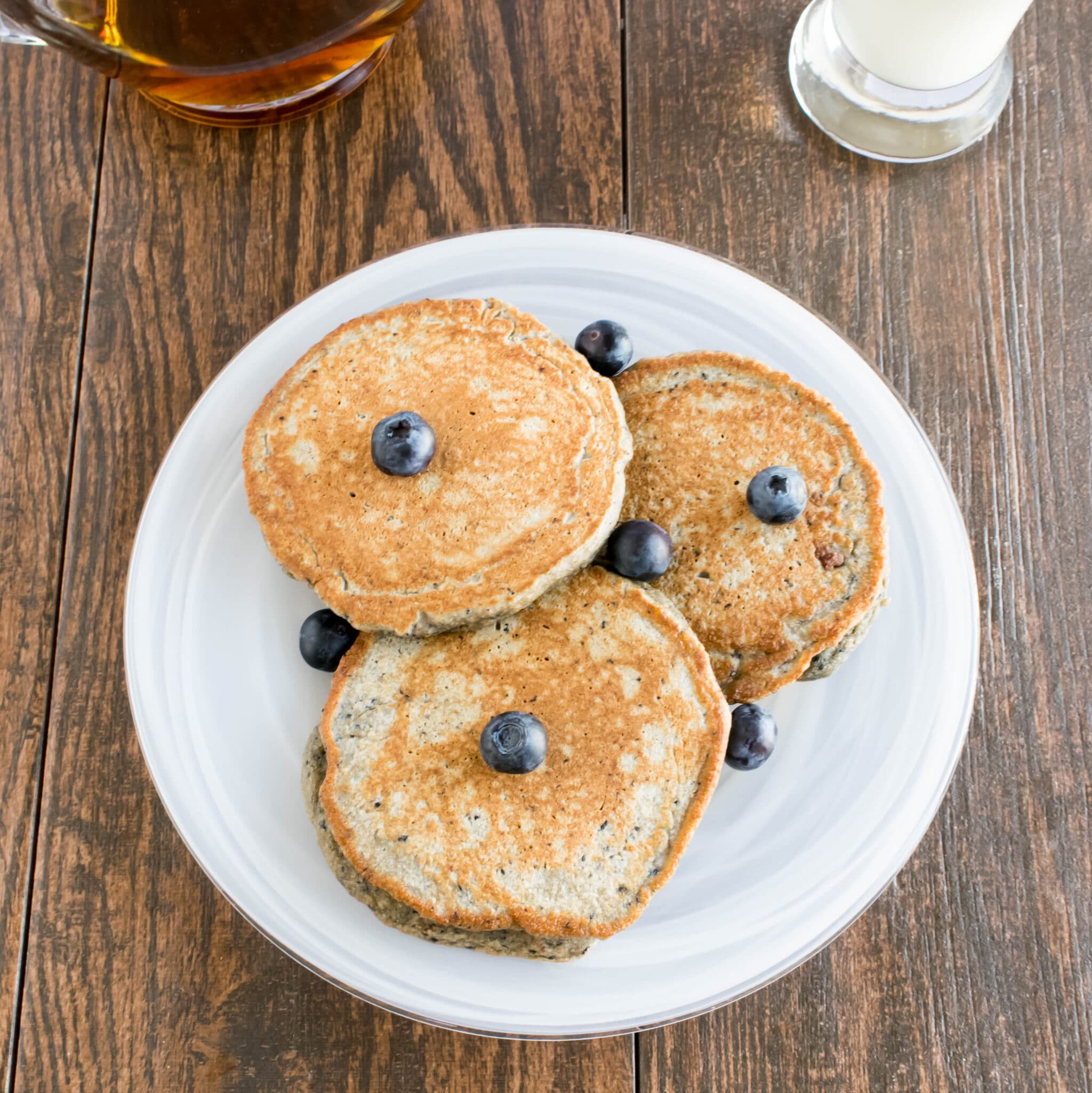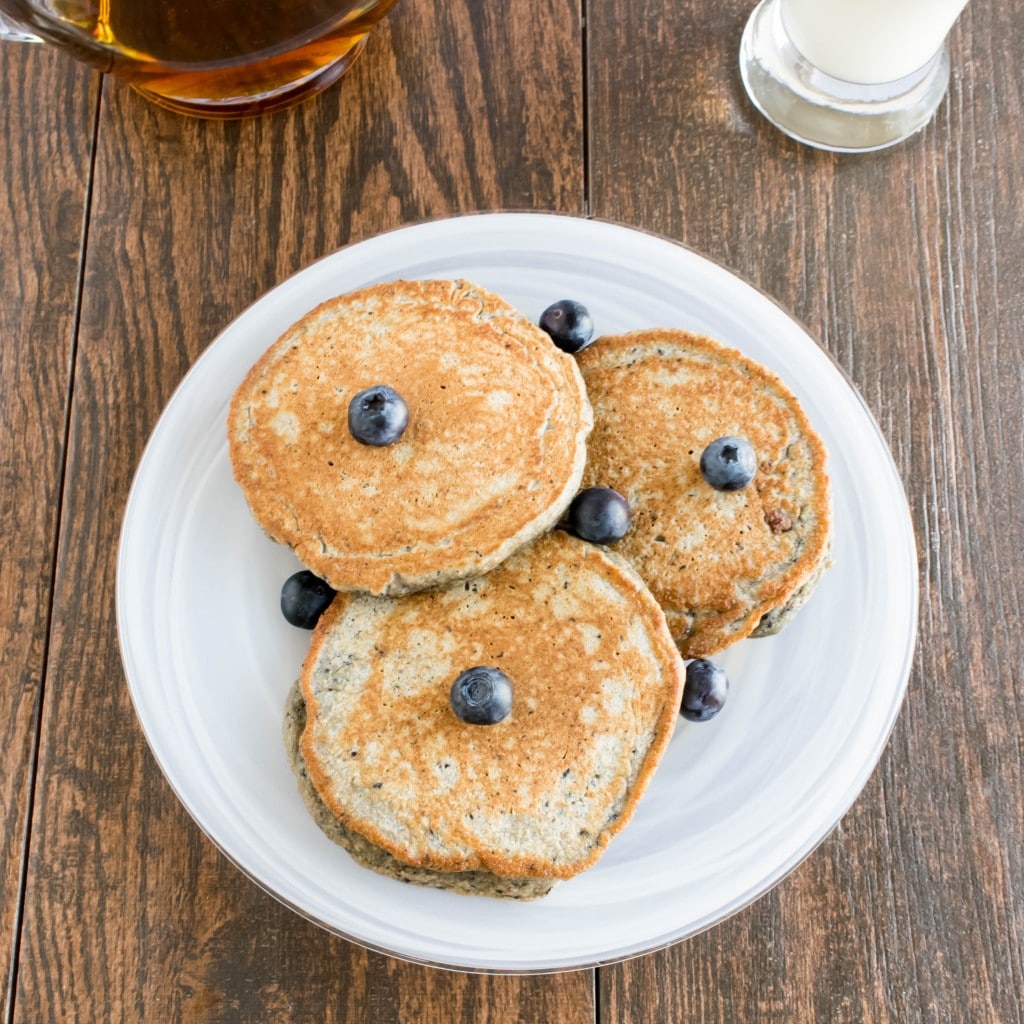 Ingredients for vegan spelt pancakes
Fresh blueberries
almond milk
dates
vanilla extract
hemp seeds
soaked flaxmeal
wholegrain flaxmeal
baking powder
salt
I made these healthy spelt flour pancakes with simple ingredients and in few easy steps. Its totally a scrumptious family brunch with delicious flavors.
Ingredients notes:
Blueberries – I love using fresh blueberries because its so flavorful and refreshing and works great in any recipe. However, frozen blueberries also work here. Just make sure to blend the smoothie and wait for it to come to room temperature before mixing in with spelt flour.
flaxmeal – its packed with fiber and healthy fats along with being a great egg substitute.
Hempseeds – this adds protein and fiber to this recipe thereby making these vegan spelt flour pancakes nutritious.
Dates – its a natural sweetener with being extremely healthy. Its packed with fiber and antioxidants. I used only few to add a bit of sweetness to these pancakes.
Spelt flour – I used whole grain spelt flour here to make these easy spelt pancakes.
For detailed measurement of ingredients, lease scroll down to the printable recipe card at the bottom of this post.
How to make Blueberry Smoothie Spelt Pancakes
Firstly, I blended blueberries, almond milk, dates, vanilla extract, hemp seeds and blend it smooth in a blender. Then, I kept it aside.
Secondly, I folded in dry ingredients, soaked flax meal and smoothie all together and whipped it into a batter.
Thereafter, in a warm griddle I scooped about 2 tbsp. batter on it and shaped it into round. Then, I let it cook on one side on a medium flame.
Afterwards, I flipped it into the other side and let it cook again until it was golden brown.
I repeated the same process for the rest of the batter and then I served it immediately along with fresh blueberries and maple syrup.
When to flip spelt pancakes
For the soft and fluffy pancakes, patience is the key. Once you pour the batter on a warm pan let it cook at medium flame until bubbles form at the top of the batter and the sides start to dry up. The more bubbles are formed at the top the softer and fluffier the pancakes would be. Flip and let it cook again from the bottom. You will notice a slight rise at this point. Gently, scoop it out with a flat spatula and place it on the serving plate.
Expert tips:
It is important to blend the smoothie mixture as smooth as possible for the smooth batter.
While mixing the batter make sure the dry ingredients are well mixed and there are no lumps in it.
These Spelt Pancakes are healthy pancakes with the goodness of whole grains and lots of antioxidant and omega 3 with required protein.
Blueberry Smoothie Spelt Pancakes FAQs
What is spelt flour and is it healthy?
Spelt flour is a whole grain and is healthier because it has more fiber and other minerals as compared to regular flour.
How long do these pancakes last?
This tastes best when served immediately. However, the leftovers can refrigerated for about a week. Simply warm them up in microwave before consuming.
Are there variety of spelt flours available in the market?
White spelt flour and whole grain spelt are availbale in the market. However, I personally prefer whole grain to add more health into my diet.
More vegan pancake recipes that you might like:
sweet potato pancakes
hot chocolate buckwheat pancakes
spinach banana pancakes
vegan banana oatmeal pancakes
vegan carrot cake pancakes
strawberry sauce pancakes
green peas zucchini pancakes
This post may contain affiliate links which means that if you click on them and also make a purchase, I will get a small commission. Moreover, I share only those products which I use personally and love.
I hope you enjoy this recipe as much as we did. I am very excited to hear back from you.
Where to find me?
Follow me on Facebook or on Twitter. You may tag @kiipfit on Instagram with your recipe remake images because I would love to see what you cooked.
Did you make it?
If you get a chance to make this recipe then please leave your feedback in the comments below along with a 5-star rating.
In addition, you may checkout my cookbook for everyday comfort vegan recipes.
Print Recipe
Blueberry Smoothie Spelt Pancakes
These soft, fluffy and flavorful Blueberry Smoothie Spelt Pancakes are healthy with being oil free and sugar free. Its made vegan, super easy to whip and so satisfying.
Ingredients
Wet ingredients
1/4

cup

flaxseed meal

[soaked in 1/2 cup water]

1

cup

fresh blueberries

1

tbsp

hemp seeds

1

tbsp

vanilla extract

1

cup

unsweetened almond milk
Instructions
Keep soaked flaxmeal in a mixing bowl aside. In a blender combine blueberries, milk, hemp seeds, vanilla extract, dates and blend until smooth.

Now, whip up the blended smoothie into the soaked flaxmeal. Keep it aside.

In another mixing bowl combine all the dry ingredients.

Now, fold in the wet ingredients into the dry ingredients and mix well.

Heat the pan/griddle and lightly grease it ( greasing is optional ). Pour ¼ cup of the batter onto the griddle and let it cook for 2 minutes. Flip to the other side and again for 2-3 minutes or until light golden in color. Repeat the same process for the rest of the batter.

Serve hot with your choice of sweetener.
Notes
I mixed the fresh blueberries with the maple syrup and topped the pancakes with them. The taste was even more enhanced.
For non vegan option : Substitute flaxmeal with 1 whole egg and 3 egg whites.
Nutrition
Calories:
142
kcal
|
Carbohydrates:
27
g
|
Protein:
6
g
|
Fat:
2
g
|
Saturated Fat:
1
g
|
Sodium:
50
mg
|
Potassium:
111
mg
|
Fiber:
1
g
|
Sugar:
1
g
|
Vitamin A:
6
IU
|
Calcium:
46
mg
|
Iron:
1
mg