These soft, fluffy and flavorful Blueberry Smoothie Spelt Pancakes are satisfying weekend brunch option. Its easy to whip up and tasty to the taste buds for all ages.
Soft and Fluffy, Moist and flavorful pancakes for lazy Sunday morning is an ideal breakfast for us.
I also posted blueberry oatmeal cookies and my these tastes just like vegan blueberry muffins.
I usually bake oil free so you can enjoy my desserts guilt free.
Hence, I have many blueberry recipes for you to try if you have lots of blueberries sitting on your refrigerator.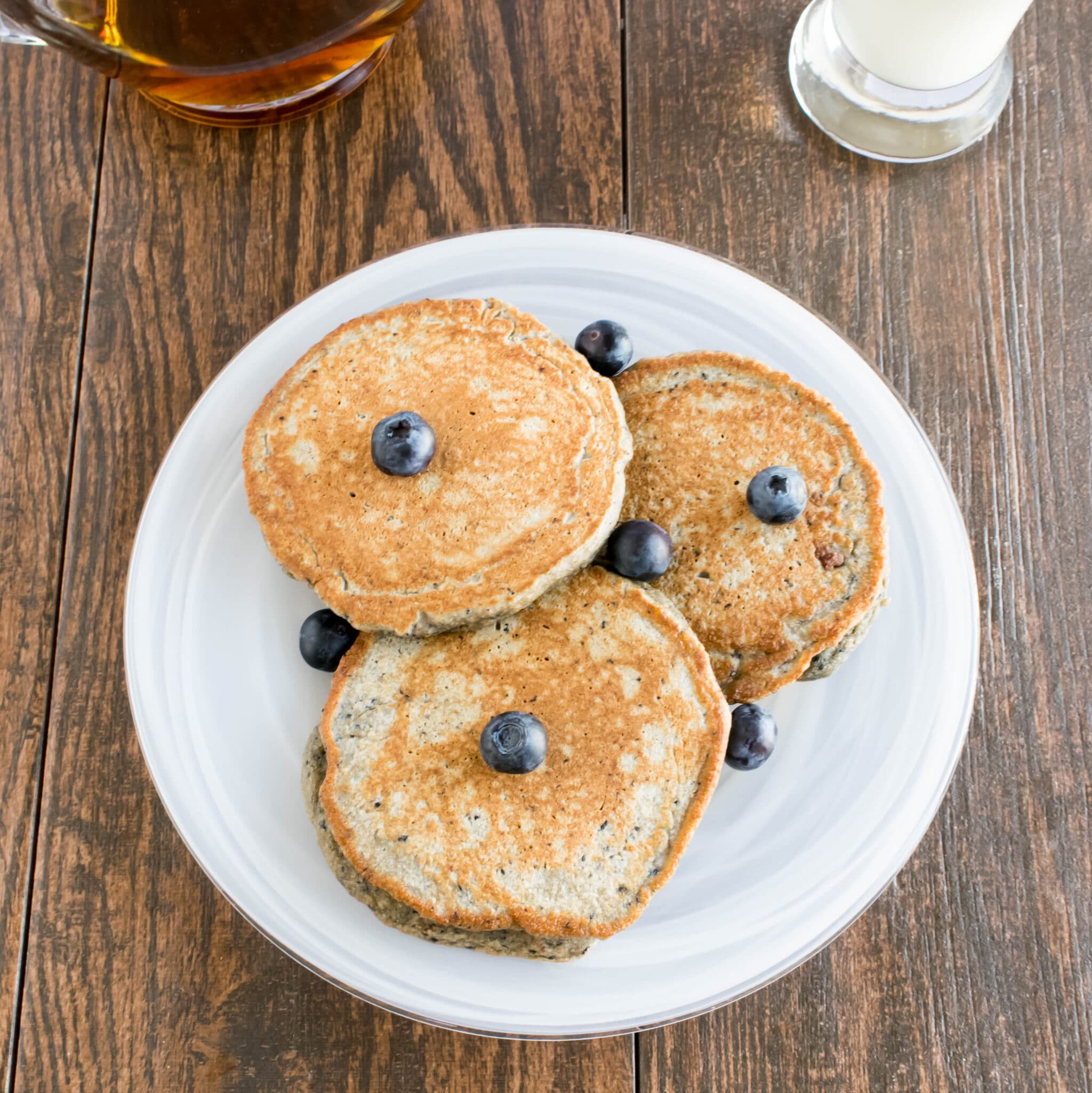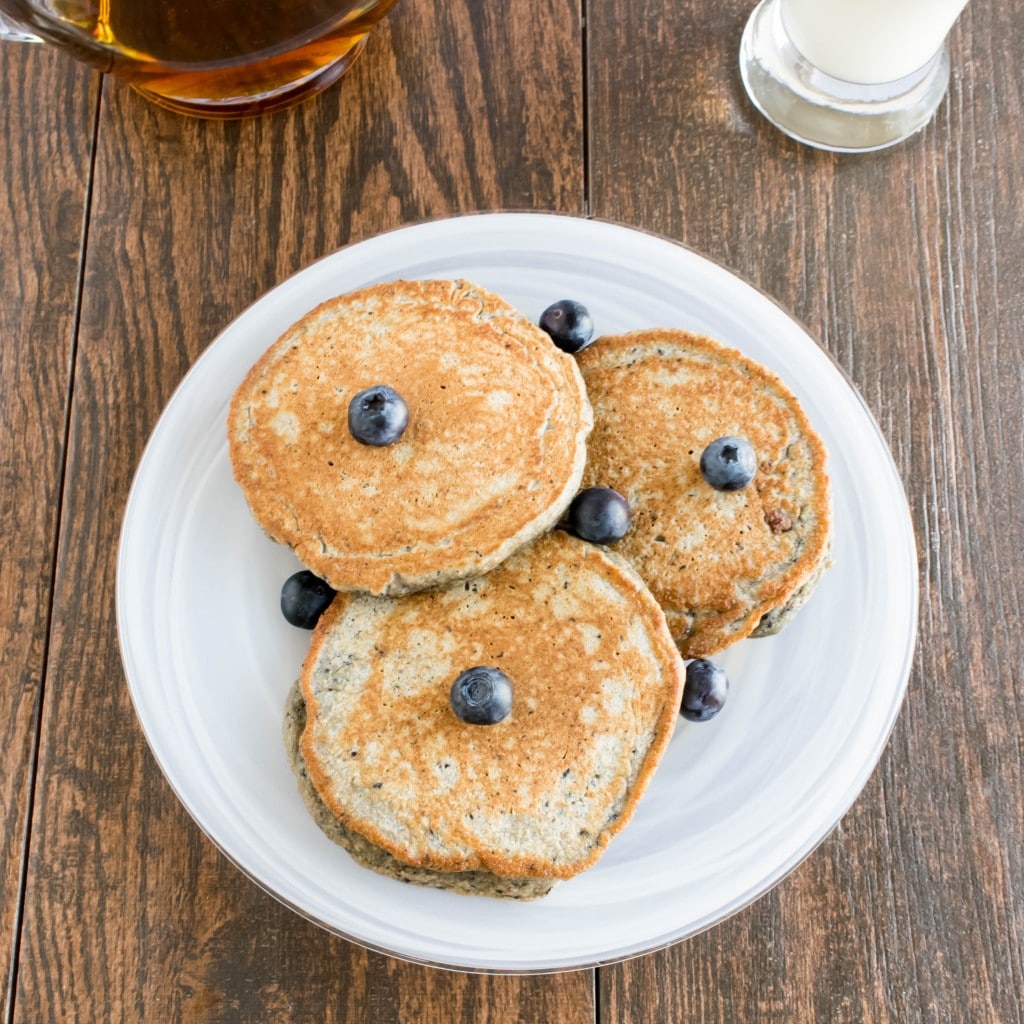 Let's get started with these blueberry pancakes recipe.
Ingredients you will need:
Fresh blueberries
almond milk
dates
vanilla extract
hemp seeds
soaked flaxmeal
wholegrain flaxmeal
baking powder
salt
I used these easily available ingredients which you may buy from any local grocery store. However, I have provided links to few of them here for your convivence.
If you plan to buy from these affiliate links then I get a small commission which in turn encourages me to bring in more delicious recipes for you all.
YUMMILICIUOS!!! Can't have a better weekend morning.
I usually eat a very light breakfast and then I have my schedule of one hour of workout but Sundays are different.
We usually wake up little late and our Sunday mornings are slow. On Sundays mostly it's my husband's turn to prepare morning tea and fix some quick breakfast but I gave him a break last Sunday.
I had lots of fresh blueberries in the refrigerator. Initially I thought to blend these wonderful antioxidant berries into an after workout smoothie.
I still blended the berries into a smoothie but I got an idea to cook this smoothie into a pancake. Hence, these vegan blueberry pancakes took shape and went straight into our tummies. 🙂
How to make blueberry smoothie spelt pancakes
Firstly, I blended blueberries, almond milk, dates, vanilla extract, hemp seeds and blend it smooth in a blender. Then, I kept it aside.
Secondly, I folded in dry ingredients, soaked flax meal and smoothie all together and whipped it into a batter.
Thereafter, in a warm griddle I scooped about 2 tbsp batter on it and shaped it into round. Then, I let it cook on one side on a medium flame.
Afterwards, I flipped it into the other side and let it cook again until it was golden brown.
I repeated the same process for the rest of the batter and then I served it immediately along with fresh blueberries and maple syrup.
It was an instant hit. Therefore, whenever, blueberries are at a peak these we love to these pancakes over the weekend.
Basically its a family even for us. My girls also help me whipping up with me. Its usually a fun morning for all of us.
Sometimes, we try to capture in my camera some special moments of my oldest one making these pancakes and messing my kitchen.
But she helps me with after clean up as well. Hence, its always a complete team work in our house.
My toddler on the other hand enjoys tasting the batter and messing up her face.
Almost every weekend we treasure family moments and make new memories and browse through old ones.
Therefore, I insist you all to try these so that you also enjoy your weekend brunches with your family the same way as we do.
These Spelt Pancakes are healthy pancakes with the goodness of whole grains and lots of antioxidant and omega 3 with required protein.
Blueberry Smoothie Spelt Pancakes FAQs
What is spelt flour and is it healthy?
Spelt flour is a whole grain and is healthier because it has more fiber and other minerals as compared to regular flour.
How long do these pancakes last?
This tastes best when served immediately. However, the leftovers can refrigerated for about a week. Simply warm them up in microwave before consuming.
Are there variety of spelt flours available in the market?
White spelt flour and whole grain spelt are availbale in the market. However, I personally prefer whole grain to add more health into my diet.
You may also like:
Did you make it?
If you get a chance to make this recipe then please leave your feedback in the comments below along with the ratings. In addition you may tag @kiipfit on Instagram because we would love to see what you cooked.
Print Recipe
Blueberry Smoothie Spelt Pancakes
These soft, fluffy and flavorful Blueberry Smoothie Spelt Pancakes are satisfying weekend brunch option. Its easy to whip up and tasty to the taste buds for all ages.
Ingredients
Wet ingredients
1/4

cup

flaxseed meal

[soaked in 1/2 cup water]

1

cup

fresh blueberries

1

tbsp

hemp seeds

1

tbsp

vanilla extract

1

cup

unsweetened almond milk
Instructions
Keep soaked flaxmeal in a mixing bowl aside. In a blender combine blueberries, milk, hemp seeds, vanilla extract, dates and blend until smooth.

Now, whip up the blended smoothie into the soaked flaxmeal. Keep it aside.

In another mixing bowl combine all the dry ingredients.

Now, fold in the wet ingredients into the dry ingredients and mix well.

Heat the pan/griddle and lightly grease it. Pour ¼ cup of the batter onto the griddle and let it cook for 2 minutes. Flip to the other side and again for 2-3 minutes or until light golden in color. Repeat the same process for the rest of the batter.

Serve hot with your choice of sweetener.
Notes
I mixed the fresh blueberries with the maple syrup and topped the pancakes with them. The taste was even more enhanced.
For non vegan option : Substitute flaxmeal with 1 whole egg and 3 egg whites.
Nutrition
Calories:
142
kcal
|
Carbohydrates:
27
g
|
Protein:
6
g
|
Fat:
2
g
|
Saturated Fat:
1
g
|
Sodium:
50
mg
|
Potassium:
111
mg
|
Fiber:
1
g
|
Sugar:
1
g
|
Vitamin A:
6
IU
|
Calcium:
46
mg
|
Iron:
1
mg