This easy to blend Vegan Ricotta Cheese is sweet in taste with a hint of tang along with being mildly salty. It's a fun homemade version that can be enjoyed as a dip or top it on your pizza or simply include it in your pasta dish.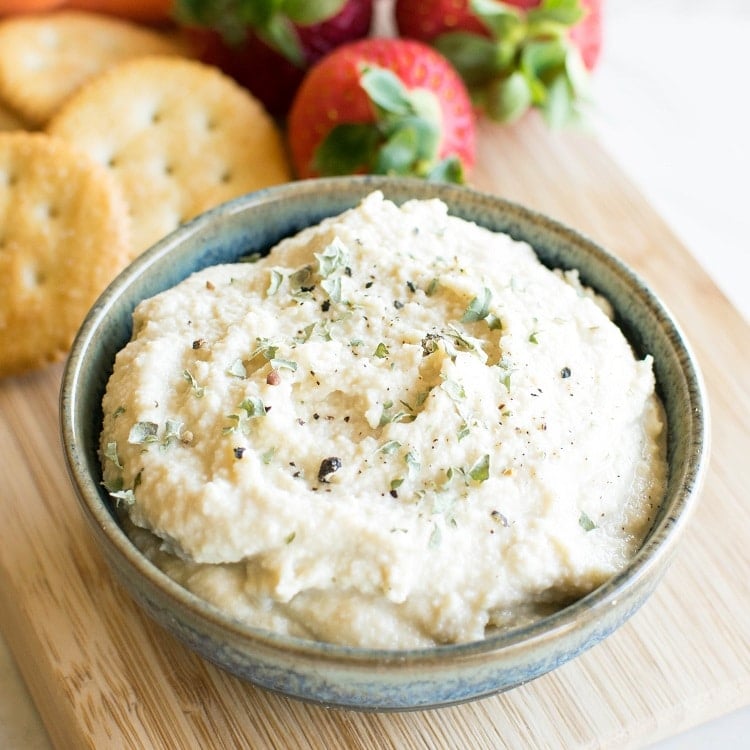 I have been wondering about this vegan version because basically I was always fond of ricotta cheese. Even though I agree there are many online versions but I wanted something that my family can love at the first bite.
I already had cashew in my mind since my family loves cashew nuts. So therefore, I decided on coming up with cashew ricotta. But again, I wanted a nice texture which can resemble the store-bought ones.
After few practices and failures, I finally succeeded and so excited to share it here. I am sure once you try this vegan ricotta you will make it frequently just like me.
Ingredients for Vegan Ricotta Cheese
Cashew Nut
Nutritional yeast
Lemon juice
Himalayan pink salt
Oat milk
Yes, you got it right! I made this with only 5 easily available ingredients. Most of the time, I try to use simple and inexpensive ingredients. So, therefore, this delicious vegan ricotta recipe is quick, easy and within the budget.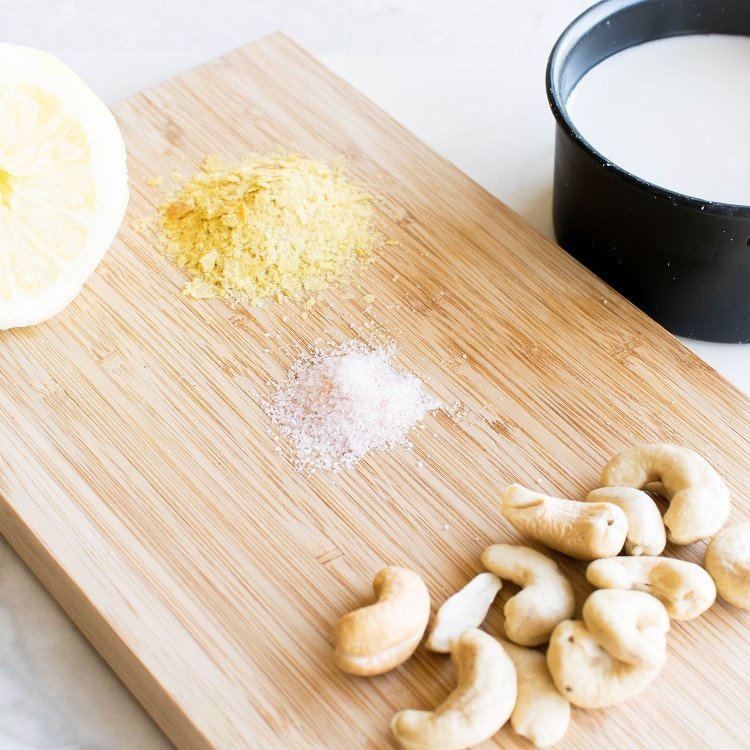 Ingredients Notes:
Cashew Nuts – I used this to bring pit the sweet flavor without too many processing. Cashews have their own sweet nutty flavor which makes this ricotta cheese recipe appetizing and looks beautifully white too.
Nutritional yeast – it adds cheesy flavor to it. At the same time, it has a nutty savory flavor to it which enhances the flavor of any recipe. Moreover, it high in fiber and vitamin B-12.
Lemon juice – this not only adds vitamin C but adds a subtle tang to it.
Himalayan pink salt – This gives a nice salty flavor to it. Moreover, it is said that pink salt is higher in minerals.
Oat milk – Even though you may use any dairy free milk in here but I personally liked the taste of oat milk in this recipe. It gave a nice smooth sweet flavor to this ricotta.
How to make Vegan Ricotta Cheese
Firstly, I soaked cashew nuts in warm water followed by draining. This process helps this nut to soften which in turn enables easy blending.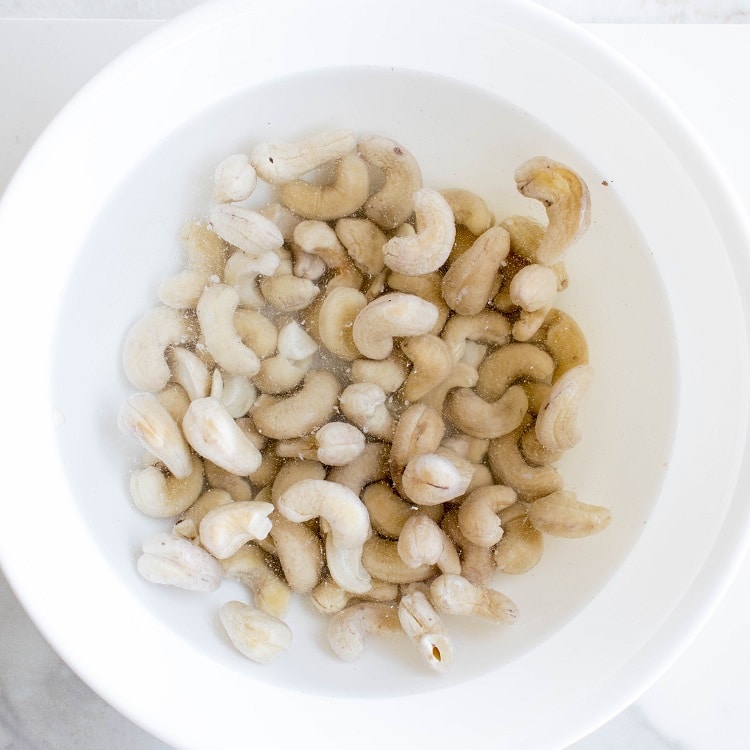 Secondly, I combined all the ingredients in the blender and blended it smooth. Its ok if this cheese is slightly grainy.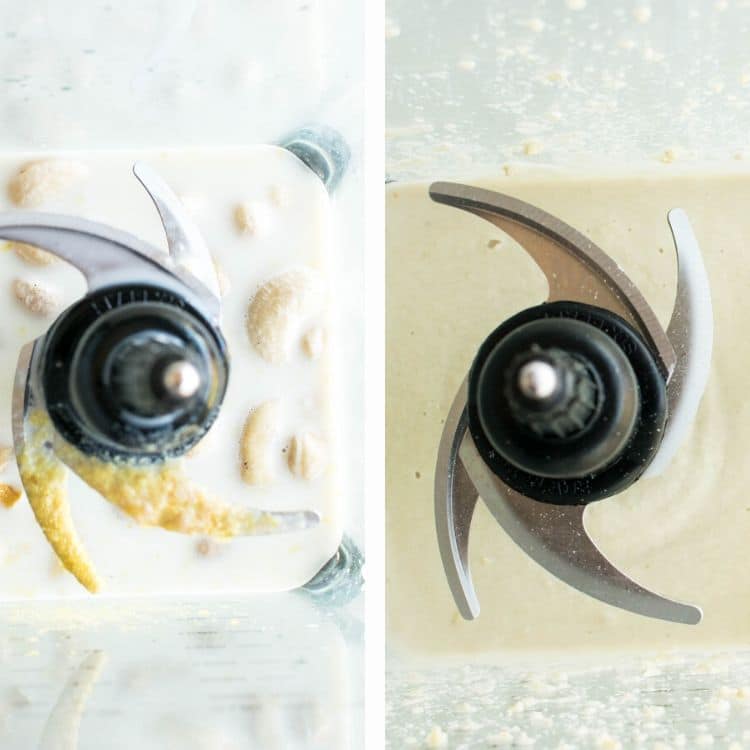 Next, I wrapped a bowl with kitchen towels and spooned the cheese out of the blender into it.
Thereafter, I wrapped it around nicely and put some weight on it.
Later, I refrigerated it for only 10 minutes.
Lastly, I took it out of the fridge and spooned out the thick, rich and creamy vegan ricotta into the serving bowl.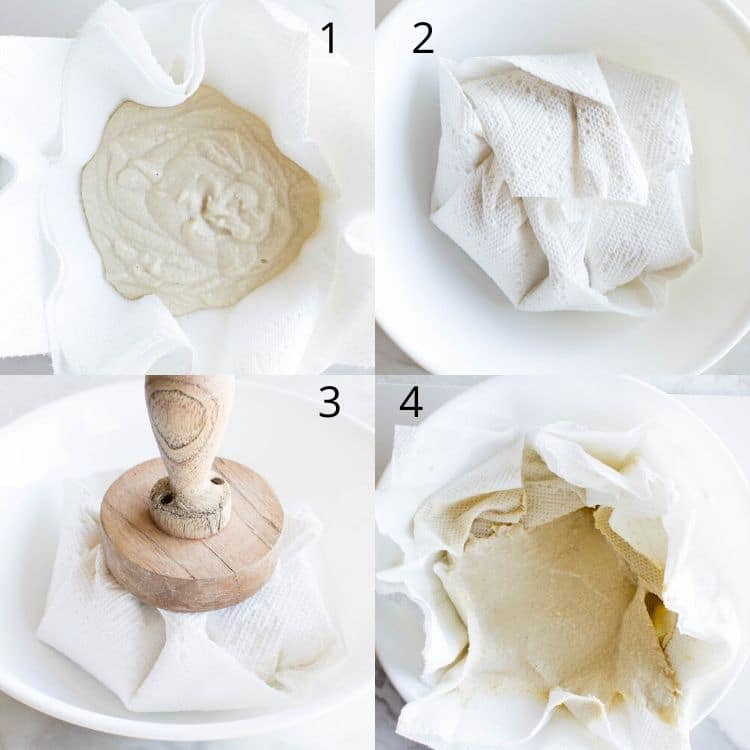 I like it in my sandwiches or on my pizza. I have also tested it with pasta and I loved it. Another way, I enjoy this ricotta cheese recipe is like a dip with fruits and crackers.
This cashew ricotta cheese is absolutely versatile and lip smacking. Its difficult to resist but super easy to make it.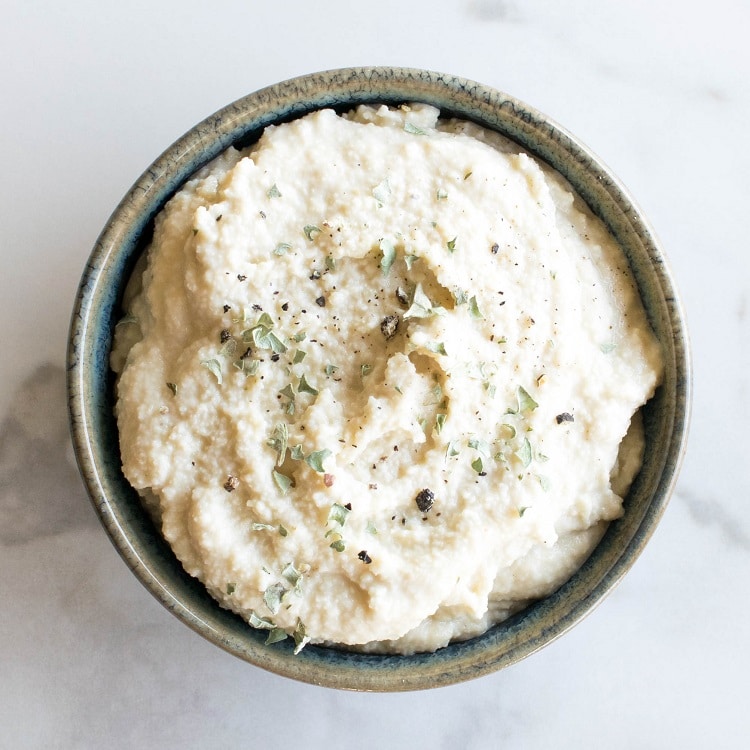 Expert tips:
Use 4 kitchen towels in the bowl to make a thick covering. This way the extra liquid is easily absorbed from this dairy free cheese.
It is important to refrigerate it wrapped with some weight so we get thicker consistency of this vegan cheese.
It is always better to put the liquid as the base in the blender to make it easy blending process. So therefore, if you are using a regular blender then I would highly recommend putting milk first in it and then the rest of the ingredients. Also, let it blend for longer than usual to get the extra creamy cheese.
I would insist that you follow the measurements and the steps diligently to get the exact ricotta cheese recipe. Any changes may result in a different taste from the original recipe.
Vegan Ricotta Cheese FAQs
How long do they last?
I have tested it for more than a week and it stayed fresh in the refrigerator. However, this tastes best if used within a week when stored in an air tight glass container in the refrigerator.
Do I need to wrap it in kitchen towels?
You may use cheesecloth as well but simply kitchen towels work pretty well. And yes, we need to follow that wrap around step in order to get a creamy, thick and rich homemade vegan ricotta cheese.
How does it taste like?
It is definitely different from the store-bought ones or the traditional ones but they taste sweet with slightly grainy texture along with being mild tangy and a bit salty.
Is it healthy?
I have made it absolutely oil free. Moreover, I used very few but healthy ingredients. It has good fats of cashew nuts and rest of the ingredients are absolutely low calories.
We have been gorging over this vegan cheese recipe for a while now. I am sure you must be having all those mentioned ingredients in your pantry and refrigerator. Then simply go ahead and blend it.
It's a very quick recipe and the steps are extremely easy to follow as well. I guarantee you and your family would love every bit of this vegan ricotta.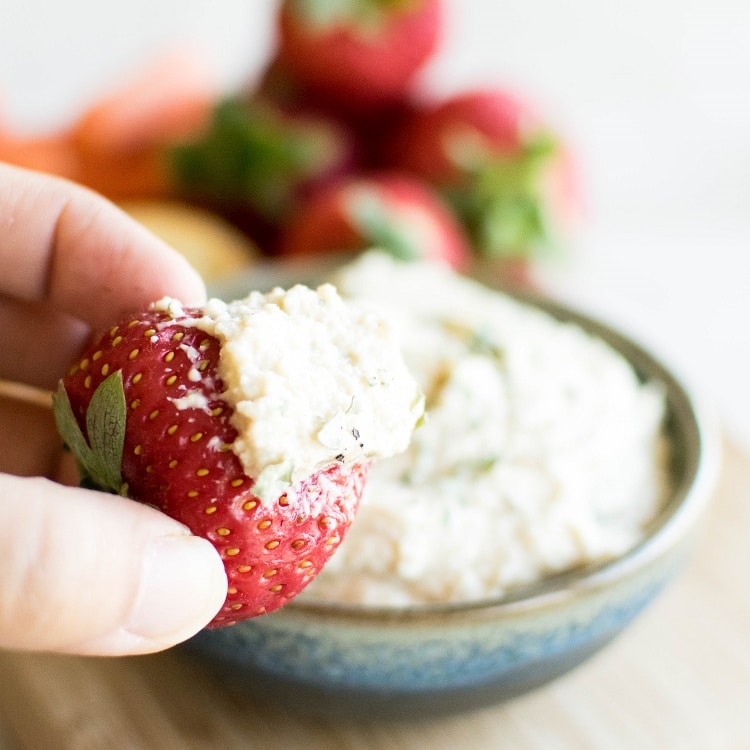 You may also like:
Nut free Vegan Cream Cheese
Vegan Cottage Cheese
Oil Free Vegan Mayo
If you are looking for a variety of ways to use cashew then you may like:
Spicy Cashew Broccoli Stir Fry
Turmeric Tofu Cashew Curry
Baked Cashew Cream Vegetable Pasta
Others dips and dressings:
Vegan Ranch Dressing
Vegan Tzatziki
Fire Roasted Jalapeno Dip
Vegan Caesar Dressing
Did you make it?
If you get a chance to make this recipe then please leave your feedback in the comments below along with the ratings. In addition, you may tag @kiipfit on Instagram with your recipe picture because we would love to see what you cooked.
If you desire to explore more delicious recipes of mine then you may check out my cookbooks.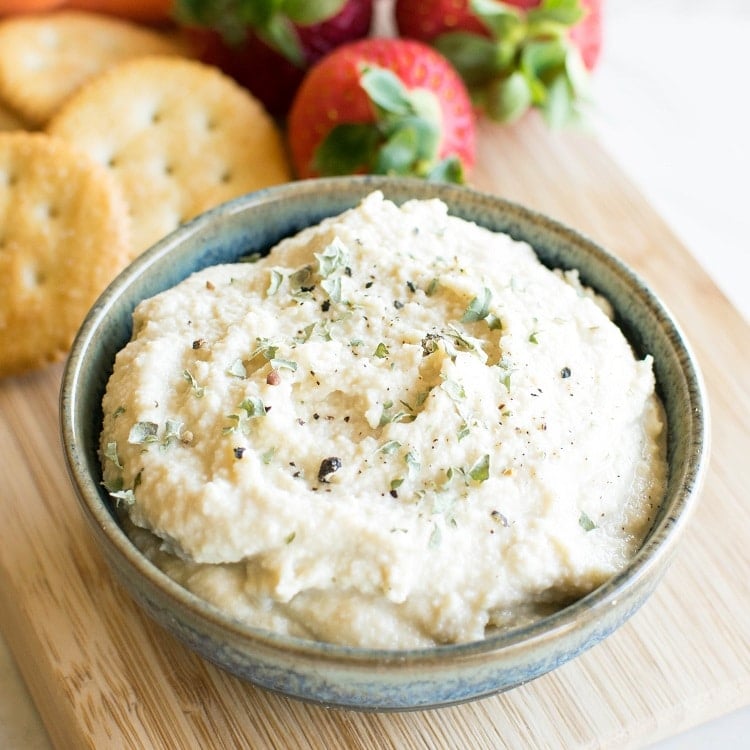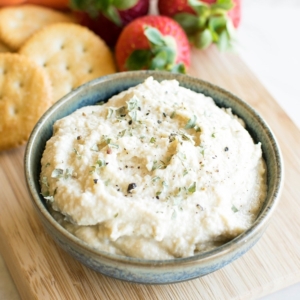 Print Recipe
Vegan Ricotta Cheese
This easy to blend Vegan Ricotta Cheese is sweet in taste with a hint of tang along with being mildly salty. It's a fun homemade version that can be enjoyed as a dip or top it on your pizza or simply include it in your pasta dish.
Instructions
Combine all the ingredients in a blender and blend it smooth.

Put kitchen thick kitchen towels that covers the bowl from inside and pour the blended cheese in it.

Then cover it with those same kitchen towel by wrapping around it inside the bowl.

Put some weight on it and refrigerate for 10 minutes (this process will make the cheese thicker and creamier and the extra liquid will be absorbed.

Take it out and open the kitchen towel. Then, spoon out the cheese into the serving bowl.

Serve it with your choice of fruits, veggies,crackers or use it as a spread between sandwiches or top it on your pizza.
Notes
It is important to wrap it in kitchen towel or else this cheese would be runny after blending.
This recipe can be used immediately after spooning out of the kitchen towel. Leftovers can be refrigerated for about a week in an air tight glass container.
For quick soaking of cashew – combine water and raw cashew nuts in a microwavable bowl and microwave it for 1 minutes on high. Take it out and let it sit for 5 minutes. Drain it and then rinse under cold water before blending.
This recipe makes about 1 ½ cups and the serving size is about 2-3 tbsp per person.
This recipe tastes best within a week when refrigerated in an air tight container.
Nutrition
Calories:
82
kcal
|
Carbohydrates:
6
g
|
Protein:
3
g
|
Fat:
6
g
|
Saturated Fat:
1
g
|
Sodium:
156
mg
|
Potassium:
21
mg
|
Fiber:
1
g
|
Sugar:
2
g
|
Vitamin A:
46
IU
|
Vitamin C:
1
mg
|
Calcium:
32
mg
|
Iron:
1
mg