These healthy Spinach Banana Pancakes are made in a blender with no added sugar and no oil. Its nut free, freezer friendly and perfect for toddlers or school kids. These are soft, moist and fluffy that makes a perfect breakfast option for all ages.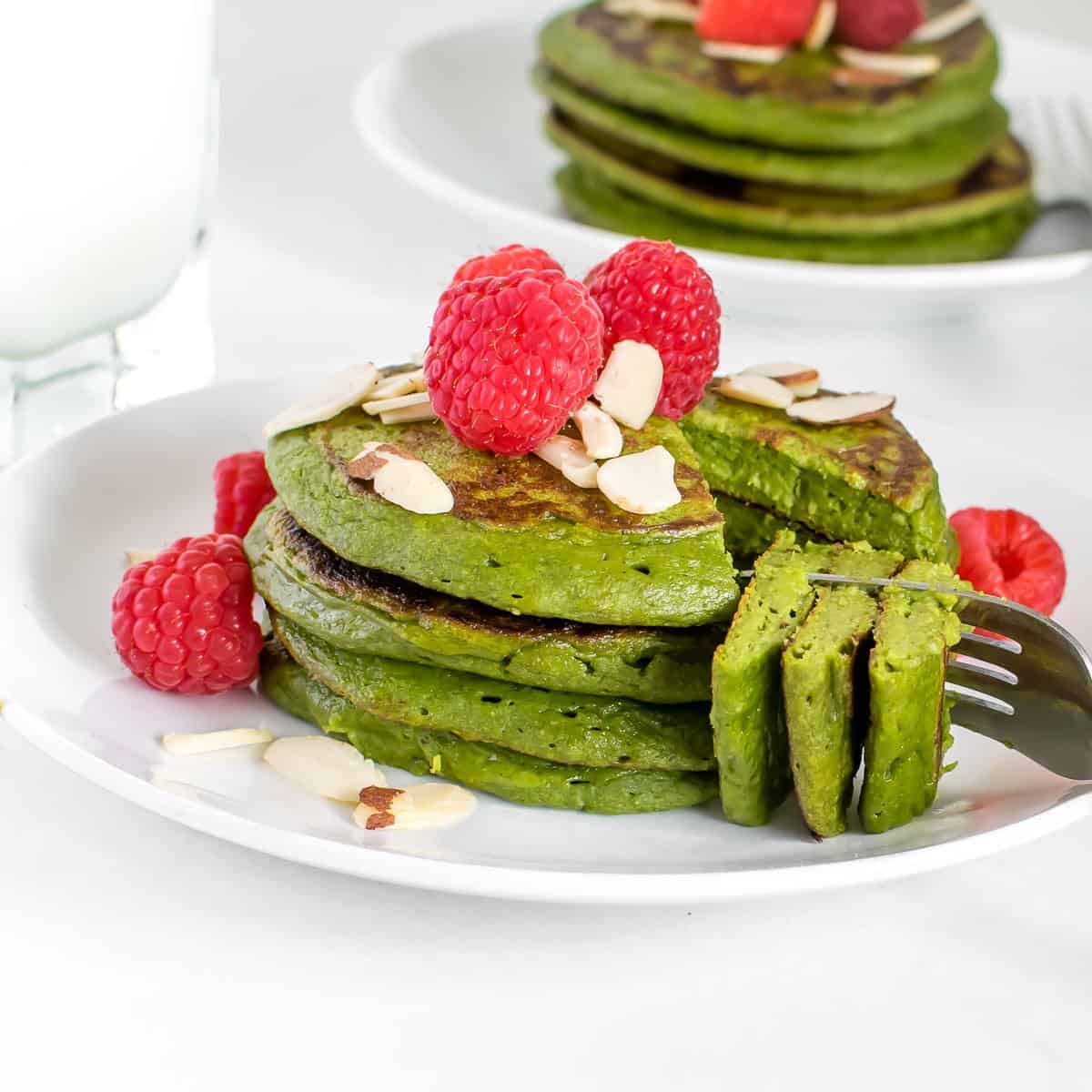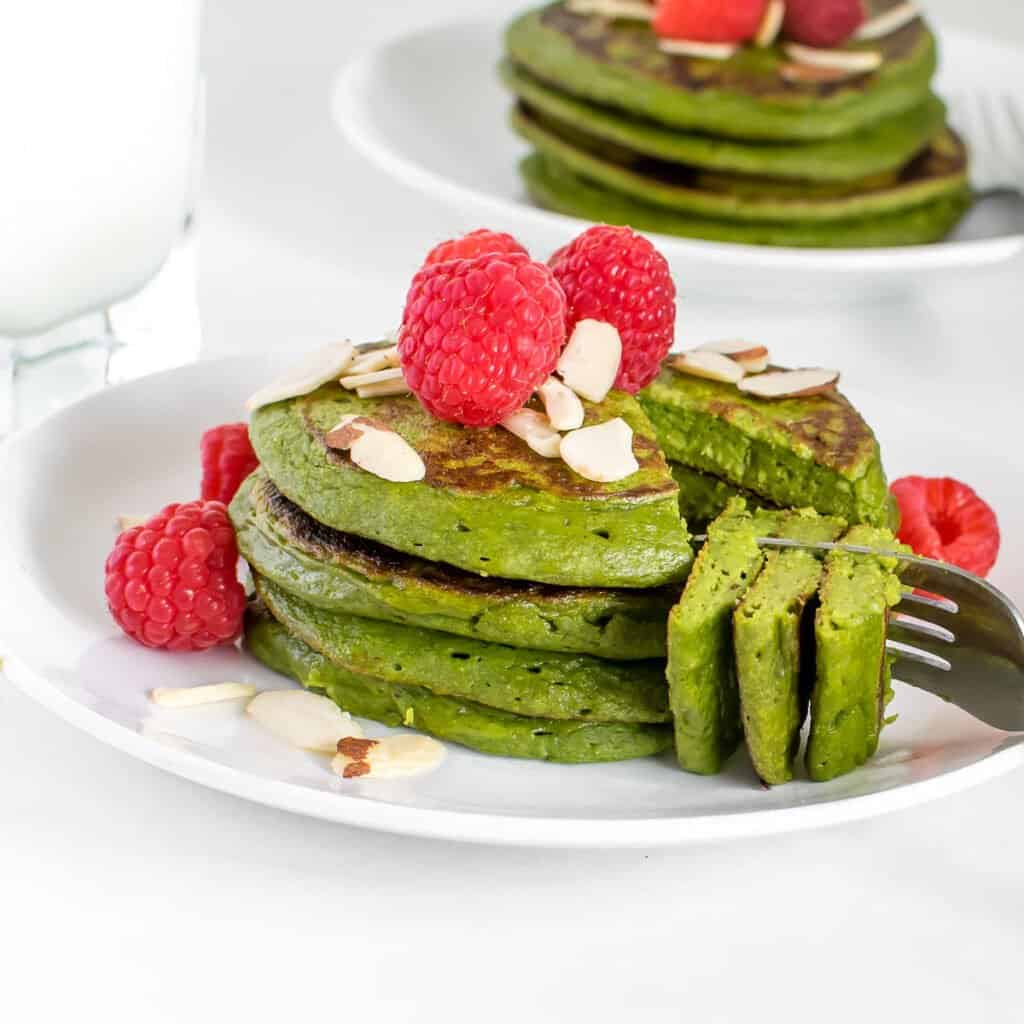 These green pancakes are simply mind blowing and the best pancake creation so far. My kids are crazy for these and they totally love them.
I have made 4 batches till now and froze some of them for later use.
Infact, I made them nut free so that the kids can enjoy these easy vegan spinach pancakes at school as well. Hence, I found a great way to sneak the most nutritious vegetable into my entire family's diet.
I usually blend green smoothie and chia hemp smoothie with spinach in them. I have also tried making my very popular kidney beans spinach masala but this banana spinach pancakes recipe is by far the best.
Usually, I make my green waffles with spinach for a wholesome breakfast.
Health benefits of spinach
It has anti-inflammatory properties and helps prevent cancer. It reduces hypertension and aids in bone health as well as is great for weight loss. Overall, it's the most nutritious vegetable that is packed with many essential vitamins and minerals. Therefore, spinach is called as superfood because it's a great source of calcium, magnesium and iron.
Health benefits of banana
Banana is high in fiber and helps control blood sugar levels. It aids in digestion and keeps you fuller for long thereby helping in weight loss. It's a rich source for riboflavin, potassium, magnesium and folate.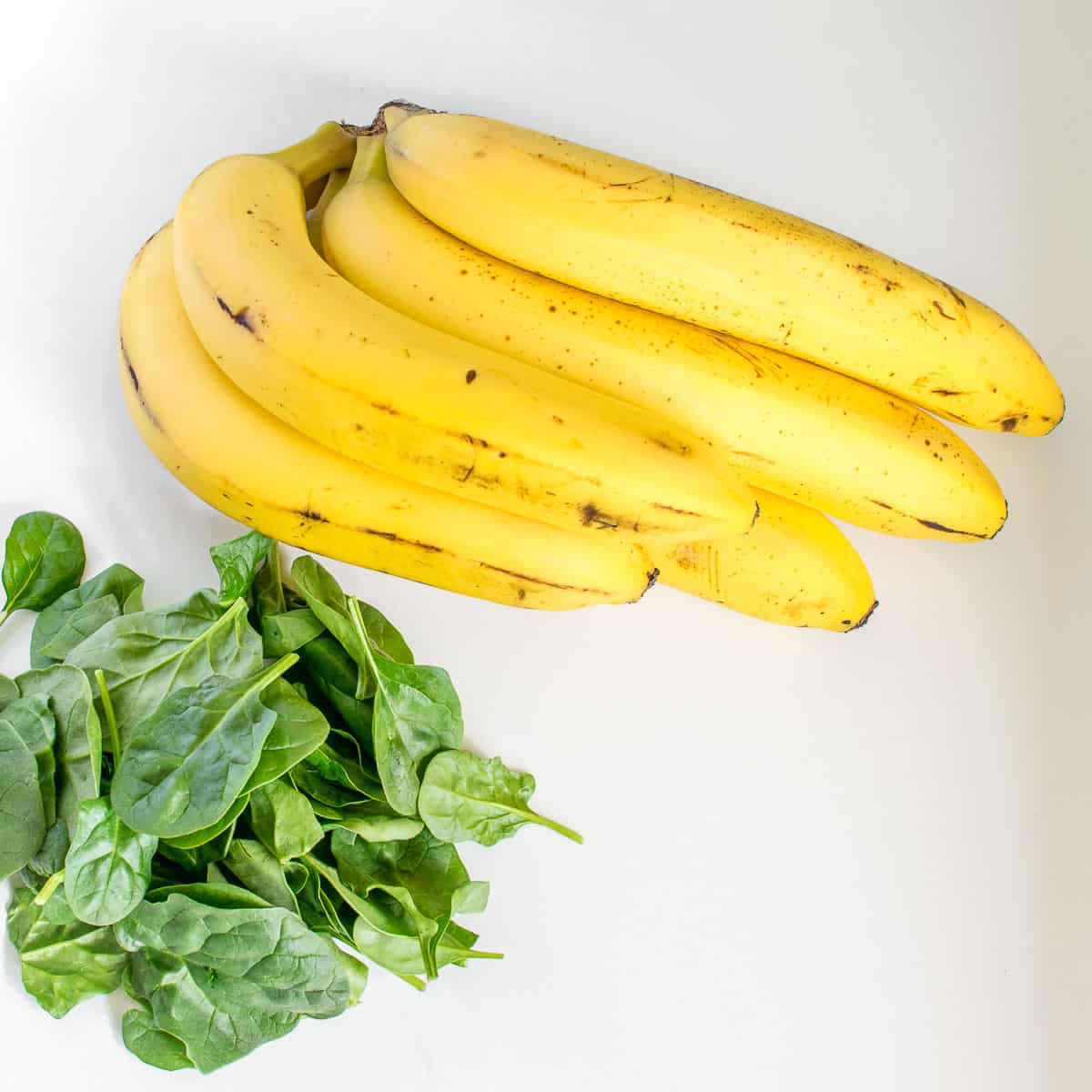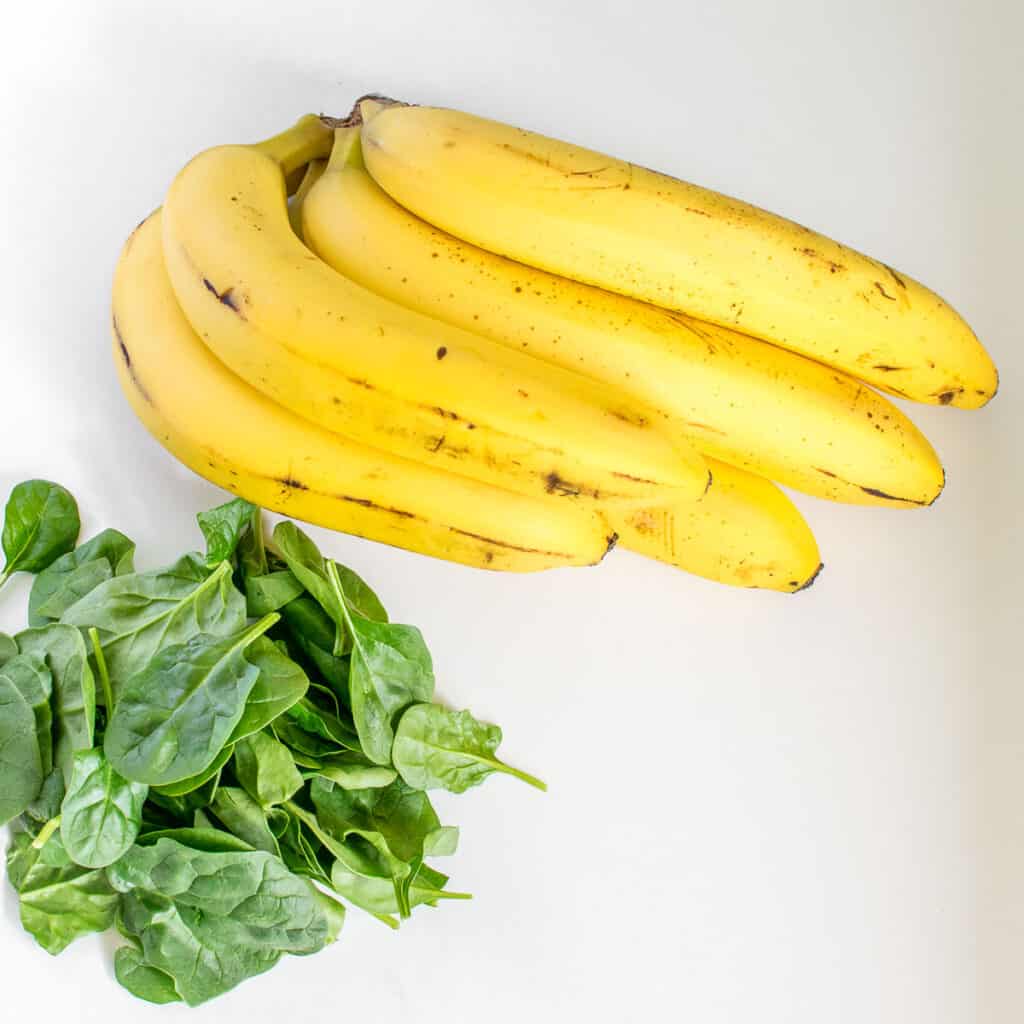 Ingredients for vegan spinach banana pancakes
Banana
Spinach
Oats
Oat milk
Vanilla extract
Hempseeds
Chia seeds
Baking powder
Salt
I have used these simple 9 ingredients which usually we always have in our kitchen and fridge. Few simple steps and you may enjoy this delicious recipe with your loved ones.
Ingredients notes:
Banana – ripe banana that has brown spots on its skin is best for this recipe. Over ripe bananas will change its taste.
Spinach – baby spinach is what I prefer for this pancake recipe.
Oats – rolled oats especially old-fashioned oats bring out a nice texture. It's packed with fiber and complex carbohydrates. However, steel cut oats have the same nutrition and can be used here as well.
Hempseeds – I added these seeds to include more protein in this recipe and make these pancakes healthier.
Chia seeds – it's a super food with lot of health benefits. It's packed with healthy fats, protein and fiber. Hence, I added this seed to make this pancake recipe extremely nutritious.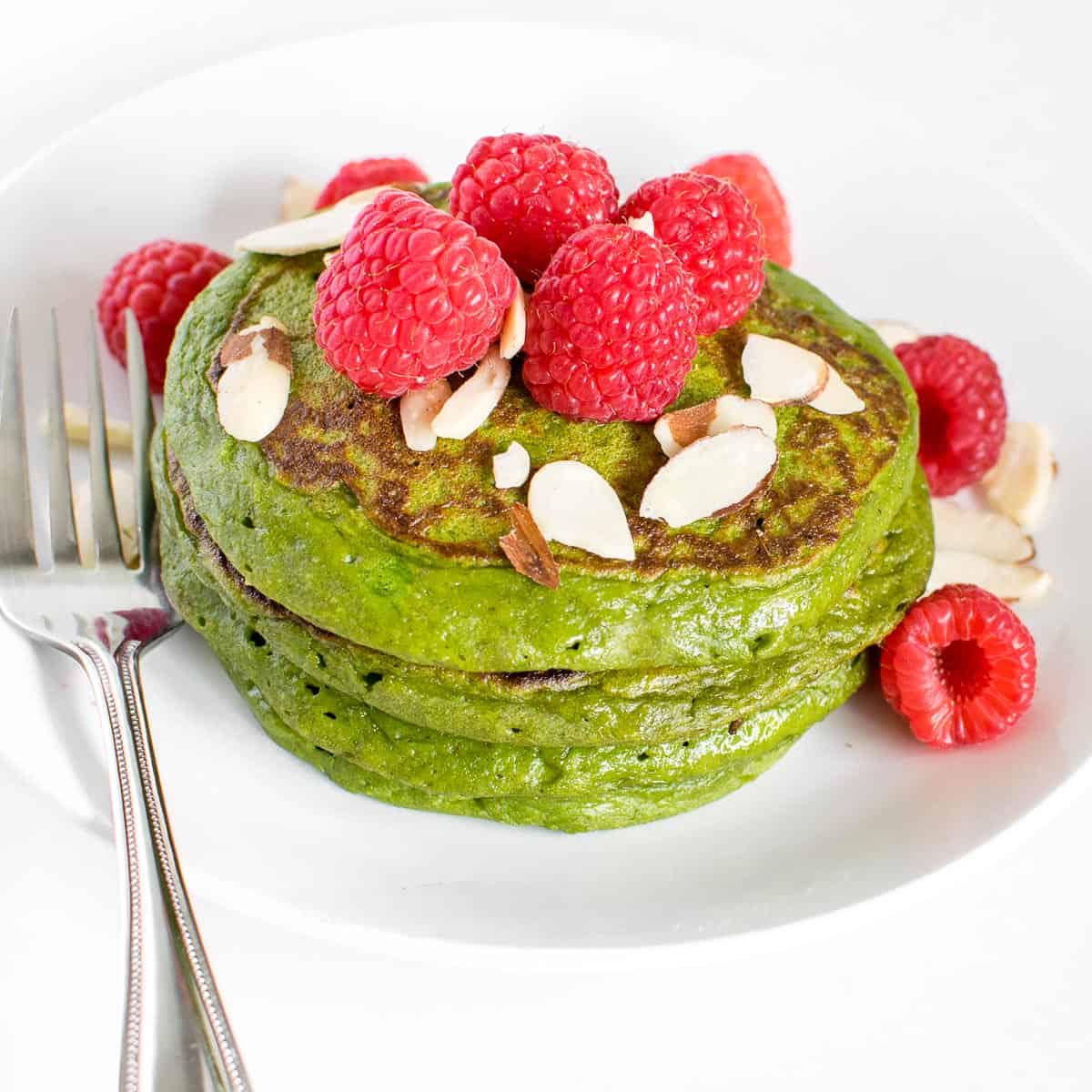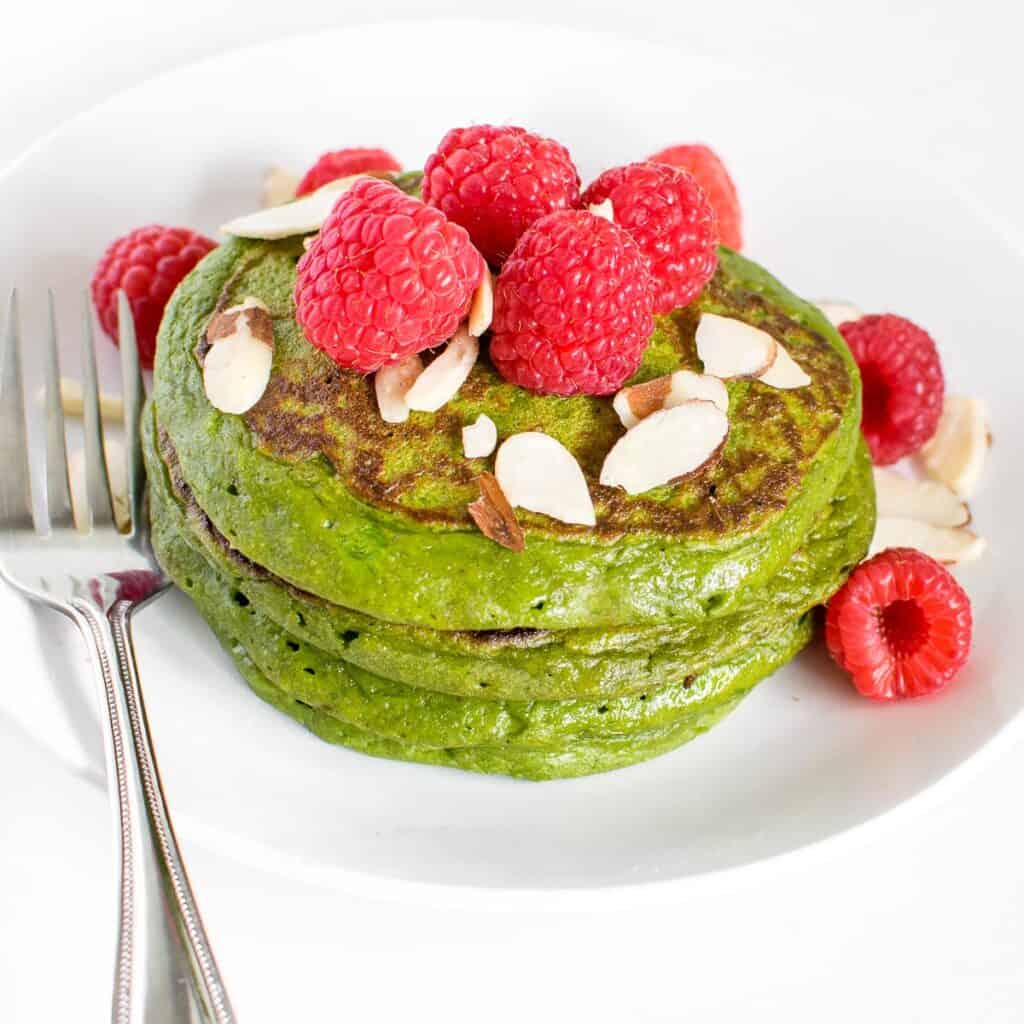 For detailed measurement of ingredients, please scroll down to the printable recipe card at the bottom of this post.
How to make Spinach Banana Pancakes
Firstly, in a blender, I combined all the ingredients and blended it extremely smooth and creamy. I made sure to scrape it all down and kept blending for about 4-5 minutes.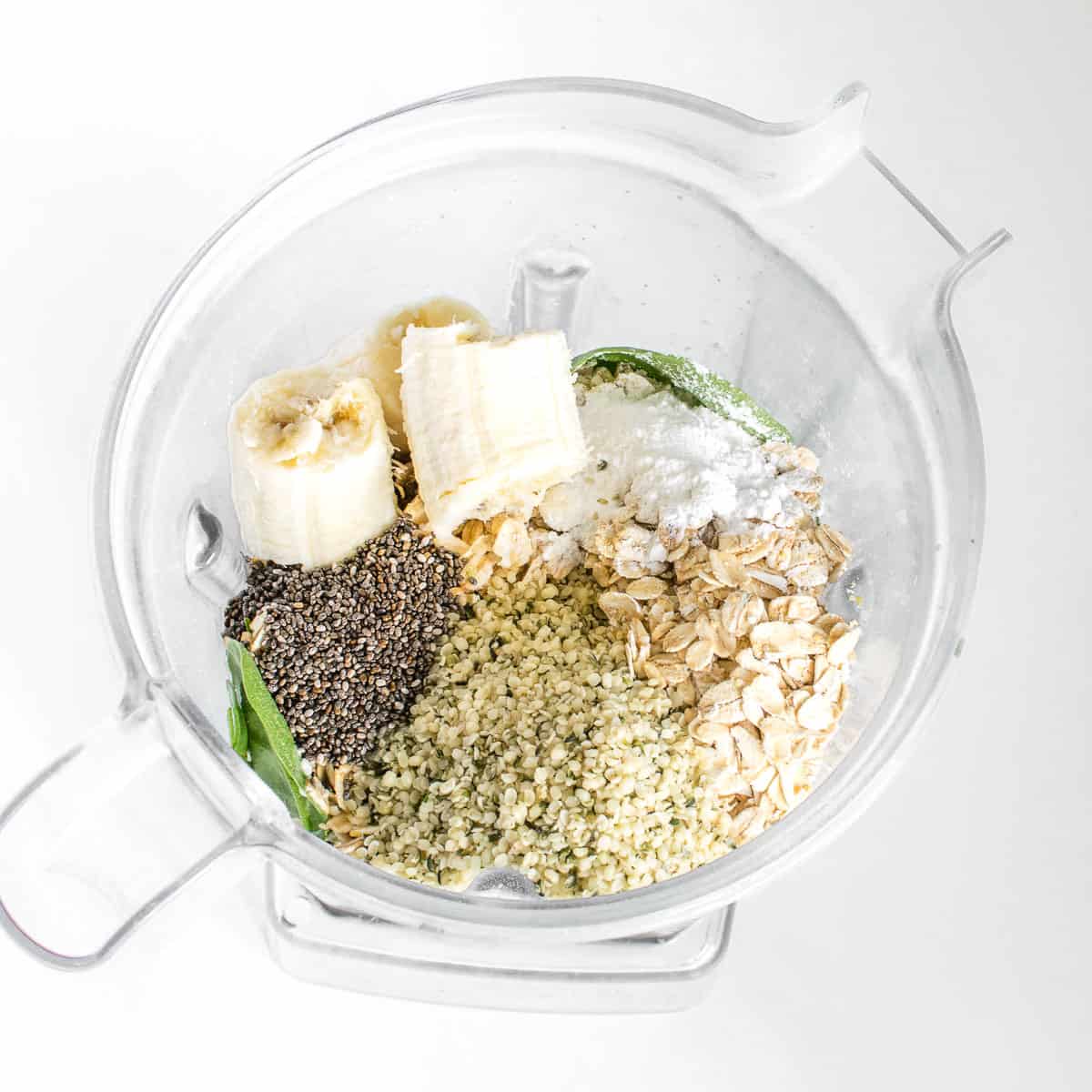 Secondly, I spooned it out in a mixing bowl. However, you may start measuring the batter directly from the blender as well.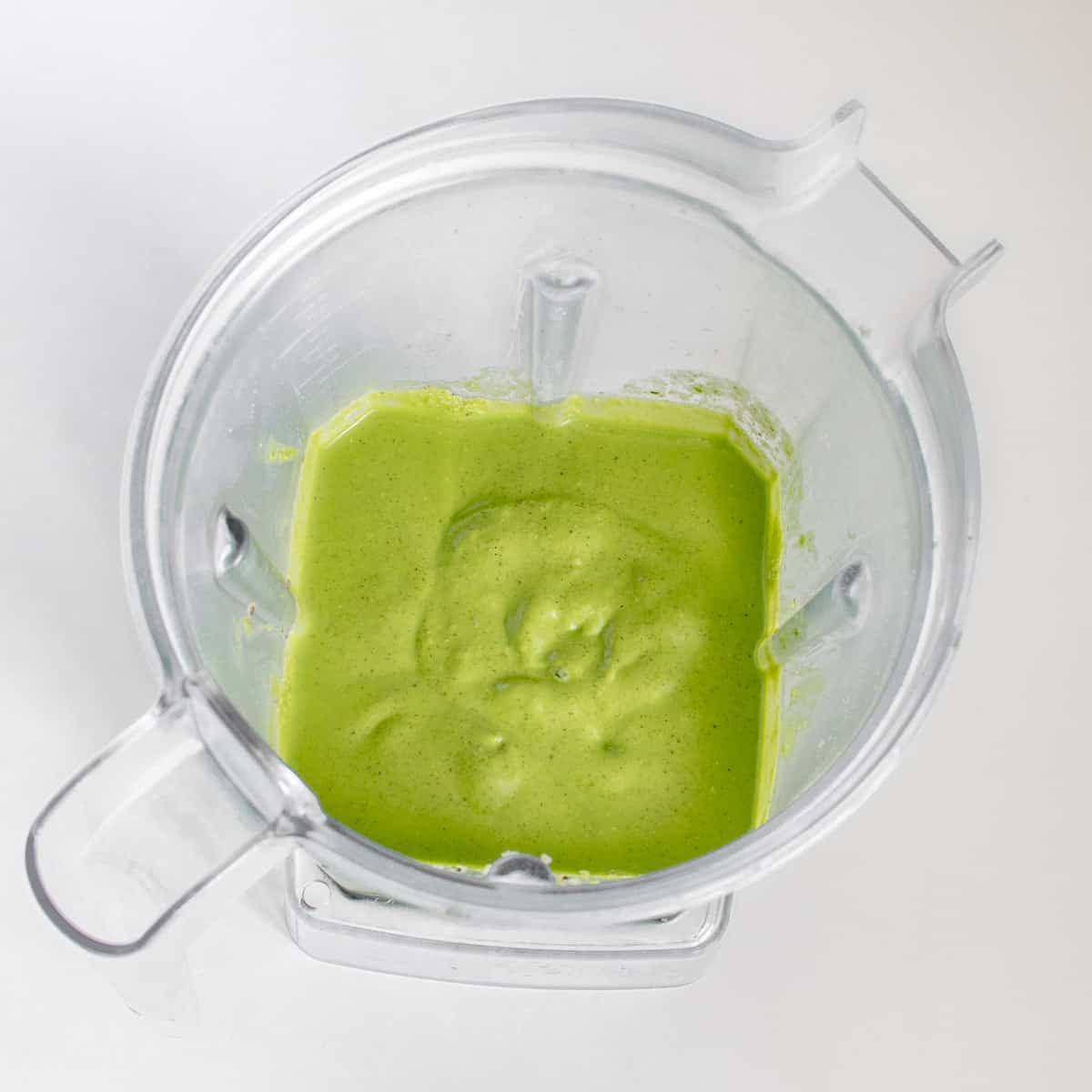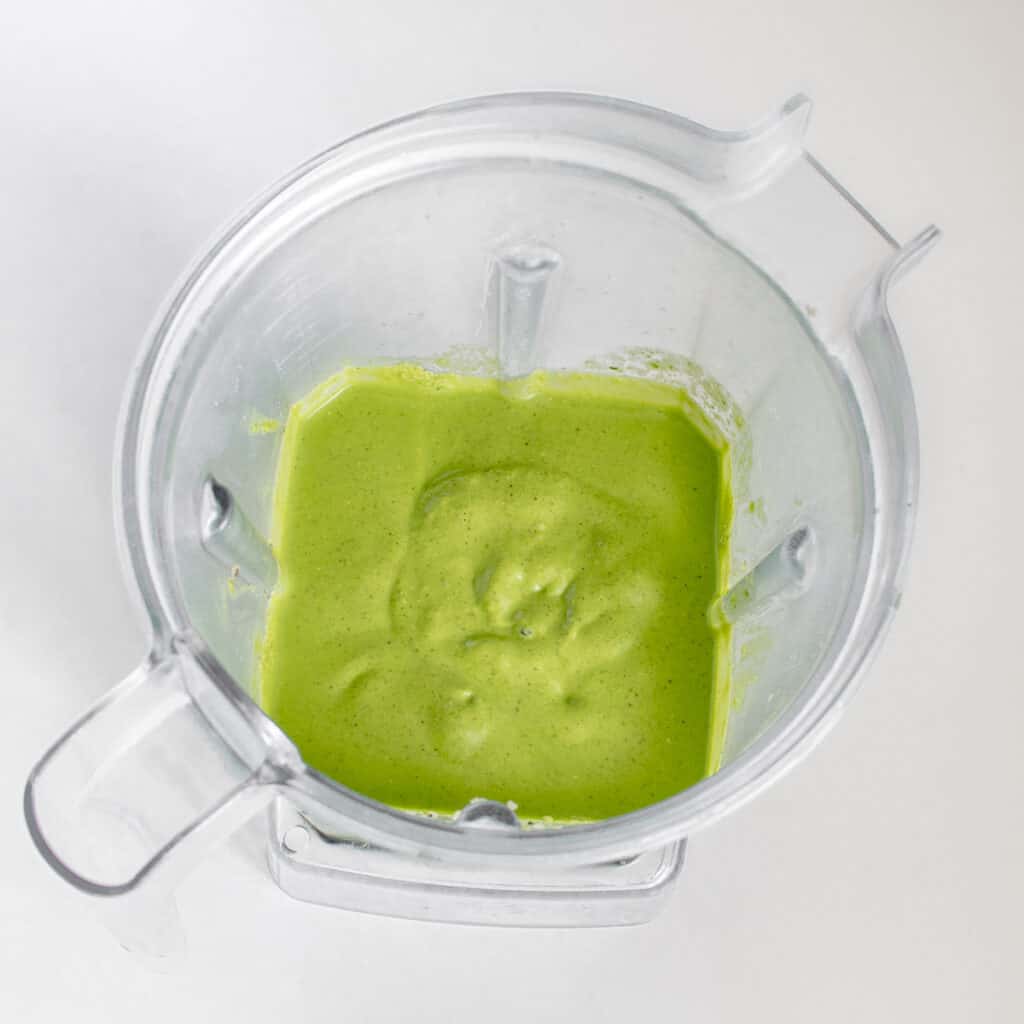 Next, I heated a nonstick pan and greased it lightly. Then, I poured about ¼ cup of the batter at its center and roughly shaped it round without pressing from the top.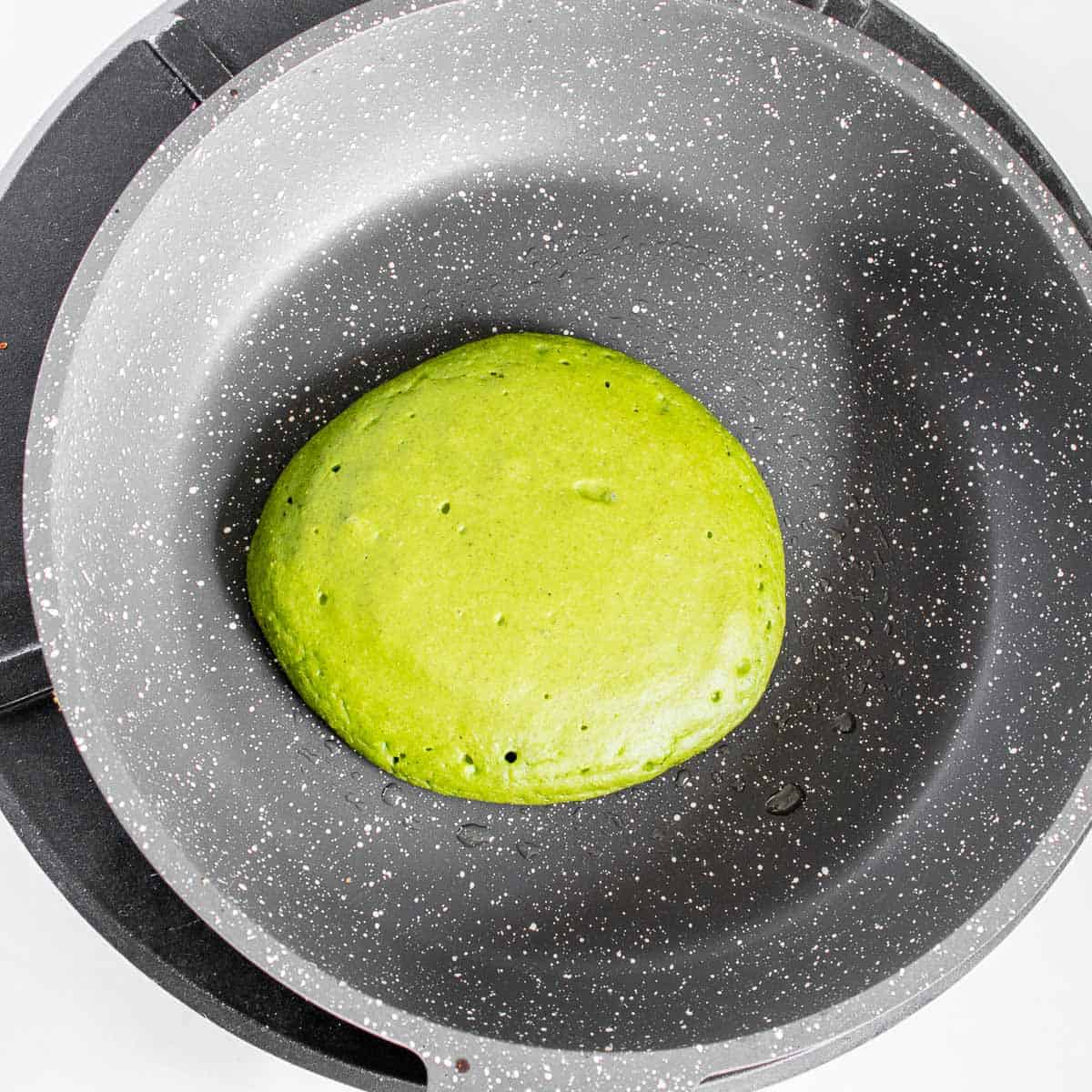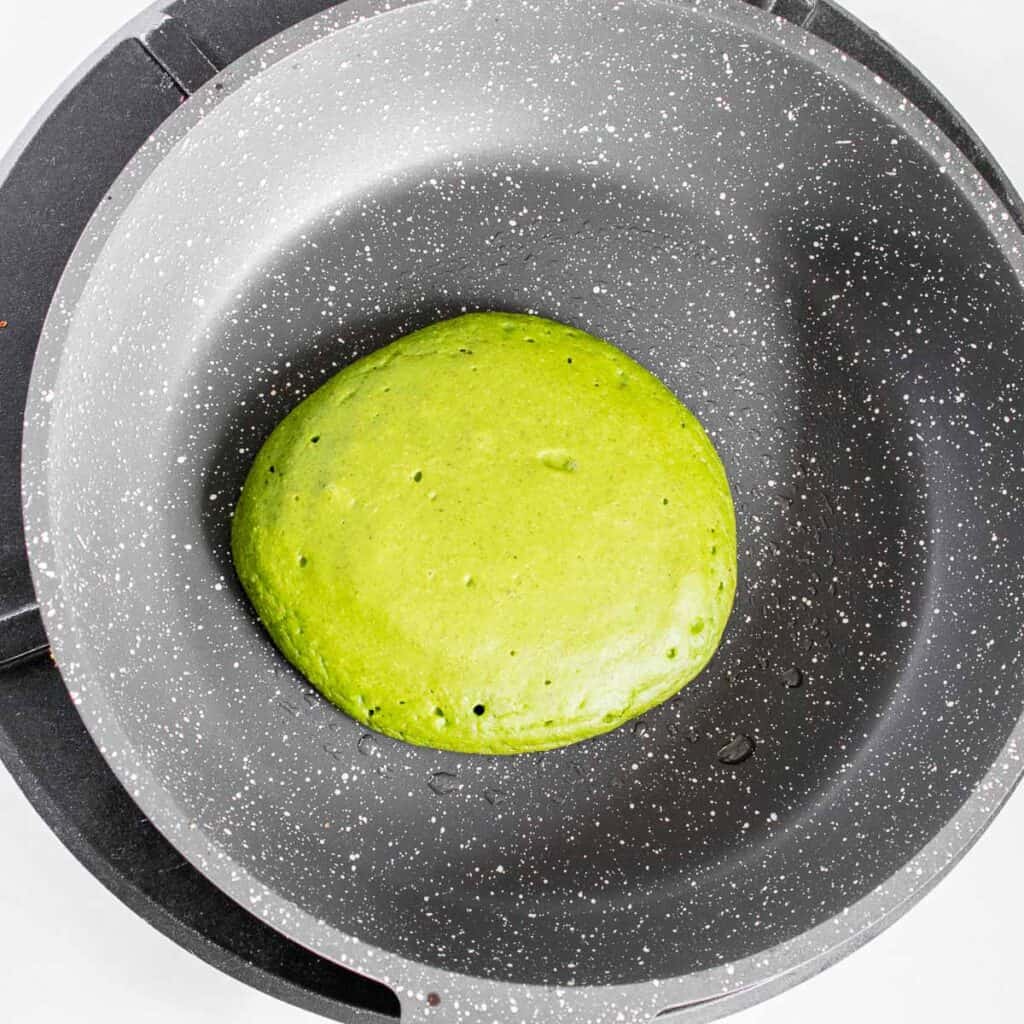 Once, it started to form bubbles at the top and the edges were dry, with the help of a flat spatula, I flipped it over to the other side and let it cook again properly.
Thereafter, I scooped it nicely and placed it on the serving plate.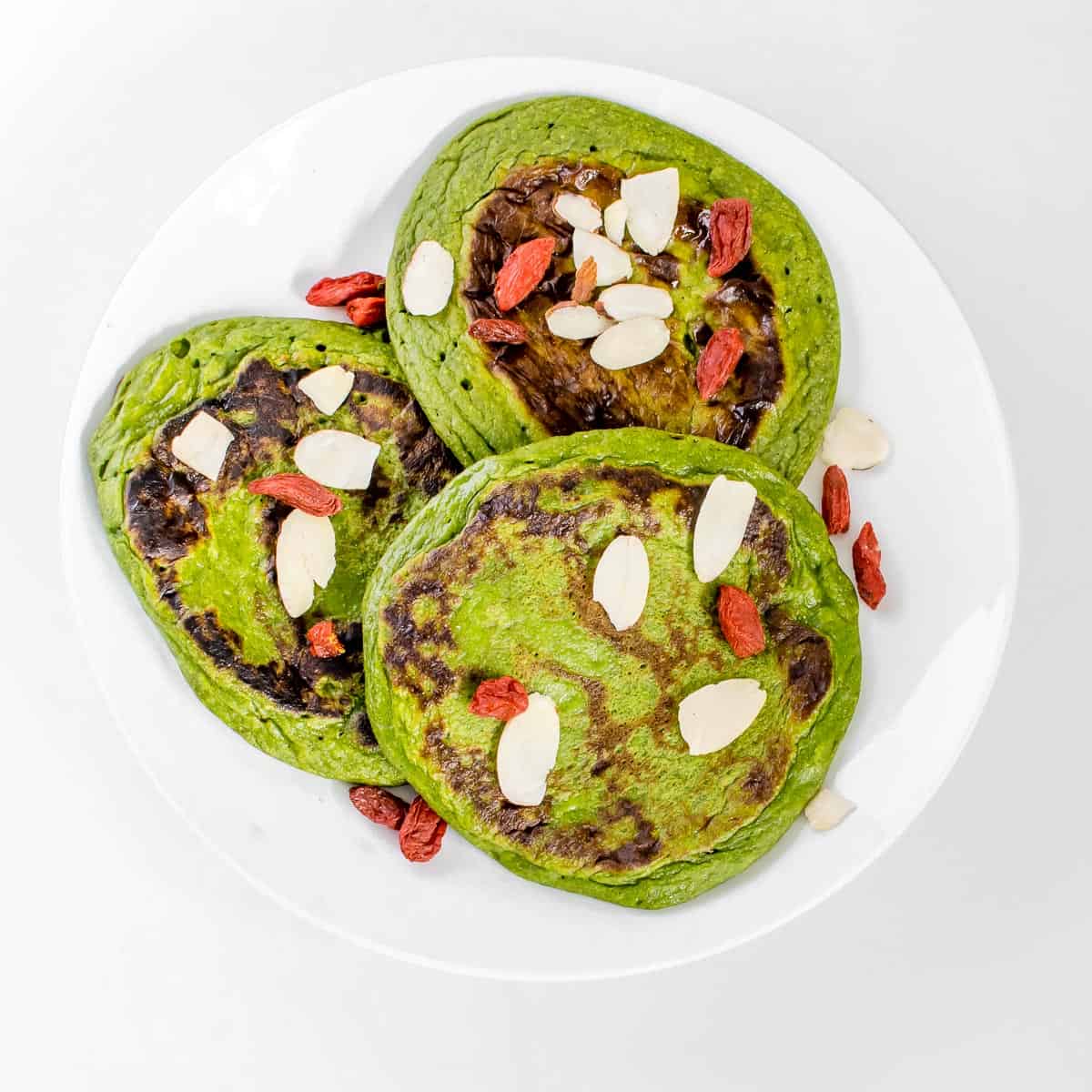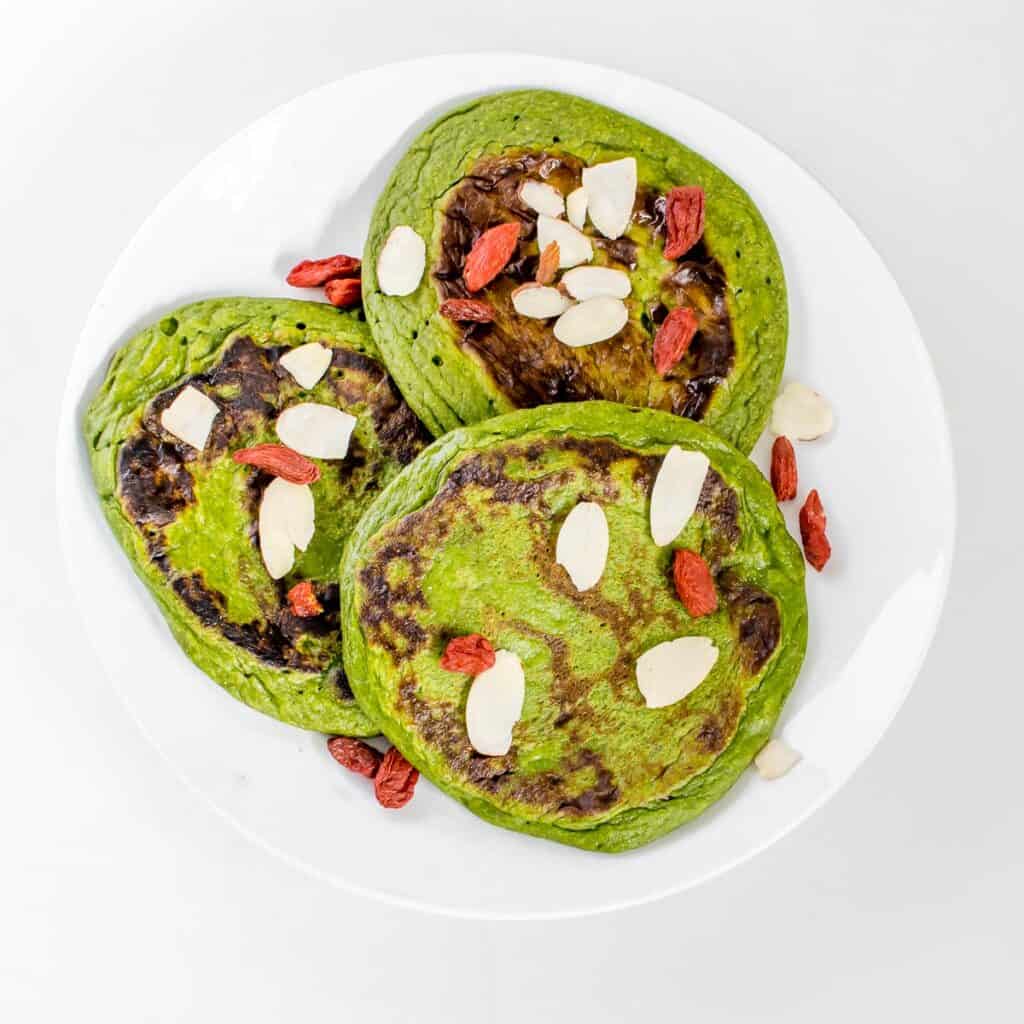 I repeated the above steps for the rest of the batter.
Lastly, I stacked then and garnished well.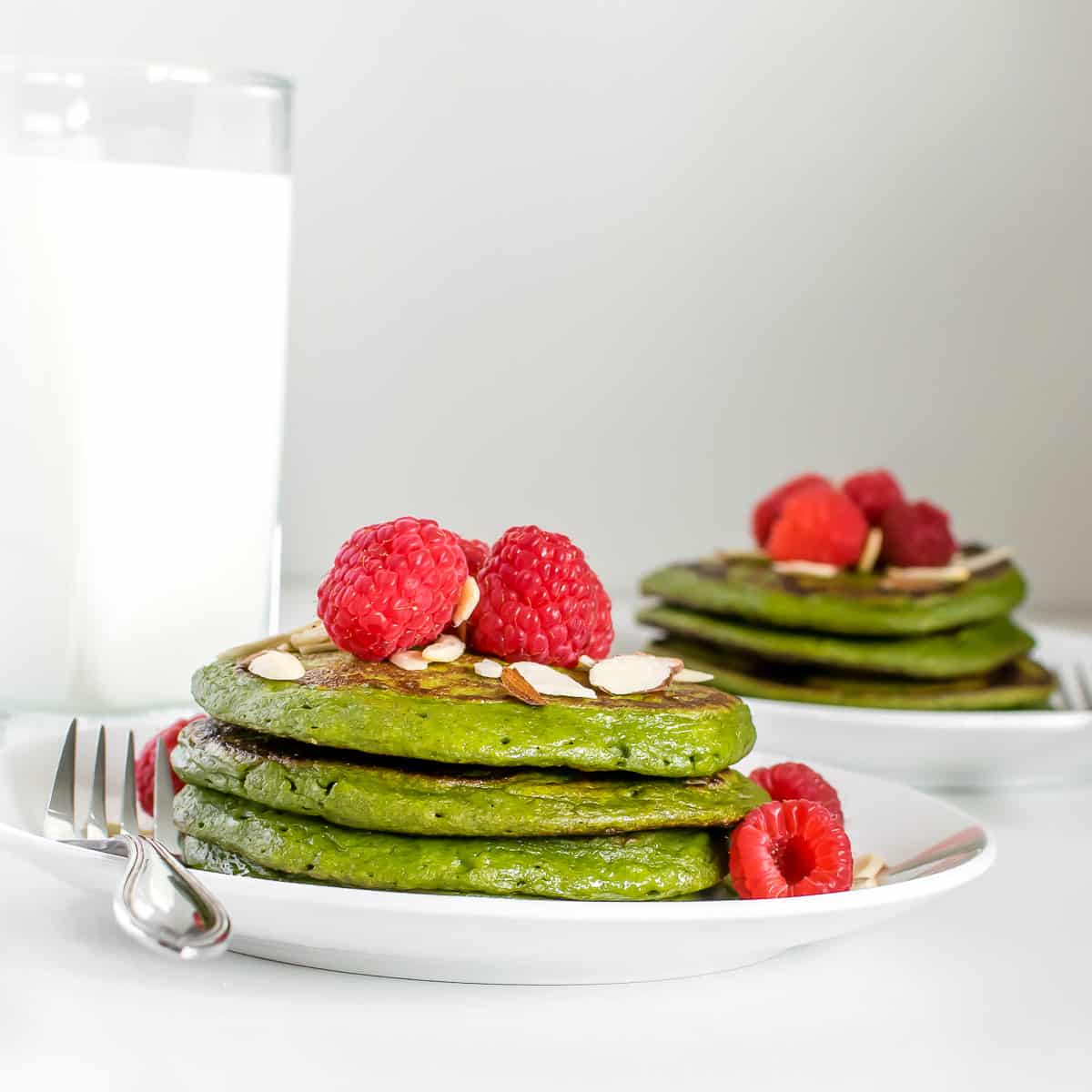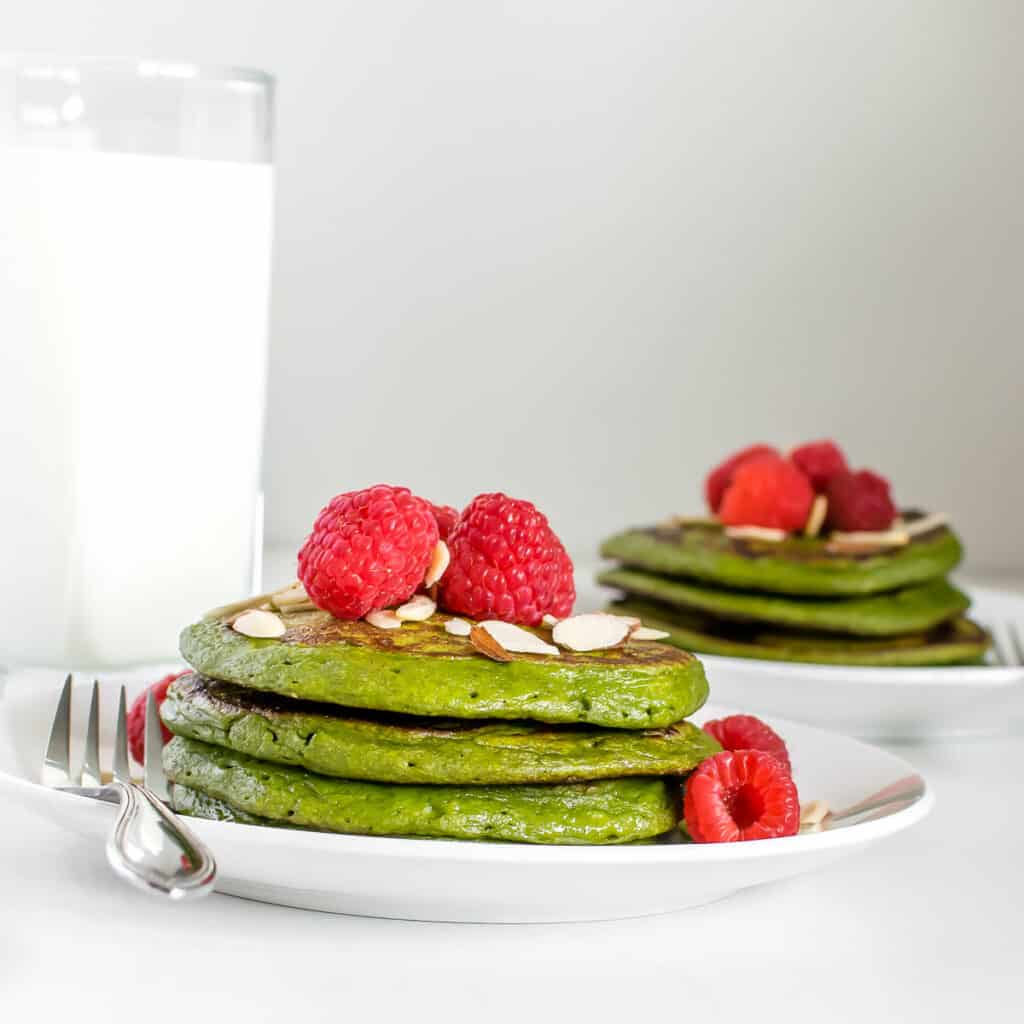 It looked quite attractive and my kids devoured them. They didn't even realize that they ate spinach and oats in their delicious breakfast.
Even, I and my husband enjoyed these for breakfast. It was a happy weekend morning with satisfied tummies.
Expert tips:
It is important to first pour milk in the blender and then the rest of the ingredients to facilitate smooth blending process.
I would recommend spooning the batter in a bowl because it becomes more convenient to cook in round shape with proper measurements.
Most importantly, cook thoroughly inside out at medium flame. Do not rush through for the best results.
Spinach Banana Pancakes FAQs
How can I store these?
These tastes best when served immediately. However, at room temperature you may cover it with a light lid and keep it for a day. You may also refrigerate in an air tight container in a single layer for about 2 weeks. These are freezer friendly too. So, when completely cooled at room temperature, place about 4 pancakes in a Ziploc bag in a single layer and seal. Place it flat in the freezer for about 1-2 months.
Are these healthy?
Yes! Its oil free and I made these with no added sugar. They have the goodness of whole grains, fruit, vegetables, super food seeds.
What should be the consistency of the batter?
The batter should be thick, smooth and easy to pour but not runny.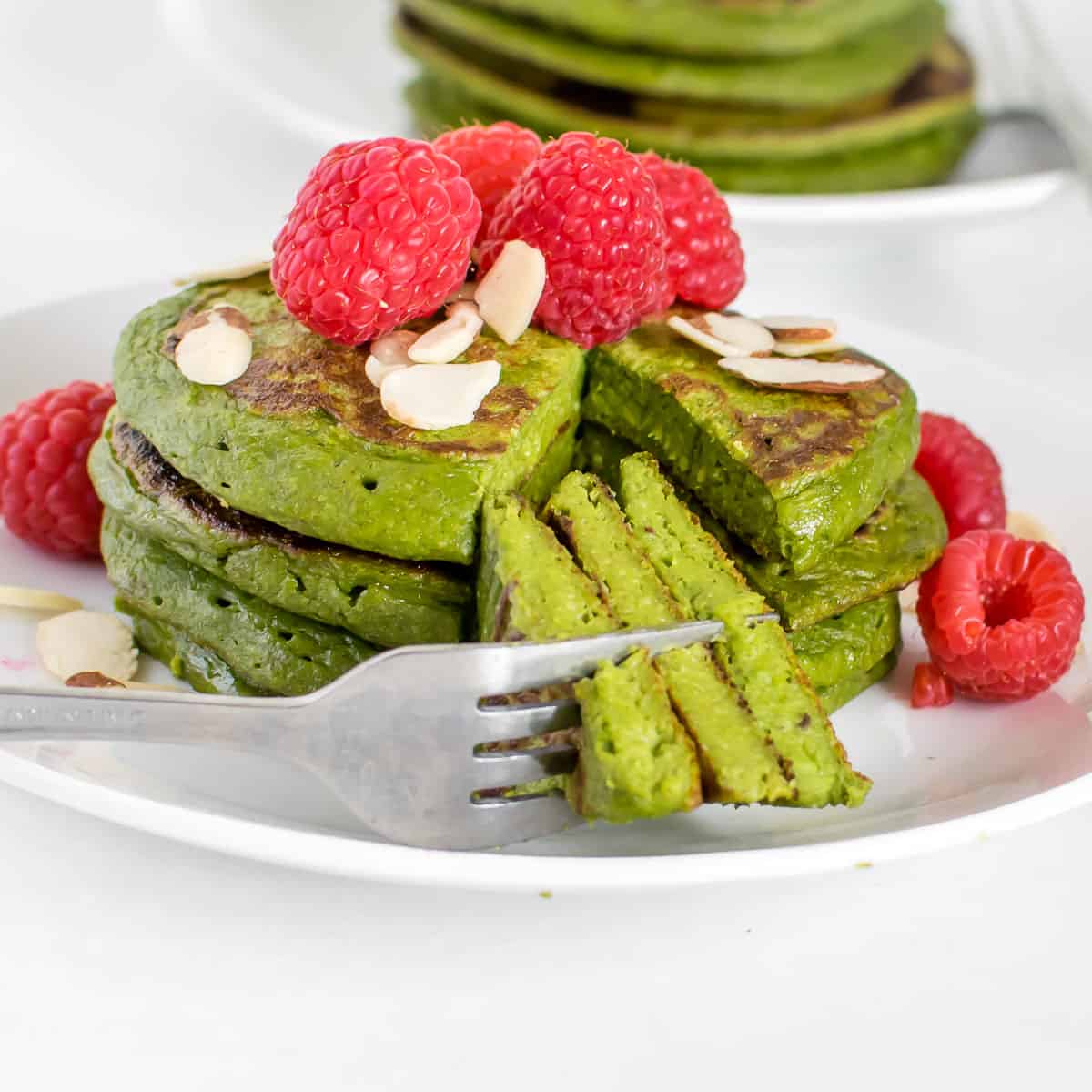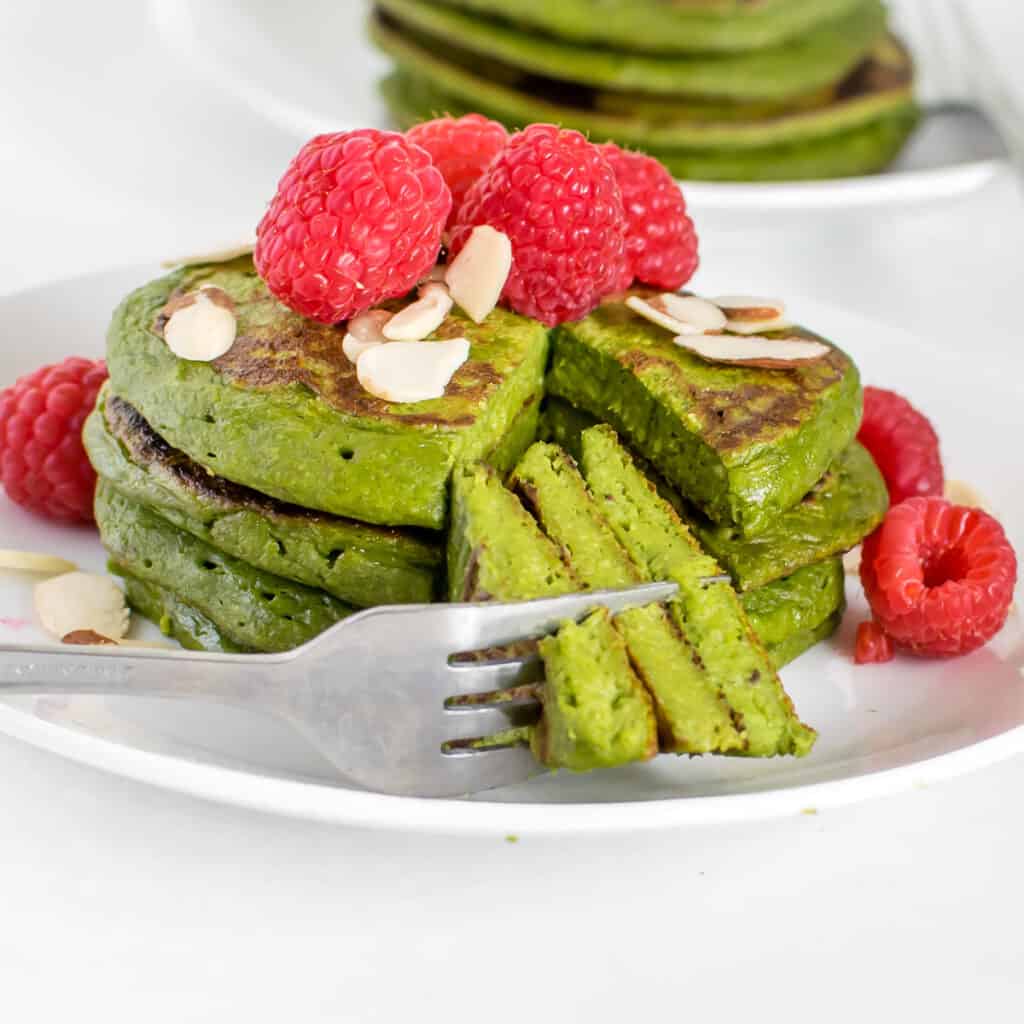 My other pancake recipes that you might like:
Vegan Carrot Cake Pancakes
Banana Oatmeal Pancakes
Mango Pancakes
Chickpea Flour Pancakes
Green Peas Zucchini Pancakes
Red Chard Pancakes
Orange Oatmeal Pancakes
This post may contain affiliate links which means that if you click on them and also make a purchase, I will get a small commission. Moreover, I share only those products which I use personally and love.
I hope you enjoy this recipe as much as we did. I am very excited to hear back from you.
Where to find me?
Follow me on Facebook or on Twitter. You may tag @kiipfit on Instagram with your recipe remake images because I would love to see what you cooked.
Did you make it?
If you get a chance to make this recipe then please leave your feedback in the comments below along with a 5-star rating.
In addition, you may checkout my cookbook for everyday comfort vegan recipes.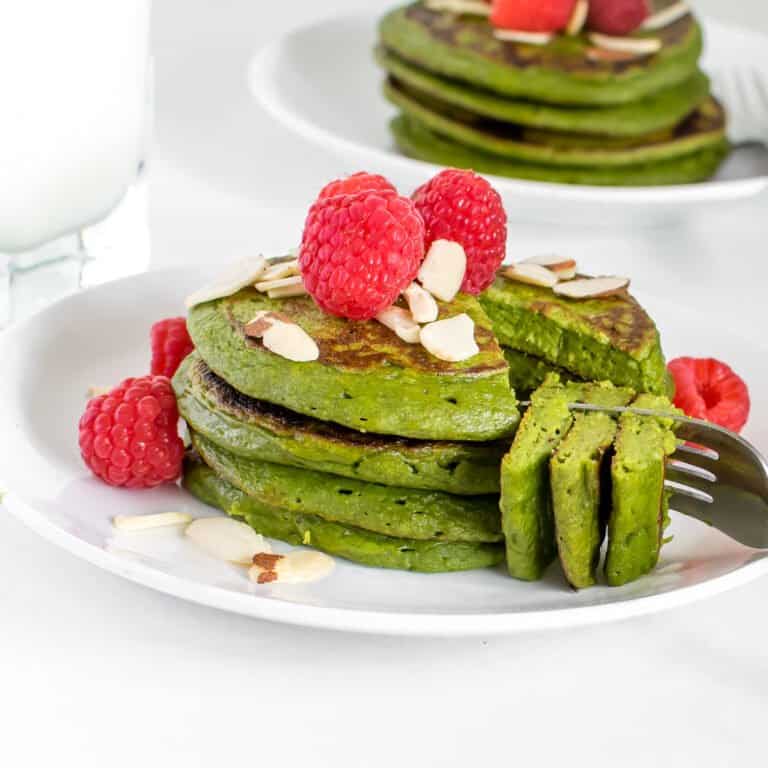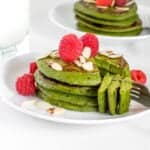 Print Recipe
Spinach Banana Pancakes
These healthy Spinach Banana Pancakes are made in a blender with no added sugar and no oil. Its nut free, freezer friendly and perfect for toddlers or school kids. These are soft, moist and fluffy that makes a perfect breakfast option for all ages.
Ingredients
2

large

ripe bananas

(brown spots on the skin)

2

cups

packed baby spinach

3/4

cup

oat milk

1

tsp

vanilla extract

2

tbsp

hemp seeds

1

tbsp

chia seeds

1

tsp

baking powder

1/4

tsp

salt
suggested toppings
fresh raspberries

sliced banana

fresh strawberries
Instructions
In a blender combine all the pancake ingredients ( bananas, spinach, oats, oat milk, vanilla, hempseeds, chia seeds, baking powder and salt). Blend it smooth until thick and creamy. ( it takes about 4-5 minutes). Makesure to pause and scrape from the sides and push it down to blend thoroughly.

Heat a nonstick pan (greasing it is optional anddepends on your pan). Either spoon out the batter in a bowl for convenience or start measuring from the blender itself. Measure ¼ cup heaped batter and pour it at the center of the warm pan. Let it cook at medium flame until the bubbles form at its top and the edges starts to dry. With a flat spatula gently flip it over and cook again until golden in color. Gently take it out with the flat spatula and place it on the serving plate.

Repeat the step 2 for the rest of the batter. Garnish with your choice of toppings and serve.
Notes
If your bananas are sweet and ripe, the pancakes will come out sweet so you may not need additional maple syrup which saves lot of calories.
Do not use over ripe bananas as they change the taste of these pancakes.
This recipe makes about 8 pancakes and the serving size is 2 pancakes per person.
The nutritional value is provided without the toppings so it will vary depending on your toppings.
This is a nut free recipe so its kid friendly and can be packed for school lunch boxes.
How to store:
At room temperature – cover them in a single layer with a light lid and keep them at room temperature for the day or few hours.
Refrigerate – store them in an air tight container in a single layer and refrigerate for 2 weeks. Warm it well in microwave for 1-2 minutes and garnish and serve.
Freeze – pack 3-4 pancakes in Ziploc bags in single layer after they completely cool down at room temperature. Lay them flat in the freezer for about 1-2 months. When ready take out the required number of pancakes and warm them for 2-3 minutes in the microwave. Garnish and serve.
Nutrition
Calories:
158
kcal
|
Carbohydrates:
25
g
|
Protein:
5
g
|
Fat:
5
g
|
Saturated Fat:
1
g
|
Polyunsaturated Fat:
4
g
|
Monounsaturated Fat:
1
g
|
Trans Fat:
1
g
|
Sodium:
170
mg
|
Potassium:
454
mg
|
Fiber:
5
g
|
Sugar:
12
g
|
Vitamin A:
176
IU
|
Vitamin C:
6
mg
|
Calcium:
151
mg
|
Iron:
3
mg