Soft and fluffy, oil free and freezer friendly, this Vegan Blueberry Bread is a perfect breakfast recipe. It's healthy, mildly sweetened and so delicious.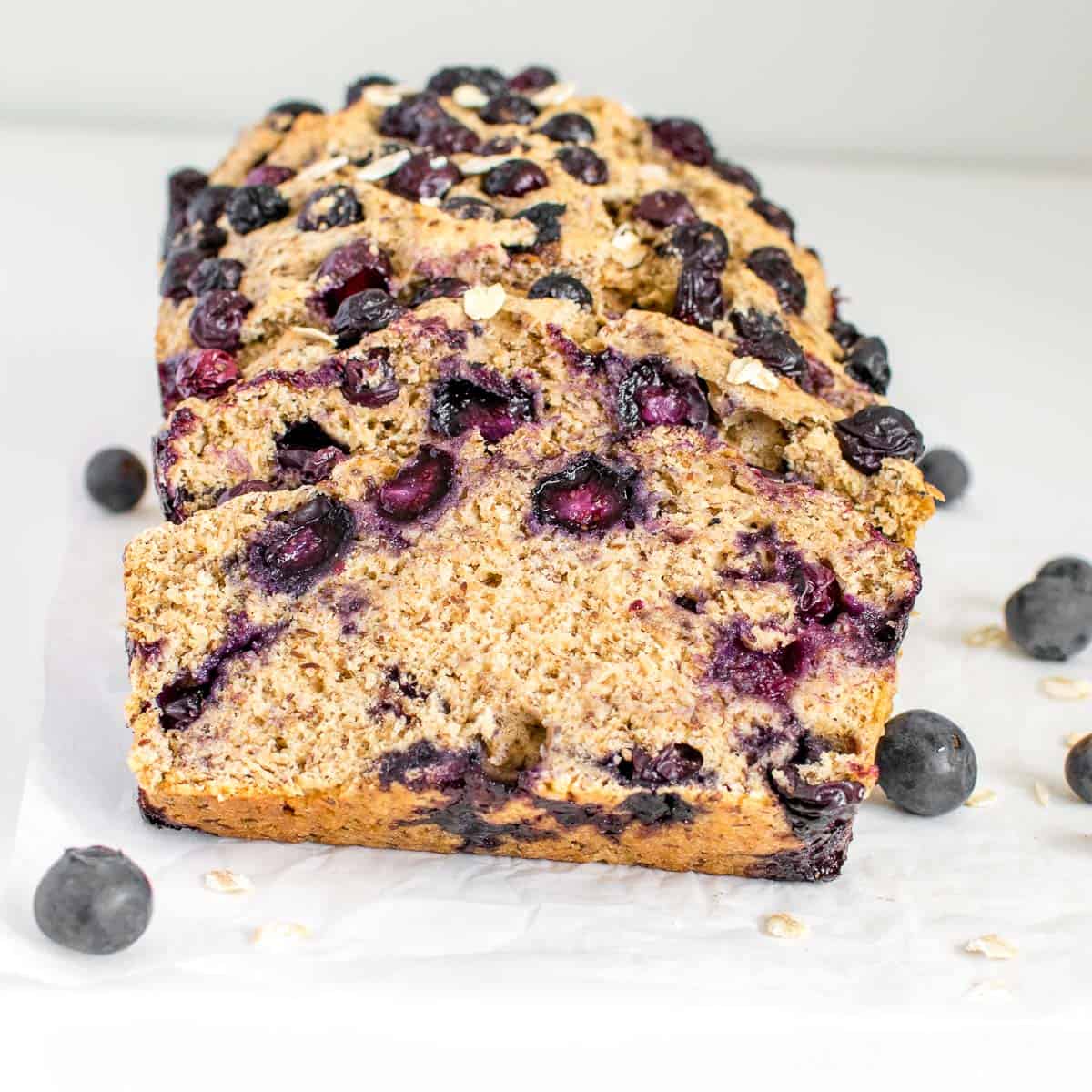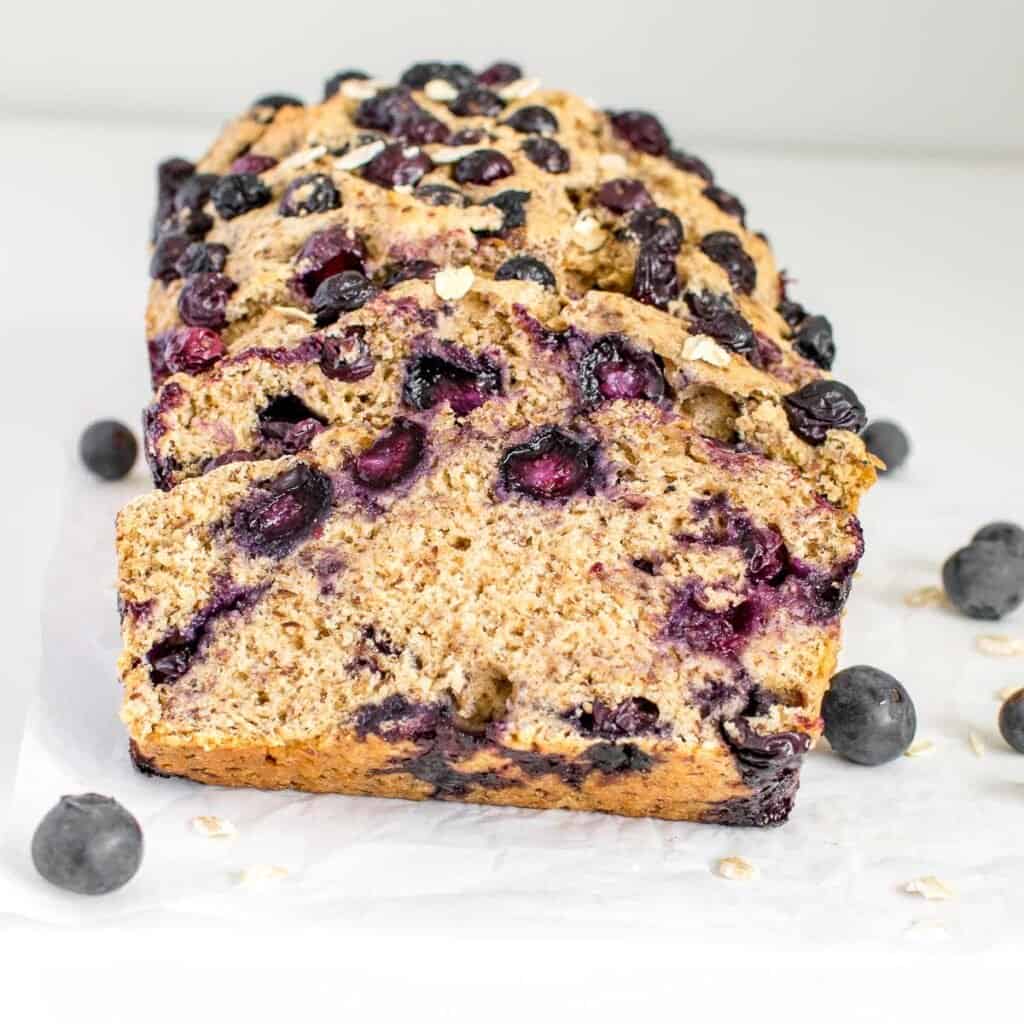 My kids love to snack on blueberries and al baked recipes with this spring fruit. So, recently I tried making a blueberry breakfast bread and it came out really well. Not so sweet, it's a hybrid between a cake and a bread.
Its easy and requires one bowl and no mixer. Sounds interesting and it's the best nut free treat to enjoy this summer.
Health benefits of blueberries
These are packed with fiber and antioxidant thereby helping heart health and skin health. Because of its nature being anti-inflammatory it's the super food fruit and best when consumed fresh.
More blueberry recipes for you to try:
Vegan blueberry muffins
Blueberry Oatmeal Cookies
Honeydew Blueberry Salsa
Blueberry Pancakes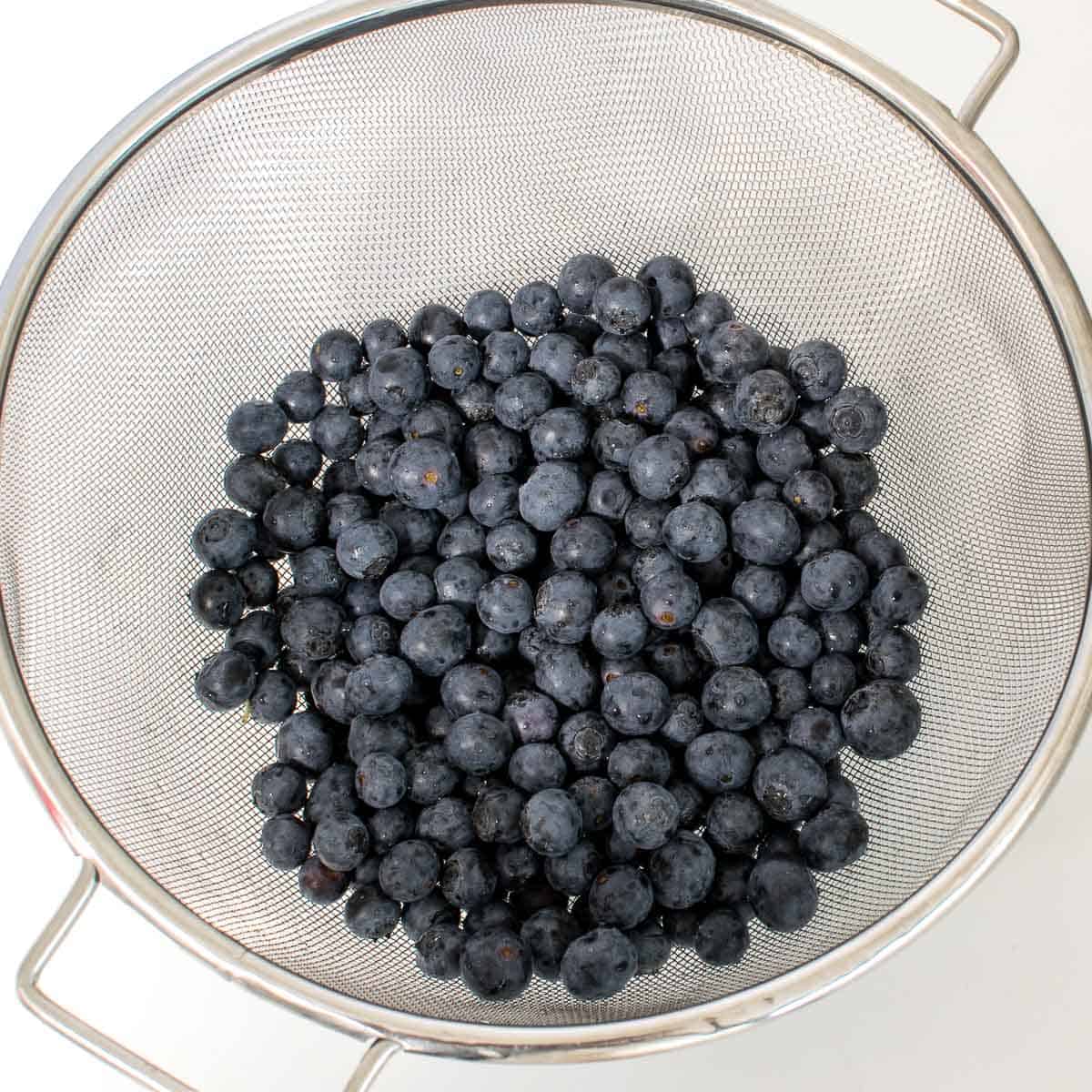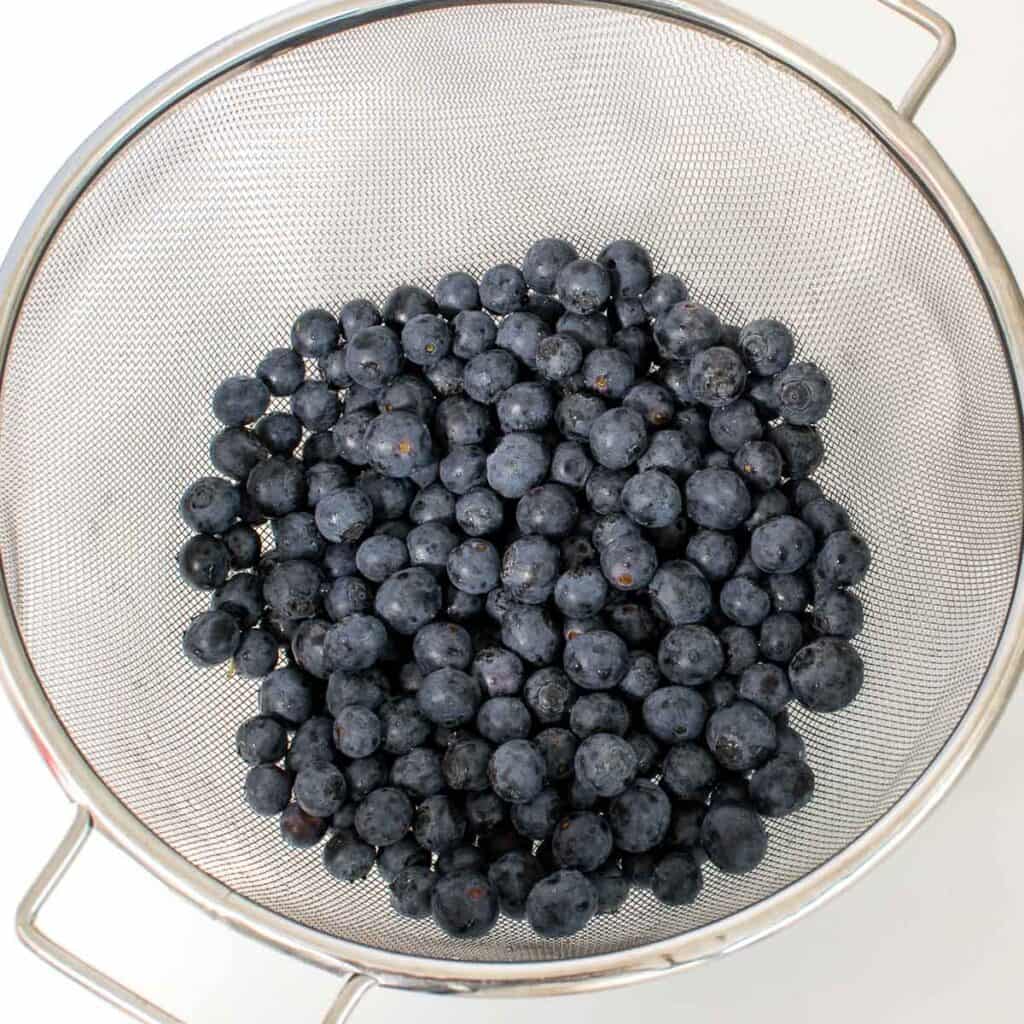 Ingredients for vegan blueberry bread recipe
Whole wheat flour
Oat flour
Baking powder
Salt
Flaxmeal
Maple syrup
Oat milk
Vanilla extract
Fresh blueberries
With less than 10 ingredients this easy blueberry bread recipe is an absolute delight.
Ingredients notes:
Whole wheat flour – this helps to bind along with being high in fiber and less processed.
Oat flour – you may grind your own oat flour or use store bought one.
Flaxmeal – this helps is adding nutrition like omega-3 fatty acid to this blueberry bread loaf along with being a great egg substitute.
Oat milk – any dairy free milk works here. However, oat milk gives a nice creamy texture to its batter.
Maple syrup – I like to use this as a sweetener because of its caramelized taste and also health benefits.
Blueberries – I baked this eggless blueberry bread with fresh blueberries and it was the best decision.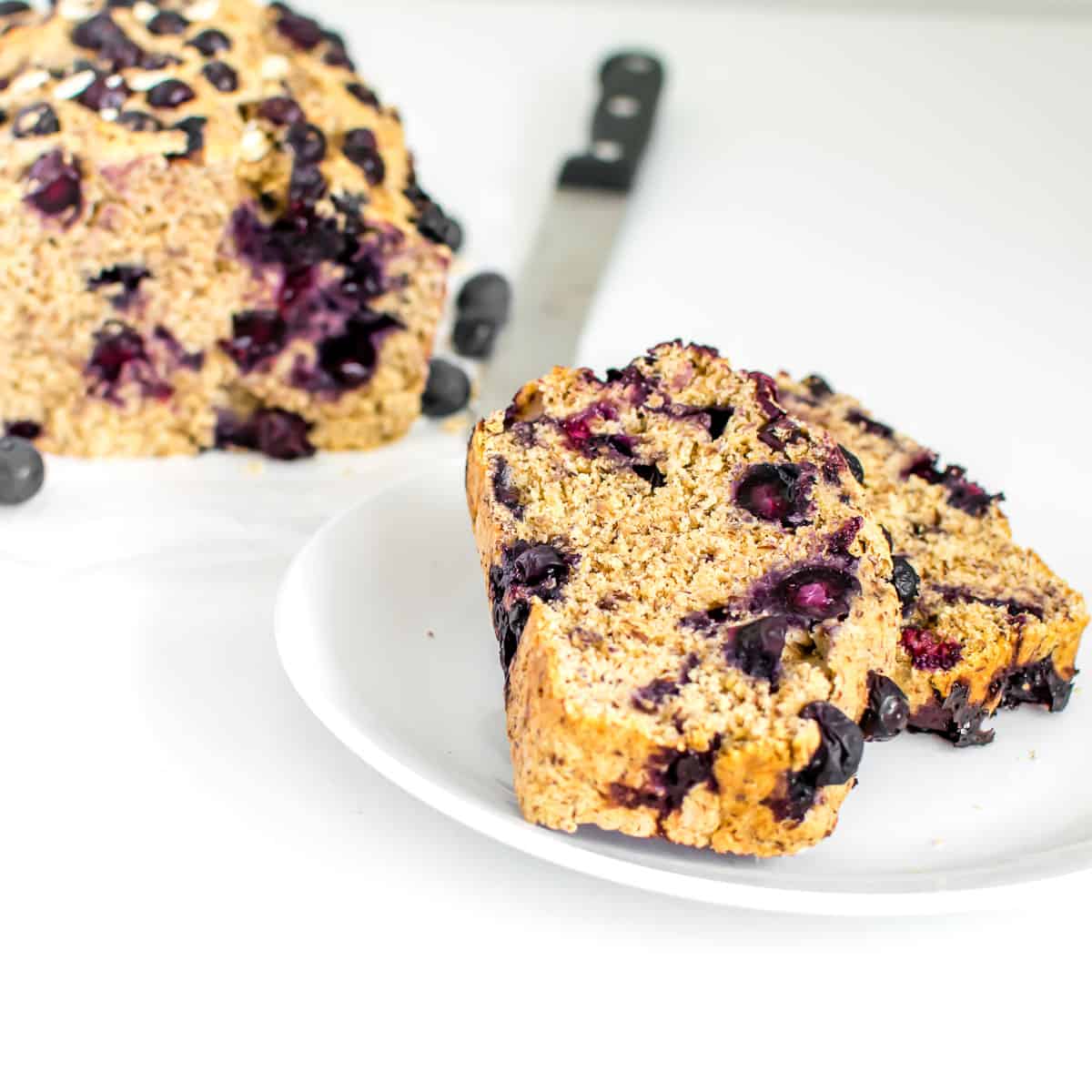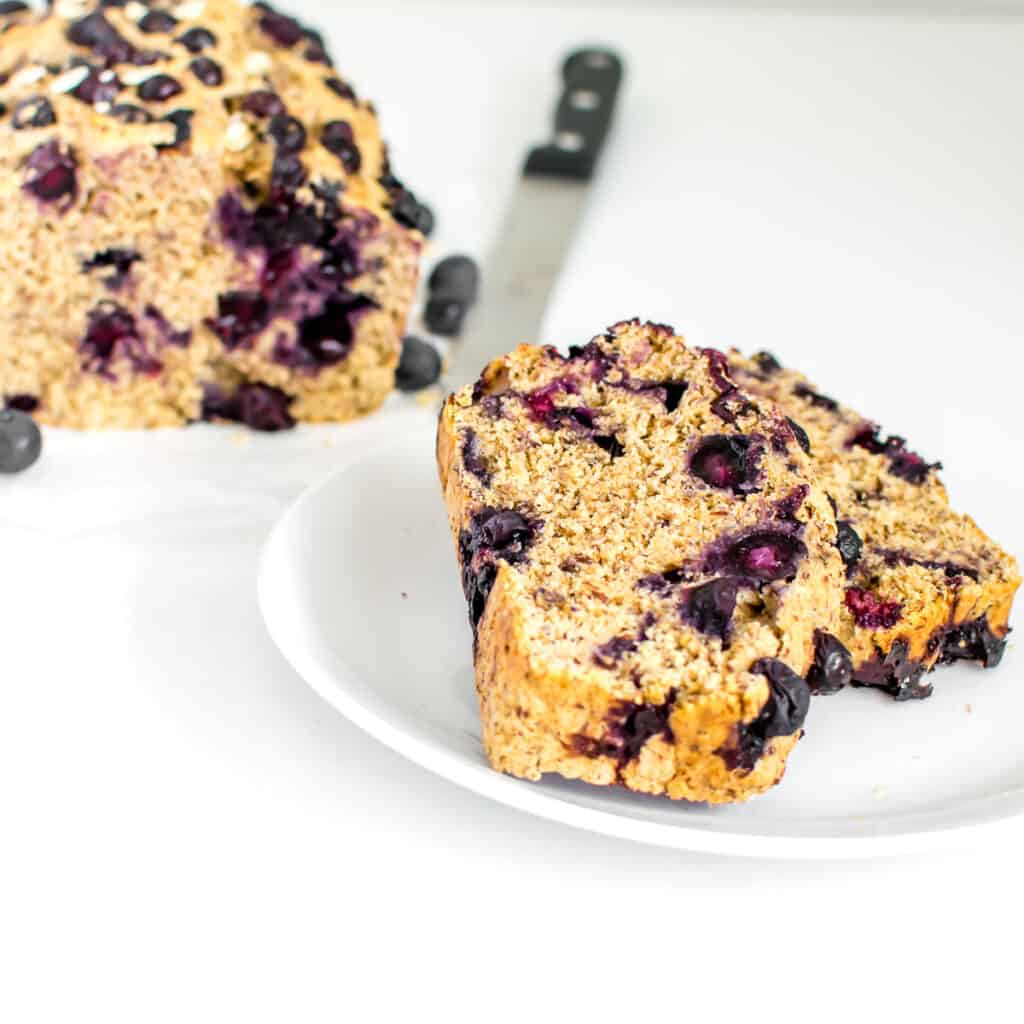 For detailed measurement of ingredients, please scroll down to the printable recipe card at the end of this post.
How to make Vegan Blueberry Bread
Firstly, in a mixing bowl, I combined whole wheat flour, oat flour, baking powder and salt and mixed it well.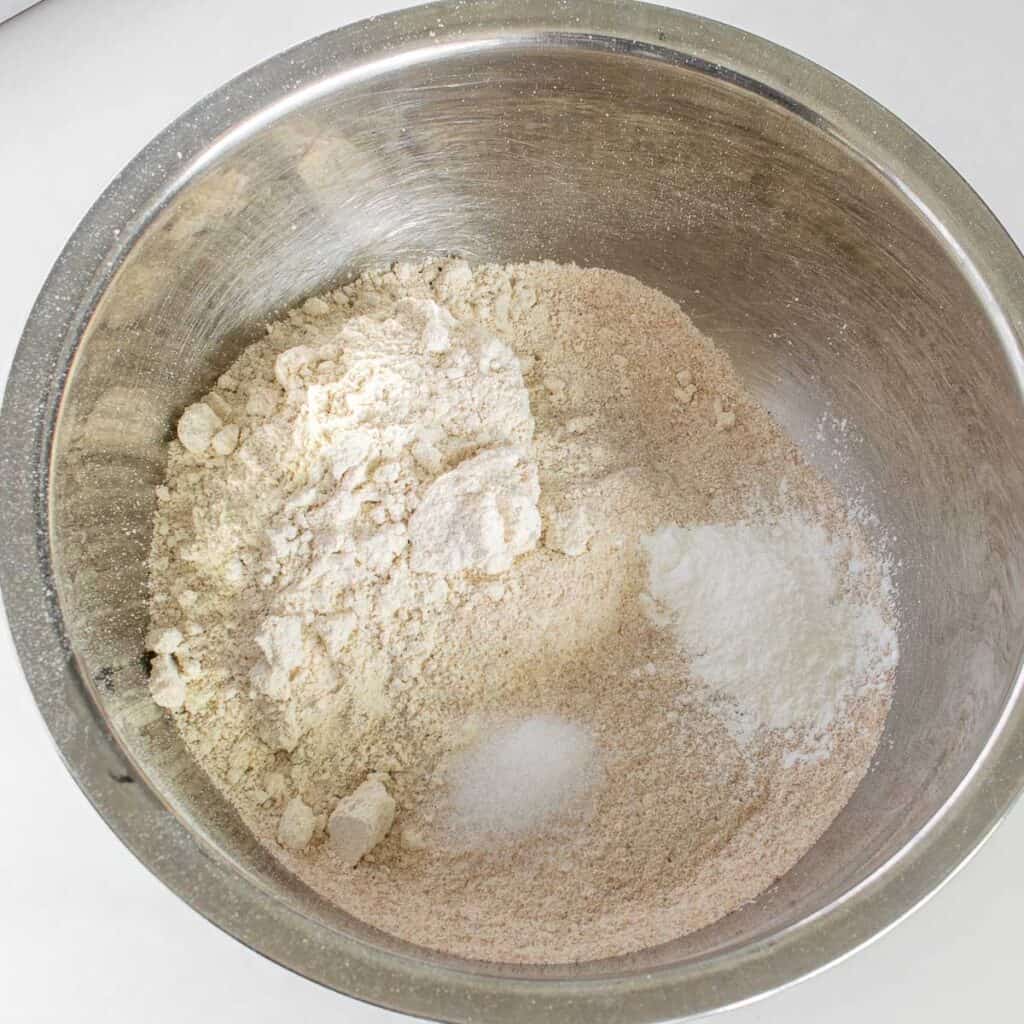 Secondly, I added soaked flaxmeal, maple syrup, oat milk and vanilla extract to it.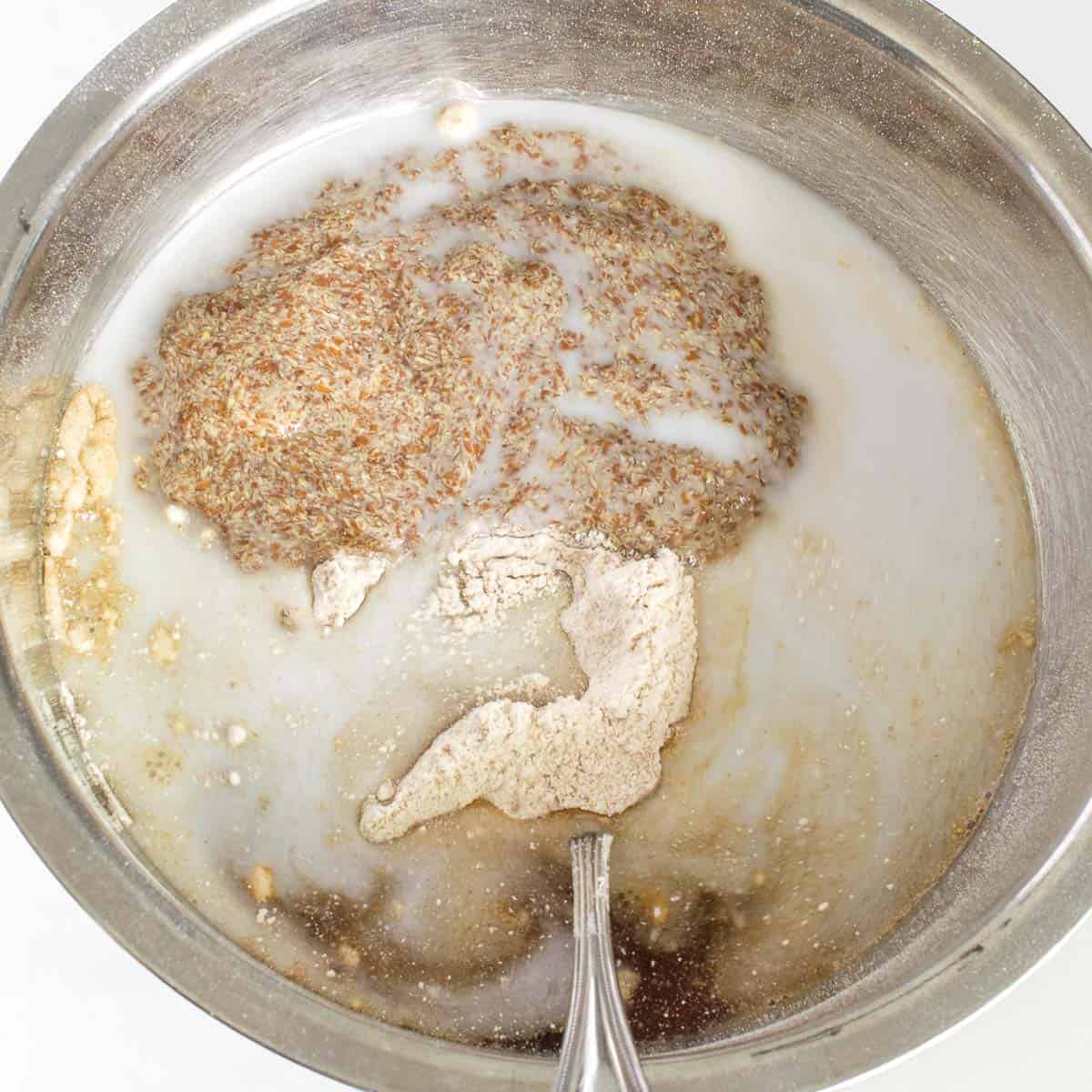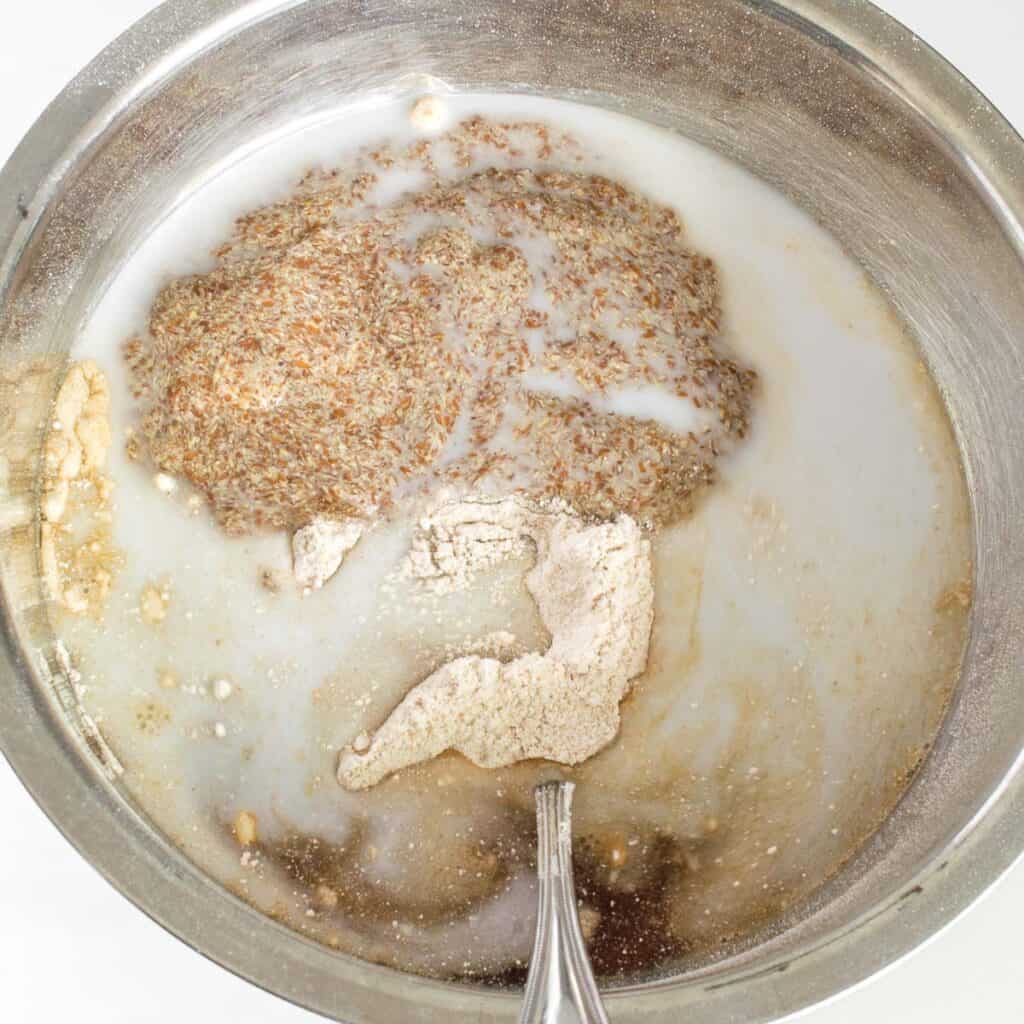 Next, I whipped it with a flat spatula into a thick dough like batter.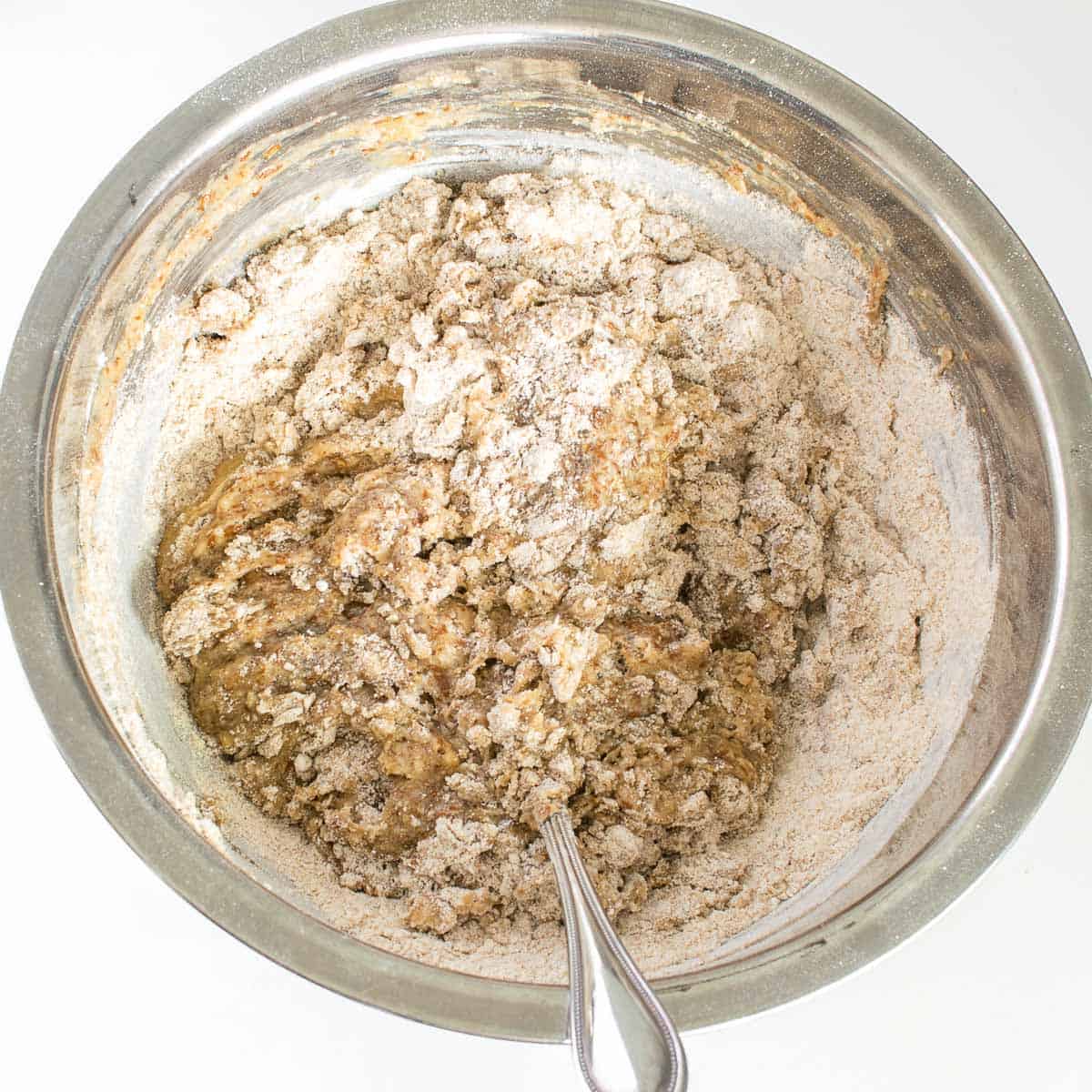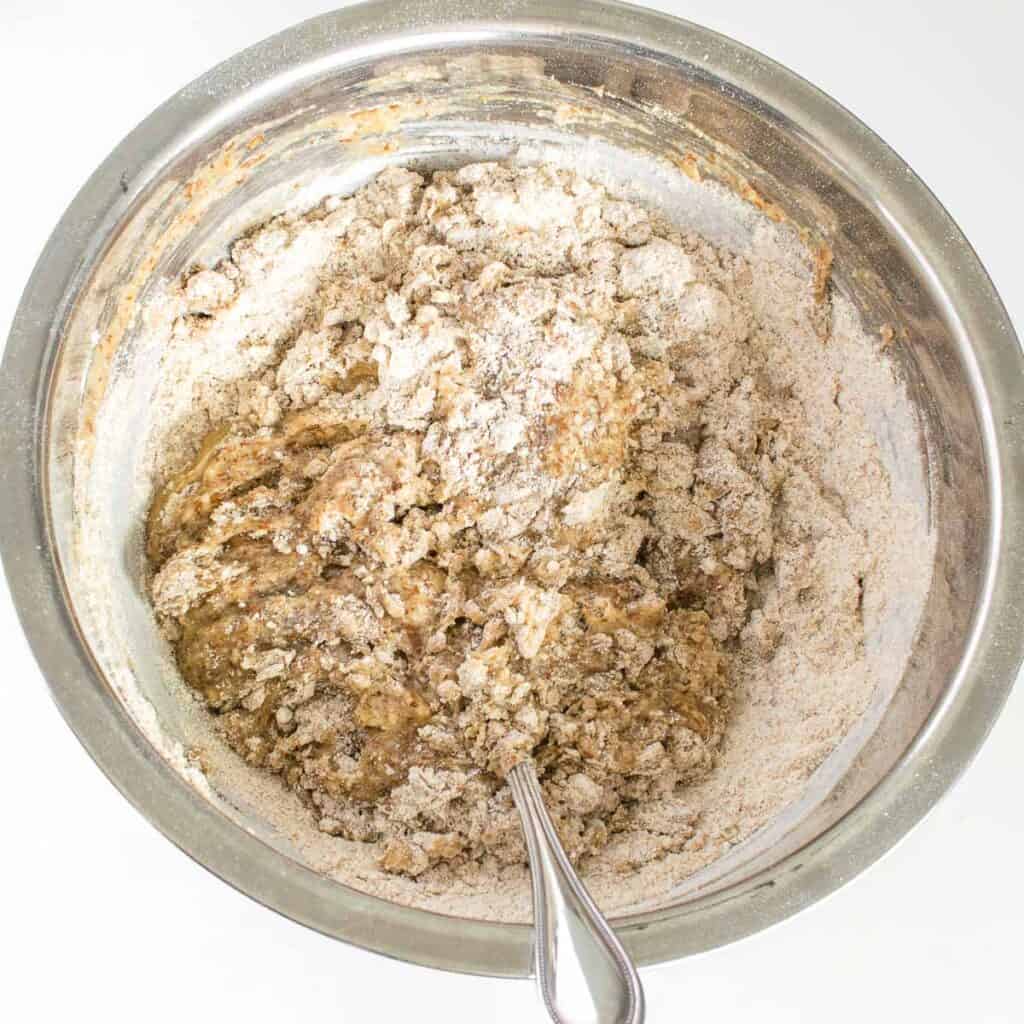 Thereafter, I folded in blueberries to it.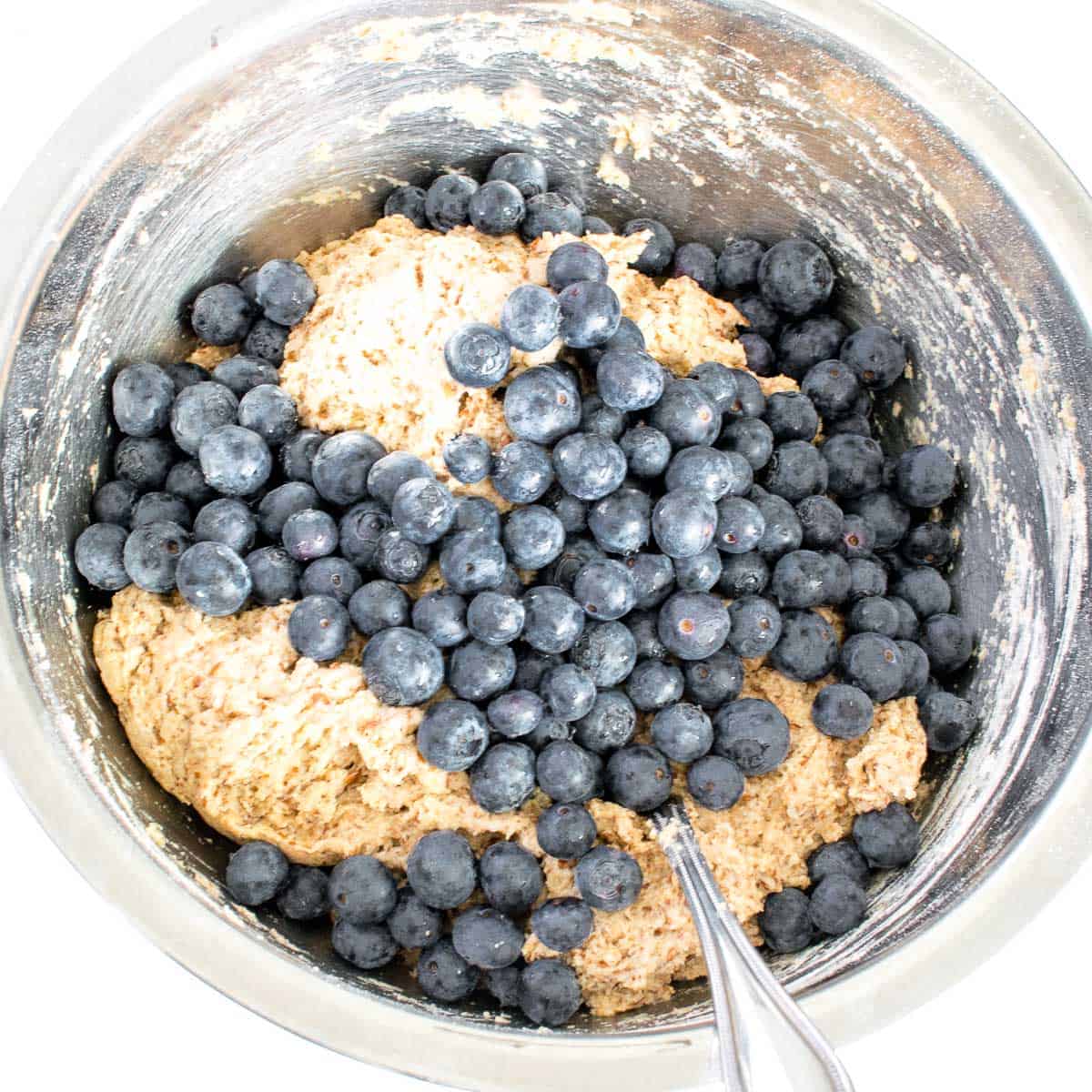 Afterwards, I mixed it again gently without crushing the blueberries.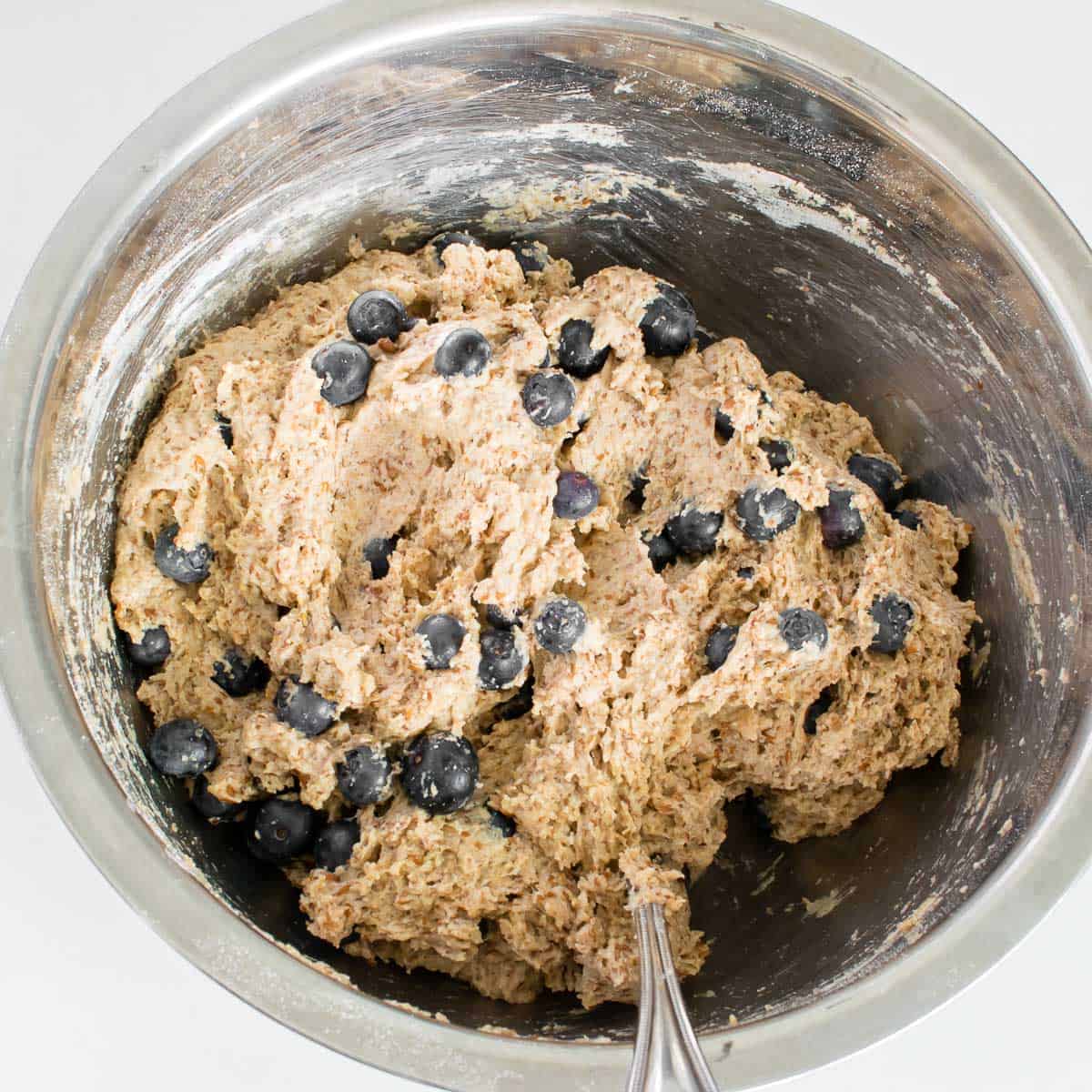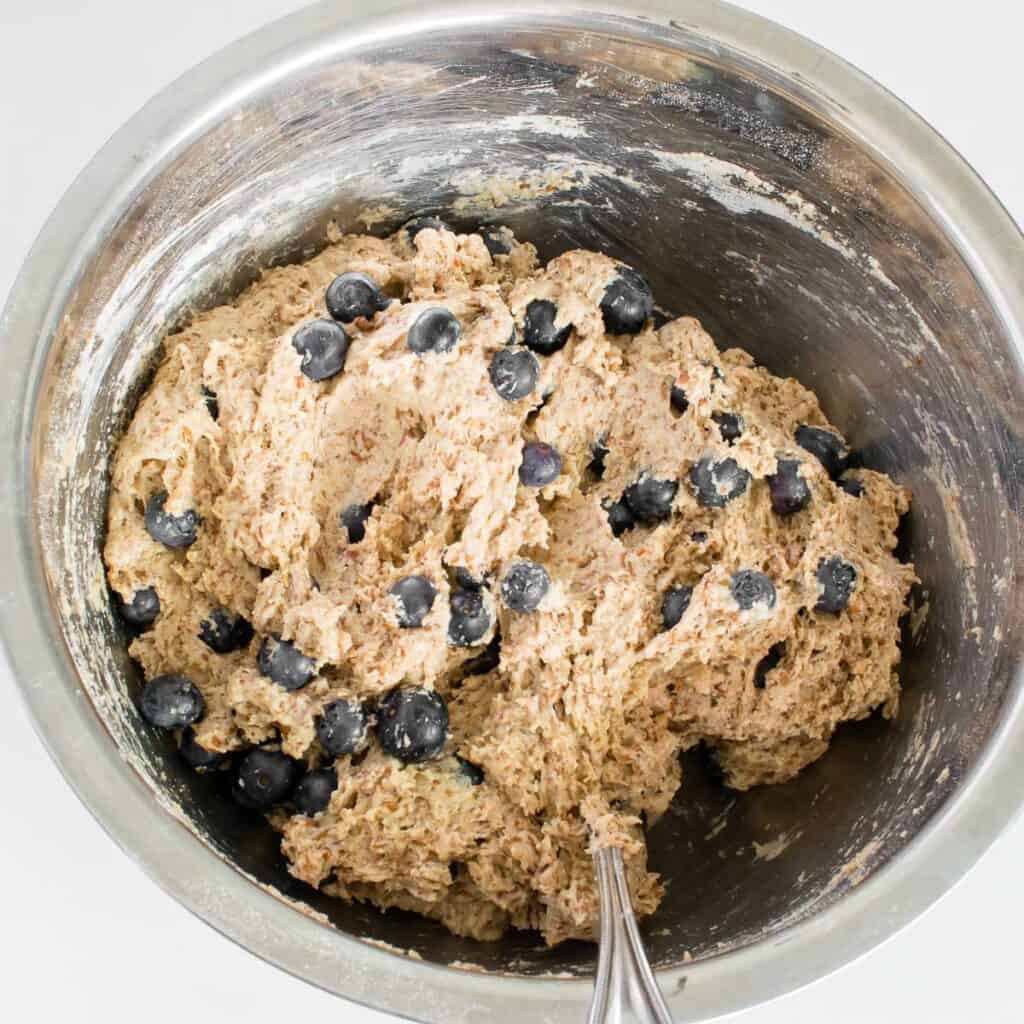 Later, I spooned it out into the prepared loaf pan and placed it in the preheated oven at 350-degree Fahrenheit. Then, I let it bake for 55 minutes.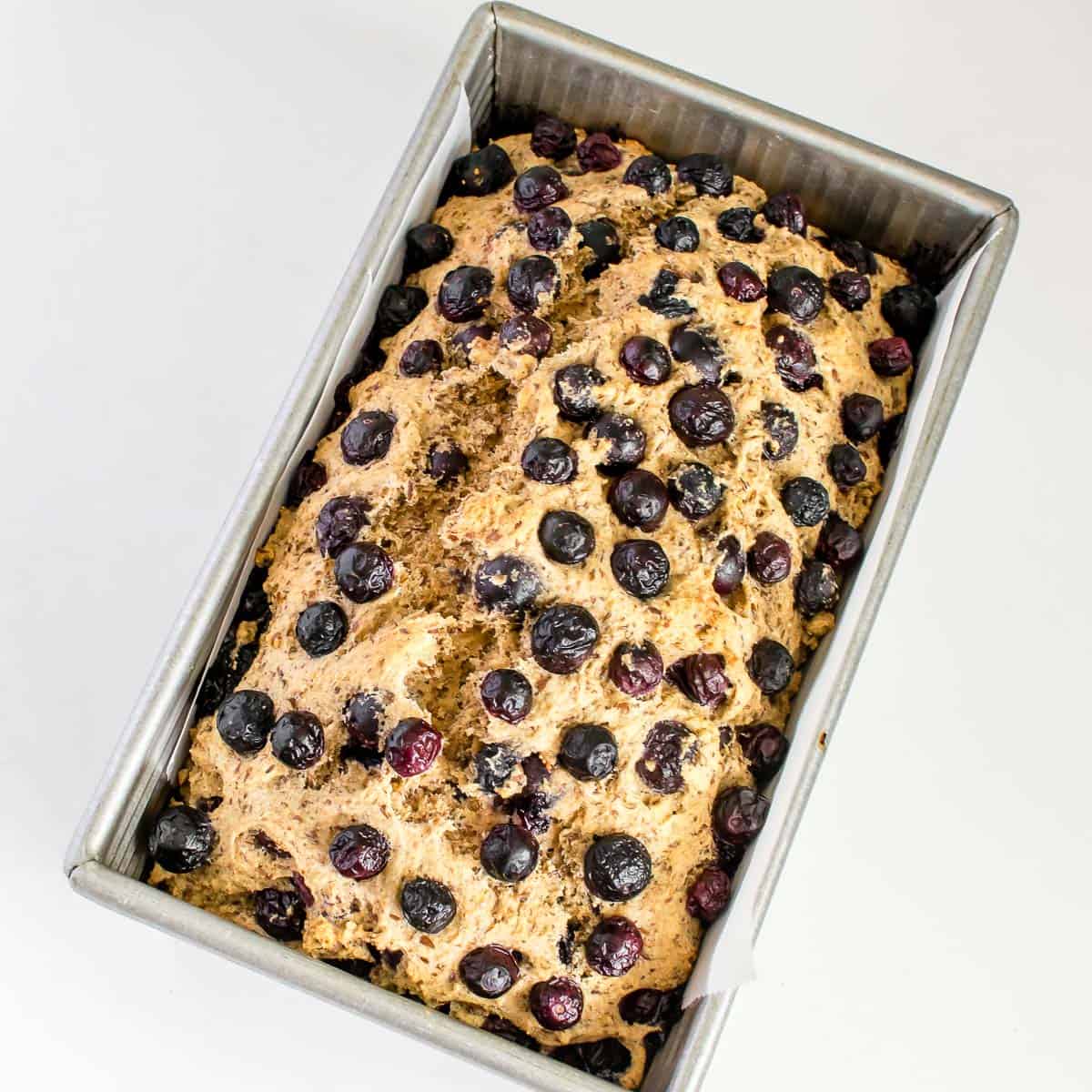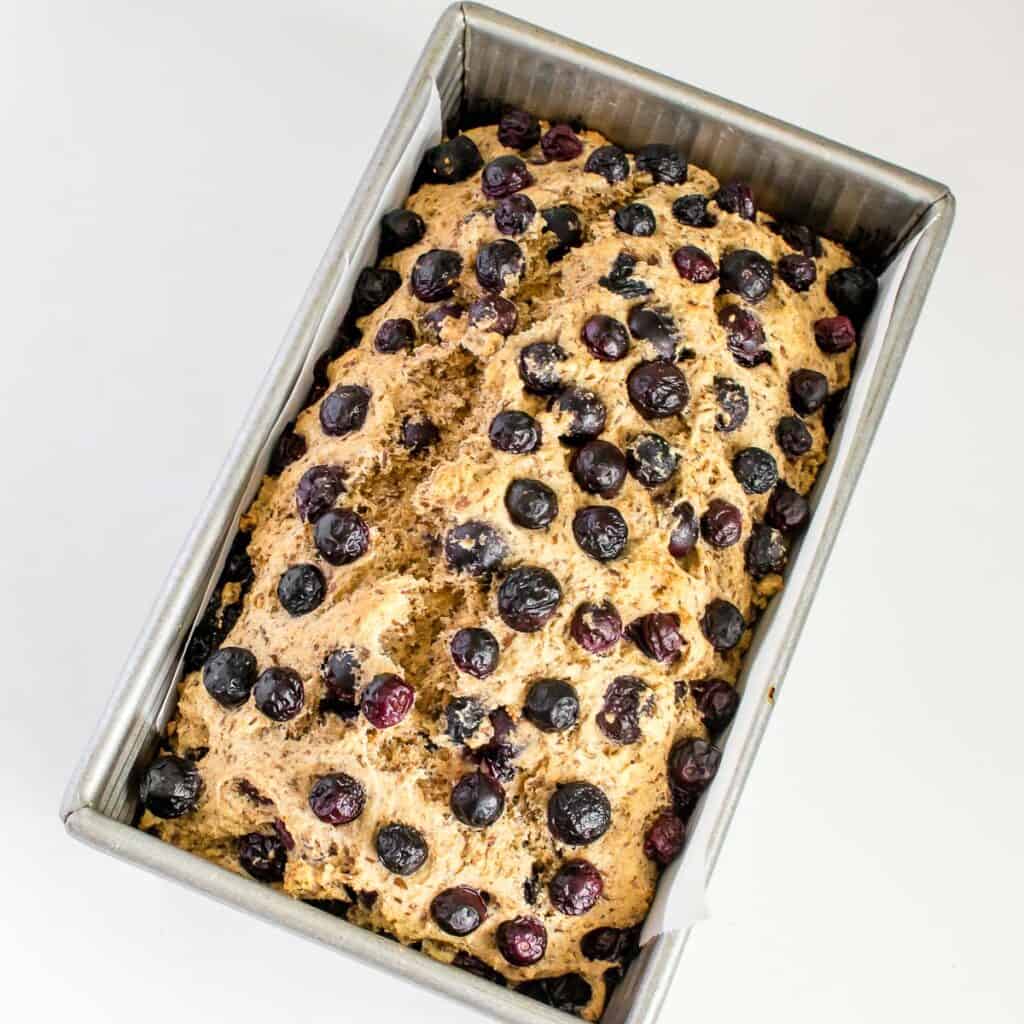 Once done, I took it out and let it cool on a flat surface.
Lastly, I gently, pulled out the parchment along with the bread. Then, I let it cool down a bit more before slicing.
Its texture was perfect and well risen. I personally enjoyed it warm since I was drooling with its aroma.
How to serve healthy blueberry breakfast bread
I enjoy it as is. My family loves to smear vegan butter over it. You may also drizzle some maple syrup or smear apple jam for a sweeter bread loaf taste. However, this can be enjoyed for snacks, or as dessert or whenever any cravings occur.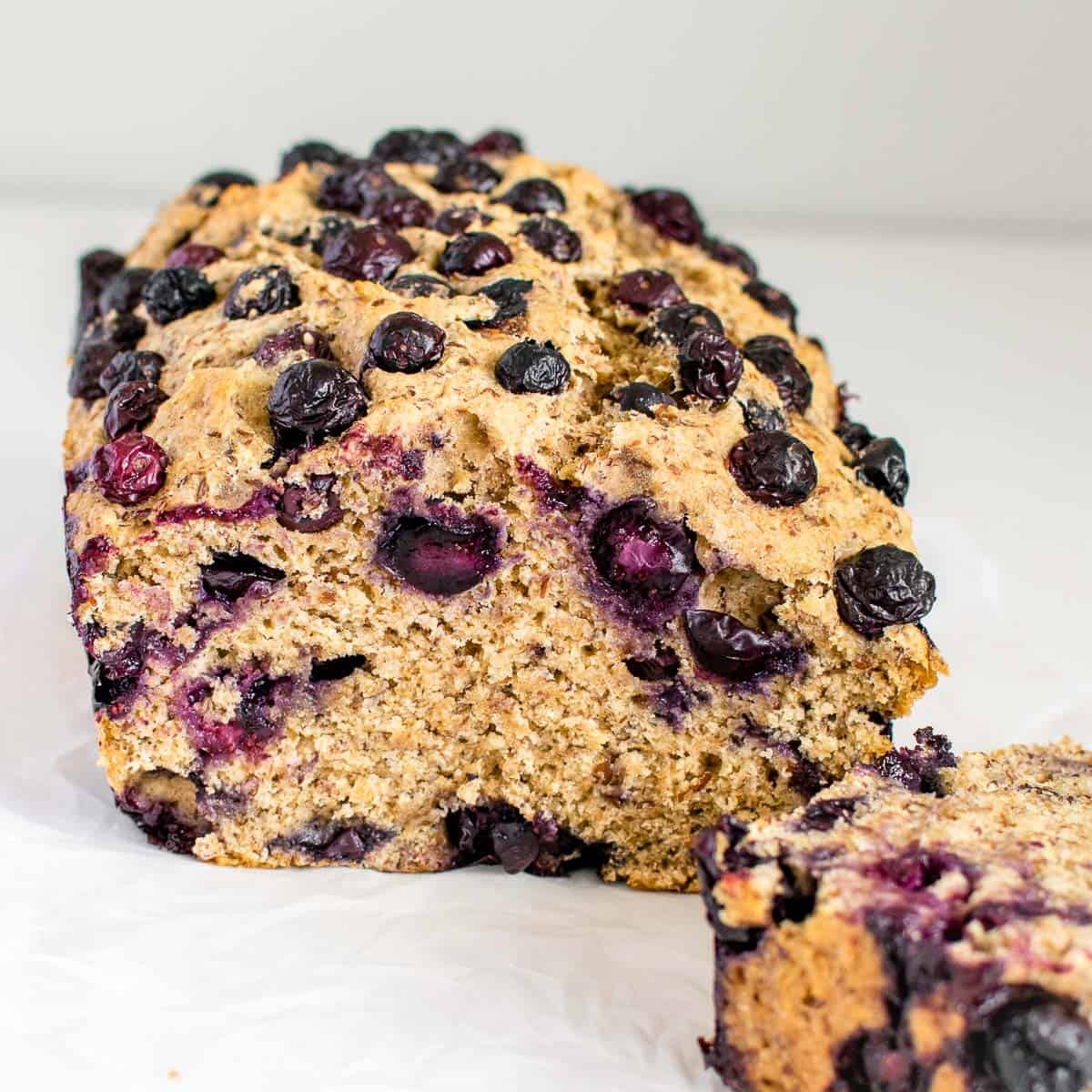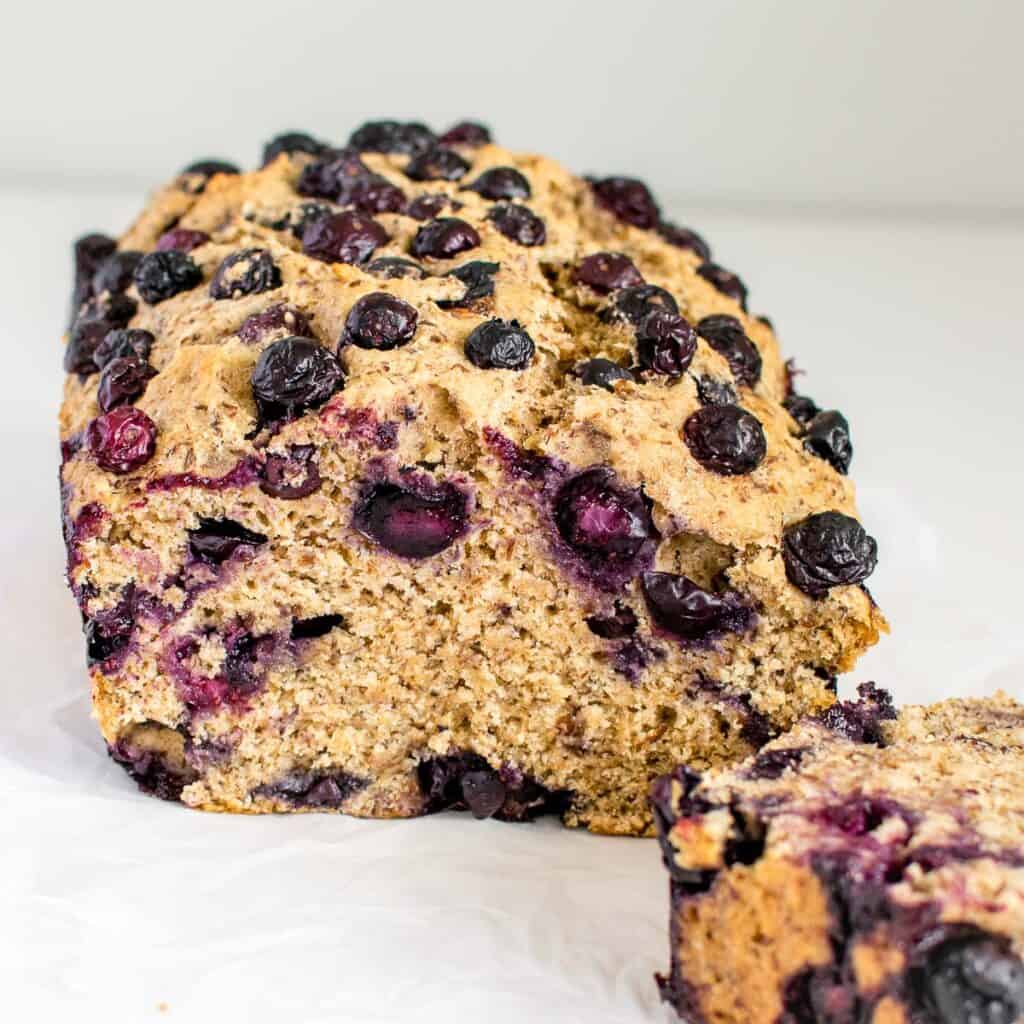 Expert tips:
It is important to closely follow the recipe steps so as to get a nicely risen firm bread and yet soft and fluffy.
Most importantly, while mixing the batter make sure the blueberries are not crushed or smashed. They should release their juice while in the oven.
Vegan Blueberry Bread FAQs
How can I store this?
Let it cool completely at room temperature. Then, slice with a read knife or any sharp knife. Then, let the slices also cool down very well from inside. In an air tight container, you may refrigerate the slices for about 2 weeks. Place 2 -3 slices in a Ziploc bag in a single layer and freeze for about 2 months. When ready toast it lightly or crispy as per your choice and enjoy with your favorite topping.
Can I use frozen blueberries?
Frozen blueberries would release too much liquid which might affect its rising point so I would highly recommend to use fresh blueberries for this recipe.
Will the blueberries sink at the bottom of this bread?
I have taken great care and tested this recipe quite a few times. The last step is important so do not over mix the blueberries in the batter. Also, I made the batter a bit thicker for this bread so that it holds blueberries in the right position. Also, while shaping the batter in the bread pan do not press it too much and be naturally as much as possible.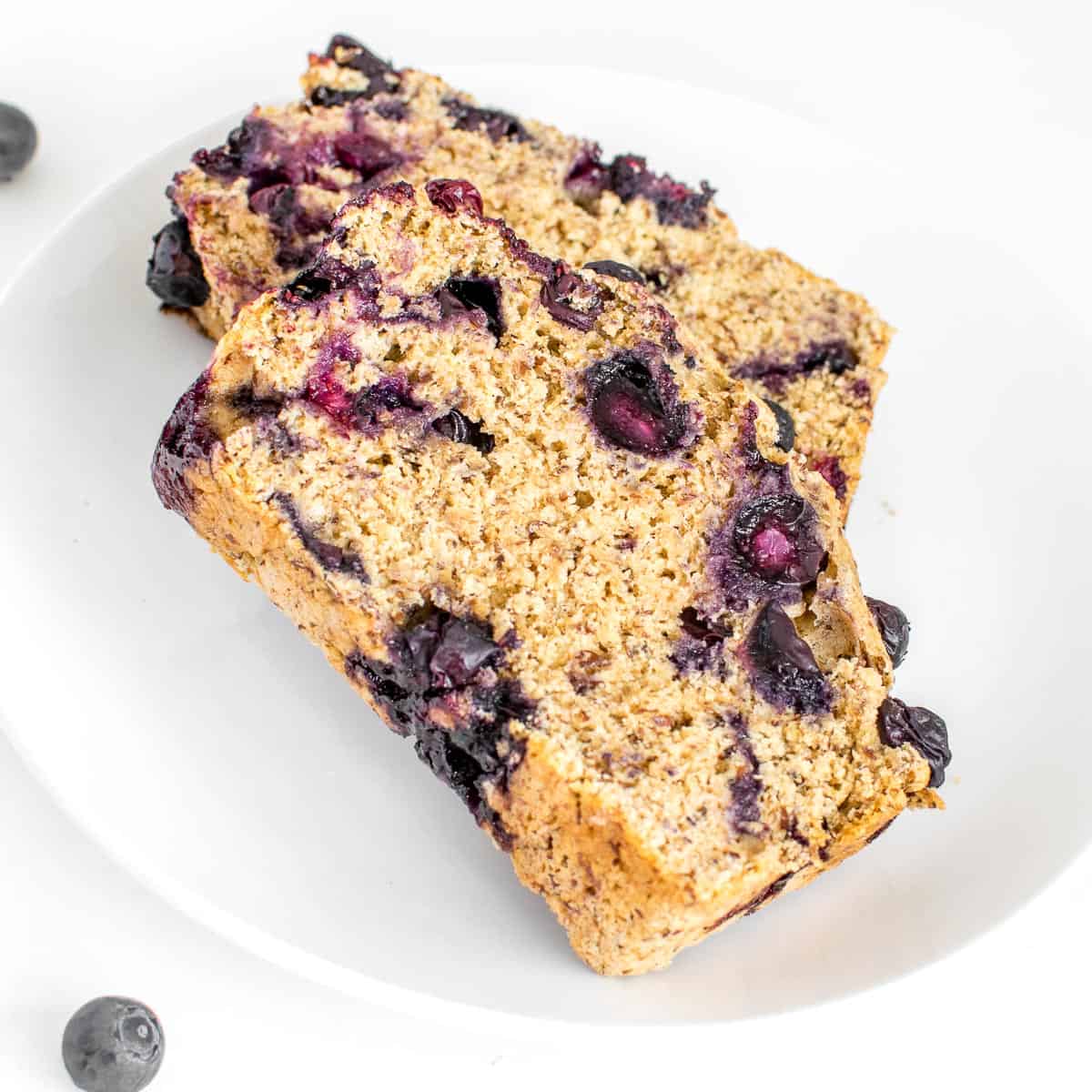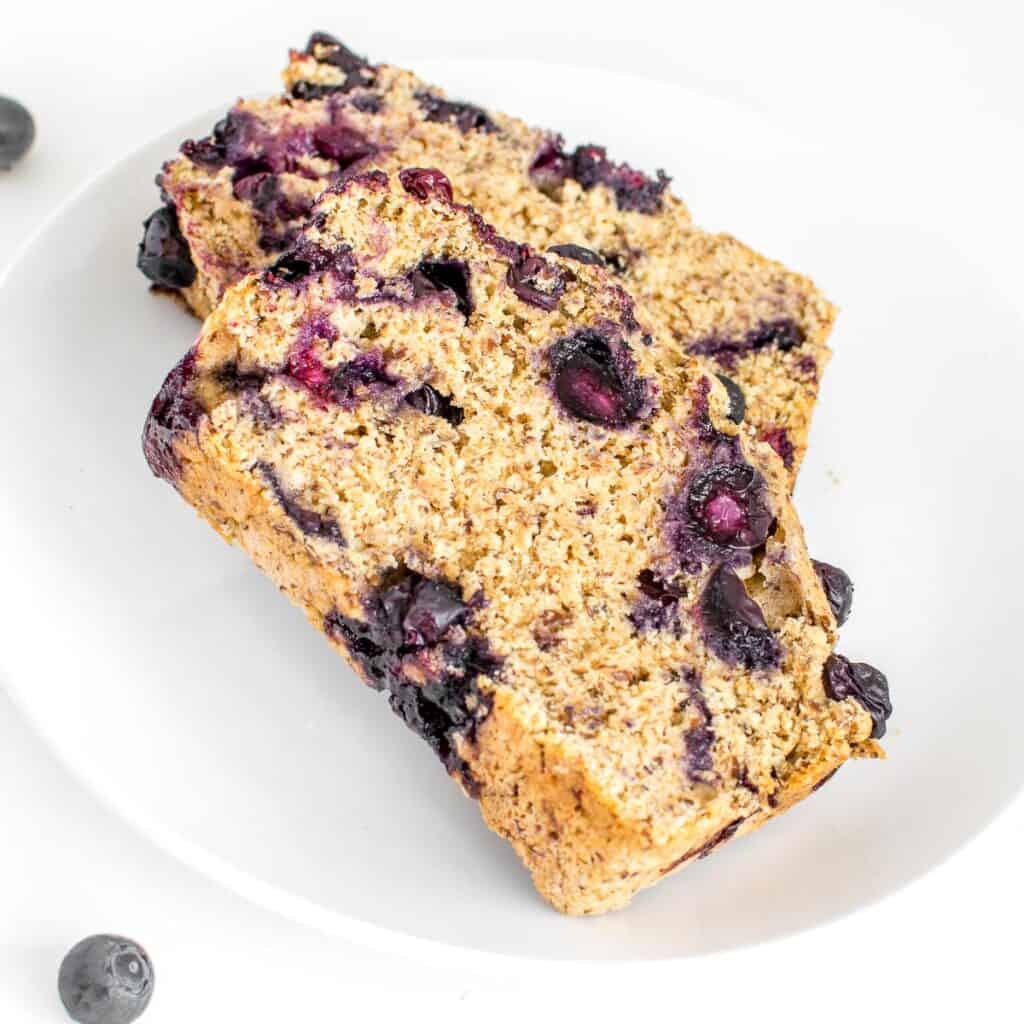 My other bread recipes that you might like:
Vegan Cranberry Orange Bread
Applesauce Bread
Butternut Squash Cranberry Bread
Pan Roasted Raspberries Bread
This post may contain affiliate links which means that if you click on them and also make a purchase, I will get a small commission. Moreover, I share only those products which I use personally and love.
I hope you enjoy this recipe as much as we did. I am very excited to hear back from you.
Where to find me?
Follow me on Facebook or on Twitter. You may tag @kiipfit on Instagram with your recipe remake images because I would love to see what you cooked.
Did you make it?
If you get a chance to make this recipe then please leave your feedback in the comments below along with a 5-star rating.
In addition, you may checkout my cookbook for everyday comfort vegan recipes.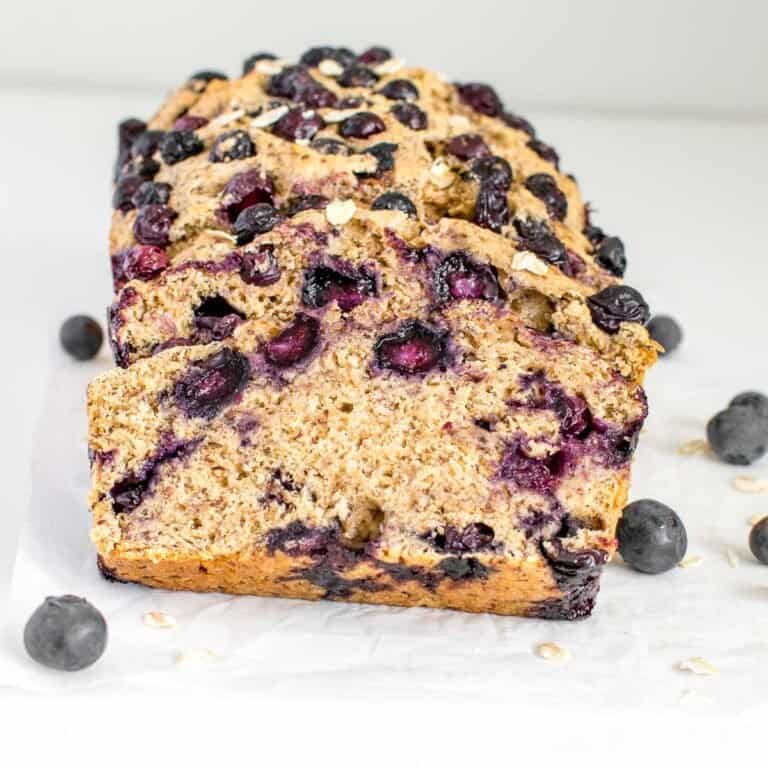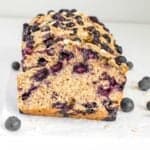 Print Recipe
Vegan Blueberry Bread
Soft and fluffy, oil free and freezer friendly, this Vegan Blueberry Bread is a perfect breakfast recipe. It's healthy, mildly sweetened and so delicious.
Instructions
Preheat oven at 350-degree Fahrenheit and prepare 8 ½ inch bread/loaf pan with a parchment paper.

In large mixing bowl combine whole wheat flour, oat flour, baking powder and salt and mix it well until there are no lumps.

Add soaked flaxmeal, maple syrup, oat milk and vanilla extract to the flour mixture and whip it into a thick dough like batter.

Lastly fold in blueberries and gently mix without smashing or crushing blueberries (do not over do this step).

Spoon it out into the prepare bread pan and with a flat spatula shape it according to the bread pan. (Do not press too hard from the top but shape it properly with the spatula as much as possible).

Place it in the preheat oven and bake it for 55 minutes. Once done, turn it off and take it out. Let it cool for some time on a flat surface and then gently pull out the parchment paper along with the bread. Place it on a flat working surface and let it cool completely before slicing.
Notes
This recipe makes up to 10 thick slices and the serving size is 1 slice per person.
How to store:
Refrigerator – once the bread is cooled at room temperature, slice them and let each slice cool completely from inside. So spread each slice on a flat surface in a single layer. Then, in an air tight container refrigerate for about 2 weeks.
Freeze – once each bread slice is cooled as explained in the above point place 2-3 slices in a Ziploc bag in a single layer and freeze for about 2 months.
How to warm it
From the fridge– you may enjoy it cold directly from the fridge or toast it for 1-2 minutes for soft slice or up to 3 minutes or a mildly crispy slice. You may microwave for 20 – 30 seconds for a cake like soft texture.
If frozen – toast the slice for 3 minutes for softer texture or up to 5 minutes for crispier toast like texture.
How to serve:
You may enjoy it as is or smear lots of vegan butter. For sweeter taste smear with your favorite jam or maple syrup.
Nutrition
Calories:
217
kcal
|
Carbohydrates:
42
g
|
Protein:
6
g
|
Fat:
4
g
|
Saturated Fat:
1
g
|
Polyunsaturated Fat:
3
g
|
Monounsaturated Fat:
1
g
|
Sodium:
125
mg
|
Potassium:
323
mg
|
Fiber:
6
g
|
Sugar:
1
g
|
Vitamin A:
14
IU
|
Vitamin C:
1
mg
|
Calcium:
96
mg
|
Iron:
2
mg