This easy and warm Butternut Squash Chia Spelt Waffles are a perfect Thanksgiving family brunch option. Its vegan and made with healthy whole grains along with the addition of superfoods.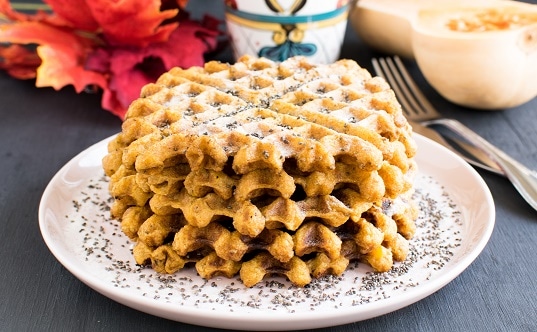 As Fall sets in I load my refrigerator with Butternut squash and make its puree in big batches.
It's easy to make Butternut Squash puree and takes hardly any time. It's as simple as to peel, chop, boil and mash. It can be frozen for use as and when needed.
For more variety of options my vegan protein waffles are favorite.
So my idea is to have enough butternut squash puree before Thanksgiving this year. This way, I can just pull it out of my freezer and turn it into any recipe I want. Therefore, to compliment my idea I came up this healthy vegan waffles for Thanksgiving Brunch.
I have used easily available ingredients in these spelt flour waffles which you may buy from any grocery store. However, I have provided links to few of them here for your convenience.
If you plan to buy from these affiliate links then I get a small commission which in turn encourages me to bring in more delicious recipes for you all.
How to make Butternut Squash Chia Spelt Waffles
Firstly, I combined cooked butternut squash chunks and mashed them.
Secondly, I combined all the ingredients in a mixing bowl and made a thick batter out of it.
Next, I poured a scoop of the batter on the warm waffle maker and baked it as per the manufacturers instructions.
Thereafter, I garnished it with some vanilla powder, maple syrup and more chia seeds.
My entire family enjoyed this warm delicious Fall special brunch.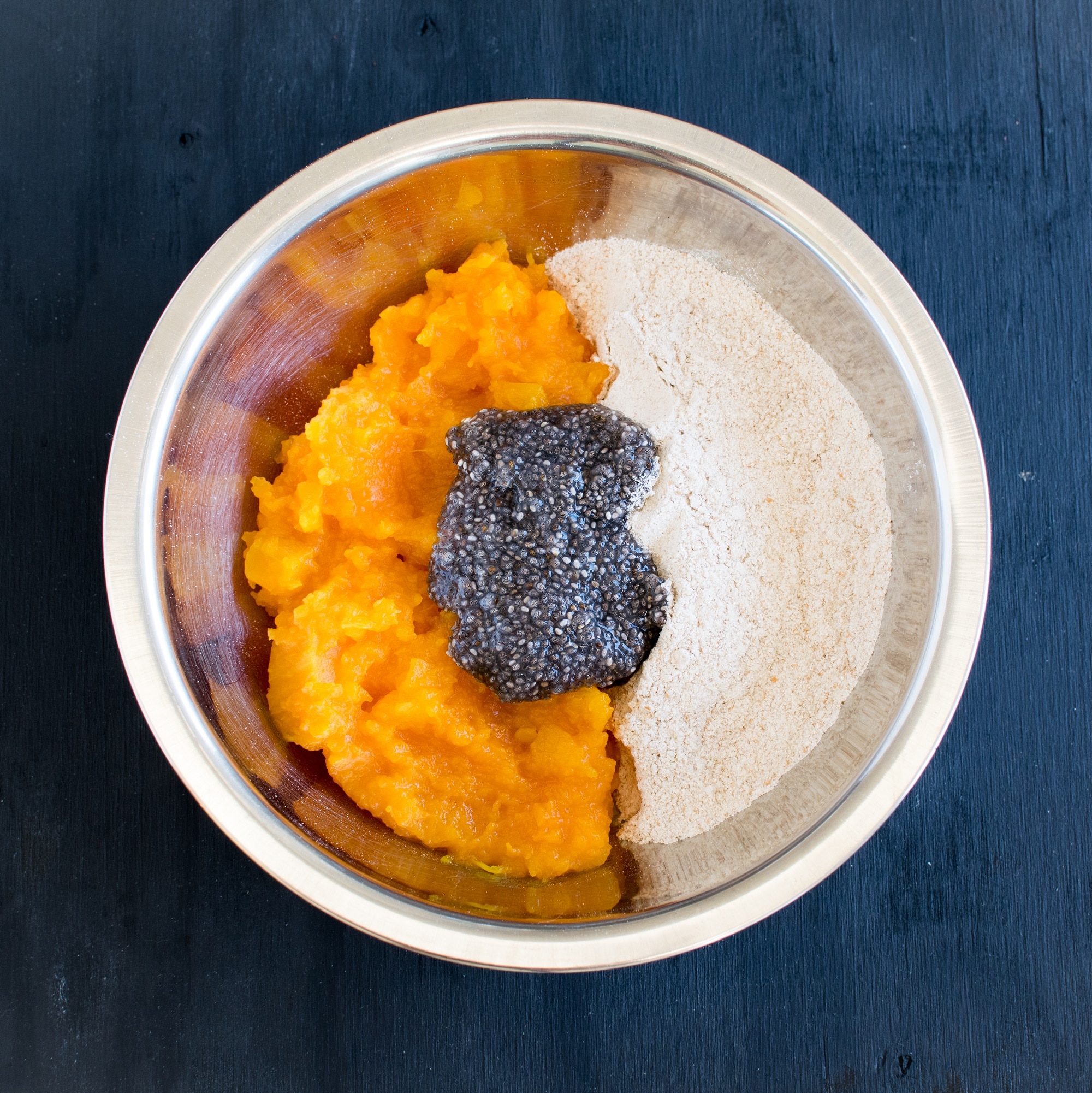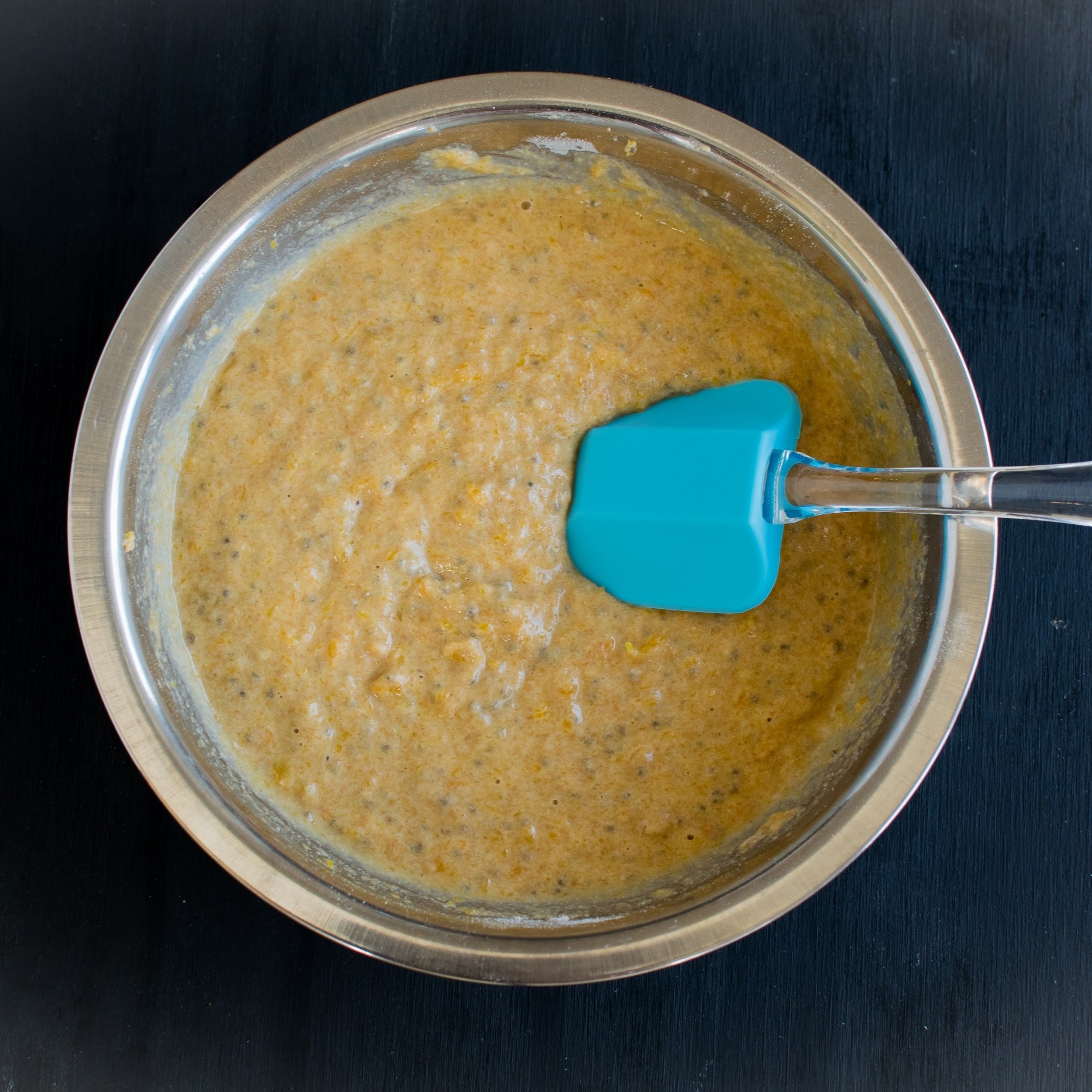 We all prepare for Thanksgiving dinner but the morning meal is equally important so why not start the beautiful day with some deliciousness while we prep for the evening and of course some late night shopping 🙂
These waffles get ready in just about 20 minutes. All you need to do is whip up all the ingredients, warm the waffle iron (preferably nonstick) and bake these waffles.
In just few minutes, serve these Butternut Squash Chia Spelt Waffles to your family while you are still prepping for the grand finale dinner 🙂
To make it even more wholesome drizzle maple syrup generously, top it with your choice of fruits and nuts and some cream if desired.
I enjoyed my waffles as is because the sweetness was perfect for me but my family loved them with lots of maple syrup.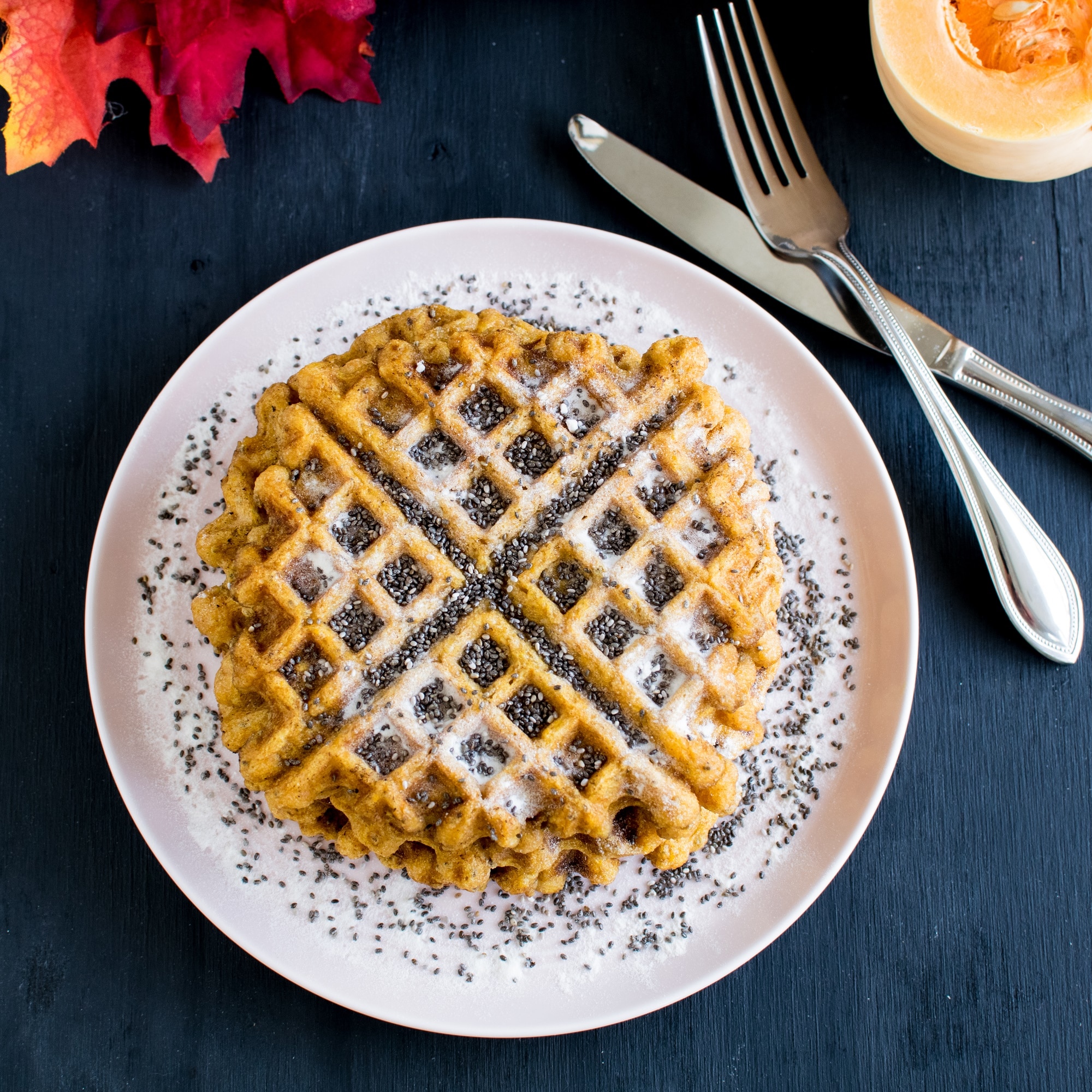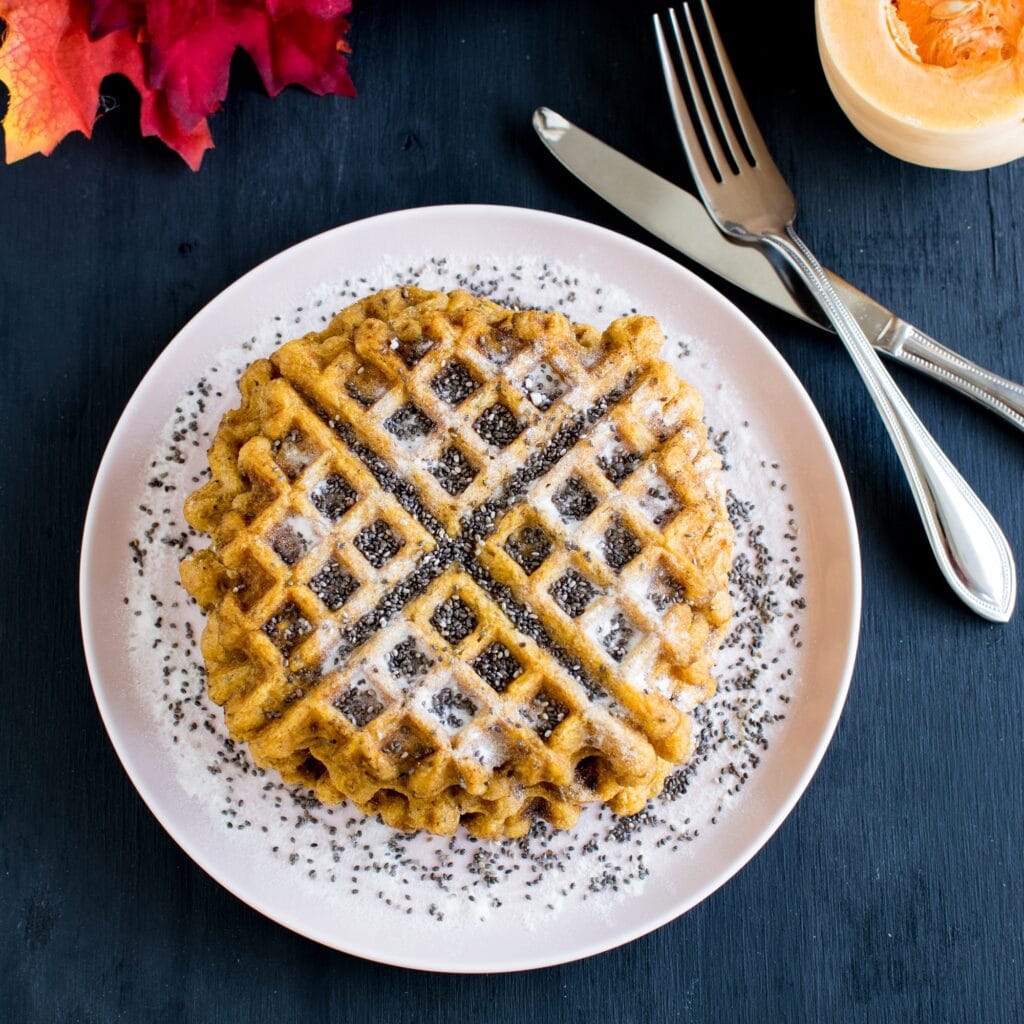 When I served these waffles we were immediately energized and satisfied. It was a picture perfect day when we all contributed for the grand dinner that entire day. (We decided to try out some new recipes since there are still few days left for Thanksgiving).
Yashvi especially was so chirpy and cheerful all day long. She helped me with stirring and whipping and baking and her giggles and laughter was all over my home.
Finally, at the end of the day we all rehearsed by enjoying the successful recipes and laughed over some failed recipes. Lastly, before we went to bed we were ready with the dinner menu along with grocery list.
I am going to treasure this day all my life 🙂
Happy Thanksgiving!!!!!!
You may also like:
Sriracha Butternut Squash Amaranth Soup
Red Pear Butternut Squash Soup with Quinoa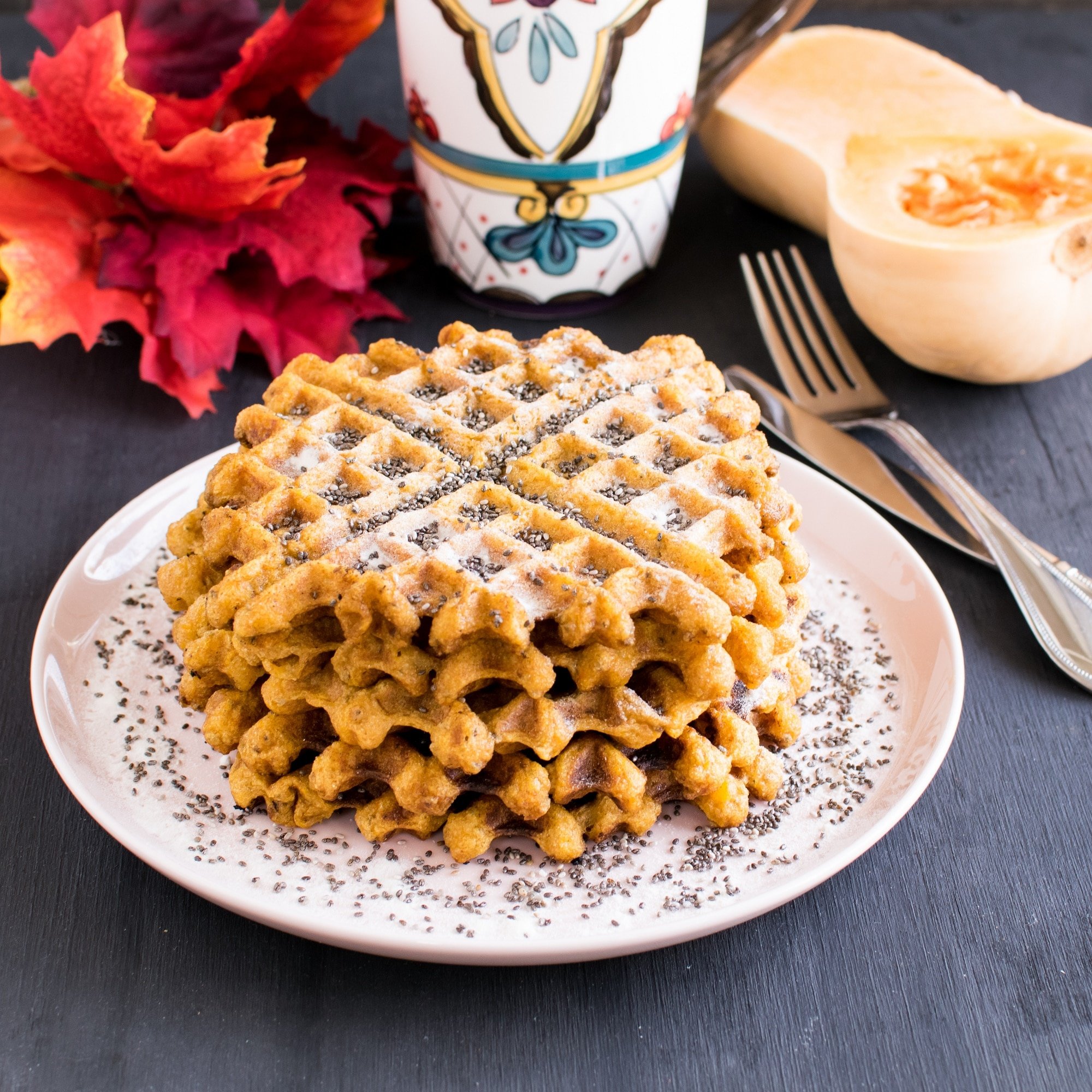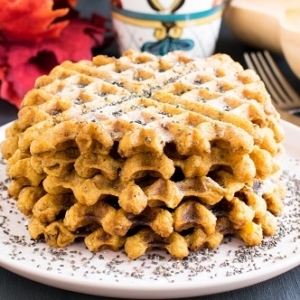 Print Recipe
Butternut Squash Chia Spelt Waffles
This easy and warm Butternut Squash Chia Spelt Waffles are a perfect Thanksgiving family brunch option. Its vegan and made with healthy whole grains along with the addition of superfoods.
Ingredients
2

cups

butternut squash chunks

1

cup

whole grain spelt flour

1

tsp

baking powder

1/4

tsp

salt

1

tbsp

vanilla extract

1

tsp

olive oil

1/4

cup

maple syrup

1

cup

unsweetened almond milk
Instructions
In a saucepan combine butternut squash pieces and add just enough water to cover the squash pieces. Boil until squash softened and can be mashed with a spoon in the same water. After mashing let it cool.

In a mixing bowl combine Spelt flour, baking powder and salt and mix until no lumps are left.

Now add all the ingredients to it including the mashed squash and soaked chia seeds. Mix well and form a thick batter.

Warm a nonstick waffle griddle and grease it. Pour about ½ cup of the batter on the griddle and cook crisp or your desired texture. Serve warm with your choice of toppings.
Notes
Do not drain the water of the squash. Mash the squash in the same water with a spoon to make it a paste like consistency.
If desired adjust the temperature of the waffle griddle according to your manufacturer instructions.
This recipe yields 6 inches 5 waffles.
Nutrition
Calories:
218
kcal
|
Carbohydrates:
43
g
|
Protein:
6
g
|
Fat:
3
g
|
Saturated Fat:
1
g
|
Sodium:
120
mg
|
Potassium:
137
mg
|
Fiber:
6
g
|
Sugar:
10
g
|
Calcium:
61
mg
|
Iron:
2
mg