These easy and healthy Blueberry Oatmeal Cookies are a perfect dessert for breakfast. Its oil free and made with only 8 ingredients. They are soft, chewy and a flavorful vegan treat.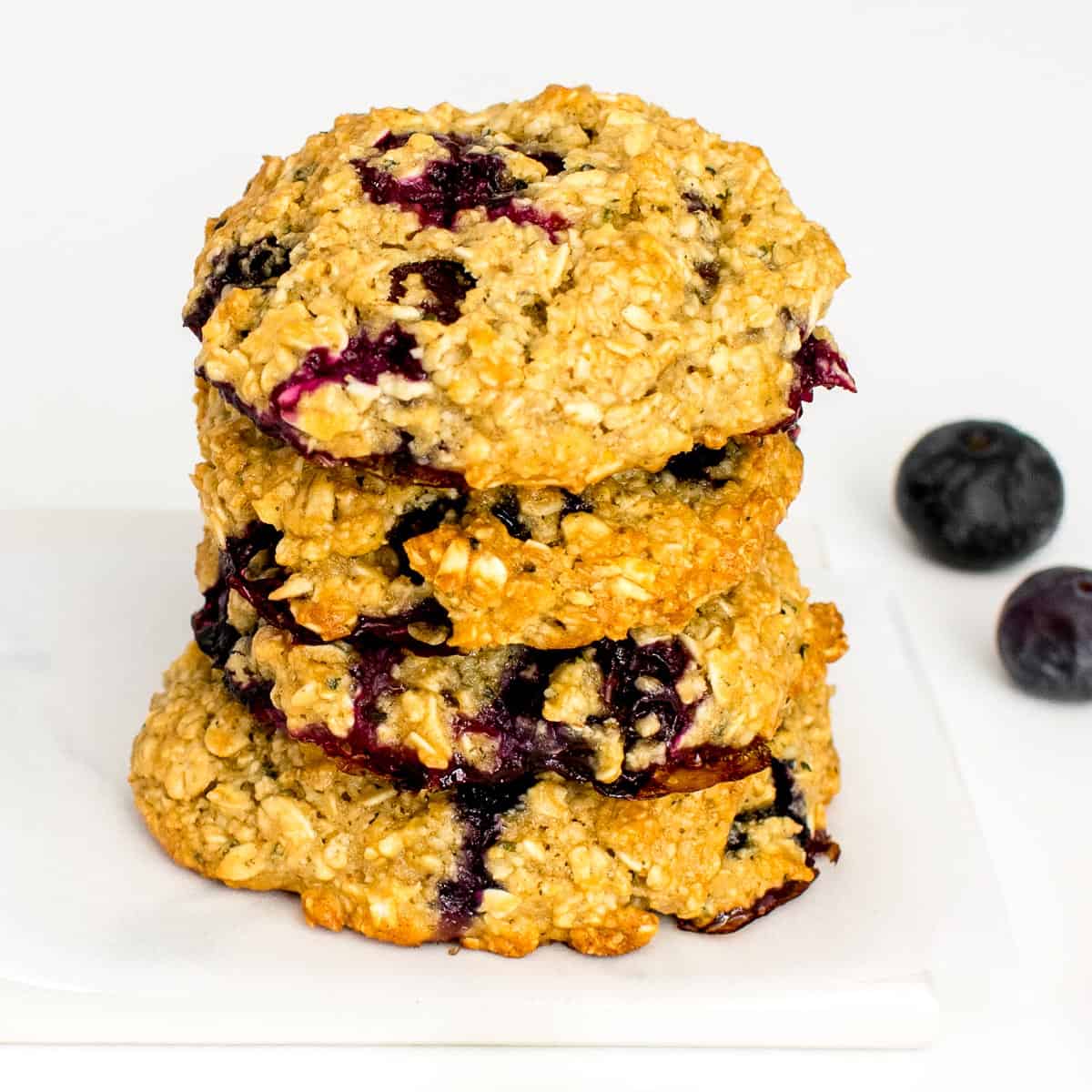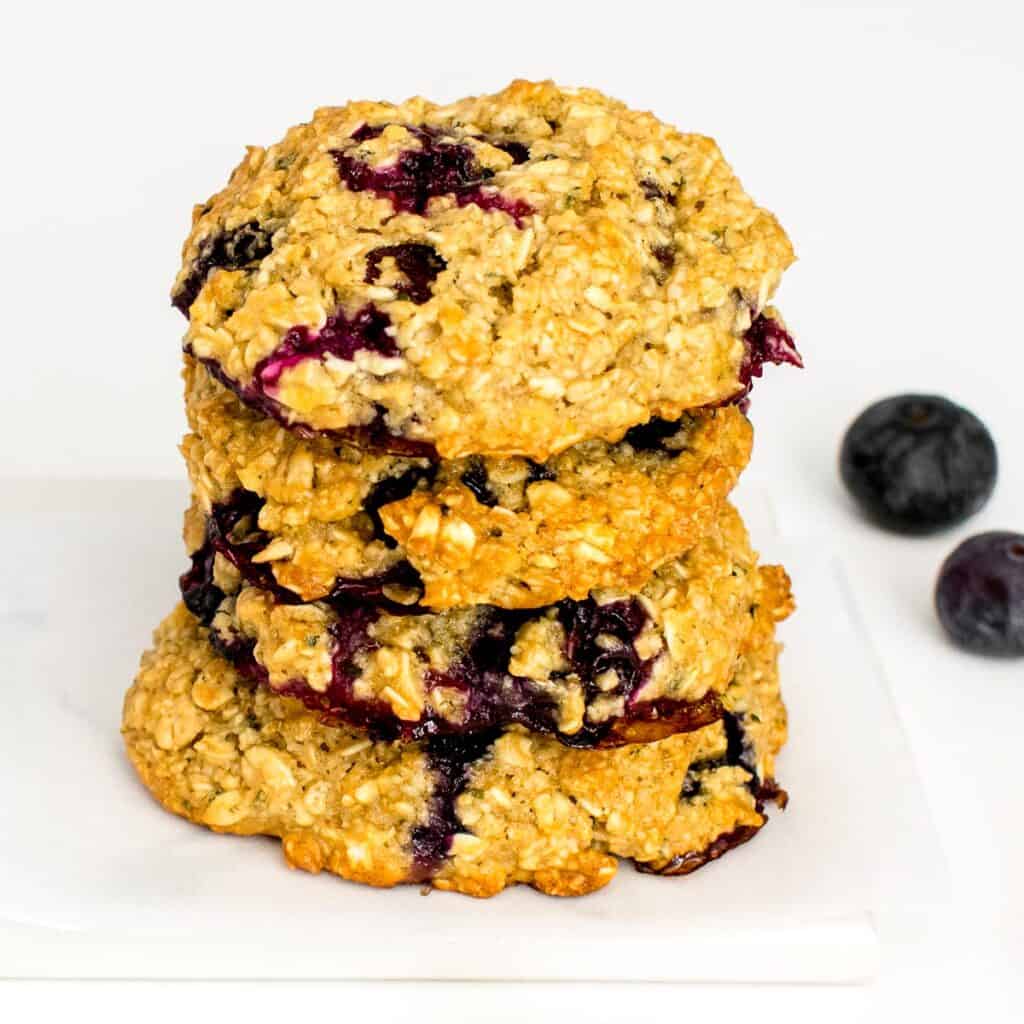 If you are fond of blueberry muffins and are short of time then these cookies are your best bet. Since, I created these blueberry cookies, we have been gorging on them.
Therefore, I make them more frequently than muffins. My kids are crazy and they call these as muffin cookies.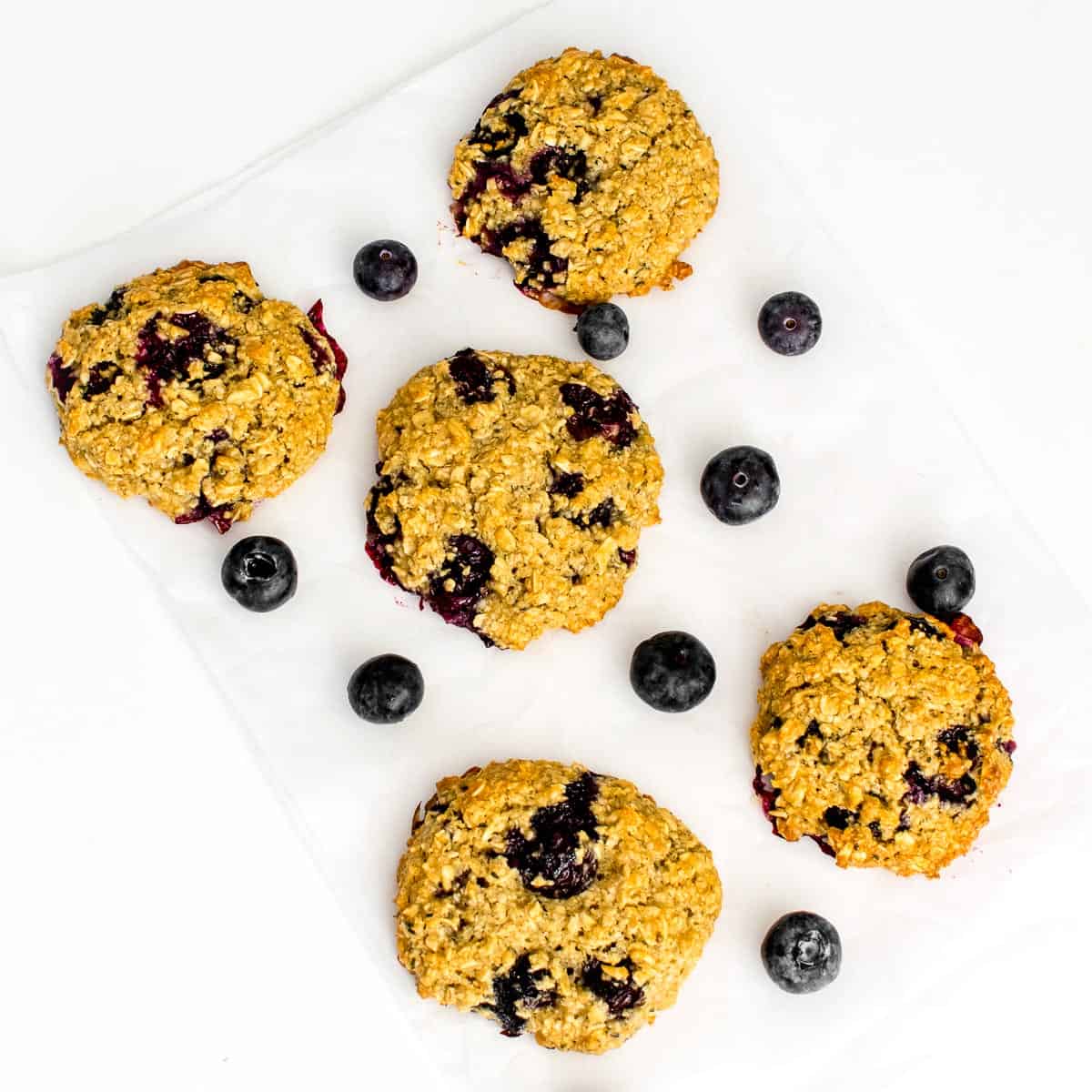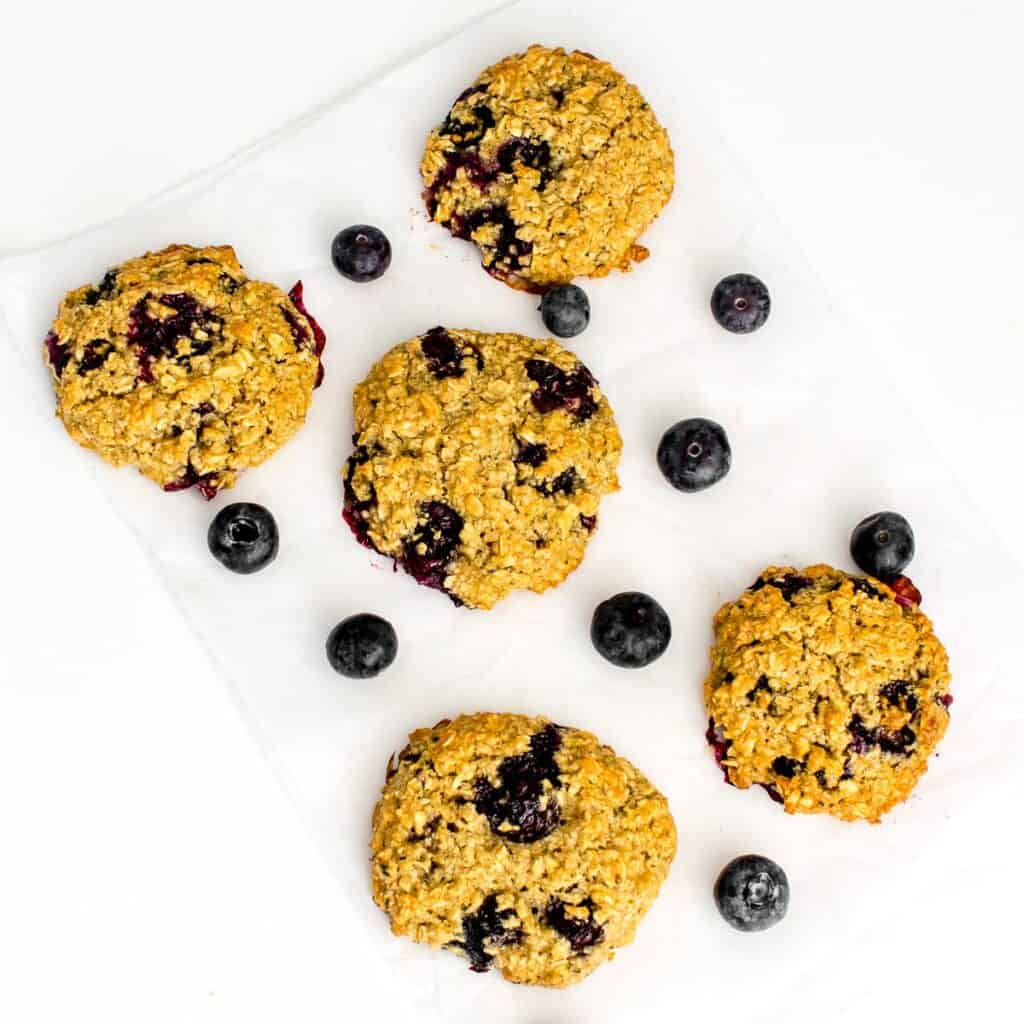 I was working on a quick and few ingredients breakfast cookies so that I can simply bake and store for mornings. In this process I discovered that I can a get a healthier cookie with a muffin like texture in less time and fewer ingredients.
Hence, I am a fan of baking these blueberry oatmeal breakfast cookies. It's quite frequent for us now and a box is always filled with it to make our mornings deliciously healthy.
My other creations with blueberries are:
No bake cookies with blueberry jam
Blueberry Semolina Porridge Parfait
Honeydew Blueberry Salsa
Dairy Free Blueberry Pancakes
However, these cookies are a must when the berries are at its peak.
My other cookie recipes that you may like:
Zucchini Chocolate Chip Cookies
Chai Cookies
Chocolate Orange Ganache Cookies
Chocolate Cauliflower Protein Cookies
Strawberry Cookies
However, today I am here to share this awesome blueberry oatmeal cookies recipe.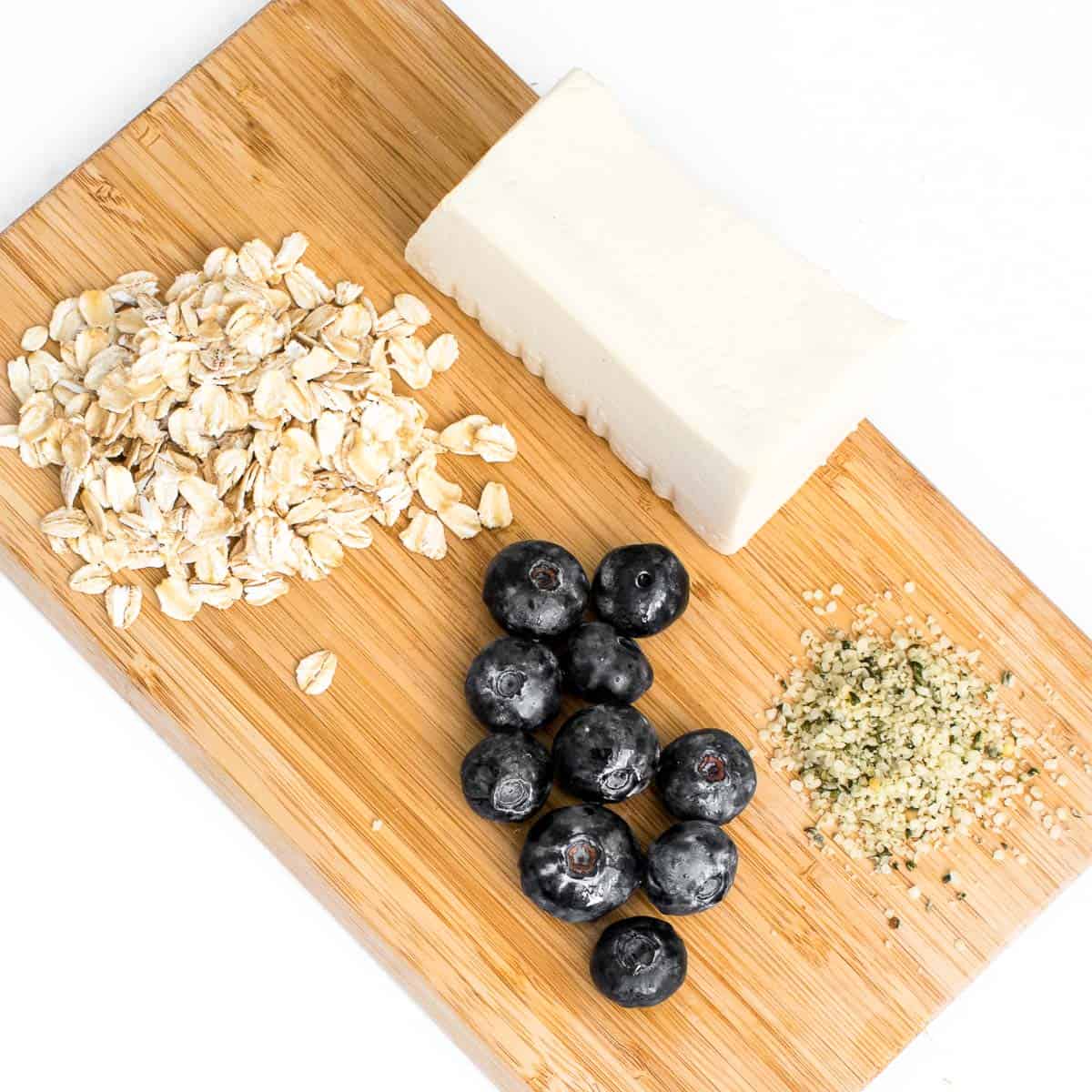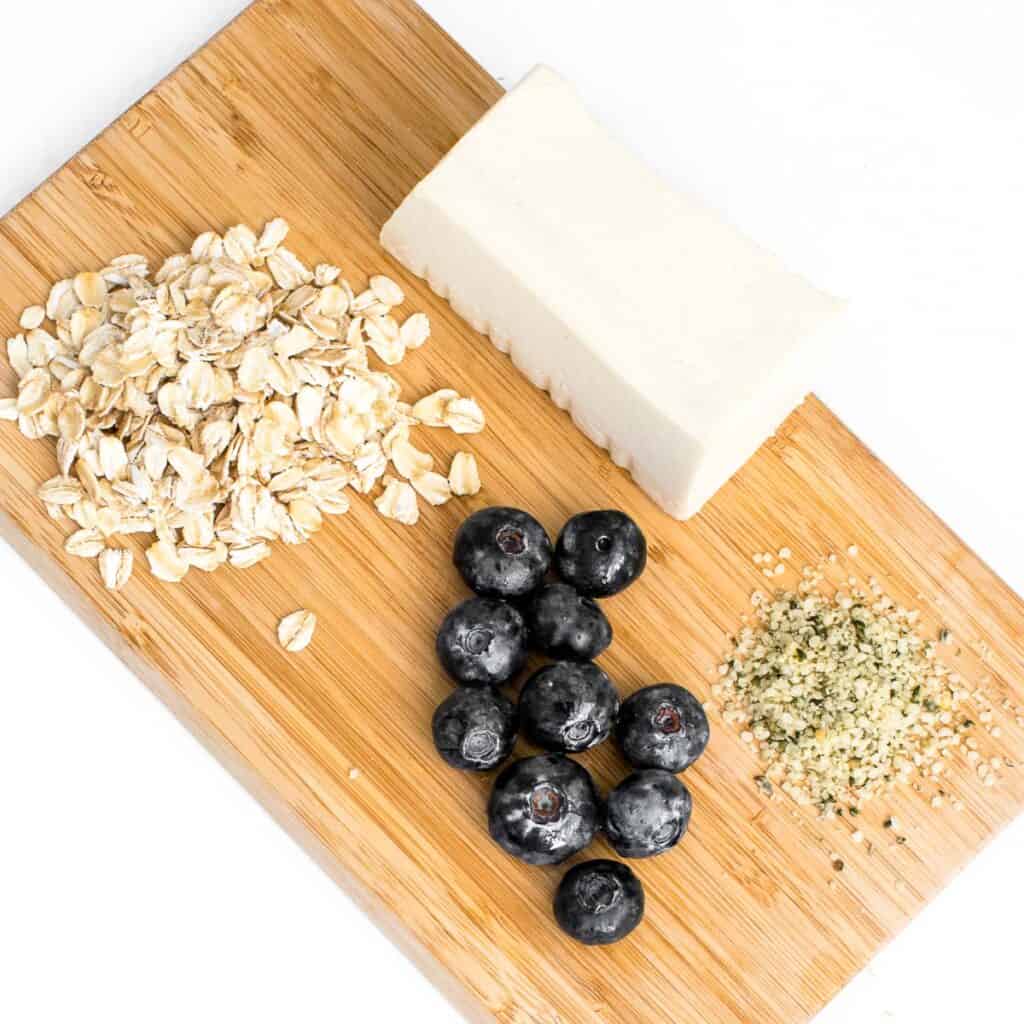 Ingredients you will need:
Oats
Soft/silken tofu
Hemp seeds
Maple syrup
Vanilla extract
Baking powder
Salt
Fresh blueberries
I have used these easily available ingredients in this recipe which you may buy from any local grocery store. However, I have provided links to few of them here for your convenience.
If you plan to buy from these affiliate links then I get a small commission which in turn encourages me to bring in more delicious recipes for you all.
Ingredients notes:
Oats – it's a fiber rich complex carbohydrate. It's a whole grain and a low GI food ingredient. It is so versatile that can be used in sweet or savory recipes.
Tofu – I used soft tofu in this recipe. It needs to be drained properly so that there no extra moisture is in the batter. However, you may use silken tofu as well.
Hempseeds – it's a protein rich superfood that is high in fiber and healthy fats.
Maple syrup – I used this as a sweetener to make this recipe sugar free. However, you may substitute it with white or brown sugar. The batter may be a slight thicker but will still work the same. However, bake it for 15-20 minutes.
Blueberries – I used fresh blueberries in this recipe. Frozen blueberries would add extra moisture to the batter making it softer therefore fresh ones works best here. It's a great source of antioxidants and is fiber rich. Its low in calories and works well as a pre-workout snack.
How to make Blueberry Oatmeal Cookies
Firstly, I combined all the ingredients in a food processor (except blueberries) and processed it as much as possible. However, I did not blend it smooth so as to get a chewy texture of oats.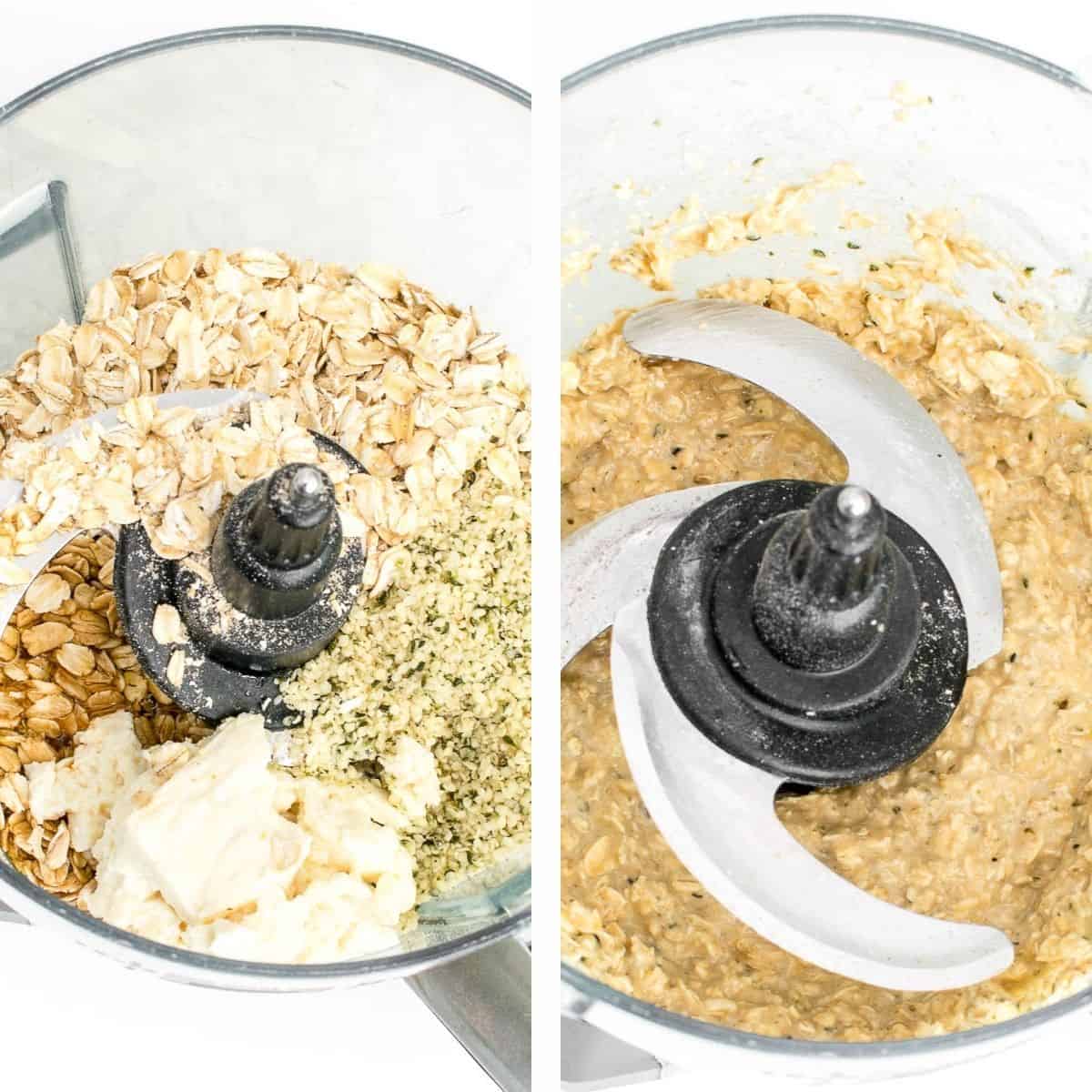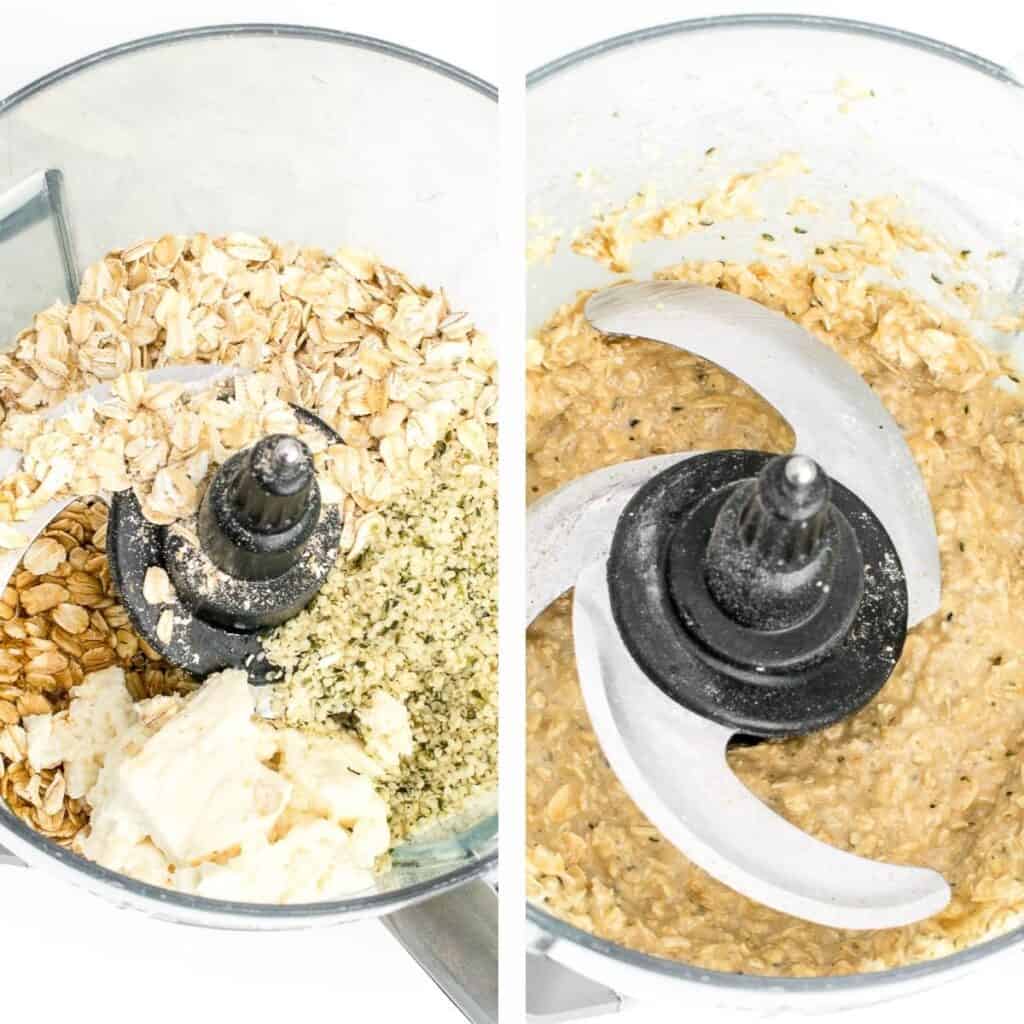 Secondly, I spooned it out in a mixing bowl.
Next, I folded in fresh blueberries and roughly mixed it with a spoon.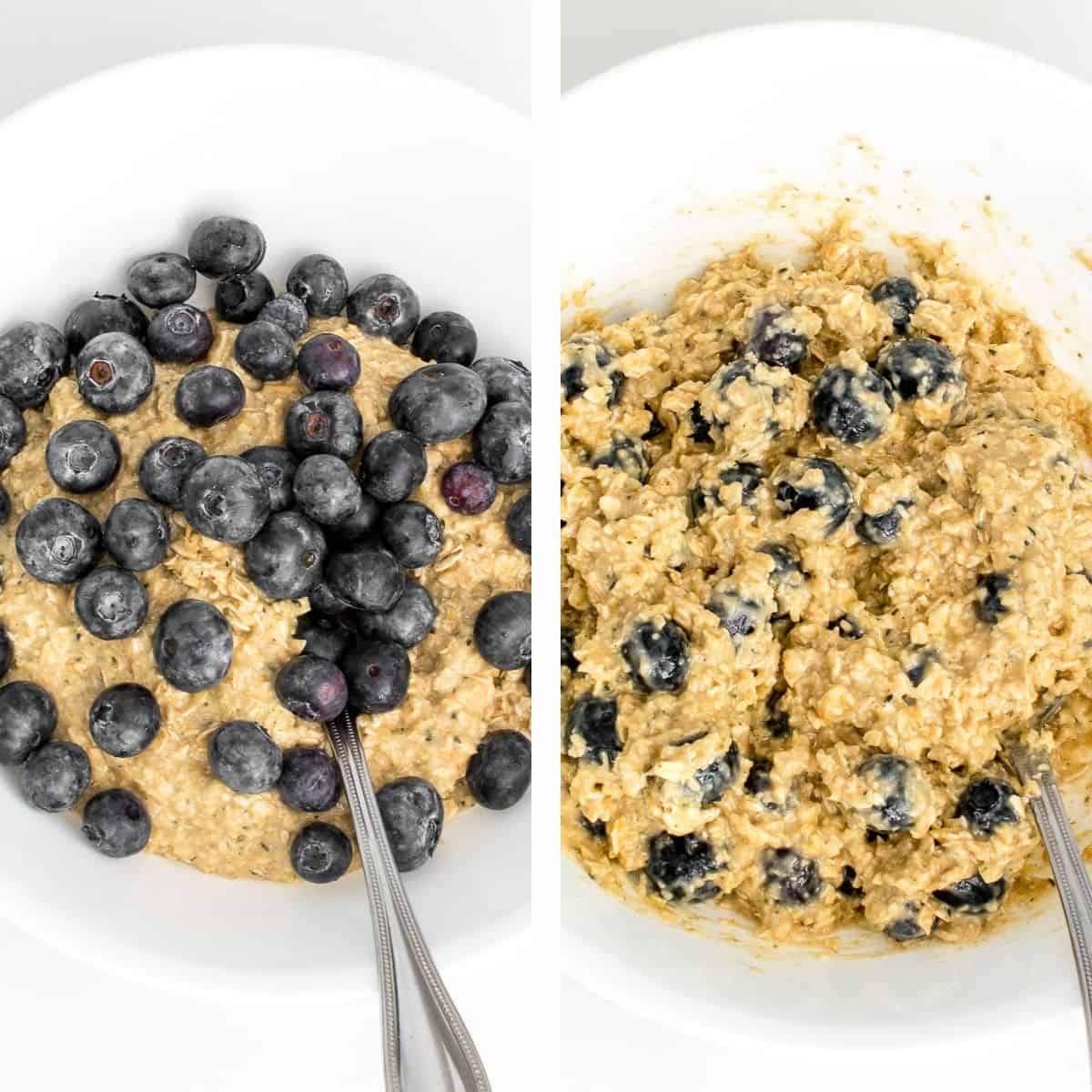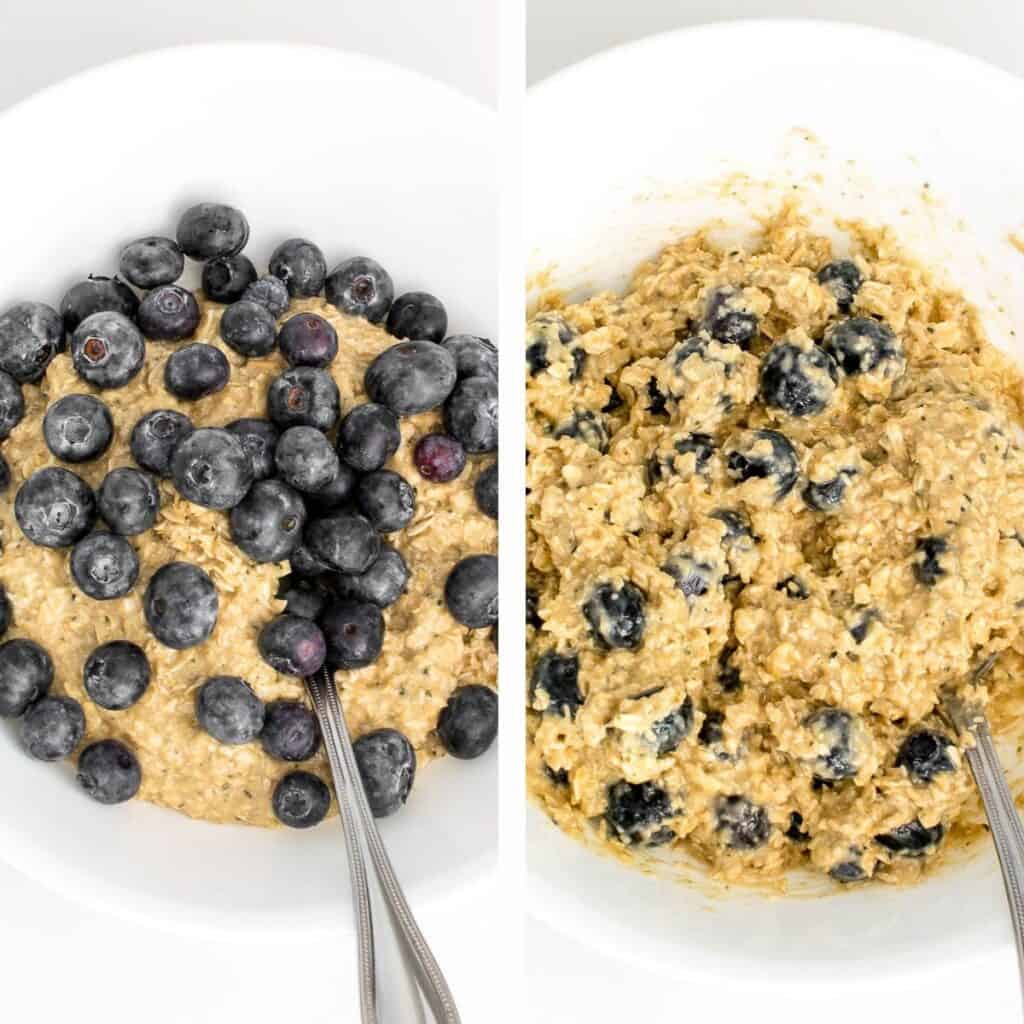 Thereafter, I placed 12 cookies on the prepared cookie sheet with the help of a cookie scoop.
Then, I shaped it gently with the fingers without picking it up.
Afterwards, I placed it in the middle rack of the oven and baked it for 25 minutes. Once done, I turned it off and let it settle for 2 minutes in the warm oven.
Lastly, I took it out and placed it on a flat surface. Then, I let it cool down completed so that it firms up.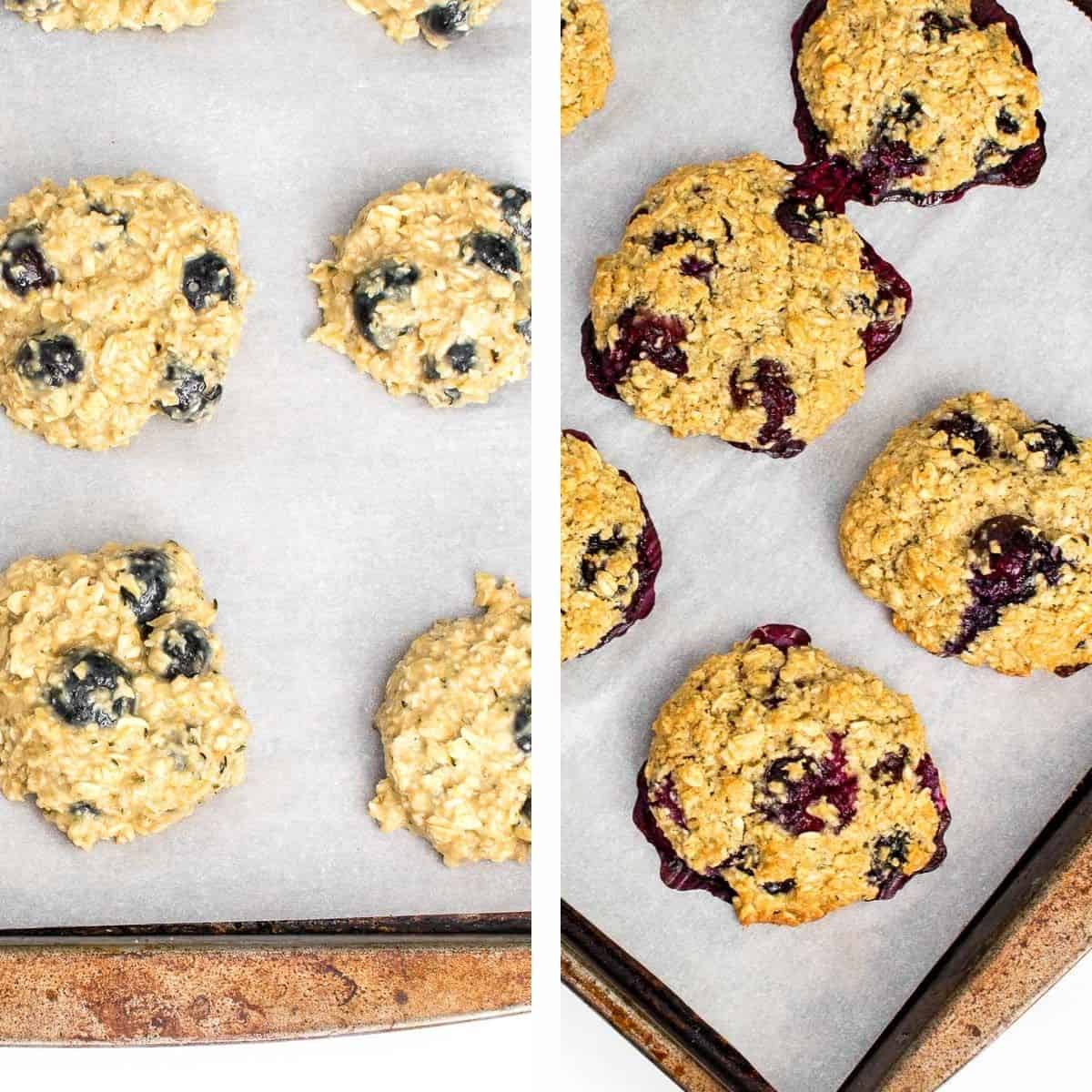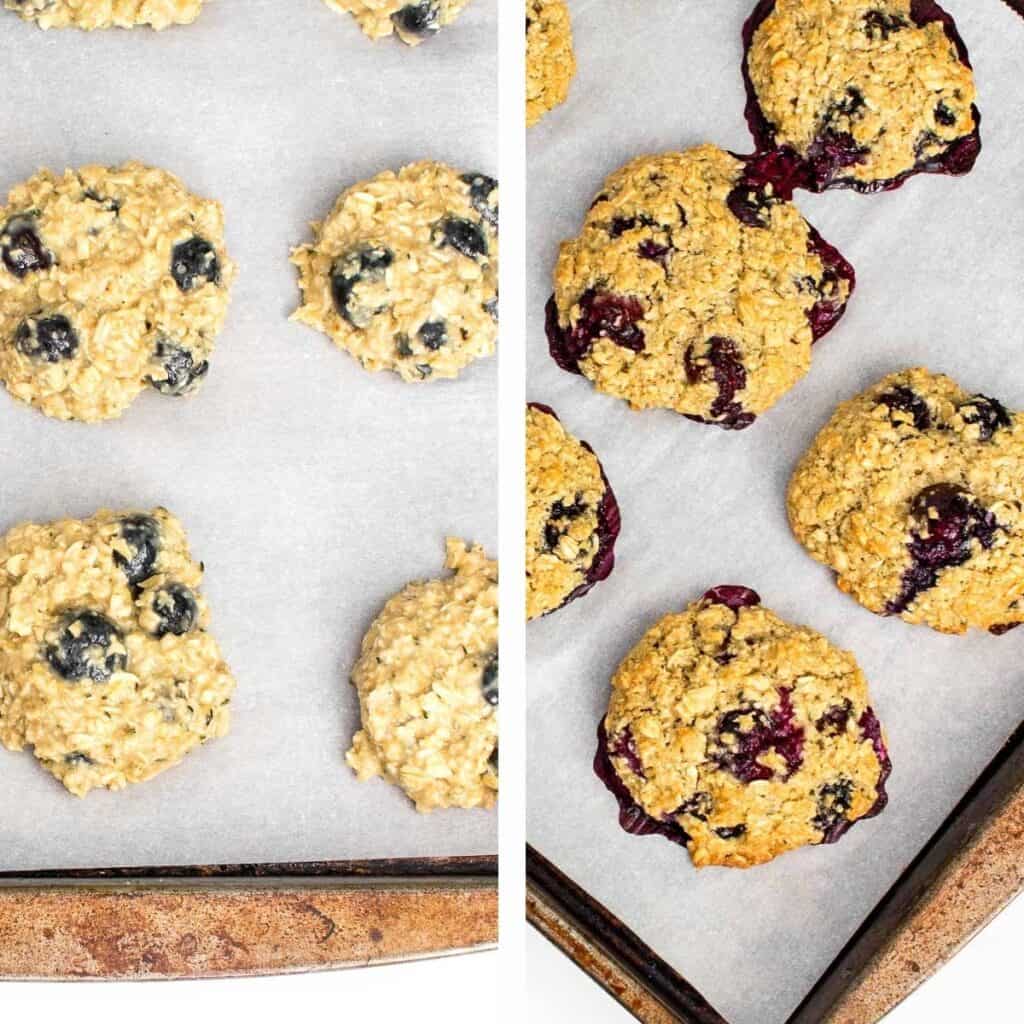 We loved it and has become our regular breakfast delight.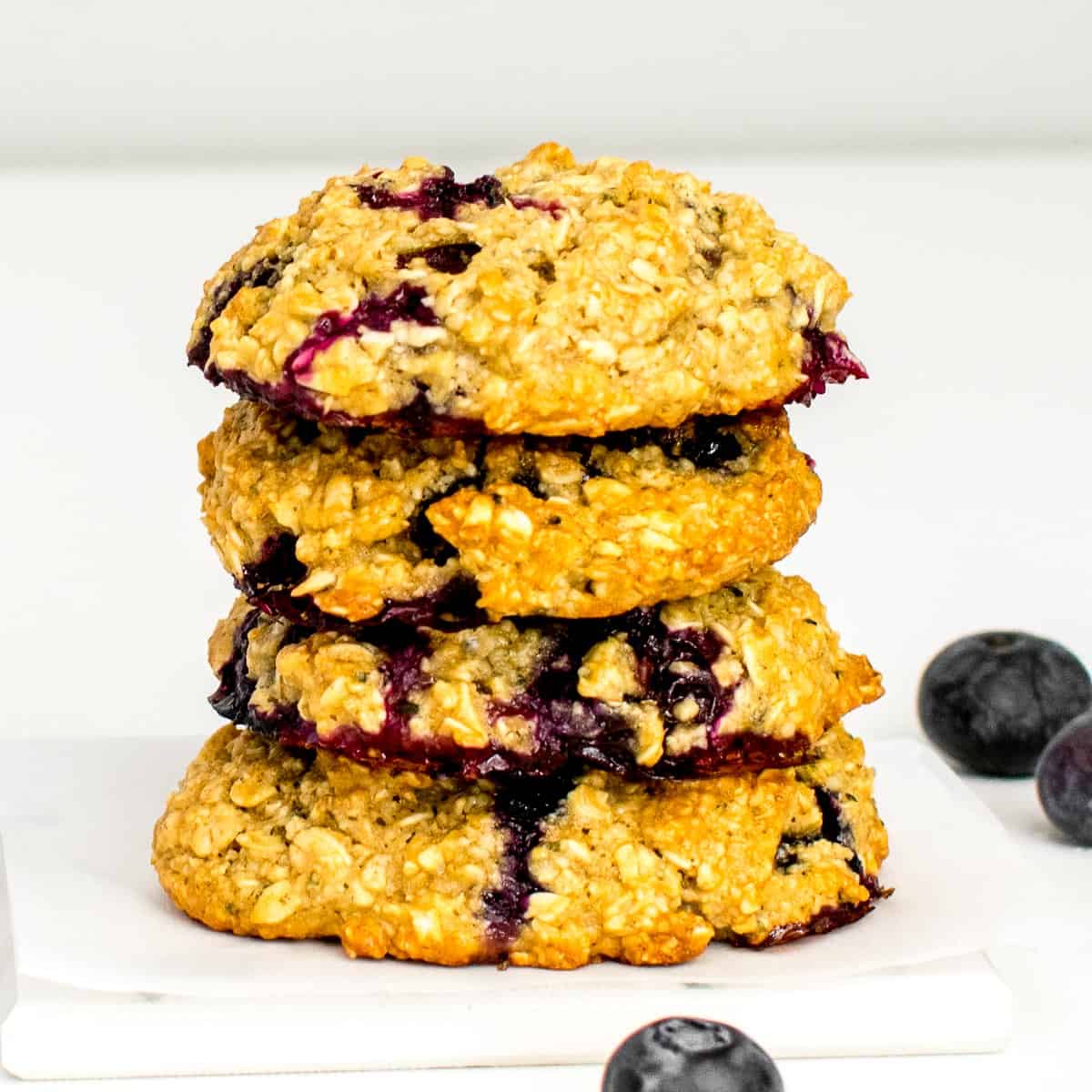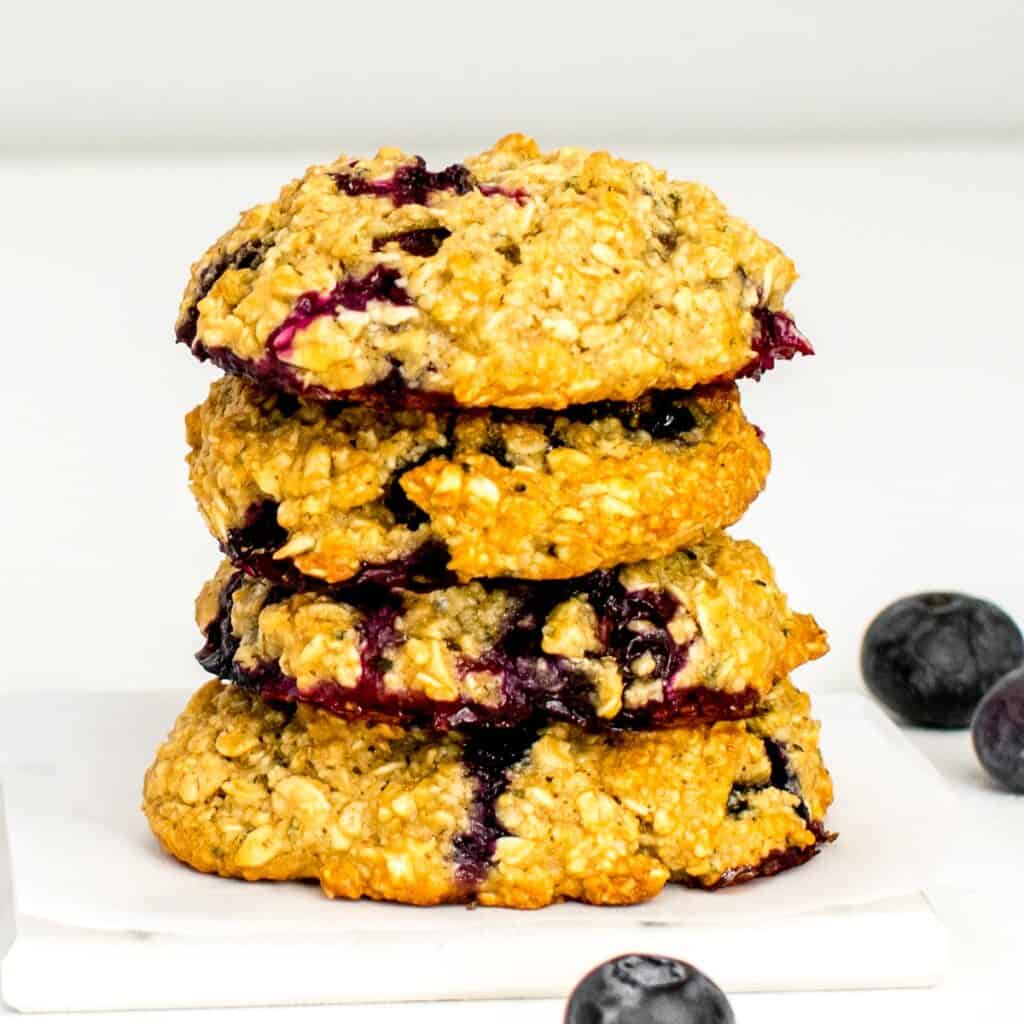 I personally enjoy it as my evening snack and sometimes like to satisfy my sweet cravings with these after dinner. Therefore, you may enjoy it in any way you want.
Expert tips:
It is important to dab the rinsed blueberries with a kitchen towel so as to avoid extra moisture in the batter.
While shaping the cookies make sure to not pick it up or disturb the center of these cookies. Simply gather the sides with fingers and roughly shape it round.
Most importantly, once baked let the cookies cool down completely because this process will firm them up completely.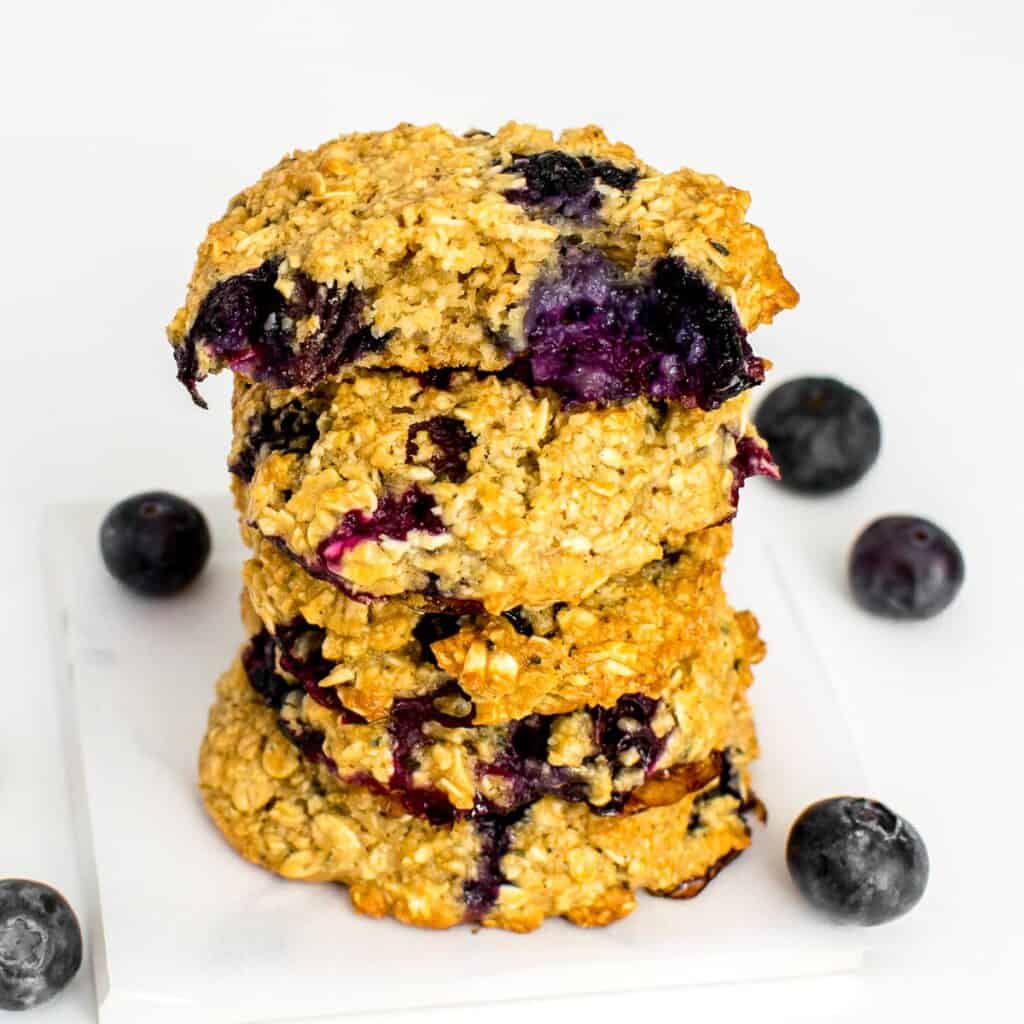 Blueberry Oatmeal Cookies FAQs
How long do they last?
These can be stored at room temperature in an air tight container for about 2-3 weeks. If refrigerated these can be stored up to 1 month. Simply toast it in a toaster oven and for 1-2 minutes. Cool down and enjoy.
Are these healthy?
I have used oats which is a healthy grain plus high fiber and a low GI food ingredient. It's the most preferred breakfast option for most types of diet. Moreover, I made it oil free and sugar free and added fresh blueberries to it. Therefore, it's a breakfast cookie which can be enjoyed frequently.
Can I use frozen blueberries in these cookies?
I used fresh blueberries specifically after blotting it with a tissue to avoid any extra moisture in its batter. Therefore, frozen blueberries would lot of moisture to this recipe and hence I would highly recommend to used fresh blueberries here.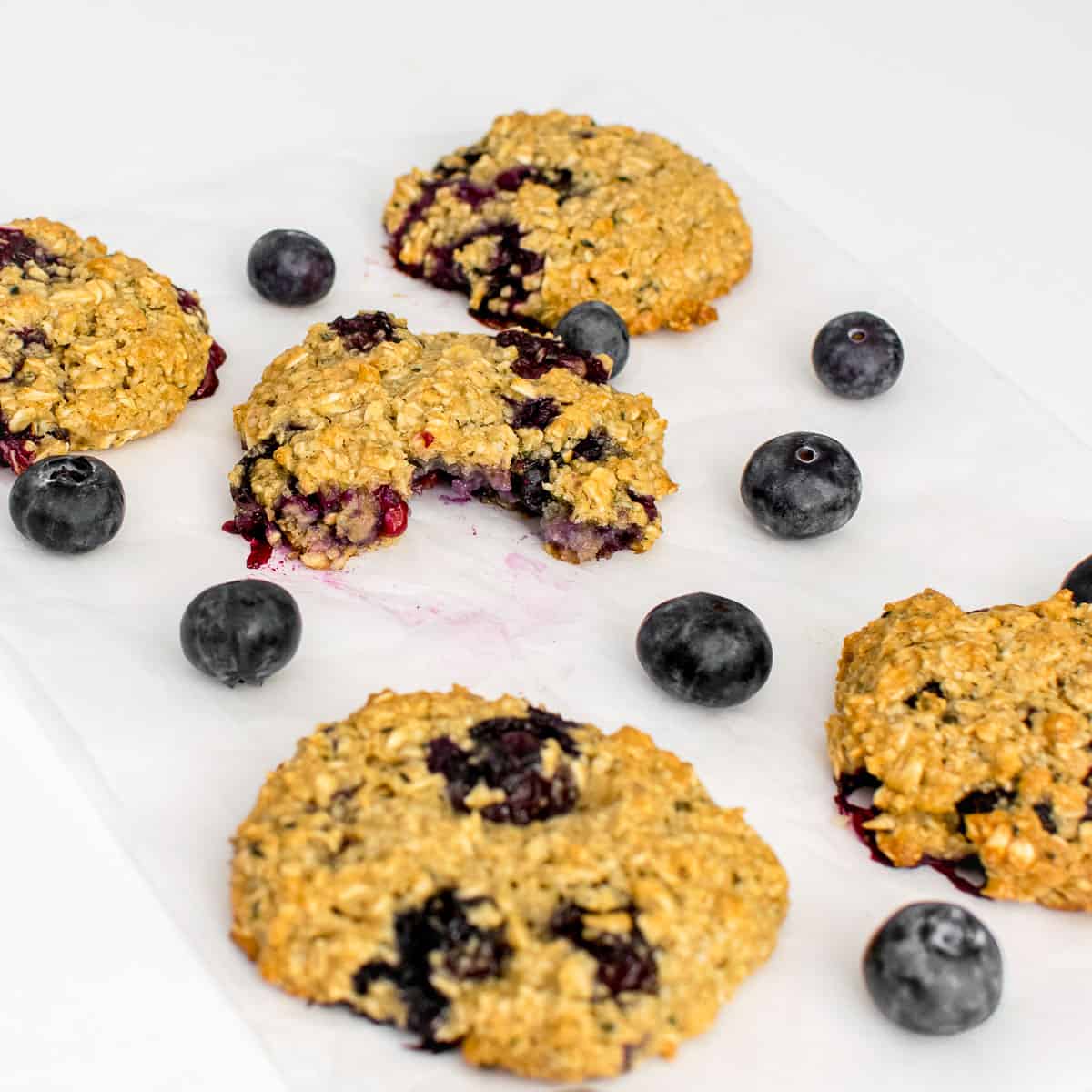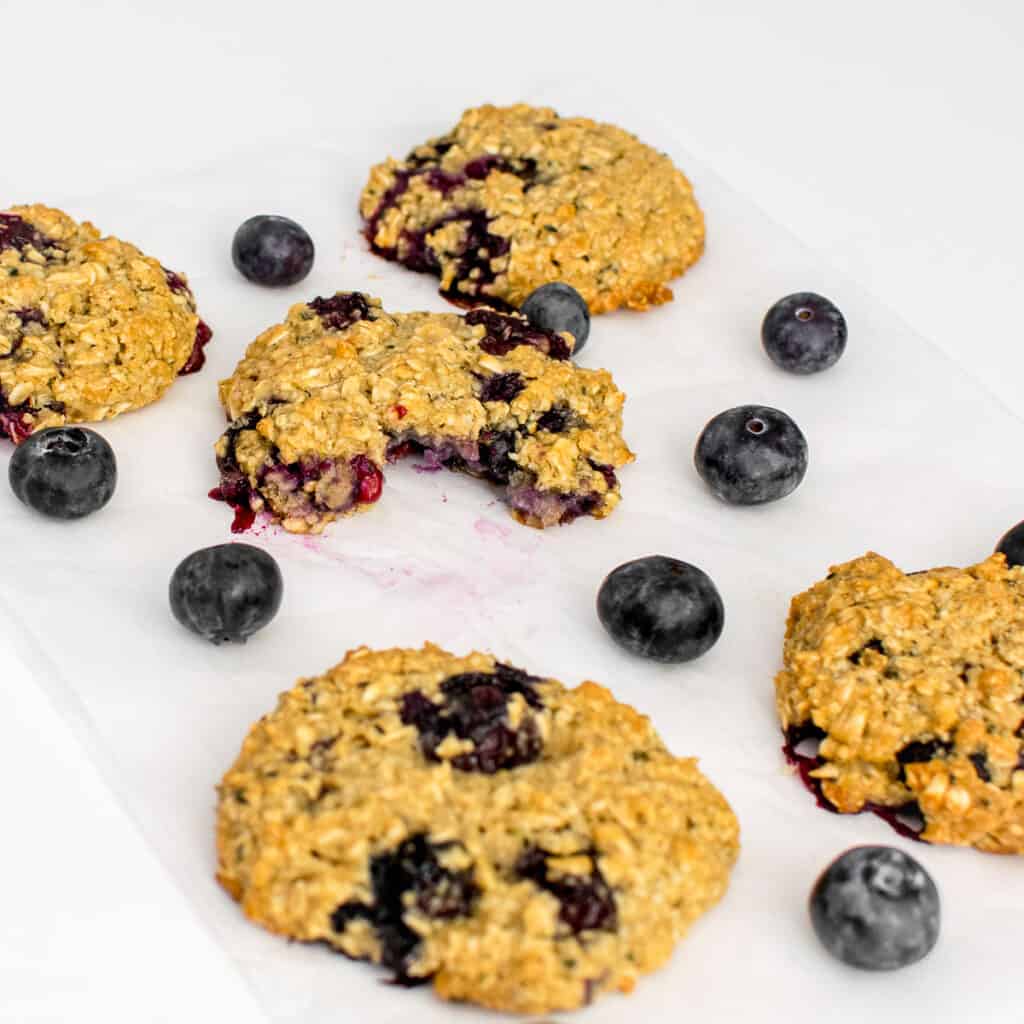 Did you make it?
If you get a chance to make this recipe then please leave your feedback in the comments along with a 5-star rating. In addition, you tag @kiipfit on Instagram with your remake images of these vegan blueberry oatmeal cookies because we would love to see what you baked.
You may also check out my cookbooks for everyday comfort vegan recipes.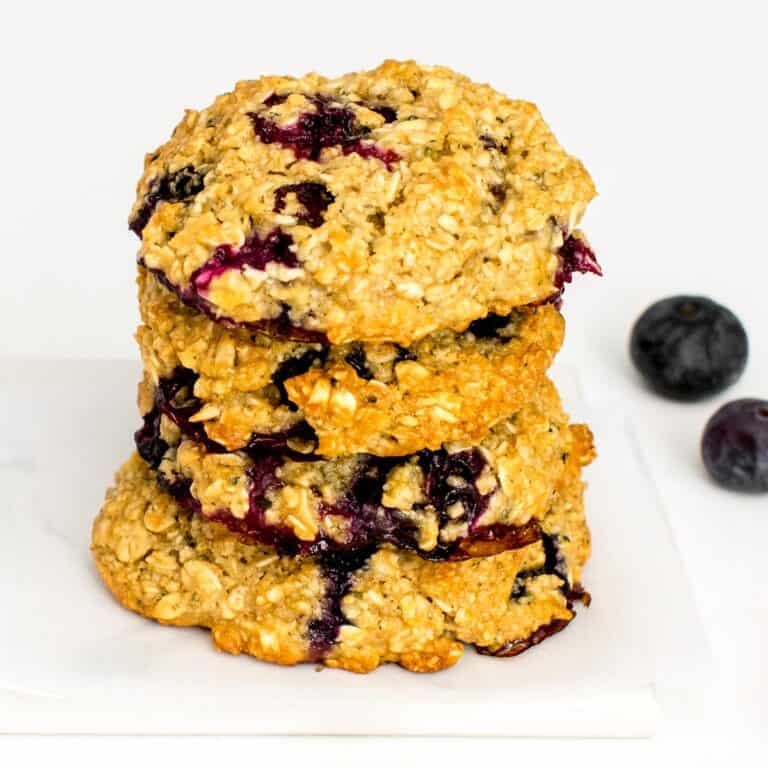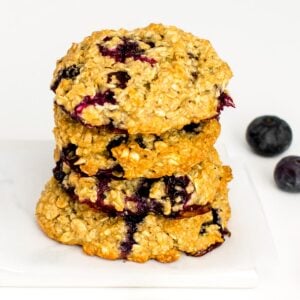 Print Recipe
Blueberry Oatmeal Cookies
These easy and healthy Blueberry Oatmeal Cookies are a perfect dessert for breakfast. Its oil free and made with only 8 ingredients. They are soft, chewy and a flavorful vegan treat.
Instructions
Preheat oven at 350-degree Fahrenheit and prepare a cookie sheet with a parchment paper. In a food processor combine all the ingredients(except blueberries). Grind it as long all the ingredients are blended but should be crushed like texture and not very fine.

Spoon it out in a bowl and fold in blueberries.

With the help of a cookie scoop place 12 cookies on it with 1/4-inch gap between each cookie. Then roughly with your finger shape them round as much a possible without disturbing the top or the middle. Just shape it from the sides. (do not overdo this step). Bake it in the middle rack of the oven and bake it for 25 minutes. Turn it off and let it settle in the warm oven for only 2 minutes. Take it out and place it on a flat surface. Let it cool completely so that the cookies firm up. Enjoy!
Notes
Rinse the blueberries and blot them with kitchen towel to avoid any extra moisture in the batter.
Do not over blend the batter. You can simply use the crush mode or pulse it for about 2 minutes.
Silken tofu can also be used but make sure to drain it.
Rolled oats or steel cut oats can also be used in this recipe.
These cookies can be stored in an air tight container for about 2-3 weeks at room temperature and up to 1 month in the refrigerator.
This recipe makes 12 cookies and the serving size is 1 cookie per person.
Nutrition
Calories:
102
kcal
|
Carbohydrates:
18
g
|
Protein:
4
g
|
Fat:
2
g
|
Saturated Fat:
1
g
|
Sodium:
51
mg
|
Potassium:
119
mg
|
Fiber:
1
g
|
Sugar:
8
g
|
Calcium:
42
mg
|
Iron:
1
mg