This soft and perfectly baked Tomato Herbed Spelt Bread is absolutely desirable. Its quick, yeast free, vegan and serves well as a toast or as a sandwich.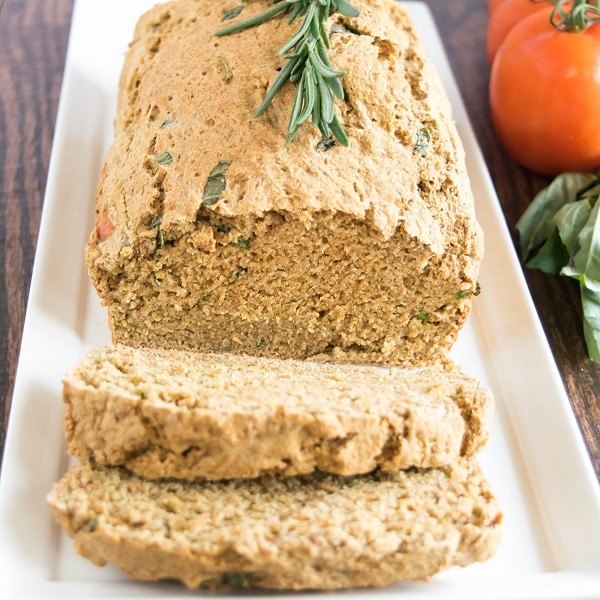 My family loves Bread and so it is consumed in good amount in my household. Also, I prefer baking fresh healthy breads at home so as to avoid the hidden ingredients in the store bought breads.
Its a flavorful and a family friendly bread. I am sure once you get the hang of this recipe, you will love it immensely.
This time I thought of adding some flavors to my home baked bread. Since, I found spelt flour in the natural food aisle in the grocery store, I quickly grabbed it. As a result I started planning to bake a bread in my mind.
I have a tendency to grab any food that is healthy aisle in the grocery store. Thereafter, my mind starts to work on creating healthy recipes. I was trying spelt flour in my recipe for the first time and I kept my fingers crossed. 🙂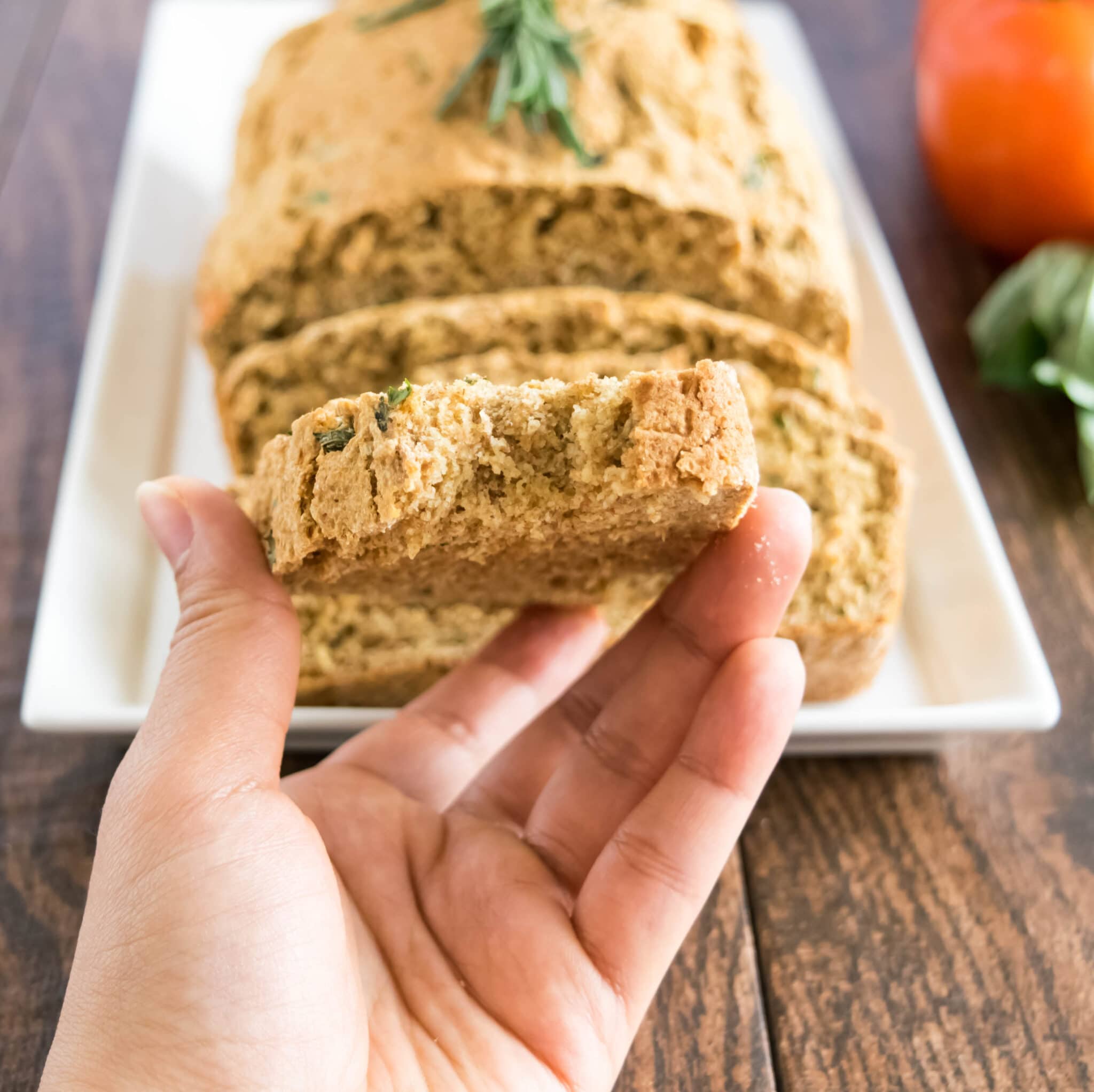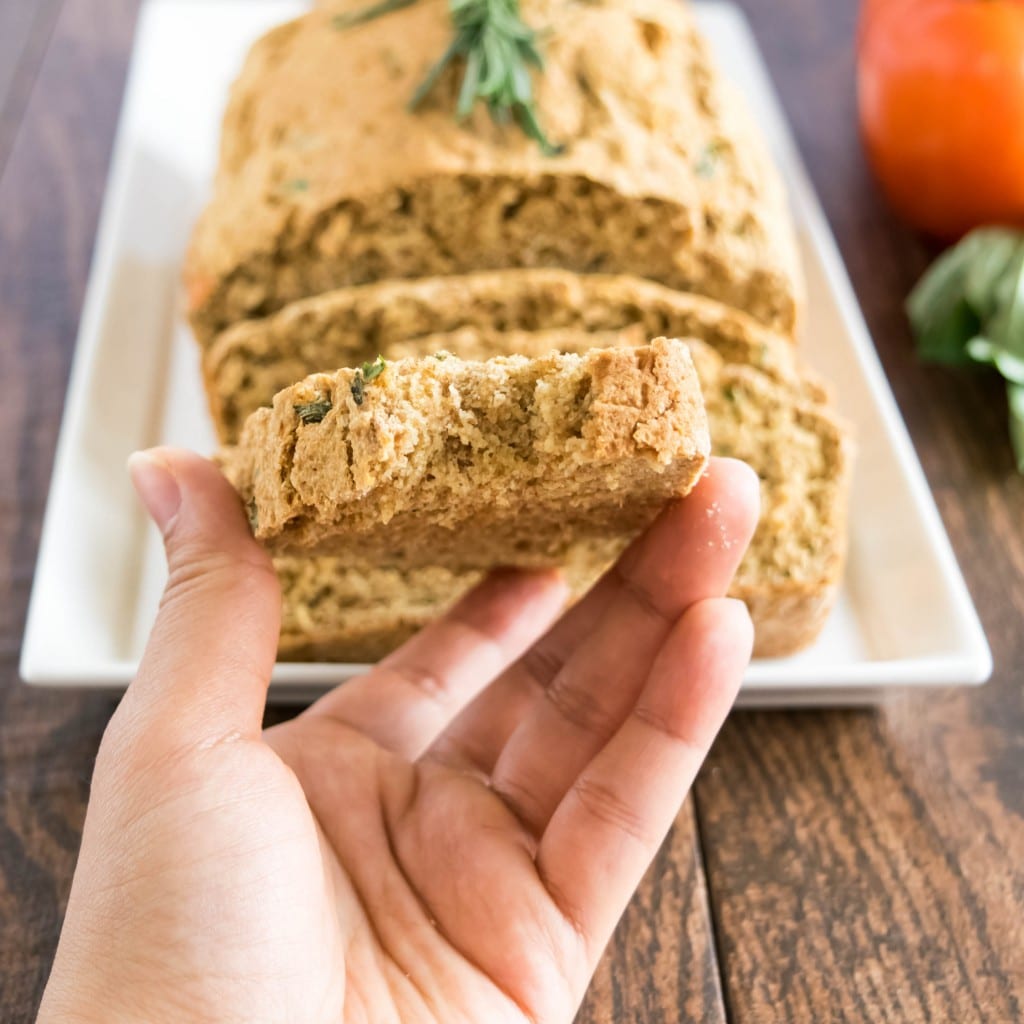 Spelt Flour is whole grain non wheat flour that is used in many ways. It is cultivated in Central Europe and Middle East. It is from the wheat family and contains gluten but at the same time it's different from the wheat. It's a great substitute for whole wheat flour and especially for those who are wheat allergic but can consume gluten. Spelt flour comes in 2 varieties – white spelt flour and whole grain spelt flour. Spelt flour is easily available I the health food store or natural ingredients aisle in the grocery store.
Ingredients for Tomato Herbed Spelt Bread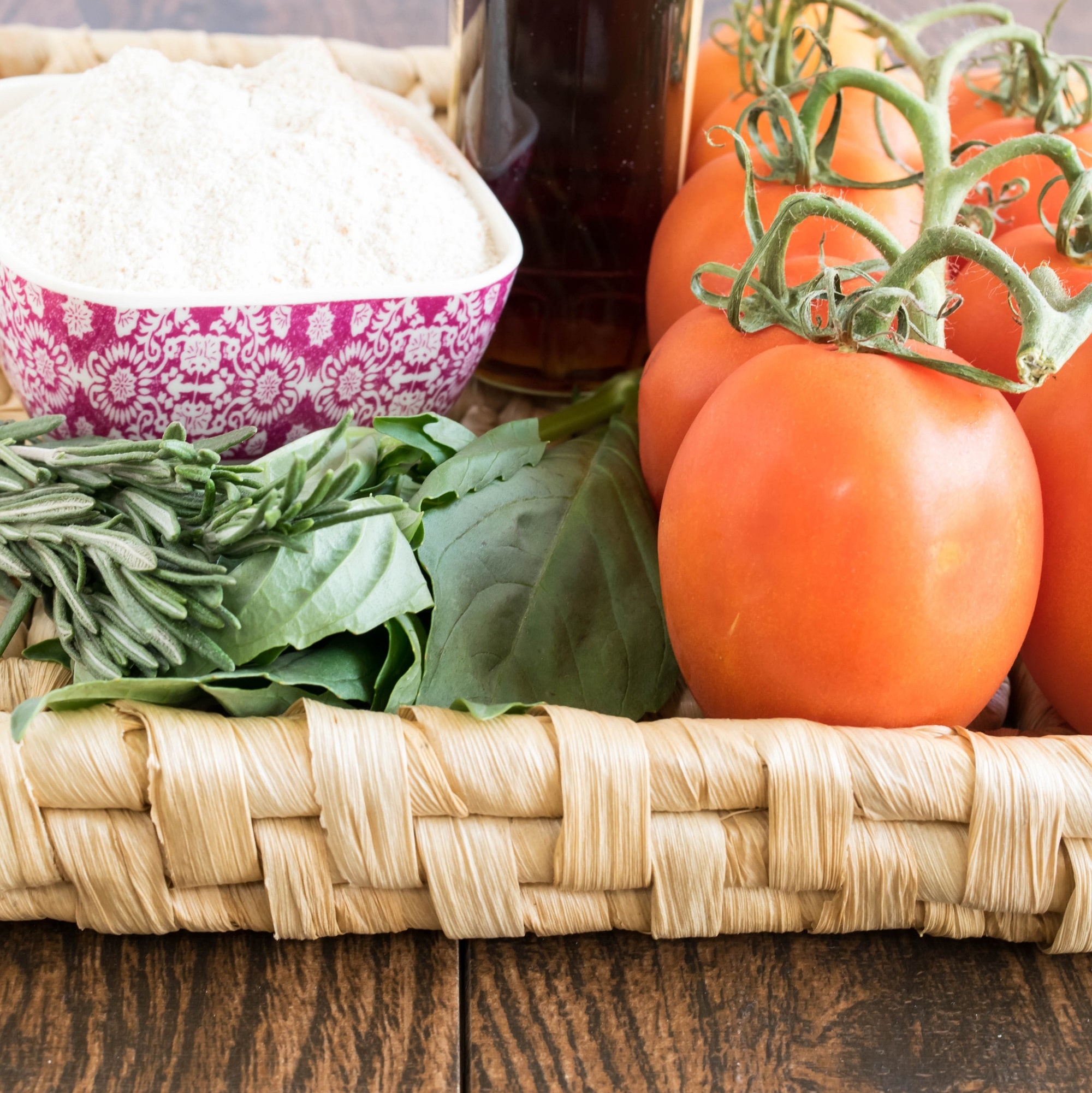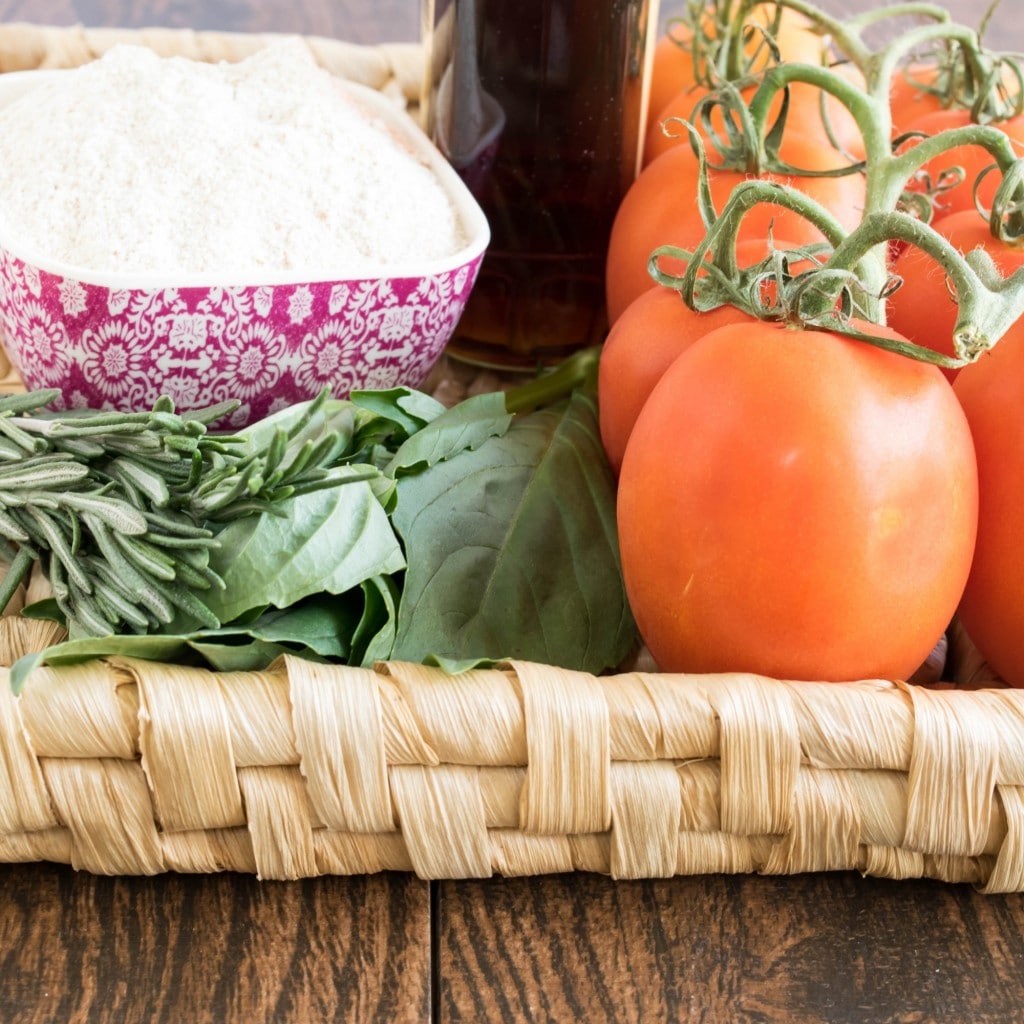 I decided to use fresh Roma tomatoes and fresh mixed herbs like rosemary and basil mixed in with spelt flour. Then, I formed a nice soft dough out all the ingredients. Afterwards, I shaped the dough as per the loaf pan. Next, I baked it and within minutes this aromatic bread was ready. Lastly, I let it cool down and sliced it.
It looked gorgeous but a question was there in my mind. Does it also taste as good as it looks?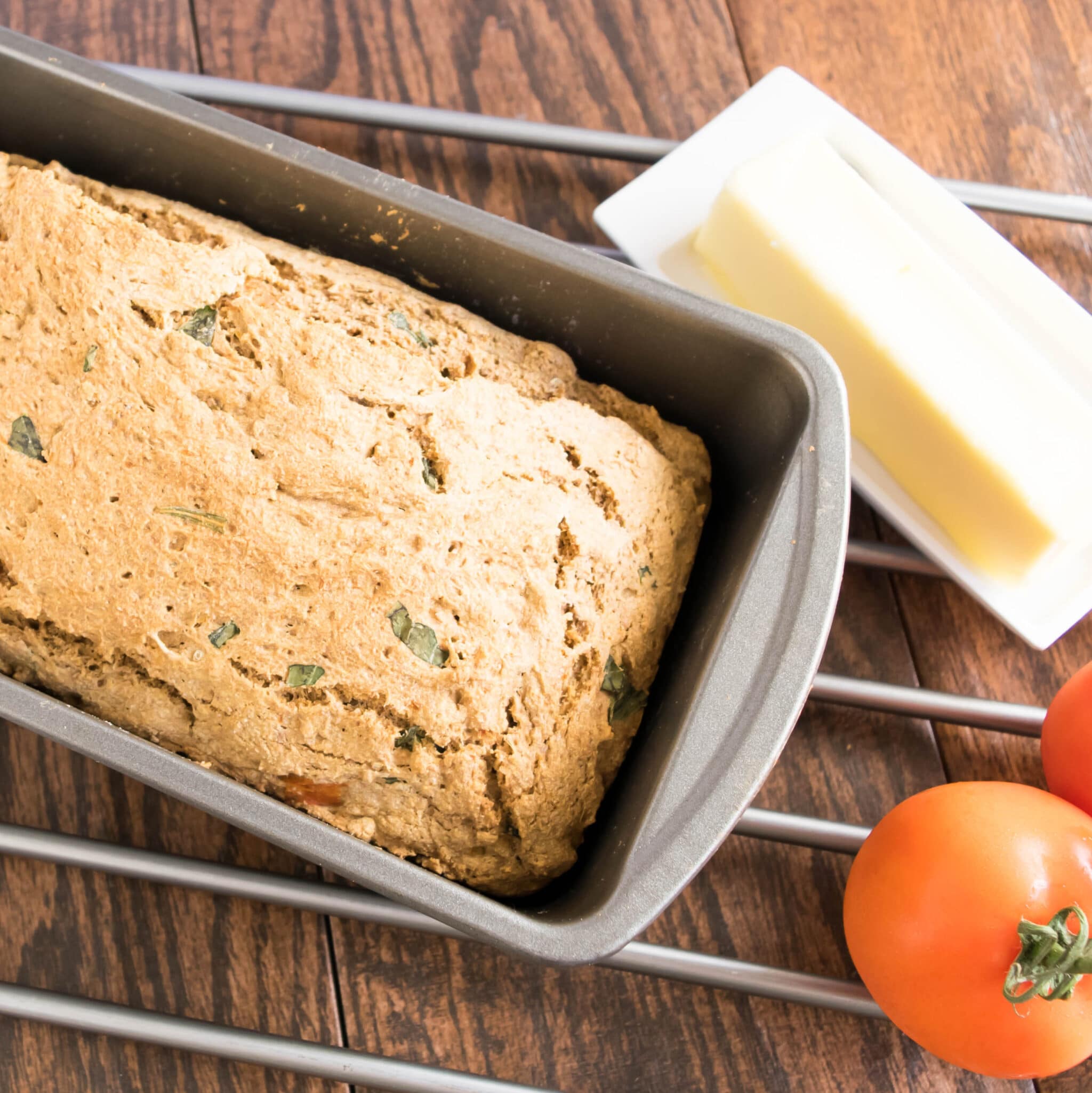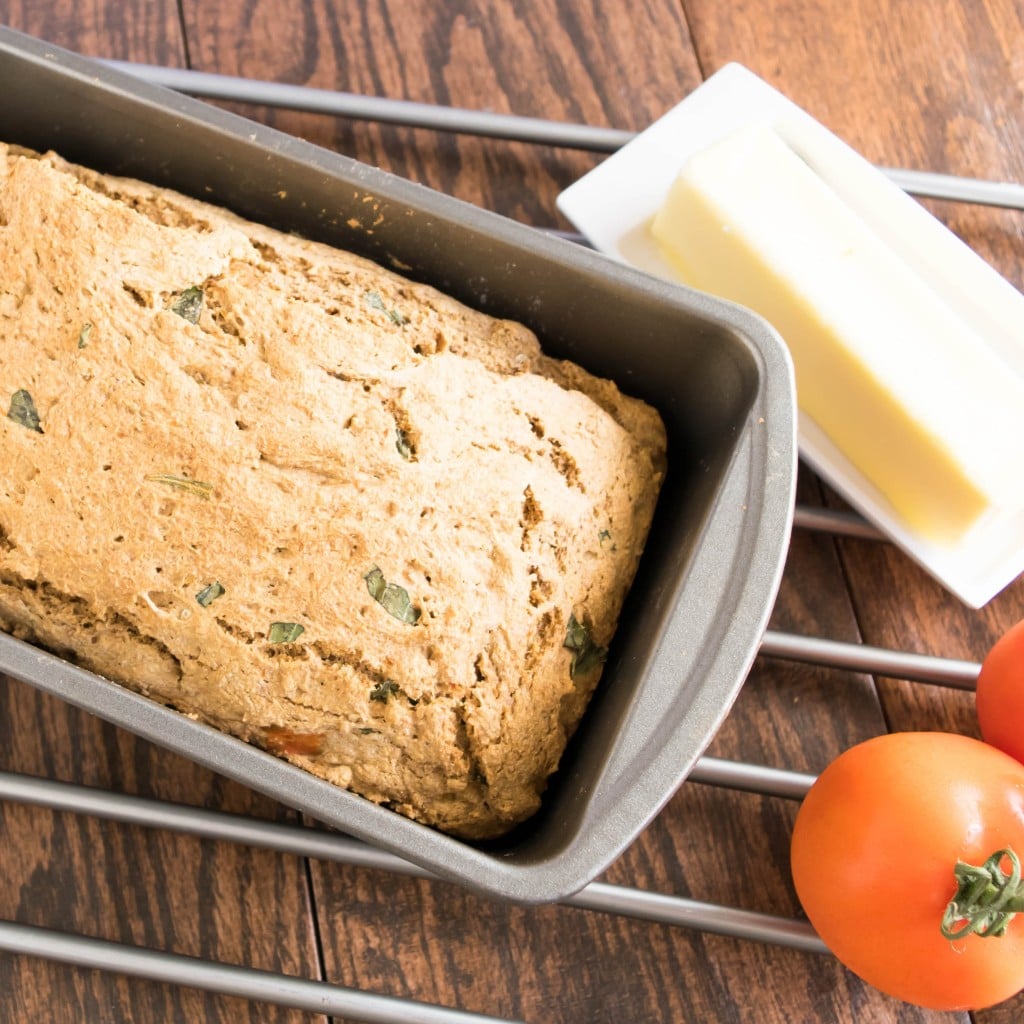 I cut the first slice and took a first bite of the bread. I took another bite and then another bite and finished the whole slice of the bread. The bread was so soft from inside with the distinct flavor of herbs and tomatoes that gave it a mild Italian taste to it. It tasted even better when toasted crisp and with a hint of butter. I screamed out of excitement Deeliiciousss!!!
I was so excited to serve the Tomato Herbed Spelt Bread to my husband.
It was easily consumed in a week's time and my husband asked to bake another batch. Hahaha. I could not contain my happiness and now I bake Tomato Herbed Spelt Bread quite regularly. 🙂
Tomato Herbed Spelt Bread FAQs
How long does this last?
This has a shelf life of about 1 week at room temperature in an air tight container and about 3 weeks in the refrigerator.
How does it taste like?
Its is a savory sandwich bread. It has a nice flavor of the herbs and a mild tang of tomatoes. The spelt flour in this recipe gives it a nice thickness and helps in easy baking.
Is it yeast free?
Absolutely! This spelt bread is yeast free.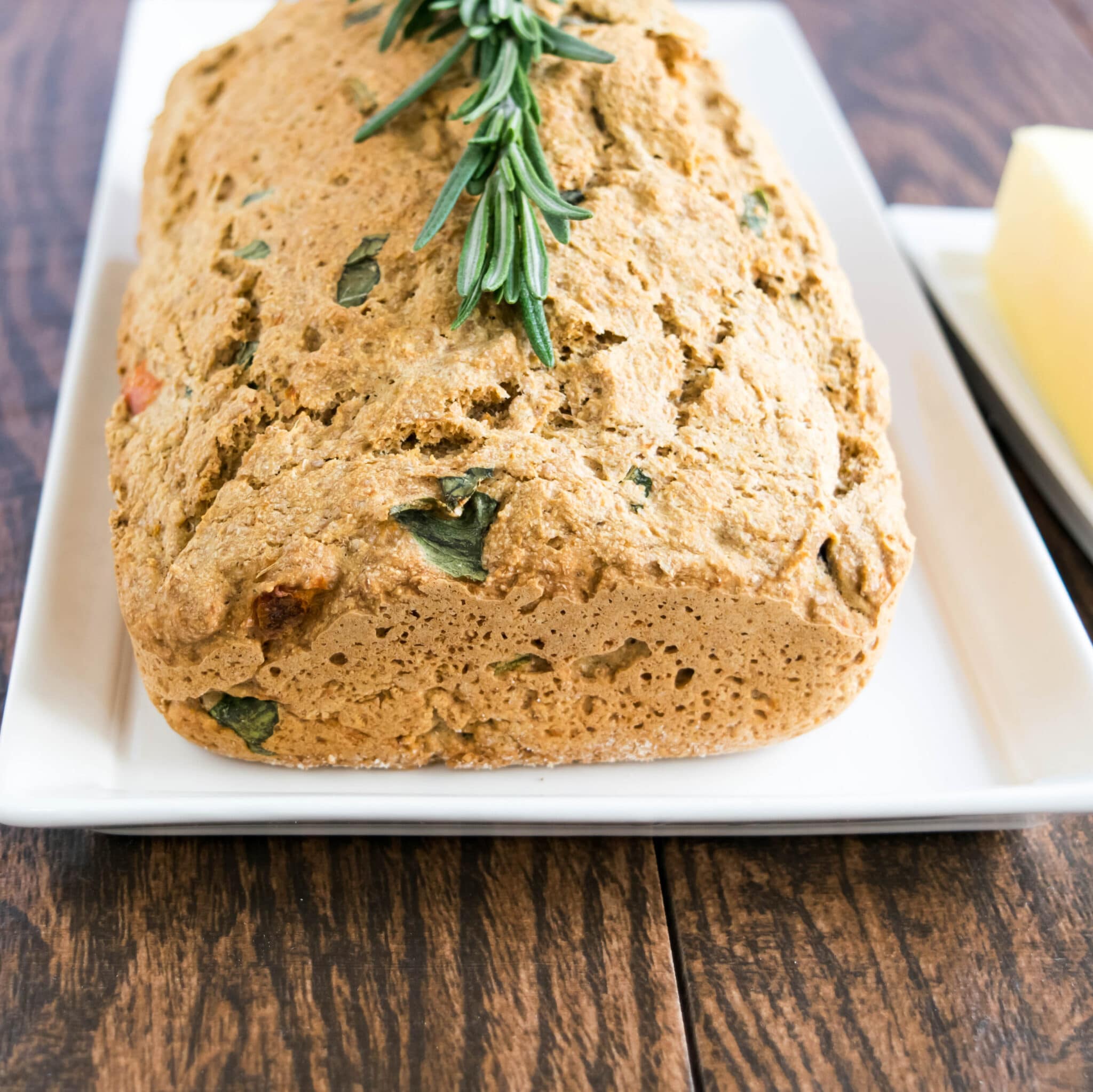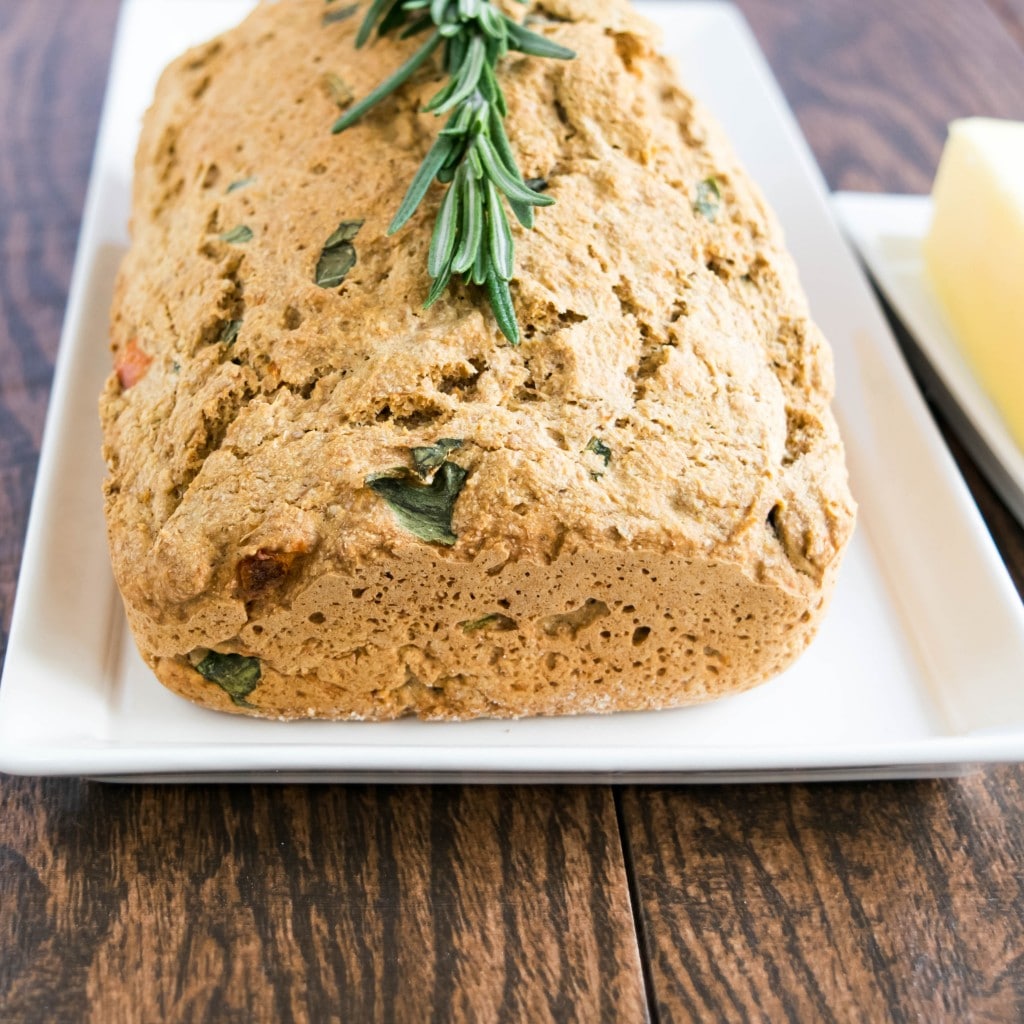 You may also like:
Did you make it?
If you get a chance to make this recipe then please leave your feedback in the comments below to see along with the ratings. In addition, you may tag @kiipfit on Instagram because we would love to see what you cooked.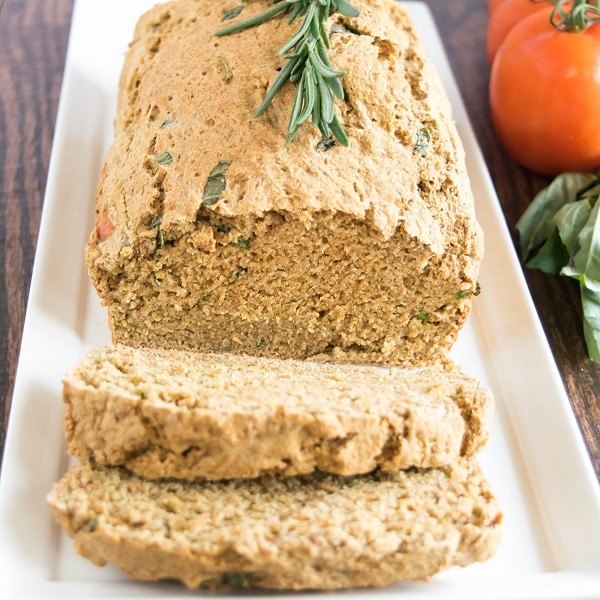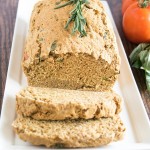 Print Recipe
Tomato Herbed Spelt Bread
This soft and perfectly baked Tomato Herbed Spelt Bread is absolutely desirable. Its quick, yeast free, vegan and serves well as a toast or as a sandwich.
Ingredients
3

whole

Roma tomatoes

[blanched and peeled]

1/4

cup

maple syrup

1

tbsp

olive oil

1/4

cup

mixed herbs

[rosemary and basil]

4

cups

whole grain spelt flour

1/2

tsp

salt

1

tsp

baking powder

1

tsp

baking soda

1

cup

water
Instructions
Preheat oven at 375 degree Fahrenheit. Prepare a 9×5 inch loaf pan by greasing and dusting it.

Puree the tomatoes in a grinder and add maple syrup and blend well. Then, pour the tomato puree in a bowl and add oil and herbs.

In a separate mixing bowl combine spelt flour, salt, baking powder and baking soda and mix properly with a spoon.

Pour the tomato puree mix to the flour and mix with a spoon. Add water and mix with a spoon or with your hand. I initially mixed the batter with spoon and later mixed properly with hand. The batter will take the form of very soft dough.

Put the dough into the pan and spread gently to shape it according to the pan.Now, place the loaf pan into the oven on the middle rack and bake for 35-40 minutes or until the tester comes out clean.

Take the bread out of the oven and let it cool for a while. Cut into slices and serve warm with butter/margarine or make a sandwich out of it.
Notes
The above recipe measurement yields 1 loaf. The loaf yields 14 slices and serving size is 1 slice per person
.I used fresh herbs in the recipe but you may use dried herbs. Increase the quantity of dried herbs to ½ cup.
Can be stored in an air tight container in the refrigerator for 1 week.
Nutrition
Calories:
196
kcal
|
Carbohydrates:
40
g
|
Protein:
7
g
|
Fat:
2
g
|
Saturated Fat:
1
g
|
Sodium:
175
mg
|
Potassium:
55
mg
|
Fiber:
1
g
|
Sugar:
3
g
|
Vitamin A:
90
IU
|
Vitamin C:
1
mg
|
Calcium:
23
mg
|
Iron:
1
mg