This Asian flavored Spicy Cashew Broccoli Stir Fry is easy to bring together and takes about 20 minutes to serve. Its salty, savory and a satisfying comfort weeknight entrée.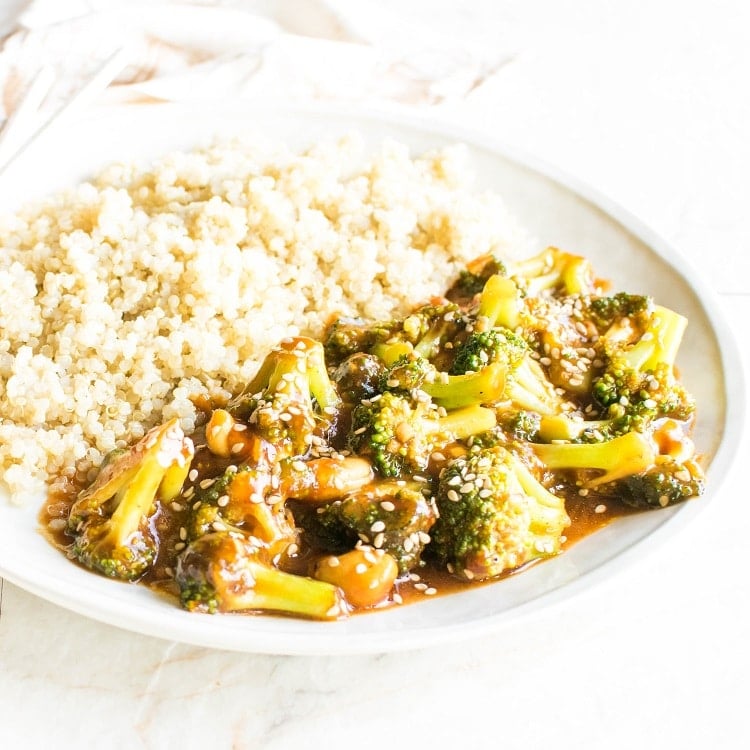 I love cashew broccoli stir fry option on menus but I find them too greasy. Hence, I wanted to replicate the same taste at home but a bit healthier.
Therefore, I came up with my version of spicy stir fry with cashew and broccoli.
I like it to have a little gravy so its not super dry. But eventually the all the liquid is absorbed making it a true stir fry.
What are the health benefits of broccoli?
Broccoli is a good source of vitamin K and C. It helps in building collagen which in turn helps in healing wounds. It also provides folate. It's a super food vegetable and is loaded with fiber and antioxidant.
I often like to be creative with broccoli and my air fryer broccoli is definitely a must try. I love to make breakfast cutlets with broccoli and my broccoli cheese sauce with spaghetti is quite popular.
Ingredients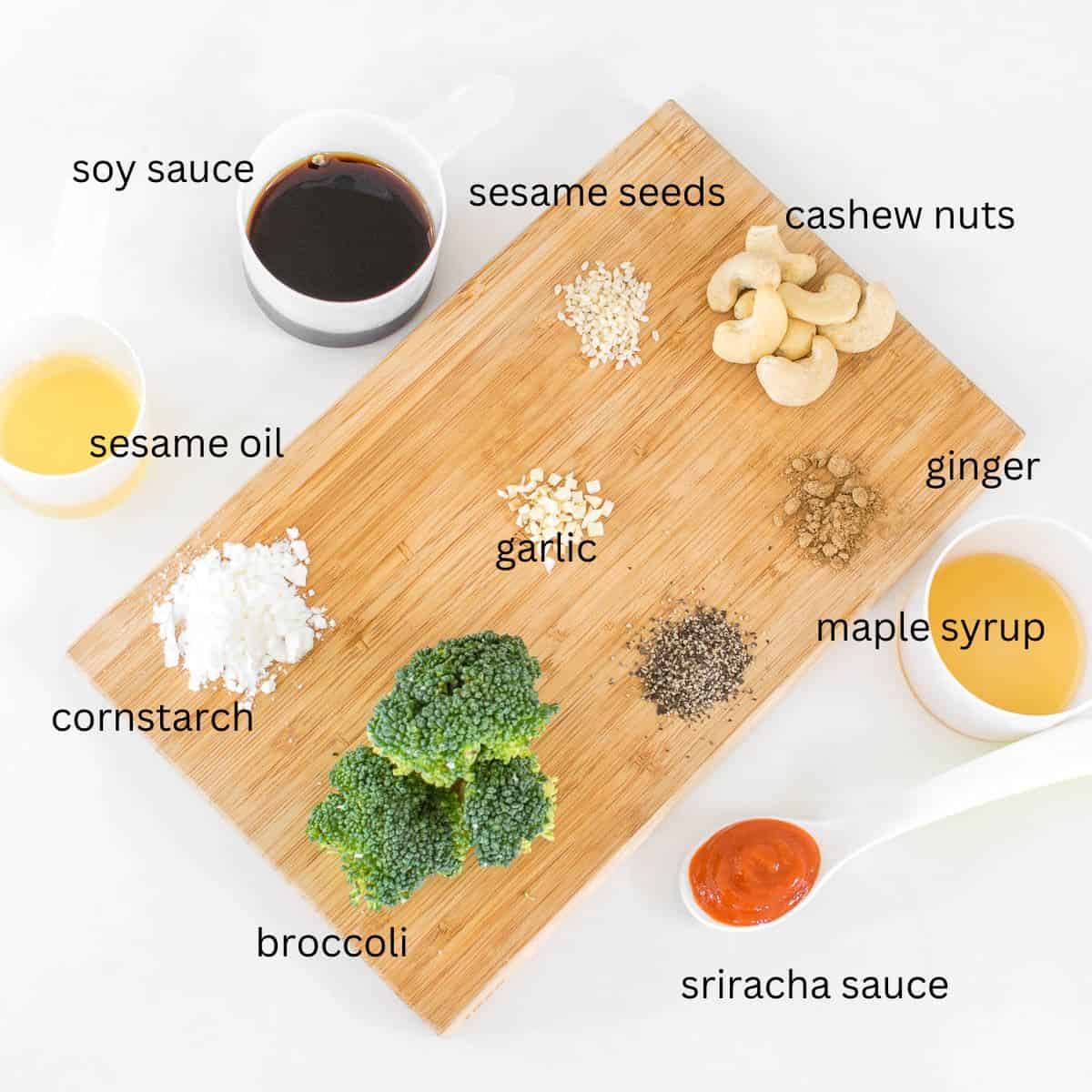 Ingredients notes
Broccoli – Its important to blanch for the best results. Make sure to use fresh broccoli florets and not frozen. You may cut your own broccoli florets or buy ready to use broccoli florets in this recipe.
Soy sauce – I use low sodium soy sauce since its a salty dish. Regular soy sauce will make this vegan broccoli stir fry very salty and we may have to change the measurements of the ingredients too.
Sriracha sauce – This works excellent in spicing up the dish. So, I would highly recommend you to use sriracha sauce for this stir fry recipe.
Cashew nuts – I recommend using raw cashew nuts because this entrée is salty already. So to balance all the flavors nicely it is important to use raw cashew nuts. However, if you love cashews then you can increase its quantity.
For detailed measurement of ingredients, please scroll down to the printable recipe at the bottom of this post.
How to make
Firstly, I blanched broccoli florets. So, I boiled water in saucepan and stirred in broccoli florets for 2 minutes. (I boiled water just enough to cover all the broccoli florets).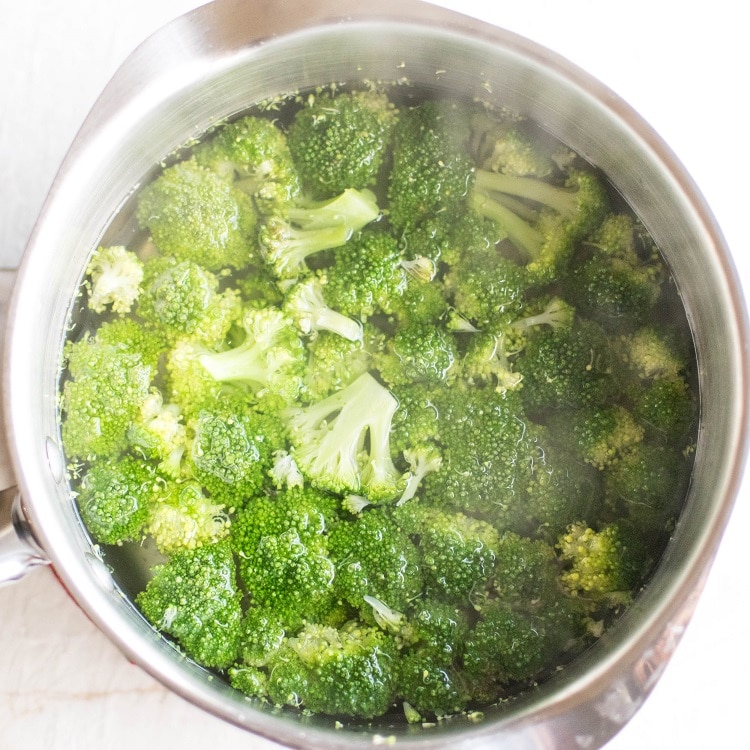 Secondly, I drained it and cooled it down to room temperature.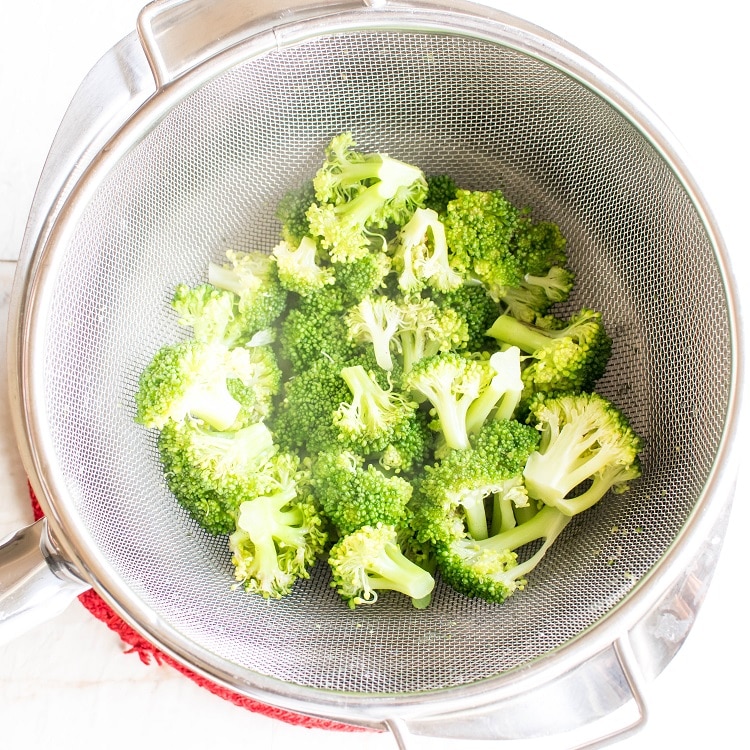 Thereafter, in a mixing bowl, I combined cornstarch and broccoli florets and mixed them. I made sure that the florets do not break while mixing. Then, I kept it aside.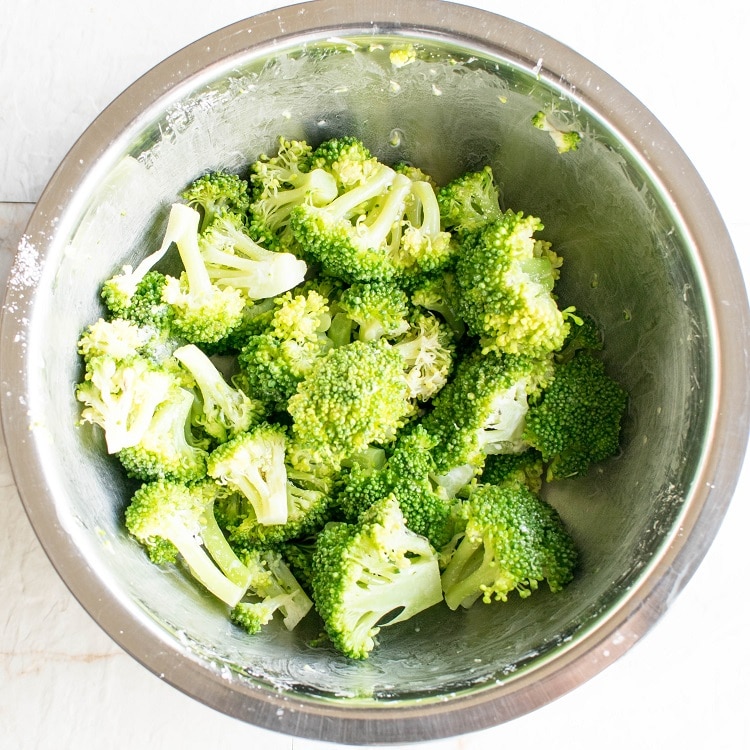 Next, in another mixing bowl, I whisked in soy sauce, vegetable broth, sriracha sauce, garlic, ginger, maple syrup and black pepper.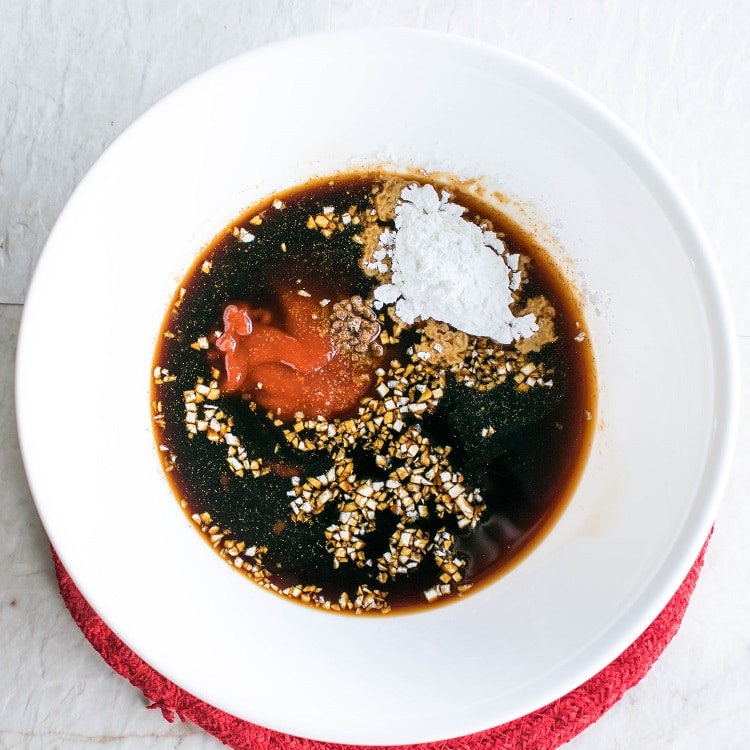 Thereafter, I heated sesame oil in a wok and sauteed cashew nuts until golden.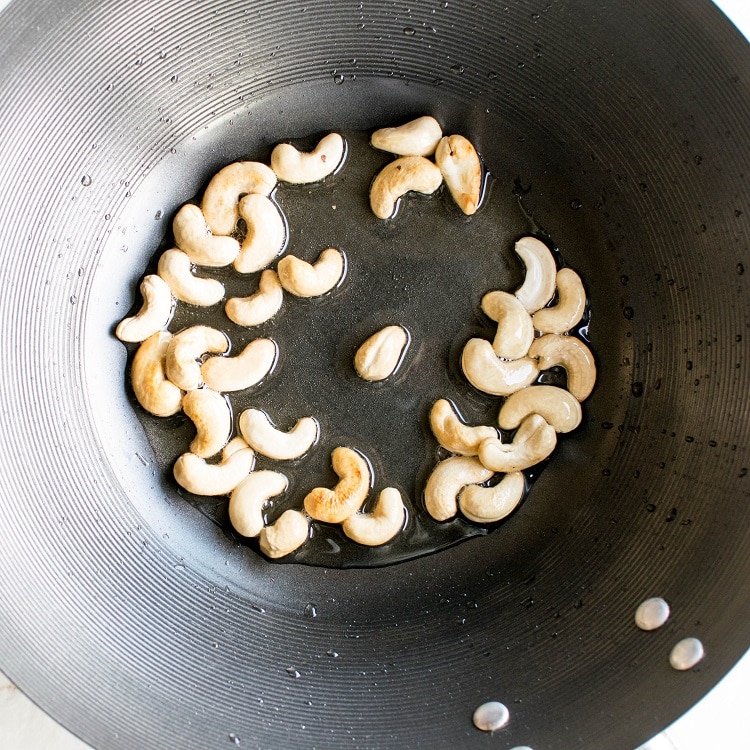 Afterwards, I sauteed the prepared broccoli florets in it until well coated with oil.

Then, I poured the sauce in it and mixed all the ingredients well.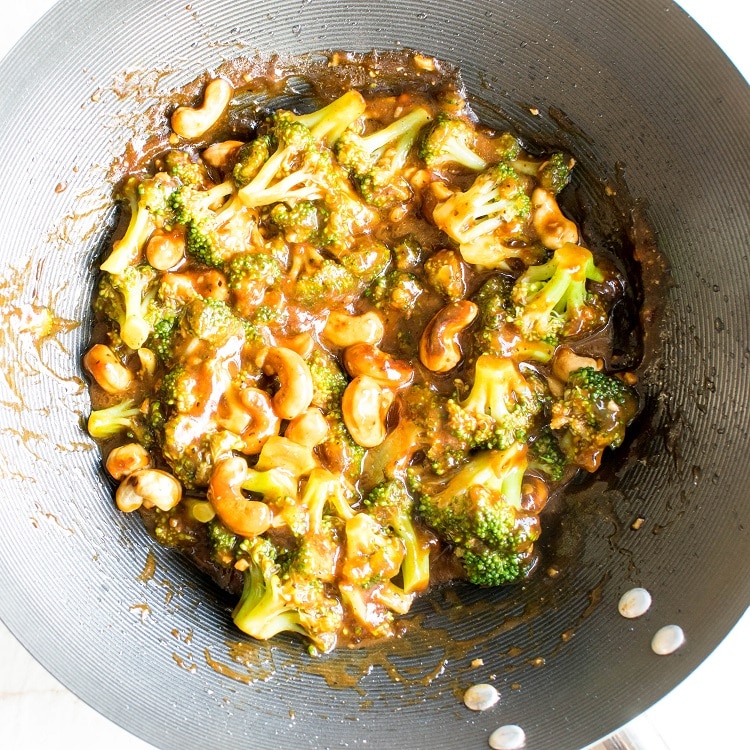 Lastly, I stirred in white sesame seeds and served immediately.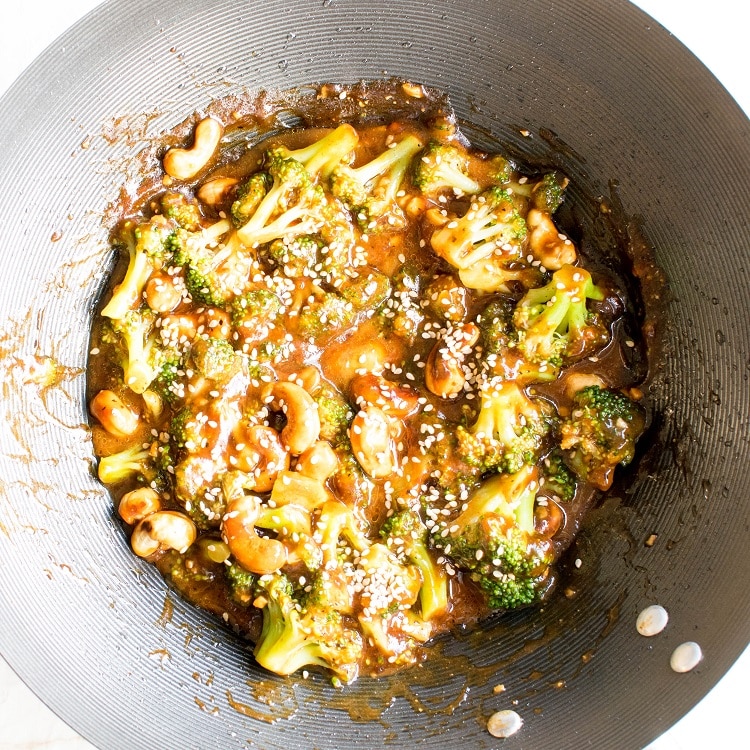 Serving tips
This broccoli stir fry pairs well with quinoa, brown rice or steams rice. If you want to have an elaborate spread then you may serve it with mushroom fried rice or schezwan fried rice too.
Expert tips
It is important to make sure that broccoli florets are not too large in size. Or else it won't cook evenly. Therefore, I would recommend to cut the florets to small-medium size.
Even though we are not frying broccoli in this recipe but it is important to mix it with cornstarch to maintain its texture and flavor in the final outcome.
Sesame oil plays an important role in this recipe to enhance the flavor. Hence, I would recommend you to use it instead of any other substitute oil.
It is important to sauté cashew nuts in oil first or else they become soft in the final entrée. However, you can dry roast the nuts in a nonstick pan as well if you are on an oil free diet and then add them at the end of cooking.
Frequently Asked Questions (FAQs)
How long does it last?
This cashew broccoli stir fry taste best when served immediately. However, the leftovers can be refrigerated to be served the next day. All the extra liquid will be absorbed so warm it well in the microwave for about 40 seconds – 1 minute before serving.
Can I make it oil free?
Yes! I Just skip the oil and follow the steps as explained.
Is it healthy?
Stir fry entrees are in general on a healthy side because of low oil in it. Moreover, this dish is made with broccoli which is very nutritious so this vegan broccoli stir fry recipe is definitely healthy.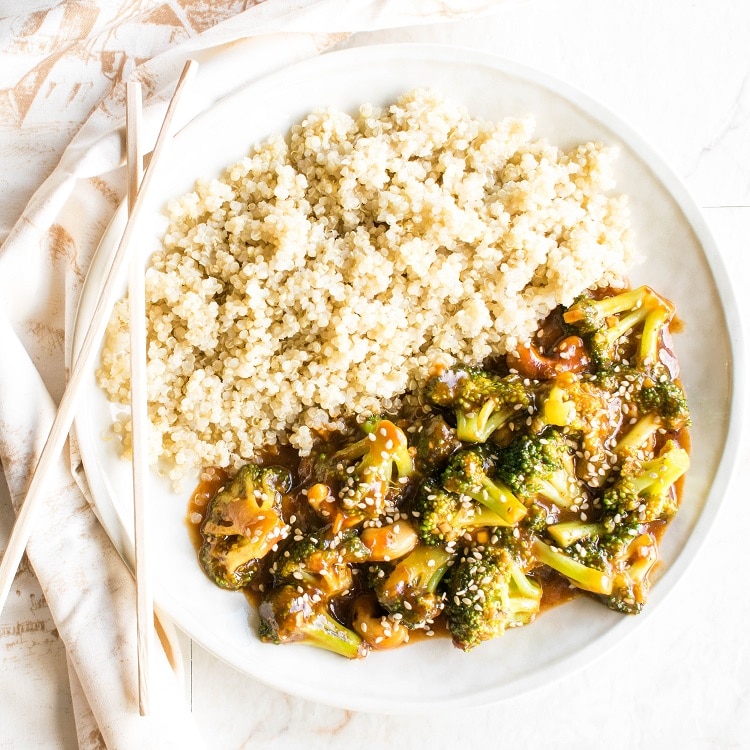 More vegan stir fry recipes
Spicy Orange Cauliflower
Orange Tofu
Eggplant Stir Fry
Vegetable Stir Fry Noodles
Tempeh Stir Fry
This post may contain affiliate links which means that if you click on them and make a purchase, I will get a small commission. Moreover, I share only those products which I use personally and love.
I hope you enjoy this recipe as much as we did. I am very excited to hear back from you.
Where to find me?
Follow me on Facebook or on Twitter. You may tag @kiipfit on Instagram with your recipe remake images because I would love to see what you cooked.
Did you make it?
If you get a chance to make this recipe then please leave your feedback in the comments below along with a 5-star rating.
In addition, you may checkout my cookbook for everyday comfort vegan recipes.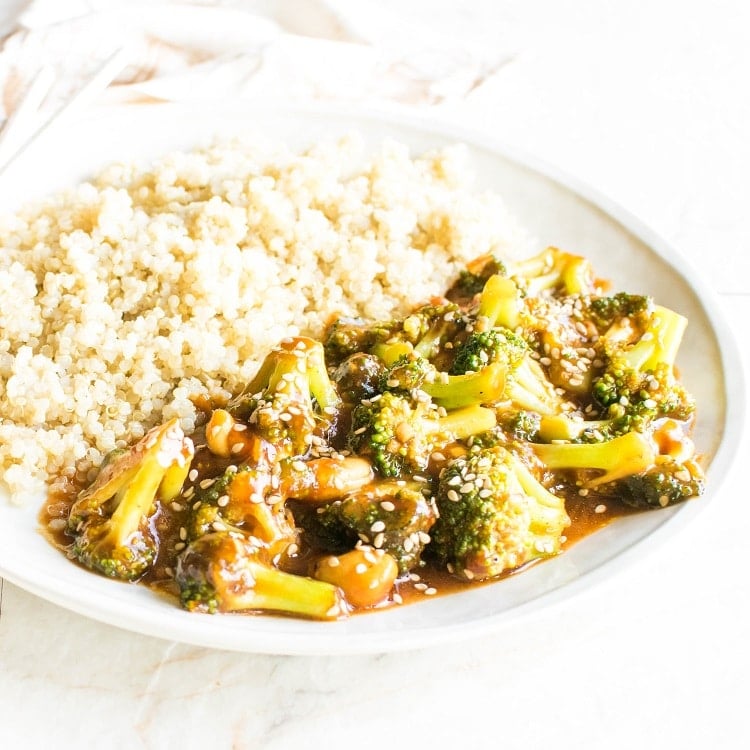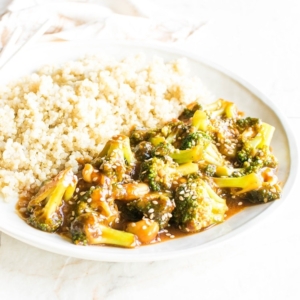 Print Recipe
Spicy Cashew Broccoli Stir Fry
This Asian flavored Spicy Cashew Broccoli Stir Fry is easy to bring together and takes about 20 minutes to serve. Its salty, savory and a satisfying comfort weeknight entrée.
Instructions
In a big sauce pan bring water to boil (just
enough to cover broccoli in it). Add broccoli florets to it and turn it off.
Let broccoli florets stand in the hot boiling water for 2 minutes. Drain the
florets and let it cool for about 5 minutes until the steam subsides and is at
room temperature.

Then, in a mixing bowl combine blanched broccoli
florets in ½ tbsp cornstarch. Mix it very well with a spoon so that each floret
is well coated with the cornstarch. Keep it aside.

In another mixing bowl combine soy sauce, vegetable broth, sriracha sauce, dried garlic, ginger powder, crushed black pepper and maple syrup. Whisk it nicely so that all the ingredients are well dissolved and there are no lumps. Keep it aside.

Heat oil in a wok at high flame and saute cashew
nuts for 30 seconds or until they start to turn golden in color. (This will
make the nuts a bit crisp).

Immediately add broccoli florets and saute
nicely until well coated with oil (about 1-2 minutes).

Bring the flame to medium heat and pour the sauce mixture to it. Quickly mix it so that each floret is well coated with the soy sauce mixture very well.

Lastly, stir in sesame seeds and serve immediately.
Notes
Soy sauce will make this dish quite salty so there is no need to season it with additional salt. Therefore, try to use low sodium soy sauce for a balanced taste.
Make sure to cut the broccoli florets into bite size and not too large. 
To make it oil free: Follow until step 3. Then, heat a nonstick wok at medium flame and add soy sauce mixture, broccoli florets and dry roasted cashew nuts. Garnish and serve. (Calories 164).
How to dry roast cashew nuts: Heat a nonstick pan and add cashew nuts to it. Keep sauteing continuously for few minutes until the nuts starts to turn golden in color. You may also Air Fry them at 350 degree for 3-4 minutes or until golden. Make sure to not burn the nuts or else the entrée will taste a bit bitter.
Feel free to use store bought dry roasted cashew nuts which is unsalted or else the entrée would be too salty.
This tastes best when served the same day. However, the leftovers can be refrigerated to be used the next day. Since, it has cornstarch the entrée would absorb any extra liquid. So warm it well. 
This is spicy, salty and savory in taste so its best to serve with plain rice or quinoa.
Nutrition
Calories:
294
kcal
|
Carbohydrates:
16
g
|
Protein:
10
g
|
Fat:
22
g
|
Saturated Fat:
4
g
|
Polyunsaturated Fat:
8
g
|
Monounsaturated Fat:
10
g
|
Sodium:
1600
mg
|
Potassium:
734
mg
|
Fiber:
5
g
|
Sugar:
8
g
|
Vitamin A:
904
IU
|
Vitamin C:
132
mg
|
Calcium:
130
mg
|
Iron:
3
mg