Creamy and nutritious Vegan Chocolate Mocha Protein Smoothie is a caffeine rich decadent post recovery beverage. Its made with no protein powder and is absolutely easy to blend for breakfast too.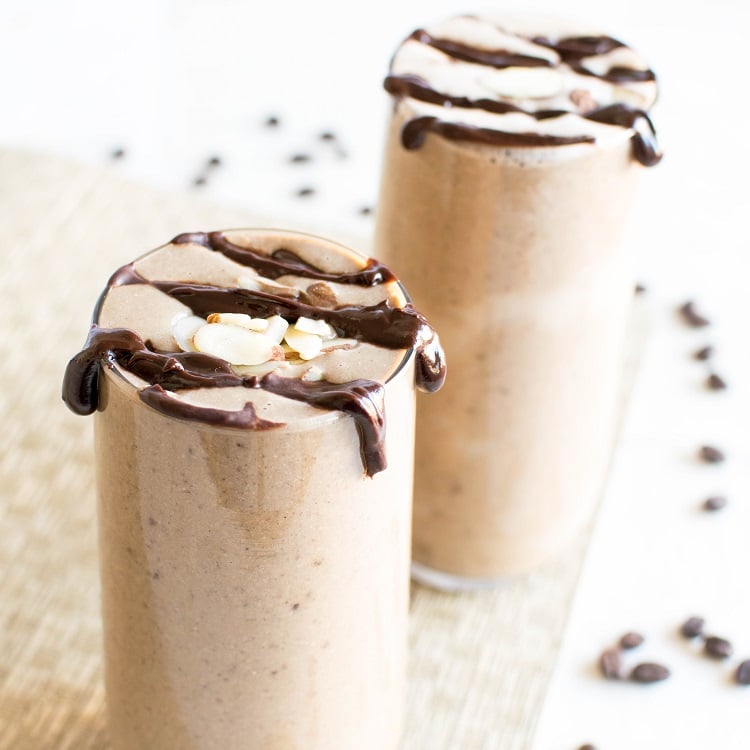 Coffee and chocolate in a glass is the best combination ever. Its my favorite and I am sure its your too. Hence, this mocha protein shake is the best way to combine two of your favorite ingredients.
Since I love chocolate and my kids are always excited to try chocolate in any form I often bake vegan chocolate muffins and make vegan chocolate mousse.
Why I chose no protein powder?
Most protein powders in the store are processed and have some hidden chemicals. My idea is to get as much natural foods in our diet as possible. So, I found hempseeds to be equivalent to my protein requirements. This also has more fiber and other nutrients.
If you like to use protein powder in your recipes then you must try my vegan protein waffles.
Health benefits of coffee
If consumed in proportion, coffee actually helps in boosting mood and energy and fights depression. It also has antioxidants and is ok to consume 1-2 cups everyday.
More coffee recipes to try:
Vegan coffee cake
Coffee Hemp Energy Bites
No Bake Coffee Oats Energy Bars
What is mocha?
Mocha is basically the combination of coffee and chocolate powder combined together along with milk and cream. Its more of a dessert beverage because its sweet in taste too.
You must try my vegan mocha oatmeal cookies. Its absolutely delish along with being so healthy.
Hence, I decided to blend this vegan chocolate mocha protein smoothie to satisfy my cravings along with nourishing my body.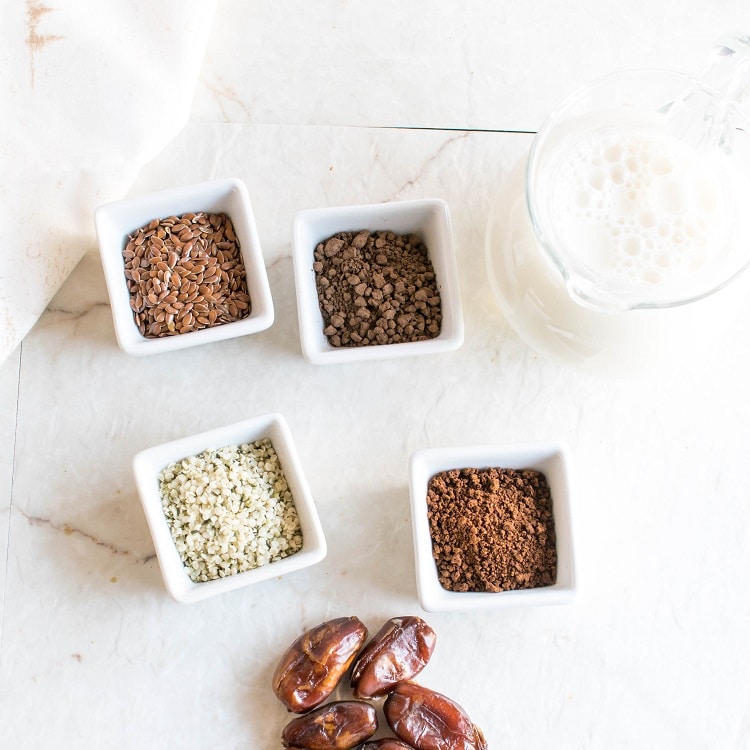 Ingredients for Vegan Chocolate Mocha Protein Smoothie
Unsweetened Almond Milk
Pitted dates
Instant Coffee powder
Unsweetened Cocoa powder
Hemp seeds
Flax seeds
Crushed ice/ice water
Slivered almond
Chocolate chips (optional)
I used these simple and easily available ingredients to blend my favorite coffee protein shake.
Ingredients notes:
Dates – its a natural sweetener along with being fiber rich.
Instant coffee powder – this is the best part. It tastes amazing and you can use any coffee powder of your choice to make this mocha protein smoothie recipe.
Hempseeds – this is the main protein in this smoothie and its a must.
Flax seeds – its a great source of healthy fats that is omega 3 fatty acid and makes this recipe very healthy and nutritious. However, you may use flaxmeal as a substitute as well here.
Almond milk – any dairy free milk works here but I used almond milk to keep it lighter and low in calories.
For detailed measurement of ingredients, please scroll down to the printable recipe card at the bottom of this post.
How to make Vegan Chocolate Mocha Protein Smoothie
Firstly, in a blender, I combined almond milk, dates, hempseeds, flaxseeds, coffee powder, cocoa powder, and ice water.
Secondly, I blended it smooth.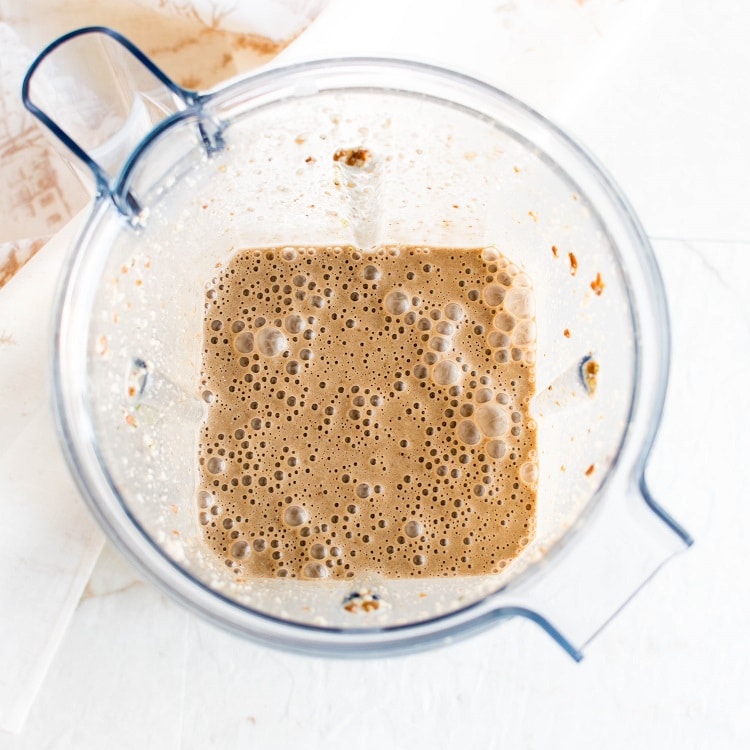 Next, I poured it in the serving glasses.
Thereafter, I melted chocolate chips in the microwave and the drizzled it on the served smoothie.
Afterwards, I garnished it with slivered almonds and served it immediately.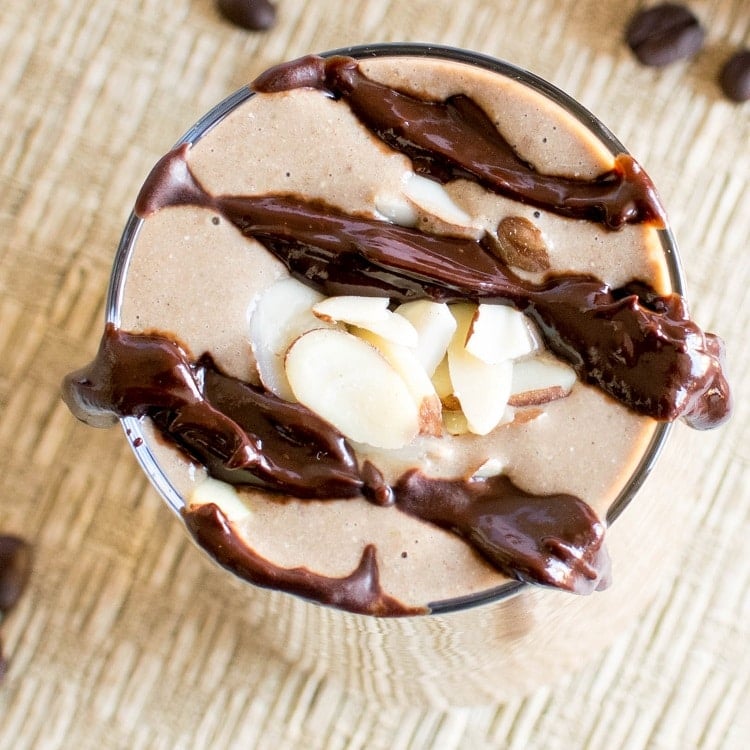 We loved it and I have been making it quite frequently.
Expert tips:
Make sure to melt the chocolate chips after pouring it in the glasses to get the drizzling effect.
It is important to blend it very smooth so that the seeds and dates are well ground.
Vegan Chocolate Mocha Protein Smoothie FAQs
How long does it last?
This taste best when served immediately.
What can I substitute dates with?
You may sweeten this mocha protein smoothie with banana or some maple syrup if desired.
Can I use coffee flavored protein powder?
Yes! For that you may skip dates if your protein powder already is sweetened. You may also skip hempseeds since your protein powder will be high in protein. Also, additional coffee powder may not be required depending on your taste.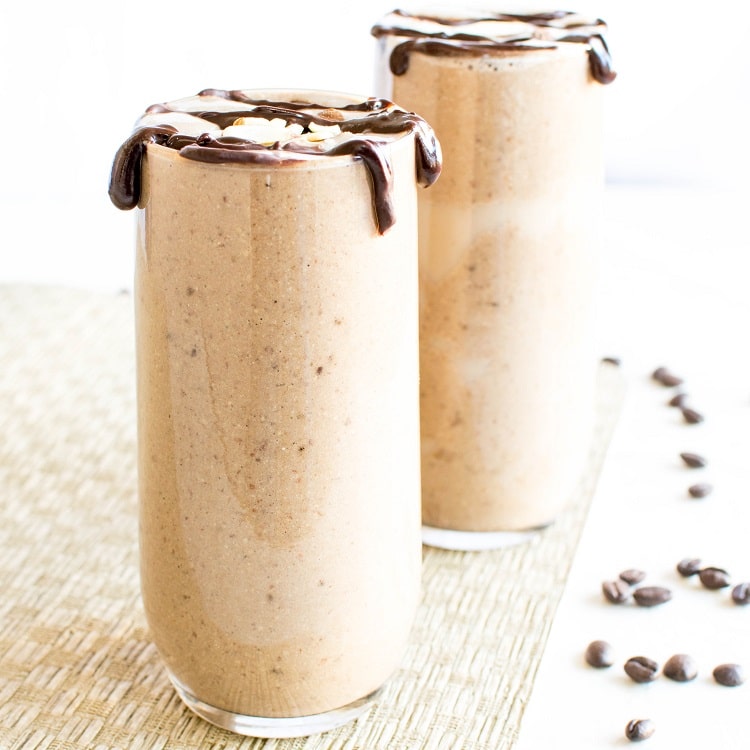 My other smoothie recipes that you may like:
Superfood green smoothie
Raspberry smoothie
Pineapple banana smoothie
kale smoothie
Turmeric Mint Protein Smoothie
This post may contain affiliate links which means that if you click on them and also make a purchase, I will get a small commission. Moreover, I share only those products which I use personally and love.
I hope you enjoy this recipe as much as we did. I am very excited to hear back from you.
Where to find me?
Follow me on Facebook or on Twitter. You may tag @kiipfit on Instagram with your recipe remake images because I would love to see what you cooked.
Did you make it?
If you get a chance to make this recipe then please leave your feedback in the comments below along with a 5-star rating.
In addition, you may checkout my cookbook for everyday comfort vegan recipes.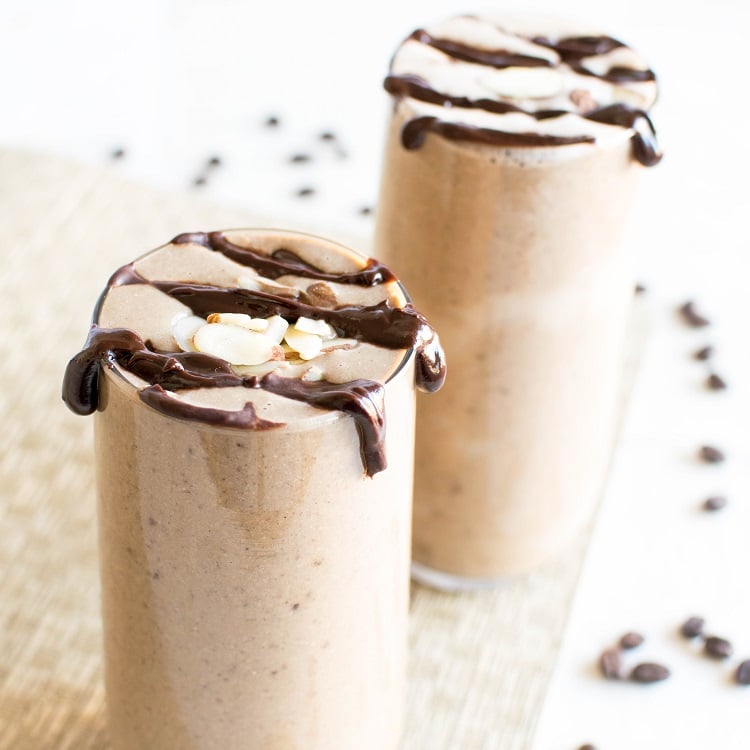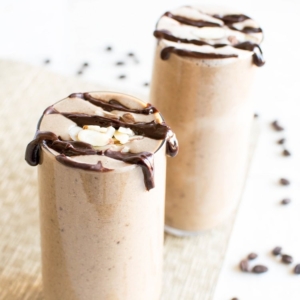 Print Recipe
Vegan Chocolate Mocha protein Smoothie
Creamy and nutritious Vegan Chocolate Mocha Protein Smoothie is a caffeine rich decadent post recovery beverage. Its made with no protein powder and is absolutely easy to blend for breakfast too.
Instructions
In a blender combine almond milk, dates, hempseeds, flaxseeds, coffee powder, cocoa powder, ice water or crushed ice. Blend it smooth until creamy. (takes about 3 minutes)

Pour the smoothie in the serving glasses.

Top them with slivered almonds and roughly drizzle the melted chocolate with a spoon.
Notes
To melt the chocolate chips – In a microwaveable bowl combine vegan chocolate chips and 2 tbsp. almond milk. Microwave it for 1 minute. Take the bowl out and whip the chocolate chips with a spoon until its smooth. Now garnish the glass by drizzling it with a spoon roughly.
It tastes best when consumed immediately.
Nutrition
Calories:
357
kcal
|
Carbohydrates:
31
g
|
Protein:
12
g
|
Fat:
21
g
|
Saturated Fat:
4
g
|
Sodium:
4
mg
|
Potassium:
204
mg
|
Fiber:
5
g
|
Sugar:
8
g
|
Vitamin A:
130
IU
|
Calcium:
95
mg
|
Iron:
5.7
mg