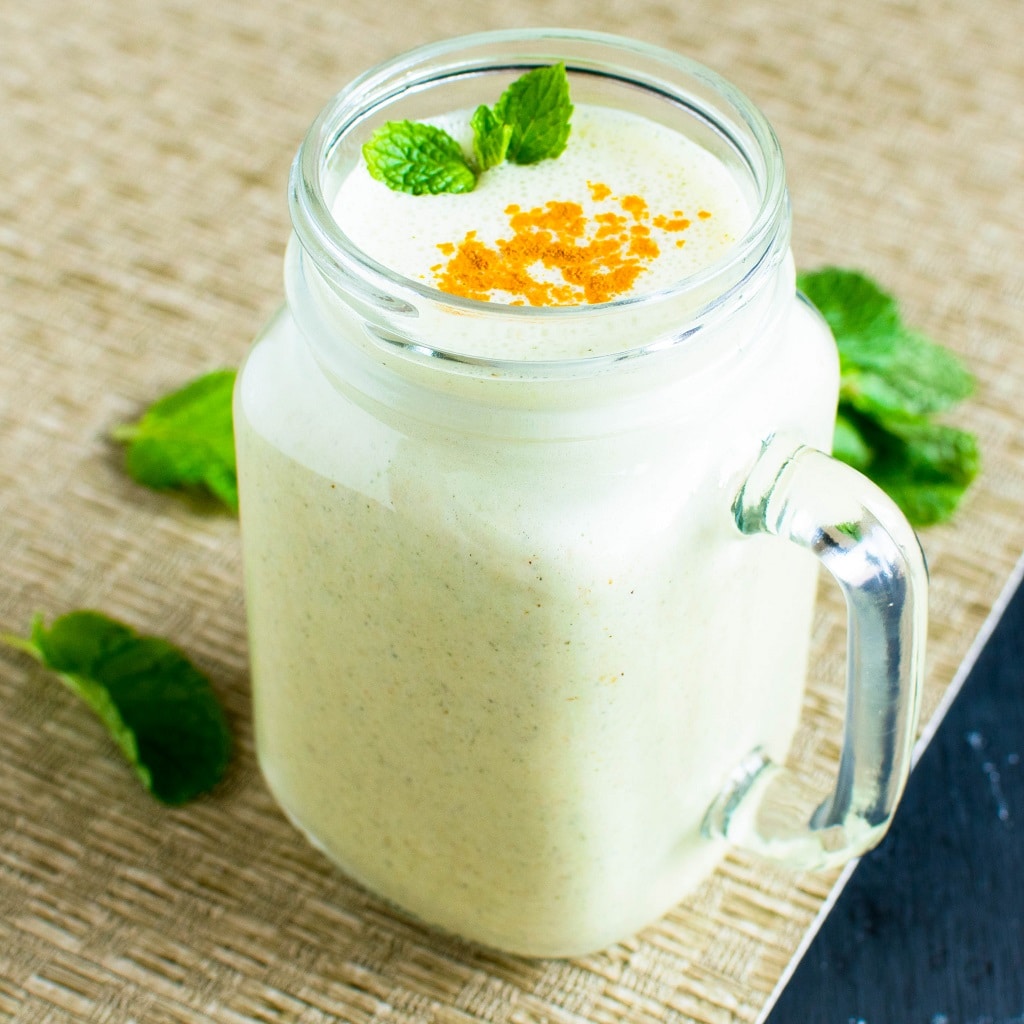 When it comes to smoothie I prefer a wide variety of selection. However, my latest craze is Turmeric Mint Protein Smoothie. It is a perfect post work recovery smoothie. This smoothie  is packed with 15g of fiber and 23g of protein.
It's thick, creamy, satisfying with mind blowing delicious taste. The best part is that this smoothie has no bananas. Yay! I usually blend my smoothies with bananas. I prefer fruits for sweetness. Moreover, bananas provide a creamy and thick texture to smoothies. But for this I used dates to sweeten it. However, this smoothie doesn't have over boarding sweetness. In fact, the subtle sweetness is absolutely satisfying. The mild flavor of raw turmeric and a slight aroma of fresh mint makes this smoothie absolutely desirable.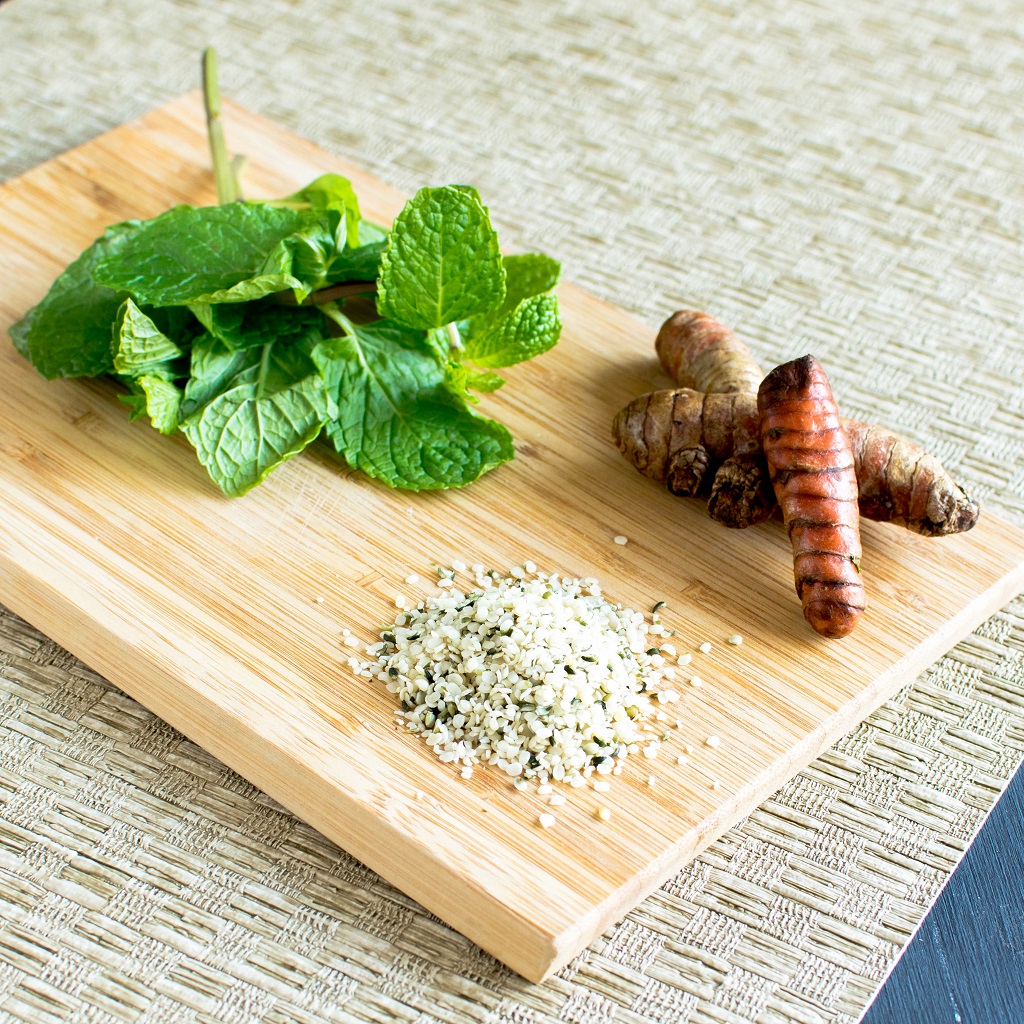 Ancient India has been using root turmeric for healing purposes. It is a natural antibiotic. We obtain the powdered turmeric by drying and grinding the root turmeric. The powdered turmeric is however more popular. We in India use turmeric powder in our everyday cooking. It is one of the essential ingredient in the spice rack for us. Turmeric has gained worldwide popularity recently.
Even though I am not a fan of the typical flavor of mint. But I love the aroma of fresh mint leaves. Therefore, I decided to add mint leaves into this smoothie. Mint has a calming and soothing effect to the stomach. It helps in improving digestion. Also, mint supports healthy cholesterol.
Dates as we all know is extremely high in potassium content along with being high in fiber.
I used ginger powder to spice it up a bit. It also enhanced the flavor of this smoothie in a natural way. However, ginger is a good digestive as well and provides many health benefits.
Next, I added protein to this smoothie by using hemp seeds. I usually avoid store bought protein powders. I prefer to add natural proteins into my food.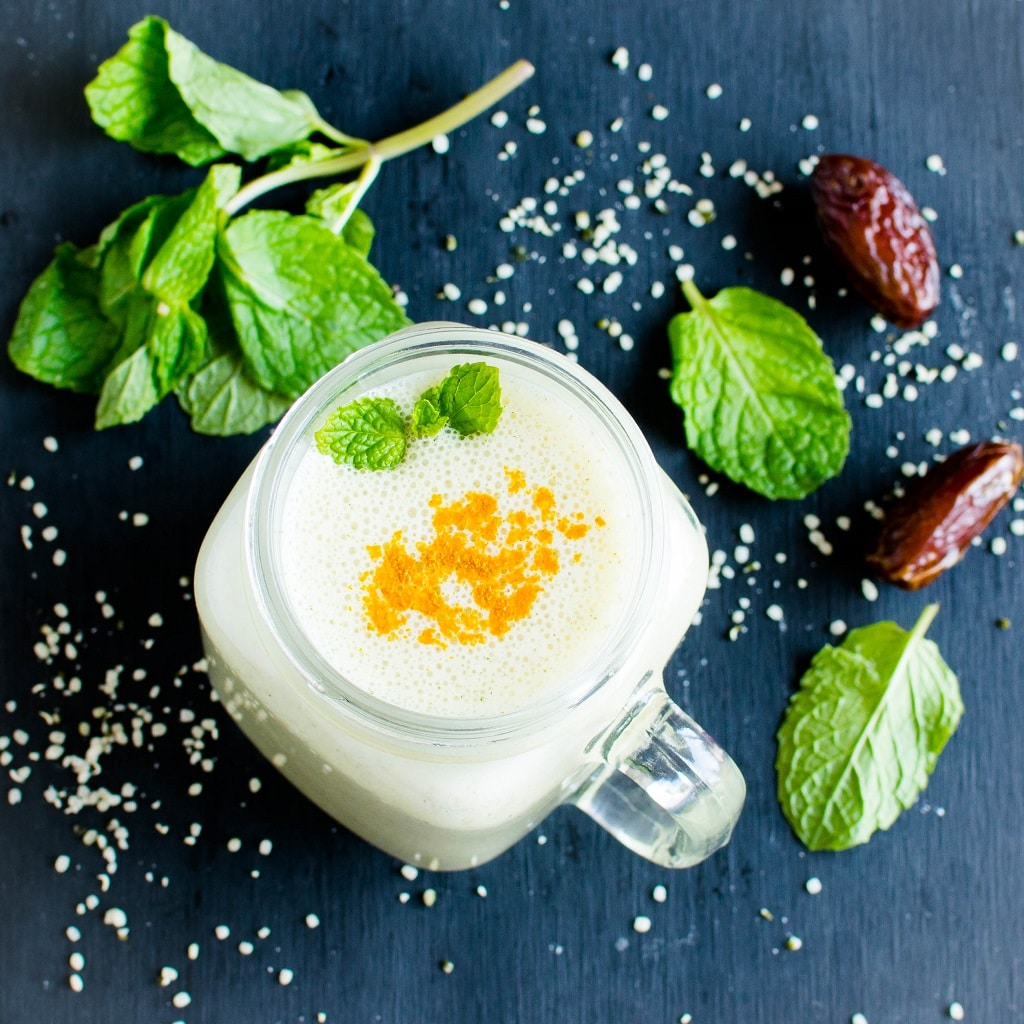 Therefore, I love to gorge Turmeric Mint Protein Smoothie on a daily basis. It's the creamiest and most nutritious beverage with anti-inflammatory properties.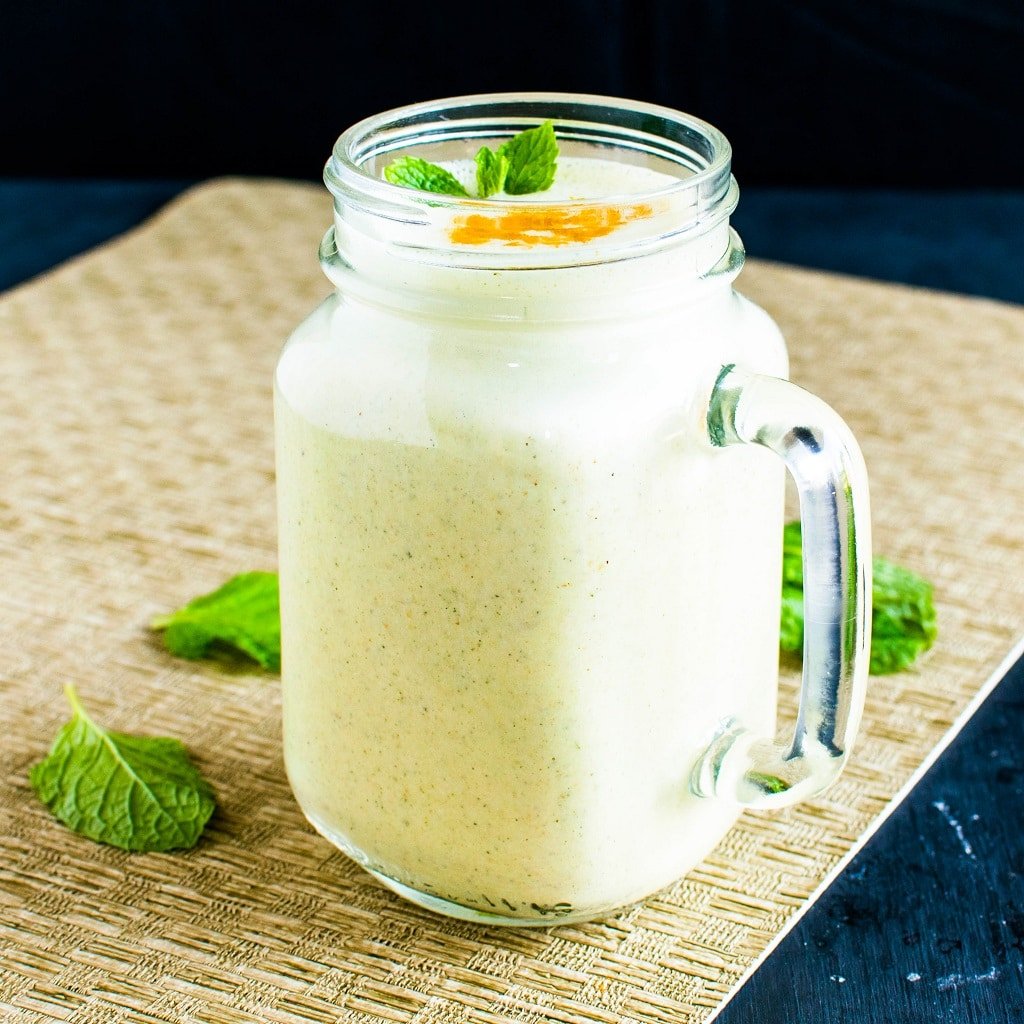 Turmeric Mint Protein Smoothie is a must try and is kid friendly too. It's a healthy and nutritious beverage for the entire family and for all ages. This smoothie will definitely occupy your top menu. It  will undoubtedly become a regular in your household. You won't stop devouring it once you get the taste of this smoothie.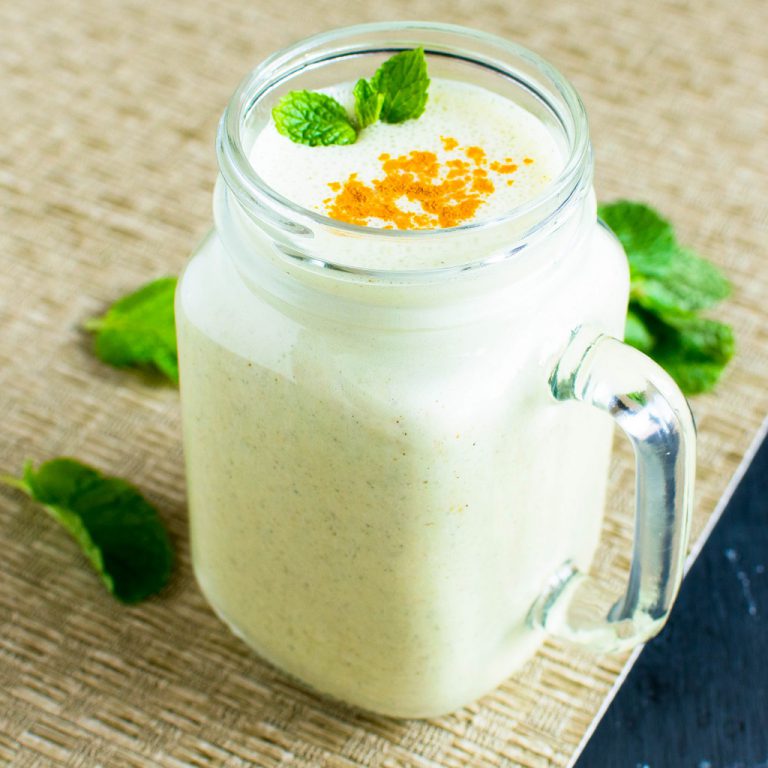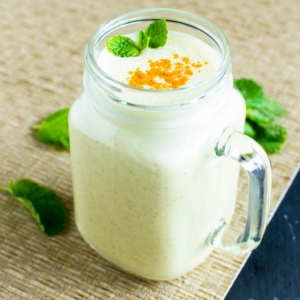 Print Recipe
Turmeric Mint Protein Smoothie
Turmeric Mint Protein Smoothie is a perfect post workout recovery smoothie. Its the creamiest anti - inflammatory beverage for the entire family and for all ages.
Ingredients
2

small knobs

root turmeric

(peeled)

1

tbsp

chopped mint leaves

(fresh)

1/2

tsp

ginger powder

10

whole

pitted dates

1/2

cup

hemp seeds

3

cups

unsweetened almond milk
Instructions
In your blender you may combine all the ingredients and then blend it smooth.

Finally, enjoy it immediately.
Notes
If this smoothie is kept for some time at the room temperature the color changes to nice florescent yellowish greenish. But make sure to stir it before consuming this smoothie.
Nutrition
Calories:
277
kcal
|
Carbohydrates:
3
g
|
Protein:
23
g
|
Fat:
22
g
|
Saturated Fat:
1
g
|
Fiber:
1
g
|
Vitamin A:
260
IU
|
Calcium:
70
mg
|
Iron:
6.9
mg