This vegan Turmeric Latte is a healthy alternative to regular chai. Its infused with black tea and nicely flavored with chai spices with being brewed to perfection. It's a nutritious comforting warm beverage for all year round.
This is a sponsored post but I have personally used the product and totally love it. All the opinions and reviews are mine.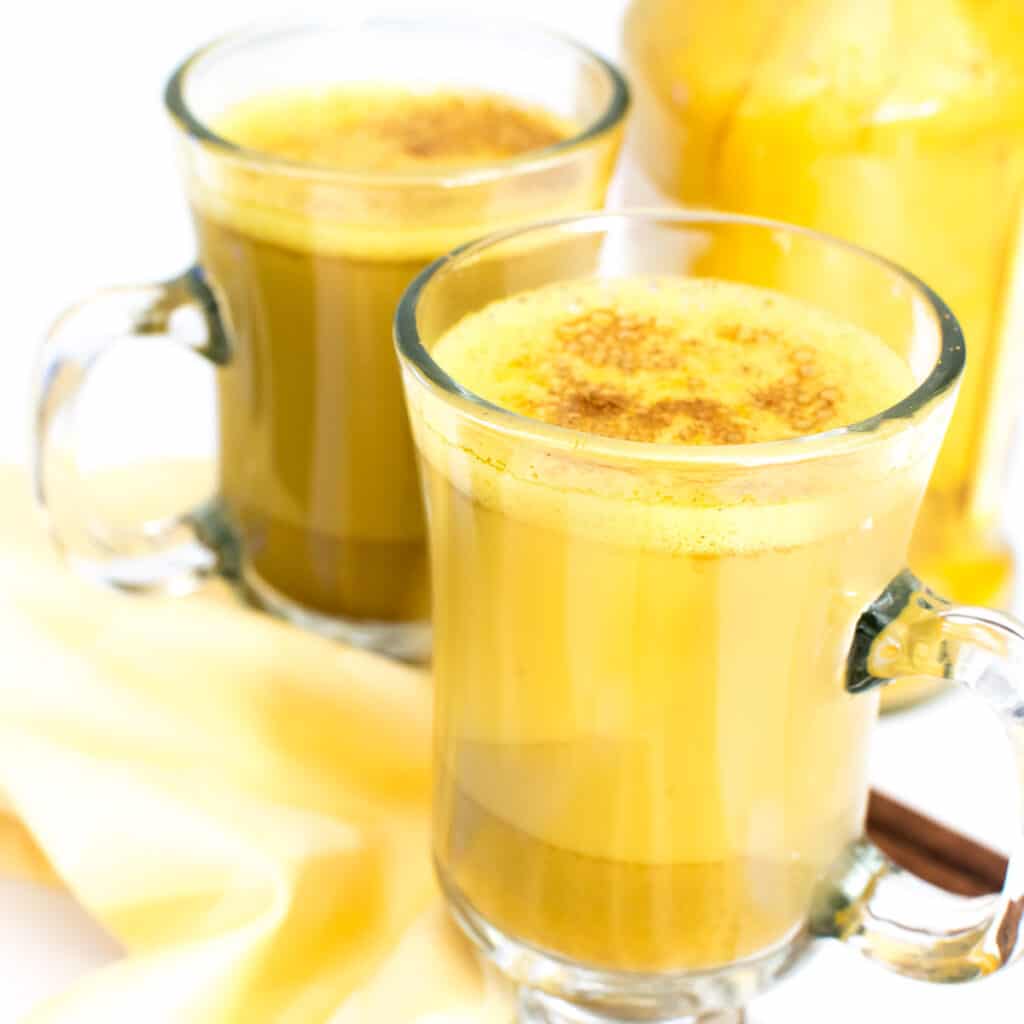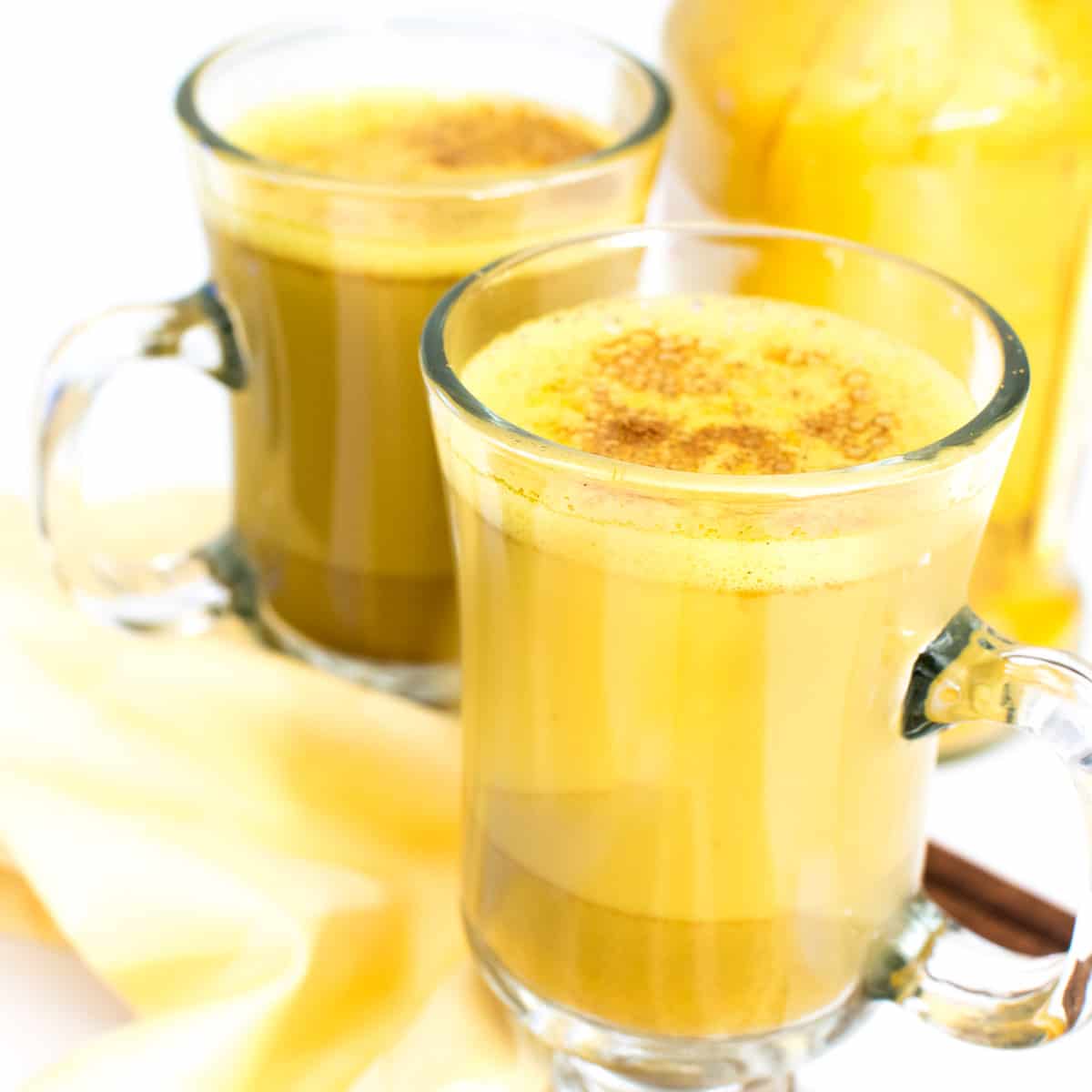 It's a very simple and quick golden milk chai made with plant milk. I personally like chai every morning so this was a nice break for me. In fact, my relatives also loved it and now at least twice a week we enjoy this warm beverage.
What is latte?
Latte originally is made with espresso and steamed milk. However, turmeric latte originally does not contain caffeine but here I innovated my own recipe so as to satisfy my chai cravings in a healthier way.
What is turmeric milk?
In Indian, since ancient times, we have been consuming turmeric milk. Traditionally, we add grated root turmeric to very warm milk and some sweetener. It is believed to cure many diseases and has healing properties. Recently, in the west it gained lot of popularity and lot of variation has come up.
However, here I came up with a combination of both and created this Turmeric Chai Latte with delicious flavors.
Even though I have tried Masala Chai Smoothie earlier. It's a great recipe which is quite popular and everybody's favorite. However, this time with the combination of turmeric and tea I made it an outstanding warm beverage. Hence, I made my turmeric ginger lemonade as well.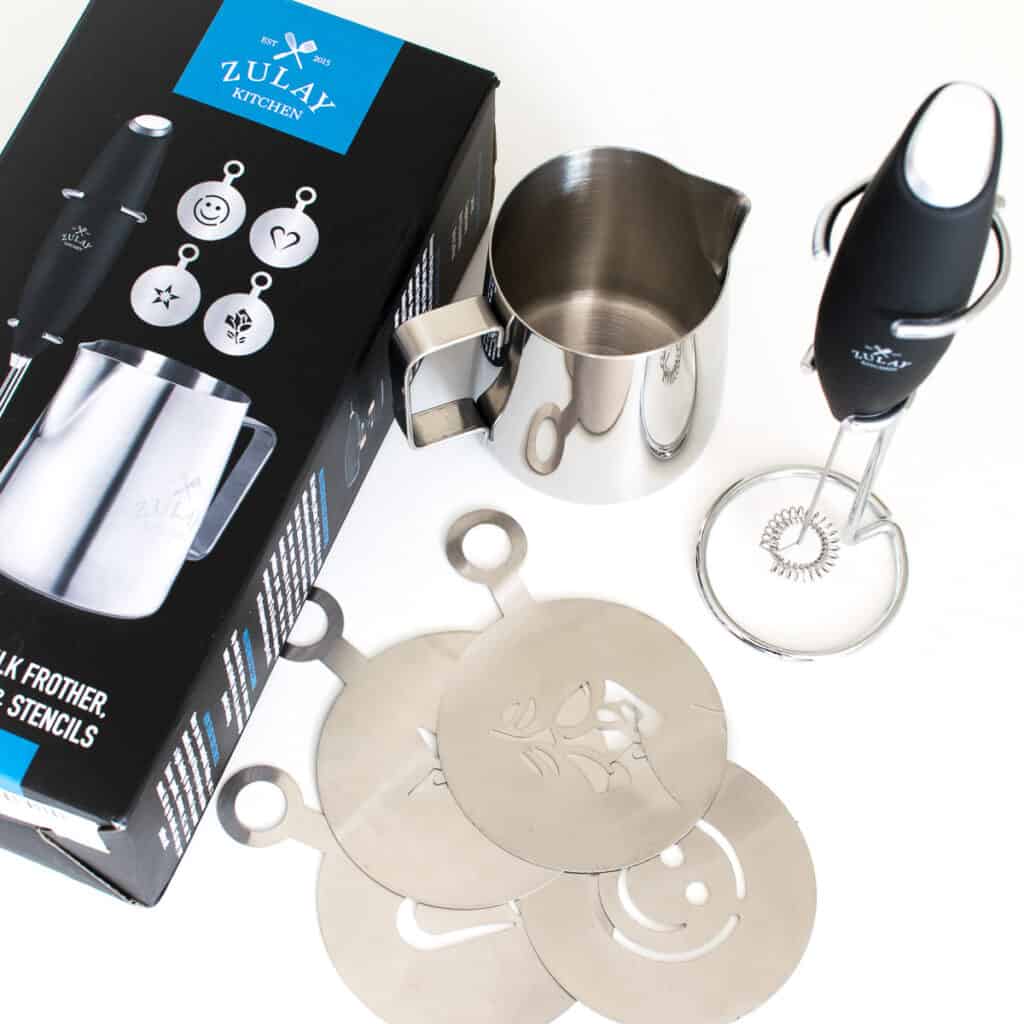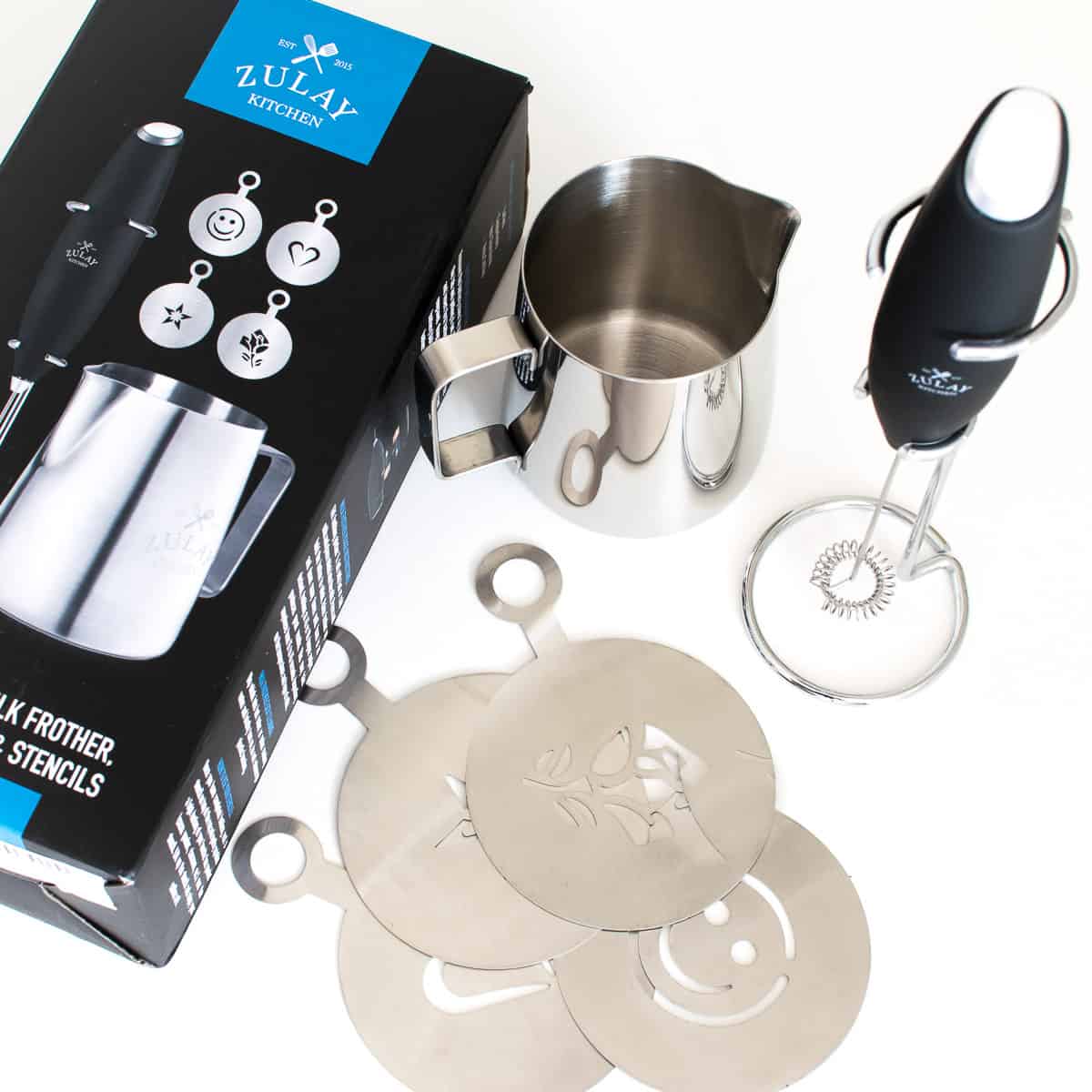 At the same time, I think the milk frother added to its beauty and taste. I am very thankful to Zulay kitchen for giving me the opportunity to try and review this product.
Its the best milk frother I have used so far and I would highly recommend trying this product. I got a complete set with a stainless-steel shaker cup and stencils to design my lattes. Overall, it's a very good quality product that's durable and is long lasting.
It comes with a metal stand which makes it easy to store away. It's a high powered milk frother made with premium quality materials. Its super easy to clean and works on all types of milk. Here I used a dairy free milk and it works like wonders.
There is also a special discount for you. Just use the code GUNJAN10 and you get a 10% discount on all products if you buy it from my website. However, in turn it helps me to earn a tiny commission.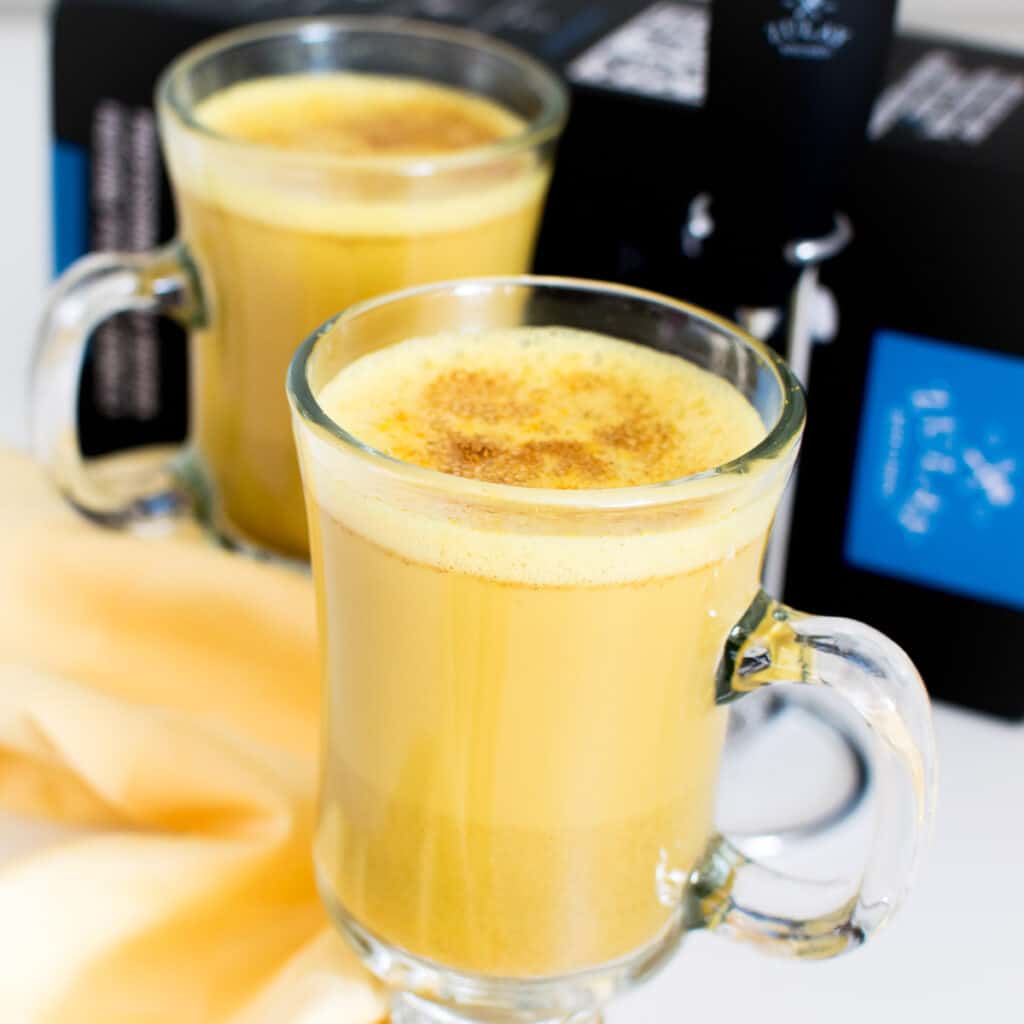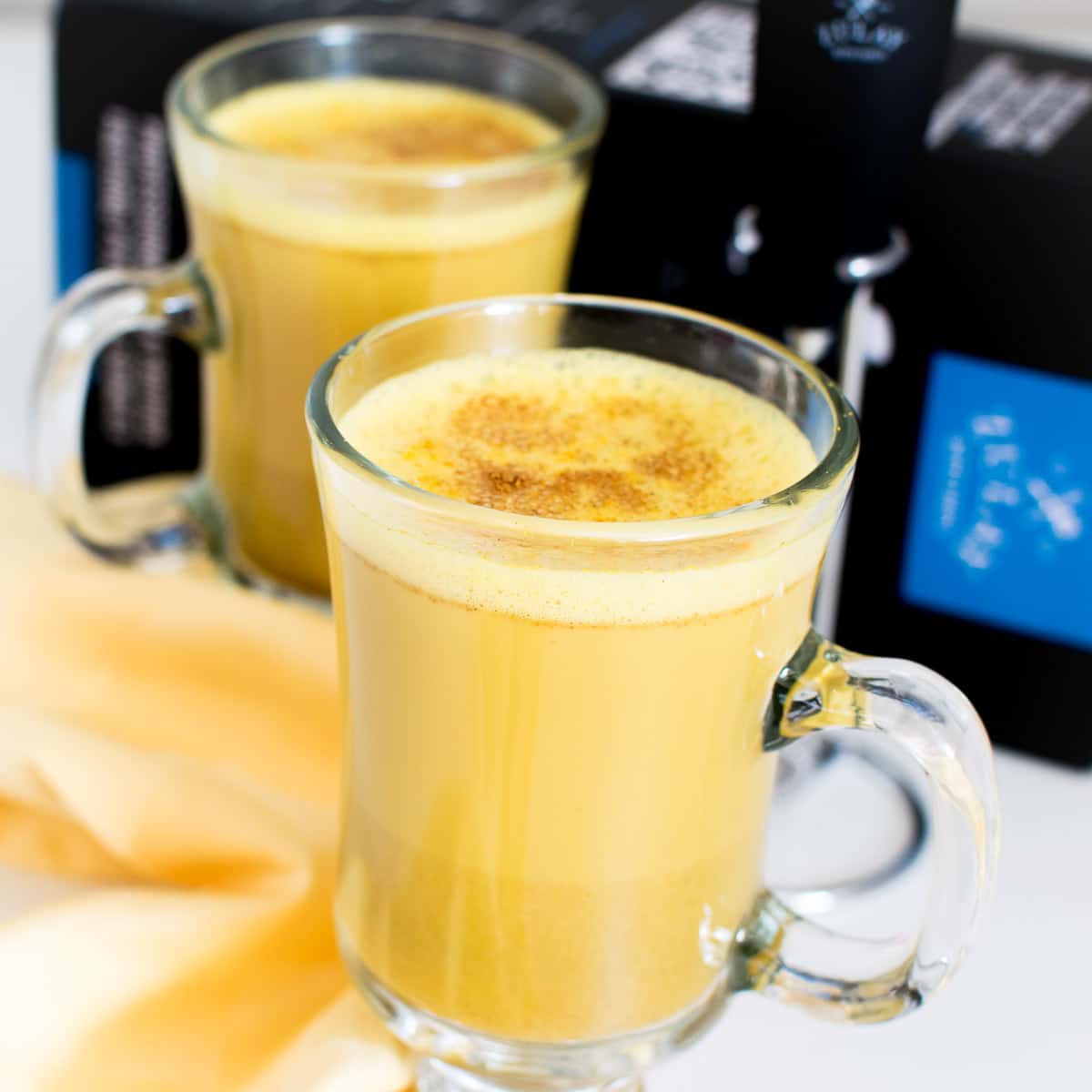 Coming back to my recipes, I have created other healthy beverages also earlier which you might like:
Tropical Coconut Turmeric Smoothie
Turmeric Mint Protein Smoothie
Kale Smoothie
Matcha Smoothie
Peach Smoothie
Since, everybody in my family loved it and insisted that I should bring up my recipe, here I am to share this golden chai recipe with you:
Ingredients you will need:
Black tea bags
Water
Oat milk
Ginger powder
Turmeric powder
Cinnamon powder
Cardamom powder
Maple syrup
I have used these easily available ingredients which you may buy from any local grocery store. However, I have provided links to few of them here for your convenience.
If you plan to buy from these affiliate links then I get a small commission which in turn encourages me to bring in more delicious recipe for you all.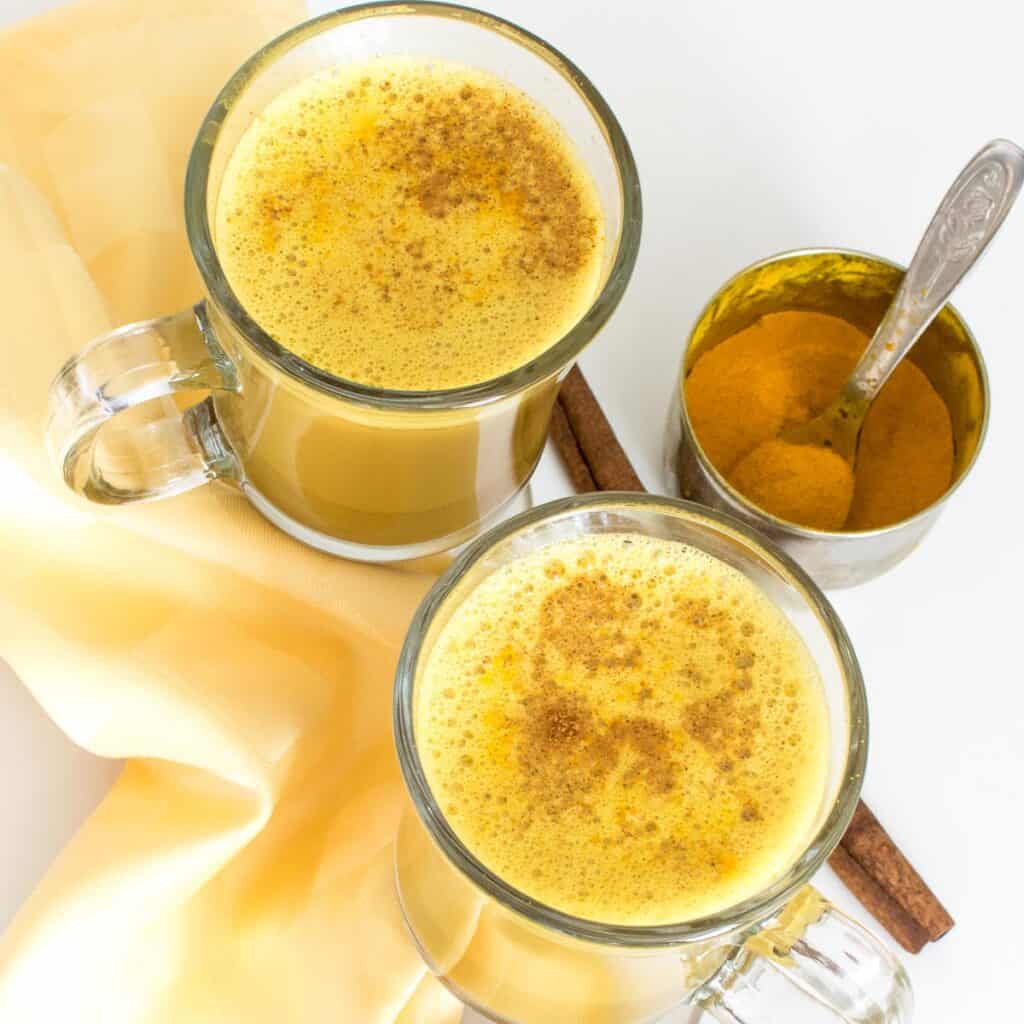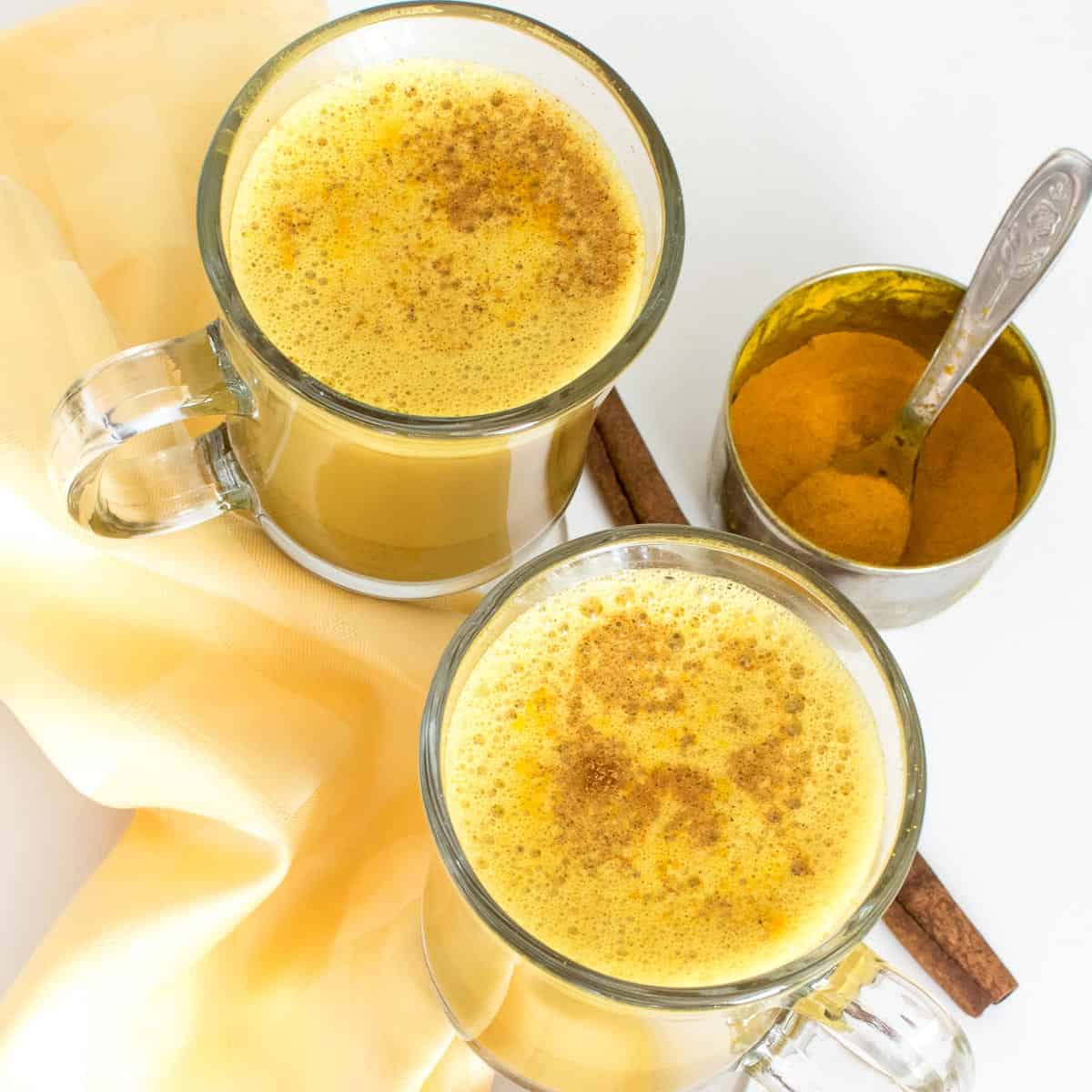 Ingredients notes:
Tea bags – I specifically like wagh bakri which is easily available in Indian store. However, any black tea bag works in this recipe. The flavor of tea enhances this beverage making it a great caffein substitute with the same satisfaction.
Oat milk – I like oat milk in this recipe because of its sweet flavor and creamy texture. Moreover, it's a smoother dairy free milk comparatively and works great in this recipe.
Ginger powder – usually, my morning chai is always infused with ginger so grated fresh ginger also works in this recipe but you may want to strain it before pouring in the brewed tea. Therefore, for convenience I used ginger powder.
Turmeric powder – as we all know it has medicinal healing properties with lot of health benefits. You may use fresh root turmeric in a grated form but its important to strain it while pouring the milk into the brewed tea. Therefore, I used turmeric powder for convenience.
Cinnamon powder – this gives a nice flavor to this turmeric latte and making it very similar to masala chai.
Cardamom powder – it is important so as to reduce the extra sweetener in this recipe. It gives a hint of sweetness to this beverage along with a nice flavorful aroma.
Maple syrup – you may use sugar of your choice and also as per your taste. For us, maple syrup tasted the best in this recipe though.
So, now all you have to do is to go through the steps quickly and make it this warm and nutritious beverage ASAP.
How to make Turmeric Latte
Firstly, I placed the tea bags in the serving cups and poured boiling water in each cup. Then, I let it brew nicely.
Secondly, in a saucepan, I combined oat milk, ginger powder, turmeric powder, cinnamon and cardamom and stirred it nicely. I constantly stirred it so that the milk does not stick at the bottom until the first boil.
Next, I stirred in maple syrup and turned off the flame.
Thereafter, I poured the milk equally in the two cups and discarded the tea bags.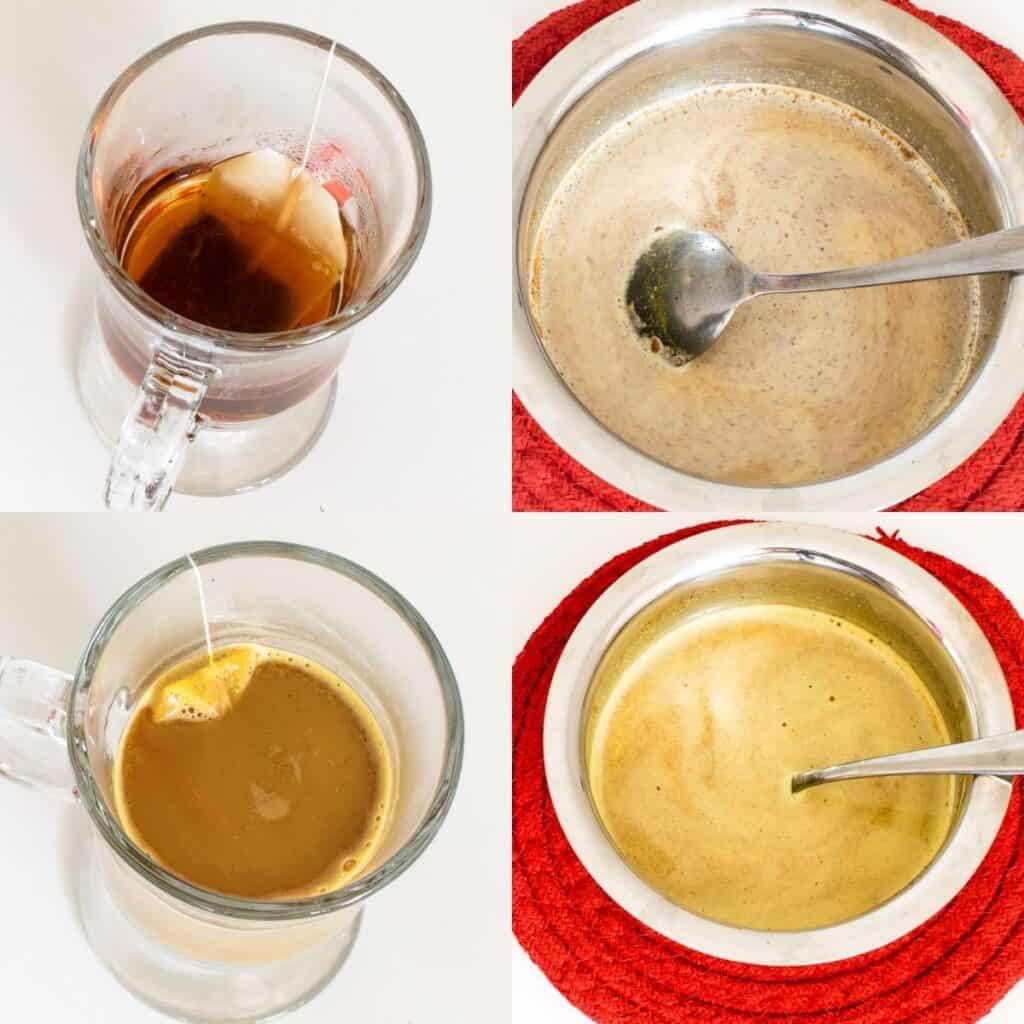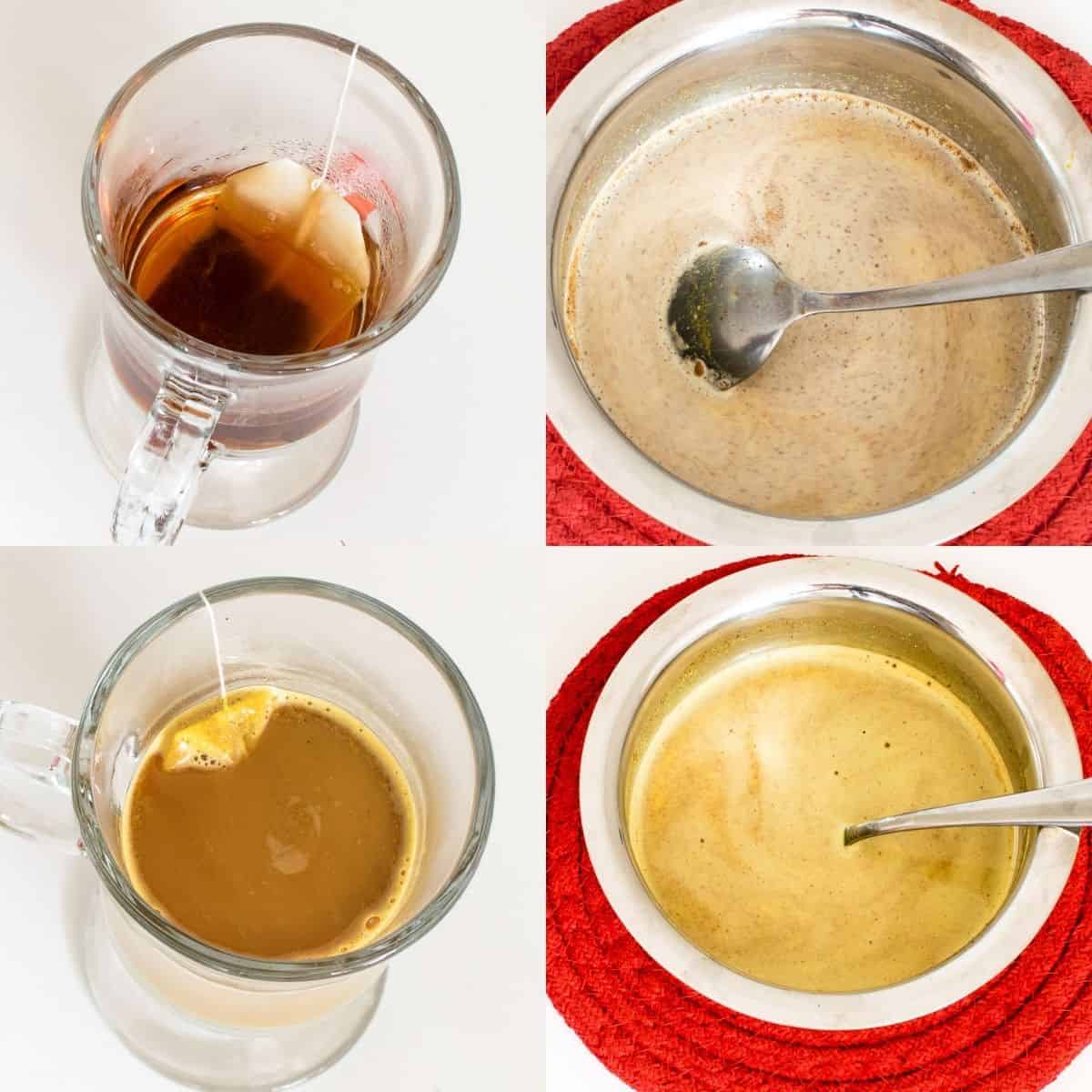 Lastly, I frothed them with a milk frother and served immediately.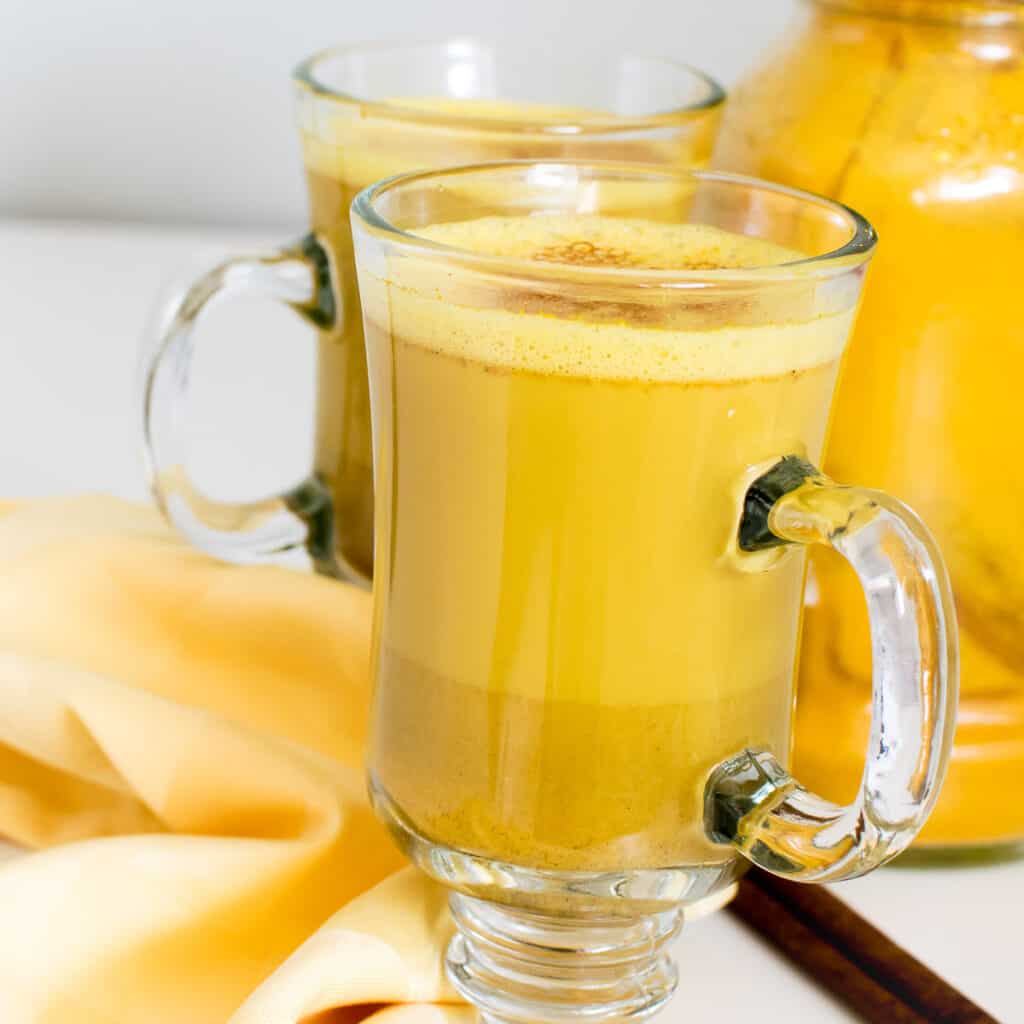 Expert tips:
Make sure to boil the water very nicely. You may boil it in a water kettle or over the stove.
After combining water and tea bag, make sure to let it brew for atleast 5 minutes. So, in the meanwhile you may make the golden milk.
If you plan to use milk frother then fill ¾ of the cup. If you plan to blend everything then fill the cups as per your desire.
Most importantly, remove the tea bags before frothing or blending.
Turmeric Latte FAQs
How long does it last?
This beverage tastes best when served immediately.
Is it healthy?
Its very healthy and nutritious with medicinal and healing properties. Its made with all whole foods except for the maple syrup. However, if you use pure maple syrup then this is a complete whole food beverage. Its delicious, comforting and soothing. It works well to boost immunity and soothes if you have cold and cough.
Can I consume it every day?
Yes, its loaded with antioxidant and is anti-inflammatory. It is an everyday beverage. I have infused some black tea in here so as to substitute the regular chai or tea as well on a regular basis.
How does it taste like?
It has a nice and strong flavor of ginger and a beautiful golden color. Its rich, thick and creamy along with a hint of aromatic cinnamon and cardamom. This also has a mild tea flavor which makes it a complete everyday beverage.
Did you make it?
If you get a chance to make this recipe then please leave your feedback in the comments along with the ratings. In addition, you may tag @kiipfit on Instagram along with your recipe images because we would love to see what you cooked.
In addition, if you desire to explore more of my delicious recipes then you checkout my cookbooks.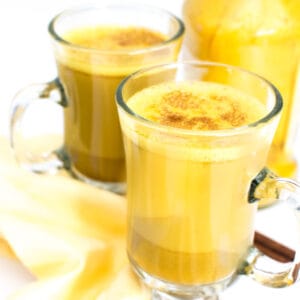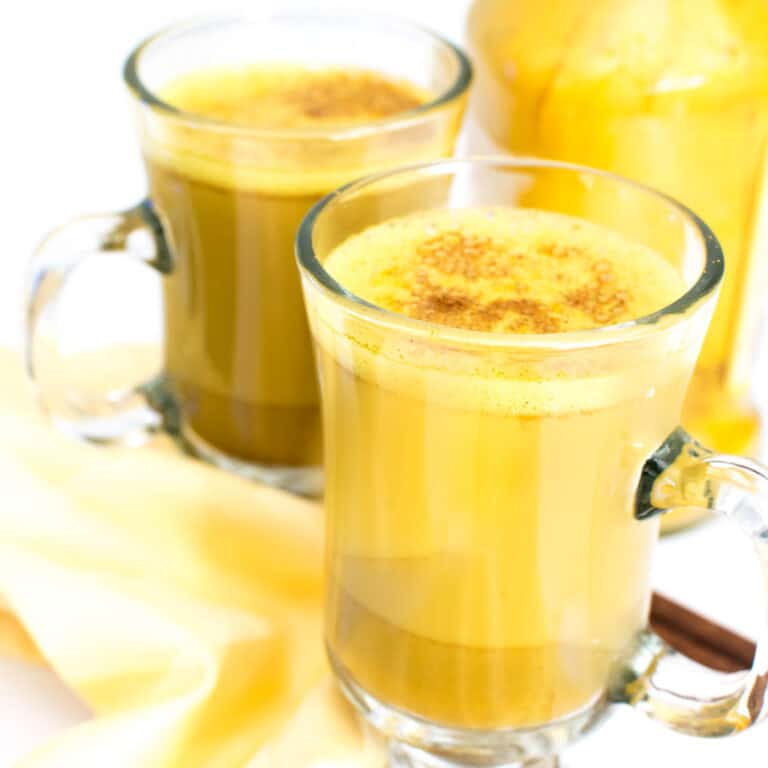 Print Recipe
Turmeric Latte
This vegan Turmeric Latte is a healthy alternative to regular chai. Its infused with black tea and nicely flavored with chai spices with being brewed to perfection. It's a nutritious comforting warm beverage for all year round.
Instructions
In two servings cups place the tea bags and pour ¼ cup of boiling water in each cup. Let it brew.

In the meanwhile, in a sauce pan combine oat milk, ginger powder, turmeric powder, cinnamon powder, cardamom powder and stir nicely. Heat it at high flame stirring constantly. At the first boil lower the flame and stir in maple syrup. Then turn it off.

Now, pour the turmeric milk equally in the two cups and remove the tea bags. Froth it with milk frother and serve immediately.(if you do not have frother simply combine the turmeric milk and the brewed tea without the tea bags in a blender and blend it smooth).
Notes
Variation 1 – follow step 1 in the instruction. Then in step 2 you may add grated fresh ginger and grated fresh root turmeric, cinnamon stick and green cardamom pods and maple syrup (use the same measurements as mentions in the ingredients). Let it boil for 1-2 minutes and strain it in your brewed tea. Remove the tea bags and froth or blend.
Variation 2 – follow step 1 in the instruction and let it brew. In a blender combine ½ inch root ginger, 1 inch root turmeric, cinnamon powder, cardamom powder and maple syrup in a blender. Blend it smooth and pour it in a saucepan. Let it cook until for 1-2 minutes and then pour it in the brewed tea. Remove tea bags and froth or enjoy as is by stirring.
This recipe tastes best when served immediately.
Unsweetened almond milk also works in this recipe but oat milk brings the best taste. 
Nutrition
Calories:
146
kcal
|
Carbohydrates:
25
g
|
Protein:
3
g
|
Fat:
4
g
|
Saturated Fat:
1
g
|
Sodium:
87
mg
|
Potassium:
163
mg
|
Fiber:
2
g
|
Sugar:
23
g
|
Vitamin A:
370
IU
|
Vitamin C:
1
mg
|
Calcium:
281
mg
|
Iron:
2
mg