These oil free Strawberry Cheesecake Brownies are a vegan treat with fudgy chocolaty base with a tang and swirled with homemade cream cheese and berry compote. It's the ultimate dessert that is gluten free and nut free.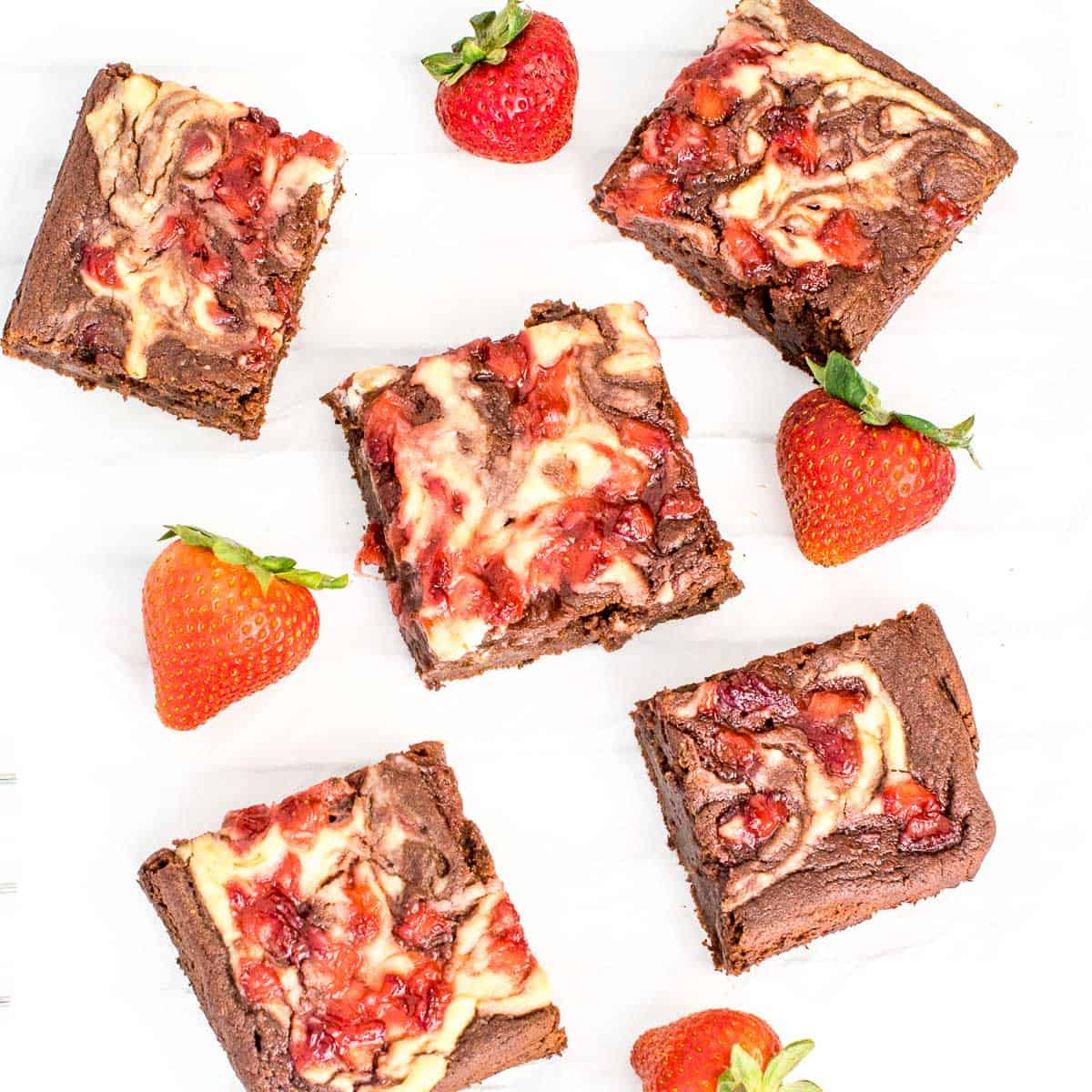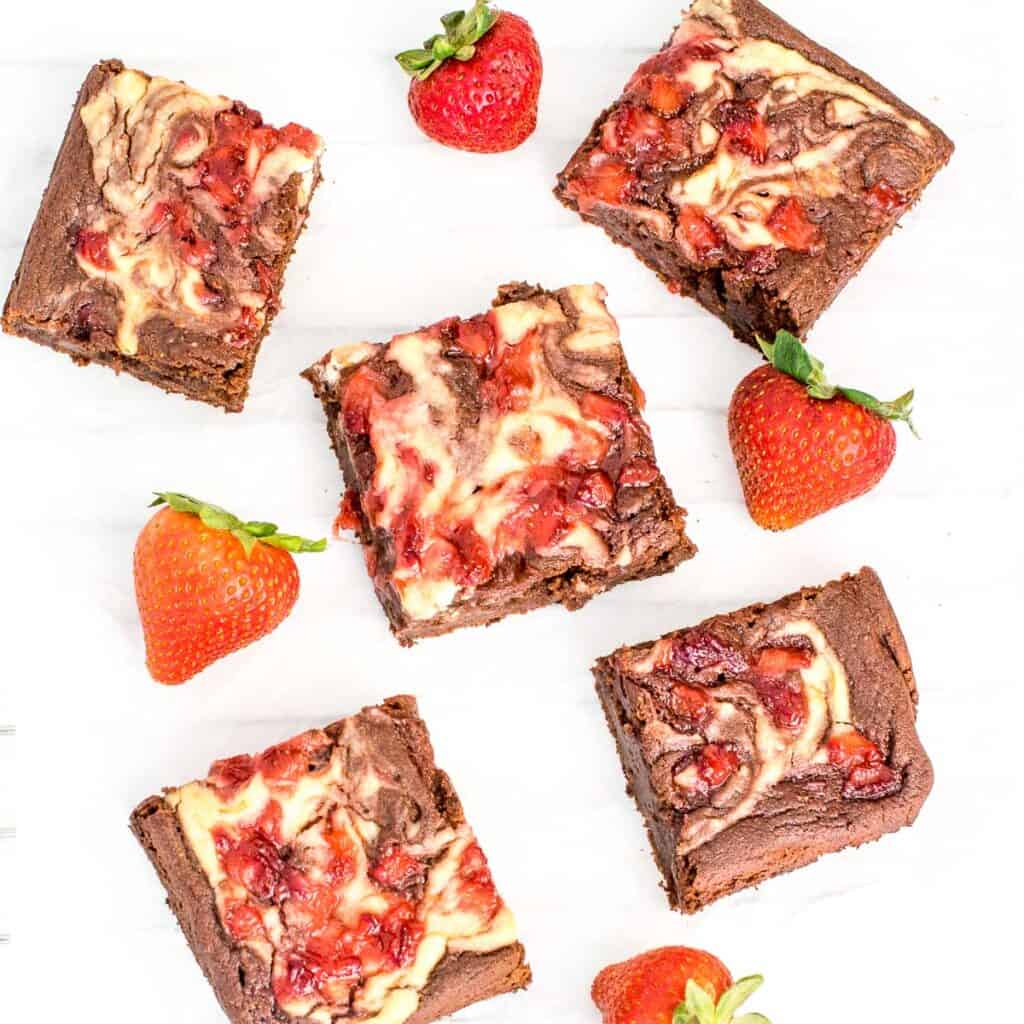 Brownies are quite a hit in my house and I love to experiment a variety of recipe.

However, a chocolate base is the most popular one. This time I added fresh strawberries to the batter and to the swirl as well because tis' the season.
The subtle tang of strawberries in the batter and the sweetness of it on top along with salty cream cheese was absolutely mid blowing and outstanding.
On this note, you must try my refreshing and nutritious strawberry shortcake smoothie.
It's one of my very best dessert creations and we totally love every bit of these vegan strawberry brownies.
I tested this recipe so many times and every time I never had any leftovers overs.

Infact we ended up licking half of the batter when I was just about to finalize the recipe.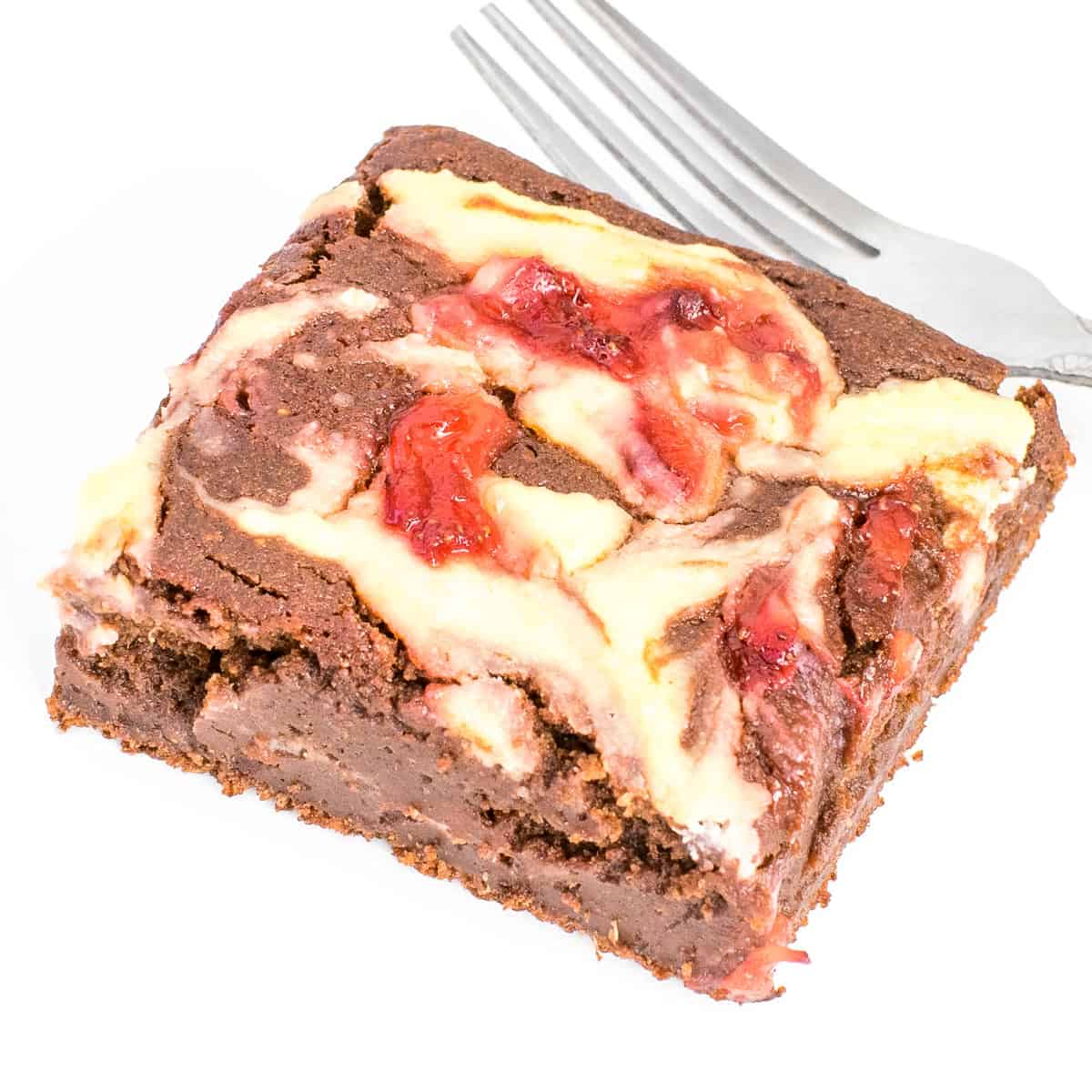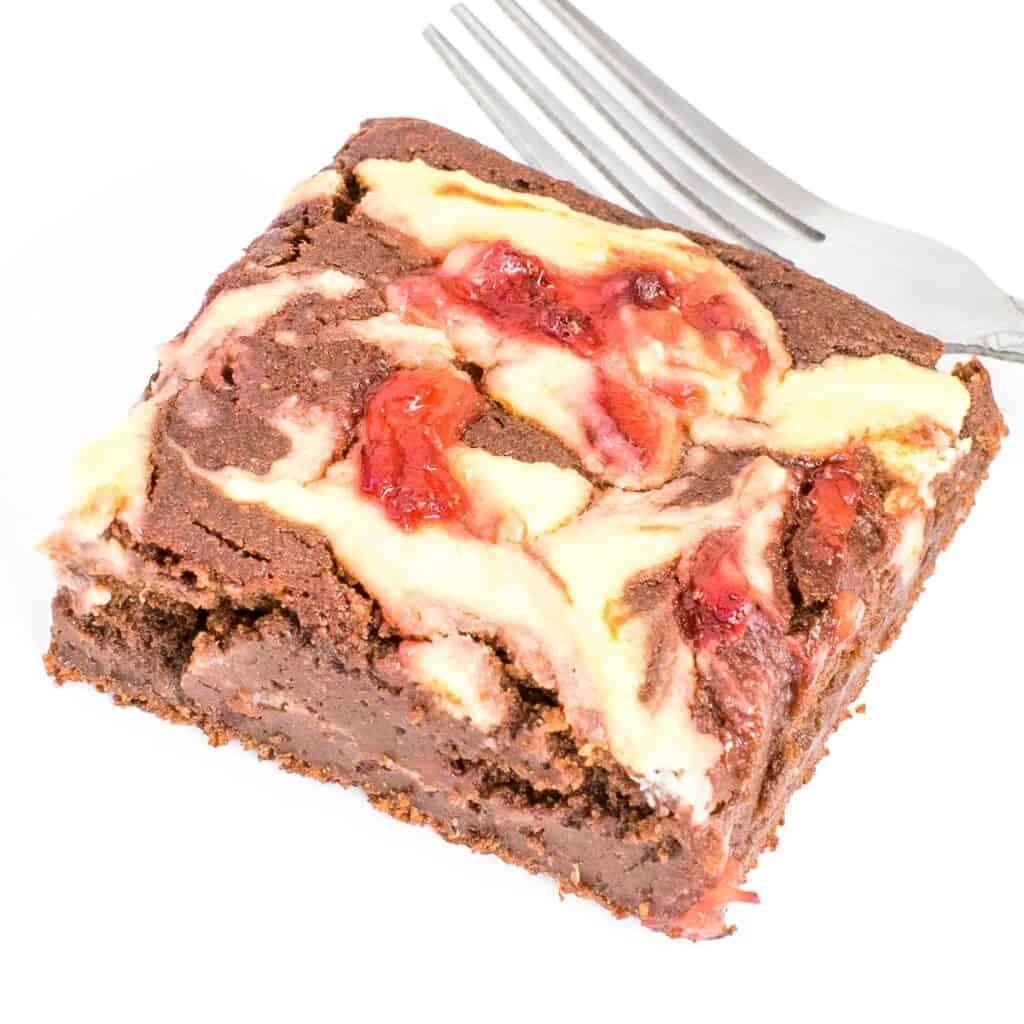 We all laughed to our hearts content because obviously I had to redo completely from scratch while my family enjoyed the unbaked batter.
I would love you try my strawberry pancakes because these are delicious weekend breakfast. Also, if you have lots of strawberries which you want to use up then you must try this oil free vegan strawberry cake.
If you are up for some unique experiment then try this strawberry walnut dip and you will be surprised by its deliciousness.
Coming back to my new recipe, these fudgy and chewy strawberry cheesecake brownies is definitely a winner and a wonderful healthier treat with all the goodies in it.
My other brownie recipe that you may like:
Banana Brownies
Raspberry Brownies
Pumpkin Brownies
Sweet Potato Brownies
Peanut Butter Chocolate Brownies
Coffee Brownies
However, today I am sharing this awesome and easy strawberry cheesecake brownies recipe with you all.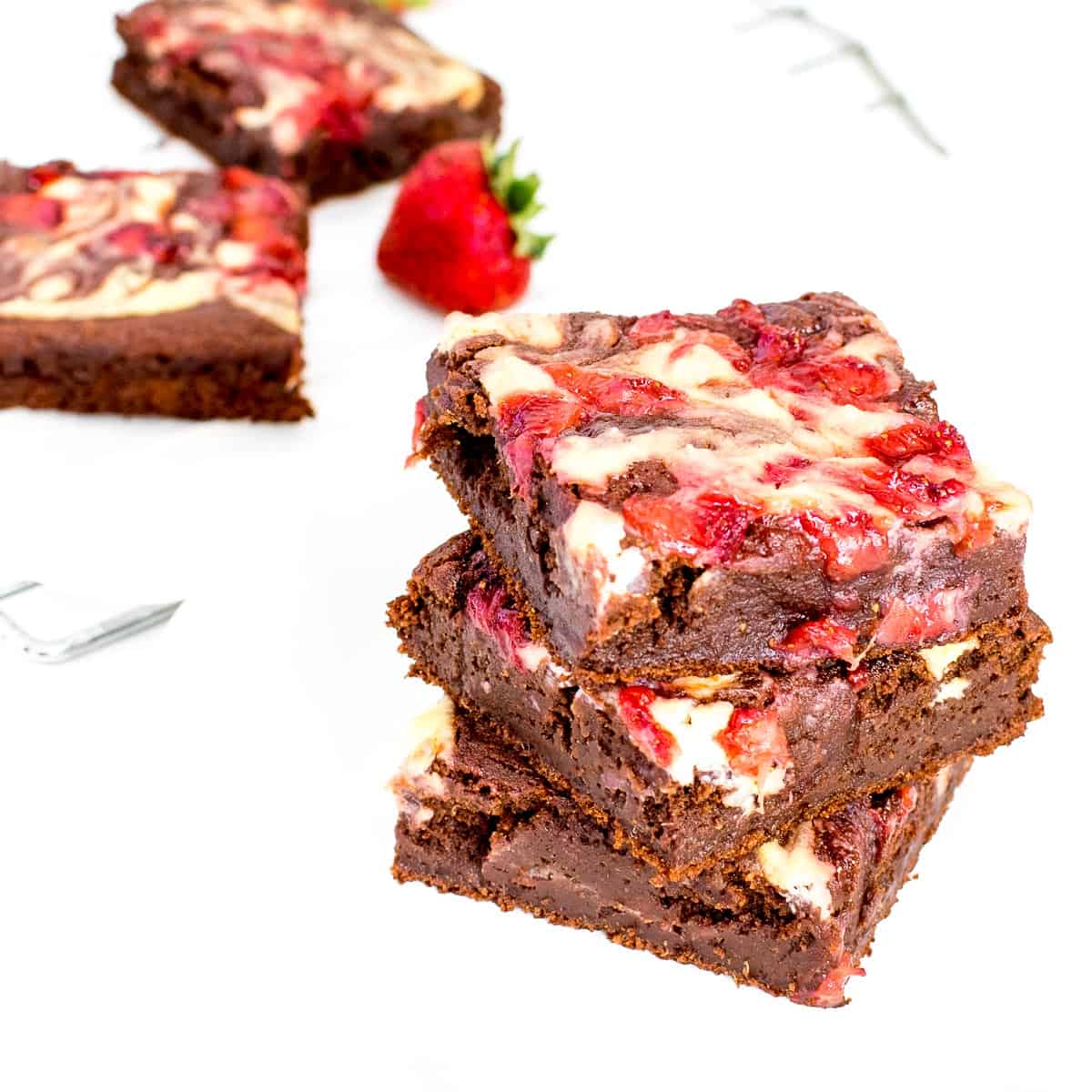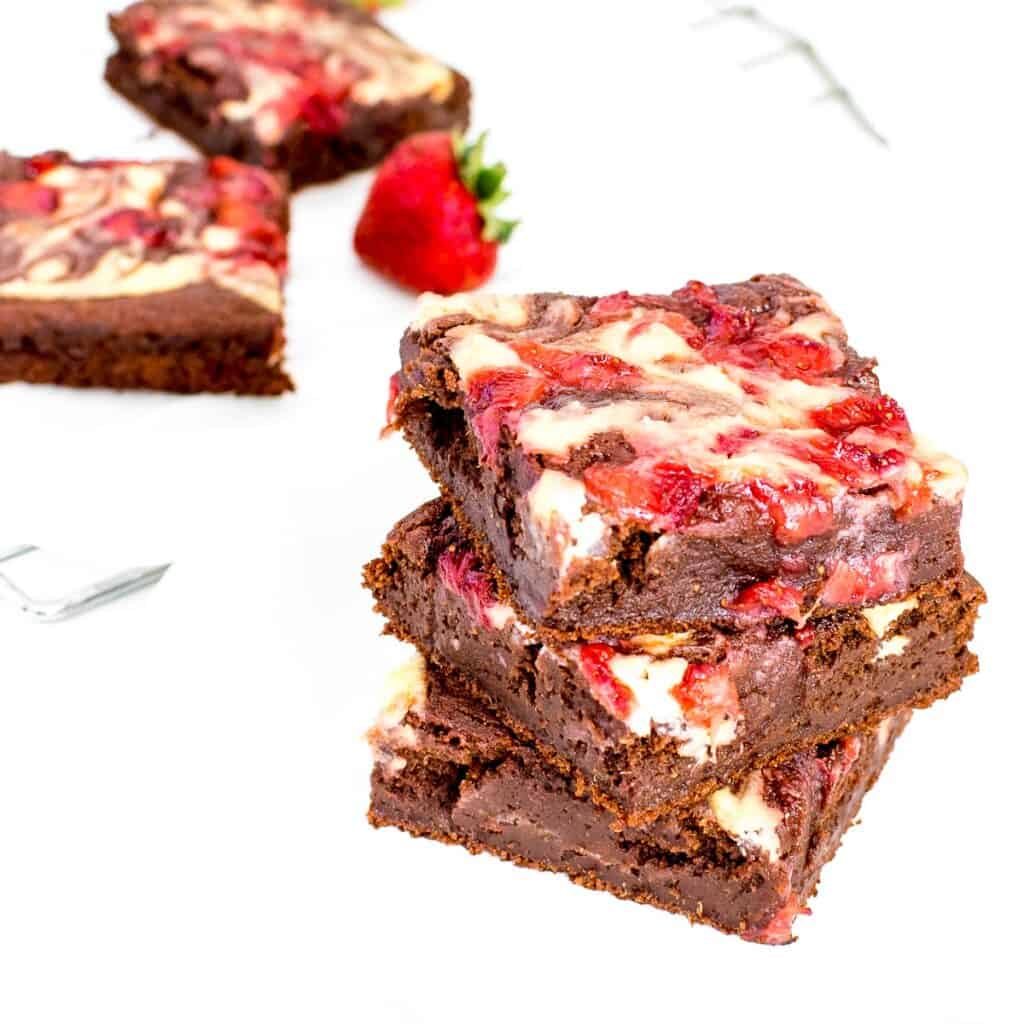 Ingredients you will need:
Strawberries
Oat milk
Vanilla extract
Dates
Chia seeds
Chocolate chips
Brown rice flour
Baking powder
Salt
Vegan cream cheese
Sugar
Maple syrup
I have used these easily available ingredients which you may buy from any local grocery store. However, I have provided links to few of them here for your convenience.
If you plan to buy from these affiliate links then I get a small commission which in turn encourages me to bring in more delicious recipes for you all.
Ingredients notes:
Strawberries – I used fresh strawberries here for the best taste and results. Its high in antioxidants and fiber.
Oat milk – I used it so as to make this recipe nut free but you may use any dairy free milk of your choice.
Dates – it's nutritious and a natural sweetener which comes under whole foods category. It a healthier way to sweeten any recipe.
Chia seeds – it adds protein and fiber to this recipe along with being a great egg replacer.
Dairy free chocolate chips – It's the base of this recipe brings out a nice flavor here.
Brown rice flour – this is high in fiber and a whole grain. Its gluten free and nut free too. At the same it binds well and rises excellently making these strawberry cheesecake brownies chewy and fudgy.
Cream cheese – even though store bought vegan cream can be used I prefer making my very own nut free vegan cream cheese because its healthier and low in calories.
Maple syrup – this I used to cook strawberries so as to make it sticky and sweeten the berries as well. You may substitute it with white or brown sugar if desired.
How to make Strawberry Cheesecake Brownies
Step 1: how to make the batter
Firstly, I blended strawberries, milk, dates, vanilla and soaked chia seeds in a blender until it was smooth. Then, I kept it aside.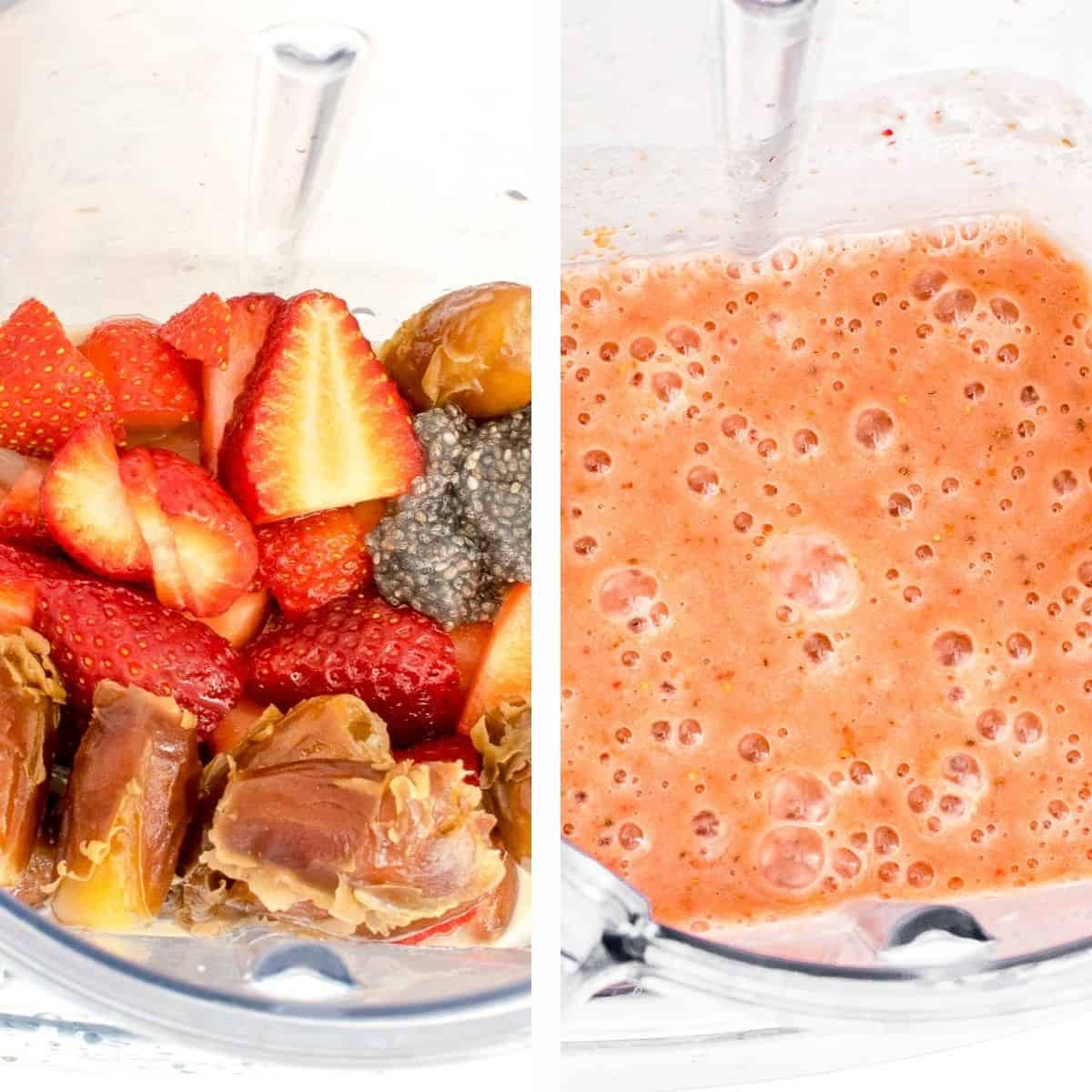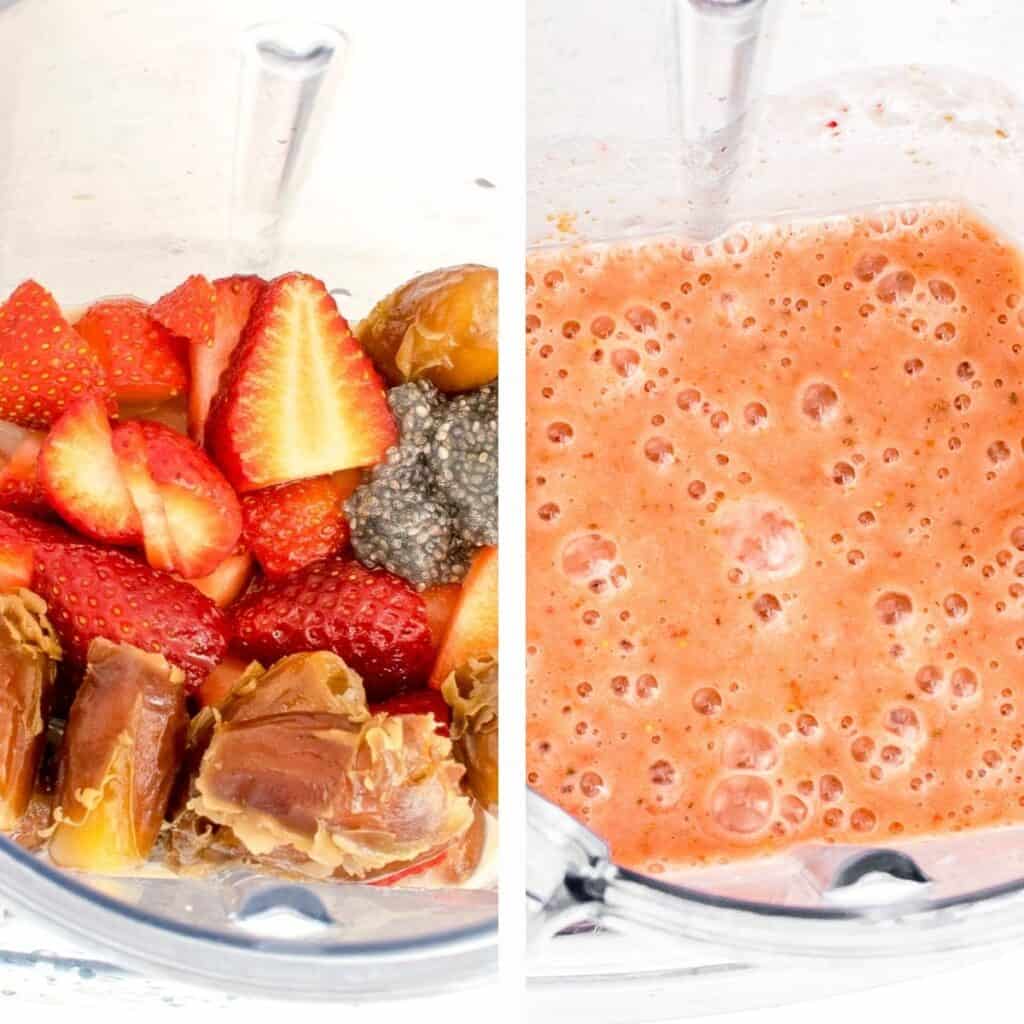 Secondly, I melted chocolate chips in the microwave.
Next, while melted chocolate was still hot, I stirred in the blended strawberries.
Thereafter, I folded in brown rice flour, baking powder and salt.
Then, I whipped it up into a thick batter and poured it at the center of a prepared square baking dish.
Afterwards, I kept it aside.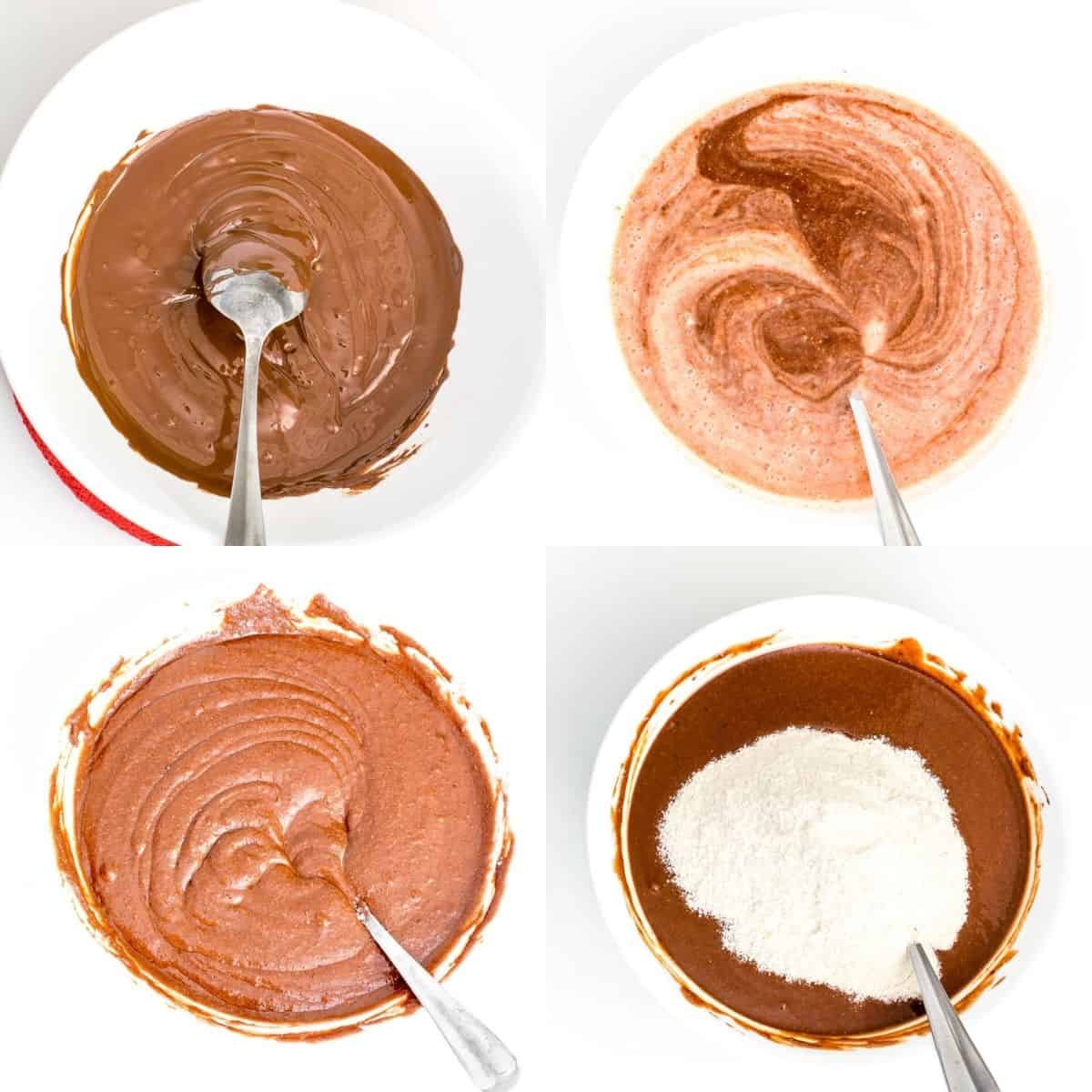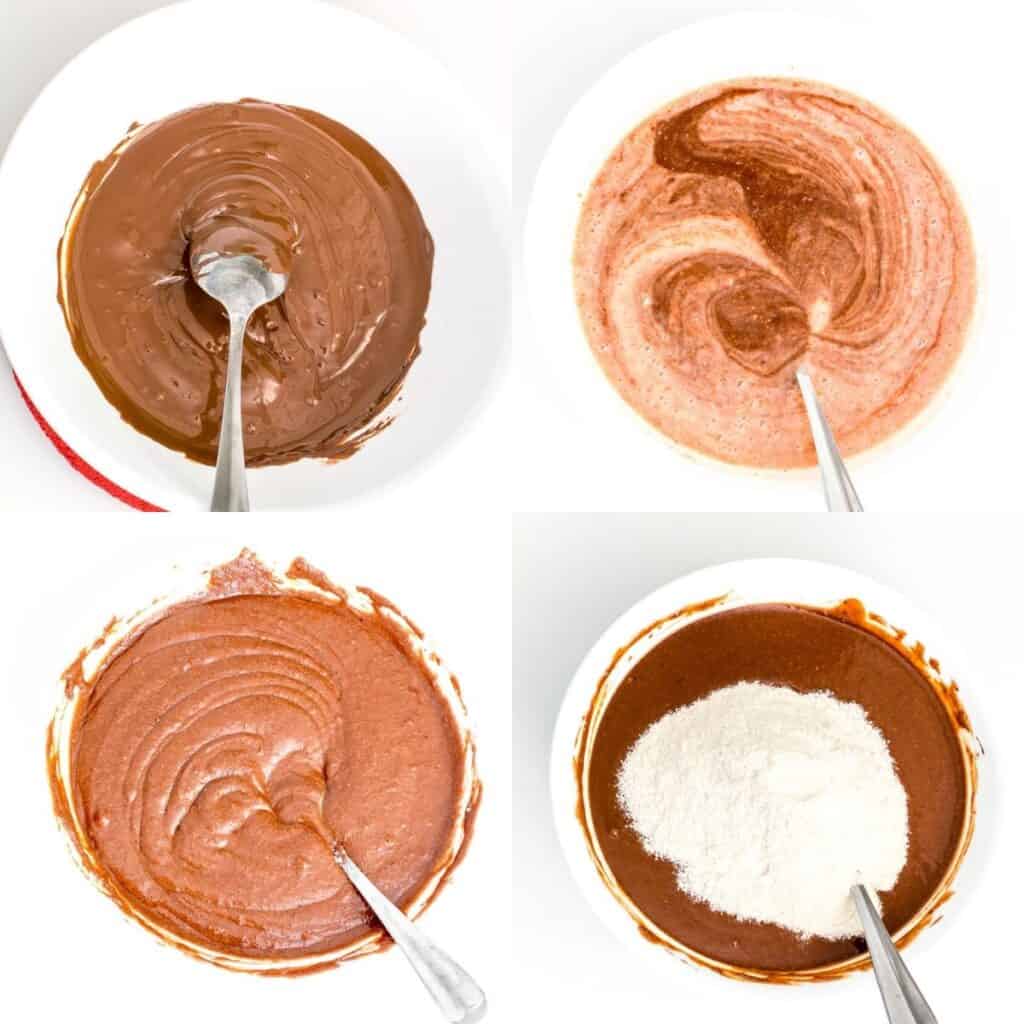 Step2: how to make the swirl
Firstly, I stirred in sugar in vegan cream cheese and kept it aside.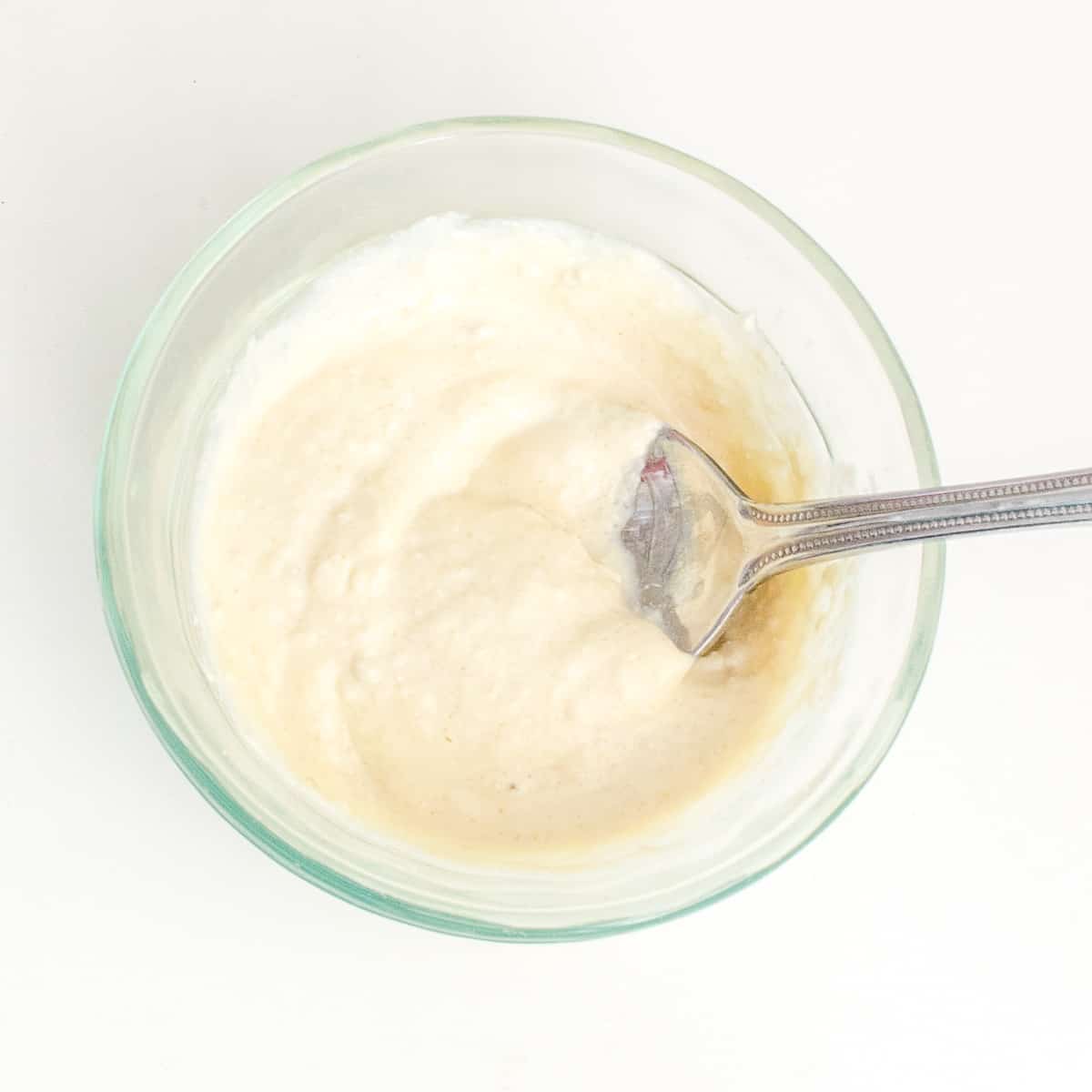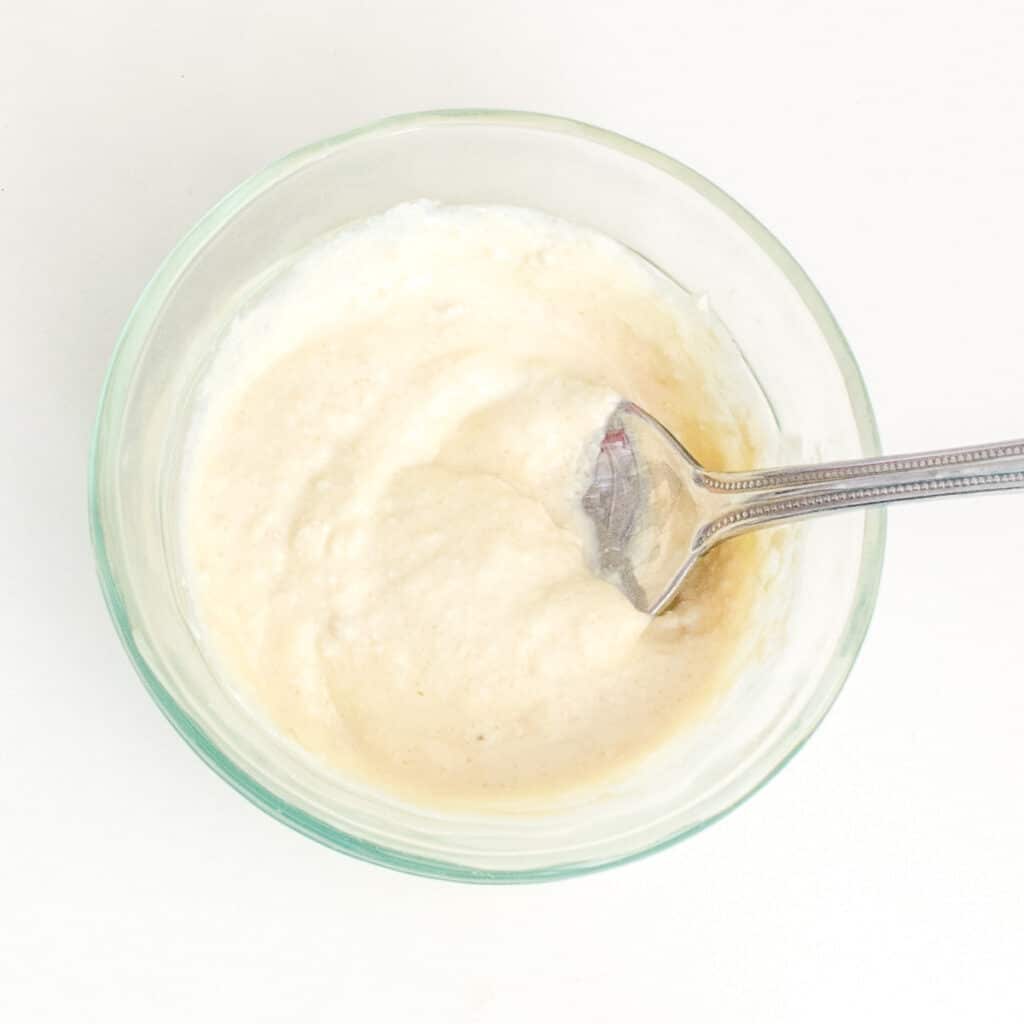 Next, I cooked strawberries and maple syrup together in a nonstick pan until they were mushy. Then, I turned it off and kept it aside.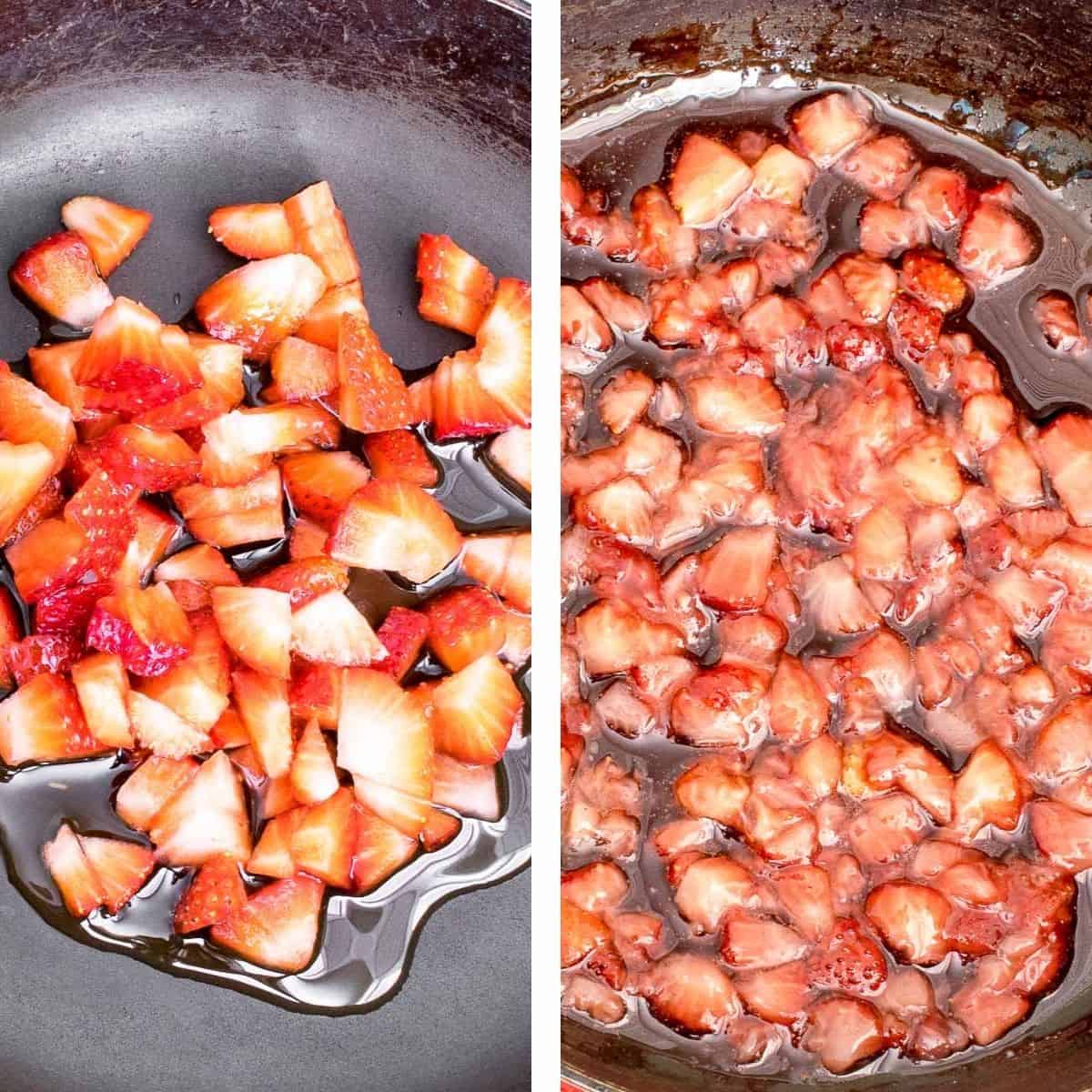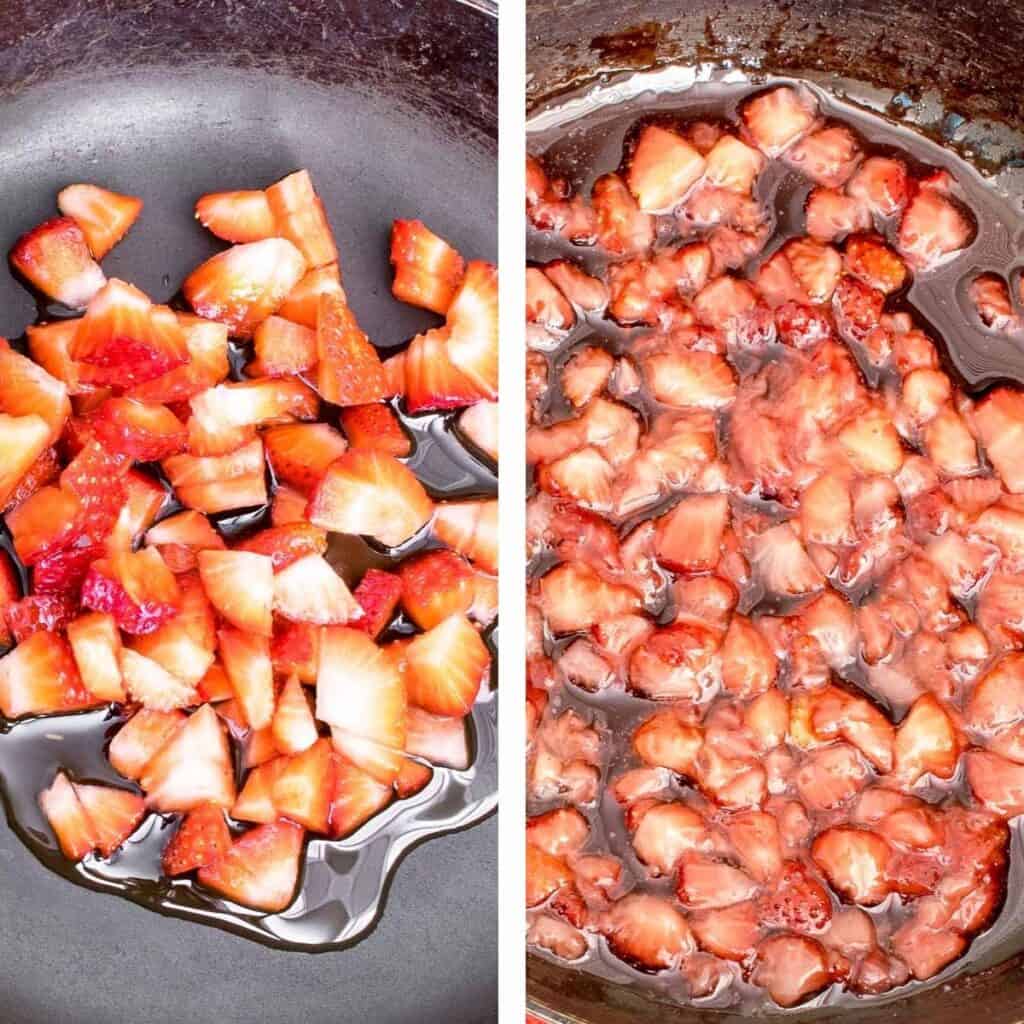 Step3: how to assemble
Firstly, I topped the batter in the baking dish with small drops of cream cheese with a spoon. I randomly placed the drops on it.
Secondly, I added drops of cooked strawberries randomly on top of it.
Thereafter, with the help of a chopstick I simply swirled it into a design mixing all the topping in a pattern.
Afterwards, I baked it in the middle rack of the oven at 350-degree for 35 minutes. Then, I turned it off and let it settle in the warm oven for 3 minutes.
Next, I took it out and placed it in the refrigerator for 5 minutes.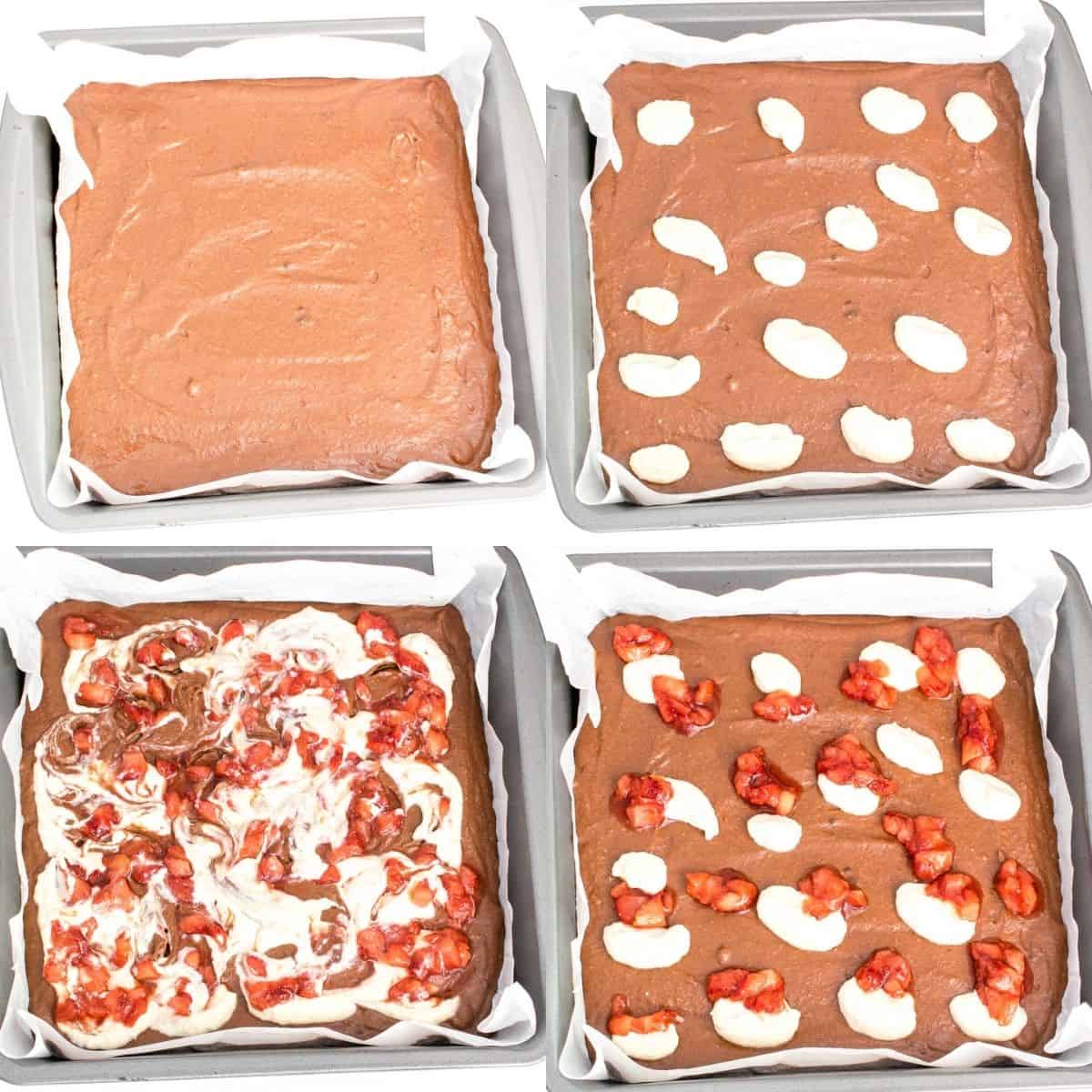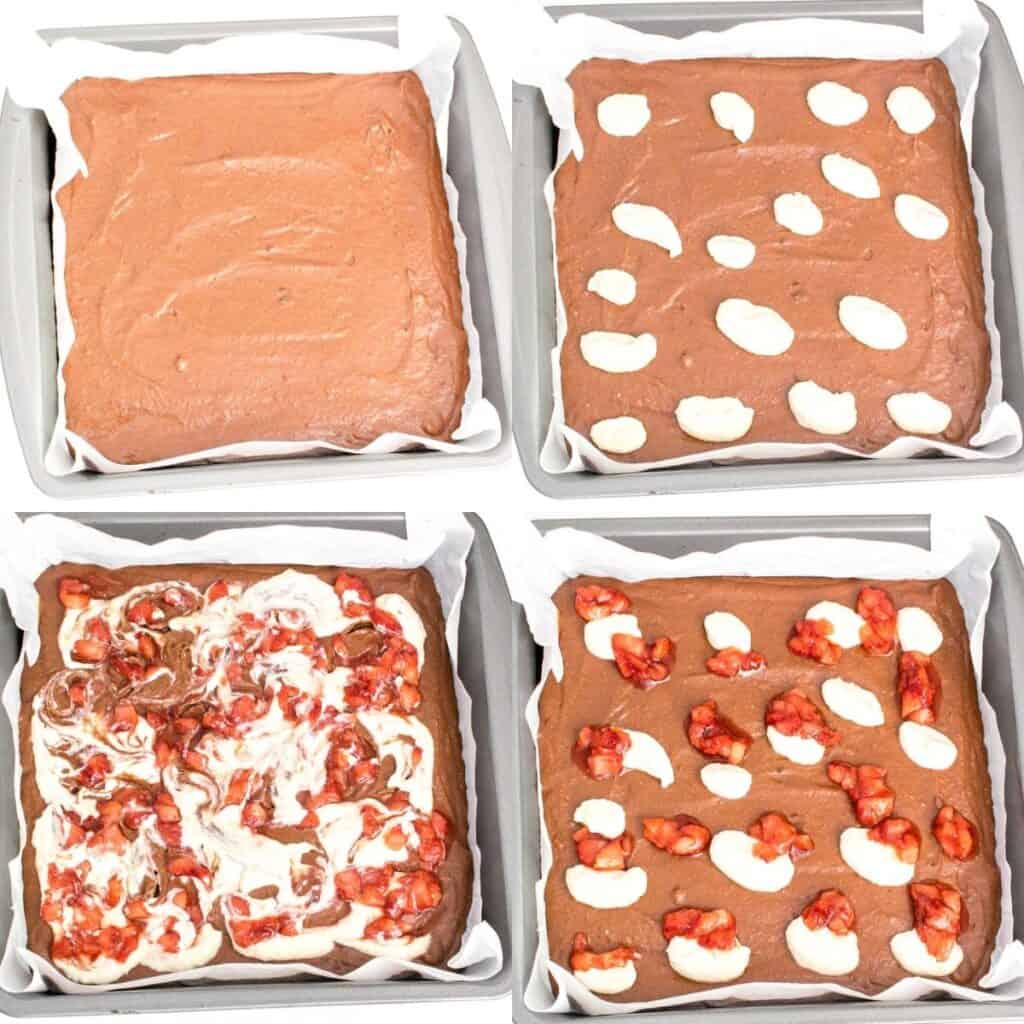 Lastly, I took it out of the refrigerator and gently pulled out the parchment paper with the brownies and placed it on a flat surface. Then, I sliced and served.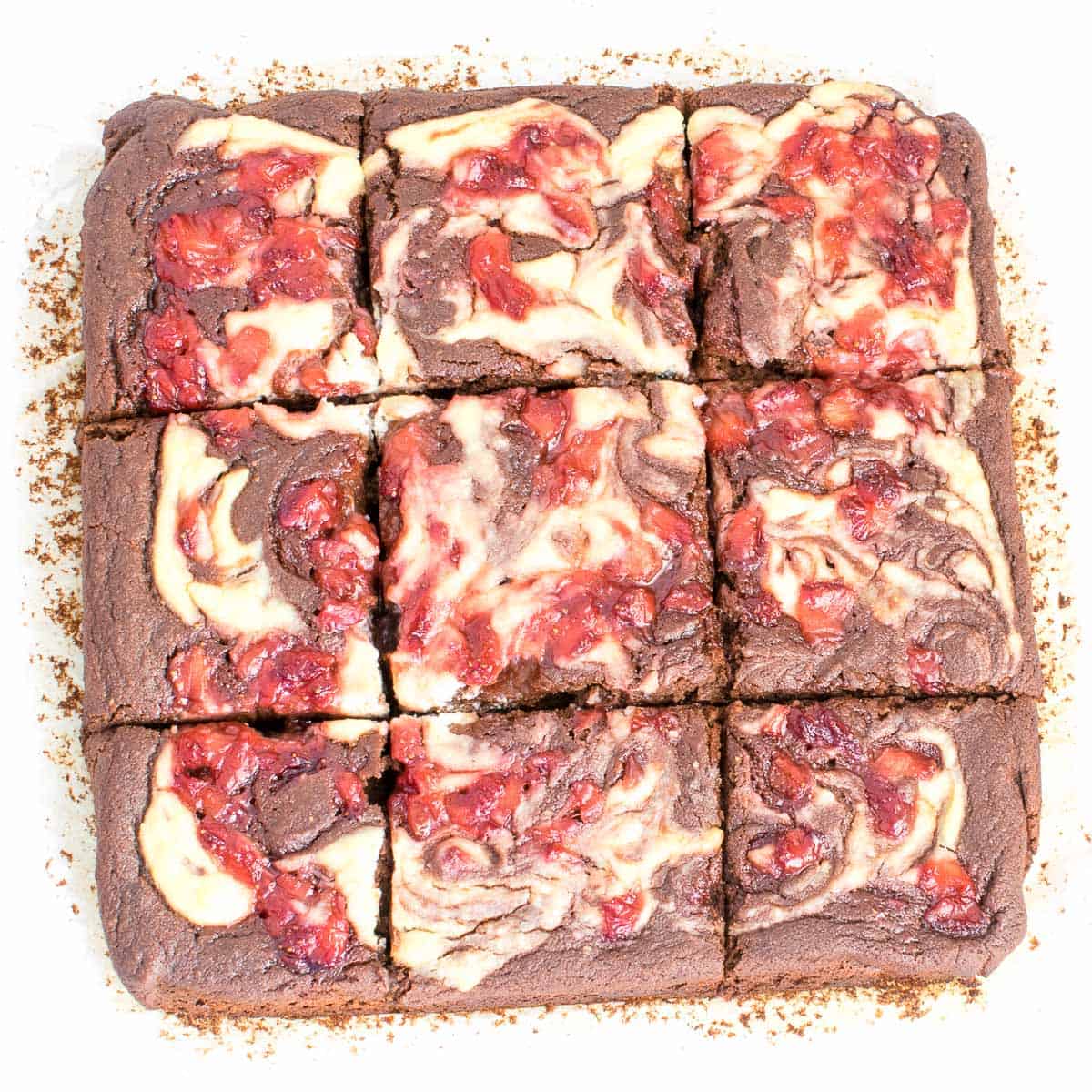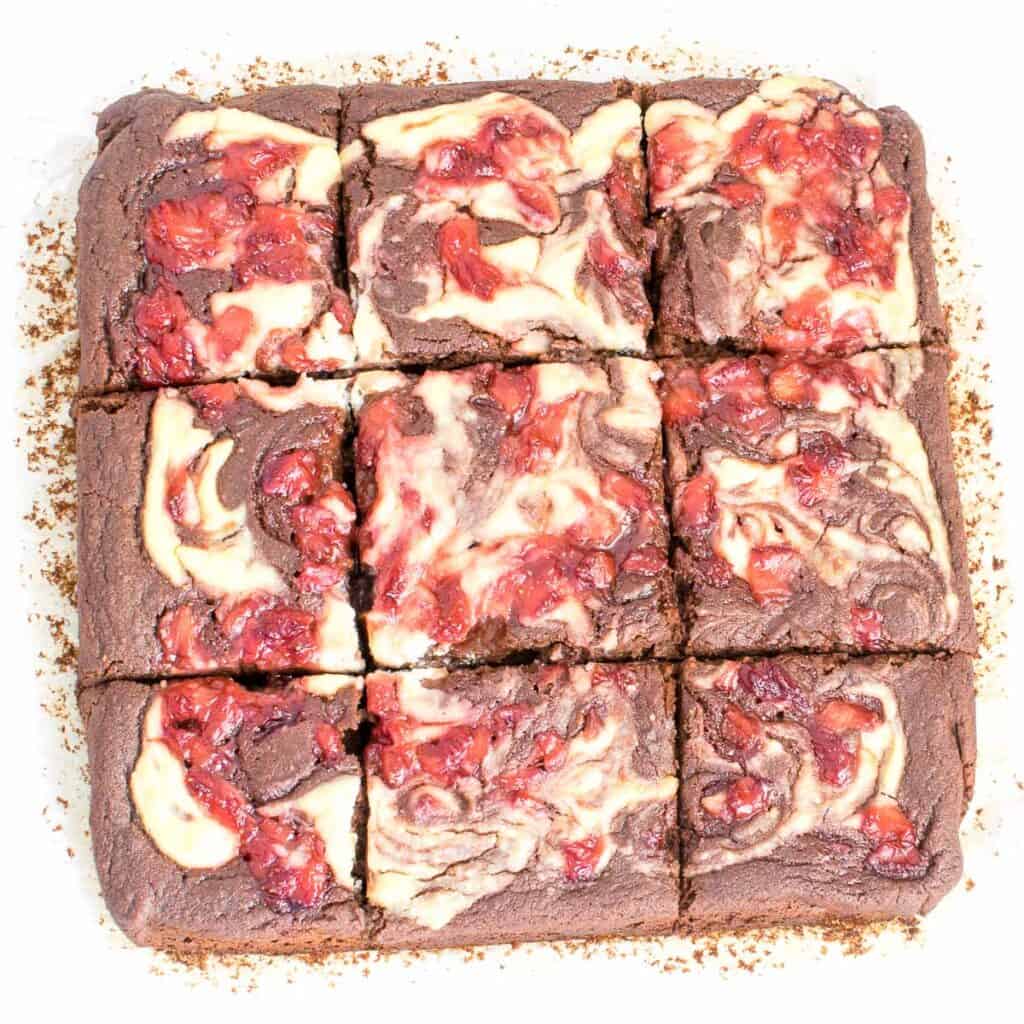 It was an instant hit and I had no leftovers.
Voila!!!! We loved it thoroughly and therefore, I frequently make big batches of these strawberry swirl brownies so we can enjoy this vegan treat often.
Expert tips:
The best way to save time is to blend the cream cheese ahead of time or a day before and refrigerate. Make sure to bring it room temperature before baking.
You may preheat oven while cooking strawberries and blending the wet ingredients.
It is important to melt the chocolate chips very nicely making sure that the chips are not firm. At the same time be careful over cooking or burning.
It is important to stir in the blended liquid ingredients while the chocolate is hot so as to get a prominent tangy flavor from the strawberries.
Strawberry Cheesecake Brownies FAQs
How long do they last?
This tastes best when served immediately but the leftovers can be refrigerated in an air tight container for about 3 weeks.
Are these healthy?
I made them oil free and used processed sugar only in a minimum quantity so as to maintain a white color of the cheesecake. Also, I made it with fresh strawberries and its nut free too. I sweetened it with dates which is very healthy ingredient and used brown rice flour as dry ingredient to add fiber to it. Overall, it's a healthier treat but in my opinion should be indulged occasionally since it's a sweet treat.
Can I use store bought cream cheese for this recipe?
Yes, it's totally fine too.
How do they taste like?
These have fudgy chocolaty taste with a mild tang from the strawberries at the base. Then topped with salty and sweet cream cheese along with strawberry compote.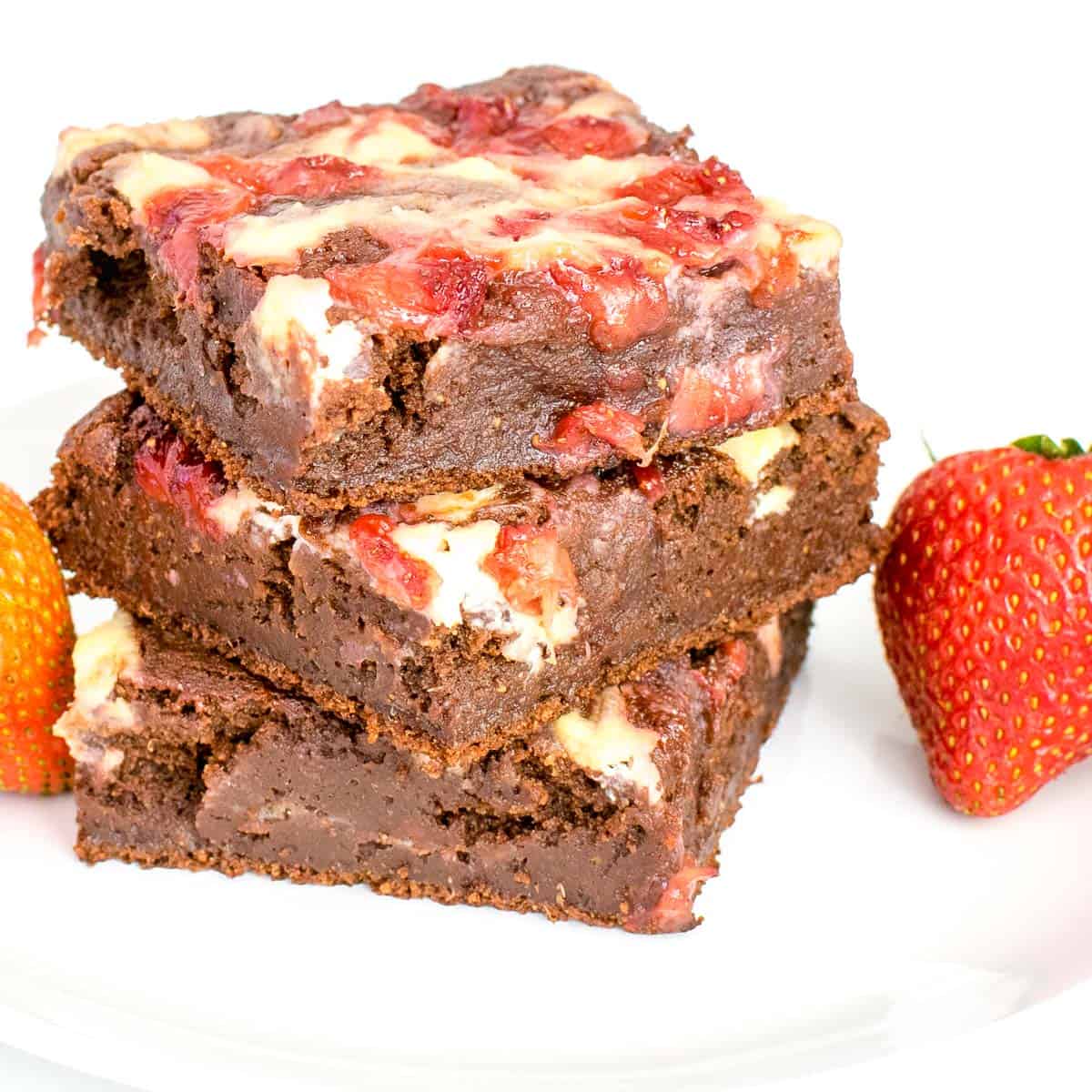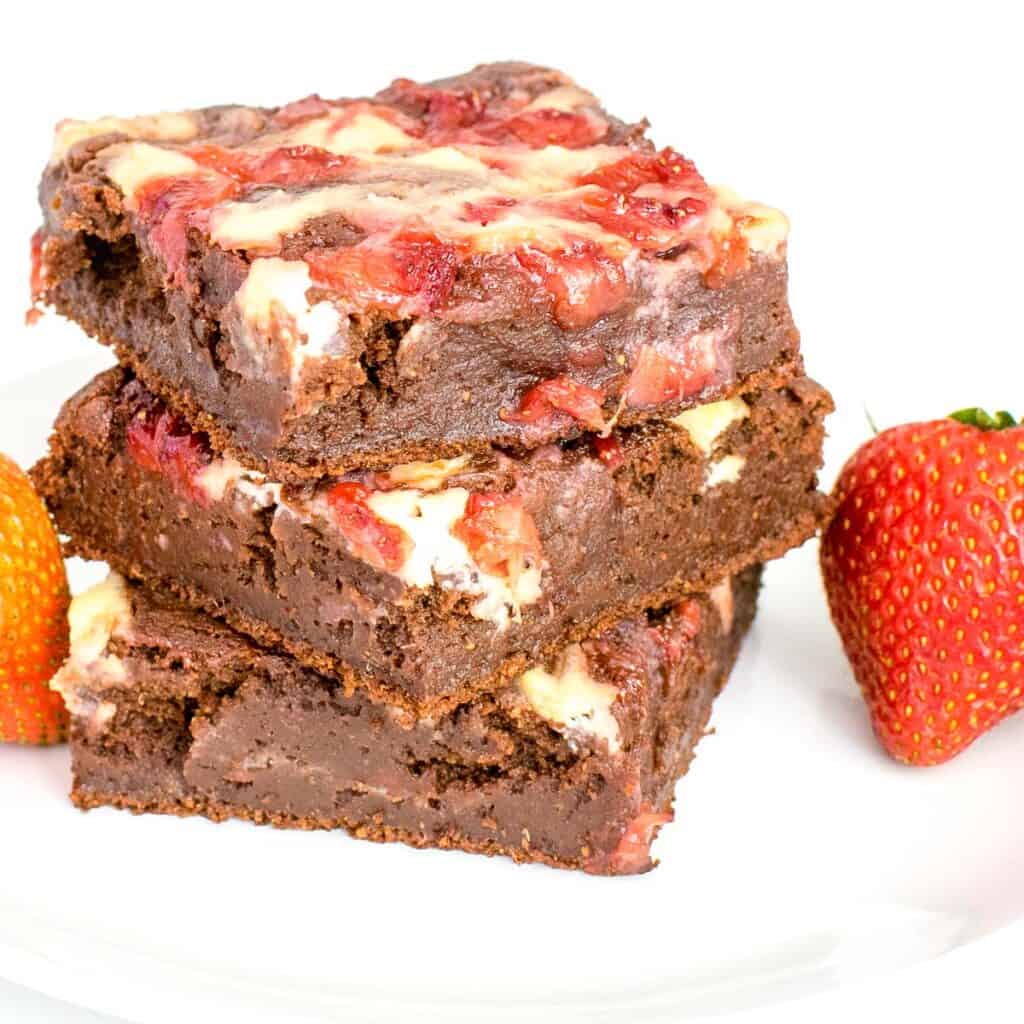 Did you make it?
If you get a chance to make this recipe then please leave your feedback in the comments along with a 5-star rating. In addition, you may tag @kiipfit on Instagram with your recipe remake images or follow me on Facebook.
You may also checkout my cookbooks for everyday comforting vegan recipes.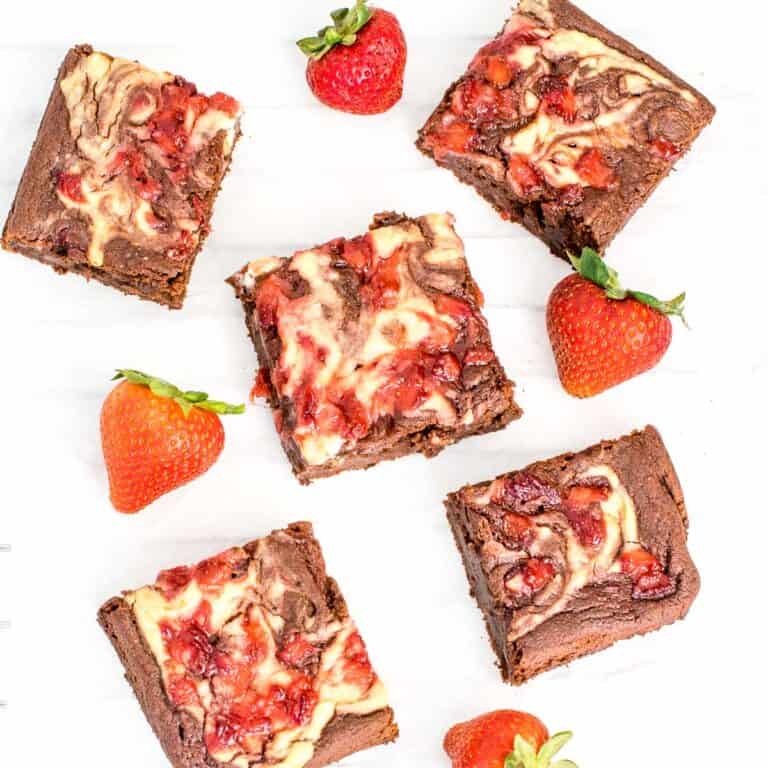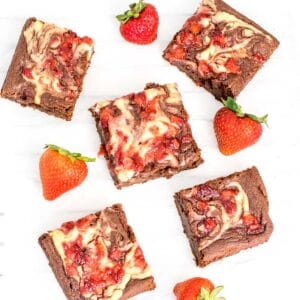 Print Recipe
Strawberry Cheesecake Brownies
These oil free Strawberry Cheesecake Brownies are a vegan treat with fudgy chocolaty base with a tang and swirled with homemade cream cheese and berry compote. It's the ultimate dessert that is gluten free and nut free.
Ingredients
1

cup

roughly chopped fresh strawberries

3/4

cup

oat milk

1

tsp

vanilla extract

1/2

cup

pitted dates

(soaked in warm water and drained)

1

tsp

chia seeds

(soaked in 1 tbsp. warm water)

1

cup

brown rice flour

1

tsp

baking powder

1/4

tsp

salt
for the cheesecake swirl
1/4

recipe of

vegan cream cheese

1

tsp

granulated white sugar

1/2

cup

finely chopped fresh strawberries

1 1/2

tbsp

maple syrup
Instructions
Brownie Batter
Preheat oven at 350-degree Fahrenheit and prepare an 8-inch square baking dish by greasing it and then stick a parchment paper to it. In a blender combine strawberries, oat milk, vanilla extract, dates, chia seeds and blend it smooth. Keep it aside.

In a large microwavable bowl combine chocolate chips and microwave it for 1 minute. Pause and take it out. Stir with a spatula. If its not melted microwave again for 30 seconds. Pause and stir again. If needed microwave it again for another 30 seconds. Take it out and stir with a spatula vigorously so that it melts evenly.

Stir the blended strawberry into the melted chocolate until well blended.

Fold in brown rice flour, baking powder and salt to it. Mix it well with a spatula until a thick but soft batter is formed. (it should be a thick pouring consistency). Pour the batter at the center of the baking dish and spread it evenly with the back of the spatula. Keep it aside.
For the swirl
Blend all the ingredients of the vegan cream cheese ( link provided in the ingredients) and spoon it out in a bowl. Stir in granulated white sugar. If using store bough vegan cream cheese then measure ¼ cup of it and stir in sugar. Keep it aside.

In a nonstick pan combine strawberries and maple syrup. Turn on the heat and cook for 3-4 minutes or until strawberries are mushy. Stir continuously to avoid over cooking. Remove from heat and let it settle for2 minutes.
To assemble
Top small drops of cream cheese on the batter which is settled in the baking pan at random intervals. Use a small spoon to make sure the dots are small.

Top it with cooked strawberries randomly with the help of a spoon.

With the help of a toothpick or a chopstick swirl and design the top of the batter and bake it in the middle rack of the oven for 35 minutes. Turn it off and let it settle in the warm oven for 3 minutes. Take it out and place it flat in the refrigerator for 5 minutes. (it should not be cold but cool enough to be able to pick the baking pan without gloves). Gently pullout the parchment paper along with the brownies and place it on a flat surface. Slice and enjoy.
Notes
I have used my own vegan cream cheese which worked excellent here. You may blend the whole recipe. Measure ¼ cup of it and stir in 1 tsp sugar as mentioned in this recipe sugar. Refrigerate the leftovers for future use as a spread over bagels or toast.
Store bought vegan cream cheese can also be used here but measure it to ¼ cup and stir in sugar.
You may cook strawberries for the swirl at the beginning of this recipe and keep it aside at room temperature.
For better time management – First blend the cream cheese and keep aside so that it thickens and blends well with the taste. You may blend this cream cheese a day ahead because it can be refrigerated for weeks. Preheat oven while cooking the strawberries and also blend the liquid ingredients of the batter. Then, melt the chocolate and follow the rest of the recipe so as to assemble quickly.
soak dates for only 5 minutes as long as they are soft enough to blended easily.
This recipe serves 9 big slices and the leftovers can be refrigerated for about 3 weeks in an air tight glass container.
Nutrition
Calories:
274
kcal
|
Carbohydrates:
36
g
|
Protein:
4
g
|
Fat:
11
g
|
Saturated Fat:
1
g
|
Trans Fat:
1
g
|
Sodium:
76
mg
|
Potassium:
115
mg
|
Fiber:
1
g
|
Sugar:
4
g
|
Vitamin A:
41
IU
|
Vitamin C:
1
mg
|
Calcium:
56
mg
|
Iron:
1
mg