These oil free and vegan Raspberry Brownies are the ultimate chocolaty treat. Its chewy with a crackled top and yet soft from inside that melts in mouth immediately.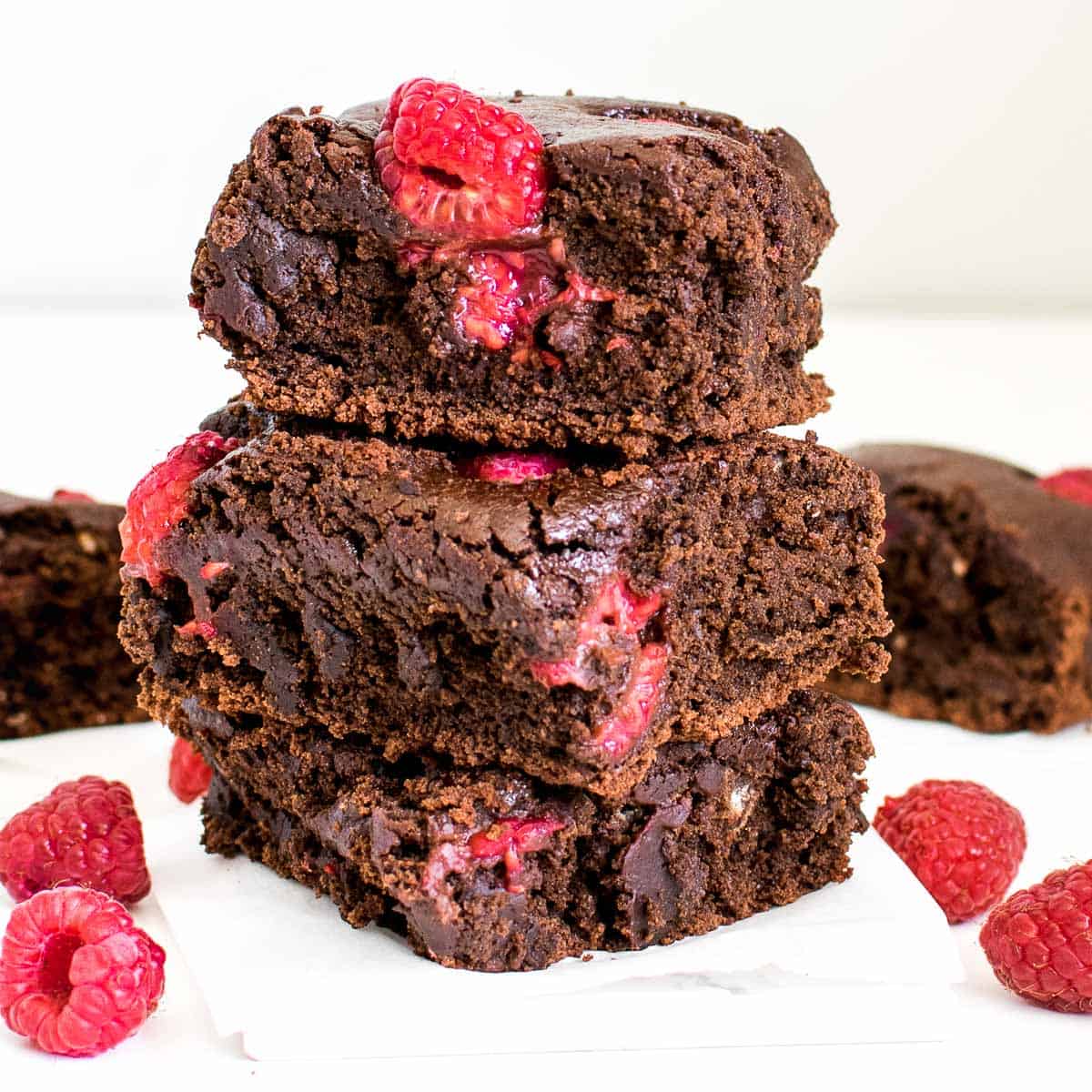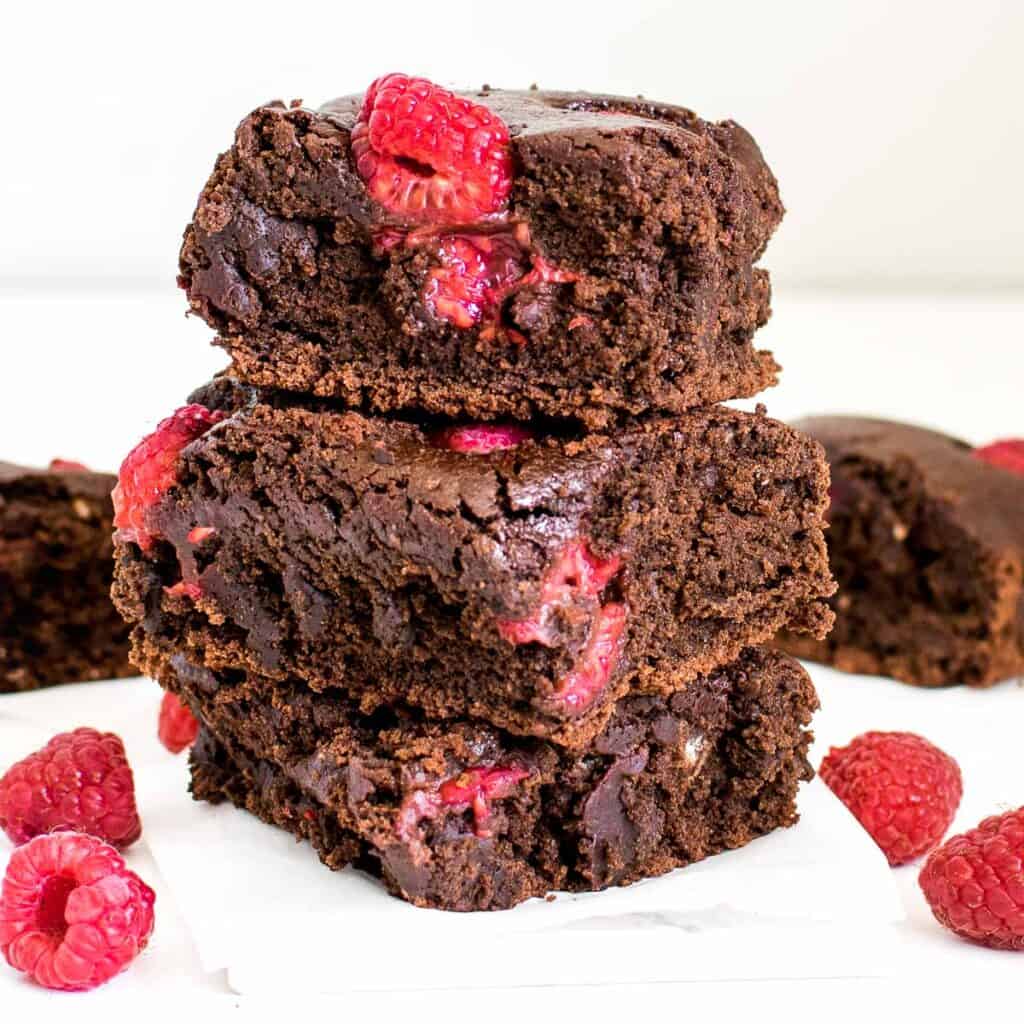 We love brownies in any form. I think it's the easiest way to enjoy a cookie and a cake in the same bite.
I also know that everyone is extremely picky with its texture and taste.
Therefore, I came up with these healthy raspberry brownies.
My family loves it. I practiced it innumerable times because my family wanted perfection. They wanted me to match the store bought one and I wanted to make it healthier. Therefore, in order to fulfill everyone wishes it took me some time to bring this brownie recipe.
But I guarantee that this fudgy raspberry brownie is the ultimate stop for you. You will become its fan and bake them on repeat.
At the same time, I have worked on it making it as simple as possible so that you do not even have to test it with a tester while baking. All you have to do it to simply follow the directions and enjoy the final result.
Raspberries are basically very tangy to eat by themselves, so I have tried to include it in my other recipes like raspberry bars, chia protein raspberry smoothie bowl, mini raspberry tarts, raspberry dip.
My other brownie recipes that you might enjoy are:
Chocolate Cherry Brownies
Pumpkin Brownies
Sweet Potato Brownies
Super food Peanut Butter Chocolate Brownies
Pomegranate Frosted Flourless Brownies
No Bake Chocolate Quinoa Brownies
Caramelized Pear Coffee Brownies
However, today I am sharing these awesome raspberry brownies recipe with you, so let's get started.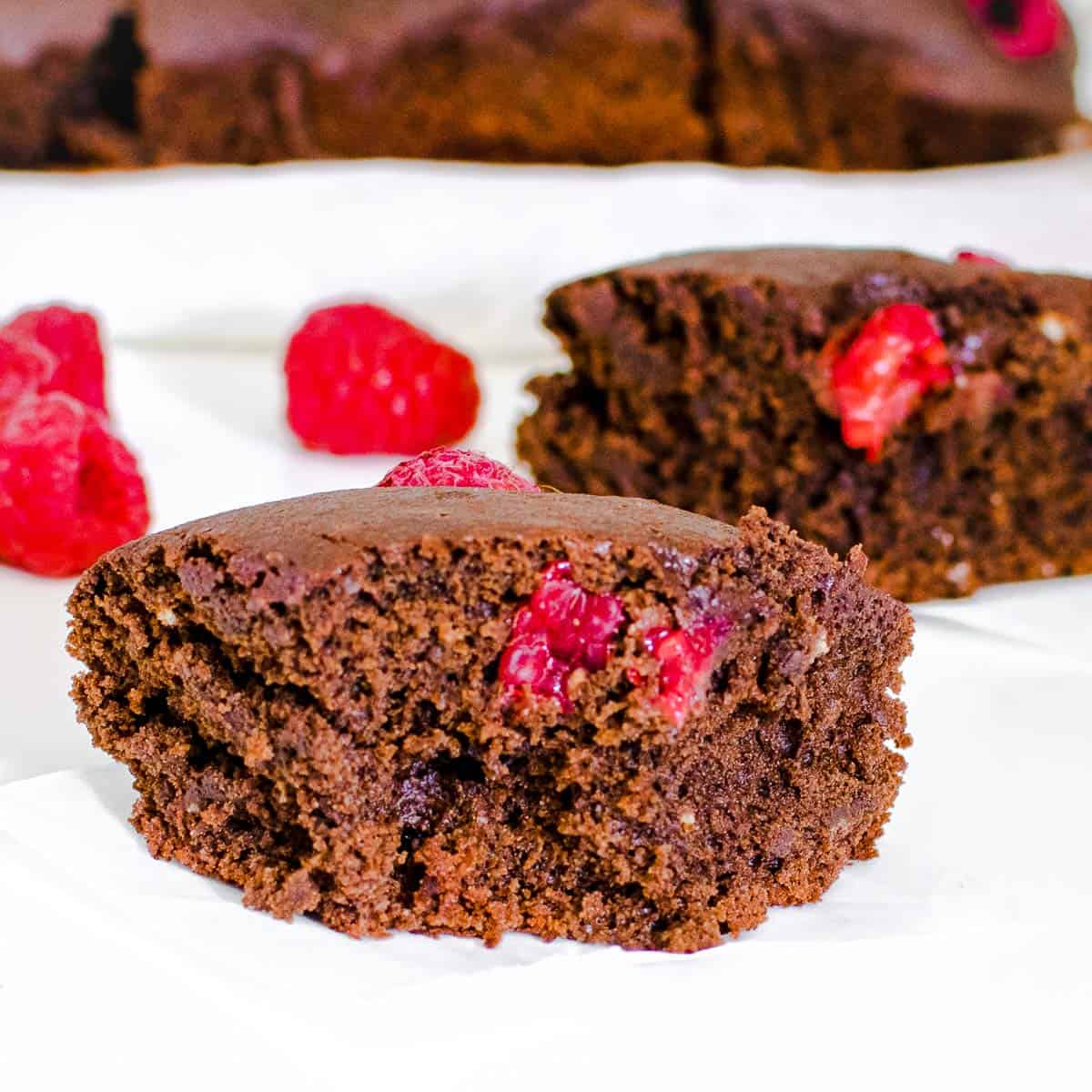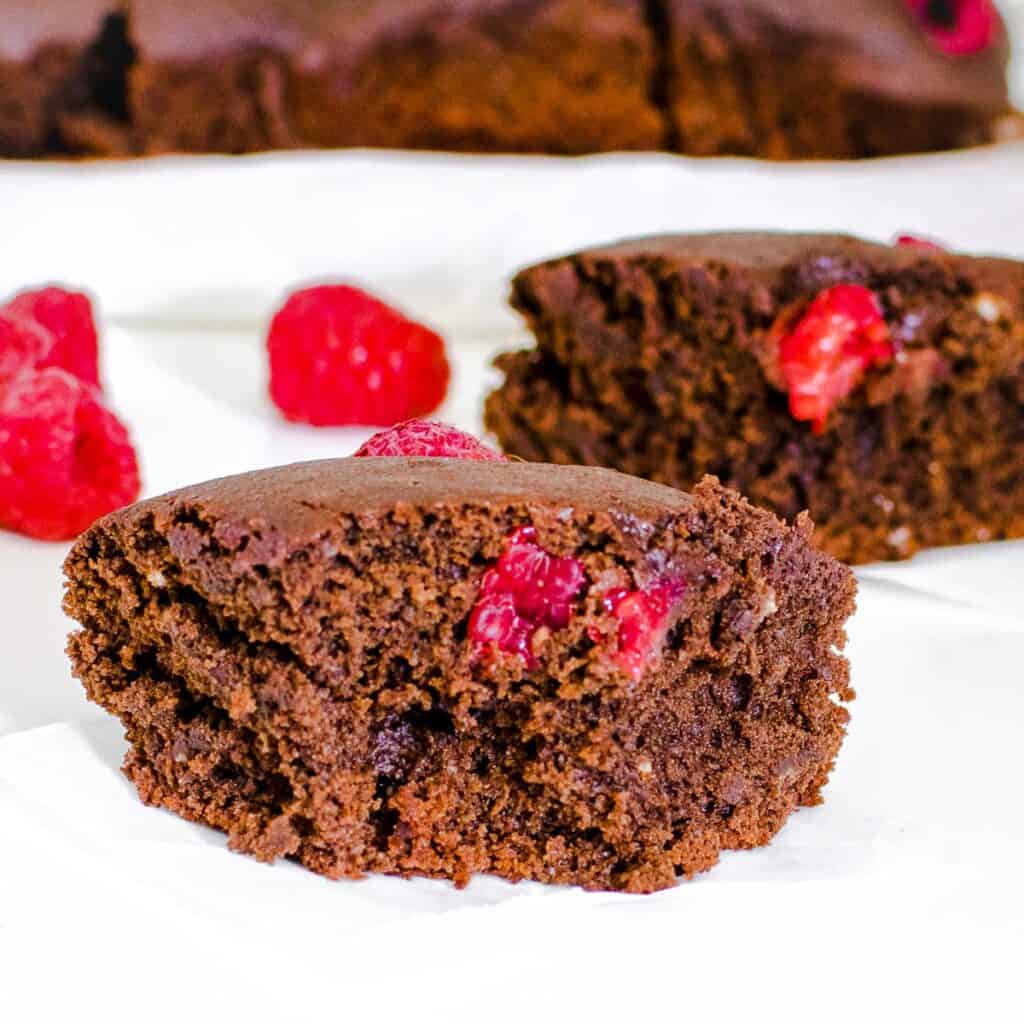 Ingredients you will need
Puree
Raspberries
Water
Others
Dairy free chocolate chips
Maple syrup
Vanilla extract
Cocoa powder
Dairy free milk
Oat flour
Baking powder
Salt
More fresh raspberries
I have used these easily available ingredients which you may buy from nay local grocery store. However, I have provided links to few of them here for your convenience.
If you plan to buy from these affiliate links then I get a small commission which in turn encourages me to bring in more delicious recipes for you all.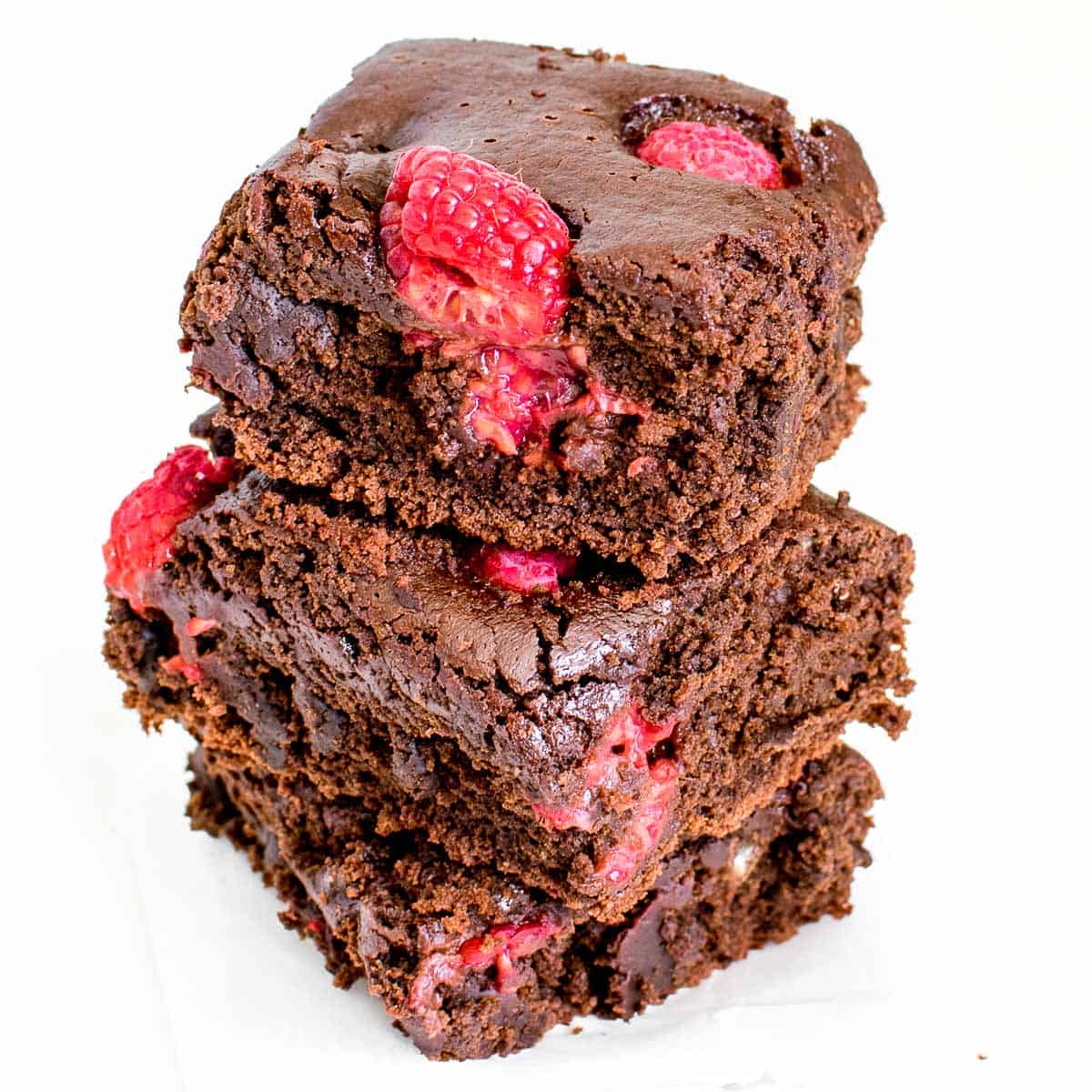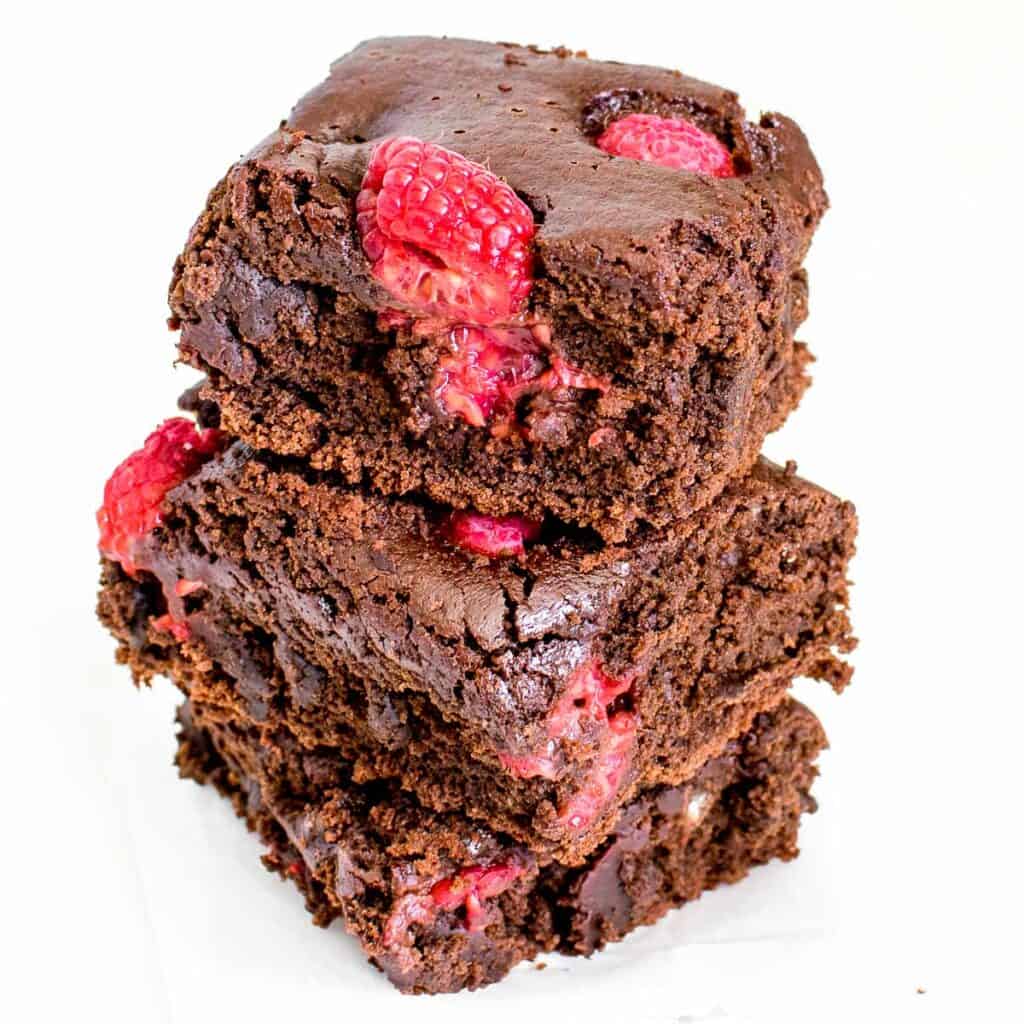 Ingredients notes:
Raspberries – it's the hero of this dessert. Its beautiful and packed with vitamin c and are an excellent source of antioxidants. There are extremely healthy berries and versatile too. I have the fresh raspberries here because it works well as compared to the frozen ones.
Chocolate chips – I used mini chocolate chips here that's dairy free. I would insist you to use the same so as to get to the same measurement as mine.
Maple syrup – I used pure maple syrup. This helps in sweetening these brownies as well as bring the batter in the right consistency also.
Almond milk – I used it because its lighter and low in calories. Moreover, it is fortified with calcium. However, you may substitute it with oat milk, cashew milk or hemp milk.
Oat flour – its high in fiber and has good complex carbohydrates. Its also rich in iron and a very healthy food ingredient. However, you may make your own at flour if desire by grinding the oats that you have handy in your pantry. But make sure to measure it after grinding so as to get the perfect result.
After going through the ingredients in details, all you have to do carefully read through the steps. These steps to bake chocolate raspberry brownie are important to follow as it will ensure that you get the perfect baked dessert.
How to make Raspberry Brownies
Step1: how to make puree
Firstly, I combined raspberries and water in a blender and blend it smooth.
Then, I strained it with the help of a strainer or a sieve and kept it aside.
Make sure to discard the leftover seeds.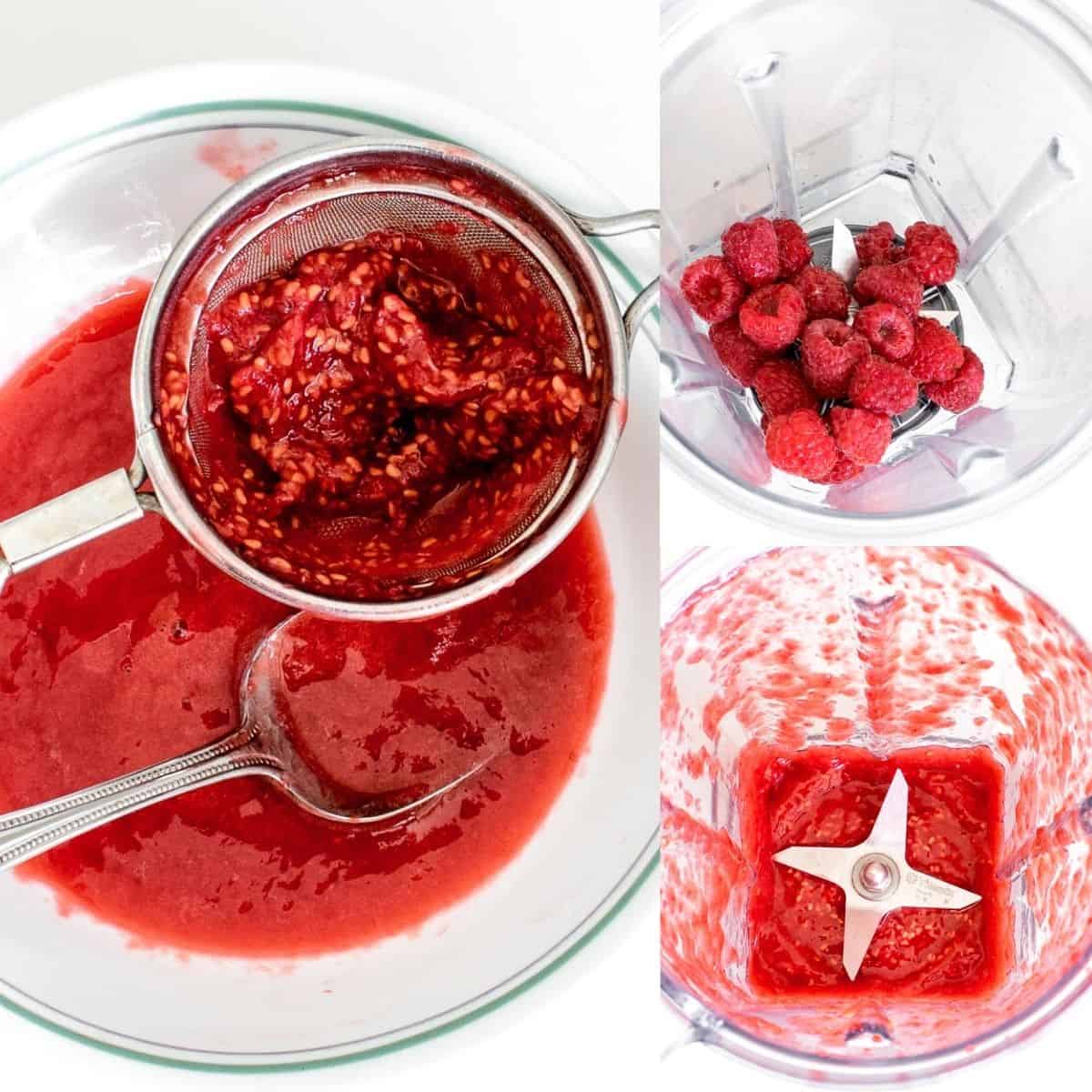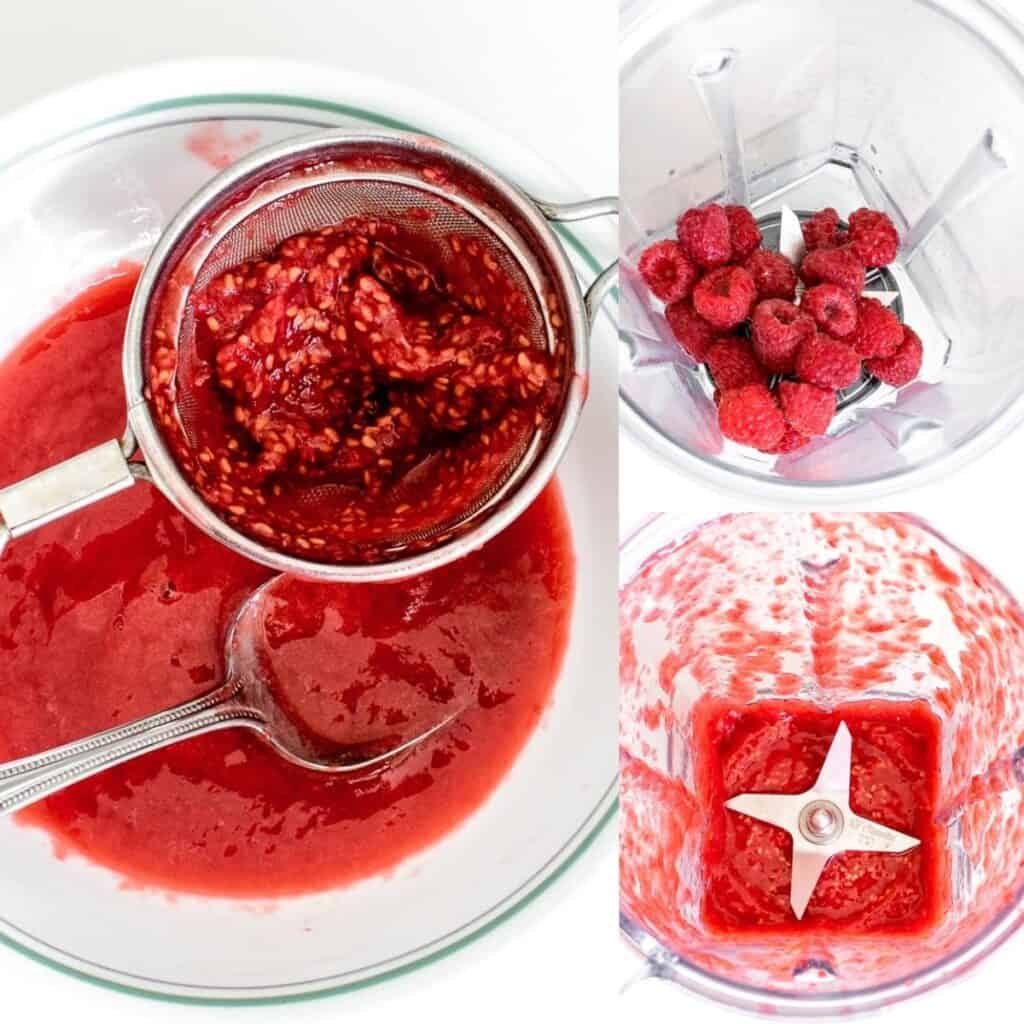 Step 2: how to melt the chocolate
Firstly, I combined chocolate chips, maple syrup and vanilla extract in a microwavable bowl and microwaved it at high for 1 minute. Then, after 1 minute I stirred it with a spoon to check if it was ready to be beaten. Then, I warmed it up again up to 2 minutes until it was ready to be beaten with the hand electric mixer.
Secondly, with the help of the hand electric mixture, I beat the melted chocolate mixture at low speed until light and fluffy.
Next, I added cocoa powder to it and then I beat it again at medium speed until it was well dissolved.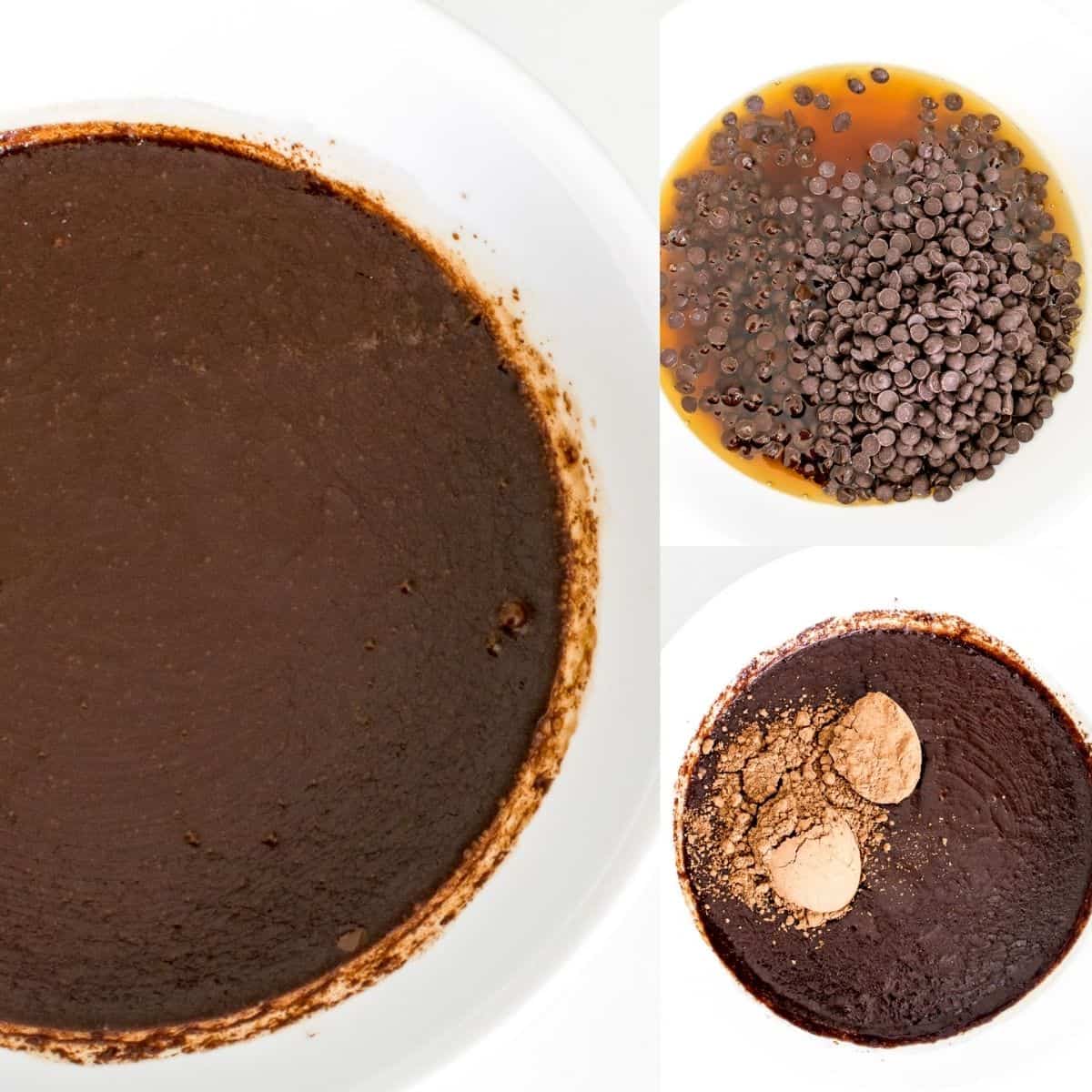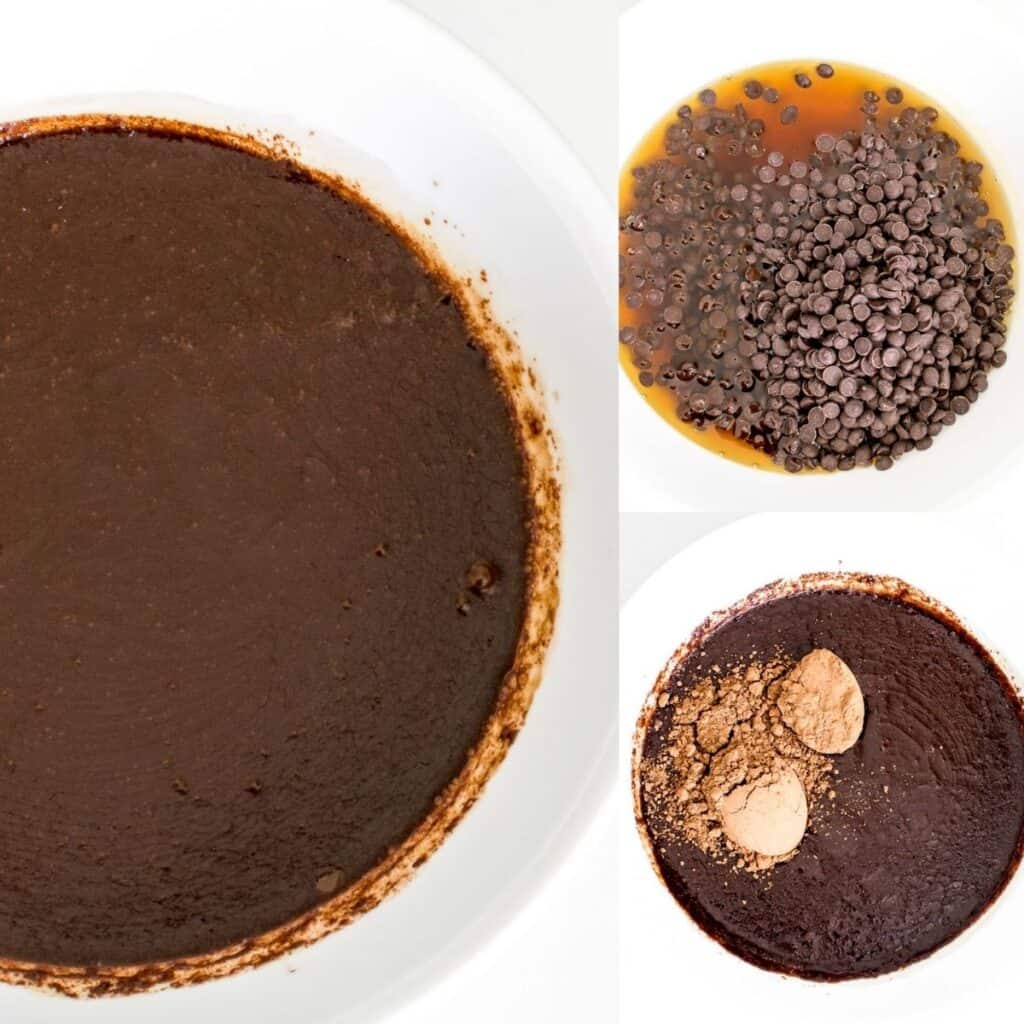 Step3: how to bake
Firstly, I added raspberry puree to the chocolate mixture and beat it again at low speed for 1 minute.
Secondly, I added warm almond milk to it and beat it again for 1 minute.
Thereafter, I added oat flour, baking powder and salt to it. Then, I beat it at medium speed until a thick yet pouring batter was formed.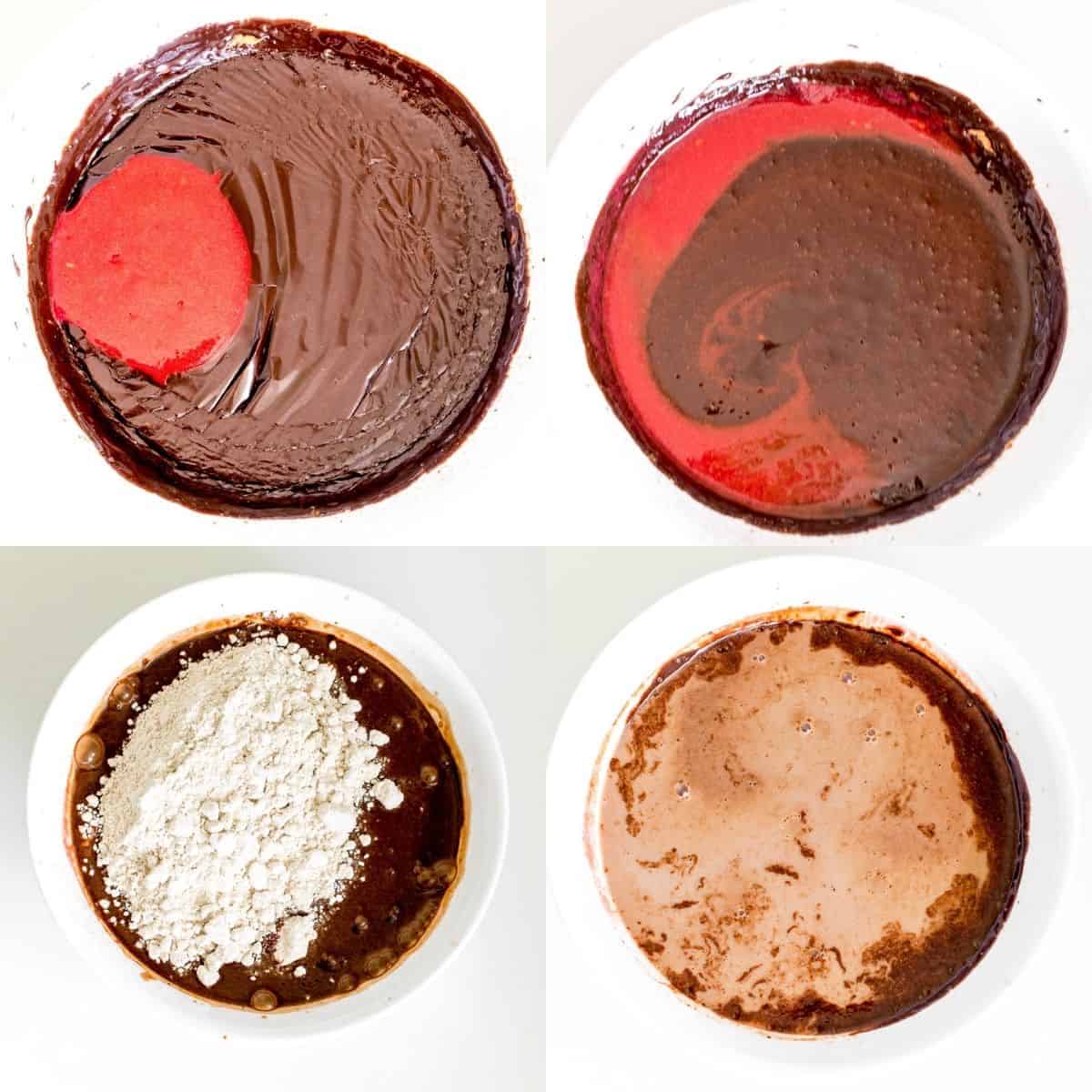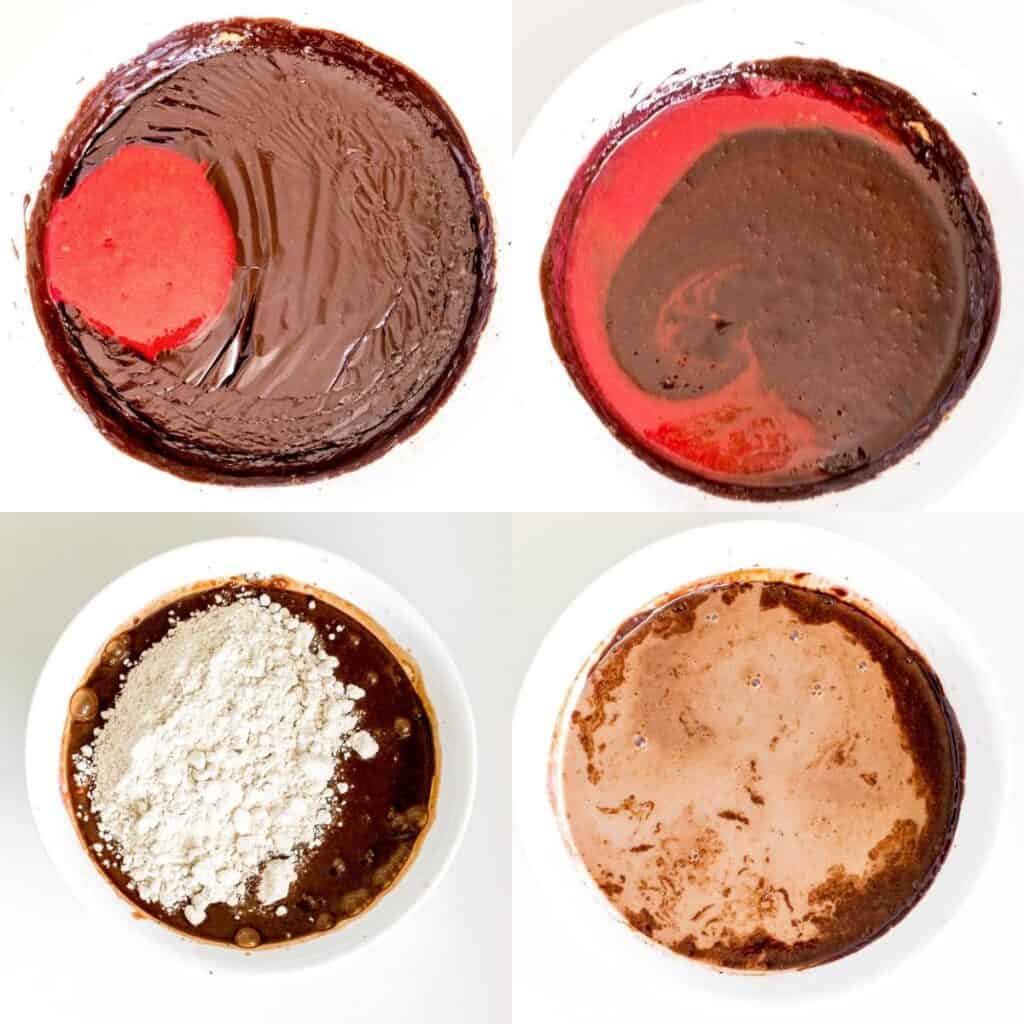 Afterwards, I folded in fresh raspberries to it and poured it in the prepared square baking pan.
Lastly, I garnished it with more fresh raspberries and baked it in the middle rack of the preheated oven at 350-degree Fahrenheit for 30 minutes.
Immediately after 30 minutes of baking I placed the pan in the refrigerator for 1 hour.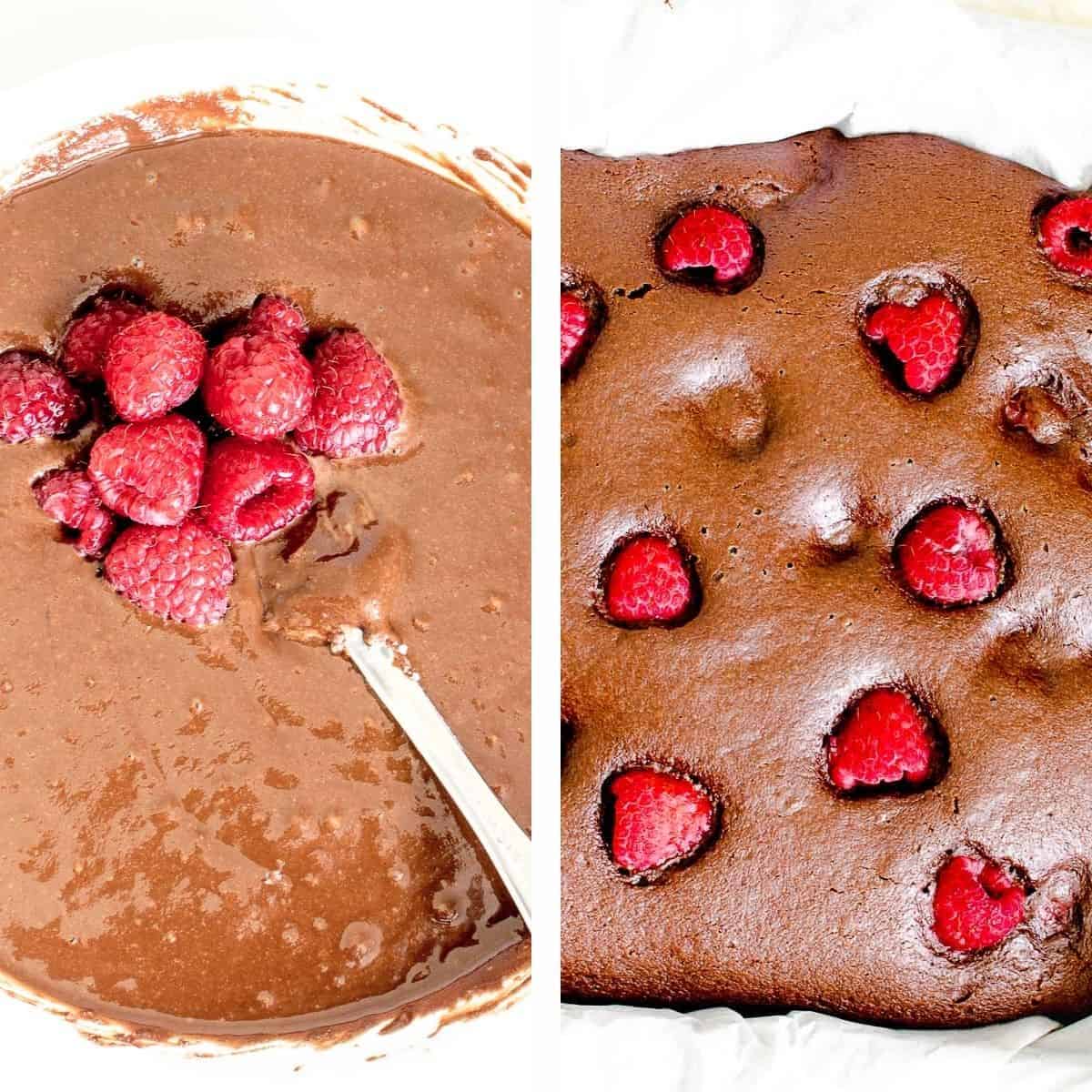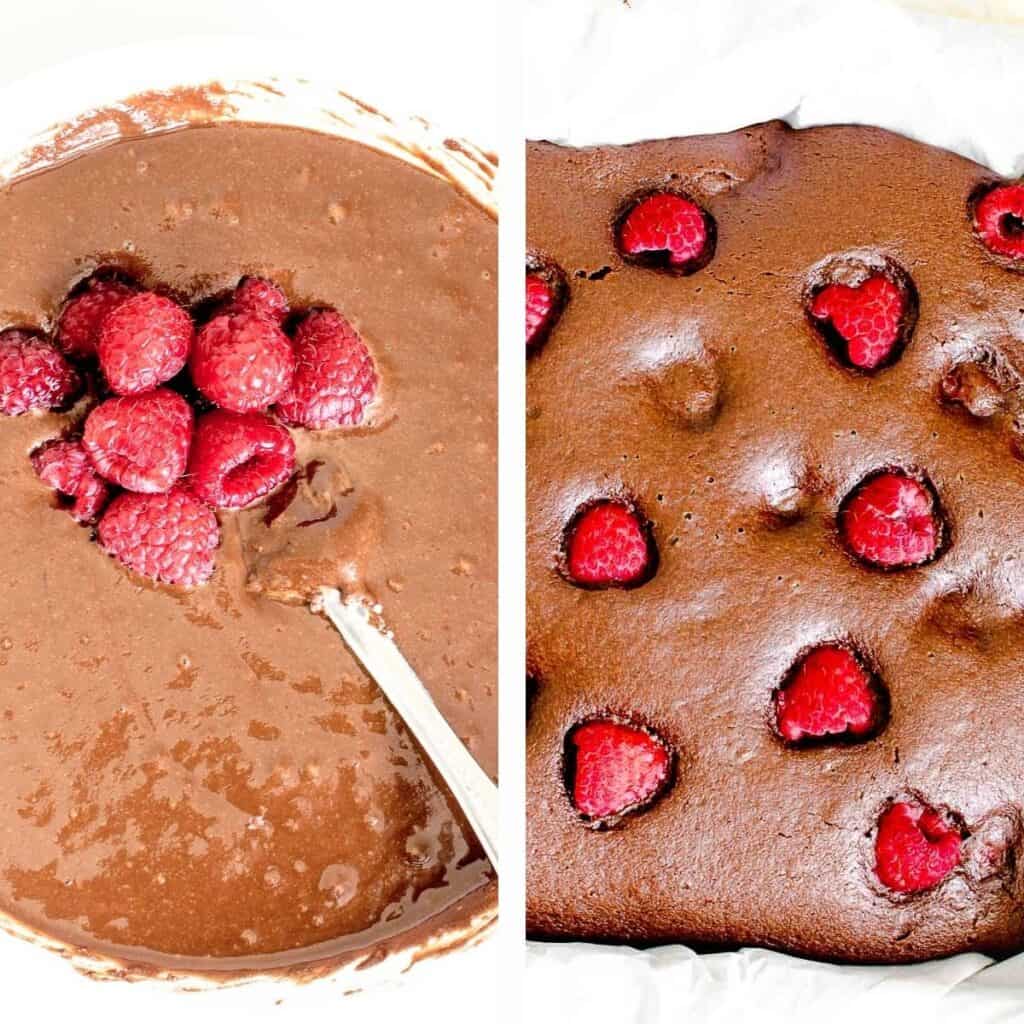 Later, I took it out and sliced it and enjoyed.
Heavenly in every bite and so delicious. We were absolutely speechless by its deliciousness and its perfection.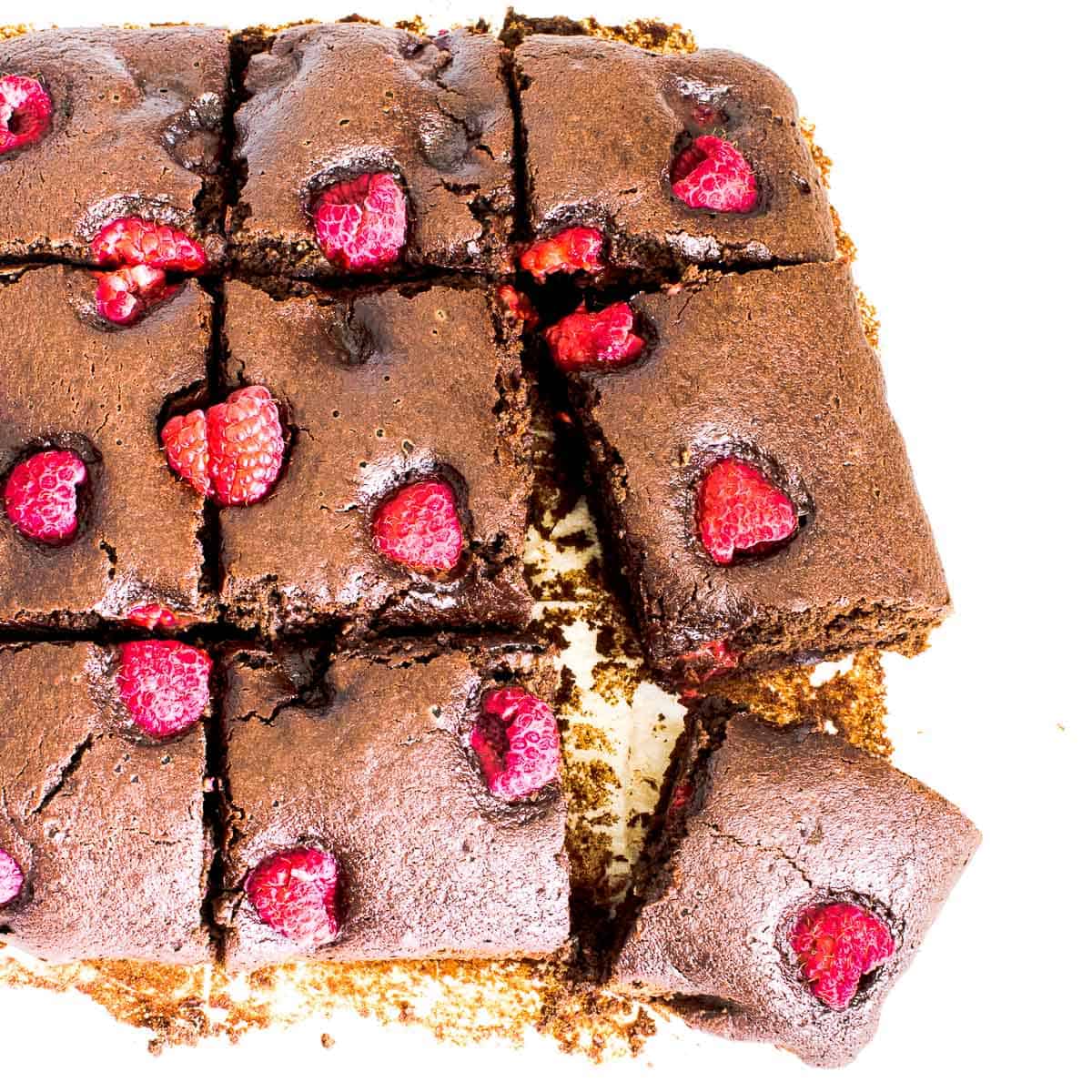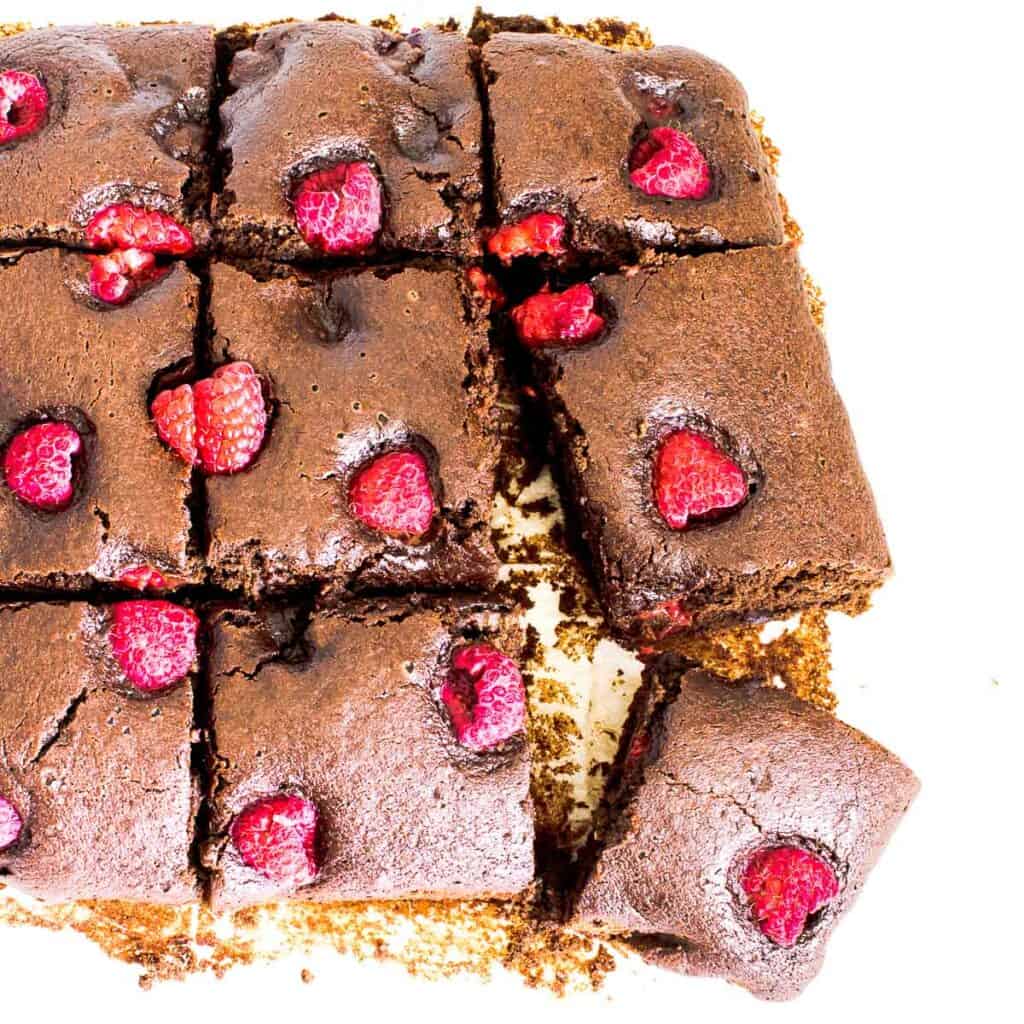 You must try these ASAP. You would be happiest to eat this treat all year round.
Expert tips:
Make sure to immediately refrigerate the baked brownies. However, place the pan flat in the fridge.
The batter should be a bit warm throughout.
Most importantly, make sure to warm the milk before adding to the chocolate.
Do not exceed the baking time even if it feels undone at the center. Once refrigerated it will settle down. This process gives it the chewy texture from inside.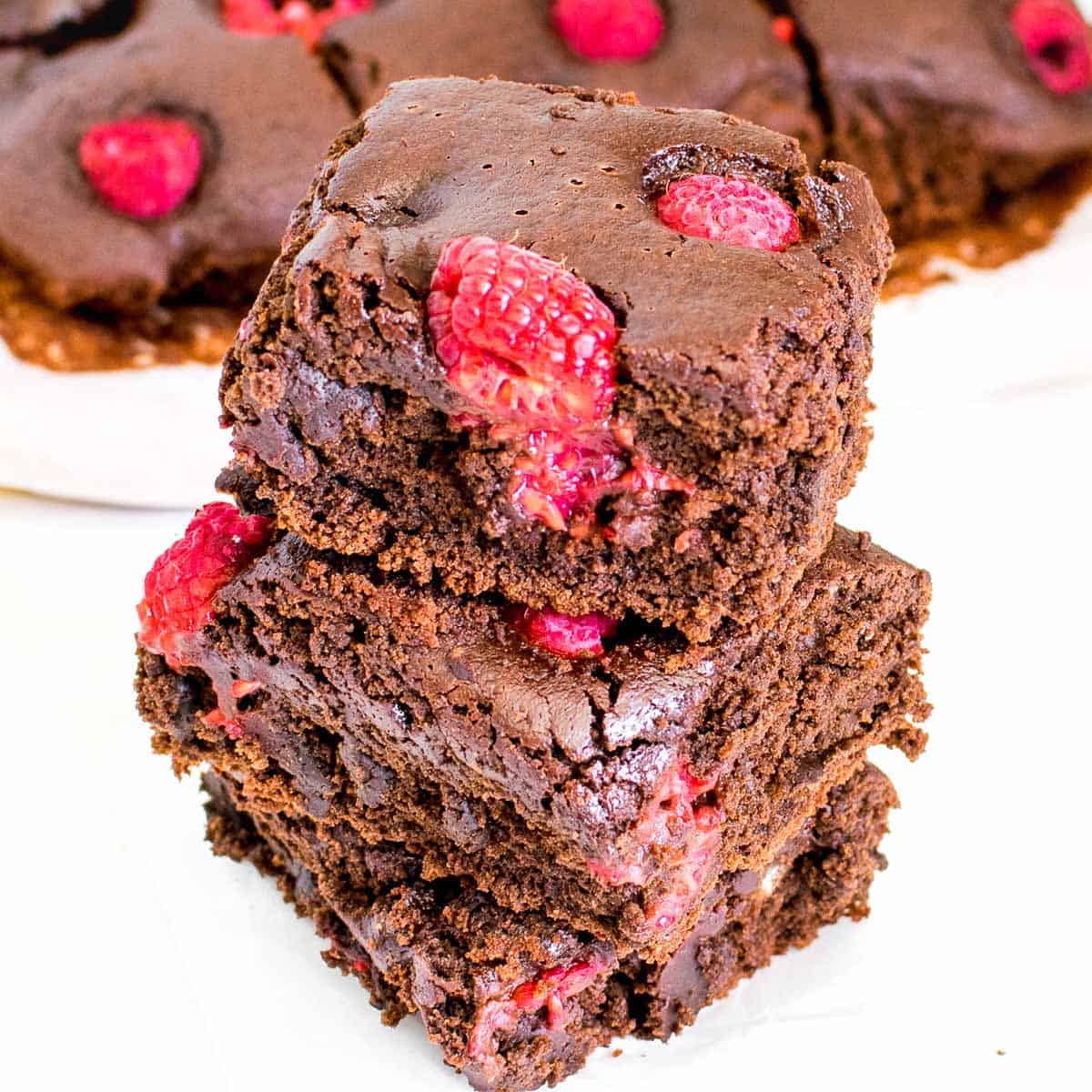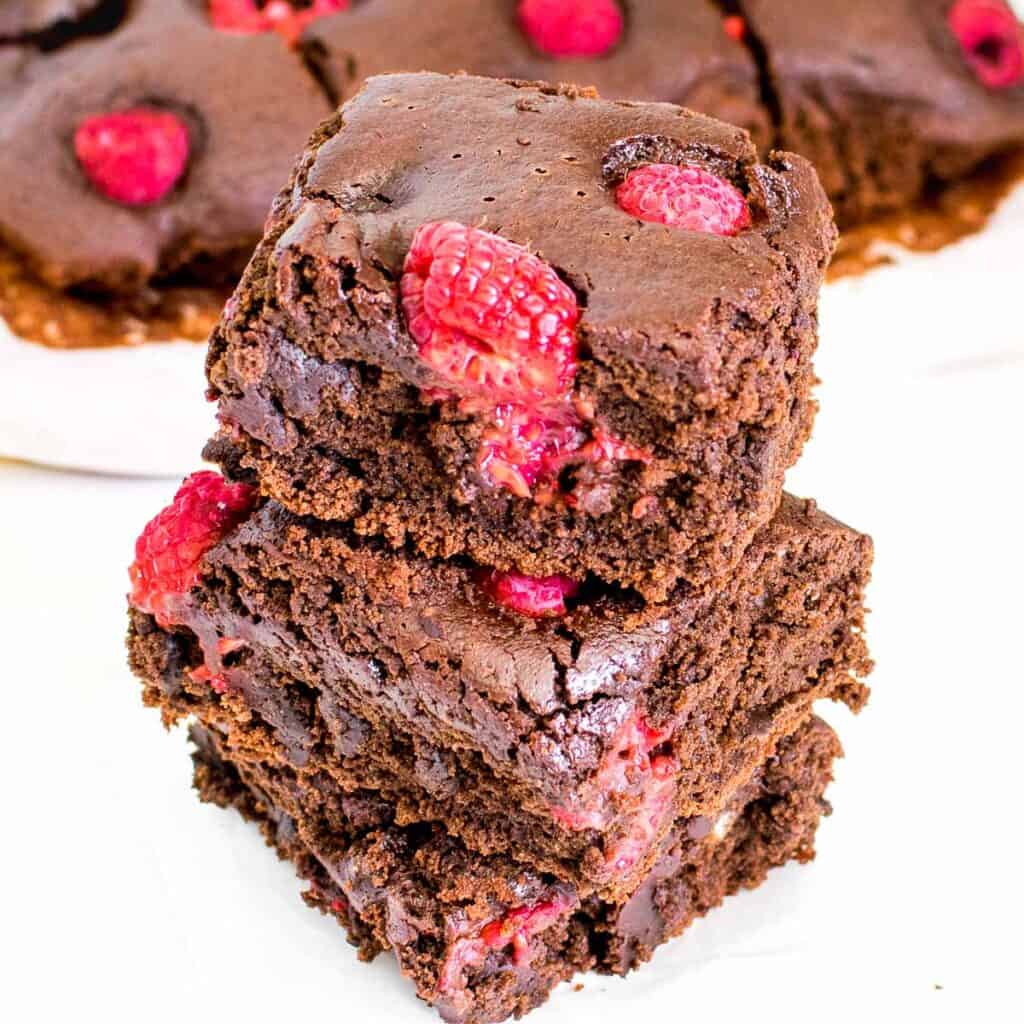 Raspberry Brownies FAQs
How long do they last?
These taste best the same day but refrigerate the leftovers in an air tight container for about 3 weeks.
Are these healthy?
I have used healthy ingredients like oats and made it oil free and no processed sugar. However, it's a sweet treat so I would recommend you to enjoy it occasionally.
If I don't have electric hand mixer then can I whip it up manually?
Yes, it may take a bit extra time but its absolutely doable.
How do you clean slices?
Dip the pointy part of the of the knife into the brownie and slice it all the way. Take it out gently and dip it in hot water. Wipe it clean with a kitchen towel and then slice the brownie again with the knife.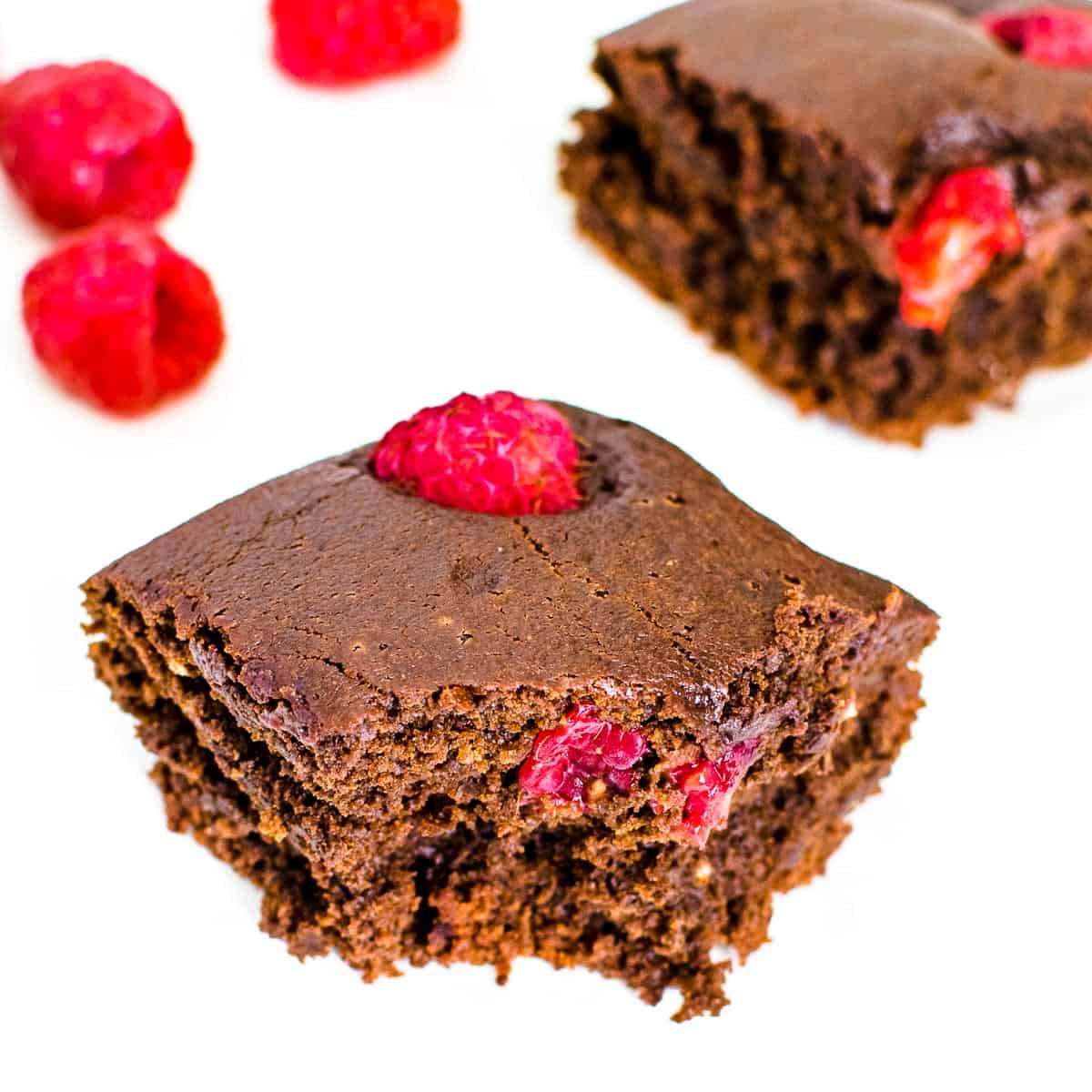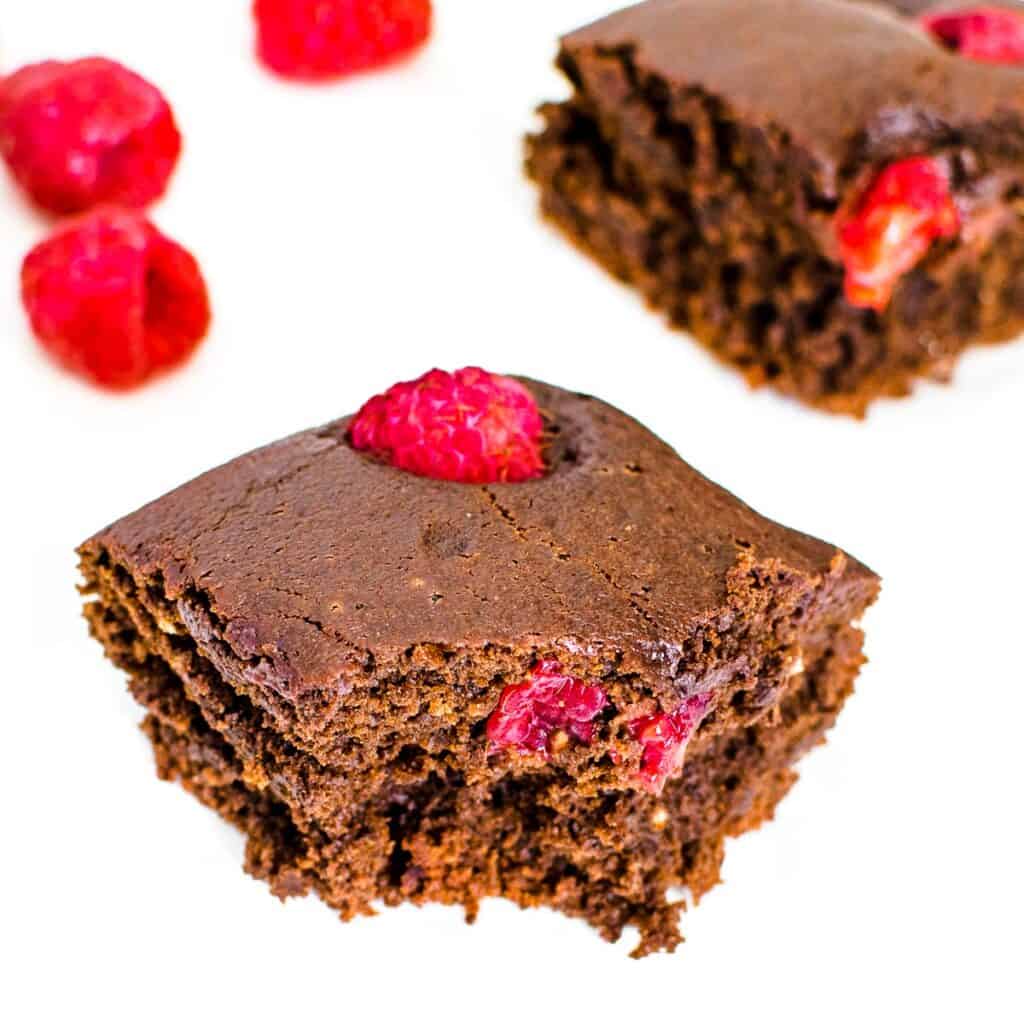 Did you make it?
If you get a chance to make this recipe then please leave your feedback in the comments along with a 5-star rating.
In addition, you may tag @kiipfit on Instagram with your remake images and/or follow me on Facebook.
You may also checkout my one pot vegan cookbook for everyday delicious vegan recipes.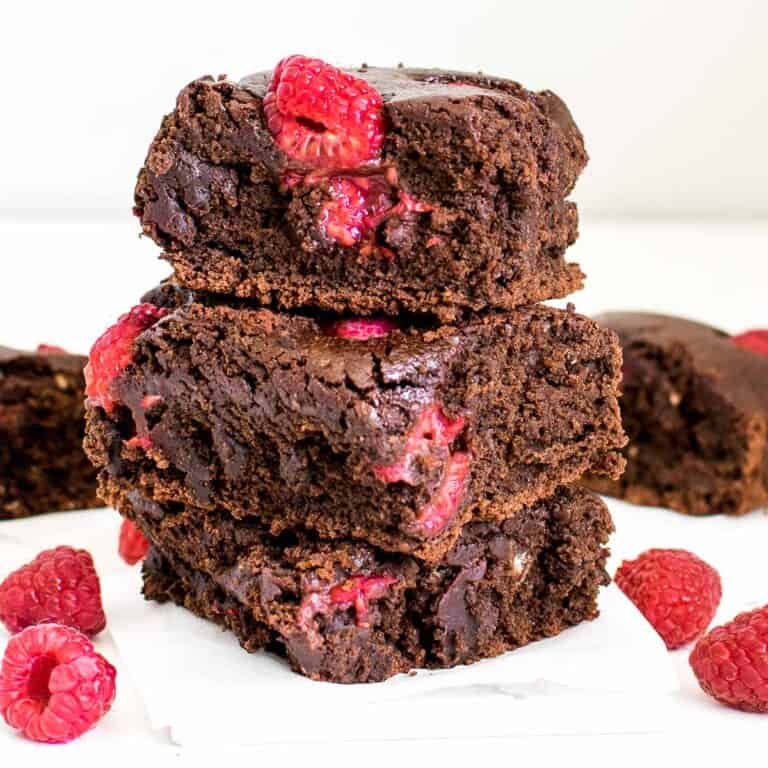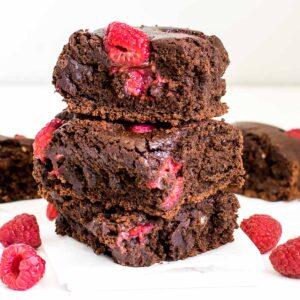 Print Recipe
Raspberry Brownies
These oil free and vegan Raspberry Brownies are the ultimate chocolaty treat. Its chewy with a crackled top and yet soft from inside that melts in mouth immediately.
Ingredients
for puree
1/2

cup

fresh raspberries

1

tbsp

water
Instructions
Preheat oven at 350-degree Fahrenheit and prepare an 8-inch square baking pan by greasing it ad then sticking the parchment paper in it. In a blender combine ½ cup raspberries and water and blend it smooth. Strain it with the help of a strainer or sieve and keep it aside.(discard the leftover seeds).

In a large mixing microwavable bowl combine chocolate chips, maple syrup and vanilla extract. Microwave it for 1 minutes and stir with a spoon to check if it melts. Or else microwave for every 30seconds up to 2 minutes to melt. (Do not exceed 2 minutes or else the chocolate chips would burn). With the help of an electric hand mixer beat it nicely at low speed until light and fluffy. (about 3 minutes).

Now, add cocoa powder and beat it again until well blended (about 3 minutes.). Beat in pureed raspberry for about 1 minute at medium speed.

Now, warm up the milk for 30 seconds in microwave and beat it in the chocolate mixture for about 1 minute.

Then, add oat flour, baking powder and salt to it and beat it again with the electric hand mixture until well blended and a thick yet pouring batter is formed. Fold in ¼ cup raspberries in it and mix it with a spatula.

Pour the batter at the center of the baking pan making sure that the raspberries are scattered all over and does not pile up in one part of the pan. Tap it a bit to so that the batter is evenly spread throughout. Now, place the leftover raspberries evenly at its top by pressing it gently through the batter so they are set nicely with your finger. Place it in the middle rack of the oven and bake it for 30 minutes. It will be little less done from the inside at this stage which is what we want. (Do not over bake). Turn it off and take it out. Immediately place the baking pan flat in the refrigerator for 1 hour. Take it out and pull out the parchment paper gently along with the brownies and place it on a flat surface. Slice and enjoy.
Notes
It is important to keep beating the batter until the melted chocolate chips are warm.
Just before adding milk to the batter, warm it for only 30 seconds. We want it very little warmed and not hot.
Bring all the ingredients to room temperature before starting with this recipe.
Oat milk, hemp milk, cashew milk also works in this recipe.
Bake it only for 30 minutes even if it is undone at the center. Refrigerate immediately when out of the oven but make sure the pan it flat or else it will shape uneven in the fridge. This process gives it a crackled top and ultimate chewy texture from inside and yet melt in mouth.
If you do not have oat flour handy, then you may grind old fashioned oats in a food processor until its powdered form. Measure it as 2 cups after grinding.
This recipe makes 12 slices and the serving size is 1 slice per person.
Refrigerate the leftovers for about 3 weeks. Feel free to warm it for 10 seconds before eating to get the ultimate brownie satisfaction.
Nutrition
Calories:
239
kcal
|
Carbohydrates:
39
g
|
Protein:
4
g
|
Fat:
8
g
|
Saturated Fat:
1
g
|
Sodium:
55
mg
|
Potassium:
200
mg
|
Fiber:
2
g
|
Sugar:
12
g
|
Calcium:
63
mg
|
Iron:
1
mg