Chewy, fudgy and gooey Superfood Peanut Butter Chocolate Brownies are made with healthy ingredients. Its a rich yet healthy decadent vegan treat.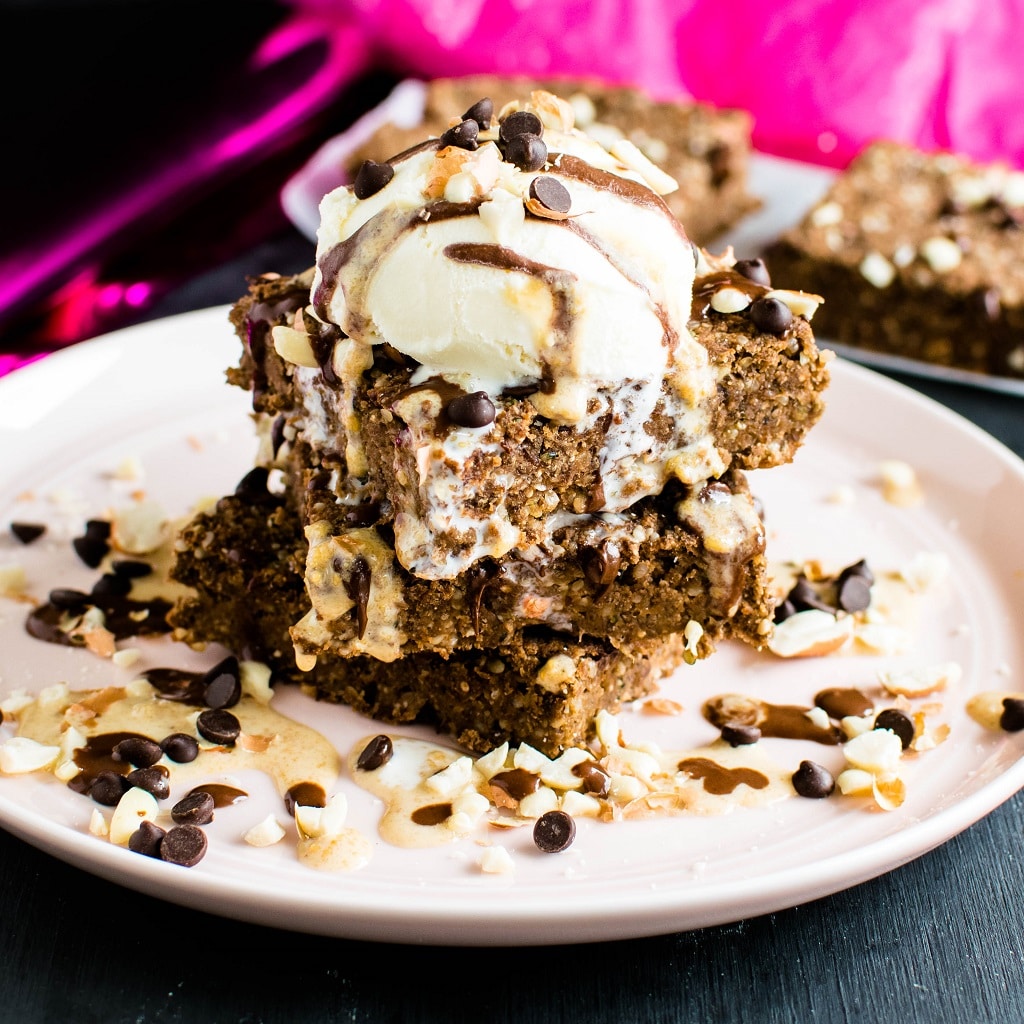 Peanut and chocolate together makes a treat in itself. So, when I baked it into brownies we felt super delighted.
My kids could not stop praising its deliciousness and I often make bigger batches to refrigerate.
Since its on a healthy note, I can personally enjoy it more often and that too guilt free. Hence, overall these peanut butter brownies are a must bake so as to impress your family and friends.
I am a fan of peanut butter and so often cook one pot tempeh curry and seitan pasta for savory dishes. However, my favorite is peanut butter milkshake and peanut butter cake.
As far as chocolate is concerned, for a quick dessert I love to make my chocolate truffles and chocolate mousse.
Overall, the two ingredients when combined together creates magic in any recipe.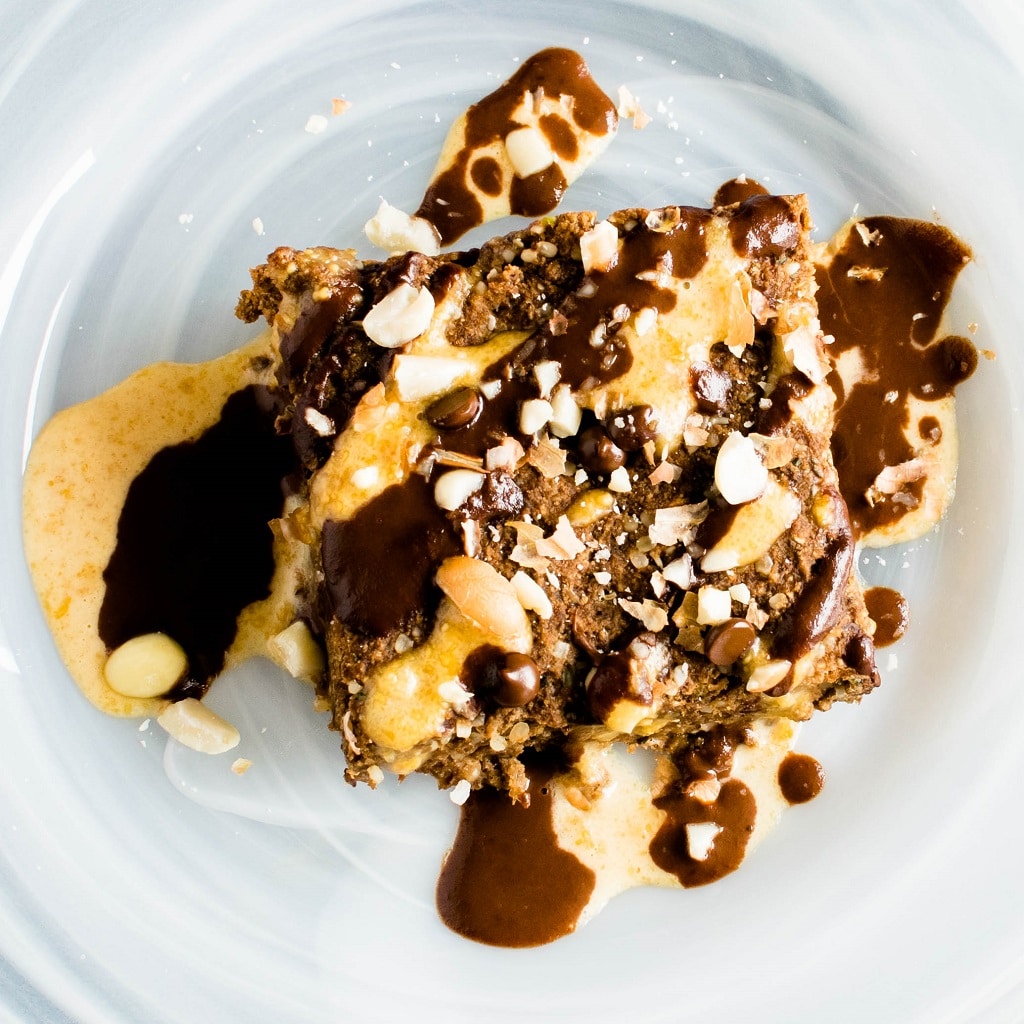 Ingredients for peanut butter chocolate brownies recipe
Coconut milk
Peanut butter
Chocolate chips
olive oil
Maple syrup
Vanilla extract
Almond flour
Coconut flour
Hemp seeds
Flax meal
Cocoa powder
Bananas
Chia seeds
baking powder
salt
These ingredients are delectable in themselves and when combined together they turn out into a fabulous fudgy homemade brownies.
Ingredients notes:
Coconut milk – I like to us tetra pack coconut milk to keep this dessert light and yet tasty.
Peanut butter – I used pure homemade peanut butter, you may use a store bough one just make sure to read the label and it should be unflavored.
Chocolate chips – I used dairy free mini chocolate chips in this recipe by any semi sweetened dark chocolate chips can be used.
Maple syrup – this sweetens these peanut butter brownies naturally and perfectly.
Almond flour – this is a great substitute to regular flour with being healthy and gluten free. helps in making these flourless brownies amazing.
Coconut flour – this helps in binding and since it absorbs liquid the batter binds well yet keeping it gluten free and flourless.
Cocoa powder – any unsweetened natural cocoa powder works in this recipe.
Superfood – I used a combination of chia sees, flax meal and hemp seeds to add healthy fats, fiber and more nutrition to this recipe.
Banana – this is a great egg replacer and also sweetens these chocolate brownies with peanut butter beautifully.
For detailed measurement of ingredients, please scroll down to the printable recipe card at the bottom of this post.
How to make Superfood Peanut Butter Chocolate Brownies
Firstly, I cooked coconut milk, peanut butter, chocolate chips, vanilla extract, olive oil and maple syrup together in a saucepan until it was well blended.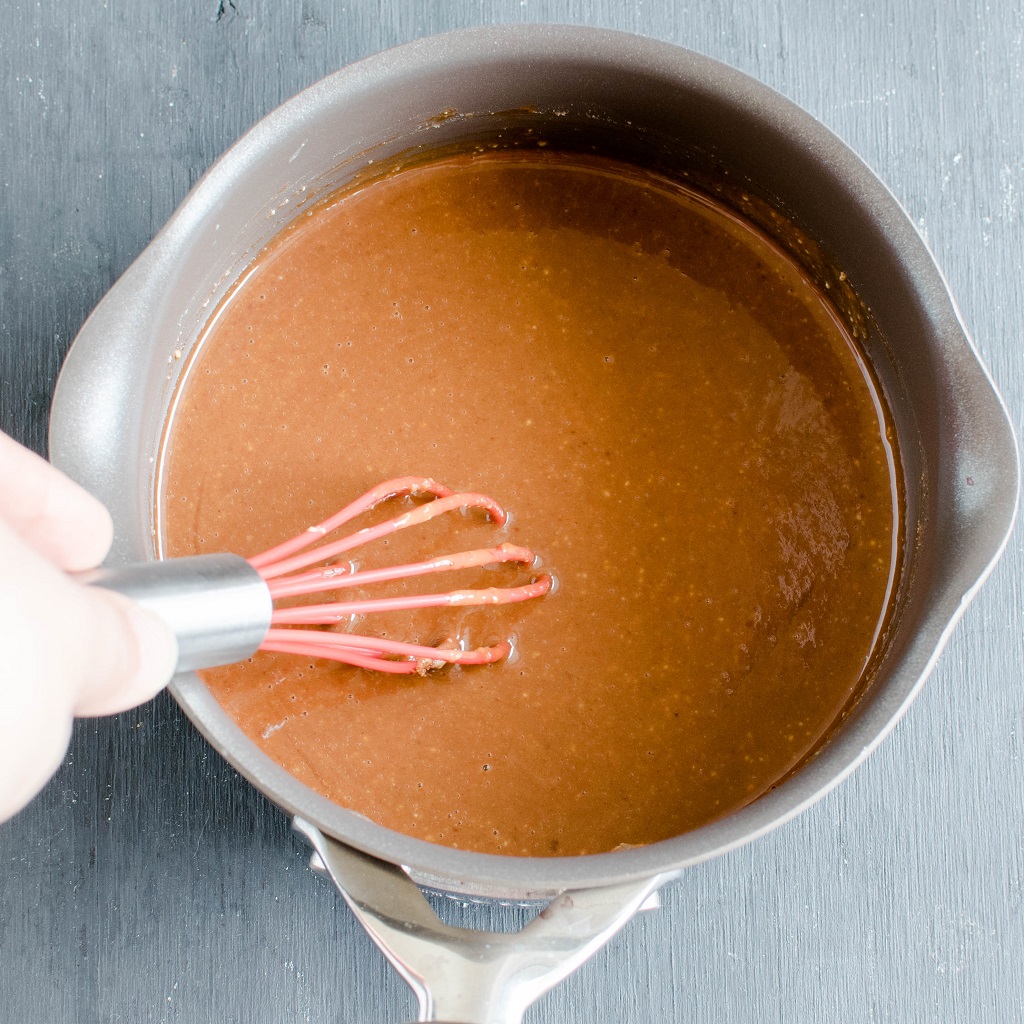 Secondly, in a large bowl, I combined all the dry ingredients and mixed it well.
Next, I folded in cooked wet ingredients into the dry ingredients along with mashed banana and soaked chia seeds and whipped it into a batter.
Thereafter, I spooned it out on the prepared baking pan and baked it at 350 degree Fahrenheit for 35-40 minutes.
Once done, I turned off the oven and took it out. Then, I let it cool completely before slicing.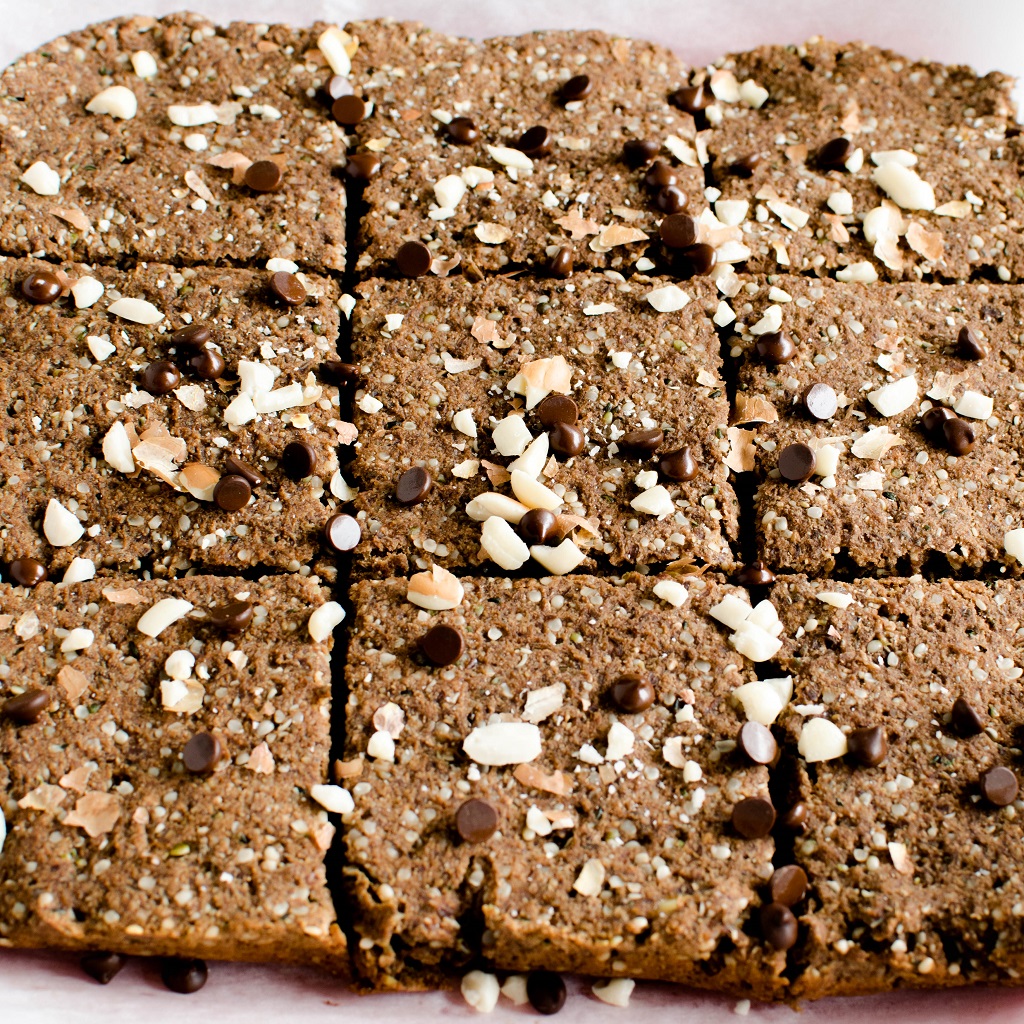 As soon as I served these brownies with a scoop of ice cream and garnished with more chocolate chips and peanut butter it wad the best dessert ever.
These brownies are absolutely crowd pleaser and so pretty to present as well.
Expert tips:
It is important to cook the wet ingredients very well so the chocolate chips and peanut butter melts well but at the same time do not overcook. hence, you may have to baby sit and stir continuously.
most importantly, while whipping up the batter, it may feel a bit doughy but do not add any extra liquid. The trick to whipping the batter it to gather the ingredients from all side with the spatula and smash with the back of the spatula.
Peanut Butter Chocolate Brownies FAQs
How long does these last?
Refrigerate them in air tight container for about 2 weeks. Warm it nicely in the microwave and serve with ice cream.
Can I skip oil if I am using peanut butter?
Yes! You may in that case just add 1 tsp extra coconut milk so as to make sure the batter is not super dry.
Are these brownies healthy?
Yes! Its made with superfoods and are flourless along with being naturally sweetened.
My other brownie recipes that you might like to try:
Almond Flour Brownies
Raspberry Brownies
Applesauce Brownies
Pear Coffee Brownies
Chocolate Cherry Brownies
This post may contain affiliate links which means that if you click on them and also make a purchase, I will get a small commission. Moreover, I share only those products which I use personally and love.
I hope you enjoy this recipe as much as we did. I am very excited to hear back from you.
Where to find me?
Follow me on Facebook or on Twitter. You may tag @kiipfit on Instagram with your recipe remake images because I would love to see what you cooked.
Did you make it?
If you get a chance to make this recipe then please leave your feedback in the comments below along with a 5-star rating.
In addition, you may checkout my cookbook for everyday comfort vegan recipes.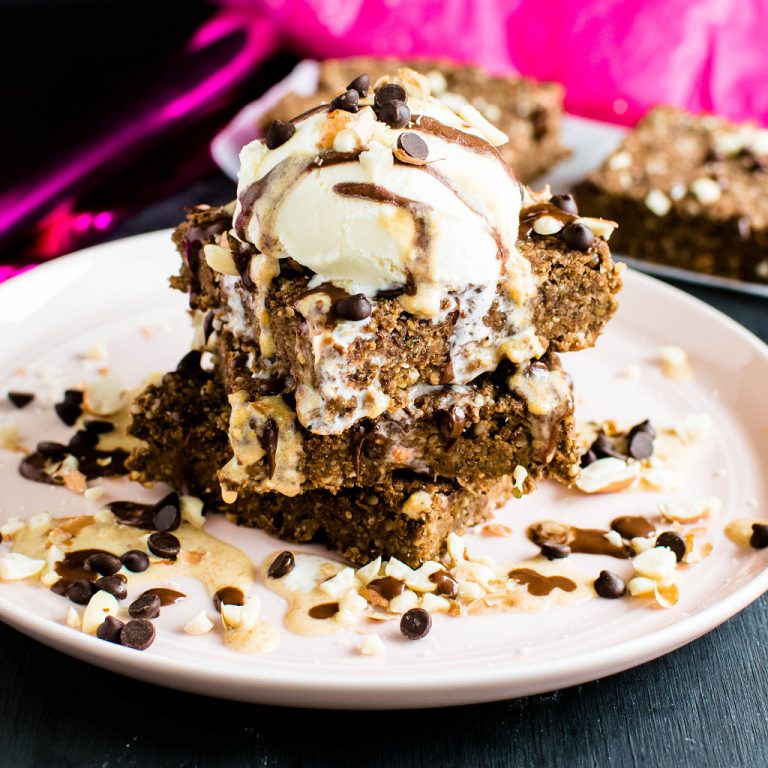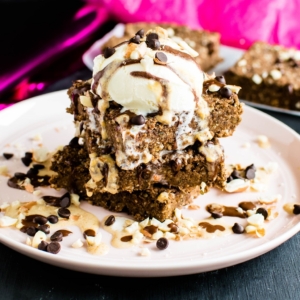 Print Recipe
Superfood Peanut Butter Chocolate Brownies
Chewy, fudgy and gooey Superfood Peanut Butter Chocolate Brownies are made with healthy ingredients. Its a rich yet healthy decadent vegan treat.
Instructions
Heat a saucepan in a low flame and combine coconut milk, peanut butter, chocolate chips, vanilla extract, olive oil and maple syrup. Then, whisk it well until well blended. Later, turn off the flame and let it sit to cool.

Preheat oven at 350 degree Fahrenheit and prepare a 9 inch square baking pan with a greased parchment paper.

In the meanwhile, in a large mixing bowl combine almond flour, coconut flour, hemp seeds, flax meal, cocoa powder, baking powder and salt. Then, mix very well with a spoon until no lumps are left.

Now, add melted peanut butter chocolate mixture, mashed bananas and soaked chia seeds into the dry ingredients.

Thereafter, mix it extremely well with a baking spatula. (You may use your hands if needed).

Now, spoon the dough like batter on the prepared baking pan and spread it evenly with the spatula.

Place the baking pan at the bottom rack of the oven and bake it for 35-40 minutes or until the tester comes out clean.

Let the brownies cool down completely before cutting into desired pieces.
Notes
These brownies tastes excellent with a scoop of vanilla ice cream topped with some peanut butter frosting + melted chocolate+ chopped peanuts + chocolate chips. You may make these brownies as grand as possible with your choice of toppings.
These brownies are not overwhelming sweet in taste. It has fine and subtle taste of all the ingredients. 
Nutrition
Calories:
291
kcal
|
Carbohydrates:
36
g
|
Protein:
12
g
|
Fat:
13
g
|
Saturated Fat:
6
g
|
Polyunsaturated Fat:
8
g
|
Monounsaturated Fat:
4
g
|
Trans Fat:
0.01
g
|
Sodium:
117
mg
|
Potassium:
353
mg
|
Fiber:
9
g
|
Sugar:
16
g
|
Vitamin A:
82
IU
|
Vitamin C:
3
mg
|
Calcium:
146
mg
|
Iron:
3
mg