This refreshing Black Rice Mango Salad is loaded with antioxidants and various flavors. Its perfectly satisfying and very easy to assemble.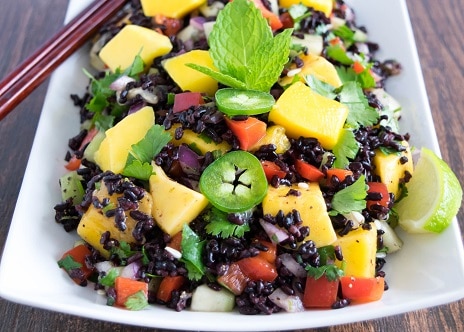 Forbidden Black Rice folded in with fresh mango chunks and refreshing cucumbers, beautiful red bell peppers to add color and spiced with jalapeno peppers and flavored with mint and some lime Zest for citrus tinge.
What a cool and refreshing salad when the weather is so bright and beautiful outside giving us a feel of approaching spring. 🙂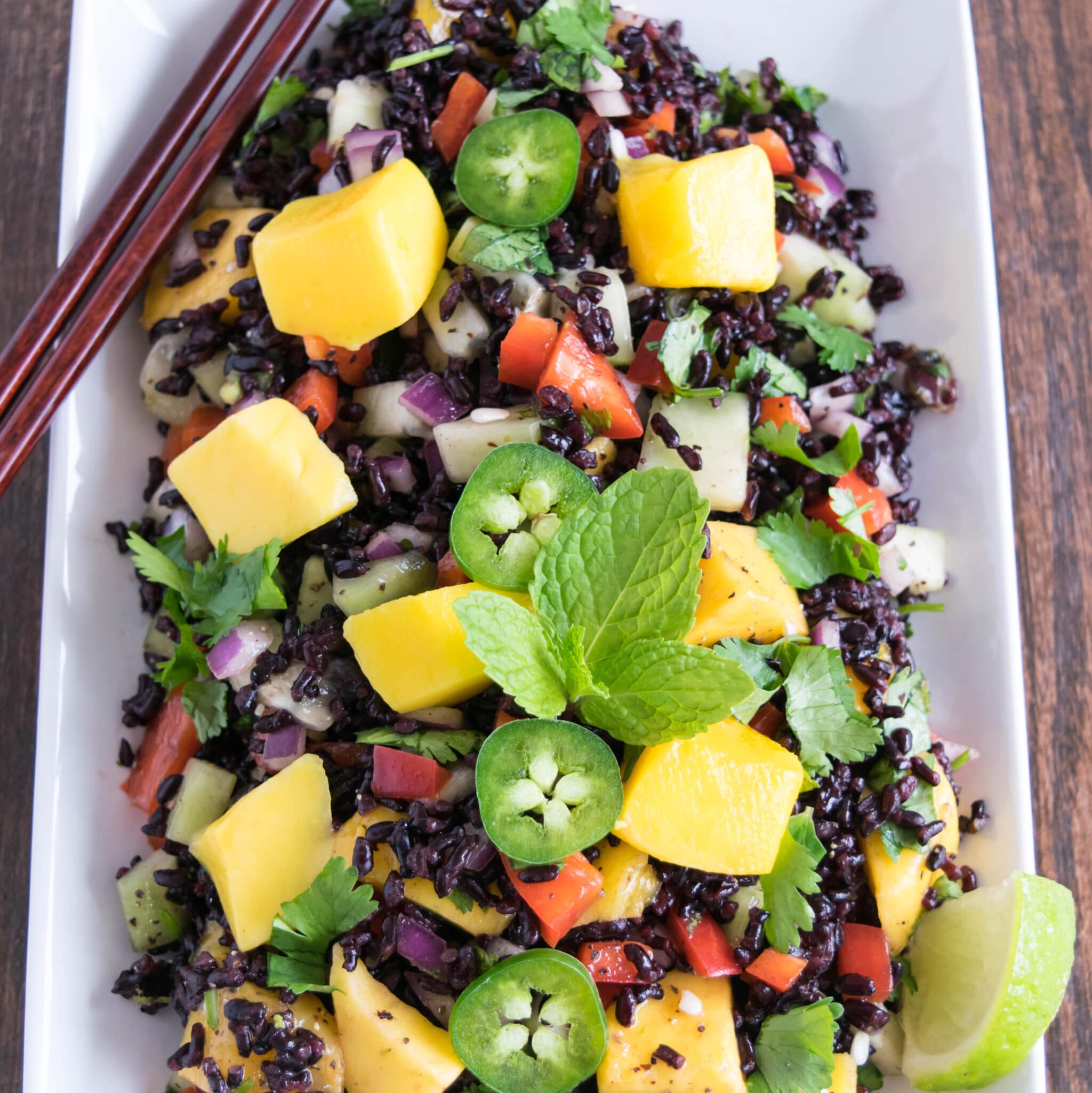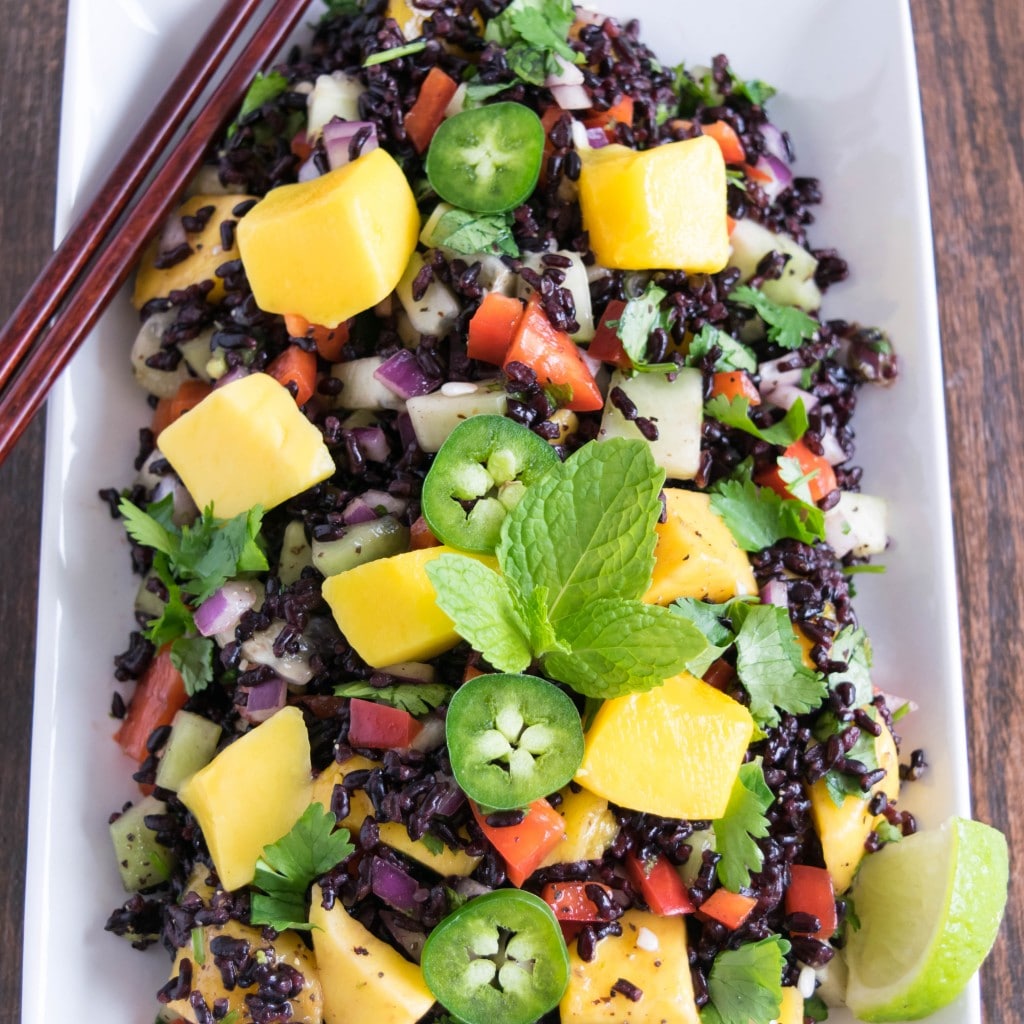 Lately, I have been trying to cook black rice regularly to bring out its perfect texture but something was amiss. Hmmm.
In my endeavor of cooking black rice I realized one important thing that I need to be more patient.
I also realized that reading instructions are so important which we often fail to do and the reason is, not because we don't want to, it's because we all are racing after the ticking clock and I am no different than any one of you.
However, I have learnt from my mistakes. 🙂 . So cooking Black rice wasn't difficult at all and the best part is no babysitting is required. Isn't that amazing news.
Well I always look forward to food that requires no or minimum babysitting.
So I finally read the package instructions properly and the perfect Black Rice was cooked. The irony starts here………..
I was ready with cooked black rice and didn't have any plan to make a recipe. Doesn't that sound weird?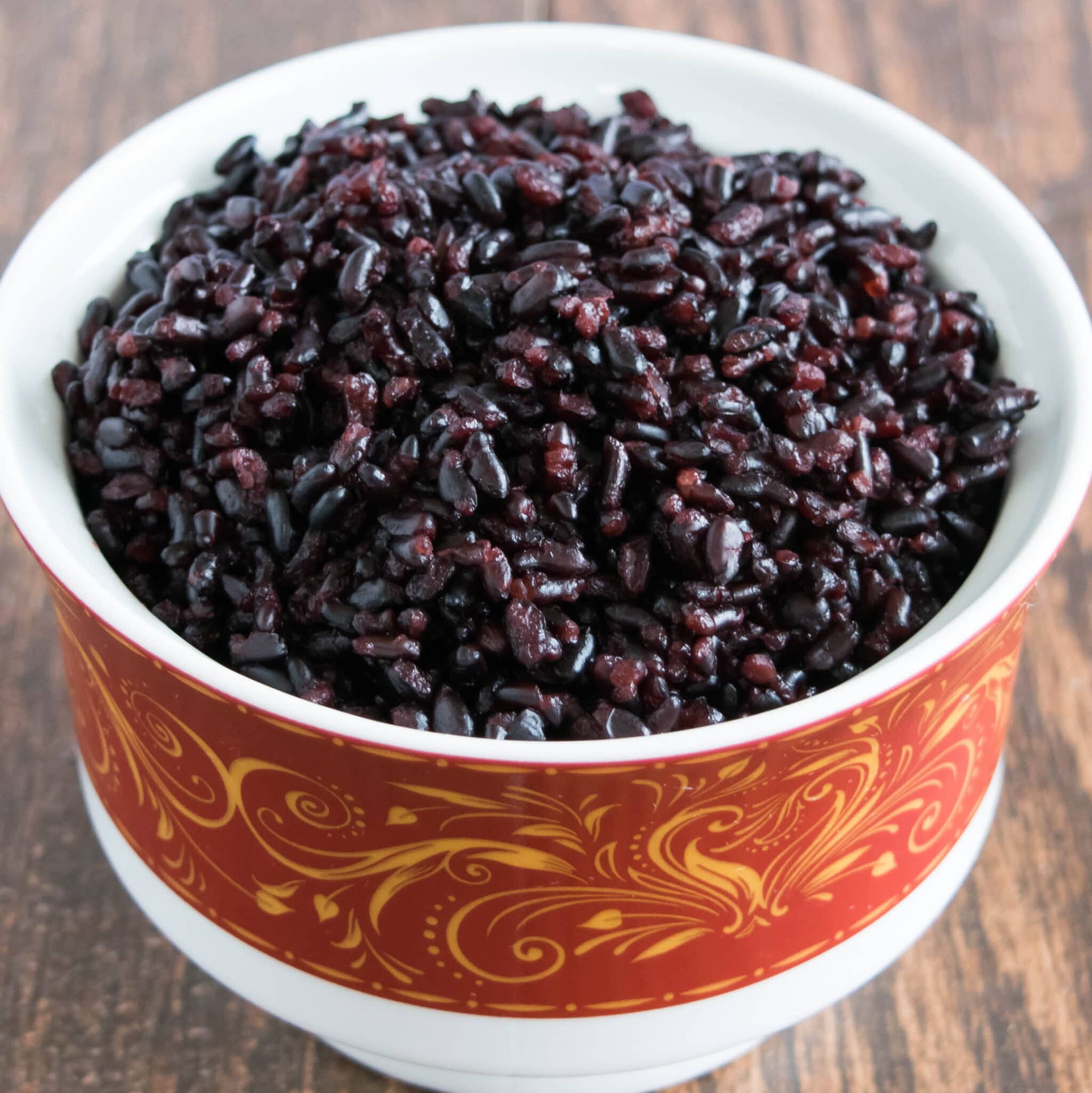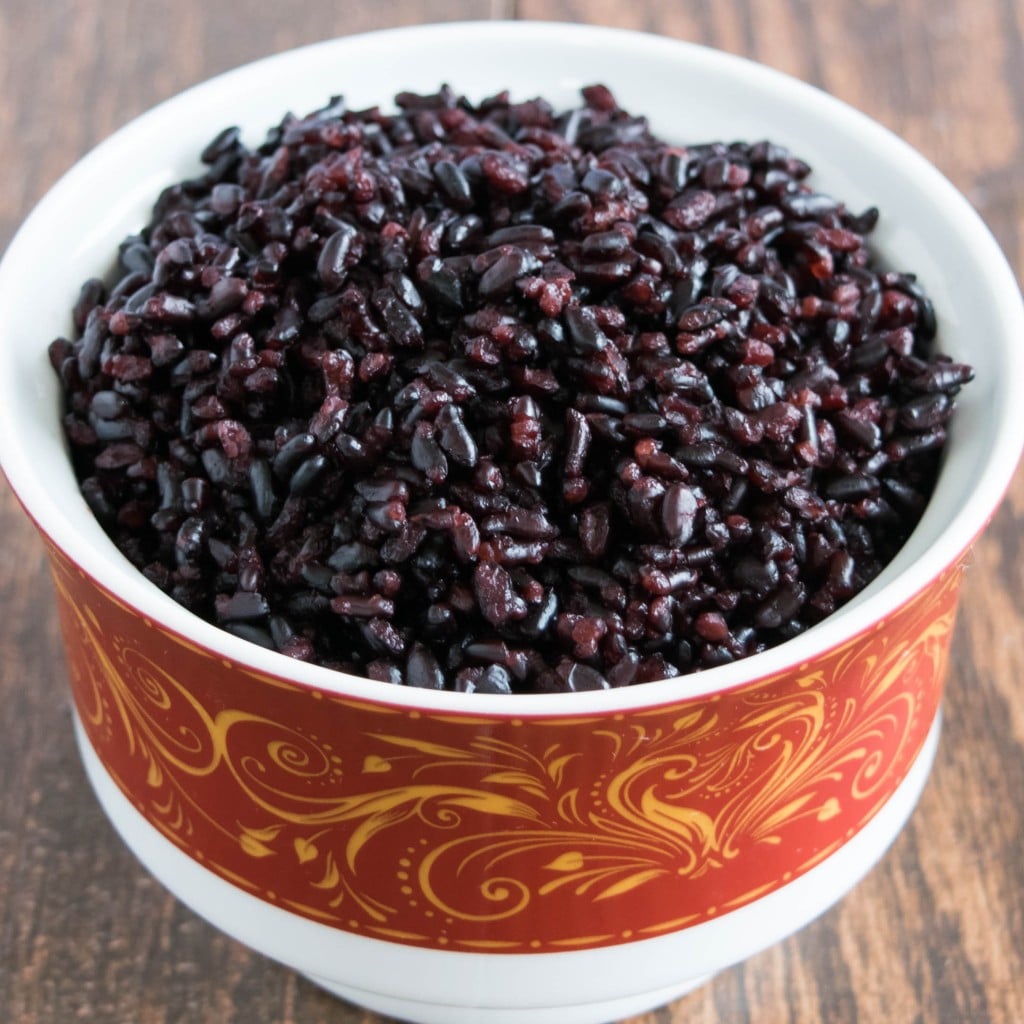 Yes, it does. I sat near the window looking outside at the beautiful sunny sky and birds chirping and flying here and there and spring knocking on the door.
I remembered that there are (ripe) mangoes sitting in one my refrigerator shelf. 🙂 . I smiled and immediately knew what I wanted to create that day. 🙂
Black Rice Mango Salad was on my mind. 🙂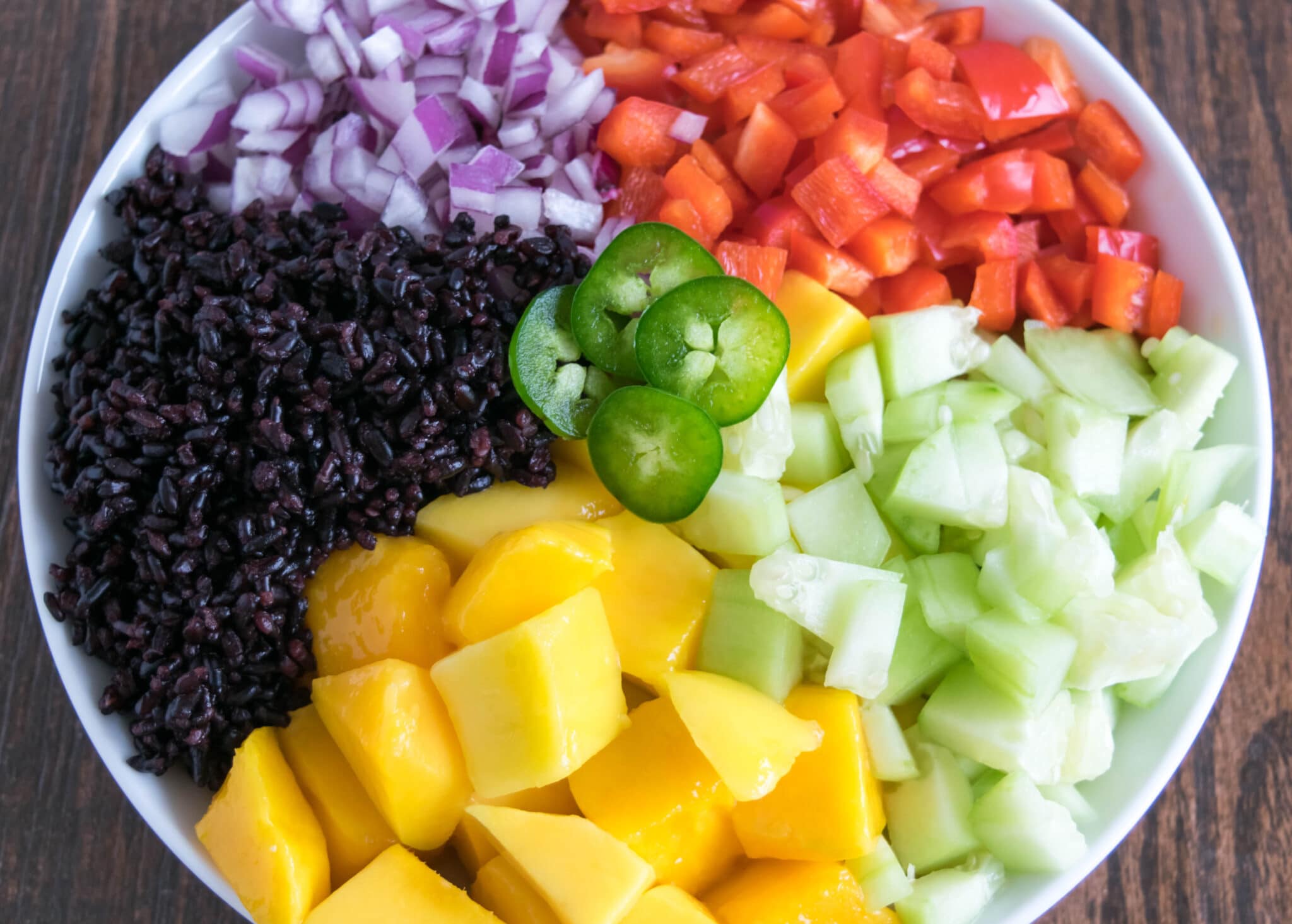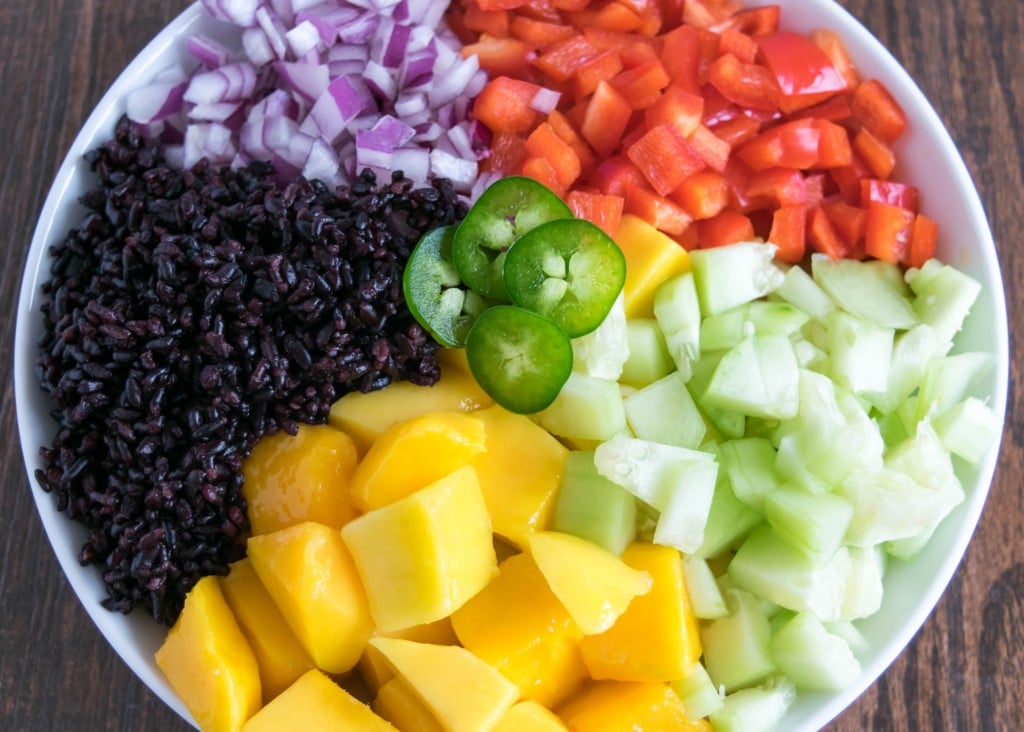 I happily went into my favorite space (kitchen) and started chopping the ingredients.
How to make Black Rice Mango Salad
Firstly, I decided to flavor this salad with mint and cilantro both because mint gives a soothing aroma and freshness to the salad and cilantro adds to the flavor.
Then, I decided to use minimum spice because I wanted to bring out the flavor of all the fresh ingredients of the salad.
Afterwards, I added cucumbers to cool down the recipe and red bell peppers to add color to this salad.
Later, I spiced it with fresh jalapeno peppers and crushed black pepper. Lime/lemon zest plays an important role in this salad recipe to bring out the citrus flavor and to enhance it I added some lime juice.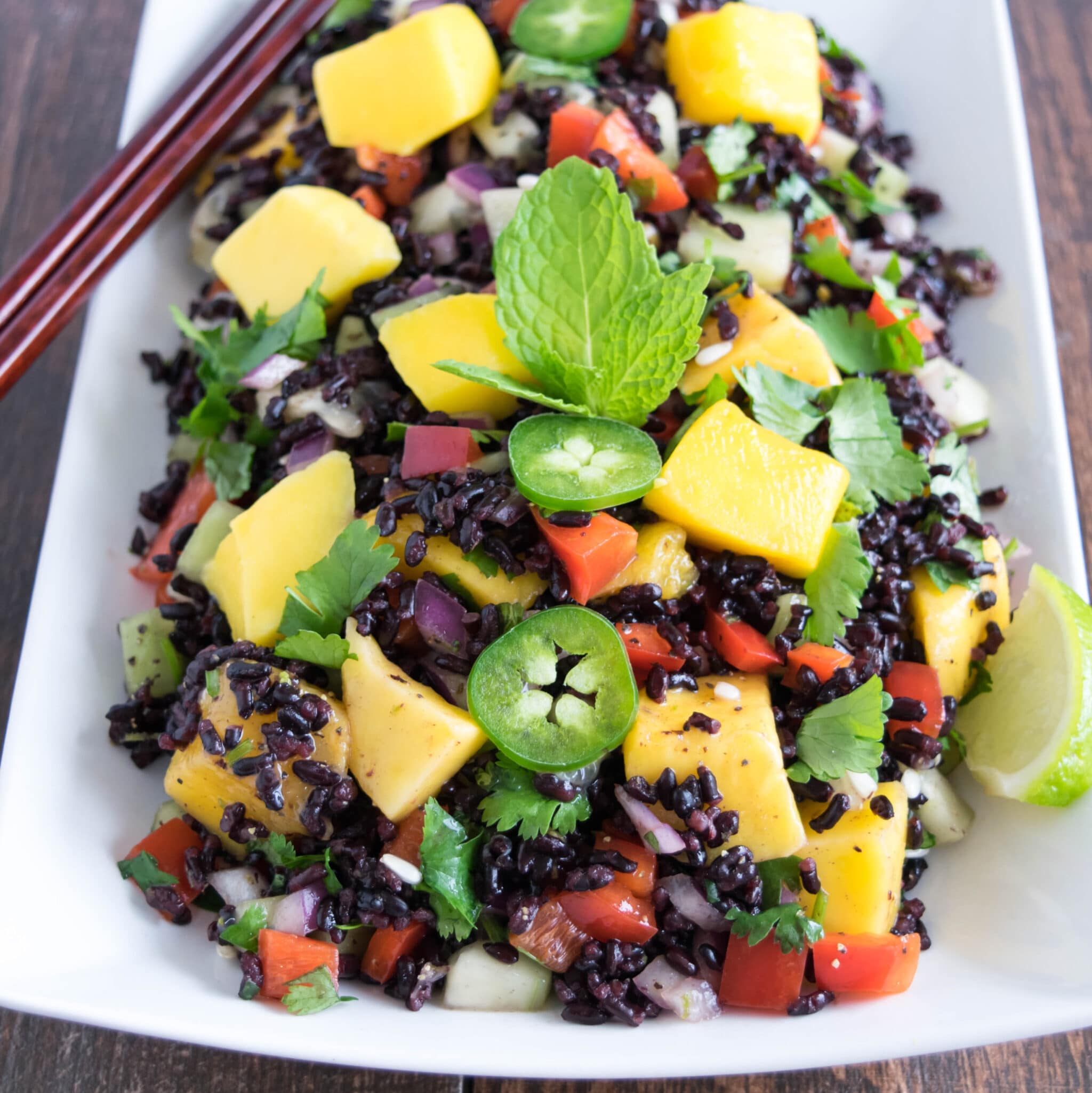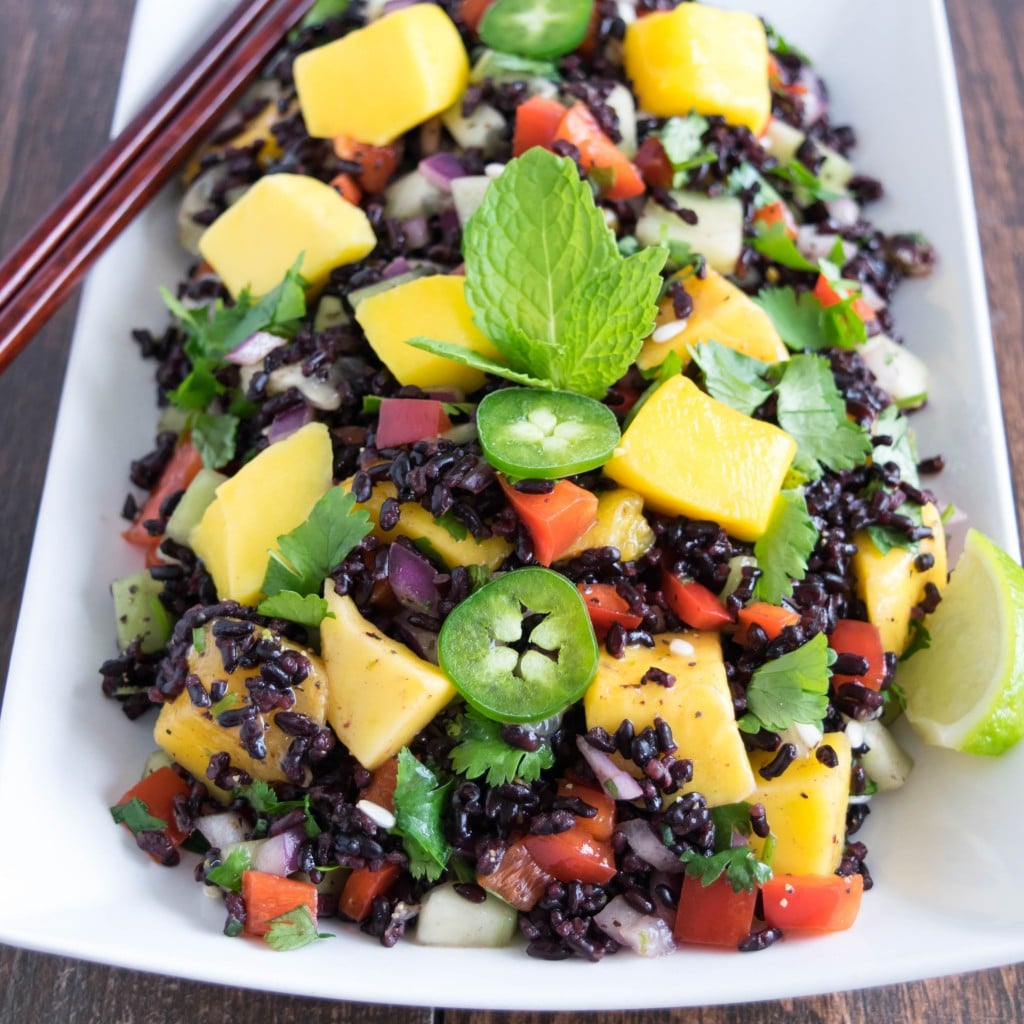 Within minutes Black Rice Mango Salad was ready and I fell in love with it in the first bite. I felt energetic, refreshed and delighted.
I was also happy because my husband who is not a salad person enjoyed it and the next day he asked me to make it again.
This led to cooking (fixing) this Black Rice Mango Salad every day that whole week and therefore, I decided to share it with you all. 🙂
You may also like:
4 Ingredient Quinoa Flakes Mango Pudding
Mango Coconut Chia Energy Drink
Vegan Frosted Mango Coconut Cookies
Black Rice Sriracha Tempeh Bowl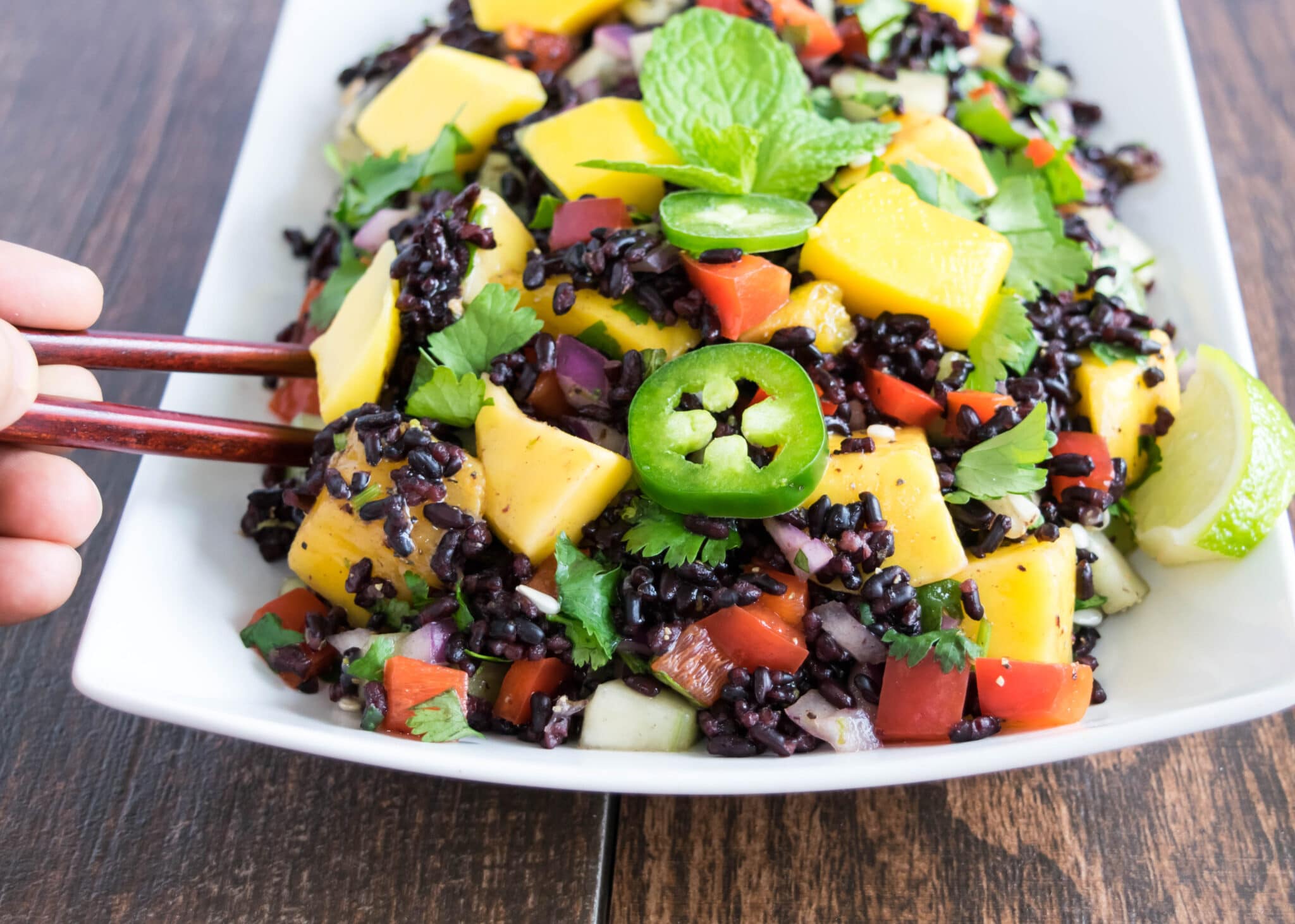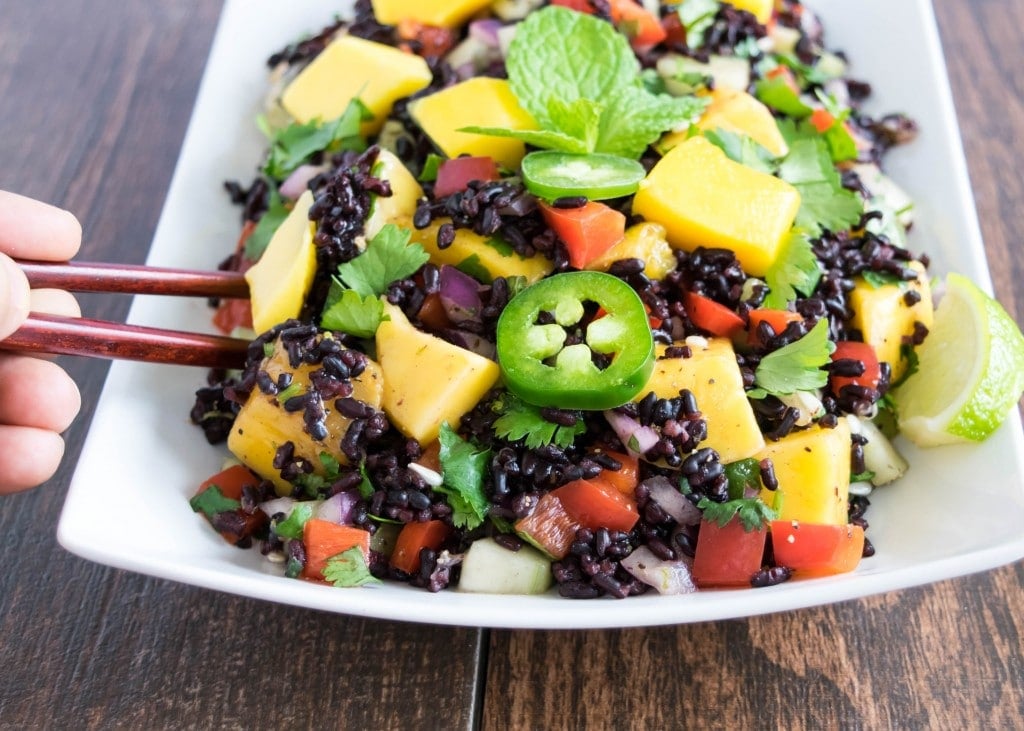 Did you make it?
If you get a chance to make this recipe then please leave your feedback in the comments below along with the ratings. In addition, you may tag @kiipfit on Instagram .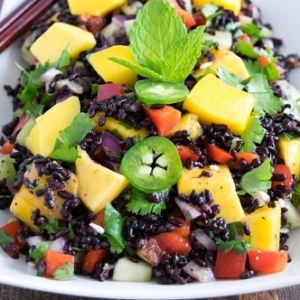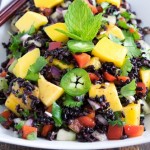 Print Recipe
Black Rice Mango Salad
This refreshing Black Rice Mango Salad is loaded with antioxidants and various flavors. Its perfectly satisfying and very easy to assemble.
Ingredients
2

cups

forbidden black rice

(cooked and cooled)

1 1/2

cups

ripe mango chunks

1

cup

finely chopped cucumber

1/2

cup

finely chopped red bell pepper

1/2

cup

finely chopped red onion

1/4

cup

chopped fresh cilantro

1

tbsp

chopped jalapeno pepper

1

tbsp

chopped mint leaves

1

tsp

lime zest

1

tbsp

lime juice

1

tsp

salt or per taste

1/2

tsp

crushed black pepper
Instructions
Cook black rice as per the package instructions.

In a salad bowl combine all the ingredients and mix very well.

Let it stand for 2 minutes before serving.
Notes
Lemon zest and lemon juice can also be used if desired.
Make sure to follow the package instructions for cooking black rice properly.
Fresh or frozen mango chunks can be used.
Do not use pickled jalapeno or else the salad with become sour. I used fresh jalapeno peppers.
If jalapeno peppers are not available green chilies can also be used.
This recipe tastes best when served immediately. 
Nutrition
Calories:
319
kcal
|
Carbohydrates:
69
g
|
Protein:
7
g
|
Fat:
2
g
|
Sodium:
1
mg
|
Sugar:
1
g
|
Vitamin C:
1
mg