This easy Instant Pot Vegan Chili comes together in less than 30 minutes and is packed with nutrition. It's made with two types of beans cooked in hot spices. It's a hearty, delicious and super comforting one pot meal.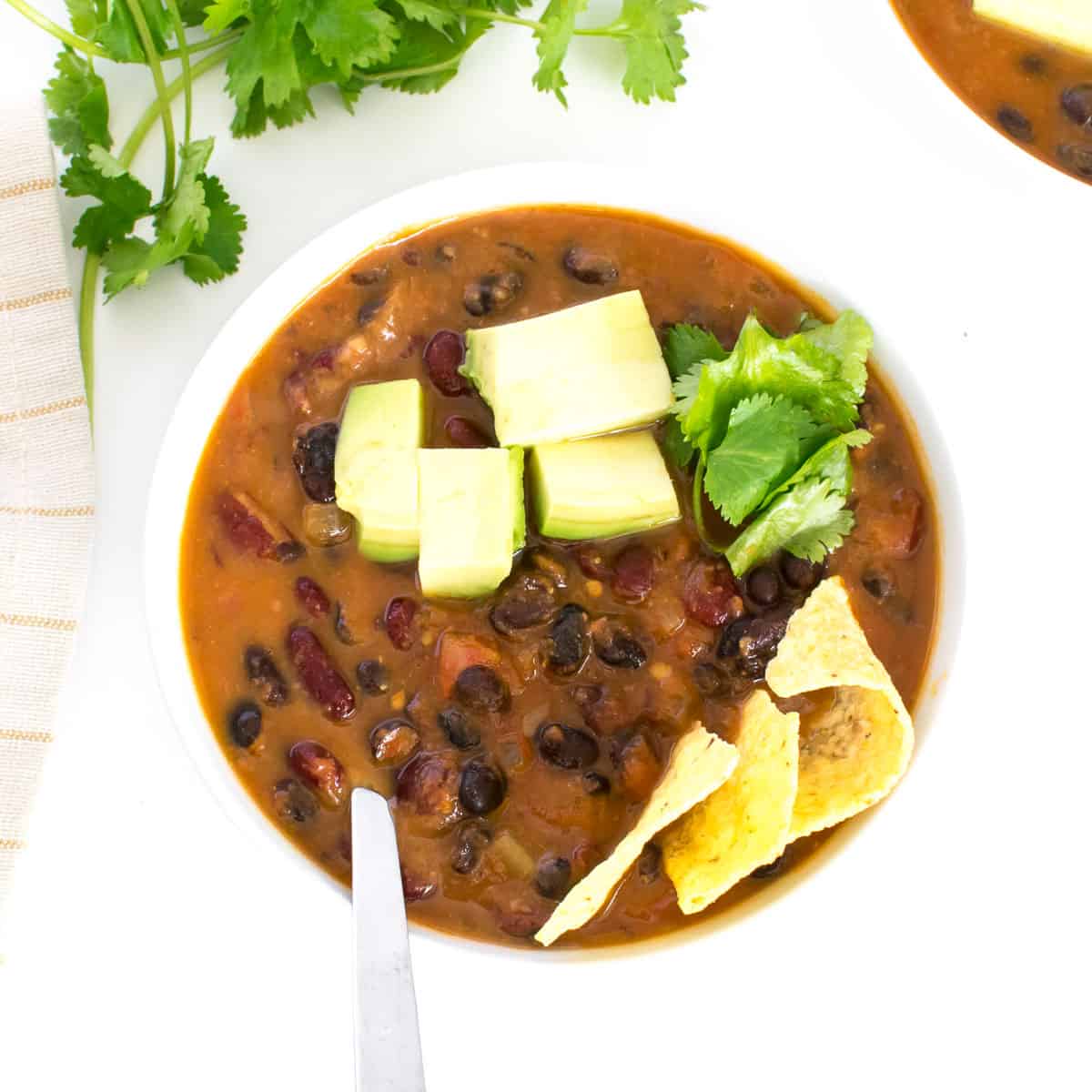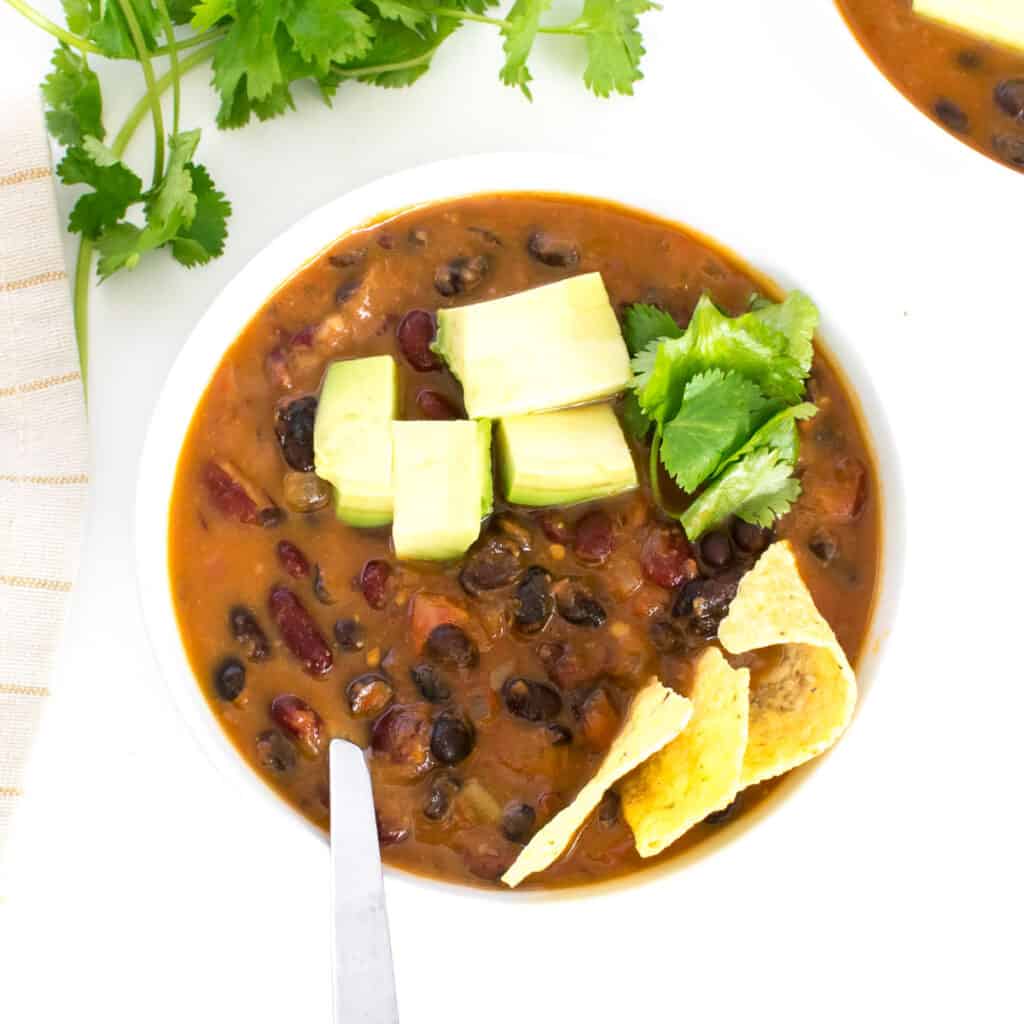 This chili is my favorite and moreover I like the part that its made in instant pot. Therefore, minimum dishes and no babysitting…YAY!!!
It's a win-win recipe that is packed with protein, carbohydrates and fats. All the macronutrients are balanced in just one bowl along with utmost delicious flavors.
I have tried using pantry staples in this easy vegan chili making it budget friendly too.
My family also loves vegan taco soup when I make it with pantry staples and its a one pot dish too.
to add variety of recipes for black beans in your diet the you must try this black beans curry.
What is chili?
Originally, chili meant ground meat cooked in chili powder. Then the Spanish took over and added tomatoes and created a new version. There onwards, many versions have come out but beans were not part of the traditional chili. Also, it was originally called as chile. Later, with its innovations it was named as chili.
However, now we have vegan and vegetarian chili as well in which tofu, lentils or beans can be cooked.
Here, I chose to cook black beans and red beans because these two beans my family's favorite.
For a variety of recipe with red kidney beans, you may try my rajma masala.
Also, I wanted to cook in my pressure cooker to make it quick and fast weeknight dinner.
Hence, I succeeded and my family adored this bowl of deliciousness and I enjoyed the fact that its super healthy.
Moreover, I love cooking in my instant pot and I have tried variety of recipe like coconut rice, taco pasta, dal makhani.
I have also cooked instant pot soups and everyone have always loved them so much.
However, my favorite is instant pot potato corn chowder.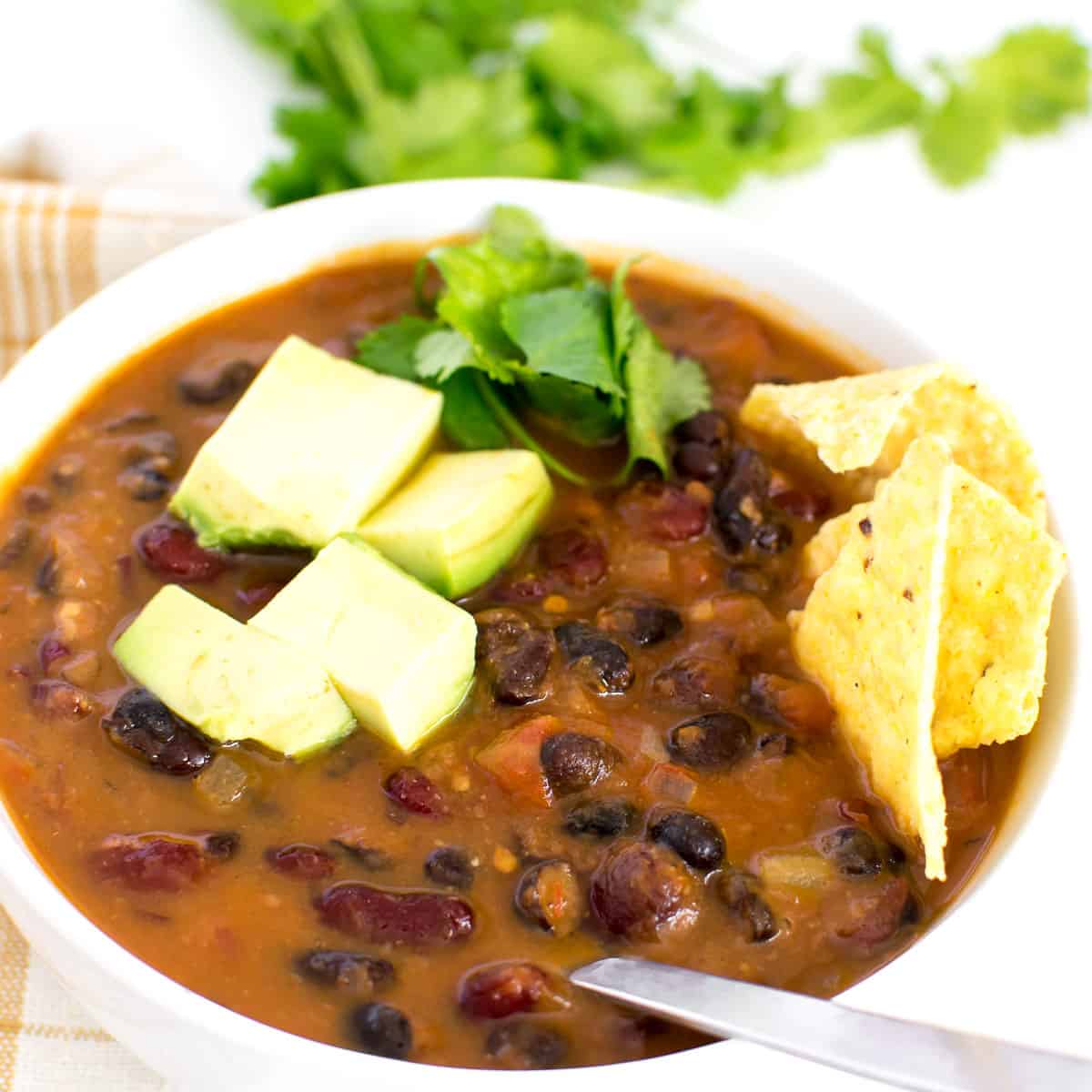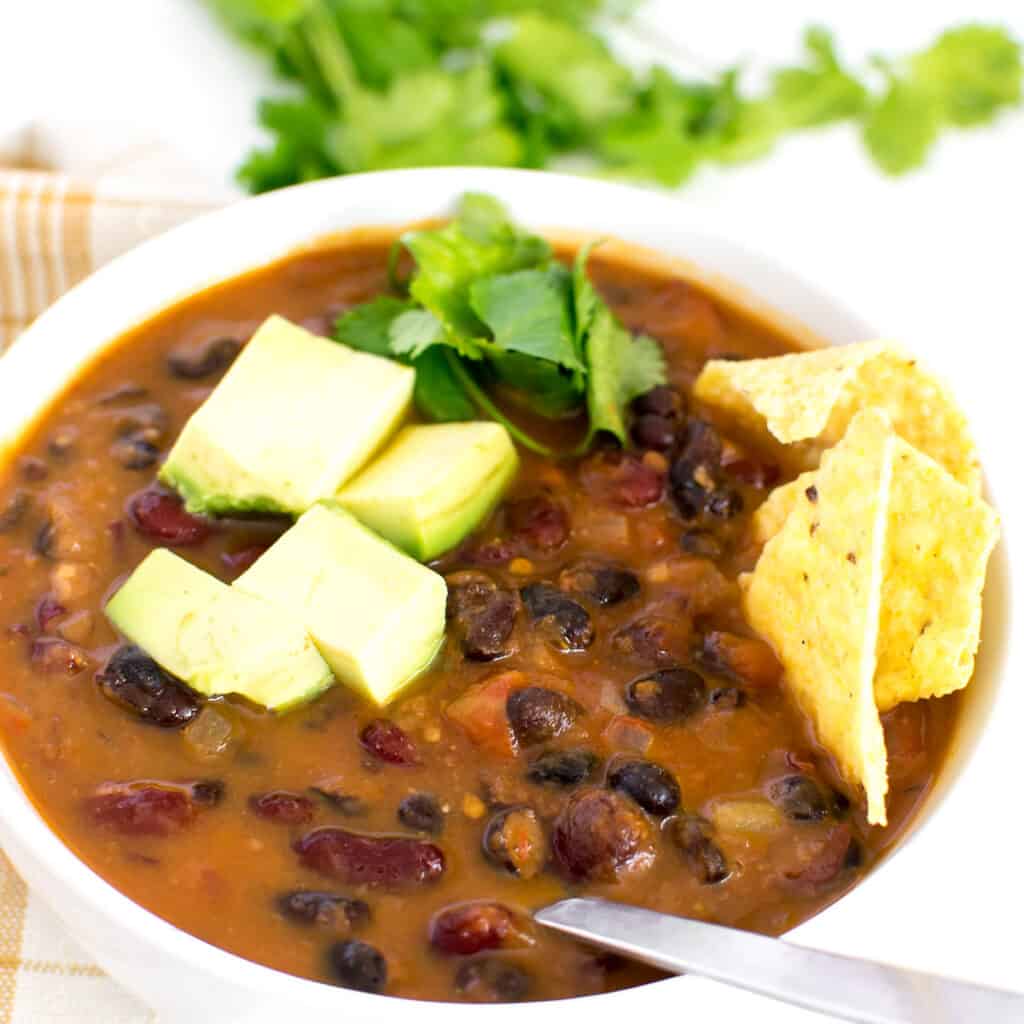 So, I am here to share this instant pot vegan chili recipe with you
Ingredients that you will need for this vegan chili.
Olive oil
Celery
Onions
Canned crushed tomatoes
Chili flakes
Cayenne pepper
Cumin
Oregano
Maple syrup
Black beans
Kidney beans
Vegetable broth
Salt
I have used these easily available ingredients which you may buy from any local grocery store. However, I have provided links to few of them here for your convenience.
If you plan to buy from these affiliate links then I get a small commission which in turn encourages me to bring in more delicious recipes for you all.
Ingredients notes:
Celery – a stick of celery is sufficient for this instant pot vegetarian chili to give it the right flavors.
Crushed tomatoes – canned crushed tomatoes give this chili recipe a nice tangy boost along with a favorable color.
Spices – I used cayenne pepper powder and chili flakes to give it the spicy touch. Plus added cumin because it acts as digestive and plus some oregano to make it more flavorful.
Maple syrup – I added this to compliment tomatoes and reduce the acidic effect of tomatoes in this vegan bean chili. You may use sugar or brown sugar here as well. For this add only 2 tsp sugar.
Beans – I used a combination of black beans and kidney beans. Make sure to use canned red kidney beans here. You may use raw beans as well. In that case soak the beans overnight and boil it properly. Or if you plan to pressure cook along with the rest of the ingredients then your cooking time would increase. So, drain the beans and let it cook for at least 30 minutes at high manual or until the beans are soft.
For detailed measurement of ingredients, please scroll down to the printable recipe card.
Now, its time to make this veggie chili in your instant pot aka pressure cooker.
How to make Instant Pot Vegan Chili
Firstly, I turned on my instant pot on sauté mode and heated oil in it followed by sautéing celery and onion until they were translucent.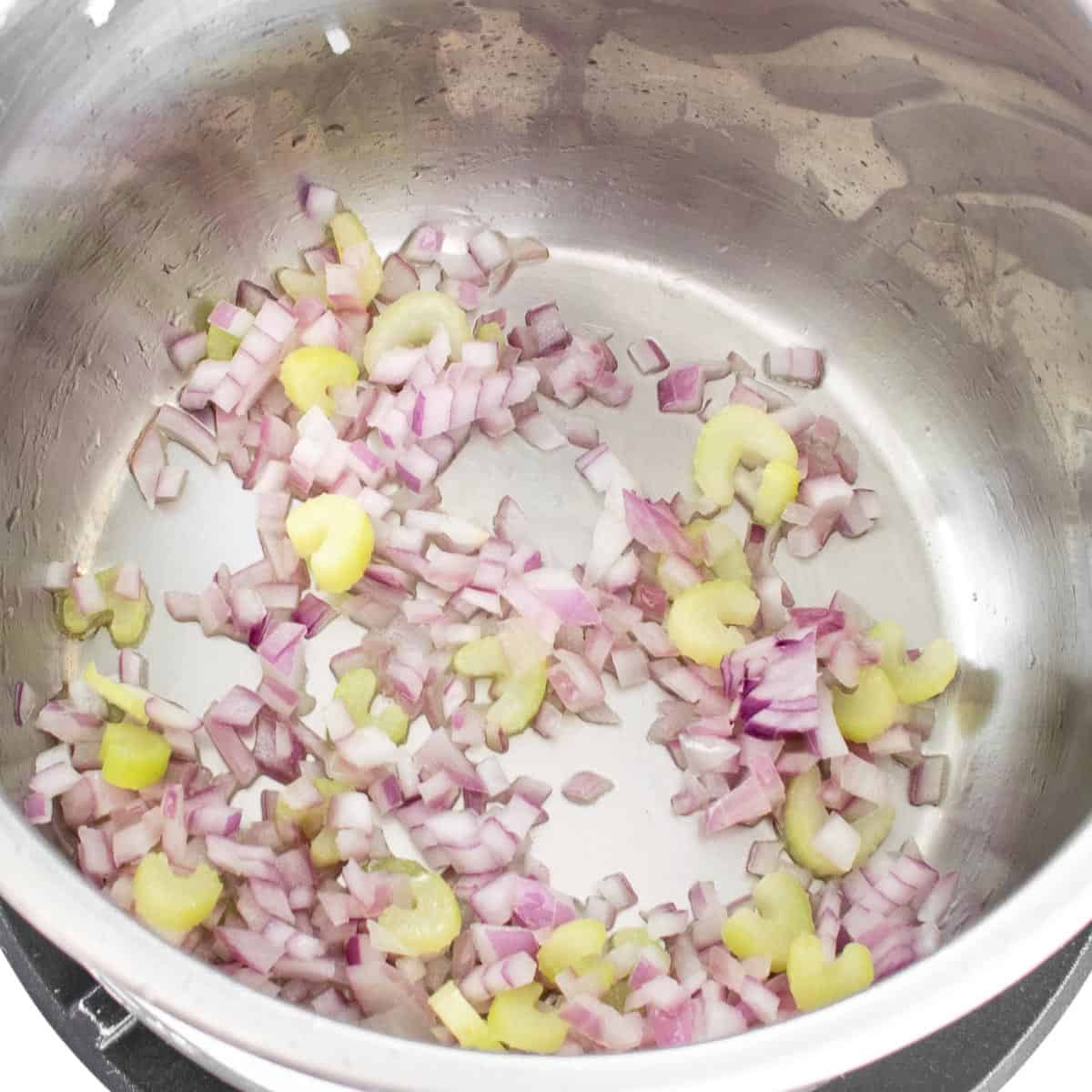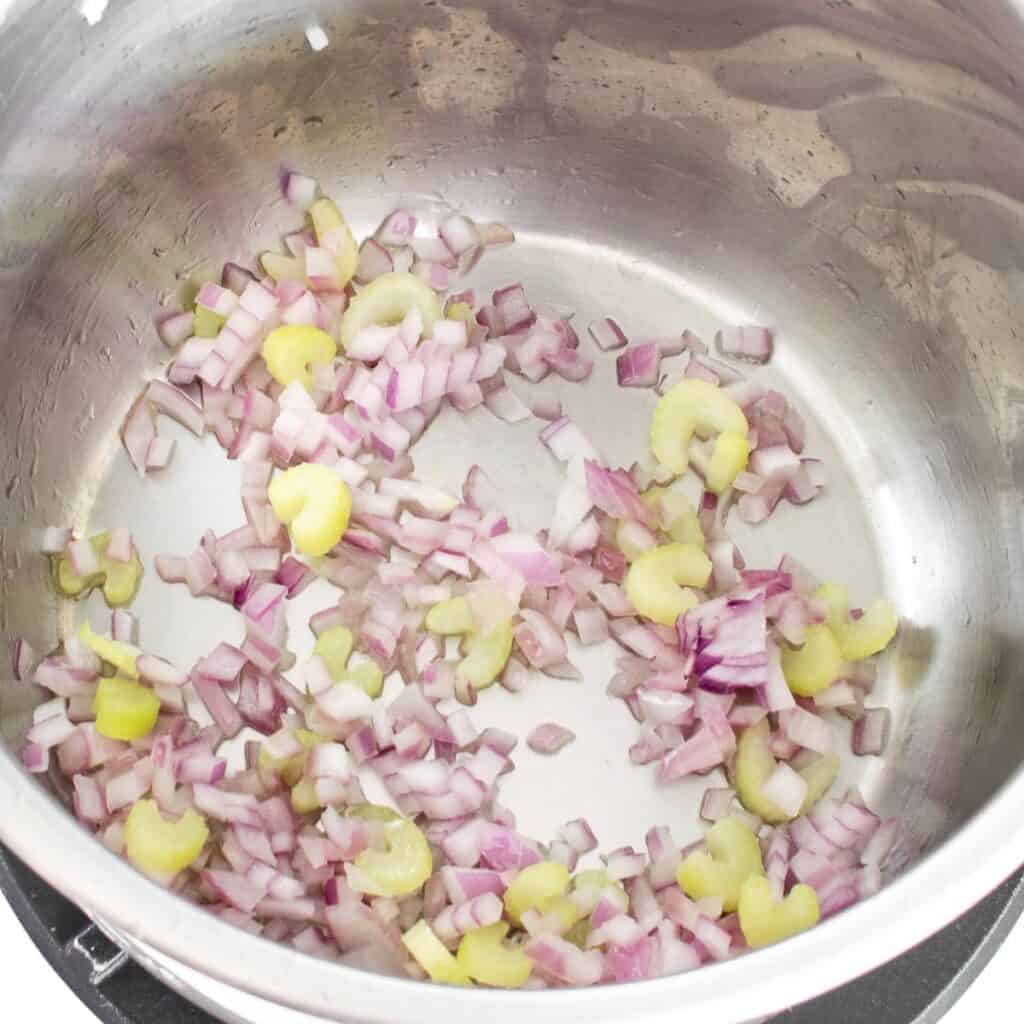 Secondly, I added canned crushed tomatoes along with the all the seasoning and maple syrup. Then, I stirred it well for few minutes.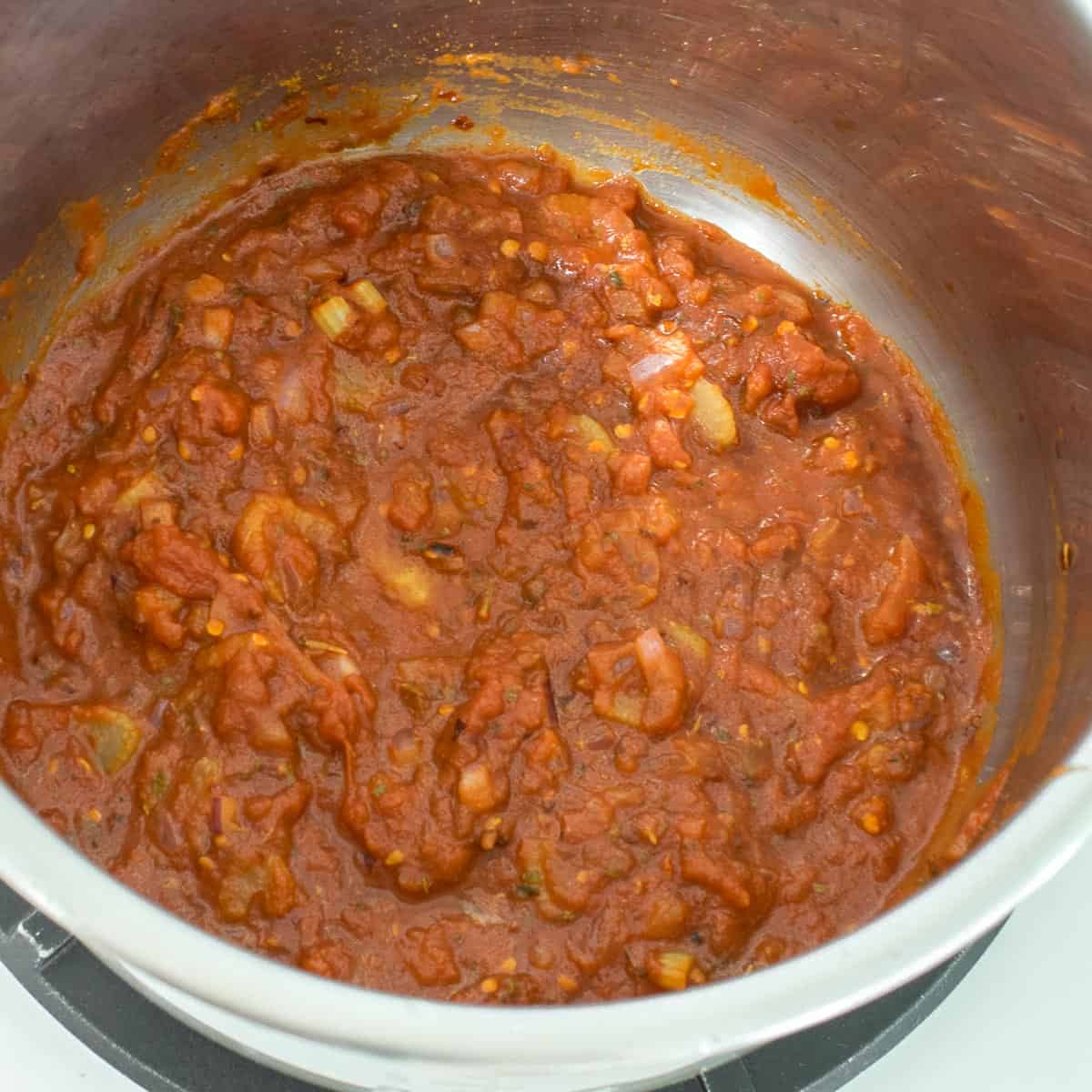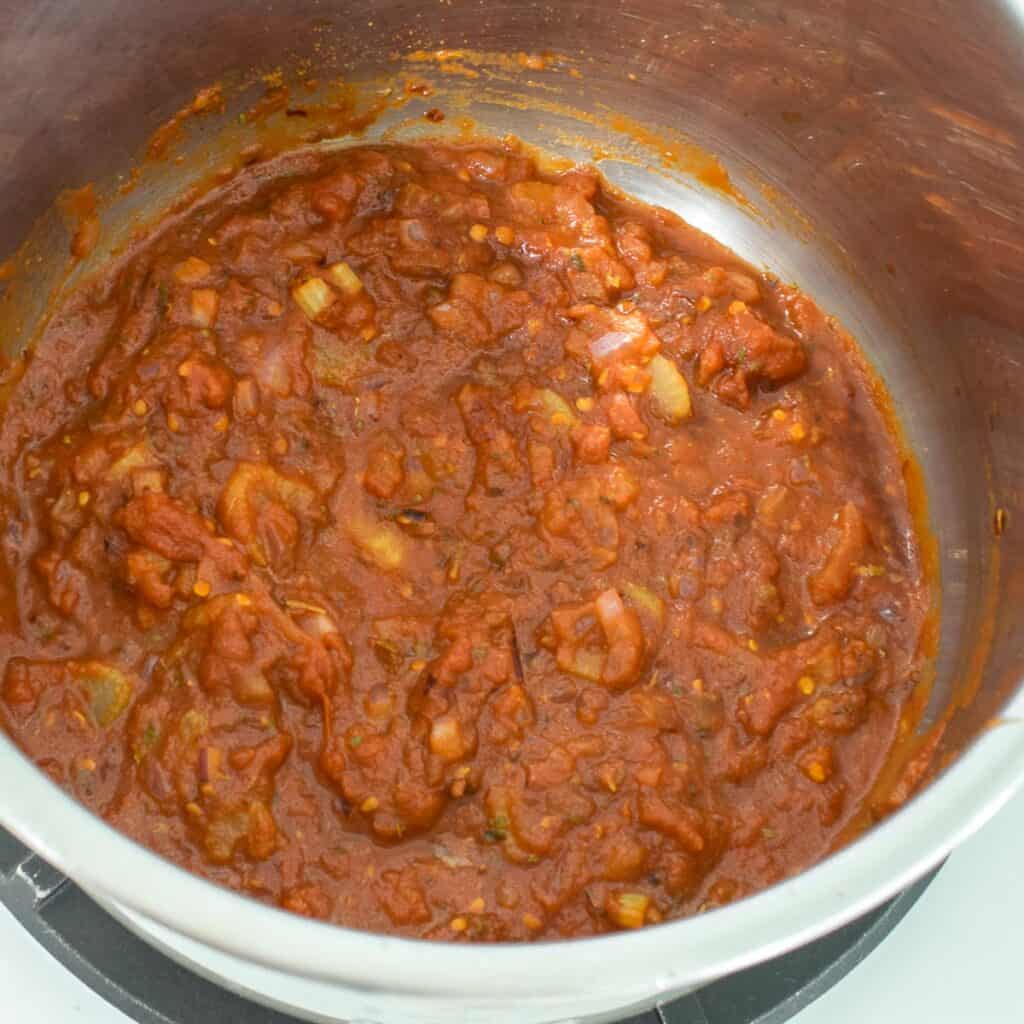 Next, I folded in black beans and kidney beans to it and mixed it well.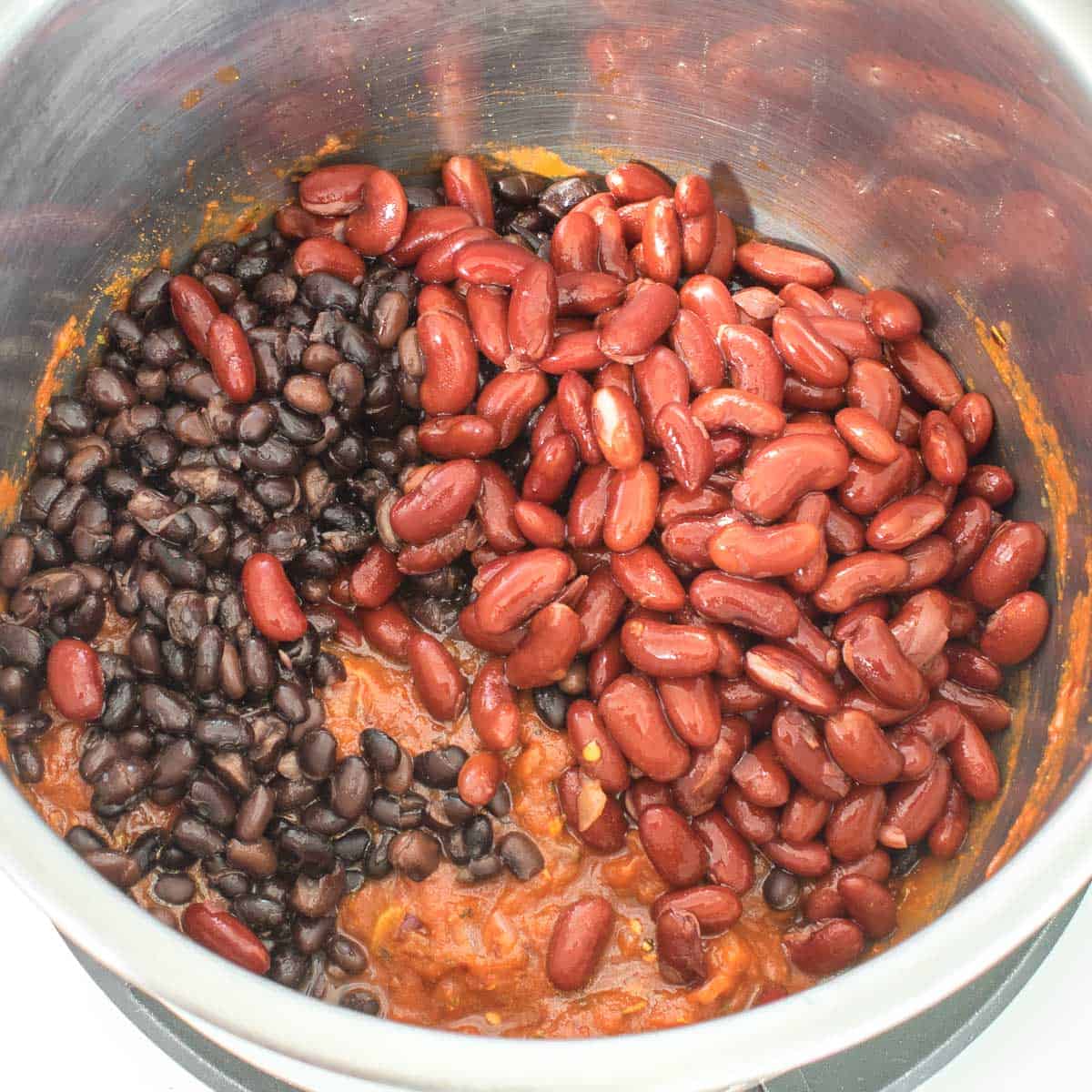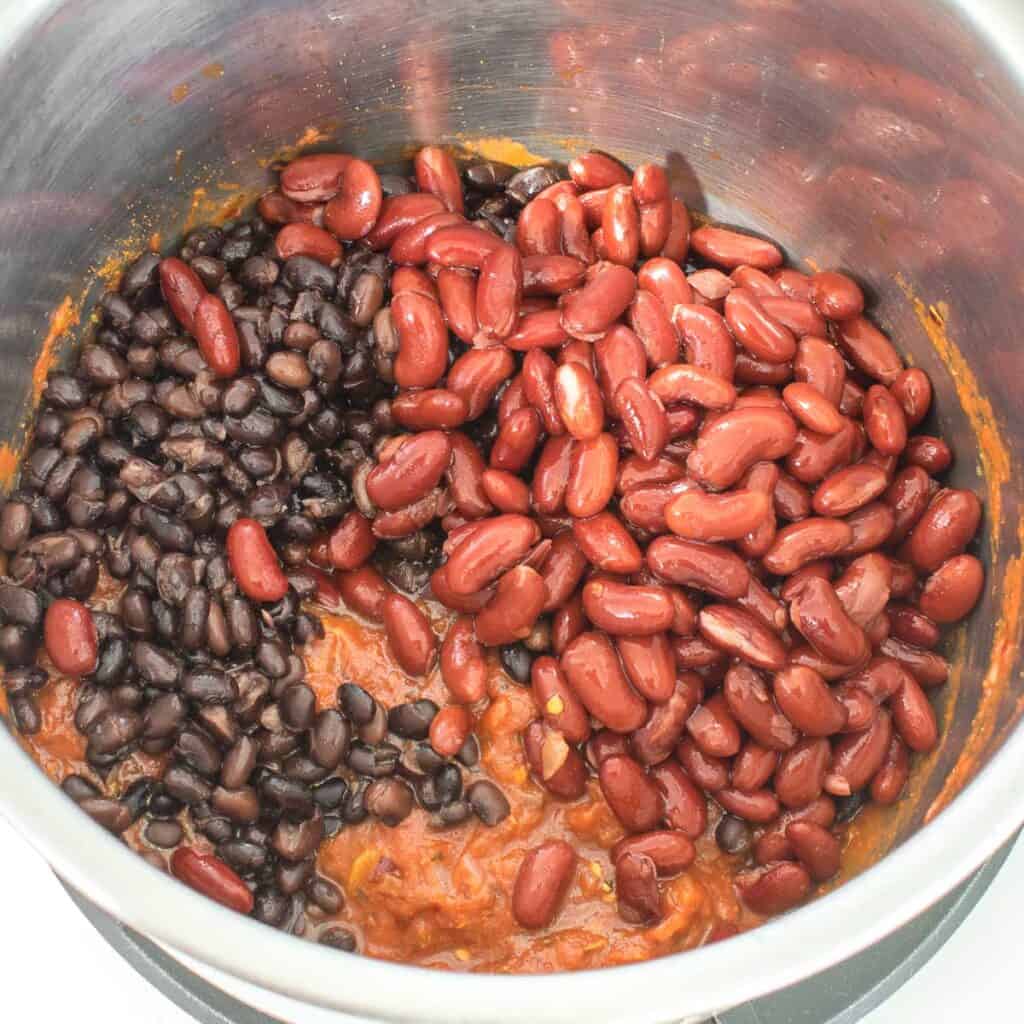 Thereafter, I added vegetable broth and salt and stirred it again.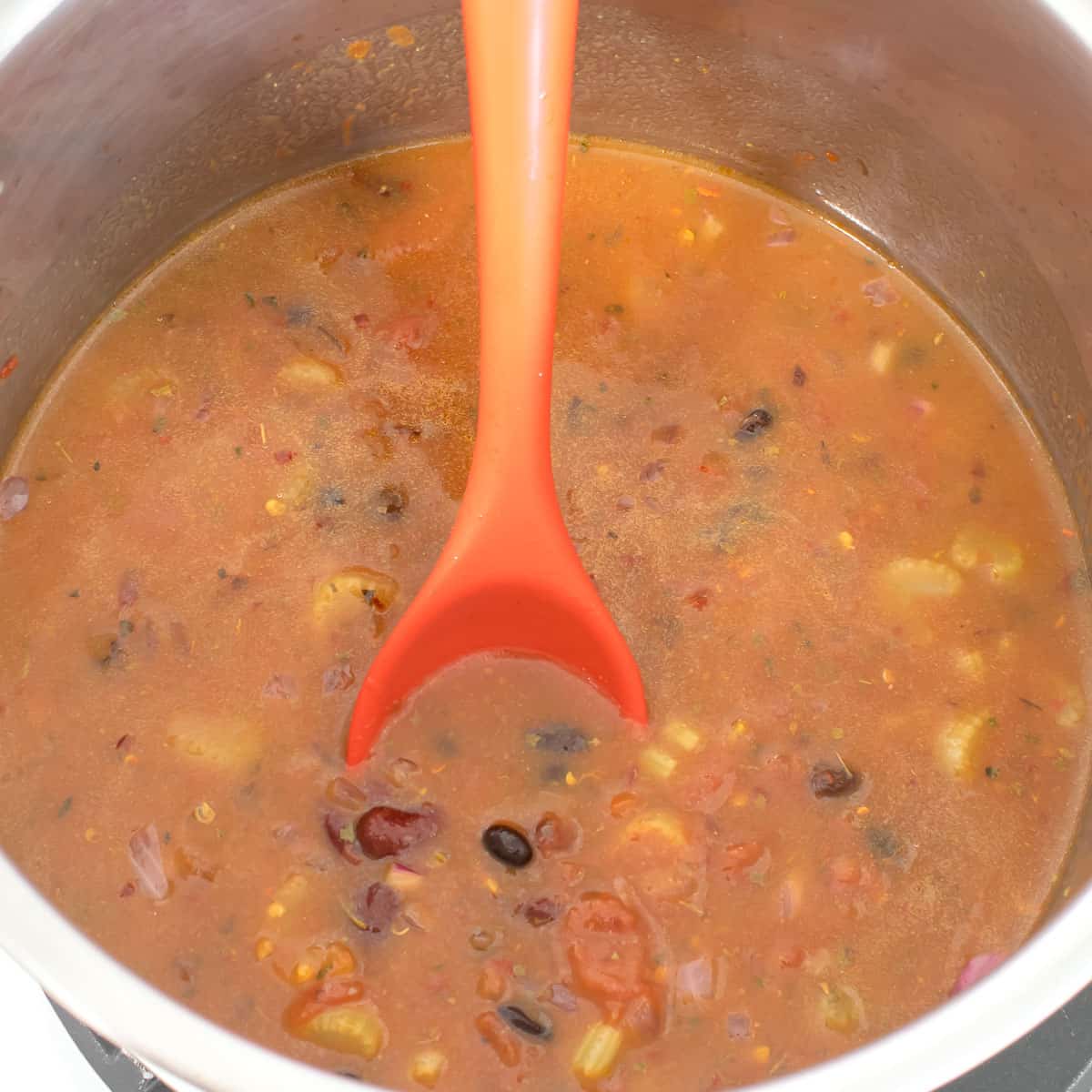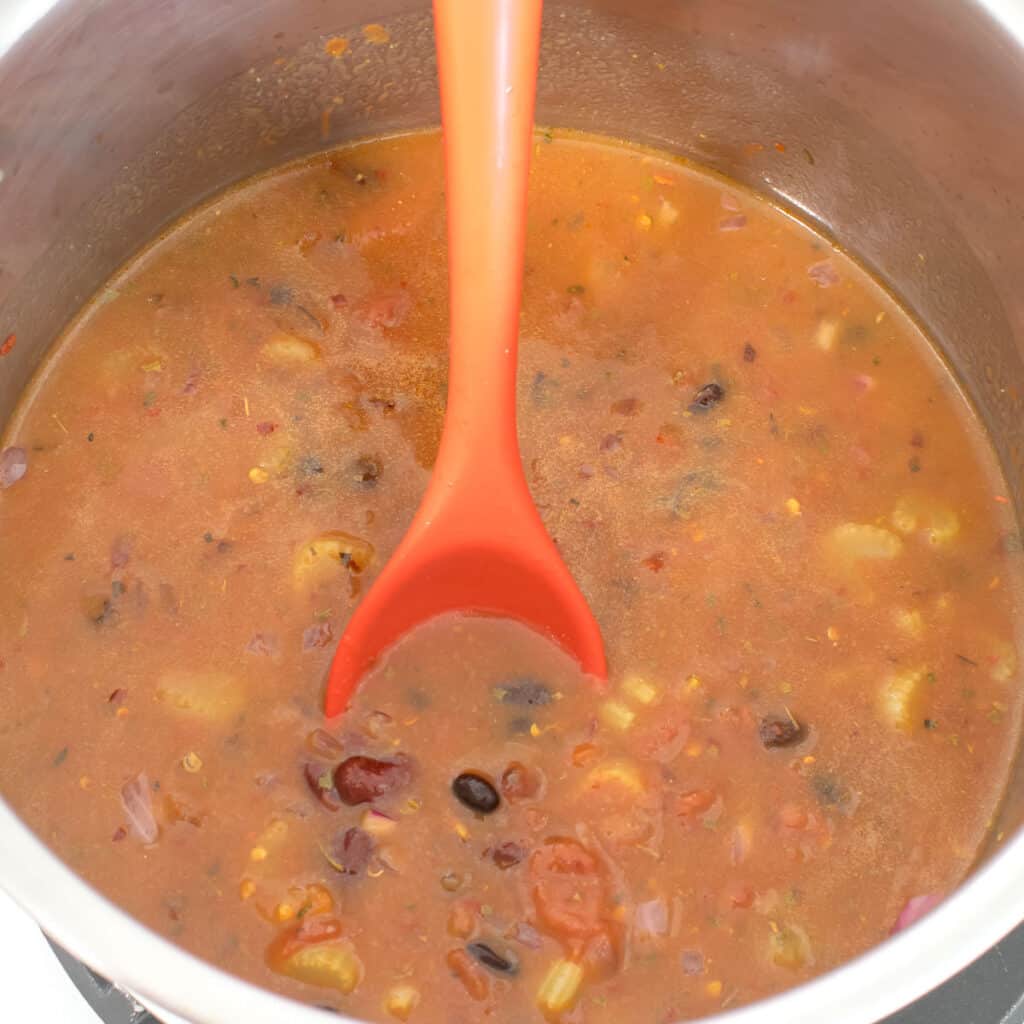 Afterwards, I closed the lid and cancelled the sauté mode. Then, I sealed its valve and turned it on at manual high for 10 minutes.
Once done, I released the pressure and opened the lid. After which I quickly stirred the chili scraping from the bottom. Then, I mashed the beans roughly with my food masher and closed the lid lightly.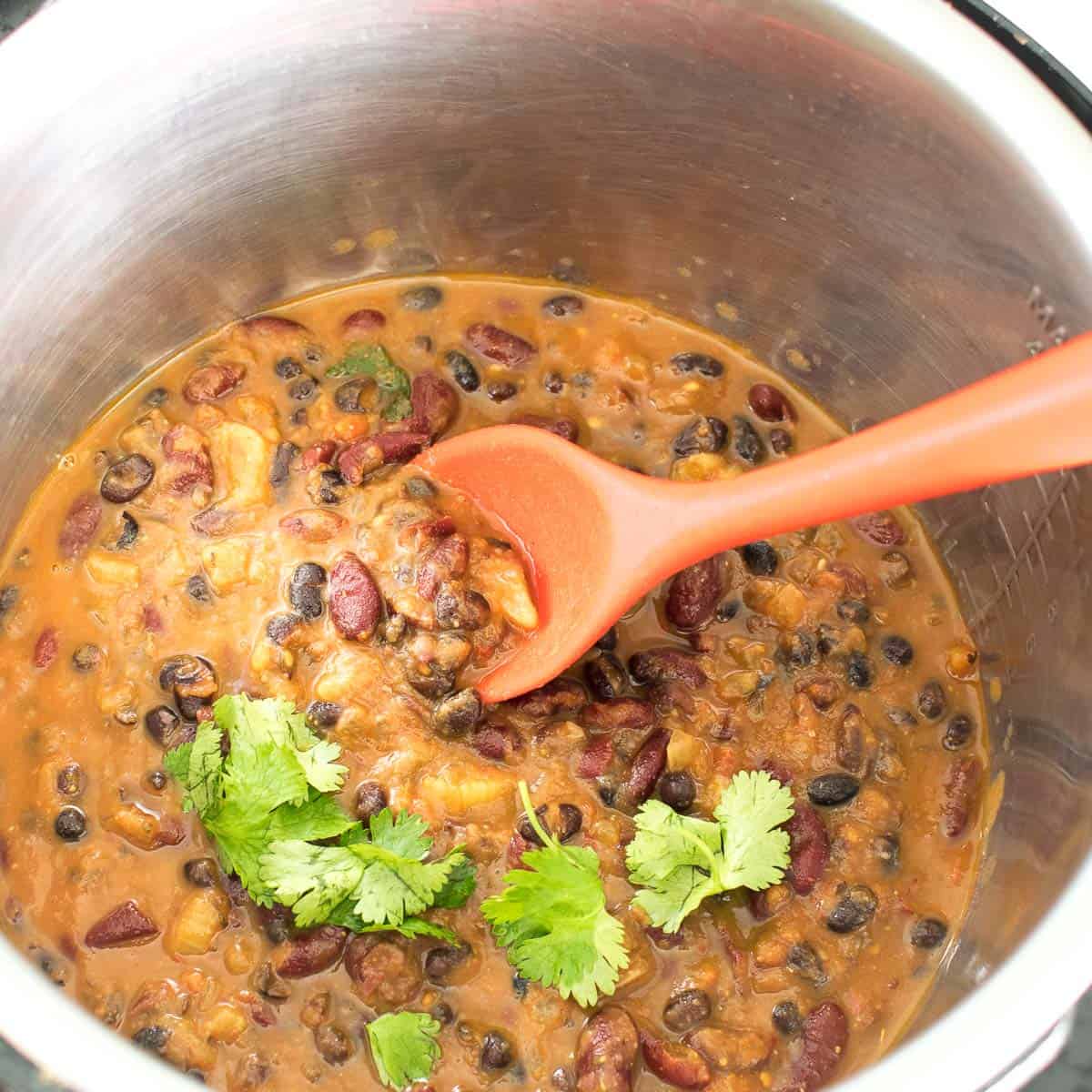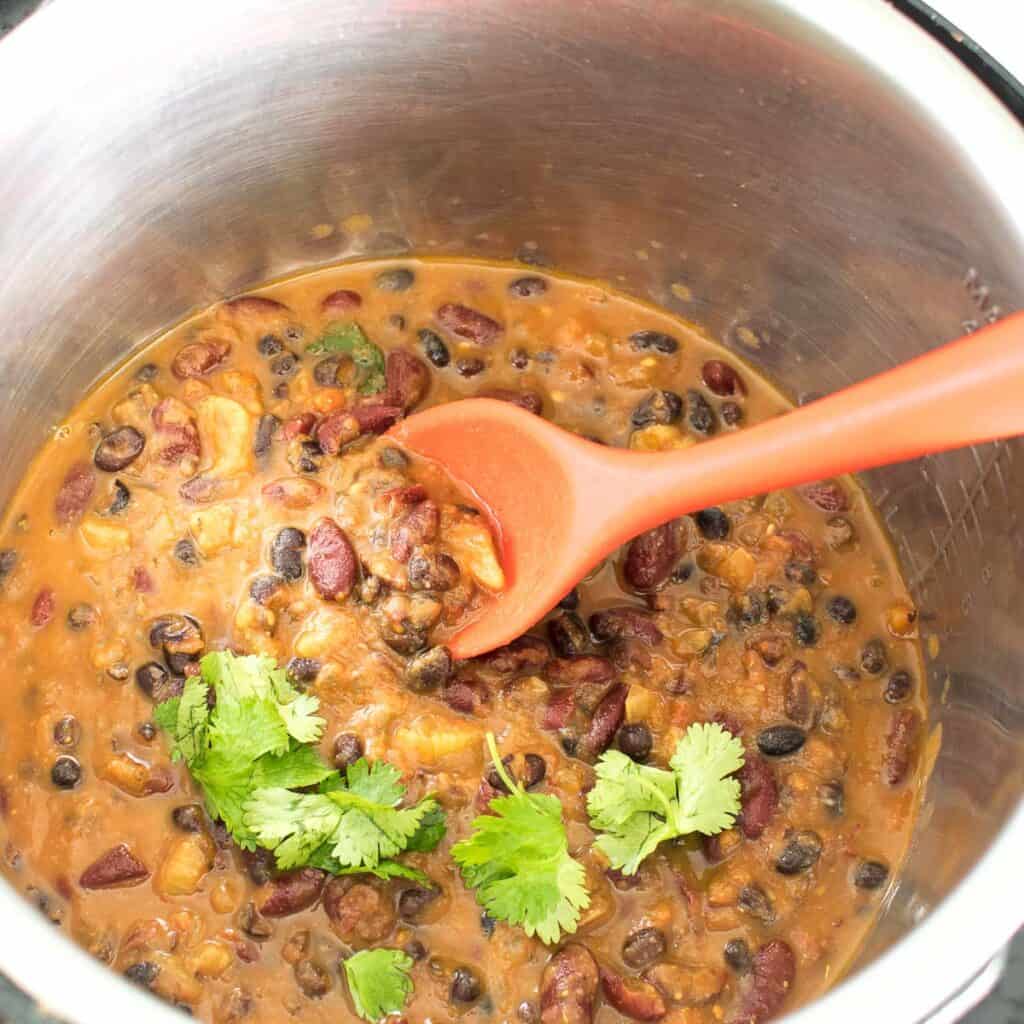 This helps in thickening the liquid.
Lastly, I opened the lid served hot with garnishes.
I served it with my vegan cornbread and it was an instant hit.
We loved it so much that it has become our staple and we devour it frequently.
To make it on the stove top.
Heat oil in your Dutch oven and sauté celery and onion in it until translucent. Next, add crushed tomatoes along with the seasonings and maple syrup. Mix well and fold in the beans. Then, add 1 ½ cups vegetable broth and salt to it. Stir and cook covered at low-medium flame for 20-25 minutes. Open the lid and stir. Then, mash the beans roughly with your food masher and let it cook at low flame uncovered for 5 minutes. Turn it off and stir again. Cover and let it rest for 2-3 minutes. This helps in thickening and then garnish and serve it hot.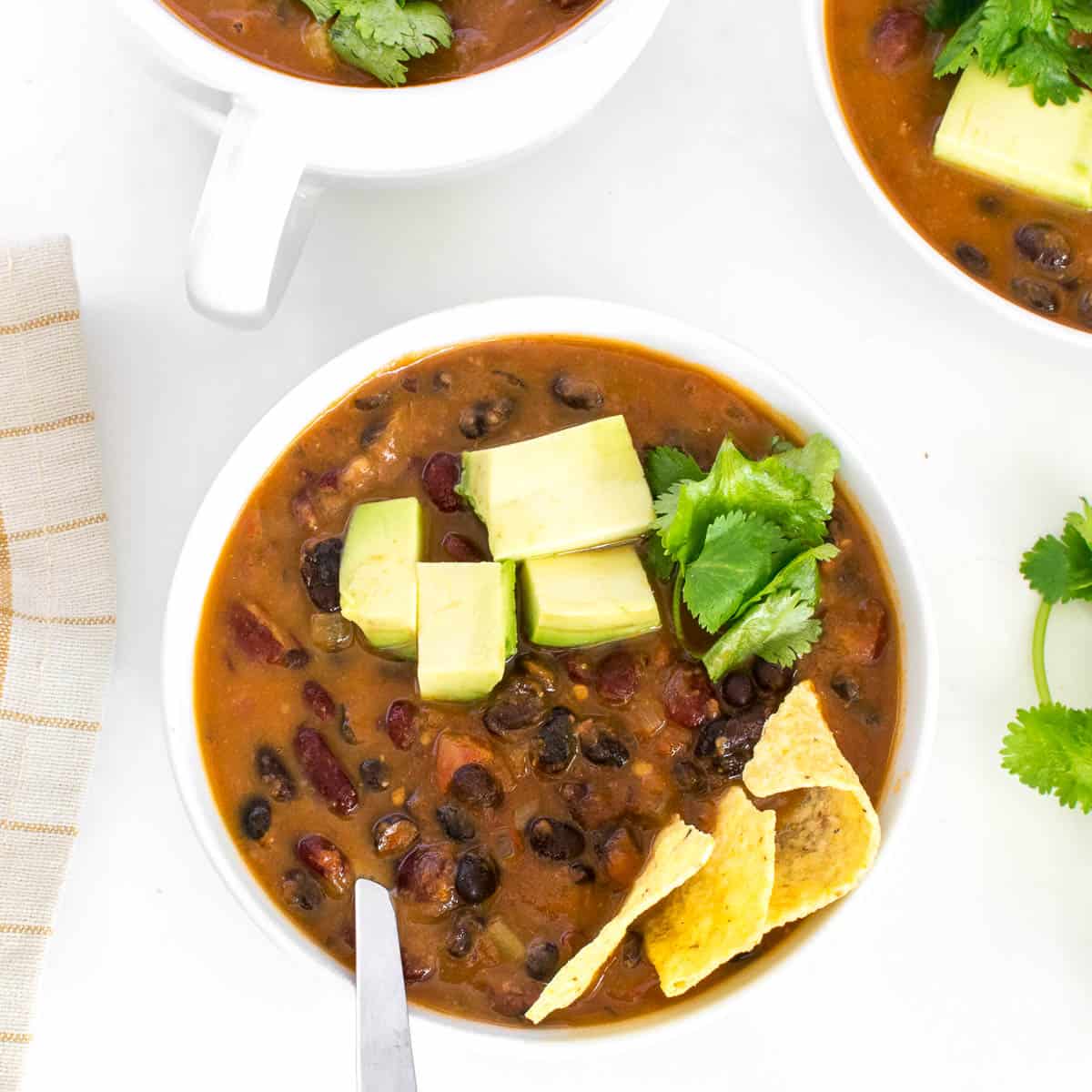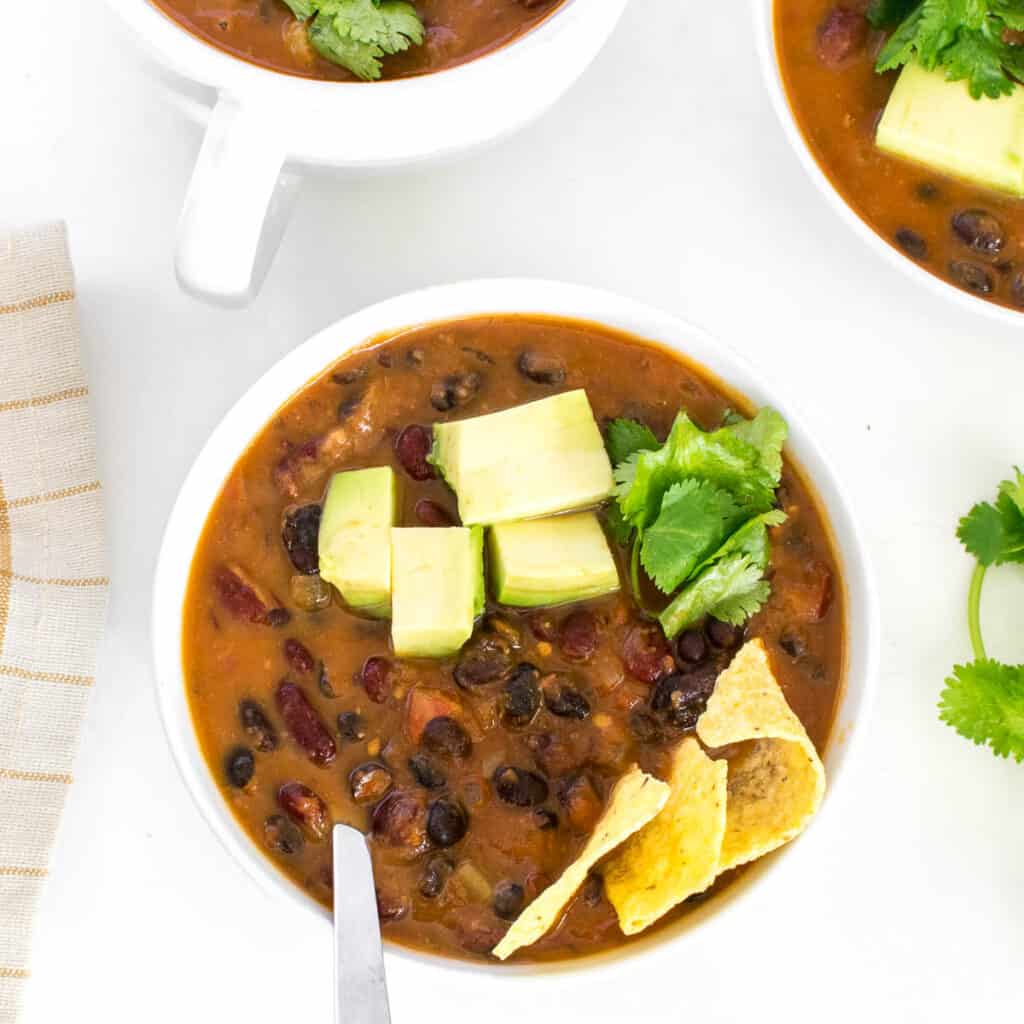 Expert tips:
If you are cooking on stove top then it is important to use a good quality Dutch oven or a nonstick stock pot or else add 2 tbsp. olive oil instead of 2 tsp of olive oil.
Make sure to mash it with the food masher but roughly. Should not be mashed fine. This just helps in absorbing and thickening the liquid.
Instant Pot Vegan Chili FAQs
How do I store it?
This tastes best when served immediately hot. However, you may make it in bulk and refrigerate in an air tight glass container for 3 weeks. Make sure to warm it very well in microwave. Do not cook too much again just needs to be warmed up hot.
Do I drain red kidney beans before using them in chili?
Yes! Absolutely. We do not want extra liquid in here. Moreover, it will taste better.
What can I substitute with crushed tomato?
You may use a combination of tomato puree and tomato pasta. So, in this case you may use ½ cup tomato puree and 3 tbsp. tomato paste.
What vegetables can I add to this chili?
Well, here I have kept it simple but frozen corn kernels/sweet corns, diced carrots or bell peppers go well.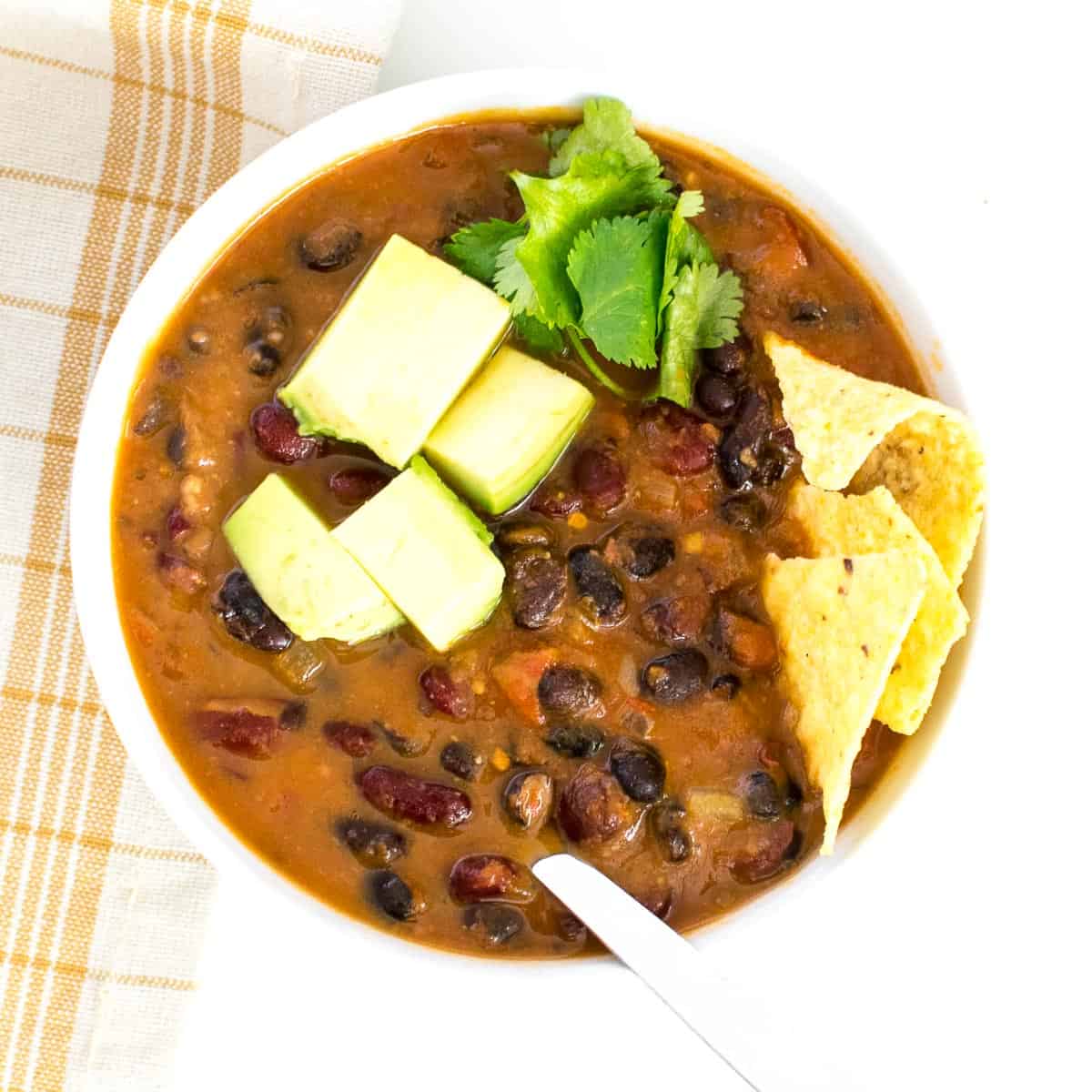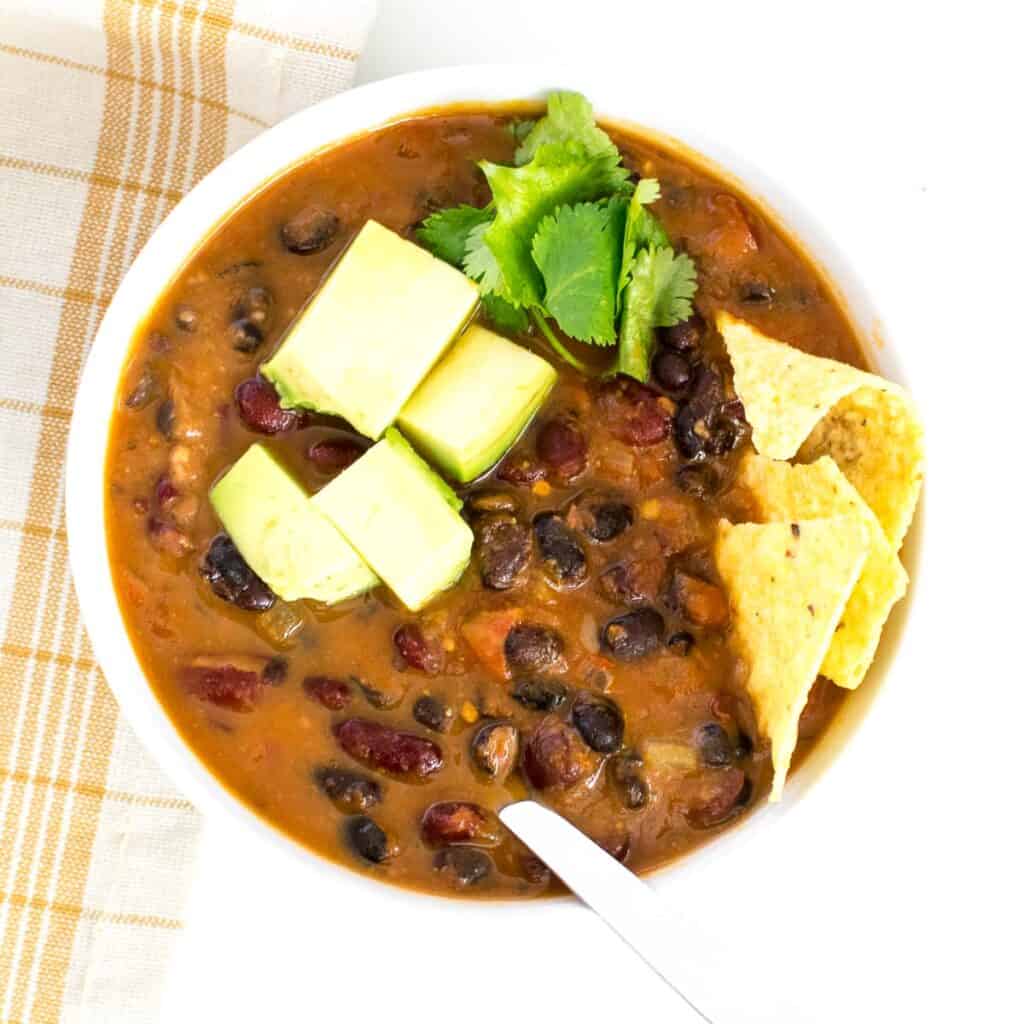 Looking for more?
If you enjoyed this recipe and want to explore more you might like:
Vegan Cabbage Soup
Lentil Cilantro Soup
Vegan Mushroom Red Rice Soup
Vegan Lentil Cheese Soup
Find me:
Follow me on Facebook for regular updates. You may tag @kiipfit on Instagram with your recipe remake image. We would love to see what you cooked. If you love to pin then follow me on Pinterest or subscribe to my email list for the latest recipes.
Did you make it?
If you make this recipe then please leave your feedback along with a 5-star rating in the comments.
You may also checkout my cookbook for every day comfort vegan recipes.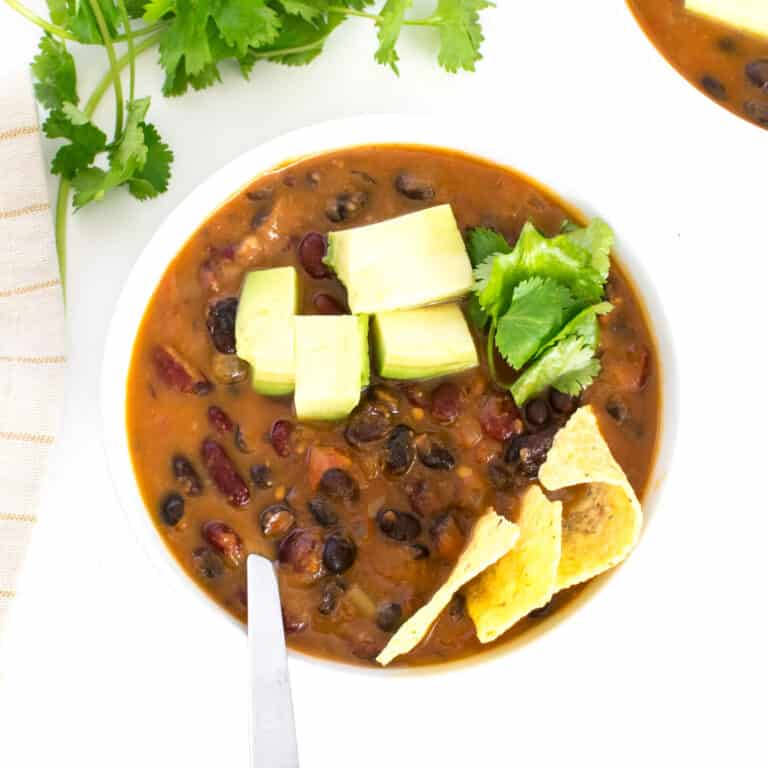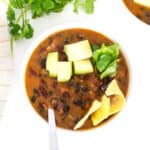 Print Recipe
Instant Pot Vegan Chili
This easy Instant Pot Vegan Chili comes together in less than 30 minutes and is packed with nutrition. It's made with two types of beans cooked in hot spices. It's a hearty, delicious and super comforting one pot meal.
Ingredients
Garnishes
chopped cilantro

avocado

tortilla chips
Instructions
Turn on sauté mode of your instant pot and heat oil in it. Then, sauté celery and onions in it until onions are translucent.

Add canned crushed tomatoes, chili flakes, cayenne pepper powder, oregano and cumin powder to it. Stir properly. Mix in maple syrup and stir again.

Fold in black beans and kidney beans to it.

Pour vegetable broth and season it with salt. Stir and close the lid. Cancel the sauté mode and seal the valve. Turn it on at manual high for 10 min.

Once done release the pressure and open the lid. Stir and mash the beans with a food masher. (Roughly mash them, not very fine).Cover lightly with the lid and let it rest for 4-5 minutes. This thickens the stew.

Open the lid and garnish. Serve hot.
Notes
Stove top option: heat oil in a Dutch oven/stock pot and sauté celery and onion at high flame. Add crushed tomatoes along with the seasoning and stir well. Lower the heat to medium and add beans, 1 ½ cups vegetable broth and salt. Stir and let it cook covered for 20-25 minutes at medium flame. Open the lid and stir. Roughly mash the beans with a food masher and let it cook uncovered at low flame for 3-5 minutes. Turn it off and stir again. Garnish and serve.
The nutritional value is provided without garnishes. It will vary depending on your choice and quantity of the garnishes.
Nutrition
Calories:
175
kcal
|
Carbohydrates:
30
g
|
Protein:
10
g
|
Fat:
13
g
|
Saturated Fat:
1
g
|
Polyunsaturated Fat:
1
g
|
Monounsaturated Fat:
2
g
|
Sodium:
473
mg
|
Potassium:
25
mg
|
Fiber:
1
g
|
Sugar:
4
g
|
Vitamin A:
261
IU
|
Vitamin C:
1
mg
|
Calcium:
14
mg
|
Iron:
1
mg