Tasty, easy, and wholesome this Indian style Black Beans Curry is a perfect entrée for any weeknight. Pair it with steamed rice or quinoa and enjoy this flavorful and family friendly meal.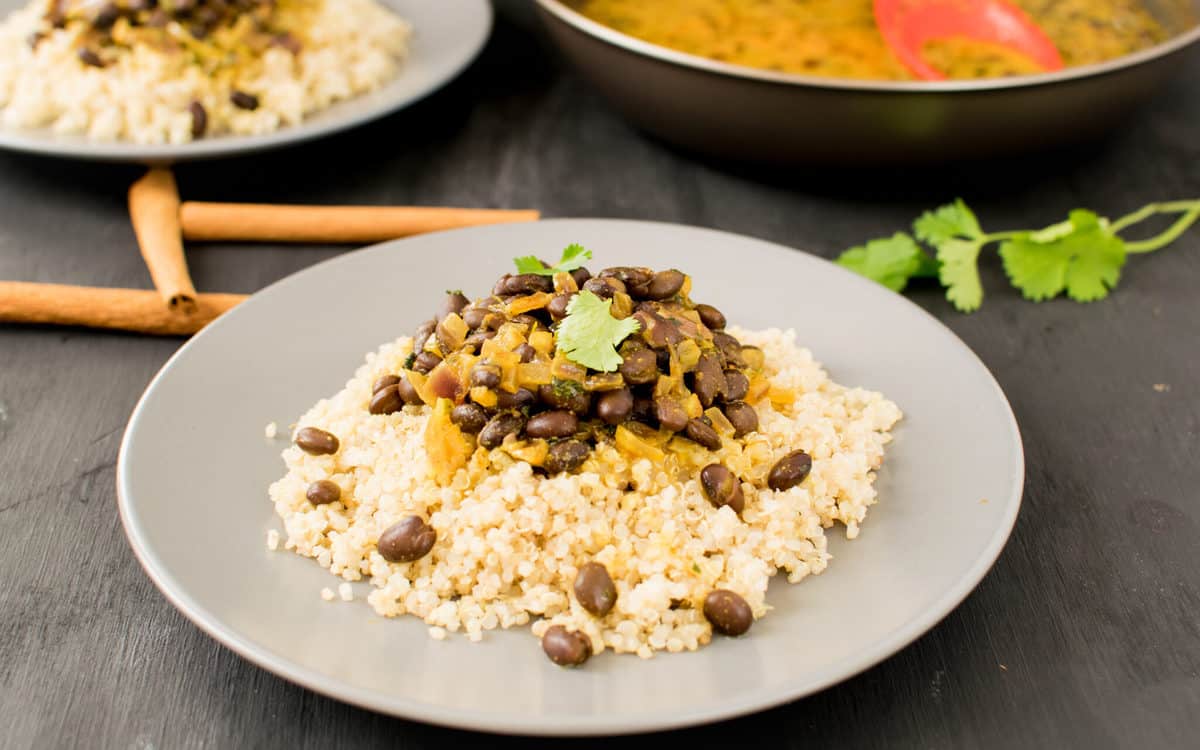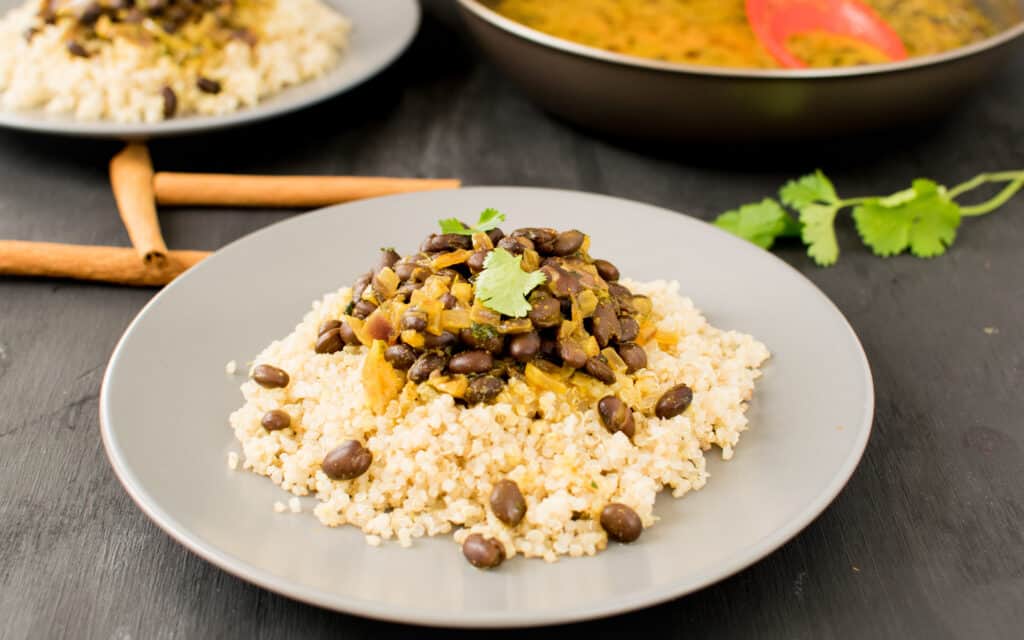 Black Beans are high in protein and low in carbohydrates and calories. In vegetarin and vegan diet we cosume quite a bit of beans in various styles.
Hence, I decided to create this fusion recipe of black bean curry to add protein iot our diet alog with nice spices.
My other poplar black bean recipes are black beans oatmeal pilaf, tahini black beans fritters, Farro black beans Mexican bowl.
I often make mexican coleslaw salad with black beans in it. To make my pasta healthy I make taco pasta so I can add black beans into my favorite dish.
I also love my vegan chili that has black beans as one of the ingredients.
Since, we are fond of curry recipes I decided to create this vegan black bean curry for my family. We loved it and I make it on repeat.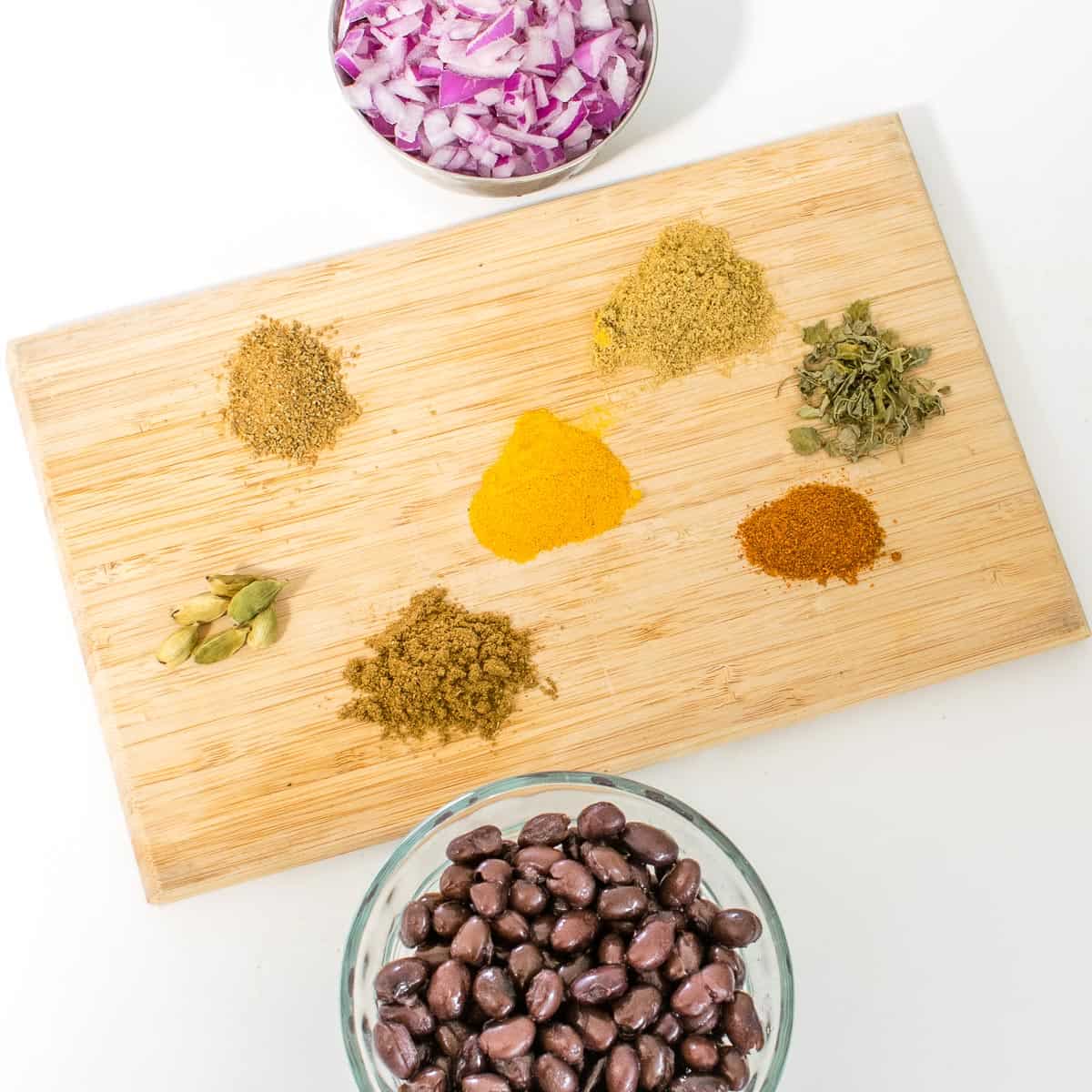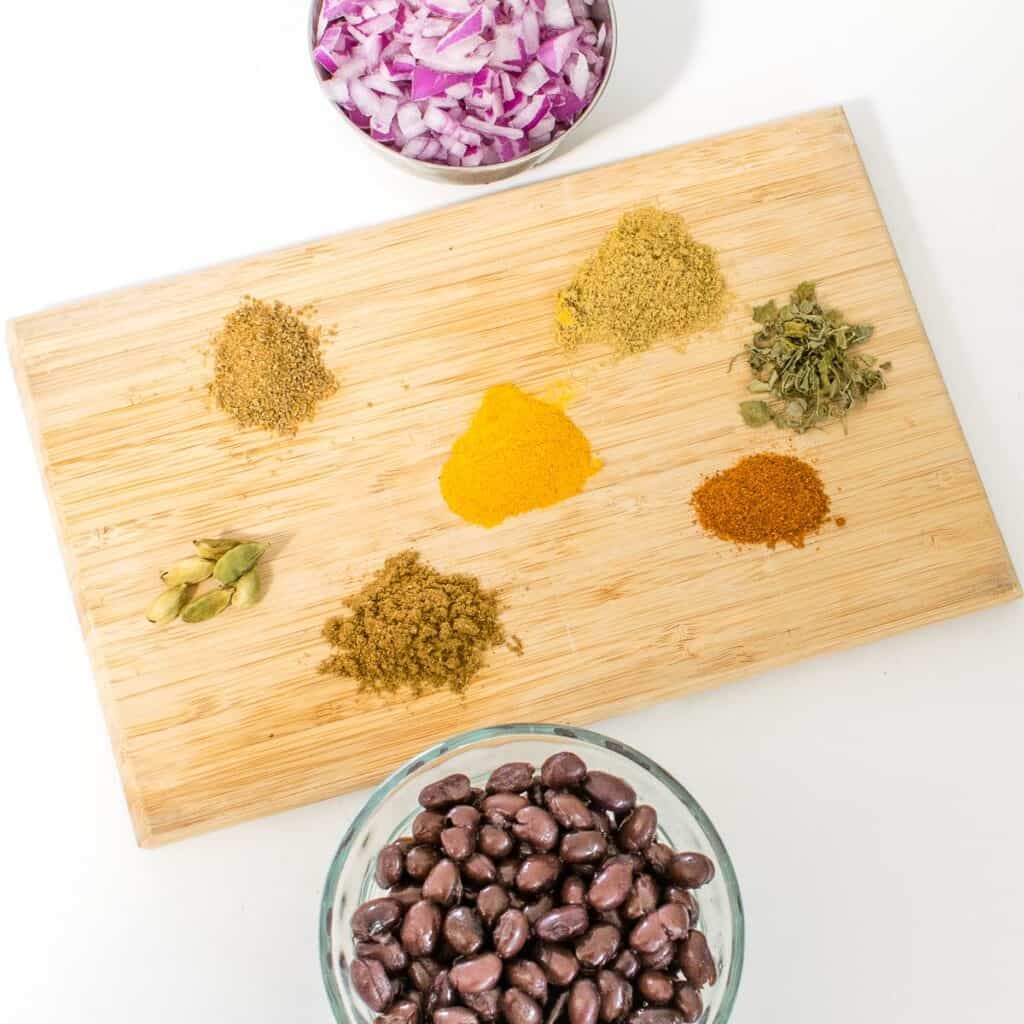 Ingredients for Black Beans Curry
Olive oil
Red onion
Turmeric powder
Coriander powder
Cumin powder
Cinnamon powder
Nutmeg powder
Chili powder
Cardamom powder
Ginger powder
Dried fenugreek leaves
Coconut milk
Salt
Sugar
Black Beans (canned)
I used simple pantry staples for this recipe and its so delicious and satisfying and super quick too.
Ingredients notes:
Spices – I used a variety of spices to create an Indian version of flavor but you may be creative here and use the spices that you like.
Fenugreek leaves – its also call kasoori methi which is simply dried fenugreek. It is easily available in any Indian store.
Coconut milk – I used tetra pack coconut milk to keep this dish light and low in calories but canned unsweetened coconut milk also works here.
Black beans – I used canned black beans for convenience and it worked great here. This also helped me to make this bean curry quick and easy.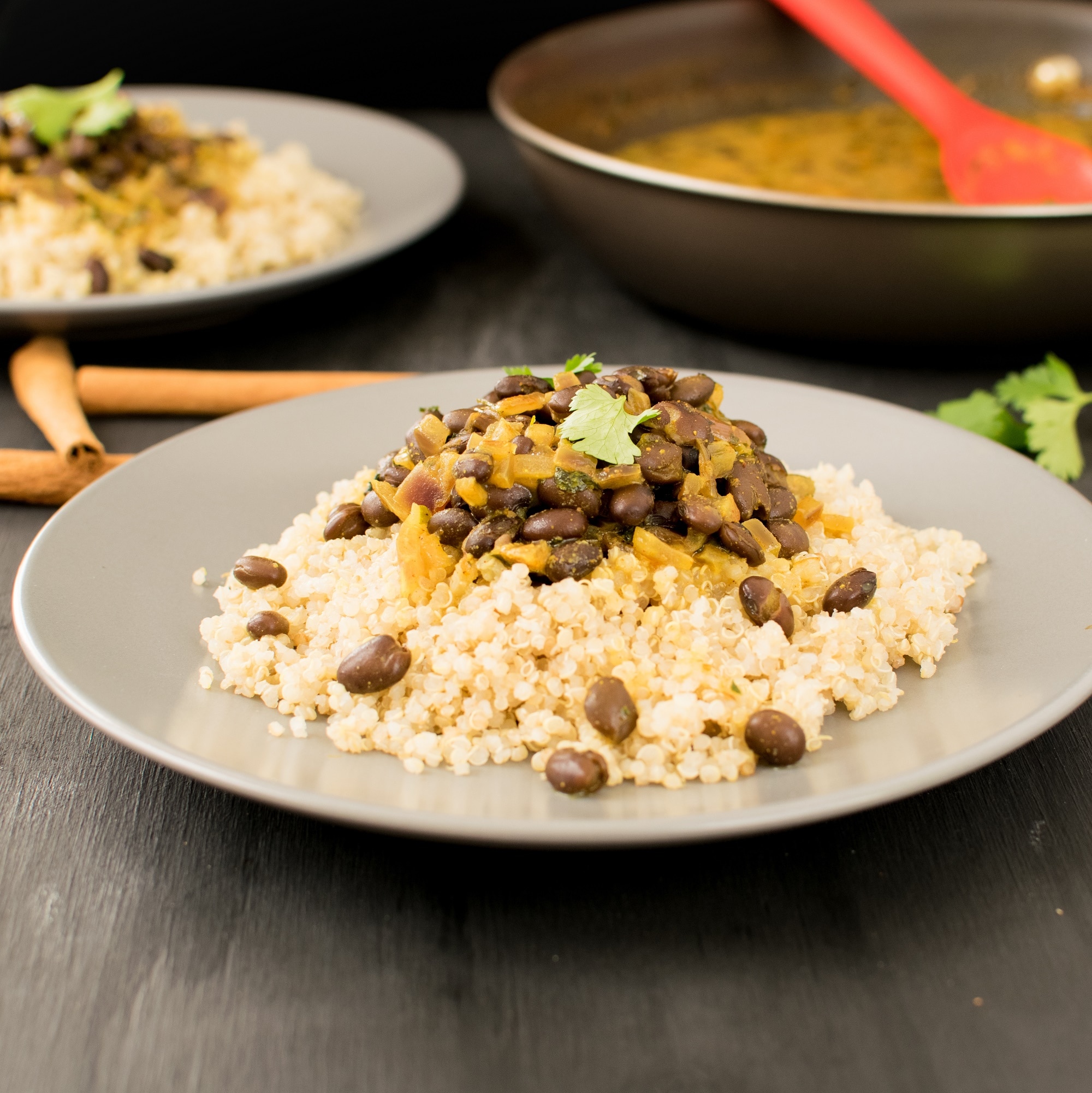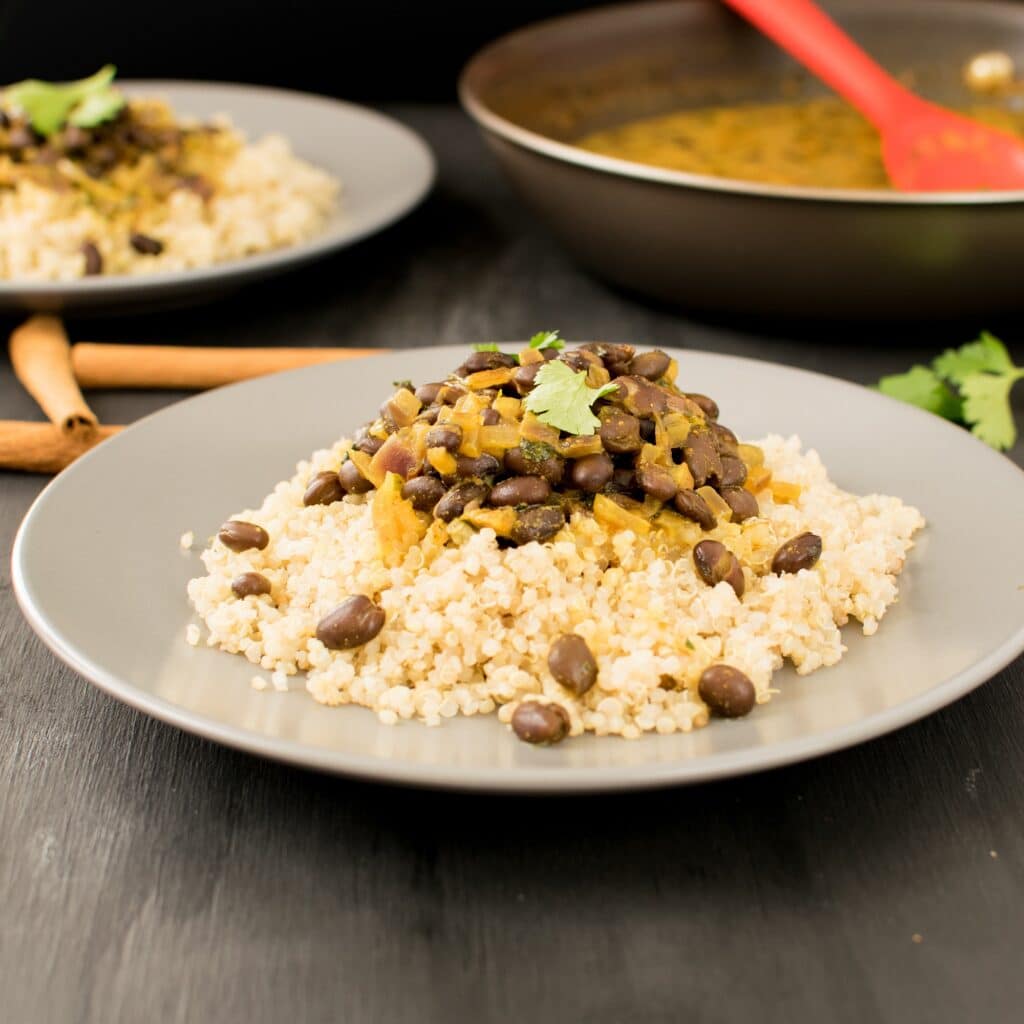 For detailed measurement of ingredients, please scroll down to the printable recipe card at the bottom of this post.
How to make Black Beans Curry
Firstly, I heated oil in a nonstick pan and sauteed onions in it until golden brown in color.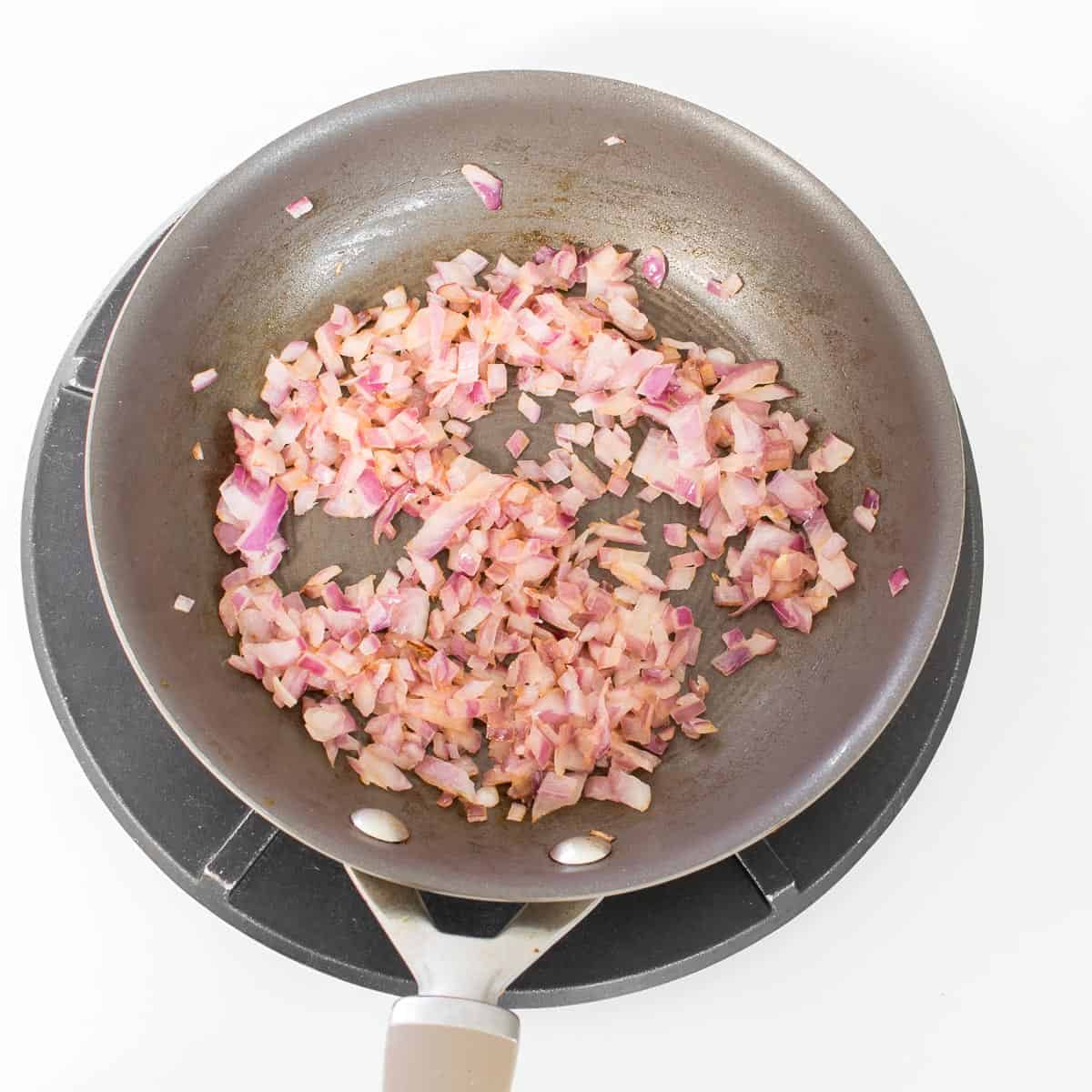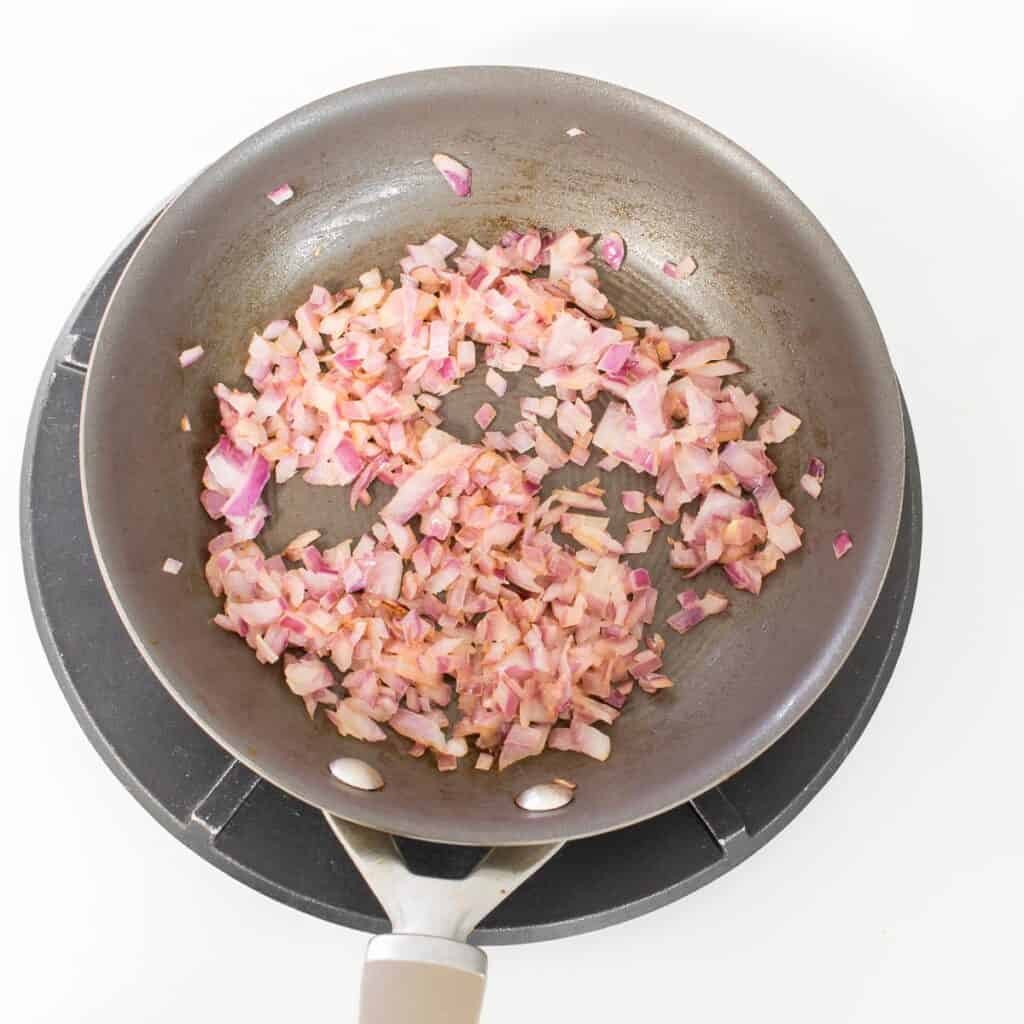 Secondly, I added turmeric, coriander, cumin, cinnamon, nutmeg, chili powder, cardamom and ginger powder along with dried fenugreek leaves in it.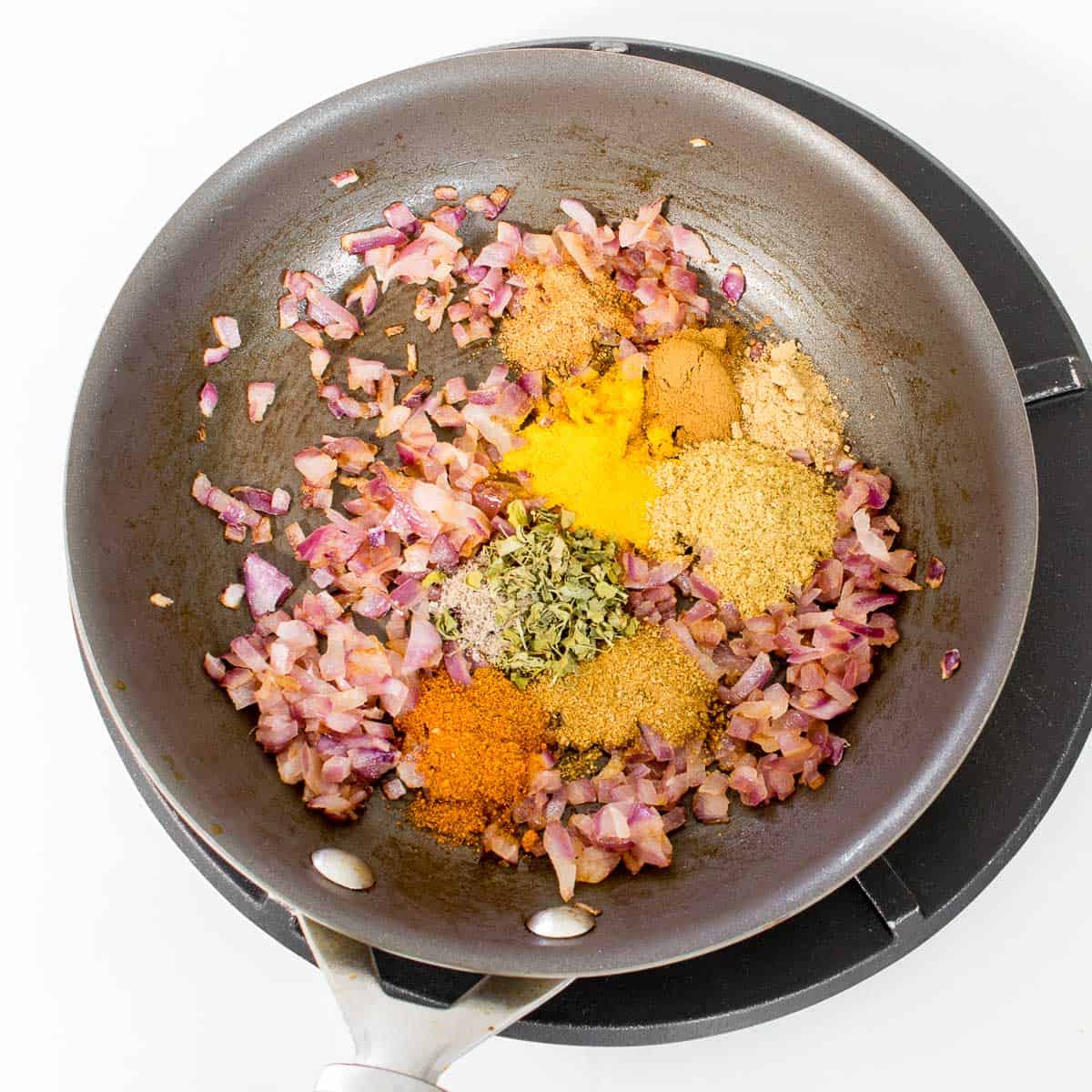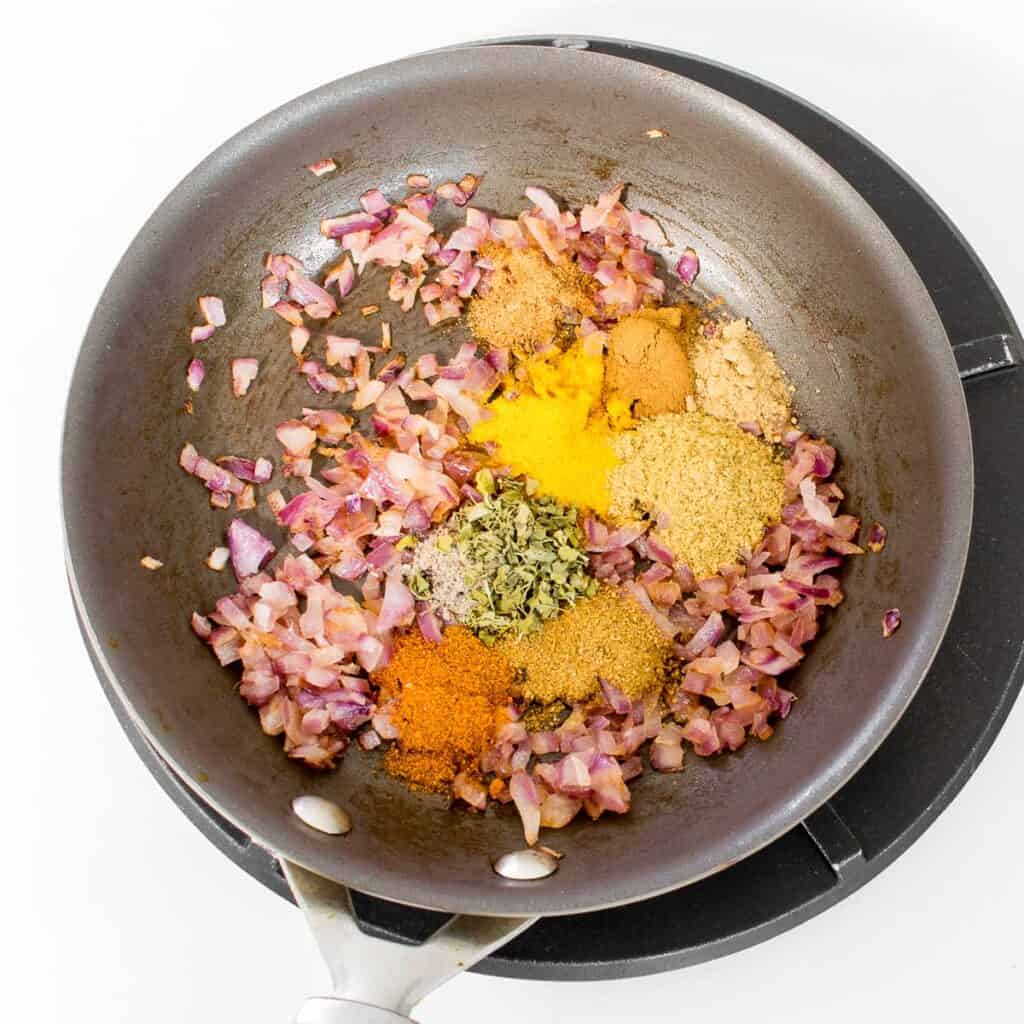 Then, I mixed it well until the spices coated the cooked onions pretty well and it was aromatic.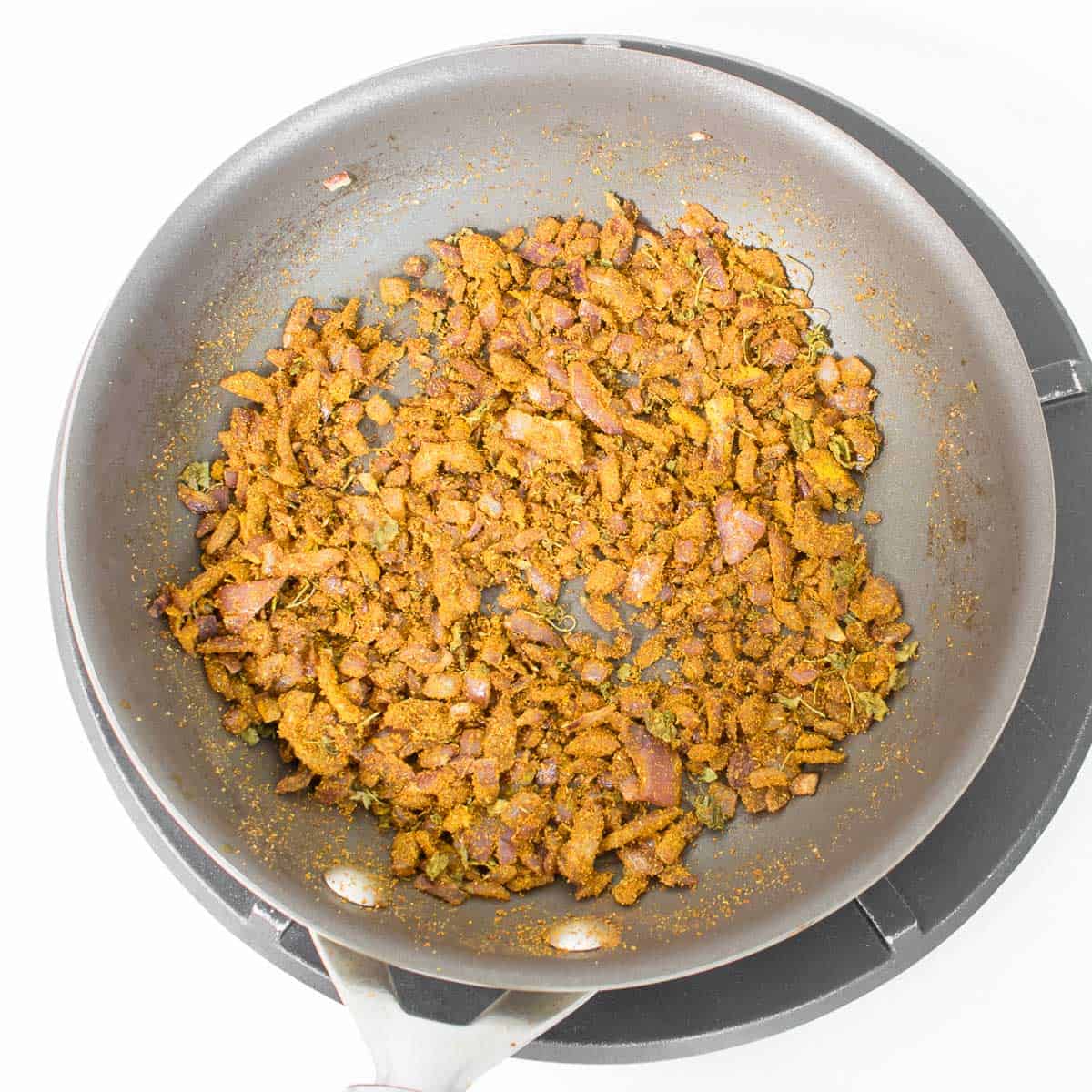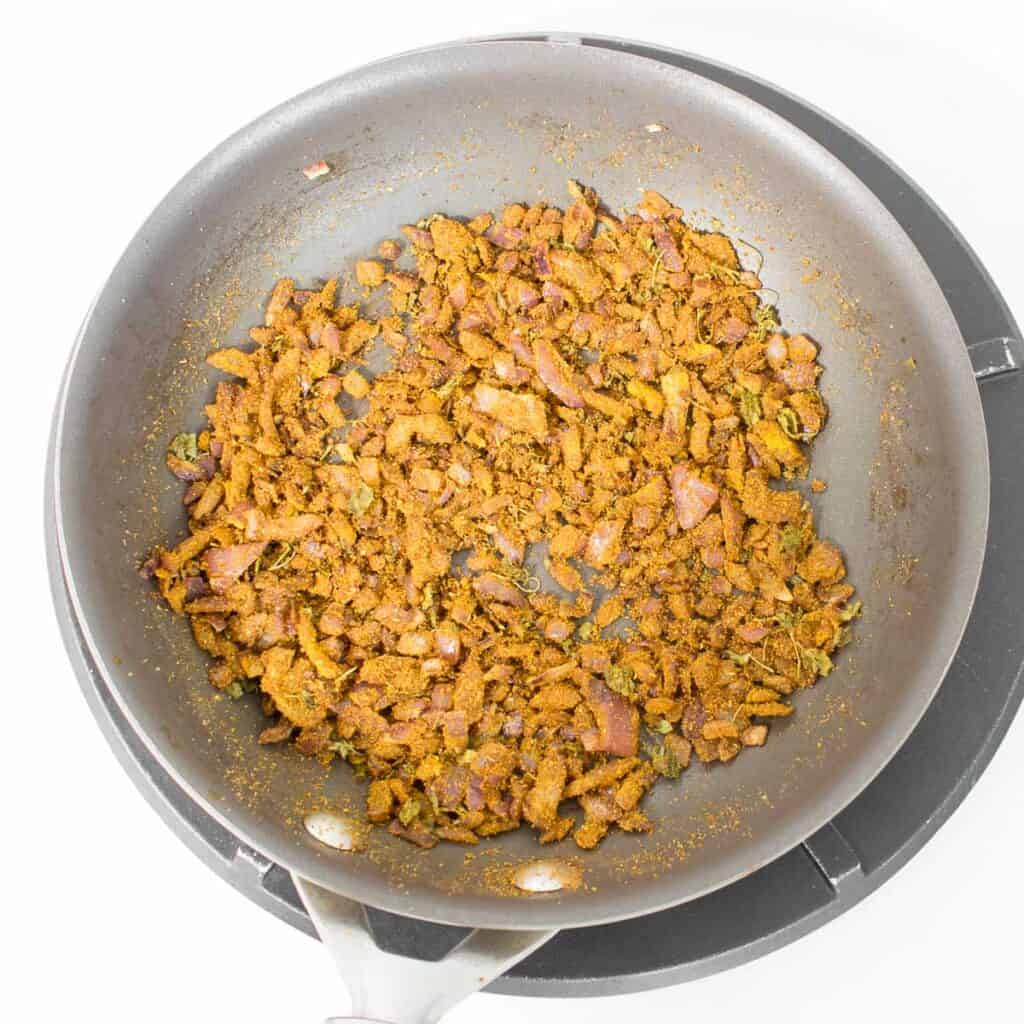 Next, I stirred in coconut milk followed by salt as per taste and very little sugar. Then, I let it cook for 5-7 minutes at low-medium flame. At this stage I kept stirring at intervals to make sure that the milk does not curdle.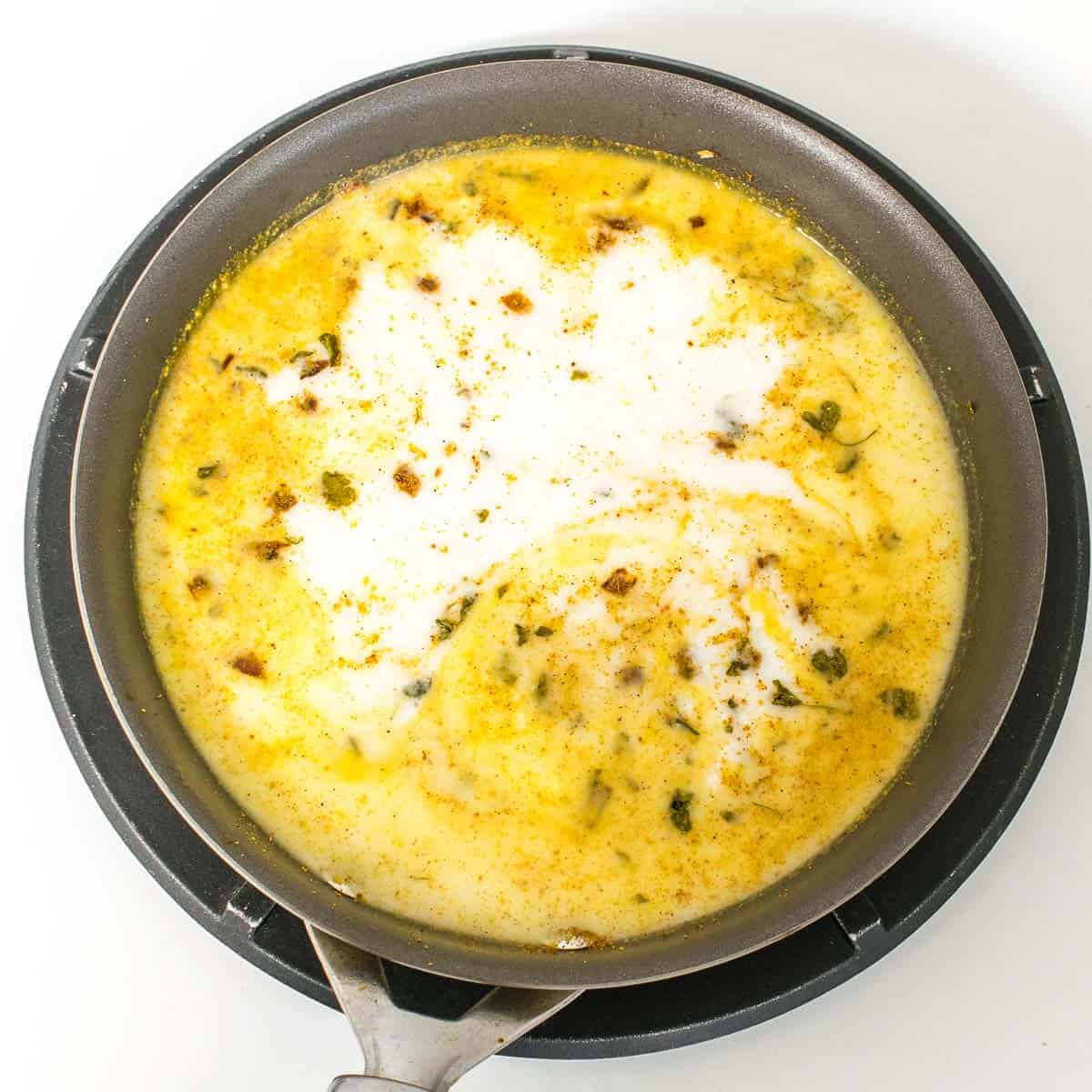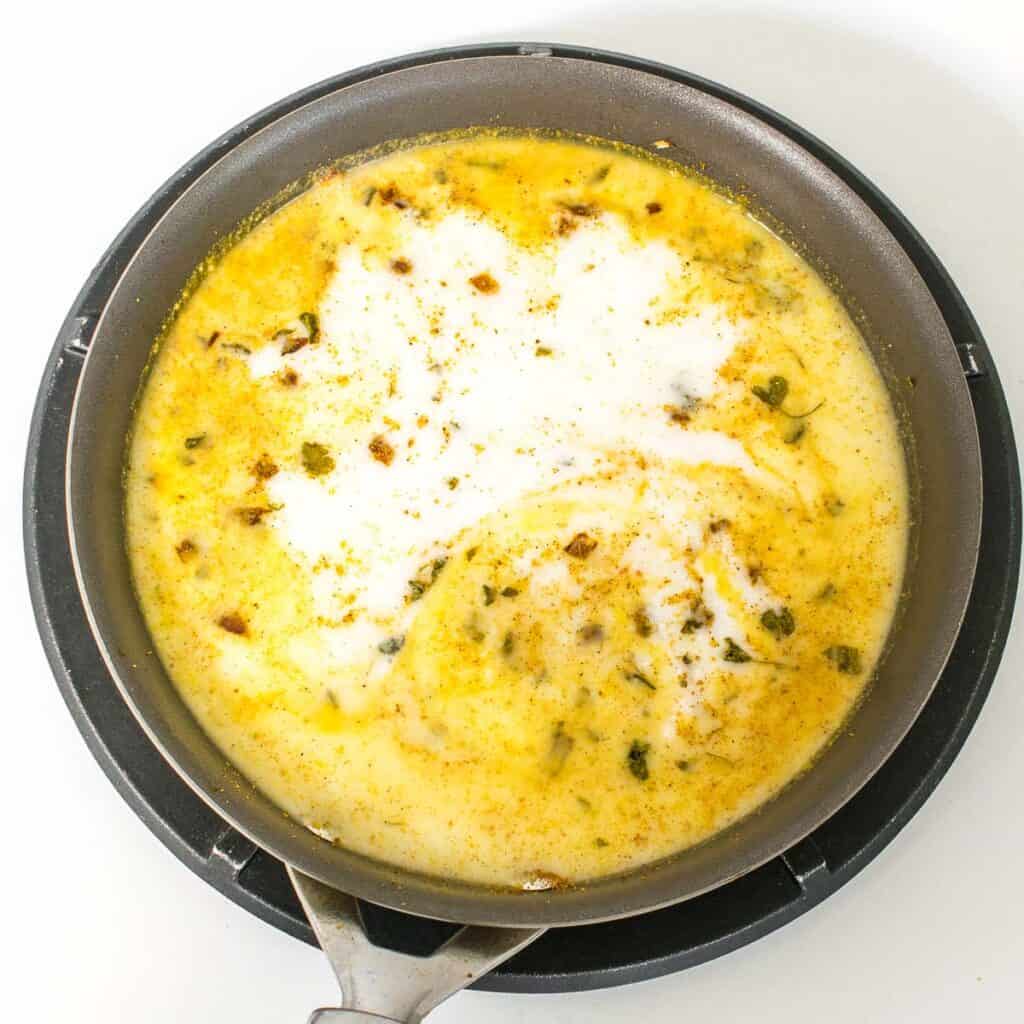 Lastly, I folded in black beans and cooked again for few minutes until the gravy was a nice mustard yellow color.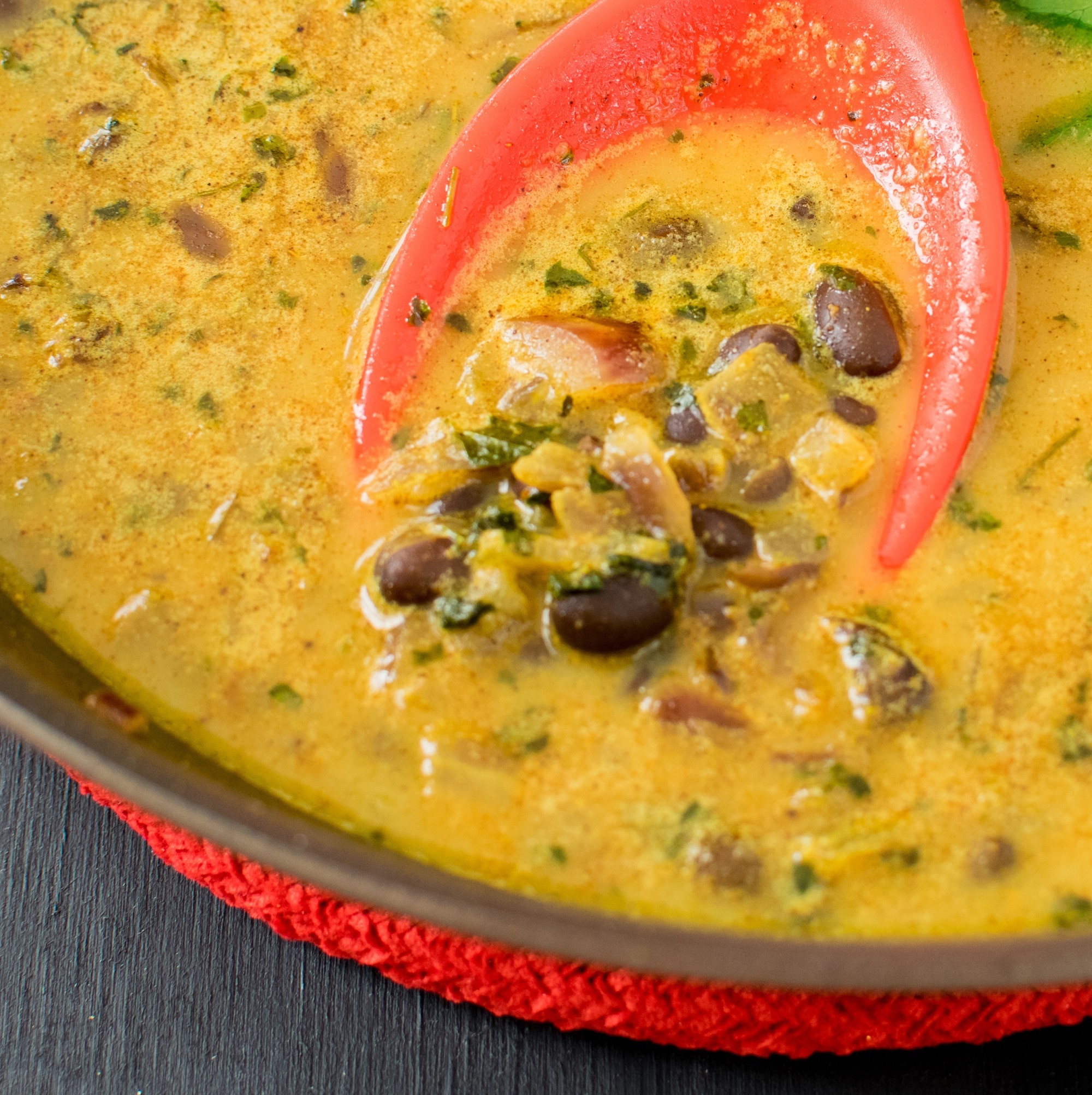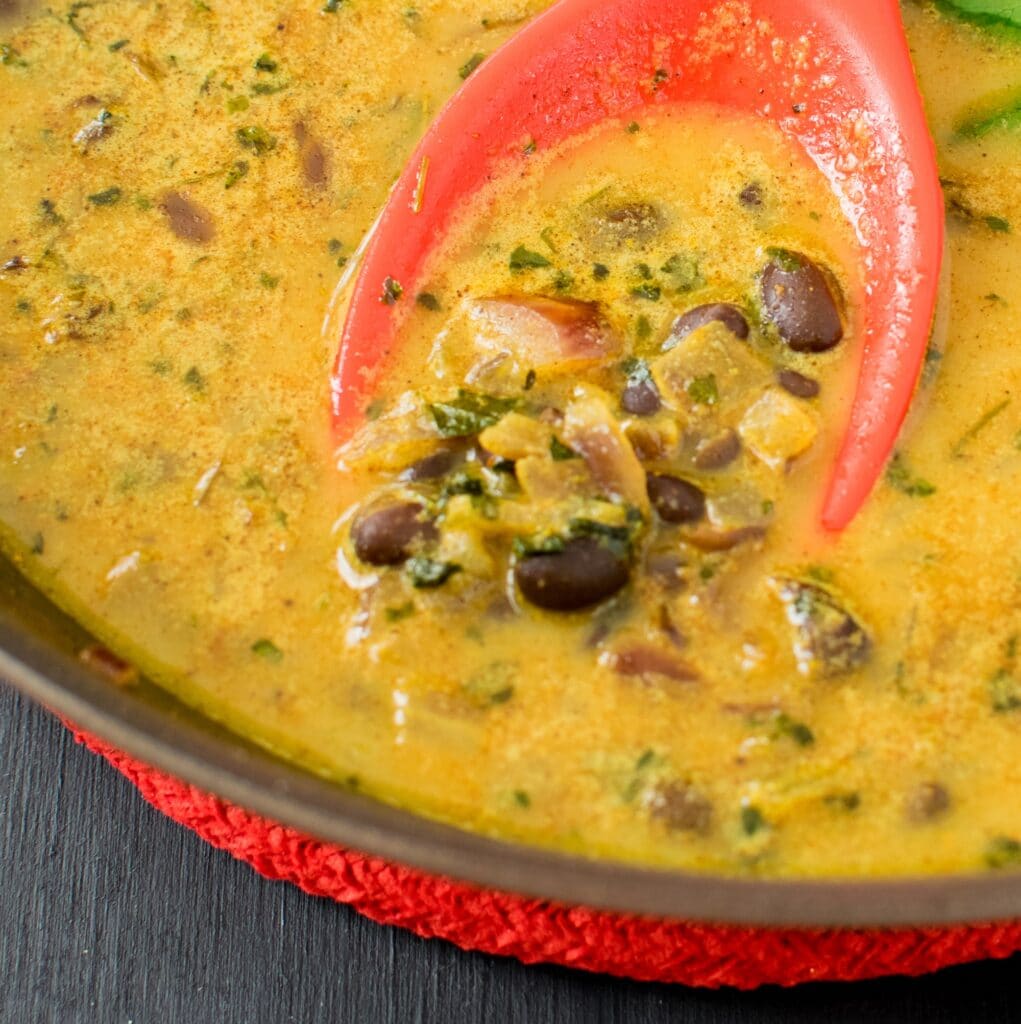 Then, I turned it off and immediately served of steamed rice. My family devoured it.
I personally enjoyed it with quinoa and sometimes I like it with brown rice as well.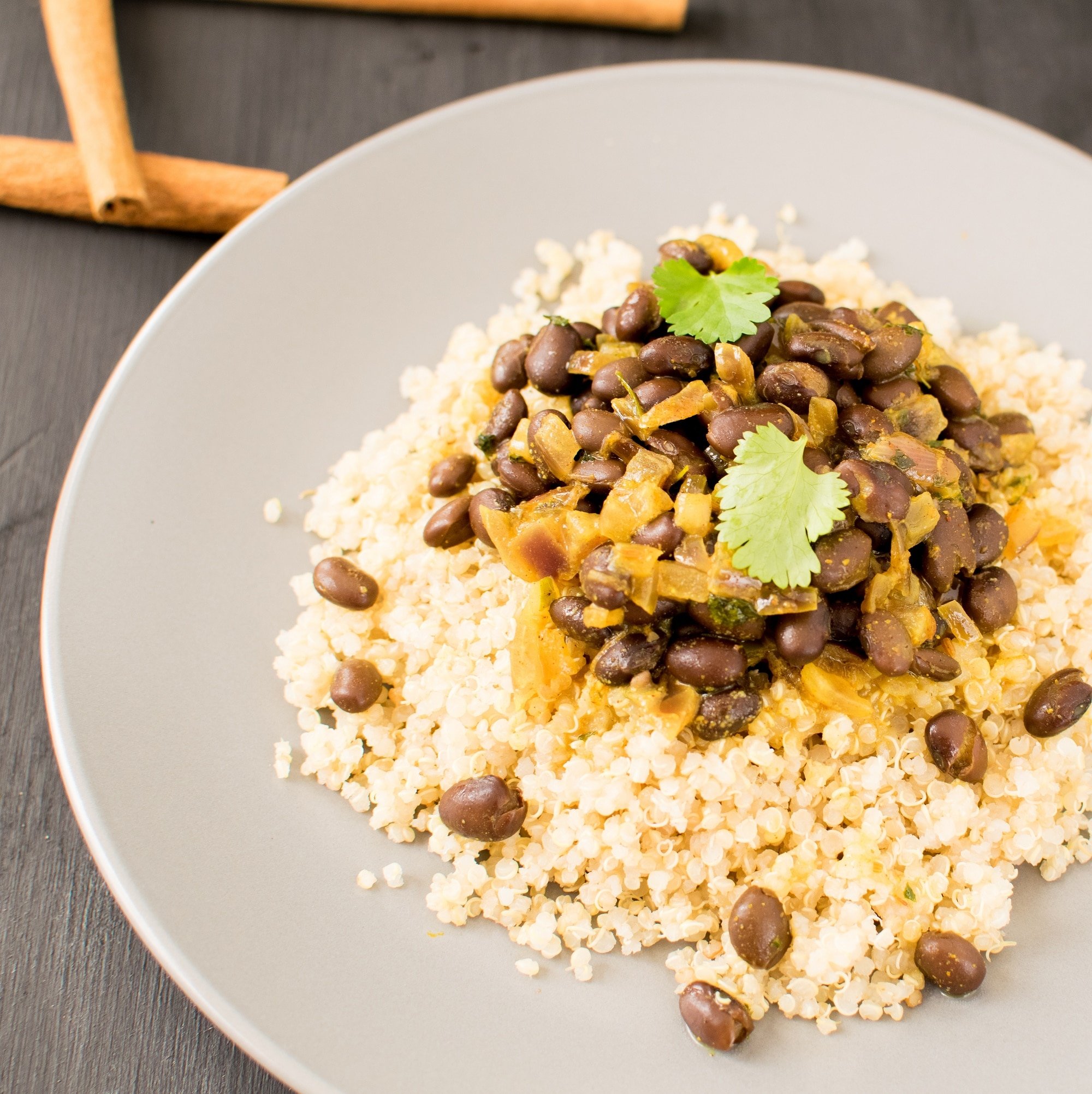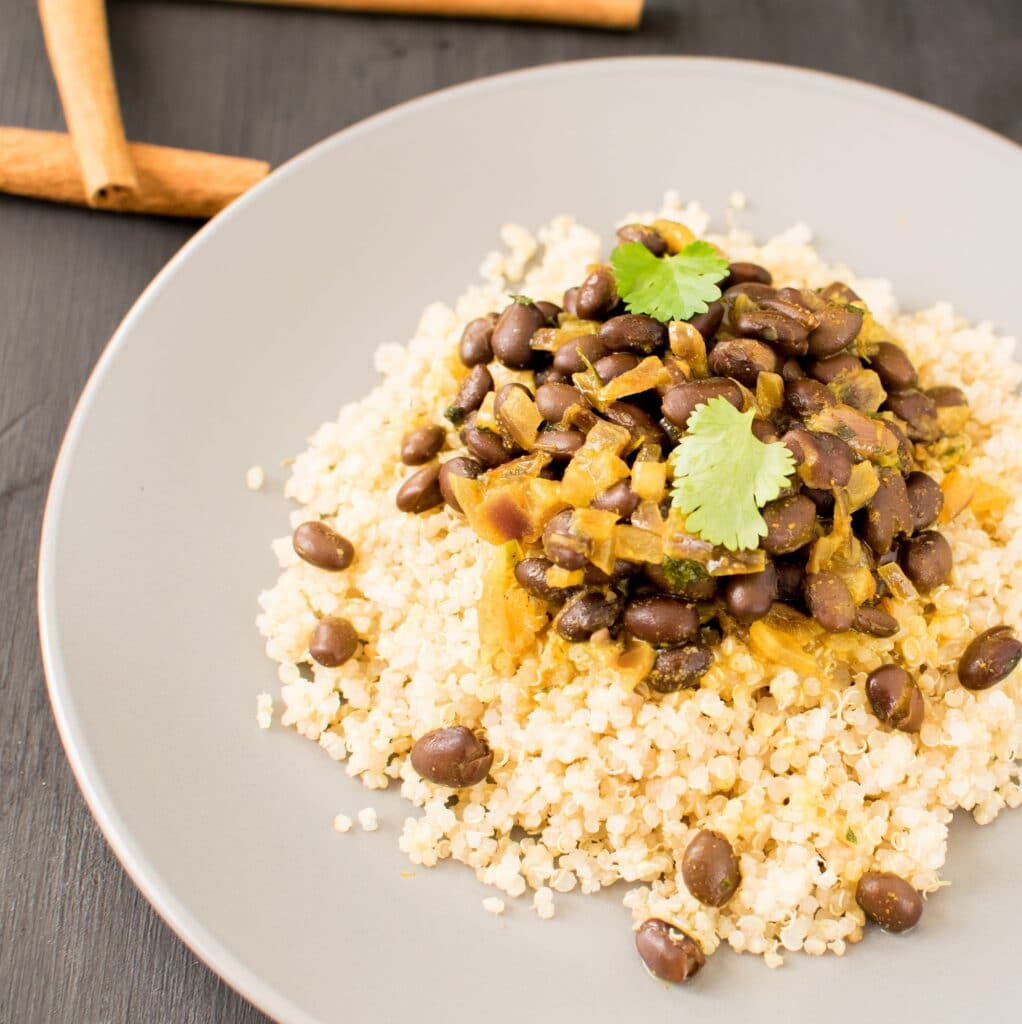 Expert tips
Make sure to cook onions properly so that there is no raw taste.
When pouring in coconut milk it is important to lower the flame so as to avoid any curdling.
Black Beans Curry FAQs
How long does it last?
This tastes best when served immediately. However, leftovers can be refrigerated in an air tight container for2-3 days. Warm it up nicely before serving.
Can I make this curry from dry black beans?
Yes! but it will take a longer time since black beans would need to be boiled ad softened. For this you may wat to soak black beans overnight and boil it in pressure cooker with water until soft but still keep its shape intact. then, follow the steps as explained in the recipe card.
Is this healthy?
Yes! this curry is packed with protein and healthy fats ad lots of vitamins ad minerals. Its low in calories too.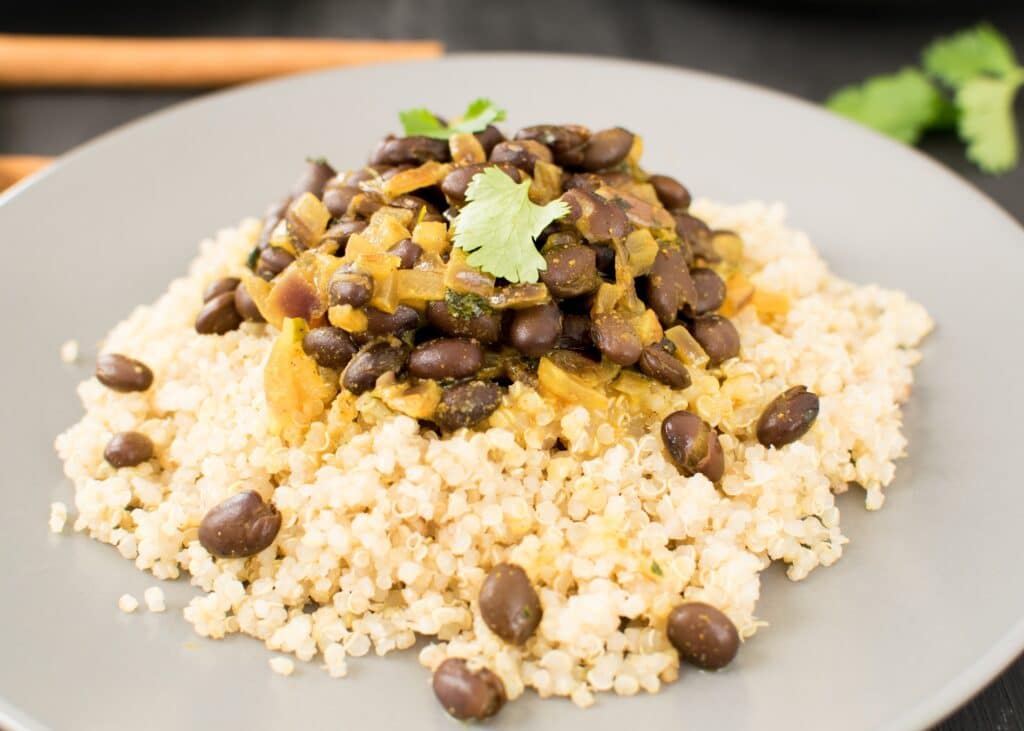 My other vegan curry recipes
Roasted Cauliflower Curry
Butternut Squash Curry
Potato Mushroom Curry
Thai Red Curry
This post may contain affiliate links which means that if you click on them and also make a purchase, I will get a small commission. Moreover, I share only those products which I use personally and love.
I hope you enjoy this recipe as much as we did. I am very excited to hear back from you.
Where to find me?
Follow me on Facebook or on Twitter. You may tag @kiipfit on Instagram with your recipe remake images because I would love to see what you cooked.
Did you make it?
If you get a chance to make this recipe then please leave your feedback in the comments below along with a 5-star rating.
In addition, you may checkout my cookbook for everyday comfort vegan recipes.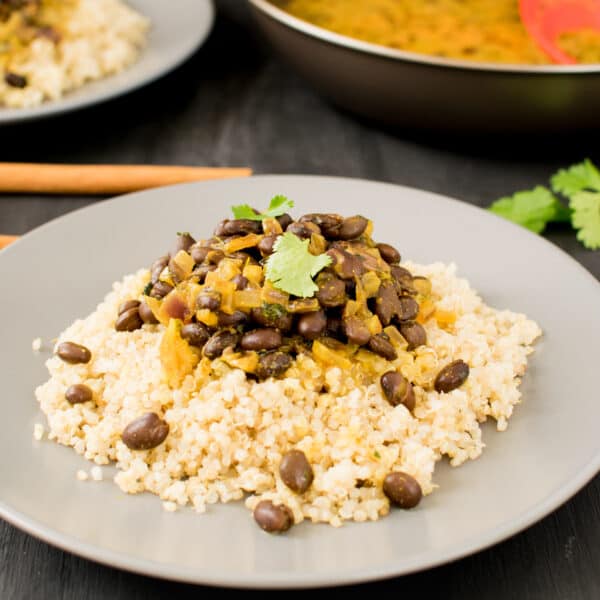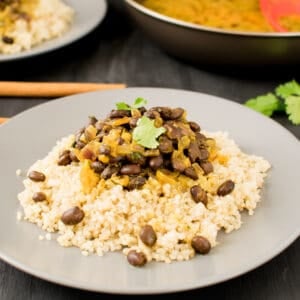 Print Recipe
Black Beans Curry
Tasty, easy, and wholesome this Indian style Black Beans Curry is a perfect entrée for any weeknight. Pair it with steamed rice or quinoa and enjoy this flavorful and family friendly meal.
Instructions
Heat oil in a nonstick pan and sauté onions in it until golden brown.

Add all the spices (turmeric powder, coriander powder, cumin powder, cinnamon powder, nutmeg powder, chili powder, cardamom powder, dried fenugreek leaves) to it. Sauté for about 1 minute at medium-high flame until you get the aroma of all the spices and onions are well coated with the spices.

Add coconut milk, salt and sugar to it and stir well. Cook uncovered at medium flame for 5 minutes stirring constantly. Reduce the flame to low heat as soon as it starts to bubble.

Fold in black beans and mix well. Cook at low-medium flame for 10 minutes or until the gravy is nice mustard yellow color. Turn it off and serve hot over quinoa, brown rice or steamed white rice.
Notes
Dried fenugreek leaves are easily available in any Indian store.
This recipe tastes best when served immediately. However, it lasts for 2-3 days in the refrigerator in an air tight glass container.
Start adding 1/4 tsp of sugar first. Taste test if cardamom flavor is slightly prominent or else go up to 1/2 tsp sugar. 
This curry is slightly spicy and has subtle sweet taste with cardamom flavor a bit prominent. 
If you decide to add less chili powder then add less sugar as well to balance out the taste. 
Make sure to sure the coconut milk found in the beverage section in tetra pack. Canned coconut milk may not work here and will over power the taste of all the spices. 
Nutrition
Calories:
369
kcal
|
Carbohydrates:
15
g
|
Protein:
9
g
|
Fat:
28
g
|
Saturated Fat:
26
g
|
Sodium:
314
mg
|
Potassium:
316
mg
|
Fiber:
3
g
|
Sugar:
4
g
|
Vitamin A:
74
IU
|
Vitamin C:
3
mg
|
Calcium:
23
mg
|
Iron:
2
mg