This warm and oil free Vegan Cornbread is an easy and enjoyable snack or side dish. It is made with the combination of cornmeal, oat flour and chickpea flour. Its tender and moist from inside and crisp from outside making it desirable in every bite.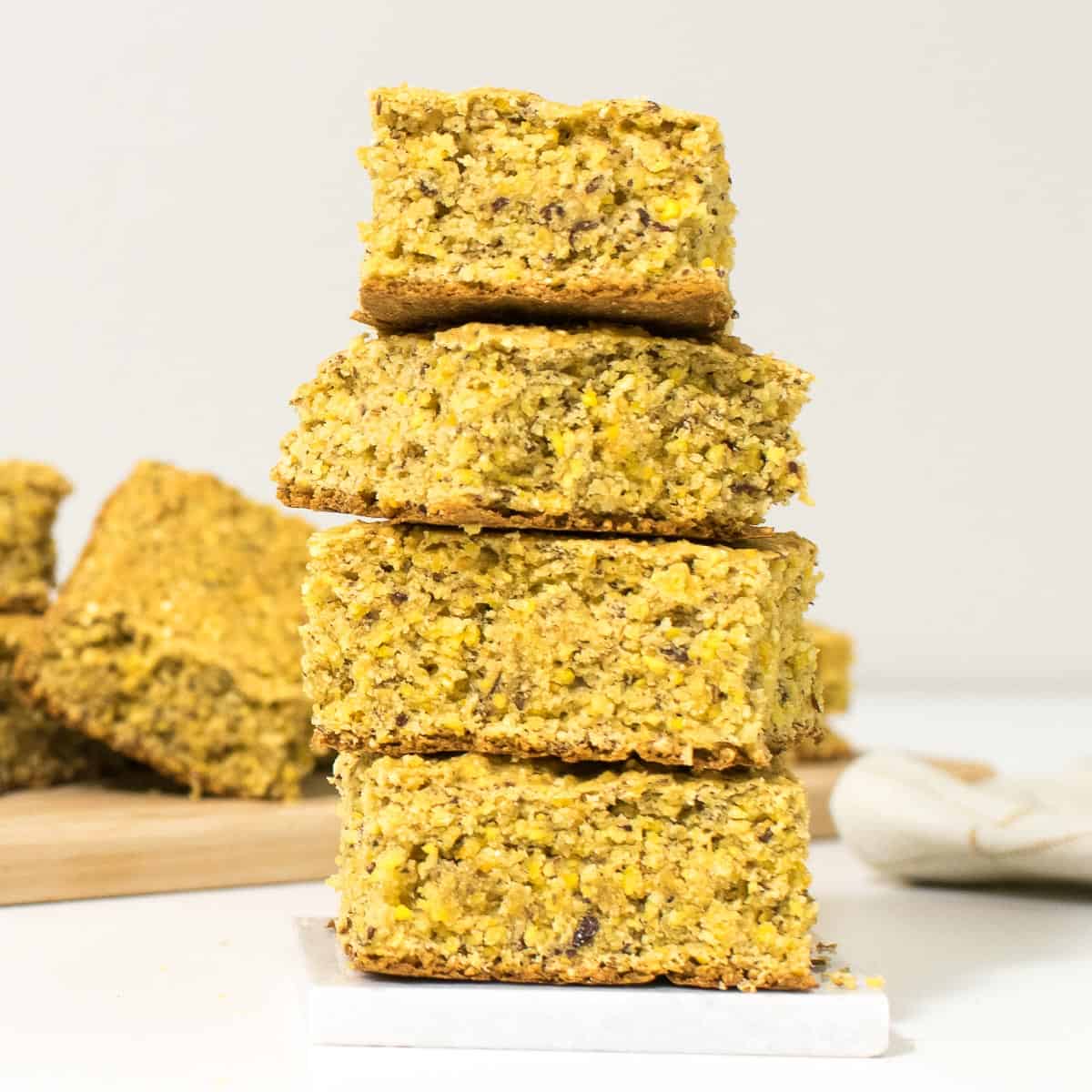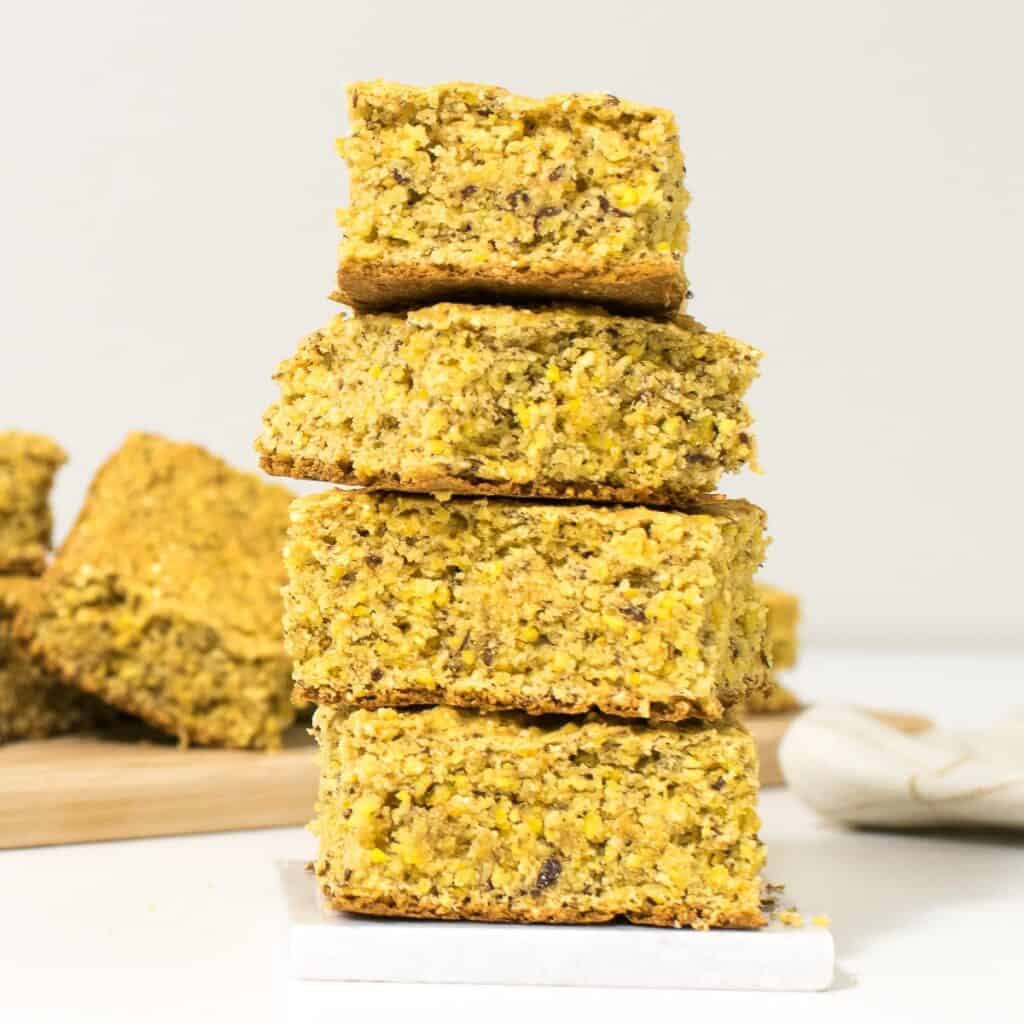 I am personally very fond of cornbread. The corn flavor is absolutely enticing and

I frequently crave for it. However, I try and limit my intake because it ends up being high in carbohydrates.
Therefore, I decided to make my own. So, I came up with a combination of healthy whole grains and to top it all it is absolutely oil free. Voila!!!! It took me few practices but finally I nailed it. My family could not even figure out that I fed them homemade made healthy cornbread.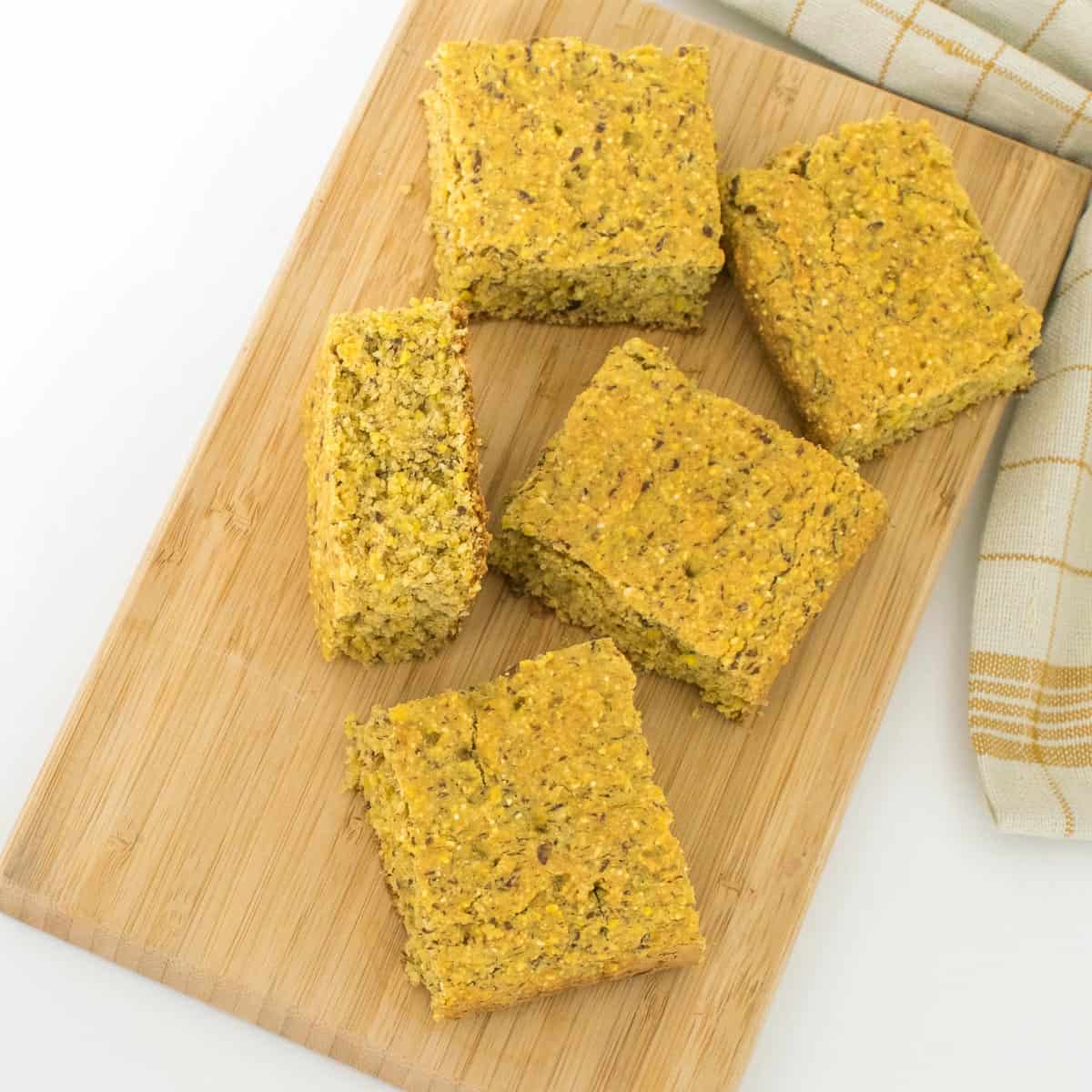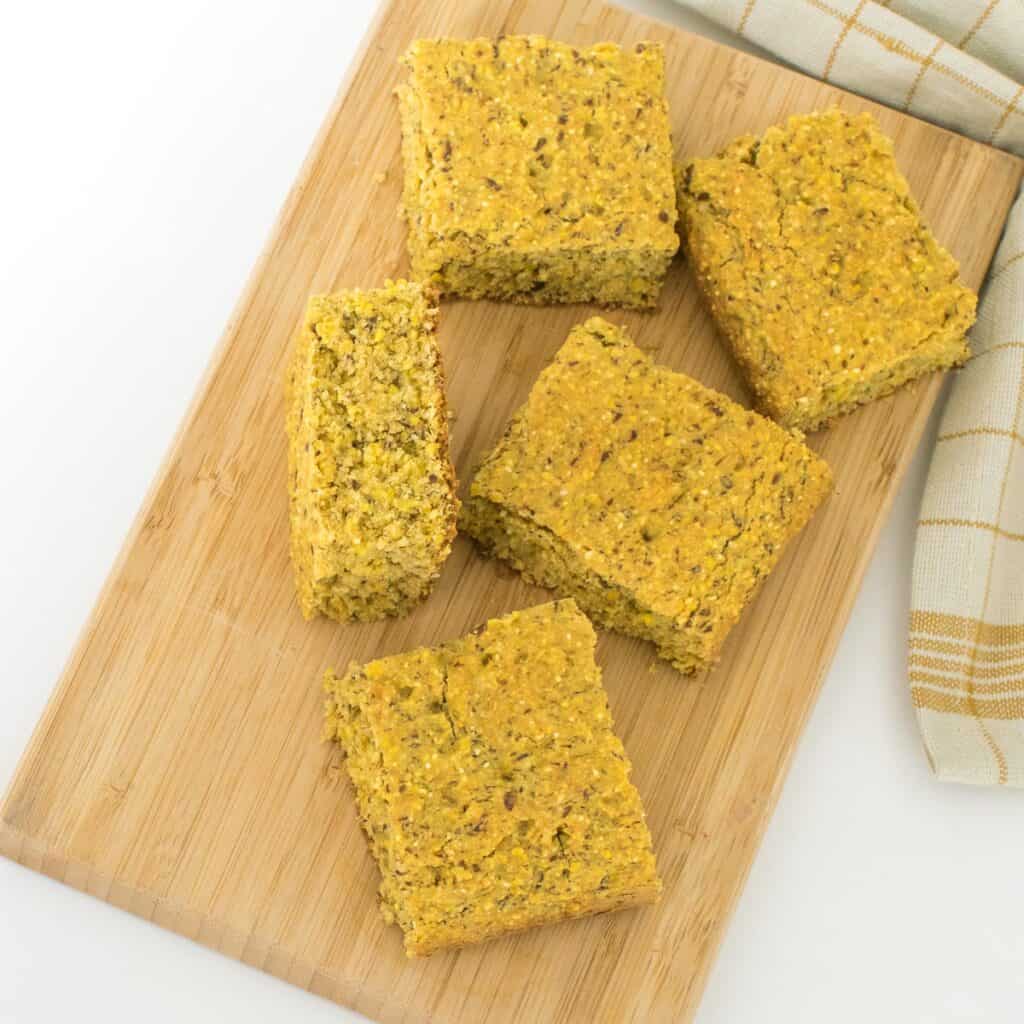 So, now its your turn to enjoy it hence, I am sharing it here.
Ingredients for Vegan Cornbread
Cornmeal
Oat flour
Chickpea flour
Baking powder
Baking soda
Salt
Flax meal
Maple syrup
Apple cider vinegar
Oat milk
I have used these easily available ingredients which you may buy from any local grocery store. However, I have provided links to few of them here for your convenience.
If you plan to buy from these affiliate links, then, I get a small commission which in turn encourages me to bring in more delicious recipes for you all.
Ingredients notes:
Cornmeal – it is the star of this recipe. It is important to note that I used cornmeal and not corn flour. Also, I used the medium ground cornmeal to get the crunchy texture.
Oat flour – you may also grind your own. This helps in binding and adding flavor to this recipe.
Chickpea flour – this adds a nice subtle nutty flavor along with some protein and great texture to it.
Flaxmeal – it adds omega 3 and fiber to this recipe. It is also a great vegan egg substitute.
Maple syrup – I used this to provide a little sweetness to it and balance the salt in this recipe.
Oat milk – even though you may use any plant milk of your choice, I preferred oat milk because of its creamy texture and natural sweetness.
How to make Vegan Cornbread
Firstly, I combined all the dry ingredients in a mixing bowl.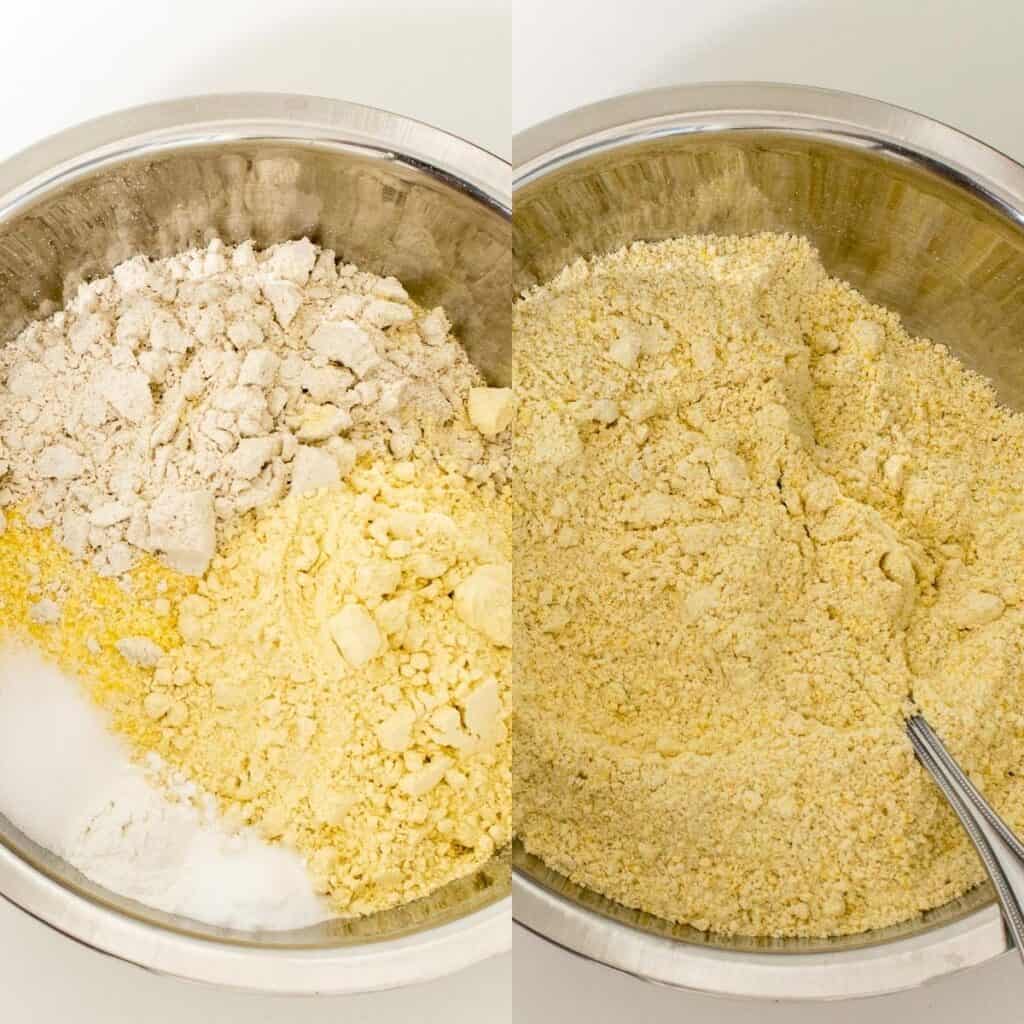 Secondly, I combined all the wet ingredients in another mixing bowl.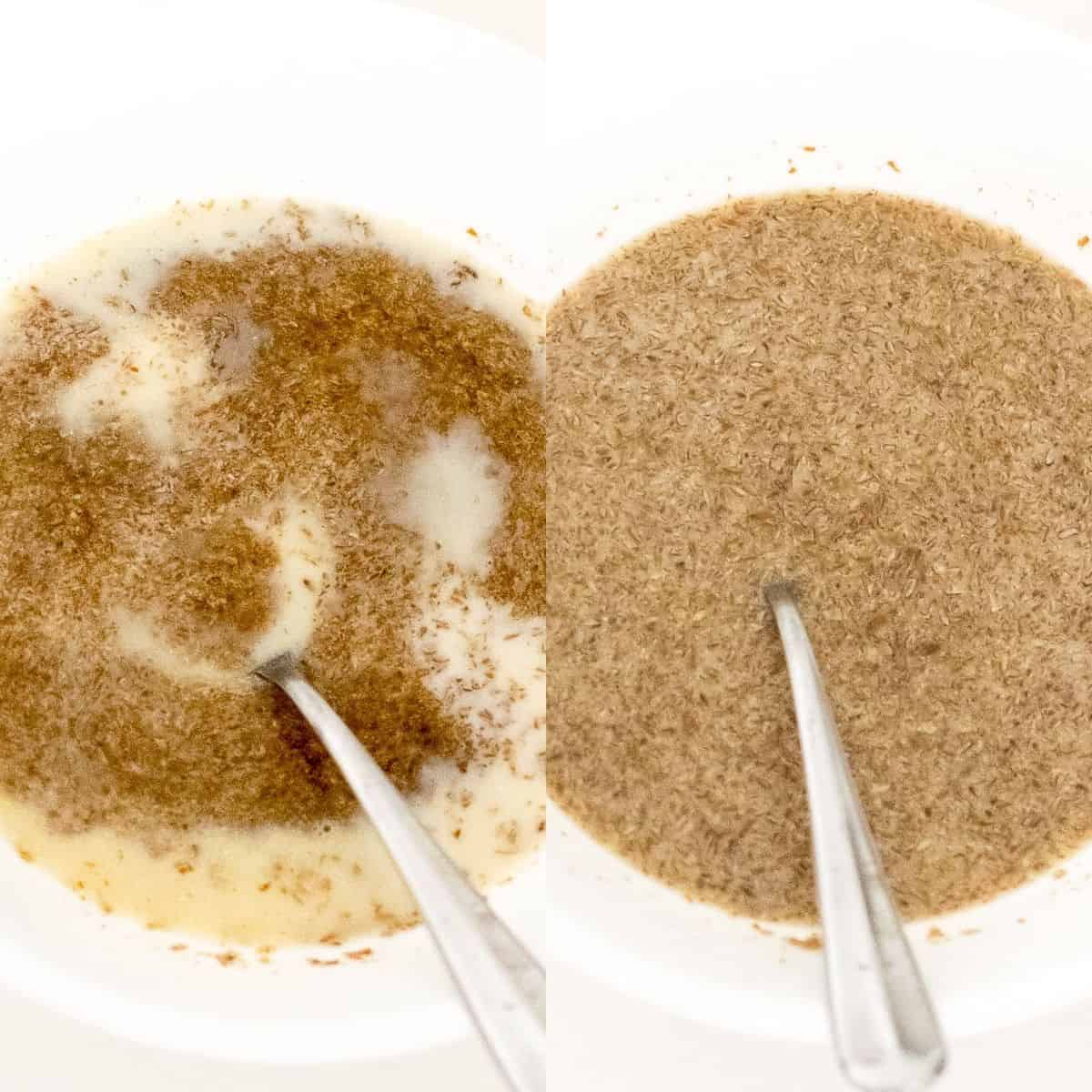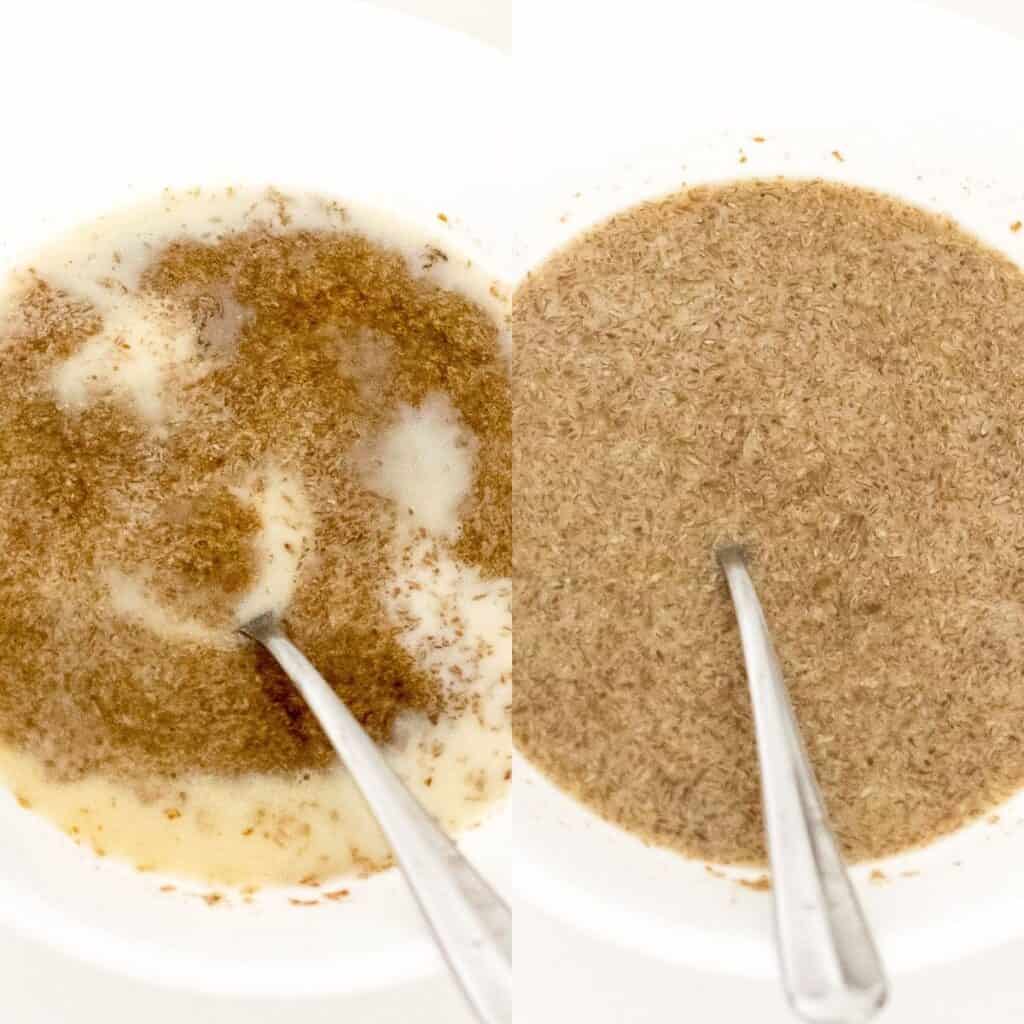 Next, I folded in dry ingredients into wet ingredients and whipped it up to form a thick yet soft batter.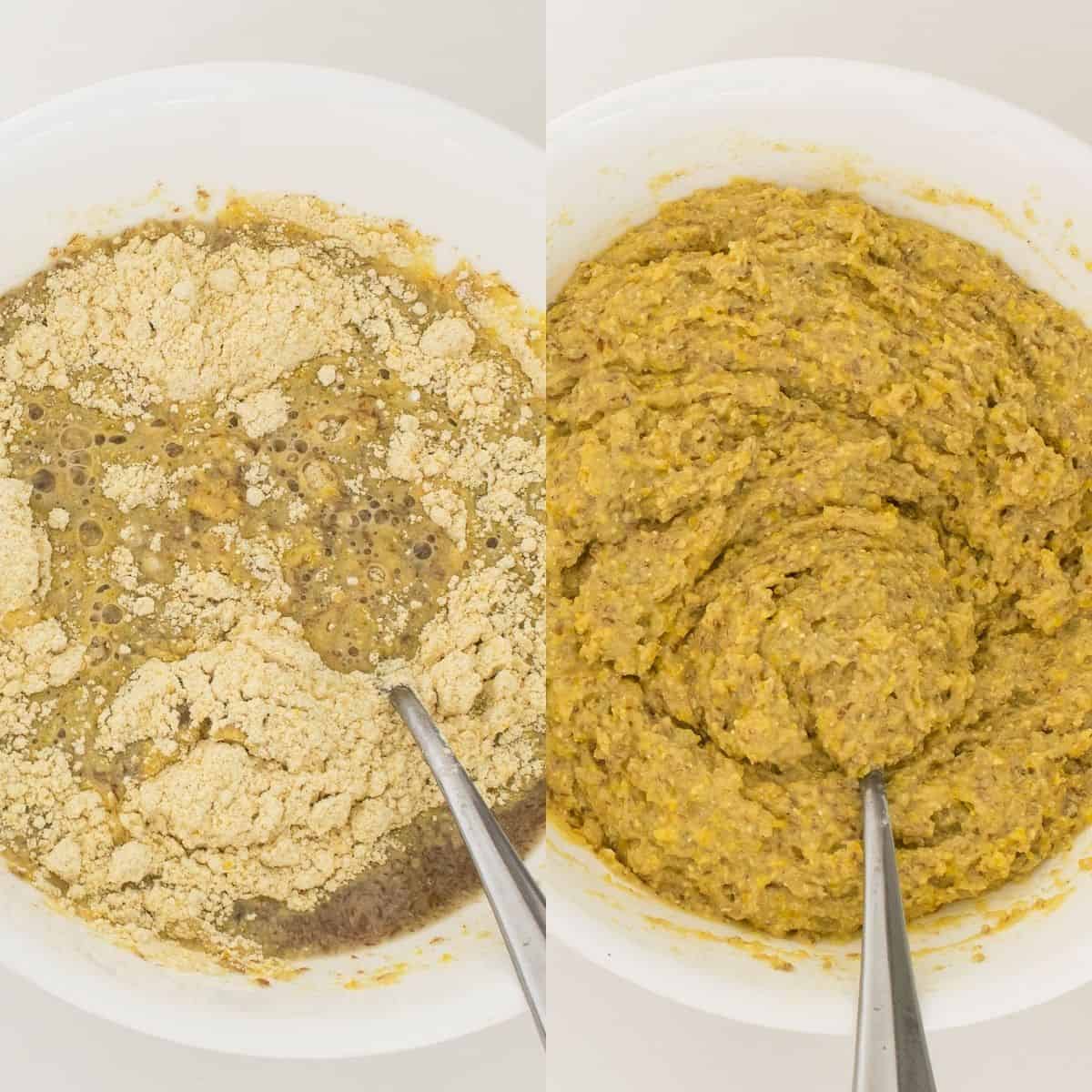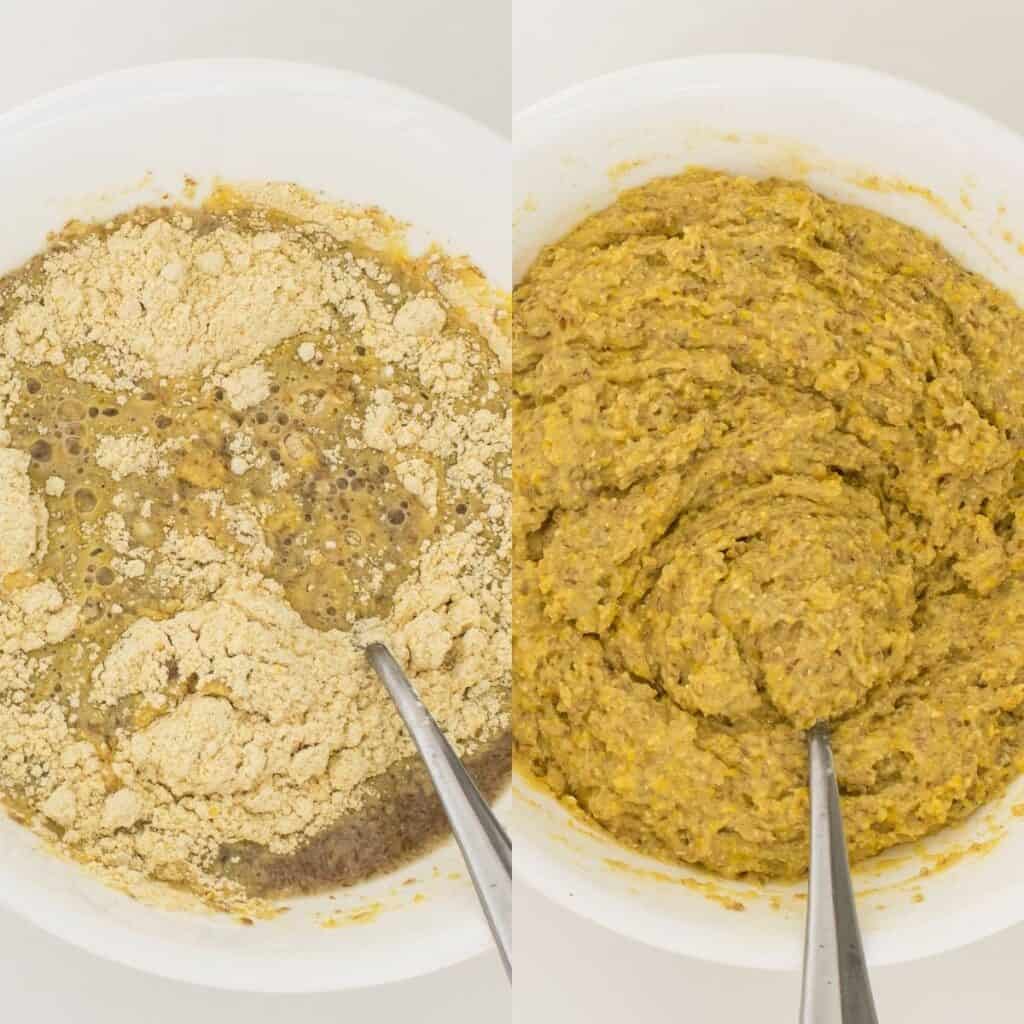 Thereafter, I spooned it out in the prepared square baking pan and baked it in the pre-heated oven at 350-degree Fahrenheit for about 25-30 minutes.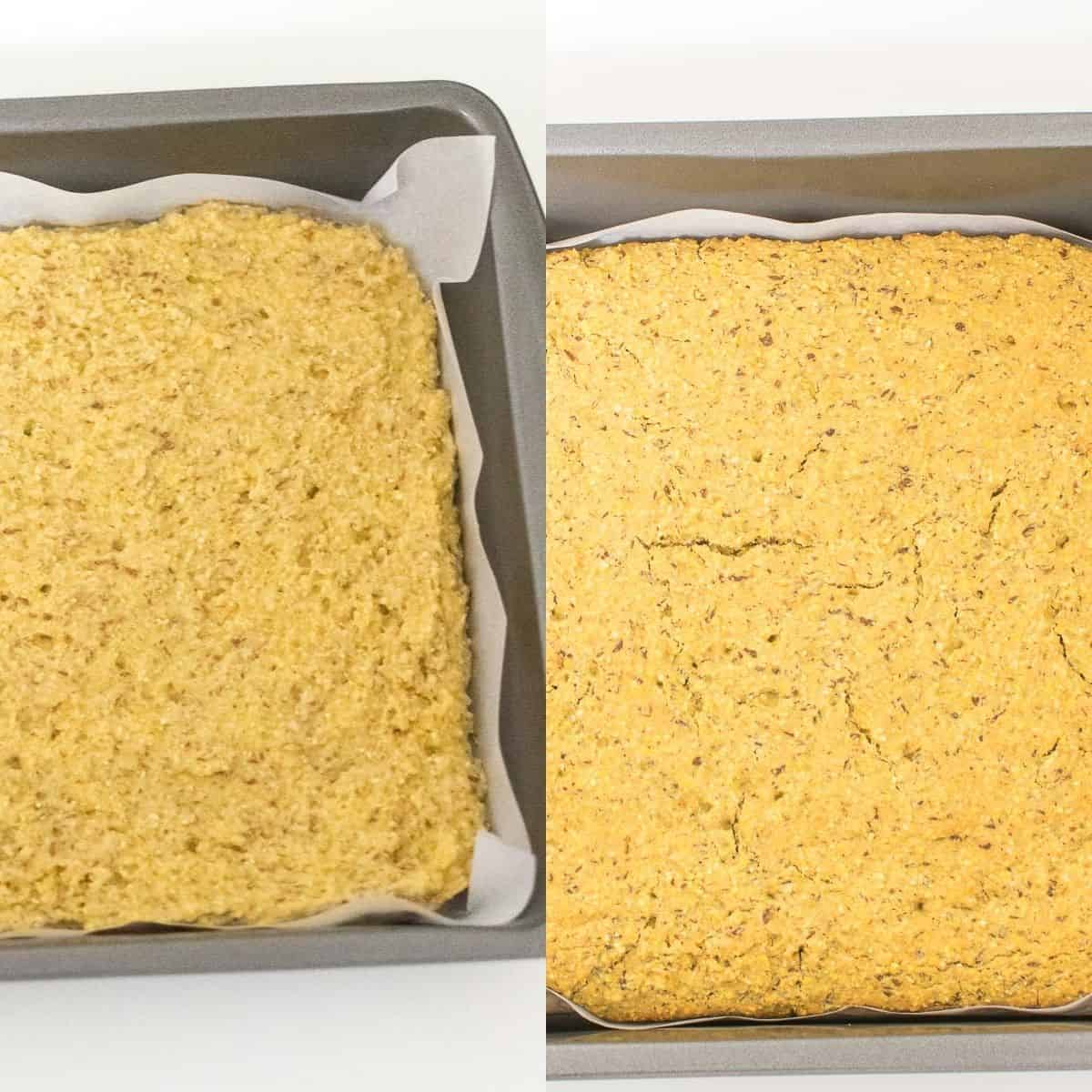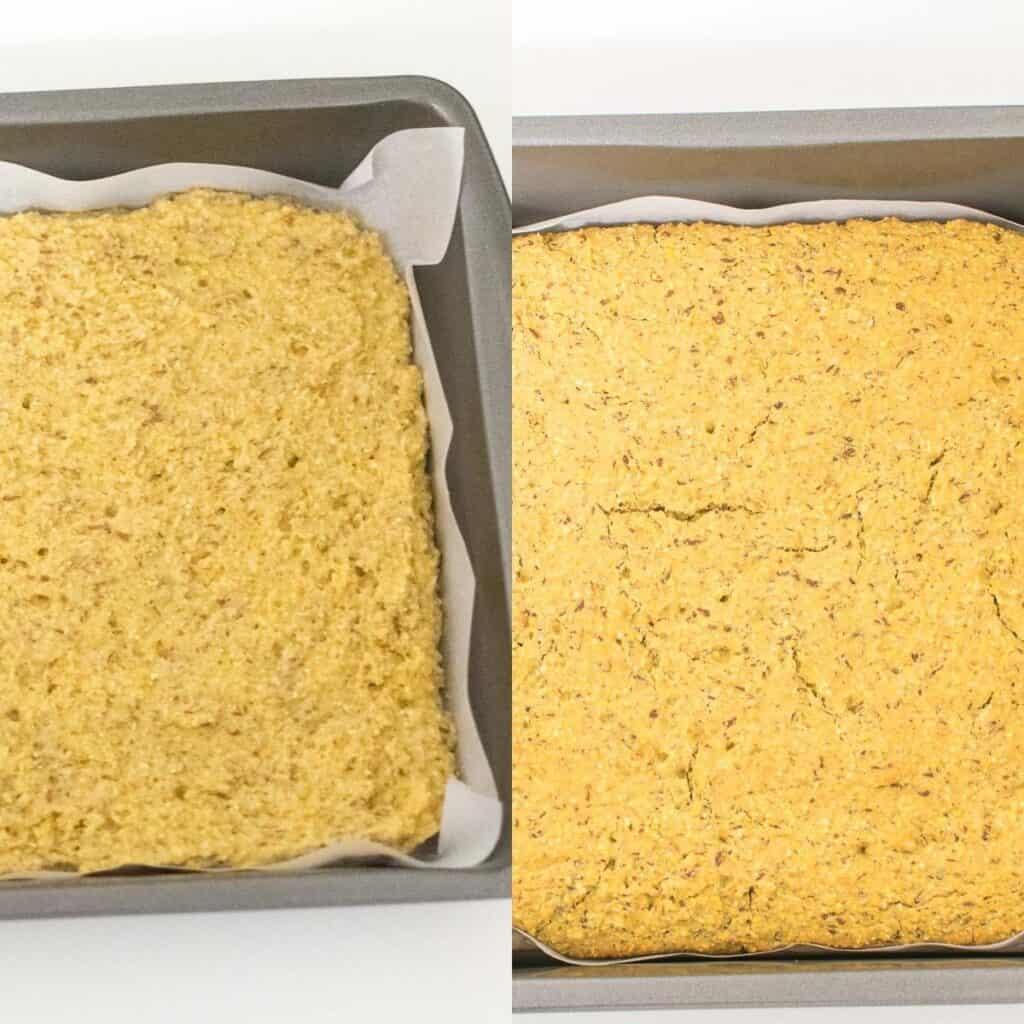 Afterwards, I turned it off and took it out of the oven. Then, I laid it on a flat surface and sliced them.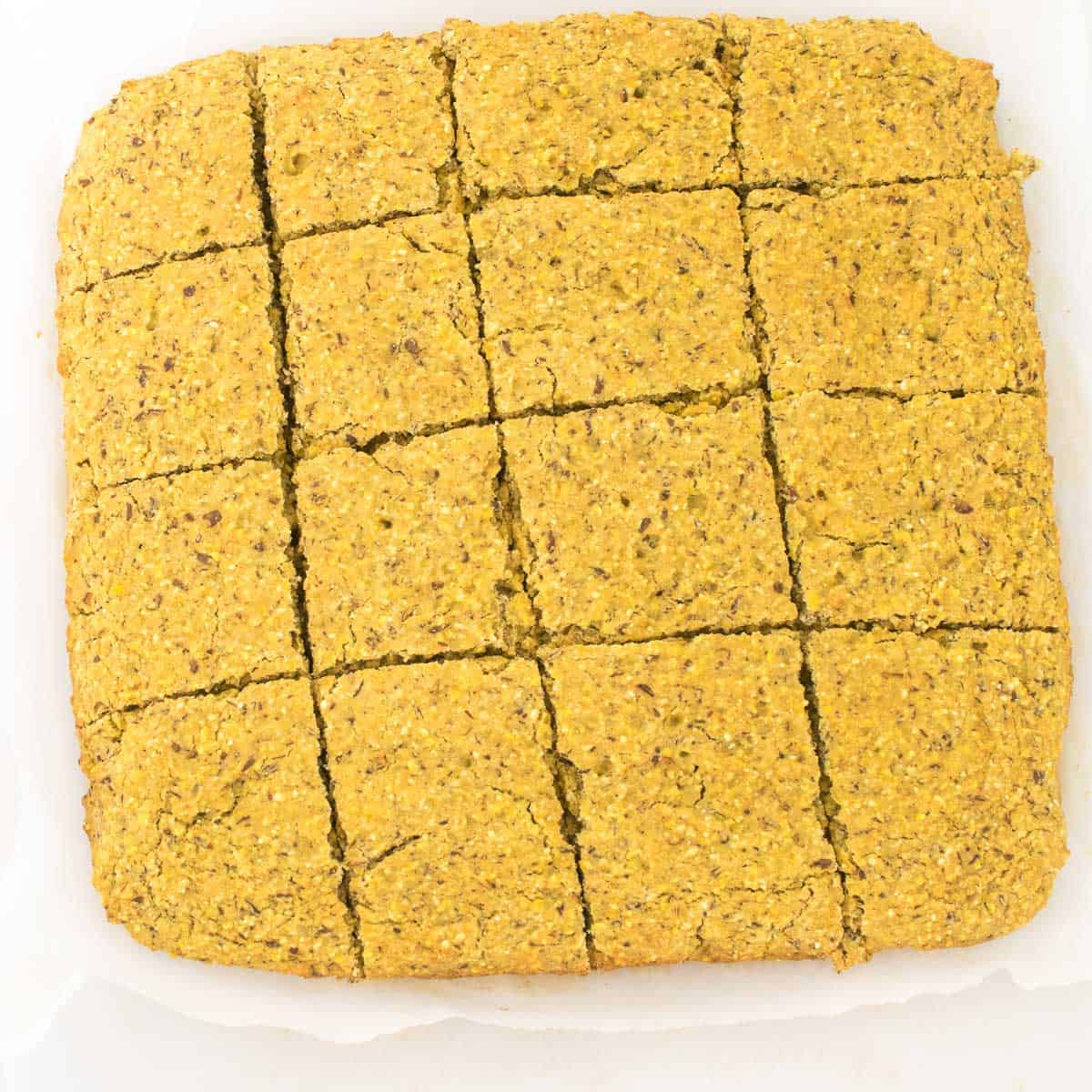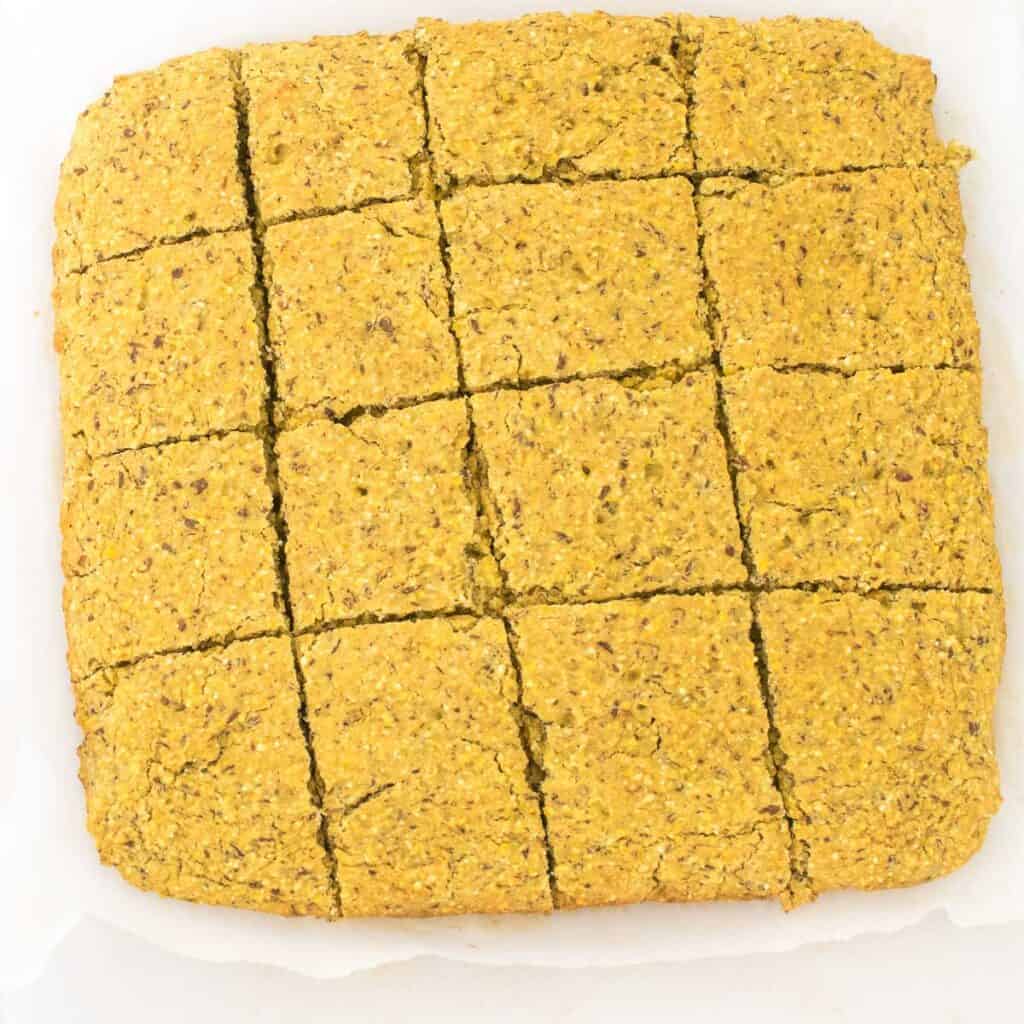 We all ate it happily and enjoyed every bit of this vegan cornbread recipe.
Therefore, you must have realized that its an easy peasy recipe with lots taste and flavor.
I am sure you all must be drooling over by now so I would insist that you get started with this easy vegan cornbread.
Expert tips:
Do not insert toothpick or knife to test it while baking because it may crack on the top afterwards. Simply bake it for 25 minutes for a softer cornbread or 30 minutes for crispier texture.
Just before starting with this recipe, I would recommend soaking flaxmeal and then start the entire process. By that time flaxmeal will be soaked enough and will have eggy consistency.
While lifting parchment paper from the baking pan hold two opposite corners of the parchment paper so as to avoid breaking it.
I am sure you all must already be having most of the ingredients in your pantry.

So, wait no further and get started. This is a very simple recipe with very easy few steps. I assure you that even before you realize this cornbread recipe would be ready to serve and enjoy.
Its aromatic and the best vegan cornbread I have ever tasted so far. Your family and friends would praise you infinitely and this would top your menu chart this season. It's a must try recipe.
Vegan Cornbread FAQs
How long do they last?
This recipe tastes best when fresh out of the oven. However, the leftovers can be stored in an air tight container at room temperature for about a week or refrigerated for about a month.
Is it healthy?
Yes, I have made with the combination of whole grains and absolutely oil free. The only added sugar here I used is maple syrup in minimum quantity which again comes under minimally processed food.
What is the difference between corn flour and cornmeal?
They both are made from grinding the corn. However, cornmeal is gritty and coarse in texture whereas corn flour is fine. Cornmeal resembles polenta or grits whereas corn flour is as fine as a flour. In this recipe I have used cornmeal (medium ground) which brings a crunchy and gritty texture to this recipe. So, make sure to use cornmeal here.
Do I use cornbread mix for this recipe?
No, I made it from scratch. When you purchase cornmeal just make sure to read the label properly and the ingredients must contain only ground corn.
Is it gluten free?
I have used mostly gluten free ingredients. Oats by nature is gluten free but to be specific you may use gluten free oat flour to make it completely gluten free.
This cornbread is fluffy and delectable in every bite. The crunch from the cornmeal is absolutely satisfying. It gives a perfect taste and texture of corn and it has a long shelf life too.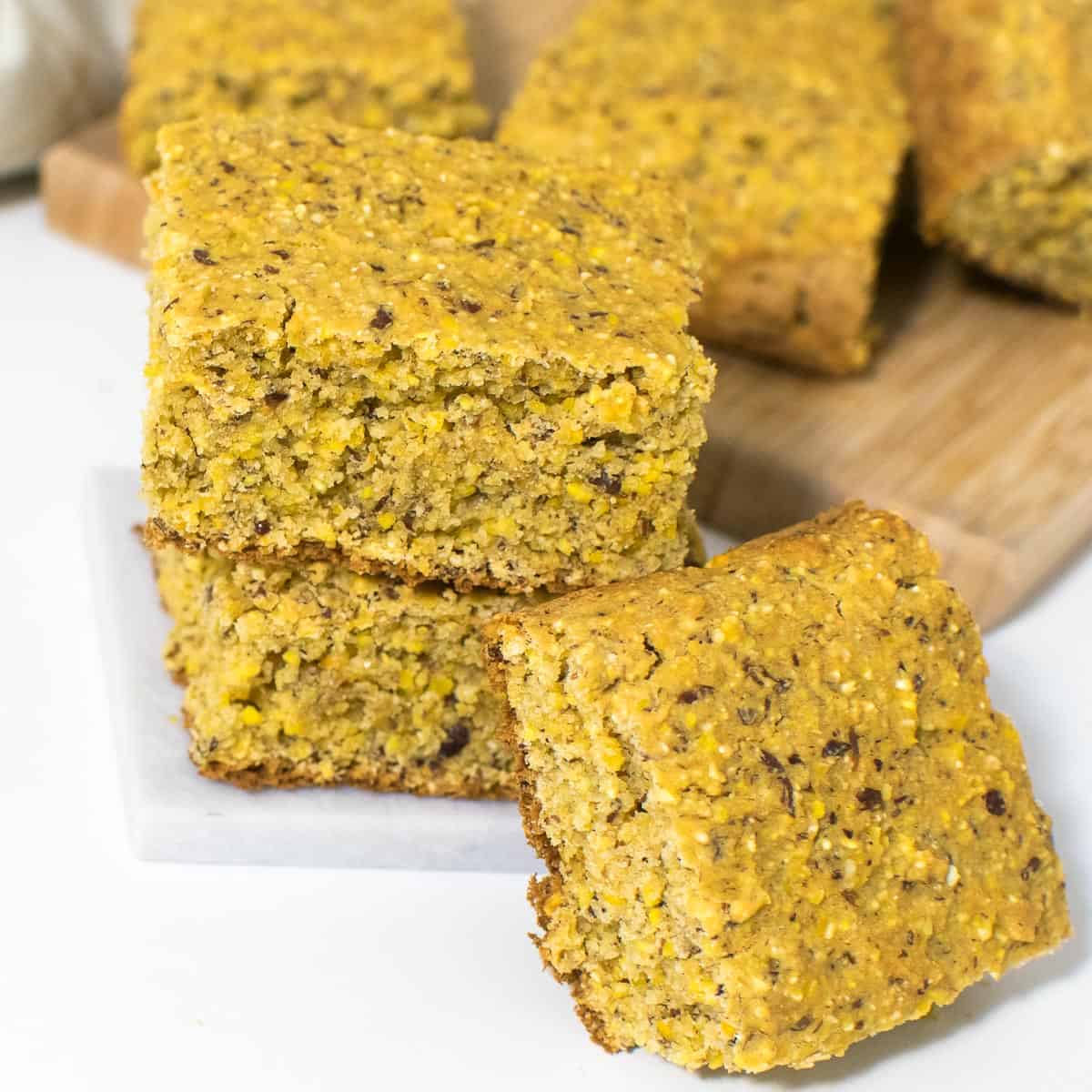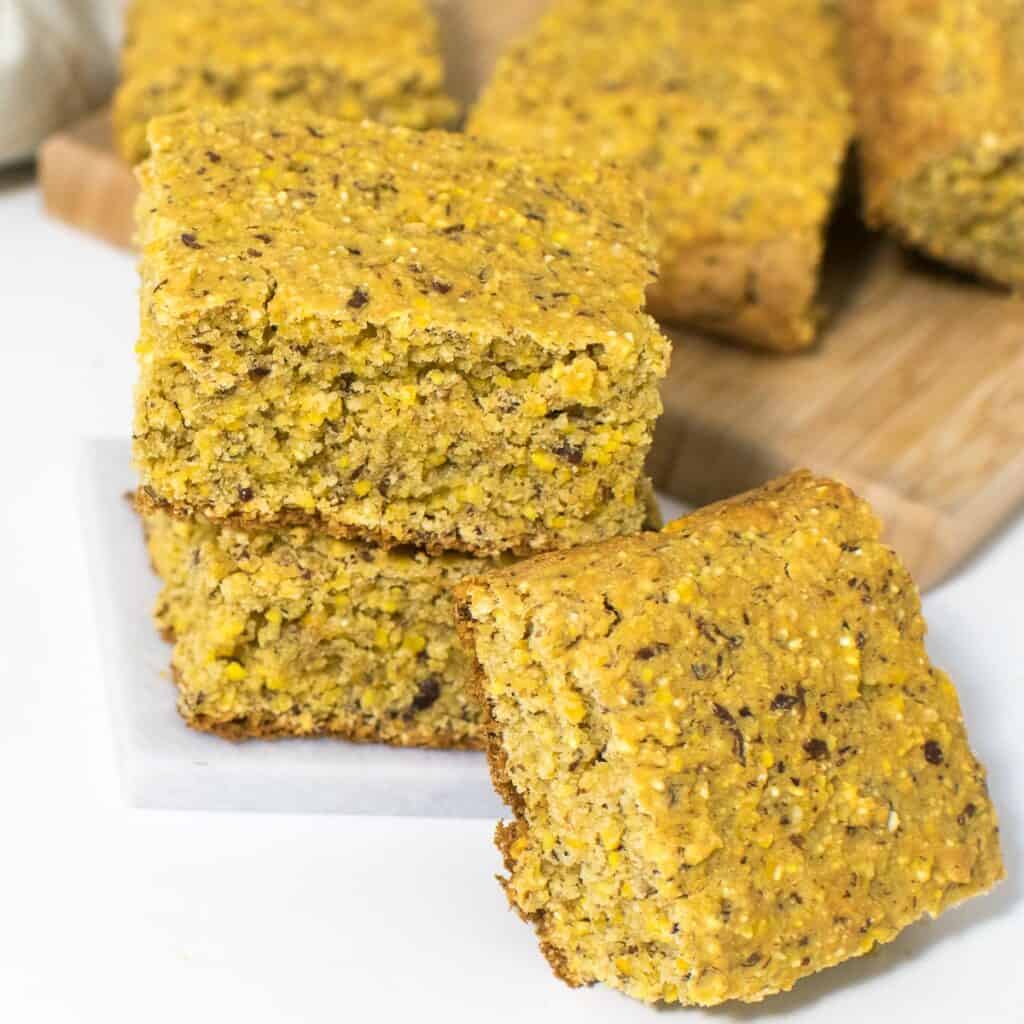 You may also like:
Sweet Potato Bread
Quinoa Almond Herbed Bread Sticks
Quick Spinach Sauce Bread
Did you make it?
If you get a chance to make this recipe then please leave your feedback in the comments below along with the ratings. In addition, you also tag @kiipfit on Instagram with your recipe image because we would love to see what you cooked.
If you desire to explore more delicious recipes of mine then you must checkout my cookbooks.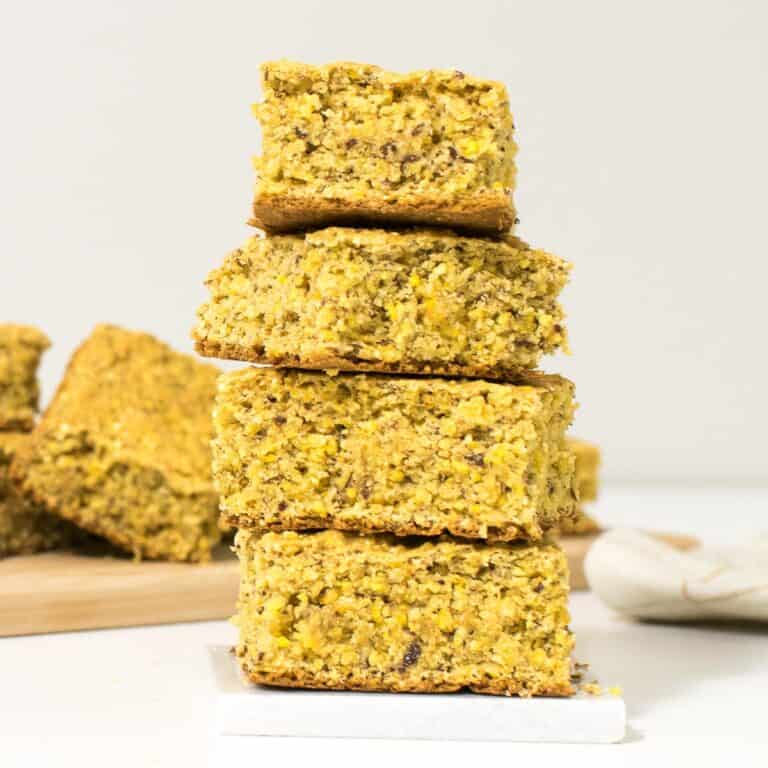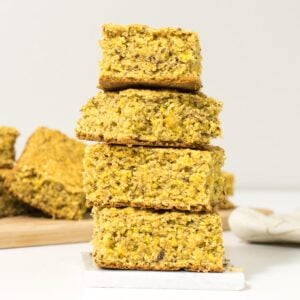 Print Recipe
Vegan Cornbread
This warm and oil free Vegan Cornbread is an easy and enjoyable snack or side dish. It is made with the combination of cornmeal, oat flour and chickpea flour. Its tender and moist from inside and crisp from outside making it desirable in every bite.
Instructions
Preheat oven at 350 degree and prepare an 8-inch square baking pan with a parchment paper. In a mixing bowl combine all the dry ingredients and mix well until there are no lumps.

In another mixing bowl combine all the wet ingredients and whip it with a spoon.

Fold dry ingredients into the wet ingredients and mix well until a thick and soft batter is formed.

Spoon out the batter in the prepared baking pan and even it out shaping it with a spatula.

Place it in the middle rack of the oven and bake it for 25 minutes. If you want crispier then bake it for 30 minutes. Turn it off and take it out. Place it on a flat kitchen counter. Gently take out the parchment paper making sure cornbread does not break. Place it on a flat surface and slice. Enjoy it warm with vegan butter, syrup or as is.
Notes
Store the leftovers in an air tight container for about a week at room temperature. You may refrigerate it for a about a month. Simply toast it in the toaster oven and enjoy.
This recipe make about 16 pieces and the serving is 2 squares per person.
Nutrition
Calories:
175
kcal
|
Carbohydrates:
35
g
|
Protein:
5
g
|
Fat:
2
g
|
Saturated Fat:
1
g
|
Sodium:
385
mg
|
Potassium:
256
mg
|
Fiber:
3
g
|
Sugar:
10
g
|
Vitamin A:
31
IU
|
Calcium:
71
mg
|
Iron:
1
mg