Palak Rice or Indian Spinach Rice is a delightful dish that's made with brown rice, spices, herbs and green leaves. Its easy, simple and a family friendly healthy dish.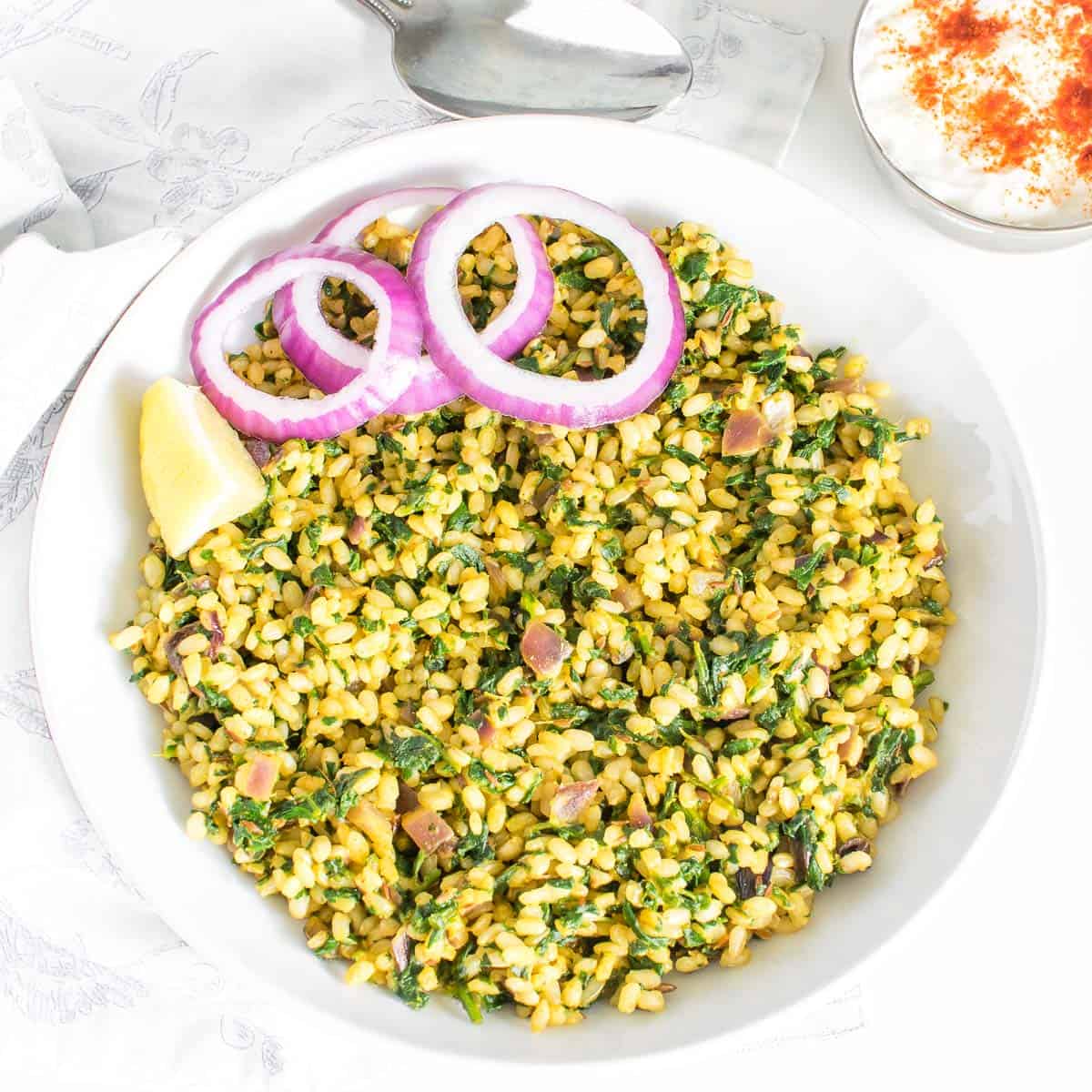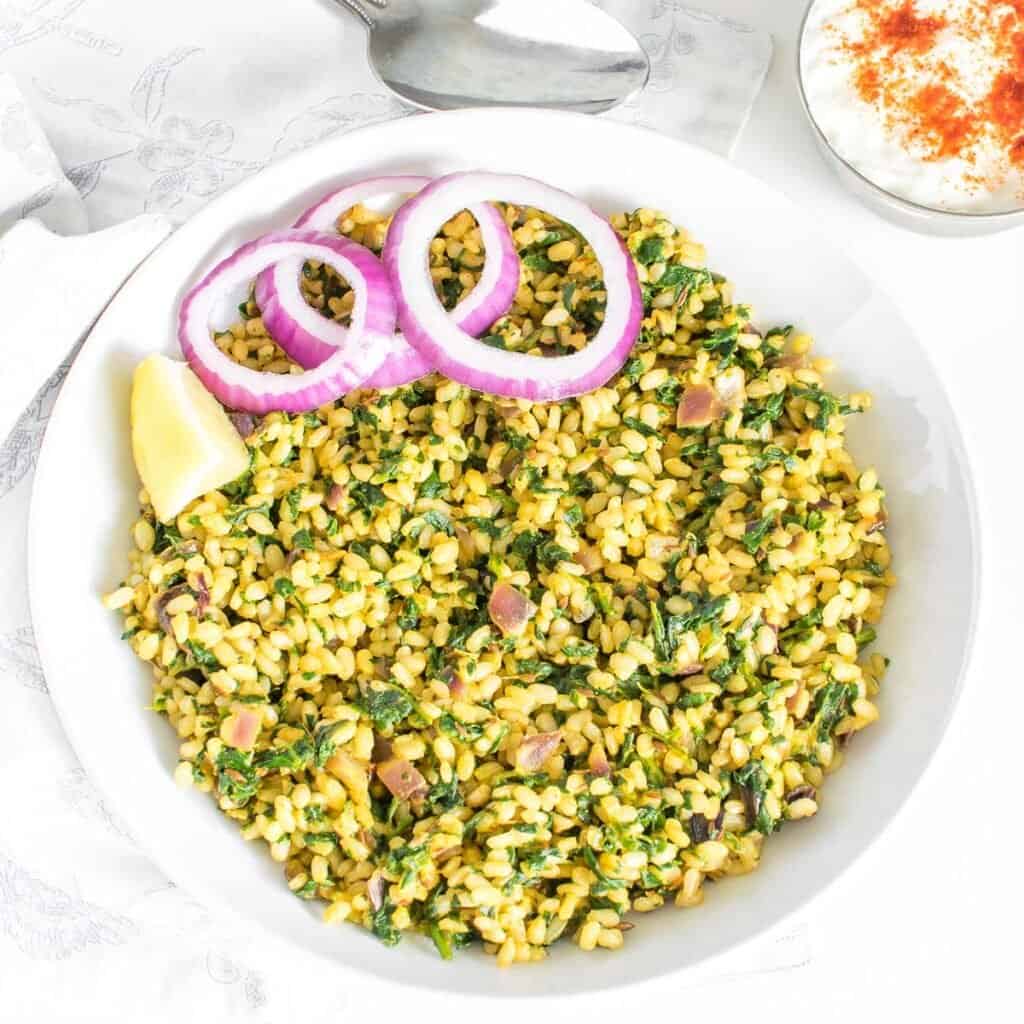 This rice dish is absolutely delicious and on spot flavor wise. I decided to make it in a pulao form and it turned out excellent. So, instead of pureeing spinach I made it with chopped/crushed spinach.
Since, I like to keep my recipes healthier, I used brown rice here which added more fiber to it thereby making it very high in nutrition.
Since spinach is so nutritious, I often make my favorite green smoothie but this spinach pulao simply became the show stopper since I discovered this delicious recipe.
I also often make my vegan Mexican brown rice for a variety for flavors to brown in.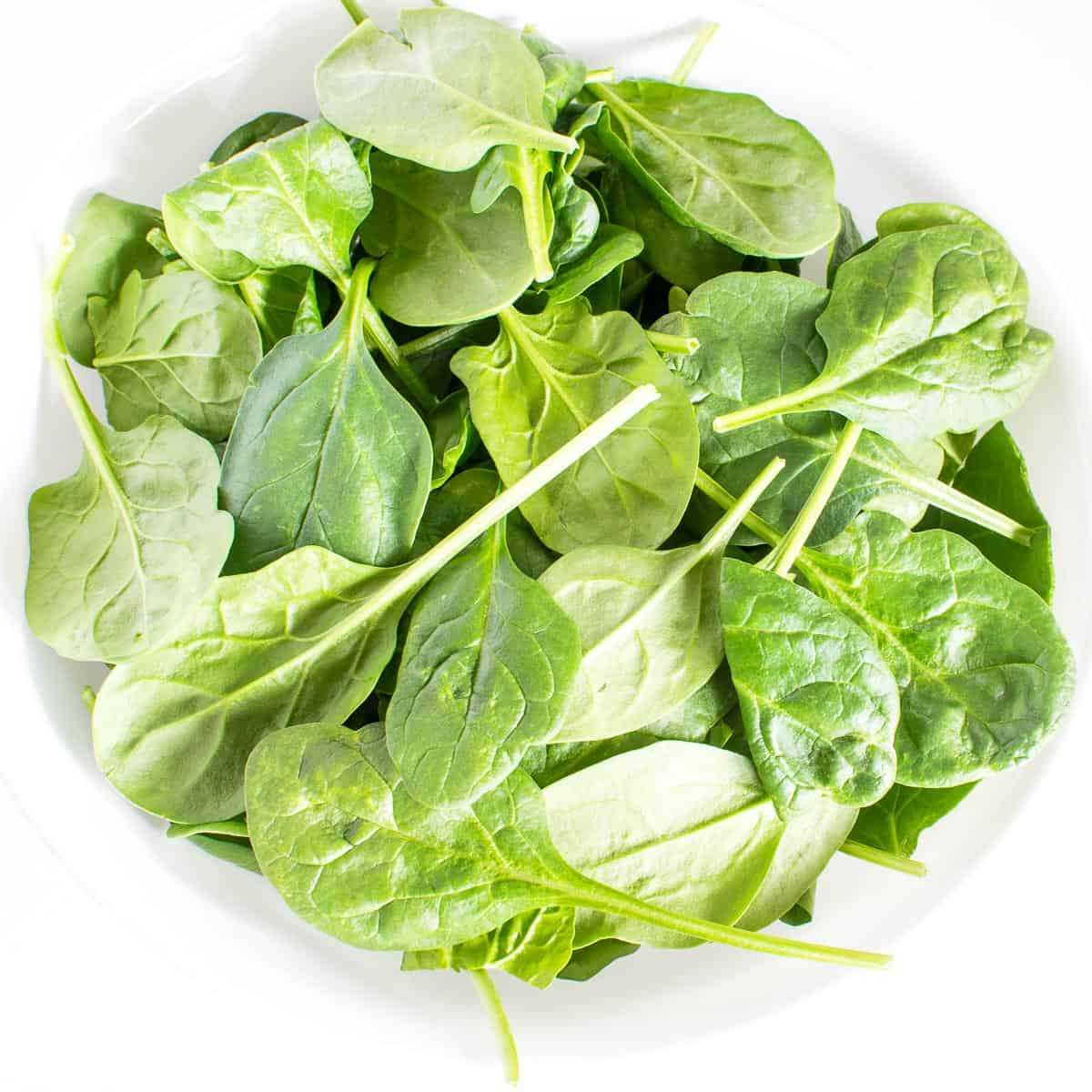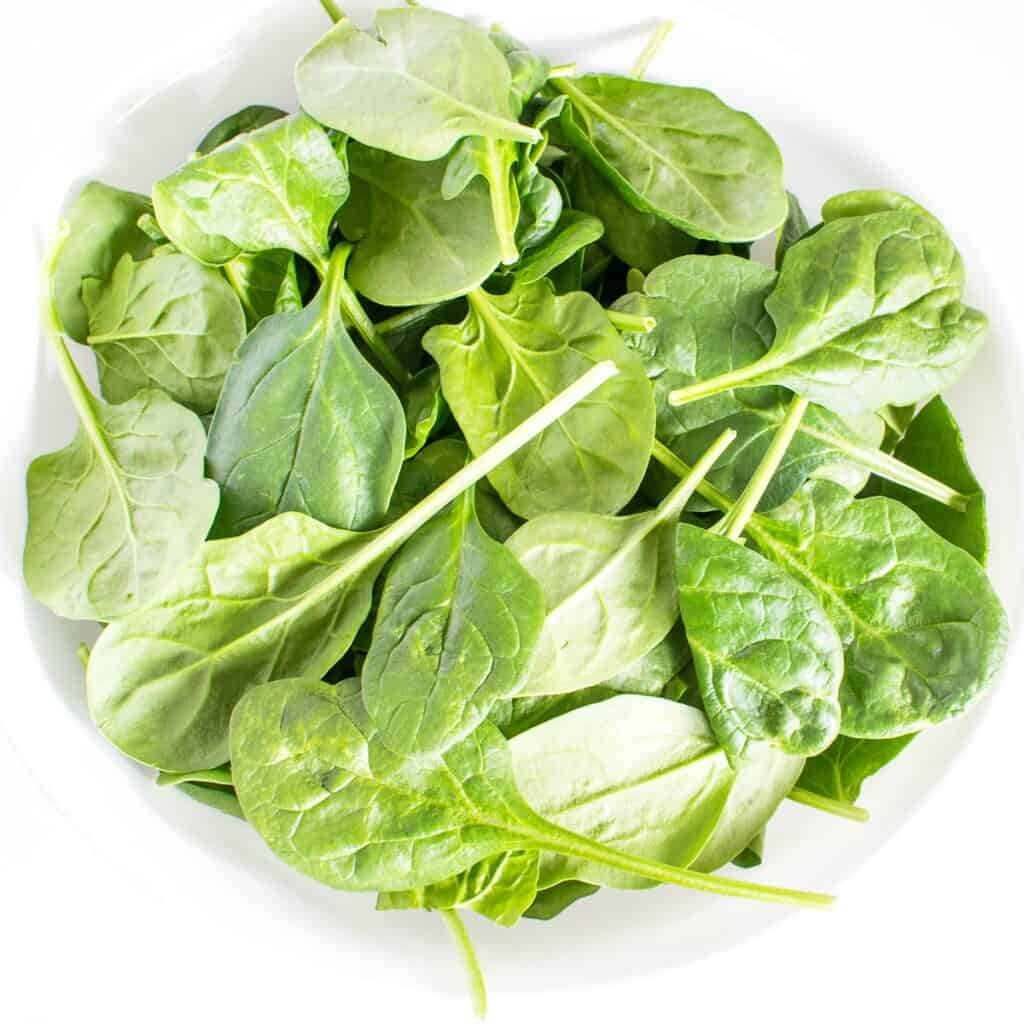 About Palak Rice
It's basically a pulao or a rice dish where pre-cooked rice is sauteed with palak (spinach) and flavored with Indian spices. I added little coconut milk to give it a slight base texture and subtle smooth taste to it. It's a fluffy pilaf where each grain is well cooked and blended with other ingredients.
There are various ways to cook it but I made it the simplest and easiest way just like any regular pulao.
Ingredients for easy Palak Rice
Cooked brown rice
Olive oil
Cumin seeds
Onion
Garlic
Baby spinach
Turmeric
Chili powder
Coriander powder
Garam masala
Salt
Coconut milk
Lemon juice
I have used simple pantry staples for this recipe and I am sure you are excited to get started with it ASAP.
Ingredients notes:
Brown rice – brown rice is less processed and has fiber and some protein in it. Even though white basmati rice works here, I would highly recommend using brown rice for this recipe.
Baby spinach – adult spinach also works here but baby spinach has a smoother taste. Moreover, it cooks quickly and easily too.
Spices – I have used very common spices that we always have in our spice rack.
Coconut milk – I used it in a very little quantity to give its a base. You may use any unsweetened coconut milk of your choice. I usually use tetra packed coconut milk to make my recipes lighter but canned coconut milk also tastes equally good here.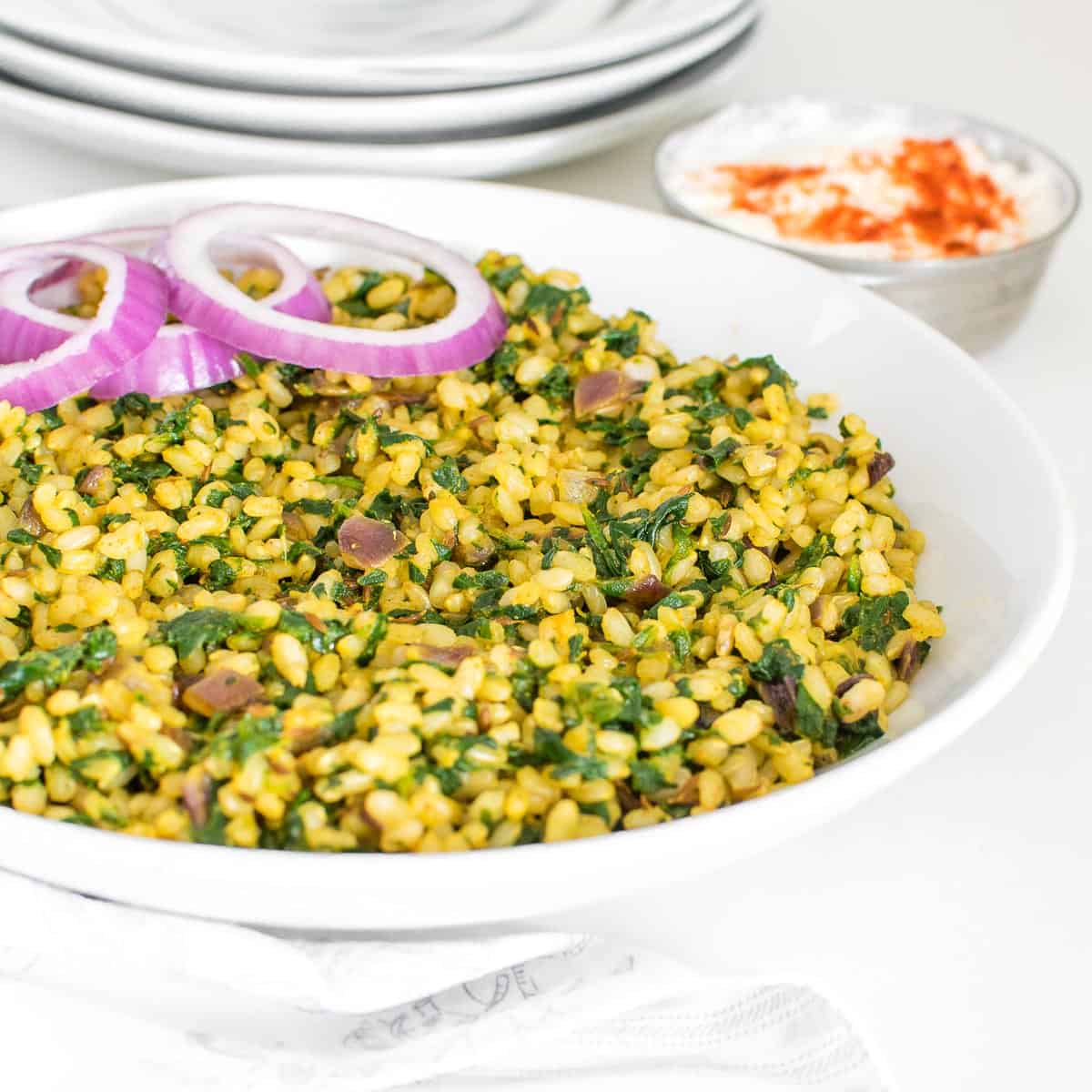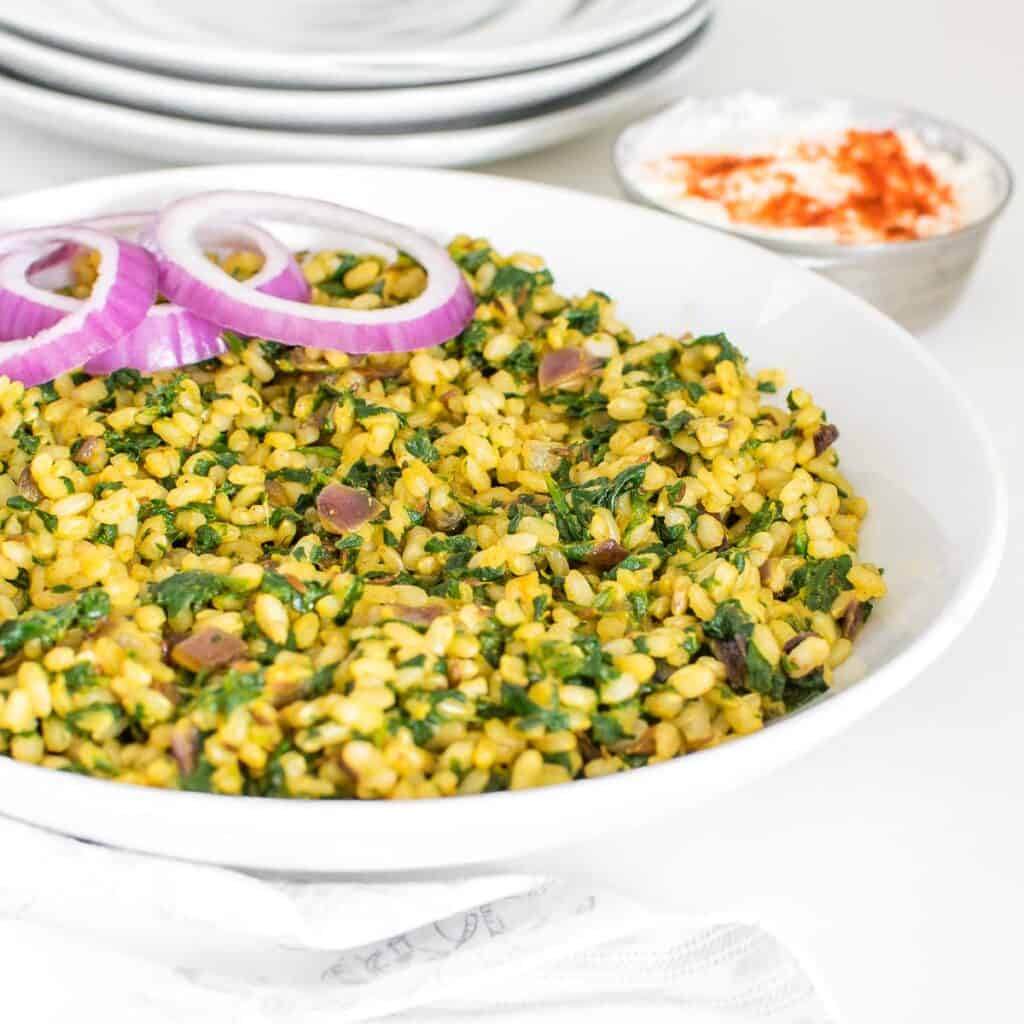 For detailed measurement of ingredients, please scroll down to the printable recipe card at the bottom of this post.
How to make Palak Rice
Step 1: how to cook brown rice
Firstly, in a saucepan I brought water to a boil and stirred in rinsed brown rice.
Secondly, I let it cook at high flame until half of the liquid was absorbed. I stirred at intervals of 2 minutes to avoid overflowing and sticking.
Next, I lowered the flame and cooked covered until all the liquid was absorbed.
Then, I turned off the flame and removed the lid.
Afterwards, I fluffed the rice with a fork and kept it aside.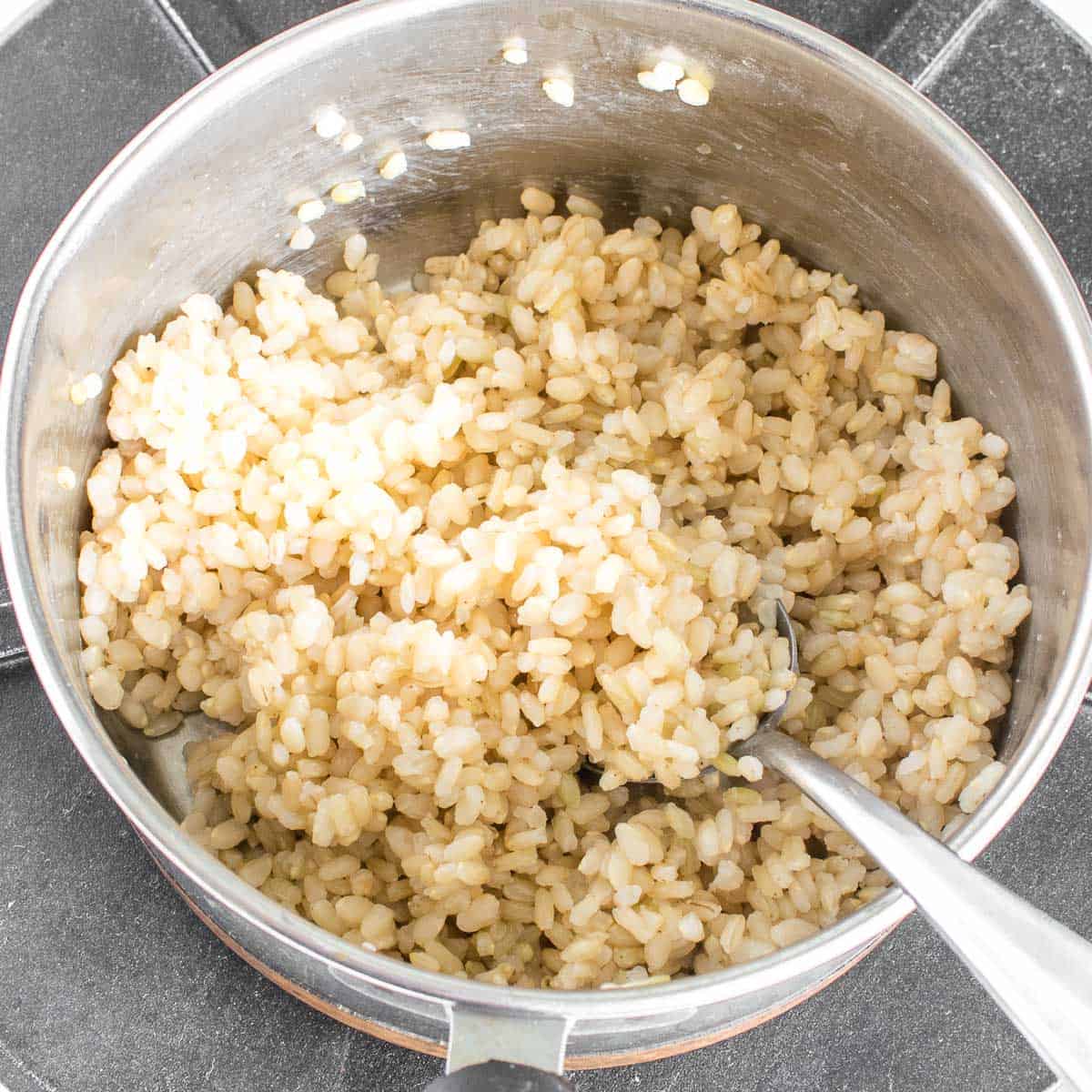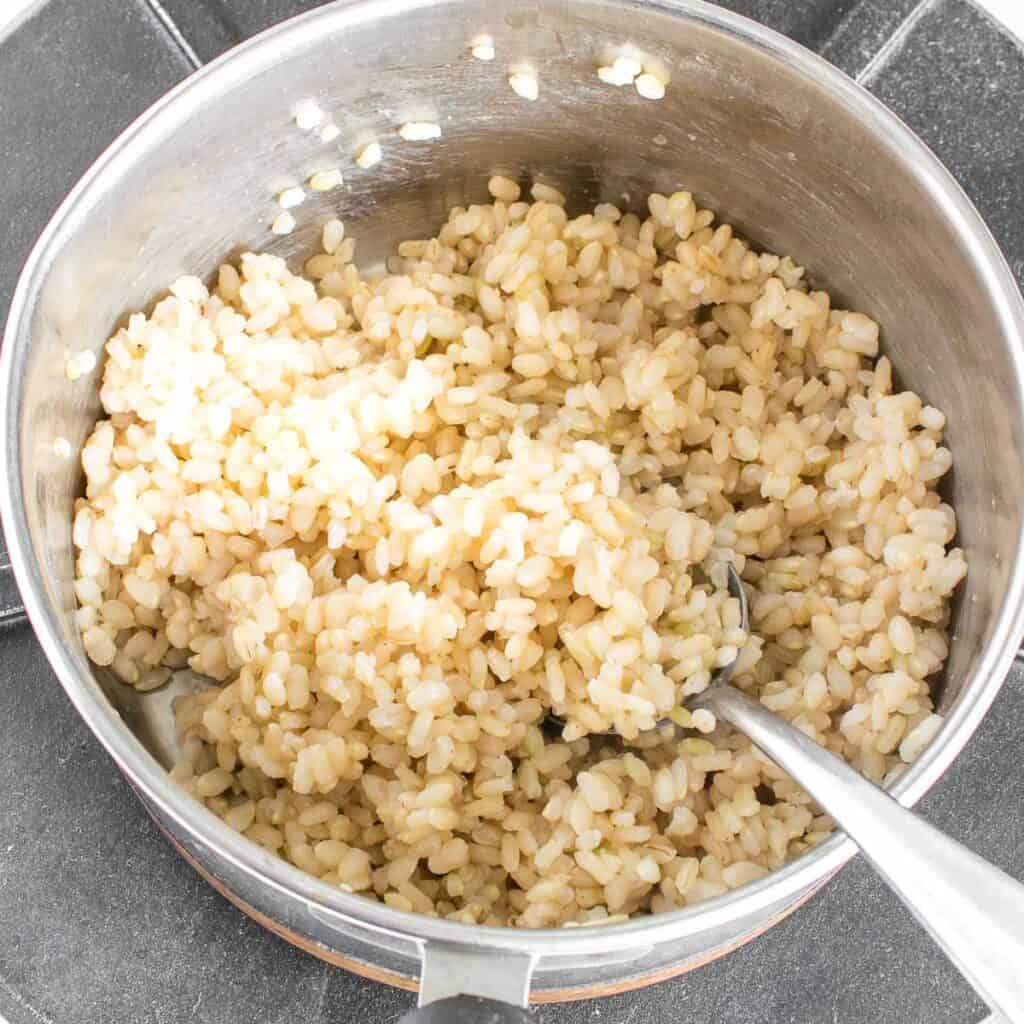 Step 2: how to chop Palak/spinach
Firstly, I combined it in the food processor and then in a crush/chop mode, I simply ground to a finely chopped texture. (Make sure it's not puree).
Then, I spooned it out in a bowl and kept it aside.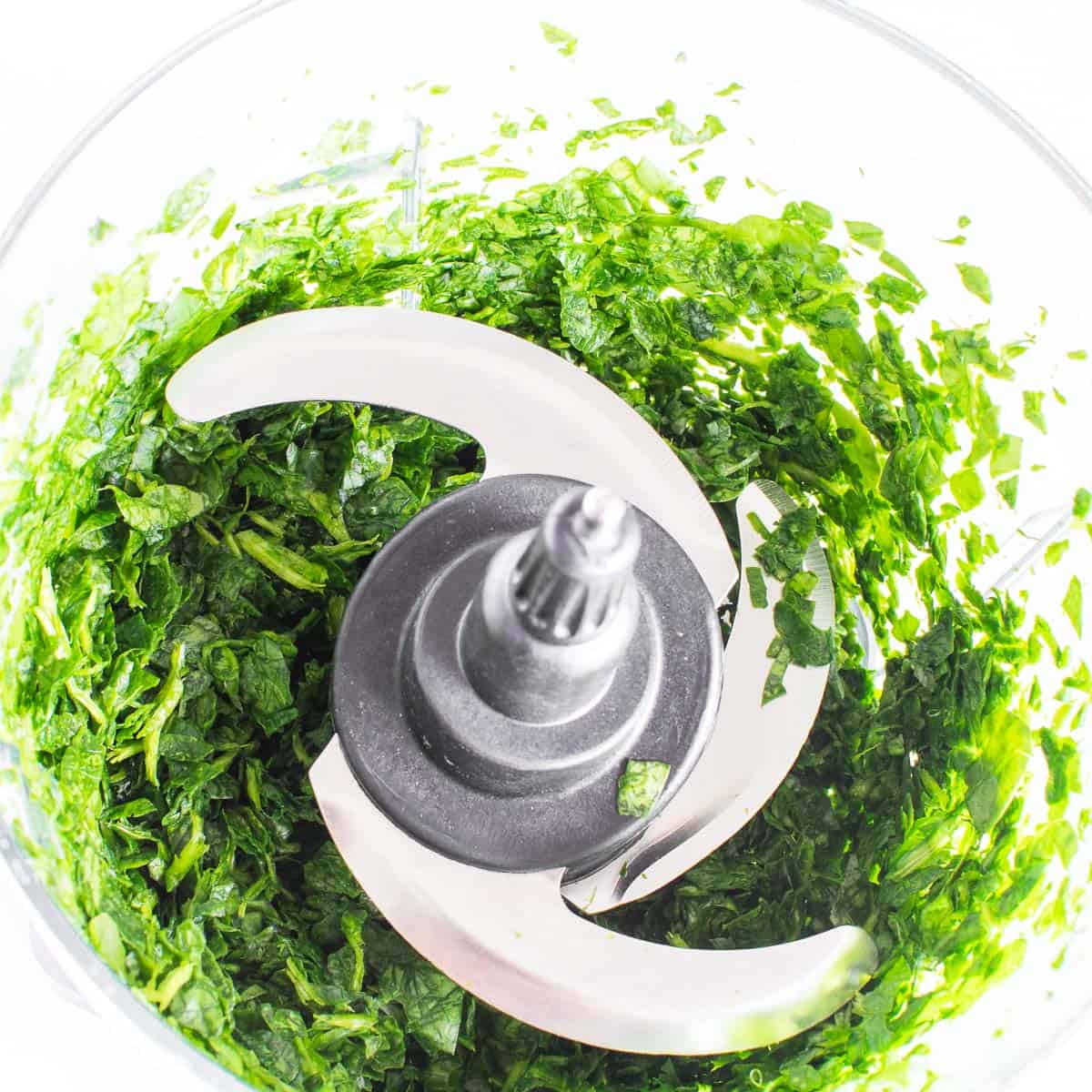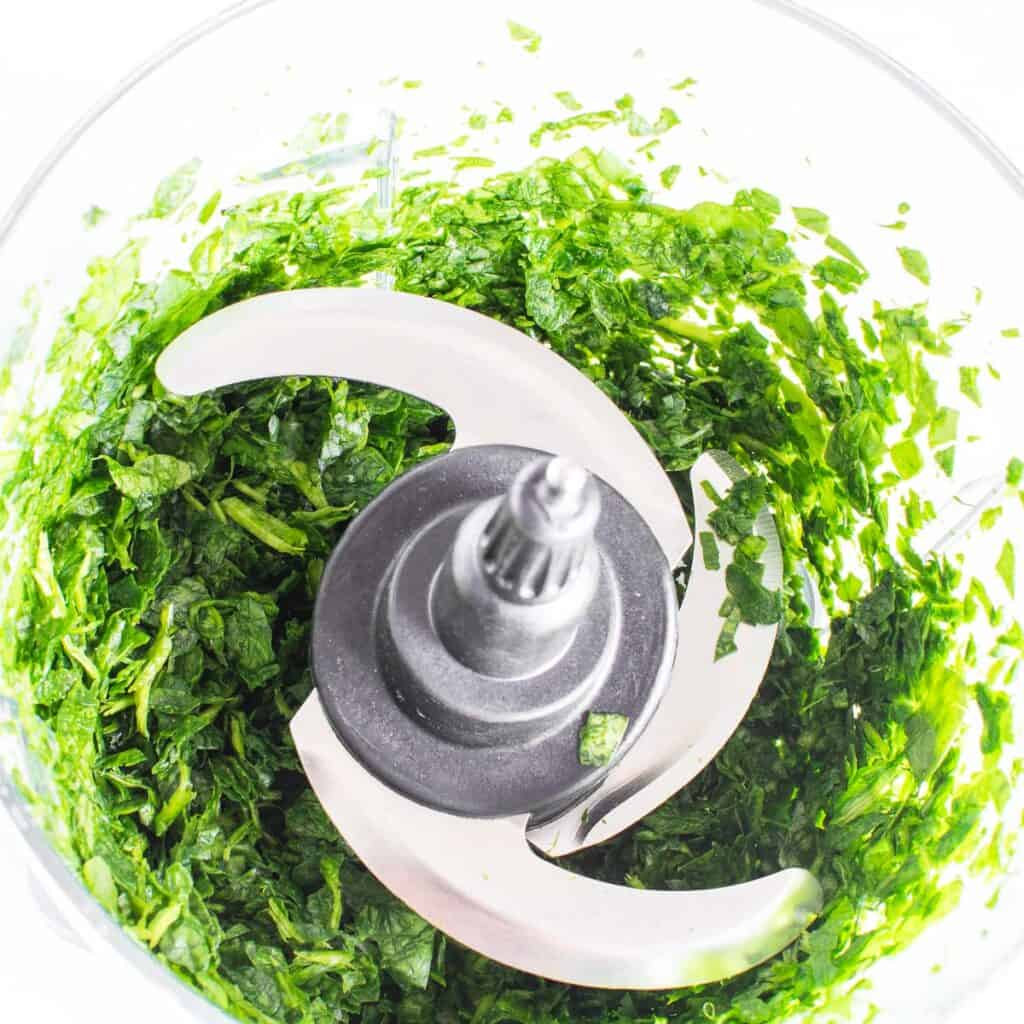 Step 3: how to assemble
Firstly, I heated oil in a nonstick pan and added cumin seed to it.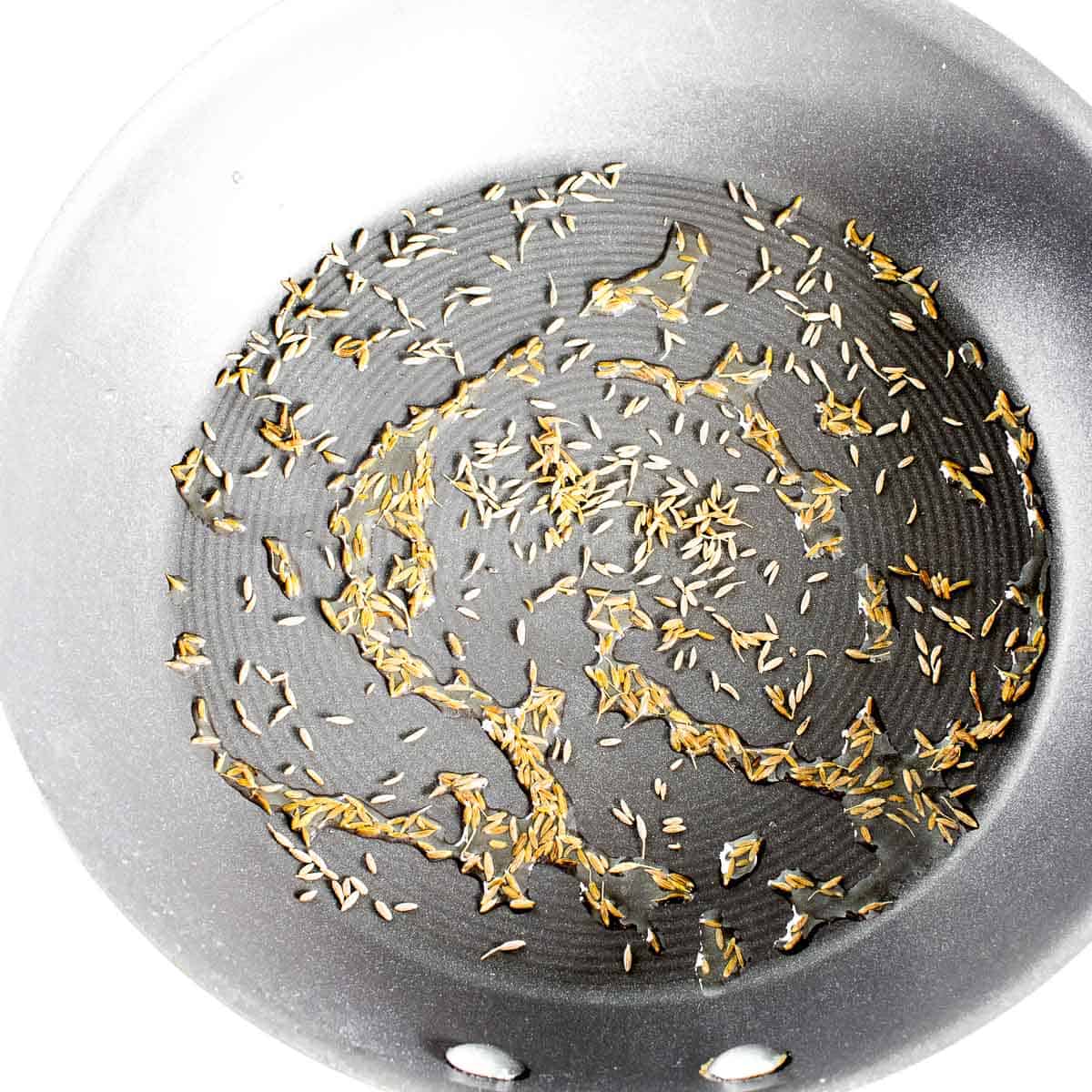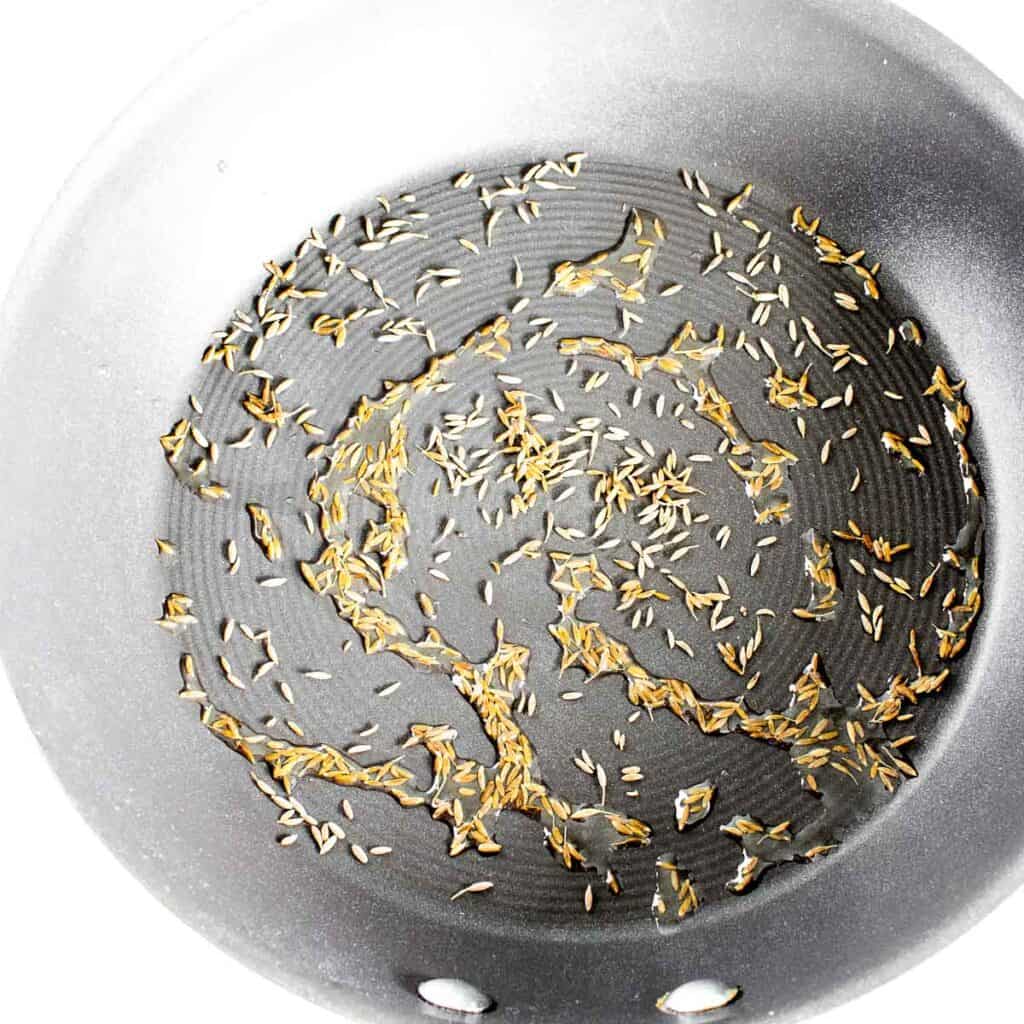 Secondly, I sautéed onion along with garlic in it.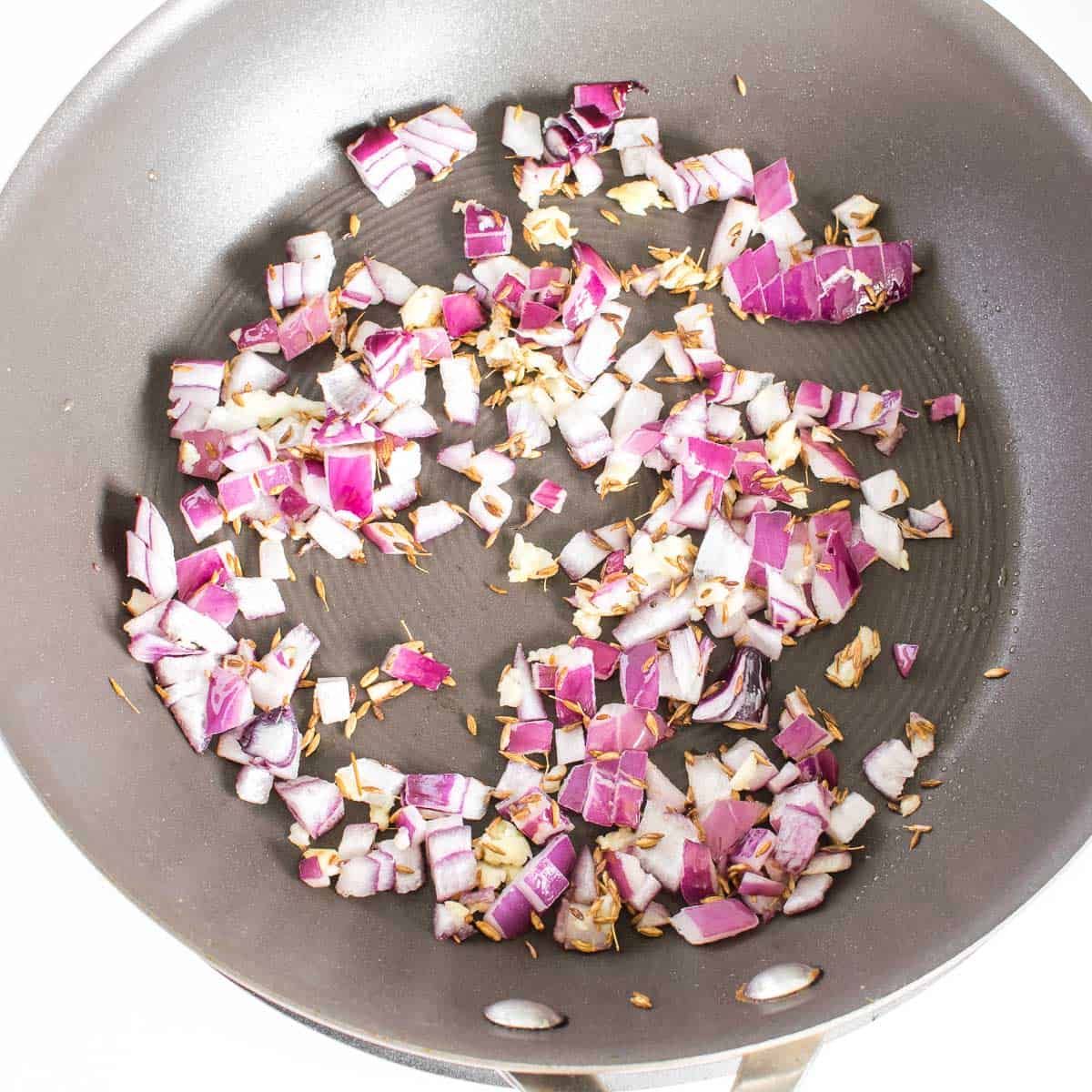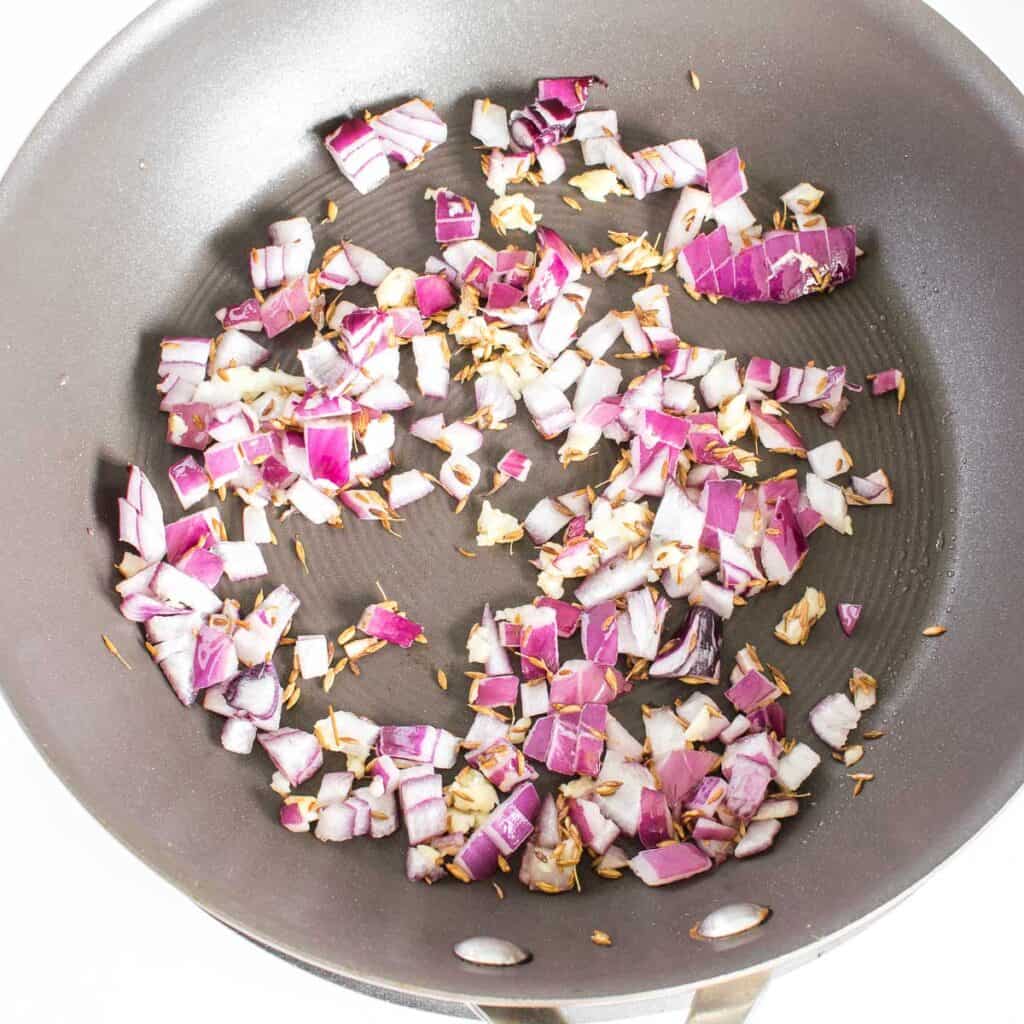 Next, I added prepared Palak/spinach in it and sautéed until it wilted or started to shrink.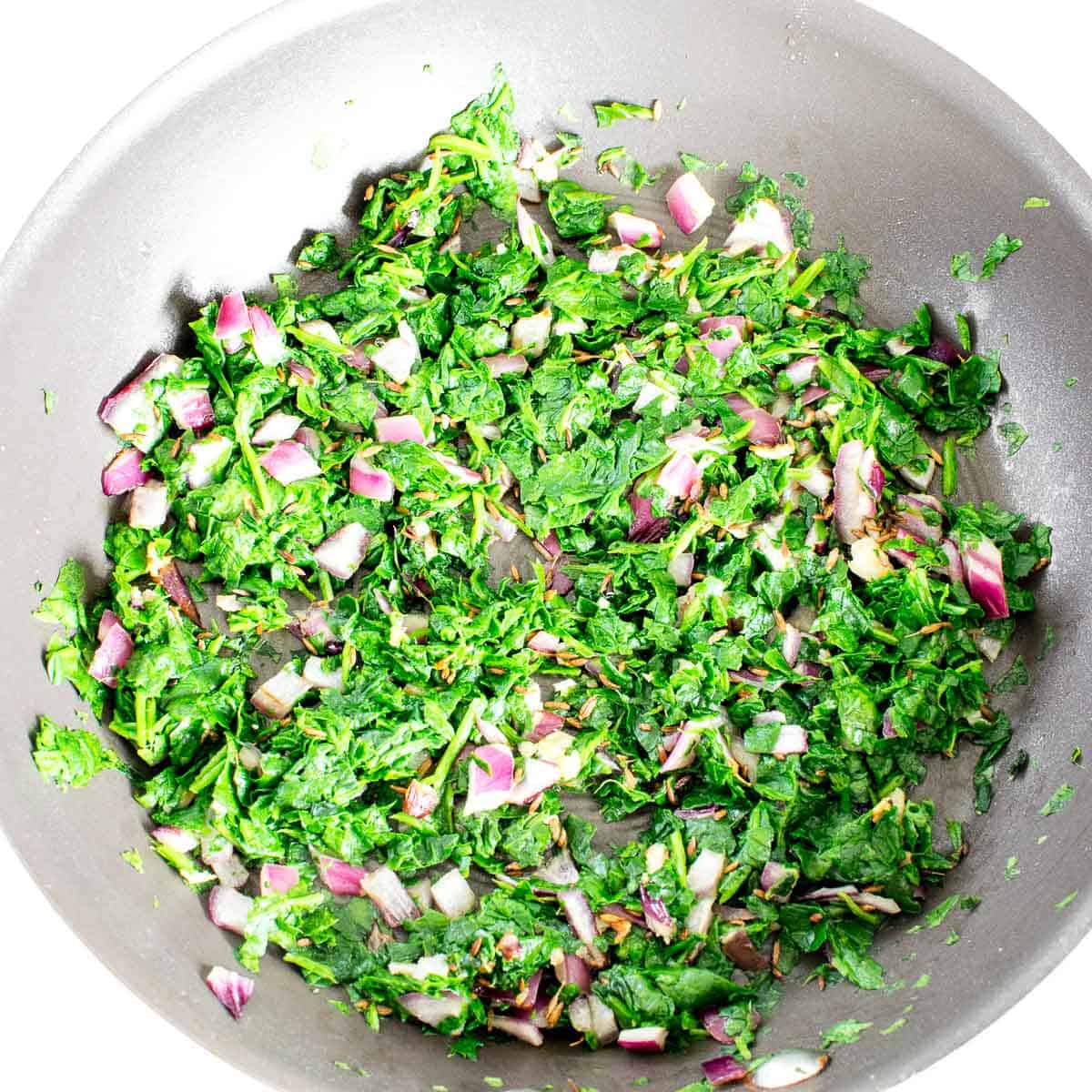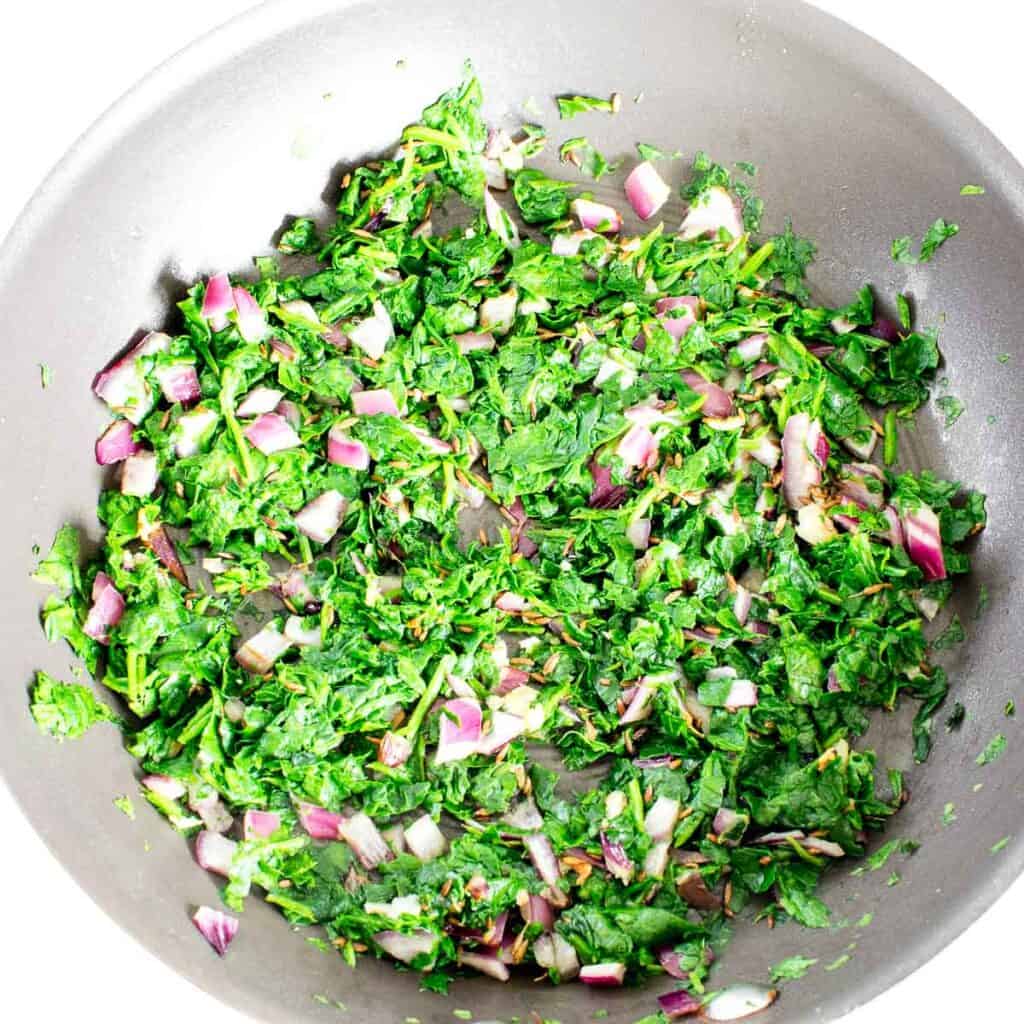 Thereafter, I added all the spices along with salt. Then, I mixed it very well and cooked for 30 seconds.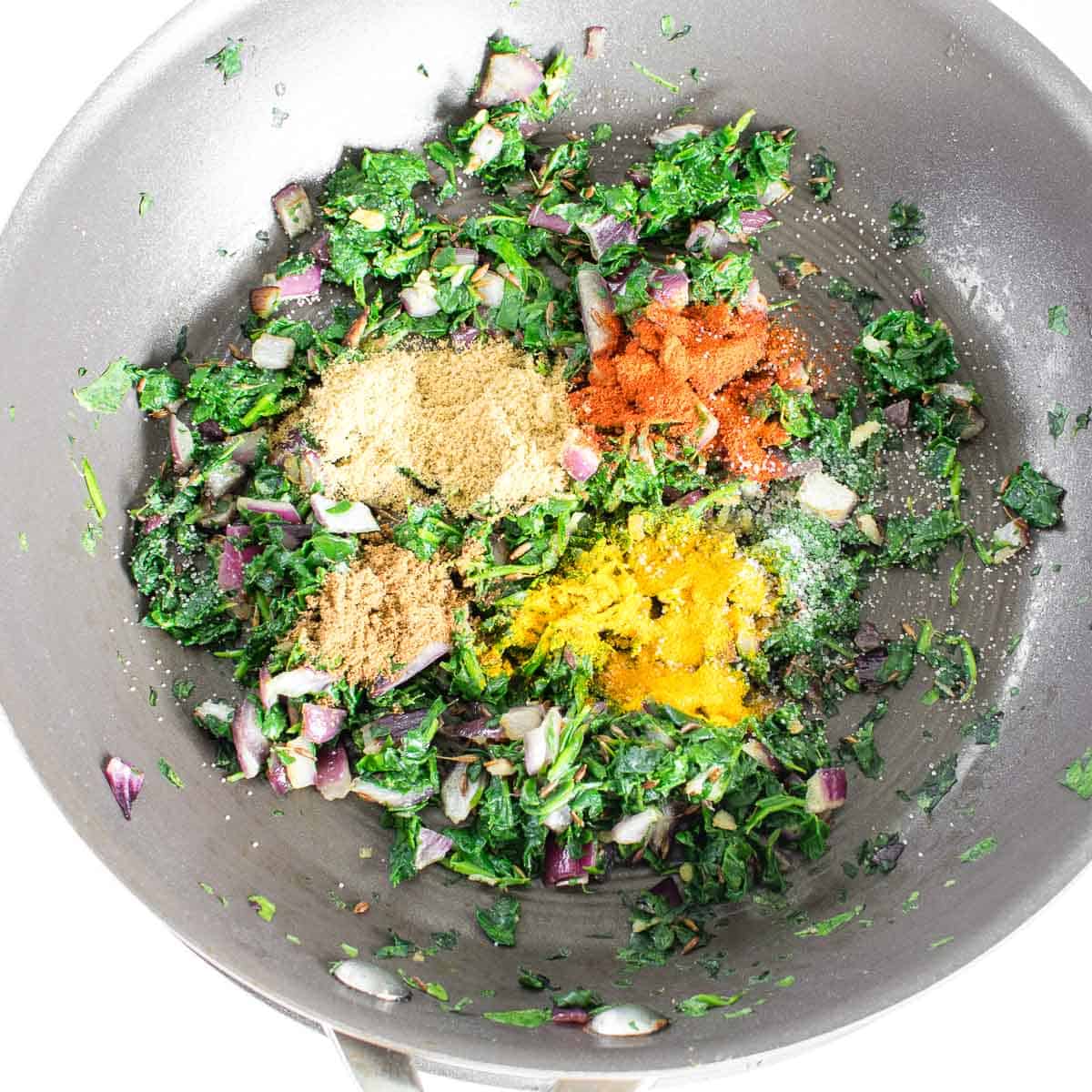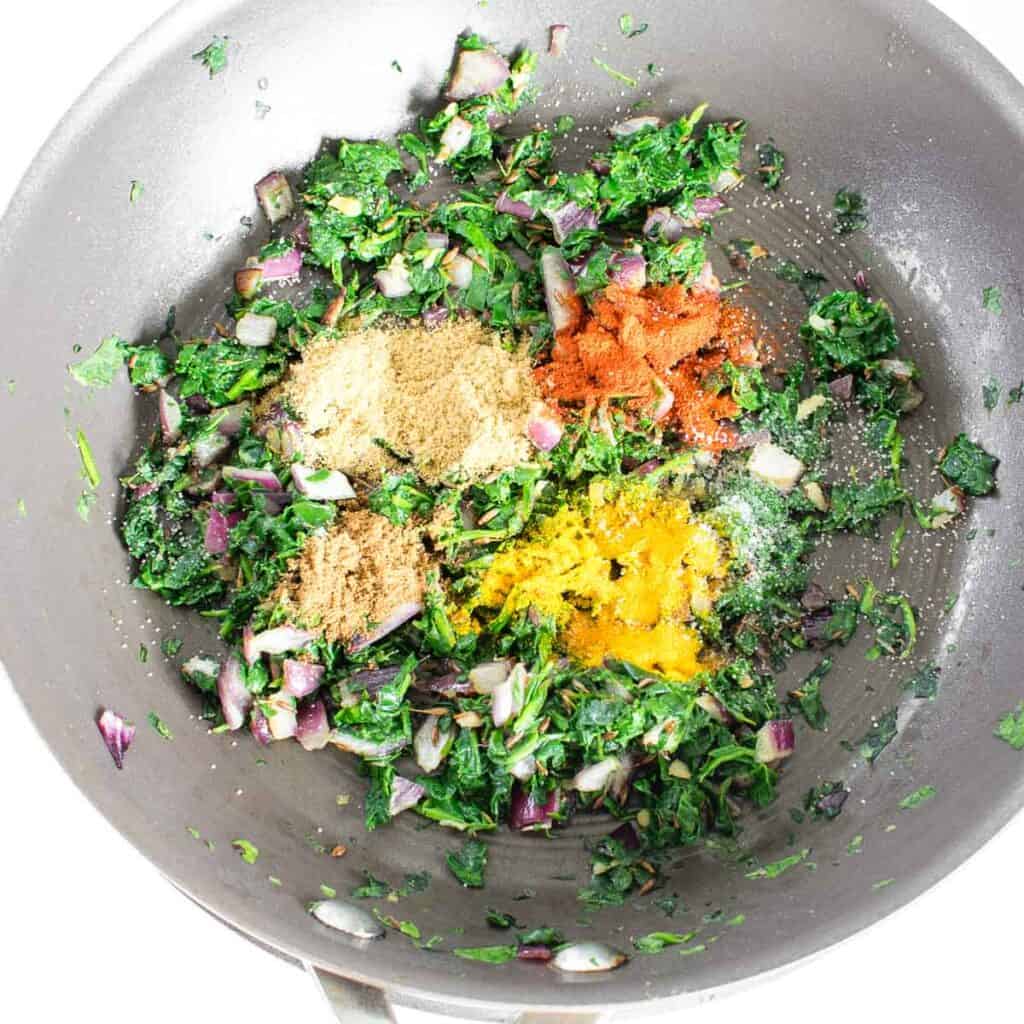 Afterwards, I poured in coconut milk and folded in cooked brown rice. Then, I mixed it well and cooked it uncovered at low flame for 1 minute.
Lastly, I turned it off and mixed in lemon juice.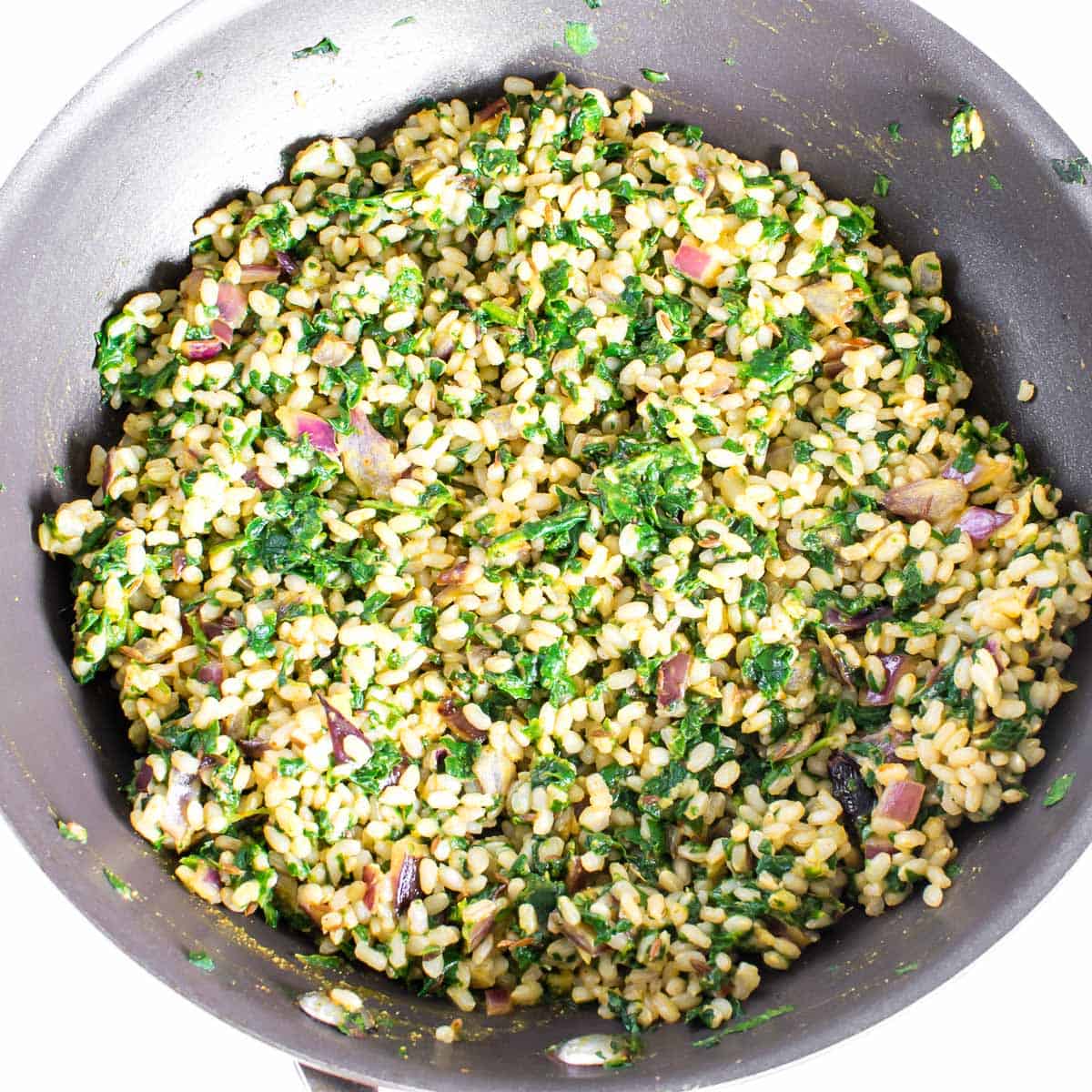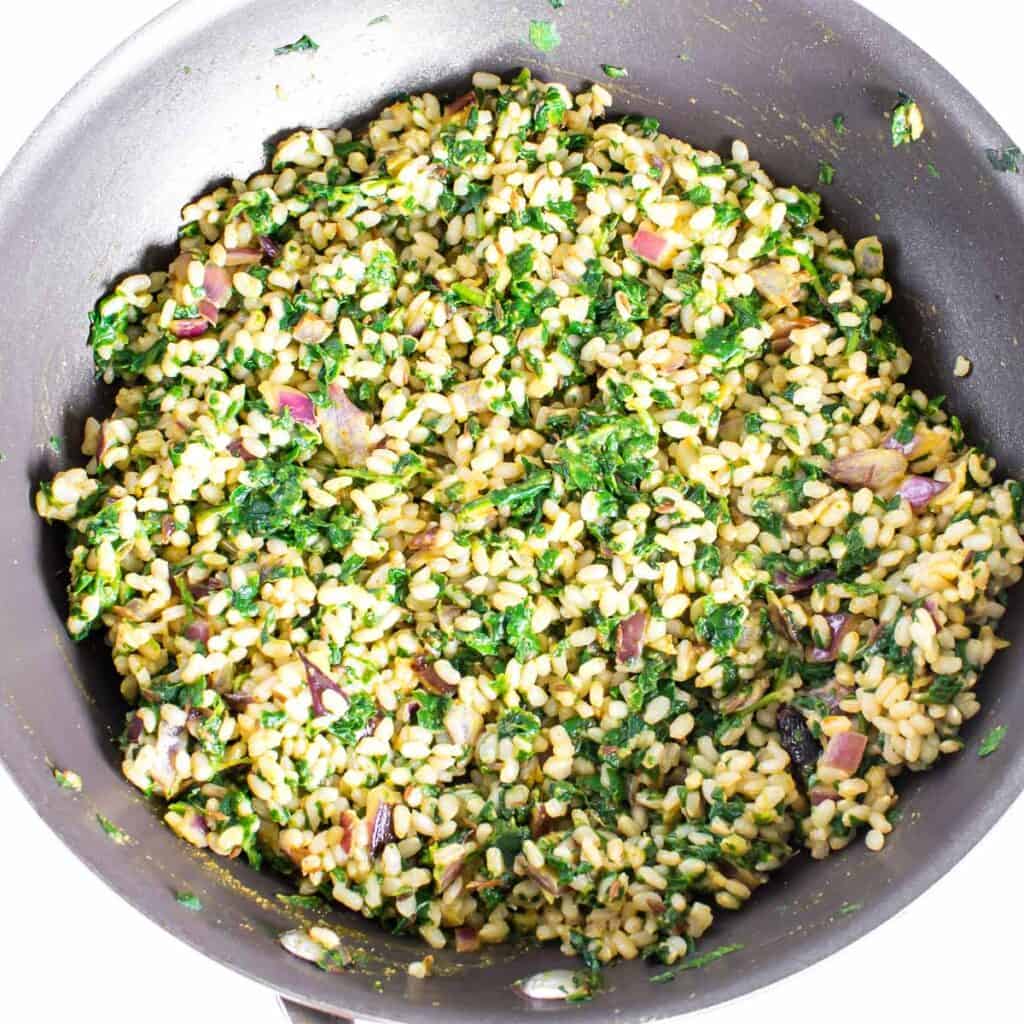 I served it with vegan yogurt and a side salad.
It was an instant hit and my family devoured every bit of this dish.
I was happy that I fed nutritious meal to my family and they were also happy about it.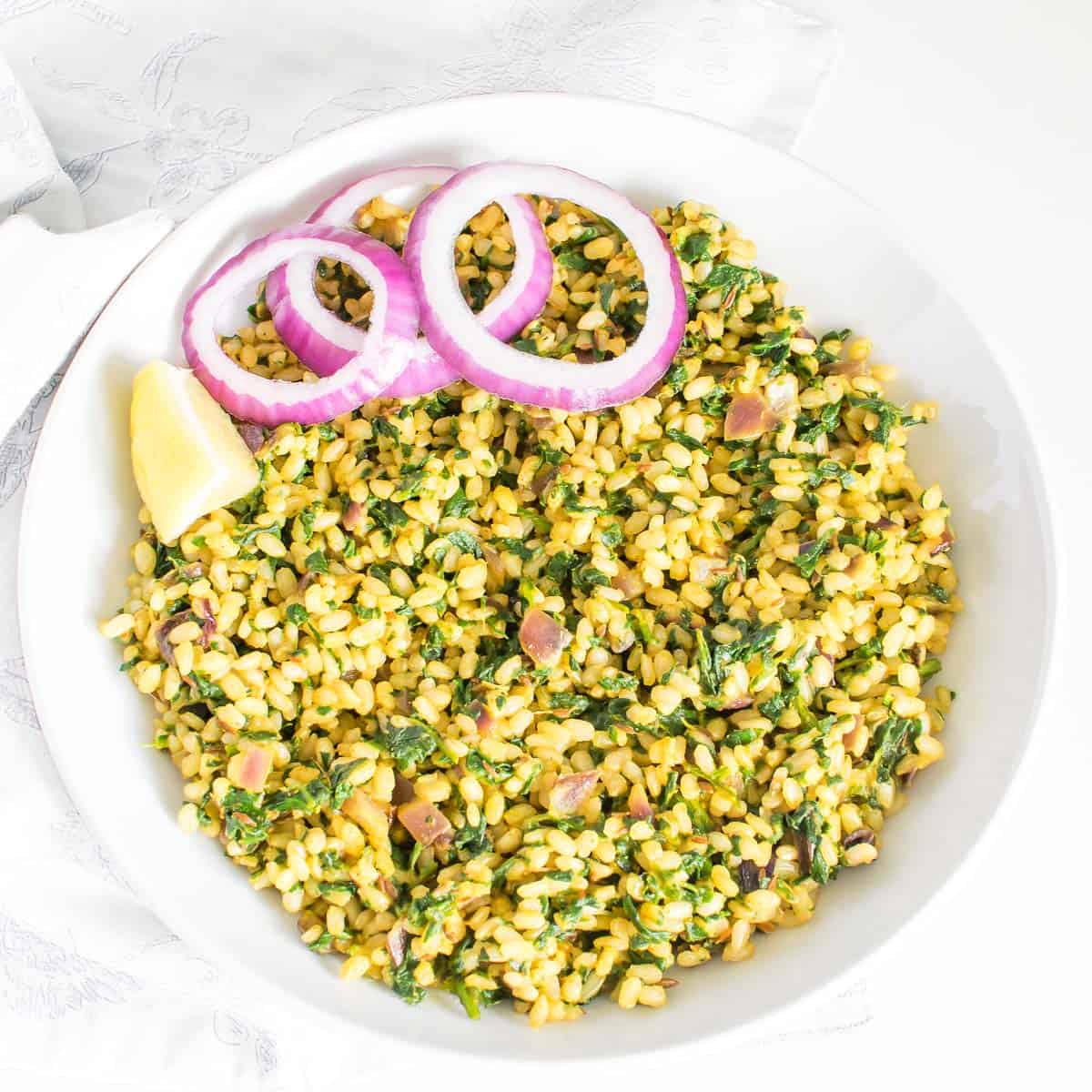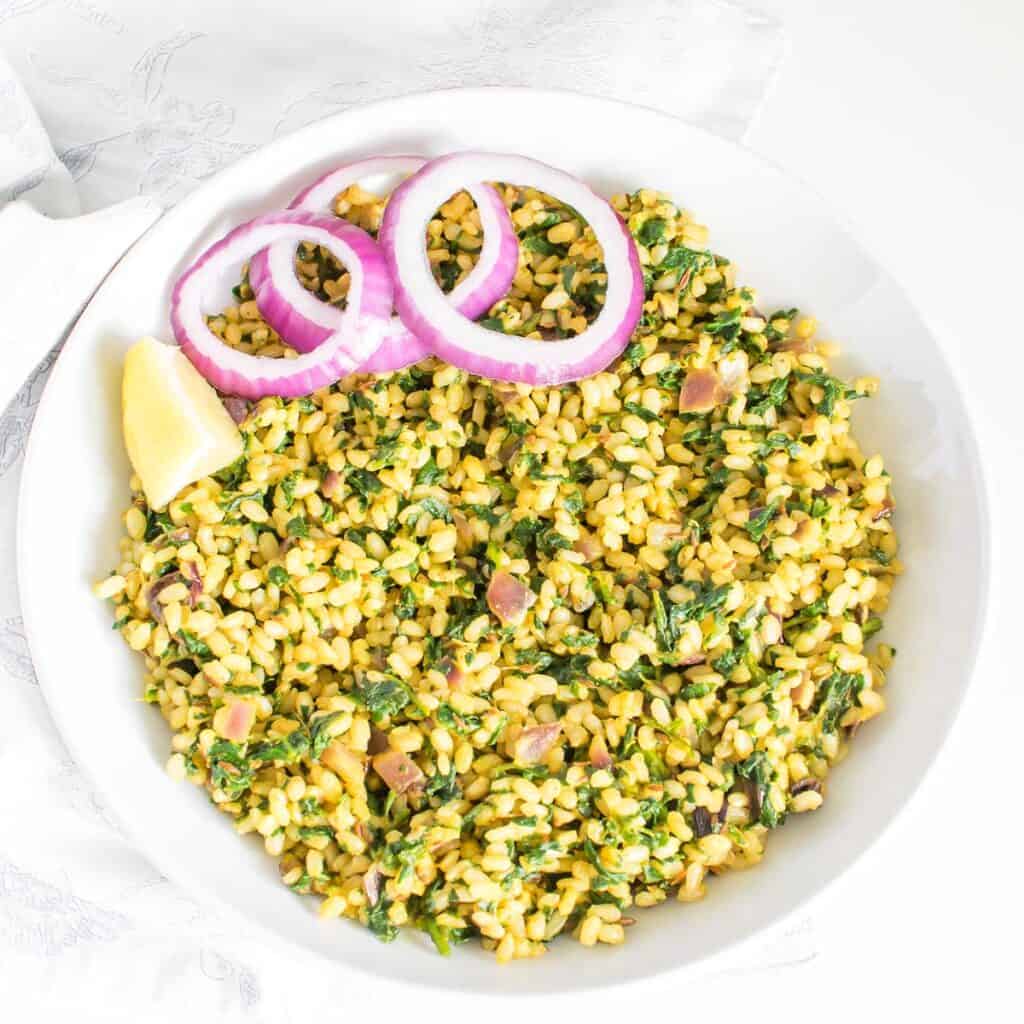 Serving suggestions:
It can be enjoyed as is with yogurt and salad. However, it pairs well with red lentil dal also and becomes a complete wholesome meal.
Expert tips:
It is important to chop spinach as fine as possible so I highly recommend crushing it in the food processor. This helps in bringing out the right texture since we are not making a puree out of it.
Make sure to cook brown rice very well and let it cook covered properly. Do not rush through it.
Most importantly, make sure to add milk while mixing spinach pulao recipe to give it nice texture and help brown rice cook well.
Palak Rice FAQS
How long does it last?
It tastes best when served immediately. However, leftovers can be refrigerated to be used for next day. Warm it well in the microwave before serving.
Is Palak and spinach the same?
Yes! Spinach in Hindi is called Palak.
Is Palak rice healthy?
Yes! Palak/spinach is very high in nutrition and packed with vitamins and minerals. I made this recipe healthier by using brown rice and cooked in minimum oil. Overall, it's a healthy dish with balanced nutrition.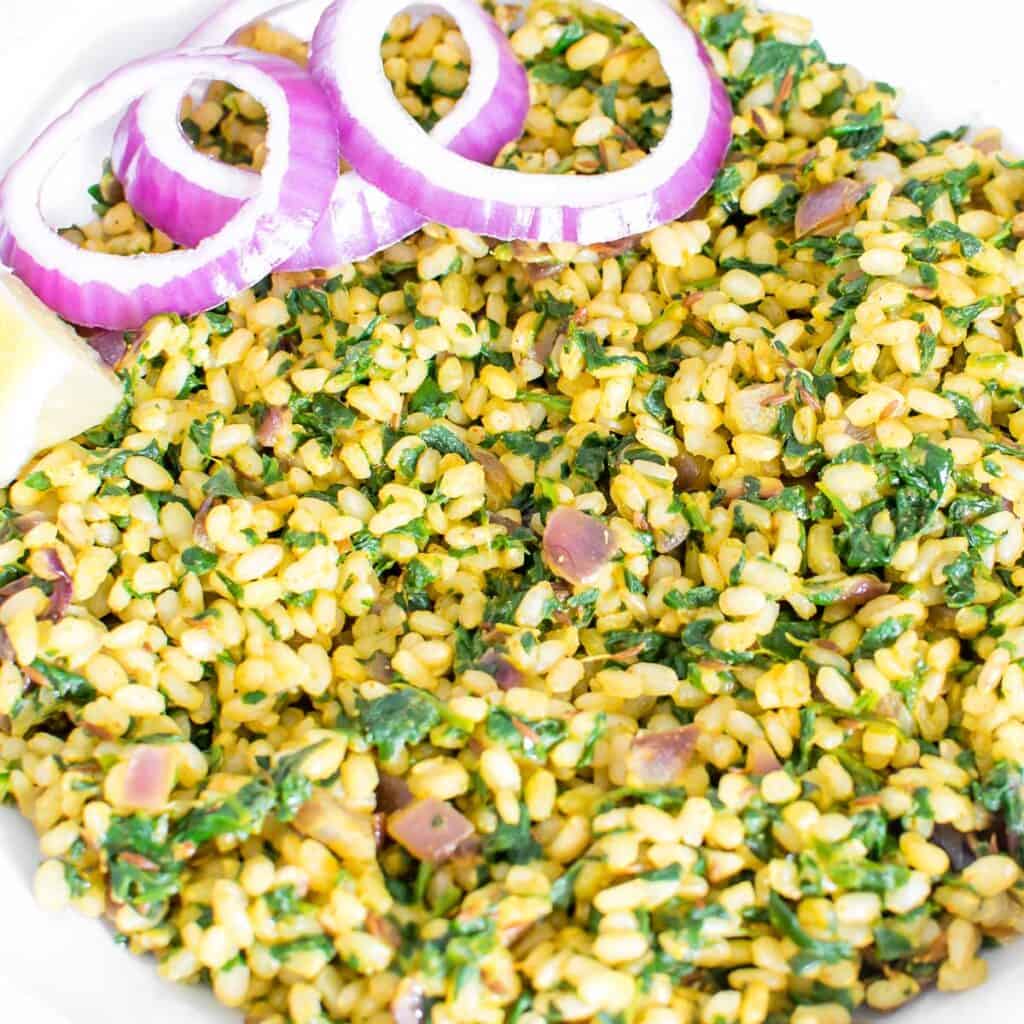 My other rice recipes that you might like:
Chana Pulao
Schezwan fried Rice
Brown Rice Mushroom Risotto
Mushroom Fried Rice
Instant Pot Coconut Rice
Brown Rice Kidney Bean Salad
This post may contain affiliate links which means that if you click on them and also make a purchase, I will get a small commission. Moreover, I share only those products which I use personally and love.
I hope you enjoy this recipe as much as we did. I am very excited to hear back from you.
Where to find me?
Follow me on Facebook or on Twitter. You may tag @kiipfit on Instagram with your recipe remake images because I would love to see what you cooked.
Did you make it?
If you get a chance to make this recipe then please leave your feedback in the comments below along with a 5-star rating.
In addition, you may checkout my cookbook for everyday comfort vegan recipes.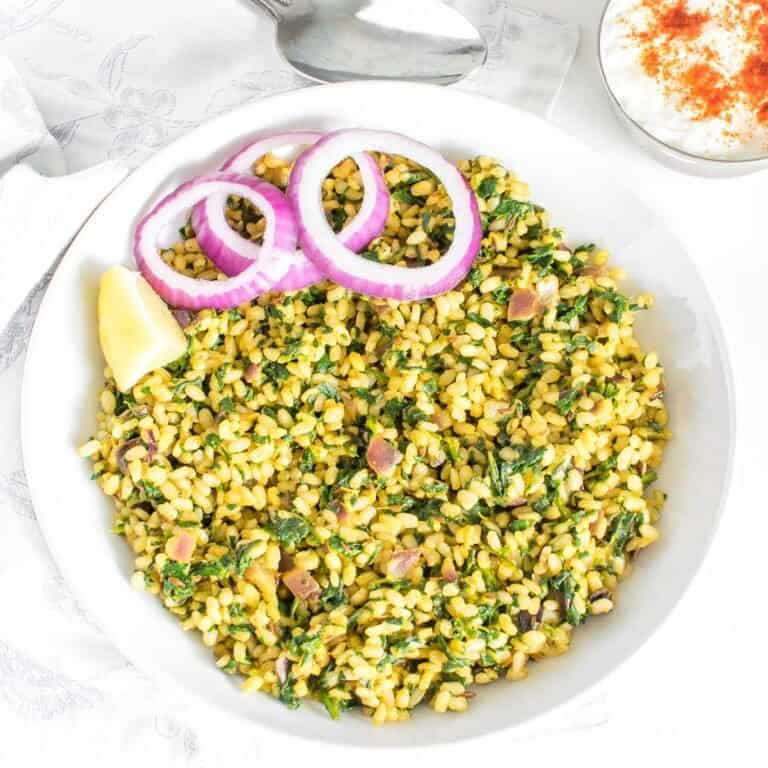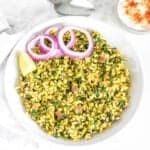 Print Recipe
Palak Rice
Palak Rice or Indian Spinach Rice is a delightful dish that's made with brown rice, spices, herbs and green leaves. Its easy, simple and a family friendly healthy dish.
Instructions
In a saucepan bring water to a boil and stir in rinsed brown rice. Let it cook at high until half of liquid is absorbed. Lower the flame and cook covered until all liquid is absorbed. (Do not rush through this step. Let the rice cook well in low flame.)Turn off the flame and fluff the rice with a fork and keep it aside.

In a nonstick pan heat oil at high flame and add cumin seeds and let it temper until cumin starts to brown.

Immediately, sauté onion and garlic in it until translucent and toss in chopped/crushed spinach. Sauté for 3-4 minutes or until spinach starts to shrink or wilt.

Add turmeric, chili powder, coriander powder, garam masala and salt to it. Mix and cook for 30 seconds at medium flame.

Add coconut milk and fold in cooked brown rice to it and mix well. Let it cook for 1 minute at low-medium flame. Turn it off, add lemon juice and mix it again. Serve hot with your choice of salad and vegan yogurt.
Notes
Try to crush the spinach in food processor for the perfect texture of the pulao. However, you may finely chop spinach using a knife too. Make sure the spinach is not pureed though.
This recipe can be made with regular basmati rice too by following the same steps as explained in the instructions.
Any unsweetened coconut milk (canned or tetra pack) can be used in this recipe.
Nutrition
Calories:
257
kcal
|
Carbohydrates:
47
g
|
Protein:
6
g
|
Fat:
7
g
|
Saturated Fat:
5
g
|
Polyunsaturated Fat:
1
g
|
Monounsaturated Fat:
4
g
|
Sodium:
47
mg
|
Potassium:
355
mg
|
Fiber:
2
g
|
Sugar:
1
g
|
Vitamin A:
4538
IU
|
Vitamin C:
15
mg
|
Calcium:
63
mg
|
Iron:
2
mg