This easy vegan Roasted Cauliflower Curry is deliciously flavored with Indian spices. Its baked crispy and folded in a flavorful gravy which makes it a delightful family meal.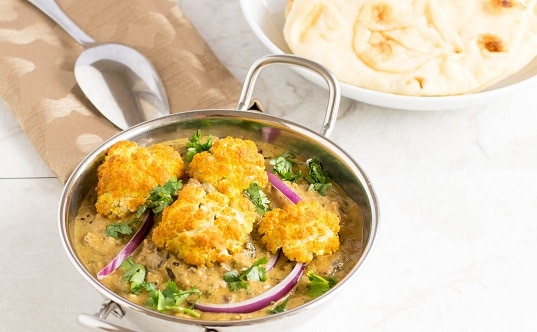 I like cauliflower when it's cooked nicely in thick creamy gravy with some aromatic herbs and spices. However, when combined with some Indian flavors this vegetables tastes amazingly delicious.
Basically, cauliflower is a versatile vegetable and suitable for most diet types. Recently, riced cauliflower has become a healthy substitute for rice. Its an amazing vegetable.
I can eat it in any form and now, I am working on building a taste for this super vegetable to my kids. it's a task but I am almost there.
Therefore, this oven roasted cauliflower curry is a winner in my home. It has a smooth tastes and the gravy is so good that it can make any vegetable taste delectable.
Hence, now, at least once a week, I make this Indian cauliflower curry on repeat.
I personally pair it with quinoa to add more protein and nutrition in my diet.
However, for my family, I serve them with naan and sometimes peas pulao.
Well, the most unique creation of mine with cauliflower is chocolate cauliflower protein cookies and its very popular as well. You must try it and trust me you wont even taste the vegetable also.
My other cauliflower recipes that you might like are:
Habanero Cauliflower Spaghetti
Cauliflower in kale Coconut Curry
However, today I am here to share this roasted cauliflower curry recipe.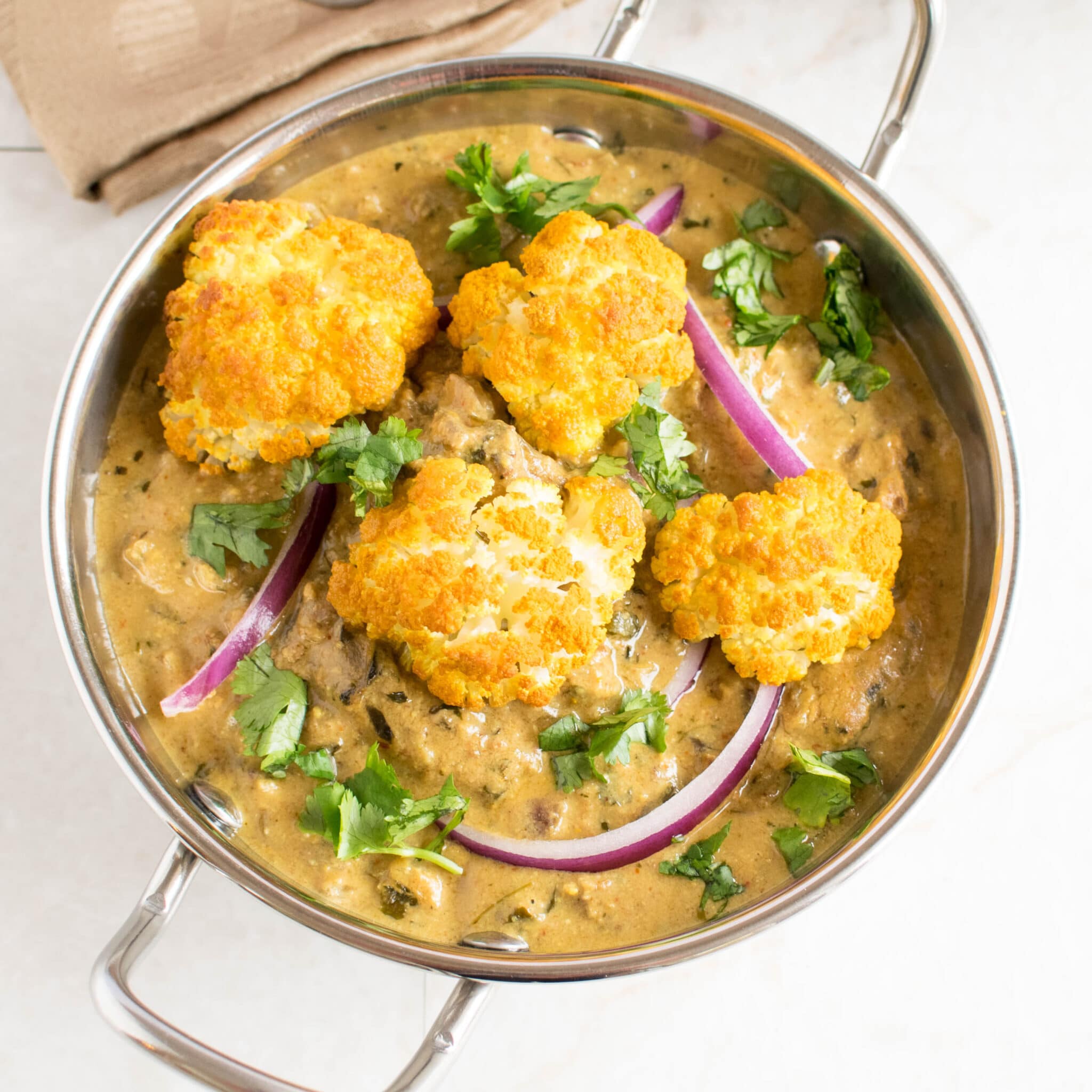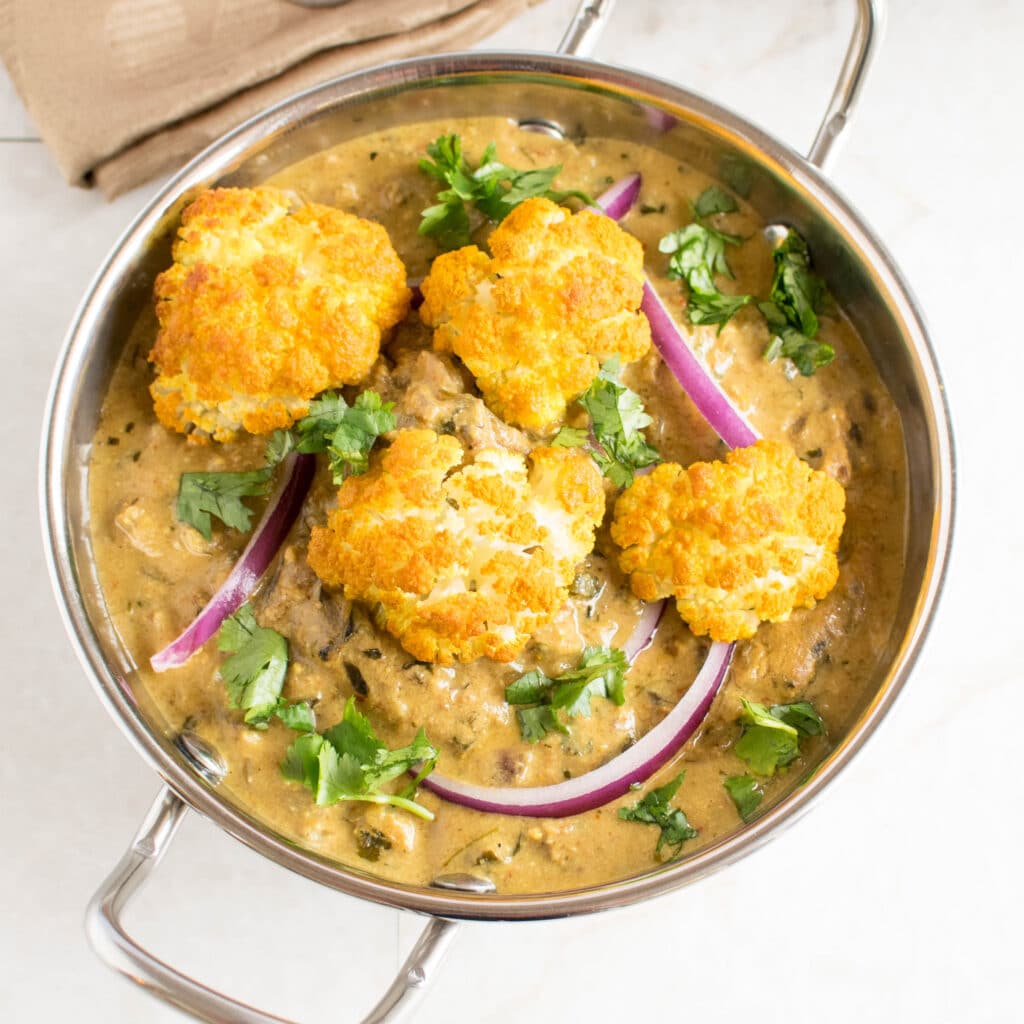 Ingredients you will need:
For roasting
turmeric
salt
cauliflower florets
for grinding masala
coriander seeds
cumin seeds
cardamom
cinnamon
cloves
cashew nuts
for curry
olive oil
bay leaf
asafetida
garlic
ginger
onion
tomatoes
fenugreek leaves
turmeric
chili powder
coconut milk
salt
sugar
garam masala
water
cilantro
I have used these easily available ingredients which you may buy from any local grocery store. However, I have provided links to few of them here for your convenience.
If you plan to buy from these affiliate links then I get a small commission which in turn encourages me to bring in more delicious recipes for you all.
Ingredients notes:
Turmeric – it beautifully colors this recipe along with adding health due to its medicinal properties.
Cauliflower – I used ready cut florets but you may buy the whole cauliflower and cut into your desired sized florets.
Coriander seeds – even though powdered form is available but grind the seeds along with other spices simply enhance the taste.
Cinnamon stick – I used the stick to grind the masala but you may use its powder as well.
Cloves – it is important to use whole cloves here in this recipe.
fenugreek leaves – commonly know as kasoori methi in India plays an important role in this recipe.
Coconut milk – I used tetra pack form to make this recipe lighter but you may use canned full fat coconut milk as well. But in half of the measurement.
How to make Roasted Cauliflower Curry
Firstly, I marinated the florets with turmeric and salt and then placed each of them on the prepared cookie sheet.
Secondly, I baked it in the middle rack of the pre-heated oven at 400 degree Fahrenheit until it was soft and golden in color. ( about 35 minutes).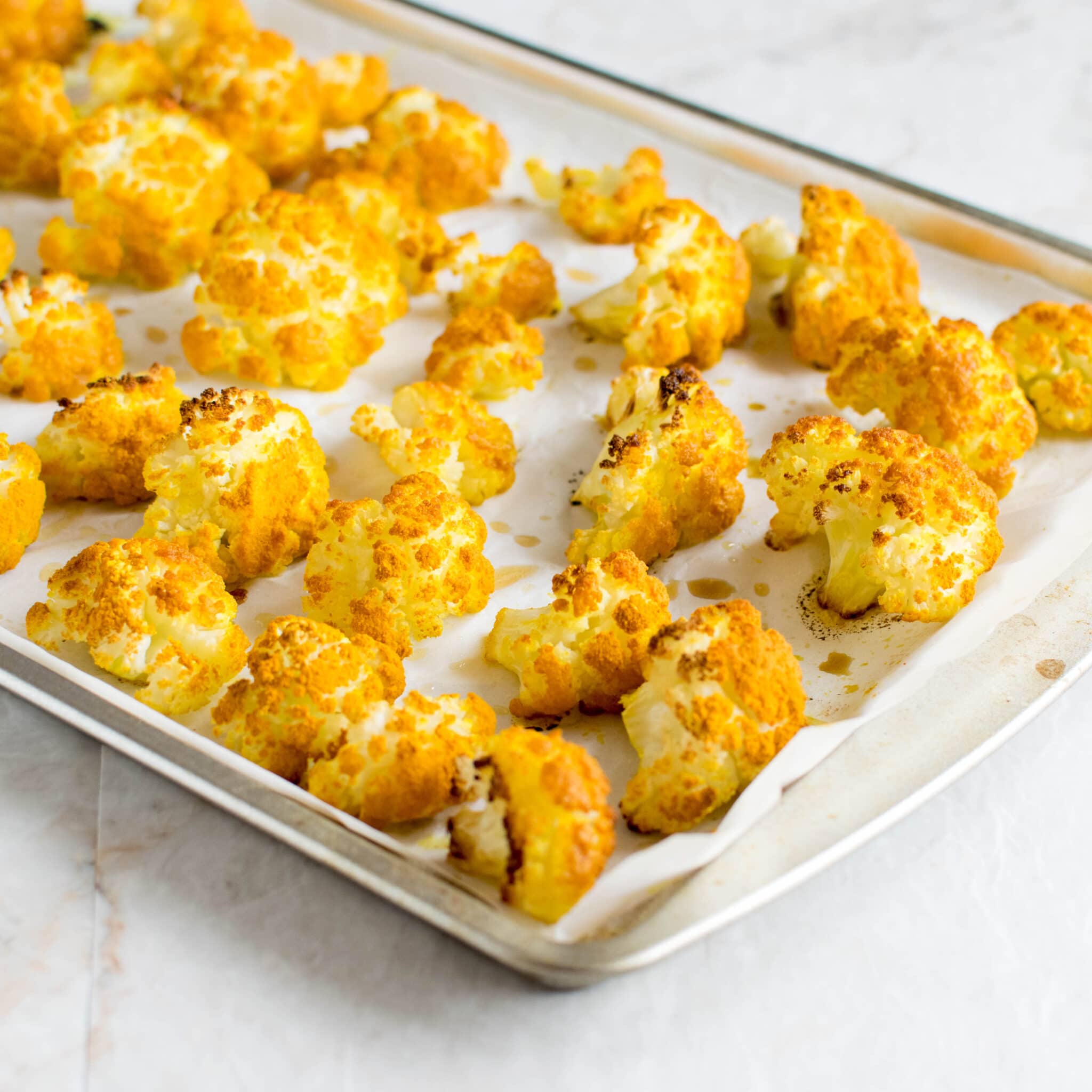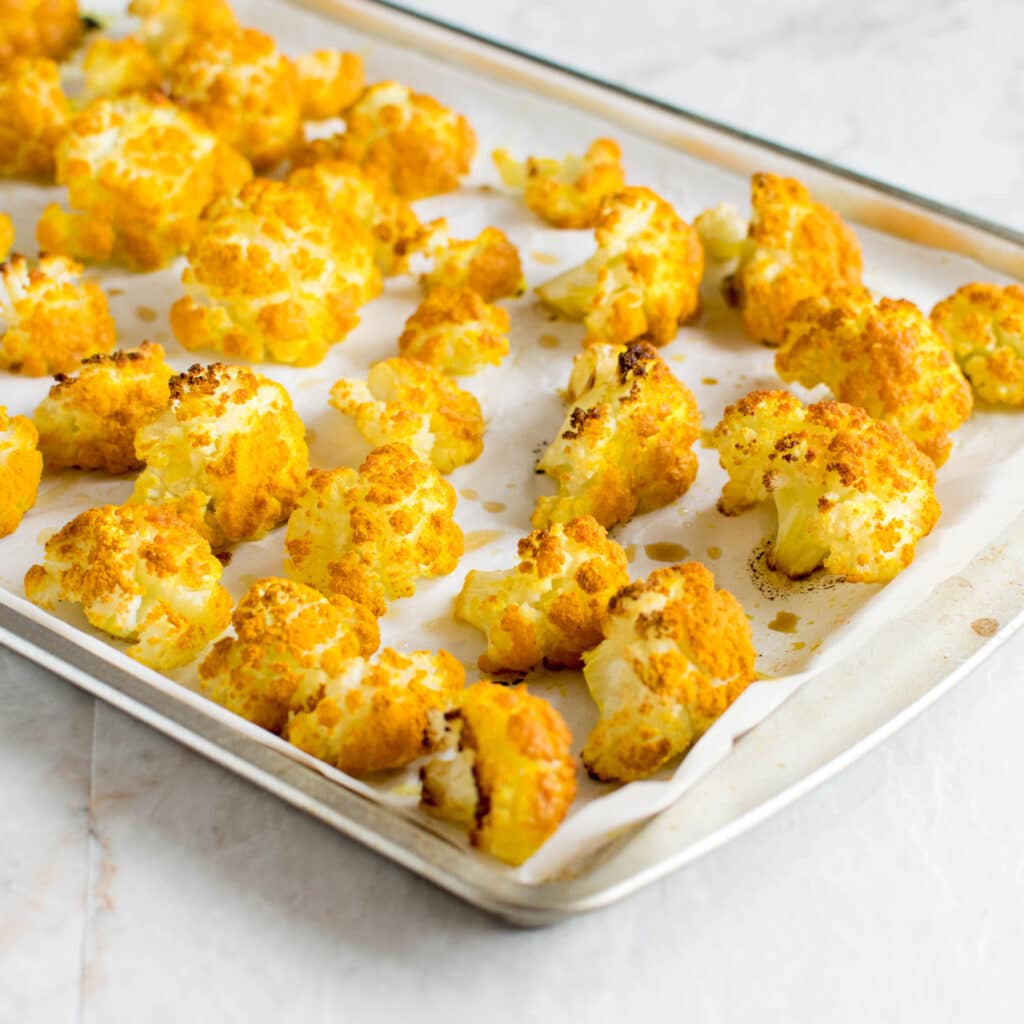 Next, I ground the all the masala ingredients in a powdered form and kept it aside.
Thereafter, i heated oil in a kadhai or a nonstick pan and added bay lead to it along with asafetida.
Afterwads, I added garlic, ginger followed by onions.
Then, sauteed onions unitl they were transluscent and sautted tomatoes in it.
Lastly, I added rest of the ingredients to it and let it cook for a while.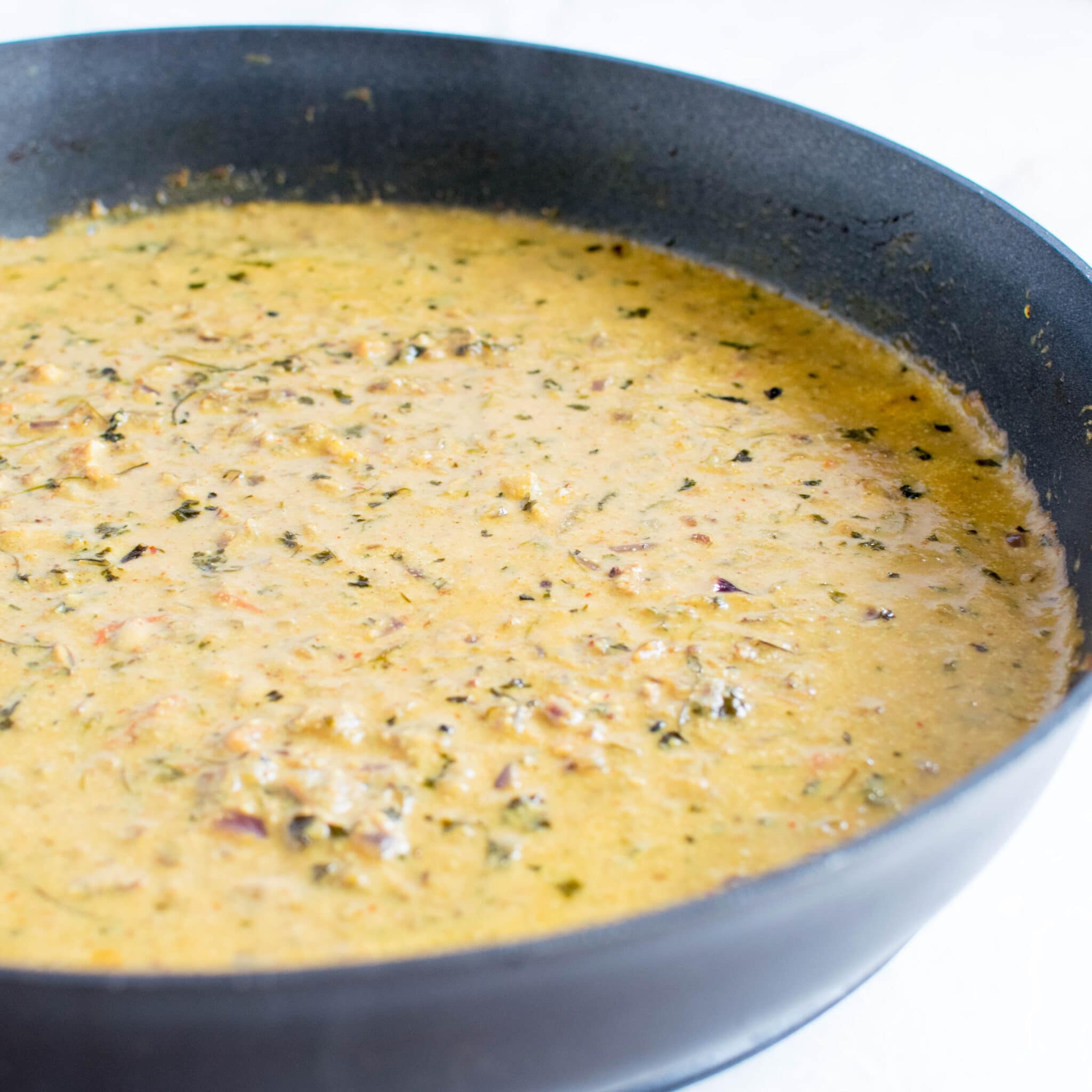 Later, I tossed in roasted cauliflower to it and garnished with cilantro.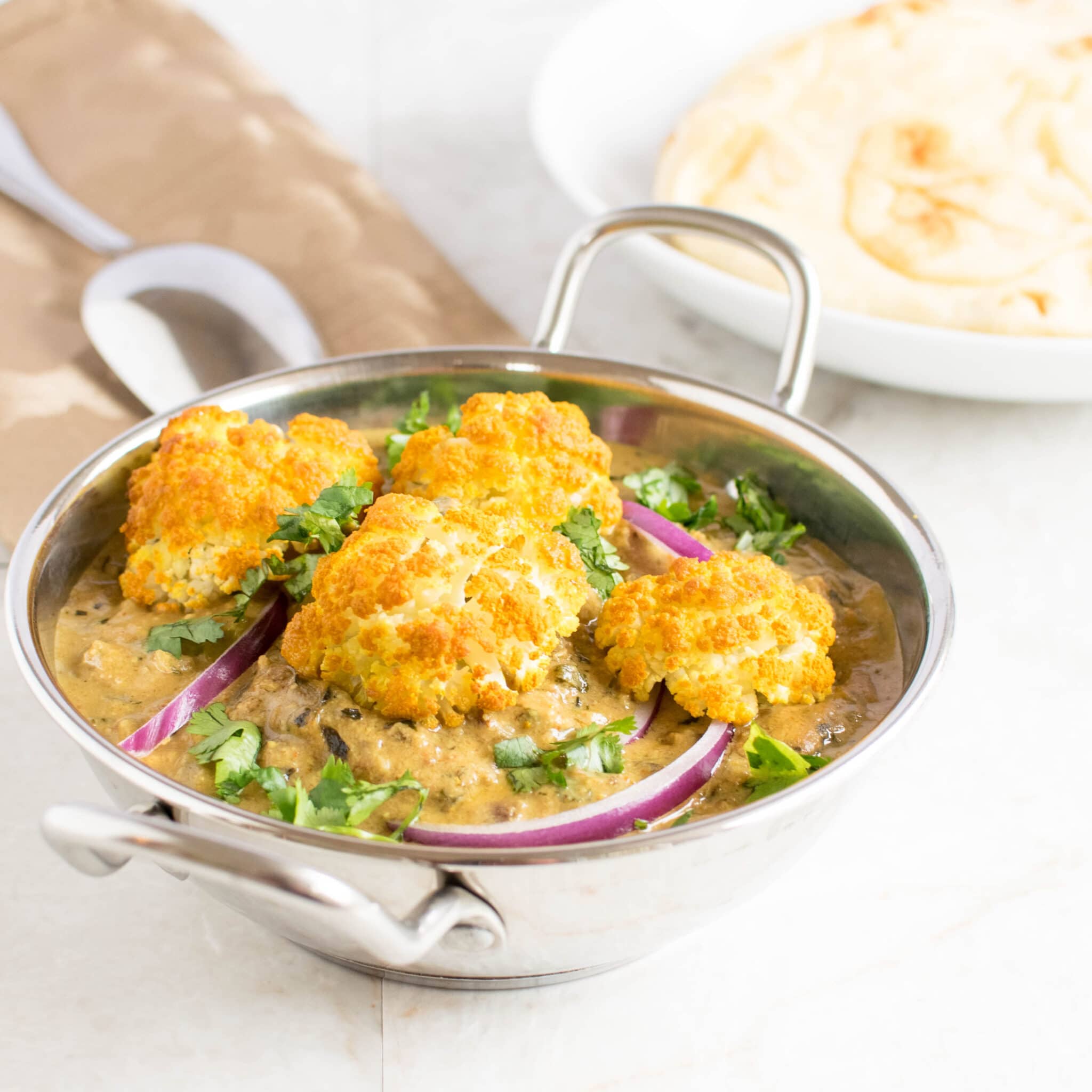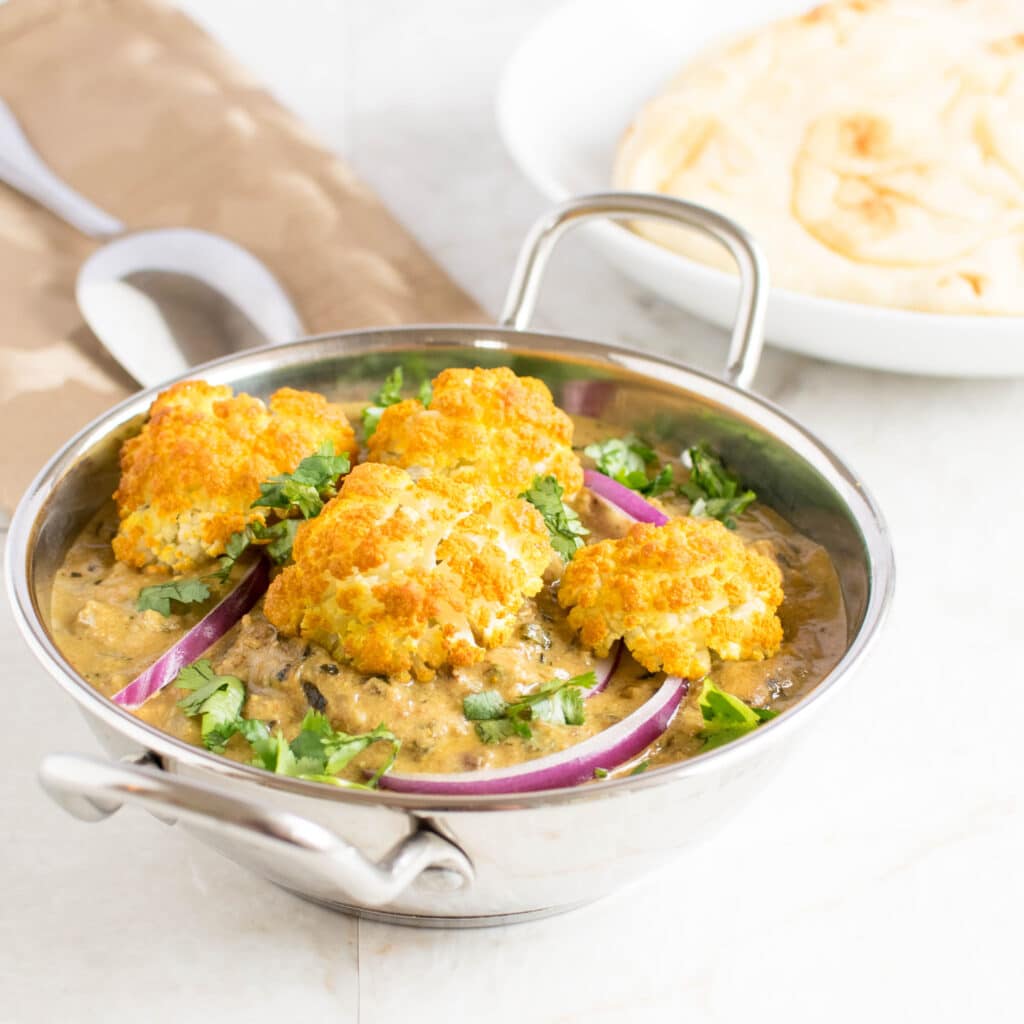 I served it immediately and my family instantly liked it.
This dish was gone within minutes and I had no leftovers.
I love cooking for my family and friends and this dish is very simple to cook even though there are quite a bit of ingredients used.
Expert tips:
It is important to note that when you grind the masala it should be in a powder form and should not become a paste.
Cauliflower should be roasted properly and cooked well from inside.
Roasted Cauliflower Curry
How long does it last?
This entrée taste best when served immediately. However, refrigerate the leftovers in an air tight container for about 3-4 days.
How can I prep for this ahead of time?
You may bake the cauliflower and keep it room temperature for the day. Do not cover it. Let it sit on the Baking sheet. Grind the masala a day ahead and refrigerate. Simply make the curry and assemble and serve immediately.
How does it taste like?
It has nice thick, rich and nutty and creamy base with a variety of spices. Therefore, it is a combination of creamy gravy with crispy cauliflower.
Did you make it?
If you get a chance to make this recipe then please leave your feedback in the comments below with a 5-star rating. You may also tag @kiipfit on Instagram along with your recipe remake images because we would love to see what you cooked.
In addition, you may also checkout my cookbooks for everyday comfort vegan recipes.
Print Recipe
Roasted Cauliflower Curry
This easy vegan Roasted Cauliflower Curry is deliciously flavored with Indian spices. Its baked crispy and folded in a flavorful gravy which makes it a delightful family meal.
Instructions
Preheat oven at 400 degree Fahrenheit and prepare a cookie sheet with a greased liner.

In a small bowl mix the turmeric and salt to rub the cauliflower florets. Make sure to rub each floret. Place the cauliflower florets on the cookie sheet and grease each floret with cooking spray. Place the sheet into the middle rack of the oven and bake for 35-40 minutes or until mild golden in color. Once done, turn off the oven and take it out and keep it aside on a flat surface.

In the meanwhile, combine all the masala ingredients in the food processor and grind very smooth. (Powdery form, do not let the lumps to form). Keep it aside.

Heat oil in a wok/pan and add bay leaf and asafetida. Immediately add garlic and ginger.

Sauté the onions in it till translucent and add the tomatoes. Sauté them until tomatoes soften and loosens its texture.

Now add the ground masala and sauté until well cooked and you start getting the aroma. (Do not let the masala burn and neither should it stick to the pan). This may take about 5 minutes.

Now add fenugreek leaves and mix very well. Add turmeric powder, chili powder and coconut milk. Mix very well and let it cook open in a low flame for 2-3 minutes or until he milk get almost absorbed. Now add salt, sugar, garam masala and water and mix. Let it cook for couple of minutes.

Lastly toss in the roasted cauliflower gently. Garnish with chopped cilantro and serve warm with naan.
Notes
If cooking this entrée ahead of time and the gravy thickens add some water to your desired consistency and adjust the salt and sugar according to taste.
For this recipe I used the low fat unsweetened coconut milk in the tetra pack to lighten up this recipe. Feel free to use the full fat canned coconut milk if desired but add 1 cup of it at the beginning. After adding water if you feel you would like to have more coconut milk in your dish then add another ½ cup of this milk.
This tastes best when served immediately. however, the leftovers can be refrigerated for 3-4 days in an air tight container. 
Nutrition
Calories:
336
kcal
|
Carbohydrates:
26
g
|
Protein:
8
g
|
Fat:
24
g
|
Saturated Fat:
27
g
|
Sodium:
379
mg
|
Potassium:
628
mg
|
Fiber:
7
g
|
Sugar:
6
g
|
Vitamin A:
117
IU
|
Vitamin C:
32
mg
|
Calcium:
92
mg
|
Iron:
4
mg