I like cauliflower when it's cooked nicely in thick creamy gravy with some aromatic herbs and spices, especially with some Indian flavors that go well with naan or simple peas pulao or just steamed rice. With this taste in mind I decided to go for Roasted Cauliflower Curry.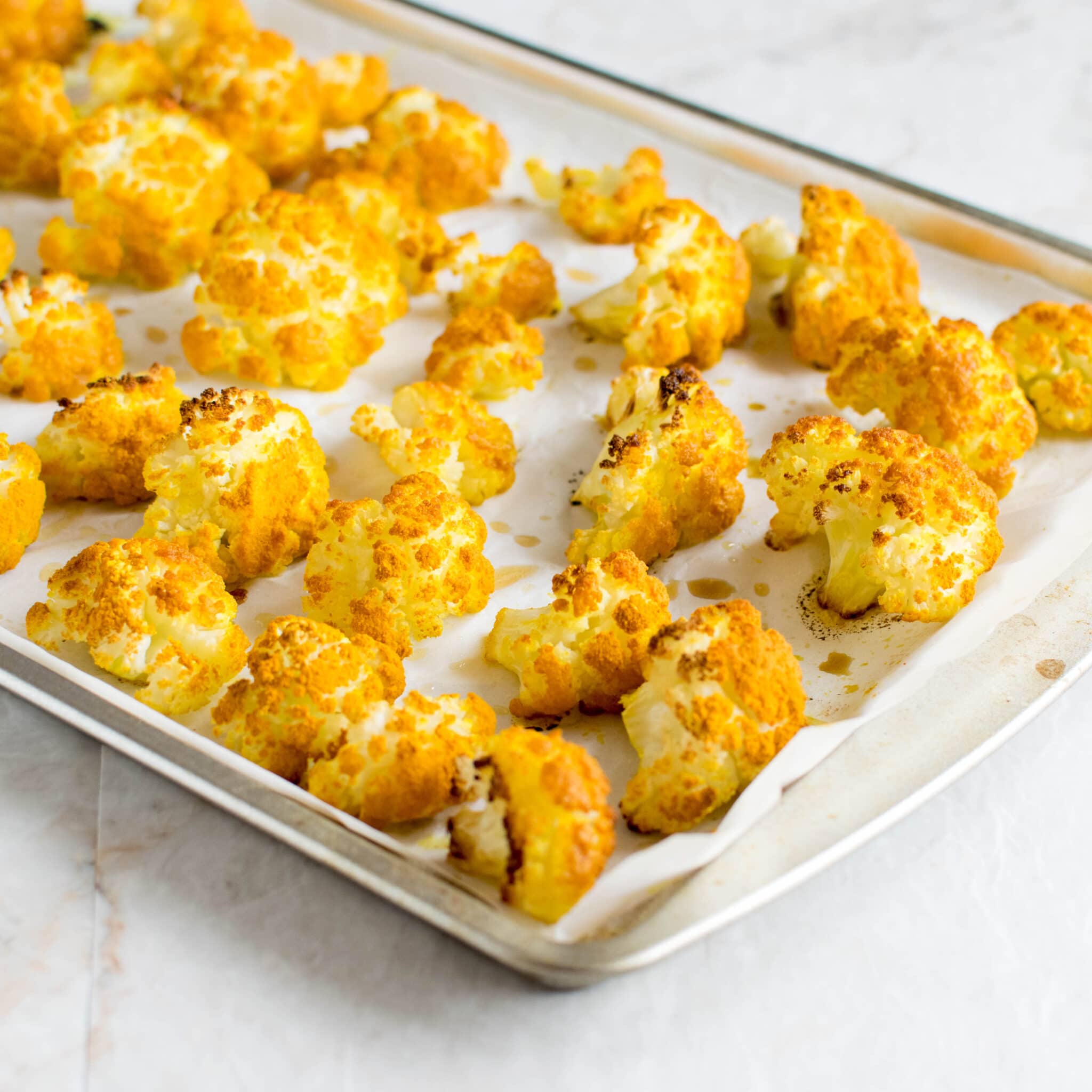 My first step towards this entrée was to season the raw cauliflower florets to infuse extra flavors into my dish. For this, I seasoned raw cauliflower florets with turmeric and salt. Turmeric is widely known for its therapeutic value, as a natural antiseptic as well and these days it's easily available in most households.  After the marination I roasted the cauliflowers in a preheated oven.
In the meanwhile, I prepared a combination of aromatic and delicious  dry masala with lots of flavors. I simply processed all the ingredients mentioned in the masala section as smooth as my food processor would let me. I must say my food processor did a fantastic job which led to fall in love with the appearance of this dry masala.
Lastly, comes the curry part, for which I added some bay leaf, asafetida powder, garlic, ginger and rest of the ingredients and cooked very well. Just before serving I added the cauliflower florets and garnished with cilantro. The appearance, aroma, and flavor all were in coordination and made be quite happy with the outcome.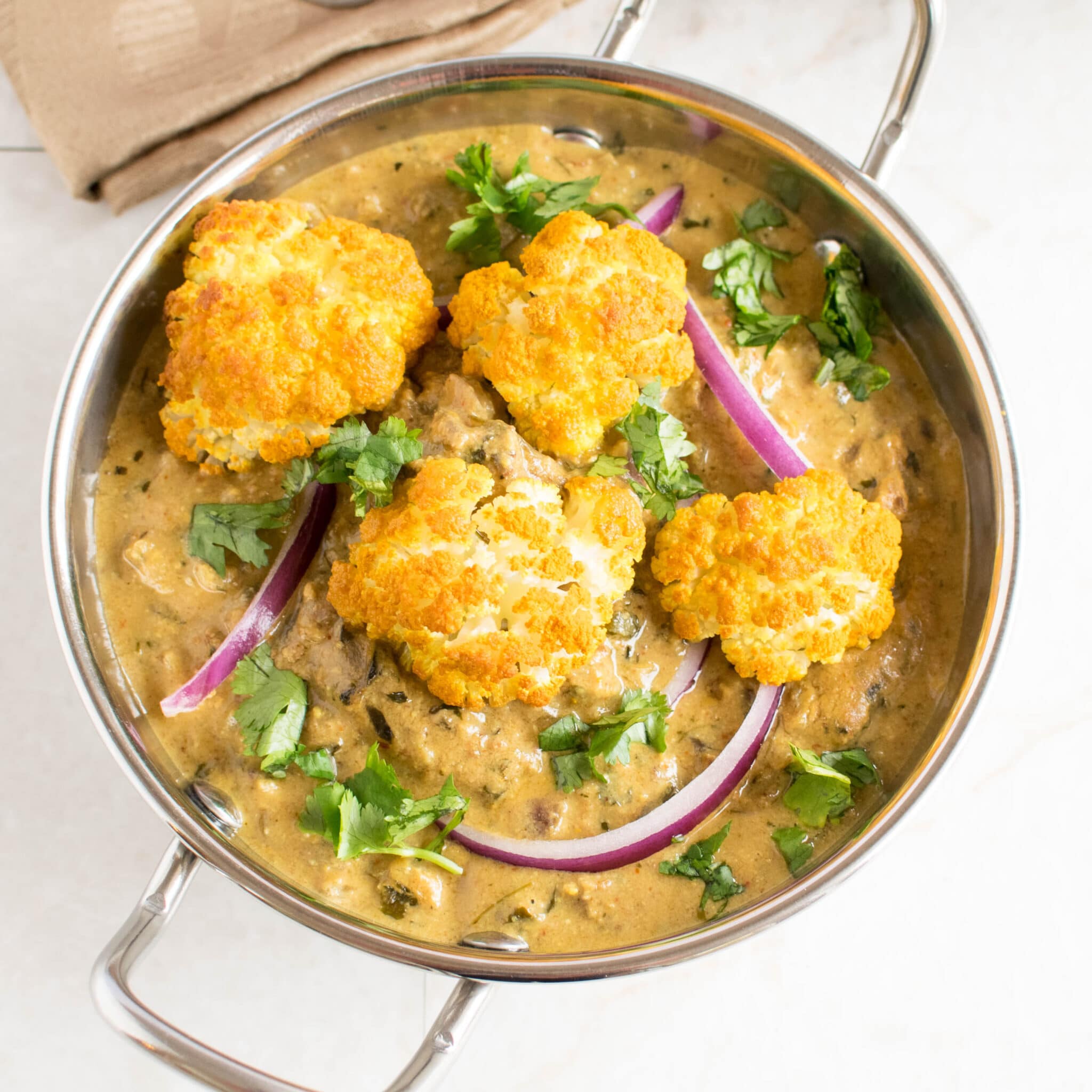 Then came the real testing past where this entrée had to be accepted by my family and I must say I passed with flying colors. Roasted Cauliflower Curry was all gone in just one meal and I was asked to make it again. Yipppeeee!!!!!!
I love cooking for my family and friends and this dish is very simple to cook even though there are quite a bit of ingredients used.
Trust me and try it! Don't get scared with so many listed ingredients. I guarantee you will love this entrée and make this regularly in your kitchen. Happy Cooking!!!!!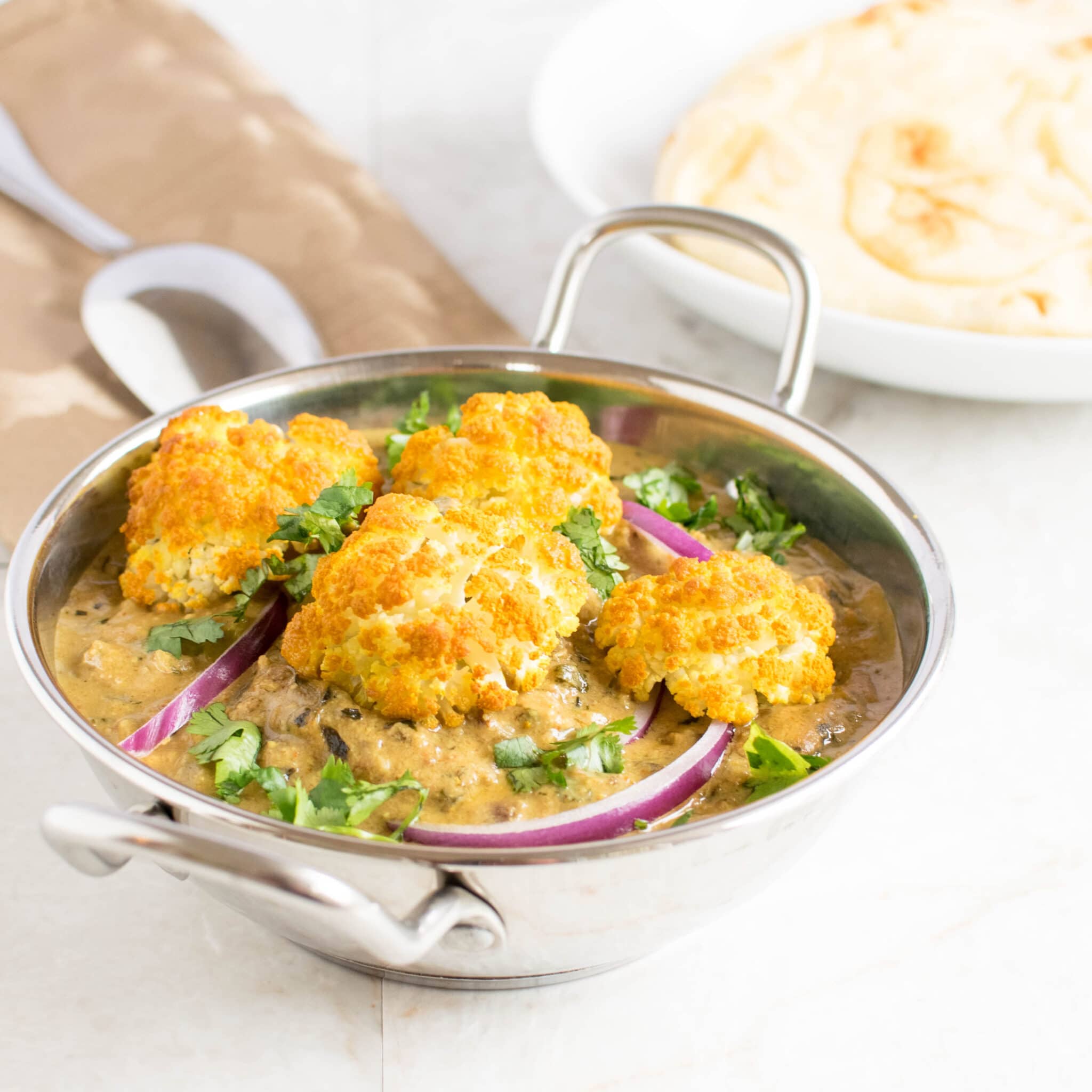 Roasted Cauliflower Curry
Prep Time: 10 minutes
Cook Time: 40 minutes
Total Time: 50 minutes
Per Serving 336 calories
Fat 24 g
Carbs 26 g
Protein 8 g
Ingredients
For the cauliflower

1 tsp turmeric powder
½ tsp salt
2 cups cauliflower florets

For the masala

1 ½ tbsp. coriander seeds
1 tsp cumin seeds
Pinch of cardamom powder
¼ inch cinnamon stick
6 cloves
½ cup raw cashew nuts

For the curry

2 tbsp. olive oil
1 bay leaf
Pinch of asafetida
1 tsp dried garlic
1 tsp ginger powder
2 cups red onions (finely chopped)
½ cup Roma tomatoes (finely chopped)
¼ cup dried fenugreek leaves
¼ tsp turmeric powder
½ tsp chili powder
2 cups unsweetened coconut milk
¾ tsp salt
½ tsp sugar
½ tsp garam masala
1 ½ cups water
1 tbsp. chopped cilantro (for garnishing)
Instructions
Preheat oven at 400 degree Fahrenheit and prepare a cookie sheet with a greased liner.
In a small bowl mix the turmeric and salt to rub the cauliflower florets. Make sure to rub each floret.
Place the cauliflower florets on the cookie sheet and grease each floret with cooking spray.
Place the sheet into the middle rack of the oven and bake for 35-40 minutes or until mild golden in color.
In the meanwhile, combine all the masala ingredients in the food processor and grind very smooth. (Powdery form, do not let the lumps to form). Keep it aside.
Heat oil in a wok/pan and add bay leaf and asafetida.
Immediately add garlic and ginger powder followed by chopped onions.
Saute the onions till translucent and add the tomatoes.
Saute them until tomatoes soften and loosens its texture.
Now add the masala powder and sauté until well cooked and you start getting the aroma. (Do not let the masala burn and neither should it stick to the pan). This may take about 5 minutes.
Now add fenugreek leaves and mix very well. Add turmeric powder, chili powder and coconut milk. Mix very well and let it cook open in a low flame for 2-3 minutes or until he milk get almost absorbed.
Now add salt, sugar, garam masala and water and mix. Let it cook for couple of minutes.
Lastly toss in the roasted cauliflower gently. Garnish with chopped cilantro and serve warm with naan.
Notes
If cooking this entrée ahead of time and the gravy thickens add some water to your desired consistency and adjust the salt and sugar according to taste.

You may add ground masala at step 11 after coconut milk as well instead of at step 10. The taste will be the same and the masala wont stick to the pan as well.

Cauliflower florets can be roasted ahead of time and kept at room temperature for approx. 9-10 hours.

Asafetida commonly known as hing in India is easily available in any Indian store.

Fresh garlic can also be used instead of dries garlic if desired.

For this recipe I used the low fat unsweetened coconut milk in the tetra pack to lighten up this recipe. Feel free to use the full fat canned coconut milk if desired but add 1 cup of it at the beginning. After adding water if you feel you would like to have more coconut milk in your dish then add another ½ cup of this milk.

If using full fat coconut milk the calories of this entrée will differ.