This vegan Butternut Squash Curry is a comforting winter meal packed with flavors and is very satisfying. It comes together in 35 minutes. It has a Thai flavor and is loaded with healthy veggies and beans.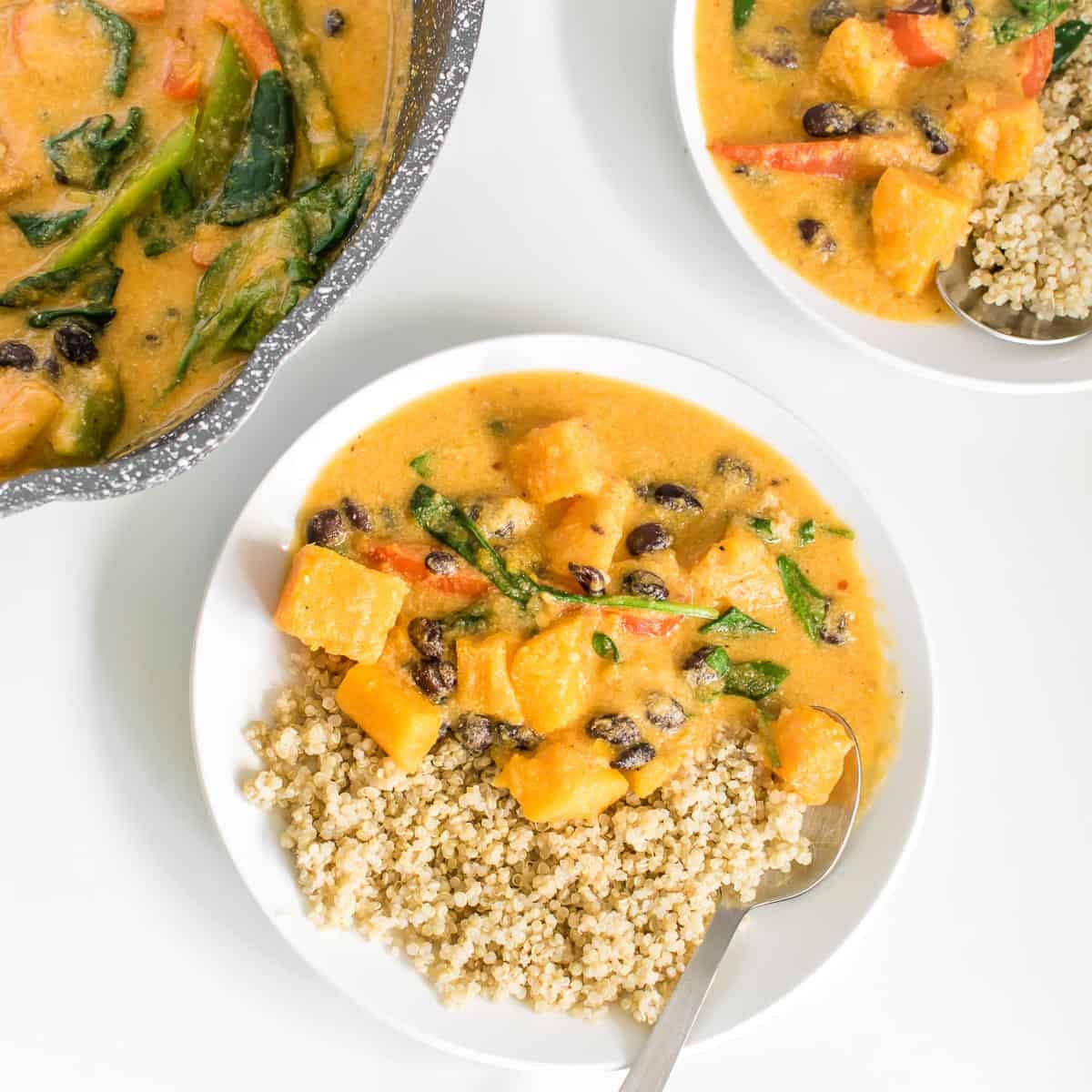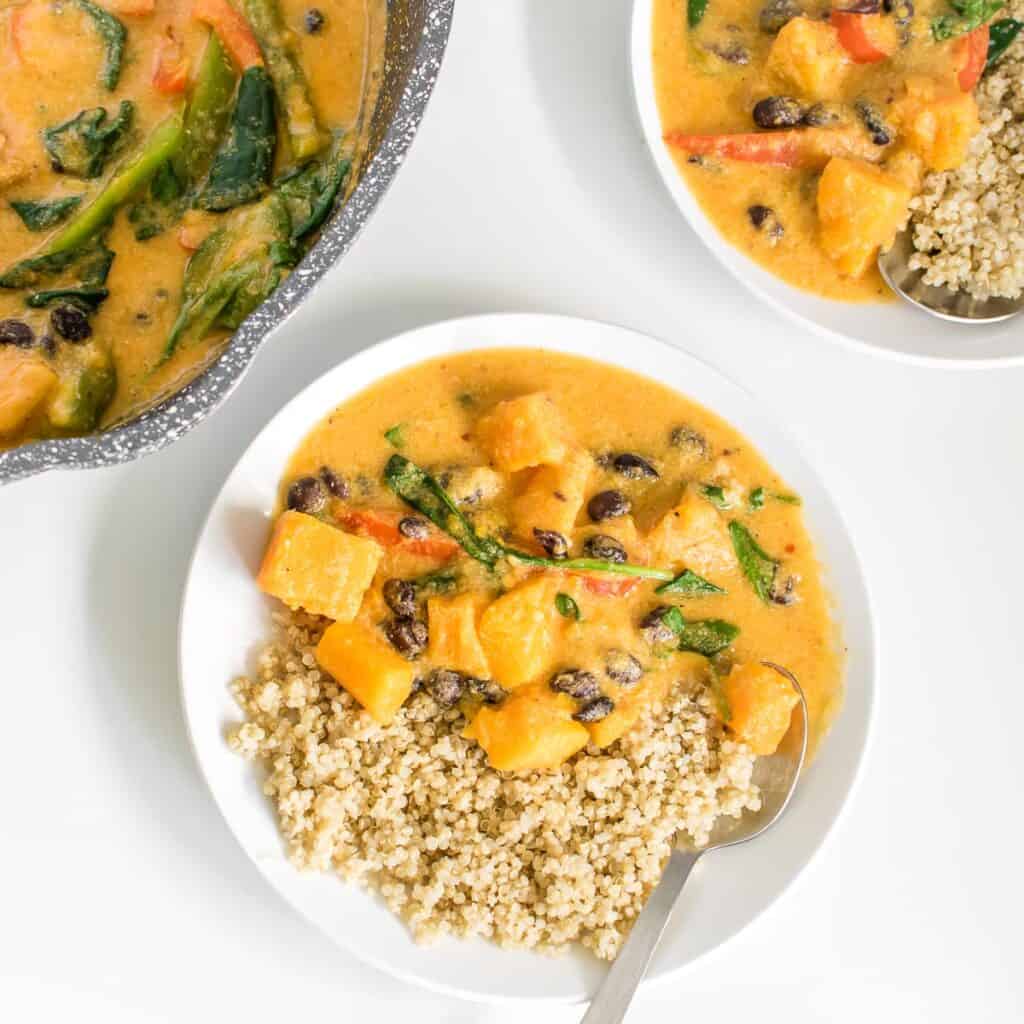 Curry is quite frequent in my home. I think it is the easiest weeknight dinner and absolutely filling. Also, its mostly a one pot entrée that makes the entire family very happy.
What is a curry?
Basically, curry is a gravy-based entrée that's flavored with spices and herbs. Then, your choice of vegetables and protein are simmered. It is usually a base of water and milk or can be onion cashew base. It's a versatile dish and can me made with many variations.
However, every year, I make sure to include butternut squash in our diet. It is always recommended to include seasonal produce in our menu and during winters this is a must.
I have been quite creative with this veggie and created cookies, soup and salad with it earlier. My family have always loved and appreciated them.
In my endeavor, I always try to find interesting ways to include healthy vegetables into my family's diet to keep it interesting every time.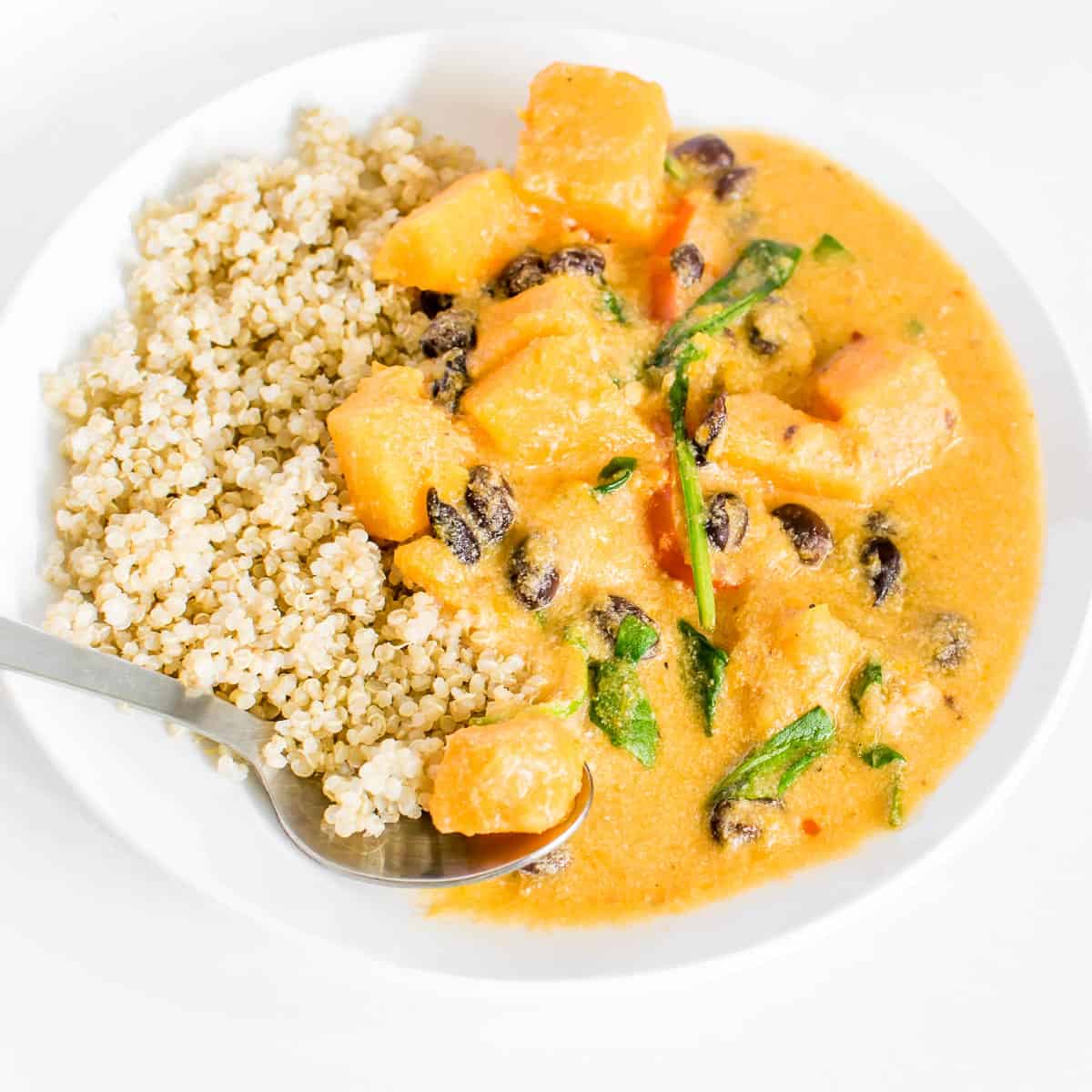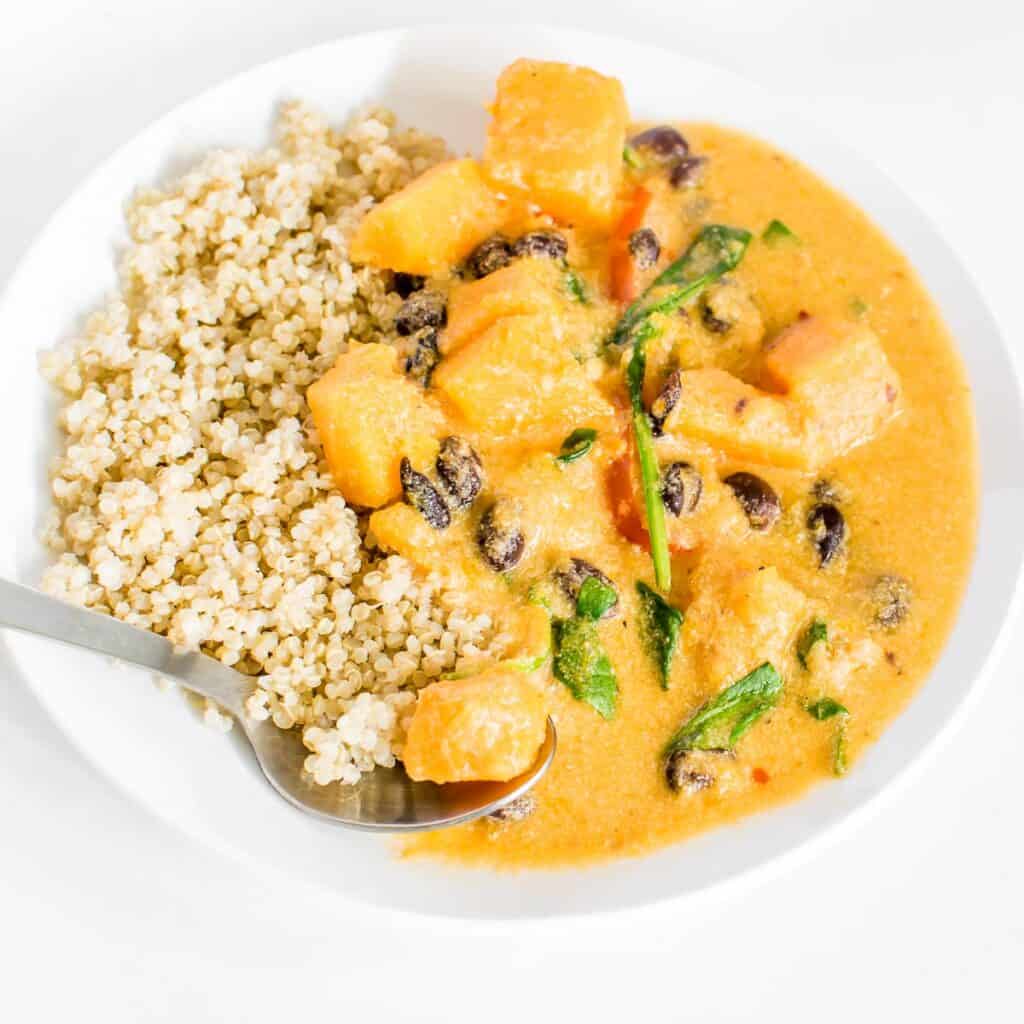 This time I decided to make Thai butternut squash curry. My family loved it and we have been eating this lunch for weeks now.
Its spicy, tangy and salty in tastes. Basically, it's an all-rounder dish with health, nutrition and taste.
About Butternut Squash
It's a winter squash that's high in potassium and is a great source for Vitamin A and C along with high iron content. It is packed with antioxidants like beta-carotene. Overall, it's a healthful veggie option that can adapt to any recipe style.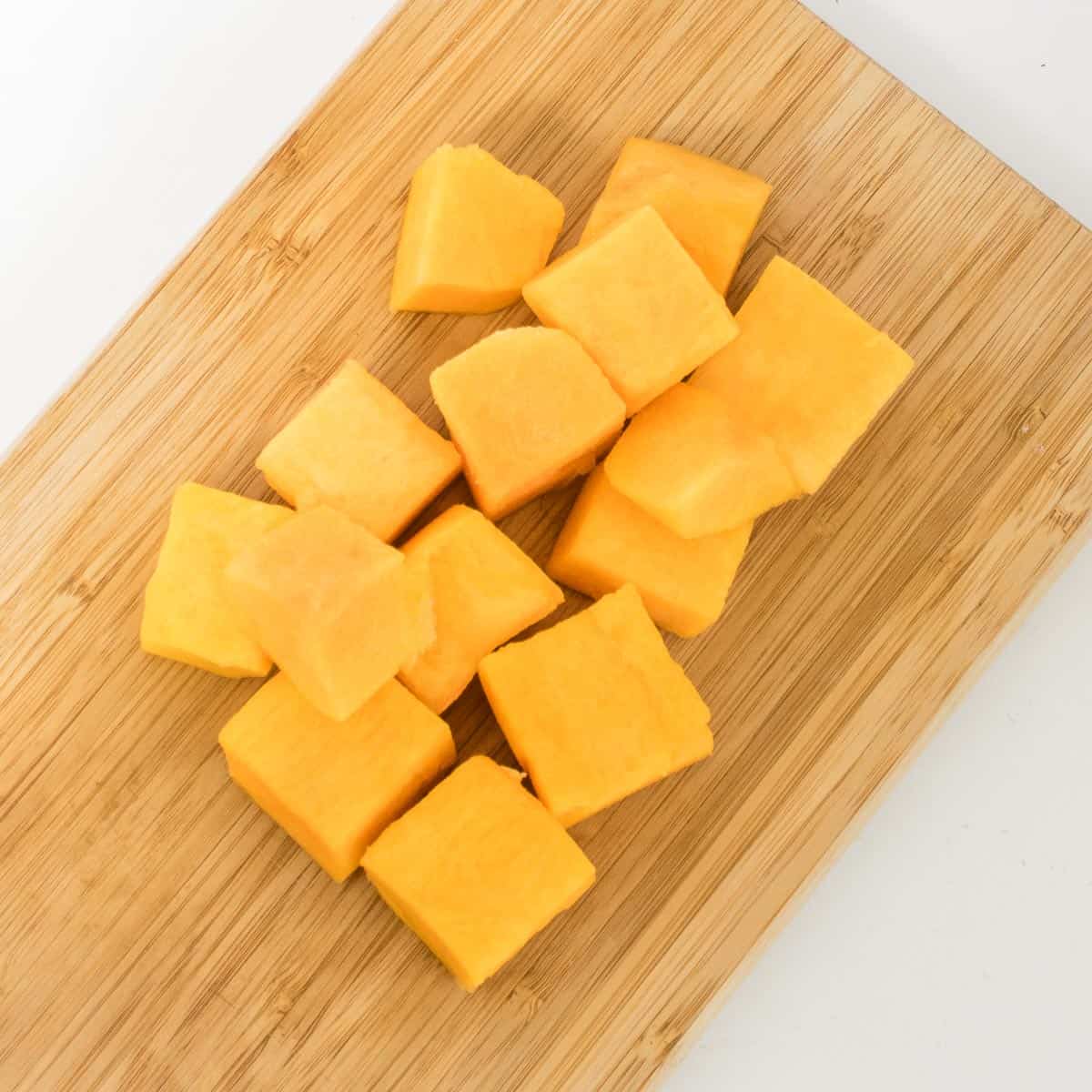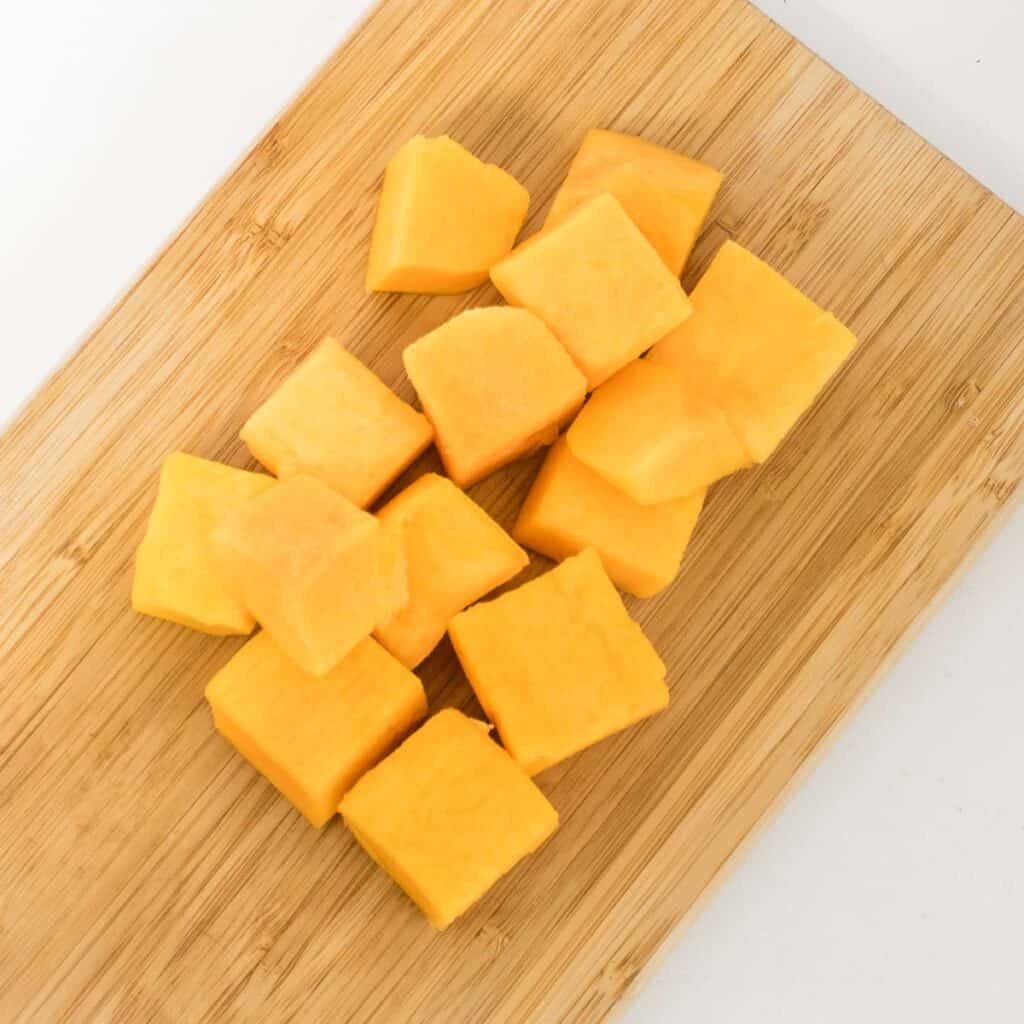 So, after many testing and final approval I am ready to share this butternut squash curry recipe with you.
Ingredients for oil free butternut squash curry
Onion
Ginger
Garlic
Cashew nuts
Coconut milk
Water
Red curry paste
Crushed chili flakes
Salt
Lemon juice
Butternut squash
Black beans
Colored bell peppers
Spinach
I have used these easily available ingredients in this recipe which you may buy from any local grocery store.
Now, lets get into the details of the ingredients.
Ingredients notes:
Cashew nuts – I used this to make the curry base creamy and thick.
Coconut milk – to make this curry lighter I used treat pack coconut milk that comes in a carton and not the canned one. However, if you want to go for canned coconut milk then chose unsweetened lighter coconut milk.
Red curry paste – I prefer using Thai kitchen red curry paste but you can use any paste of your choice and adjust the chili flakes as per taste.
Butternut squash – I used pre-packed fresh cut squash but you may cut your own as well. However, do not use frozen here since it might get too mushy.
Black beans – this is added for protein in this curry and it complimented well while keeping the carb content still low. You may go for red kidney beans as well if desired.
For detailed measurement of ingredients, please scroll down to the printable recipe card.
How to make Butternut Squash Curry
Firstly, in a blender, I combined onion, ginger, garlic, cashew nuts, coconut milk and water and blended it smooth and until it was creamy.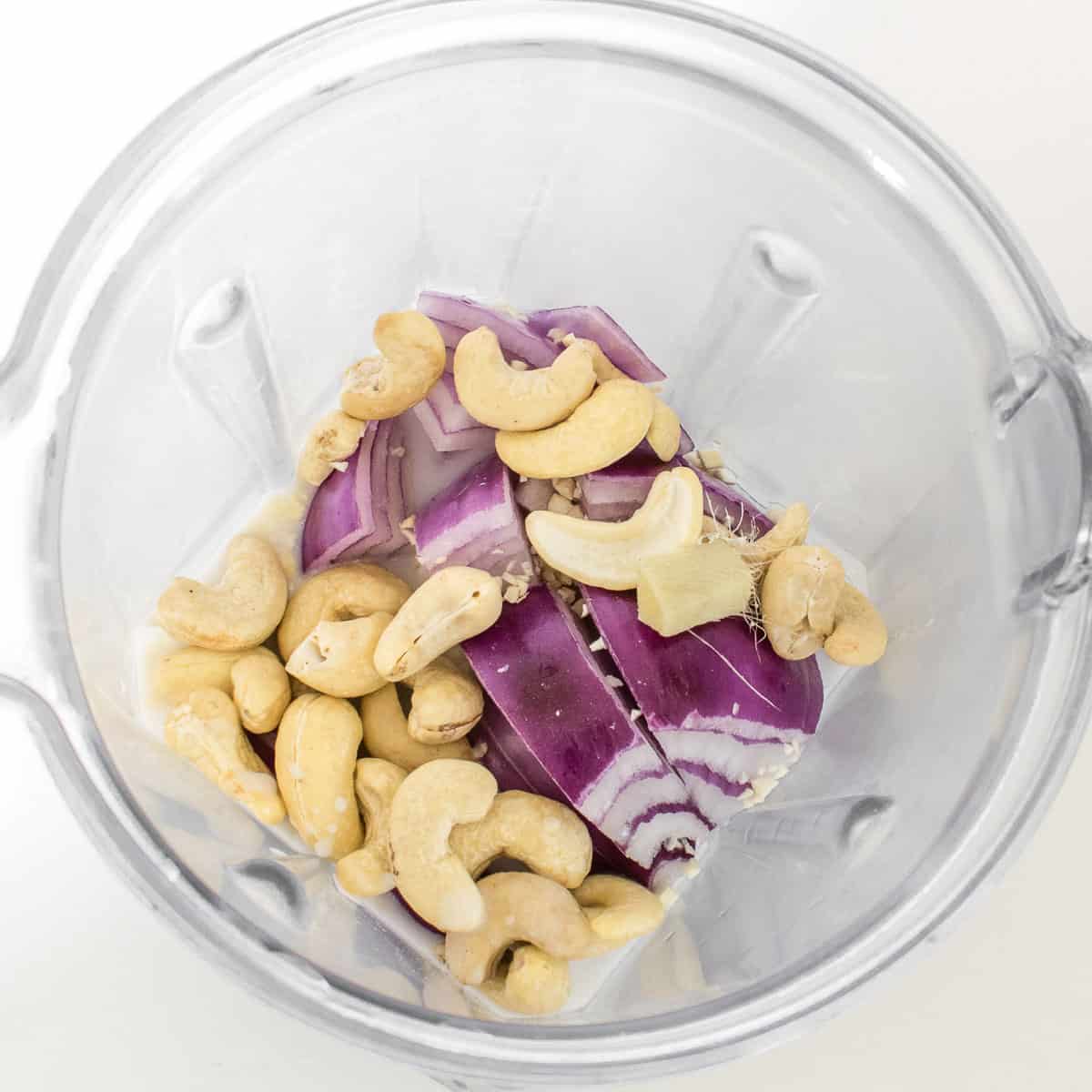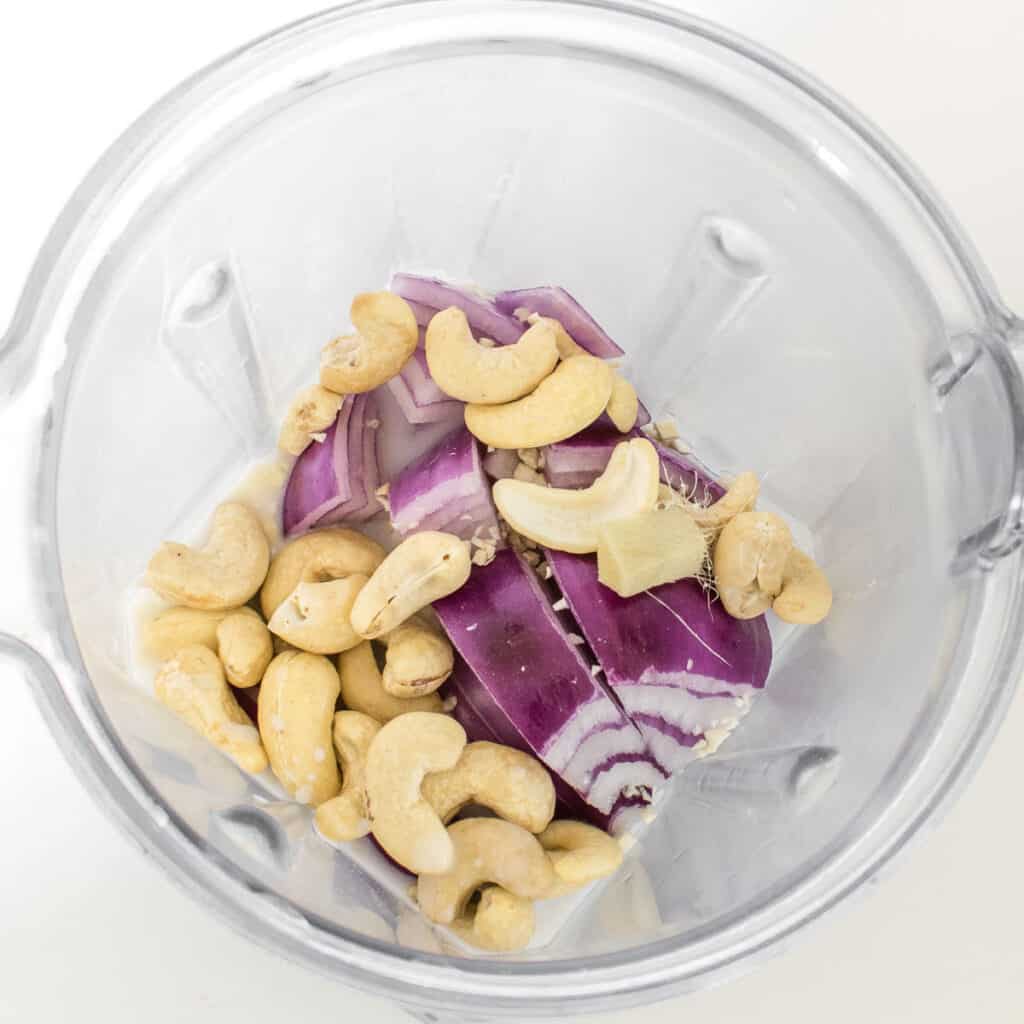 Secondly, I poured this blended mixture in a warm nonstick pan and cooked it covered for 10 minutes. I stirred it at intervals of 4 minutes to make sure the onion mixture does not stick to the bottom.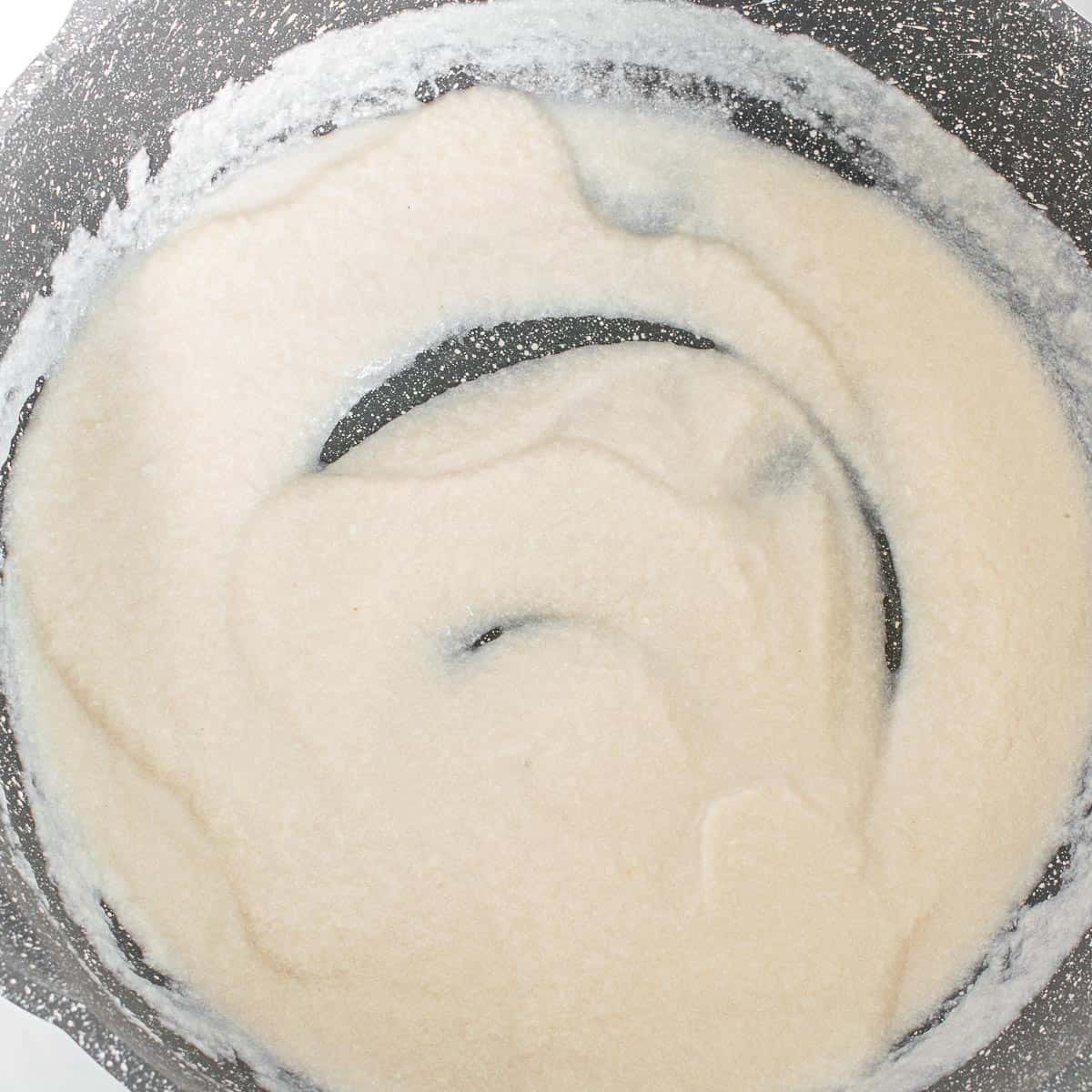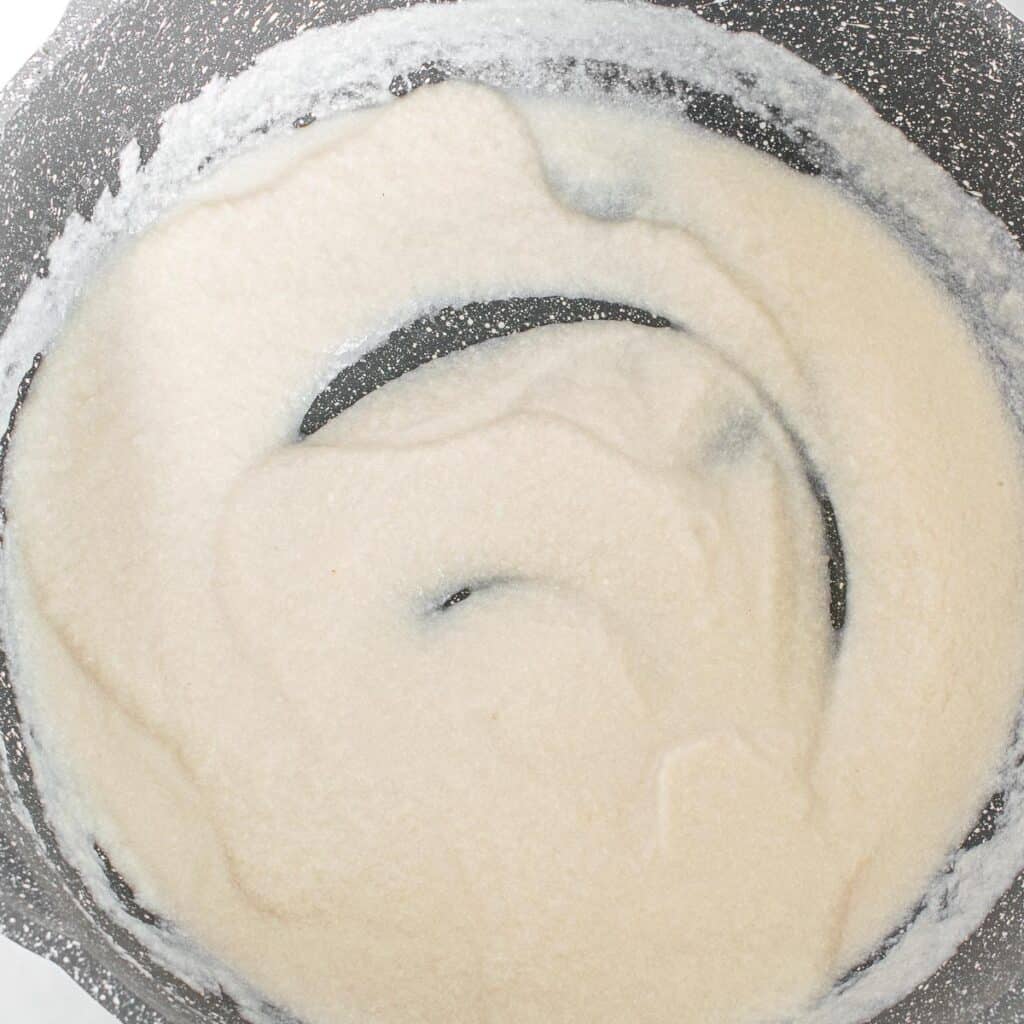 When the onion mixture reduced in quantity and thickened, I added the seasonings to it and mixed it well.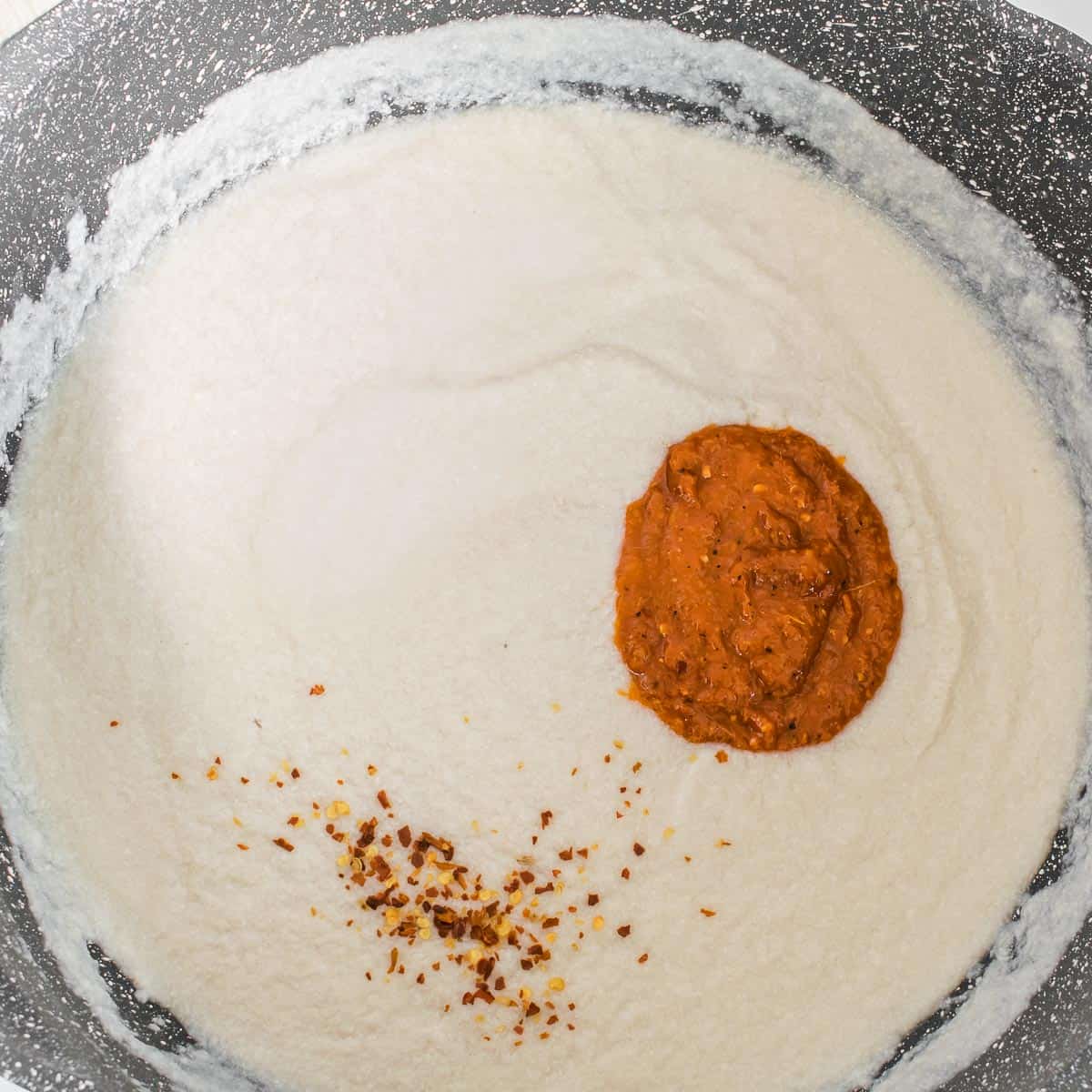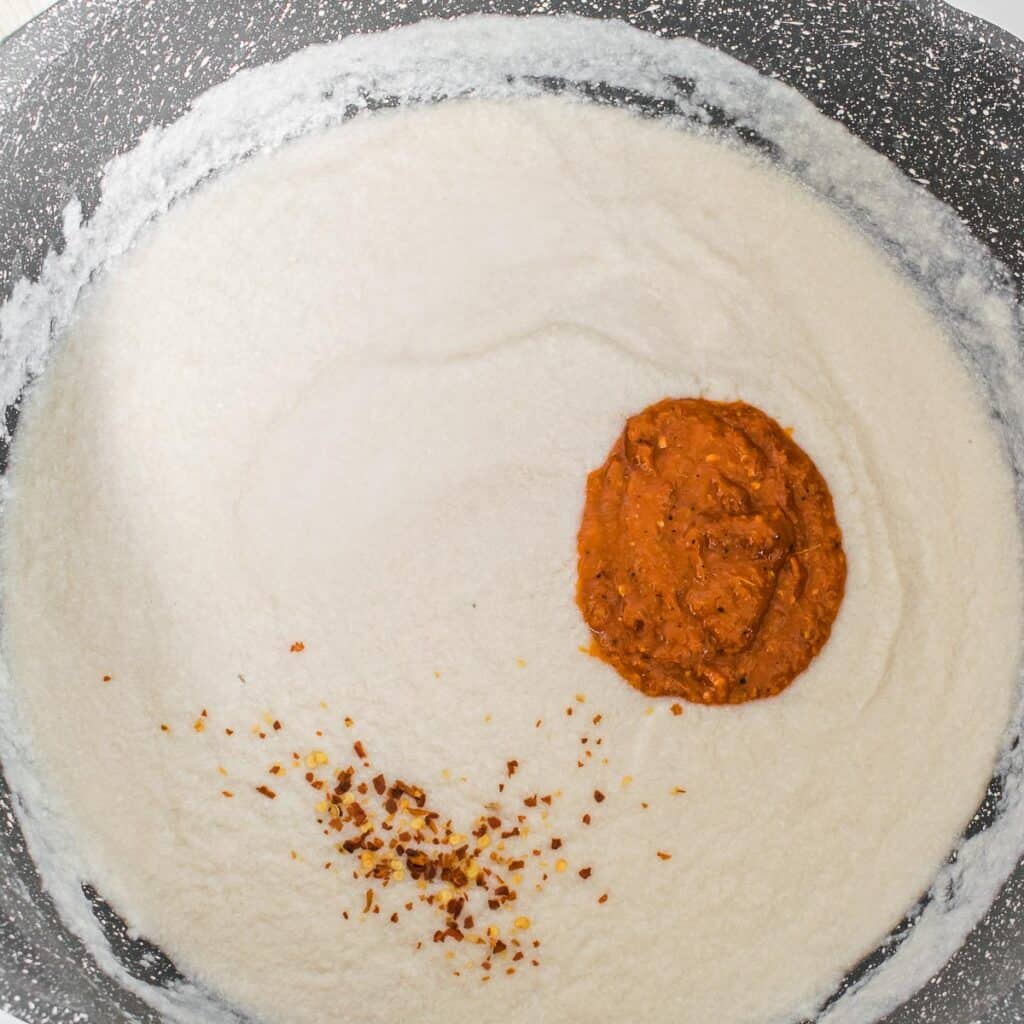 Next, I tossed in chopped butternut squash and let it cook covered for 5-7 minutes or until soft.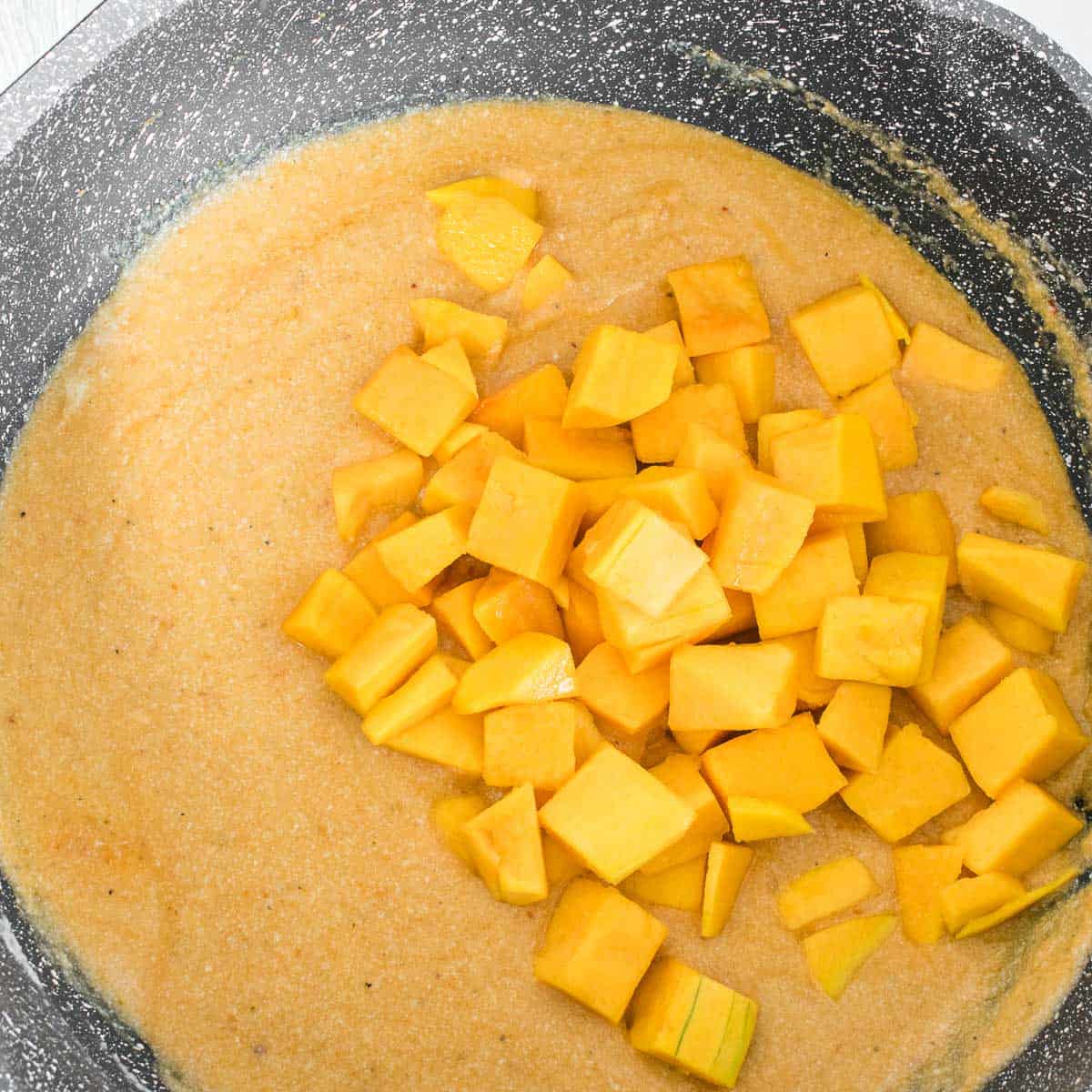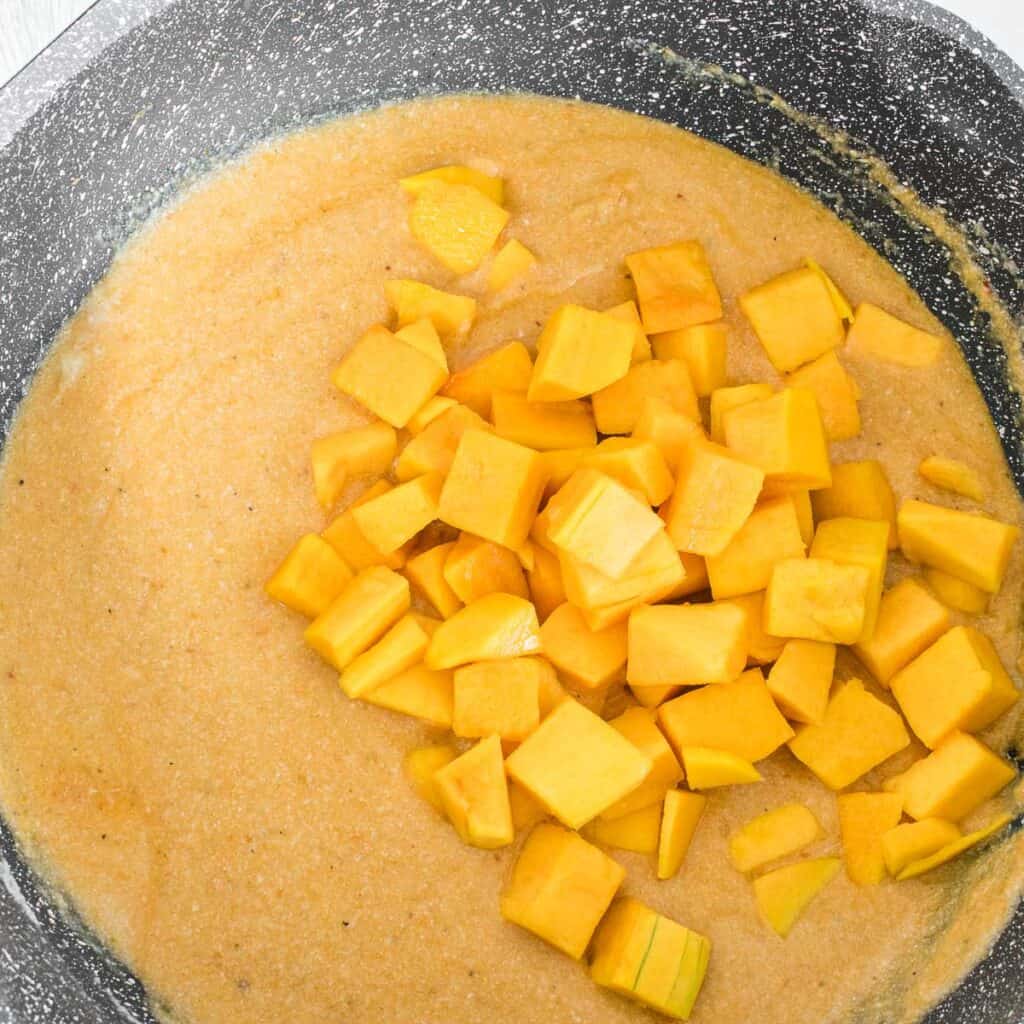 Thereafter, I added the veggies and the black beans to it and mixed it well.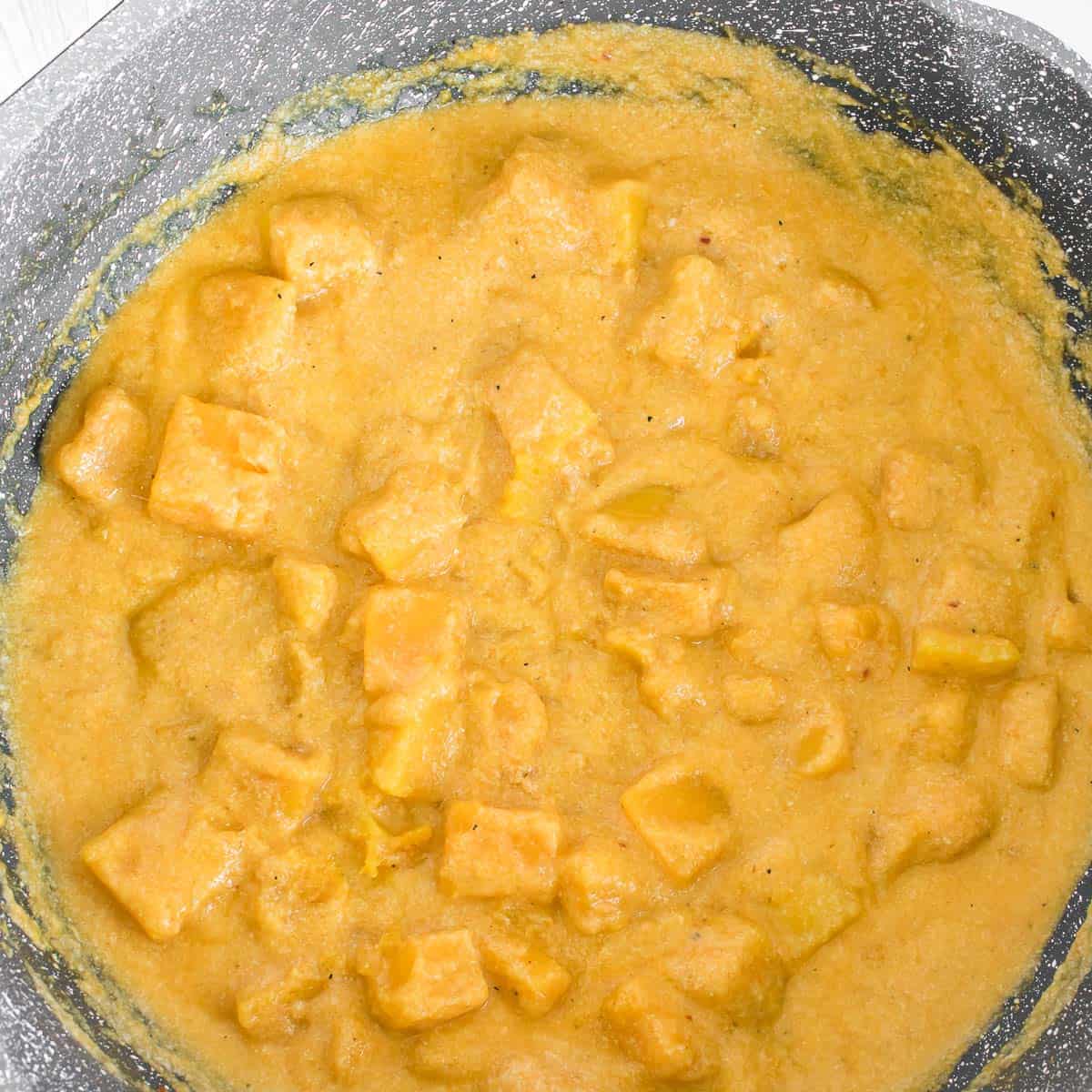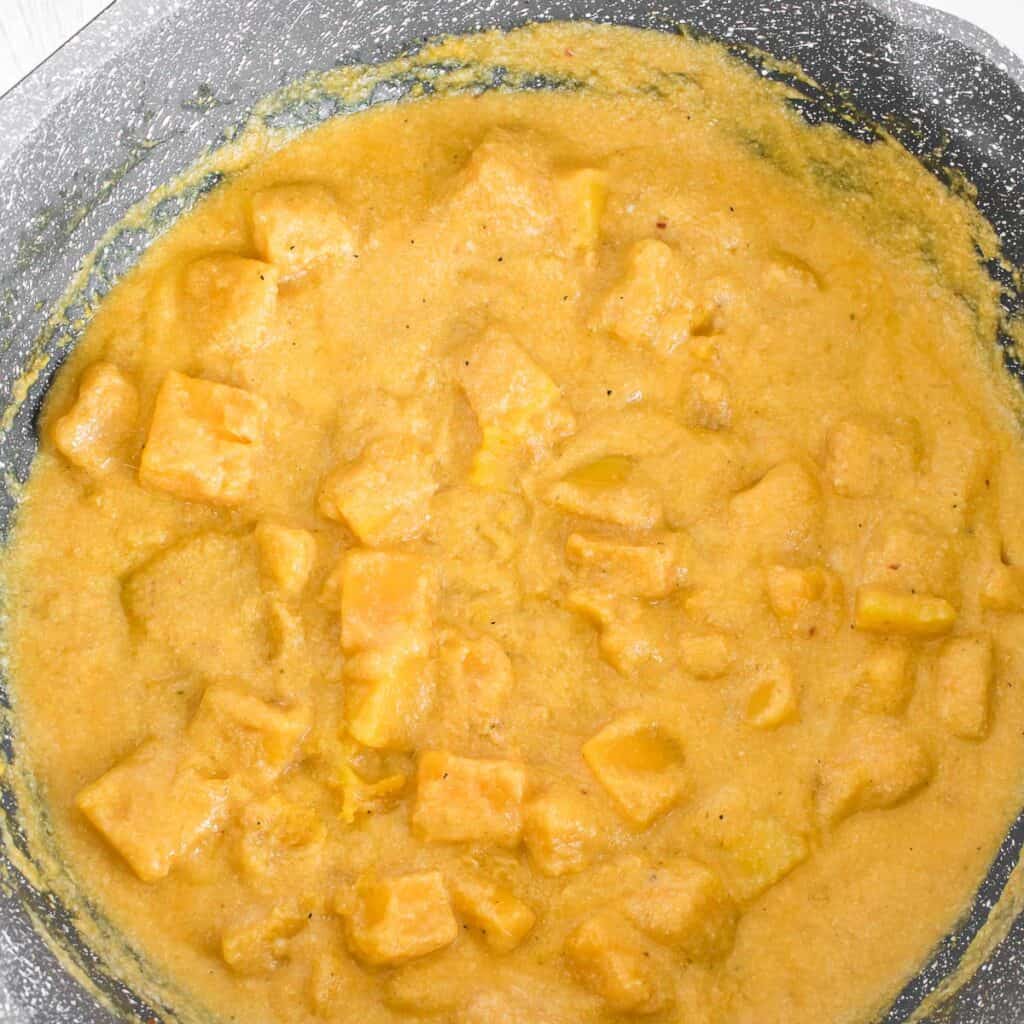 Afterwards, I added more coconut milk and water to it and stirred it nicely.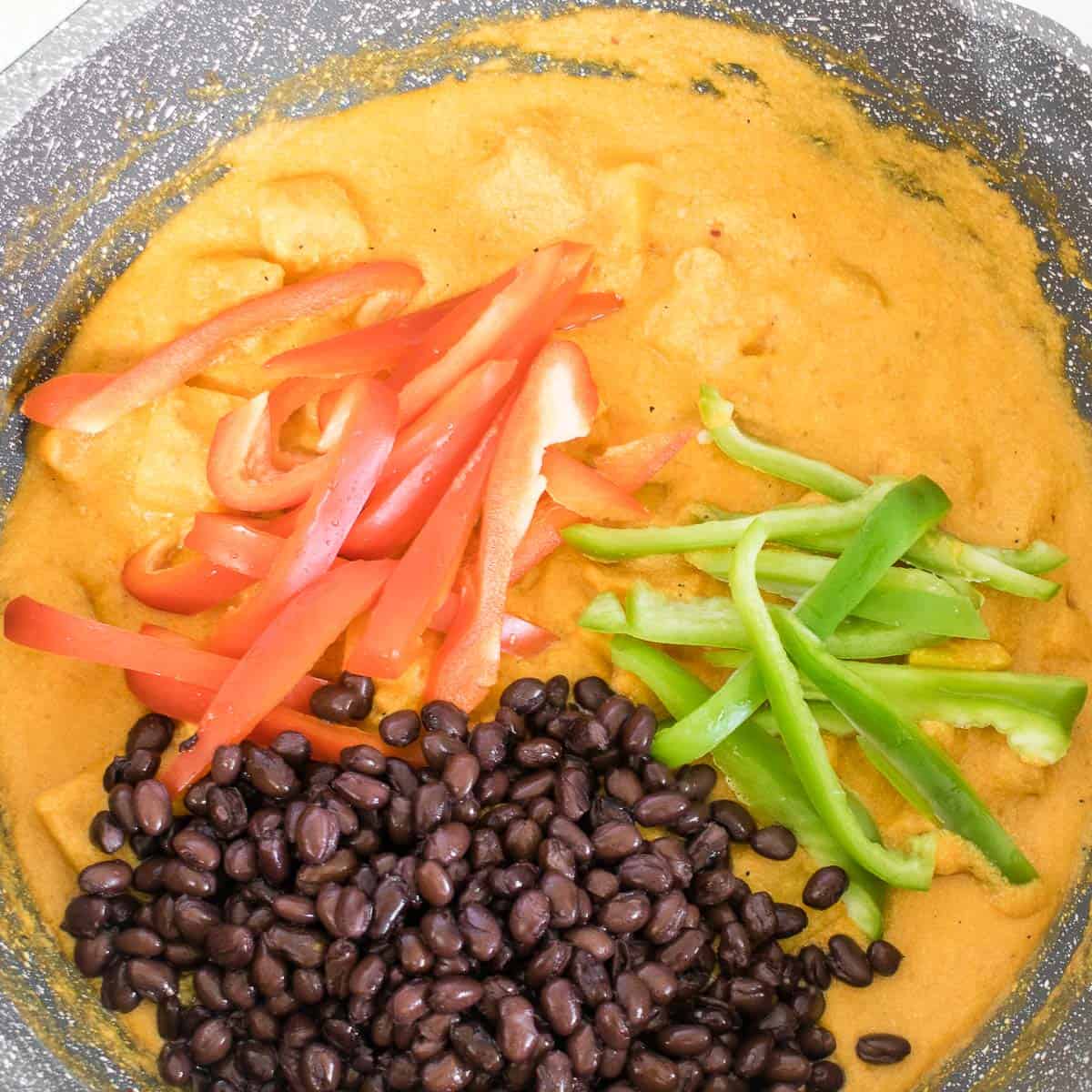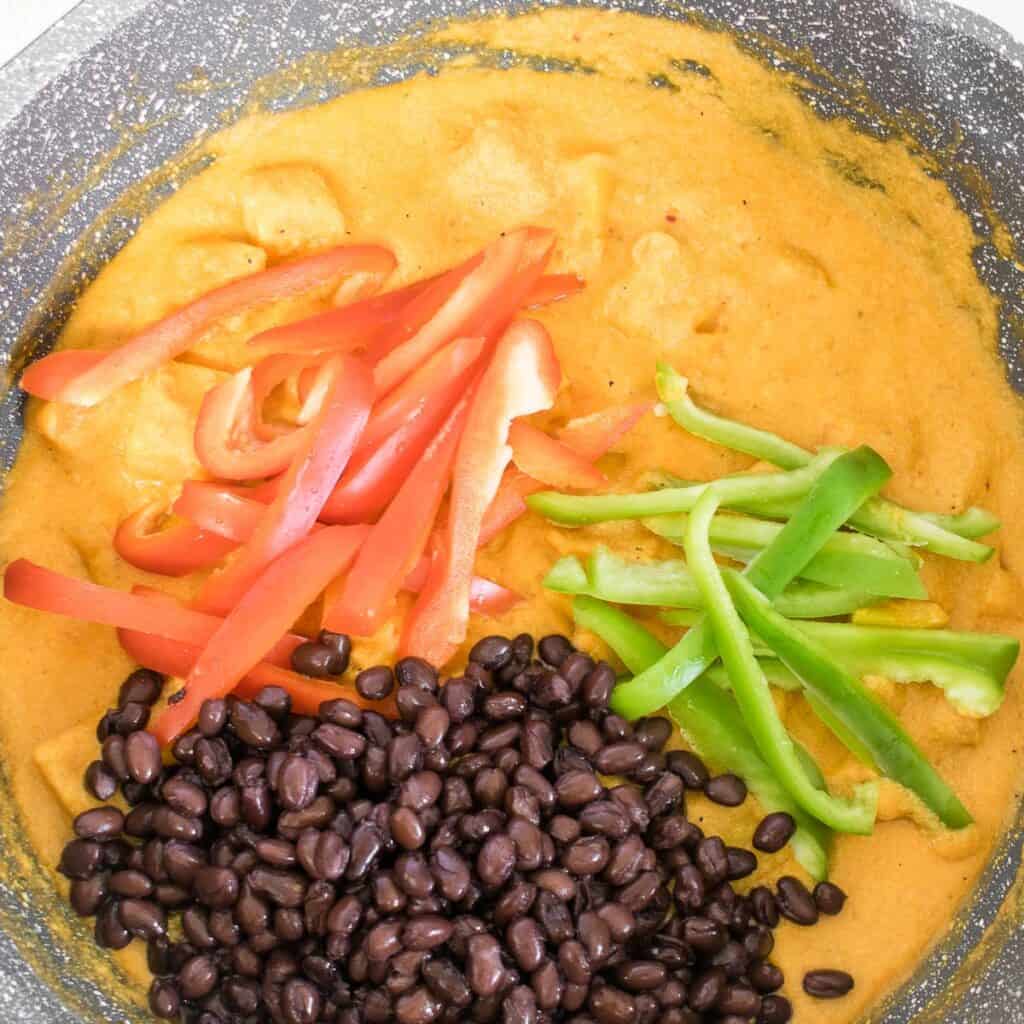 Lastly, I folded in spinach and cooked covered for 2 minutes.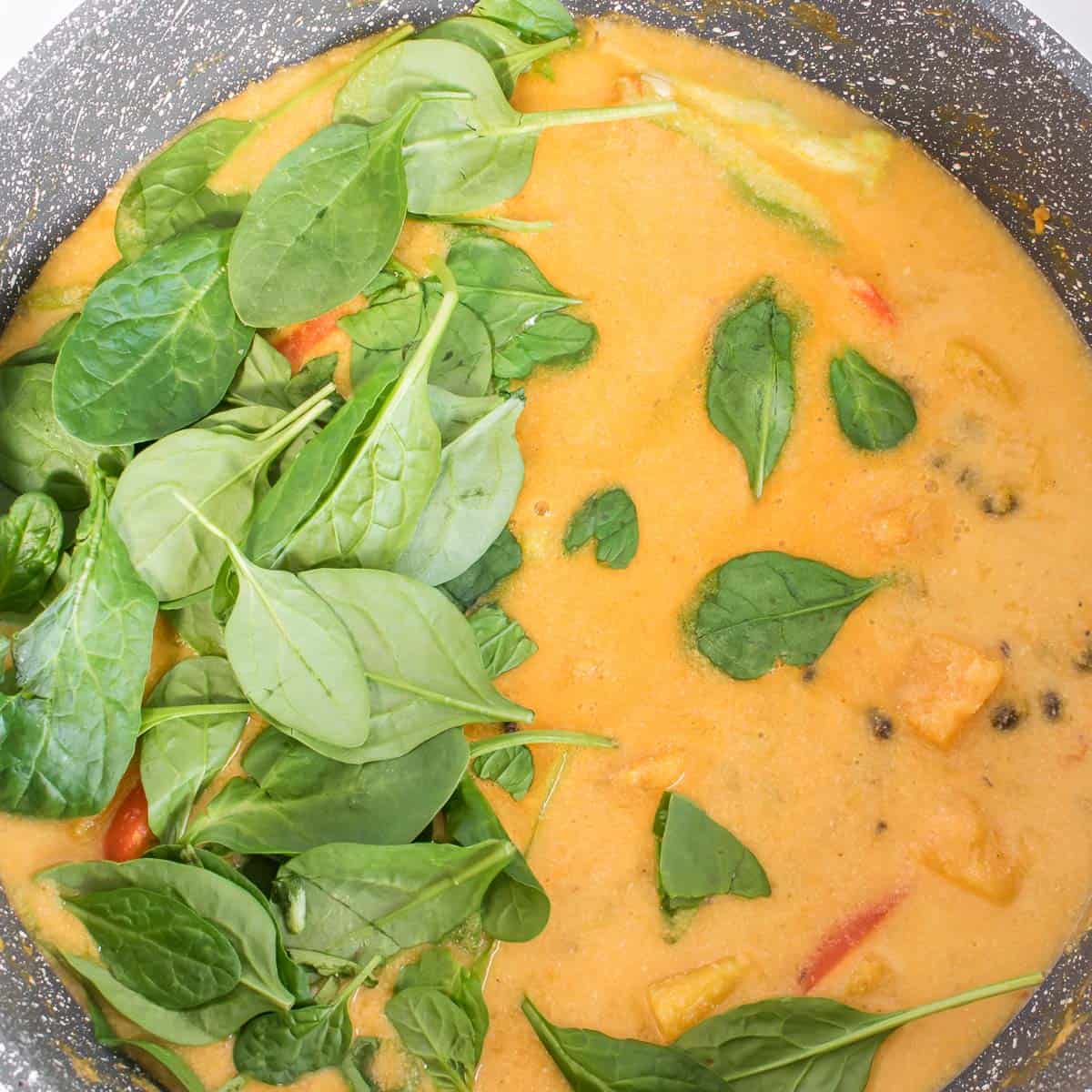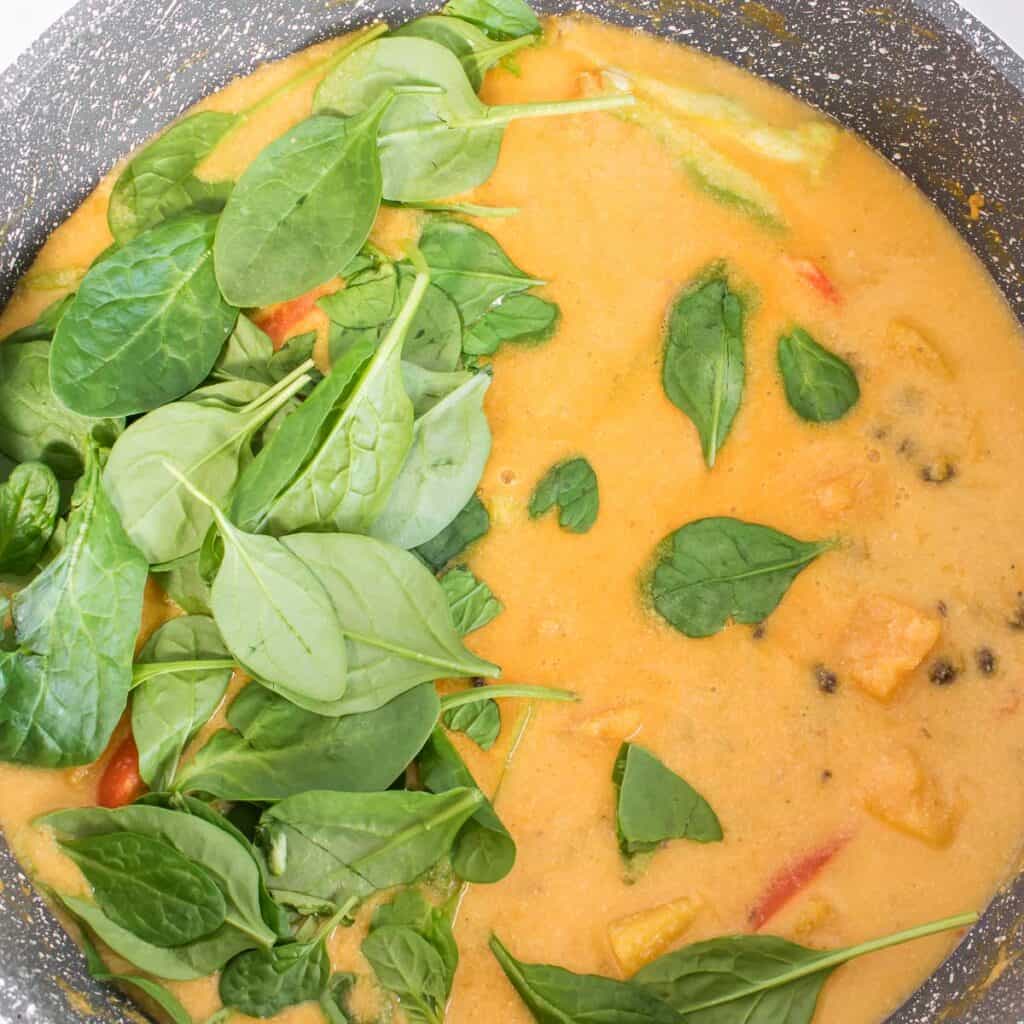 Later, I removed the lid, adjusted the salt and lemon juice.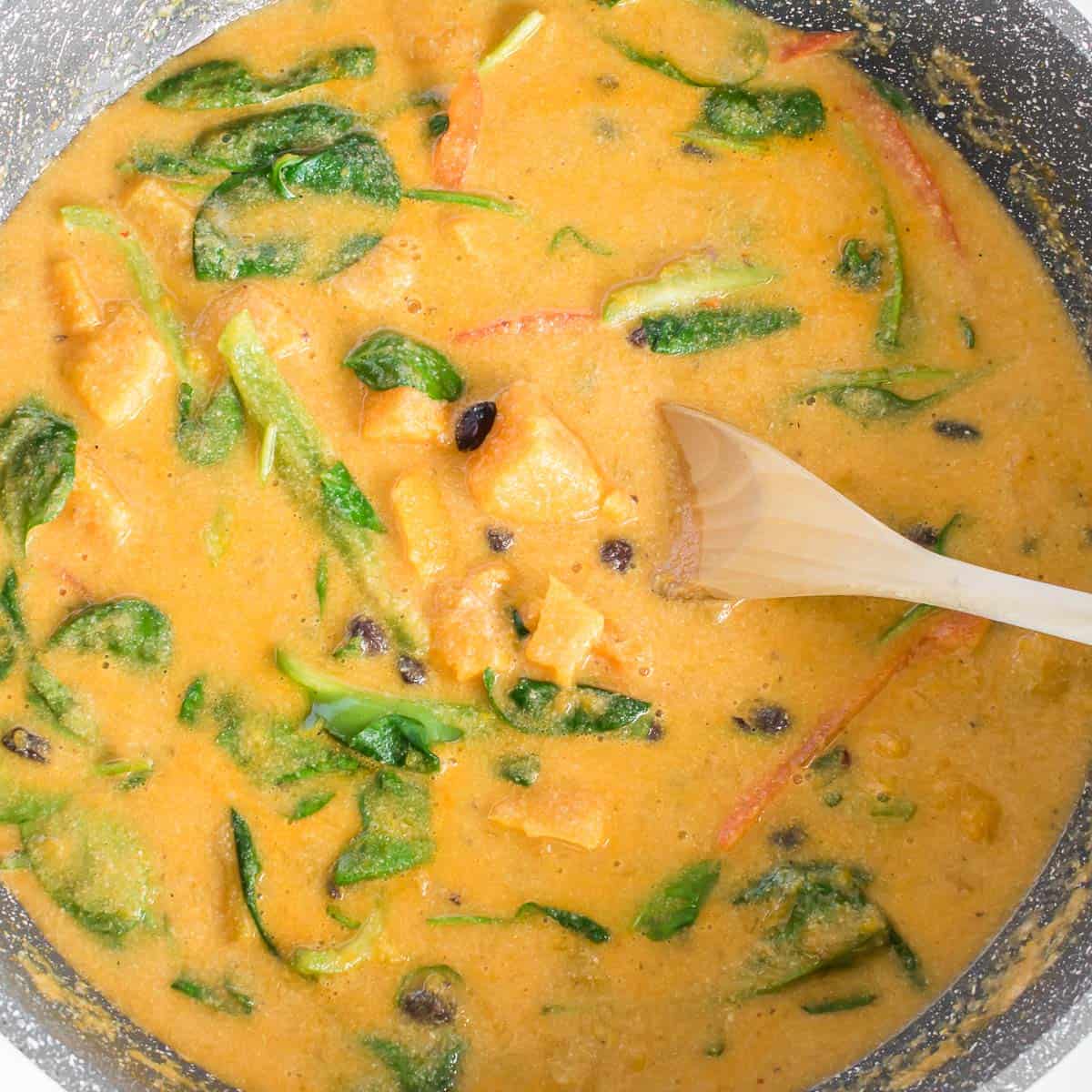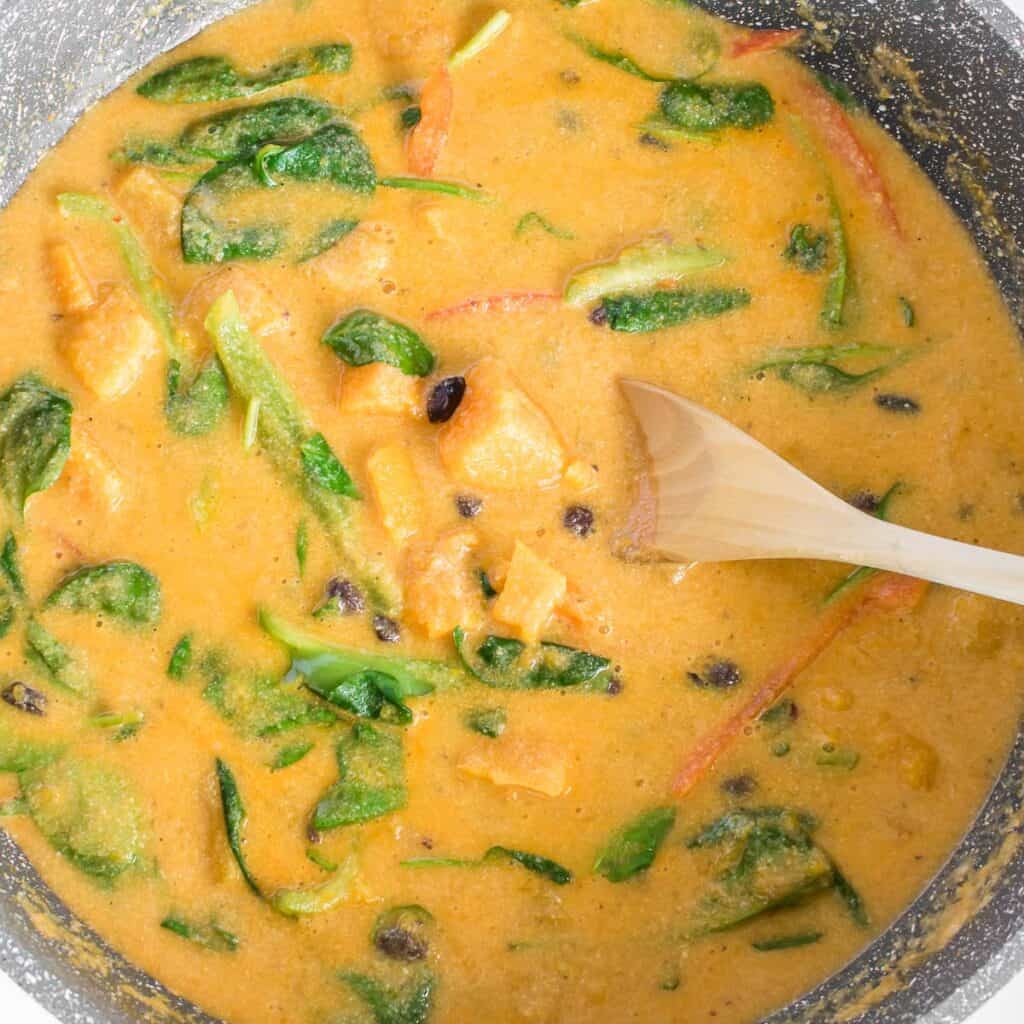 I served it over the bed of brown rice and it was unbelievably delicious.
It pairs well with steamed rice or quinoa as well.
Expert tips:
Make sure to blend the mixture smooth and creamy. If any lumps are left the gravy will change in consistency.
It is important to cut small square pieces of butternut squash to get the right texture of the final outcome.
Since we add lemon juice while cooking and later add more coconut milk make sure to lower the flame. At this point, coconut milk will have a tendency to cuddle to keep a watch and stir if you feel its forming bubbles. Turn it off at that point and remove from heat for a smooth curry base.
Butternut Squash Curry FAQs
How long does it last?
This taste best when served immediately. However, the leftovers can be refrigerated in an air tight container for about 2 weeks. Reheat it properly in a microwave before serving.
How to cut whole butternut squash?
Microwave the whole butternut squash for 2 minutes for it to soften. Then slice it with a sharp chef knife from the middle length wise. Then peel the skin and remove the seeds from the center. Now, chop into small cubes and measure.
Can I substitute sweet potatoes for butternut squash?
Sweet potatoes are much sweeter than butternut squash so this entrée might taste differently but you could substitute it.
Can I substitute curry paste with curry powder?
Curry paste brings out authentic taste and texture along with a beautiful color. Moreover, its tastier when you cook with curry paste. So, I would highly recommend you to use red curry paste in this butternut squash curry.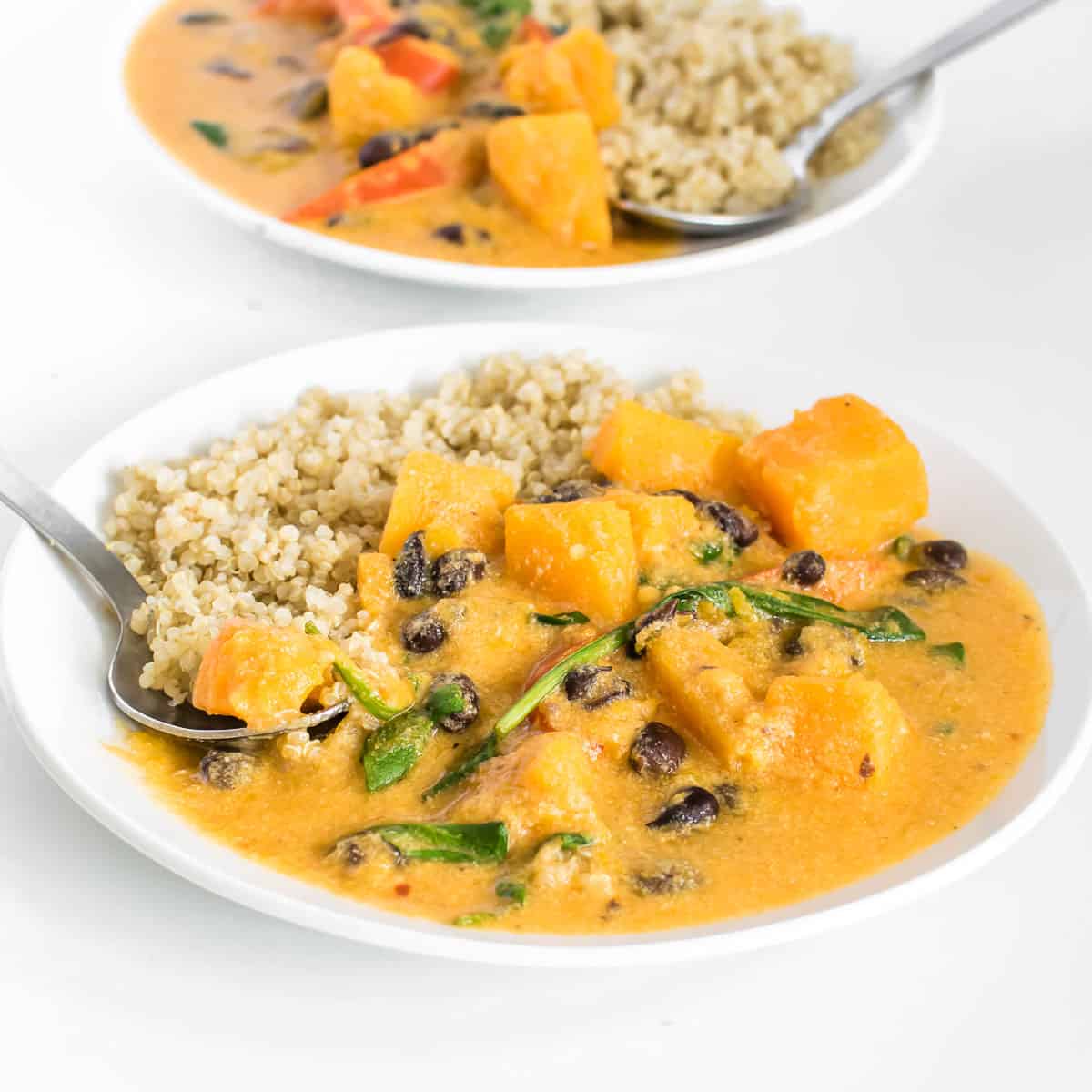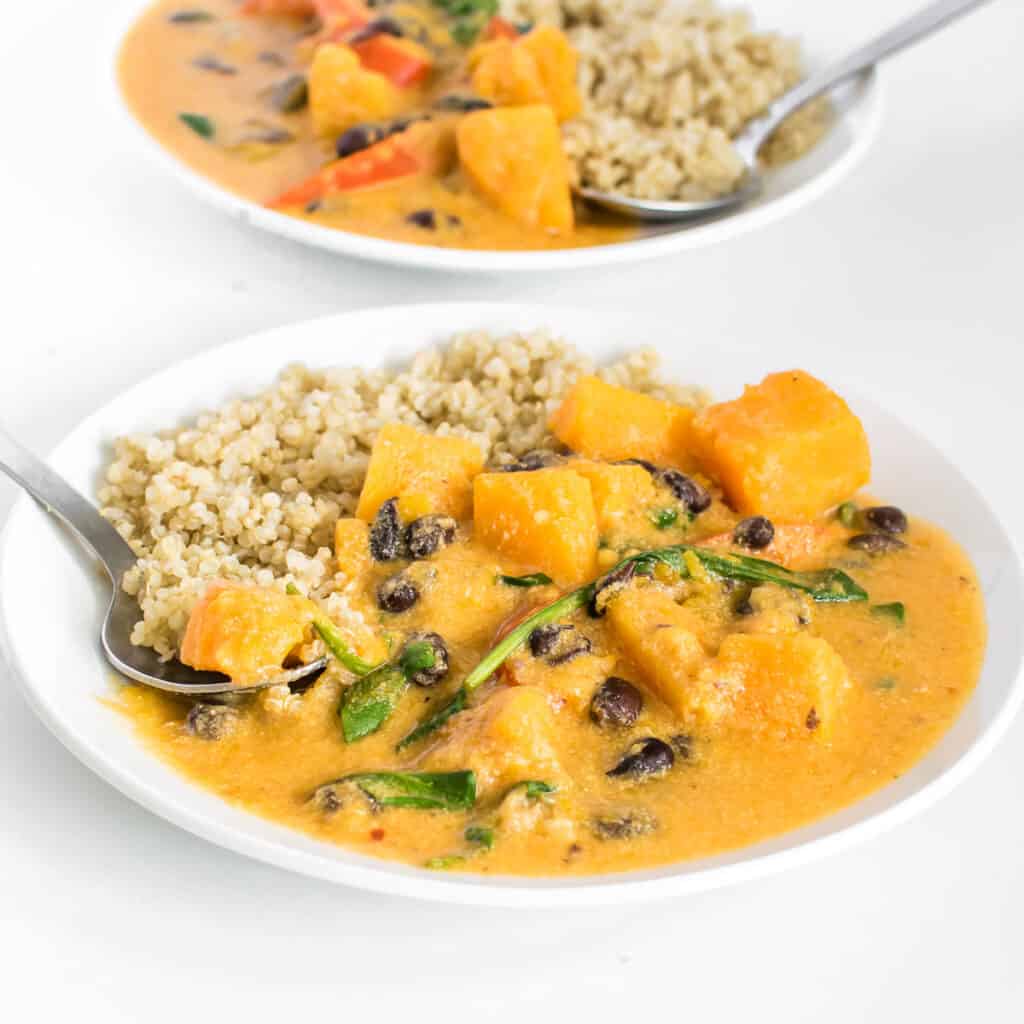 My other curry recipes that might interest you:
Thai Red Curry Vegetables
Turmeric Tofu Cashew Curry
Lentil Curry
One Pot Peanut Butter Tempeh Curry
Black Beans Curry
This post may contain affiliate links which means that if you click on those links and make a purchase, I get a mall commission. Moreover, I share only those products which I use and love.
Where to find me?
Follow me on Facebook or Twitter. You may tag @kiipfit on Instagram with your recipe remake images because I would love to see what you cooked.
Did you make it?
If you get a chance to make this recipe then please leave your feedback in the comments below along with 5-star ratings.

In addition, you may checkout my cookbook for everyday vegan recipes.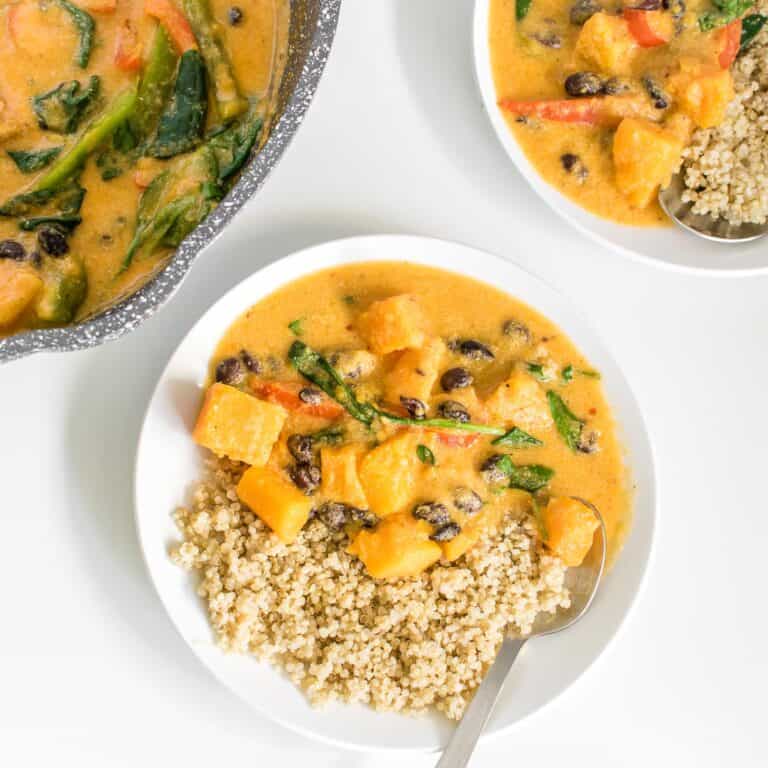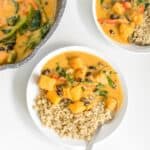 Print Recipe
Butternut Squash Curry
This vegan Butternut Squash Curry is a comforting winter meal packed with flavors and is very satisfying. It comes together in 35 minutes. It has a Thai flavor and is loaded with healthy veggies and beans.
Ingredients
1

whole

regular size red onion

(Peeled and roughly chopped)

1/2

inch

root ginger

4-5

garlic cloves

1/4

cup

raw cashew nuts

2 1/2

cups

unsweetened coconut milk

(tetra pack)

1 1/2

cups

water

2

tbsp

thai red curry paste

1/4

tsp

crushed chili flakes

(optional)

salt to taste

3

tbsp

lemon juice

2 1/2

cups or 16 oz.

chopped/cubed fresh butternut squash

15

oz

canned black beans

(drained and rinsed)

1/2

cup

sliced red bell pepper

1/2

cup

sliced green bell pepper

1

cup

baby spinach
Instructions
In a blender combine onion, ginger, garlic, cashew nuts, ½ cup coconut milk and blend it smooth until creamy.

Heat a good quality nonstick pan at medium heat and pour the blended onion mixture. Swish the blender with ½ cup water and pour it in the same pan so as to scrape any sticking onion mixture. Mix well with a spatula and let it cook covered at medium-high flame for 10 minutes. Stir at intervals of 4 minutes to make sure it does not stick at the bottom. Cook until it thickens and reduces to half.

Add red curry paste, chili flakes, salt and lemon juice. Stir nicely at medium heat.

Toss in butternut squash and mix well. Cook covered for 5-7 minutes at medium-high flame or until squash pieces are soft.

Toss in the red and green bell peppers and black beans to it and mix again.

Add remaining 2 cups coconut milk and 1 cup water to it. Cook covered for 2 minutes at low-medium flames or until it starts to bubble. ( Do not overcook or else it will curdle).

Stir in spinach and cook covered for 2 minutes. Turn it off. Adjust salt and lemon juice and serve hot over quinoa/brown rice.
Notes
I used fresh chopped butternut squash for this recipe but you may cut the whole butternut squash if desired. Frozen chopped butternut squash does not work in this recipe.
I usually use this Thai kitchen red curry paste which is not so spicy. If you use other brands of red curry paste then you may skip chili flakes since many red curry paste might be spicy.
Refrigerate the leftovers in a glass/Tupperware container for about 2 weeks. Warm it well in microwave before serving.
Nutrition
Calories:
229
kcal
|
Carbohydrates:
35
g
|
Protein:
9
g
|
Fat:
6
g
|
Saturated Fat:
32
g
|
Polyunsaturated Fat:
1
g
|
Monounsaturated Fat:
2
g
|
Sodium:
442
mg
|
Potassium:
791
mg
|
Fiber:
11
g
|
Sugar:
6
g
|
Vitamin A:
1890
IU
|
Vitamin C:
15
mg
|
Calcium:
88
mg
|
Iron:
5
mg