These vegan Skinny Carrot Fritters are easy and healthy yet packed with incredible flavors. Along with being crispy and chewy in every bite, its kids friendly too.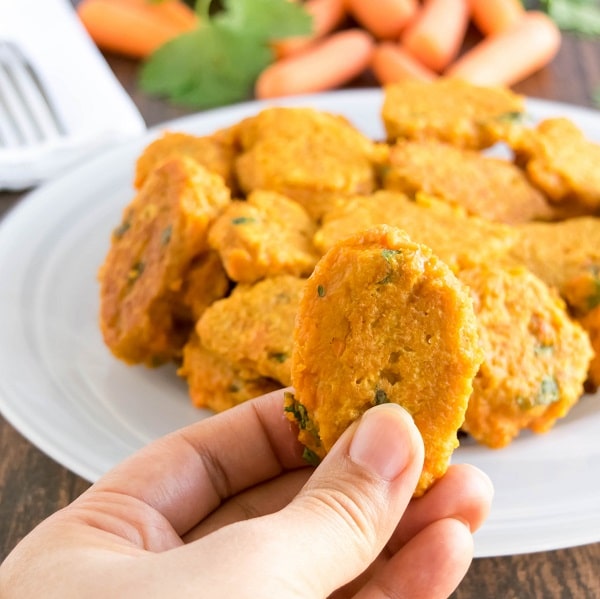 In India fritters and chai is a common evening snack during rainy season. The aroma of chai and hot fritters out of the wok is mind blowing. Every time it rains here in Seattle I imagine the aroma of hot fritters. Hmmmm.
For quite sometime, I have been craving for those homemade fritters. However, I wanted to avoid deep fried ones. Therefore, I came up with my healthier version of these carrot fritters.
These were instant hit with my family and I satisfied my cravings easily also. In fact there were no leftovers and I was delighted.
I have tried other snacks as well which you may find interesting:
After few more attempts and taste testing, my family gave a heads up. So, I am here to this share this awesome carrot fritters recipe.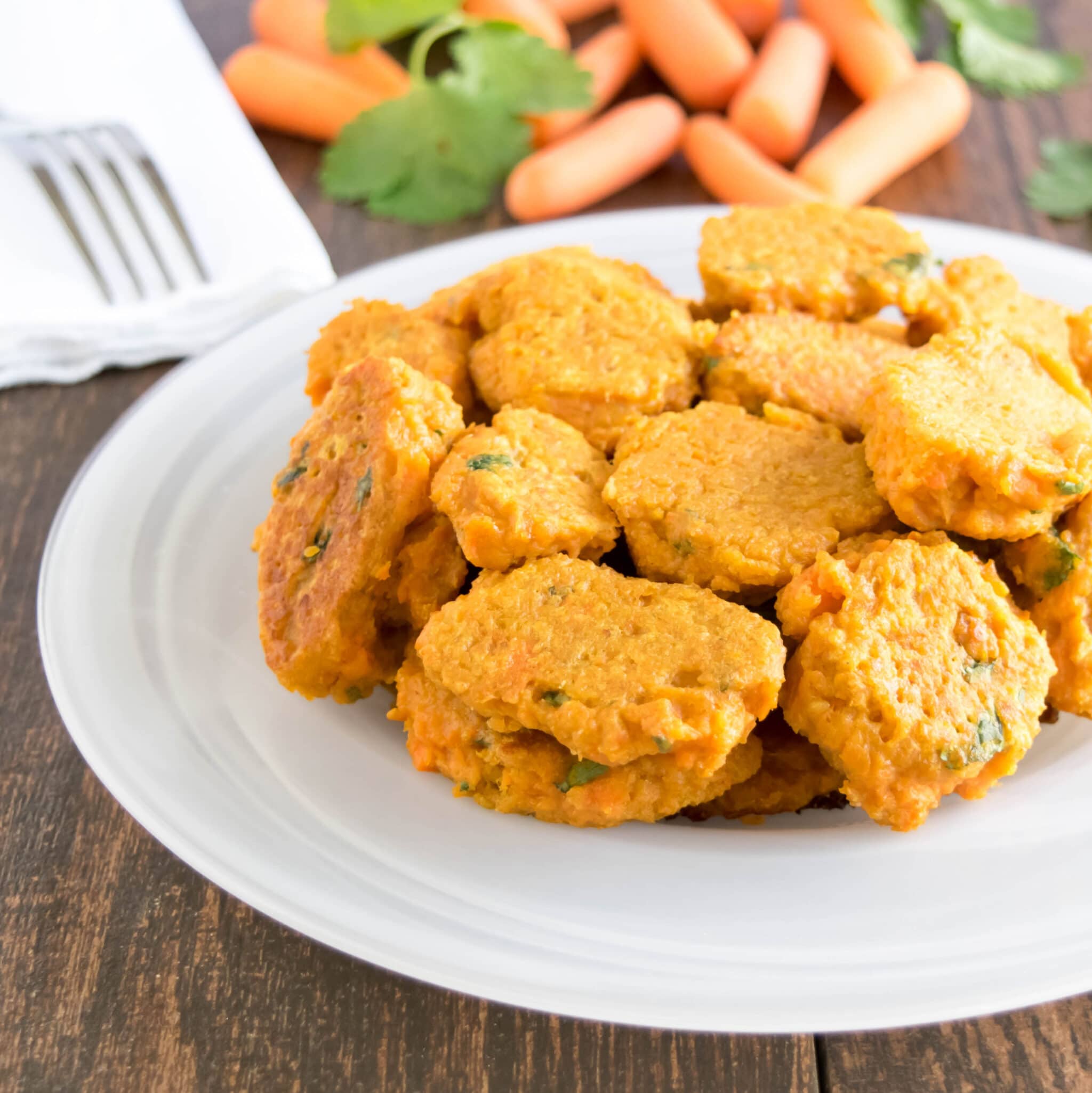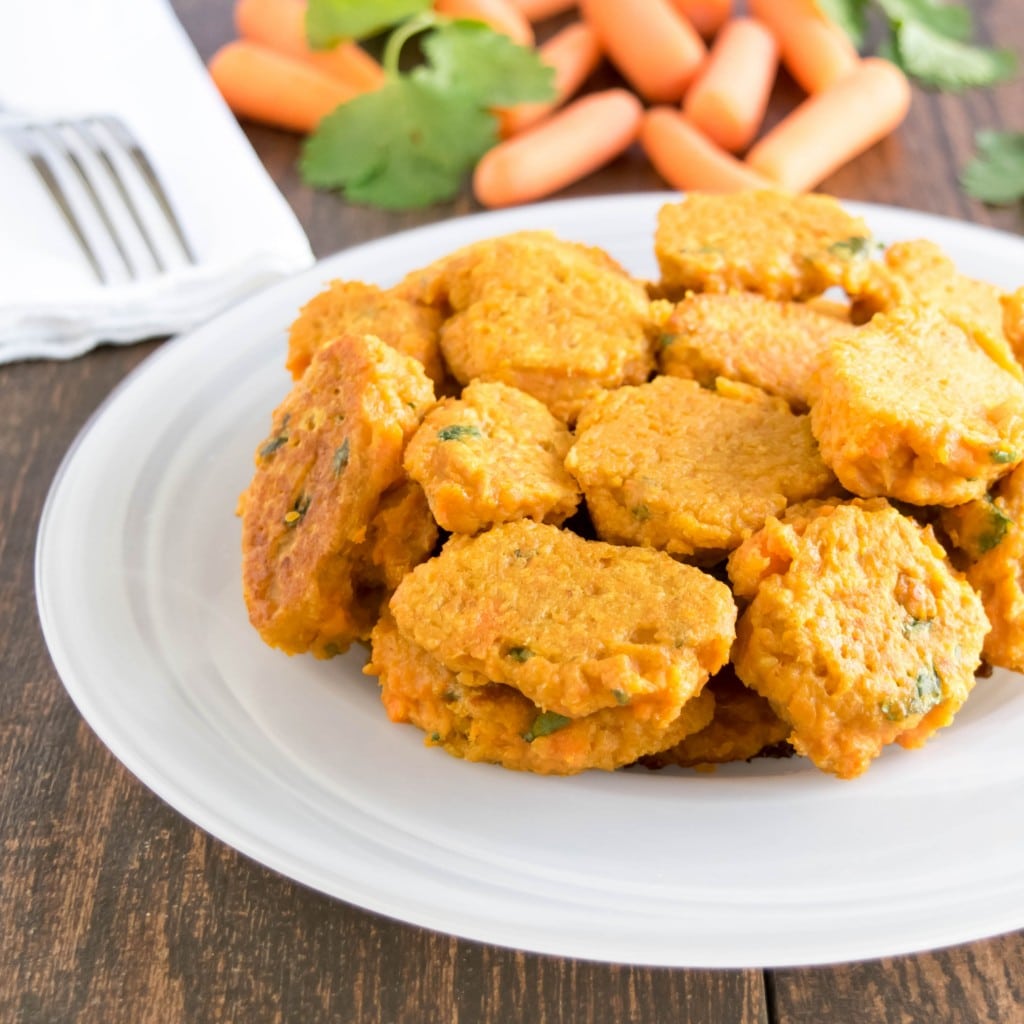 Ingredients you will need:
Carrots
Chickpea flour
Cayenne pepper powder
Salt
Hot sauce
Cilantro
Panko crumbs
Water
I have used these easily available ingredients which you may buy in any local grocery store. However, I have provided links to few of them here for your convenience.
If you plan to buy from these affiliate links then I get a small commission which in turn encourages me to bring in more delicious recipes for you all.
Ingredients notes:
Carrots – its a healthy vegetable with being a great source of vitamin A and fiber.
Chickpea flour – even though its gluten free flour, it helps in binding this recipe and adds protein to it.
Cayenne pepper powder – you may adjust it as per your taste but its important to flavor these fritters.
Panko bread crumbs – its a Japanese bread crumbs but much more crunchier than regular bread crumbs. Moreover, its vegan which regular bread crumbs may not be.
How to make Skinny Carrot Fritters
Firstly, I combined all the ingredients in a ixing bowl and made a thick sticky batter.
Secondly, I heated a nonstick pan/griddle and greased it with cooking spray.
Next, I placed a spoonful of the batter on the hot nonstick. You may place about 5-6 fritters keeping an inch space between each.
Thereafter, with the help of the spatula, I flipped them over to the other side and let it cook until golden.
Afterwards, with the help of a flat spatula, I scooped out the out and placed them on the serving plate.
Lastly, I served them with ketchup.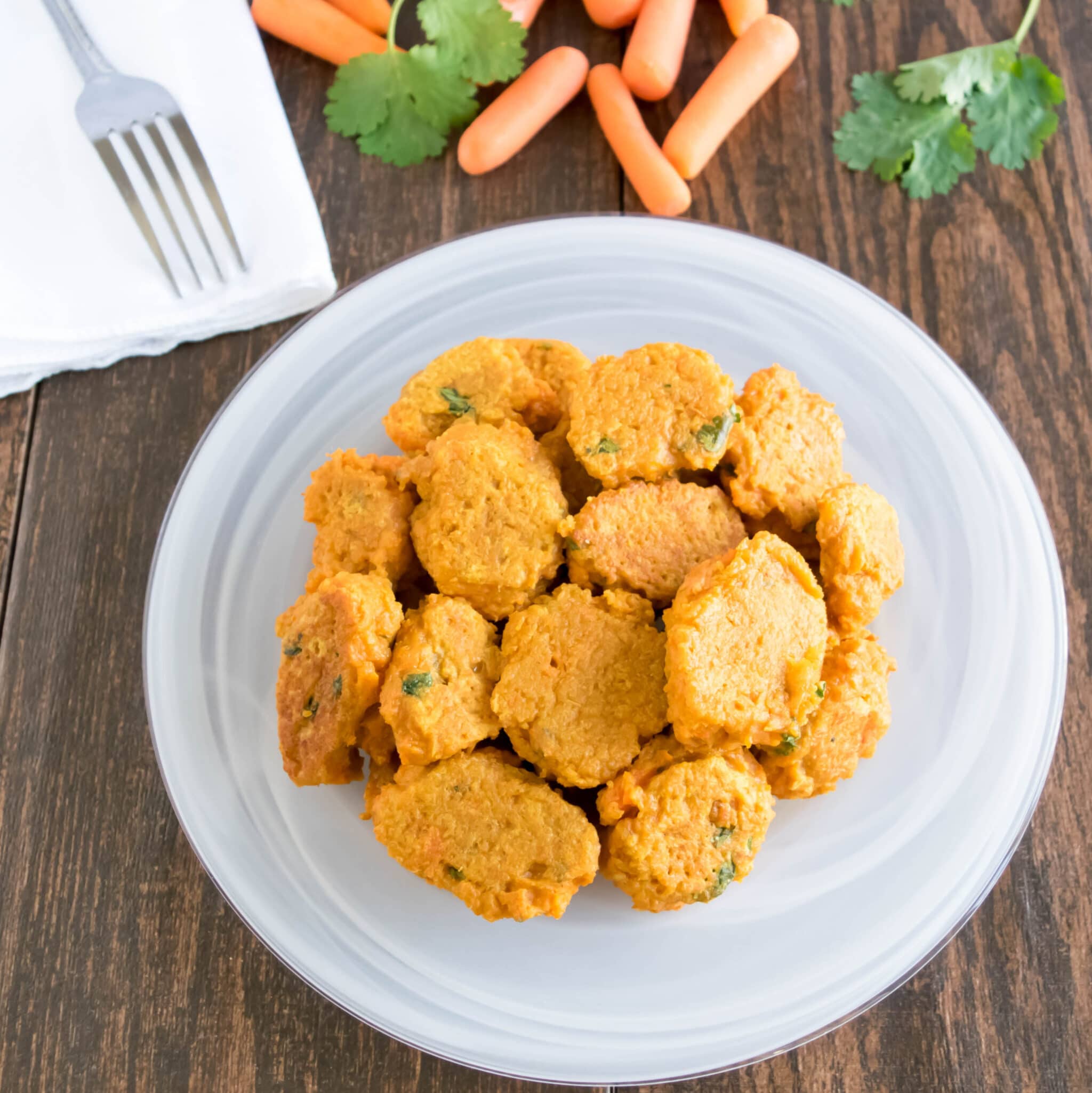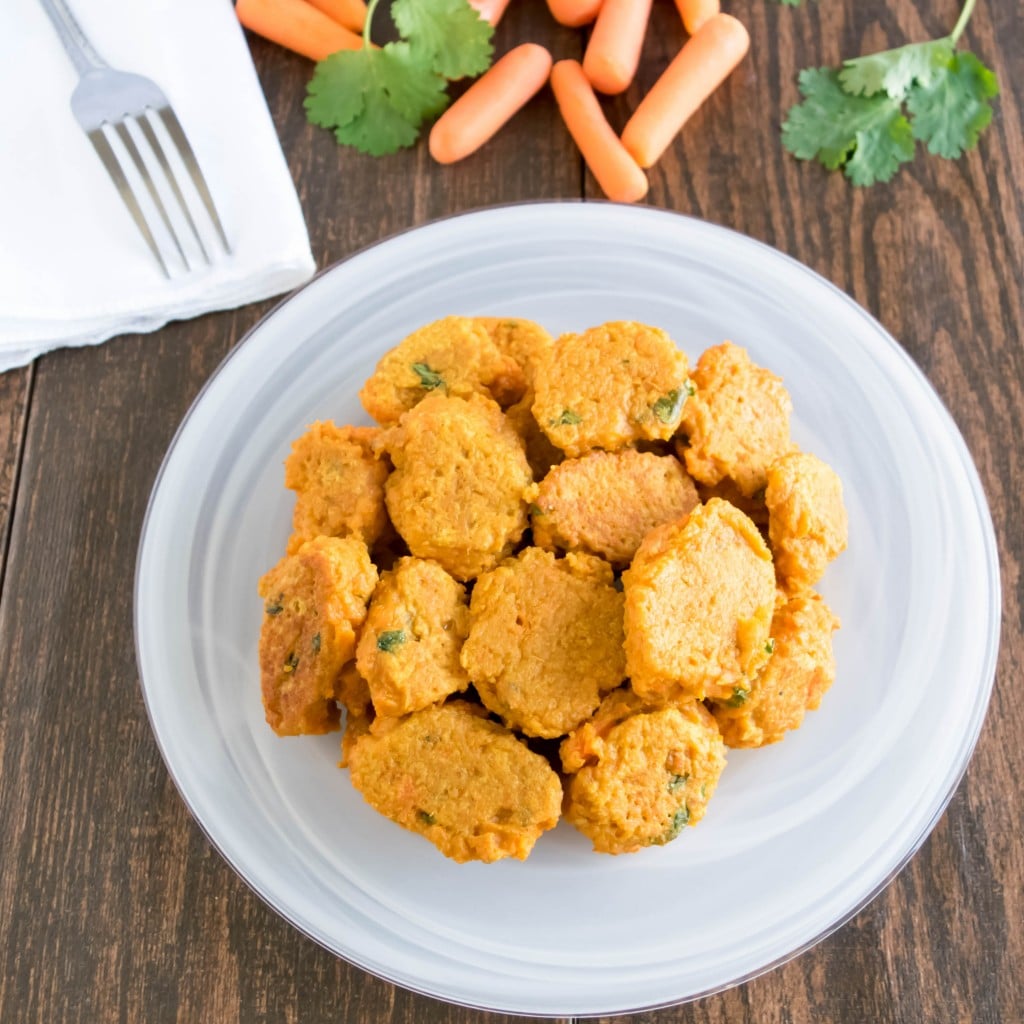 My kids loved these and we all heartily enjoyed our evening snack.
These are so good that sometimes, I serve them as appetizer too.
Now, that you have gone through the steps, I insist that you quickly grab these ingredients and make these vegan fritters ASAP.
I guarantee your loved ones would appreciate these immensely.
Skinny Carrot Fritters FAQs
How long do they last?
These tastes best when served immediately. However, you may refrigerate the leftovers and air fry or microwave the next day.
Are these healthy?
Yes, carrots are very nutritious and its whole food vegetable. I used chickpea flour to bind which is a protein rich flour. Also, I used simple seasonings and some panko crumbs to make them crunchy. Overall, these are healthy and can be enjoyed frequently.
How does these taste like?
They are salty, crispy and chew altogether. It has nice flavors of carrots, subtleness of chickpea flour and perfectly seasoned. It might be slight spicy for kids so adjust as per taste.
Did you make it?
If you get a chance to make this recipe then please leave your feedback in the comments below along with the ratings. In addition, you may tag @kiipfit on Instagram with your recipe image because we would love to see what you cooked.
In addition, if you desire to explore more of my delicious recipes then you may check out my cookbooks.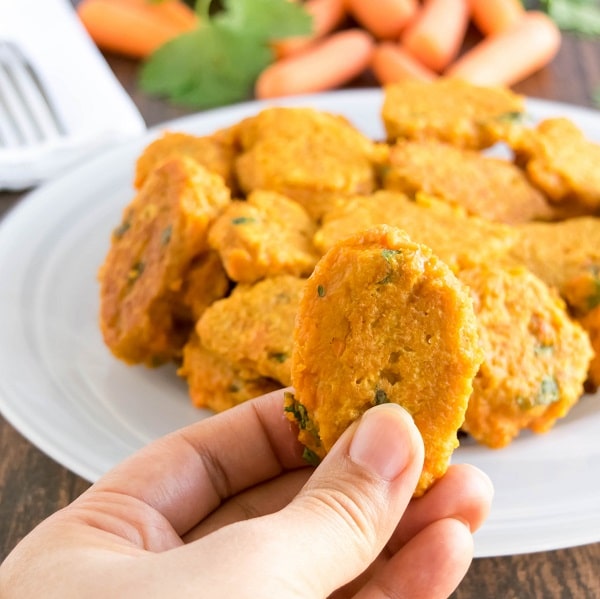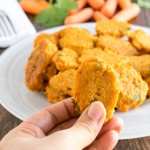 Print Recipe
Skinny Carrot Fritters
These vegan Skinny Carrot Fritters are easy and healthy yet packed with incredible flavors. Along with being crispy and chewy in every bite its kids friendly too.
Instructions
Grind the carrots in a grinder/food processor. (You may grate the carrots as well if desired).

In a mixing bowl combine all the ingredients and mix properly with a spoon. Let it stand for few minutes.

In the meantime heat the nonstick pan/griddle in a medium flame. Grease the pan with cooking spray/oil.

Pour the 1 tbsp. spoonful of the mix onto the pan and cook for some time.

Once it starts to cook, flip to the other side and cook for few minutes or until light golden in color and lightly crispy in texture.

Serve hot or at room temperature.
Notes
This recipe yields 32 pieces and the serving size is 2 fritters per person.
This recipe tastes best when served immediately. However, refrigerate the leftovers and warm it up in air fryer for crispier texture or simply in microwave. 
Nutrition
Calories:
26
kcal
|
Carbohydrates:
4
g
|
Protein:
1
g
|
Fat:
1
g
|
Saturated Fat:
1
g
|
Sodium:
17
mg
|
Potassium:
101
mg
|
Fiber:
1
g
|
Sugar:
2
g
|
Vitamin A:
2209
IU
|
Vitamin C:
1
mg
|
Calcium:
9
mg
|
Iron:
1
mg