These oil free Vegan Lemon Cookies are soft and chewy inside and slightly crisp outside. These are easy, fast and filled with zesty flavors in every bite. It's a perfect dessert to satisfy sweet cravings in a healthier way and at all ages.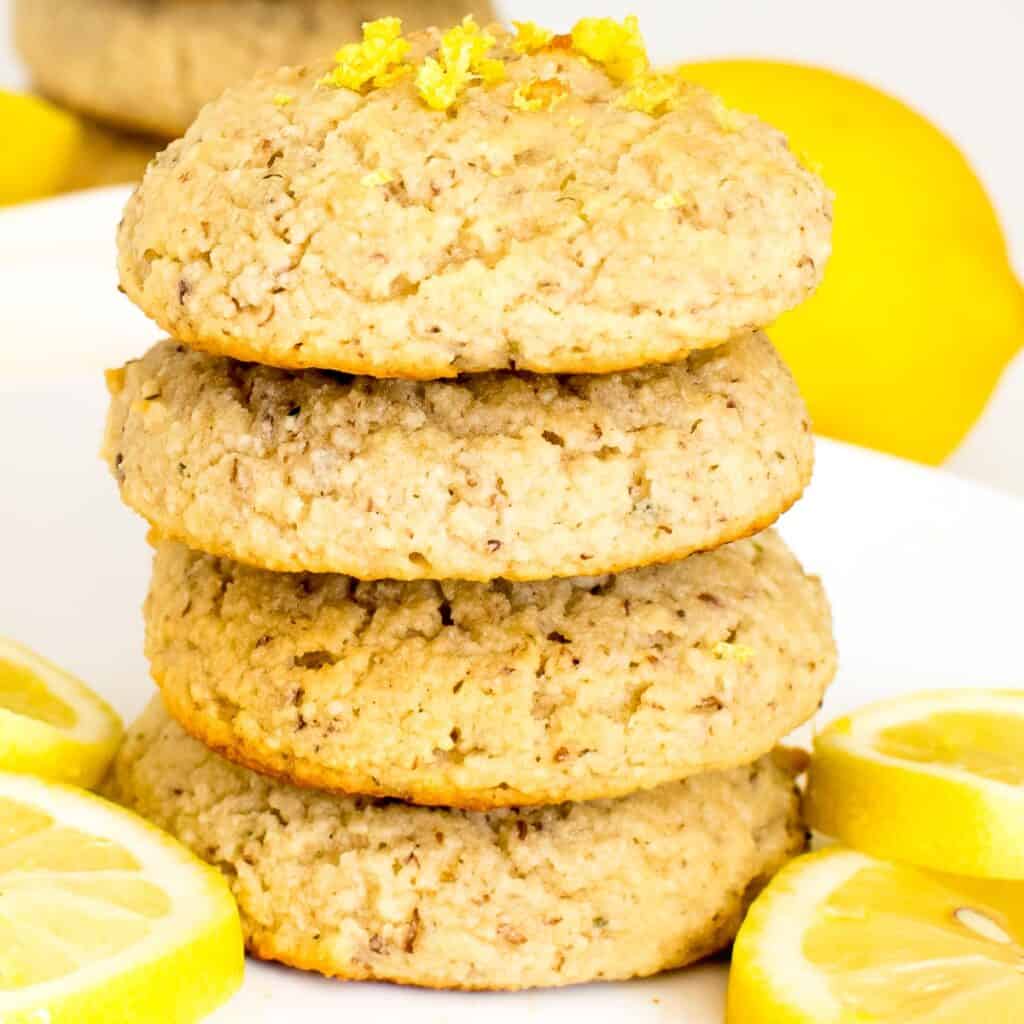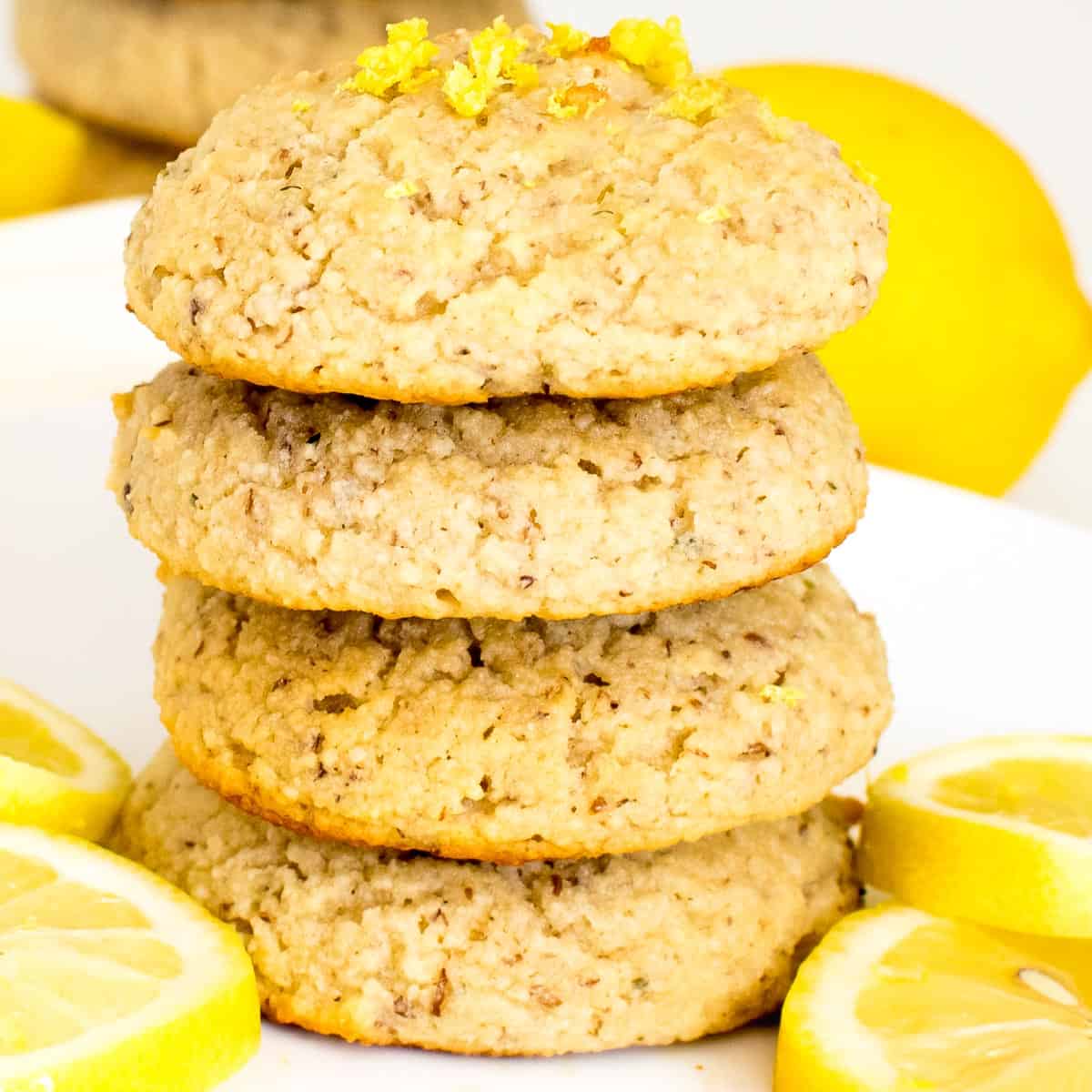 I recently developed a liking for lemon flavor and have been gorging on some lemon desserts. Recently, I also tried a savory dish with lemon and it was mind blowing.
However, this time, I wanted to try some healthy dessert with this delicious tangy flavor and so I decided to bake my own eggless lemon cookies. At the same time, I decided to add a bit of health to it.
On the same note, I baked vegan lemon cake and my family loved it.
I succeeded! My family loved these and were gone the minute I took them out of the oven. My daughter was super happy and wanted me to bake these again and again. I was completely excited.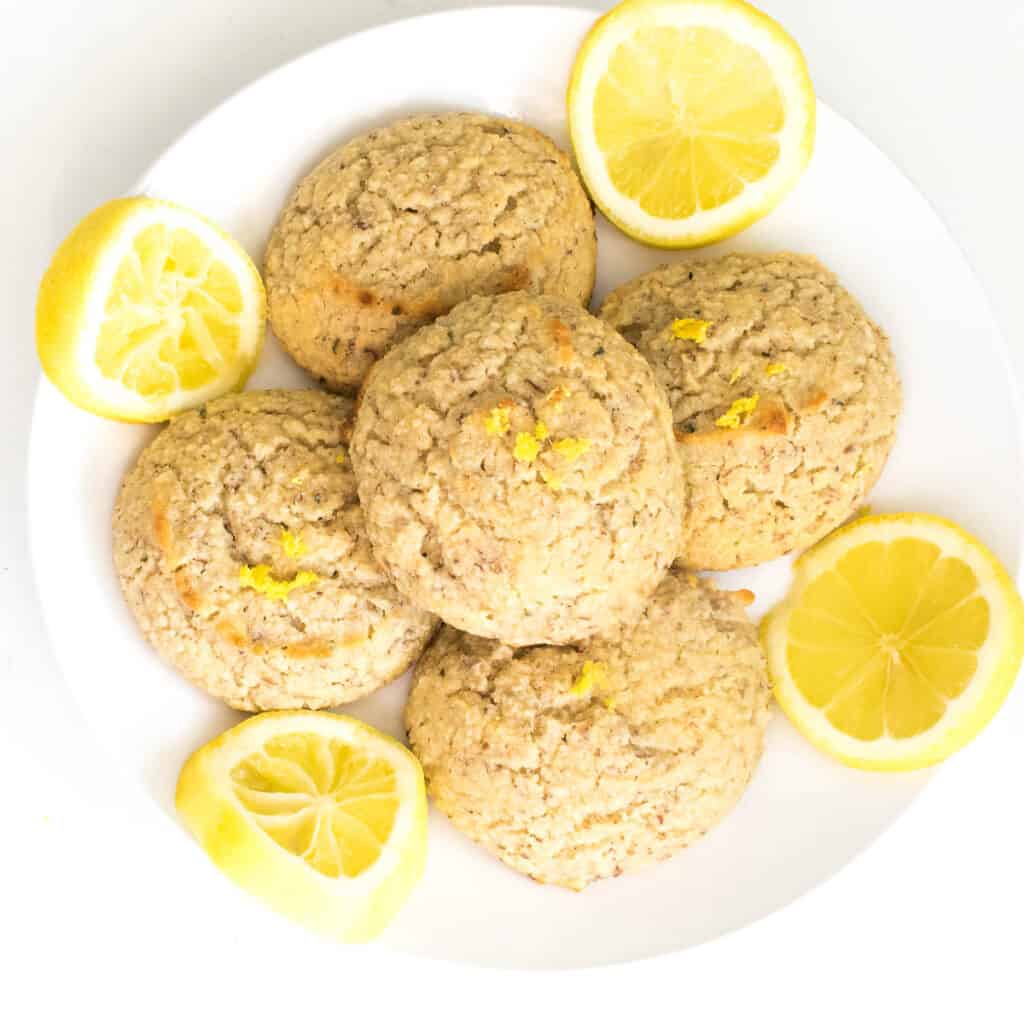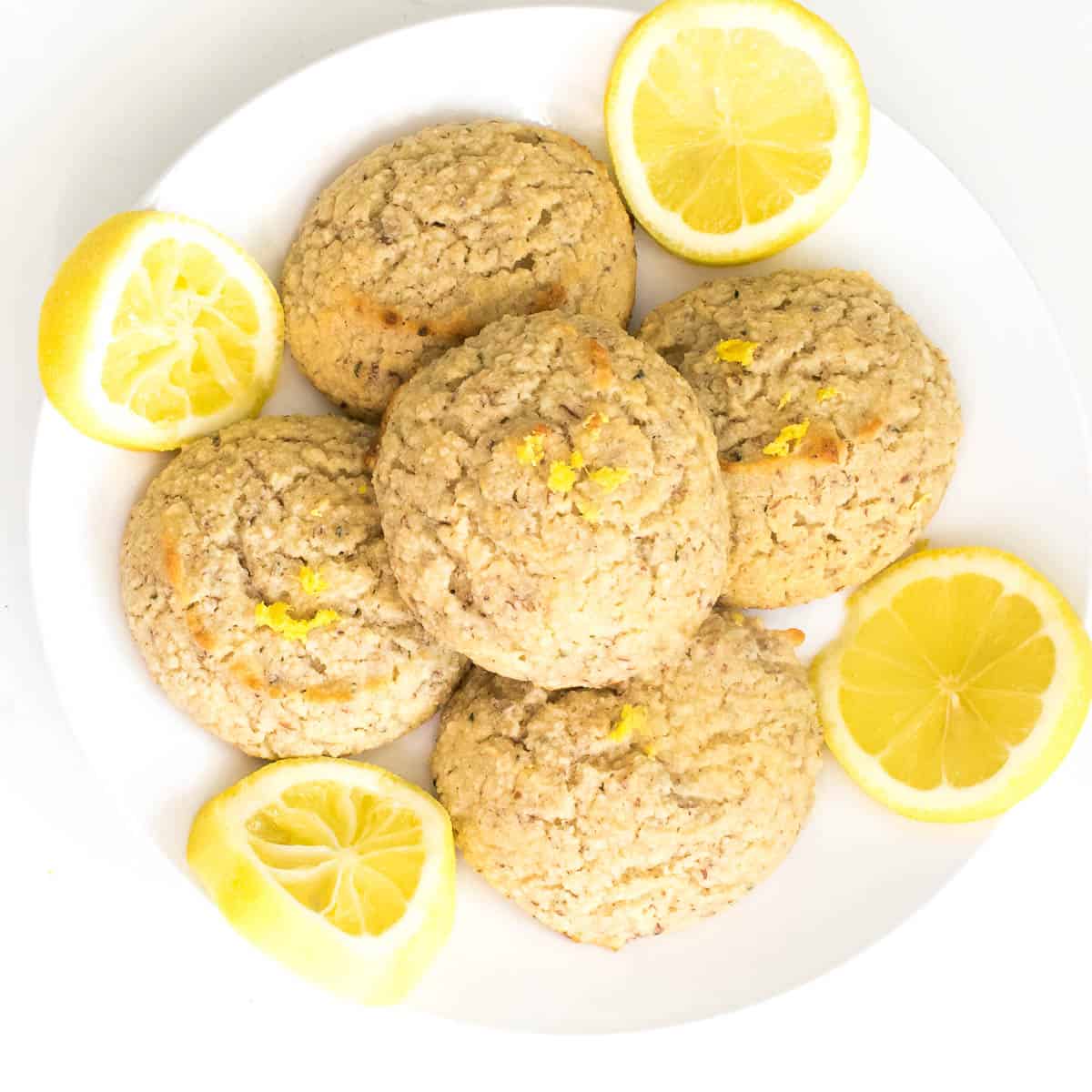 These healthy vegan lemon cookies have nice combination of tangy and sweet flavor. Sometimes, I just glaze them to add a bit more punch and its absolutely amazing in every bite.
I have also tried many other cookies which you might like:
One Bowl Tahini Cookies
Almond Butter Cookies
Peanut Butter Sweet Potato Cookies
Raspberry Glazed Chocolate Oatmeal Cookies
Peanut Butter Banana Amaranth Cookies
Strawberry Yogurt Vegan Cookies
Usually, I like to sweeten my desserts naturally with real ingredients and like here I have used banana in my cookies earlier as well. It has always worked for me and made my dessert recipes healthier.
When we talk about indulging in healthy desserts, some of my protein cookies are also worth trying as they are ultra-delightful.
However, adding lemon flavor to my cookies was an experience and I took my baking to another level altogether.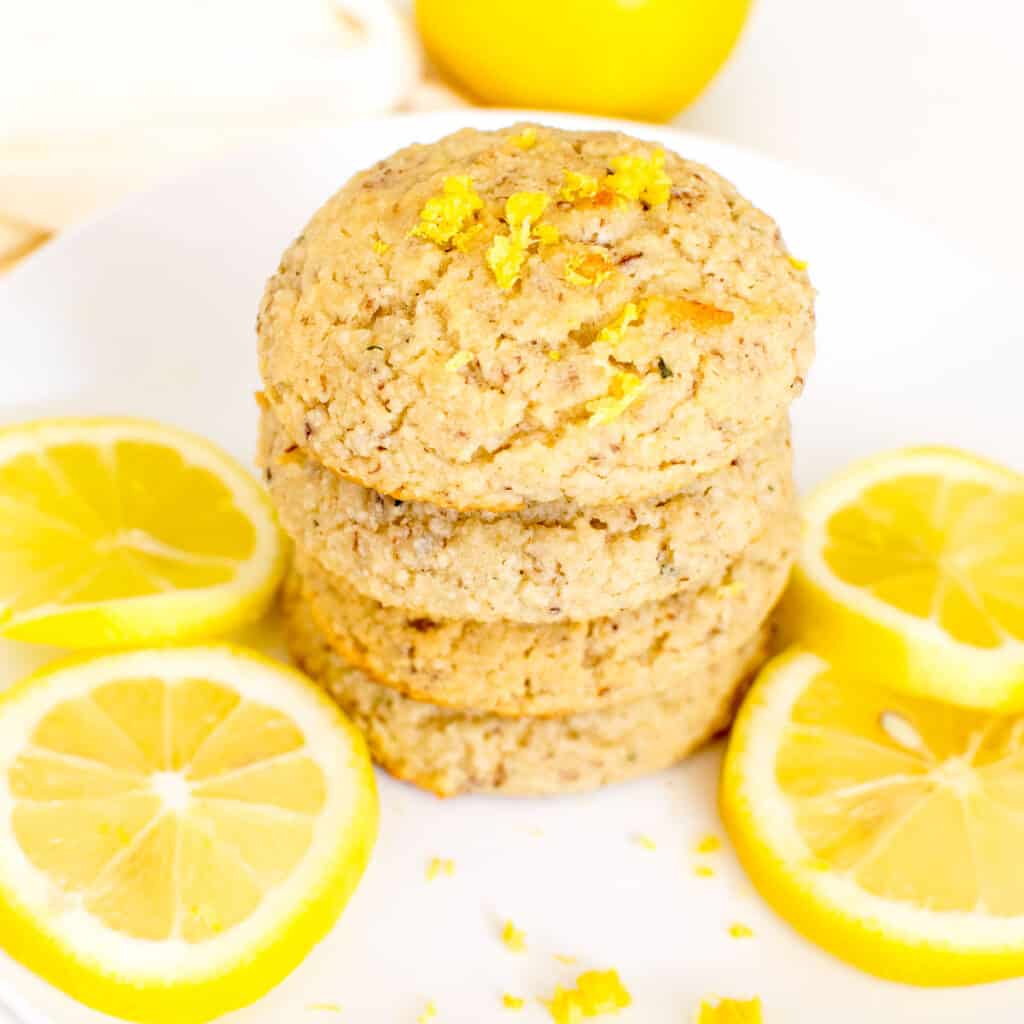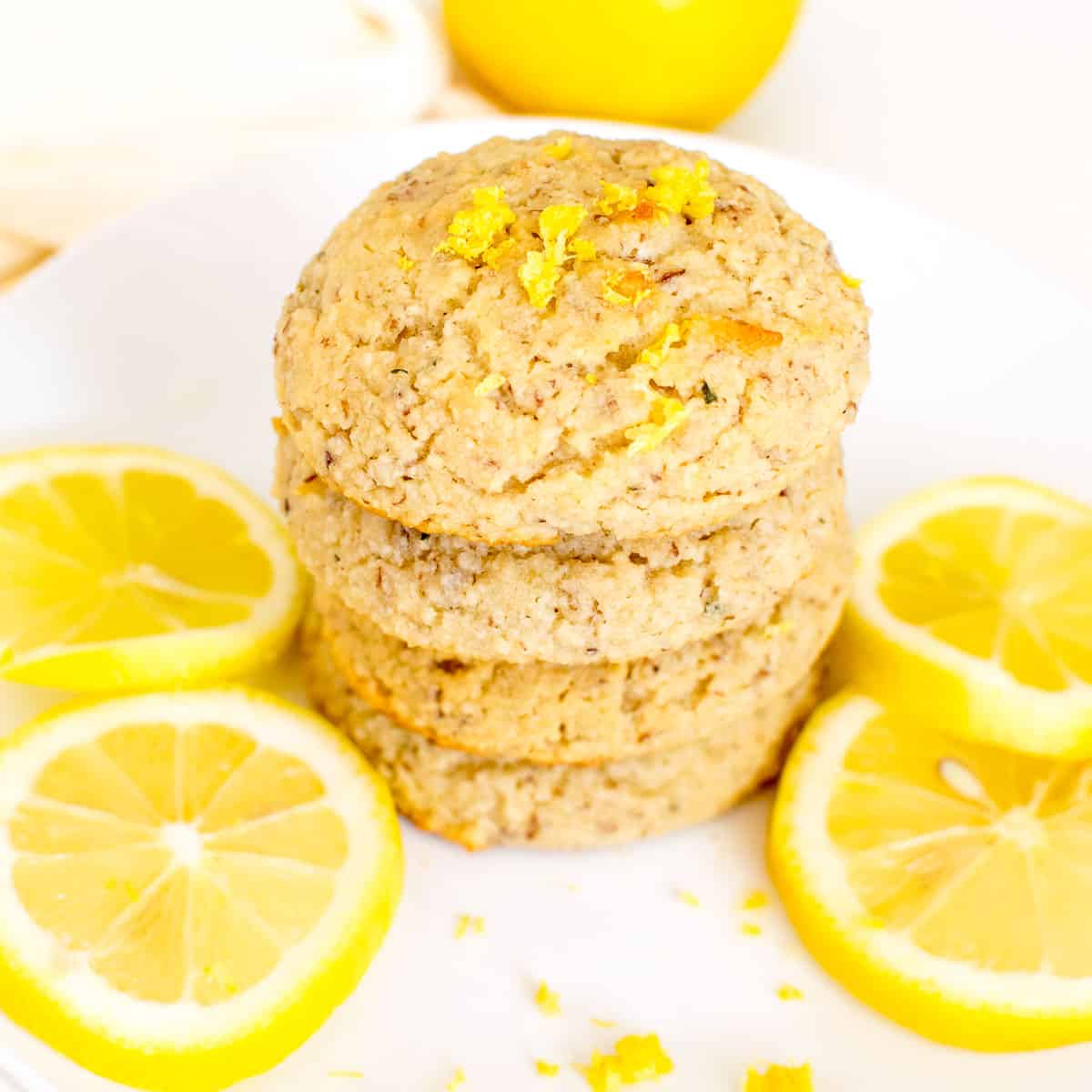 So here, I am sharing this awesome vegan lemon cookie recipe with you all.
Ingredients you will need:
Dry ingredients
Almond flour
Cornstarch
Flaxmeal
Hempseed
Baking powder
Salt
Wet ingredients
Almond milk
Banana
Maple syrup
Lemon juice
Lemon extract
Zest of lemon
For glaze (optional)
Granulated sugar
Lemon juice
I have used these easily available ingredients which you may buy from any local grocery store. However, I have provided links to few of them here for your convenience.
If you plan to buy from these affiliate links then I get a small commission which in turn encourages me to bring in more delicious recipes for you all.
Ingredients notes:
Almond flour – it is basically ground almond in flour form. Its nutritious and gluten free. It's a great source of essential fats and other vitamins and minerals. I used it in this recipe to add a nice nutty flavor along with the perfect lemony color to these.
Cornstarch – I used the gluten free cornstarch to act as a binding agent so that these cookies are firm.
Flaxmeal – it's a whole ground flaxseed which adds healthy fats and fiber to this recipe. Moreover, its a great egg substitute. However, I used the dry from in this recipe so as to reduce the liquid content since almond flour does not absorb too much liquid. Therefore, soaking flaxmeal in not required in this recipe.
Hempseeds – it adds a bit protein and fiber along with other nutrition to this recipe. It is optional because it only has health purpose in here.
Almond milk – I used the unsweetened original one so as to lower the calories of these cookies along with complimenting the almond flavor.
Banana – I used it to sweeten these naturally with fruit instead of processed sugar. It adds potassium and other health benefits to this recipe. Also, I used a medium sized banana and you won't even taste it after the end result.
Maple syrup – I used it to balance the sweetness perfectly and cut out the strong banana flavor too. This is an important ingredient here. Therefore, so as to make these healthier I used 100% pure maple syrup.
Lemon extract – it has a nice lemony aroma and taste. I added it to bring that strong and extra punch to these cookies along with fresh lemon juice and lemon zest. All these three complements each other well and finally makes these lemon cookies ultra-desirable.
So now, all you have to do is to go through the simple steps and bake these family favorite dessert.
How to make Vegan Lemon Cookies
Firstly, I combined all the dry ingredients in a mixing bowl and mixed it well with a spoon. Then, I kept it aside.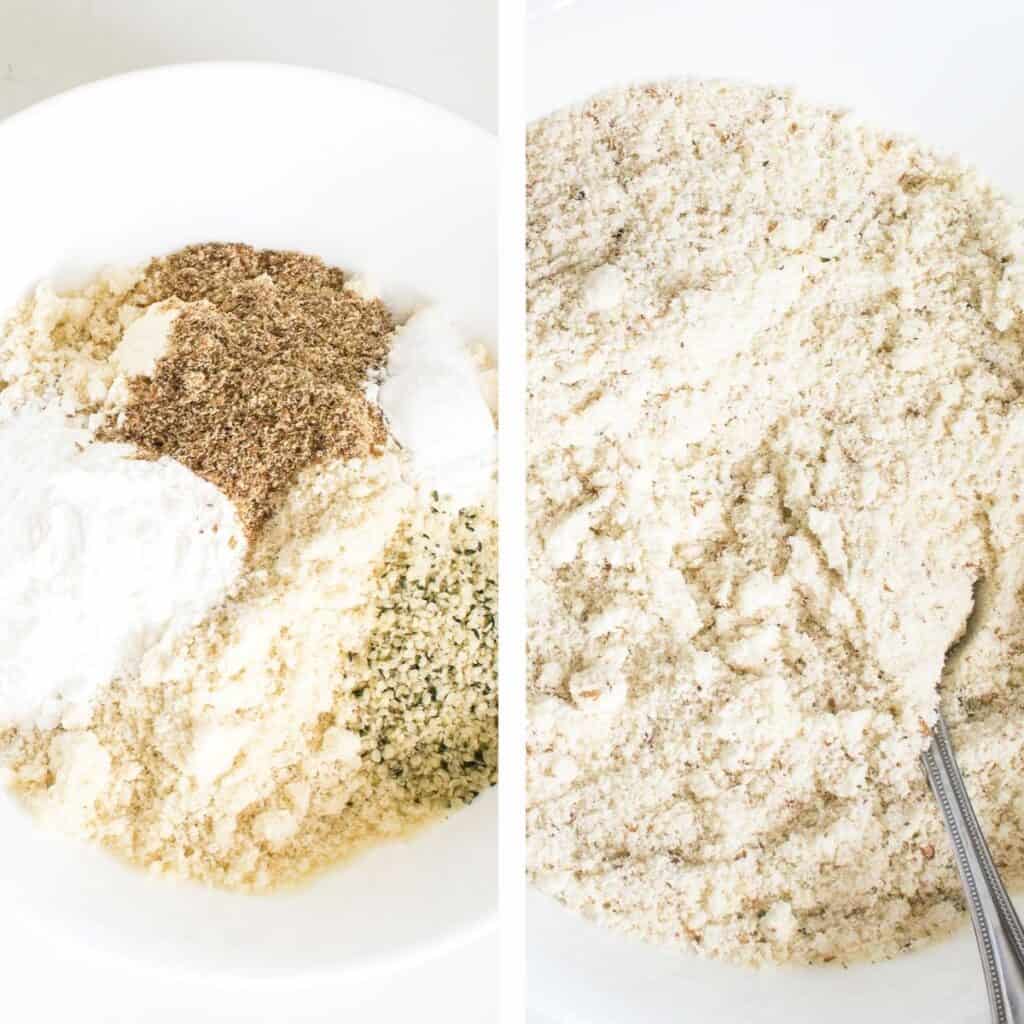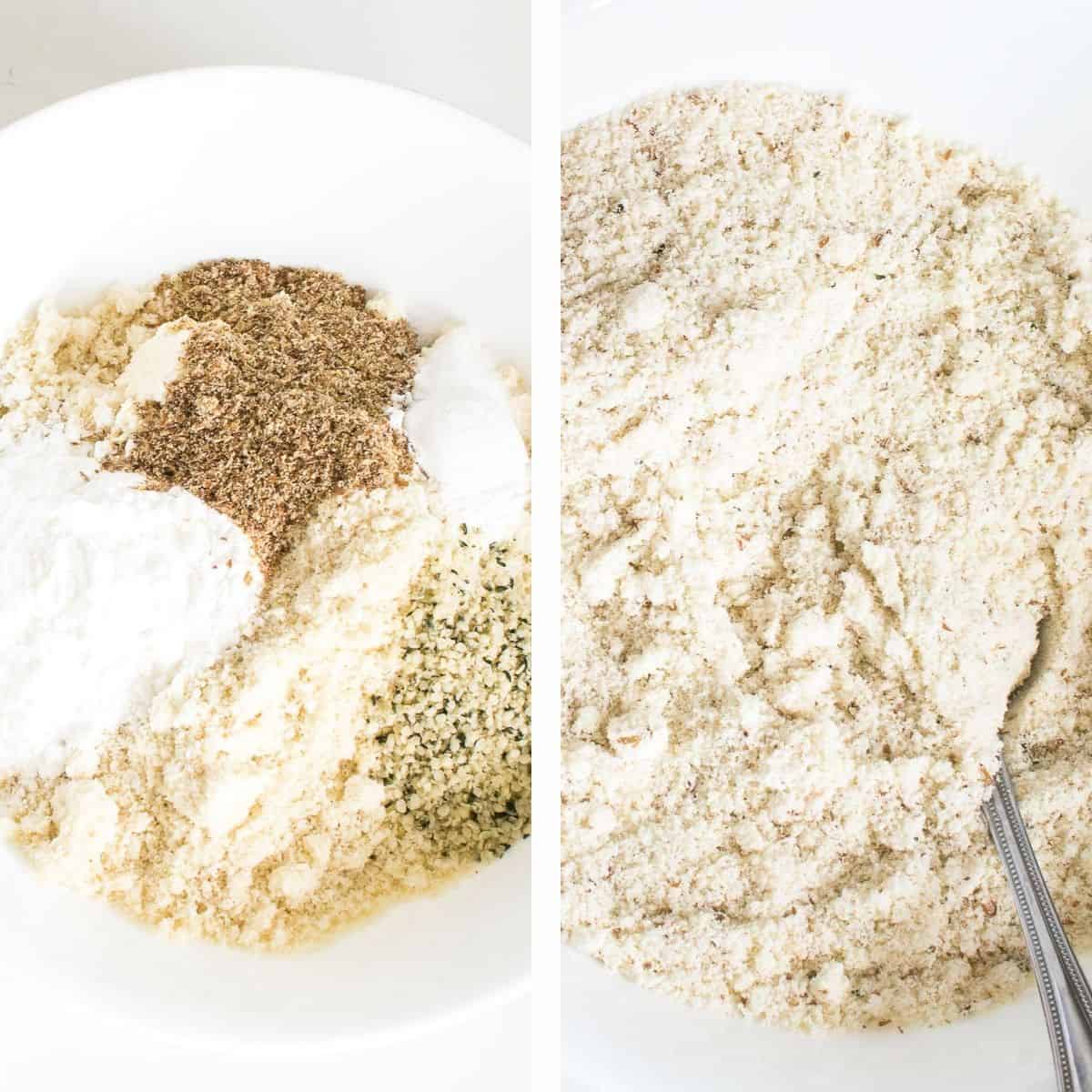 Secondly, I blended all the wet ingredients in the blender until it was smooth.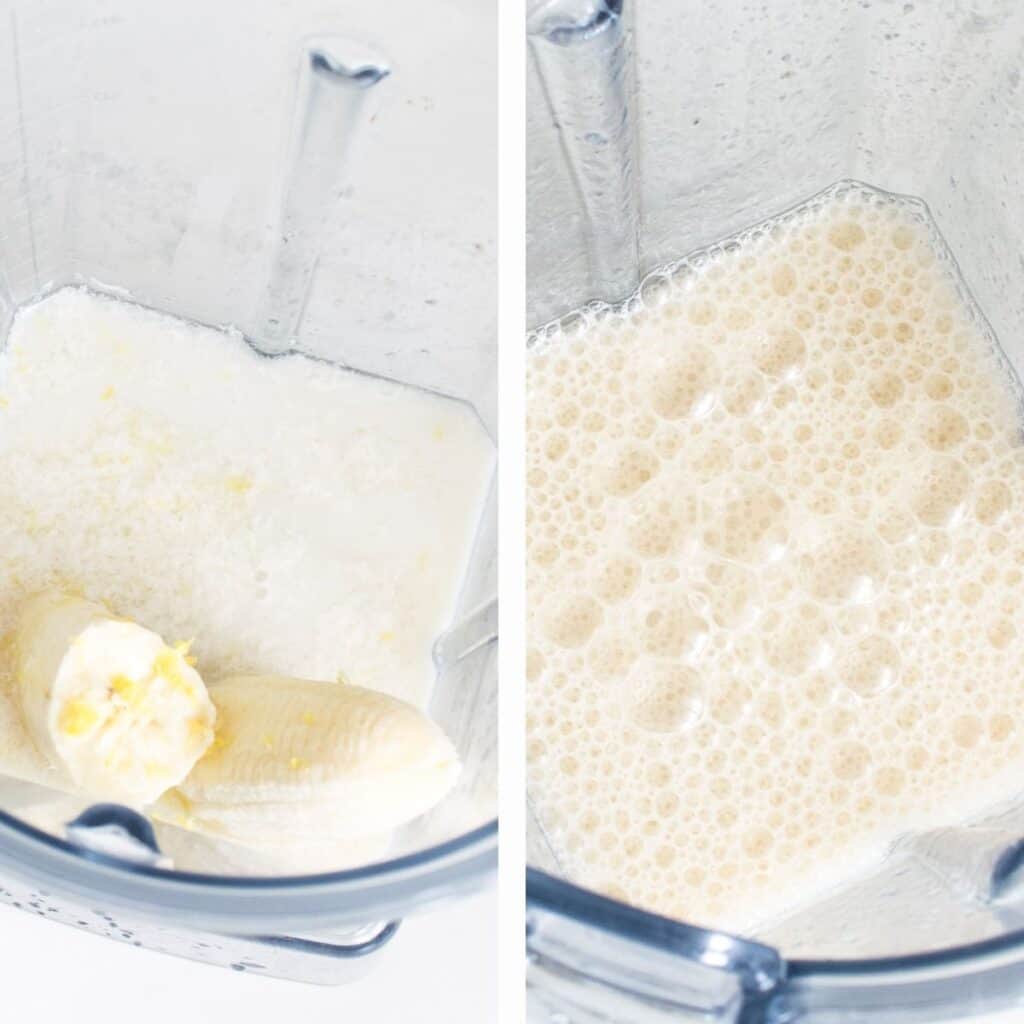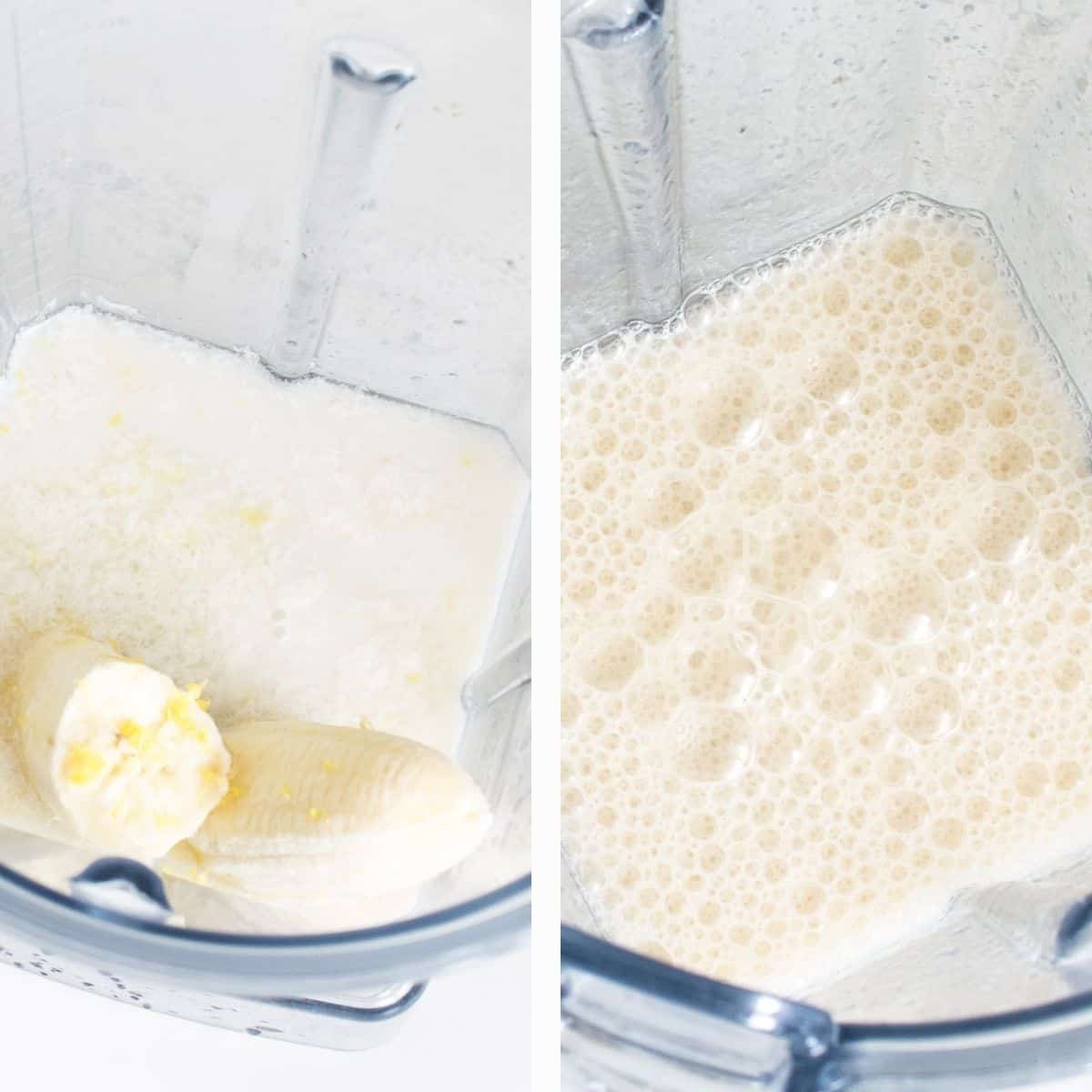 Next, I folded in wet ingredients into the dry ingredients and whipped it into a soft batter. Then, I let it rest for only 2 minutes so that the batter thickens a bit.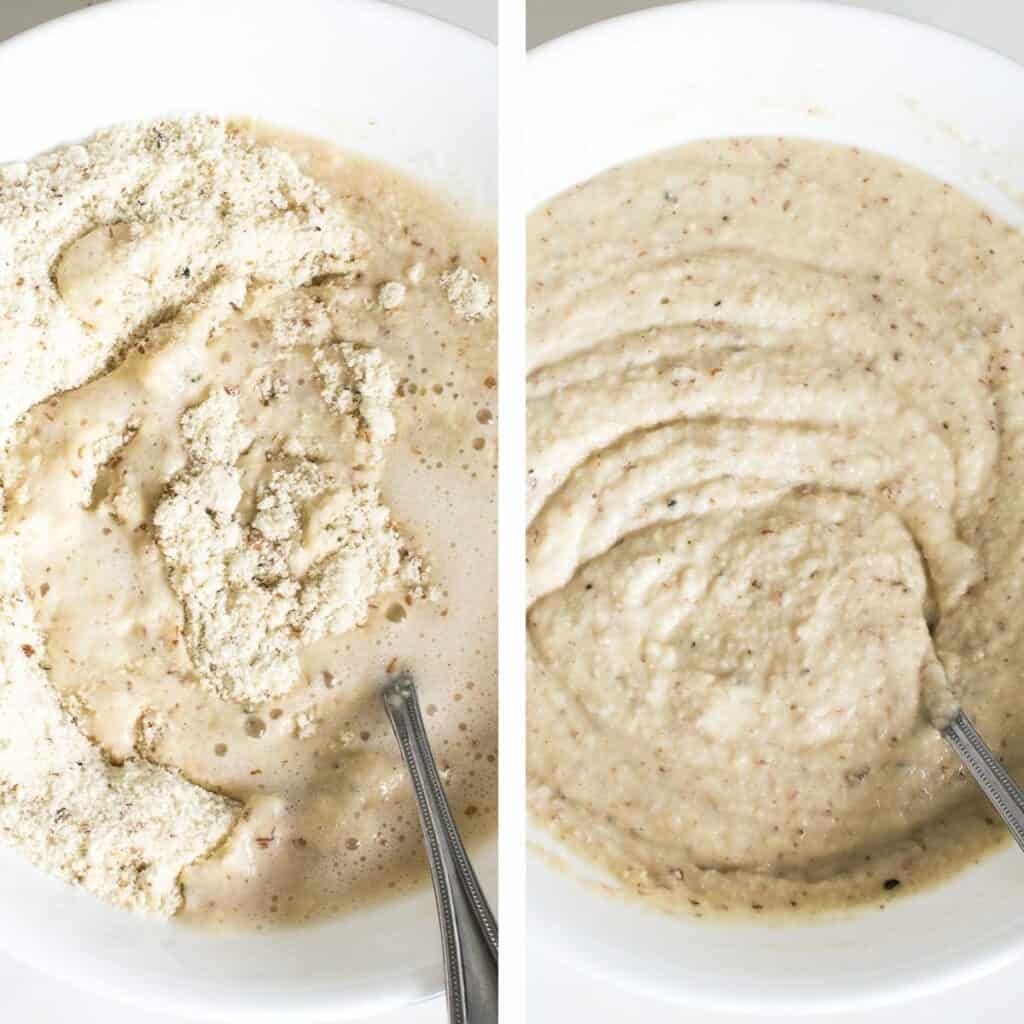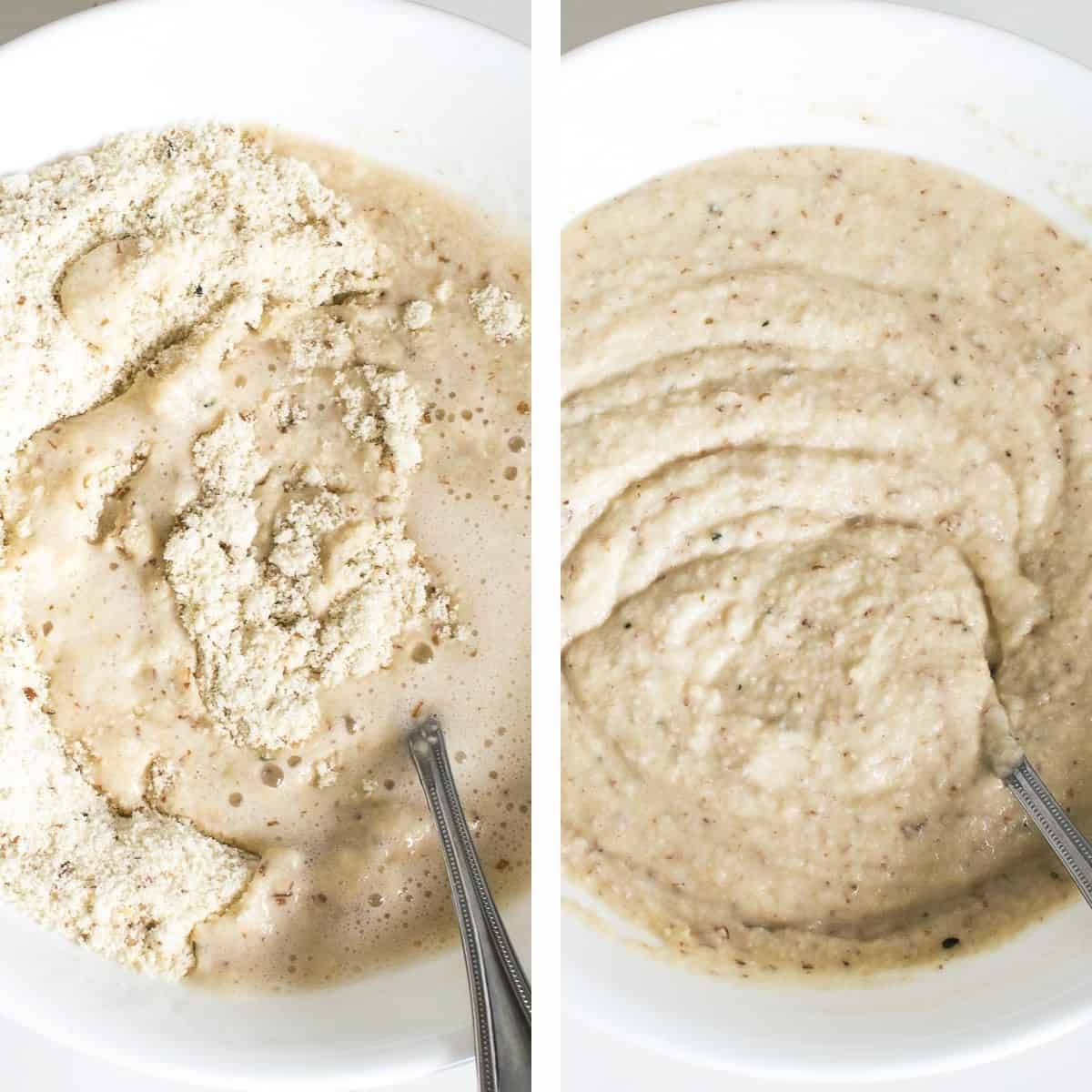 Thereafter, with the help of a cookie scoop I placed the cookies on the prepared cookie sheet keeping 1 inch gap between each of them. This way they can melt, flatten and spread while taking their own shape.
Afterwards, I baked them in a pre-heated oven at 350-degree Fahrenheit for about 25-30 minutes or until the bottom of these cookies were golden.
Lastly, I turned it off and took them out. Then, I let them cool down completely.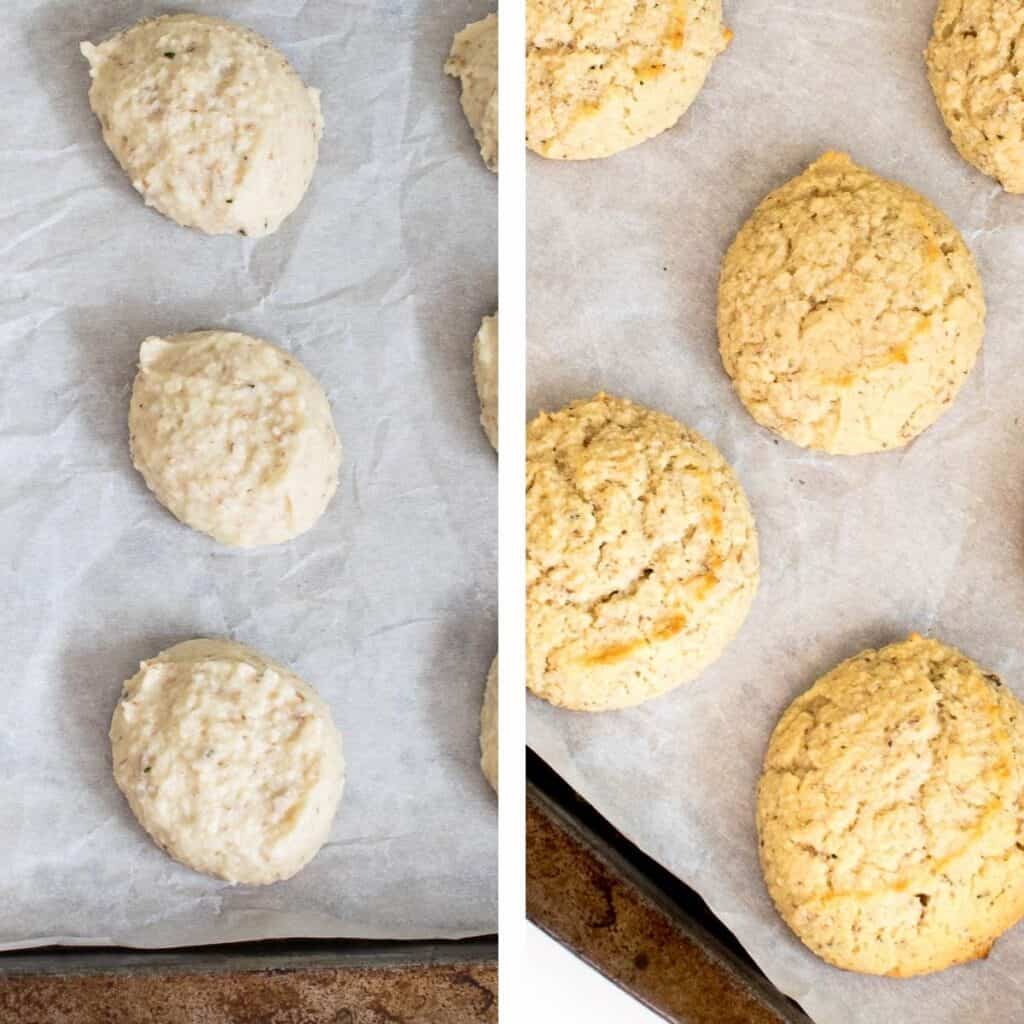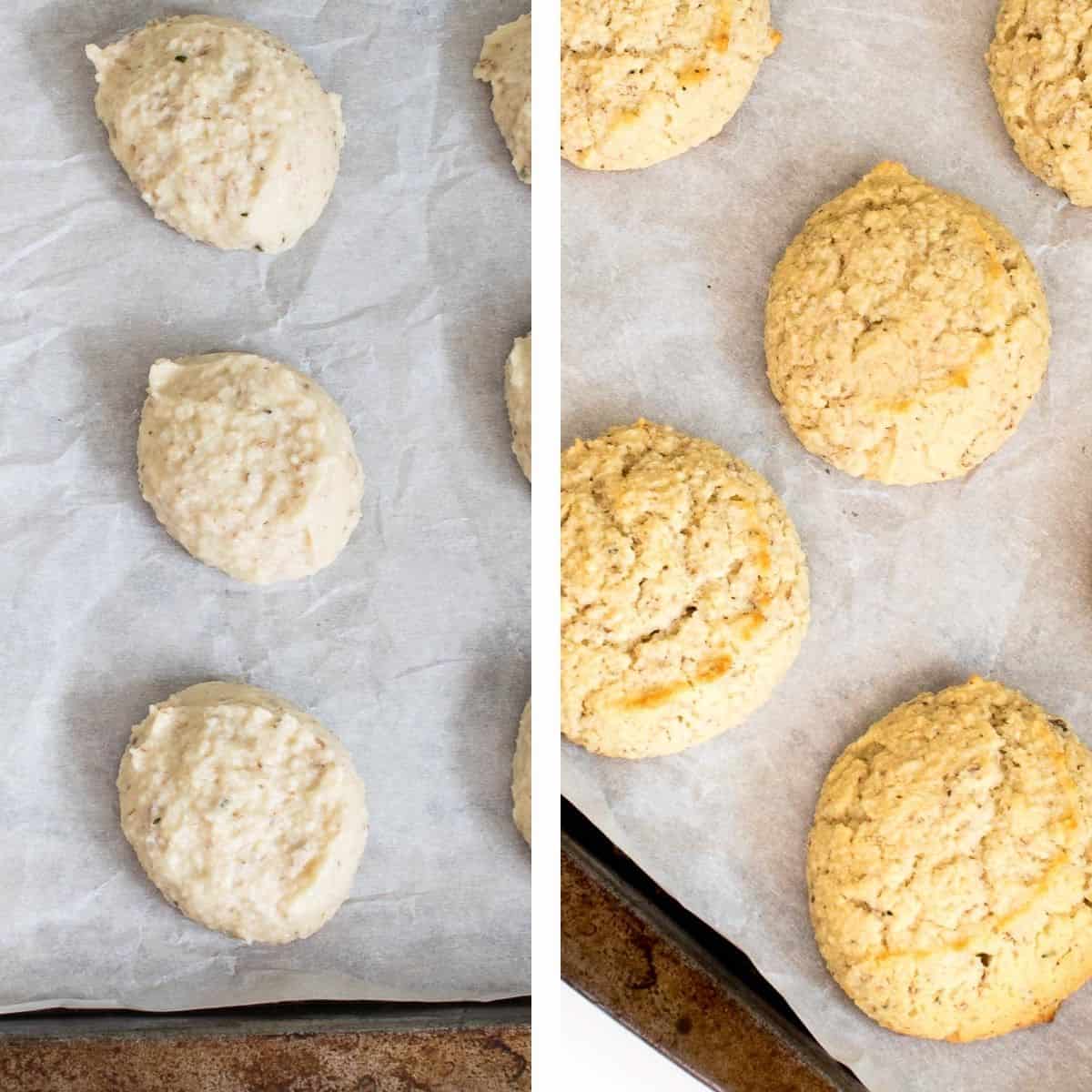 Whoa! By the time I was ready to serve they were gone. I saw crumbs on my children's mouth all over.
They happily enjoyed and relished every bit of these.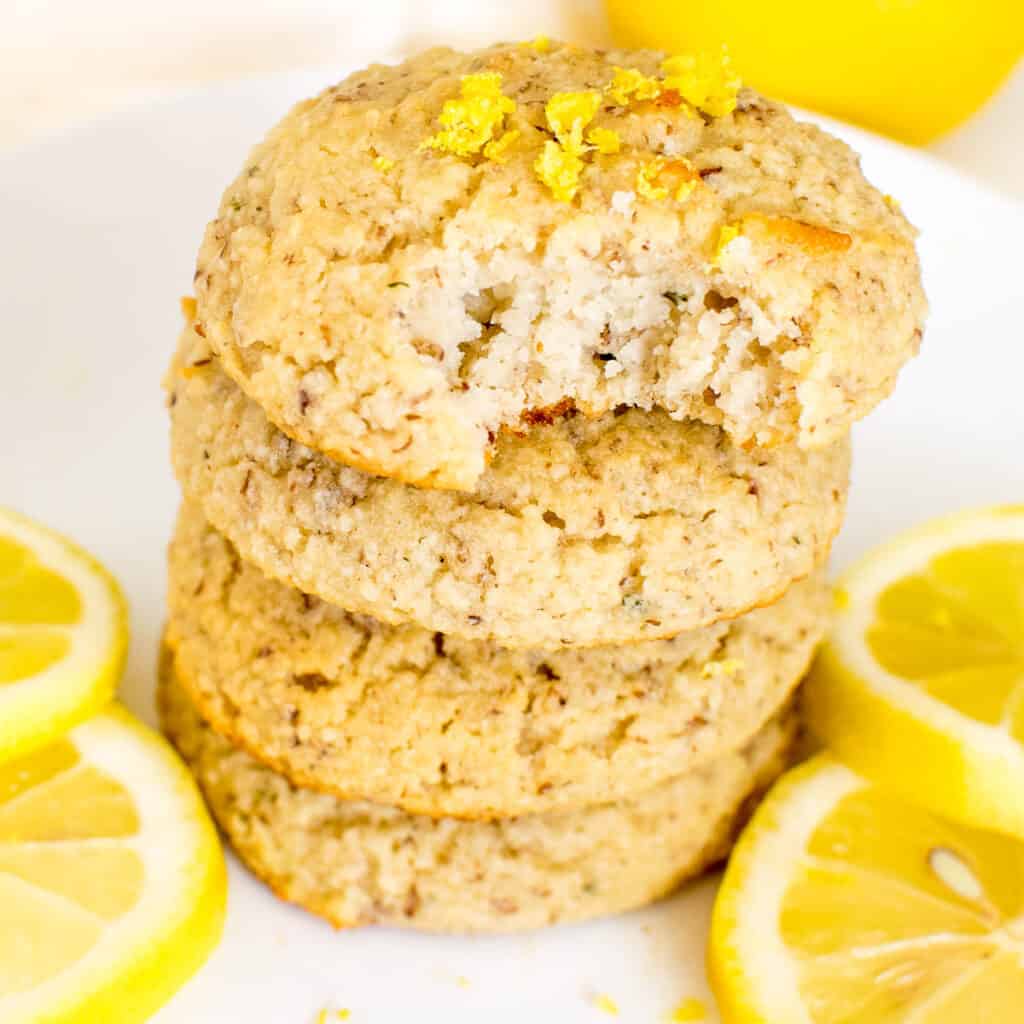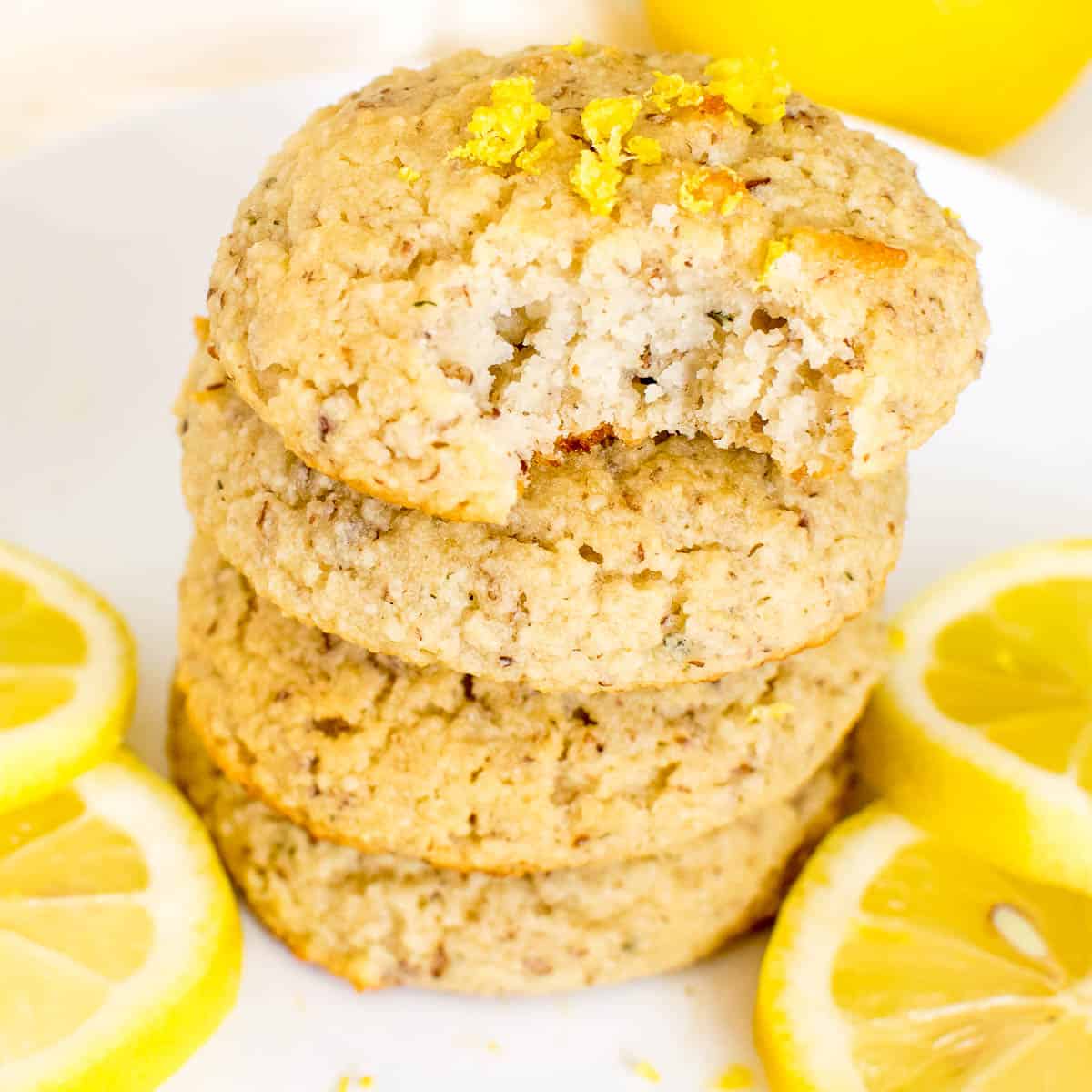 Therefore, I insist that you must try this healthy lemon cookie recipe to enjoy with your loved ones.
Expert tips:
When you pour the blended wet ingredients into the dry ingredients, make sure to whip it constantly and very nicely. As you continue to whip it will thicken. Then let it rest for 2 minutes. However, do not exceed more than 2 minutes. Then, slightly stir and start placing them.
Even though glaze it optional but if you drizzle them over the cookies the taste enhances immensely.
It is important to keep space of 1 inch between the cookies because they spread and take their natural shape while baking. So, its better to opt for large cookie sheet.
Vegan Lemon Cookies FAQS
How long do they last?
They taste best when served the same day. However, store the leftovers in an air tight container for 3-4 days and in refrigerator for 2 weeks. Simply toast them for 1 minute in a toaster oven and let it cool again before serving.
Are these healthy?
I made them with almond flour and natural sweetener. Even though I used cornstarch but only to bind. These cookies are very low in calories and low in carbohydrate too comparatively. They are also oil free and sugar free. Therefore, if you have a sweet tooth then these can be enjoyed frequently.
How do I make them crispier?
Simply bake them 10 more minutes at the bottom rack of the oven after 25 minutes of baking. Another option is to take them out after 30 minutes and then put it in the toaster oven at toast option for 1 minute. Let them cool down and they will become crisp on the outside and yet soft and melt in mouth from the inside.
How does these taste?
They have a distinct lemony flavor and mildly sweet along with some nutty taste.
Are these cookies gluten free?
Yes, just make sure to use gluten free cornstarch.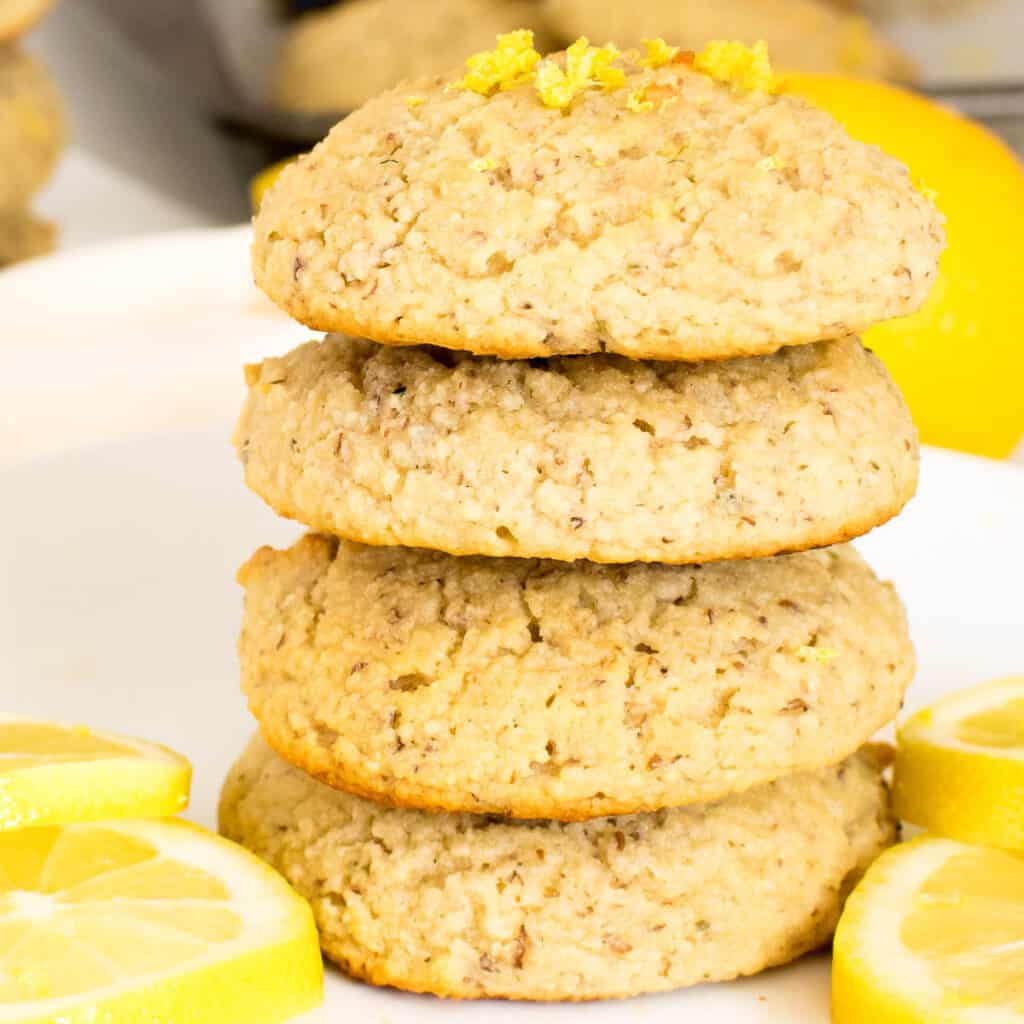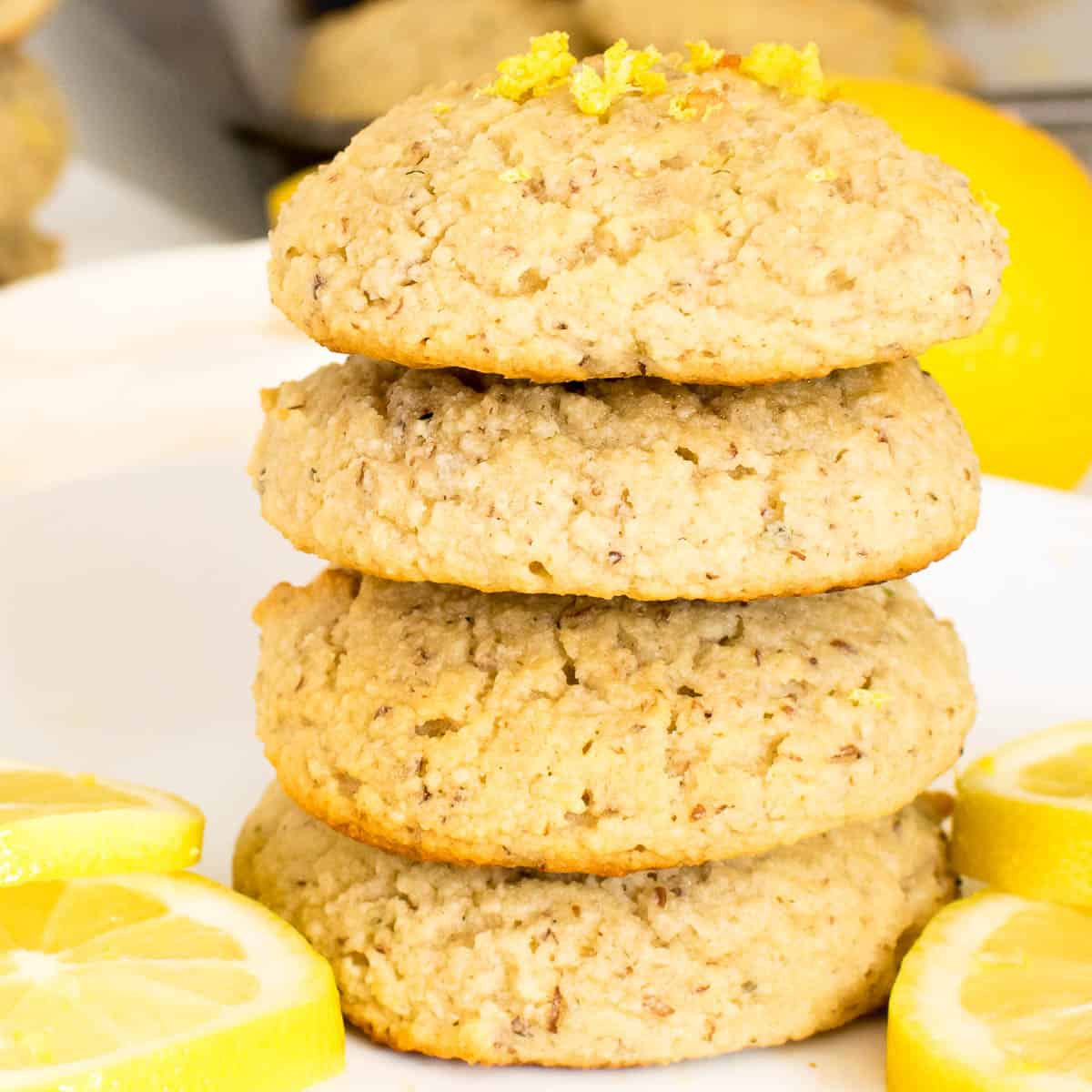 Did you make it?
If you get a chance to make this recipe then please leave your feedback in the comments below along with the ratings. In addition, you may tag @kiipfit on Instagram along with your recipe images because we would love to see what you cooked.
In addition, if you desire to explore more of my delicious recipes then you may checkout my cookbooks.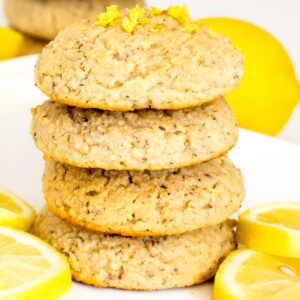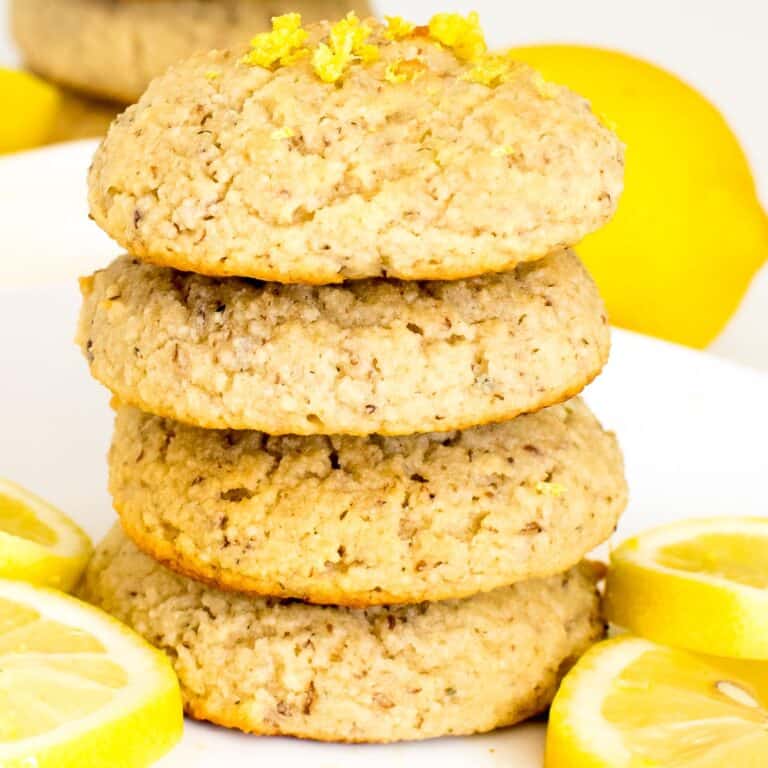 Print Recipe
Vegan Lemon Cookies
These oil free Vegan Lemon Cookies are soft and chewy inside and slightly crisp outside. These are easy, fast and filled with zesty flavors in every bite. It's a perfect dessert to satisfy sweet cravings in a healthier way and at all ages.
Ingredients
Wet ingredients
1/2

cup

unsweetened almond milk

1

ripe

banana

1/8

cup + 1 tbsp

maple syrup

3

tbsp

lemon juice

1/2

tsp

lemon extract

lemon zest of 1 lemon
Instructions
Preheat oven at 350-degree Fahrenheit and prepare a cookie sheet with parchment paper. In a mixing bowl combine all the dry ingredients and mix it well making sure that there are no lumps.

In a blender combine all the wet ingredients and blend it smooth.

Now, fold in wet ingredients into the dry ingredients and whip it very well. Let it stand for 2 minutes as this will thicken the batter a bit.

Now, with the help of a cookie scoop place the cookies on the prepare cookie sheet keeping 1 inch gap between each cookie. While baking they will melt and spread so we need to keep space between each cookie.

Place the cookie sheet in the middle rack of the oven and bake it for 25-30 minutes or until the bottom of the cookies are golden in color. Once done, take it out and turn off the oven. Place the cookie sheet on a flat surface and let them cool completely and enjoy.
Notes
For crispier cookies: After 25 minutes place the cookie sheet at the bottom rack and let it bake for another 10 minutes. This will make the outside a bit crisp while keeping them soft from inside.
They taste excellent when served the same day. Store the leftovers in an air tight container at room temperature for about a week. Simply place them in a toaster oven and toast it for 1 minute. Let it cool and the outside will become slightly crisp while the inside would be soft.
For glaze option: In a mixing bowl combine ¼ cup granulate sugar and 2 tbsp. fresh lemon juice. Whip it very well until sugar dissolves. Then drizzle over the cookies. It is important to note that this drizzle will change the nutrition facts f these cookies.
Banana should be ripe but not over ripe or else the taste might change. 
Nutrition
Calories:
114
kcal
|
Carbohydrates:
9
g
|
Protein:
4
g
|
Fat:
6
g
|
Saturated Fat:
1
g
|
Sodium:
50
mg
|
Potassium:
68
mg
|
Fiber:
2
g
|
Sugar:
3
g
|
Vitamin A:
1
IU
|
Vitamin C:
1
mg
|
Calcium:
57
mg
|
Iron:
1
mg