These easy vegan Chai Cookies are packed with aromatic spices and true Indian tea flavor. It's made with oats and sweetened naturally with dates. These are oil free and healthy treat that pairs excellently with your favorite caffeine beverage or dairy free milk.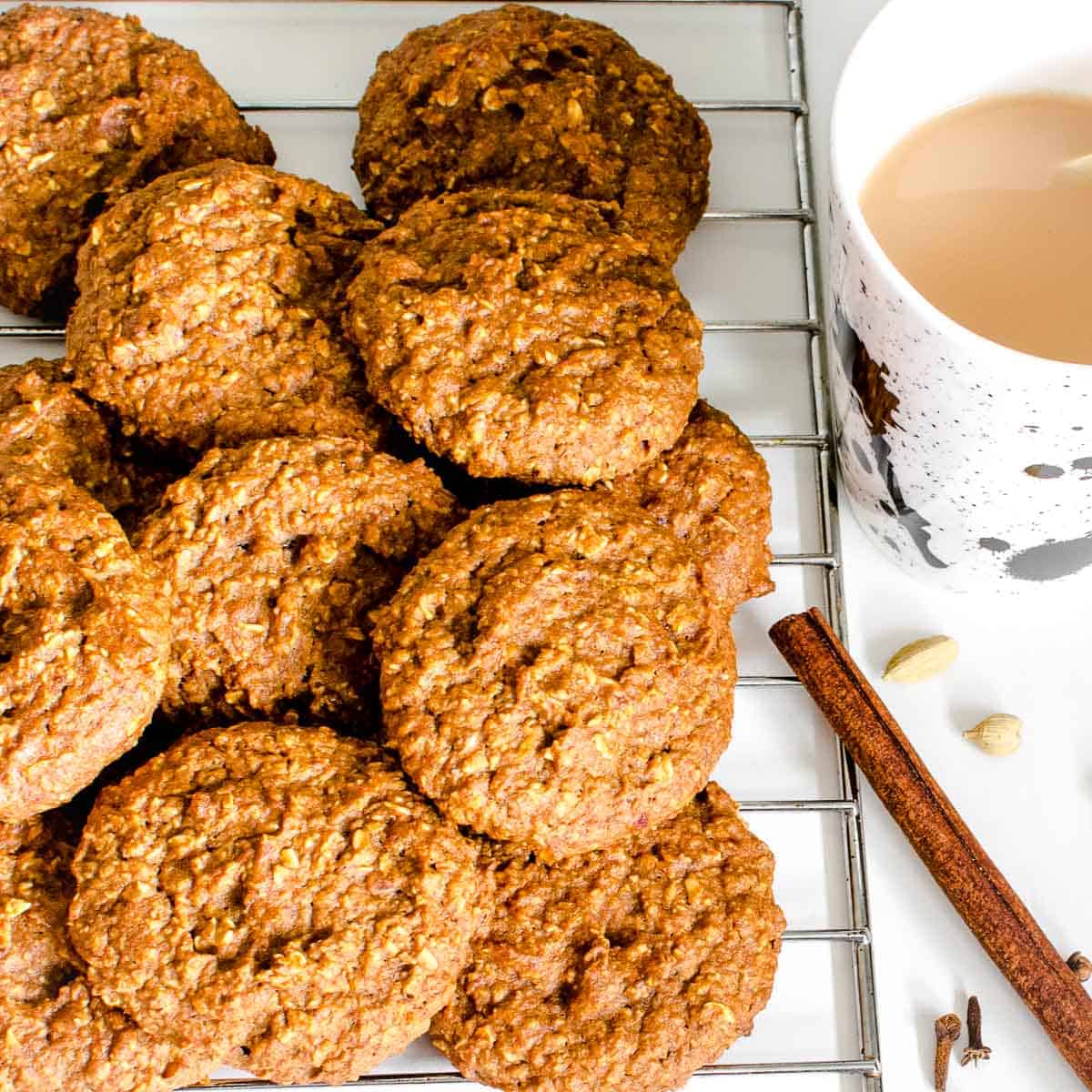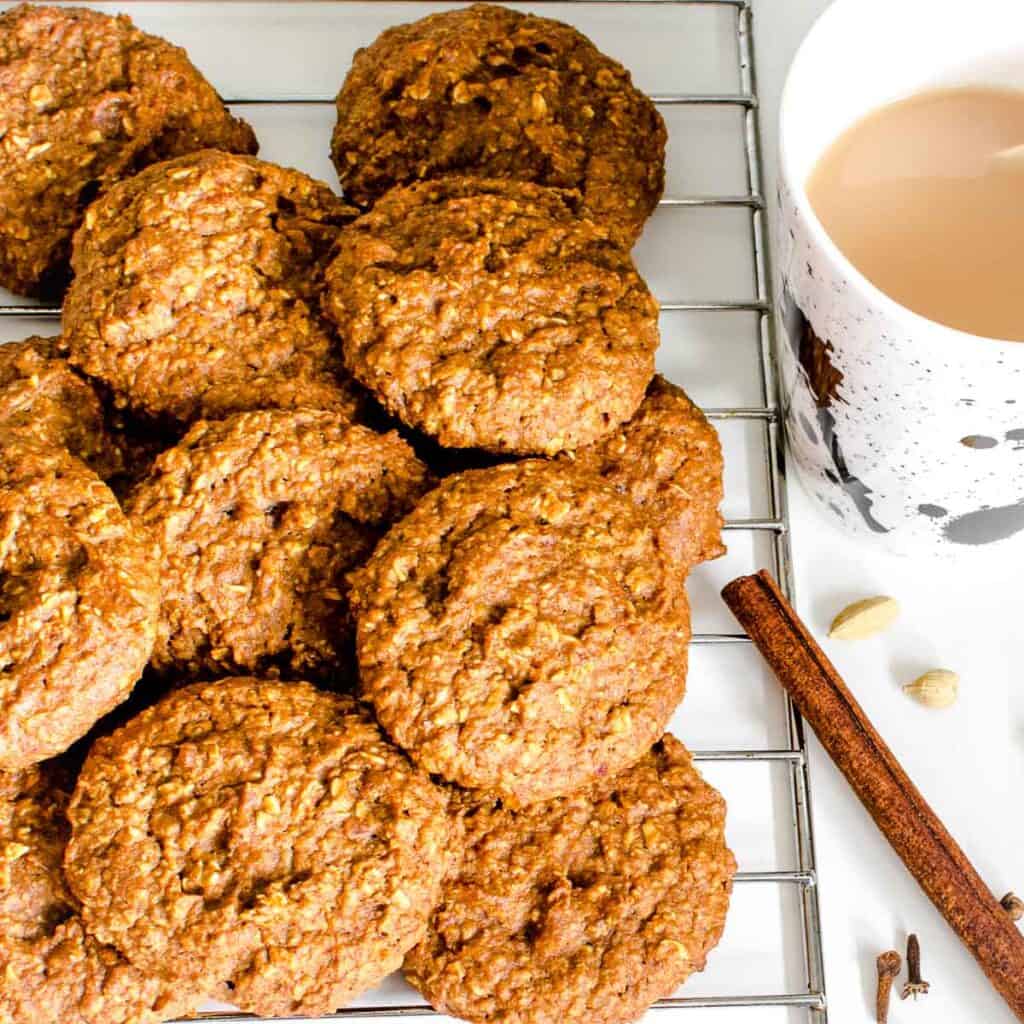 Born in an Indian family I have been surrounded with masala chai and its aroma all my life. As we grew up it became our staple morning and evening beverage.
In India, it's the TEA and nothing beats that fresh, hot, steaming cup of chai.
We always looked forward for evening chai as mom used to serve some Indian snacks with it. However, after coming to the West evening teas became a quick break and without snacks.
Therefore, when I discovered the fact that I could bake delicious vegan treat with chai flavor, I was super excited to incorporate my favorite flavor into the baked goods.
I have tried chai flavor earlier as in masala chai protein smoothie but baking it into a cookie was absolutely ecstatic.
Oats is a healthy ingredients and is very regular in our diet. Hence, i often make my delicious and healthy no bake oatmeal protein balls.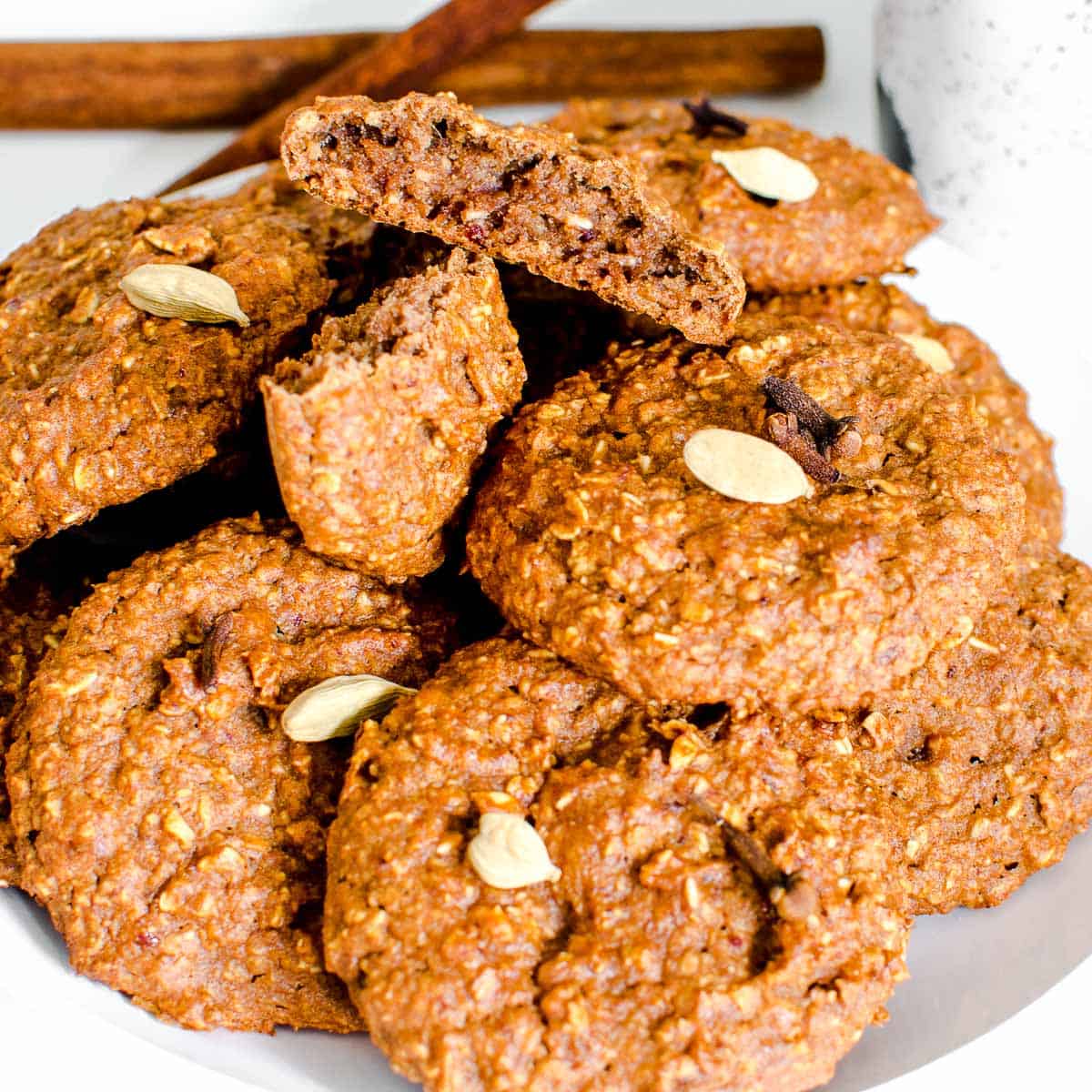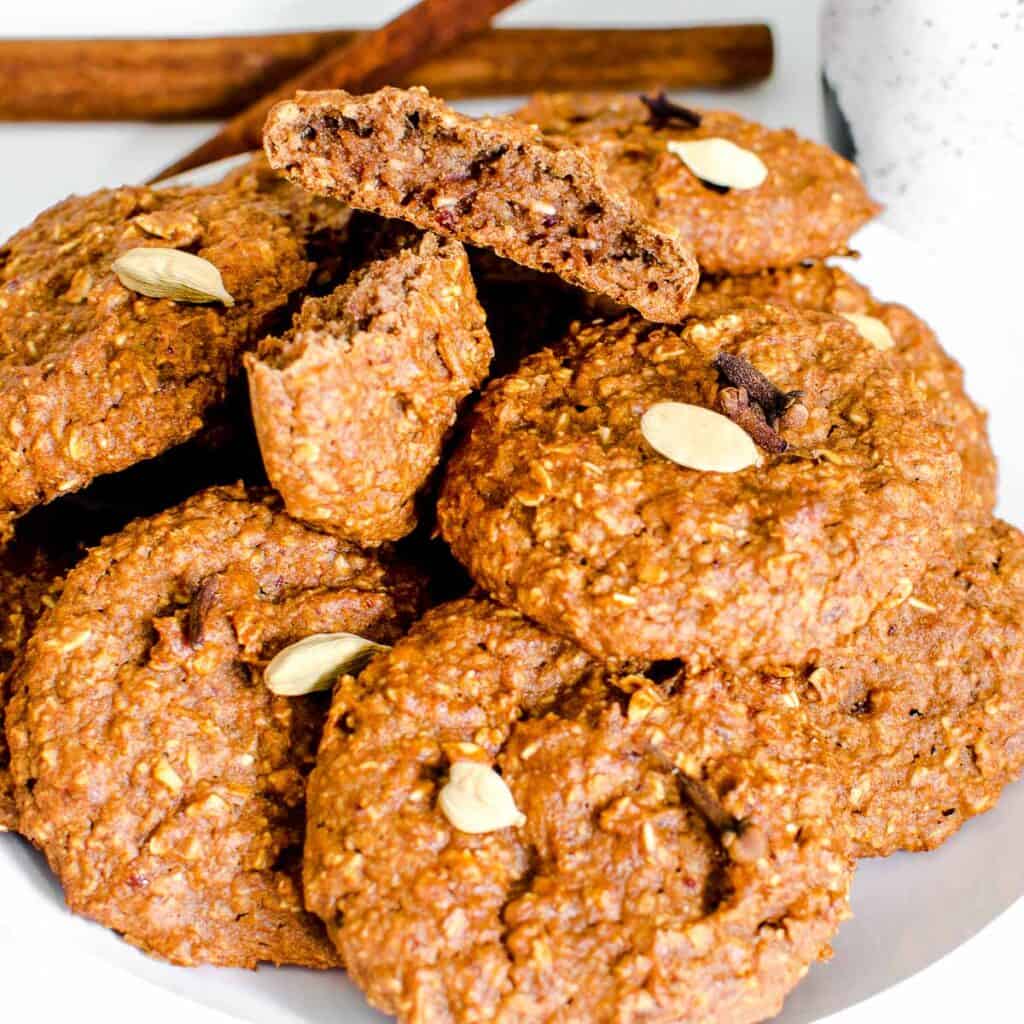 As I was recipe testing these I was blown by its beautiful aroma. We have been gorging these masala chai cookies for days.
My other favorite cookie recipes that you may like are:
Vegan Lemon Cookies
One Bowl Tahini Cookies
Almond Butter Cookies
Peanut Butter Sweet Potato Cookies
Peanut Butter Banana Amarant Cookies
After getting fully satisfied with my experiments and innovation, I decided to share this chai cookie recipe with you all.
Its soft, chewy with a mild crunch at the outside. These are so delectable that we are constantly munching on them. So, I am sure you all will love these.
Ingredients you will need
For masala chai
Water
Cinnamon
Cardamom
Cloves
Ginger
Loose tea leaves
Coconut milk
For the cookies
Oats
Dates
Maple syrup
Baking powder
Salt
I have used these easily available ingredients which you may buy from any local grocery store. However, I have provided links to few of them here for your convenience.
If you plan to buy from these affiliate links then I get a small commission which in turn encourages me to bring in more delicious recipe for you all.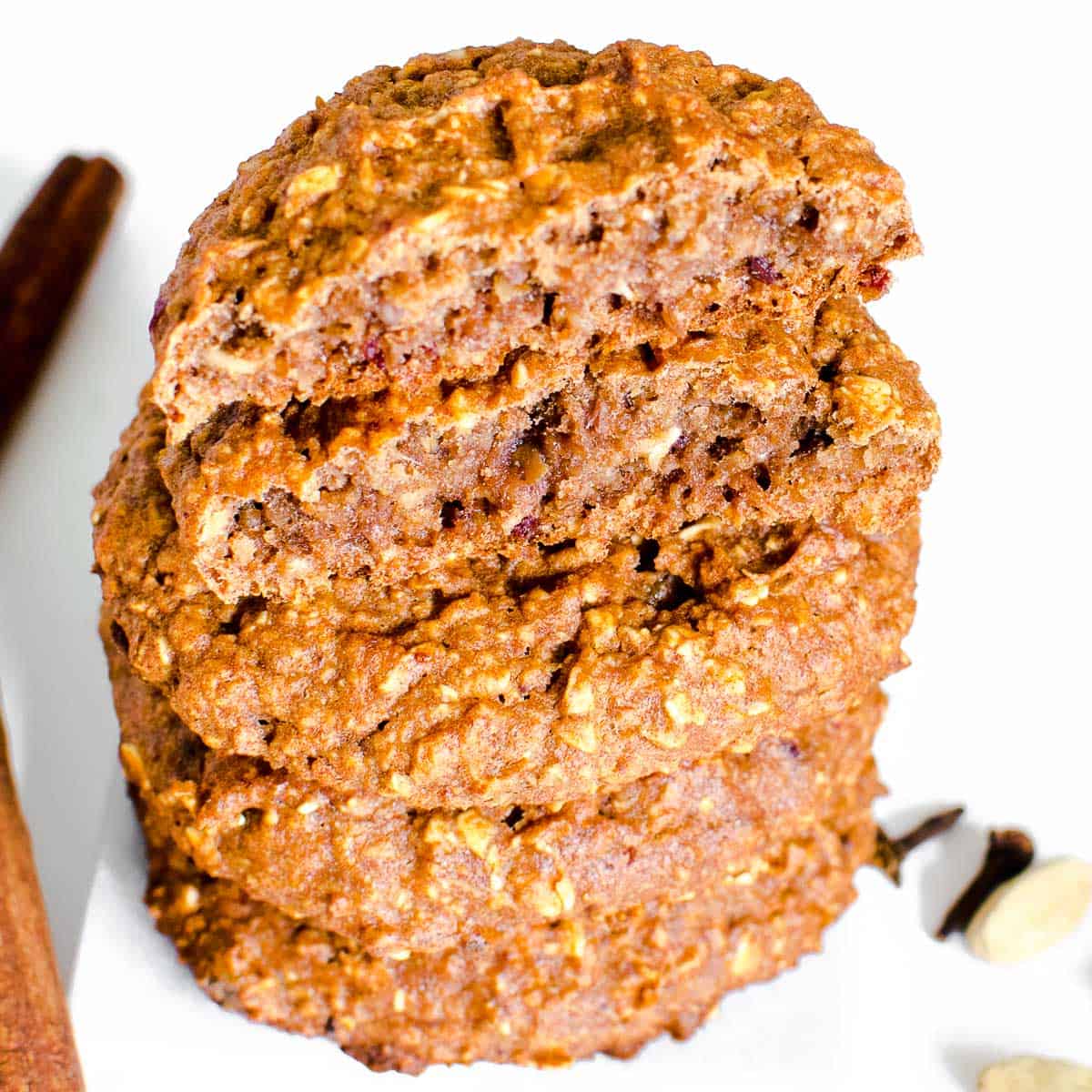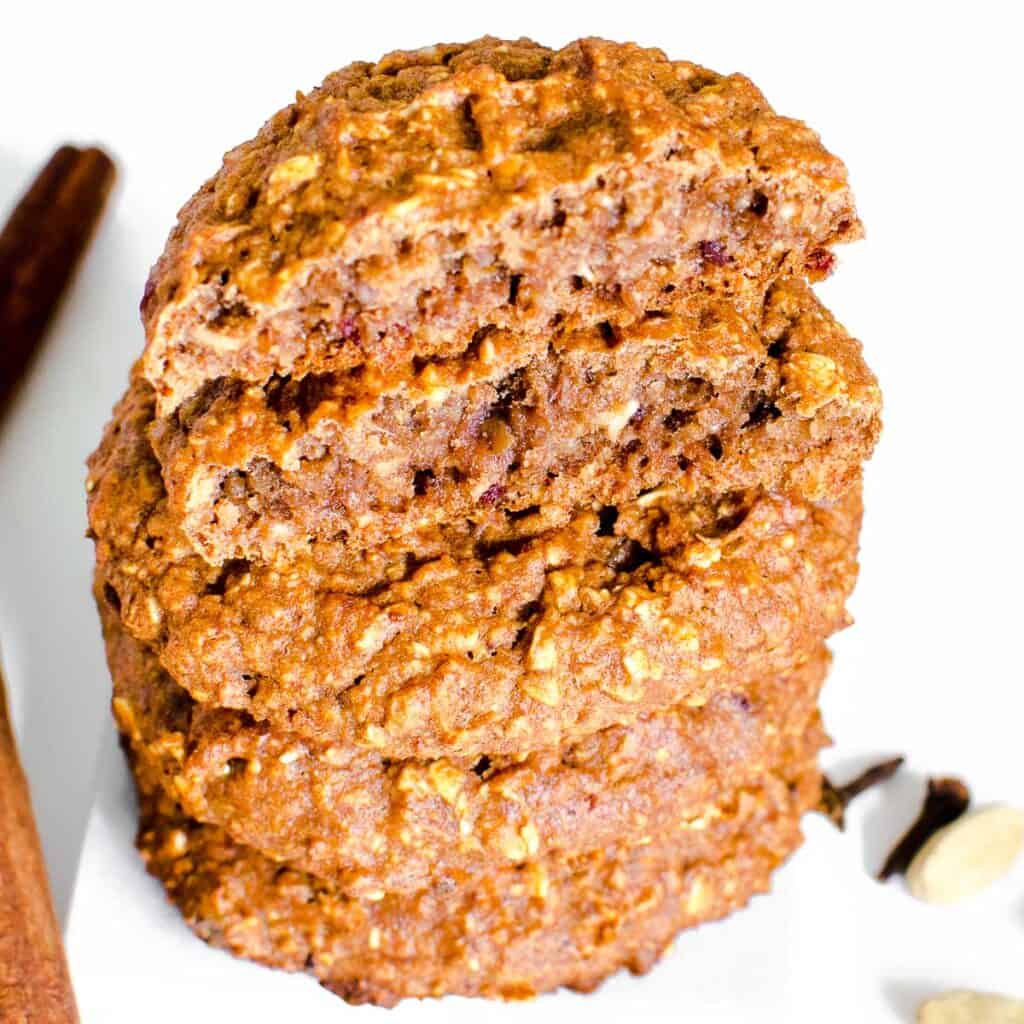 Ingredients notes:
Cinnamon – you may use cinnamon powder or cinnamon stick for this recipe. It makes this recipe super aromatic and adds some health benefits too.
Cardamom – I prefer using in powder form to add natural and subtle sweetness to it. You may use green cardamom pods here and will still taste as good as ever.
Loose tea leaves – originally masala chai is made with loose tea leaves. I used a bit extra here so as to infuse a stronger flavor to these cookies. You may use tea bags as well in this recipe but it might be more smooth and subtle thereby differing form the original recipe.
Coconut milk – you ay use almond milk or oat milk as well in this recipe. However, coconut milk that comes in carton/tetra pack works best here.
Oats – I used old fashioned oats in this recipe since I like its texture. It also soaks quickly and is best to bake cookies. However, you may steel cut oats as well here.
Dates – I used pitted dates here to sweeten these cookies naturally. At the same time dates are healthy, fiber rich and helps in inducing natural labor.
Maple syrup – I used a tiny bit of it to bring out a caramelized flavor in these cookies after baking.
After, going through the ingredients in detail, all you have to do it to go through the easy steps and bake these delicious chai tea cookies ASAP.
How to make Chai Cookies
Step1: how to make chai
Firstly, I combined water in a sauce pan and turned on the flame.
Secondly, just when the water was warm but before boiling, I added the spices to it. Then, I let it boil for a while.
Next, I added loose tea leaves and boiled it for 1 minutes.
Thereafter, I turned off the flame and added the milk to it. Then, I removed it from flame and let it cool down.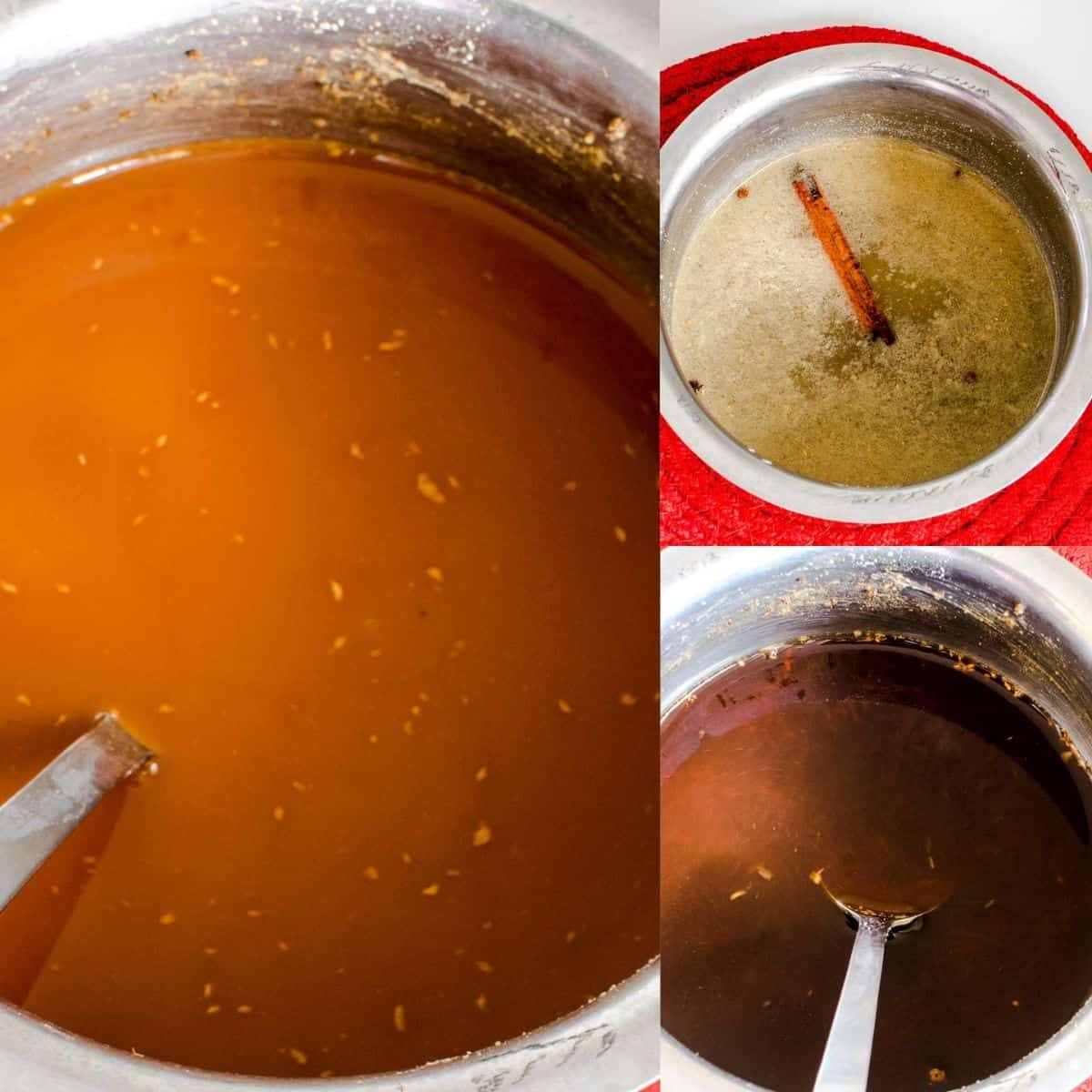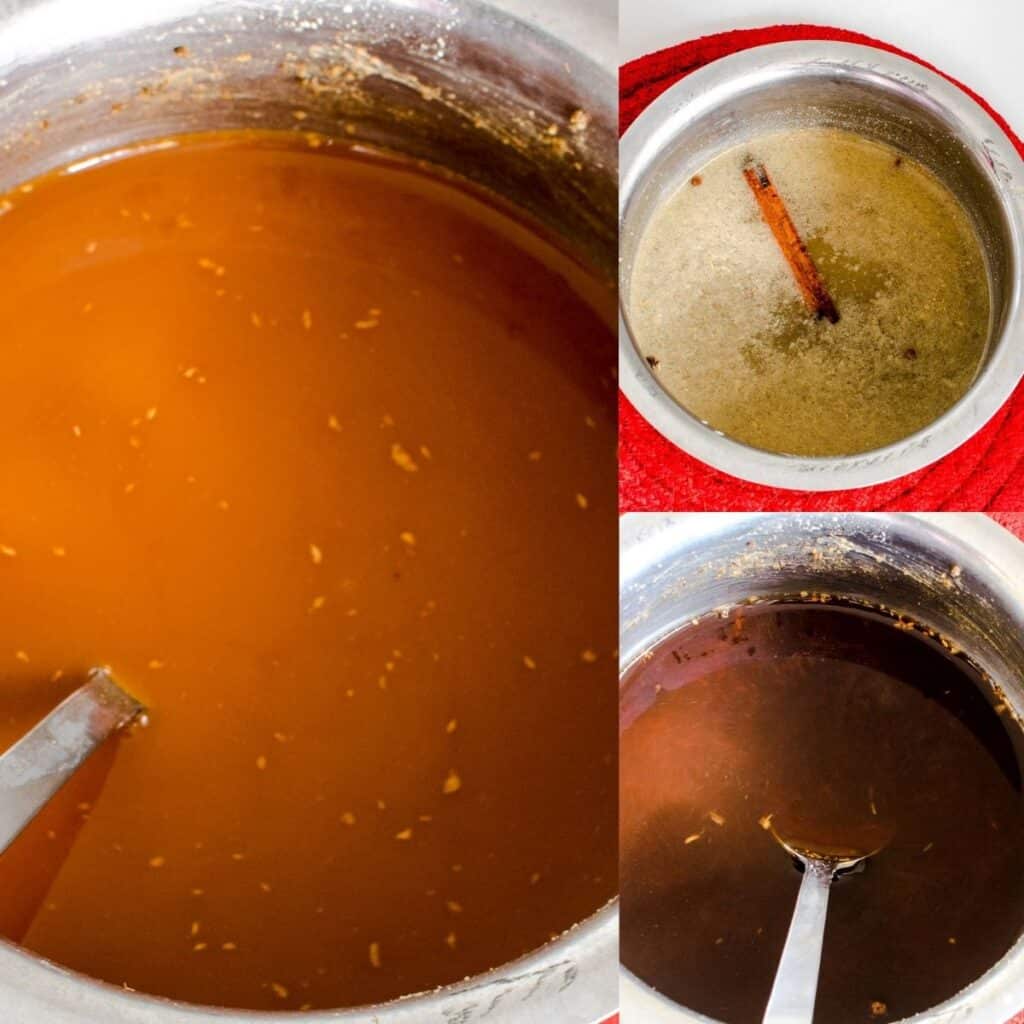 Step2: How to blend the batter
Firstly, I soaked dates in hot water until they were soft. Then, I drained it using the strainer.
Secondly, in a food processor, I added oats, drained dates and maple syrup.
Next, I strained the cooked chai into the food processor directly and added the rest of the ingredients to it.
Thereafter, I blended it until it was a smooth, thick and sticky batter.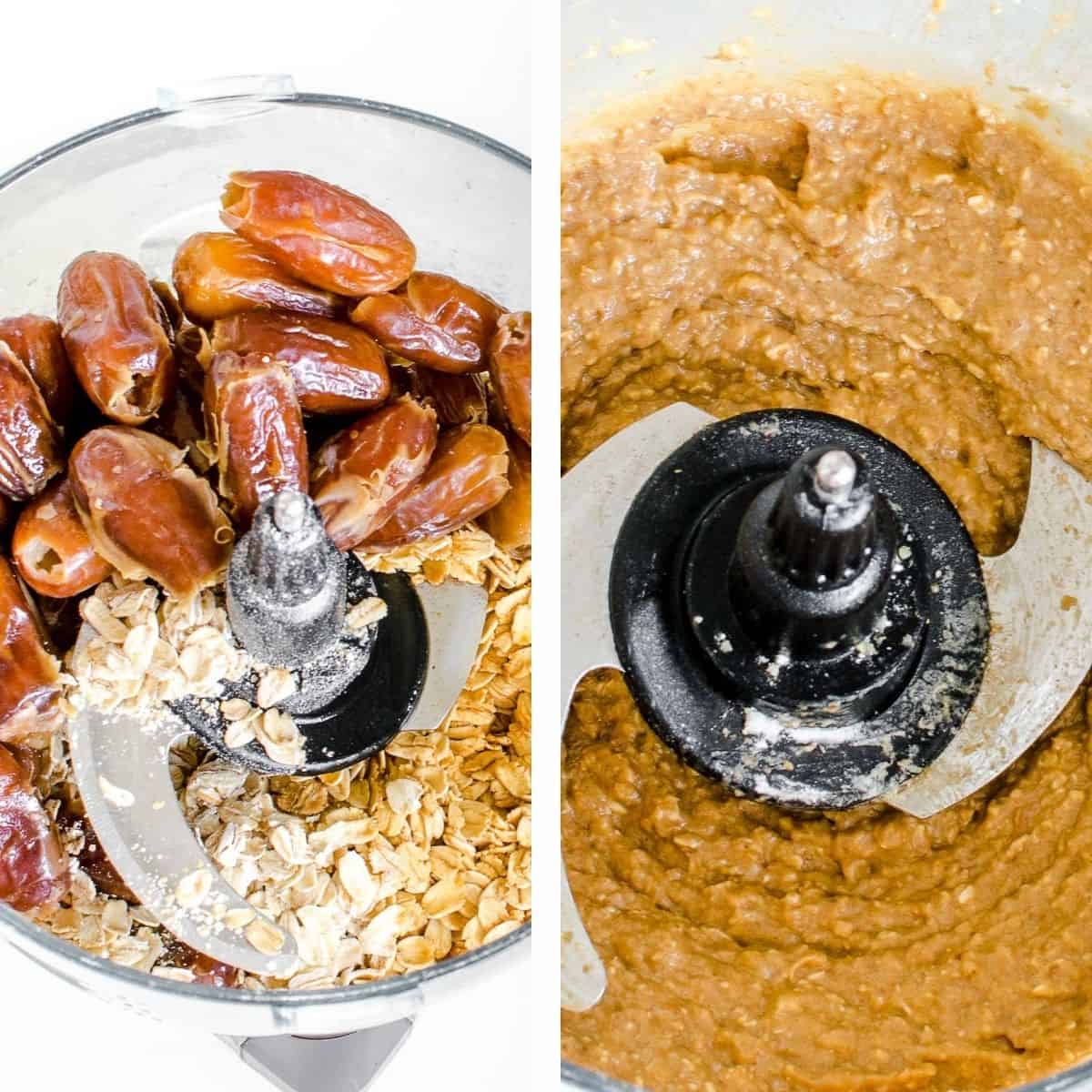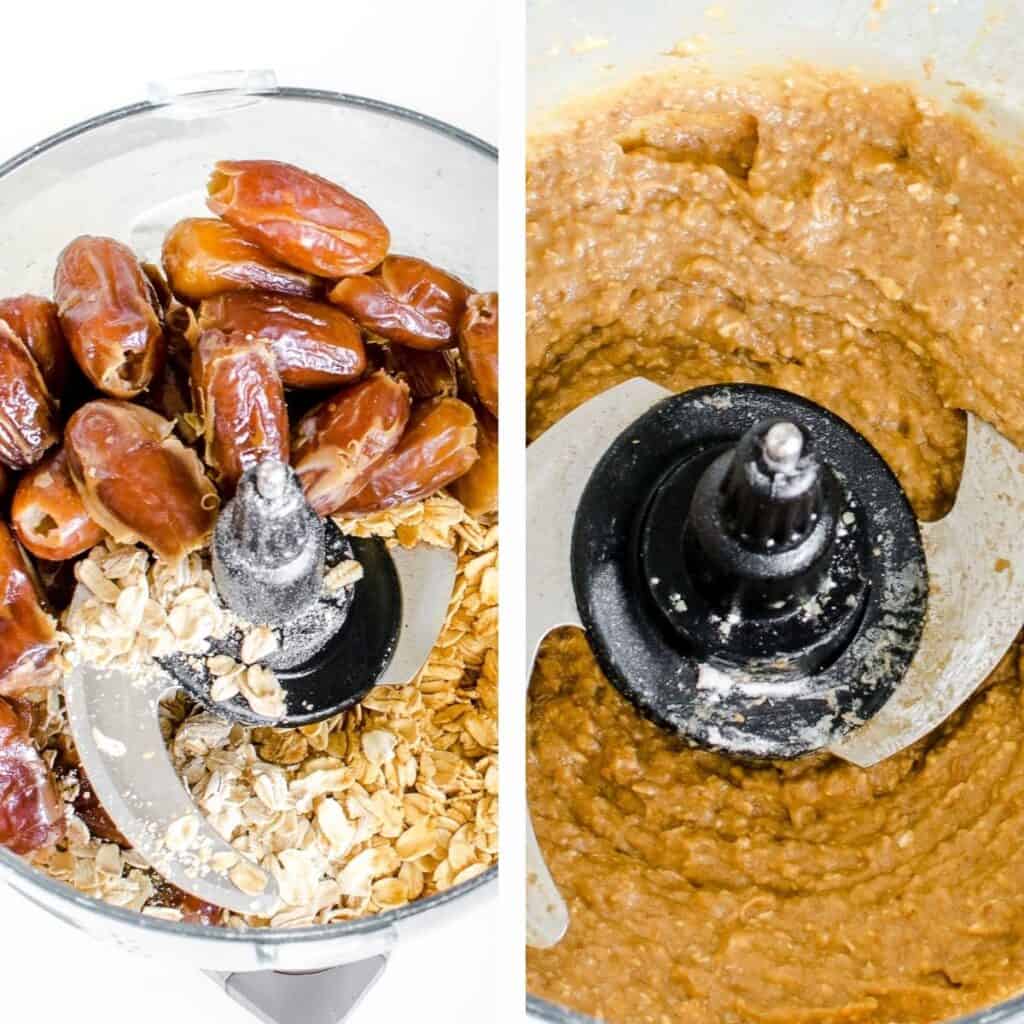 Step3: how to bake
Once I blended the batter, then with the help of a cookie scoop, I scooped 12 cookies and placed them on the prepared cookie sheet.
Next, I pressed each cookie from the flat surface of the measuring cup or a bowl.
Then, I shaped it further into round cookies.
Afterwards, I placed the cookie sheet in the preheated oven at 350 degree and baked it for 30 minutes.
Once baked, I turned off the oven and took them out of it. Then, I placed them on a flat surface to cool down completely.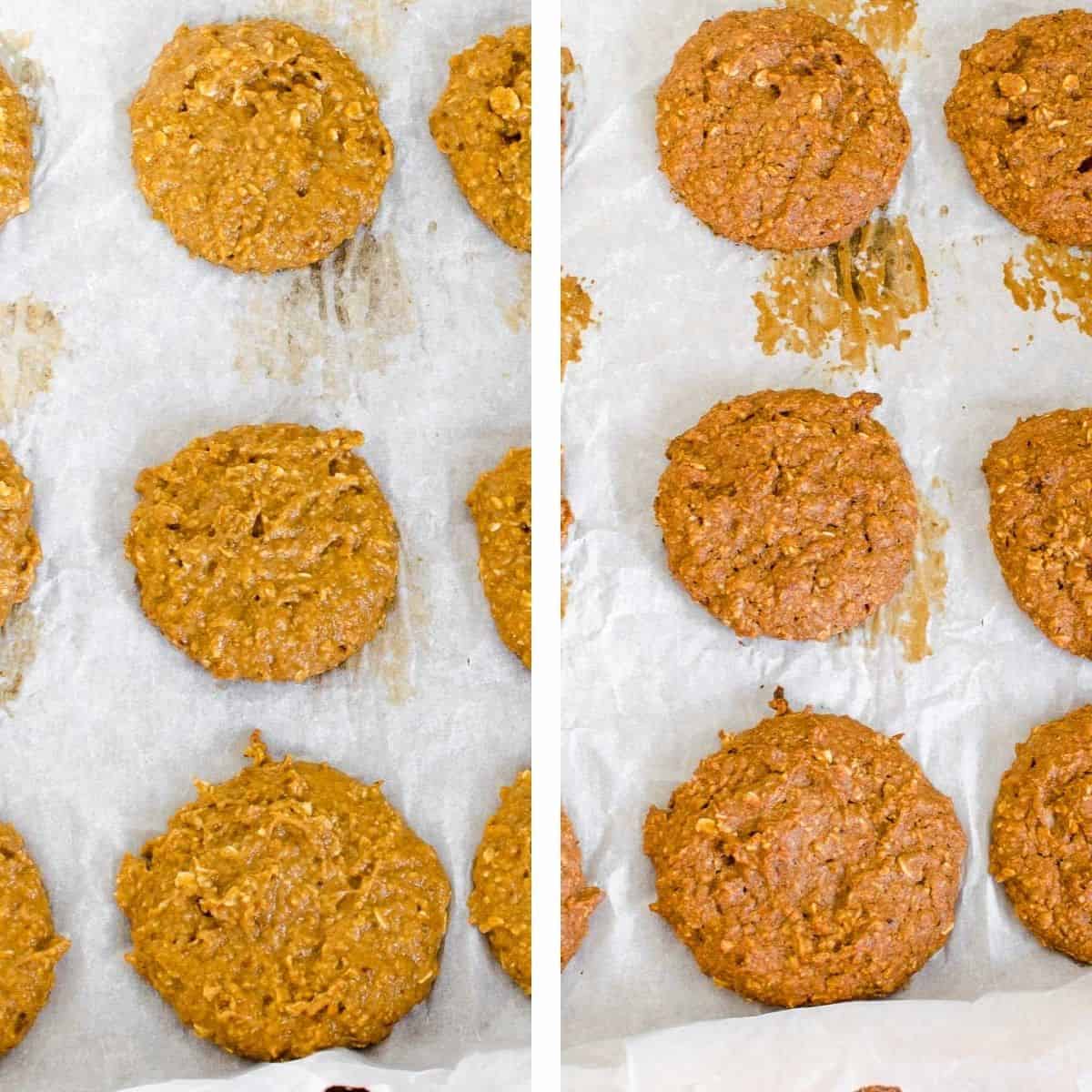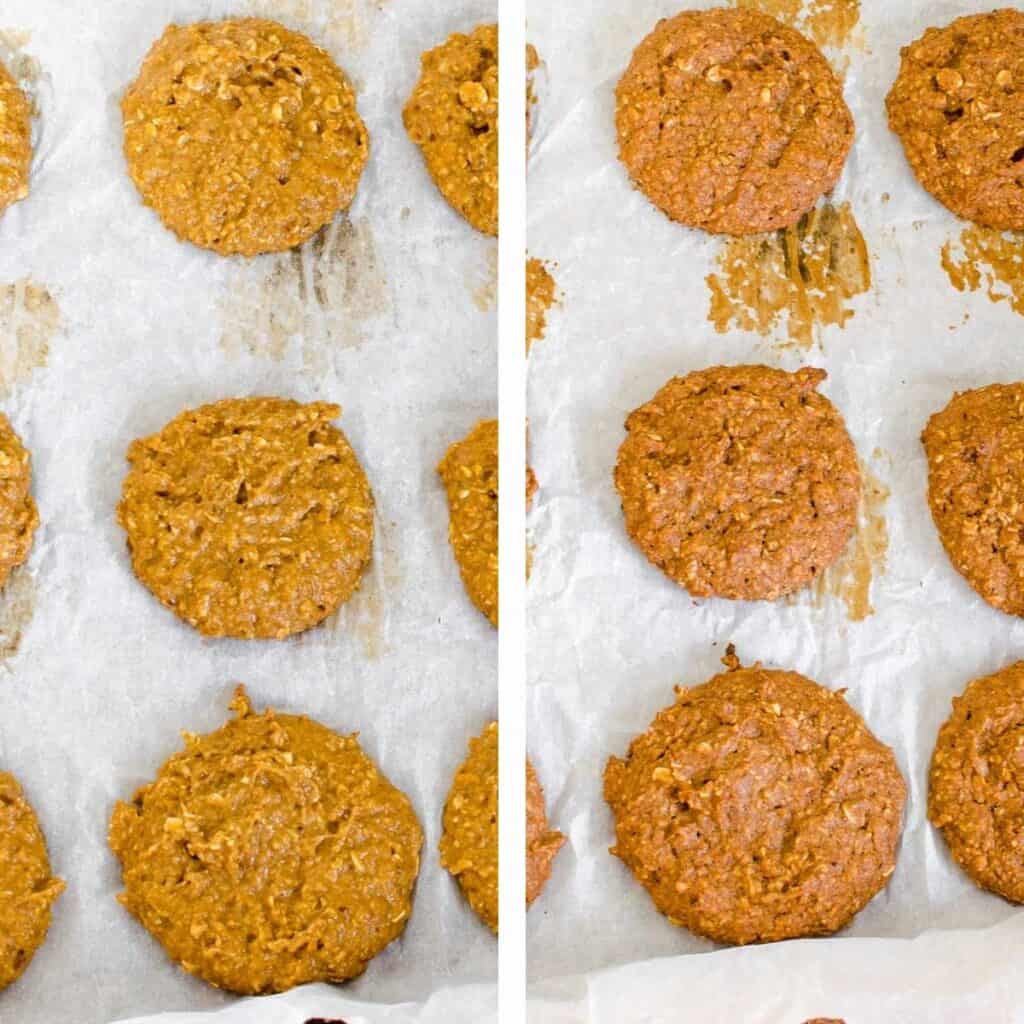 We enjoyed every bit of these thoroughly. I have tested this recipe many times and each time we loved the tea flavor in it. However, I wanted to present a perfect looking cookie so therefore, I settled down with this recipe for you all.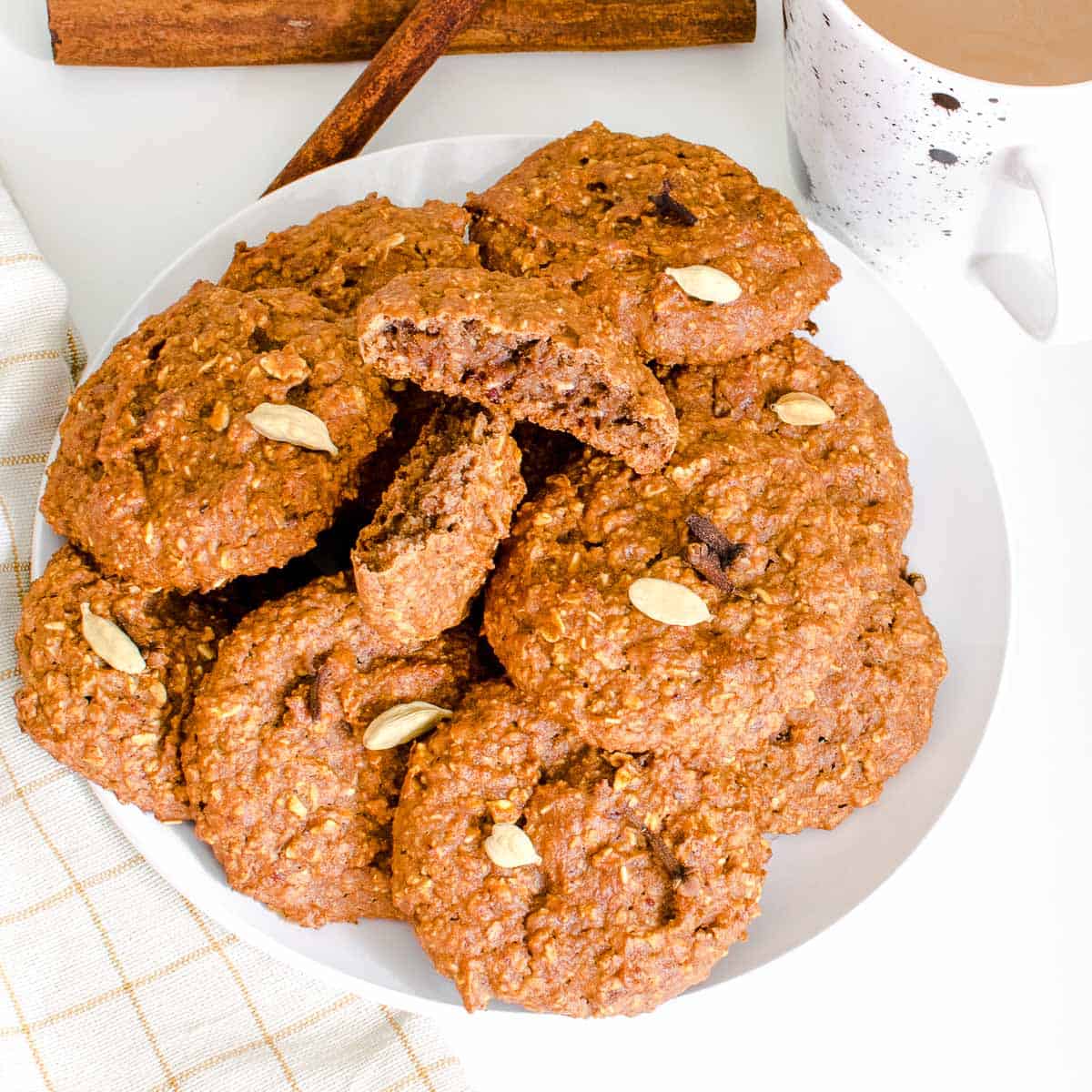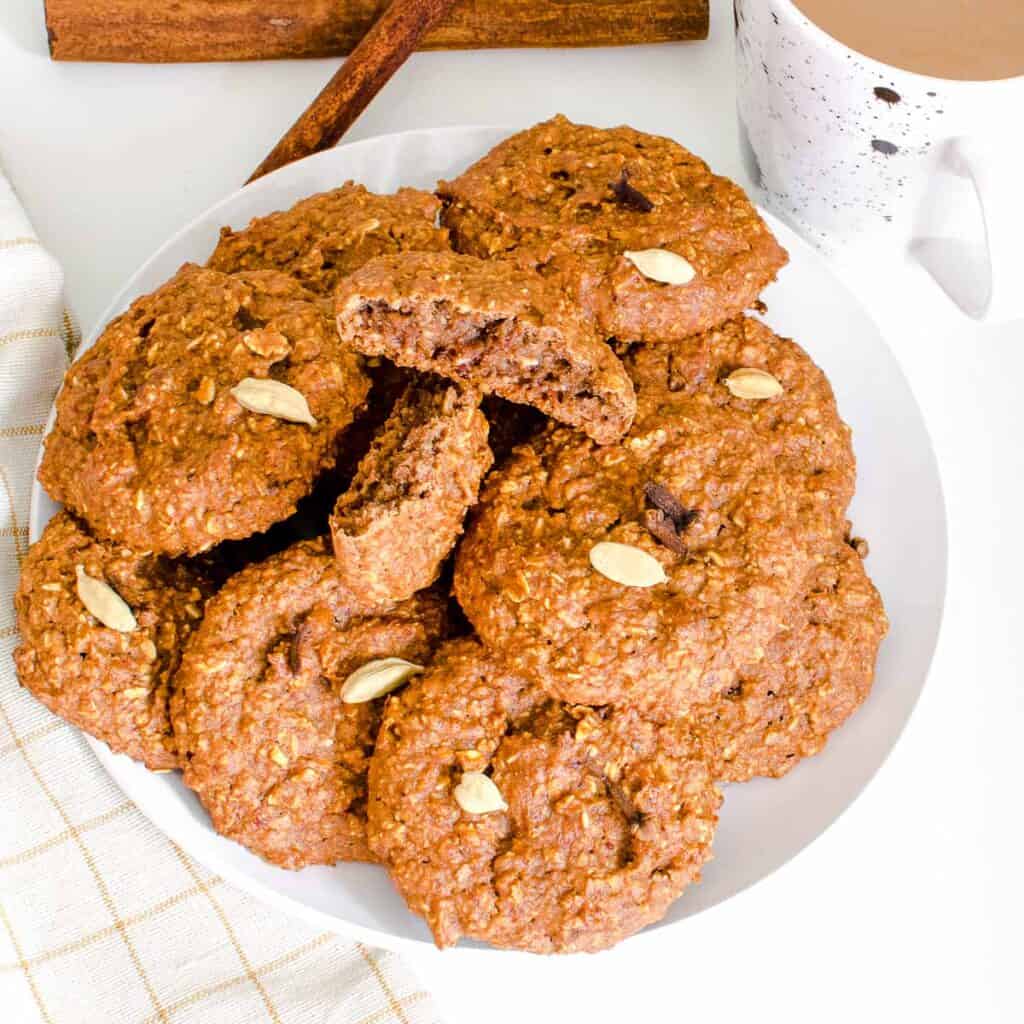 So, now simply bake this delightful vegan treat and dunk them into your favorite beverage and enjoy.
I personally love them dipping into may chai. These tastes amazing when paired with cold oat milk though.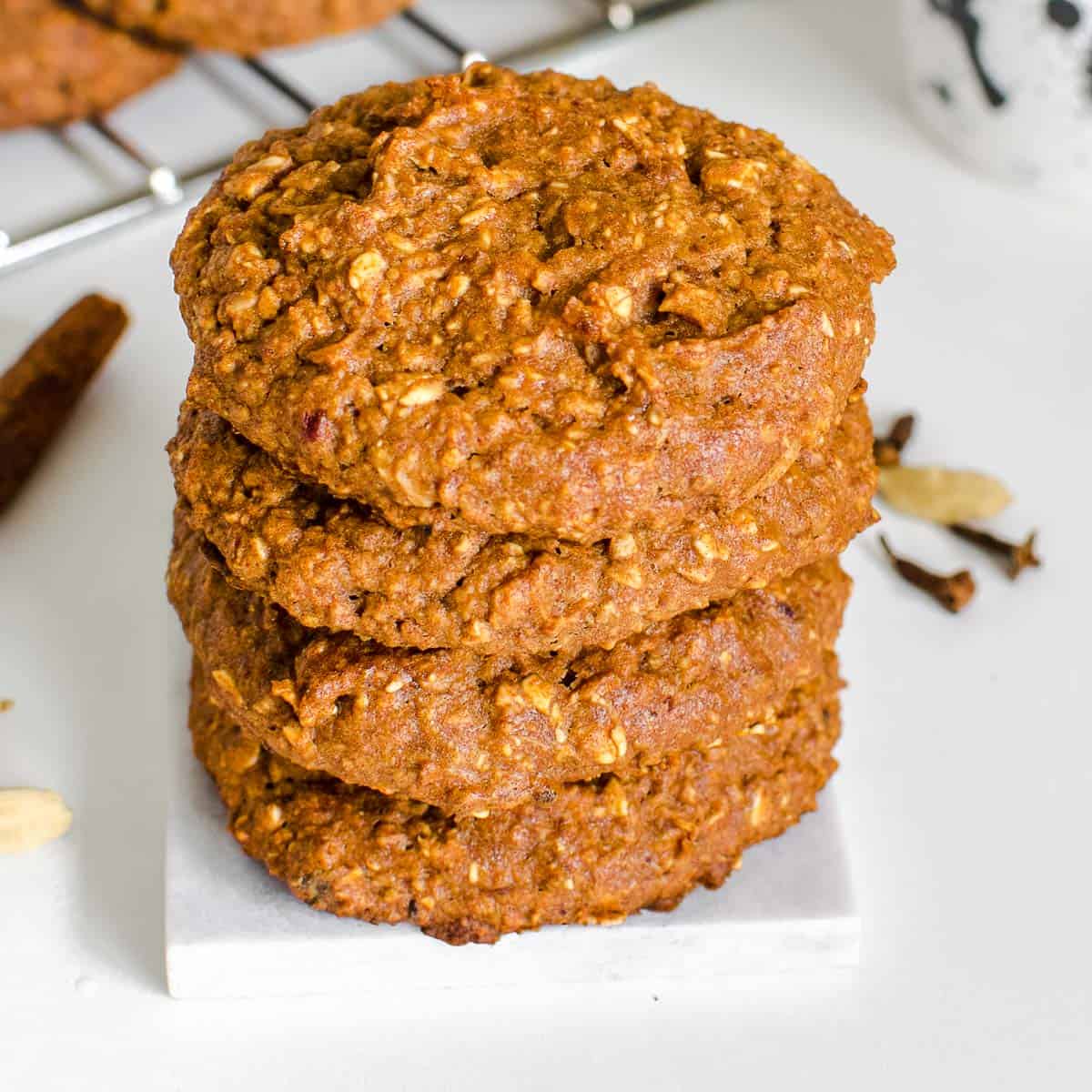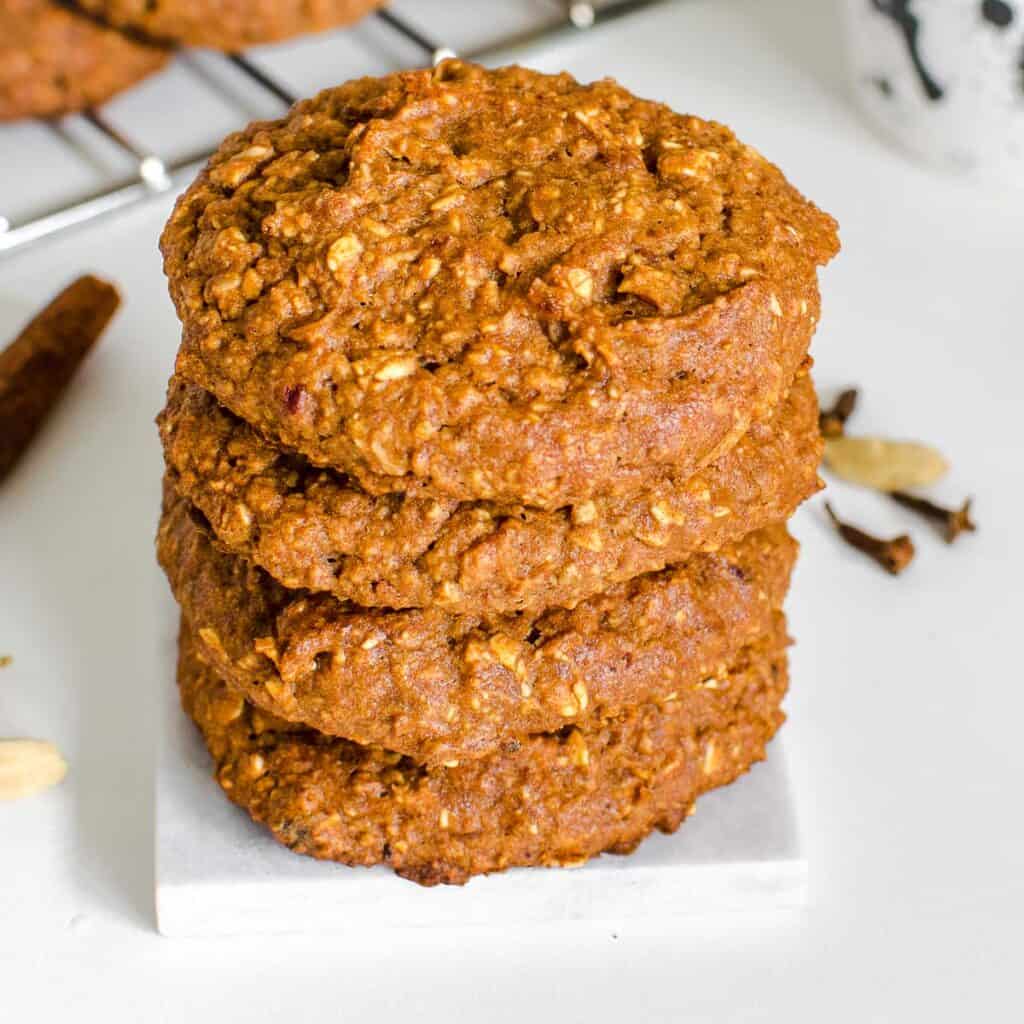 Expert tips:
Make sure to add milk after turning off the flame since we do not want to boil or cook the milk too much.
Make sure to blend in a food processor and not a blender. If you blend the batter in a blender you may need to add more liquid which will affect the consistency of its batter thereby affecting the end results of these cookies.
While grinding the batter its ok to leave it a bit rough. However, it is important to blend/grind as smooth as possible.
While shaping them on the cookie sheet, make sure to press them from the top center as much as possible without breaking them. Then gently, lift the cup and shape the cookies with the same cup again. The cup might stick to the cookie which is ok. Just handle it gently.
Chai Cookies FAQs
How long does these lasts?
You may keep them at room temperature for about 1 week or refrigerate for about 1 month. If these get a bit softer simply toast them for 3 minutes in a toaster oven and let it cool to room temperature to get the crisp bite at the outside.
Are these healthy?
I made them oil free and butter free so we save onto extra fats and calories. It's made with oats with is iron rich and high in fiber along with being low GI food ingredient. I sweetened them with dates with are whole food and rich in fiber and other vitamins and minerals. Overall, these are healthy cookies which can be enjoyed as snack frequently or even every day.
What is chai?
It's a traditional Indian caffeine beverage that is made with warm spices, loose tea leaves and lots of milk.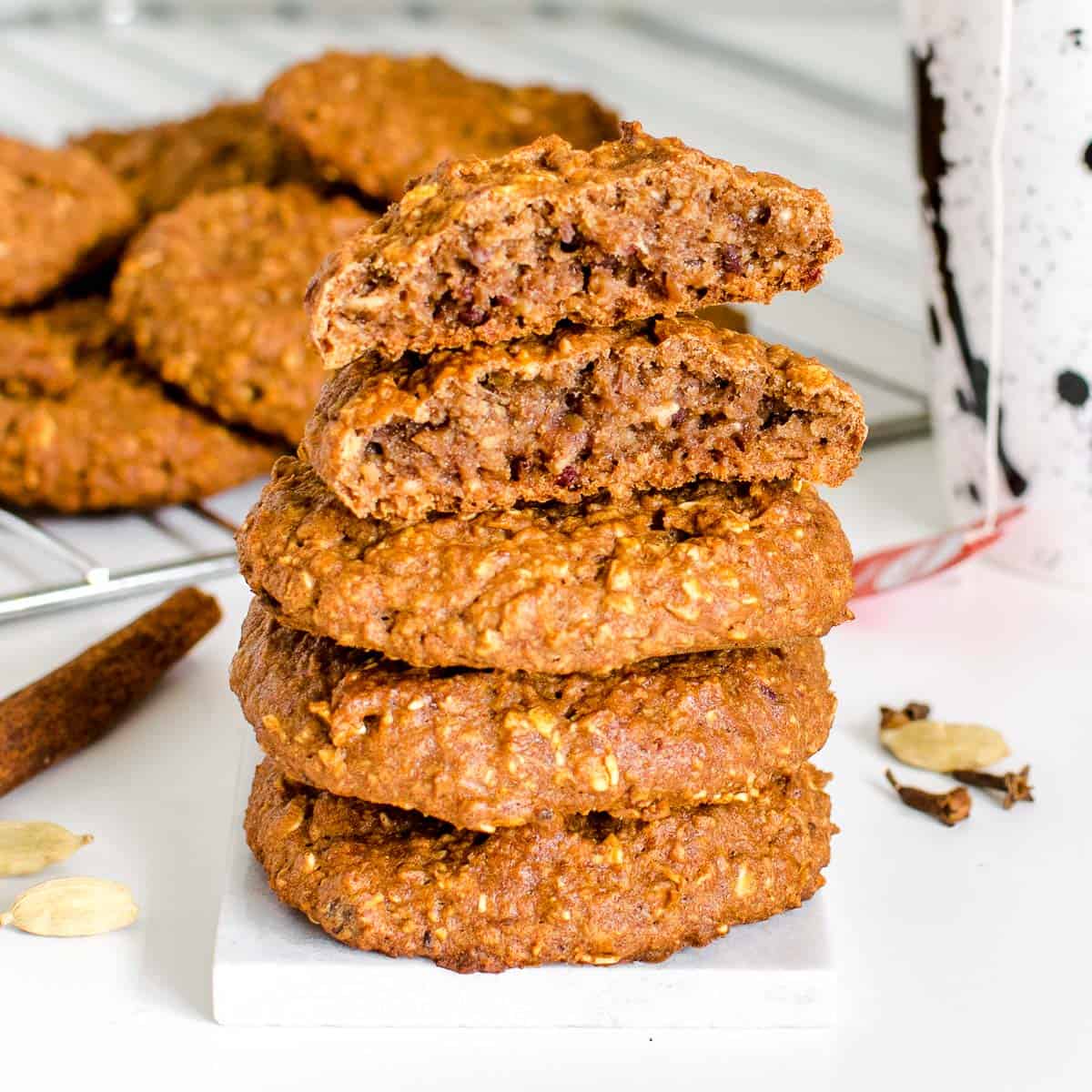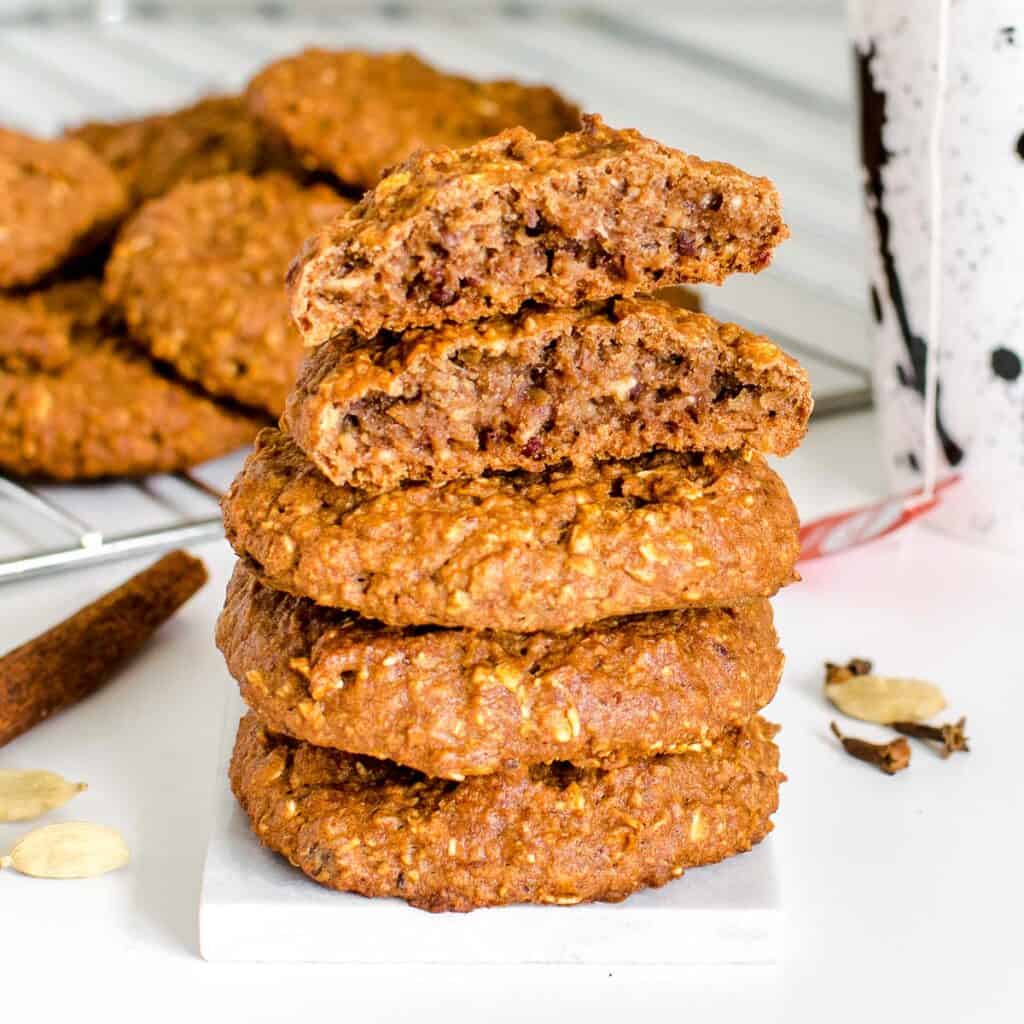 Did you make it?
If you get a chance to make these Chai Cookies then please leave your feedback in the comments along with 5-star ratings.
In addition, you may follow me on Facebook for regular updates or tag @kiipfit on Instagram with your recipe remake image.
Please check out my cookbook for everyday delicious and easy recipes.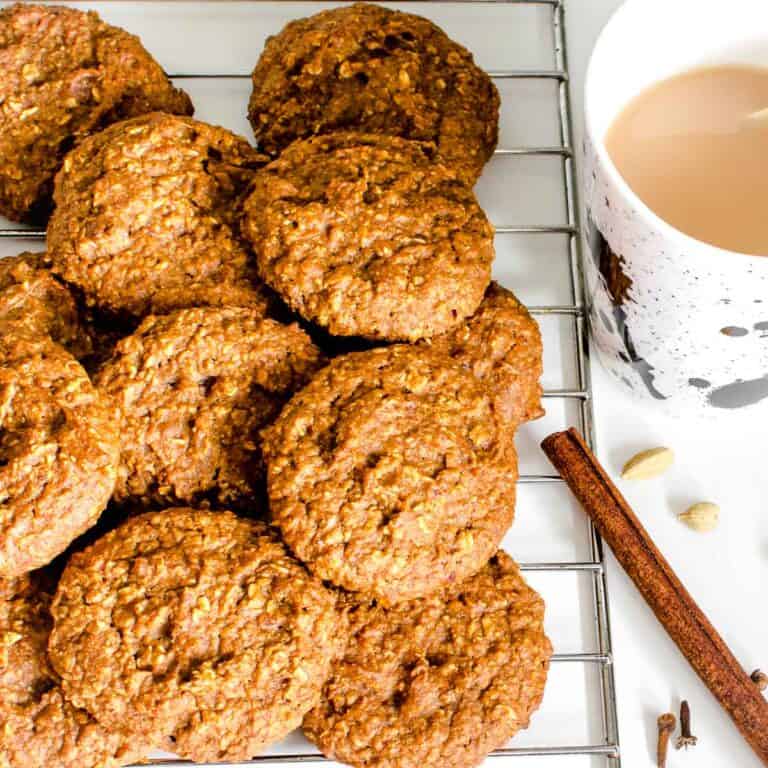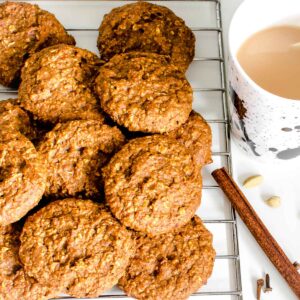 Print Recipe
Chai Cookies
These easy vegan Chai Cookies are packed with aromatic spices and true Indian tea flavor. It's made with oats and sweetened naturally with dates. These are oil free and healthy treat that pairs excellently with your favorite caffeine beverage or dairy free milk.
Instructions
In a sauce pan combine water and turn on the flame. As soon as the water is warm but just before boiling add cinnamon, cardamom, cloves and ginger. Let it boil for 1 minute.

Now, add tea leaves and boil again for 1 minute. Turn off the flame and add coconut milk. Remove from heat and let it cool.

Pre-heat oven at 350-degree Fahrenheit and prepare a cookie sheet with a parchment paper. In a food processor combine oats, dates, maple syrup, strain the cooked chai in it, baking powder and salt. Process it smooth.

With the help of a cookie scoop place 12 cookies with ¼ inch gap between each cookie. Now, from the back of a small bowl or a small measuring cup press the cookie from the center as much as possible without breaking it. While lifting the cup it might be sticky but gently separate the cookie and the cup and shape the top of the cookie round with the same cup. Repeat this process of shaping for all the cookies.

Place the cookie sheet in the middle rack of the oven and bake it for 30 minutes. Turn it off and take the cookie out. Let them cool completely and enjoy.
Notes
You may use black 3 tea bags for this recipe instead of loose tea leaves. However, loose tea bags taste better.
Use the coconut milk from the carton.
This recipe makes 12 cookies and the serving size is 1 cookie per person.
Old fashioned oats work best here but steel cut oats can be also be used.
You may substitute maple syrup with brown sugar if desired.
Nutrition
Calories:
102
kcal
|
Carbohydrates:
23
g
|
Protein:
2
g
|
Fat:
1
g
|
Saturated Fat:
2
g
|
Sodium:
53
mg
|
Potassium:
148
mg
|
Fiber:
2
g
|
Sugar:
1
g
|
Vitamin A:
1
IU
|
Vitamin C:
1
mg
|
Calcium:
41
mg
|
Iron:
1
mg