This soft, moist and citrusy-sweet Vegan Orange Cake is packed with flavors and made with fresh oranges. It's a perfect all year-round dessert and is oil free and refined sugar free.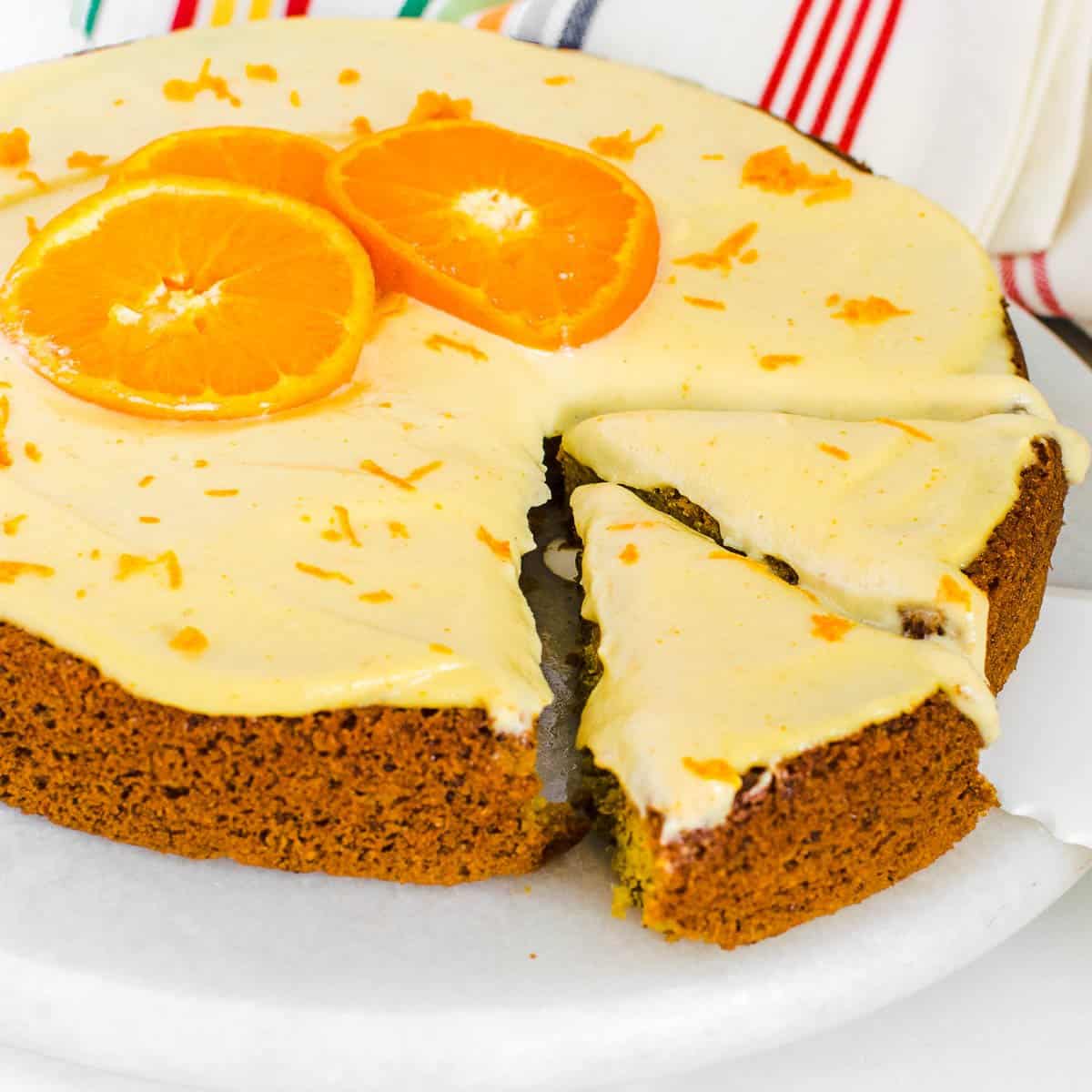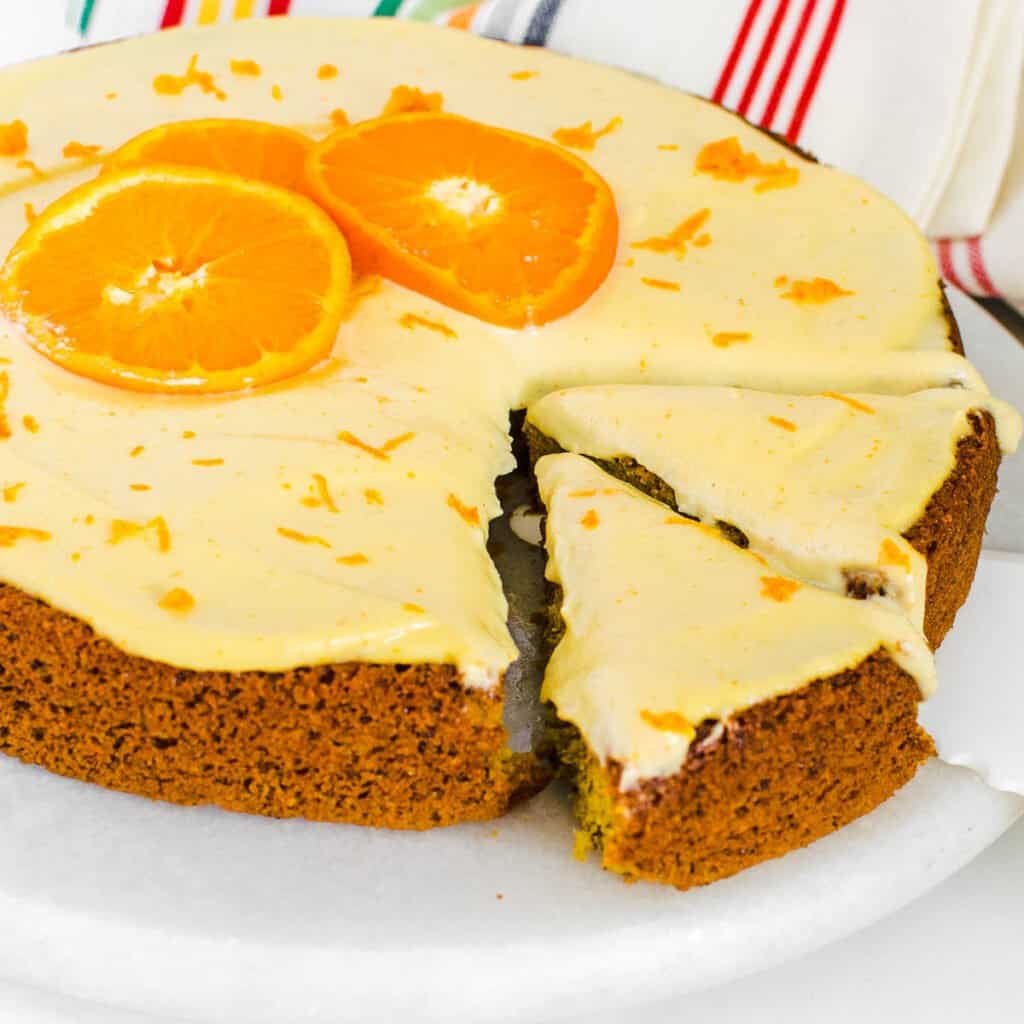 Its light and fluffy and topped with orange frosting which gives it a gorgeous orange color. The combination of fresh oranges and orange zest along with a hint of orange extract creates a wonderfully delicious orange flavor in this cake.
Even though oranges are available year-round it's important to pick the right ones for this orange cake recipe. The brighter and softer the oranges are the juicier they would be and sweeter too.
However, this eggless orange cake is a delight of perfection. Its easy to bake and tastes outstandingly delicious even after a week.
I love to experiment with a variety of combination and my favorite one is orange cauliflower. It's the best Chinese dish ever and a very popular one too.
I enjoy baking with oats. Its healthier and super easy. It a great substitute to flour and has become my favorite. On this note, you must try my healthy orange pancakes.
Yashvi loves my orange smoothie and I make it quite frequently.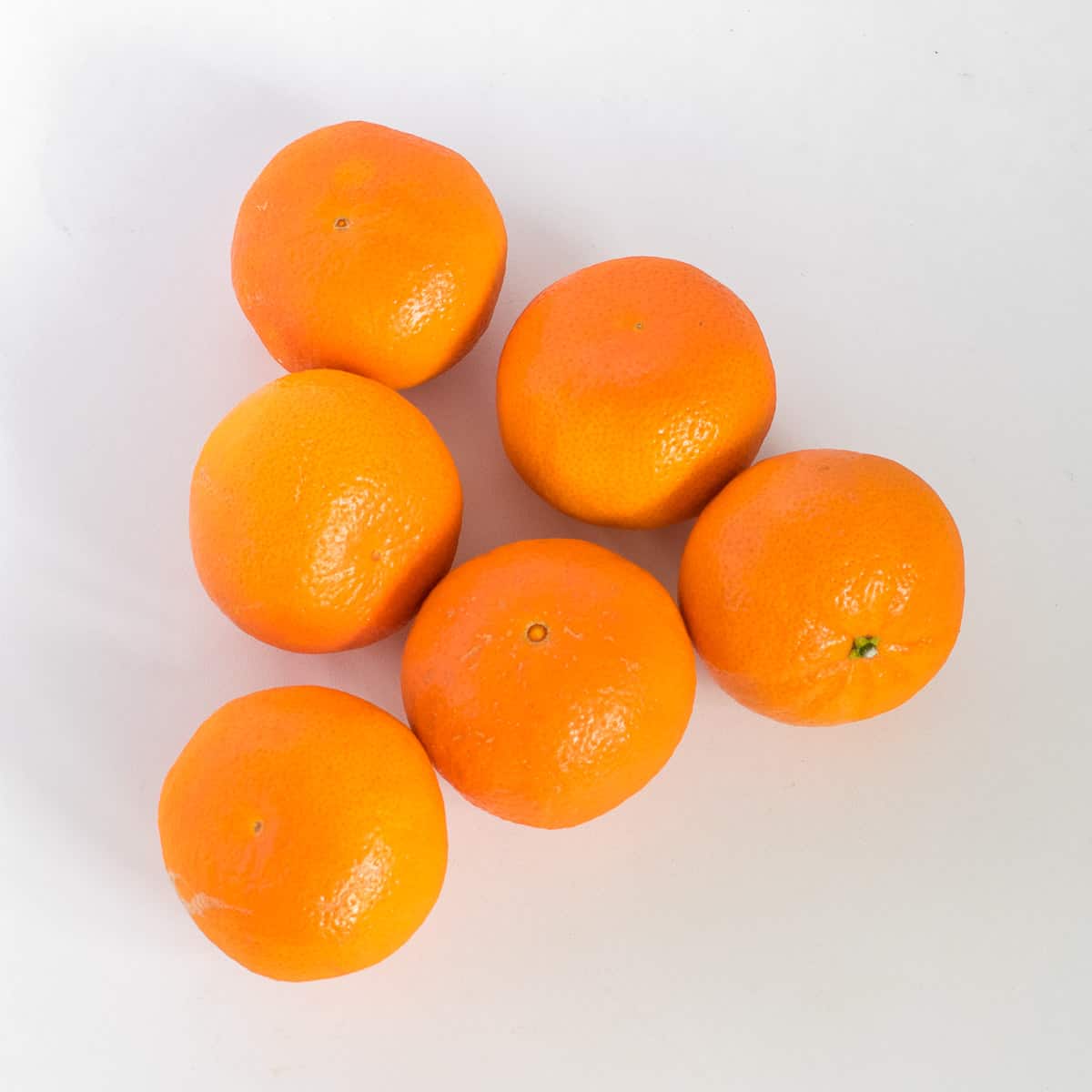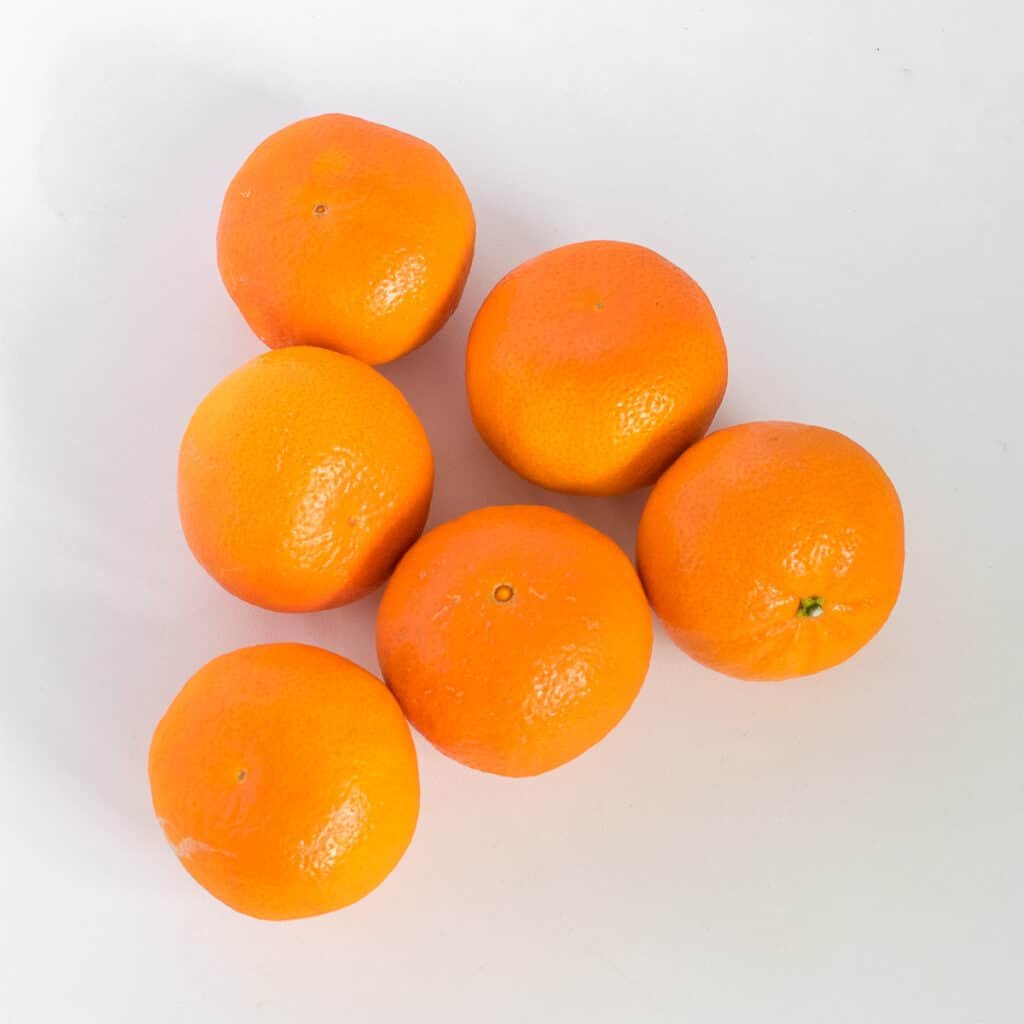 This time, I decided to bake something with this fruit and so I came up with this vegan orange cake recipe.
Ingredients for healthy orange cake
Oat flour
Almond flour
Baking powder
Baking soda
Salt
Grated orange zest
Flaxmeal soaked in warm water
Small mandarin oranges (fresh)
Maple syrup
Vanilla extract
Orange extract
Cashew nuts
Oat milk
These are the ingredients that you will needed for this recipe. Let's check on its substitutions and importance in order to bake this cake perfectly.
Ingredients notes:
Oat flour – you may use a store bought one or grind your own. Gluten free and whole grain oat flour works fine here.
Almond flour – This adds to a nice texture and mild sweetness to its sponge.
Oranges – I used California small mandarin oranges in this recipe. Oranges are used quite a bit in here. I used them in the sponge and in the frosting too to give a nice fresh orange flavor.
Maple syrup – this is the only sweetener I used in this recipe.
Orange zest – this is basically the grated skin of the oranges which you may grate before peeling them.
Orange extract – I tested this cake recipe without orange extract and it worked out as well. However, when I used orange extract for my final cake it was outstandingly delish. Therefore, I highly recommend it using in this recipe.
Cashew nuts – I used soaked and drained cashew nuts in the frosting to give it a thick creamy base.
Oat milk – this makes the frosting creamy and easy to blend as well.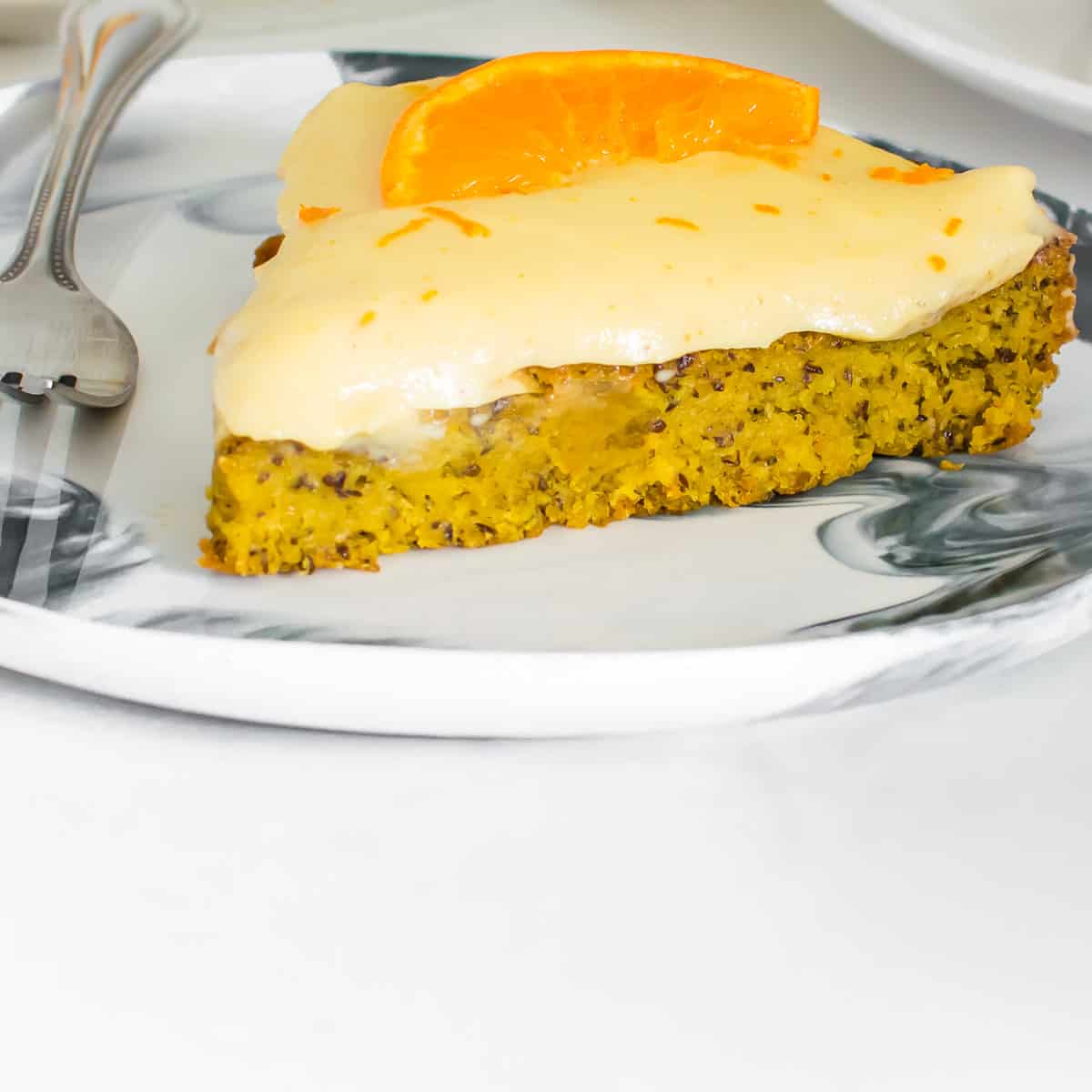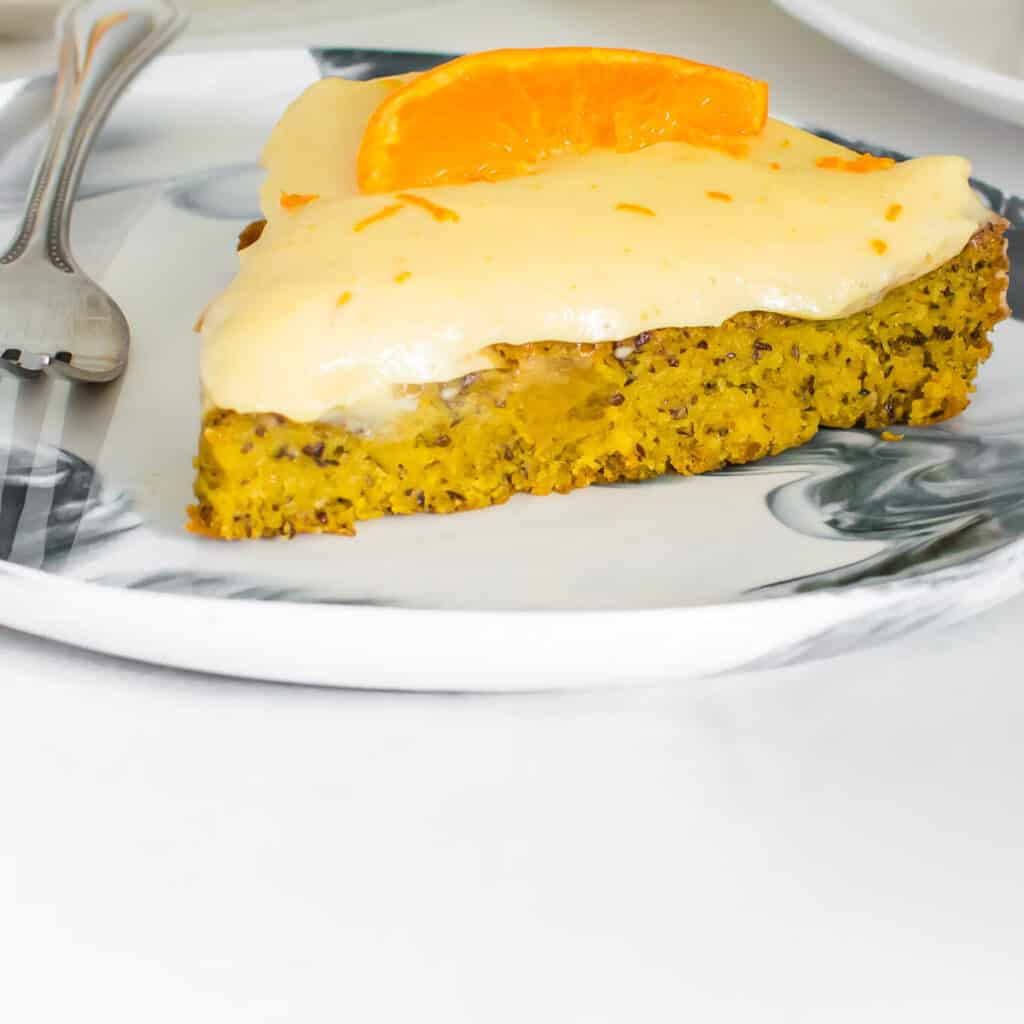 For detailed measurement of ingredients, please scroll down to the printable recipe card at the end of this post.
How to make Vegan Orange Cake
Step 1: how to mix flour
Firstly, I combined dry ingredients (including 2 orange zest) in a large mixing bowl.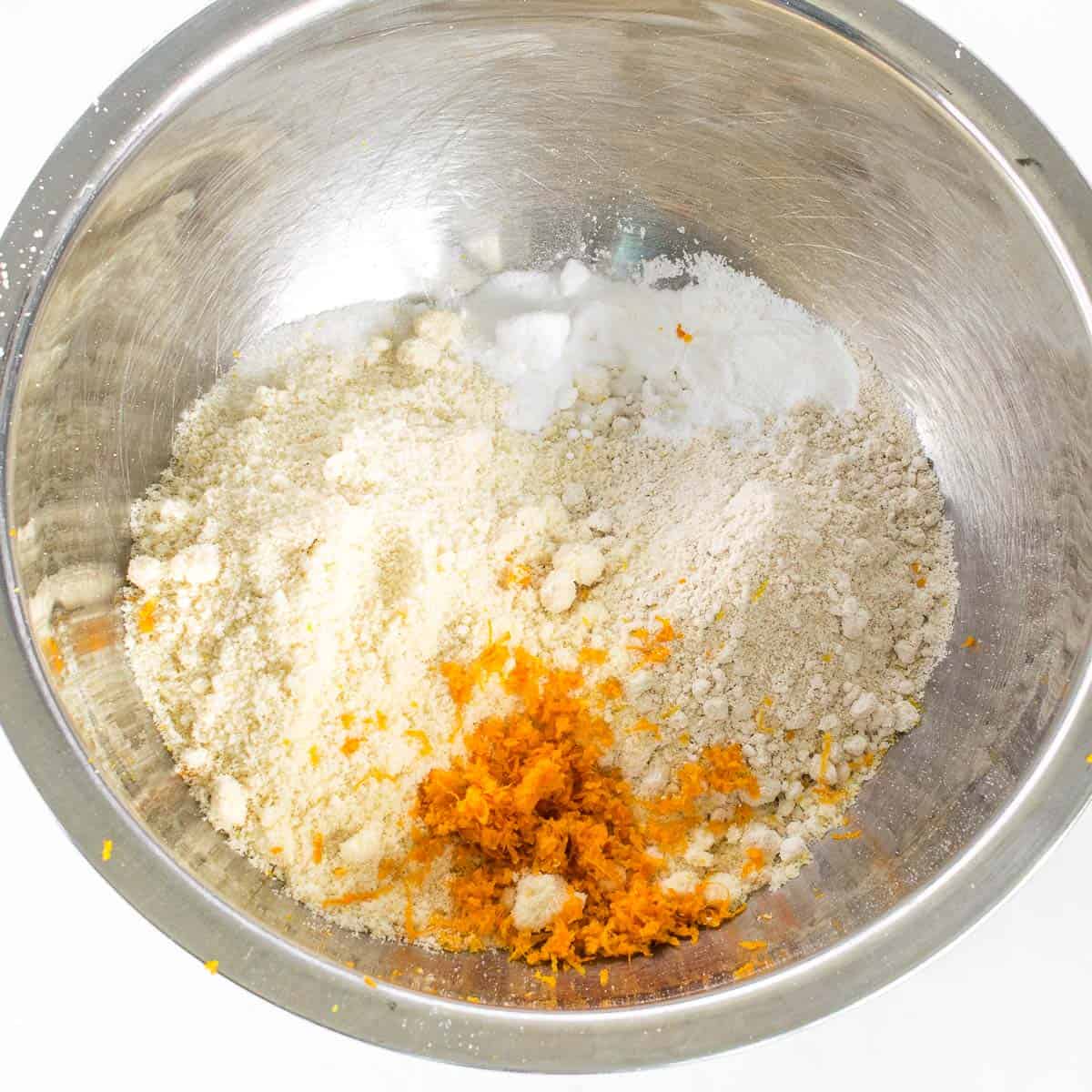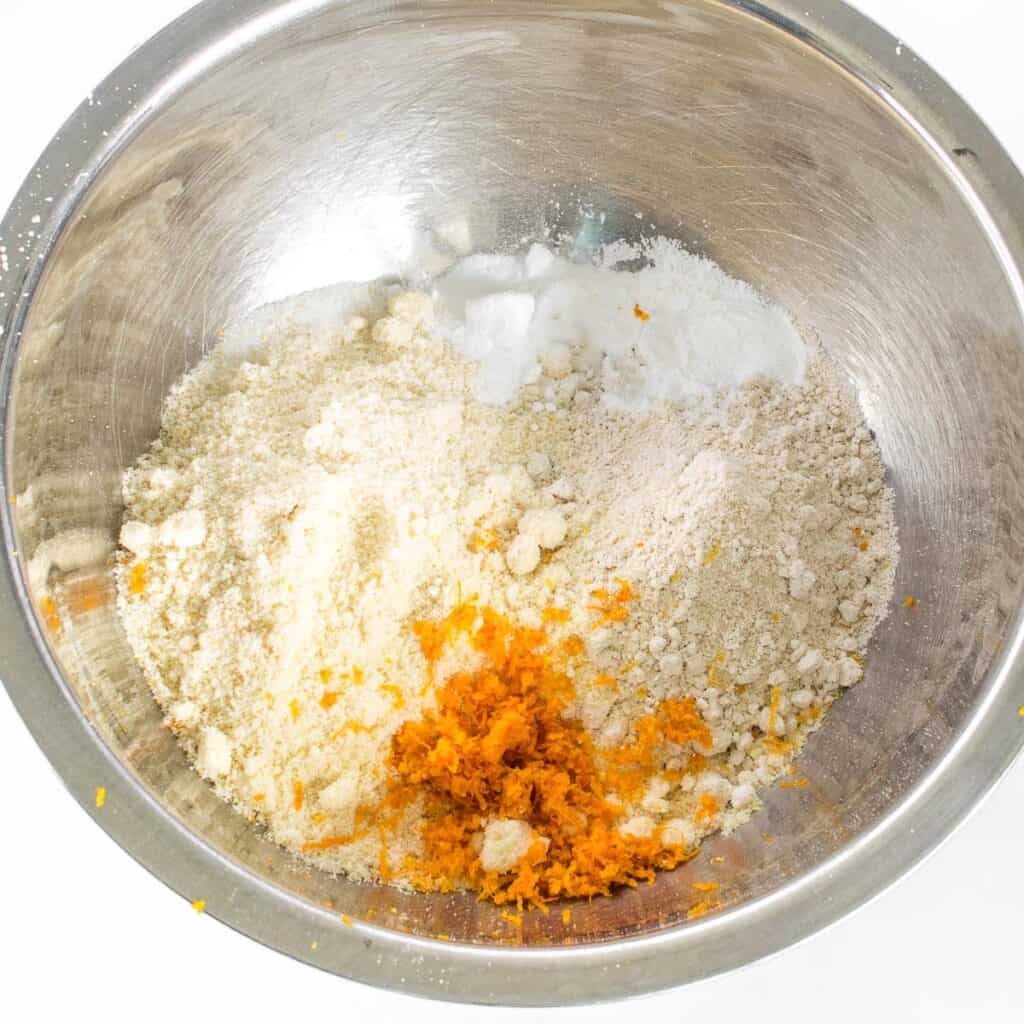 Secondly, I mixed it well making sure that there are no lumps. Then, I kept it aside.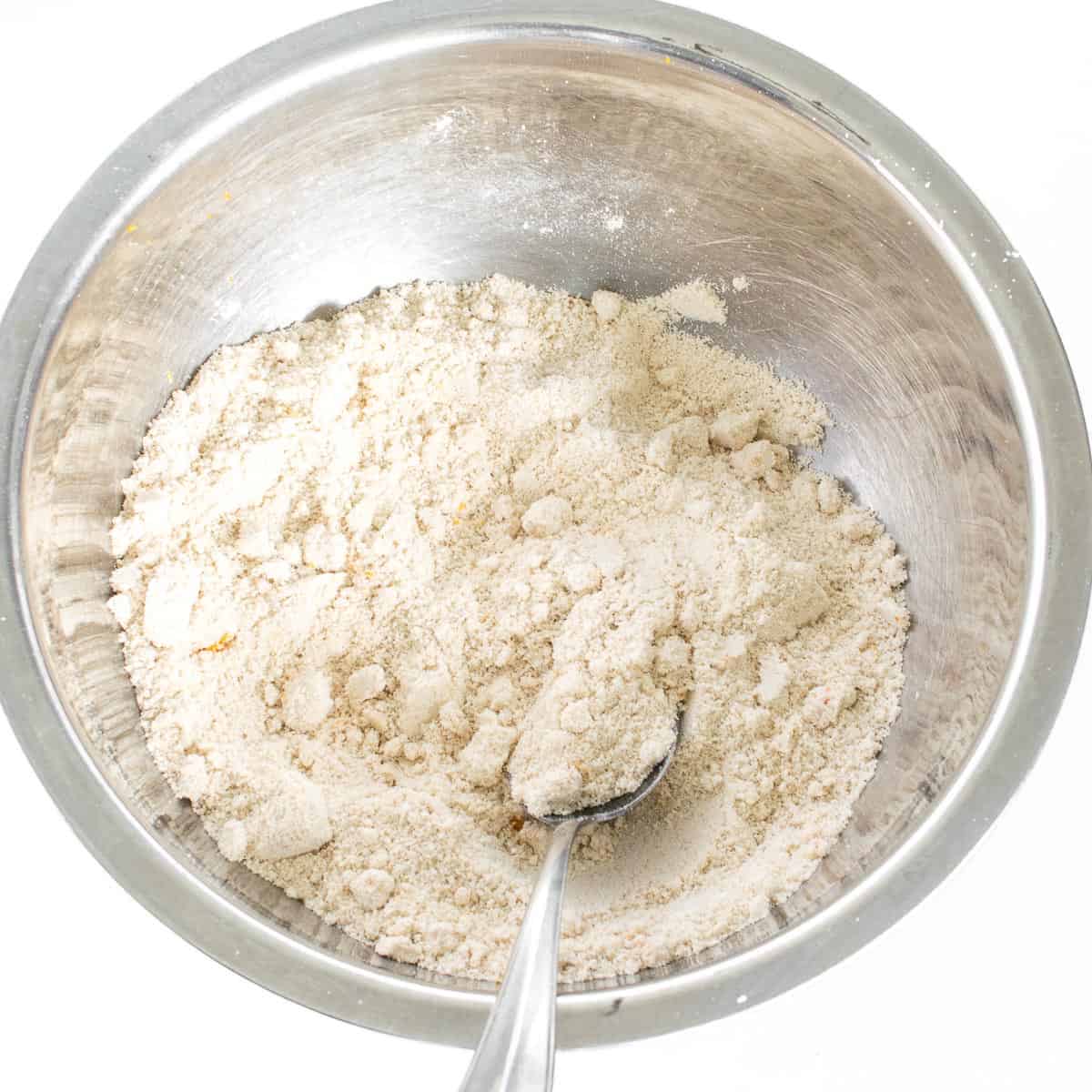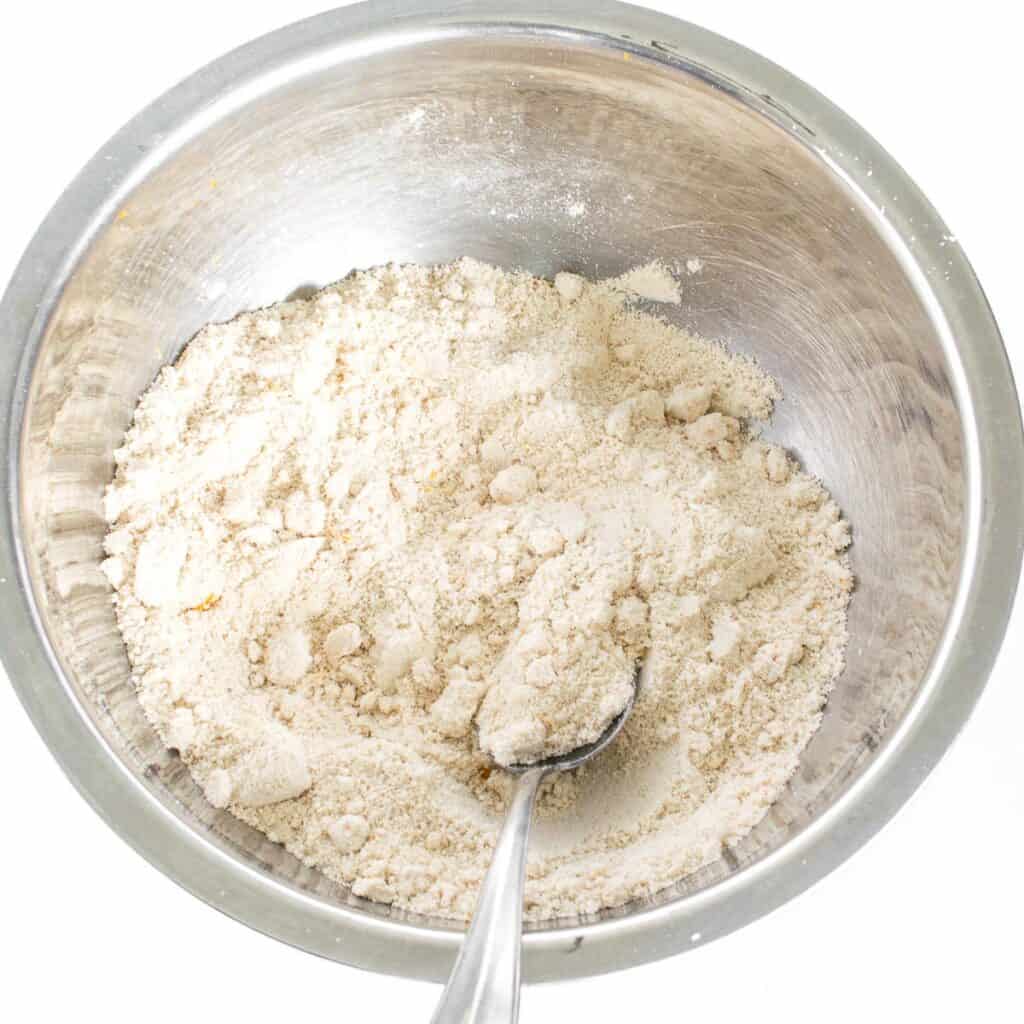 Step 2: how to blend the juice
Firstly, I combined oranges, maple syrup, vanilla extract and orange extract in a blender.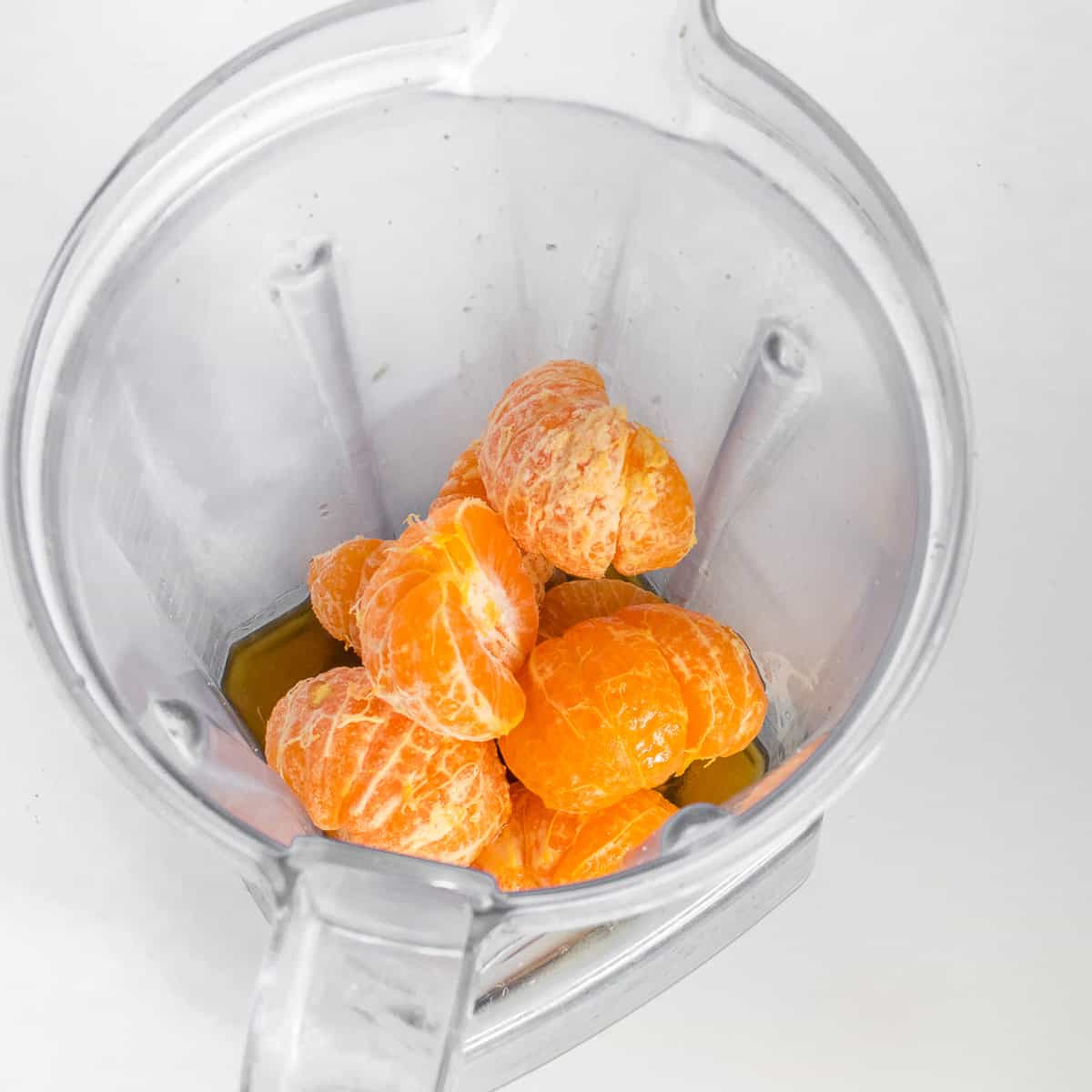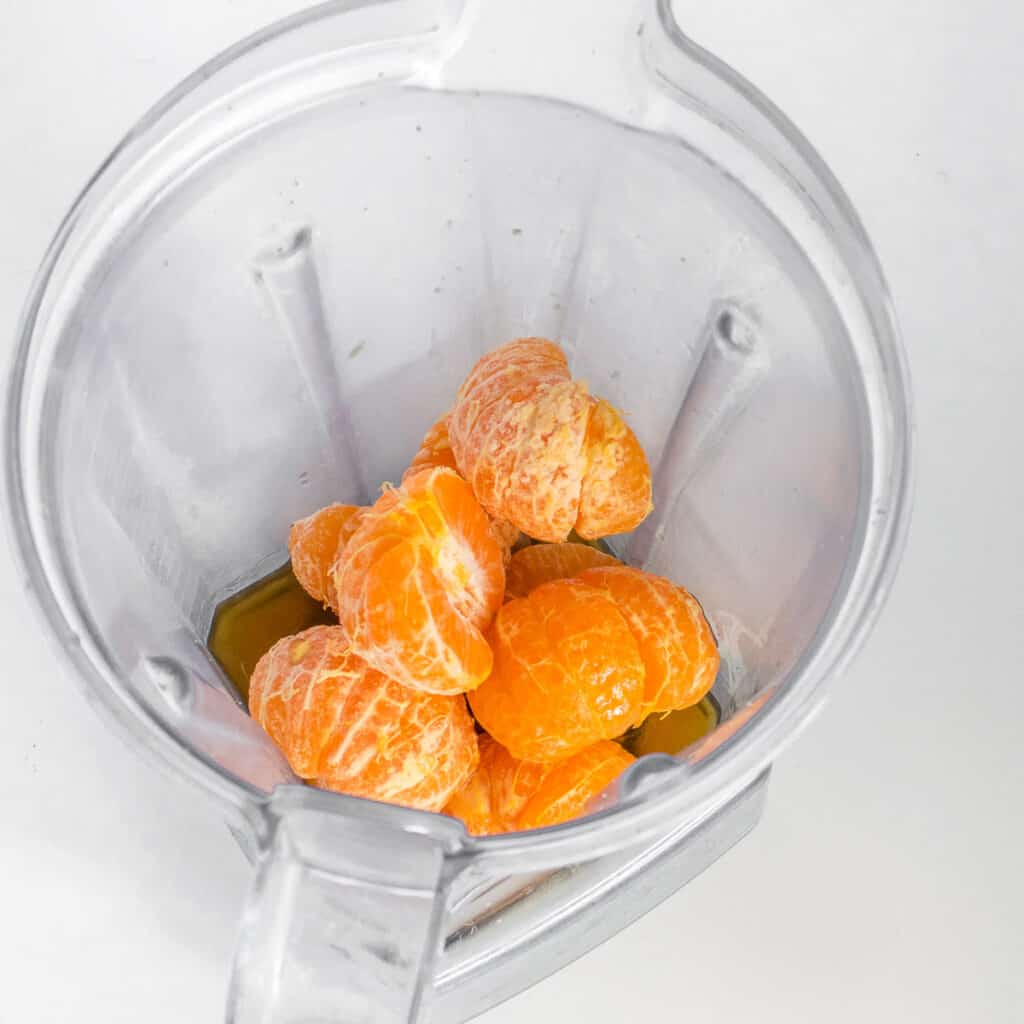 Secondly, I blended it extremely smooth and then I kept it aside.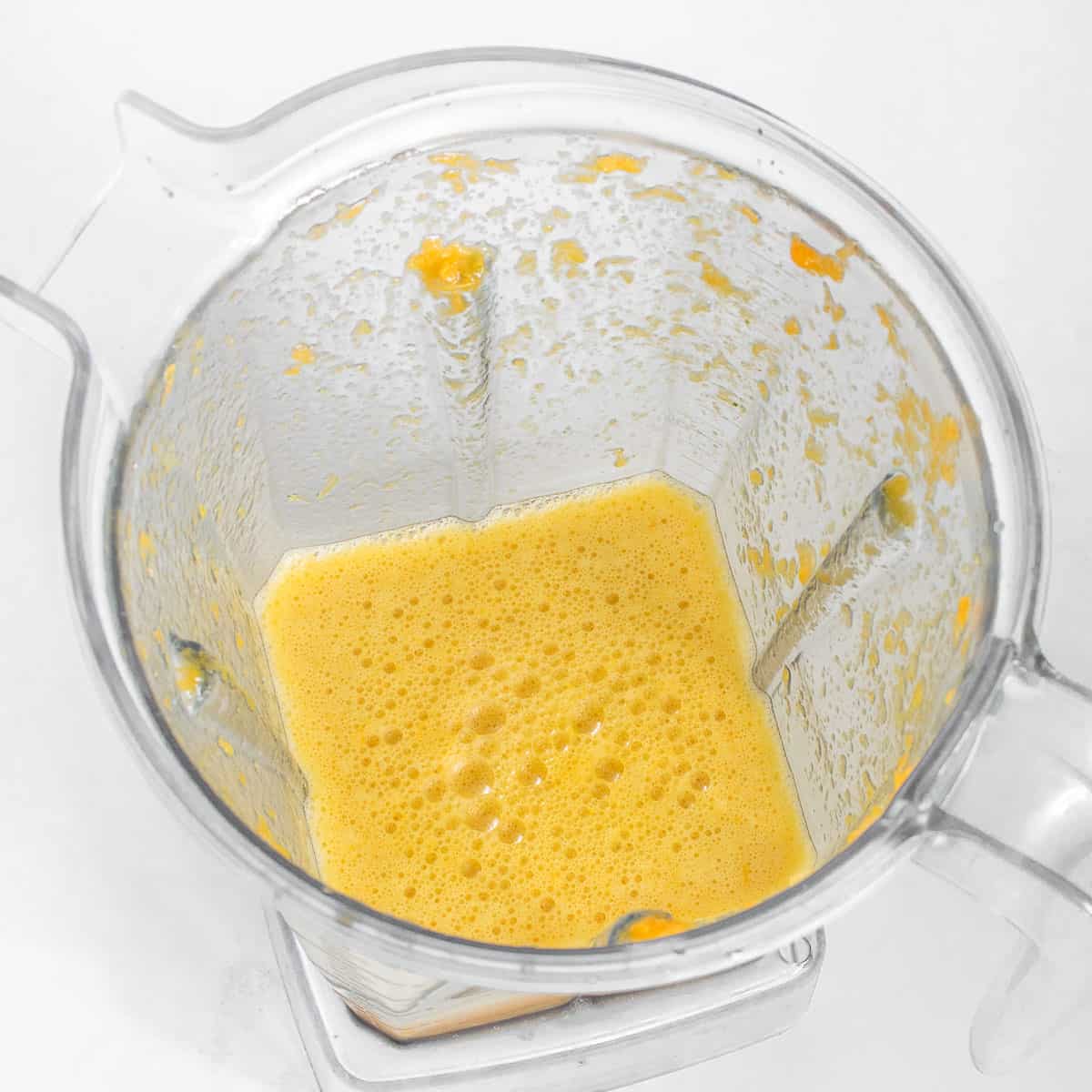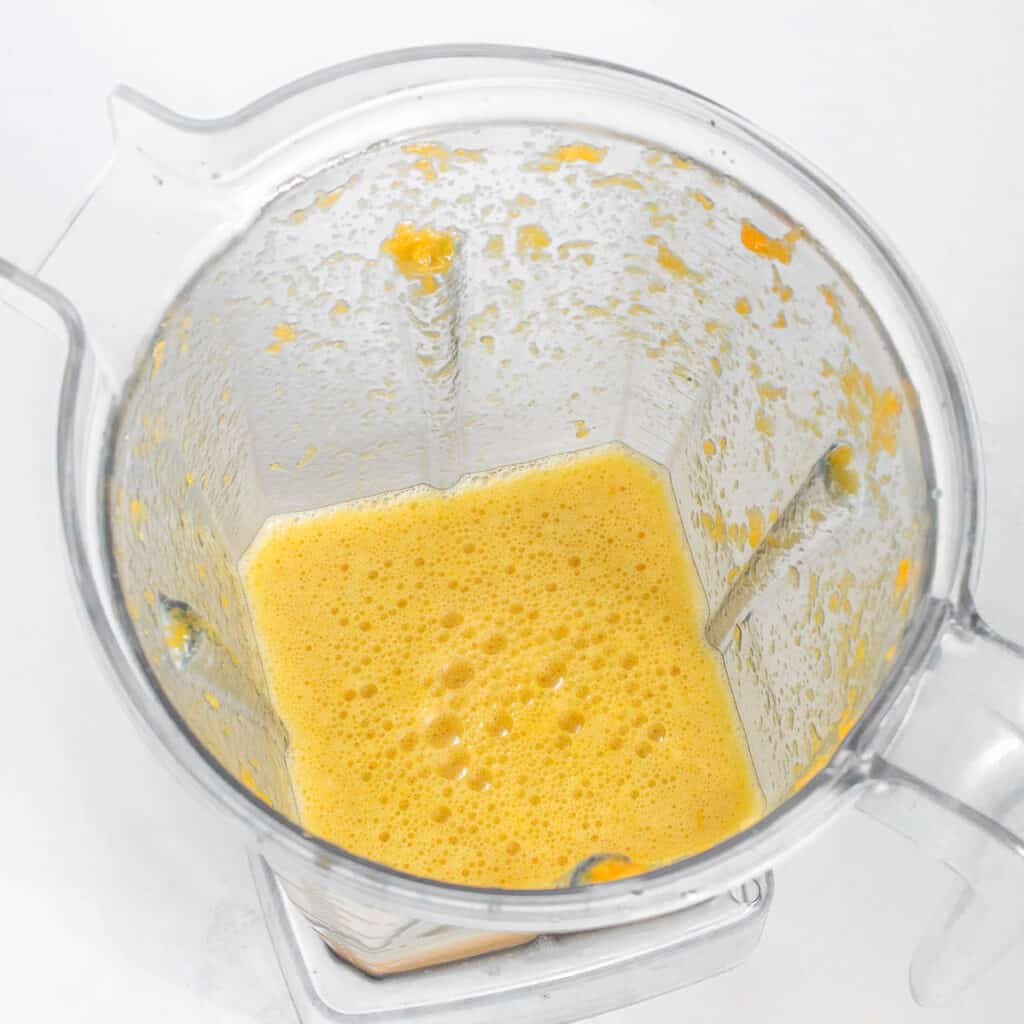 Step 3: how to whip up the batter
Firstly, I strained the blended juice directly into the flour mixture. Then, I discarded the leftover pulp.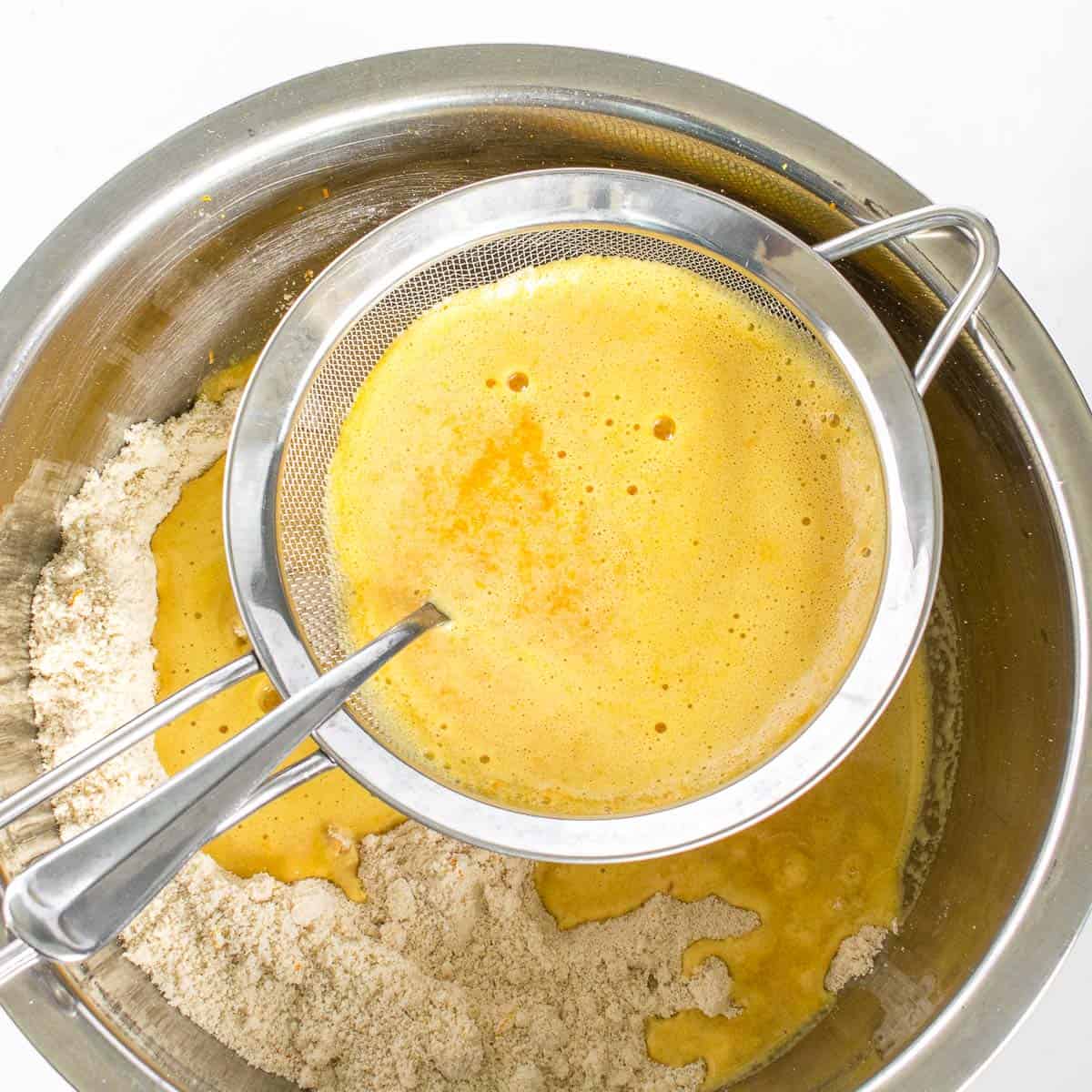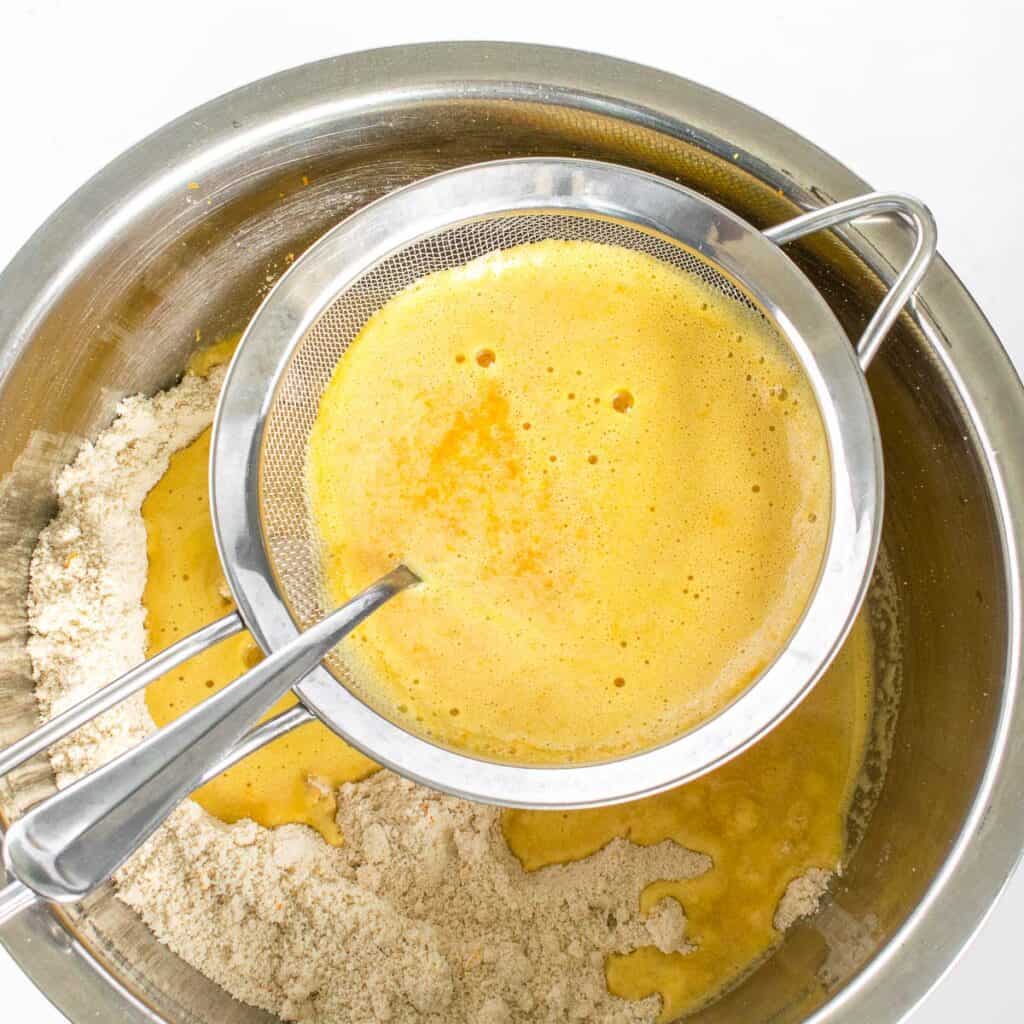 Secondly, I added soaked flax meal to it as well.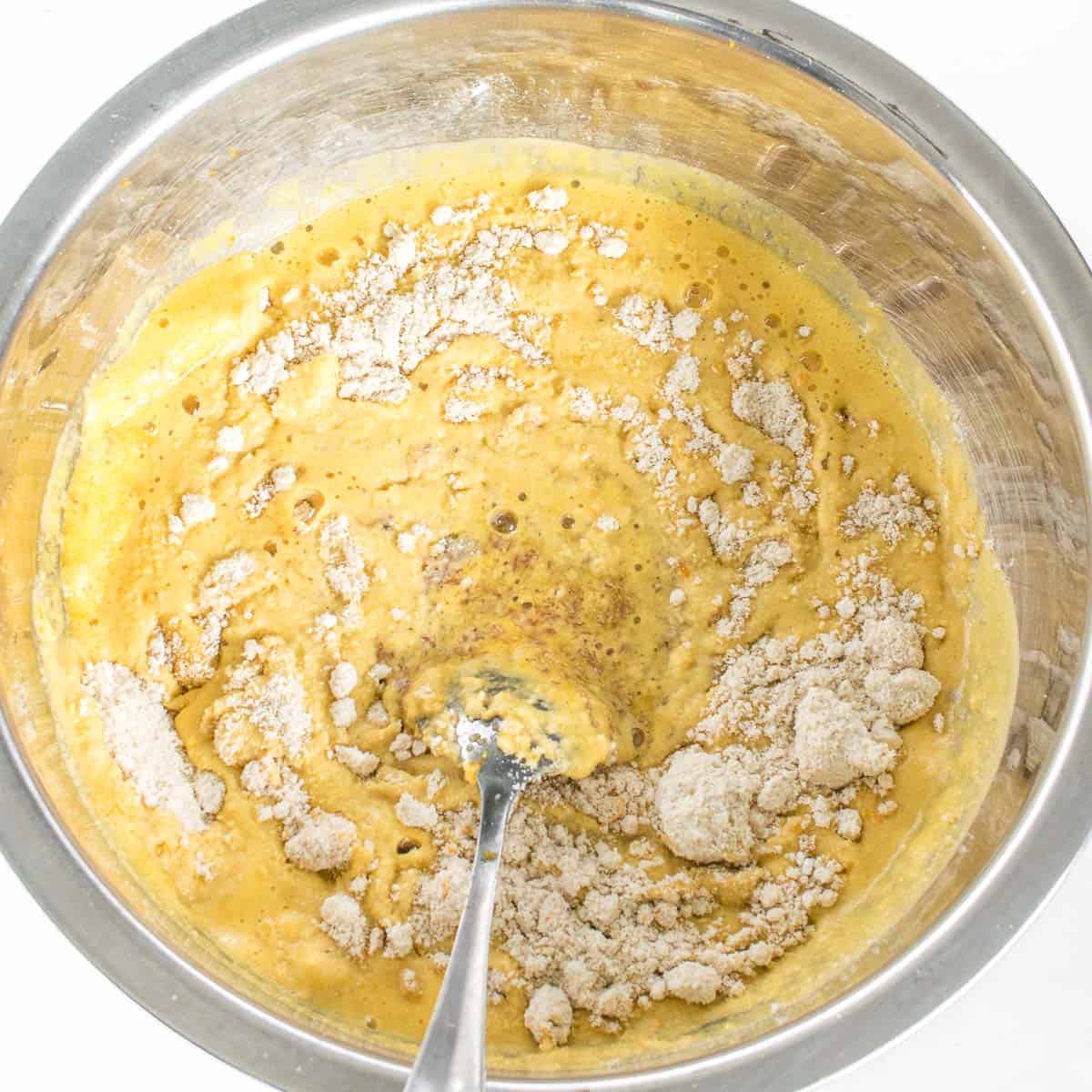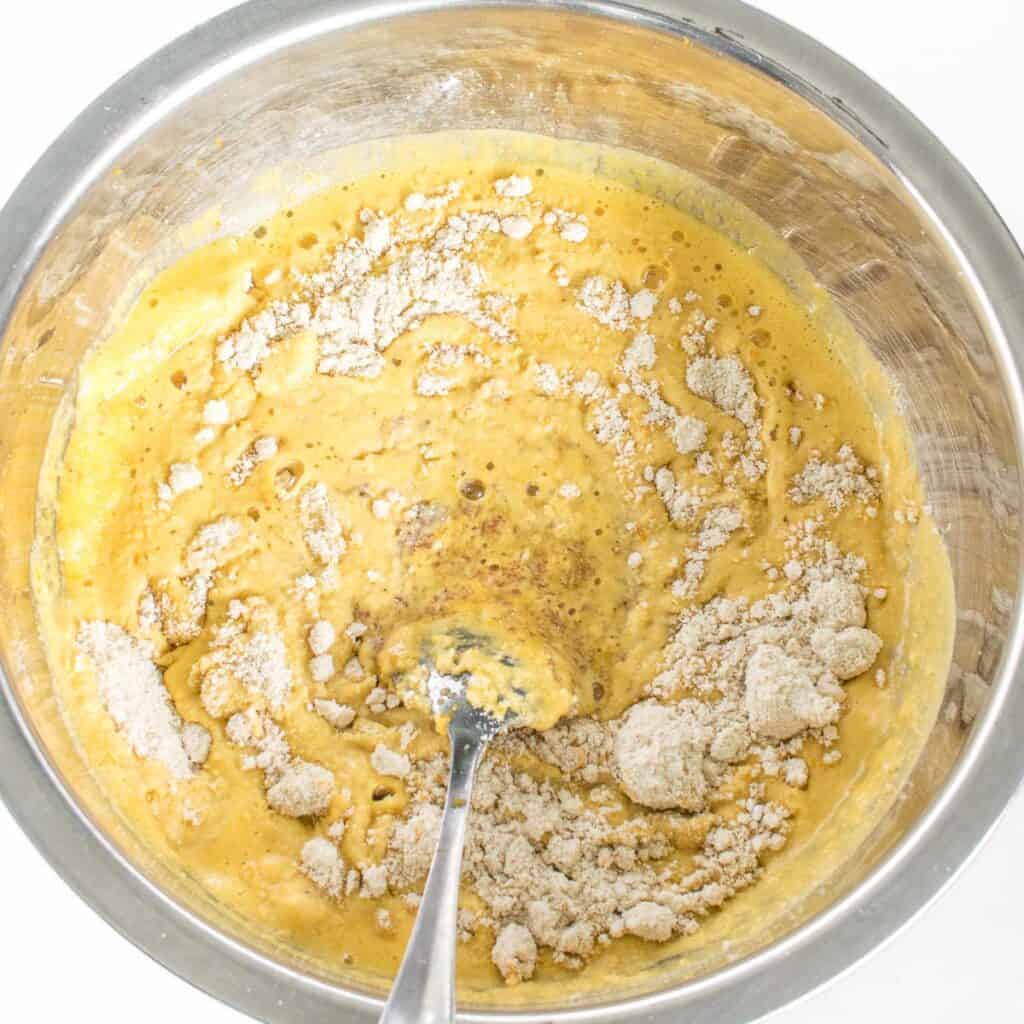 Next, I whipped it into a thick batter but with a pouring consistency.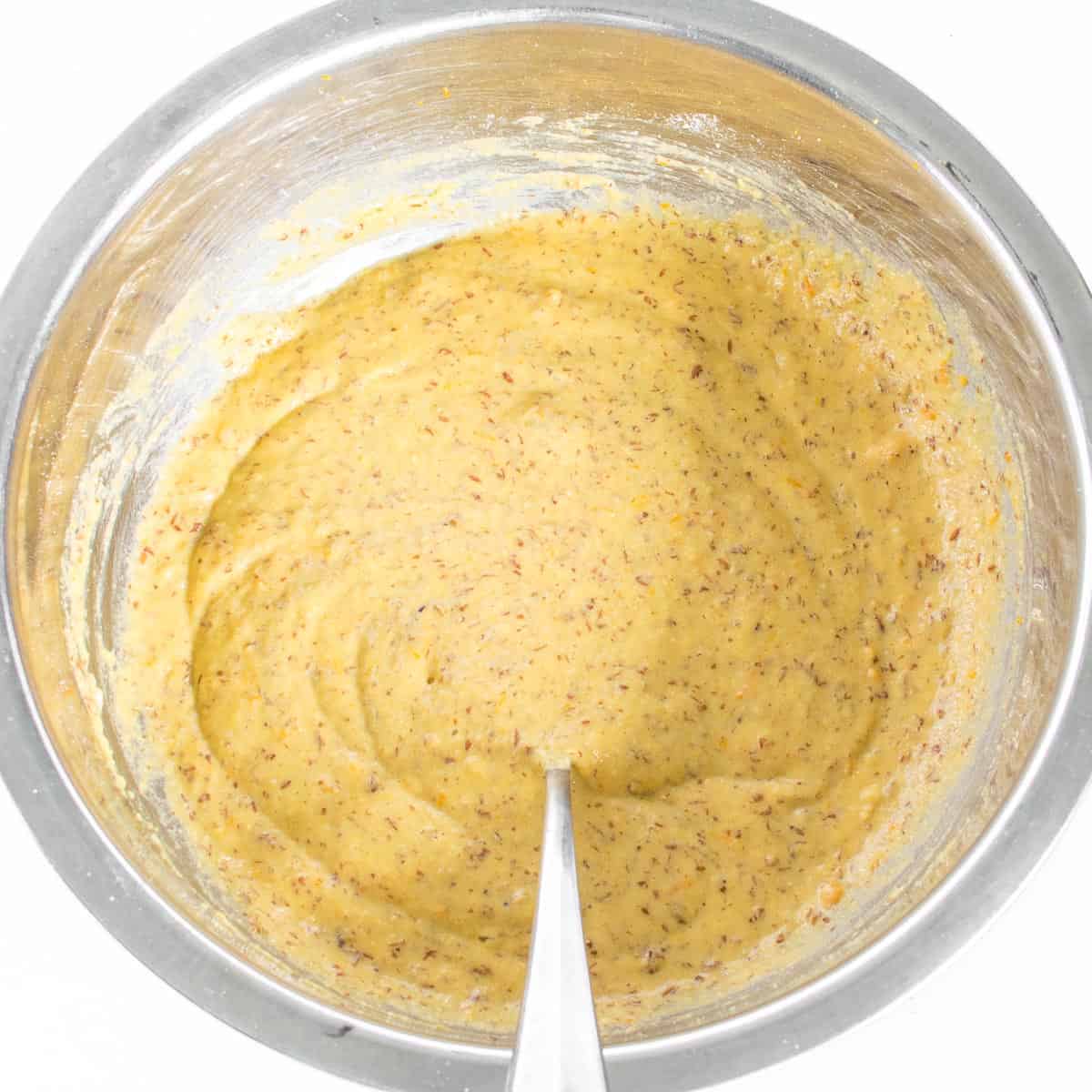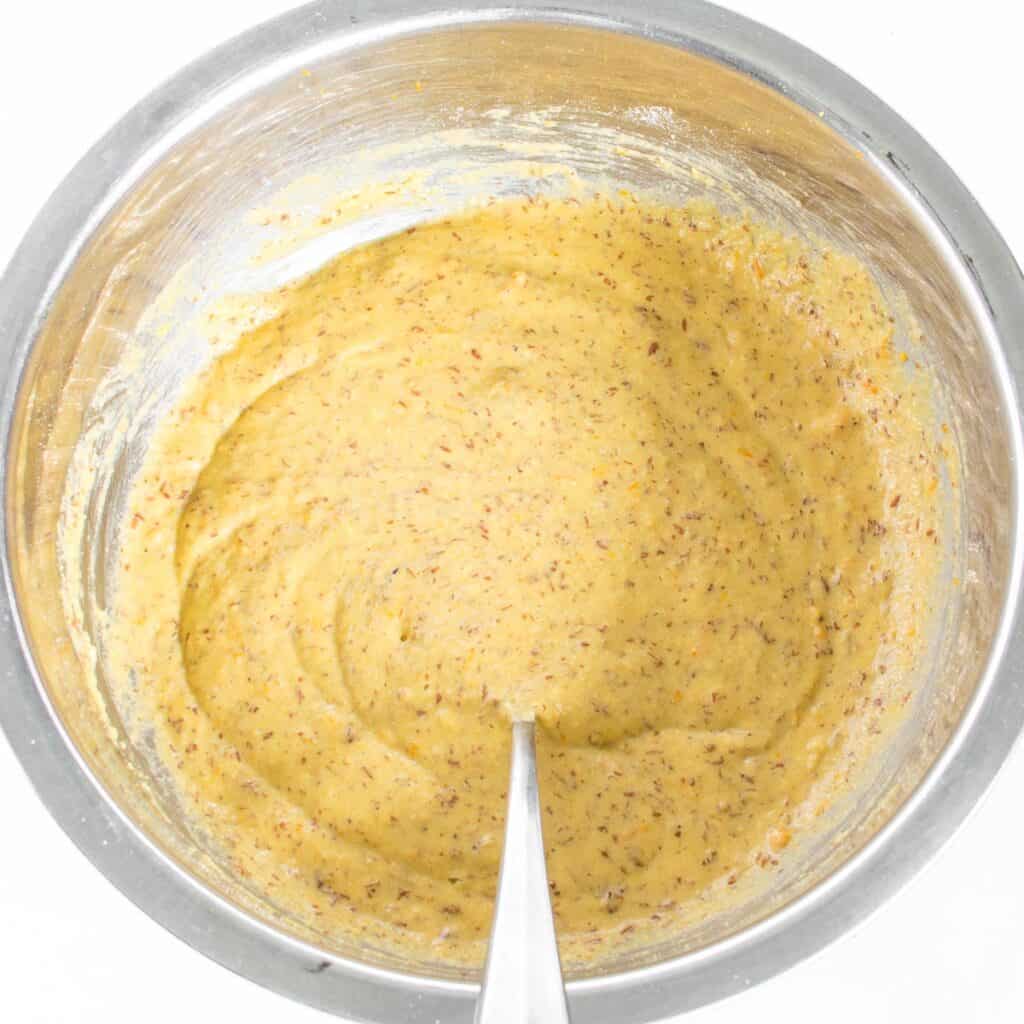 Step 4: how to bake
In this step, I poured the batter at the center of a prepared 8-inch cake pan and tapped it gently to evenly spread it.
Next, I placed it in the middle rack of the oven and baked it for about 30 minutes.
Once done, I took it out and let it cool down completely.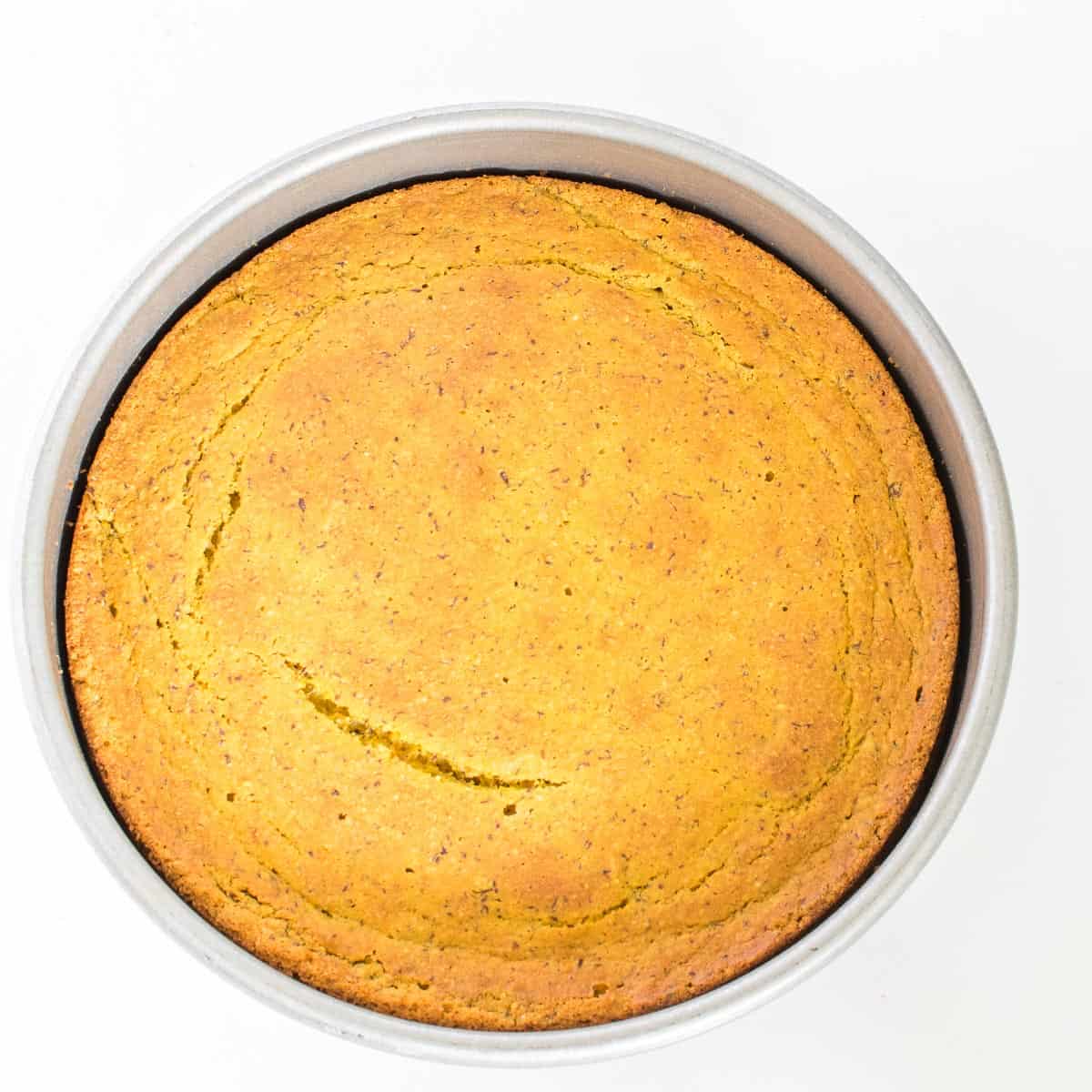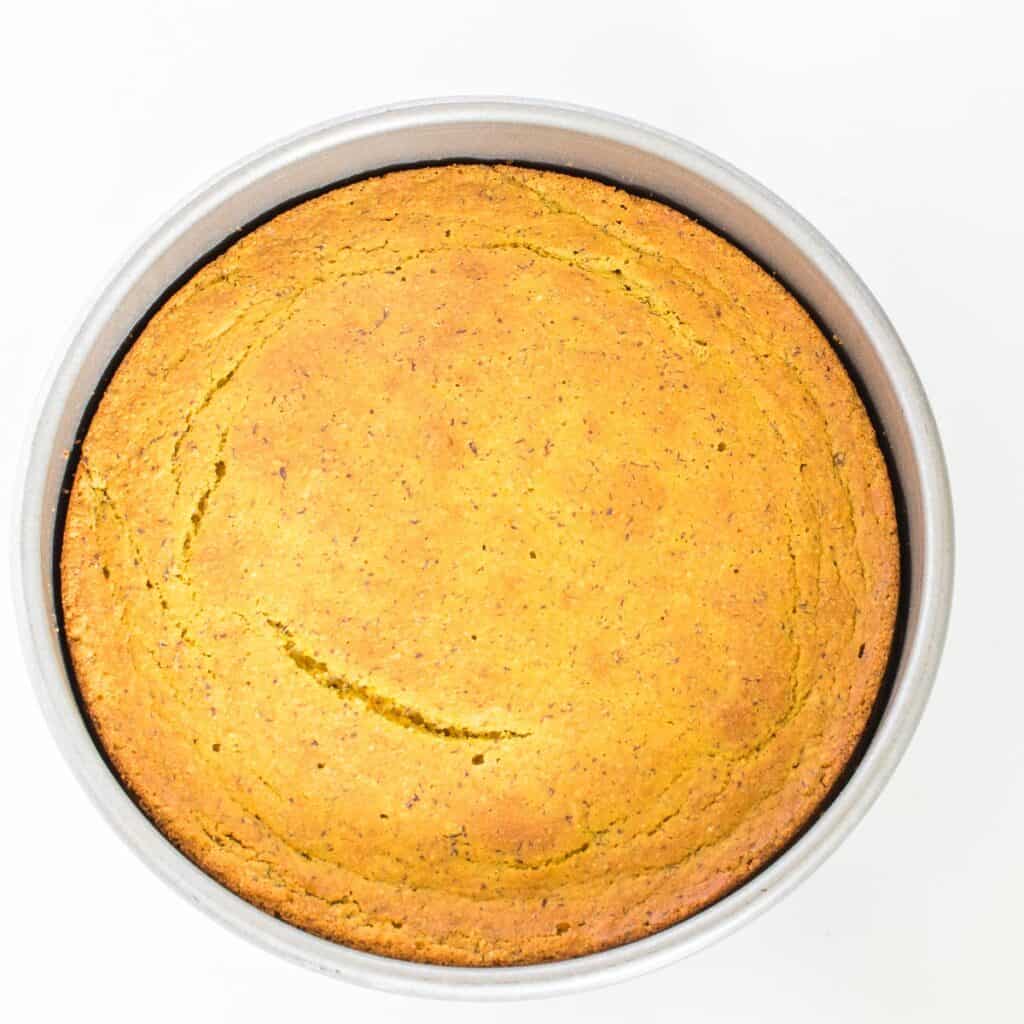 Step 5: How to make frosting
In this step, I combined all the frosting ingredients (including freshly squeezed orange juice) in a blender.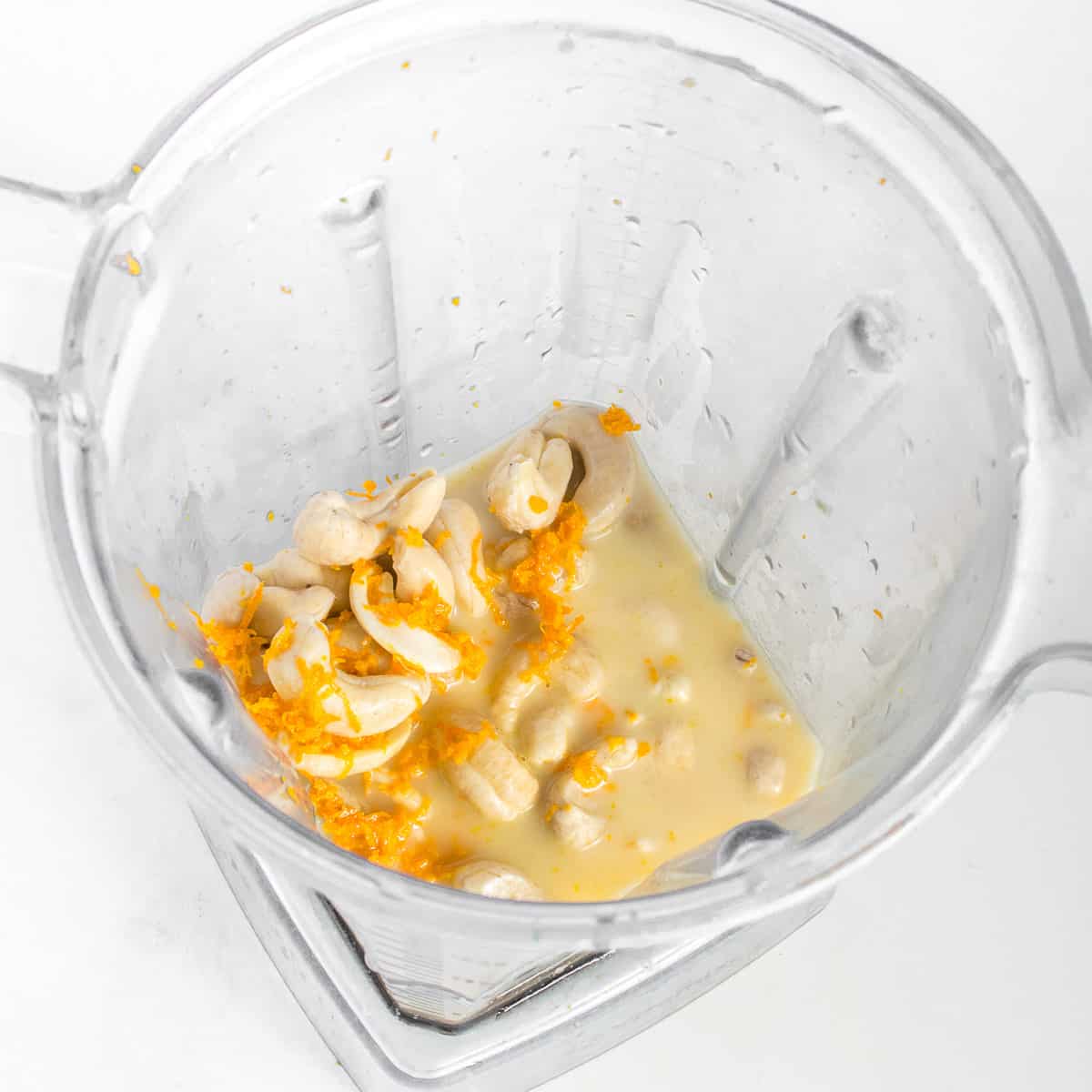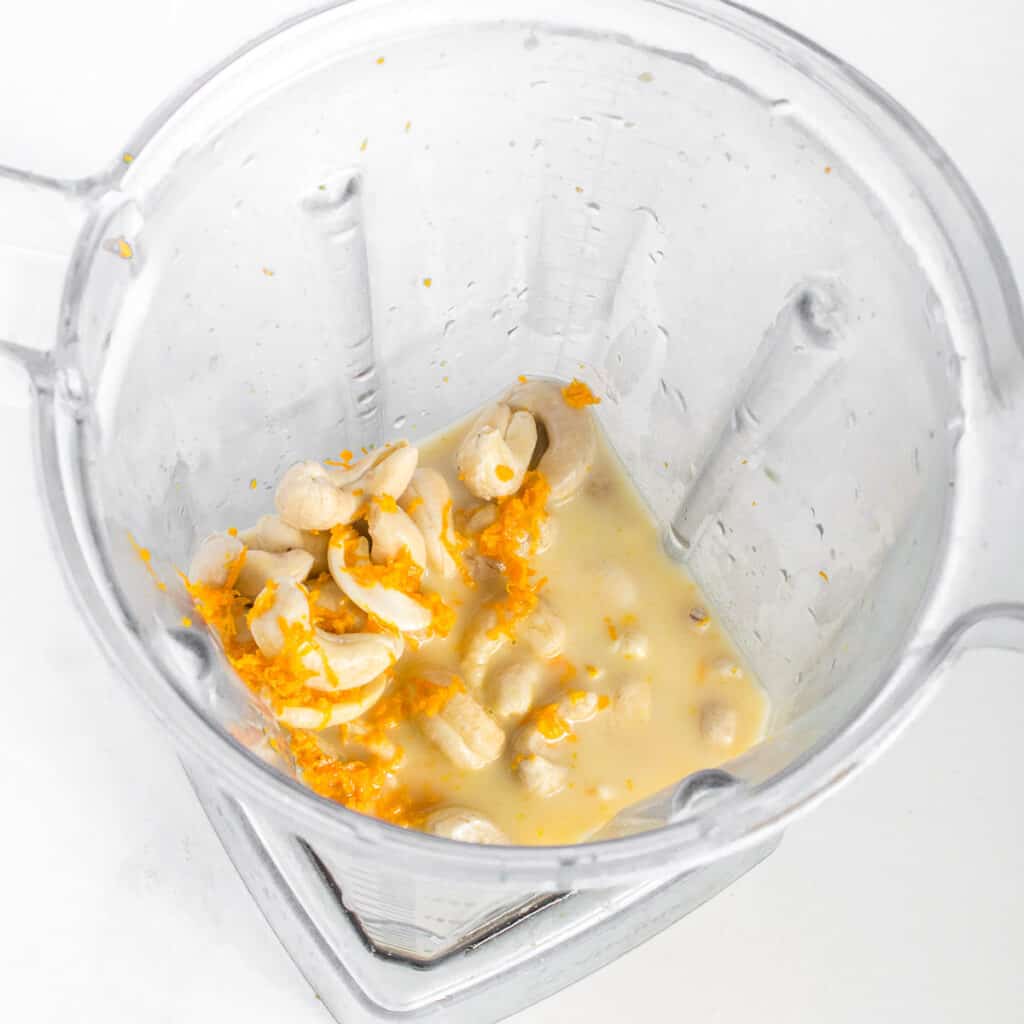 Next, I blended it until it was thick and creamy.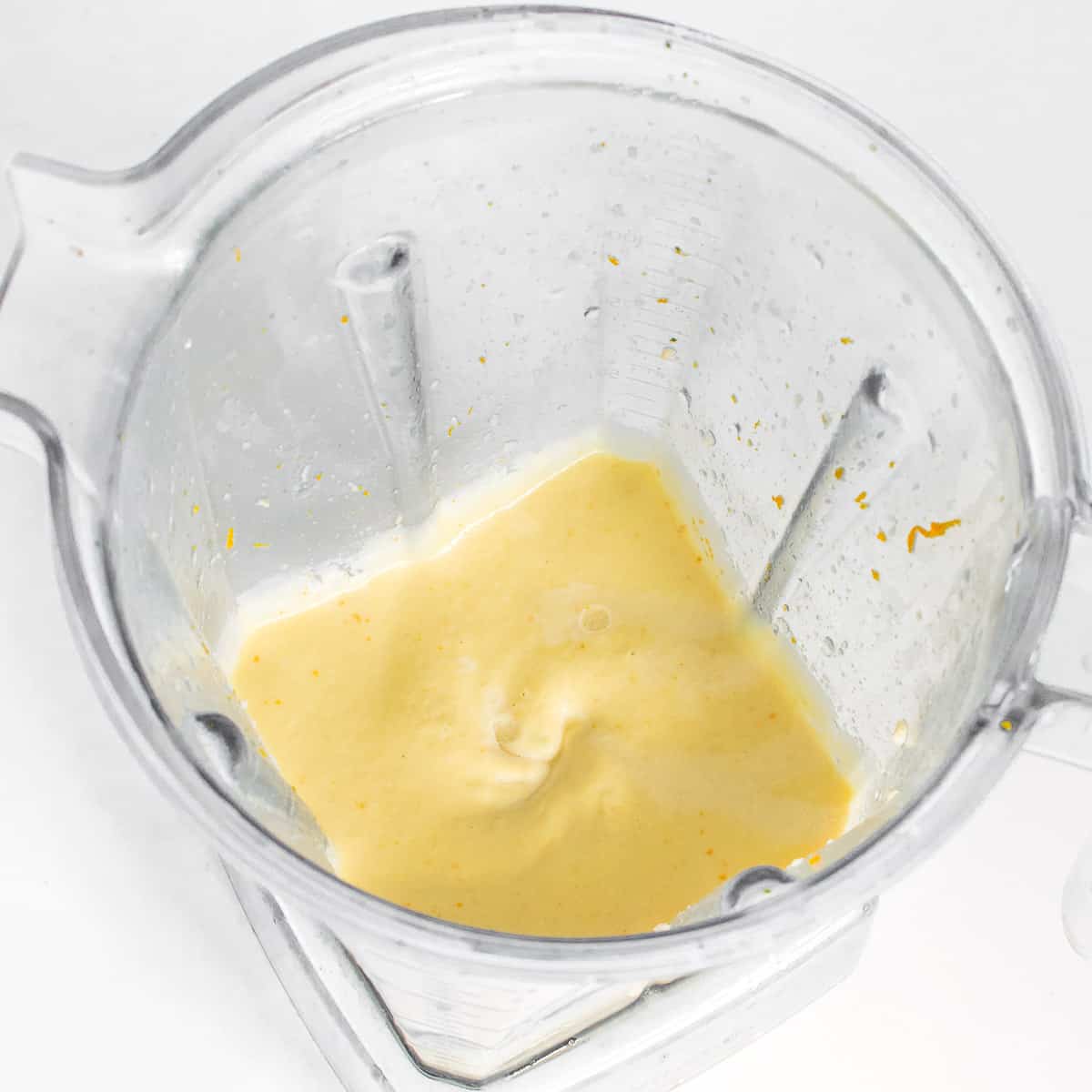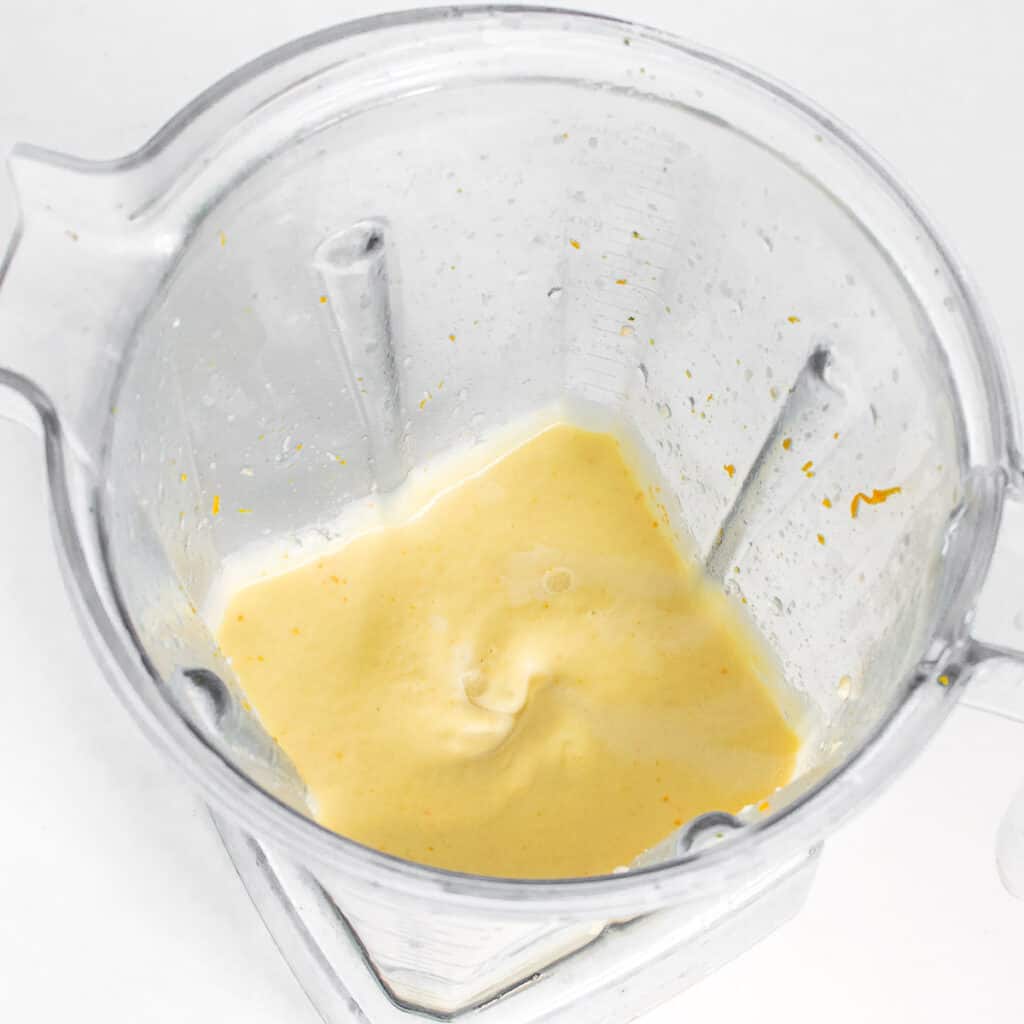 Step 6: how to assemble
Now, I turned over the cake on a flat working surface and topped it with the frosting.
Then, with the knife or a flat spatula, I spread it evenly and to cover its top.
Lastly, I garnished with more orange zest and few orange slices.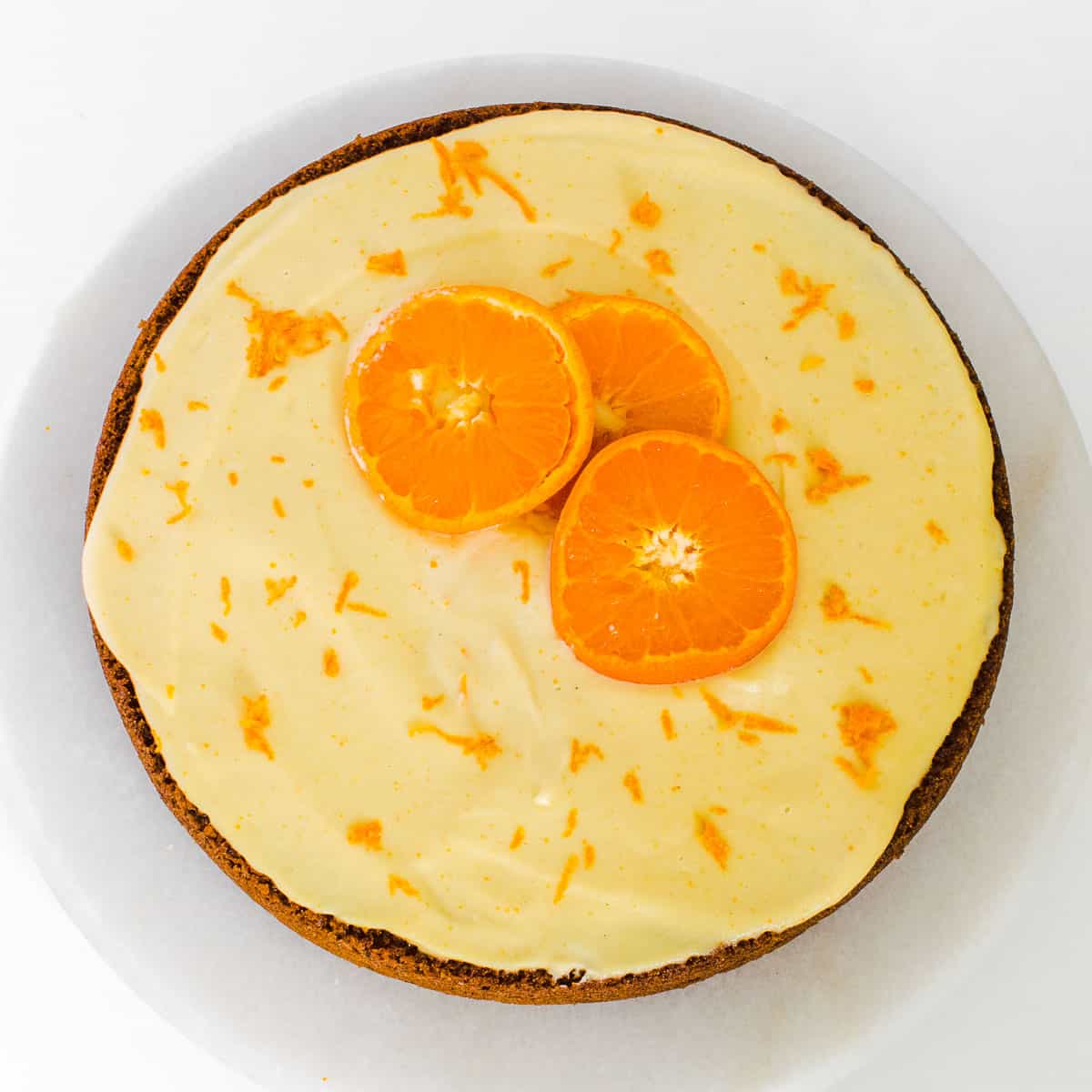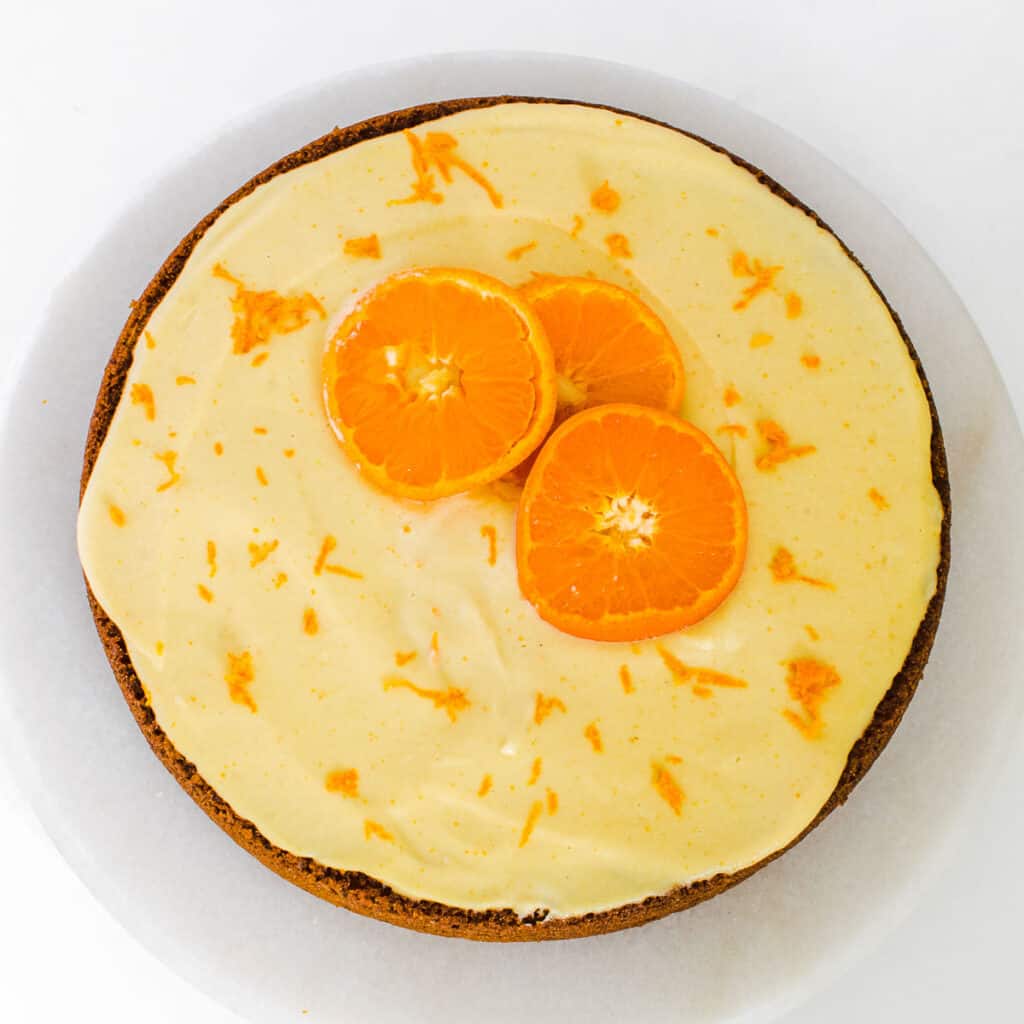 Each slice was extremely tasteful. The entire cake was gone the same day.
My family devoured it so much that they requested me to bake it again in the same week. Moreover, It has been a pleasure to bake this again and again. Therefore, I assure you will love this as much as we did.
Since, I have baked this about 6 times, I assure you that this is the best vegan orange cake ever.
We enjoy it with our evening tea and sometimes as an after-dinner dessert and every time we are amazed with its perfect taste and decadent aroma.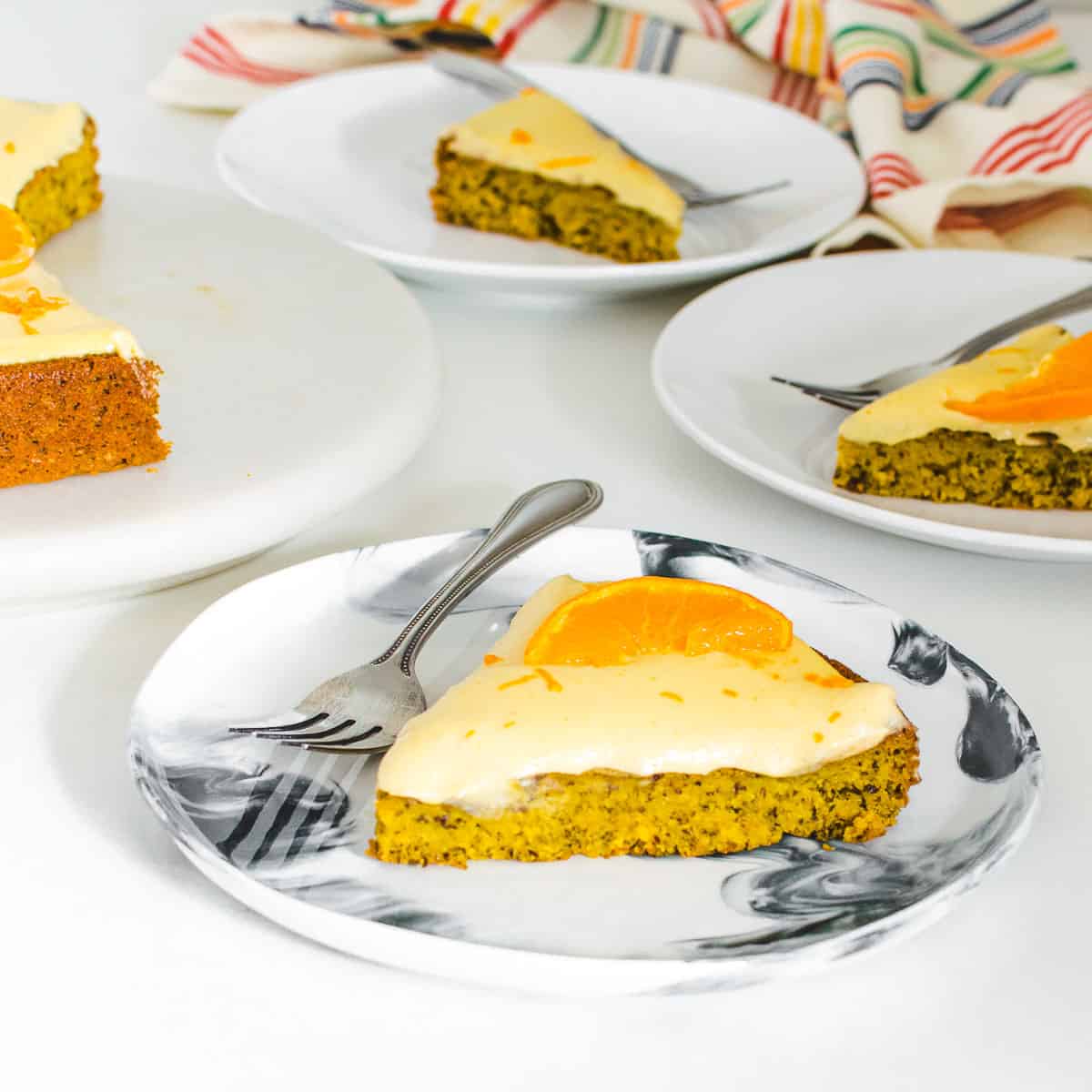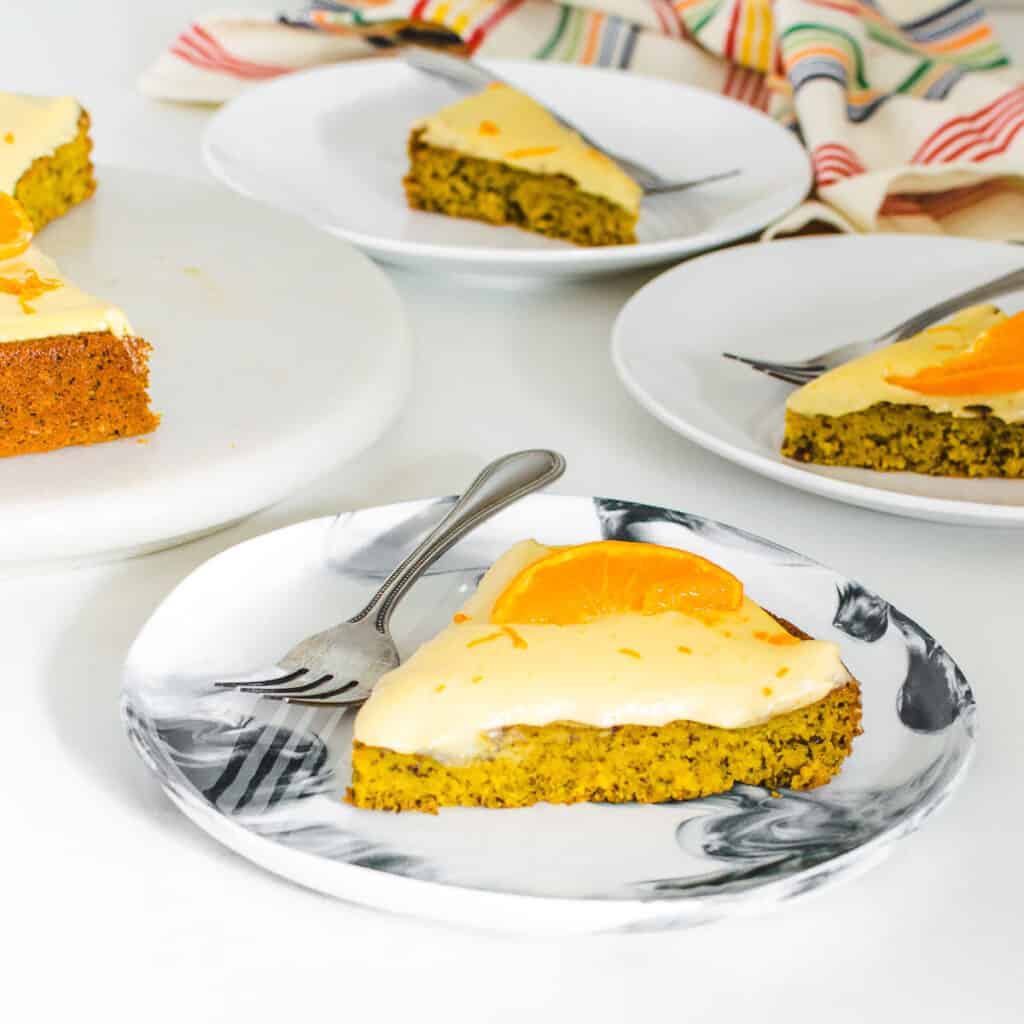 Expert tips:
While mixing the dry ingredients, the grated orange zest might lump. So, you may have to continue mixing it while separating the ingredients at intervals with the spoon until its well covered with the flour.
Most importantly, after blending the oranges with maple syrup, use a strainer and a spoon to squeeze out the juice as much as possible. This will help all the flavors to strain evenly.
It is important to juice the orange before blending it with the frosting.
Vegan Orange Cake FAQs
How can I store the leftovers?
Simply slice them and place in an air tight container in a single layer and refrigerate for about 1 week.
What can I substitute for orange extract?
You may use 3 orange zest for the cake and 2 orange zest for the frosting.
Can I skip the frosting?
Yes, you may skip the frosting out. In this case lightly top it with powdered sugar and some more orange zest along with orange slices.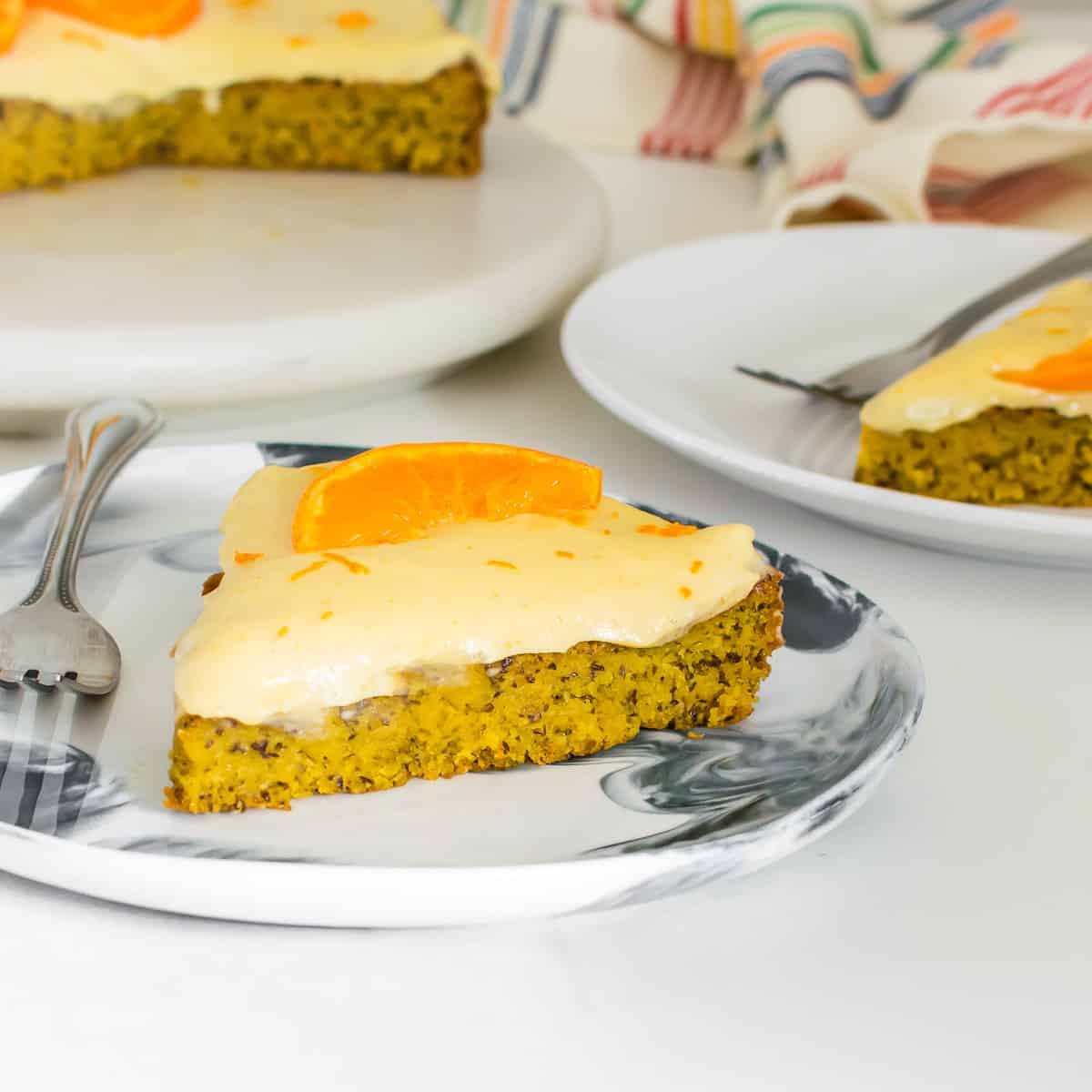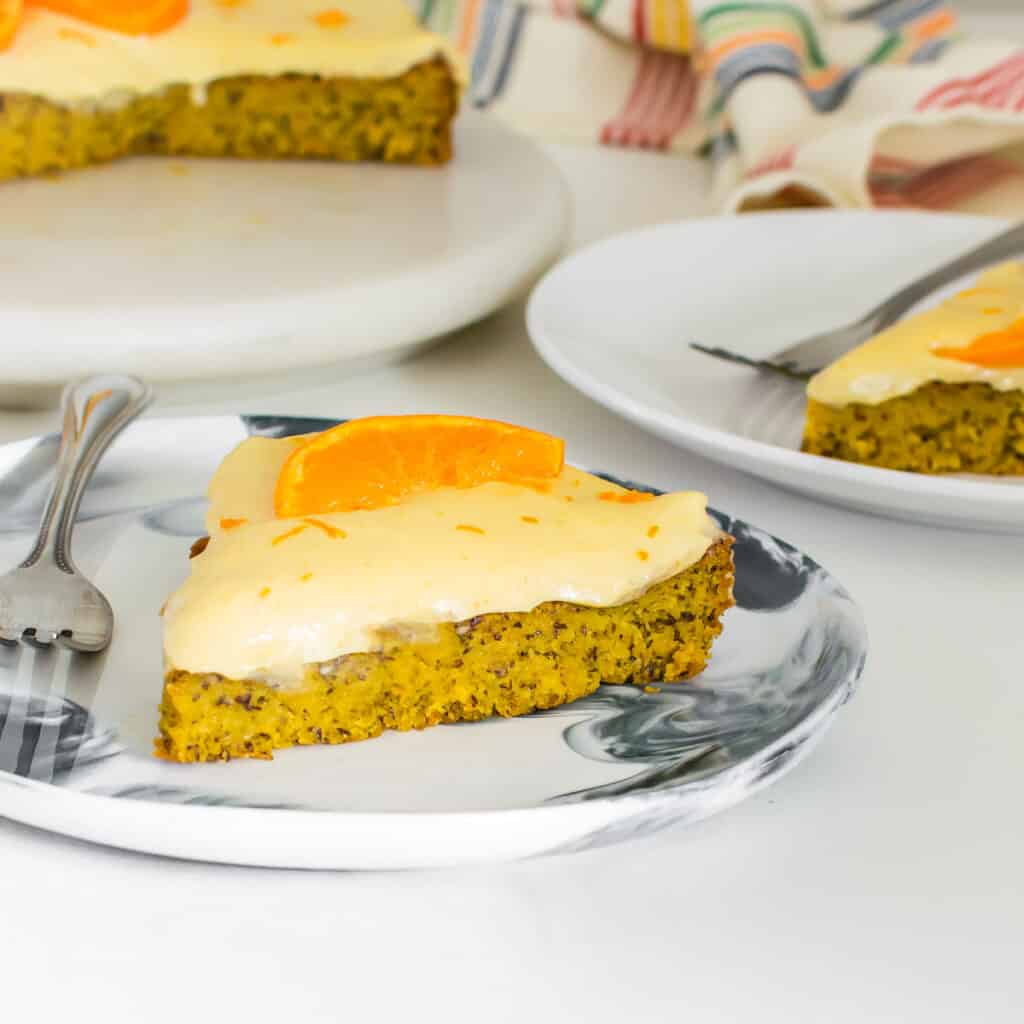 My other vegan cake recipes that you might like:

Vegan Coffee Cake
Vegan Coconut Cake
Peanut Butter Cake
Vegan Red Velvet Cake
Pistachio Cake
Cherry Cake
Vegan Strawberry Cake
This post may contain affiliate links which means that if you click on them and also make a purchase, I will get a small commission. Moreover, I share only those products which I use personally and love.
I hope you enjoy this easy vegan orange cake as much as we did. I am very excited to hear back from you.
Where to find me?
Follow me on Facebook or on Twitter. You may tag @kiipfit on Instagram with your recipe remake images because I would love to see what you cooked.
Did you make it?
If you get a chance to make this recipe then please leave your feedback in the comments below along with a 5-star rating.
In addition, you may checkout my cookbook for everyday comfort vegan recipes.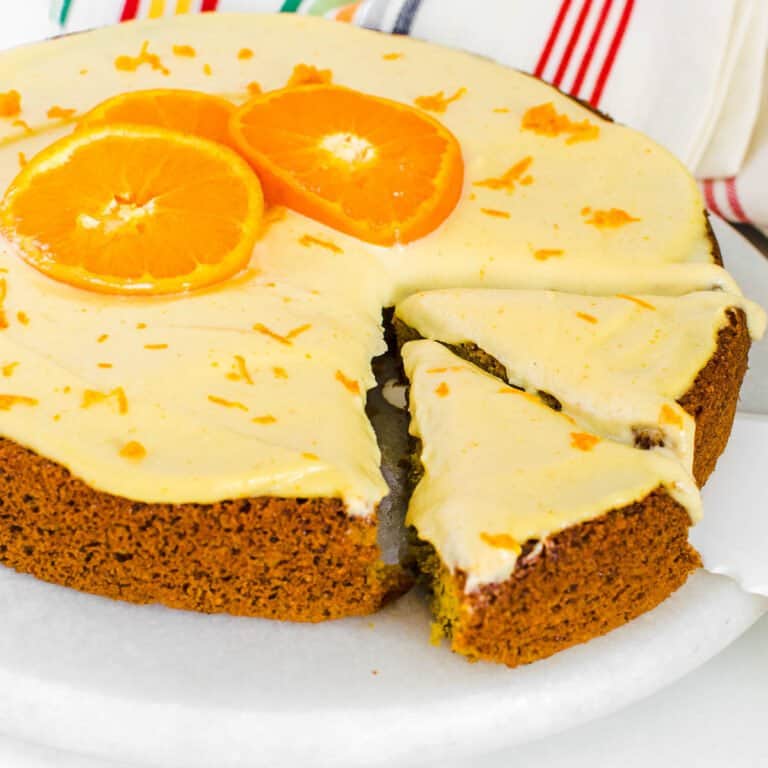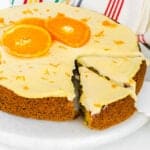 Print Recipe
Vegan Orange Cake
This soft, moist and citrusy-sweet Vegan Orange Cake is packed with flavors and made with fresh oranges. It's a perfect all year-round dessert and is oil free and refined sugar free.
Ingredients
for garnishing ( optional)
Instructions
Preheat oven at 350-degree Fahrenheit and lightly grease an 8-inch cake pan. (You may also place a round parchment paper after greasing the cake pan if desired. Make sure there is no hanging parchment paper from the cake pan).

In a mixing bowl combine oat flour, almond flour, baking powder, baking soda, salt and orange zest. Mix and keep it aside.

In a blender, combine 4 oranges, maple syrup, vanilla extract and orange extract and blend it smooth. Keep it aside.

Now, with the help of sieve/strainer strain the blended orange juice directly into the flour mixture. You may use your spoon to squeeze out the juice as much as possible and then discard the leftover pulp. Add soaked flaxmeal to the flour mixture and whip it into a thick pouring consistency batter.

In the cake pan, pour the batter and tap it gently for even spreading. Place it in the middle rack of the oven and bake it for 27-30 minutes or until the tester comes out clean. Turn it off and take it out. Let it cool down on a flat surface.

In the meanwhile, in a blender combine cashew nuts, oat milk, maple syrup, orange zest, orange extract and juice 1 orange in it directly. Blend it smooth until creamy and silky. (About 3-4 minutes). Keep it aside.

Now, turn over the cake on a flat surface (gently remove the parchment paper if using it) and spread the frosting on its top with a knife or a flat spatula. Garnish with more orange zest and sliced oranges and serve.
Notes
After blending the liquid ingredients of the cake you may strain it in a bowl separately and then add to the flour mixture or strain it directly into the flour mixture. Discard the leftover pulp.
While blending the frosting make sure to juice the orange before adding it into the blender since we do not want to strain the frosting. It should be creamy and on a thicker side.
Make sure to soak the cashew nuts in hot or warm water long enough that you can break them with fingers. Then drain them. The softer the cashews are the creamier frosting would be. 
This cake tastes best when served the same day. Refrigerate the leftovers for upto 1 week.
Make sure to use bright orange and soft and sweet oranges. I used California mandarin small oranges seedless ( cuties) for this recipe.
If you do not have oat flour then you may grind your own oat flour in a food processor. Simply add oats in the food processor and grind until powdered form. Measure it to 1 cup and use it in the cake.
Step wise images are provided in the post above for reference. 
Nutrition
Calories:
256
kcal
|
Carbohydrates:
36
g
|
Protein:
7
g
|
Fat:
12
g
|
Saturated Fat:
1
g
|
Polyunsaturated Fat:
2
g
|
Monounsaturated Fat:
1
g
|
Sodium:
176
mg
|
Potassium:
154
mg
|
Fiber:
3
g
|
Sugar:
10
g
|
Vitamin A:
12
IU
|
Vitamin C:
1
mg
|
Calcium:
83
mg
|
Iron:
1
mg