These oil free Vegan Lemon Bars are zesty, tart and a sweet dessert. Its crispy crust is made with almond flour and flax meal then filled with gooey curd. It's simple and bursting with tangy flavors along with the perfect balance of sweetness.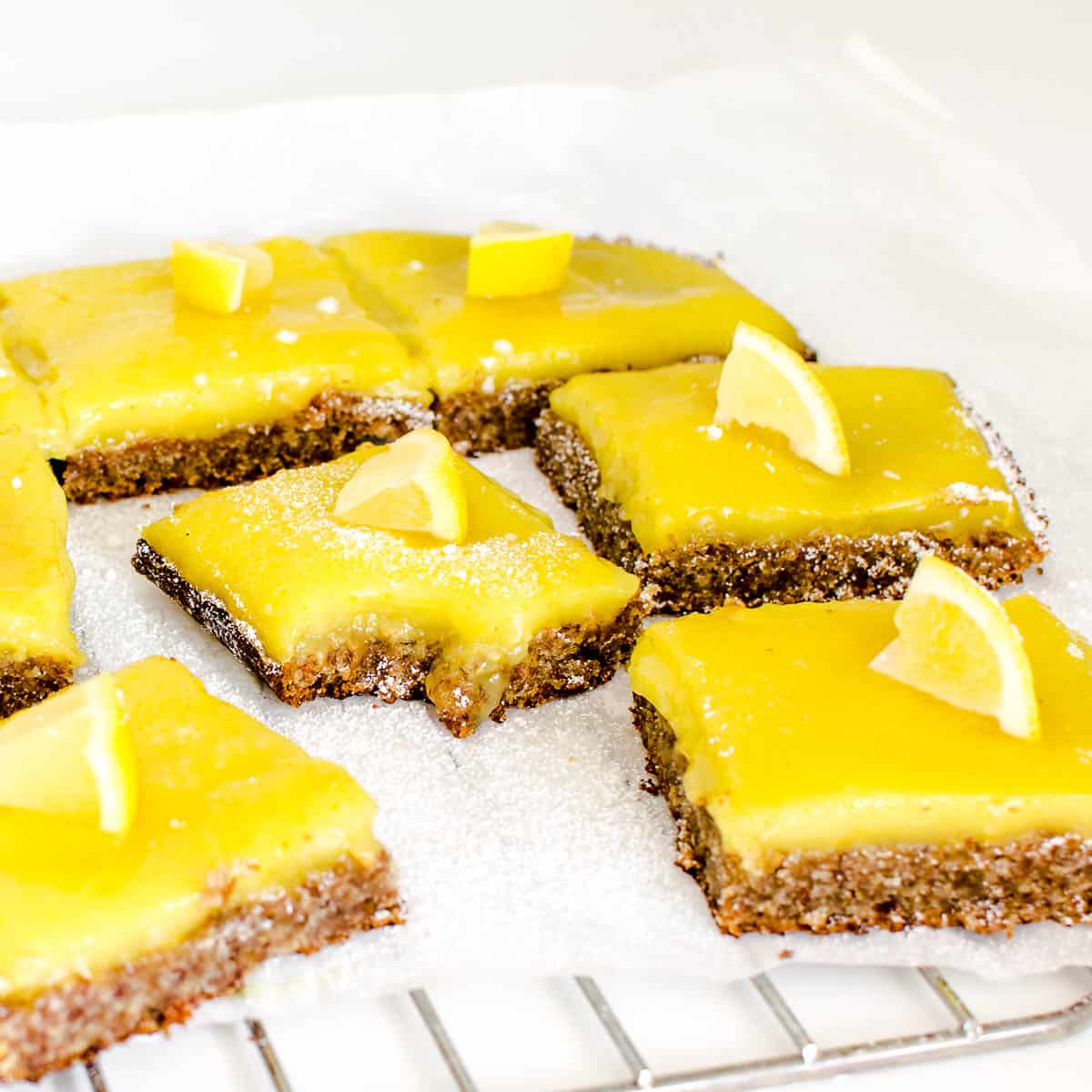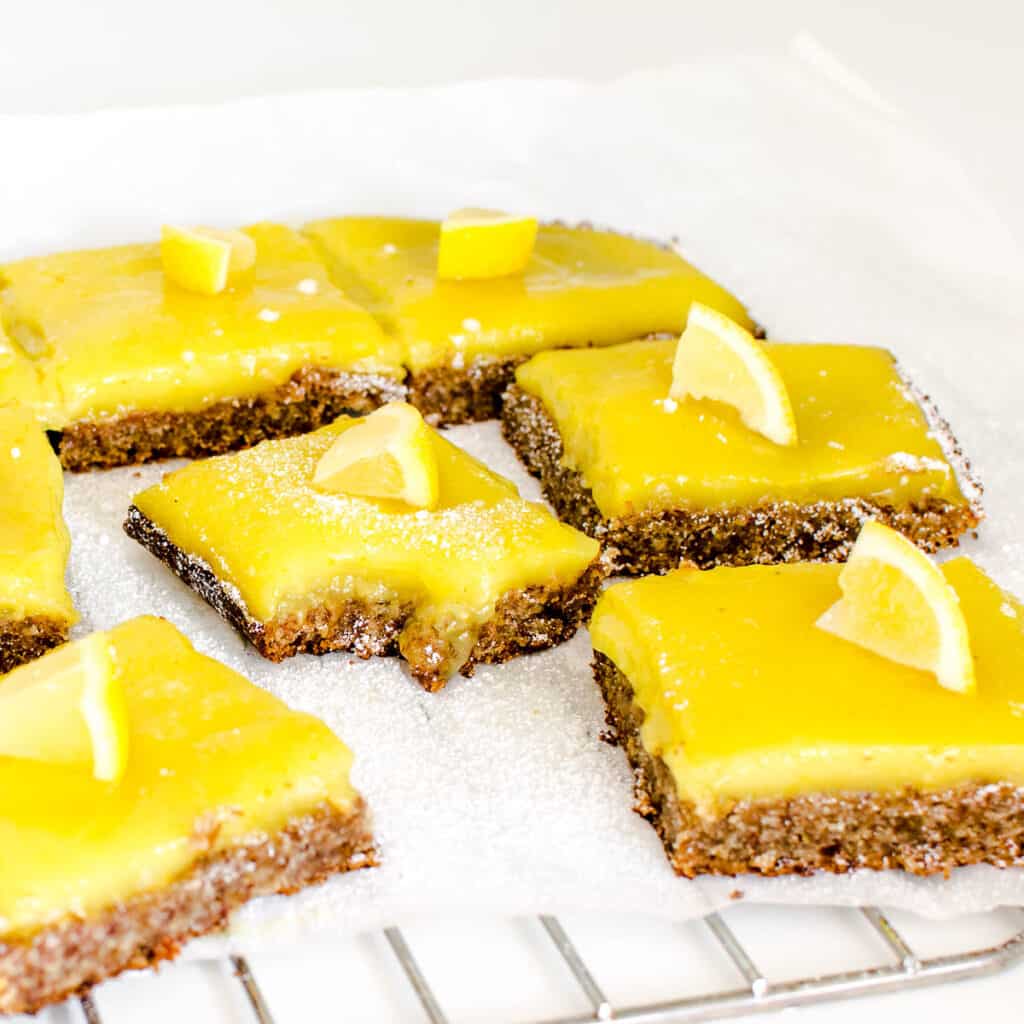 I have recently started enjoying lemon flavors in my recipes. So, I created lemon pasta and lemon cookies which my family loves. Therefore, I make them frequently, but these lemon bars were outstanding.
With every lemon dessert I keep on improving with the combination of flavors. This time, I nailed it by making the crispy, crunchy and chewy crust which does not soften over time as well. Yes! The crust does not soften even when refrigerated for longer time.
I tested this recipe many times especially making sure that they have longer shelf life with the same crispy texture and flavors. Hence, I happily succeeded.
I have also created many healthy bar recipes which you might like:
Raspberry Bars
Pecan Pie Bars
No Bake Vegan Pumpkin Bars
Almond Butter Flax Bars
Peanut Butter Cheesecake Protein Bars
No Bake Orange Almond Protein Bars
Banana Hazelnut Protein Bars
Strawberry Quinoa Breakfast Bars
No Bake Coffee Oats Energy Bars
Puffed Amaranth Pomegranate Bars
However, these vegan gluten free lemon bars are by far the best and perfect for all year wound.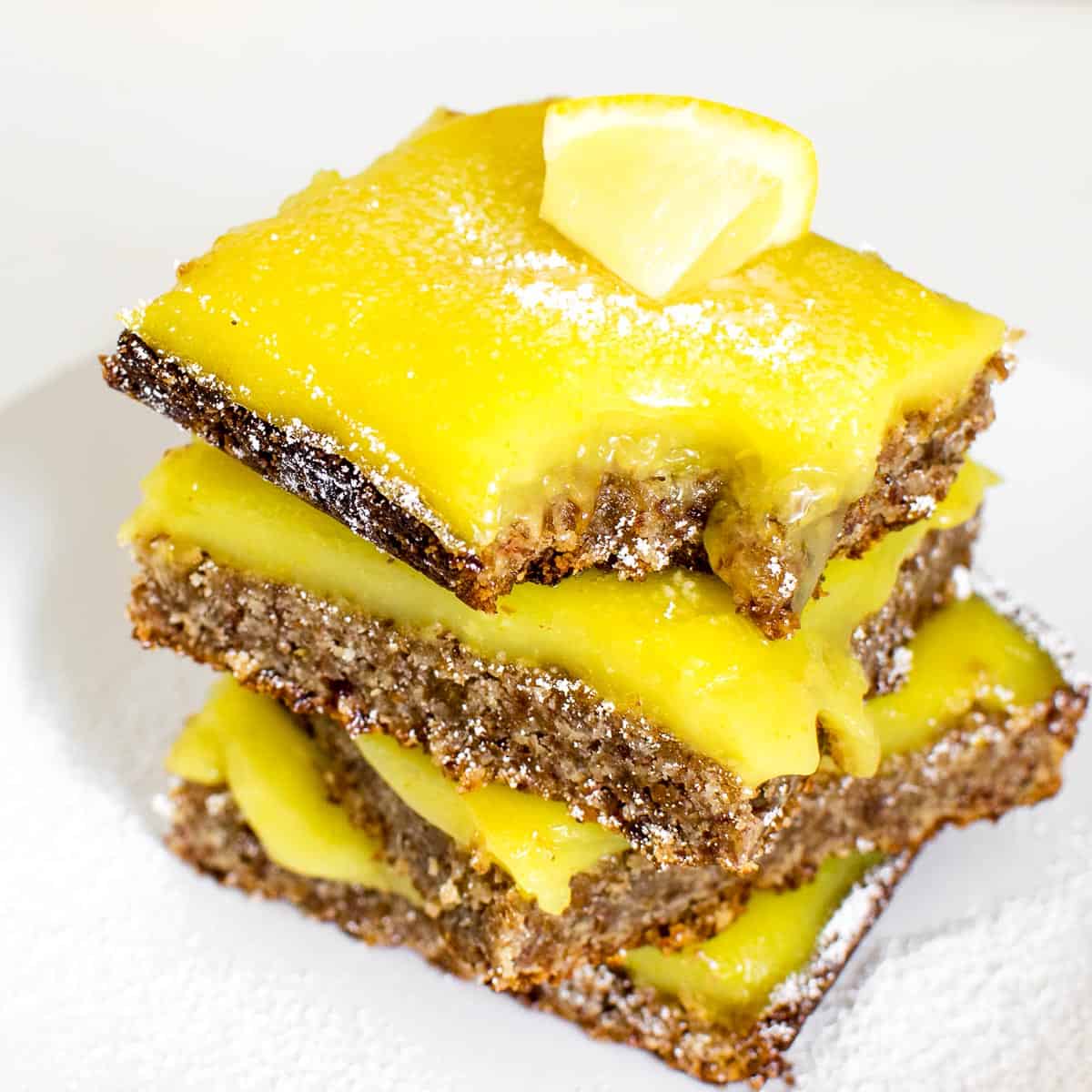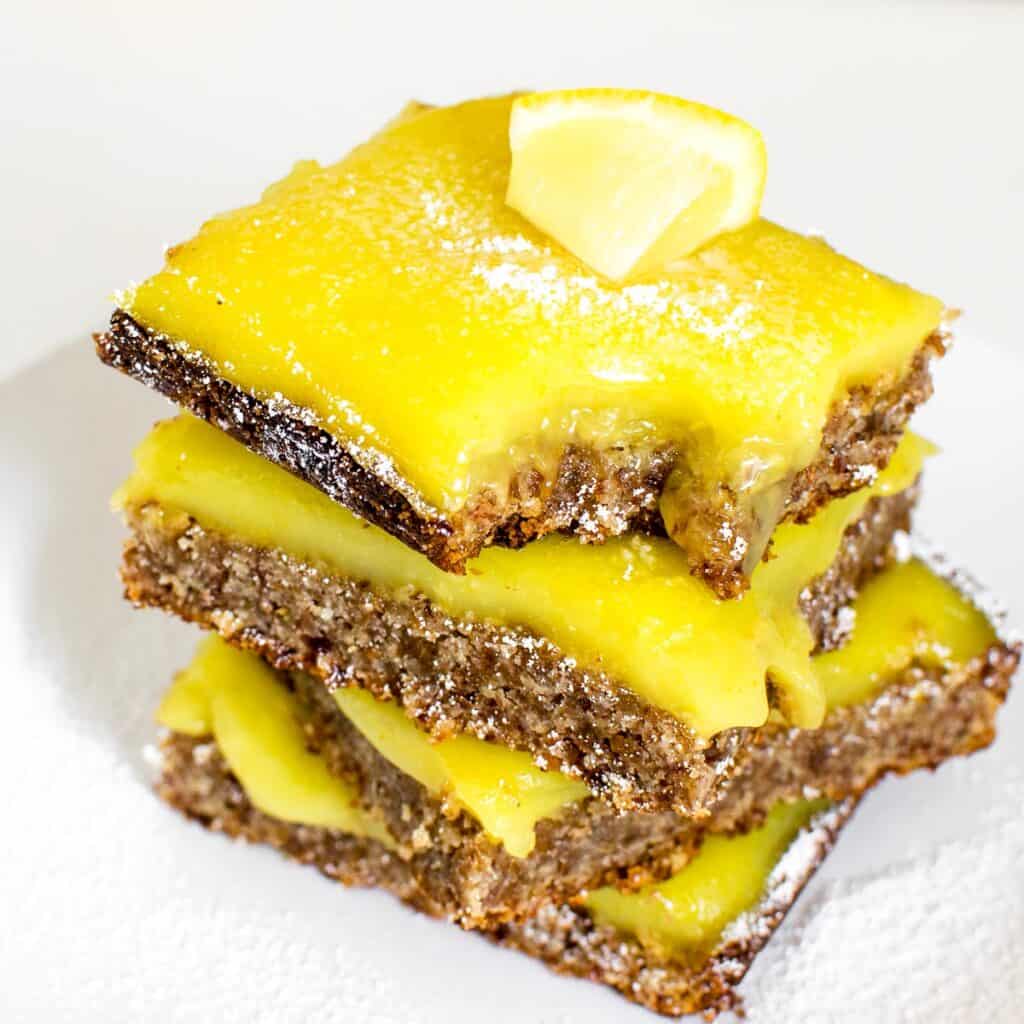 Therefore, I am here to share this awesome vegan lemon bars recipe with you.
Ingredients you will need:
For the crust
Dates
Almond flour
Flaxmeal
Lemon juice
Maple syrup
Salt
For the filling
Coconut milk
Lemon juice
Lemon extract
Maple syrup
Turmeric
Lemon zest
Cornstarch
For serving
Powdered sugar (optional)
I have used these easily available ingredients which you may buy from any local grocery stores. However, I have provided links to few of them here for your convenience.
If you plan to buy from these affiliate links then I get a small commission which in turn encourages me to bring in more delicious recipes for you.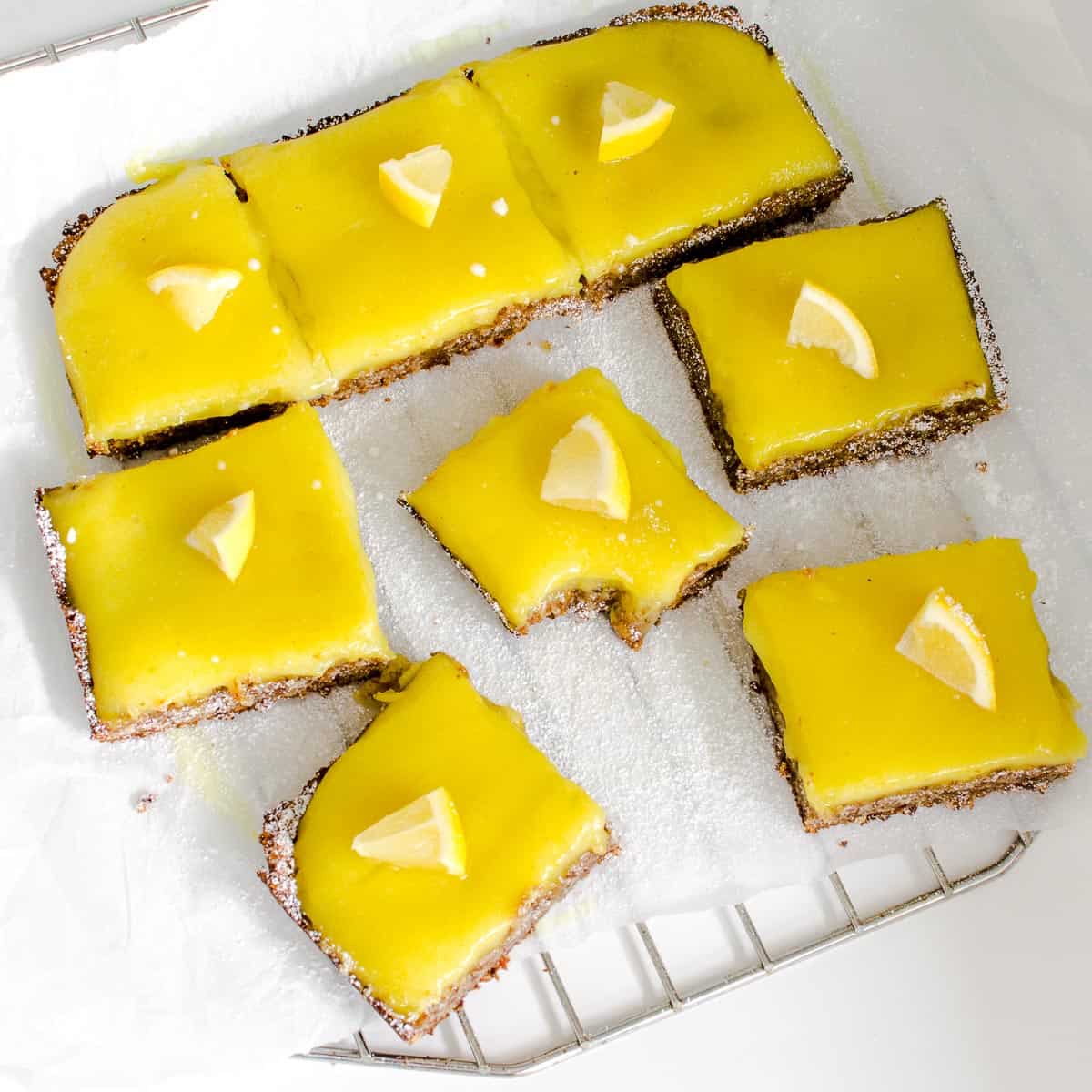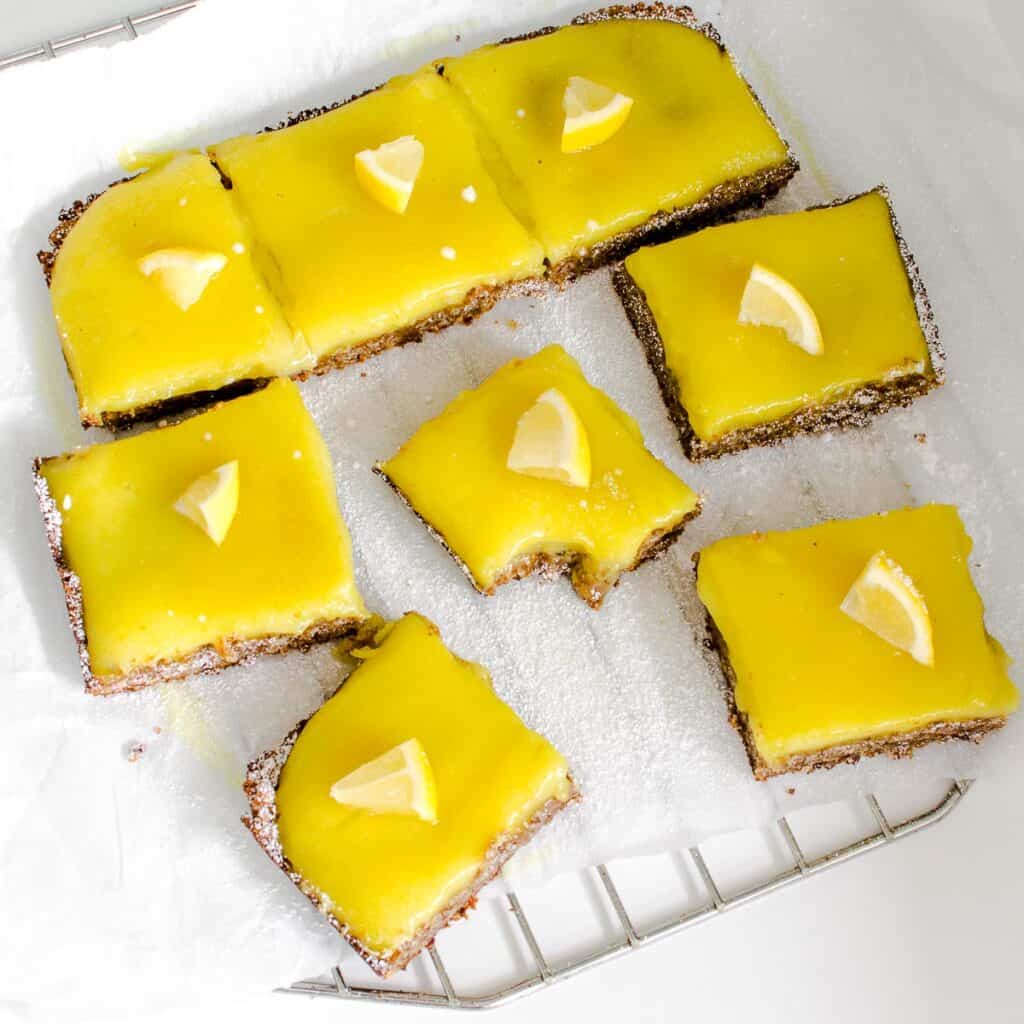 Ingredients notes:
Dates – its high in fiber and promotes natural labor. These are natural sweeteners because they are dried fruit and are whole foods as well. I used these here in the crust to be able to bind the ingredients and sweeten them naturally as well.
Almond flour – It gives a nice sweet nutty flavor to this recipe. At the same time, it provides a nice chewy crunch to its crust. It's a healthy protein rich ingredient with healthy fats.
Flaxmeal – It's a vegan superfood and perfect to make the crust of these vegan lemon bars crispy. Its high in fiber and omega 3 fatty acids.
Lemon juice – This is an important ingredient here since these bars should have lemony flavor. You may use fresh lemon juice or bottled one because both works here excellently.
Coconut milk – I used tetra pack version to make this recipe lighter and lower in calories.
Maple syrup – this adds a nice sweet taste to the filling without being processed too much.
Turmeric – it has medicinal priorities and healing power, it's a healthy ingredient with many heath benefits. However, here I have used a tiny pinch of it to bring out the lemony color of the filling.
Cornstarch – I used it to bind the curd and bring out the gooey texture of it.
So, since you all know the details of why and what I have used in these eggless lemon bars, all you have to do now is go through the steps quickly.
After that, simply get started with it because I am sure you must be having all the ingredients in your kitchen already.
How to make Vegan Lemon Bars
Firstly, I combined all the ingredients of the crust in a food processor. Then, I processed it until they started to stick to each other.
Secondly, I spooned it out on a prepared square baking dish and pressed it with my hands shaping it according to the baking dish.
Next, I placed it in the middle rack of the pre-heated oven at 350-degree Fahrenheit and baked it for 15 minutes or until the edges were slightly brown.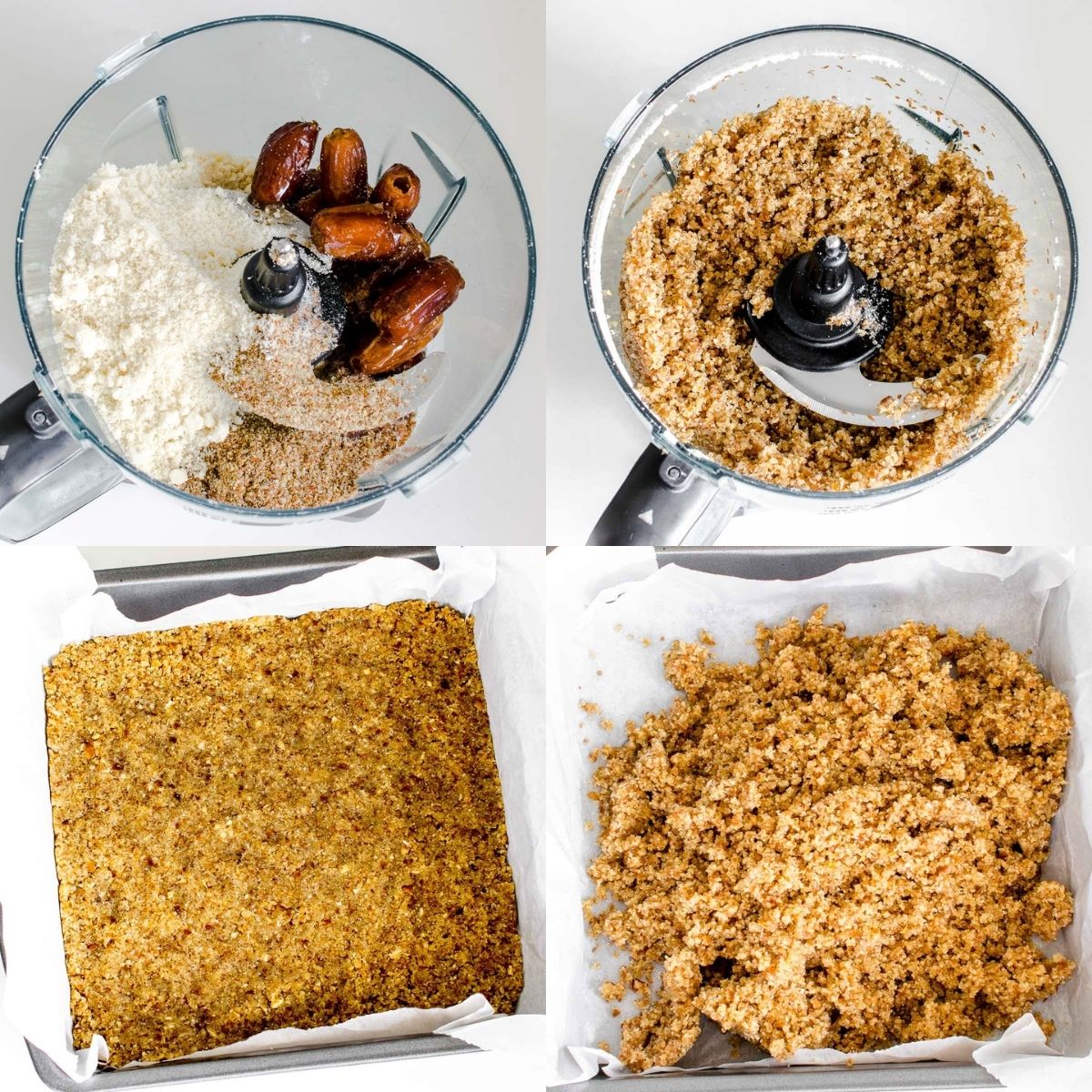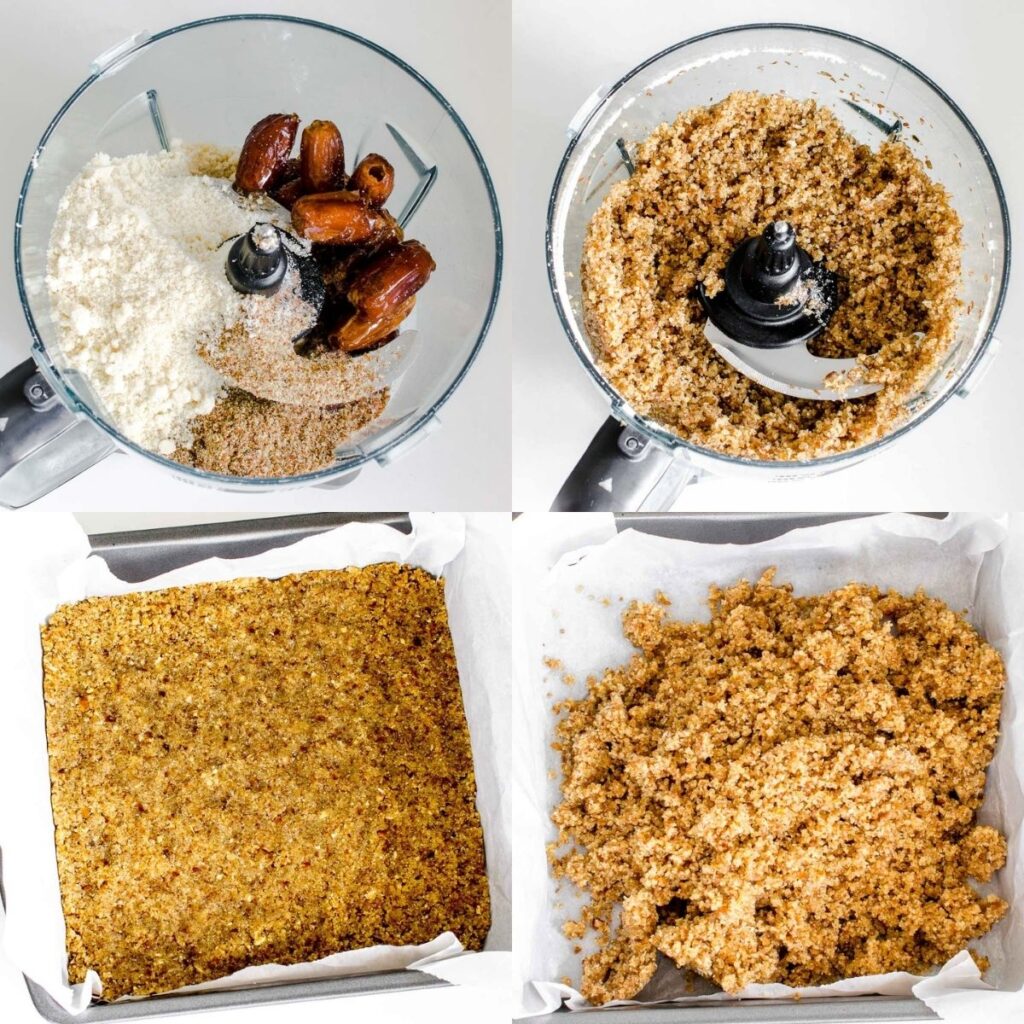 Once done, I took it out and kept it aside while the oven was still on.
Thereafter, in a saucepan, I combined all the filling ingredients and whisked it vigorously. I made sure that there were no lumps and the curd did not stick at the bottom. This mixture needs to be dissolved completely before cooking.
Afterwards, I placed the saucepan on a high flame and continued whisking until it started to thicken.
Immediately I turned off the flame and removed it from the heat but continued whisking until it settled down with a thick consistency.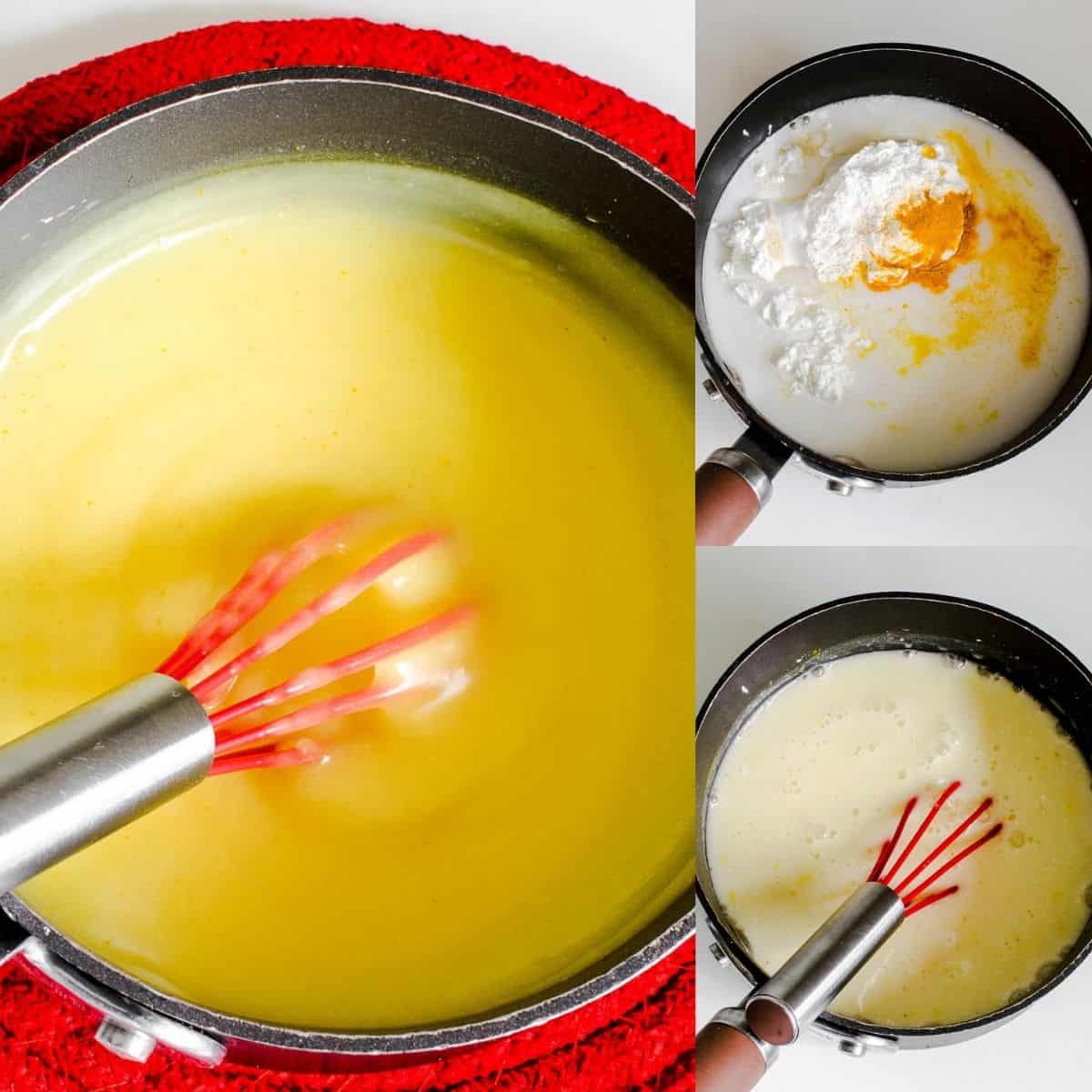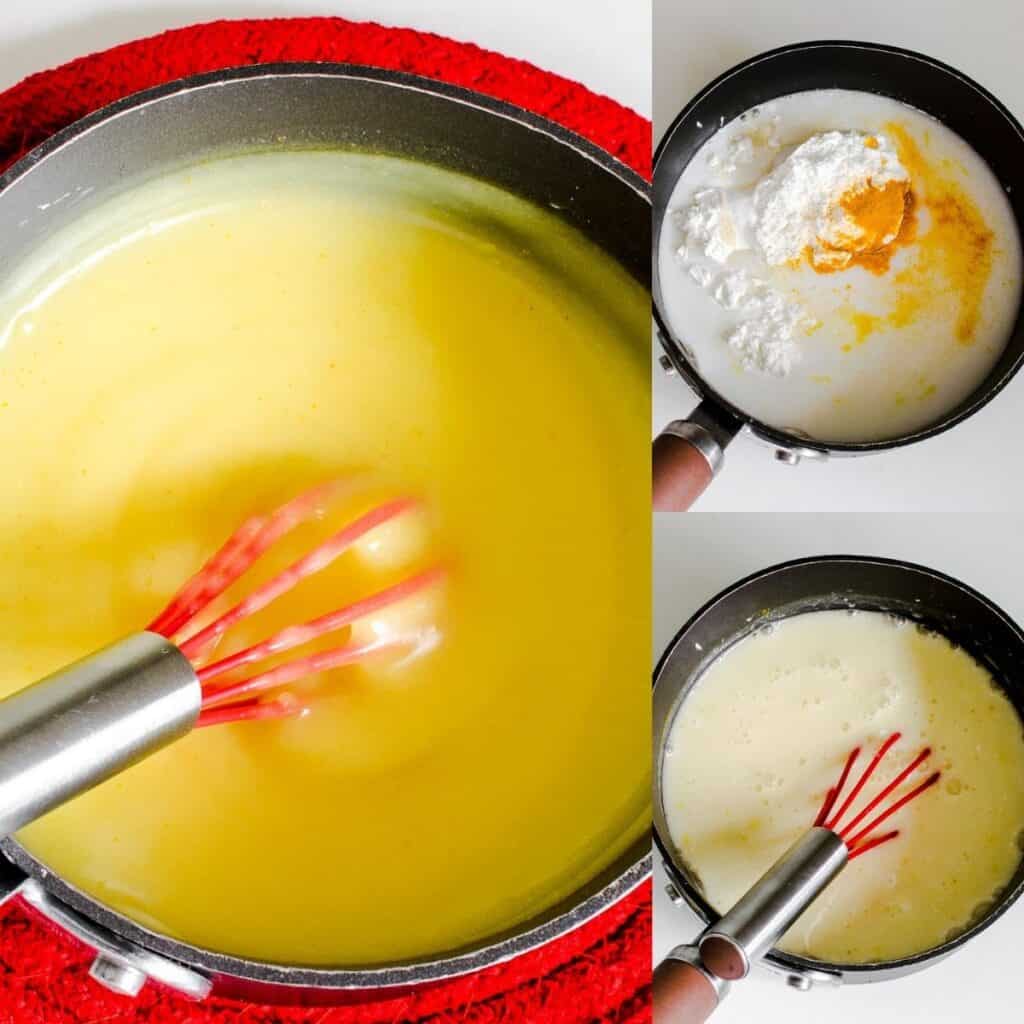 Later, I poured this curd on the baked crust and spread it evenly with a spatula.
Then, I baked it again for 20 minutes in the preheated oven.
Once done, I turned it off and took it out. Then, I kept it on a flat surface to cool down completely.
Lastly, I took out the bars along with the parchment paper on a flat surface and sliced them.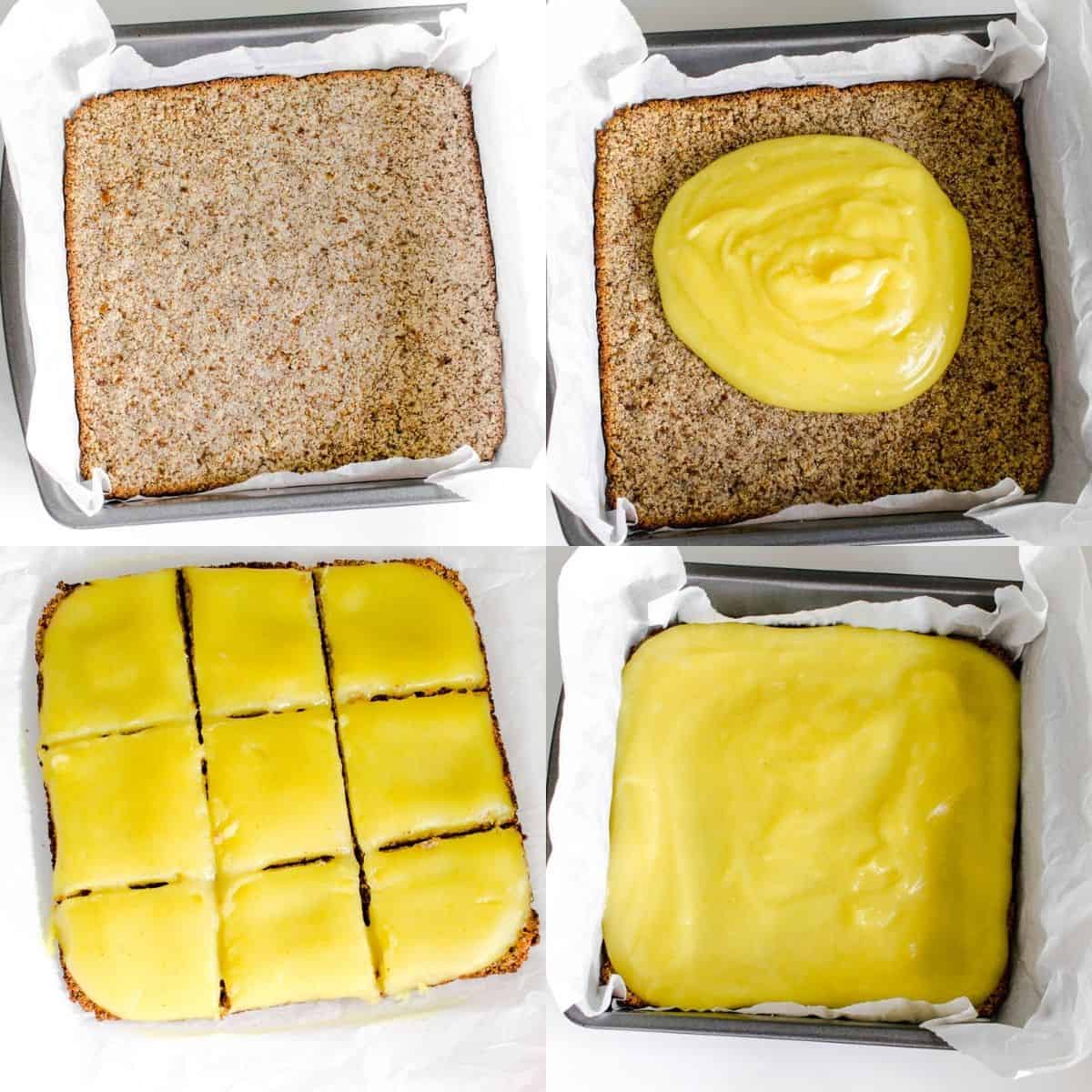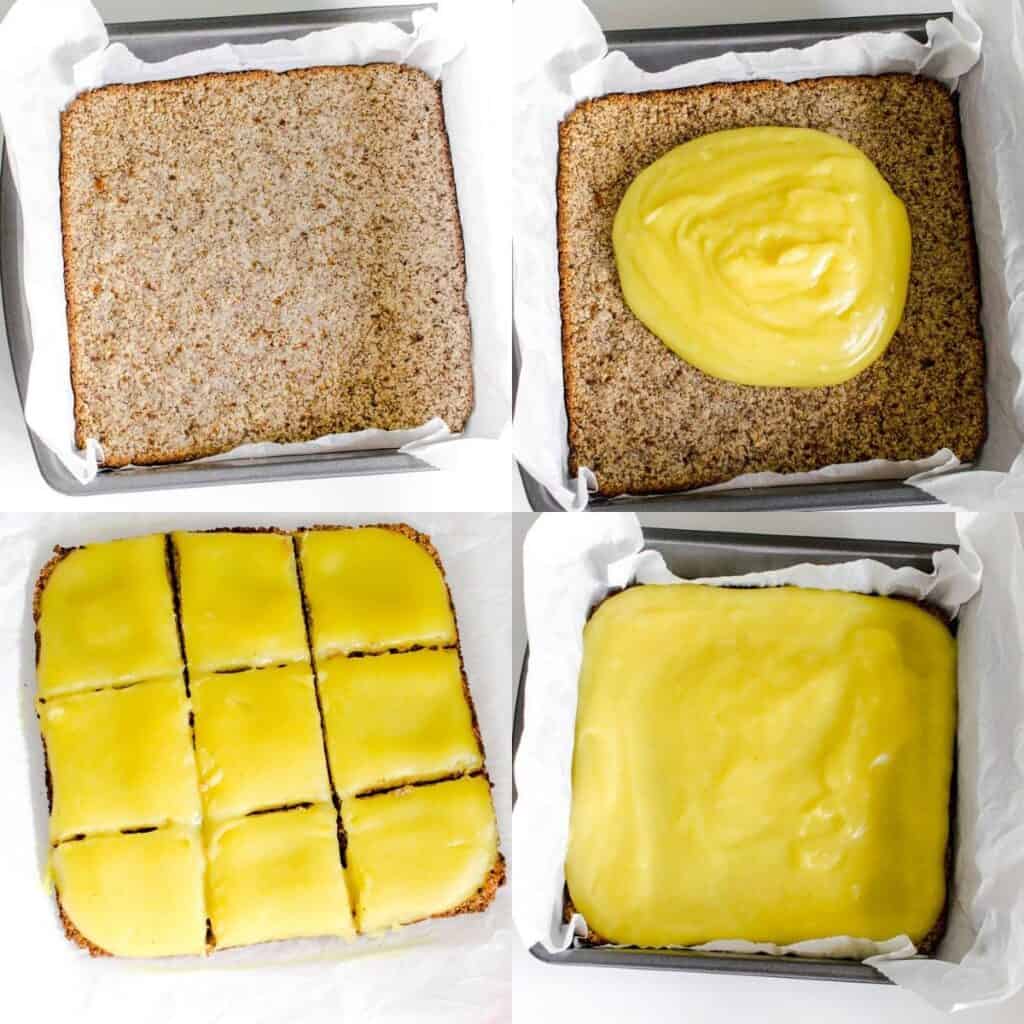 We enjoyed these as is. However, you may garnish it with powdered sugar for a sweeter filling or presentation.
Any time I make them, I rarely get a chance to save for later. Every time they vanish the same day.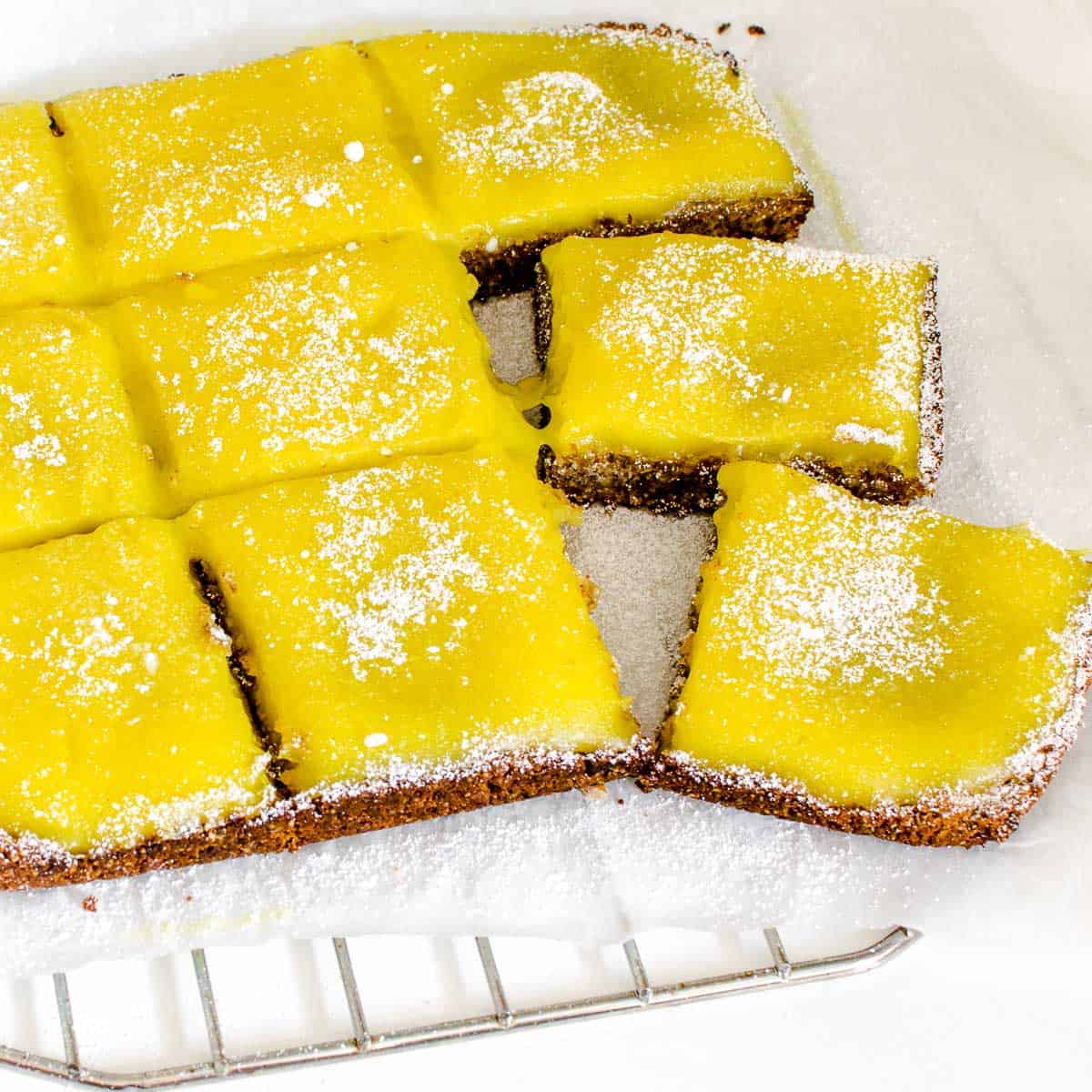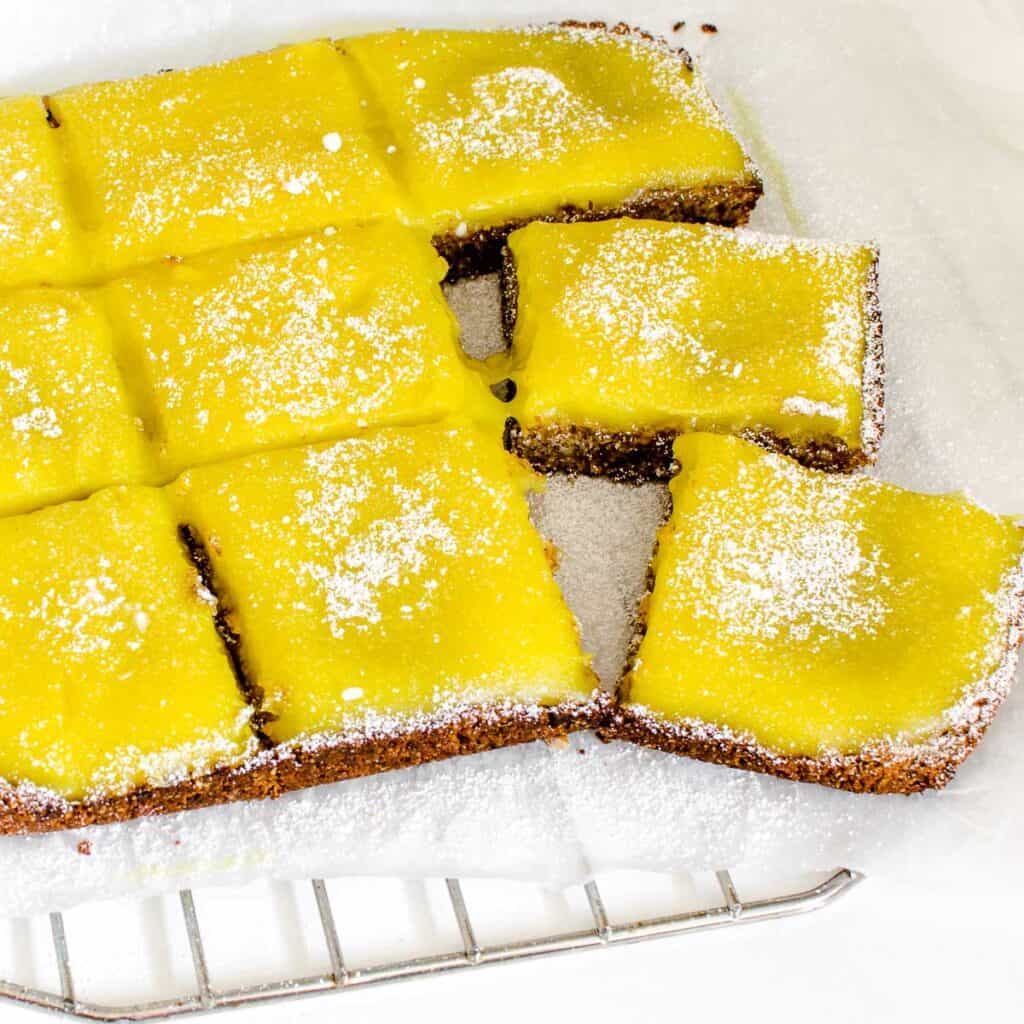 We absolutely go crazy for that perfect lemony and sweet flavor along with its crunch.
Expert tips:
When grinding the crust ingredients, after it looks nicely ground and powdered form, you make pick a small portion of it in your hand and try to stick it into a dough. If it sticks to each other stop grinding at that point.
While pressing the crust in the baking pan make sure to press evenly. Also, try to press it as thin as possible so as to make it crispier.
While cooking the curd, it is important to whisk continuously so as to avoid any lumps and sticking. Also, add cornstarch at the last of all the ingredients so that it does not become a big lump.
As soon as the curd starts to thicken remove from flame and continue whisking until it settles down in consistency. It should be thick but pouring consistency curd.
Vegan Lemon Bars FAQs
How long does these lasts?
Let them cool completely for at least an hour and then simply refrigerate them in an air tight glass container for 2-3 weeks. You may leave it at room temperature for few hours to enjoy the same day.
Are these healthy?
I have made the crust with whole food ingredients and sweetened it with natural dates. For the filling, I have again used healthy ingredients. However, I used cornstarch to bind instead of any flour so therefore, it's a minimal processed ingredient. The garnishing is absolutely optional. Overall, I would say these are healthier comparatively and can be enjoyed frequently.
How do these taste like?
These have a nice crunch at its base with a tangy, sweet and lemony flavor at the top. Overall, it a refreshing dessert snack.
While slicing, do they end up being messy?
Not at all. Simply pick up the parchment paper carefully form the baking dish along with the dessert. Then place the entire parchment paper on a flat working surface. Now, with the help of a sharp knife slice them as per your choice. Gently, pull out a bar slice by placing the tip of the knife at it its bottom and pulling it out with your hand. They are well baked and the filling also is well cooked. These bars can be easily cut clean.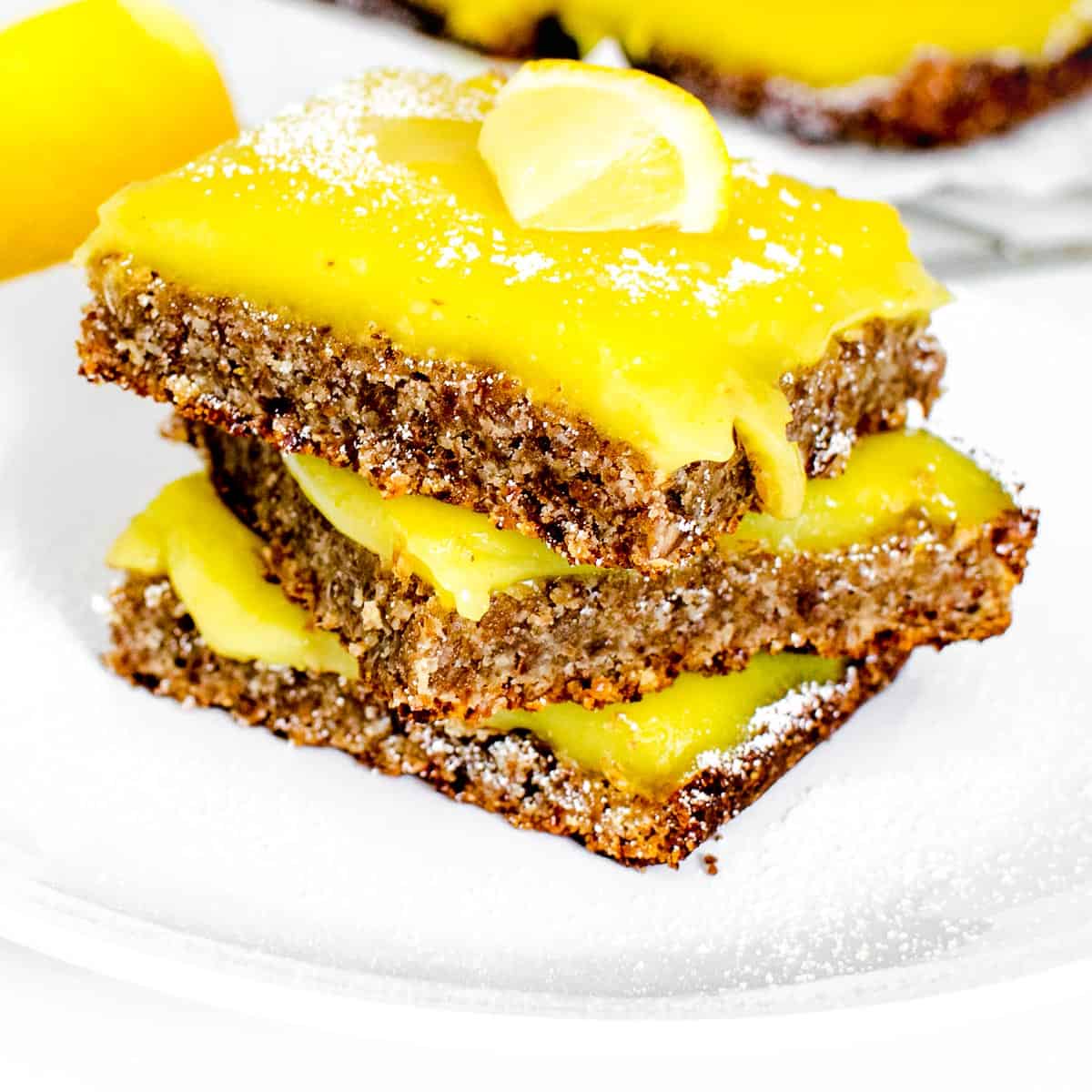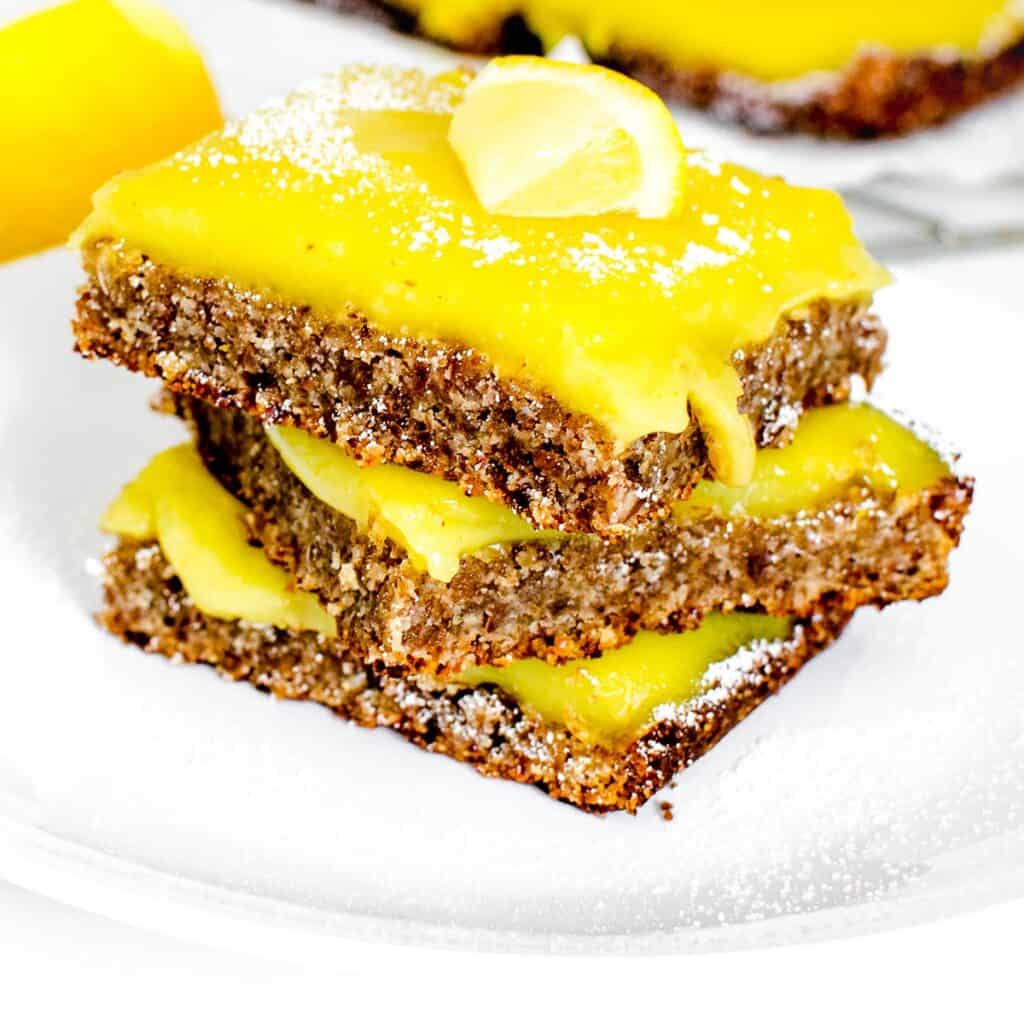 Did you make it?
If you get a chance to make this recipe then please leave your feedback in the comments. If you love these vegan lemon bars then leave a 5-star rating.
In addition, you may tag @kiipfit on Instagram with your recipe image because we would love to see what you cooked. Follow me on Facebook for regular updates for delicious and healthy vegan recipes.
You may also check out my cookbooks for everyday recipes.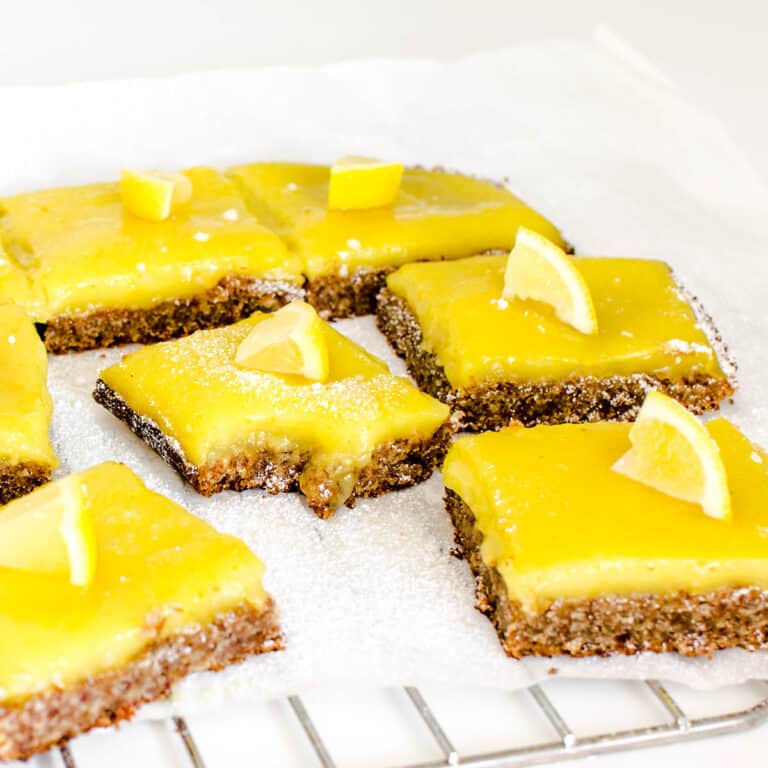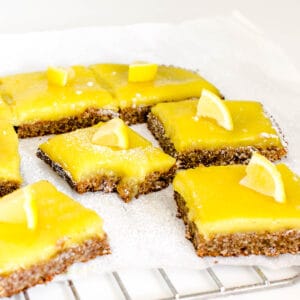 Print Recipe
Vegan Lemon Bars
These oil free Vegan Lemon Bars are zesty, tart and a sweet dessert. Its crispy crust is made with almond flour and flax meal then filled with gooey curd. It's simple and bursting with tangy flavors along with the perfect balance of sweetness.
Ingredients
For serving (optional)
Instructions
Preheat oven at 350-degree Fahrenheit and prepare an 8-inch square baking pan with parchment paper. In a food processor combine all the crust ingredients and grind it until the dough starts to stick to each other.  

Spoon it out in the prepared baking dish and press it with your hands shaping as per the baking pan. Make sure the dough sticks nicely to each other and yet its shaped properly. Cover all the sides with the dough and seal the edges nicely.

Place it in the middle rack of the oven and bake it for 15 minutes or until the edges are slightly browned. (do not over bake or else the bottom will burn).

In the meanwhile, in a saucepan combine all the filling ingredients and whisk it vigorously making sure that there are no lumps and no sticking at the bottom as well. Turn it on at high and continue whisking vigorously until it starts to thicken. As soon at it starts to thicken remove from the flame and continue whisking.

Take out the baked crust without turning off the oven. Pour the cooked filling on it and spread it evenly with the spatula. Place it again in the oven and bake it for another 20 minutes. (do not overbake).

Once done, turn off the oven and take it out. Let cool completely then slice and enjoy as is or garnish with powdered sugar.
Notes
This recipe makes 9 big slices and the serving size is 1 bar per person.
Powdered sugar is absolutely optional. However, if you garnish it with powdered sugar the nutritional value will vary a bit.
The curd filling should be thick but pouring consistency. So, at the soon as it starts to thicken remove from heat but continue whisking until it settles down in its consistency.
Do not over grind because the crust should be crumbly but ready to stick to each other.
While pressing the crust on the prepared baking sheet use hands for the best results.
Make sure to use the coconut milk from the tetra pack which comes in a package just like regular milk. We do not want a very coconutty flavor of the filling and want to keep it light.
To make it gluten free make sure to use gluten free cornstarch.
Nutrition
Calories:
275
kcal
|
Carbohydrates:
20
g
|
Protein:
7
g
|
Fat:
13
g
|
Saturated Fat:
9
g
|
Sodium:
72
mg
|
Potassium:
139
mg
|
Fiber:
4
g
|
Sugar:
9
g
|
Vitamin A:
1
IU
|
Vitamin C:
5
mg
|
Calcium:
72
mg
|
Iron:
2
mg