These delicious warm Pecan Pie Bars are ultimate holiday dessert. Its made with a combination of oats, quinoa and almond flour at the base and filled with easy maple chia filling. It is vegan, gluten free, oil free and no corn syrup.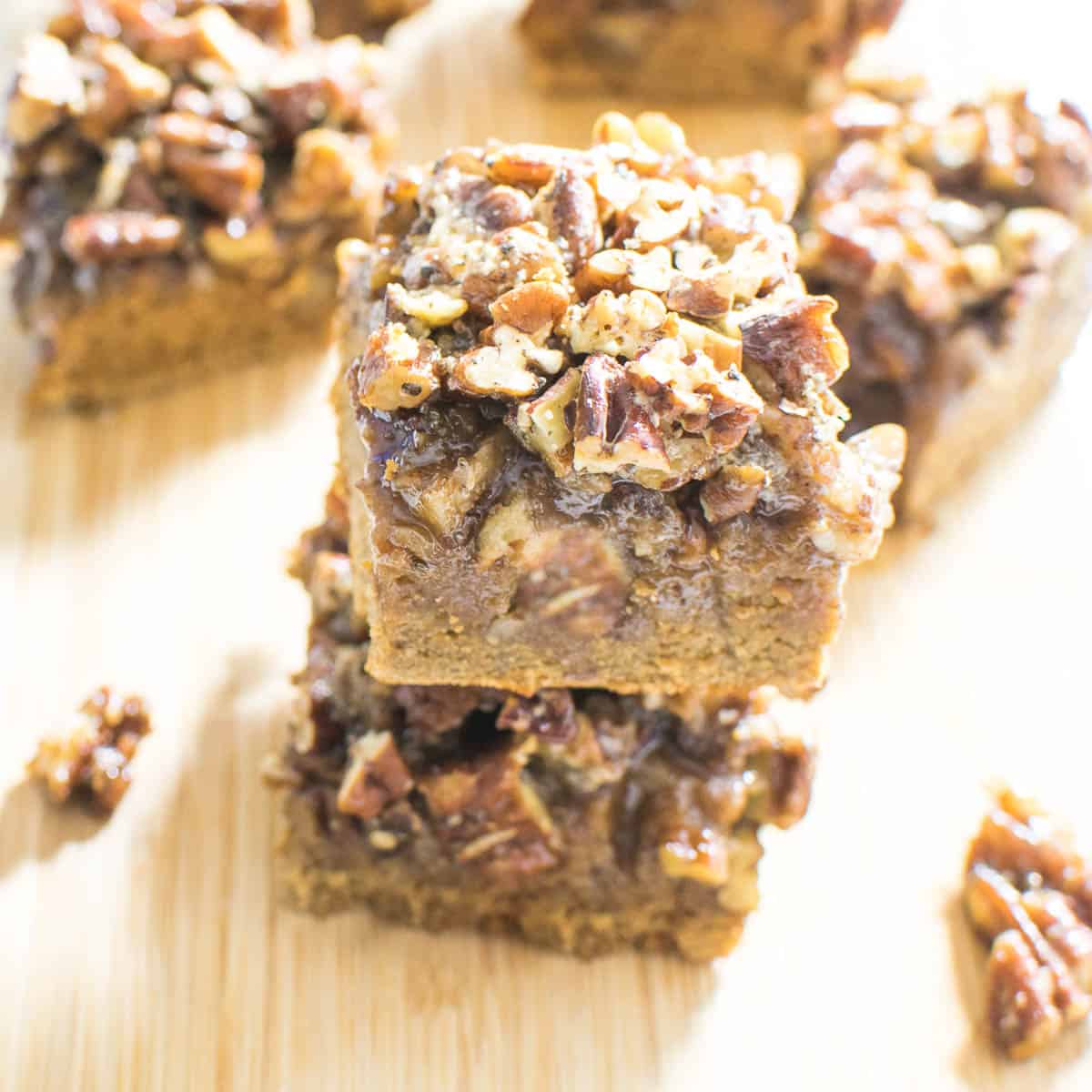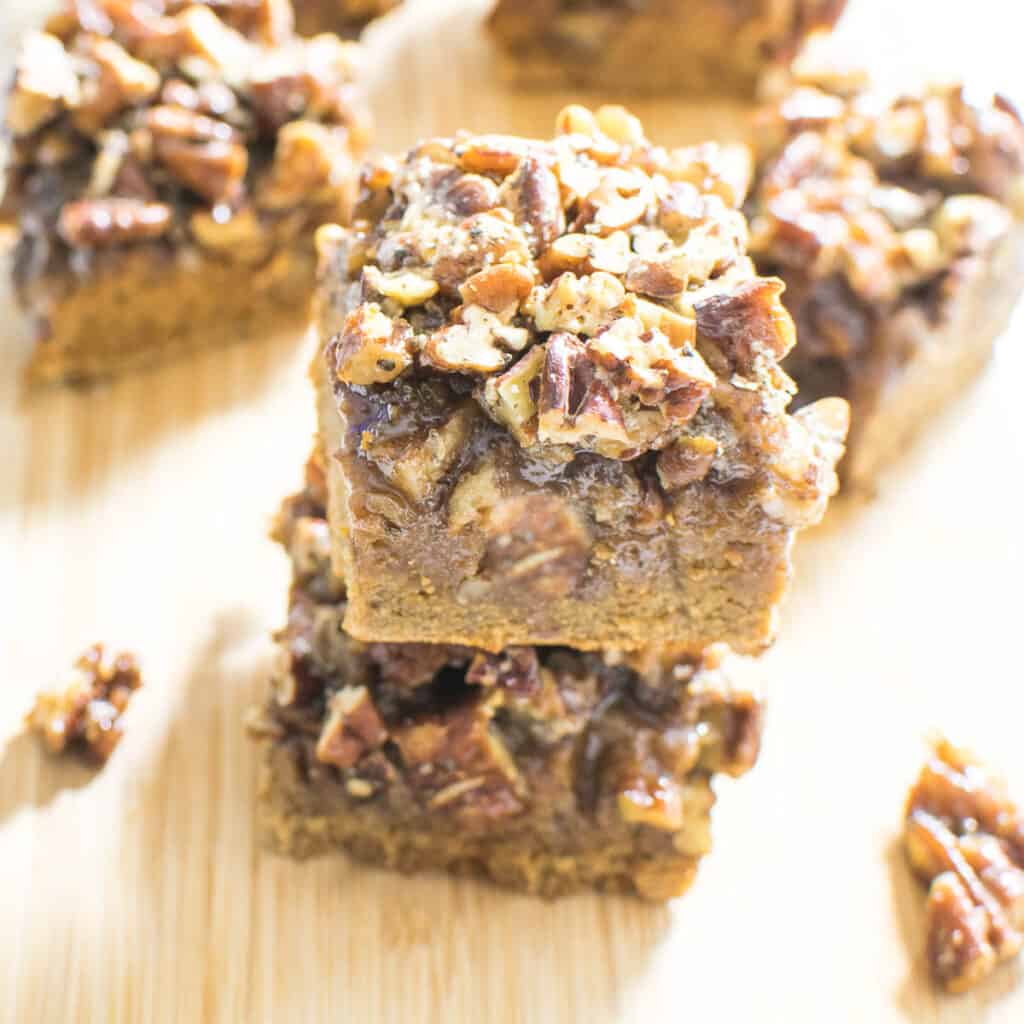 That sounds super awesome. Right? Trust me I have been working on this recipe for months now. I was determined to make it a healthier treat so we can all enjoy this holiday without too much worry of shedding calories afterwards.
I love making my pecan upside down cake also during holidays.
These are delectable, soft, crunchy, crisp all at the same time in every bite. I bet you have never tasted anything like this before. Its going to top your menu chart this season.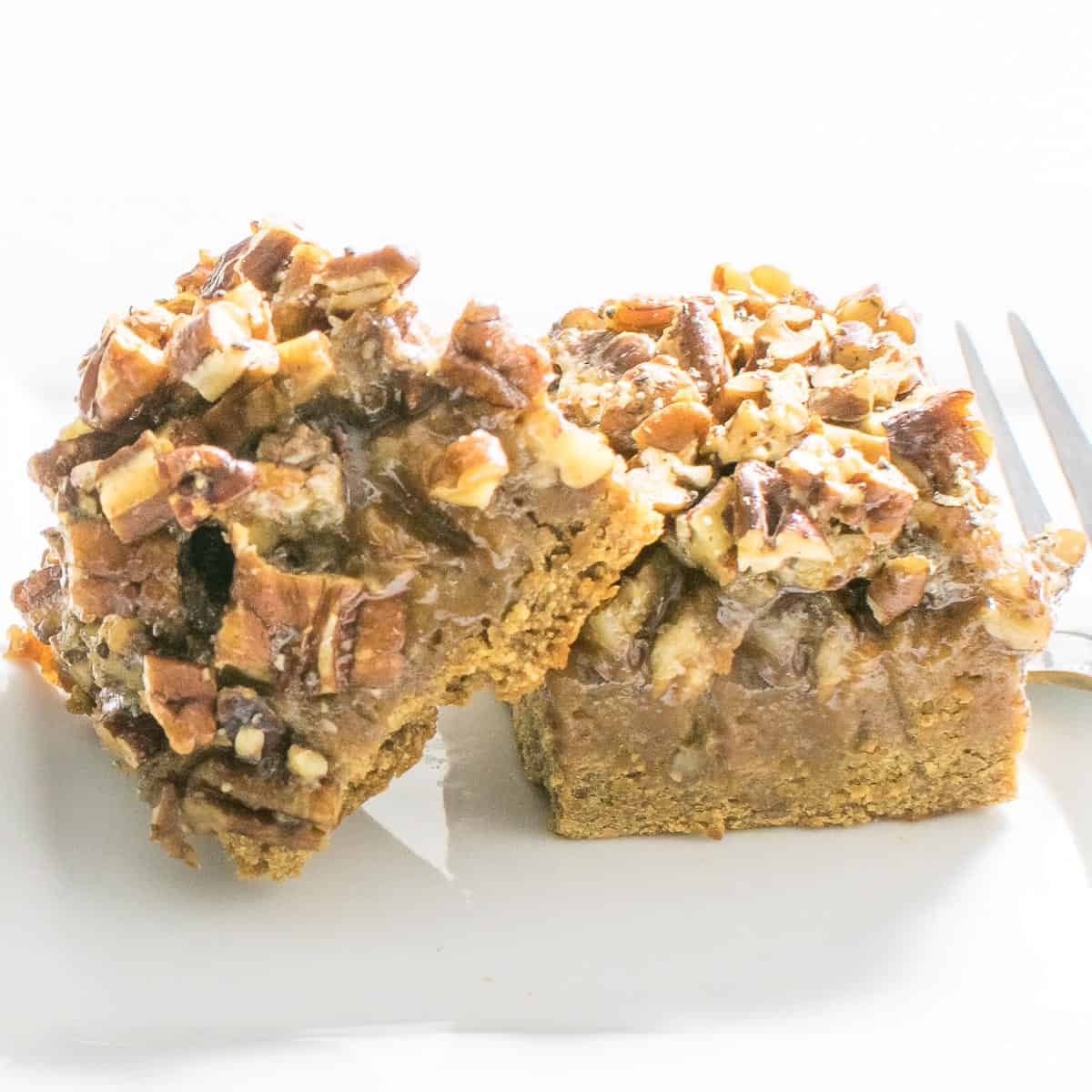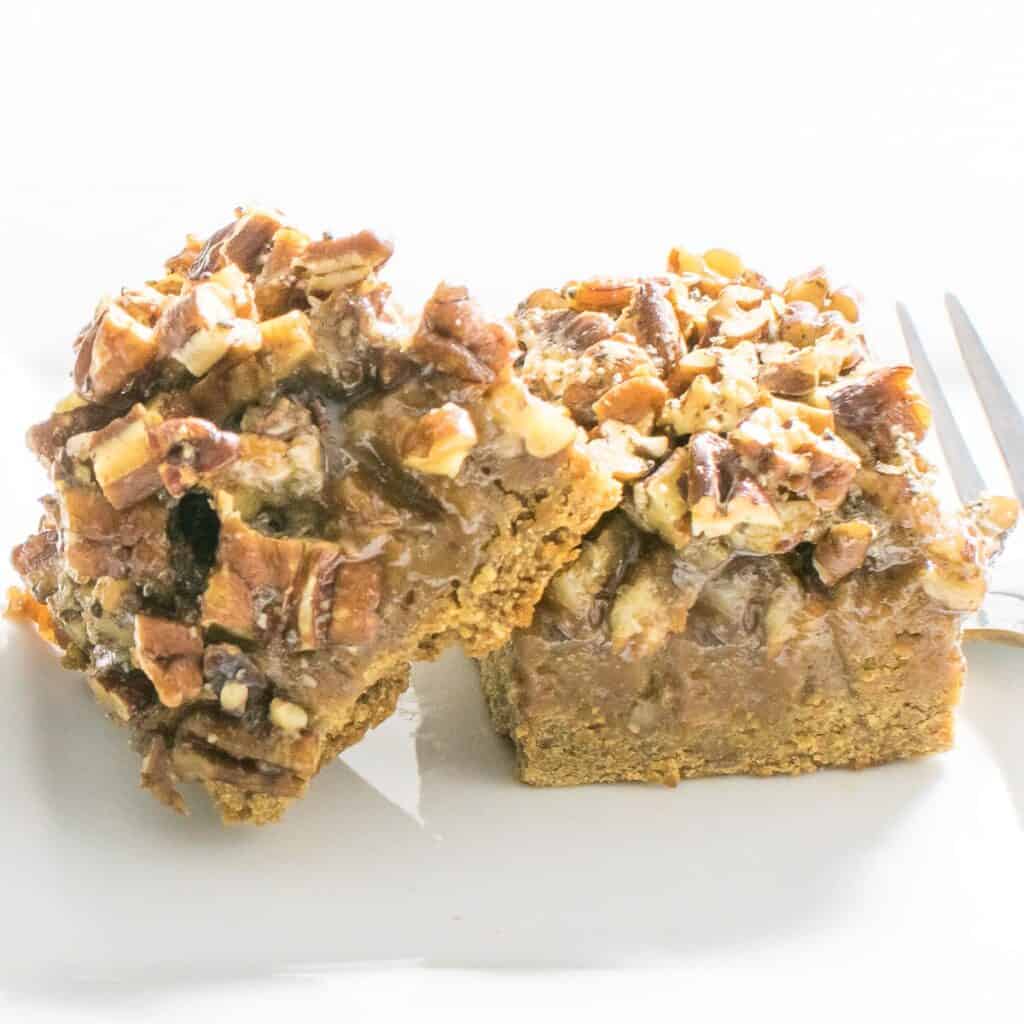 Ingredients for Pecan Pie Bars
For the dough
Oat flour
Quinoa flour
Almond flour
Coconut sugar
Salt
Oat milk
For the filling
Maple syrup
Chia seeds
Cornstarch
Vanilla extract
Pecans
I have used these easily available ingredients in this recipe which you may buy from any local grocery store. However, I have added links to few of them for your convenience.
If you plan to buy from these affiliate links then I get a small commission which in turn encourages me to bring out more delicious recipes for you all.
Ingredients notes:
Oat flour – I used whole grain oat flour as the main dough base. It is high in fiber and is rich in many nutrients. It also binds well and gives a smooth taste to its dough.
Quinoa flour – it is low in GI and high in fiber. It is a complete protein and binds well.
Almond flour – it is gluten free in nature and is made by grinding raw almonds. It is nutrient rich and gives a nice sweet nutty flavor to its dough.
Coconut sugar – This time I decided to go with coconut sugar for the dough base. It is basically a natural sugar made from the coconut palm snap. It is a low GI sweetener comparatively and high in antioxidants and other minerals.
Oat milk – it is creamy and has subtle natural sweetness to it. I used it to help making the dough instead of using any oil. This in turn also added some more calcium and nutrition to this recipe.
Maple syrup – I used this sticky sweetener for the filling to make it look and taste like pecan pie. Since I did not use any corn syrup this maple syrup plays a significantly interesting role in these vegan pecan bars and is a healthier alternate to corn syrup as well.
Chia seeds – its is protein rich and high fiber along with being high in antioxidants. Its great as vegan egg substitutes and helps in making the syrup stickier by absorbing a bit of liquid from maple syrup.
Cornstarch – I used gluten free cornstarch in this recipe to make this entire desert gluten free. Cornstarch makes the maple syrup thick and sticky and gives a perfect texture that's required in this vegan dessert recipe.
Pecans – it's the star of the recipe. It is a great source of fiber, copper and other nutrients and minerals. It helps in improving heart health and regulates blood sugar. In this recipe it is the main ingredient and gives a nutty flavor to it.
So, by now you must have realized that I have use very simple and yet delectable ingredients in this pecan bar recipe.
How to make Pecan Pie Bars
Firstly, in a mixing bowl I combined all the dry ingredients for the dough base. Then I gradually added oat milk to it to bind them roughly and make dough batter out of it.
Secondly, I spooned it out in a prepared baking pan and spread it evenly shaping it nicely.
Next, I placed it in a pre-heated oven at 350-degree Fahrenheit and baked it for 15 minutes or until the dough was dry enough and a bit firm.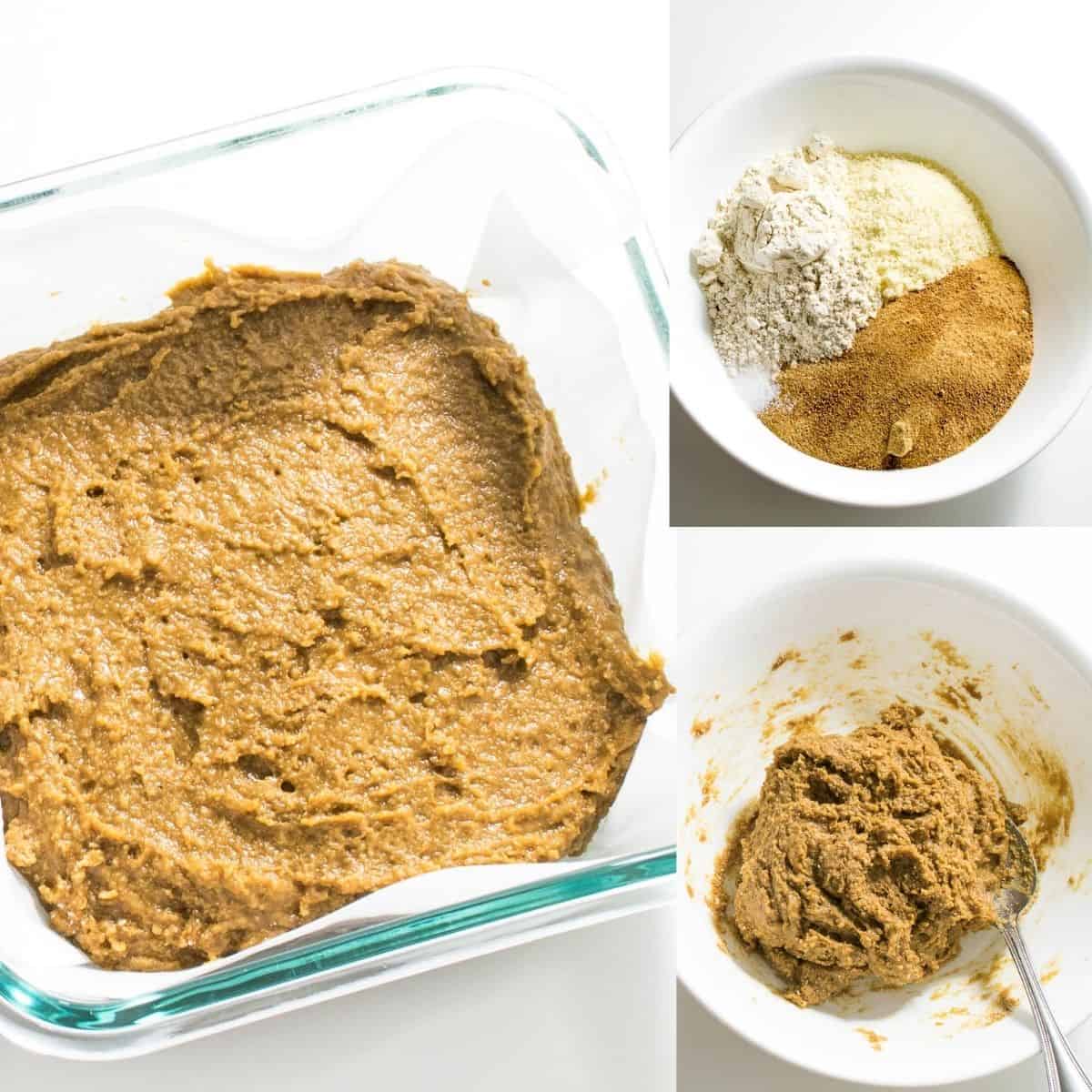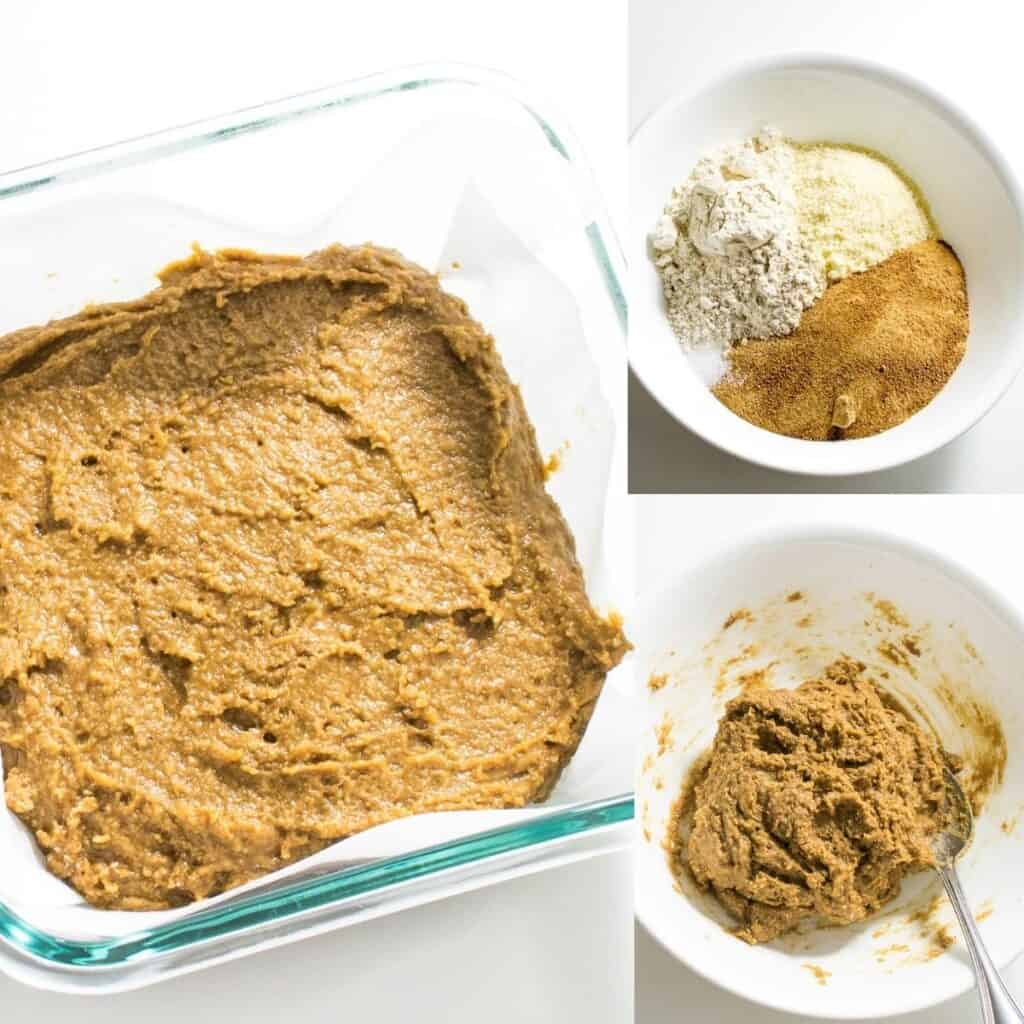 In the meanwhile, in a blender, I combined maple syrup, chia seeds, cornstarch and vanilla extract and blended it smooth.
Thereafter, I poured it in a bowl and stirred in chopped pecans.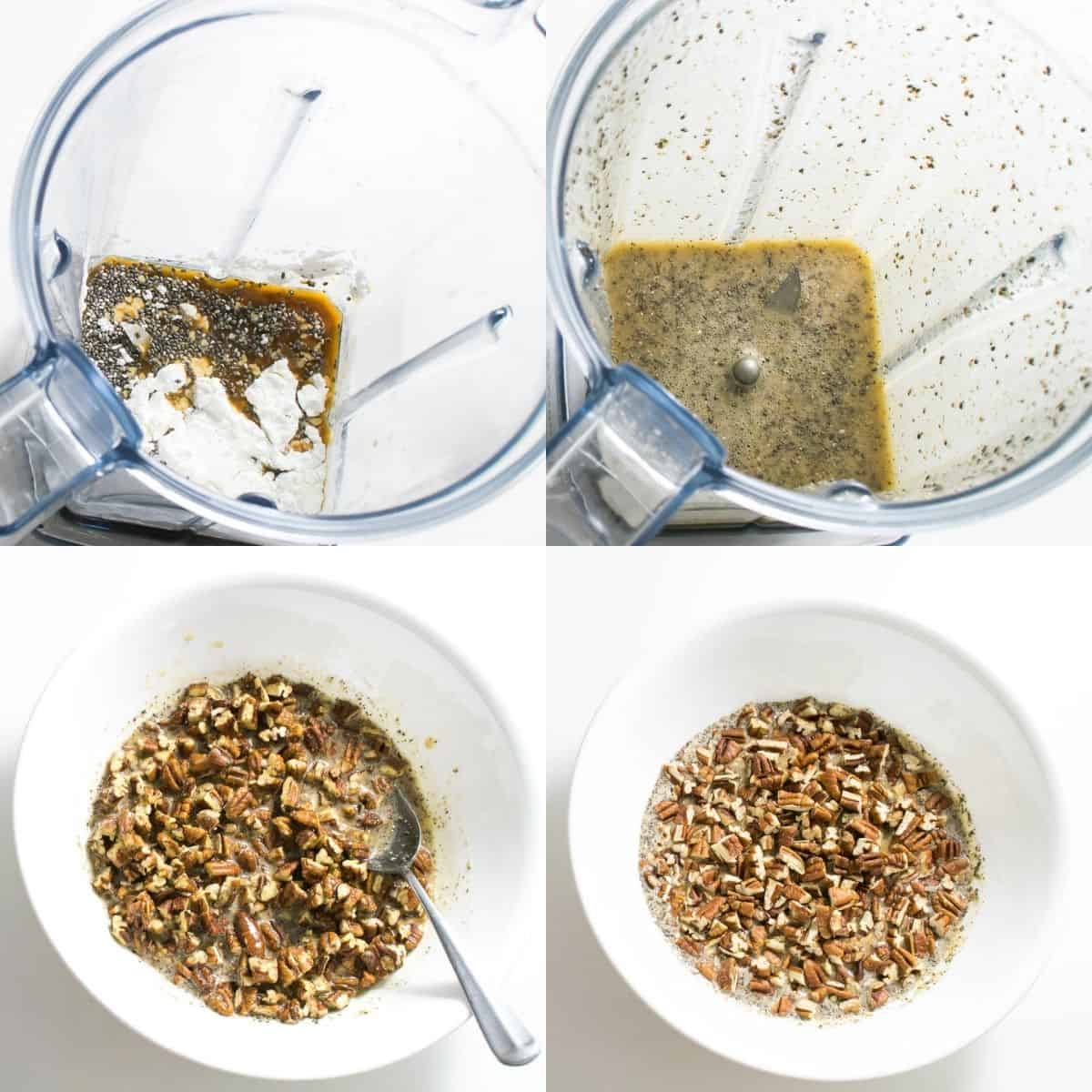 Once the dough base was baked, I took it out and poured the filling on it spreading it evenly. Then, I placed it again in the oven and baked it for about 25 minutes.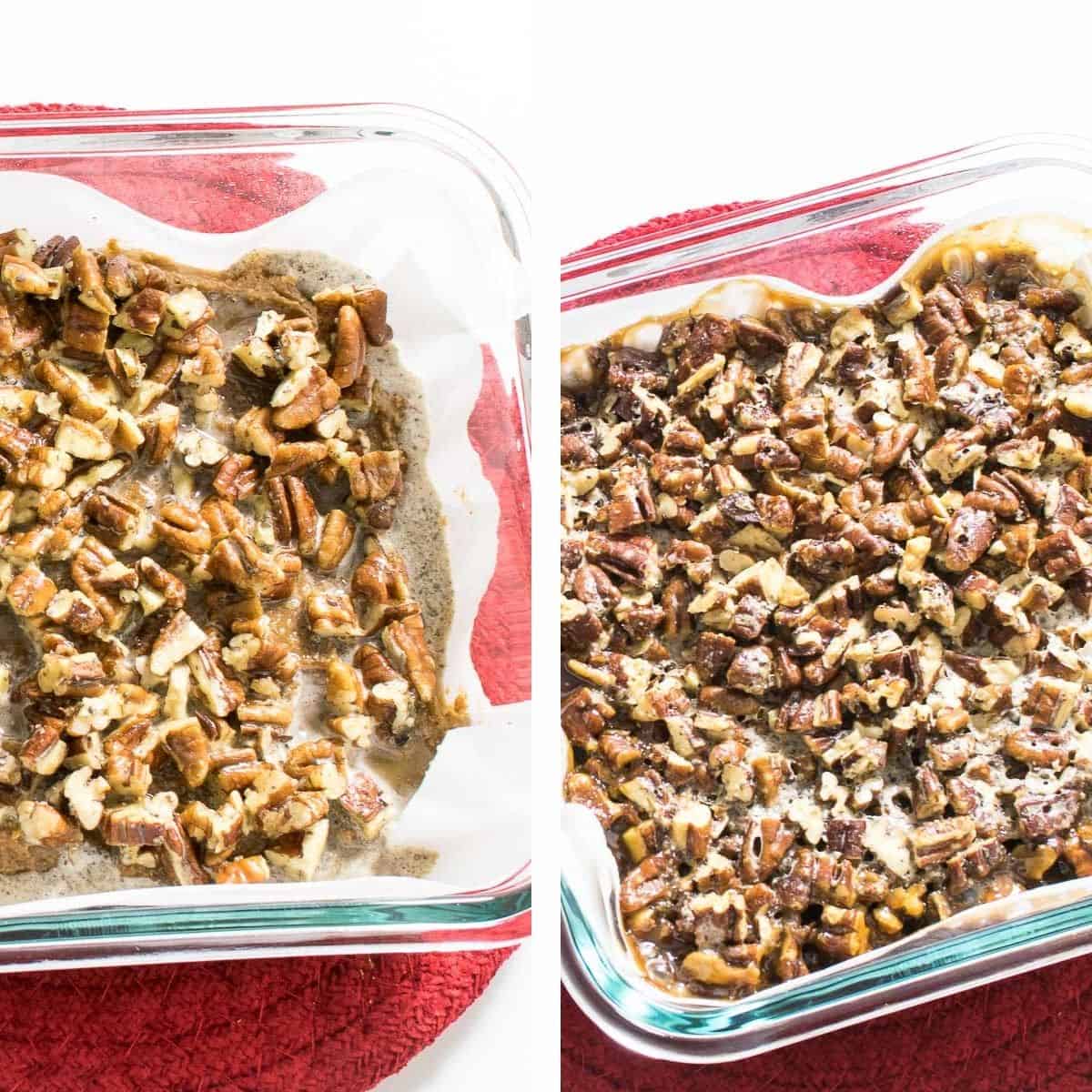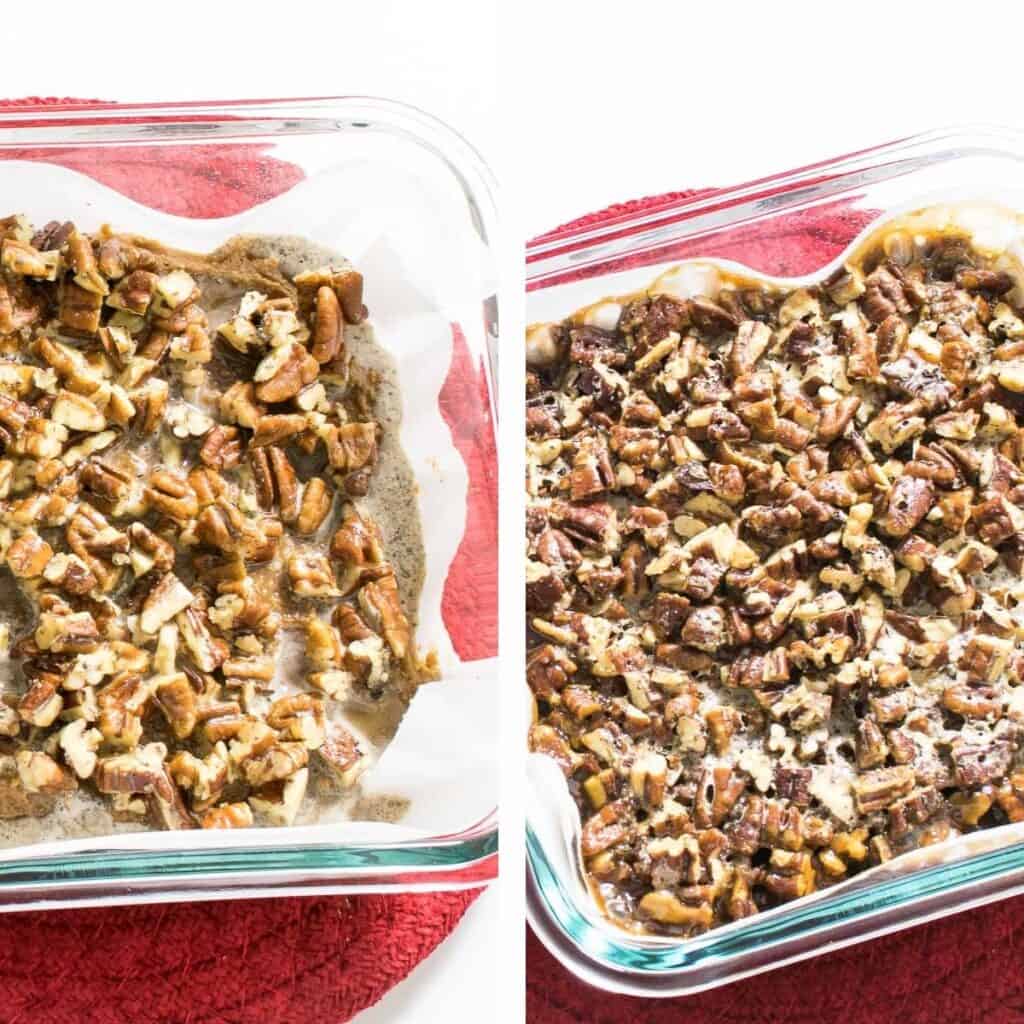 Lastly, I turned it off and took it out. Then, I let the baking pan settle for 5 minutes on the kitchen counter top. Then, I gently took out the parchment paper and placed it on a flat surface, Later, I sliced into 9 square pieces.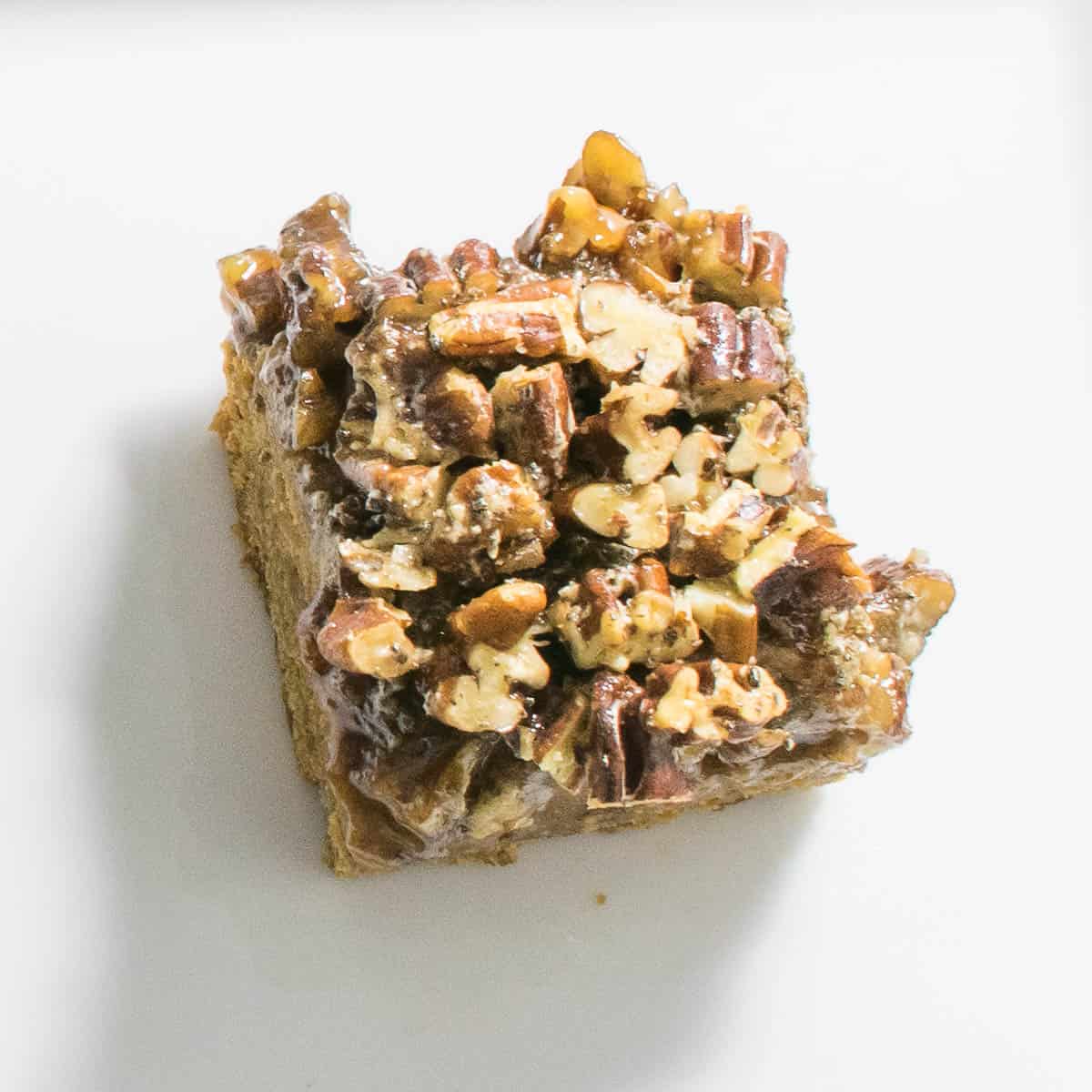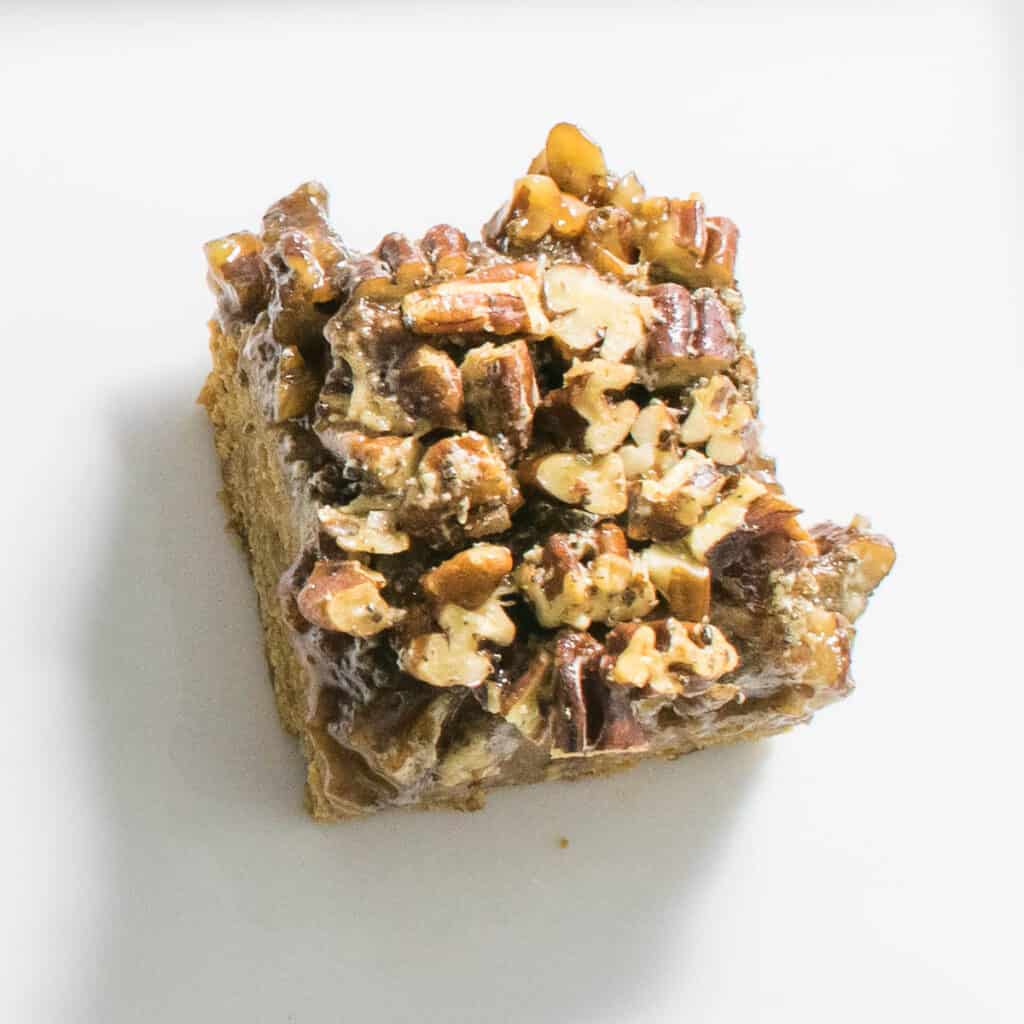 We all enjoyed it so much that I must have made it 5 times by now. Therefore, it is one of my very much appreciated and desirable dessert recipes. Its my family's favorite.
Expert tips:
Make sure to use 6 inch or 8-inch square/rectangular baking pan.
It is important to grease the baking pan and the stick the parchment paper in it so that when we spread the dough base the paper does not come off. This trick also helps in spreading the dough batter quite easily.
While spreading the dough batter you may have to use a bit of force to press your spatula slightly and spread it evenly.
If after baking maple syrup drizzles of the base and crystalizes like hard candy on the side, then simply break that hard maple syrup with a knife after slicing the bars.
Pecan Pie Bars FAQs
How long do they last?
It can be stored in an air tight container at room temperature for about a week.
Is it healthy?
I used oats, quinoa and almond flour as the base which are healthier that processed white flour. I used coconut sugar which is an added sweetener but it is a low GI ingredient. Then, I made it oil free because of which we save on some fats and calories. However, it has a good amount of sweetener so even though I have used healthy ingredients I would recommend to enjoy these occasionally because after all it's a dessert.
Is it kid friendly?
Yes, as long nobody has nut allergy, these easy pecan bars are perfect for all ages.
Will these bars rise?
I have not used and baking agent so therefore it won't rise. But it is advisable to not use a big baking pan for this recipe so that the filling does not wear off the base.
When I slice them would these be sticky?
Yes, little bit, because of maple syrup. But it is fun to lick those sticky maple syrup. However, once it cools down completely it will dry off and won't be sticky at all.
At what point should I slice them?
As I have mentioned, let them settle down for 5 minutes in the baking pan itself and then take it out gently along with the parchment paper. Then slice them before cooling down completely. If you like it at room temperature then let them cool down after slicing. We personally like them a bit warm.
How does it taste?
It is sweet and crunchy. It has a typical baking aroma that is spread all around due to the maple syrup.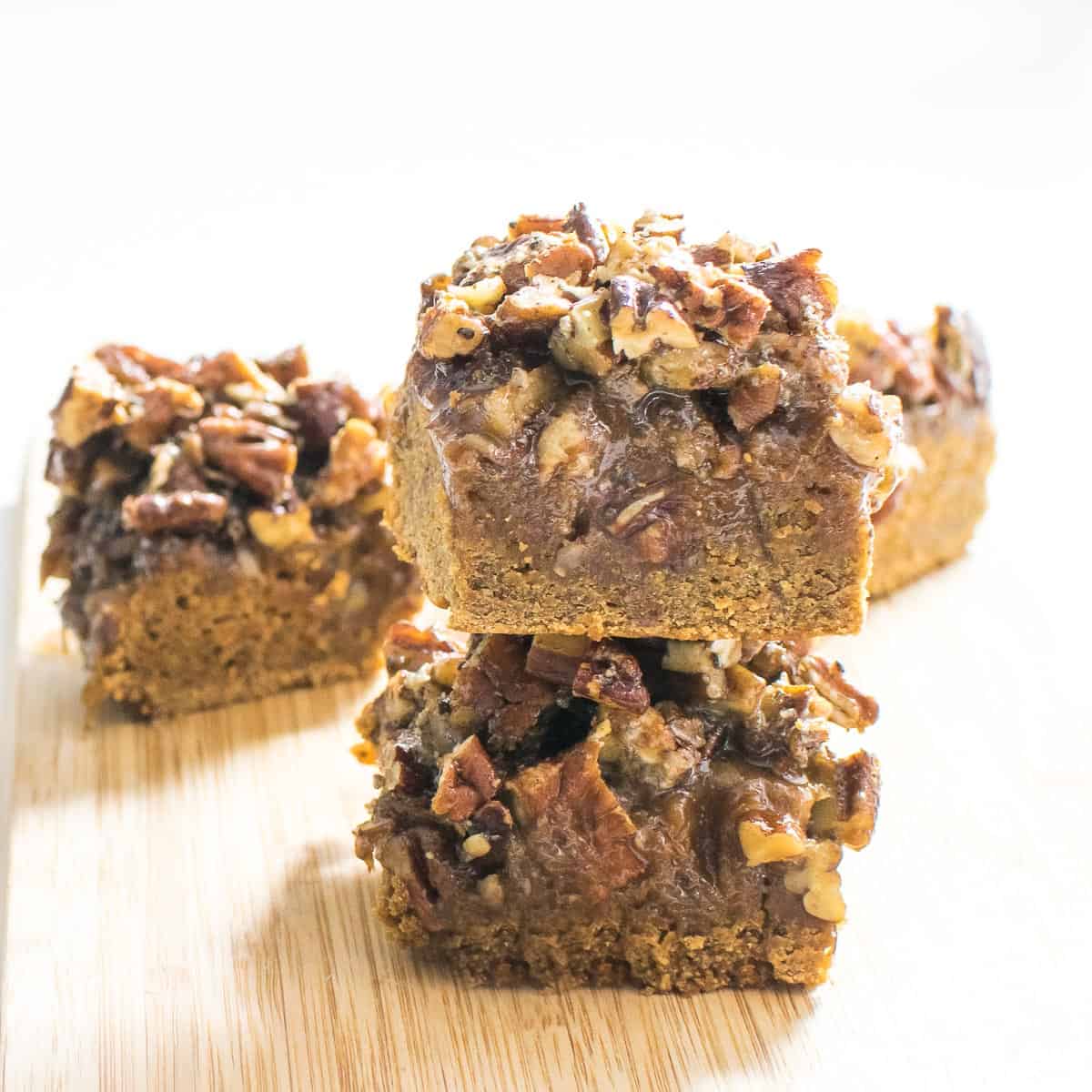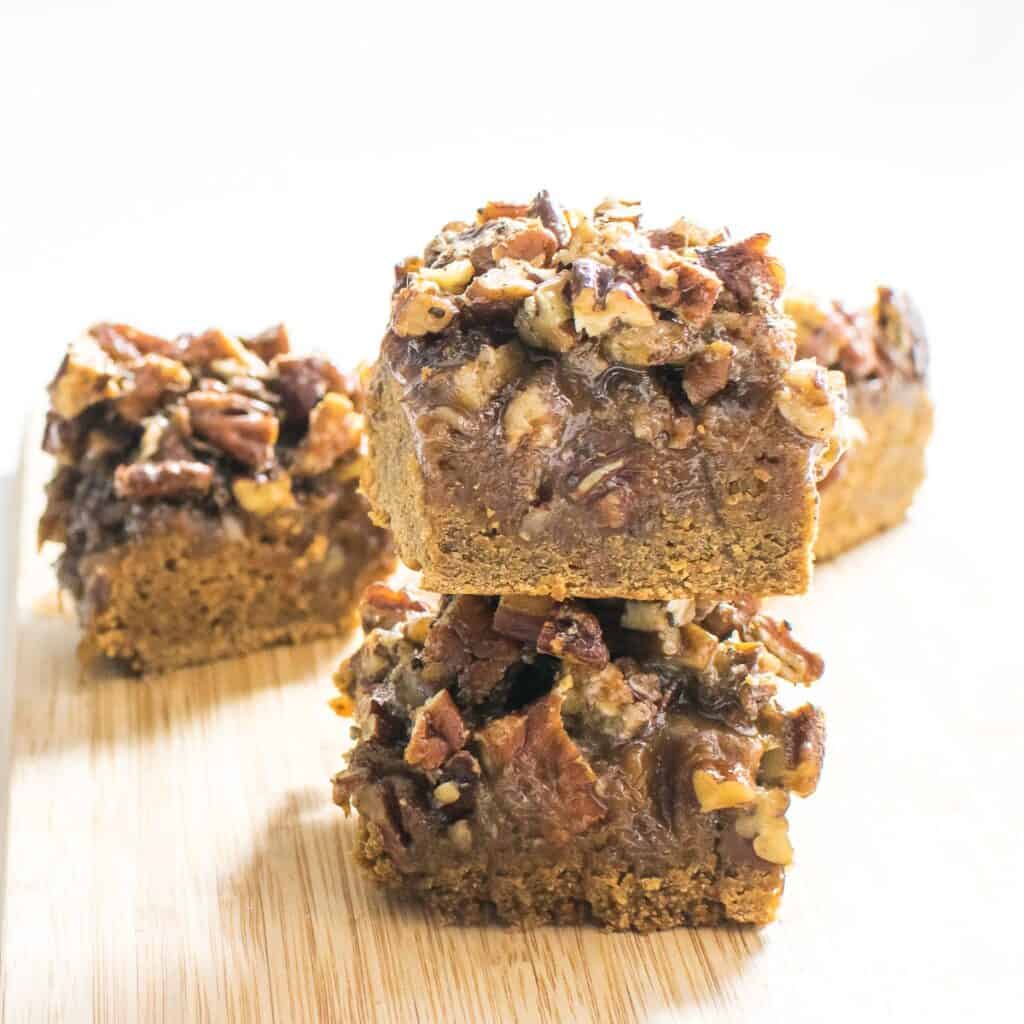 You may also like:
Pear stuffed Sticky Pecan Buns
Peach Pecan Pasta
Pumpkin Cake
Did you make it?
If you get a chance to make this recipe then please leave your feedback in the comments below along with the ratings. In addition, you may tag @kiipfit on Instagram with your recipe images because we would love to see what you cooked.
If you desire to explore more delicious recipes of mine then you might want to check out my cookbooks.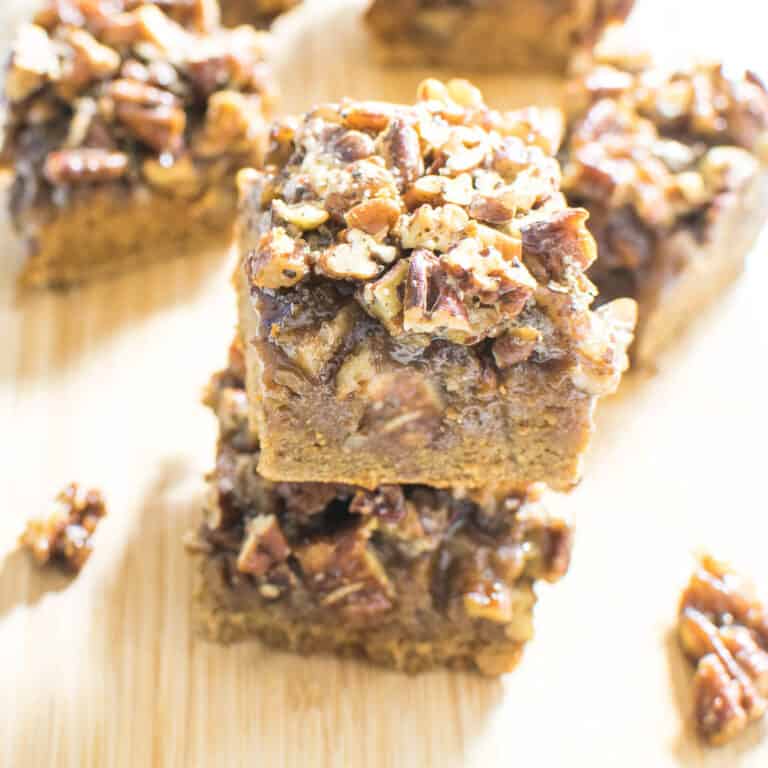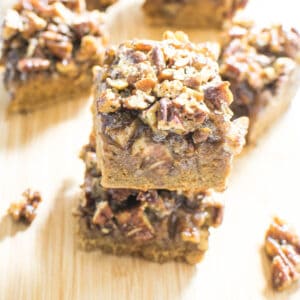 Print Recipe
Pecan Pie Bars
These delicious warm Pecan Pie Bars are ultimate holiday dessert. Its made with a combination of oats, quinoa and almond flour at the base and filled with easy maple chia filling. It is vegan, gluten free, oil free and no corn syrup.
Instructions
Preheat oven at 350-degree Fahrenheit and grease a 6 inch or an 8-inch square/rectangle baking dish and the stick the parchment paper in it. In a mixing bowl combine all the dry ingredients of the bars and mix it well until there are no lumps.

Now, add oat milk to the dry ingredients and make sticky dough. (use your hands to make the dough. It should be binding but we do not need a smooth dough).

Now, spoon it out in the prepared baking dish and spread it evenly with the spatula. Place it in the middle rack of the oven and bake it for 15 minutes or until the dough dries up. (do not insert tooth pick, just touch its top gently with your finger and it should feel dry).

In the meanwhile, blend the pie filling ingredients (expect pecans) in a blender as smooth as possible.

Now, pour it in a mixing bowl and stir in chopped pecans nicely.

Take out the baked dough from the oven and pour the filling on it evenly spreading it with a spatula.

Place it again in the oven and bake for about 25minutes. Once done turn it off and take it out. Place the baking pan on a flat surface and let it settle down for 5 minutes. Gently, take out the parchment paper making sure that the bars do not break. Place it on a flat surface and slice it with a sharp knife. Enjoy!
Notes
Measure the pecans before chopping.
It is important to grease the baking pan before placing the parchment paper because we want the parchment paper to stick to the baking dish so that while spreading the dough the parchment paper does not come off.
While spreading the dough in the baking pan make sure to hold the parchment paper and the baking pan together and press the spatula a bit and quickly spread it.
Do not use a baking g pan bigger than 8 inches. If you use 9 inch the maple syrup will drizzle off from the dough and crystalize at the ends. In that case after slicing simply break those crystalized maple syrup from the sides.
These can be stored at room temperature for about a week in an air tight container.
This recipe makes 9 bars and the serving size is 1 bar per person.
Nutrition
Calories:
178
kcal
|
Carbohydrates:
34
g
|
Protein:
3
g
|
Fat:
4
g
|
Saturated Fat:
1
g
|
Sodium:
91
mg
|
Potassium:
135
mg
|
Fiber:
3
g
|
Sugar:
18
g
|
Vitamin A:
20
IU
|
Vitamin C:
1
mg
|
Calcium:
58
mg
|
Iron:
1
mg