This tangy and salty Lemon Pasta Recipe is an elegant family dinner. Its a quick and easy vegan Italian dish that's beautifully flavored.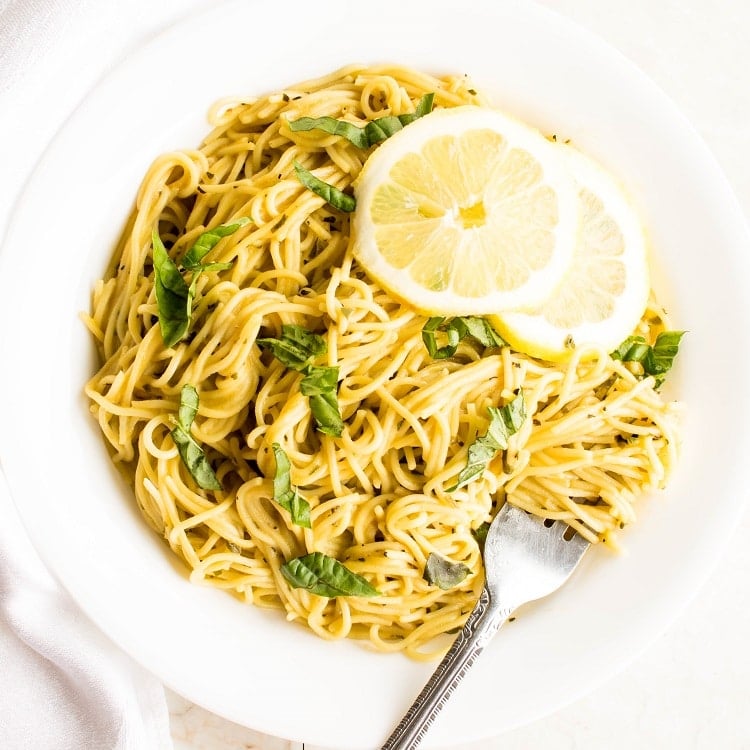 I have made this dish so many times that I could not be more excited to share it here with you all. The lemon butter sauce in this recipe is not only aromatic but appetizing too. It is a perfect blend of herbs and seasonings that makes this lemon pasta absolutely desirable.
My vegetarian cajun pasta is a must a try and is so flavorful and easy. Plus its a great back to school recipe as well.
Ingredients for Lemon Pasta Recipe
Vegan Butter
Oregano
Basil
Lemon juice
Lemon zest
Nutritional yeast
Vegetable broth
Coconut milk
Salt
Pepper
Angel hair pasta
Topping
Fresh basil
All these are easily available ingredients and you all must be already having them in your pantry.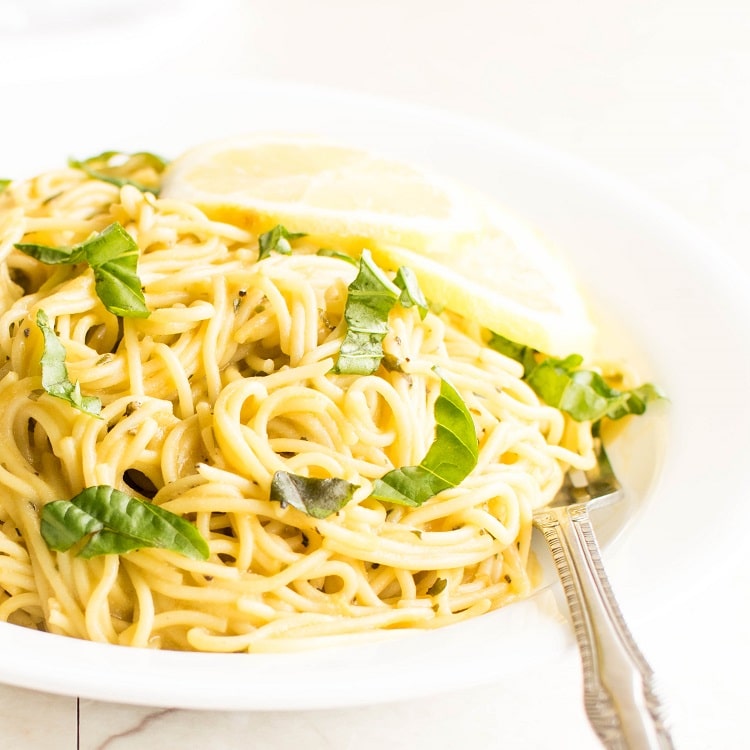 Ingredient notes:
Vegan butter – if you are wondering that I should have used olive oil instead then let me tell you that vegan butter makes this pasta dish buttery and tasteful even more than just oil. Also, a little vegan butter in your diet is good for your body because we all know that our body needs healthy fats.
Nutritional Yeast – I used it here to give this pasta dish a cheesy flavor. However, you may use vegan Parmesan cheese as well if desired.
Vegetable broth – I used it to give this recipe a nice flavorful base. So, therefore instead of adding water I would insist you to add vegetable broth to get the exact delicious lemony pasta.
Coconut milk – for this I used lightened and unsweetened coconut milk that comes in a tetra pack. Its better to not use the canned coconut milk because that will give a very strong coconut flavor to this dish which would overpower the lemony taste in this pasta recipe.
How to make this Lemon Pasta Recipe
Firstly, I melted vegan butter in a skillet and added oregano and basil.
Secondly, I added lemon juice, lemon zest and nutritional yeast followed by sauteing.
Next, I added coconut milk, vegetable broth, salt and pepper and gave it a nice stir.
Thereafter, I tossed in cooked angel hair pasta.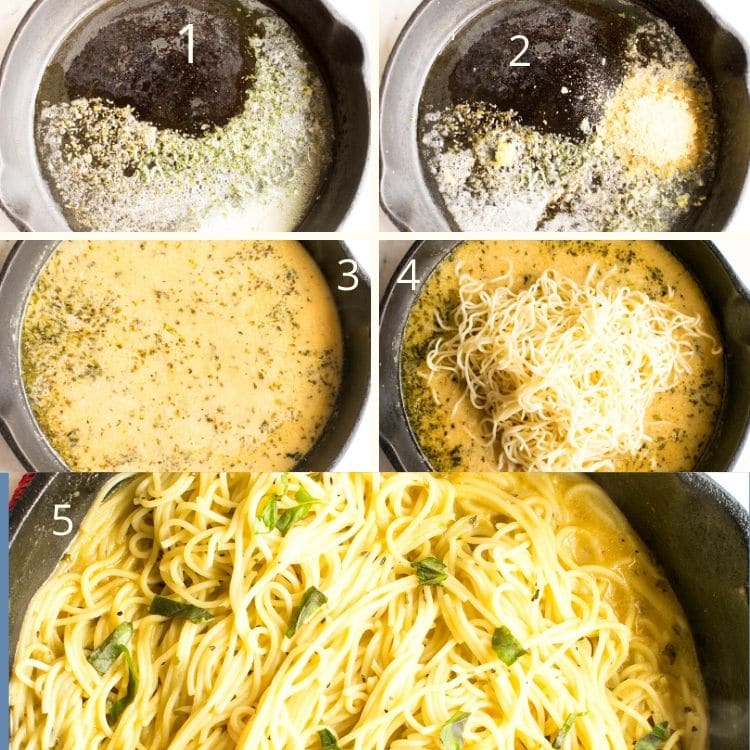 Lastly, I garnished it with fresh basil and served immediately.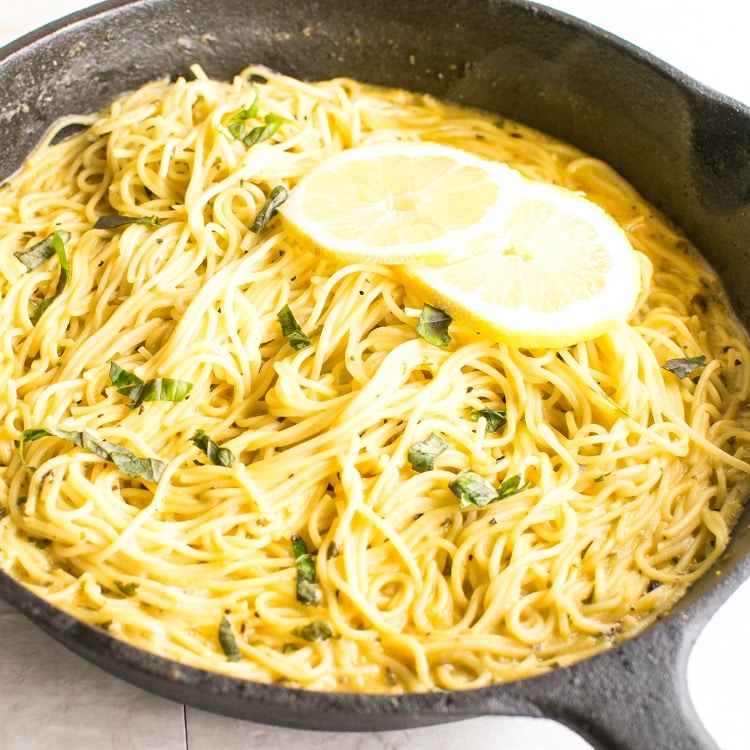 With such few steps you all must have realized that it's an easy lemon pasta.
Expert tips:
I used cast iron skillet here for the simple health reasons. But it's better to use heavy bottom skillet or even Dutch oven for even cooking of the lemon butter sauce for pasta.
While melting butter, do not let it melt completely. Just when it starts to melt, flavor it with the herbs so as so get the herbed butter taste.
While pouring coconut milk and vegetable broth make sure to bring the flame at low-medium heat so as to avoid any splashing and over cooking.
Lemon Pasta Recipe FAQs
How long do they last?
This pasta recipe tastes best when served immediately. However, you may keep cooked angel hair spaghetti ready in the refrigerator ahead of time.
What to serve with lemon pasta?
Usually garlic breads go well with this. A side Italian salad would also pair well with it. Sometimes, I also serve this garlic jalapeno dinner roll with it.
What can I substitute for coconut milk to get a creamy lemon pasta?
You may blend cashew nuts in water and use instead of coconut milk. I have provided it's detail in the notes under recipe card below.
How do I make this taste less lemony?
I have not used too much lemon juice here. In fact, I have tried to bring out the flavor mostly with lemon zest and a combination all other ingredients. So therefore, its not overly sour but has a nice subtle lemon flavor to it.
Can I use lemon extract in this recipe?
I would not recommend using lemon extract here at all. A very little amount of lemon juice and some lemon zest does wonder to this recipe. Moreover, its always better to use natural ingredients to get the fresh taste in majority of the dishes.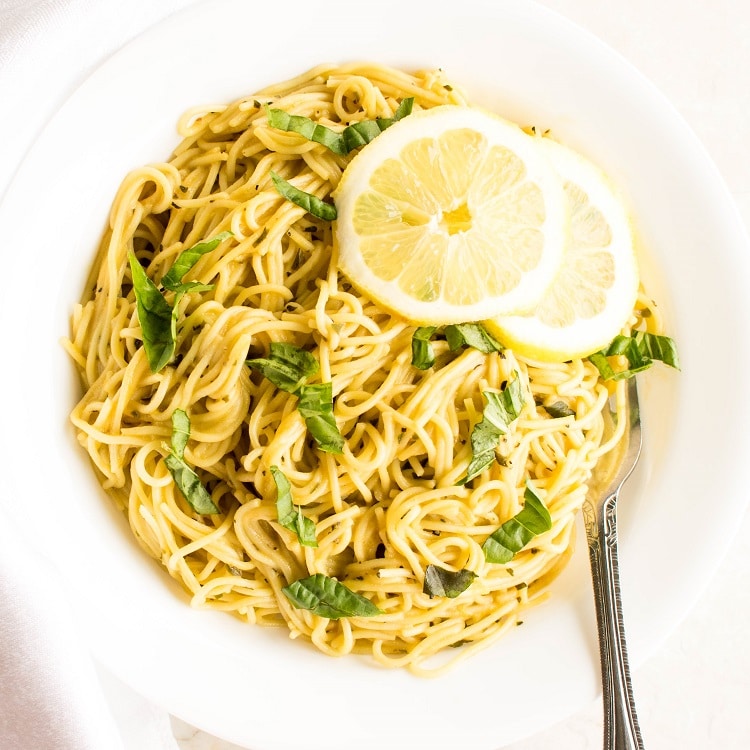 I am sure by now you all must be drooling over this vegan lemon pasta. I would urge you to go ahead and make this right now because it will become your top most favorite dish in the very first bite.
You may also like:
Tofu Steak Spaghetti
Spaghetti aglio e olio
Vegan Habanero Cauliflower Spaghetti
Roasted Brussel Sprouts Fettuccine Alfredo
Creamy Coconut Pasta
Jalapeno Cheese Pasta
Did you make it?
If you get a chance to make this recipe then please leave your feedback in the comments below along with the ratings. In addition, you may tag @kiipfit on Instagram because we would love to see what you cooked.
If you desire to explore more delicious recipes of mine then you may check my cookbooks.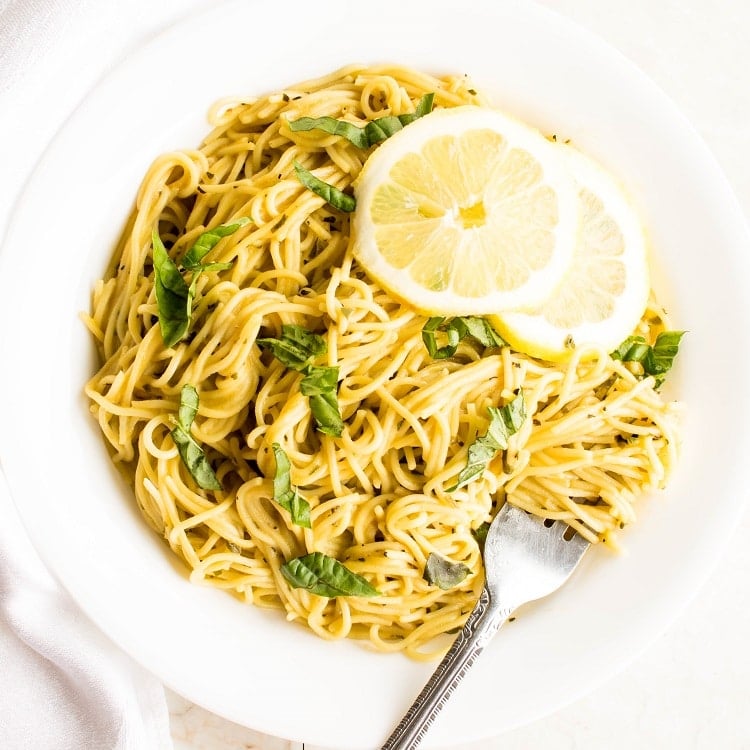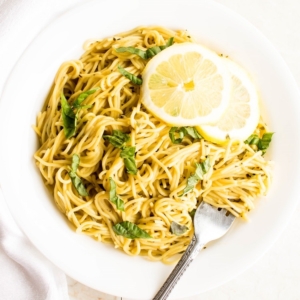 Print Recipe
Lemon Pasta Recipe
This tangy and salty Lemon Pasta Recipe is an elegant family dinner. Its quick and easy vegan Italian dish that's beautifully flavored.
Ingredients
3

tbsp

vegan butter

1

tsp

dried oregano

1

tsp

dried basil

1

tbsp

lemon juice

zest of 1 lemon

1/4

cup

nutritional yeast

1

cup

vegetable broth

1/2

cup

unsweetened coconut milk

(tetra pack)

3/4

tsp

salt or as per taste

1/2

tsp

crushed black pepper

3

cups

cooked angle hair pasta
Instructions
Melt butter in a skillet at medium flame and add oregano and basil to it.

Then, add lemon juice, zest of lemon and nutritional yeast and saute for 20 seconds.

Then, bring the flame to low-medium heat and pour in vegetable broth, milk, salt and pepper. Stir it nicely.

Lastly,toss in angle hair pasta. Give it one boil at high heat and turn it off.

Now, garnish with chopped fresh basil and serve immediately.
Notes
Variation: If you do not want coconut milk in then you can simple blend ¼ cup cashew nuts in ¾ cup water and use that instead in step 3.
This recipe tastes best with angel hair pasta but you can substitute thin spaghetti if desired.
How to measure pasta – A little less than ½ of 16 oz uncooked angle hair would give 3 cups cooked angel hair pasta.
Make sure to coconut milk that comes in tetra pack and not the canned coconut milk.
This recipe tastes best when served immediately.
Nutrition
Calories:
332
kcal
|
Carbohydrates:
45
g
|
Protein:
10
g
|
Fat:
13
g
|
Saturated Fat:
11
g
|
Sodium:
410
mg
|
Potassium:
179
mg
|
Fiber:
2
g
|
Sugar:
2
g
|
Vitamin A:
702
IU
|
Vitamin C:
3
mg
|
Calcium:
12
mg
|
Iron:
1
mg