This Indian style Butter Tofu is rich, thick and creamy that's made with no oil and no butter. It's a veganized version of very popular paneer butter masala. It tastes deliciously comforting and very similar to the traditional recipe.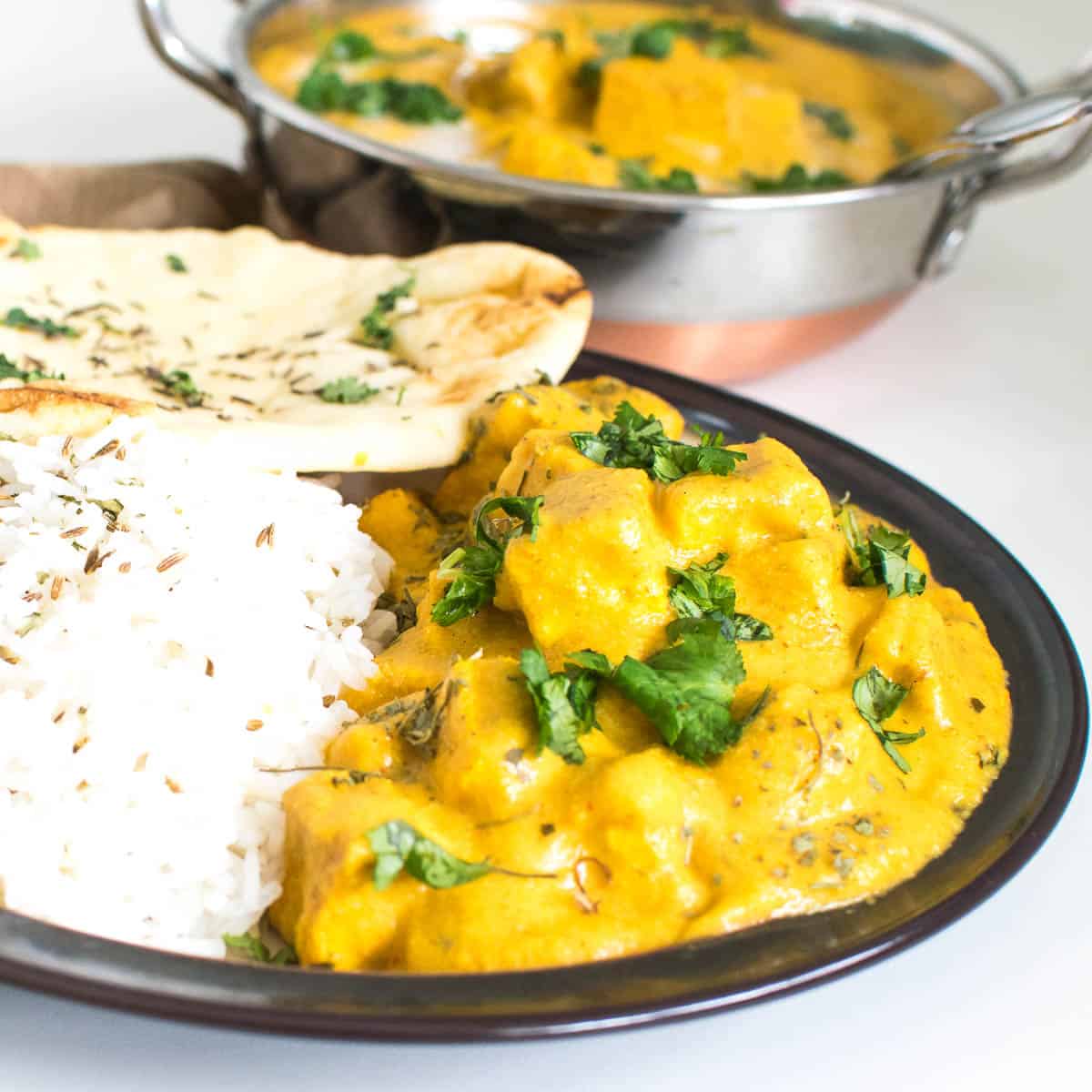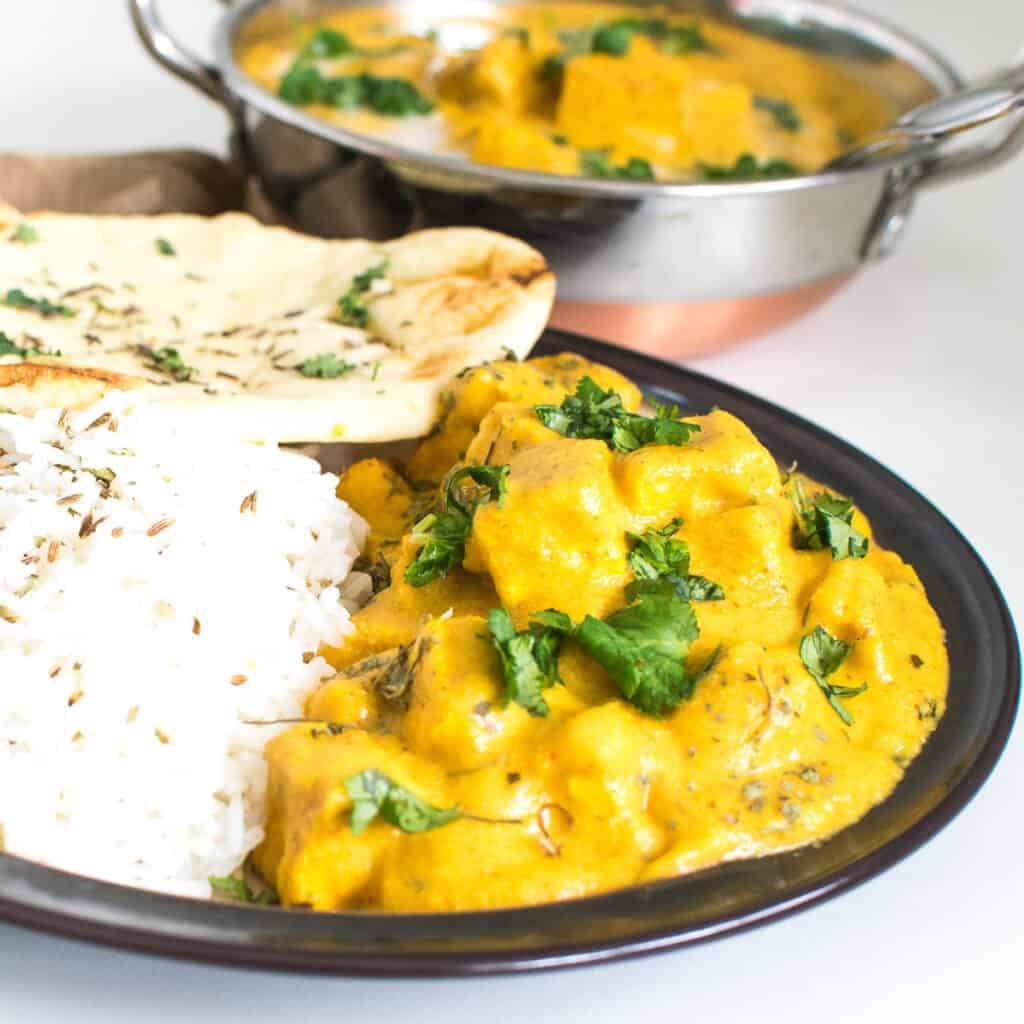 I grew up eating paneer butter masala on a regular basis. However, since few years

I have been craving for the same childhood taste and flavor. Therefore, I decided to venture out with my version of vegan paneer butter masala.
The first thing, I settled down was to make it as healthy as possible. So that many of you, just like me, can enjoy it as everyday meal absolutely guilt free.
Then, the next thing, I wanted to bring the taste of tofu closer to paneer. Even though it was a task , I challenged myself.
Finally, I succeeded on making this tofu butter masala. I tried and tested on my husband who is super critical of vegan Indian recipes. However, he became a fan of this recipe and I got a thumbs up from him.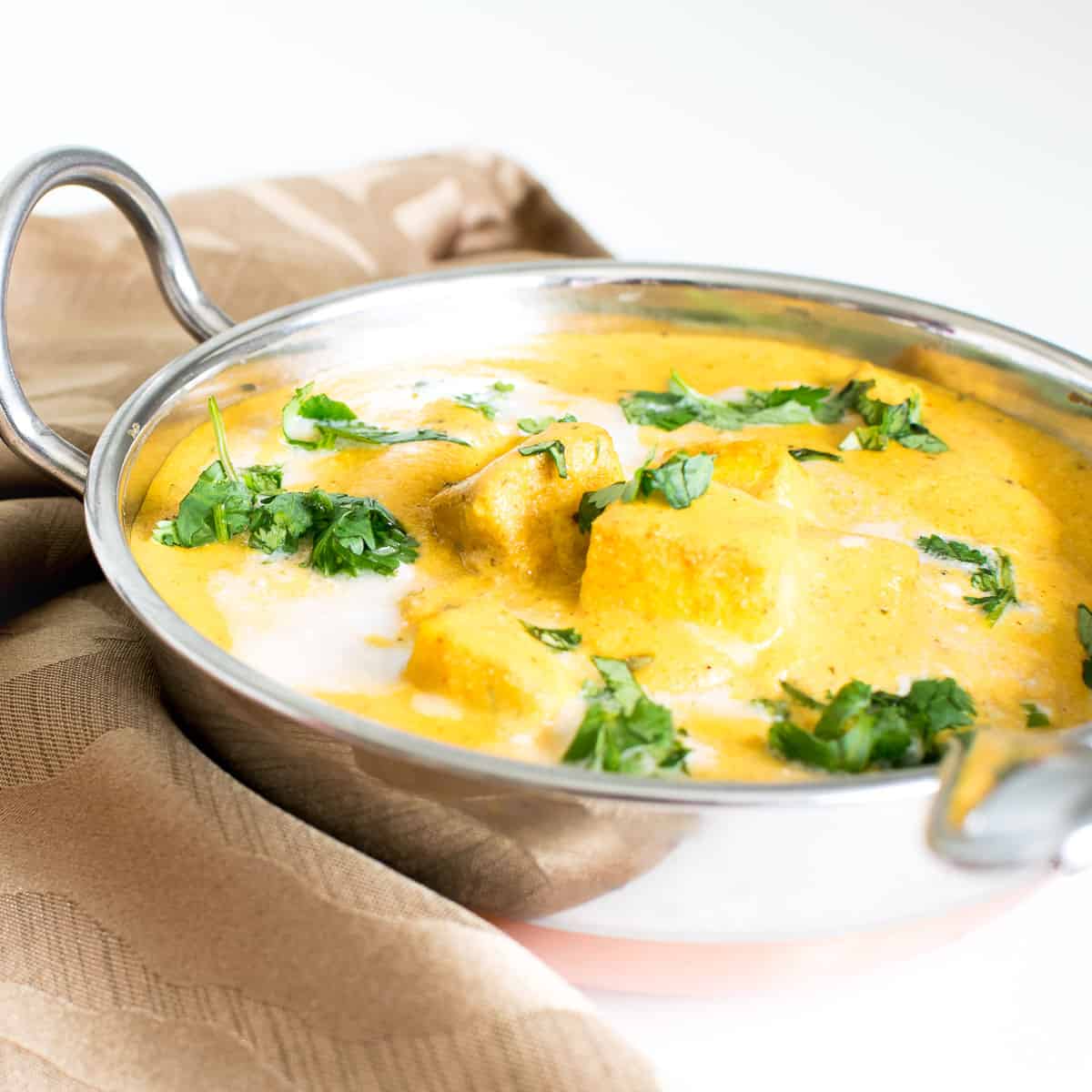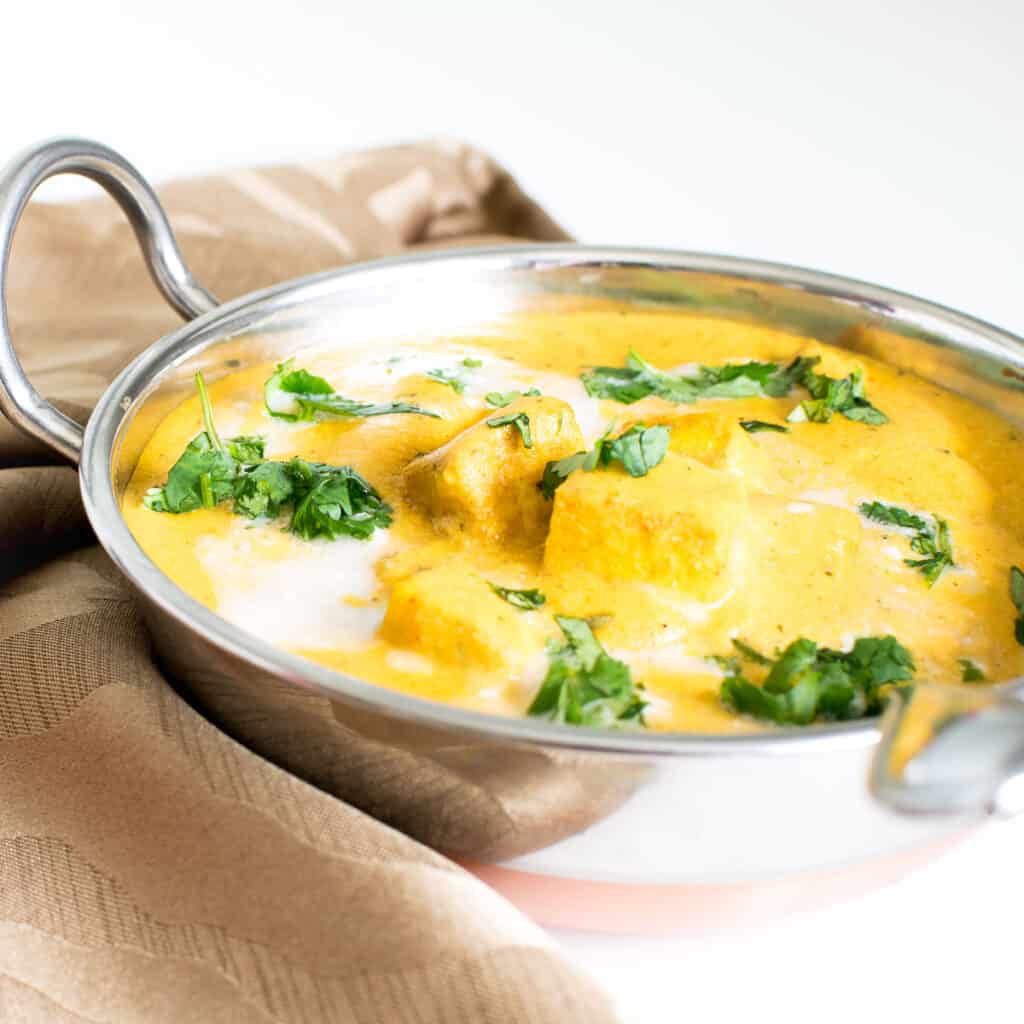 So, here I am to share this awesome vegan butter tofu recipe with you all.
Ingredients you will need:
For baking
Tofu
Turmeric
Salt
For grinding
Onion
Tomato
Ginger
Garlic
Cashew nuts
Coconut milk
Spices
Turmeric
Chili powder
Coriander powder
Cumin powder
Garam masala
Dried fenugreek/kasoori methi
Others
Coconut milk
Sugar
Salt
Chopped cilantro (to garnish)
I have used these easily available ingredients which you may buy from any local grocery store. However, I have provided links to few of them here for your convenience.
If you plan to buy from these affiliate links then I get a small commission which in turn encourages me to bring in more delicious recipes for you all.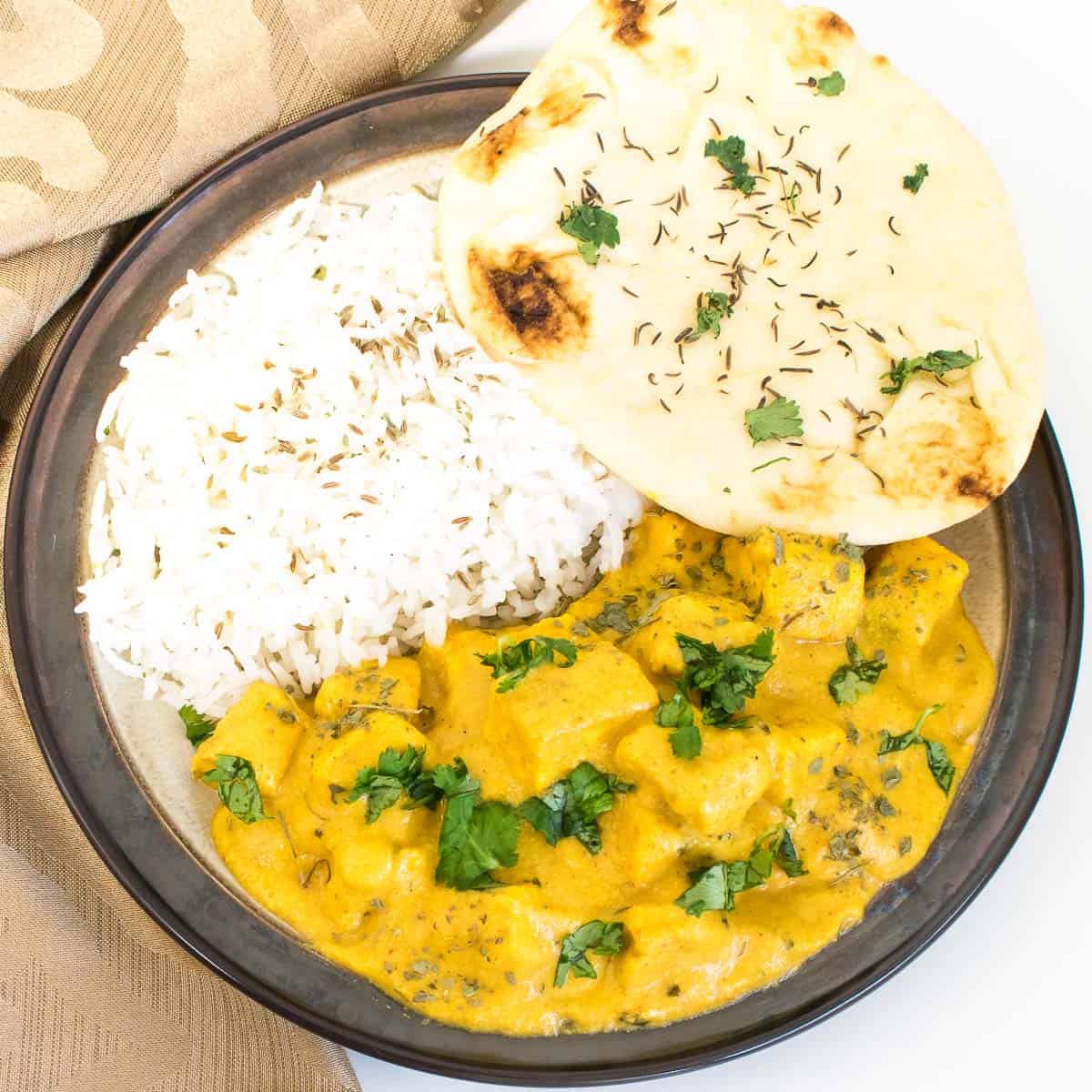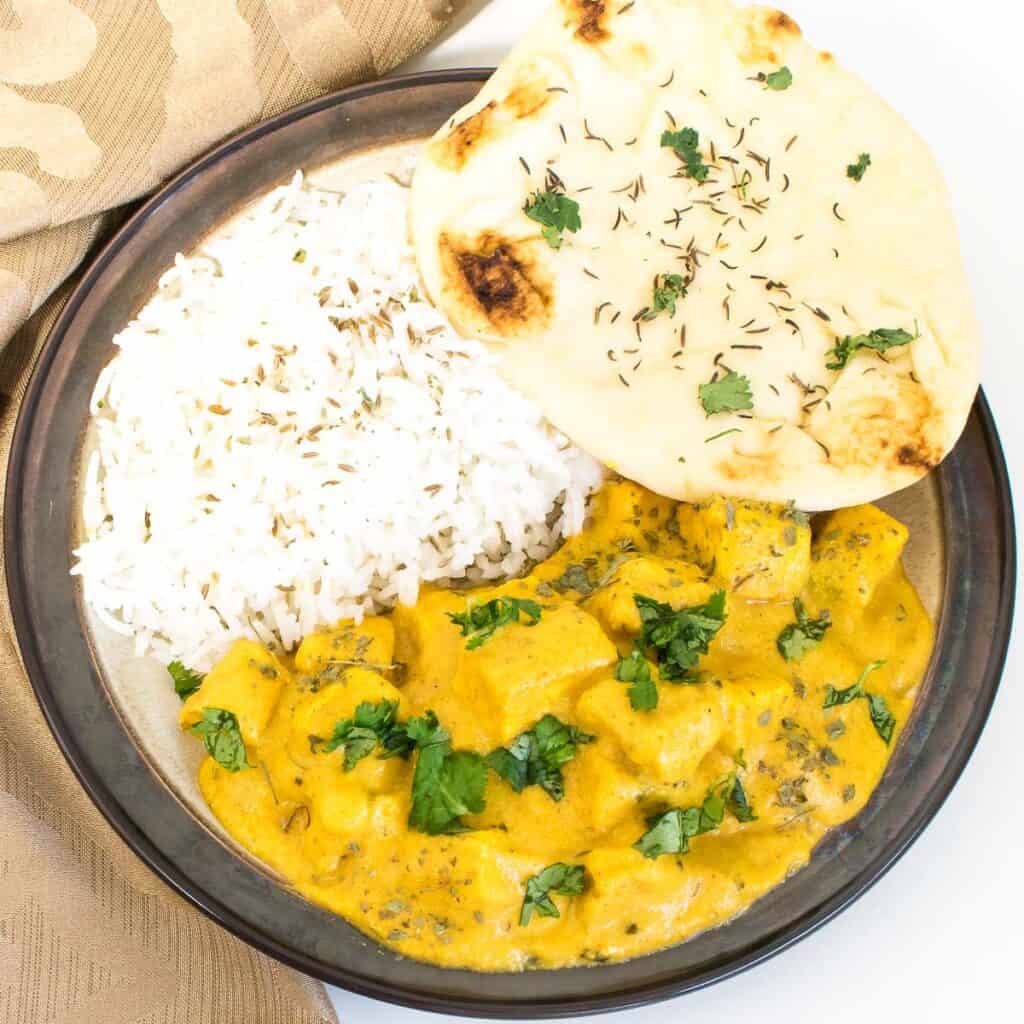 Ingredients notes:
Extra firm tofu – it's a soy product and protein packed. It's a great source of calcium and makes this recipe very similar to paneer/chicken. I pressed it very well so that its texture is enhanced and makes it chewy and delicious.
Turmeric – this is a must in all Indian recipes. Moreover, along with it being nutritious and loaded with medicinal properties it brings out a nice color to this dish.
Cashew nuts – its nutritious and packed with vitamin and minerals. This also adds to its creaminess and flavors.
Coconut milk – I prefer using tetra pack of coconut milk to make my recipes lighter and low in calories. Its unsweetened also and the extra cream is removed so this recipe becomes healthier along with being nutritious.
Garam masala – This is used in many Indian recipes and is a very common spice ingredient. Usually, in India this masala is homemade which is a medley of various whole spices which is ground into powder form.
Dried fenugreek/kasoori methi – Its mostly used in North Indian recipe. This brings a subtle nice flavor and aroma to Indian recipes. Its easily available in any Indian grocery store and is very commonly used in Indian recipes.
So, therefore, you must have realized that I have made this butter tofu recipe super healthy. It is also low in calories and lighter on the tummy.
How to make Butter Tofu
Firstly, I tossed tofu with turmeric and salt in a mixing bowl. Then, I baked it in a preheated oven for about 25 minutes. Once done, I took it out and kept it aside.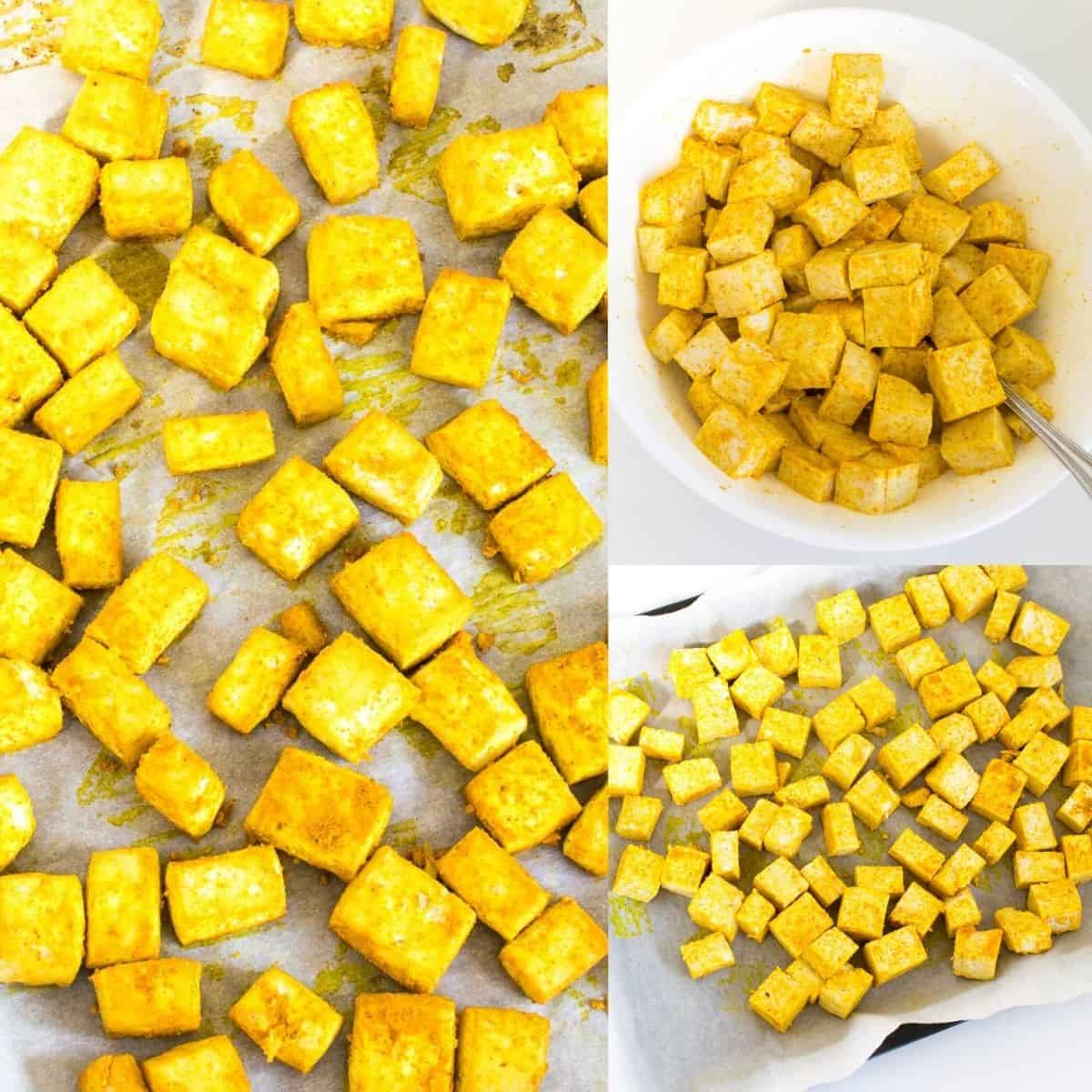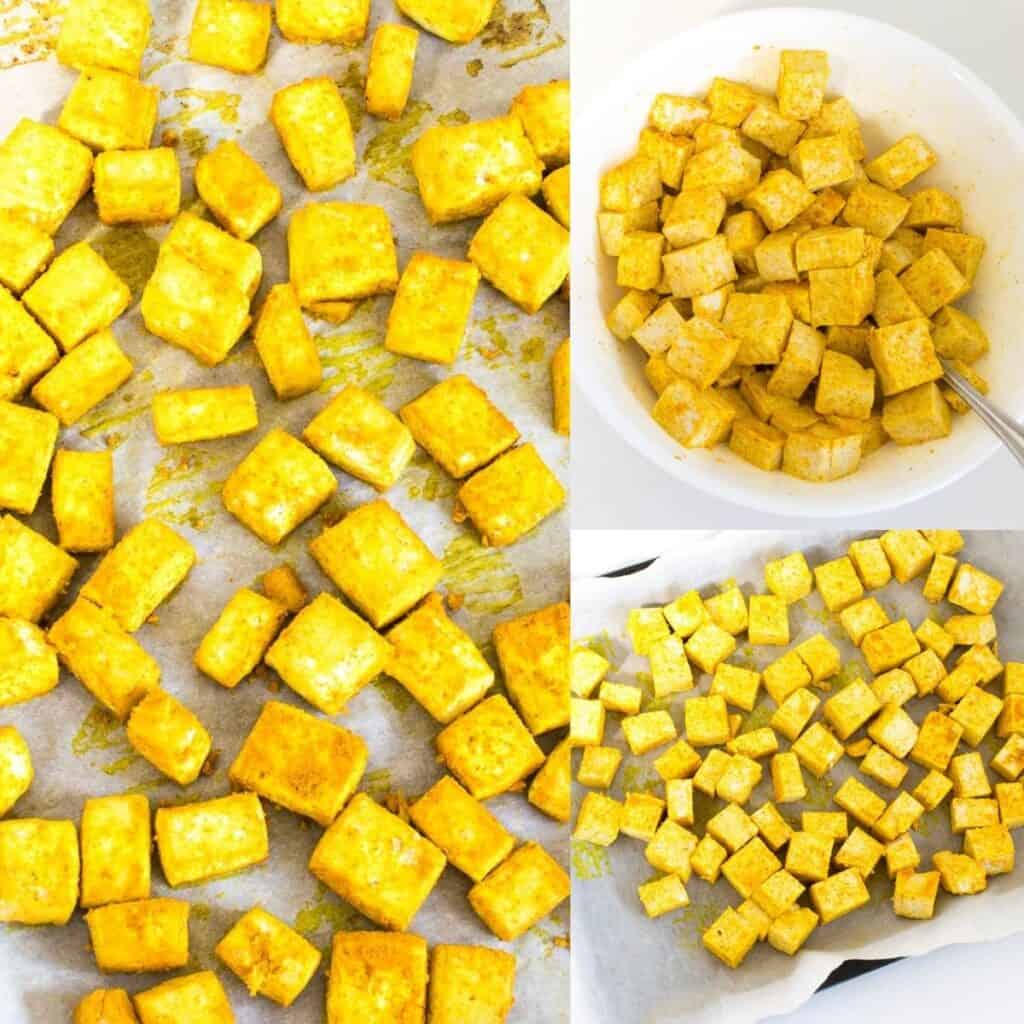 Secondly, I combined all the grinding ingredients in a blender and blended it smooth.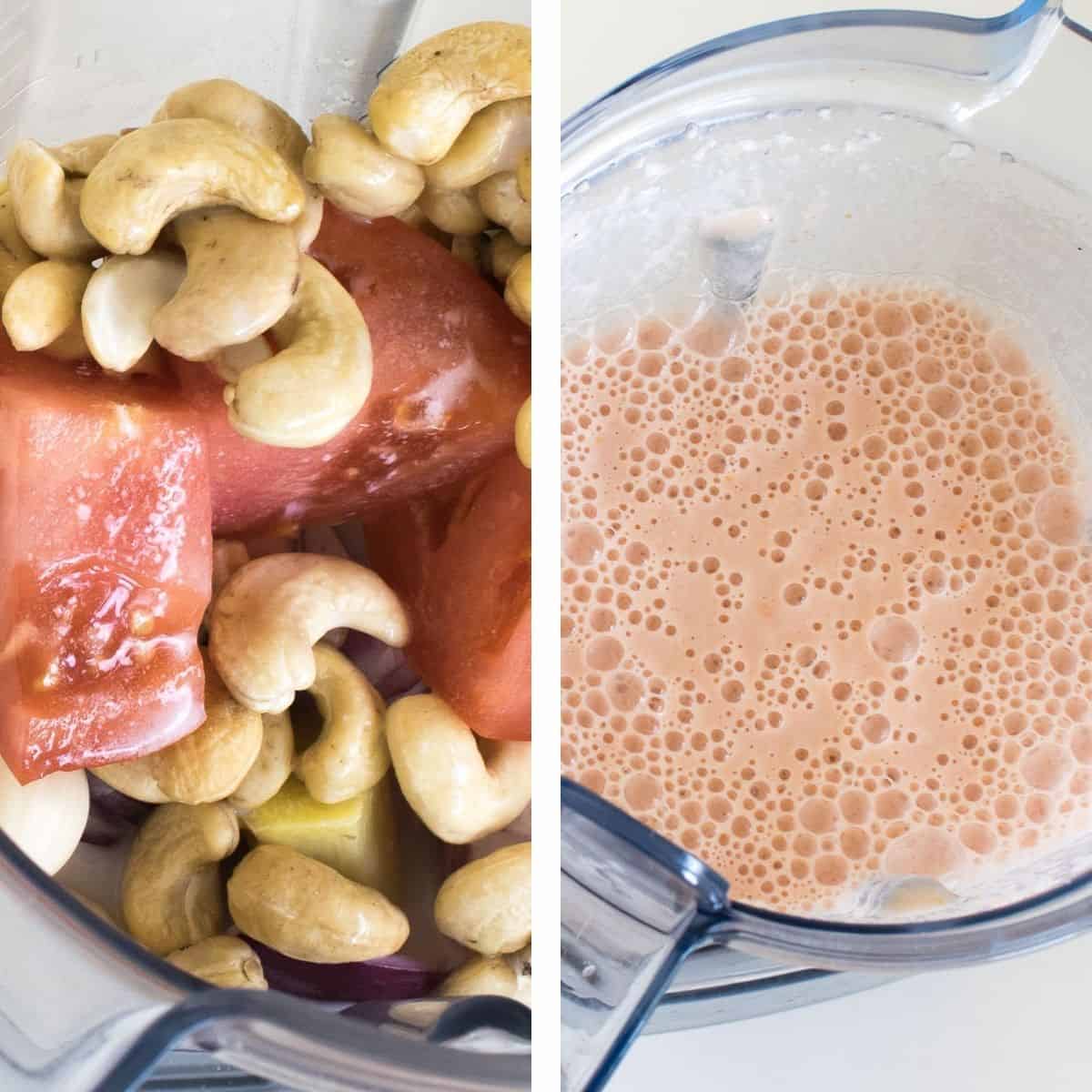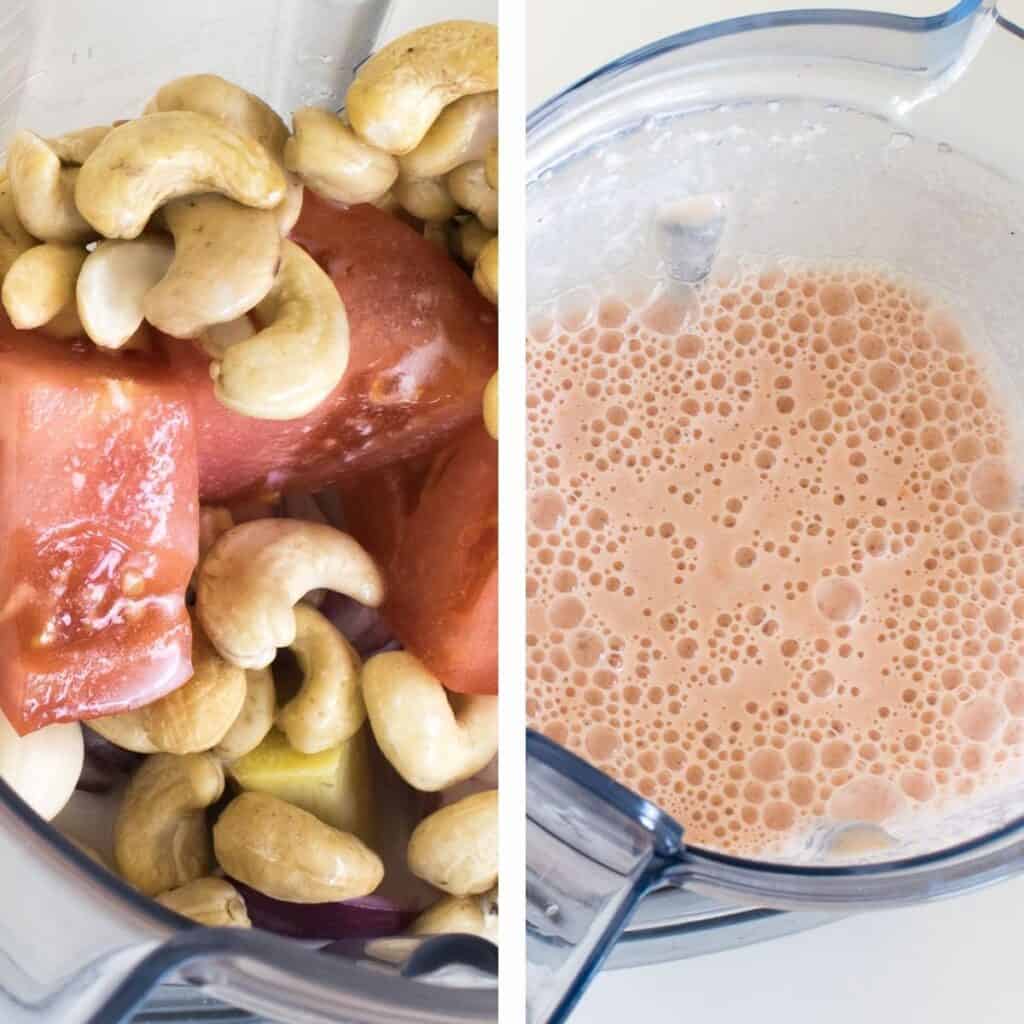 Next, I heated a nonstick stockpot or a sauté pan with high edges and poured the blended onion masala in it. Then, I let it cook covered for about 15 minutes or until it became thick and reduced in quantity. However, I stirred it a few times to make sure it does not stick at the bottom.
Thereafter, I added all the spices to it and sautéed for 2-3 minutes or until all the ingredients blended well and there was no raw aroma.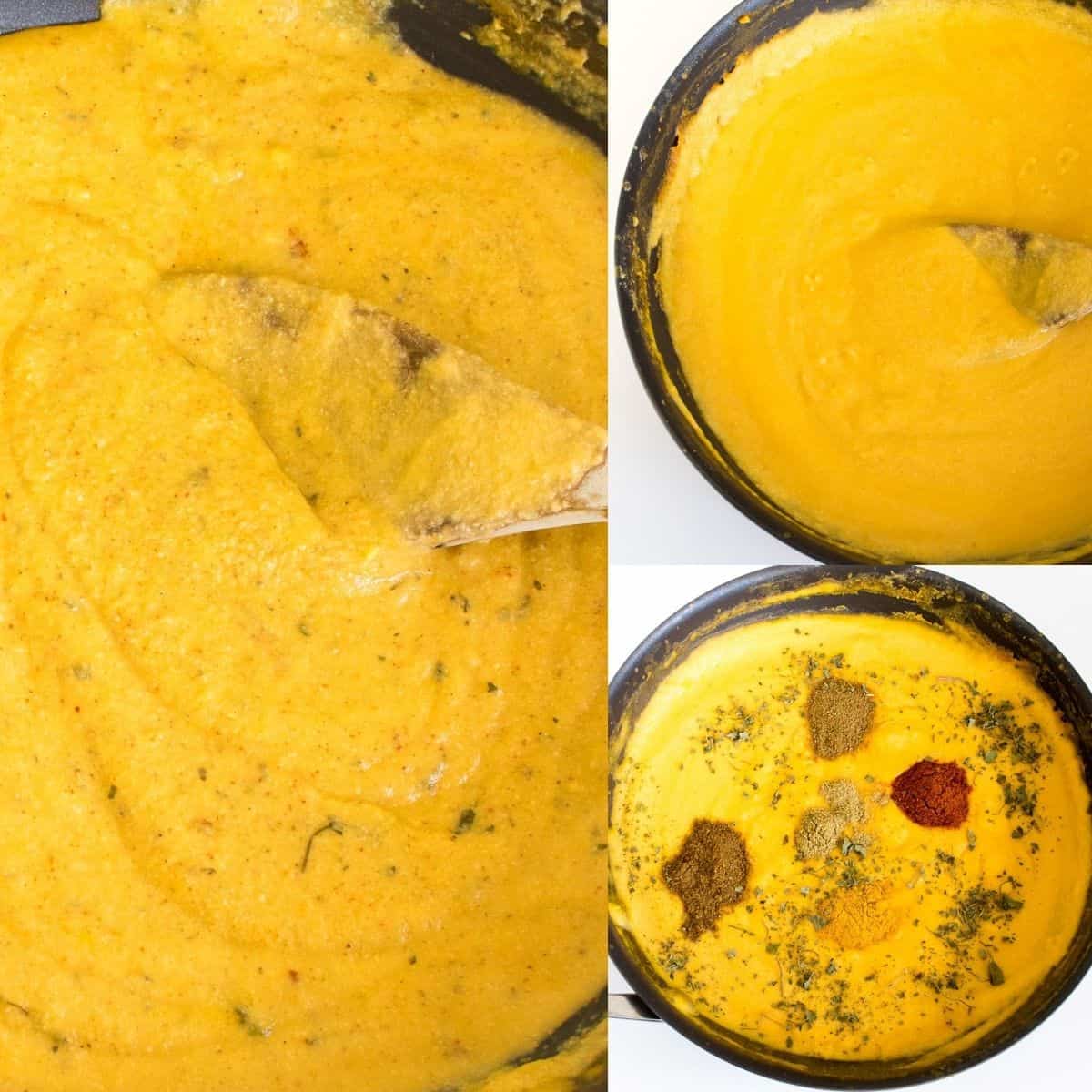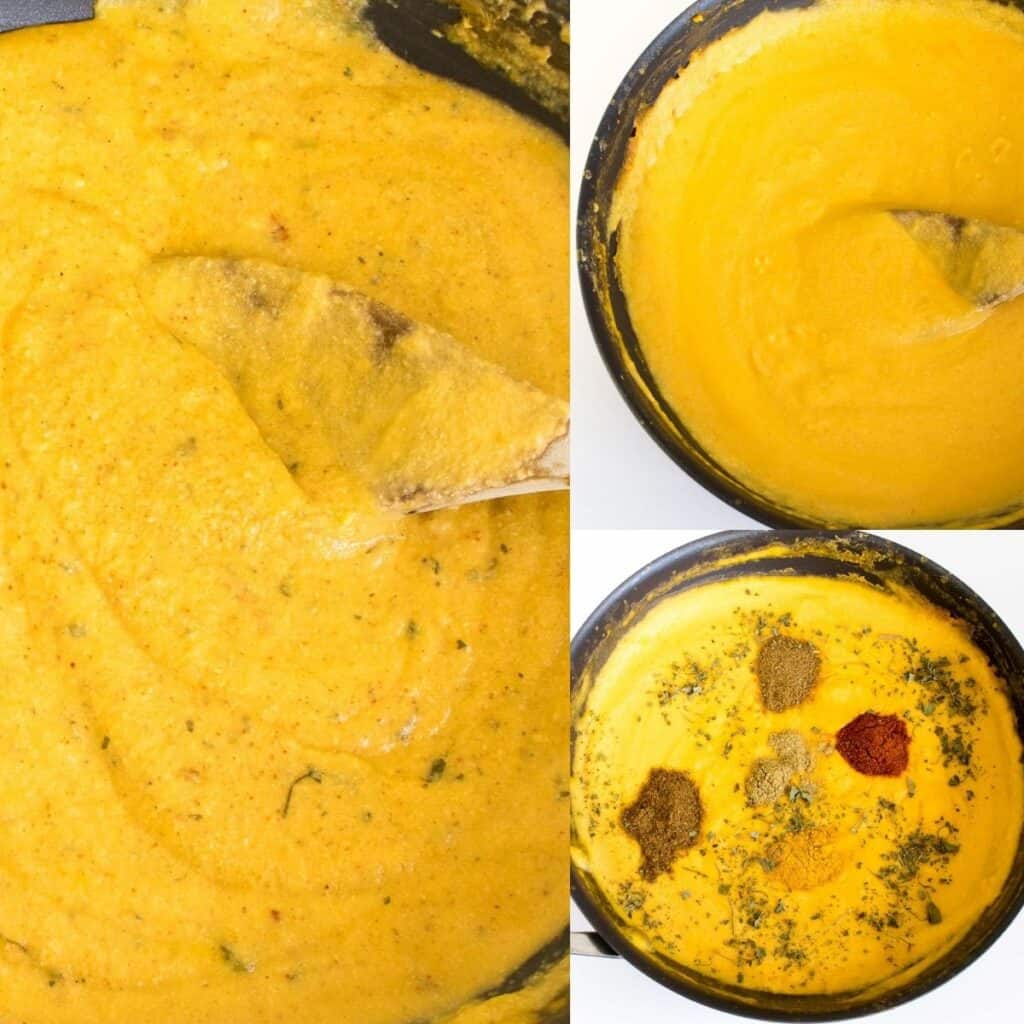 Afterwards, I tossed in baked tofu and mixed it gently making sure that tofu pieces do not break. Then, I let it cook for 2-3 minutes.
Lastly, I added more coconut milk, salt and sugar. Then, I stirred it nicely and let it cook at a low flame for 2 minutes.
Later, I garnished it with chopped cilantro and served it with rice and naan.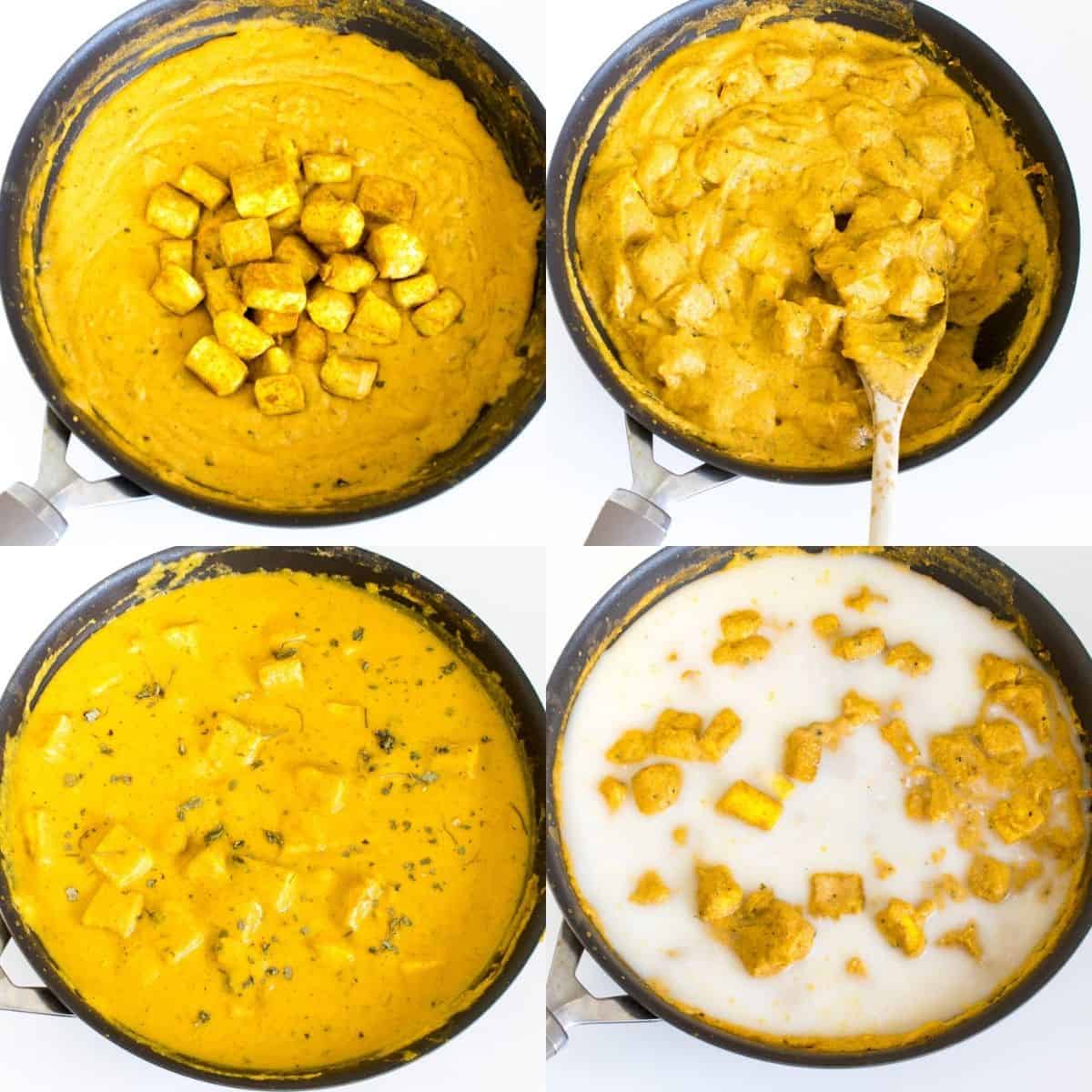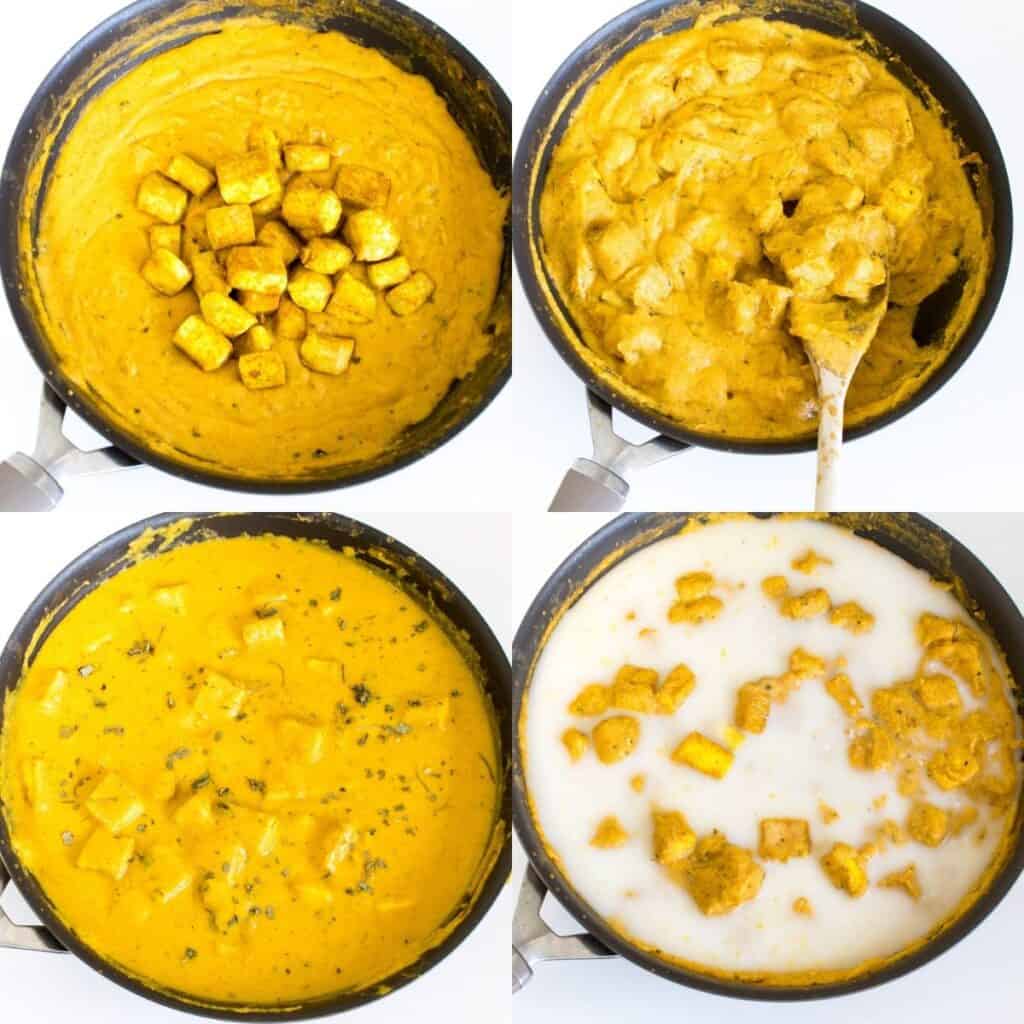 We all ate it heartily. Even my toddler loved it and my 8-year-old was super excited with this Indian curry recipe.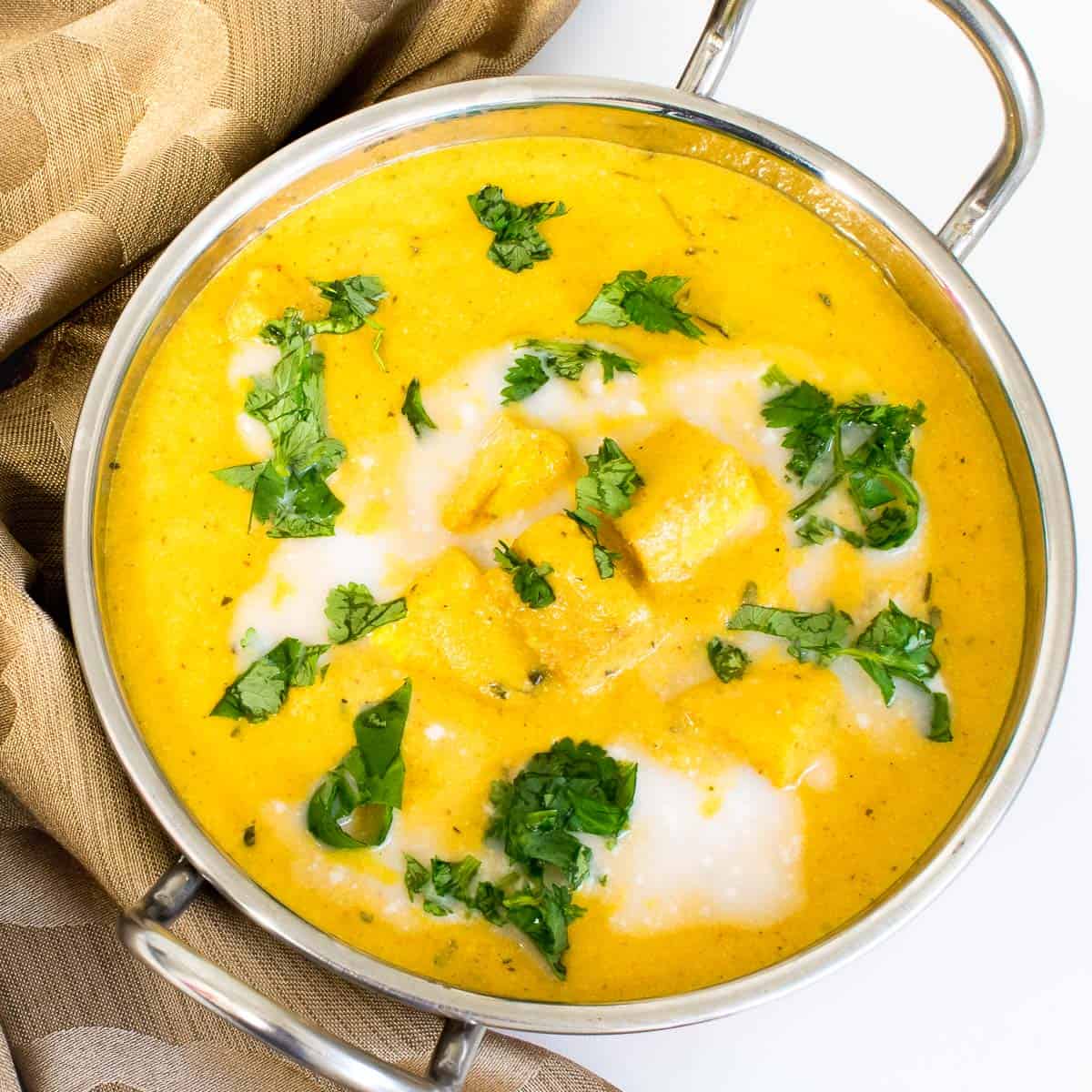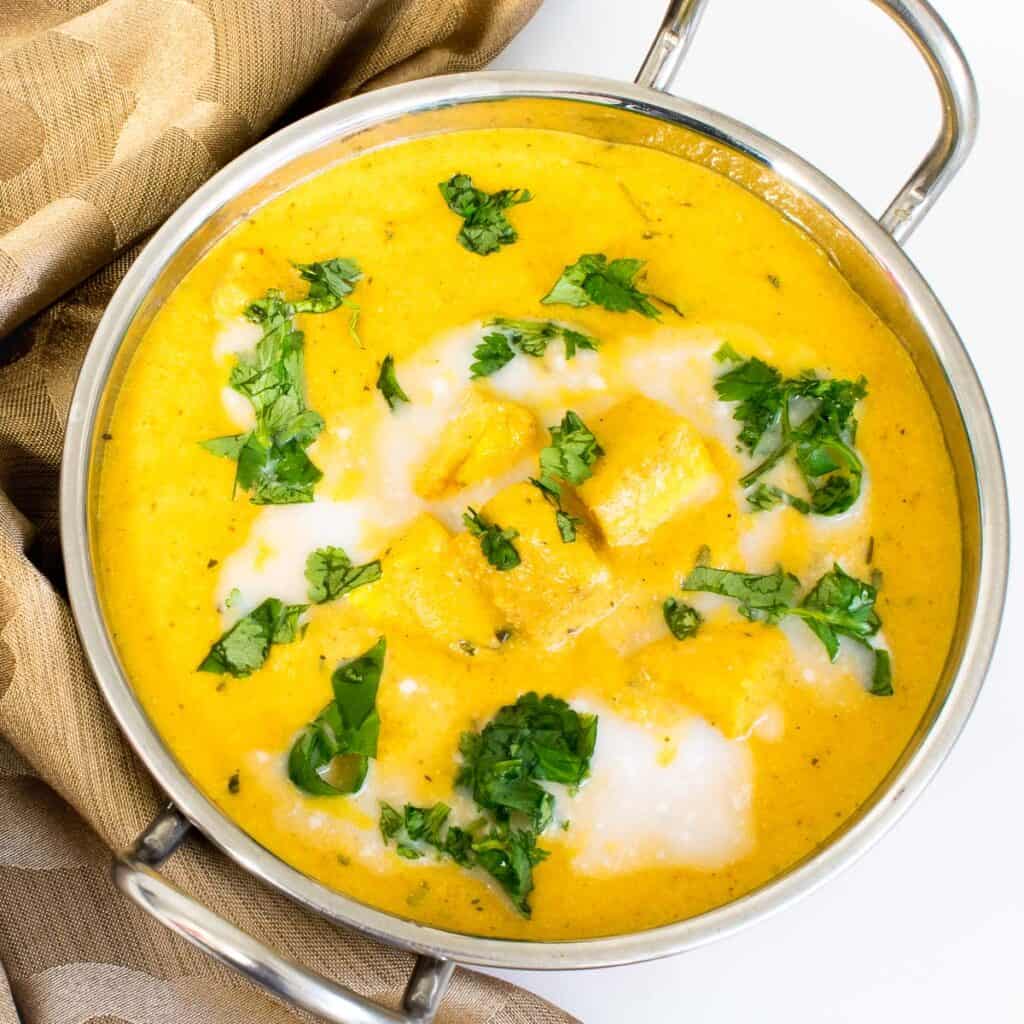 Expert tips:
Make sure to drain tofu properly. Then press it nicely which may take about 20 minutes. When you press tofu nicely it firms up even more and resembles paneer quite a bit and becomes chewy like chicken.
It is important to use tetra pack of coconut milk so as to make this recipe lighter. Moreover, this milk does not curdle which makes it easier to make Indian recipes oil free and butter free.
Most importantly use nonstick pan so that the ground onion masala is cooked well without burning or sticking at the bottom. Be careful of the splashes so cover it and cook. When ready to remove the lid, bring the flame to low heat and carefully stir it.
Hence, I would insist you get the started with this butter tofu curry ASAP so you can enjoy this pleasing recipe with your loved ones.
Butter Tofu FAQs
How long does it last?
It tastes best when served immediately. However, the leftovers can be refrigerated for about 1 week in an air tight container.
Is it healthy?
Yes, I made it absolutely oil free and butter free so therefore we save on some calories by skipping added saturated fats. Moreover, I used lightened coconut milk which does not have coconut cream which helps in reducing fat content. I used raw cashew nuts but it has healthy fats. Tofu is low in calories and carbohydrates but high in protein. Overall, it's a healthy and nutritious recipe which can be enjoyed as an everyday family dinner meal.
How does it taste like?
It has a nice salty and mild sweet taste to it along with being chewy tofu which resembles very much like traditional Indian recipe in a vegan form. Its thick, rich and creamy in every bite.
Does tofu tastes same as paneer?
Paneer is a milk product and tofu is a soy product even though may Indian vegan recipes are substituted with tofu. However, the way I have made this recipe you won't find much difference between the two.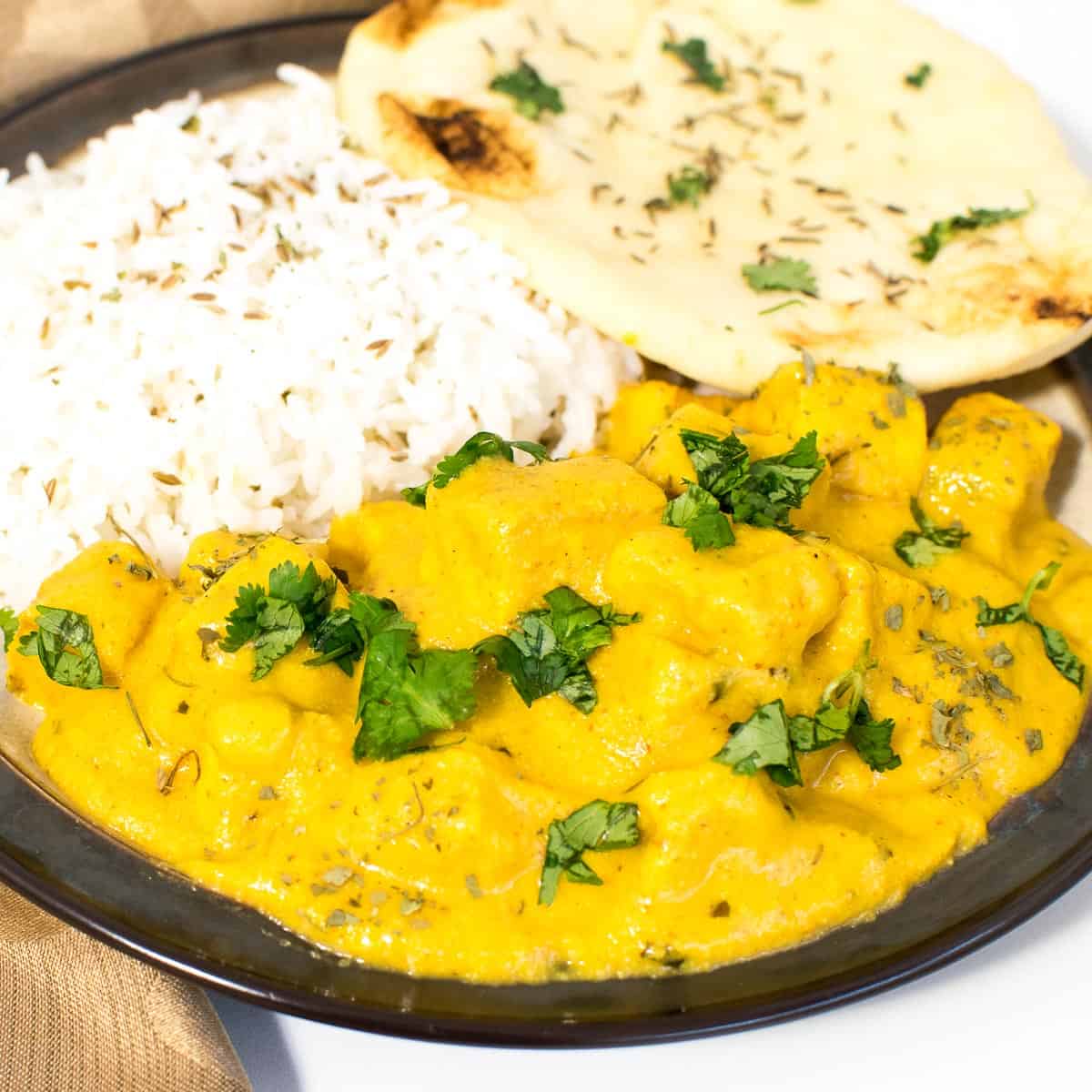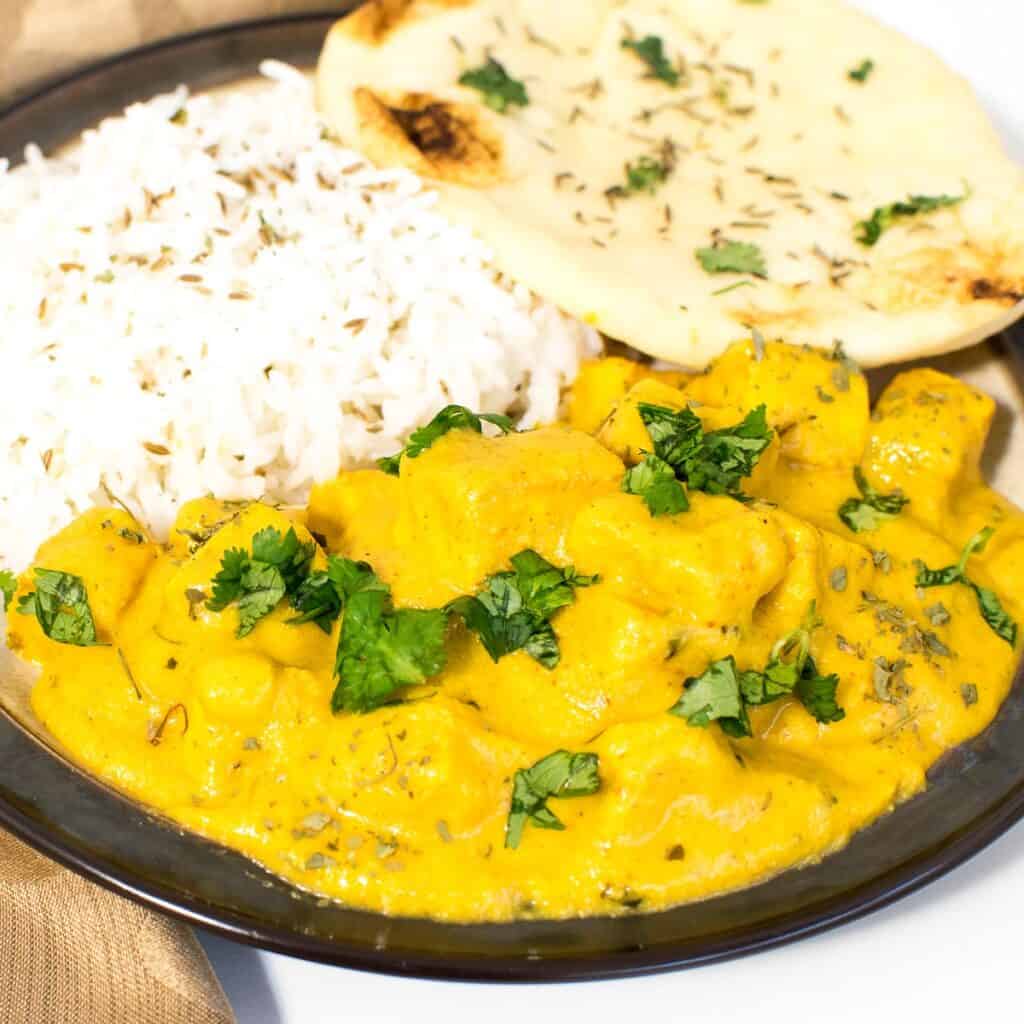 You may also like:
Dal Makhani
Masala Oatmeal
Malai Kofta
Cauliflower Tikka Masala
Kidney Beans Spinach Masala
Did you make it?
If you get a chance to make this recipe then please leave your feedback in the comments below along with the ratings. In addition, you may tag @kiipfit on Instagram with your recipe image because we would love to see what you cooked.
If you desire to explore more of my delicious recipes then you may checkout my cookbooks.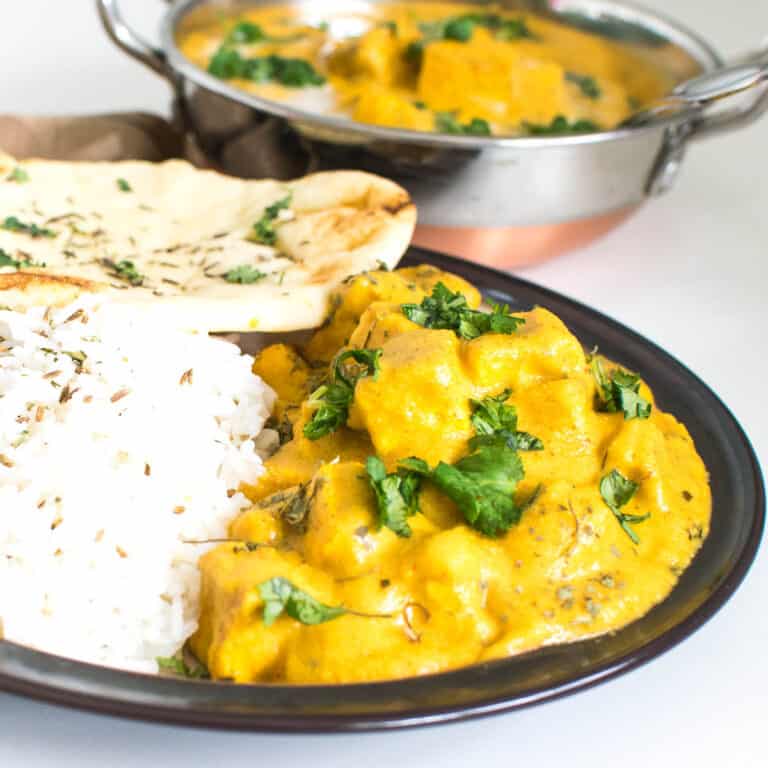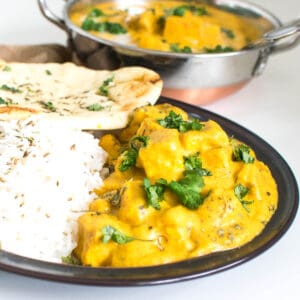 Print Recipe
Butter Tofu
This Indian style Butter Tofu is rich, thick and creamy that's made with no oil and no butter. It's a veganized version of very popular paneer butter masala. It tastes deliciously comforting and very similar to the traditional recipe.
Ingredients
Instructions
Preheat oven at 375-degree Fahrenheit and prepare a baking sheet with parchment paper. In a mixing bowl combine 1 tsp turmeric and 1/2 tsp salt. Mix it well and then toss in chopped tofu to it. Mix gently so that each tofu piece is well coated with turmeric.

Spoon them on the prepared baking sheet and spread it nicely making sure that no pieces overlap each other. Place the baking sheet in the middle rack of the preheated oven and bake it for 25 minutes. Once done, turn off the oven, take it out and keep it aside.

In the meanwhile, in a blender, combine all the grinding ingredients (onion, tomato, ginger, garlic, cashew nuts, coconut milk) and blend it smooth.

Heat a nonstick pan with high edges or a nonstick stock pot and pour the blended onion masala into it. Stir and cook covered for about 15 minutes at medium-high flame or until it thickens and reduces. Keep stirring at intervals of 3-4 minutes to make sure it does not stick at the bottom. Be careful of the masala splashing when you remove the lid.

Bring the flame to low-medium heat and stir nicely. Then add ¼ tsp turmeric powder, chili powder, coriander powder, cumin powder, garam masala, dried fenugreek. Mix well and sauté for 5 minutes at medium-high.

Now, toss the baked tofu into the gravy and gently mix everything at high flame for 1-2 minutes.

Now, lower the flame and add 1 cup coconut milk, salt and sugar. Stir very well and cover for 2 minutes. Turn it off and remove the lid. Mix everything once again.

Garnish with chopped cilantro and serve with naan and rice.
Notes
When cooking ground onion masala be careful of the splashes. So, cook covered. When you remove the lid first lower to flame and then remove the lid and stir.
I used unsweetened original coconut milk (not vanilla) that comes in tetra pack just like regular milk. Do not use canned coconut milk because that will make it taste more like coconutty and increase the over calories of this recipe.
Make sure to nicely press tofu for atleast 20 minutes. The firmer tofu is the better texture comes out after baking and cooking in the curry.
For simple pressing of tofu, I place a layer of kitchen towel on a flat plate. Then, I place the tofu block and another layer of kitchen towel on the tofu block. Then, I put my flat cutting board on top of the kitchen towel and lastly, I put a heavy weight on it. You may use tofu press as well for this purpose. 
This recipe tastes best when served immediately. However, refrigerate the leftovers in an air tight container for about 1 week. Just warm it up on the stove top or in microwave.
For a quick roasted tofu, you may toast tofu in your toast oven for 10 minutes or until it feels cooked. However, baking methods is better for a closer traditional taste.
Nutrition
Calories:
247
kcal
|
Carbohydrates:
9
g
|
Protein:
18
g
|
Fat:
15
g
|
Saturated Fat:
32
g
|
Sodium:
319
mg
|
Potassium:
408
mg
|
Fiber:
4
g
|
Sugar:
7
g
|
Vitamin A:
74
IU
|
Vitamin C:
5
mg
|
Calcium:
27
mg
|
Iron:
3
mg