This flavorful Yellow Curry Veggie Quinoa with Tofu is a comfort recipe and yet nutritious. Its loaded with fiber and protein and tossed in delicious homemade Thai spices.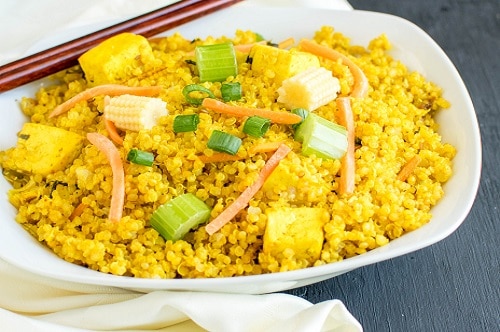 I love Thai and it's my 2nd preferred cuisine after Italian.
Even though, I have been trying to prepare Thai curry powder from scratch, I was still surprised that it's super easy to make.
Now, I wonder why I always thought that some magical spices are required for Thai dishes to make it so scrumptious.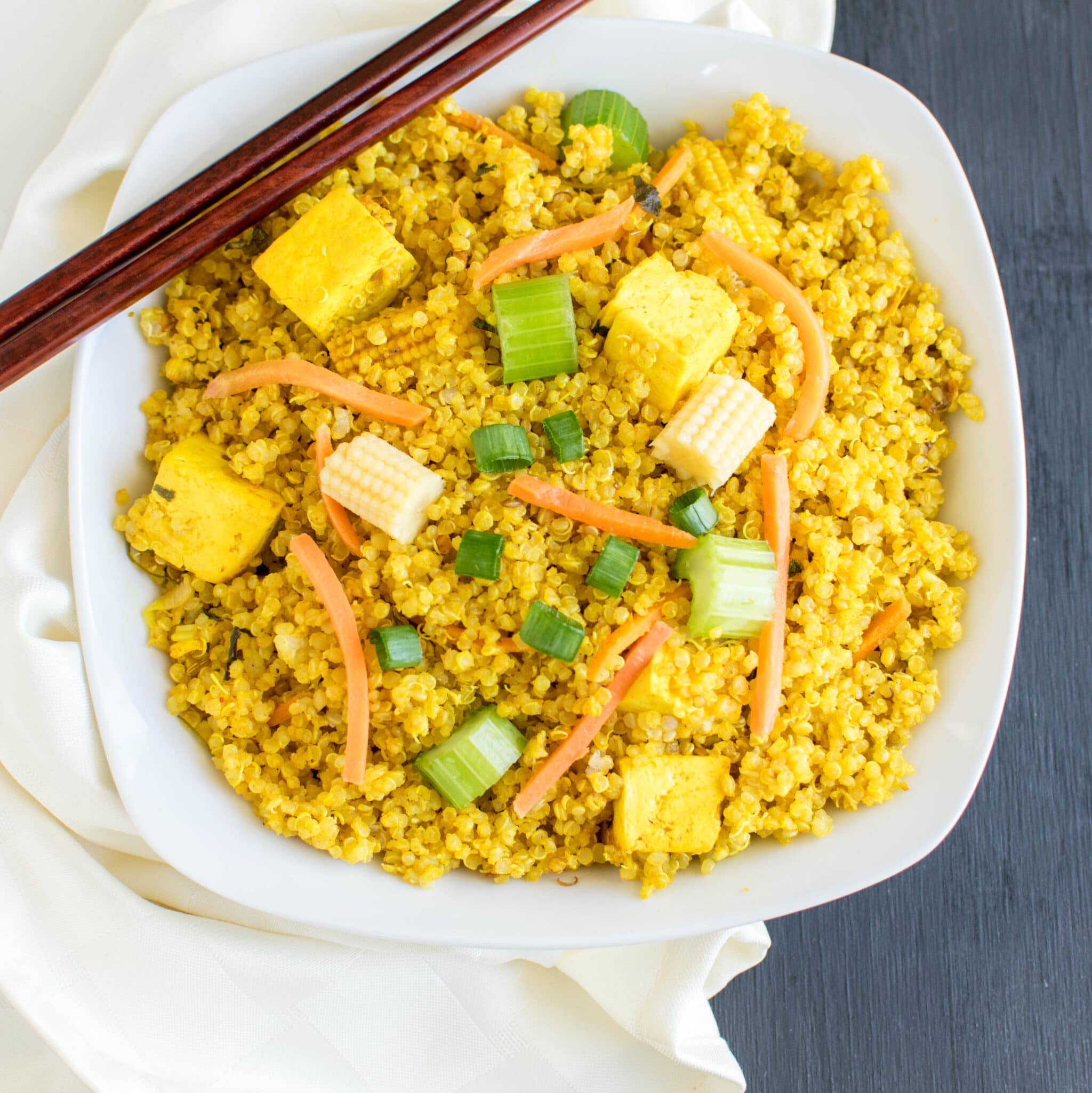 Believe me you don't require any exotic grocery planning. It's simple to mix up this curry powder since it requires mostly pantry staples.
Its aromatic and beautiful yellow curry powder took me by surprise with its taste and outstanding flavor.
This curry powder can be prepared in just a few minutes and without any mess.
I usually make batches of this curry powder and store it for a month in a cool dark place along with my other spices.
Here, I wanted to make a healthier version of Yellow Curry fried rice. My idea was that I wanted to enjoy favorite restaurant type flavors in a healthier way. So that we can practically indulge while maintaining our fitness. 🙂 . Also I am not very fond of the Fish oil/sauce and wanted to create some vegan version.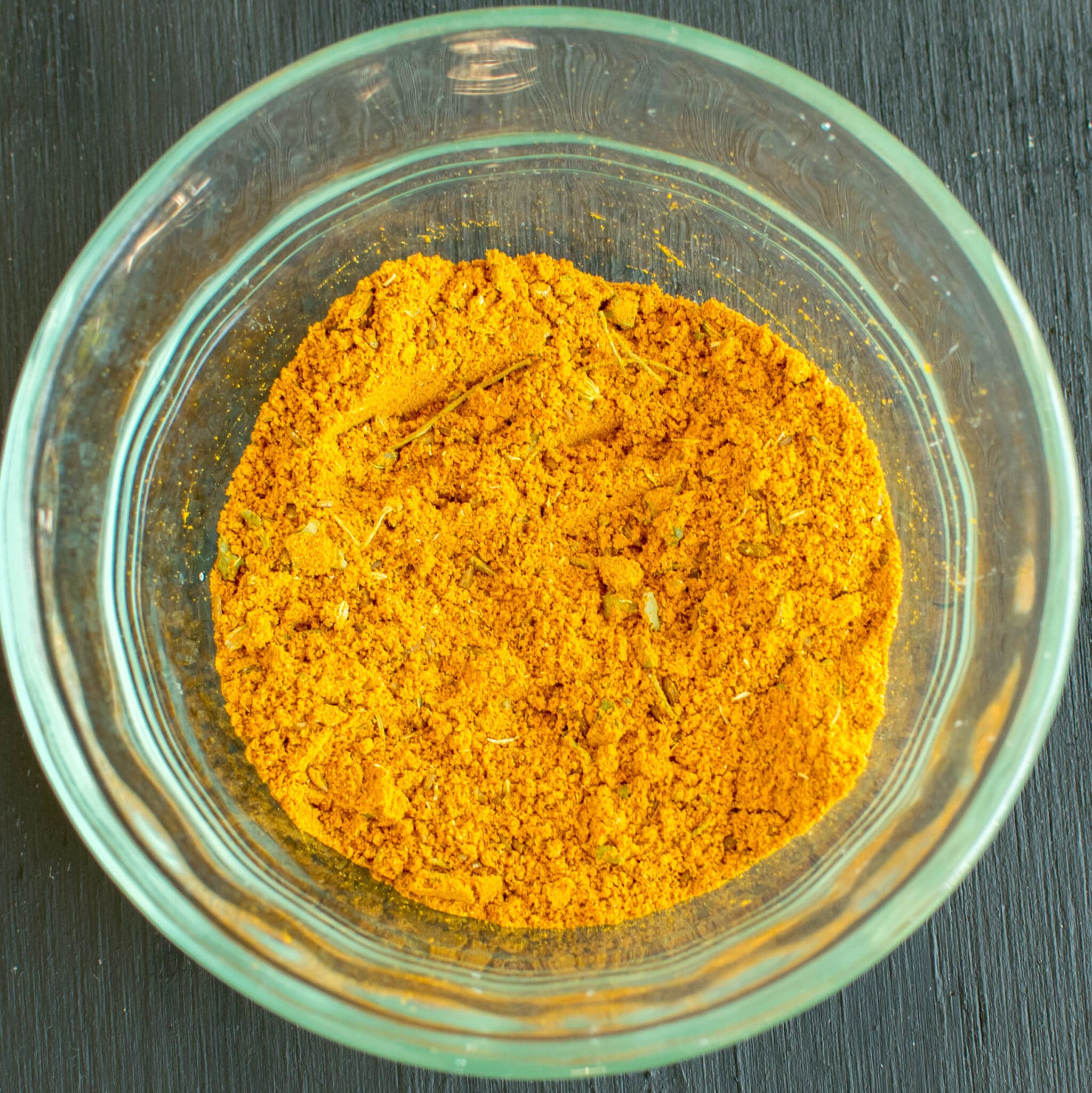 Therefore, after trying few times to perfect the taste, today I am finally sharing my healthy vegan Yellow Curry Veggie Quinoa with Tofu. I made it from scratch and it takes only 30 minutes to prepare.
For quinoa I just made a small change. While cooking quinoa instead of boiling only in water I combined coconut milk along with water to bring out that delicious Thai flavor in this protein rich grain. This can also be cooked ahead of time.
How to make Yellow Curry Veggie Quinoa with Tofu
Now that all the prep is done let's get started with combining all the ingredients to cook Yellow Curry Veggie Quinoa with Tofu.
I simply heated oil in a pan and added herbs, curry powder, vegetables, seasonings, tofu and quinoa.
Later, I Served it hot with a lemon wedge and enjoyed this healthy Thai cuisine guilt free in the comfort of your home. 🙂
You may also like:
Teriyaki Tofu Quinoa Powder Bowl
Cheesy Lentil Quinoa Vegan Casserole
One Pot Jackfruit Quinoa Pilaf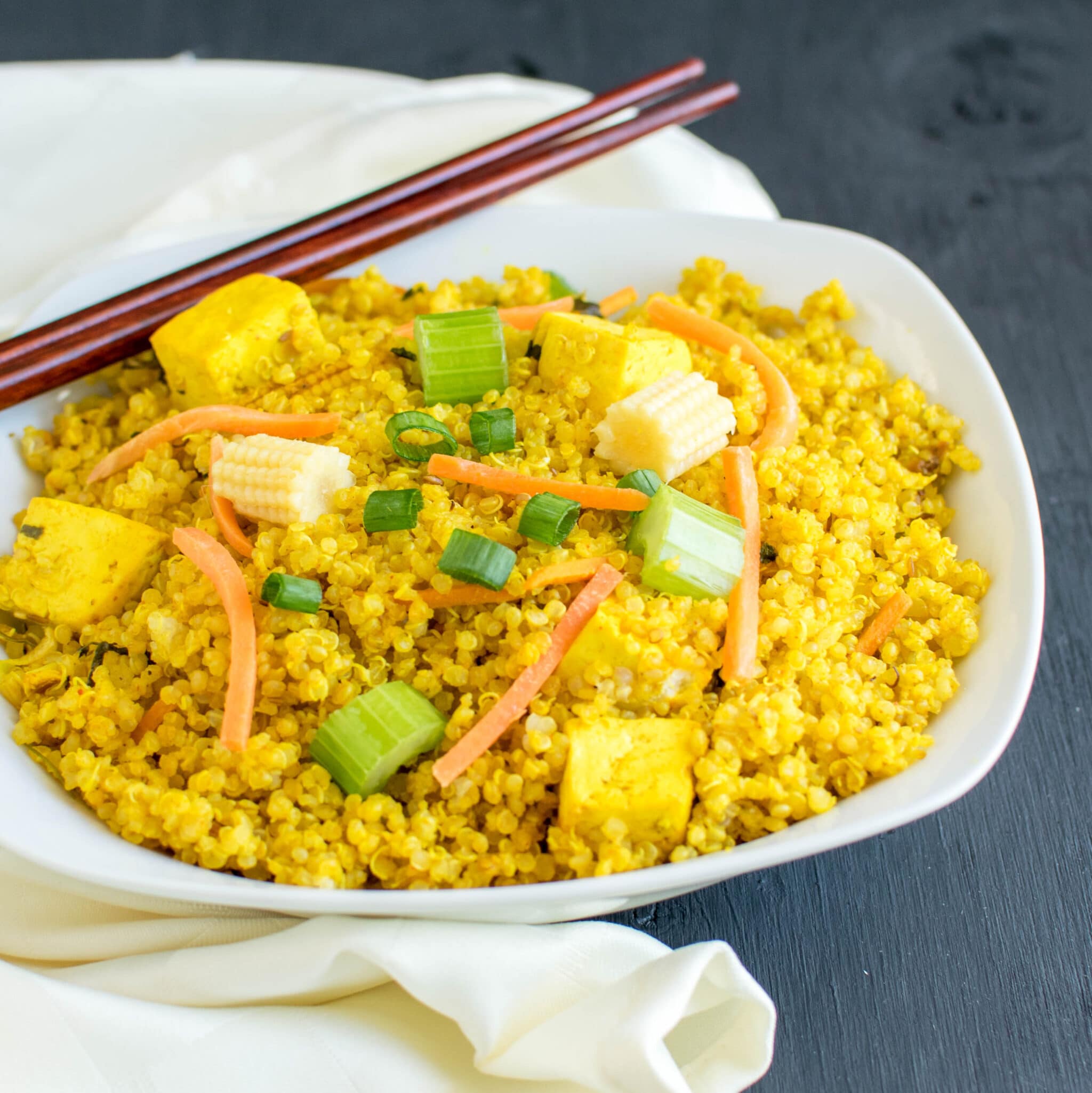 Did you make it?
If you get a chance to make this recipe then please leave your feedback in the comments below along with the ratings. In addition, you may tag @kiipfit on Instagram because we would love to see what you cooked.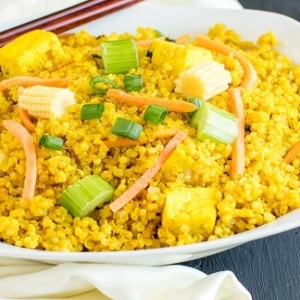 Print Recipe
Yellow Curry Veggie Quinoa with Tofu
This flavorful Yellow Curry Veggie Quinoa with Tofu is a comfort recipe and yet nutritious. Its loaded with fiber and protein and tossed in delicious homemade Thai spices.
Ingredients
For quinoa
1 1/2

cups

water

1 1/2

cups

quinoa

(rinsed)

2

cups

unsweetened coconut milk

(tetra pack/carton)
For curry powder
1/2

tsp

fennel seeds

1/2

tsp

yellow mustard powder

1

tsp

ginger powder

1

tsp

cumin powder

1/4

tsp

cardamom powder

1 1/2

tsp

turmeric powder

1

tsp

cayenne pepper powder

1/2

tsp

coriander powder

1

tsp

kasoori methi/dry fenugreek leaves
Others
2

tbsp

olive oil

4

Thai basil leaves

1

tsp

chopped fresh lemongrass

1

whole

cinnamon stick

1

tsp

dried garlic

1

tsp

white sesame seeds

1/8

cup

scallions

1/4

cup

julienned carrots

1/4

cup

chopped baby corns

1/4

cup

diced celery

1

15 oz

extra firm pack of tofu

(drained,pressed,chopped)

1 1/2

tsp

salt or as per taste

1/4

tsp

sugar

1

tsp

lemon juice or as per taste
Instructions
In a saucepan bring water to a boil and then add quinoa. After few minutes when the water starts to dry add coconut milk. Keep stirring at intervals for quinoa to stay fluffy. When the liquid starts to dry simmer the flame and cook covered until quinoa absorbs all the liquid. Turn off the flame for quinoa once cooked and set it aside and fluff with a fork.

While the quinoa is being cooked combine all the ingredients for curry powder in a glass bowl and mix thoroughly with a spoon and set it aside.

 In a nonstick pan/ wok heat oil and add basil leaves, lemongrass, garlic, sesame seeds and cinnamon stick. Immediately add the scallions and stir.

Add carrots, baby corn and celery and mix very well.

Now add tofu and curry powder to the pan and mix gently so that tofu does not break but at the same time all the tofu pieces are well coated with the curry powder. Cover and cook for 3-4 minutes. (Avoid browning of tofu).

Now add quinoa, salt, sugar, lemon juice of the ingredients and mix very gently to maintain the tofu pieces.

Take it out in a serving bowl and serve warm.
Notes
The above recipe of curry powder yields little less than ¼ cup.
You can make more quantity of curry powder and store in a glass container in your spice rack for 3-4 weeks.
This recipe is slightly spicy. Feel free to adjust the spice level according to your preference. If you reduce the cayenne pepper the color of the yellow curry may become bright yellow which is perfectly fine.
If you adjust the spice level you may want to adjust the measurement of the salt, sugar and lemon juice according to taste in this recipe.
When you are making this recipe and plan to make the recipe for fewer people make sure to adjust the curry powder measurement according to your other measurements.
Nutrition
Calories:
458
kcal
|
Carbohydrates:
43
g
|
Protein:
22
g
|
Fat:
23
g
|
Saturated Fat:
21
g
|
Sodium:
23
mg
|
Potassium:
571
mg
|
Fiber:
6
g
|
Sugar:
4
g
|
Vitamin A:
25
IU
|
Vitamin C:
3
mg
|
Calcium:
51
mg
|
Iron:
5
mg