This smooth chocolaty Vegan Nutella is absolutely a delightful snack dessert. With only 8 ingredients this kid friendly treat is absolutely amazing. Its easy to blend along with being a satisfying indulgent.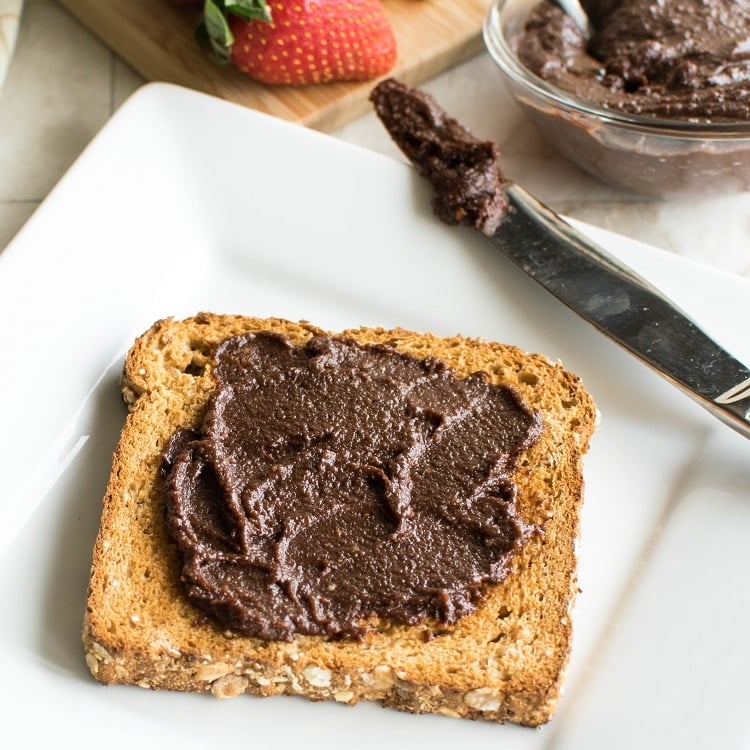 My kids are crazy for this and snacks on it almost every evening. I personally like to satisfy my dessert cravings with this vegan Nutella.
I must say that my daughter helped me bring out the real flavor at each step. She kept tasting and suggesting me with its taste. At last, I nailed it and she wanted me to share it here with you all.
Ingredients for Vegan Nutella
Hazelnuts
Dairy free mini chocolate chips
Unsweetened cocoa powder
Vanilla extract
Dairy free milk
Salt
Brown sugar
Palm/Extra virgin olive oil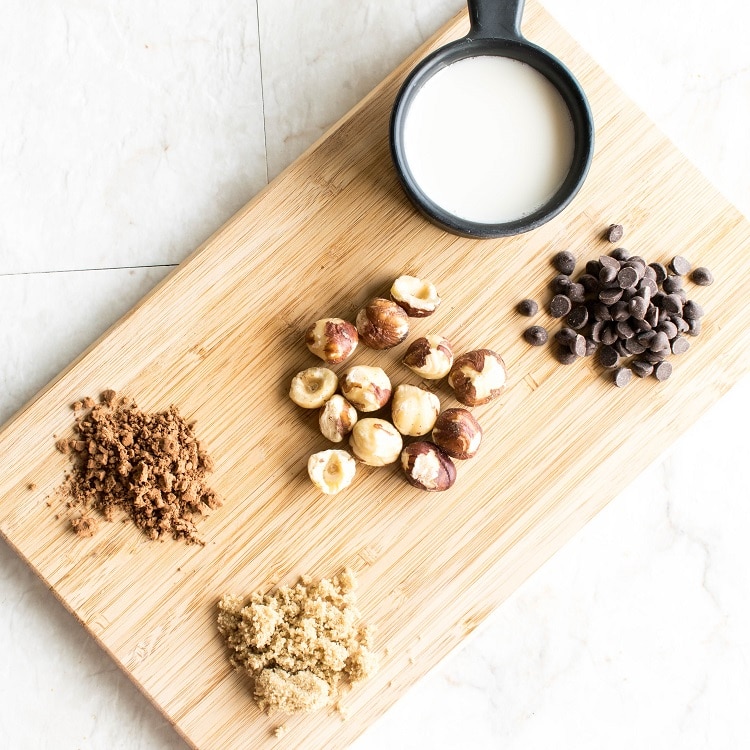 Ingredient Notes:
Hazelnuts – I used the skinned raw hazelnuts that is unroasted and unsalted. It works best for the recipe.
Dairy free milk – I used milk so it is easy to blend in a blender. To lower its calories, I would recommend using plain unsweetened almond milk. However, you may use any dairy free milk of your choice.
Oil – Even though it is optional, it gives a nice texture and smoothness to this Nutella. It also helps to glaze it and enhances its flavor very close to the store-bought ones. We have tried both version with and without oil but we like it with oil.
How to make Vegan Nutella
Firstly, I heated a nonstick pan and dry roasted hazelnuts. Then, I placed them in a kitchen towel and roughly rubbed them to peel the skin as much as possible.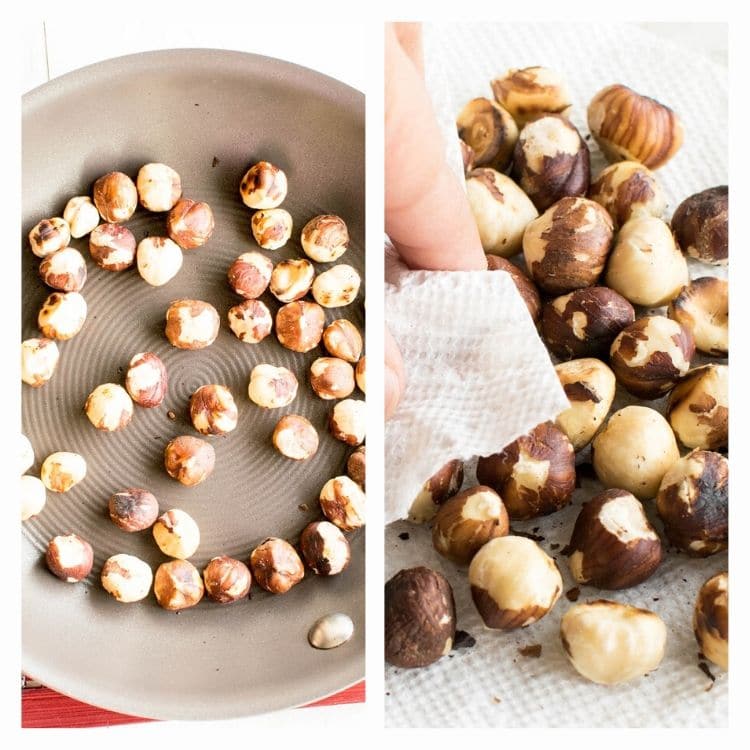 Secondly, I melted the chocolate chips in the microwave. Next, I combined all the ingredients in a blender (except palm oil/Evoo) and blended it smooth.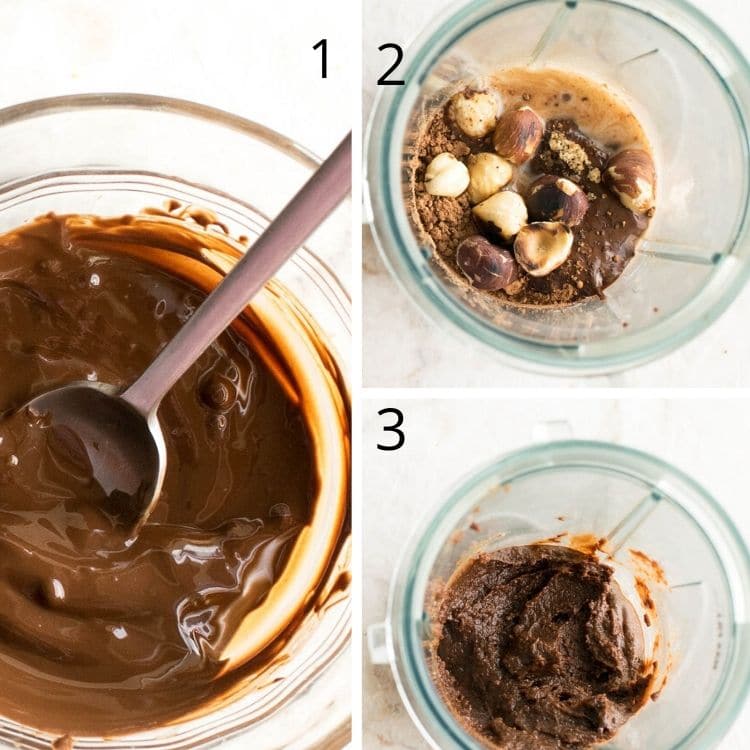 Later, I spooned it out in a serving bowl and stirred in oil.
We licked the entire bowl within minutes. It was irresistible.
I make this Nutella quite frequently and yet I hardly get a chance to store it for long because we are Nutella crazy family.
Expert tips:
It is important that you use high speed blender for this recipe because hazelnuts are difficult to break and smoothen out.
While blending start with ½ cup milk. If you feel its dry and your blender needs more liquid to work then add 2 tbsp of more milk. However, do not overdo milk because we want to taste hazelnuts and not dairy free milk.
I have used brown sugar specifically for this recipe as its gives an extra body to this recipe. It also gives a subtle perfect sweetness to this dessert. However, start with 1 tbsp of brown sugar and then go up to 3 tbsp as per your taste.
Vegan Nutella FAQs
How long do they last?
You may store it in an air tight container at room temperature about 3 weeks.
What can I pair it with?
You may serve fruits, bread sticks or spread it on toast. We simply lick it all day.
Is this healthier?
This vegan Nutella is made with raw hazelnuts which I dry roast myself. Since it consists of nuts it has good protein content and good fats. However, I add some sweetener and chocolate chips which adds to up some calories. Lastly, I stir in palm oil/Evoo which is totally optional. It enhances the looks and texture this sweet spread. So, if you skip oil at the end you again save on some calories. Moreover, it's a dessert so once in a while you may want to indulge on your cheat days. However, everything in moderation is acceptable on a regular basis.
How does it taste like?
Since its made with a combination of chocolate and hazelnuts, it is chocolaty in tastes along with a hint of nutty flavor. Moreover, the sugar and oil add to its smooth and sweet taste.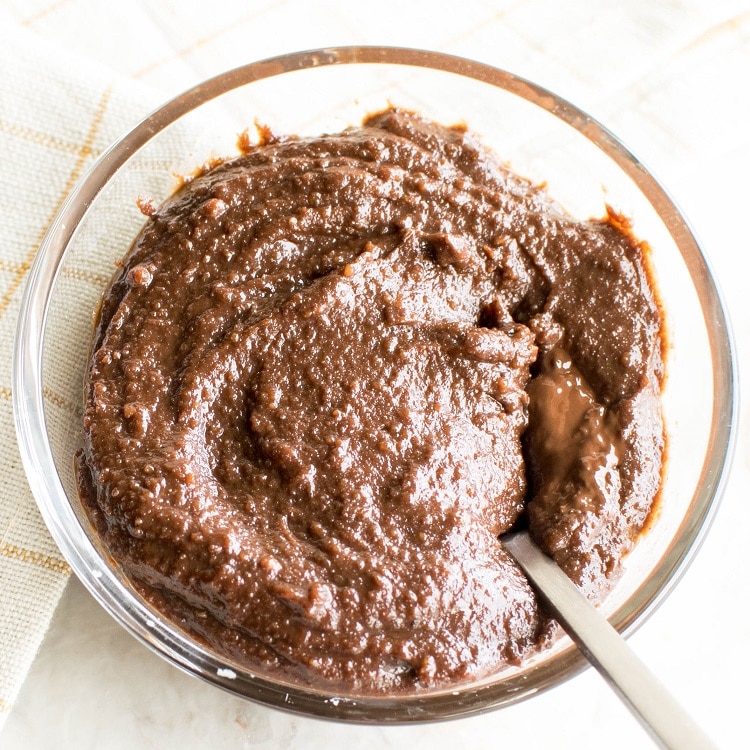 If you are looking for more delicious chocolate based recipes:
Vegan Chocolate Cake
Chocolate Orange Ganache Protein Cookies
Apple Buckwheat Chocolate Chip Cookies
No Bake Chocolate Coconut Brownies
Chocolate Truffle Energy Bites
You may explore other hazelnut recipes:
Hazelnut Cheesecake Smoothie
Banana Hazelnut Protein Bars
Maple Glazed Hazelnut Chia Snack
If you get a chance to make this recipe then please leave your feedback in the comments below along with the ratings. In addition, you may tag @kiipfit on Instagram because we would love to see what you cooked.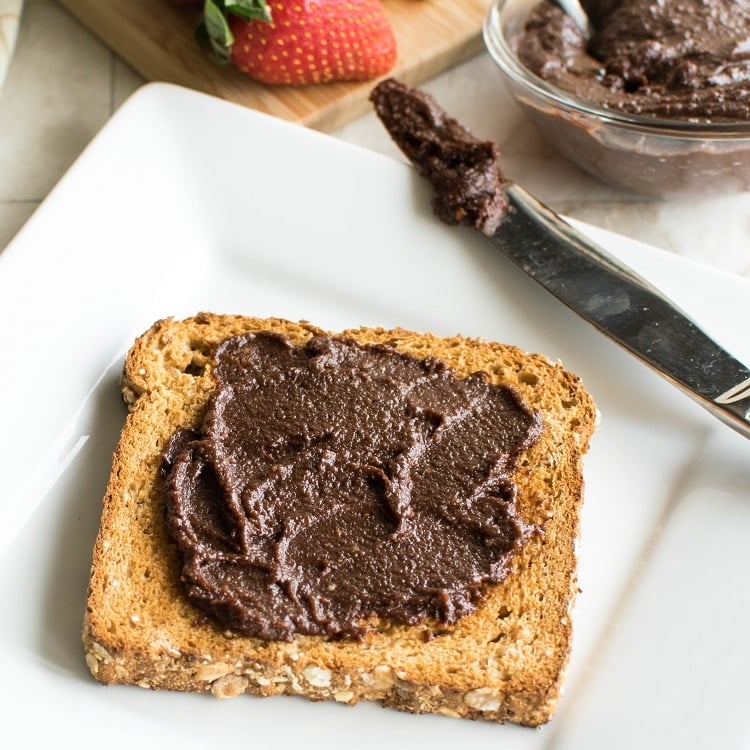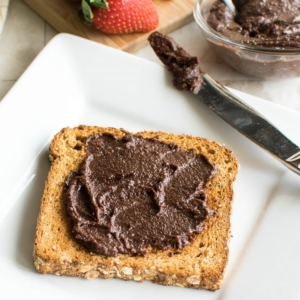 Print Recipe
Vegan Nutella
This smooth chocolaty Vegan Nutella is absolutely a delightful snack dessert. With only 8 ingredients this kid friendly treat is absolutely amazing. Its easy to blend along with being a satisfying indulgent.
Ingredients
1

cup

raw hazelnuts

1

cup

dairy free mini chocolate chips

1

tsp

unsweetened cocoa powder

1

tsp

vanilla extract

1/2

cup

+ 2 tbsp dairy free milk

1/4

tsp

salt

1-3

tbsp

brown sugar

(as per taste)

1

tbsp

palm oil/extra virgin olive oil
Instructions
Warm up a nonstick pan and roast hazelnuts for about 2 minutes or until you start getting its aroma.

Place them on a kitchen towel and rub them off its skin out as much as possible (do not stress over it).

In a microwavable bowl, melt the chocolate chips in microwave. Start with 1 minute. Take it out and whip it. Microwave it again for another 30 minutes. If you whip it and its melted then stop here or else microwave again for 15-20 seconds. (Do not over do it or else it might burn).

Now, combine roasted and skinned hazelnuts, melted chocolate chips, cocoa power, vanilla, milk, salt and 1 tbsp brown sugar in a blender and blend it smooth. Open the lid and do a test taste. If the sweetness is enough then its ready to be served or else add another 1-2 tbsp brown sugar as per your taste and blend it absolutely smooth.

Spoon it out, stir in palm oil/extra virgin olive oil and serve with fruits, bread sticks or as spread on toast.
Notes
This recipe makes 1 ½ cups Nutella and serving size is 2 tbsp person.
Make sure to use high speed blender to get the smooth texture of this Nutella or else if left chunky it will taste a lot nutty.
You may store this Nutella in an air tight container at room temperature for about 3 weeks.
I have mentioned the nutritional value with oil in the recipe.
The nutritional value without oil would be: calories-186 fat-13 carb-14 protein-3.
Nutrition
Calories:
206
kcal
|
Carbohydrates:
14
g
|
Protein:
3
g
|
Fat:
15
g
|
Saturated Fat:
1
g
|
Sodium:
49
mg
|
Fiber:
1
g
|
Sugar:
1
g