These spicy Korean Gochujang Noodles are a comforting weeknight meal which comes together under 30 minutes. Its easy to make this flavorful dinner using simple ingredients.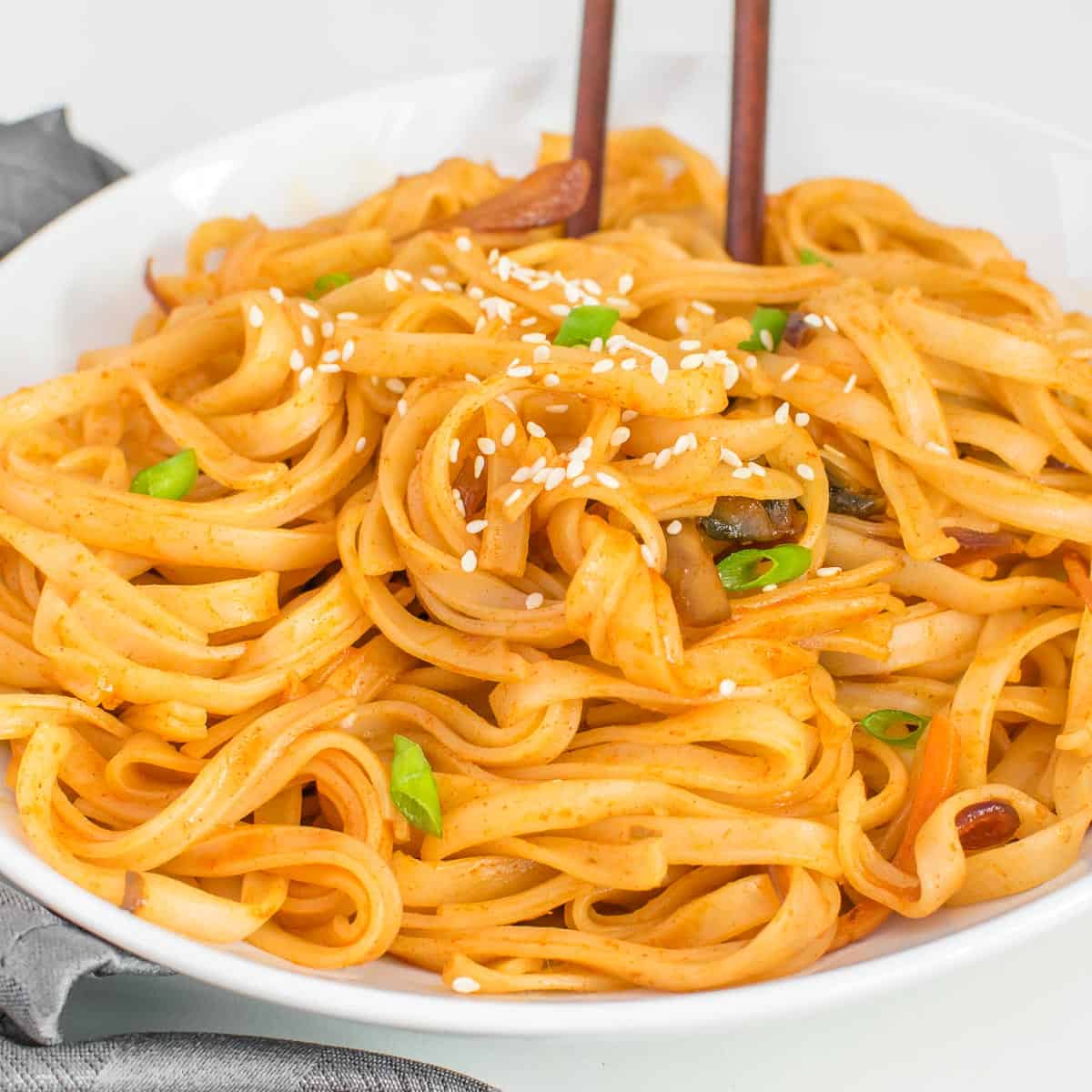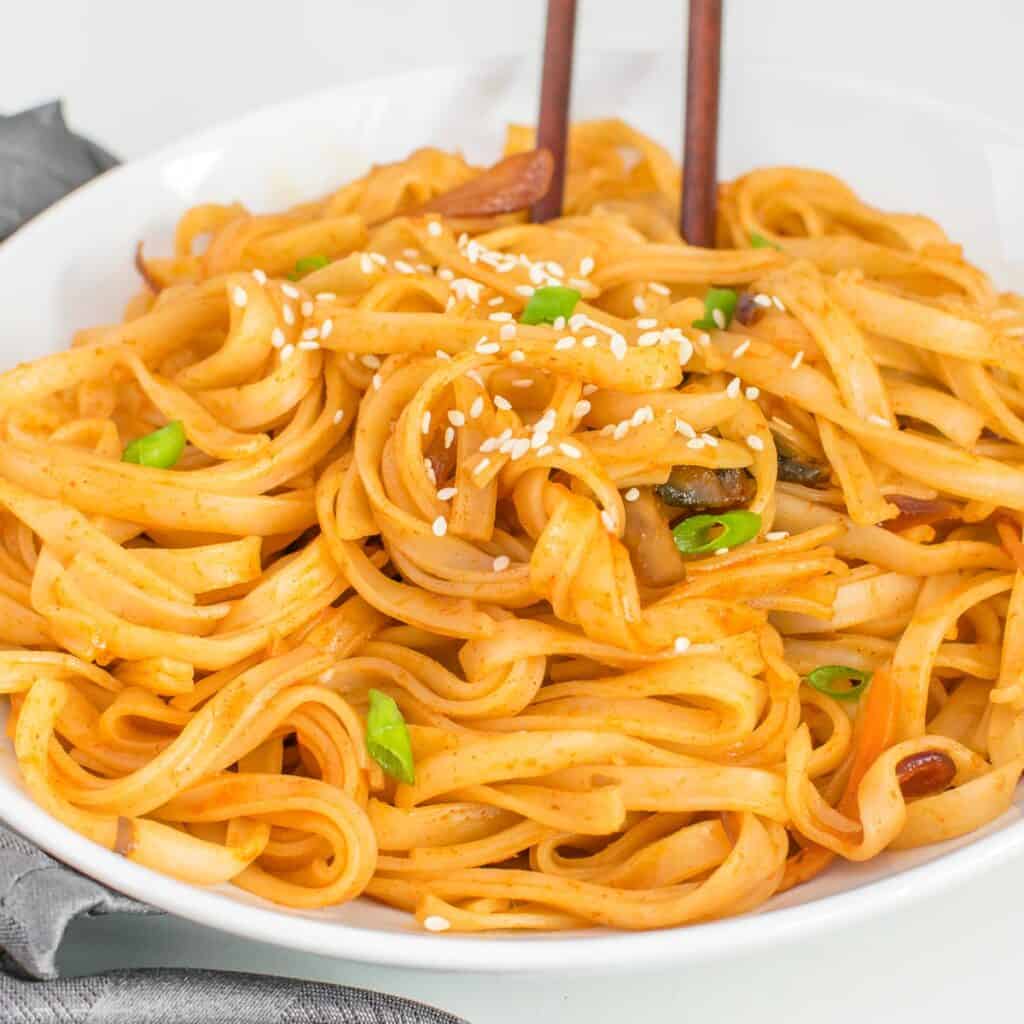 I tried gochujang style noodles for the first time and I absolutely loved it. The Korean chili paste had so must taste and a perfect effect on my noodles that I finished it up all at once.
You can be creative with this recipe by adding some tofu which definitely boosts some protein in here. Adding more variety of vegetables especially broccoli could also be a great idea if you love vegetables in your food.
I made a very basic and easy gochujang sauce noodles but I love the fact that we can make quite a variation to this recipe depending on our mood, time and requirements.
Overall, we are fond of Asian cuisine and some of my favorites are mushroom fried rice, schezwan fried rice, vegan dumplings, Asian tofu curry and so on.
Hence, this vegan gochujang noodles have become my favorite weeknight comfort meal.
Gochujang sauce for noodles was very easy to prepare, in fact I simply made like kind of one pot dish and it worked even better for me.
What is gochujang?
It's a spicy paste made with the combination of red chilies, fermented soybeans, rice and salt. Its dark maroon in color more like crimson and its mostly used in Korean cooking.
Where can I find gochujang paste?
Its easily available in local grocery store under Asian food aisle. I have provided links in my recipe card at the bottom of this post so you may find it online. Its also easy to find in any Asian market near you.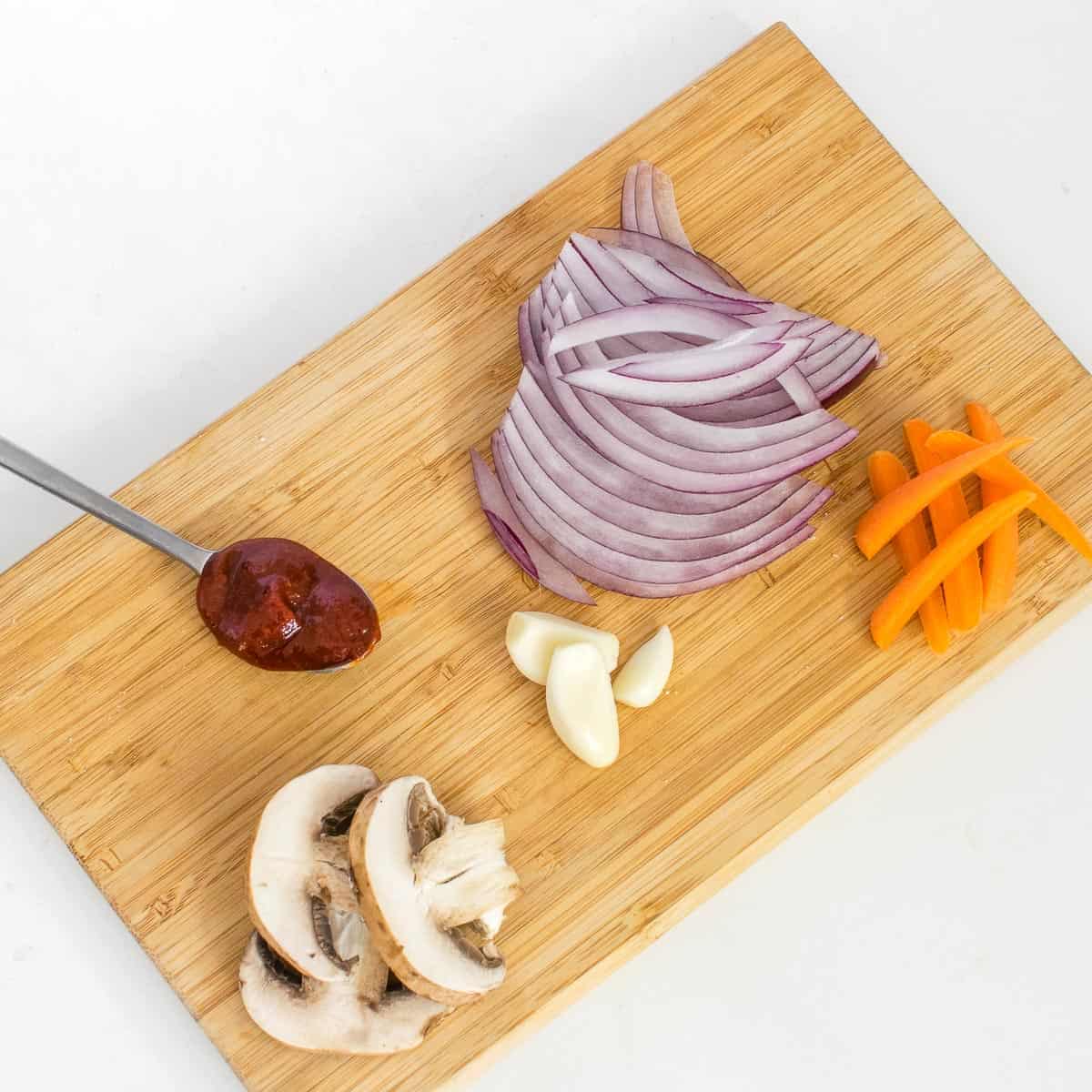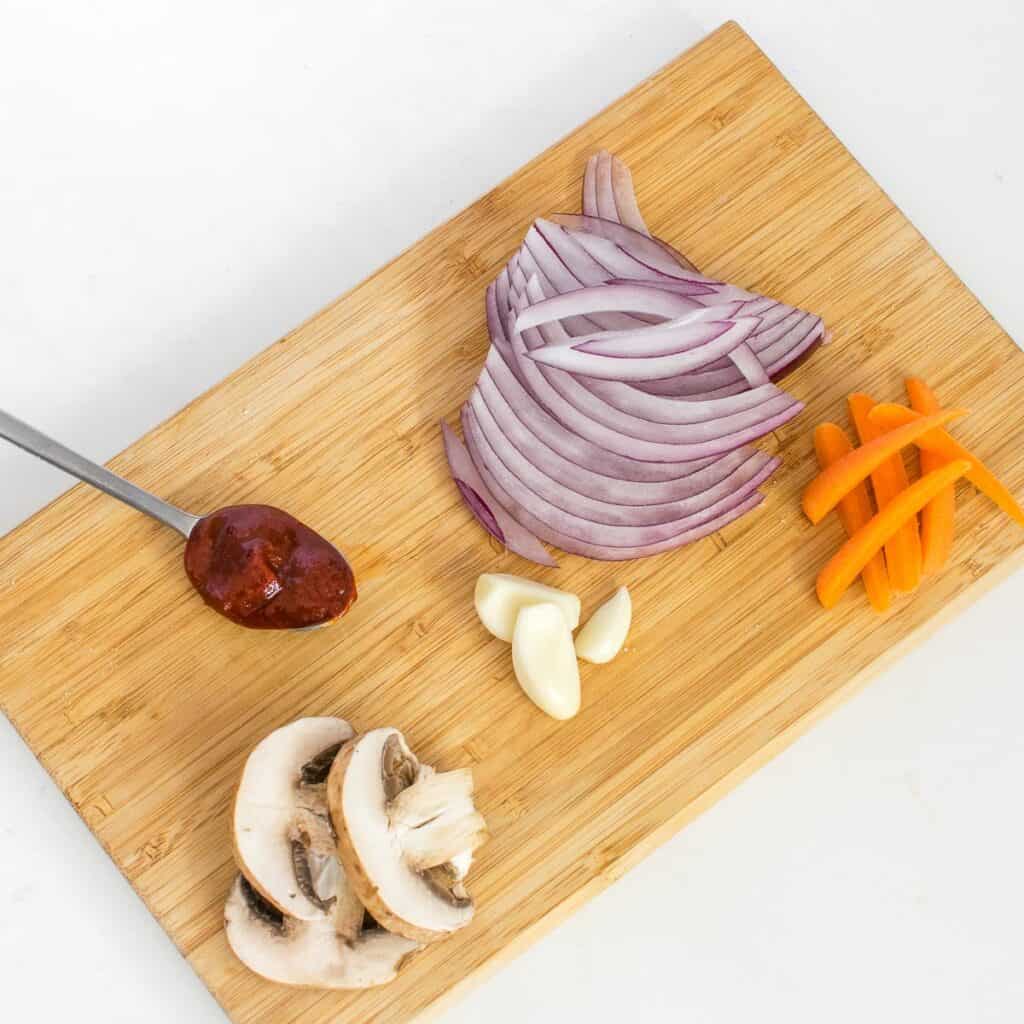 Ingredients for saucy gochujang noodles
Rice noodles/ thin spaghetti
Sesame oil
garlic
Onion
Mushrooms
Carrots
Gochujang paste
Soy sauce
Vinegar
Maple syrup
Green onions (to garnish)
Sesame seeds (to garnish)
I used only few handful ingredients for this delicious and yummy gochujang stir fry noodles.
Ingredients notes:
Rice noodles – I used regular or traditional pad Thai rice noodles that was wide but you may use any of your choice. In fact, you may use thin spaghetti as well for this recipe.
Sesame oil – this brings a nice Asian flavor but any oil of your choice works here.
Mushrooms – I prefer baby Bella mushrooms because I love them so much but white mushrooms or shitake mushroom would also work here.
Gochujang paste – this is a must and the main ingredient of this Korean noodles recipe.
Soy sauce – this forms a salty base to and a darker color for this recipe. Hoisin sauce also works in this recipe if desired.
Vinegar – I used regular white vinegar because its so handy. You may opt for rice vinegar as well here.
Maple syrup – this brings a subtle sweet caramelized flavor but brown sugar also works here.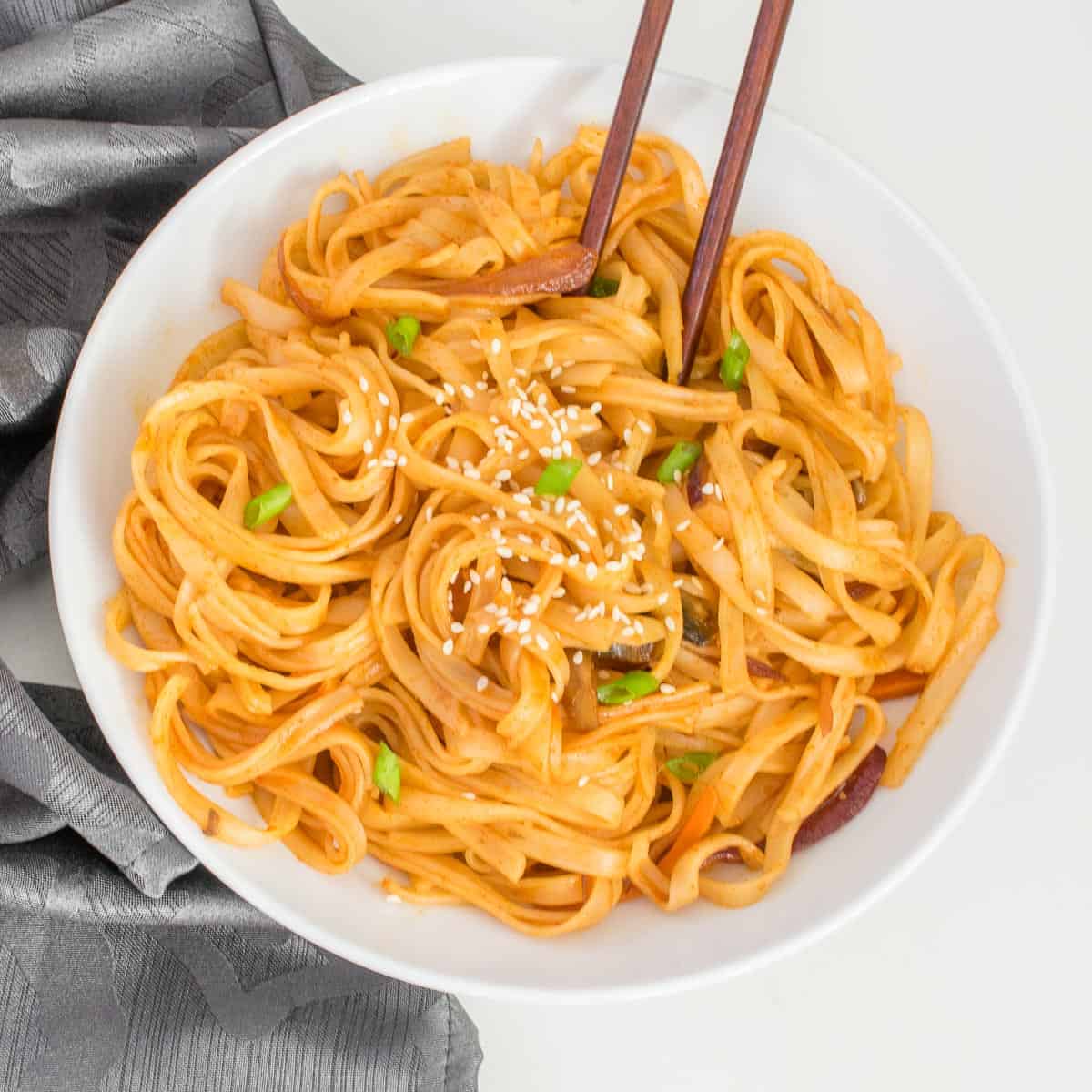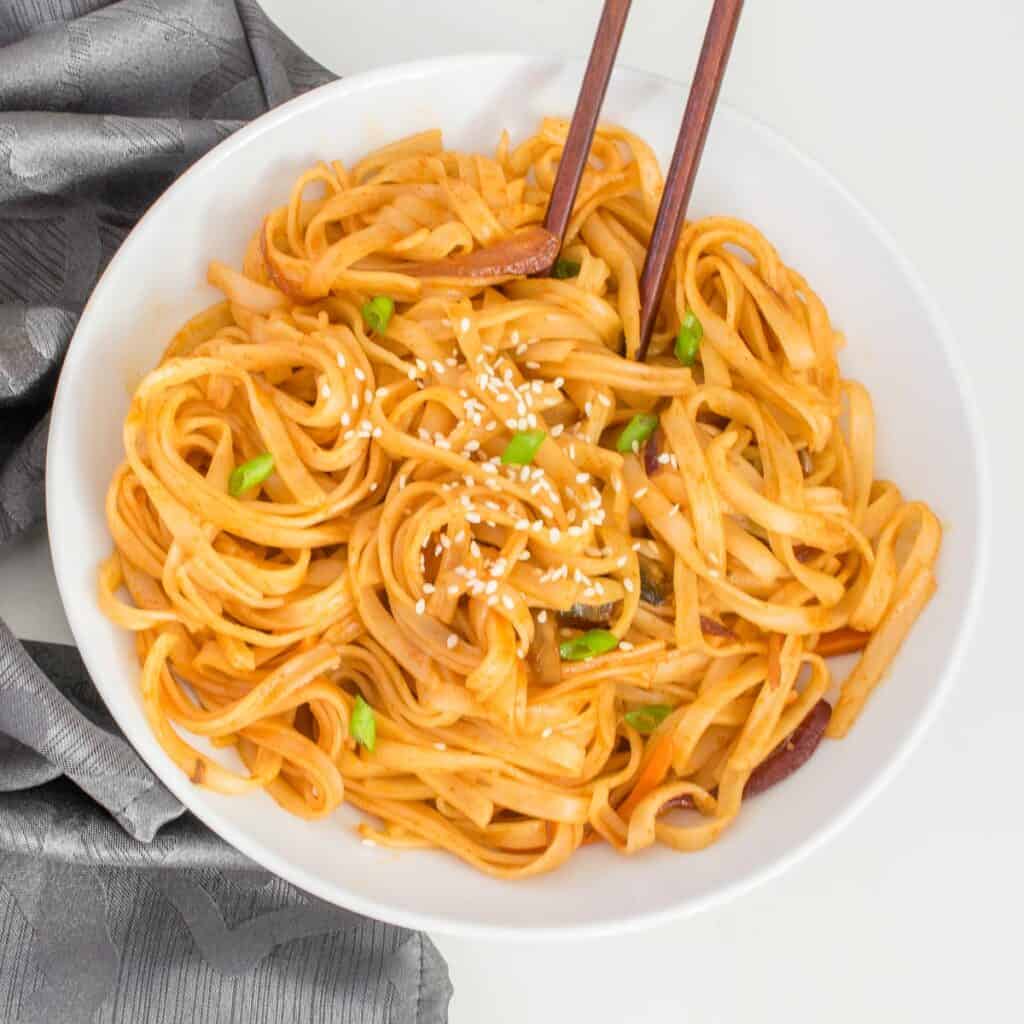 For detailed measurement of ingredients, please scroll down to the printable recipe card at the bottom of this post.
How to make Gochujang Noodles
Firstly, I boiled the noodles as per the package instructions and kept it aside.
Secondly, in a nonstick pan, I heated oil and sautéed minced garlic in it followed by onions in it until golden in color.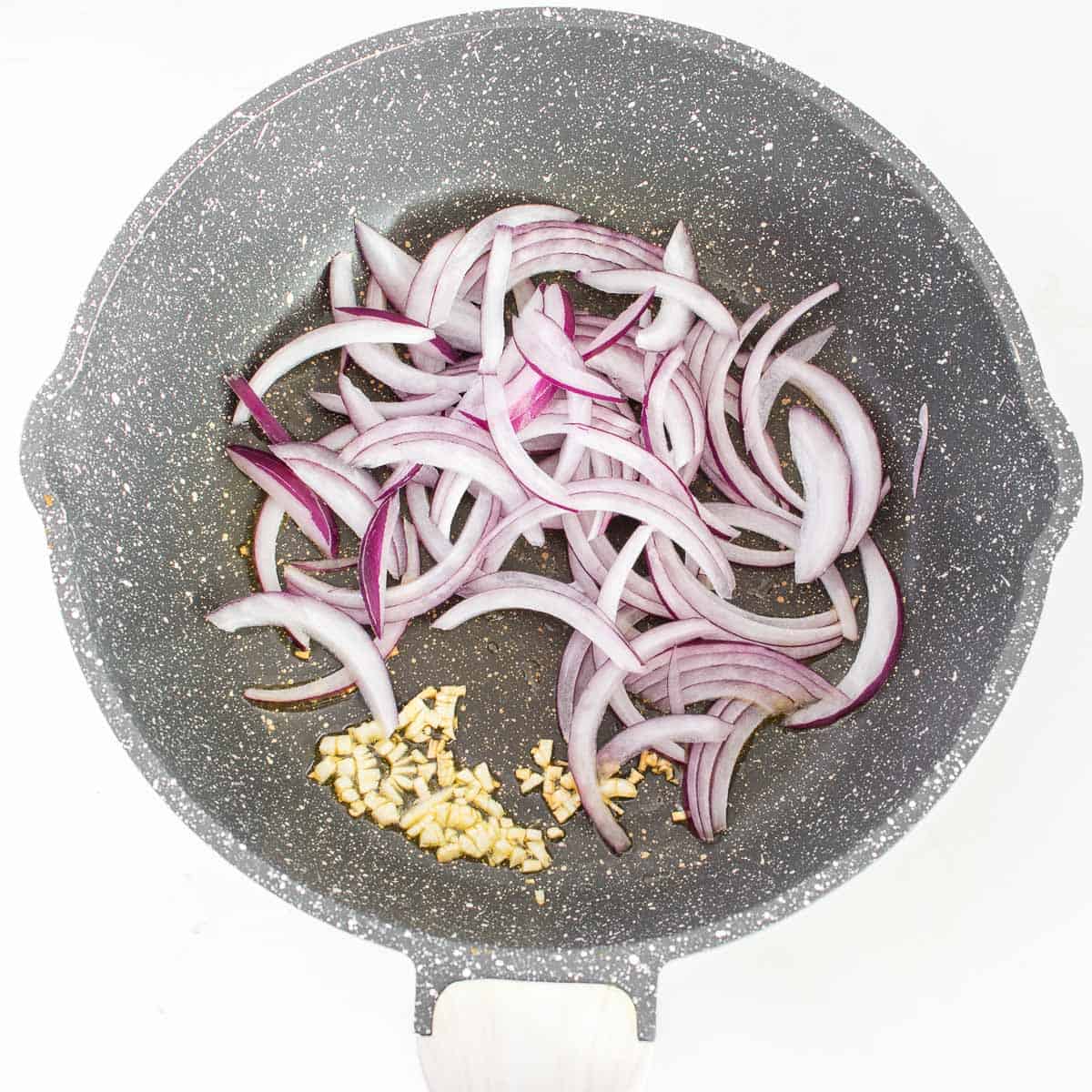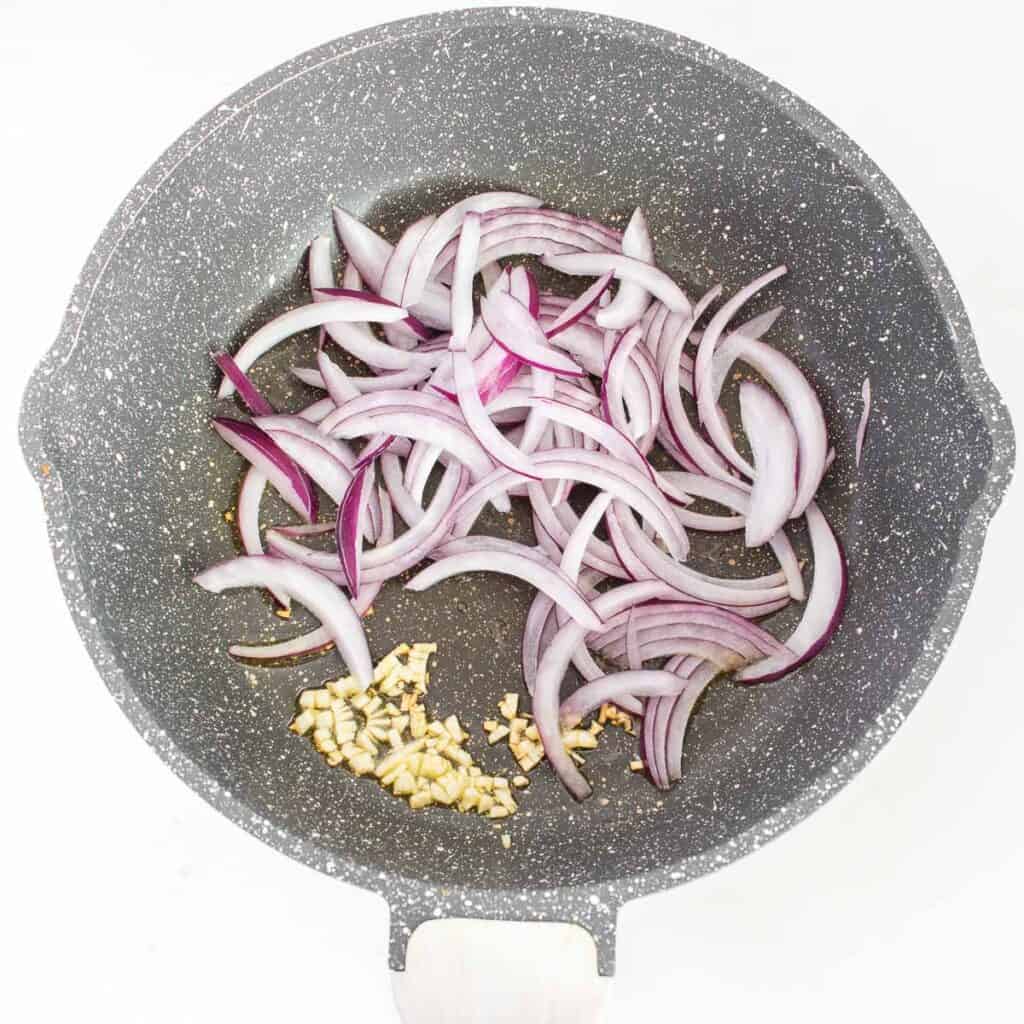 Next, I tossed in mushrooms and mixed it well. I let it cook at medium flame until brown in color and slightly dried.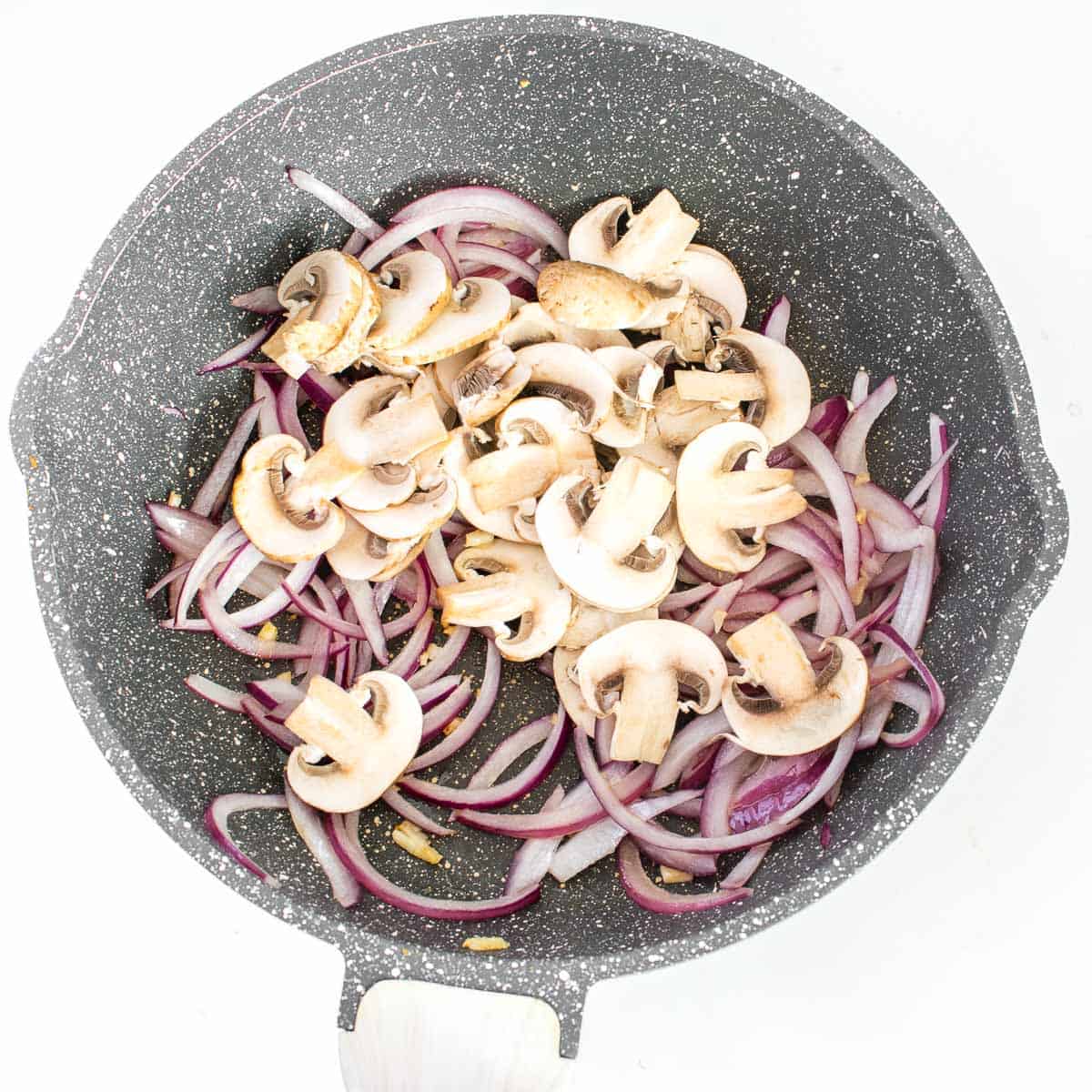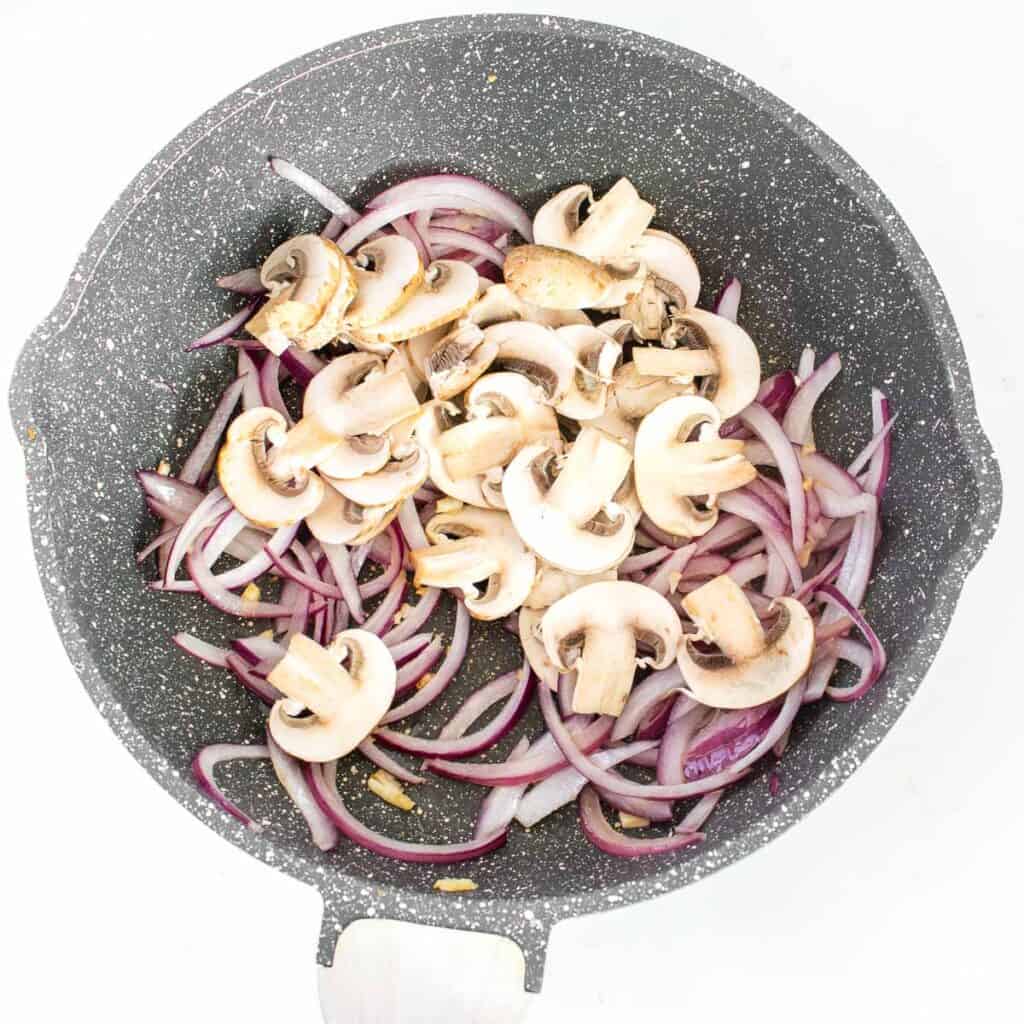 Thereafter I added sliced carrots to it and mixed well.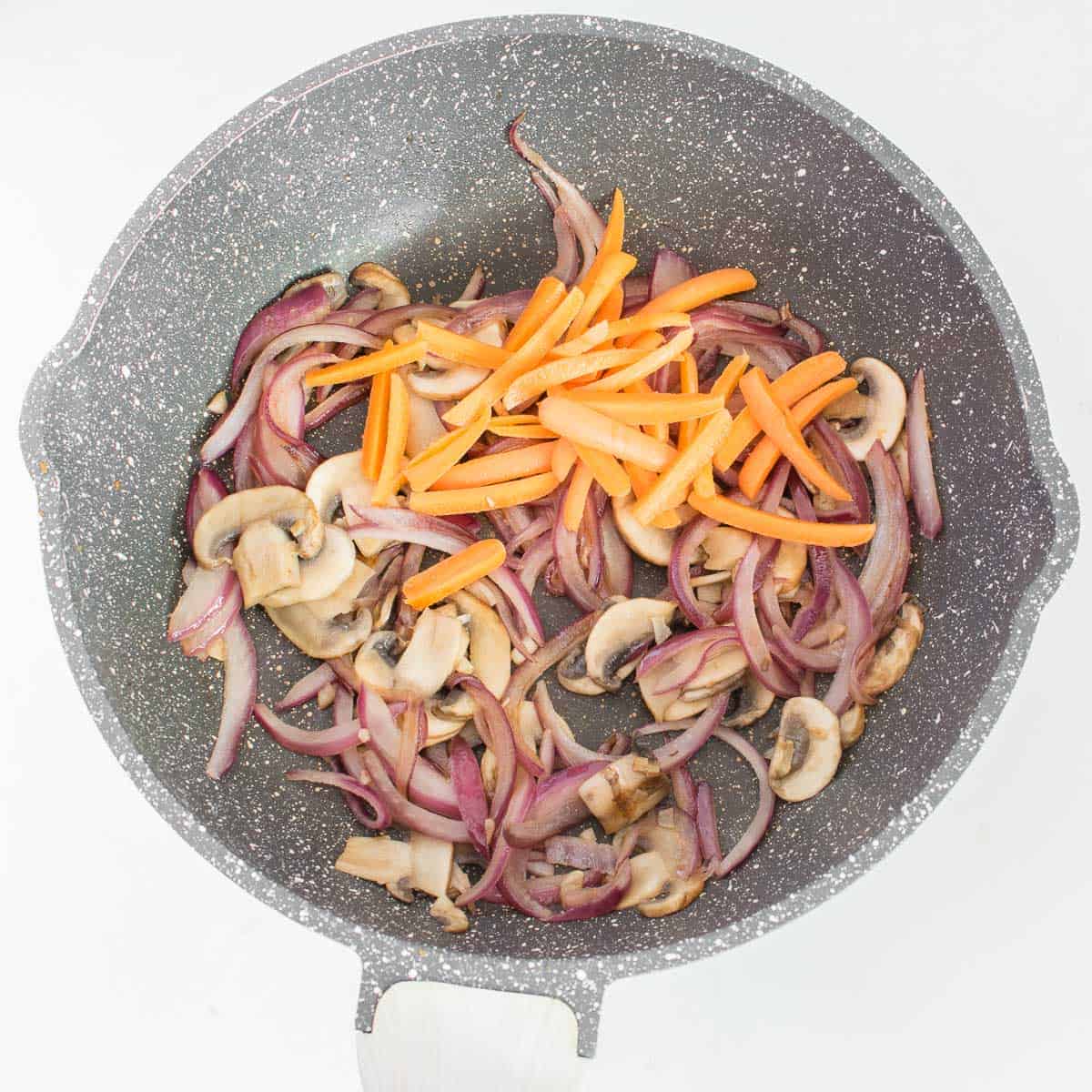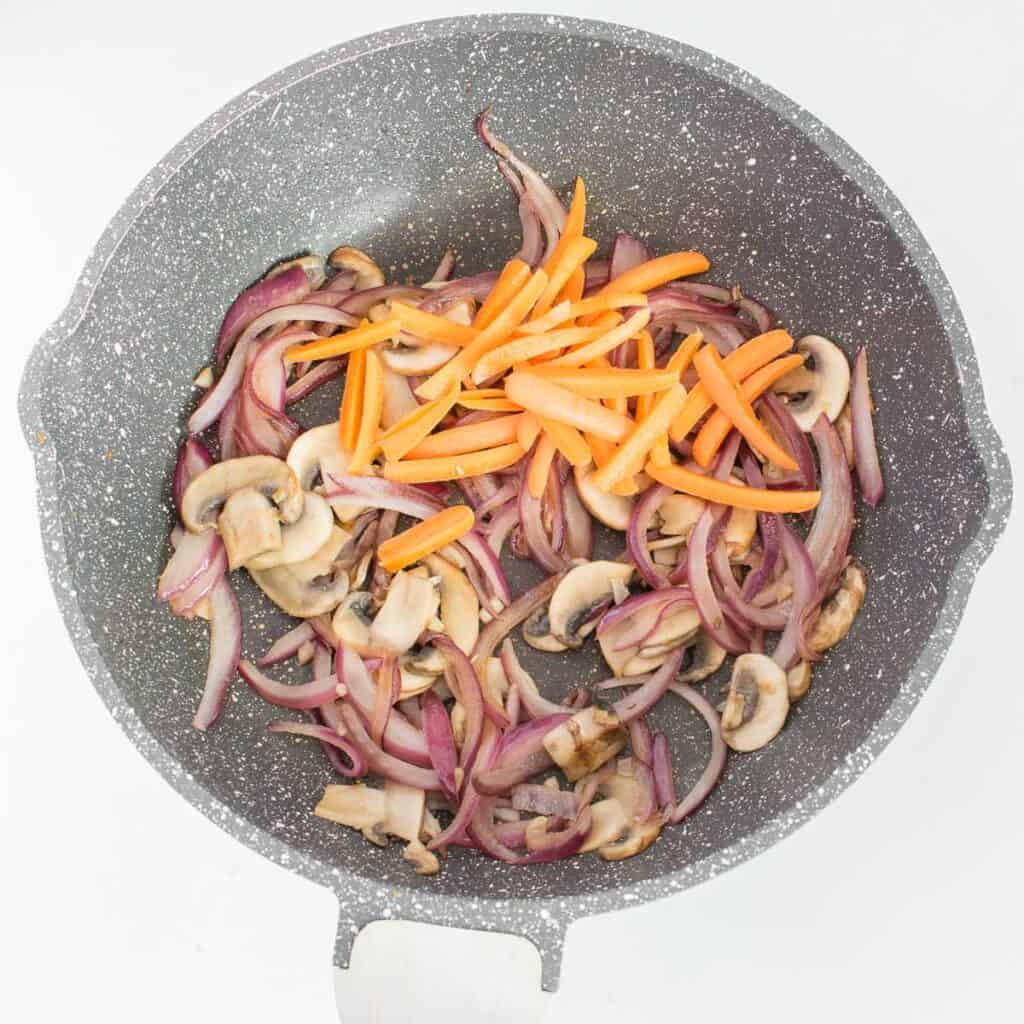 Afterwards, I added gochujang paste, soy sauce, vinegar and maple syrup and stirred it well.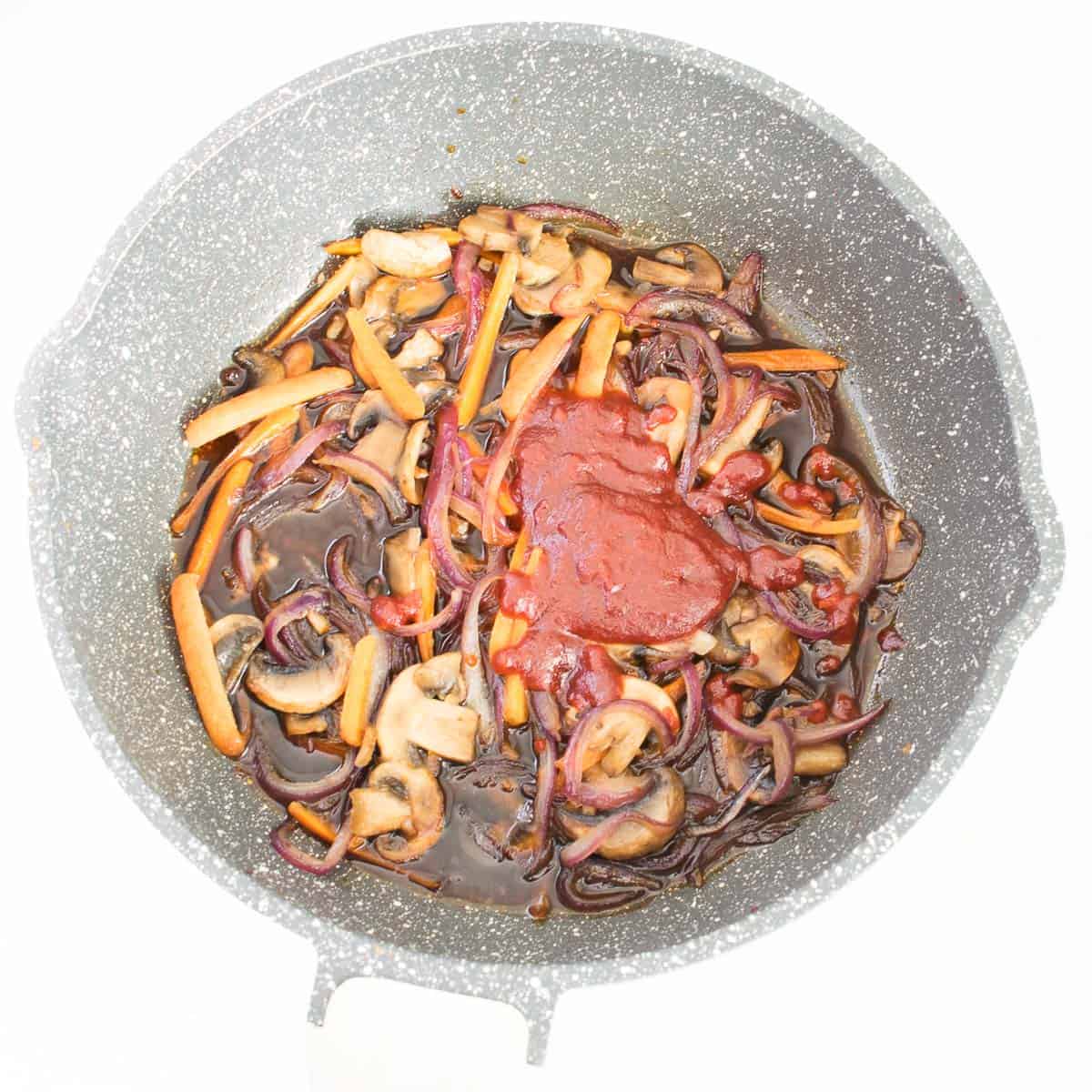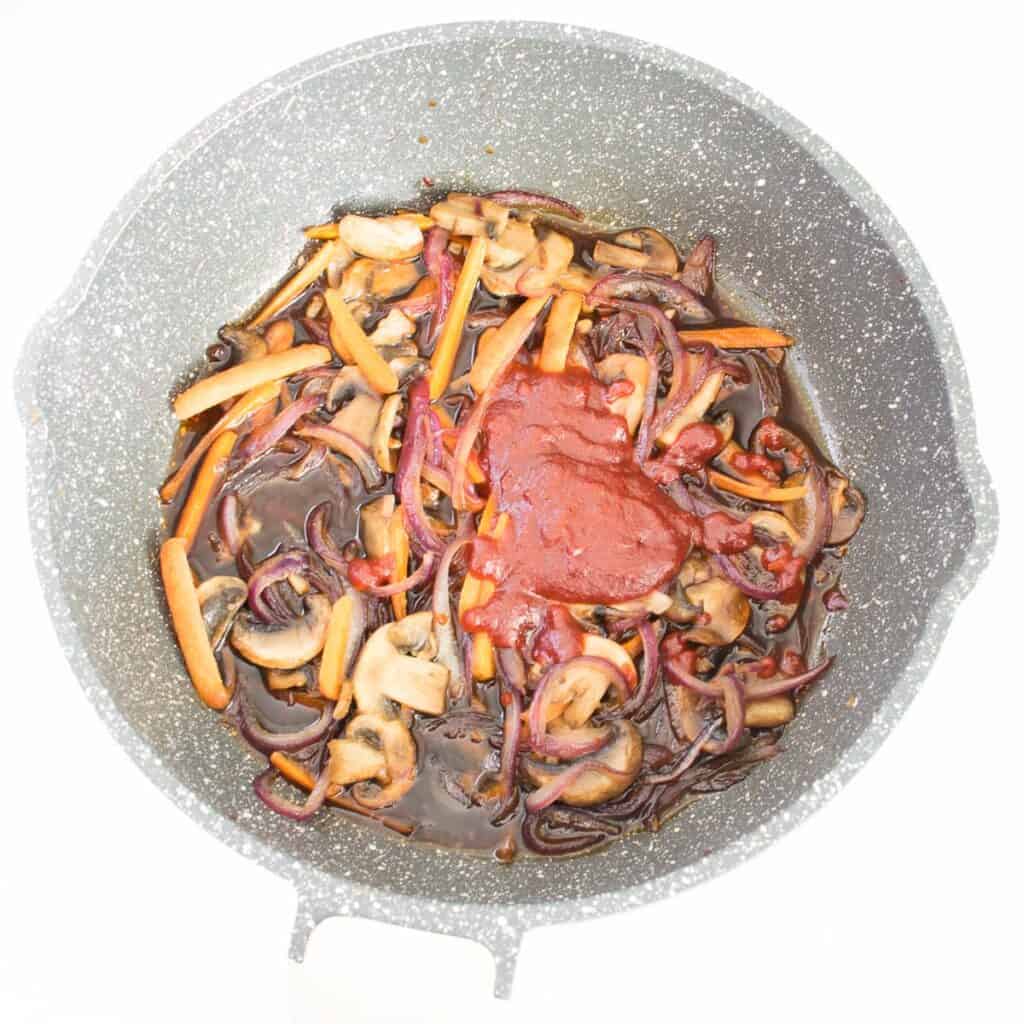 Lastly, I folded in cooked noodles and tossed it well. Then, I let it cook for 3-4 minutes and tossed it again.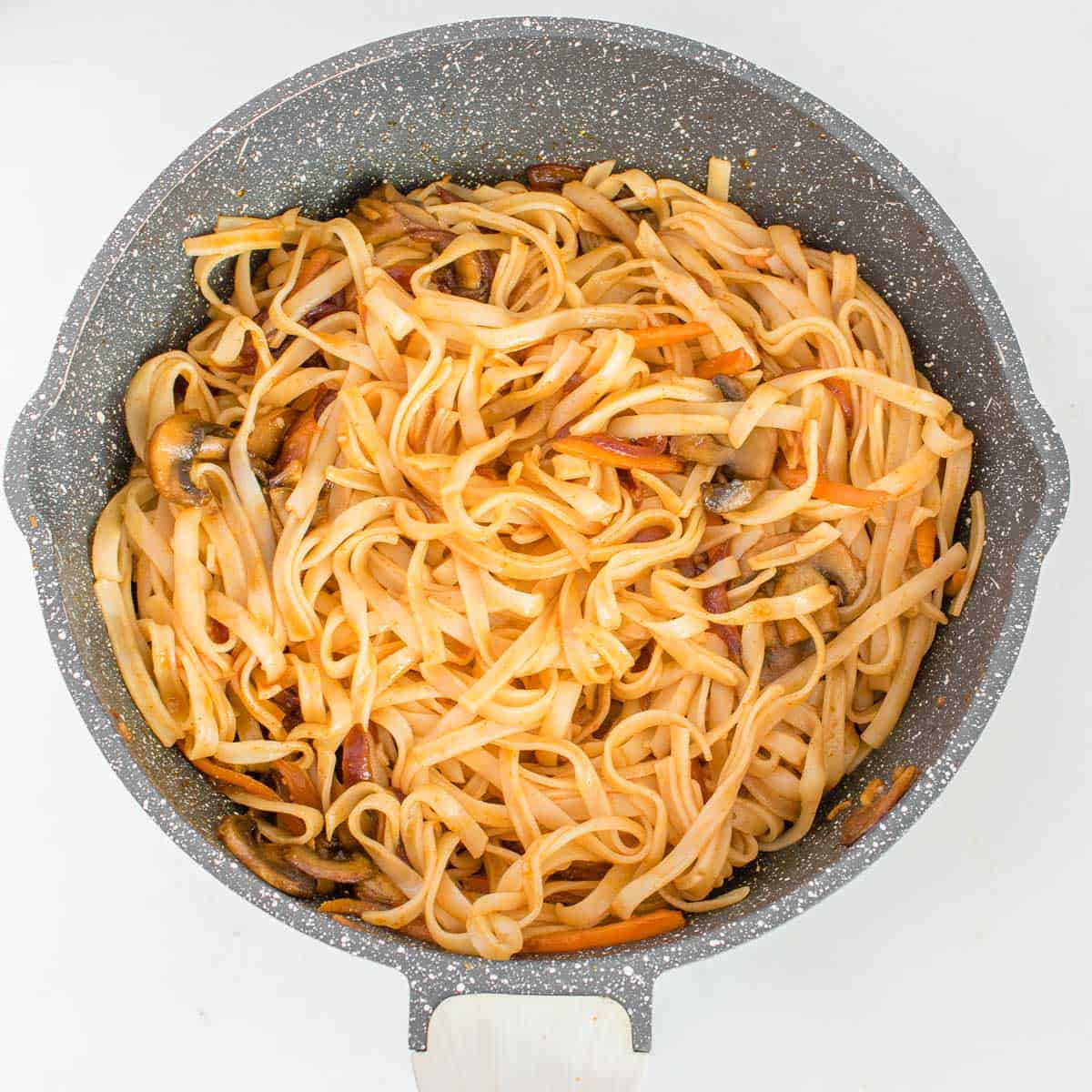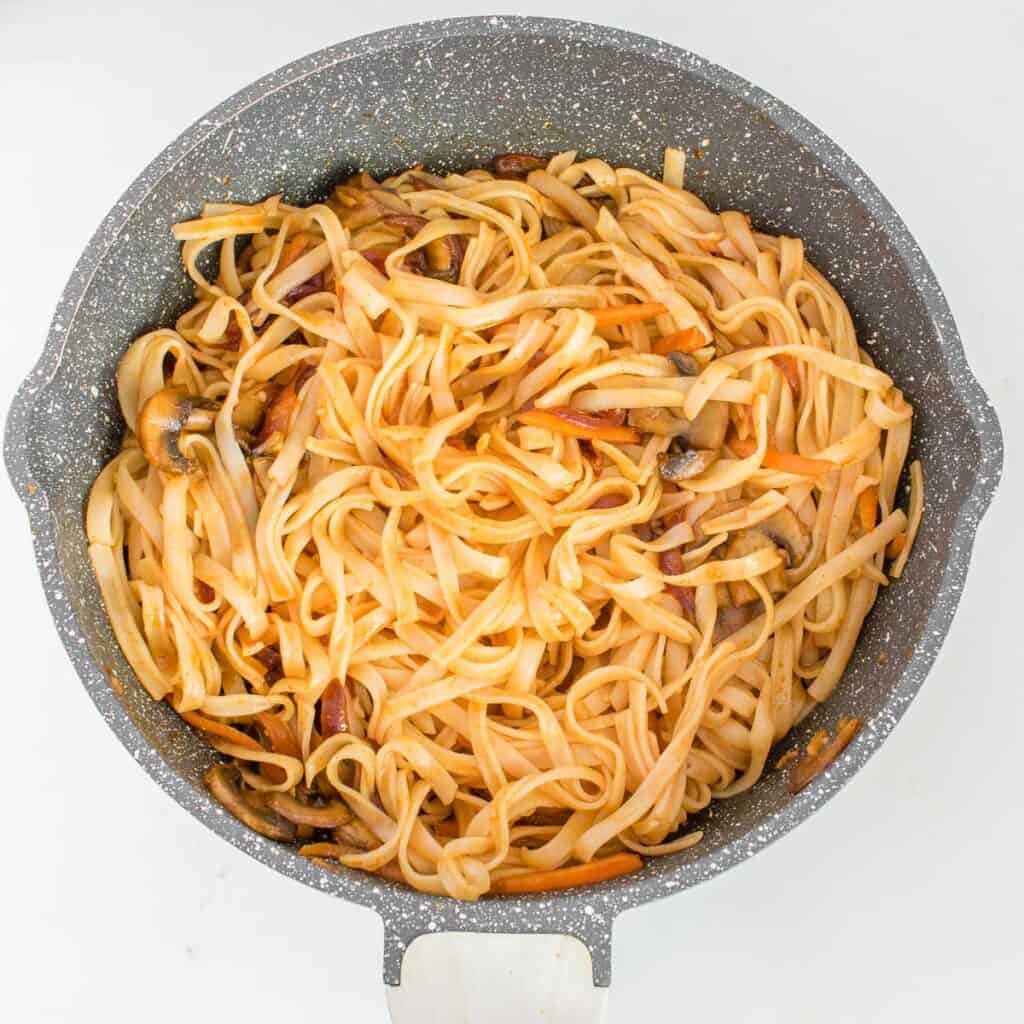 Finally, I garnished it with green onions and sesame seeds and enjoyed it warm.
Totally loved every bit of it. I tested it on my fussy husband and he totally loved it and wanted a second helping. I was so happy and had to share this saucy gochujang noodles with you all.
Expert tips:
Its best to coordinate while boiling your noodles and cooking its base for the best results.
While cooking mushrooms, make sure to let it cook for 2-3minutes at medium – high flame. You must notice mushrooms releasing the juice and then drying up but at the same they should not loose their form and texture. Hence, timing is slightly important for a perfect recipe.
Gochujang Noodles FAQs
How long does it last?
This taste best when served immediately especially if its rice noodles. Rice noodles if kept long in the refrigerator hardens a bit. However, the leftovers from this recipe can refrigerated in an air tight container to be used the next day for lunch.
What can I serve it with?
We love it as is as one dish but you may serve it with kimchi or any stir-fried vegetables. Some of the stir fries that I like to pair are tempeh stir fry and eggplant stir fry.
How does it taste like?
This is a spicy and saucy noodle with a subtle sweetness and a prominent salty taste.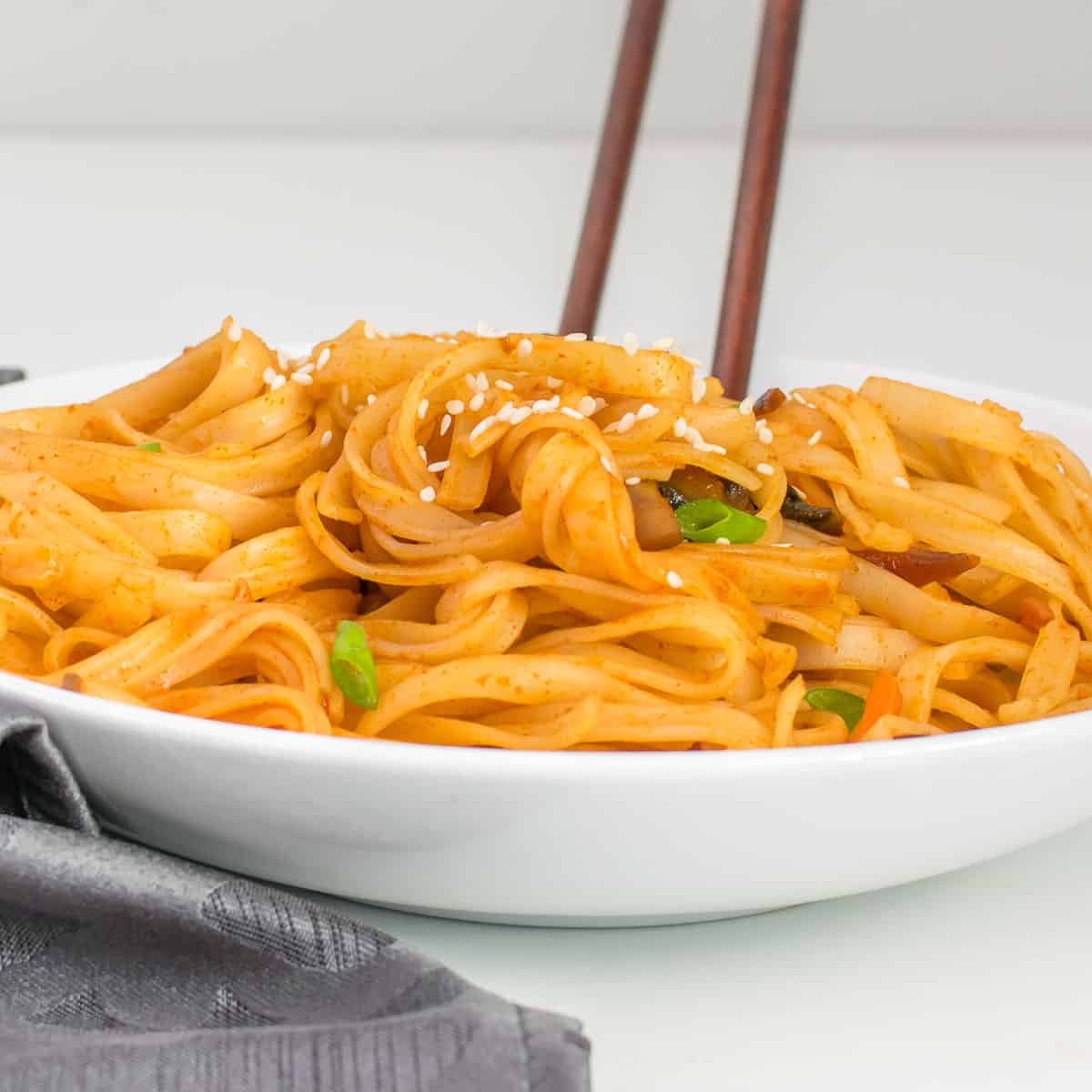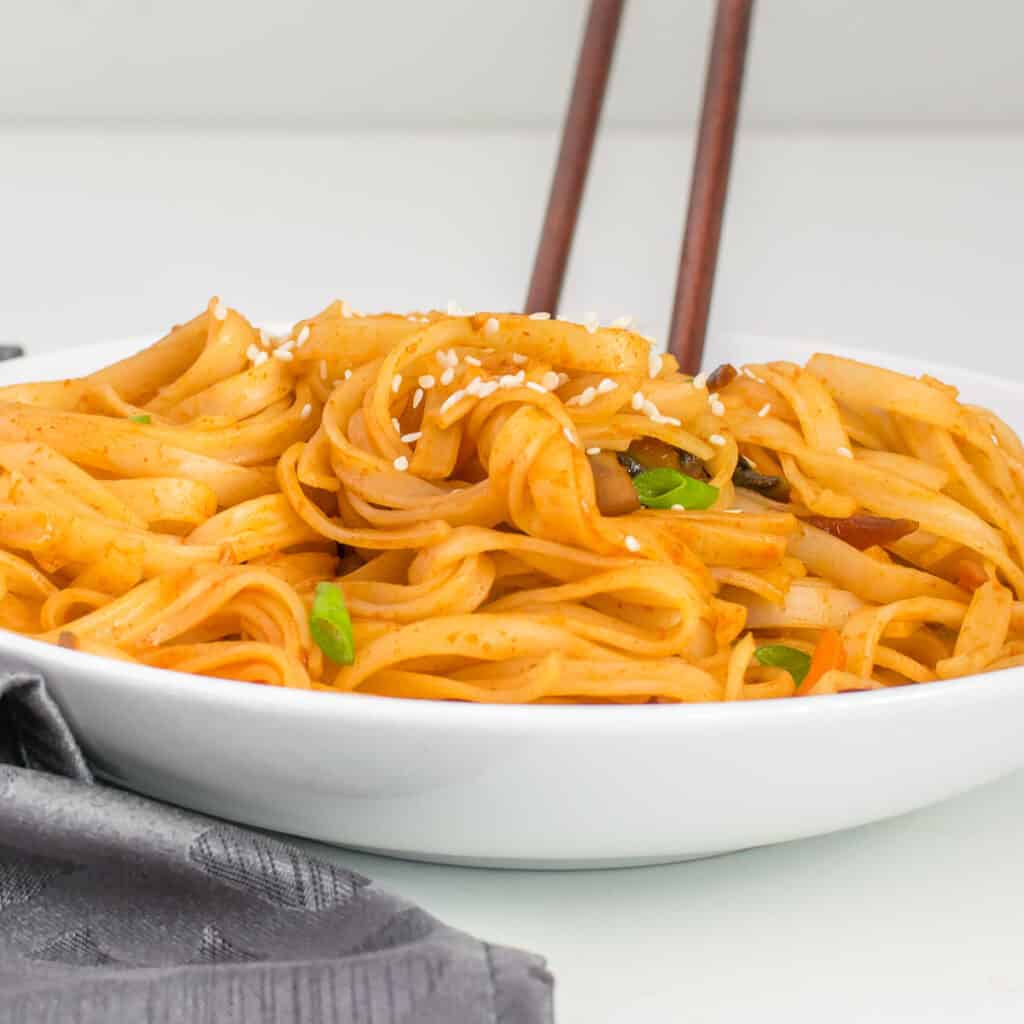 My other noodles recipe that you might like:
Teriyaki Noodles
Almond Butter Vegetable Stir Fry Noodles
Sesame Peanut Kelp Noodle Salad
This post may contain affiliate links which means that if you click on them and also make a purchase, I will get a small commission. Moreover, I share only those products which I use personally and love.
I hope you enjoy this recipe as much as we did. I am very excited to hear back from you.
Where to find me?
Follow me on Facebook or on Twitter. You may tag @kiipfit on Instagram with your recipe remake images because I would love to see what you cooked.
Did you make it?
If you get a chance to make this recipe then please leave your feedback in the comments below along with a 5-star rating.
In addition, you may checkout my cookbook for everyday comfort vegan recipes.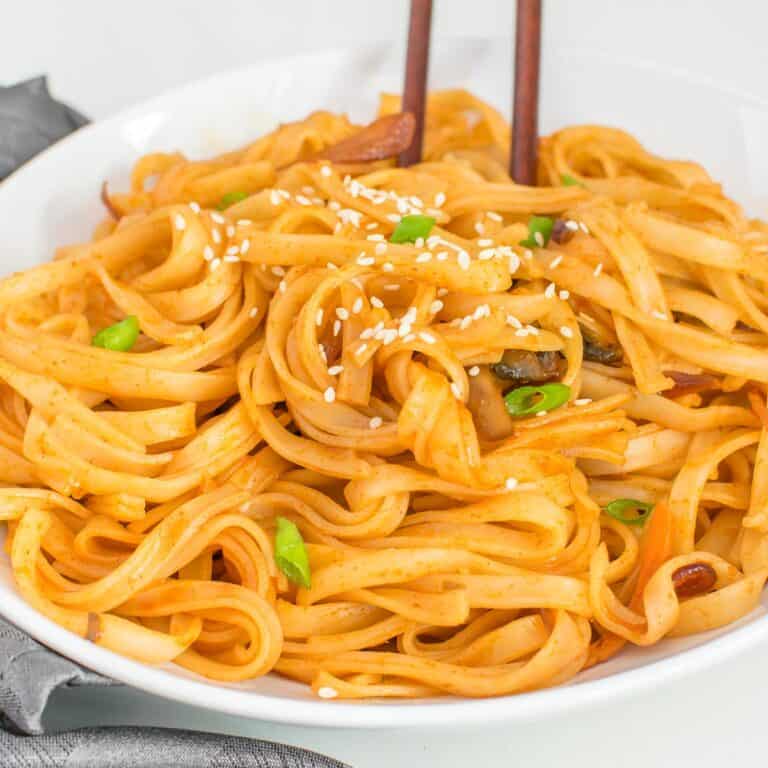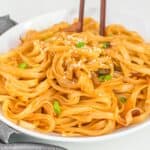 Print Recipe
Gochujang Noodles
These spicy Korean Gochujang Noodles are a comforting weeknight meal which comes together under 30 minutes. Its easy to make this flavorful dinner using simple ingredients.
Instructions
Cook rice noodles as per the package instructions and keep it aside.

In a nonstick pan/wok heat oil and sauté garlic until golden in color.

Add onions and sauté until translucent. Toss in mushrooms and cook until mushrooms are brown and cooked well.

Add carrots and mix well for about 1 minute.

Add soy sauce, gochujang paste, maple syrup and vinegar to it and stir well. Cook at medium flame for 2 minutes stirring continuously.

Fold in cooked noodles. Cook at low flame for 2-3 minutes mixing with the help of tongs at intervals. Turn it off and garnish with chopped green onions and sesame seeds. Serve hot.
Notes
I used pad Thai rice noodles for this recipe. You may use thin spaghetti as well. Measure the noodles to 8 oz before cooking.
I used regular pad Thai rice noodles which was little wide for this recipe. 
This recipe tastes best when served immediately. However, leftovers can be refrigerated to be used the next day. Warm it well before serving.  
Nutrition
Calories:
274
kcal
|
Carbohydrates:
54
g
|
Protein:
5
g
|
Fat:
4
g
|
Saturated Fat:
1
g
|
Polyunsaturated Fat:
2
g
|
Monounsaturated Fat:
2
g
|
Sodium:
915
mg
|
Potassium:
93
mg
|
Fiber:
1
g
|
Sugar:
4
g
|
Vitamin A:
16
IU
|
Vitamin C:
1
mg
|
Calcium:
30
mg
|
Iron:
1
mg