This easy Teriyaki Noodles is a comforting weeknight dinner that comes together in less than 30 minutes. Its deliciously cooked in homemade teriyaki sauce and is a family favorite.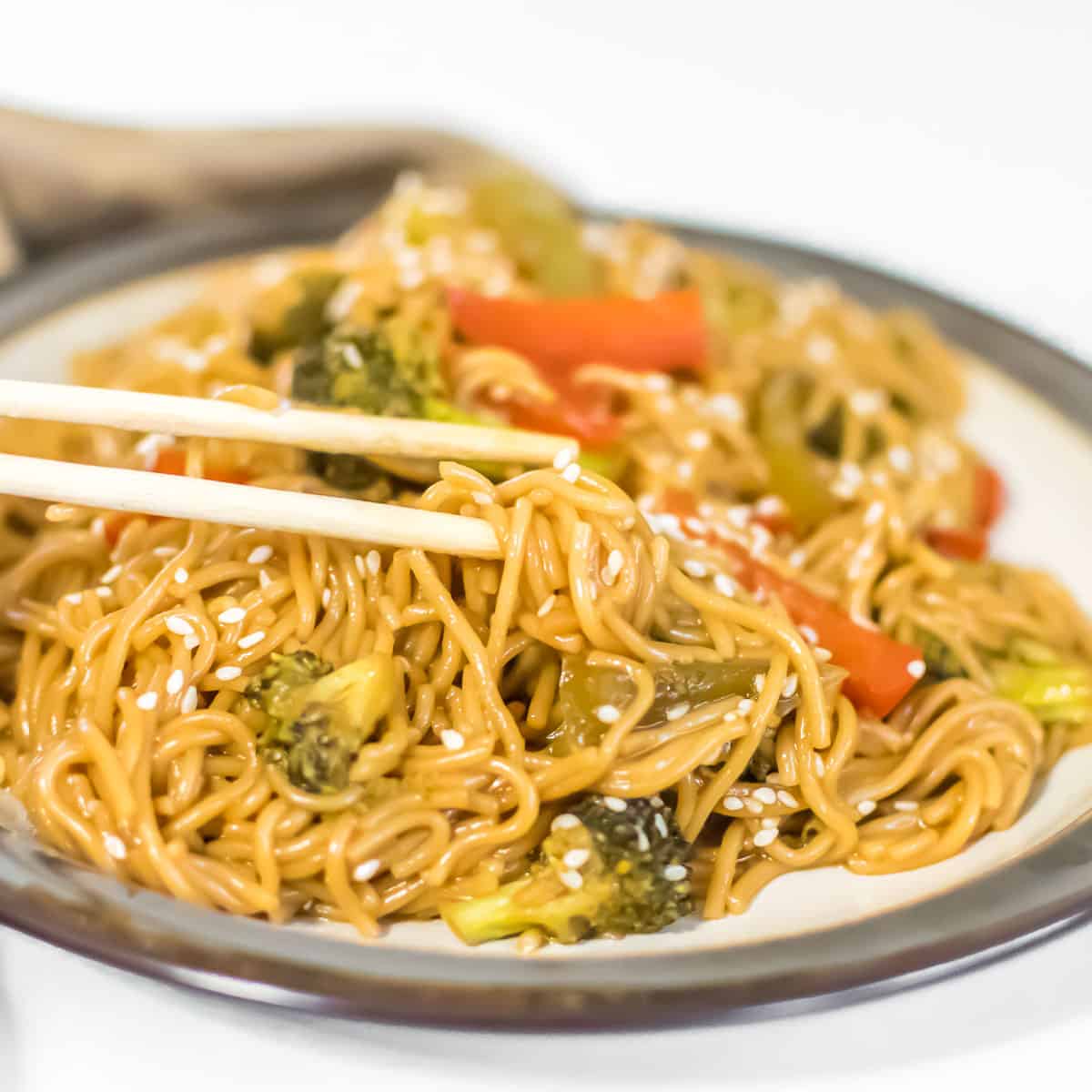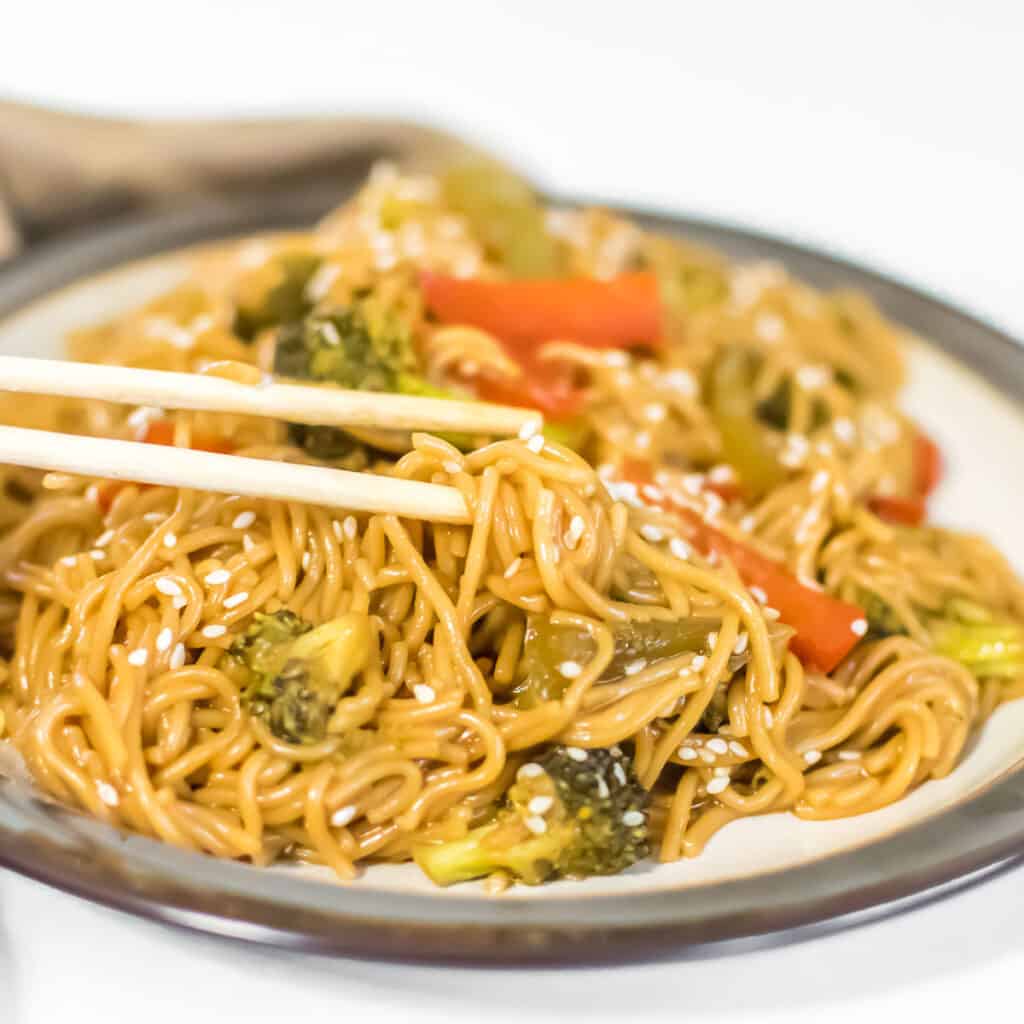 I adapted this recipe from my very own teriyaki tofu power bowl. Its my favorite and super healthy too.
However, noodles are always so comforting. So, when I am craving for some traditional comfort food, I quickly fix this teriyaki ramen noodles.
It's a hit and the most wanted dish recently in my house, especially when I top it with hot sauce it becomes a complete sweet, salty and spicy flavored noodles packed with lots of veggies.
You may also like to try my almond butter stir fry noodles which is a simple yet easy recipe to try when you are looking for a variation. My easy gochujang noodles are super comforting too.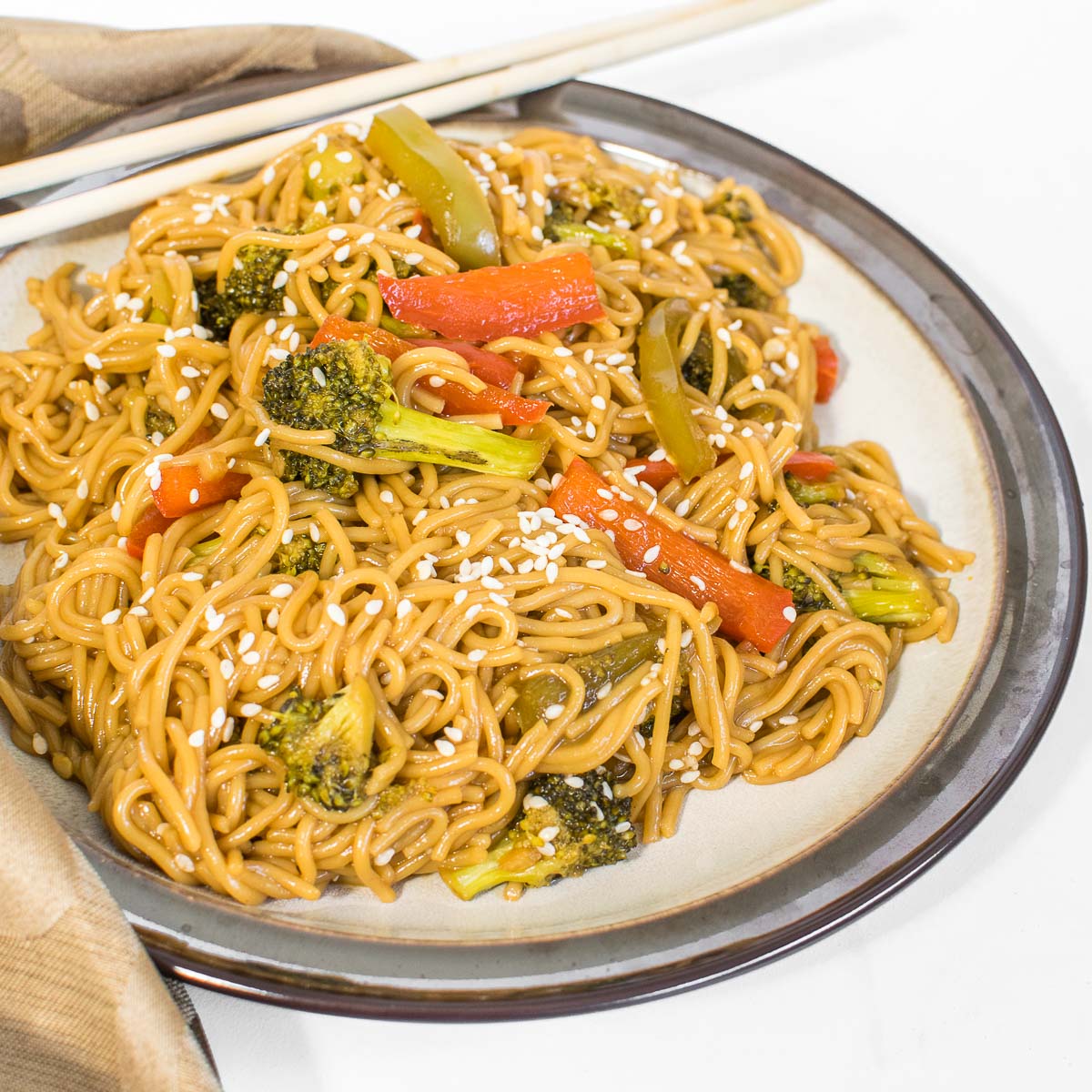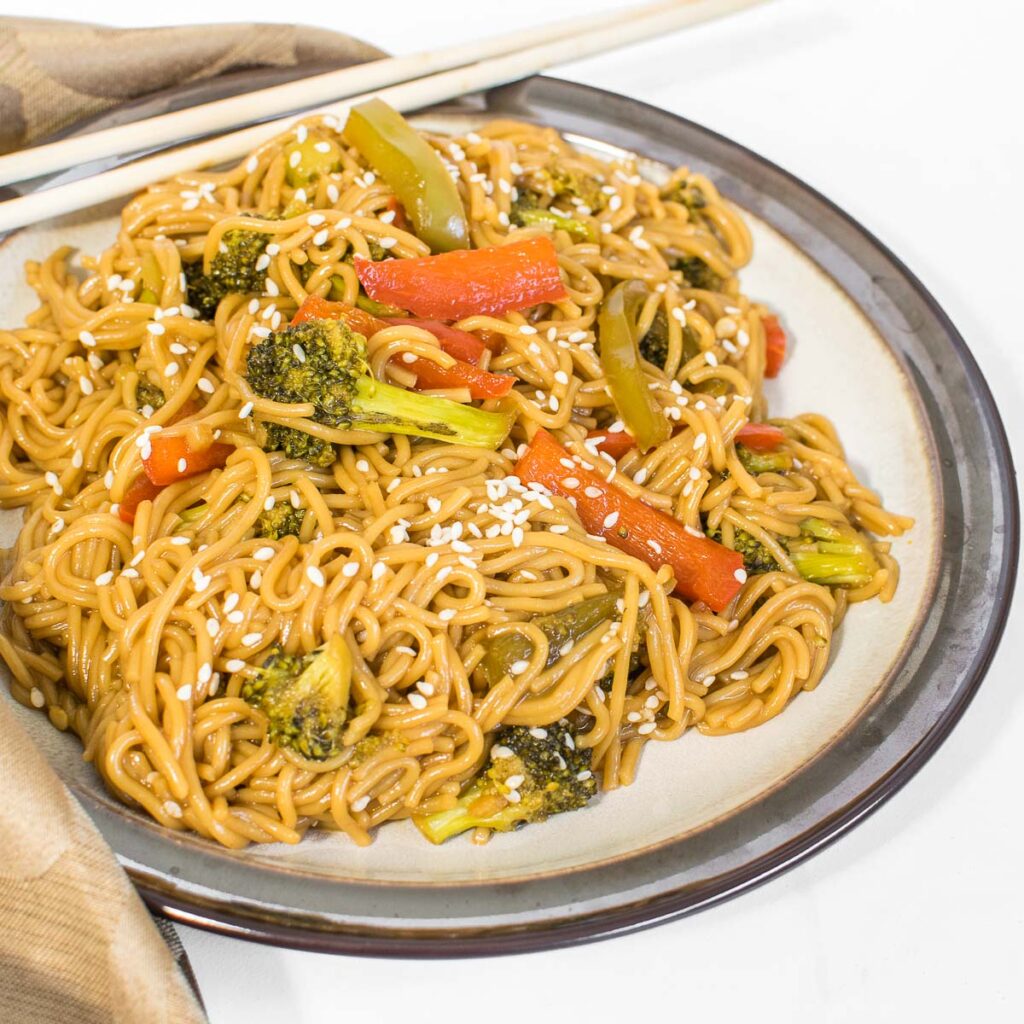 Usually, I like to simply stir fry my noodles and add some vegan tofu if I am in a hurry. But when I came up with this recipe, I was surprised at how easy and quick it can be. This time I decided to go with veggies only as I wanted to increase my fiber intake.
Hence, today I am sharing this awesome teriyaki noodles recipe with you.
Ingredients for vegan teriyaki noodles
Homemade teriyaki sauce
Sesame oil
Broccoli
Colored bell peppers
Vegetable broth
Ramen noodles
Salt
Sesame seeds
It's a simple recipe with simple ingredients which usually is stocked in our kitchen pantries.
Ingredients notes:
Teriyaki sauce – I love making this sauce at home because it gives me lot of flexibility.
Sesame oil – any oil works here but sesame oil definitely makes it more flavorful.
Broccoli – this adds a nice crunch along with nutrition to this teriyaki noodle
Bell peppers – any colored bell peppers of your choice work. The more colorful the more beautiful and attractive this dish becomes.
Noodles – I used ramen noodles that's gluten free and made from brown rice and millets. You can use regular reman noodles and discard the seasonings as well.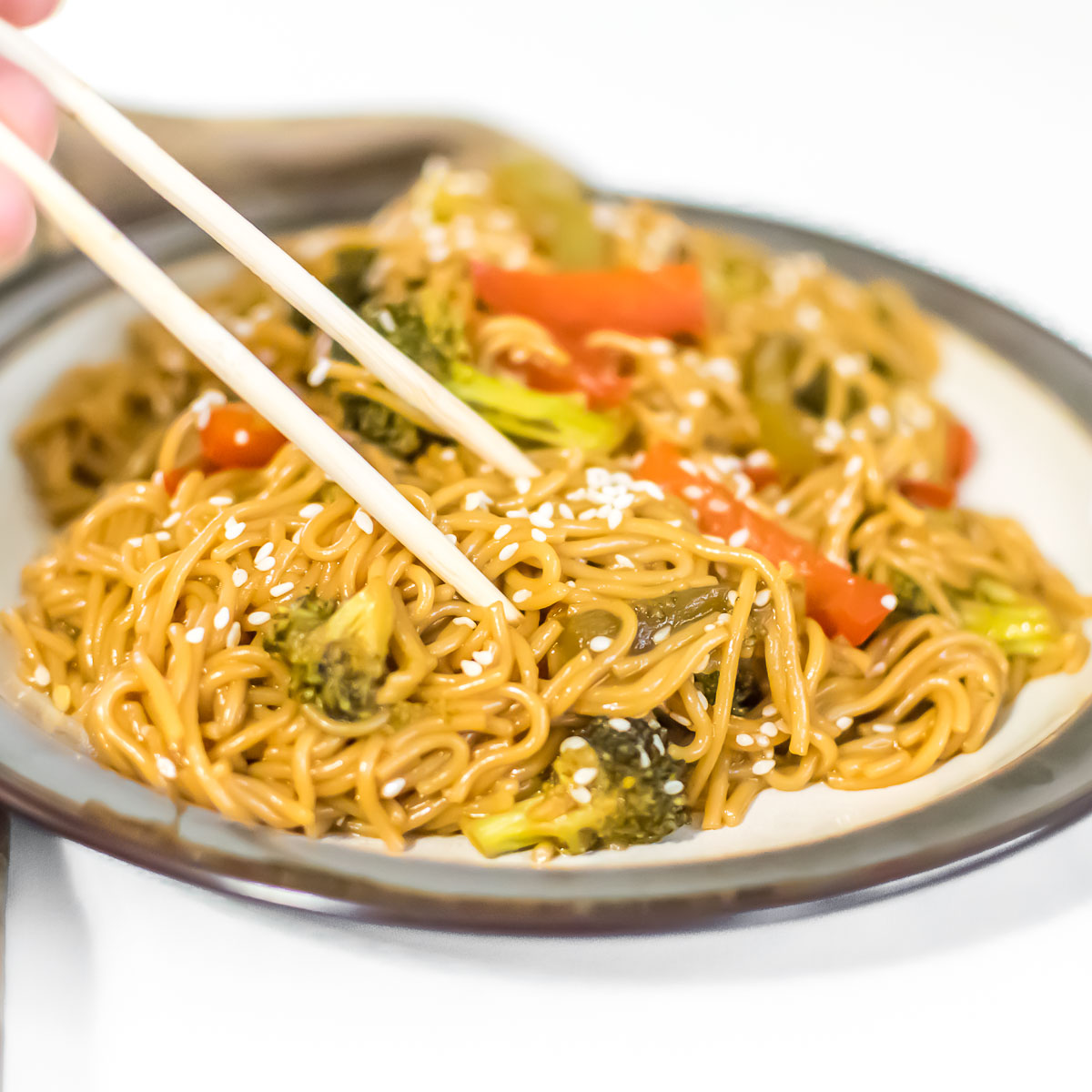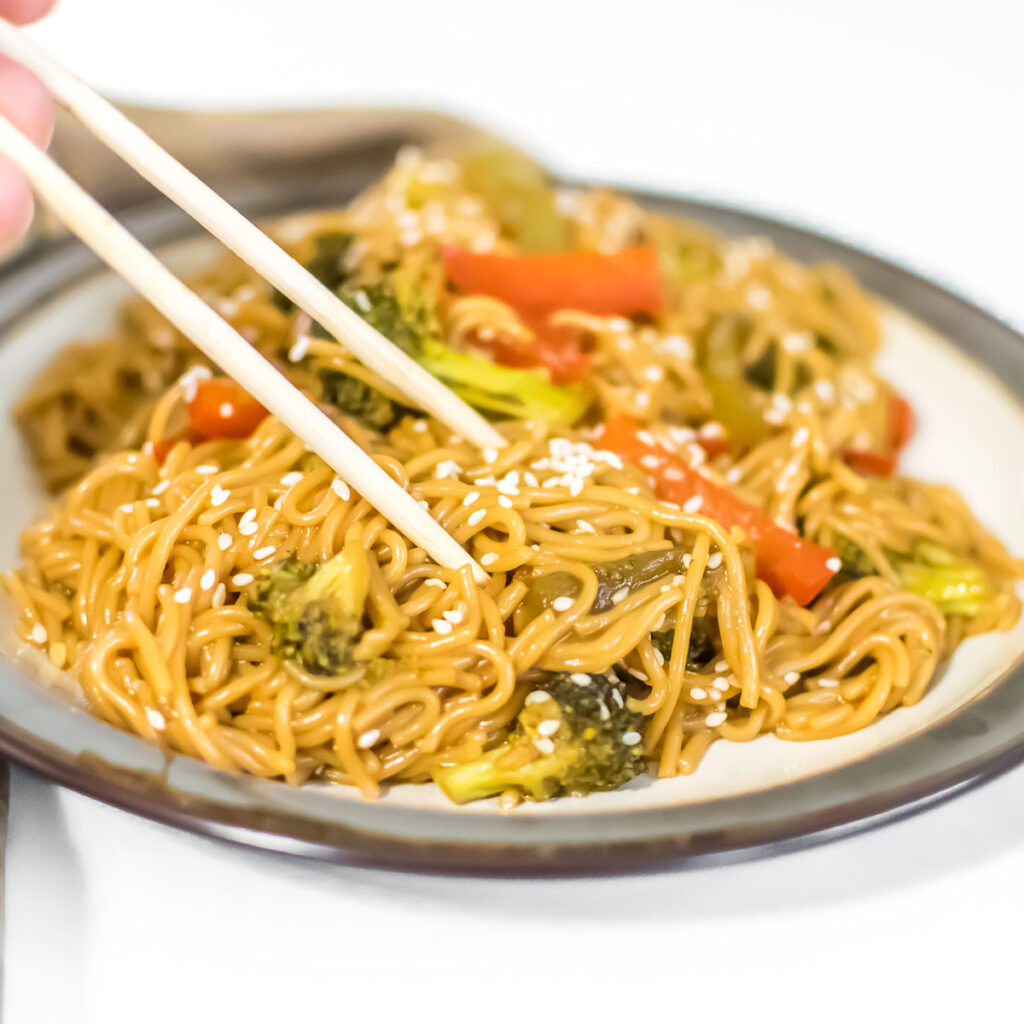 For detailed measurement of ingredients, please scroll down to the printable recipe card at the end of this post.
How to make Teriyaki Noodles
Firstly, I combined all the teriyaki sauce ingredients in a bowl. Then, I stirred it nicely and kept it aside.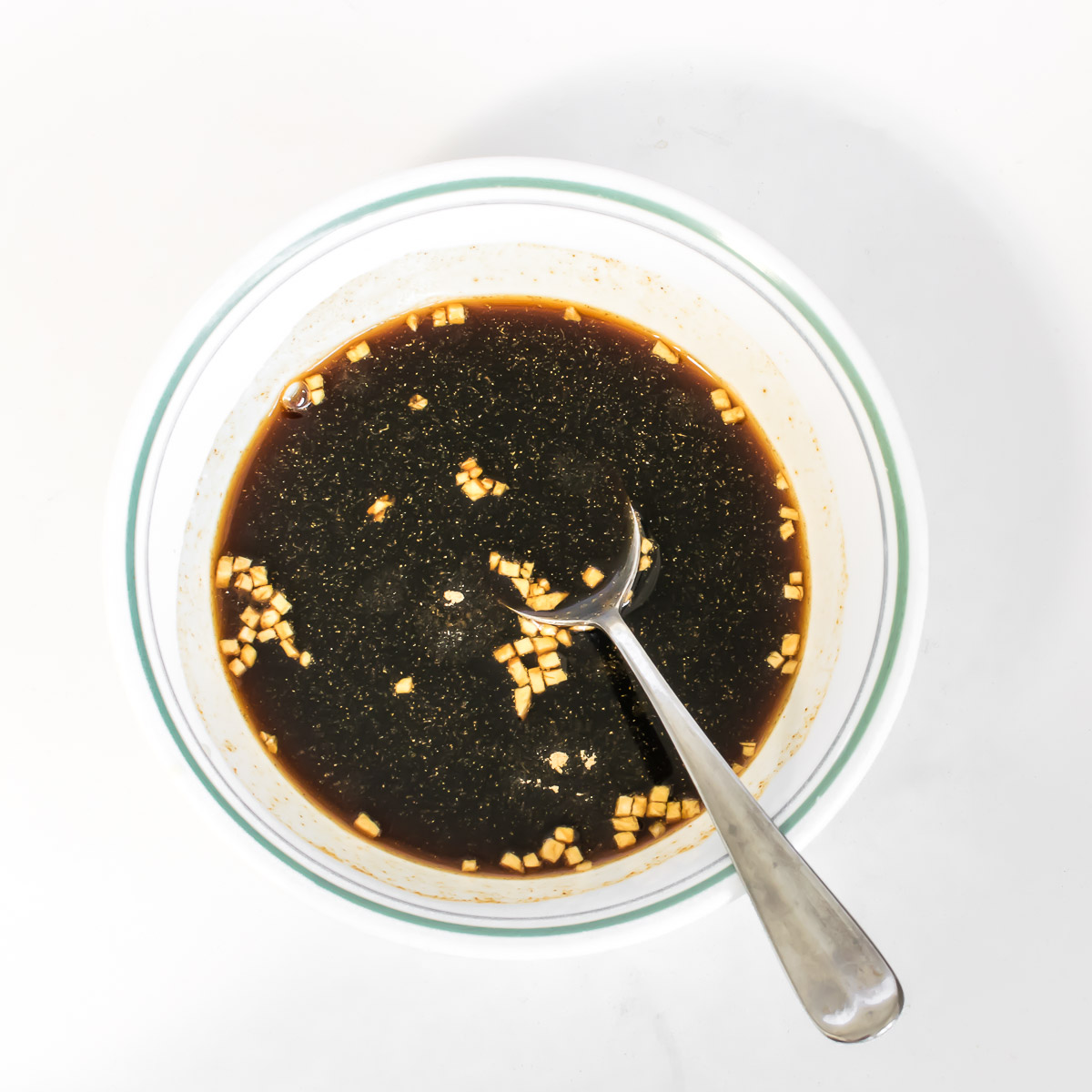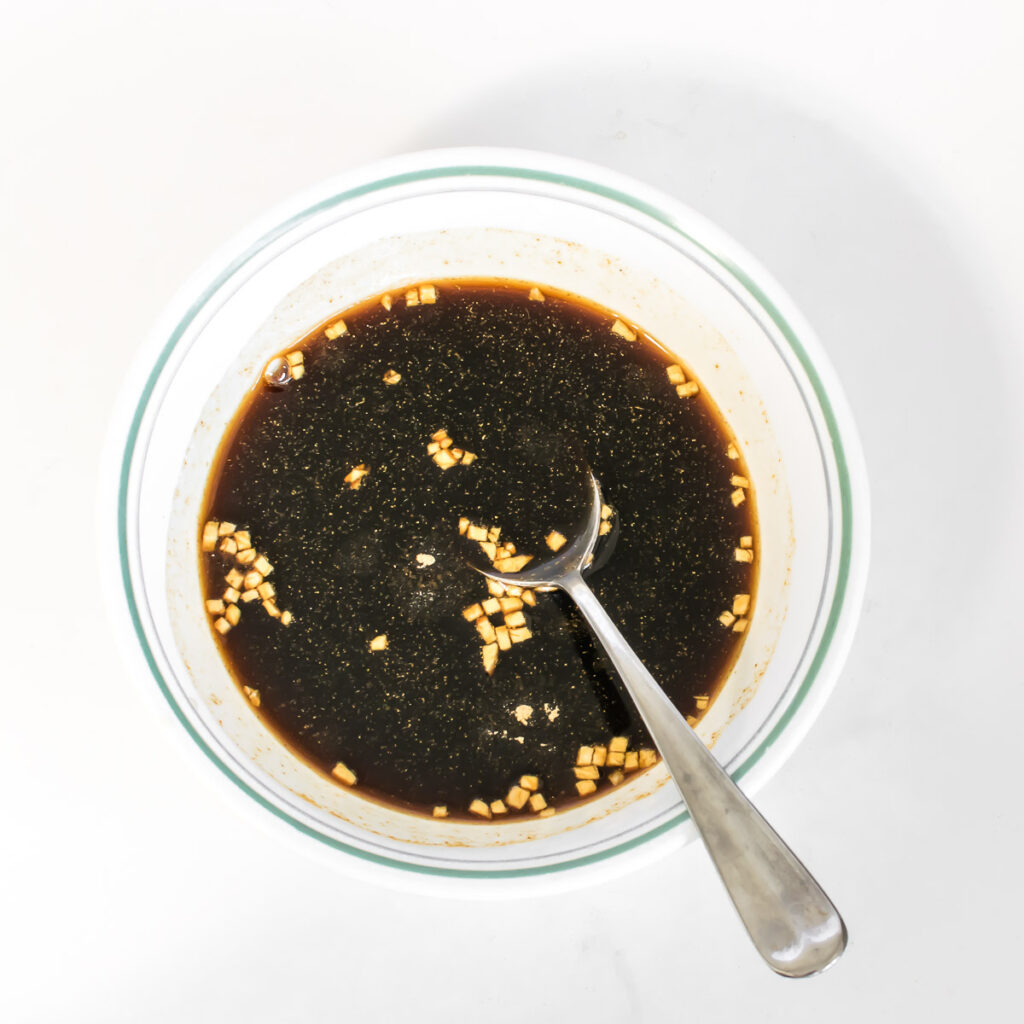 Secondly, I heated oil in a nonstick wok and sautéed broccoli florets in it.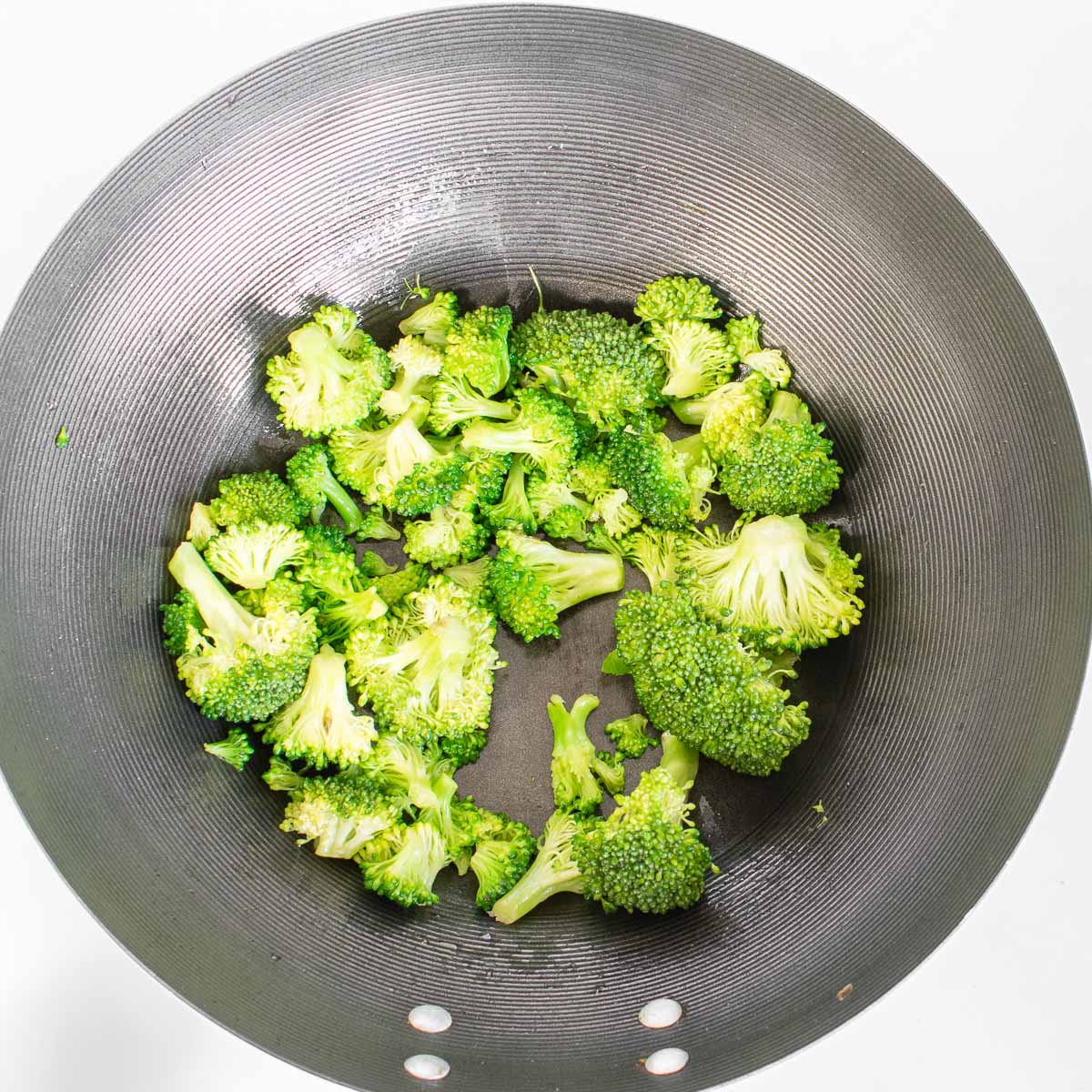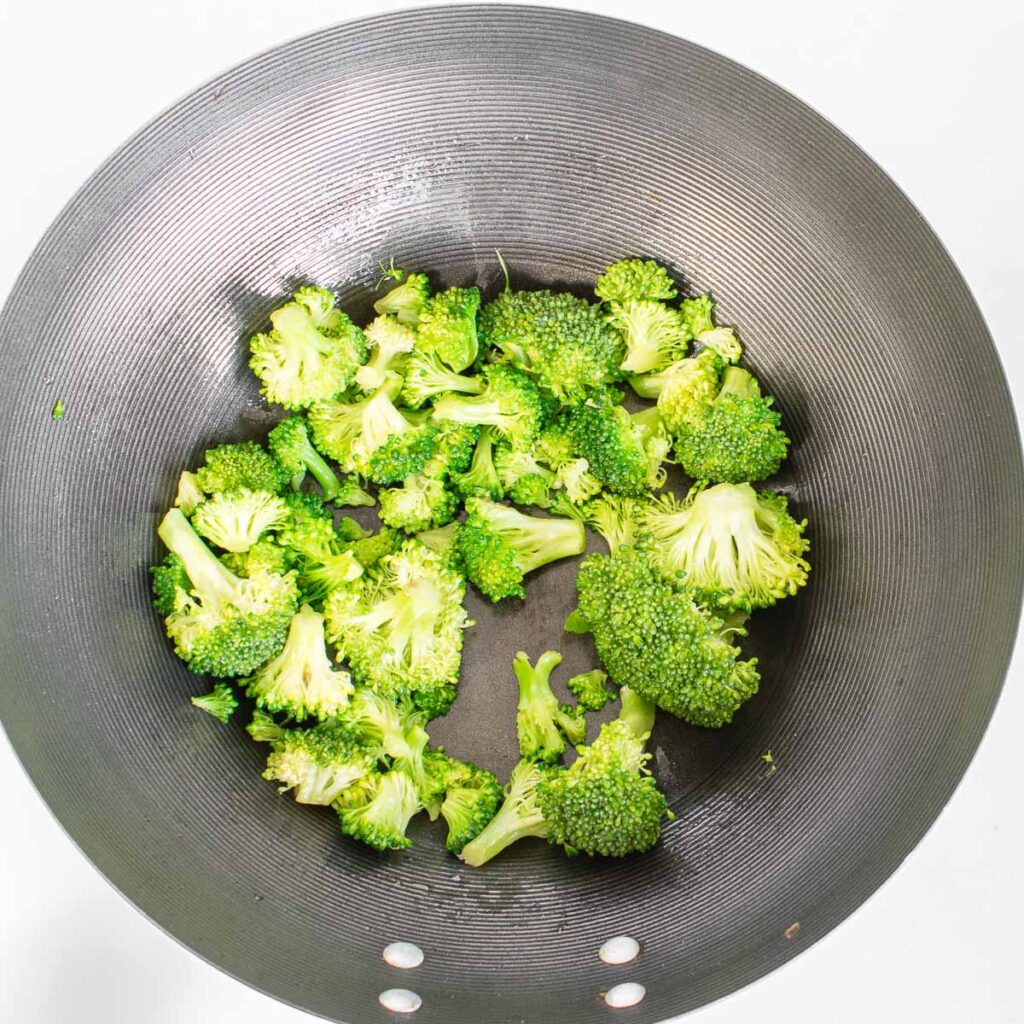 Next, I sauteed bell peppers in it and added some vegetable broth and let it cook at medium flame.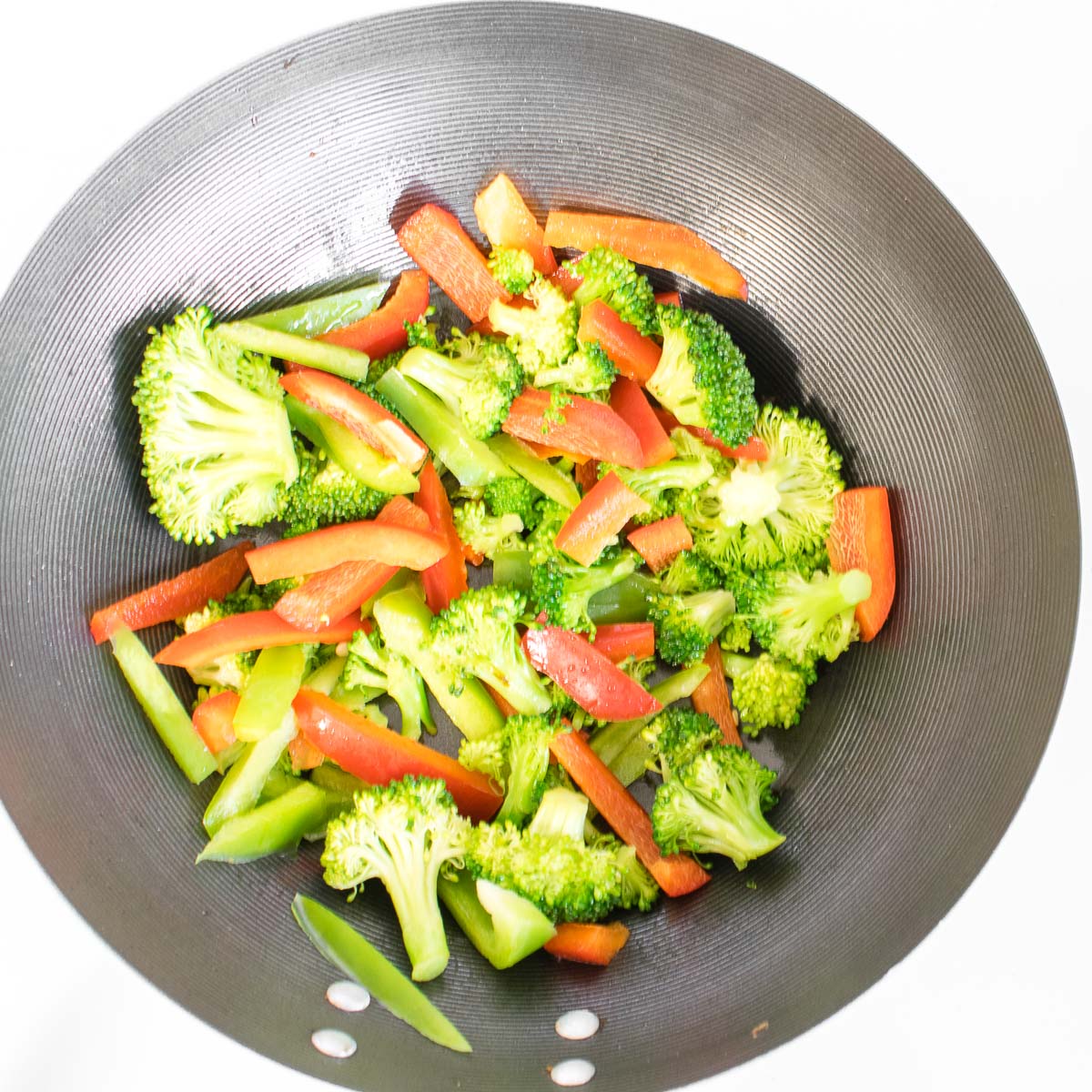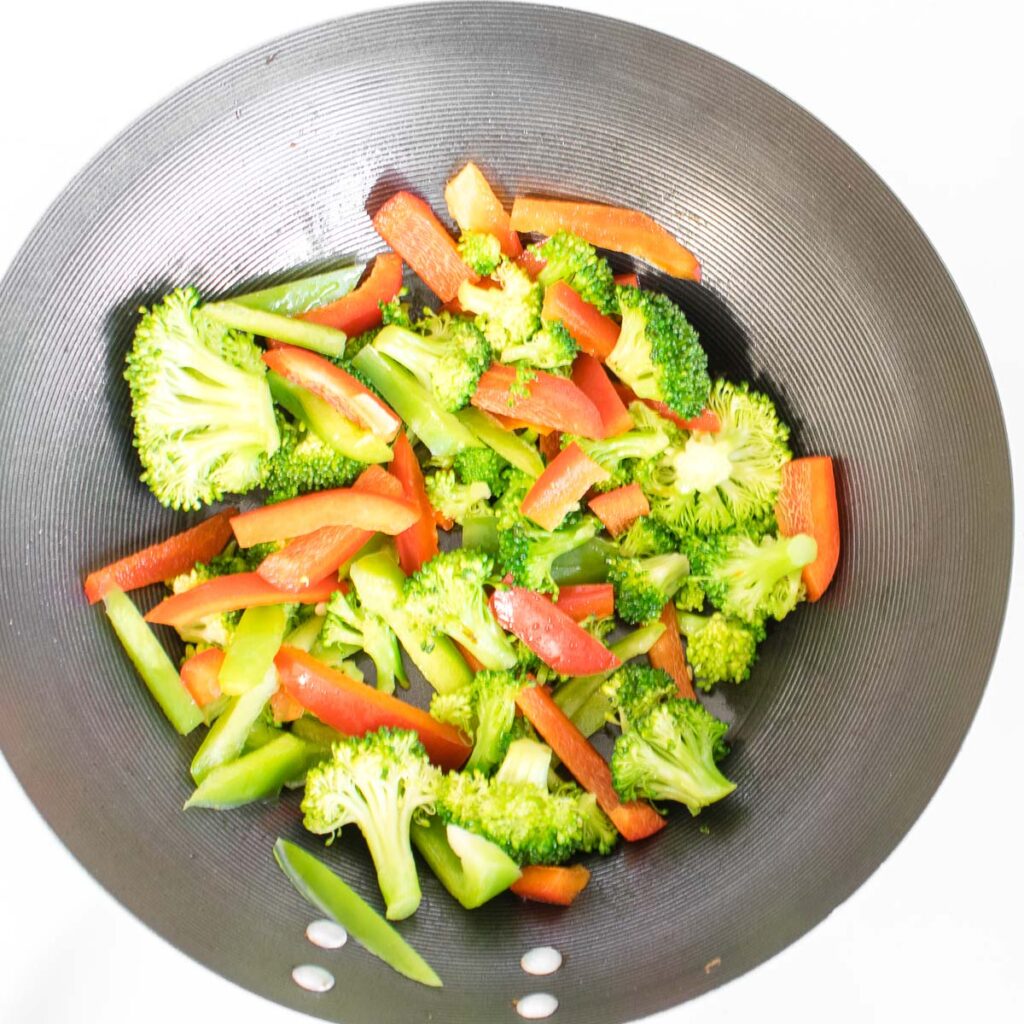 Thereafter, I poured in the sauce and gave it a nice stir. I let it cook for few minutes.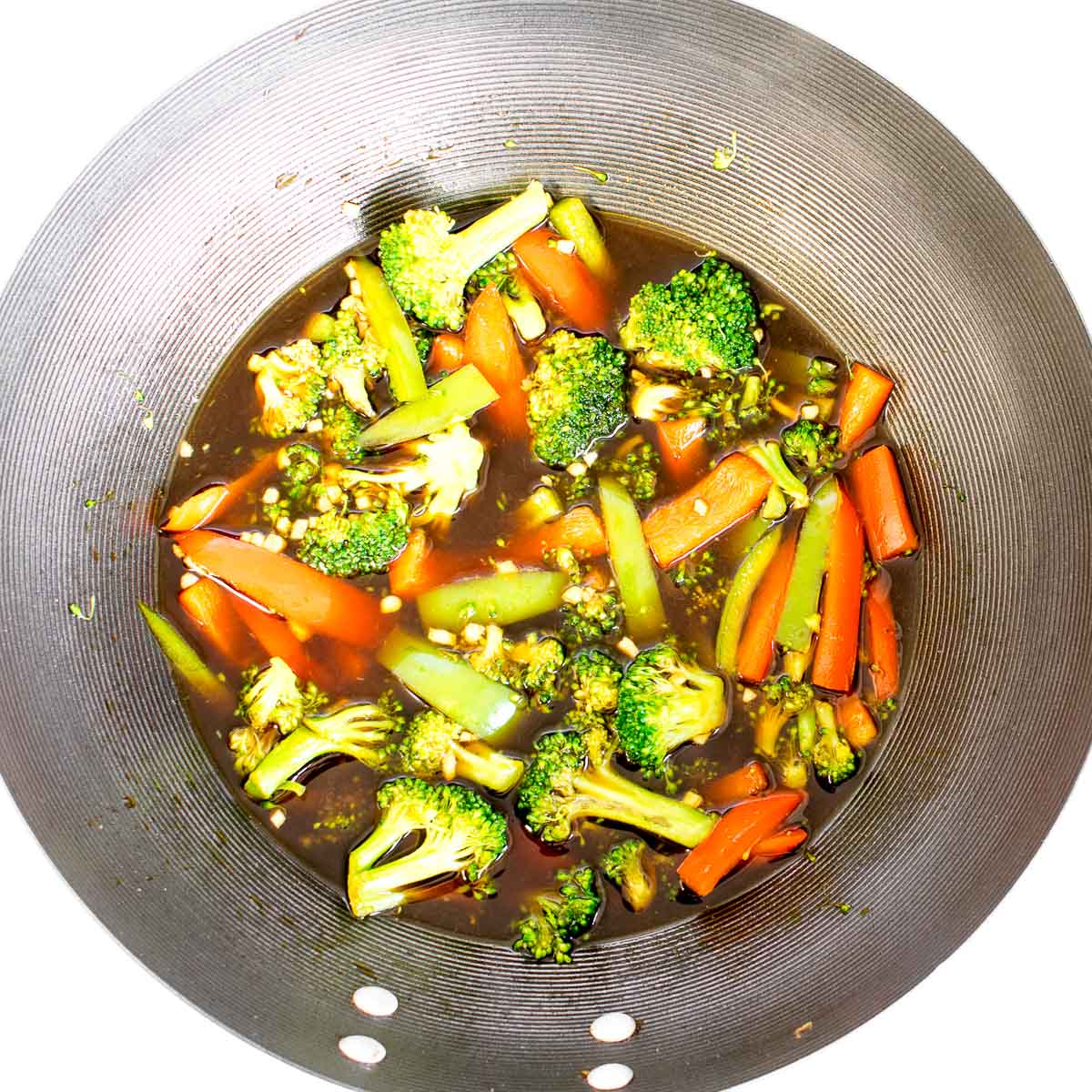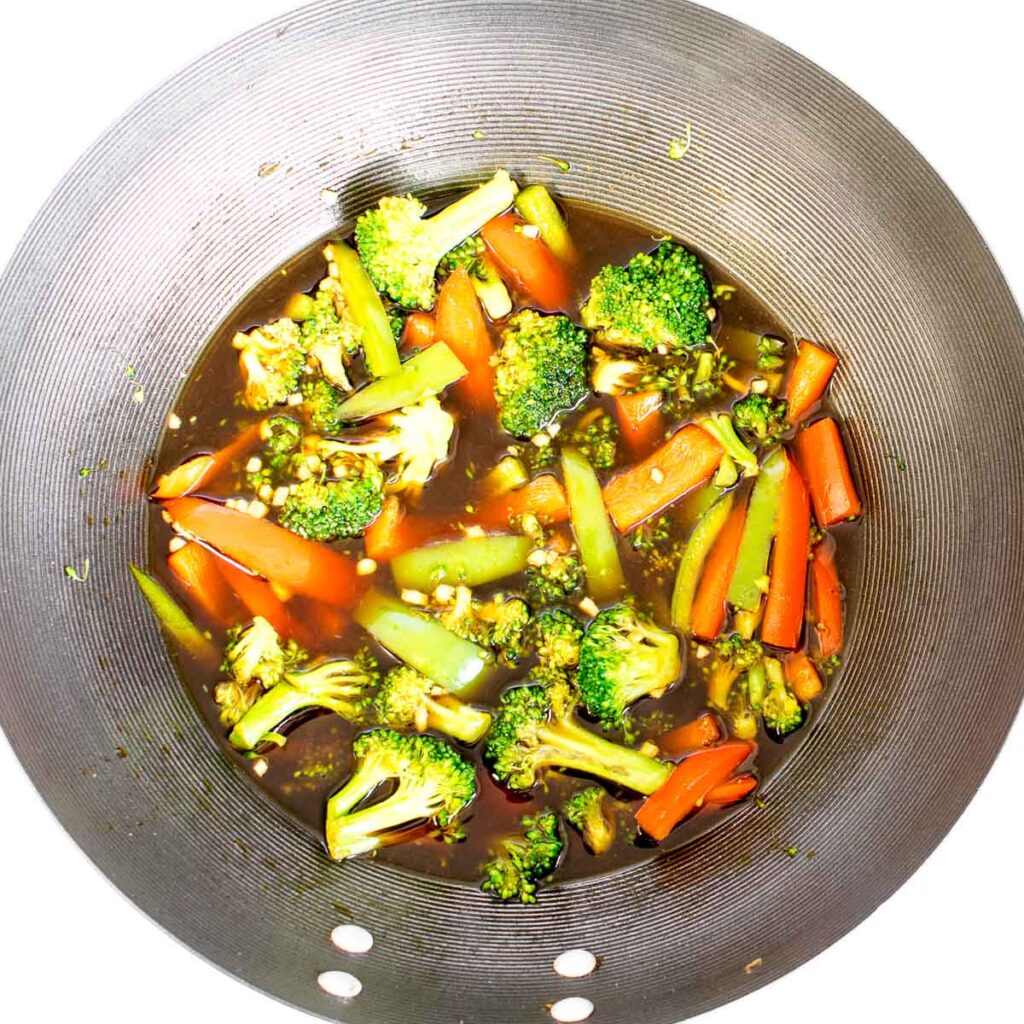 Afterwards, I tossed in noodles along with salt and mixed it well.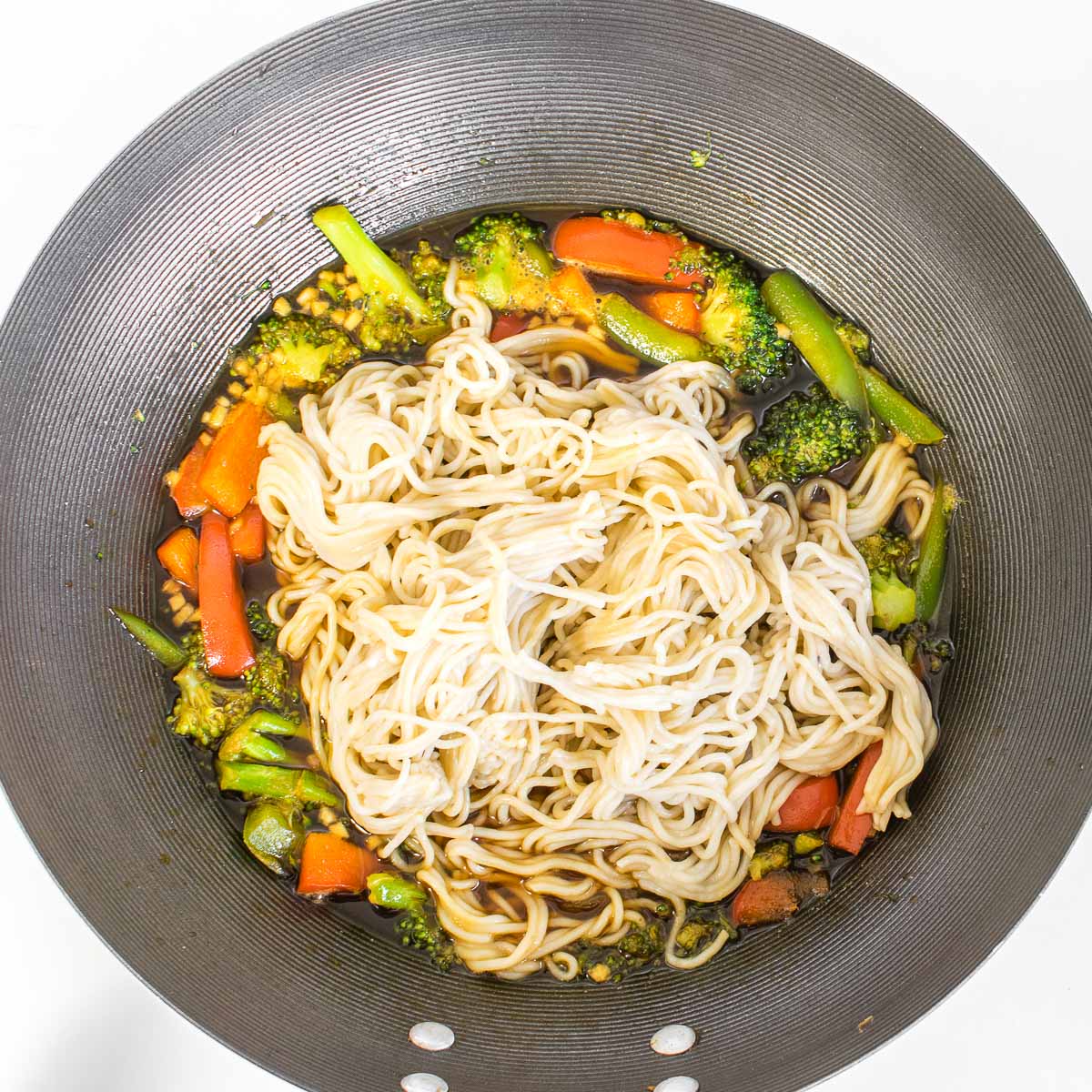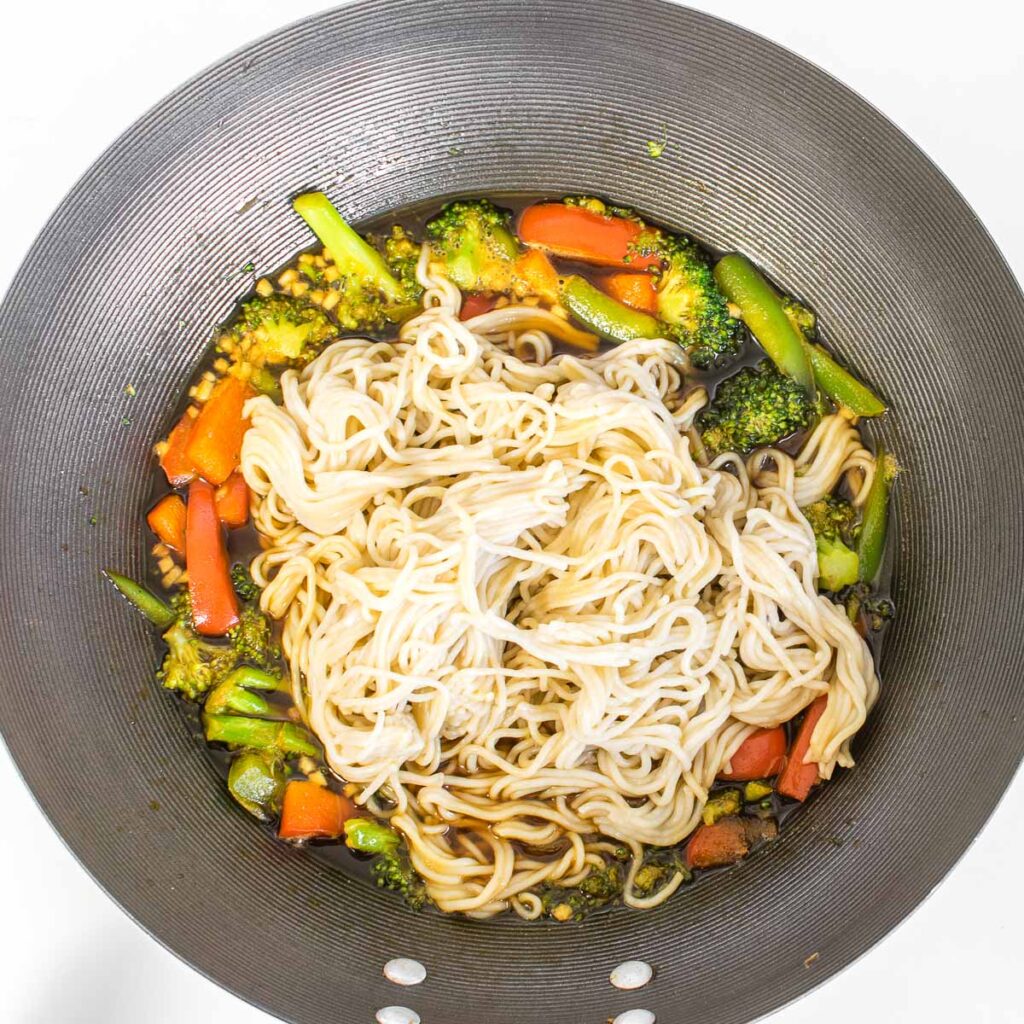 Then, I let it cook and rest at low flame until all the liquid was absorbed.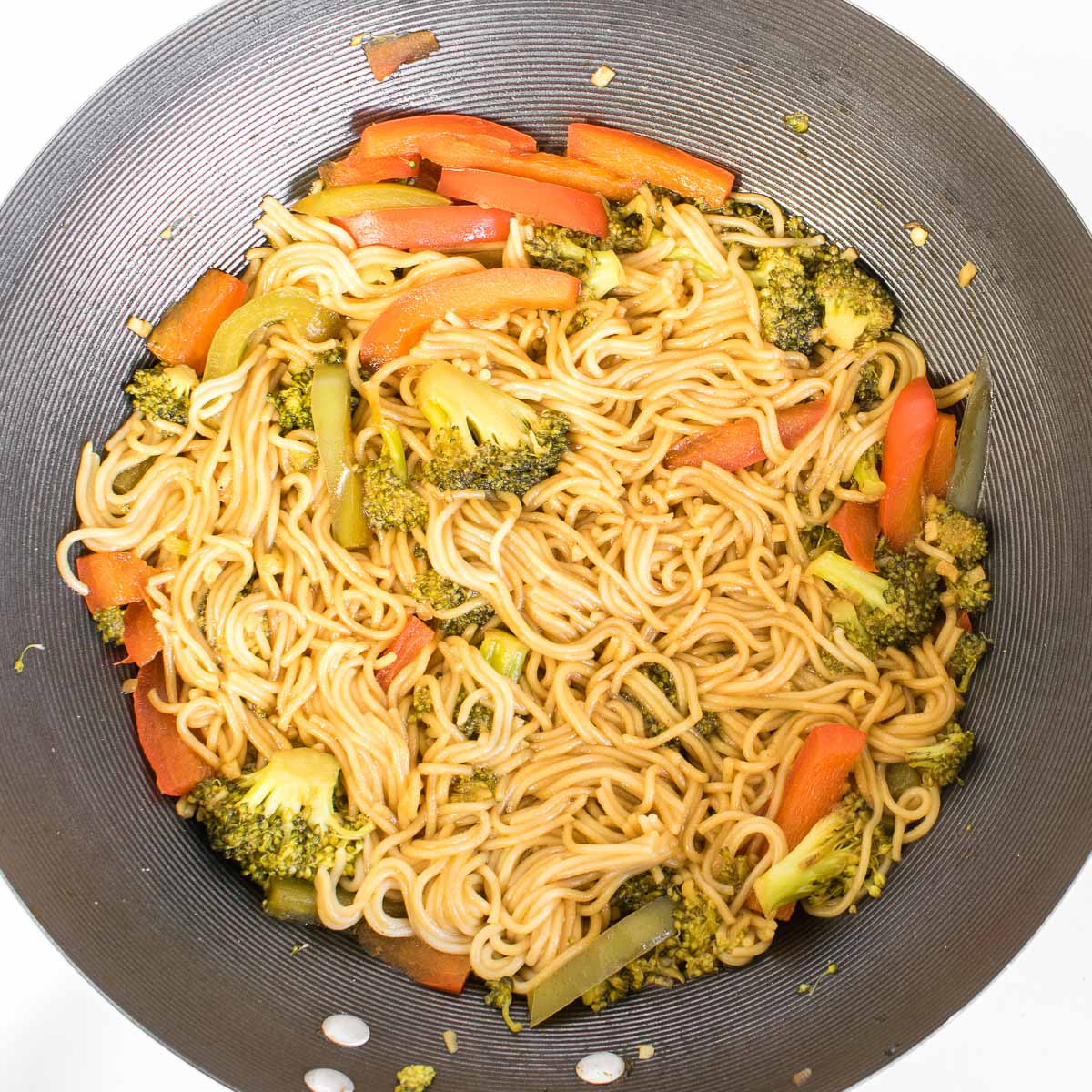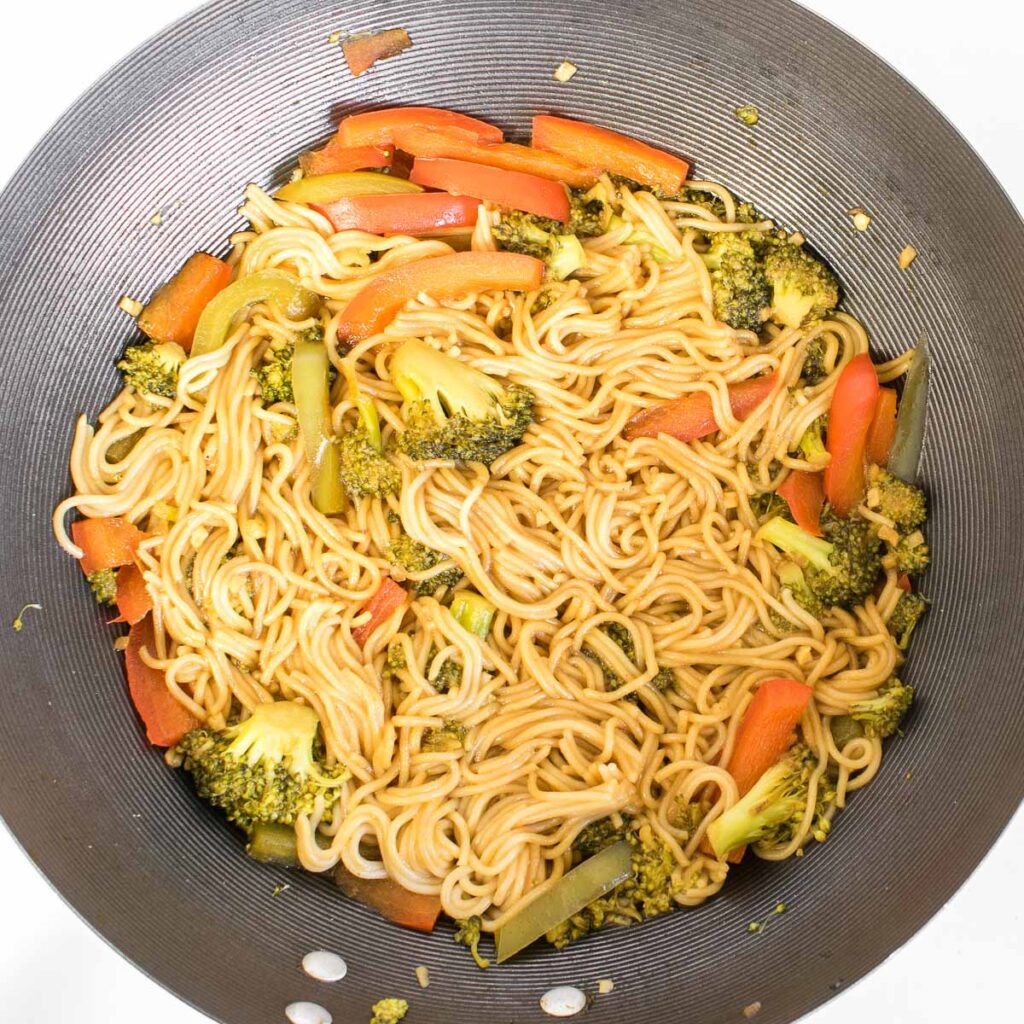 Lastly, I turned it off and mixed it again and garnished with sesame seeds.
We instantly fell in love with this dish and totally went gaga over it.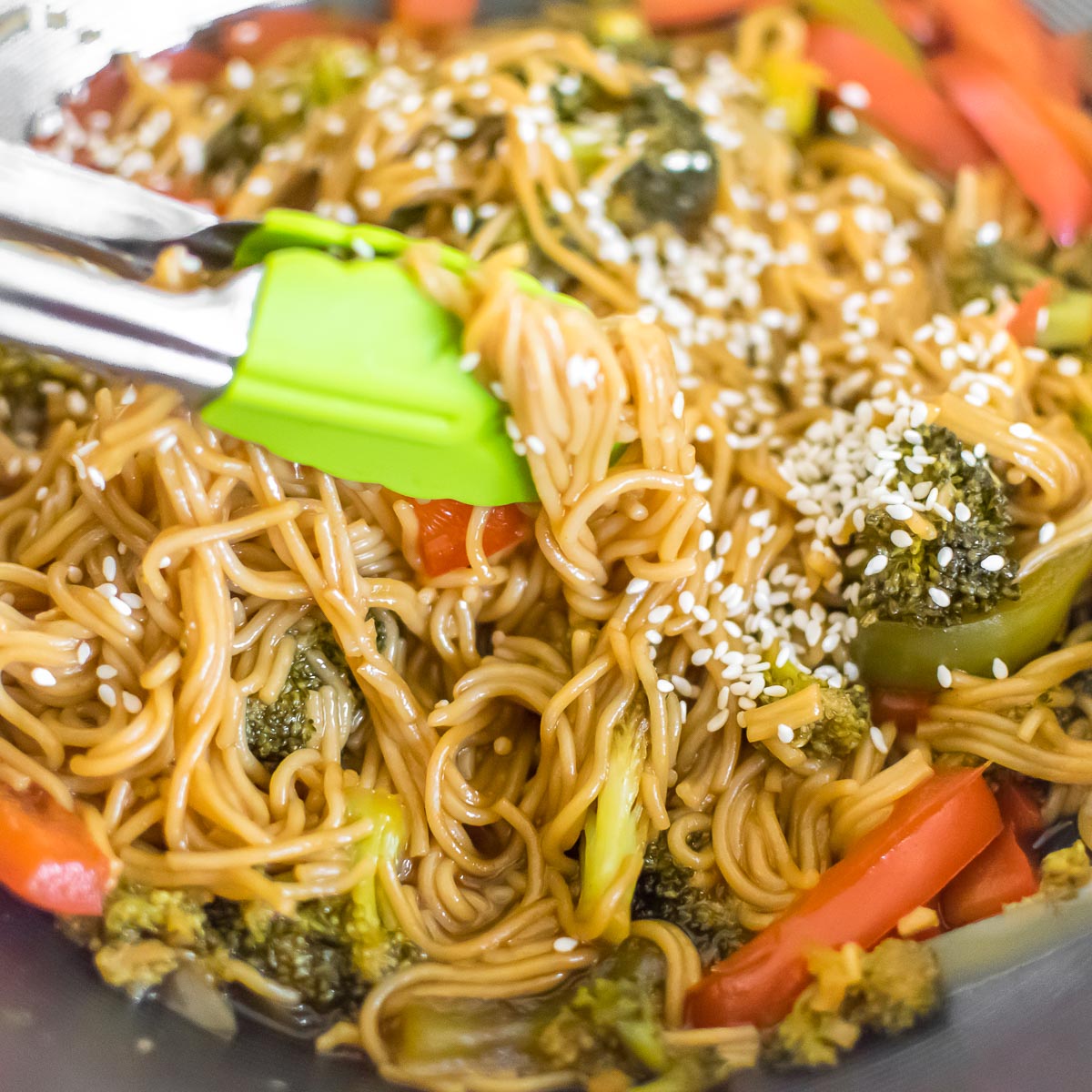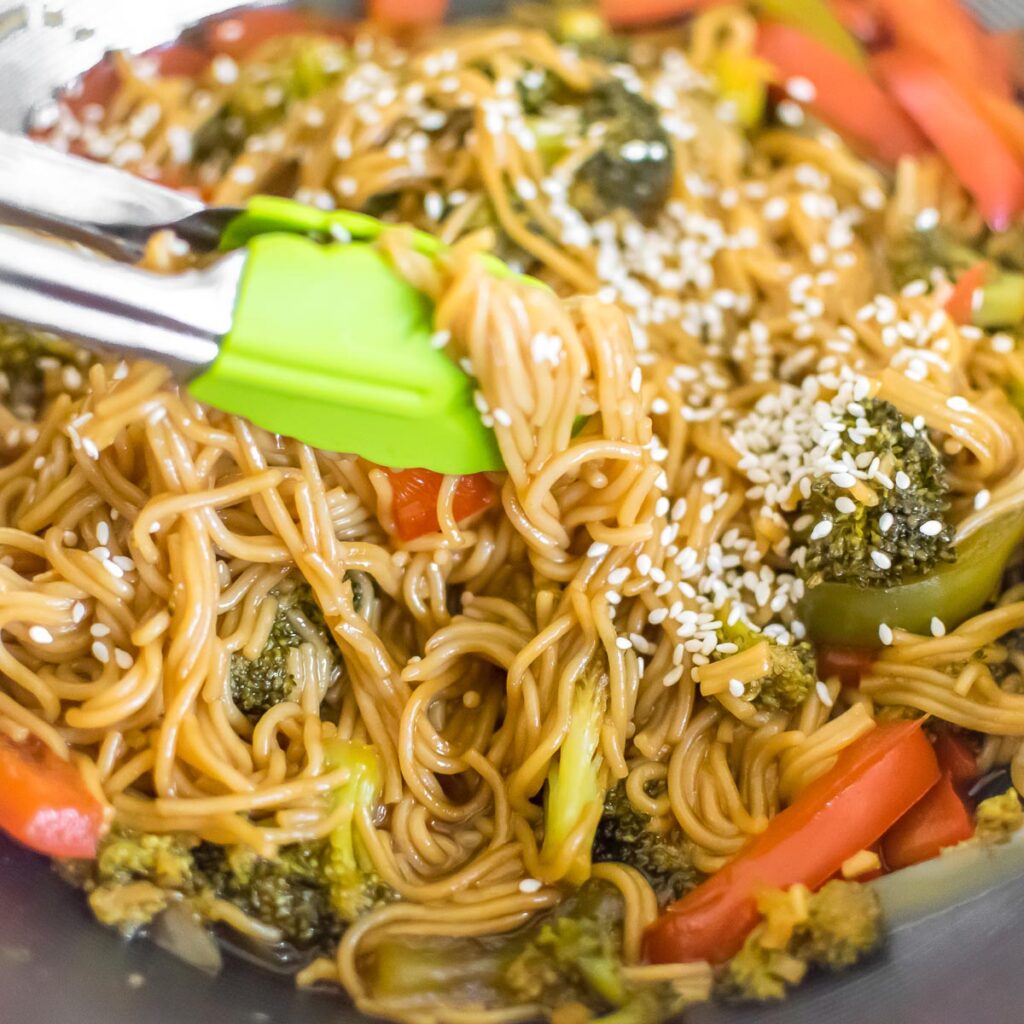 We enjoyed it for our lunch. Now, often I make it in mid-week which gives us a kick to happily work through the rest of the week.
Expert tips:
Make sure to toss the veggies at high flame. It is important to cook all the liquids in medium flame though.
After tossing the noodles, make sure to let it rest so that noodles are well soaked and absorbed in the sauce flavor.
Teriyaki Noodles FAQs
How long does this last?
This tastes best when served immediately. However, refrigerate the leftovers to be used the next day. Warm it up nicely in the microwave.
Are Teriyaki Noodles healthy?
I have used healthier noodles. However, the sauce does consist of sugar quite which is the only extra calories. We can also make it oil free and save on some calories.
How can I make teriyaki noodles oil free?
Simply pour ½ cup vegetable broth in a warm nonstick wok and sauté veggies in it. Then pour the sauce followed by other ingredients. Let them cook and absorb. Garnish and serve.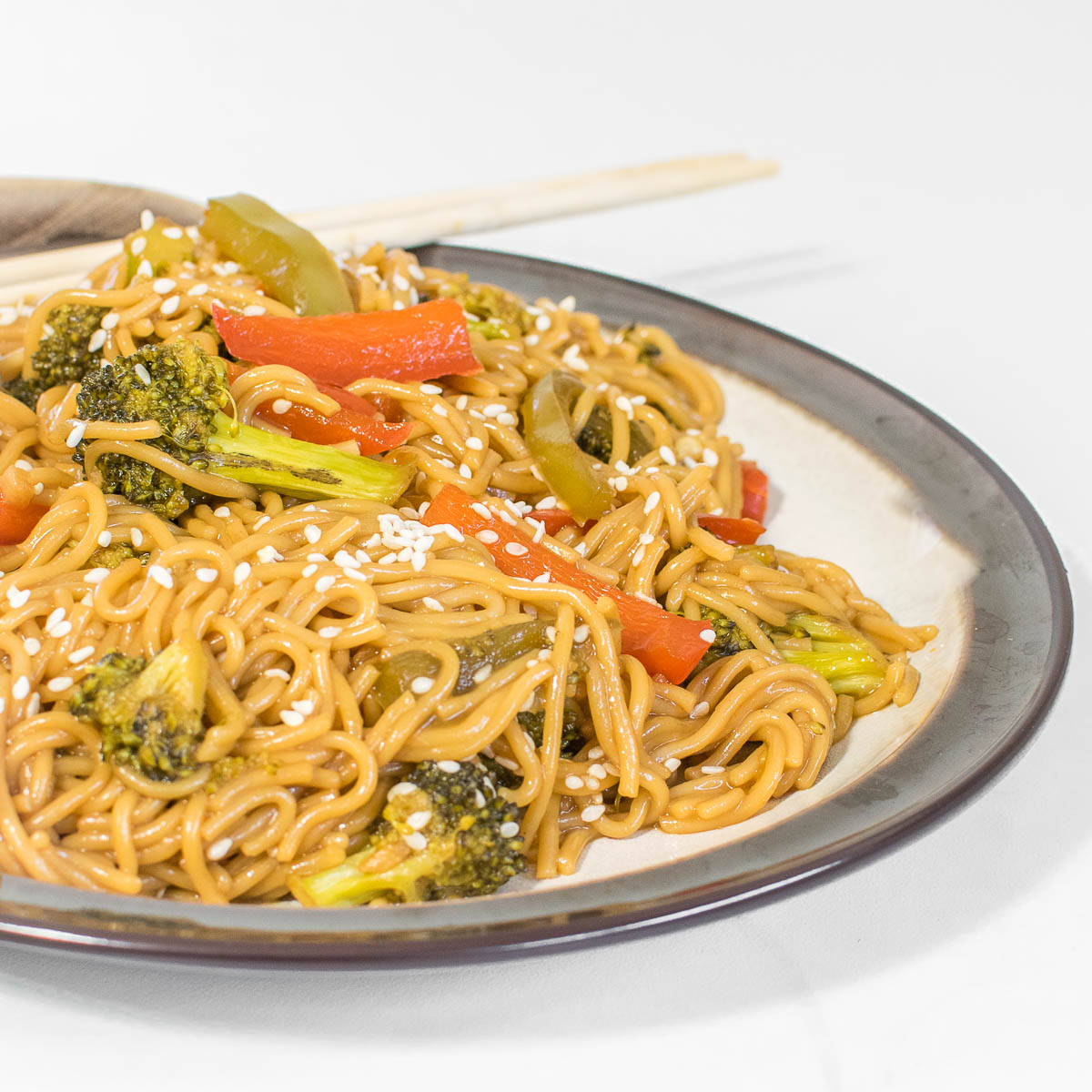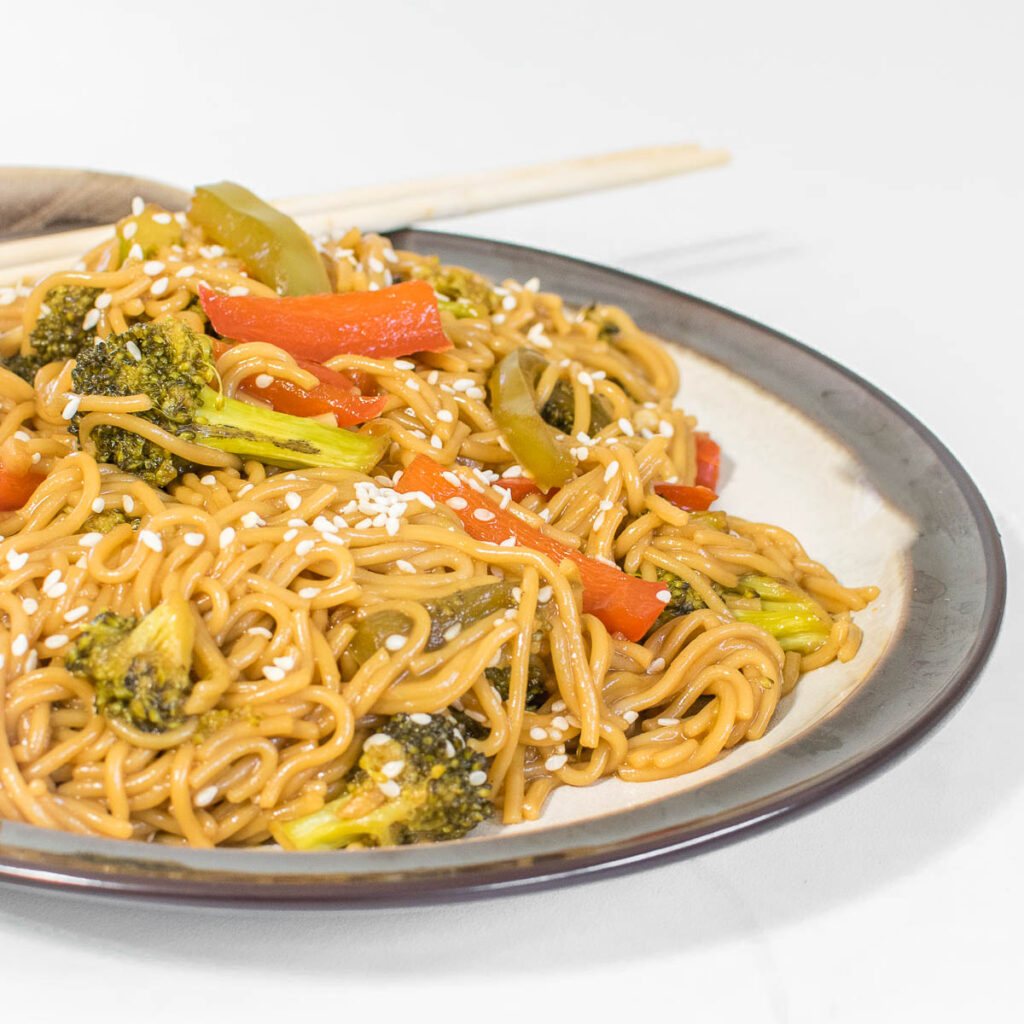 My other vegan recipes that might interest you:
Tofu Katsu
Vegan Dumplings
Schezwan Fried Rice
Pasta Mushroom Stir Fry
This post may contain affiliate links which means that if you click on them and also make a purchase, I will get a small commission. Moreover, I share only those products which I use personally and love.
I guarantee that this the best teriyaki noodles and I hope you enjoy it as much as we did. I am very excited to hear back from you.
Where to find me?
Follow me on Facebook or on Twitter. You may tag @kiipfit on Instagram with your recipe remake images because I would love to see what you cooked.
Did you make it?
If you get a chance to make this recipe then please leave your feedback in the comments below along with a 5-star rating.
In addition, you may checkout my cookbook for everyday comfort vegan recipes.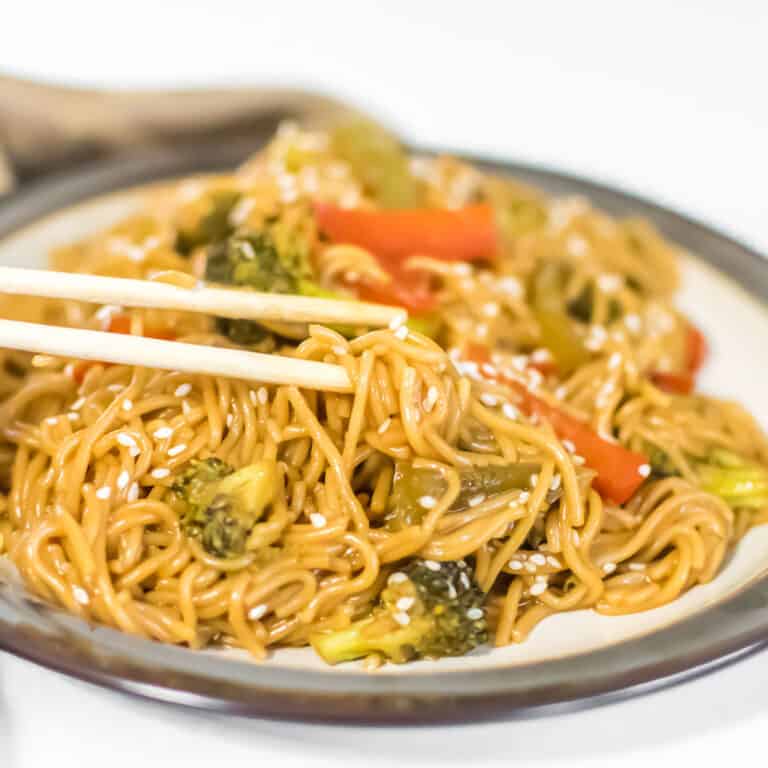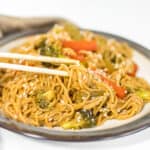 Print Recipe
Teriyaki Noodles
This easy Teriyaki Noodles is a comforting weeknight dinner that comes together in less than 30 minutes. Its deliciously cooked in homemade teriyaki sauce and is a family favorite.
Instructions
In a bowl, stir the ingredients of teriyaki sauce and keep it aside (do not cook at this point).

In a nonstick pan/wok heat oil and sauté broccoli florets for 3 minutes at high flame.

Add bell pepper and continue sauté for another 2 minutes at high flame.

Then, add vegetable broth and mix. Let it cook at medium flame for 1 minute.

Then, pour the teriyaki sauce and mix well so that all the vegetables are well soaked in the sauce. Let it cook at high for only 1 minute.

Fold in cooked noodles and salt and toss at high flame for 2 minutes. Then, lower the flame and cook covered for 2 minutes. Turn it off and let it rest as is without disturbing for another 3 minutes. At this point all the liquid must be absorbed. Remove the lid and give it a toss making sure its dry. Or else let it rest for about 2 minutes.

Lastly, garnish with sesame seeds and serve immediately with hot sauce.
Notes
I used gluten free brown rice and millet ramen noodles from Costco (Lotus brand). You may use regular ramen noodles as well and discard the seasoning. The cooking time would vary depending on the type of noodles you use. Regular ramen noodles might absorb all liquid quicker comparatively.
I used my own homemade teriyaki sauce for this recipe. Make sure just combine the sauce ingredients in a bowl and keep it aside. Do not cook it separately. In this recipe, the noodles need to absorb the sauce to make it absolutely flavorful.
Sesame oil flavors this recipe excellently but any oil of your choice also works.
For oil free option: warm a nonstick and add ½ cup vegetable broth to it. Then, add broccoli florets and let it cook until little soft but not mushy. Toss bell peppers in it for 1 minute at high flame. Then, pour teriyaki sauce and let it cook at medium flame for 2 minutes. Then, toss in noodles and salt and mix well. Cook covered at low flame until all liquid is absorbed. Turn it off and mix again and garnish.
Nutritional information will vary depending on the type of noodles you use.
Nutrition
Calories:
369
kcal
|
Carbohydrates:
62
g
|
Protein:
9
g
|
Fat:
9
g
|
Saturated Fat:
1
g
|
Polyunsaturated Fat:
3
g
|
Monounsaturated Fat:
2
g
|
Sodium:
115
mg
|
Potassium:
110
mg
|
Fiber:
1
g
|
Sugar:
1
g
|
Vitamin A:
231
IU
|
Vitamin C:
27
mg
|
Calcium:
41
mg
|
Iron:
1
mg