This vegan Sesame Tofu is easy, fast and a satisfying recipe for a weeknight meal. Its cooked golden and then tossed in sweet and savory sauce. It's incredible and amazingly tasty!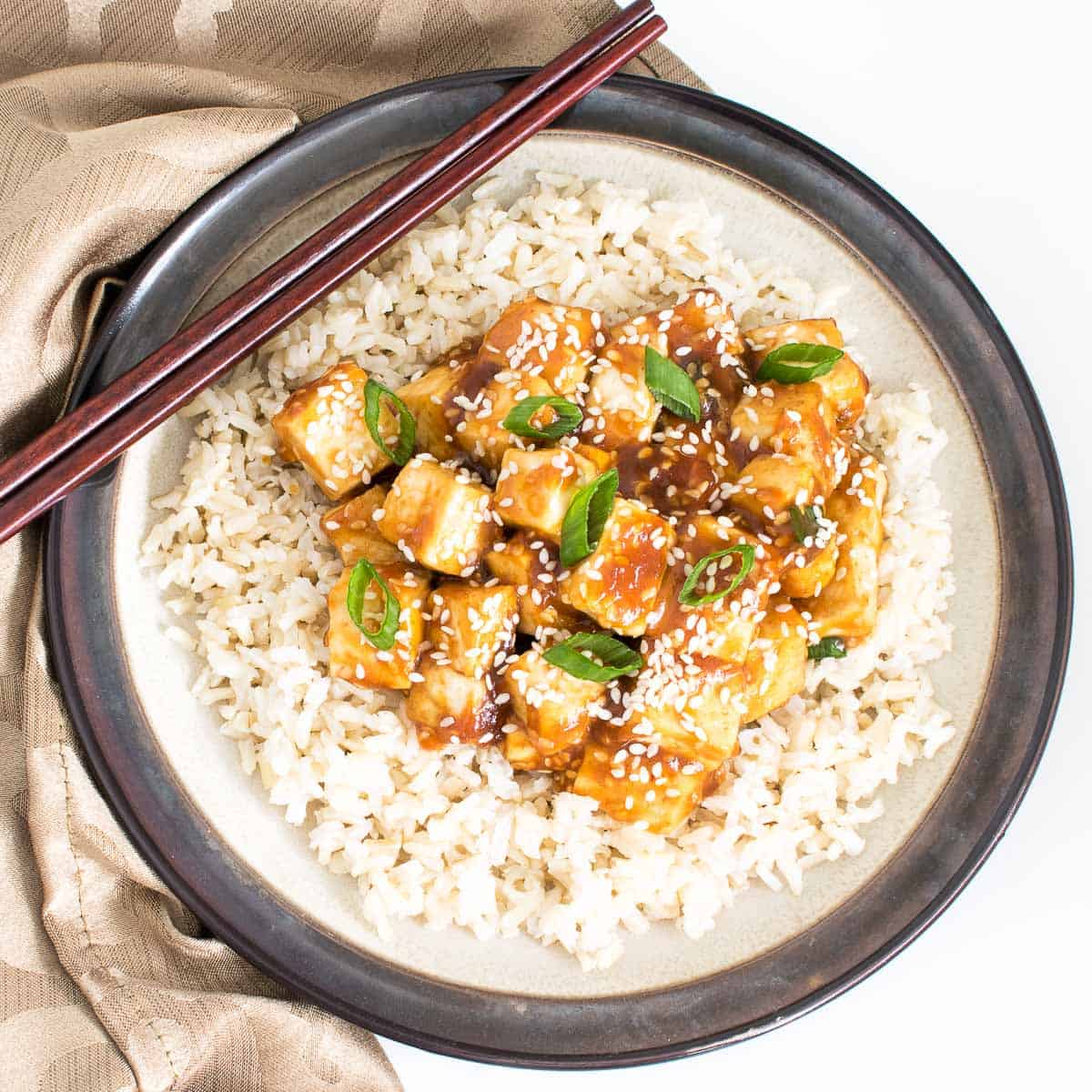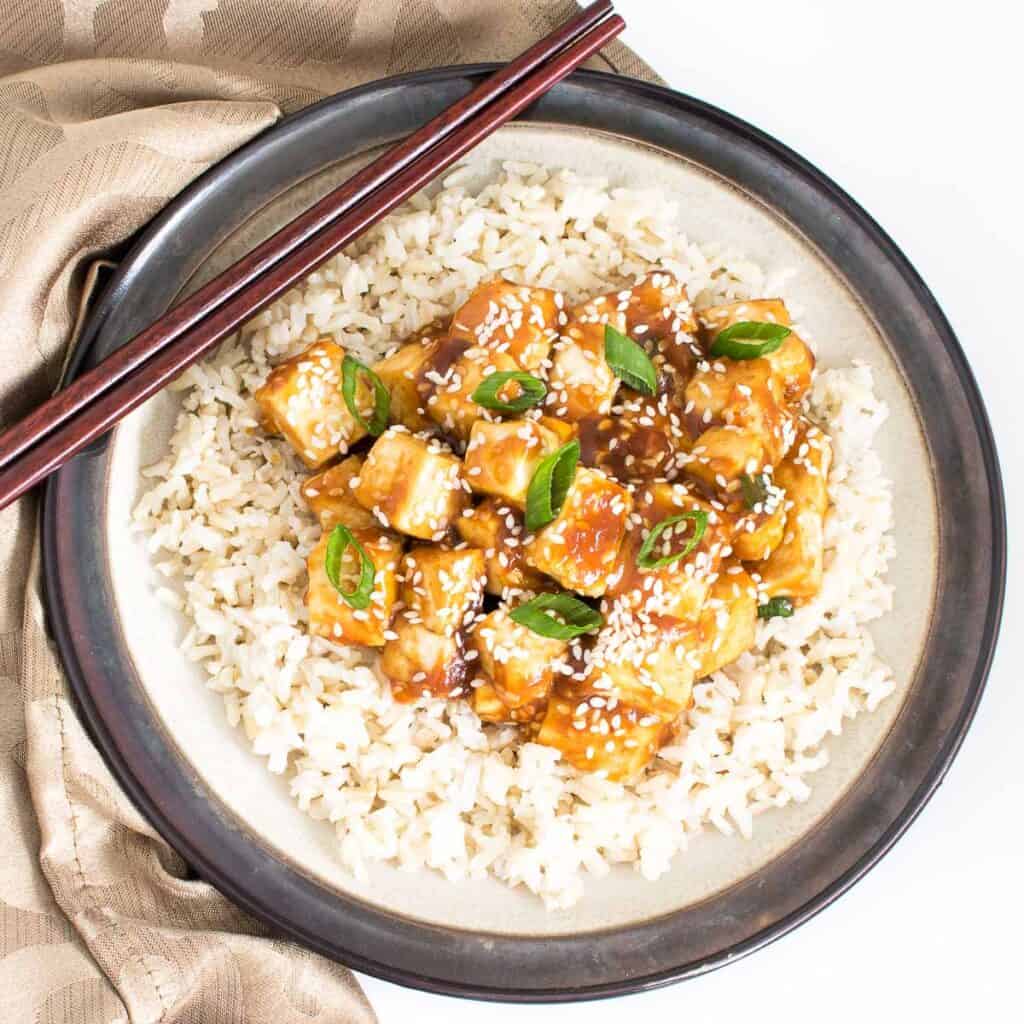 If you are not a tofu fan then this one is a must try. Once you taste this style you will become its fan. Its chewy, flavorful and protein rich. This Chinese version is even better than a take out.
For a healthy combination of sesame and tofu in a different form, I like to fix my sesame tofu salad for lunch.
I personally love tofu and so its frequent in my kitchen. Also, I always keep my refrigerator loaded with packs of it. Even though, I have tried many styles but coming up with this a sesame sauce was absolutely mind blowing.
I was blown out by its deliciousness and the nice flavors in every bite. usually, I pair it with brown rice and my meal is ready. In fact, since I innovated this easy sesame tofu recipe, I must have made it like thrice in a week.
On a regular basis, I like to be creative as well and have tried it in many Indian recipes like malai kofta, butter tofu, tofu tikka masala which I am sure you will love it.
But this time, I was craving for Chinese and I plunged into some Chinese condiments. I was absolutely delighted with the outcome.
My other tofu recipes which you might like are:
Tofu Steak Spaghetti
Kung Pao Tofu
Teriyaki Tofu Bowl
Turmeric Tofu Cashew Curry
Cilantro Tofu Soup
So, I got a chance to this recipe taste tested by my relatives. After unanimous applaud, I decided to share this sesame tofu recipe with you all.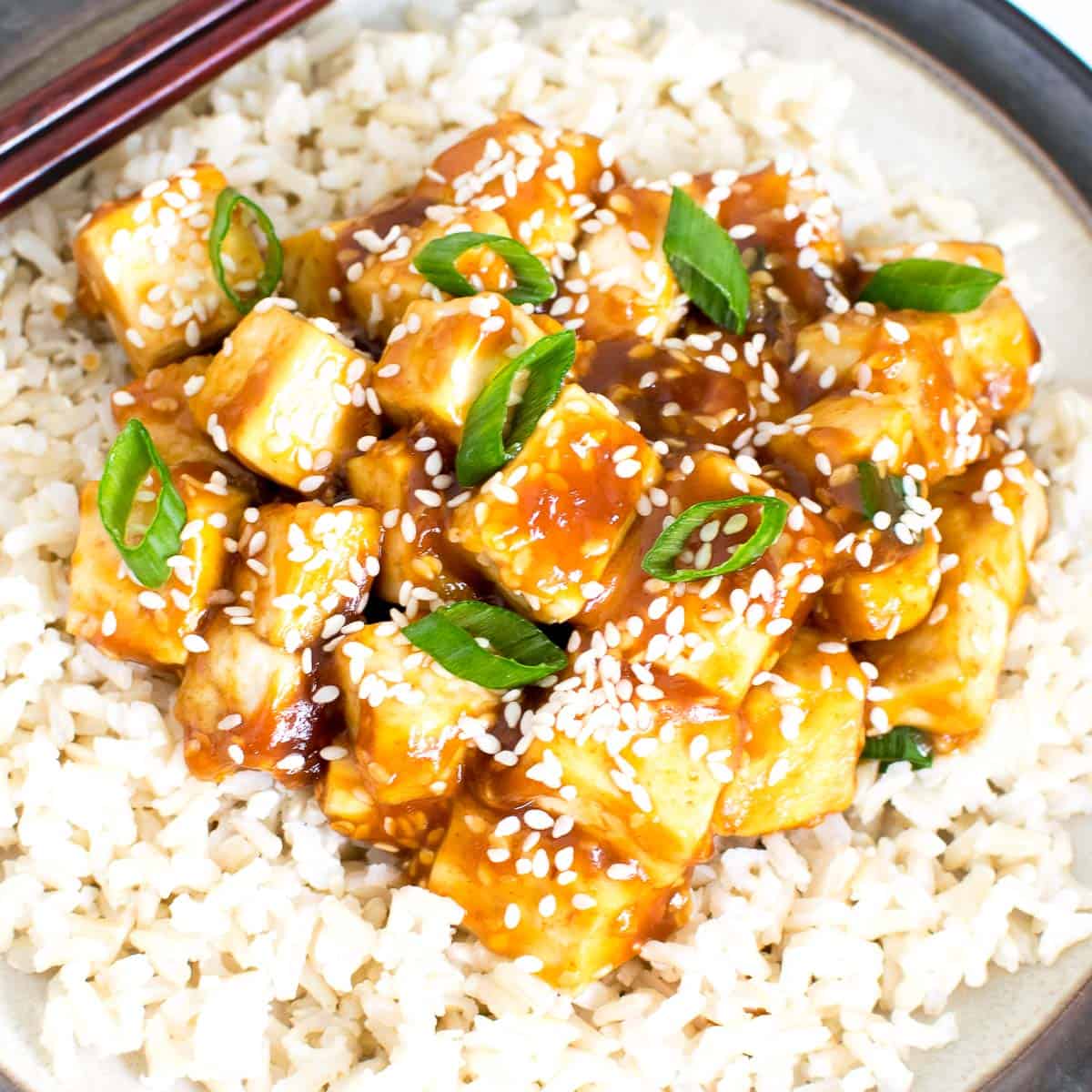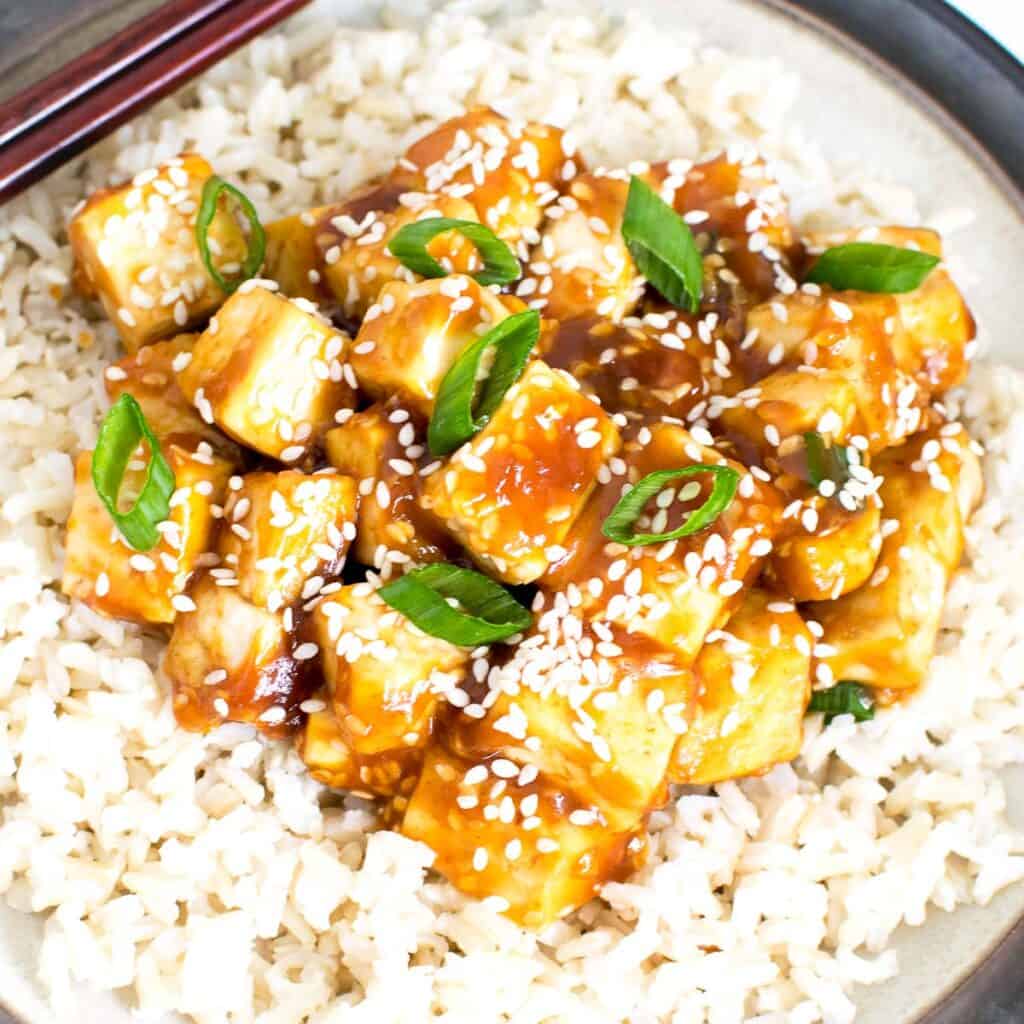 Ingredients you will need:
Sesame oil
Tofu
Water
Soy sauce
Sriracha
Vinegar
Maples syrup
Cornstarch
Sesame seeds
Green onions to garnish
I have used these easily available ingredients which you may buy from any local grocery store. However, I have provided links to few of them here for your convenience.
If you plan to buy from these affiliate links then I get a small commission which in turn encourages me to bring in more delicious recipes for you all.
Ingredients notes:
Sesame oil – I specifically used this oil because it brought the right flavor to this recipe. Even though I tried with other kinds of oil and it still worked but when I used sesame oil this recipe was even more delicious and flavorful. I tried oil free too but overall, I would say sesame oil is a must here.
Tofu – I used extra firm and pressed for about 15 minutes at minimum. The firmer the tofu the better it is while cooking. At the same time, tofu is a soy product and very high in protein and is great for a vegan diet.
Soy sauce – I used this to flavor the sauce and bring out the right color. I used low sodium version and did not add any extra salt to this recipe.
Sriracha sauce – any hot sauce works in this recipe.
Maple syrup – for sweetener, I always prefer to sweeten my recipes as naturally as possible so therefore, I decided to go with maple syrup and is commonly available too. However, brown sugar also works here.
Cornstarch – you may use any cornstarch and even gluten free. It is important because it binds the sauce and make this entree a bit sticky and gooey.
So, now you must have realized that all you need to is to quickly scan through the steps and get started with it.
I am sure, you already must be hiving all the ingredients in your kitchen. I am very excited to see your outcomes so let's get started ASAP.
How to make Sesame Tofu
Firstly, I heated sesame oil in a nonstick pan and placed each tofu pieces on it.

Then, I let it cook for few minutes or until they were golden at the bottom and drier.
Next, with the help of a flat spatula, I gently flipped all the tofu pieces so that they cook well again until golden.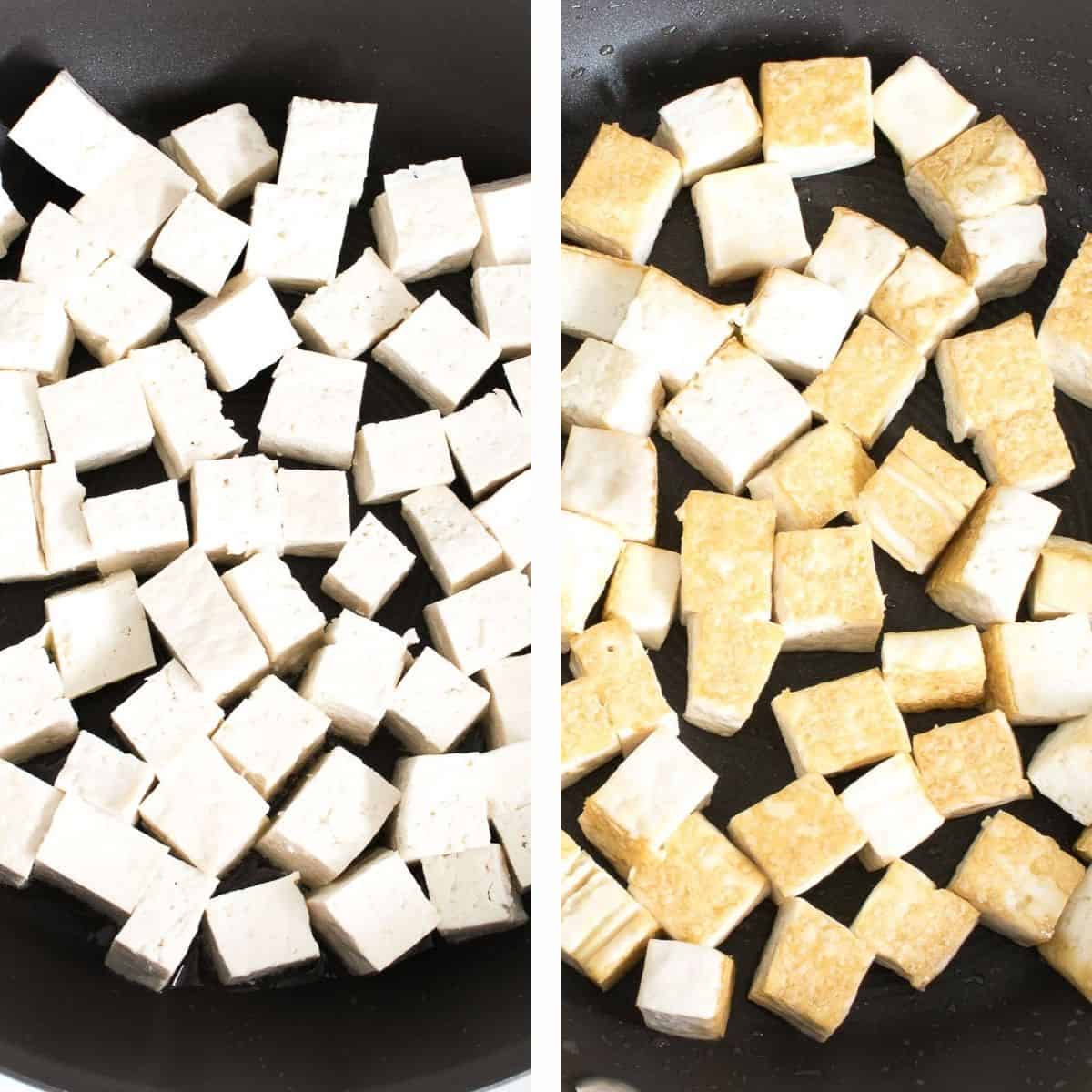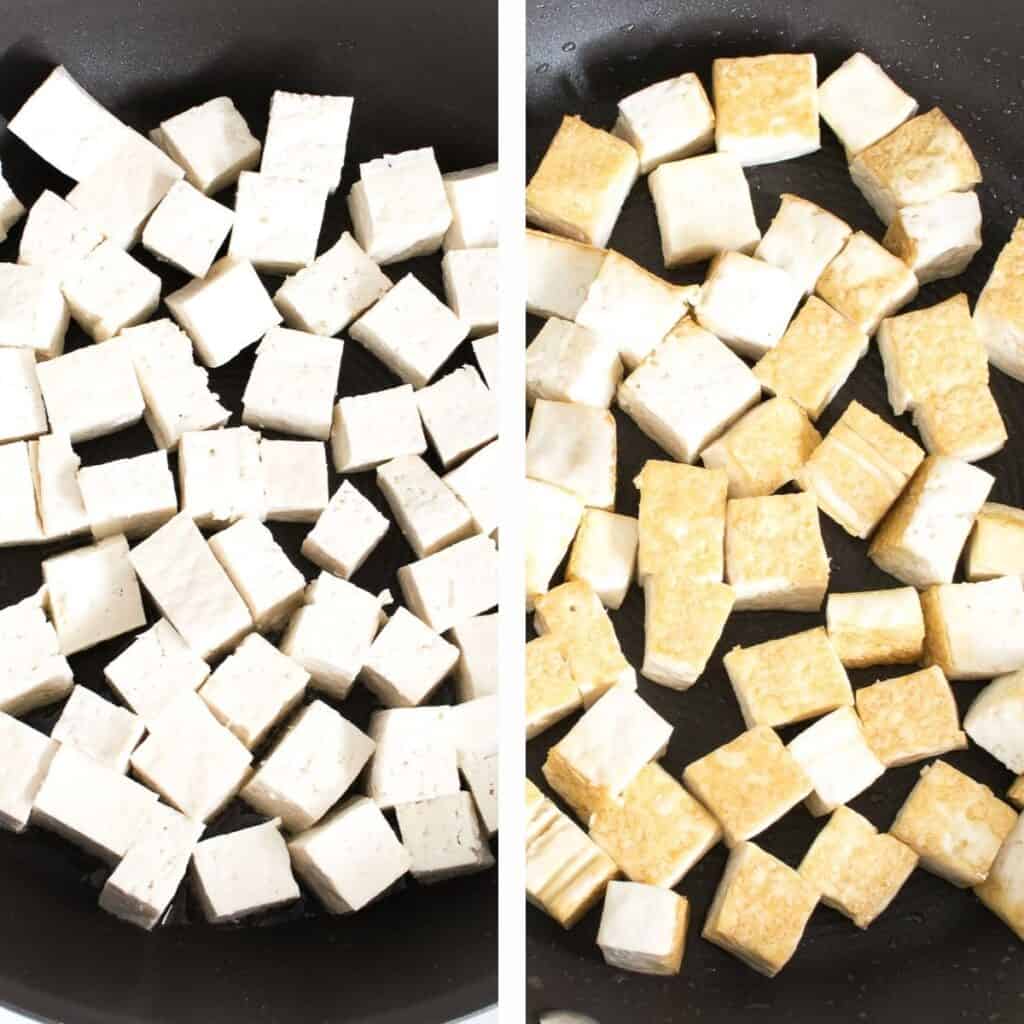 Secondly, I combined all the sauce ingredients in a mixing bowl and whisked it nicely until there were no lumps.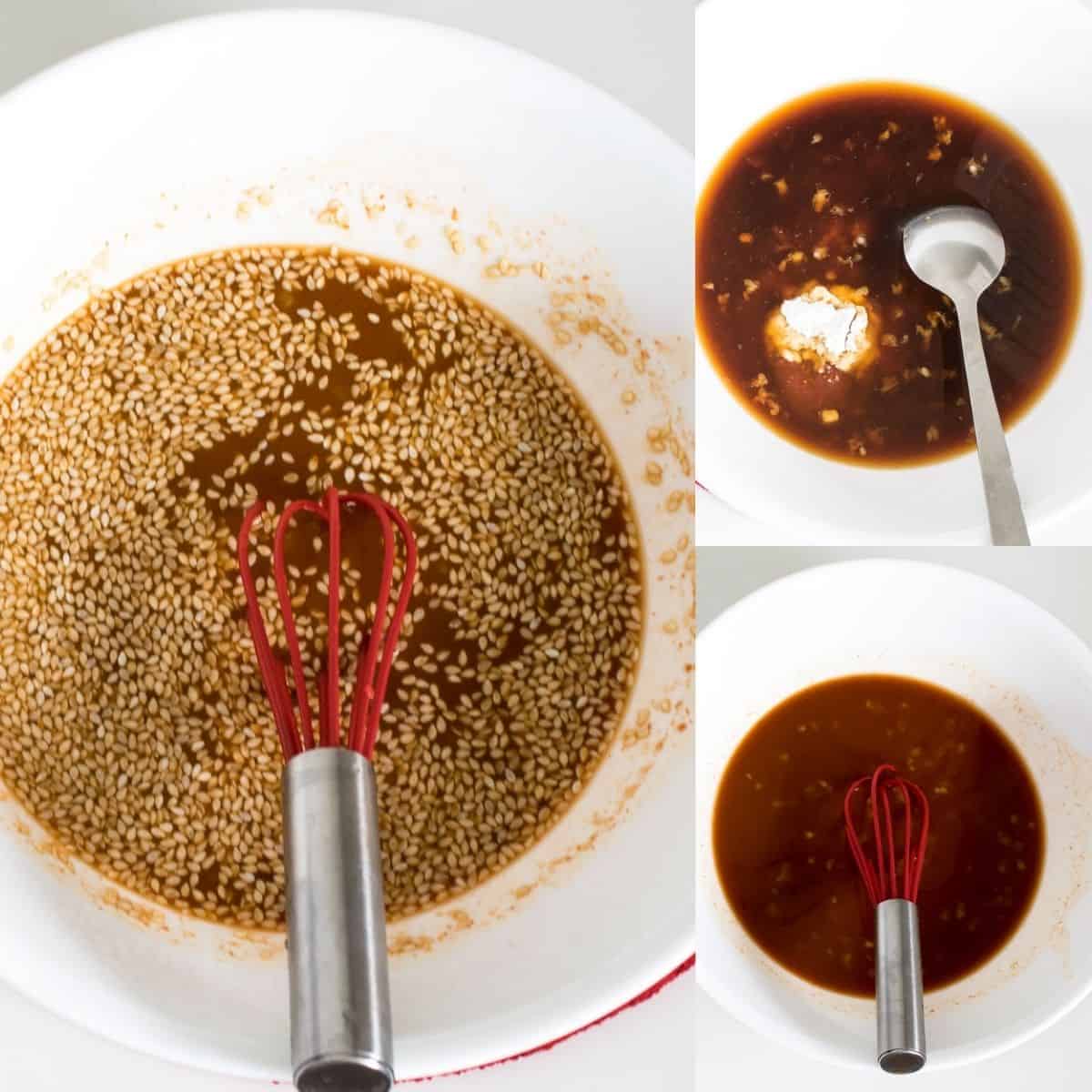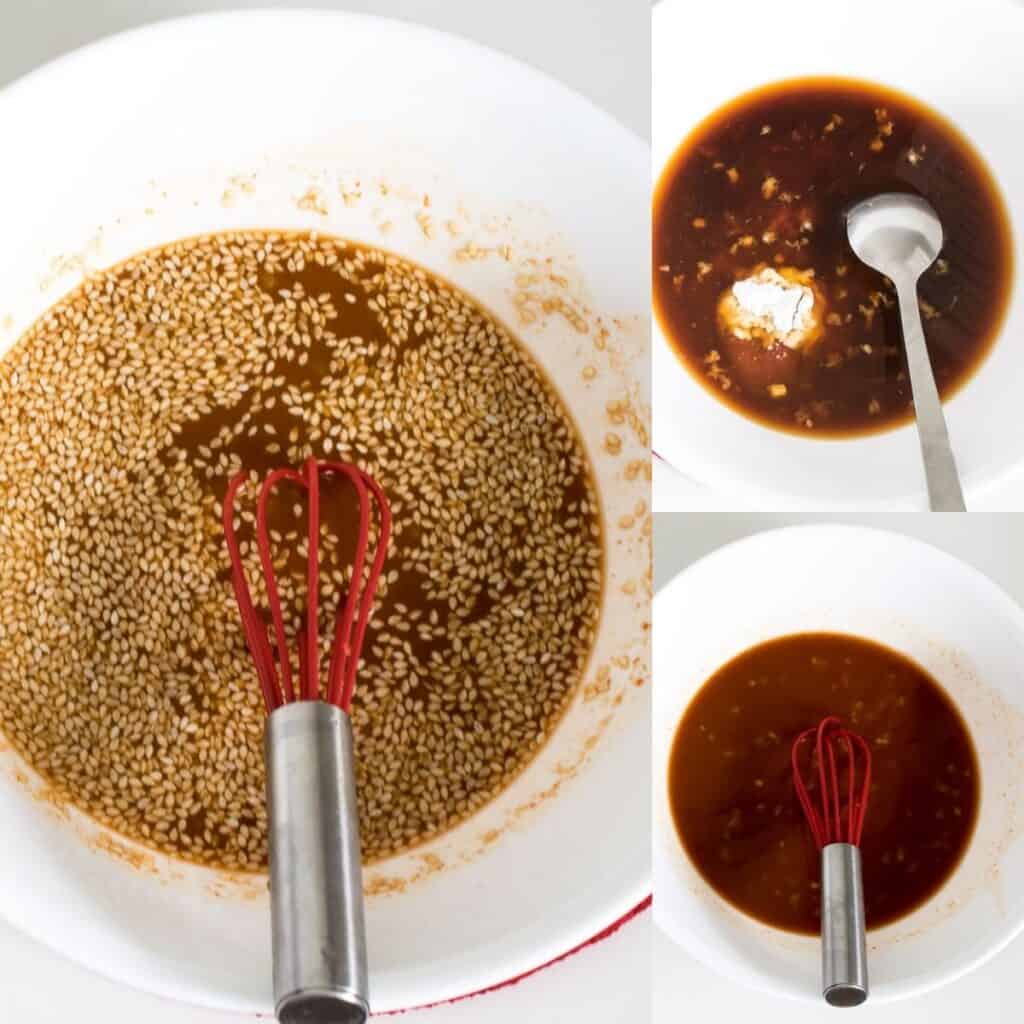 Thereafter, as soon as the tofu pieces were cooked from all sides, I poured the sauce over it and lowered the flame to medium heat.
Afterwards, I let it cook as is for 2 minutes and then mixed it gently with a flat spatula.
I made sure that each tofu pieces are nicely coated with the sauce and becomes sticky.
Lastly, I turned off the flame and garnished with green onions and more sesame seeds.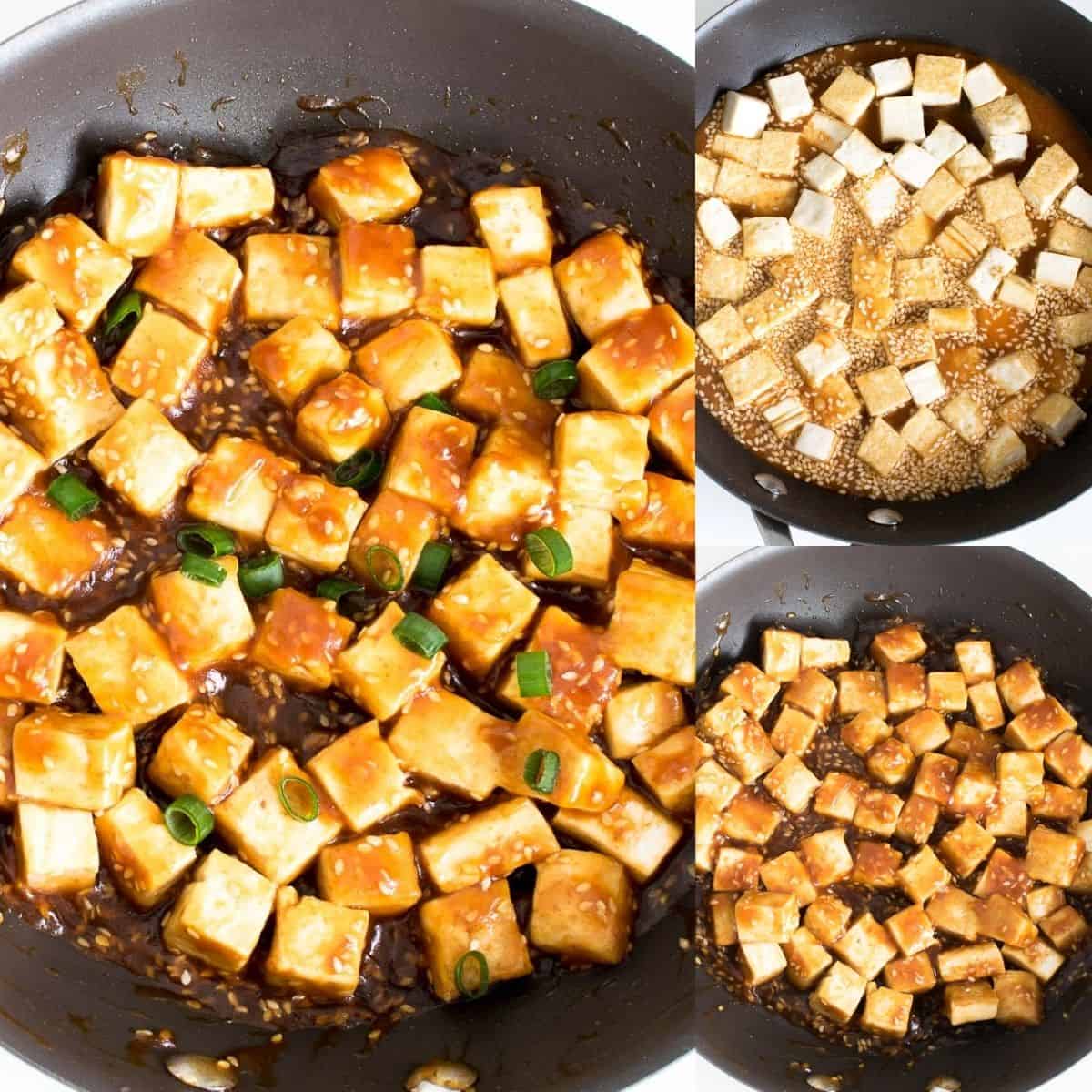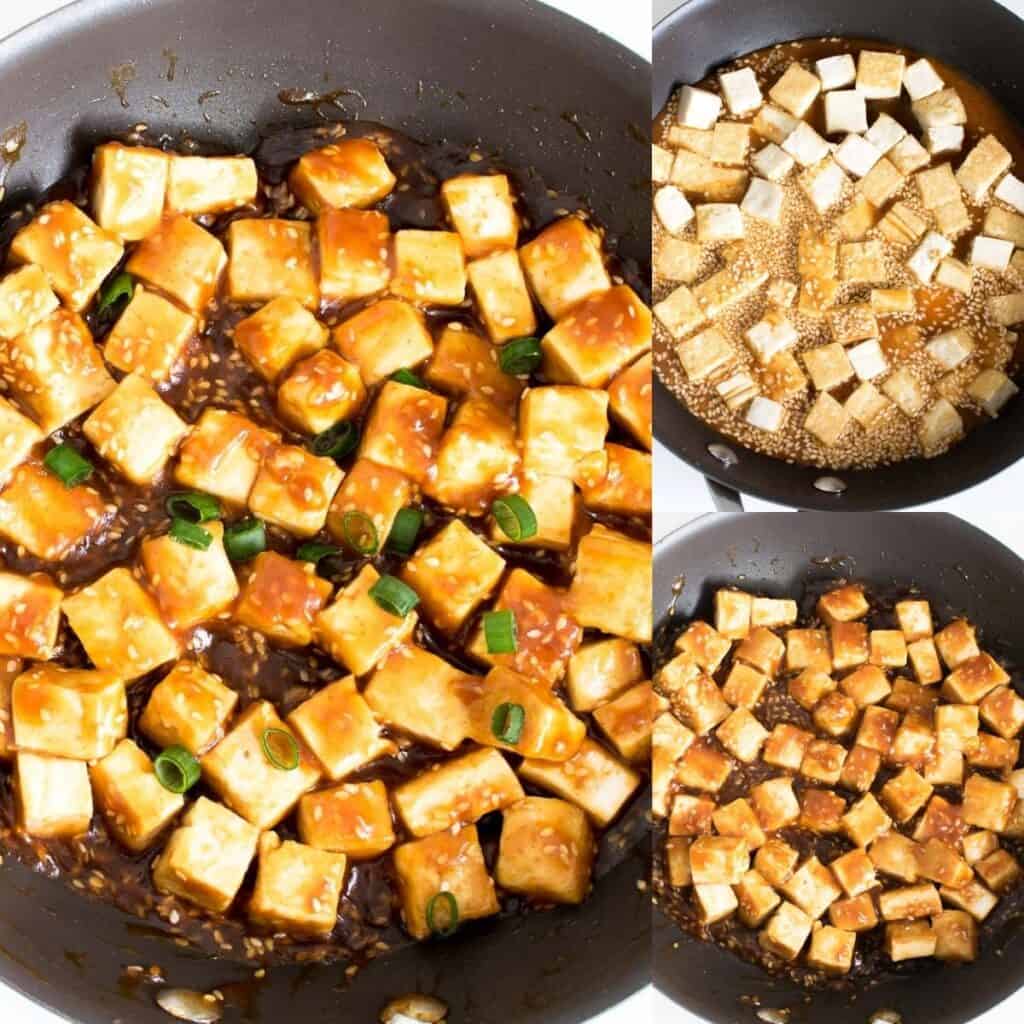 Next, I served it immediately over the bed of brown rice.
My family instantly loved it and I had no leftovers.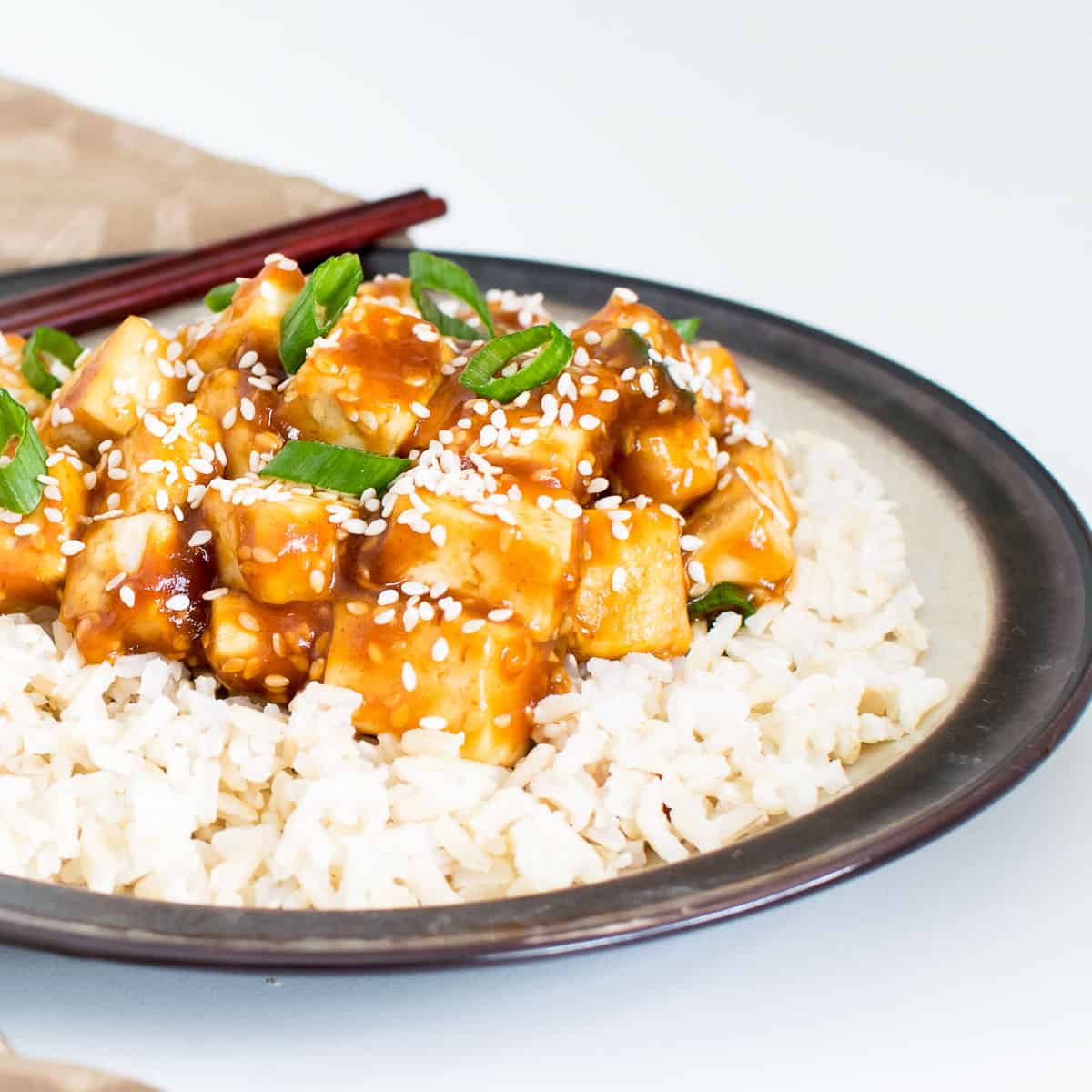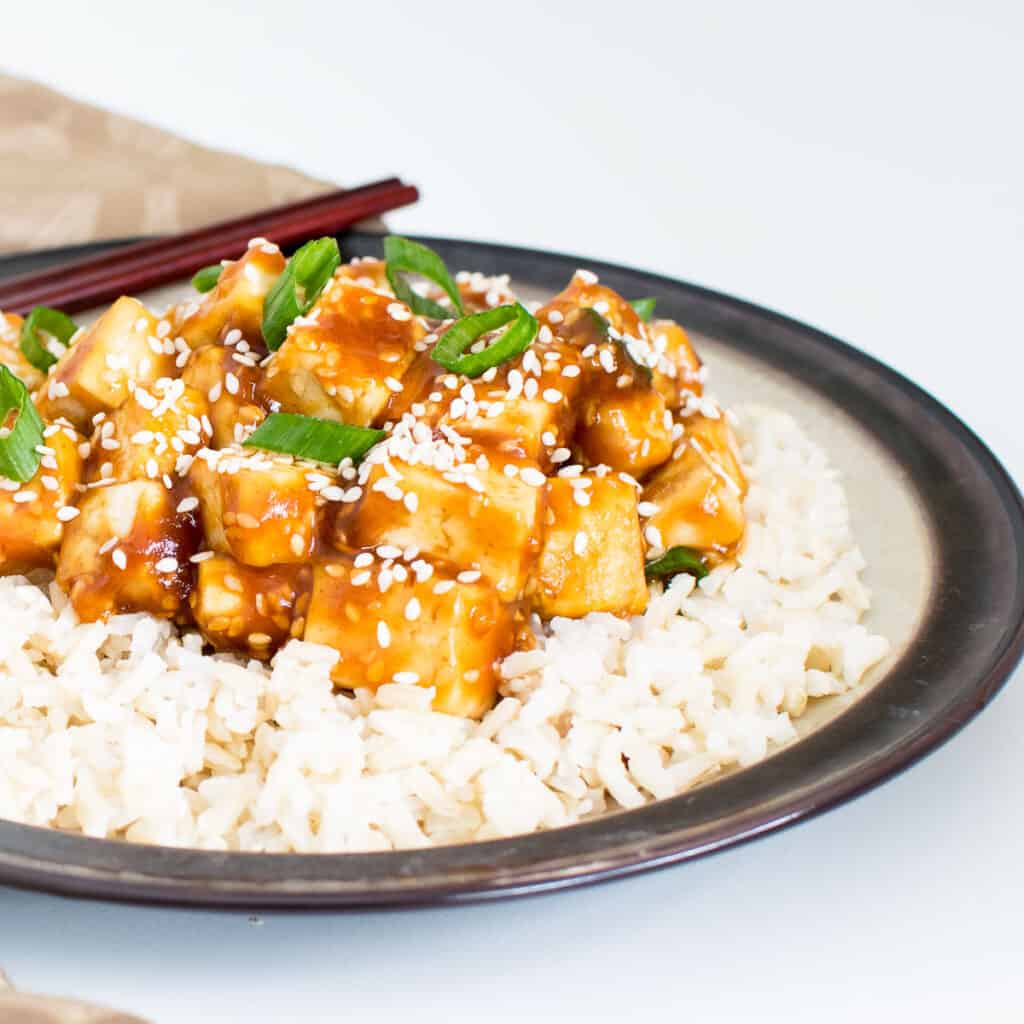 Every time I make this recipe, I always have to double up because we end up over easting since it is so delicious.
Expert tips:
Make sure to press tofu for at least 15 minutes. The longer you press it, the firmer it becomes and tastier after cooking. For this I usually place a kitchen towel o a flat plate, then place the tofu block along with another layer of kitchen towel on it. Then, I put a heavy cast iron pan on it and let it press.
If you have a good quality nonstick pan then start with 1 tbsp of oil and place tofu pieces on it. While cooking tofu if you think its sticking or drying up then add another 1 tbsp of oil but do not exceed.
Do not overcook the sauce as it quickly becomes sticky and reduces in quantity due to the cornstarch.
Sesame Tofu FAQs
How long does it last?
This taste best when served immediately. However, you may refrigerate the leftovers in an air tight glass container to use it the next day.
Is it healthy?
Tofu being a soy product is very high protein and calcium. Since, I have used good amount of sesame seeds it compliments tofu by increasing the calcium content of the entire dish. A small amount of oil provides healthy fats to our diet and so it's important too. I used maple syrup as the sweetening agent which is more natural form than the processed sugar. Overall, it's a healthier entrée which can be enjoyed frequently by the entire family of all ages.
What is sesame oil?
It's an oil that contains heart healthy omega 3 and omega 6 fatty acids. I have used it in very small quantity here. This oil can be used in everyday coking in moderation. It positively supports blood pressure and blood sugar levels.
What are the benefits of sesame seeds?
It's a good source of calcium and fiber. Along with lowering blood pressure it also helps reduces inflammation and is a great source for vitamin. In this recipe these sesame seeds provide a lot of flavor to the tofu along with a slight crunch as an outside layer.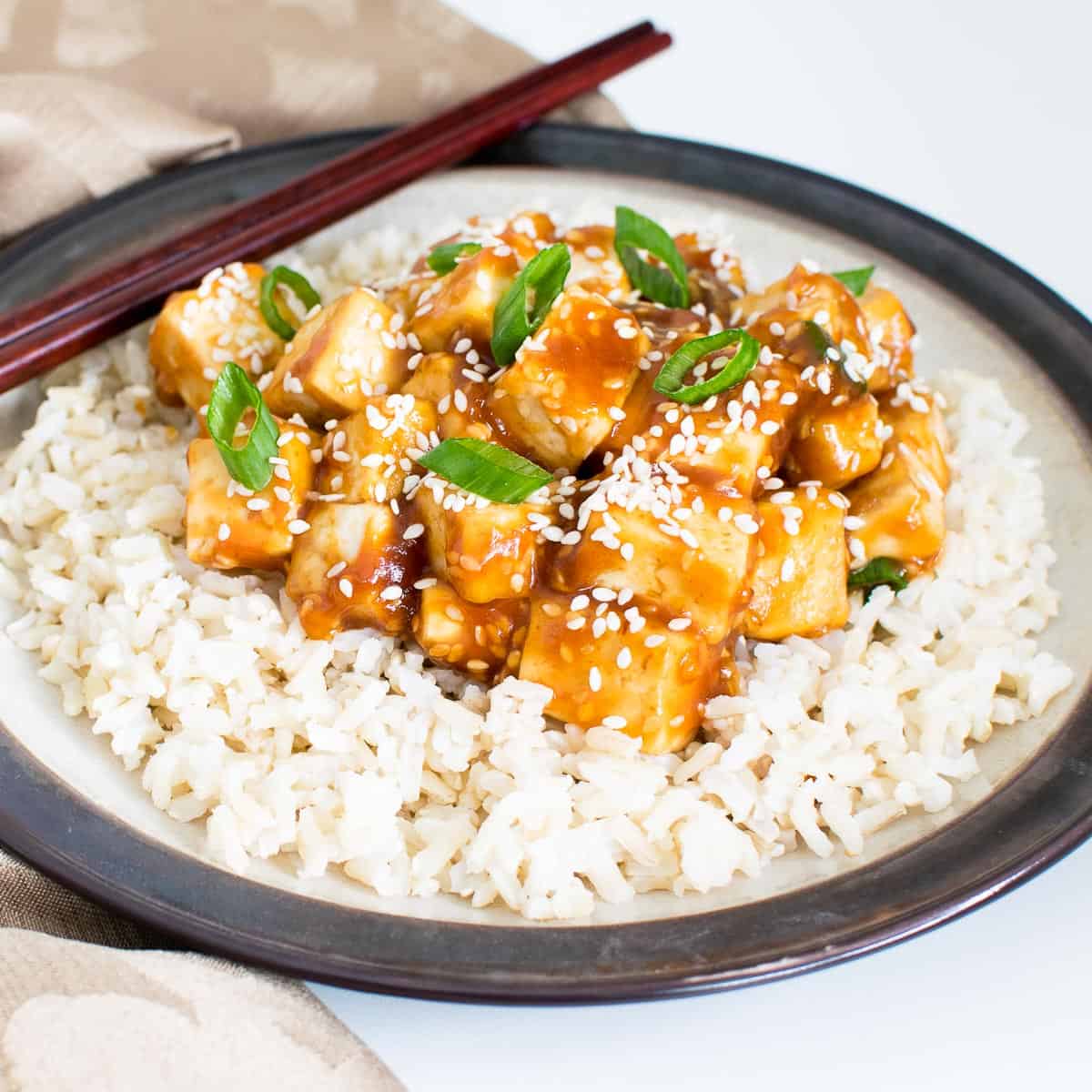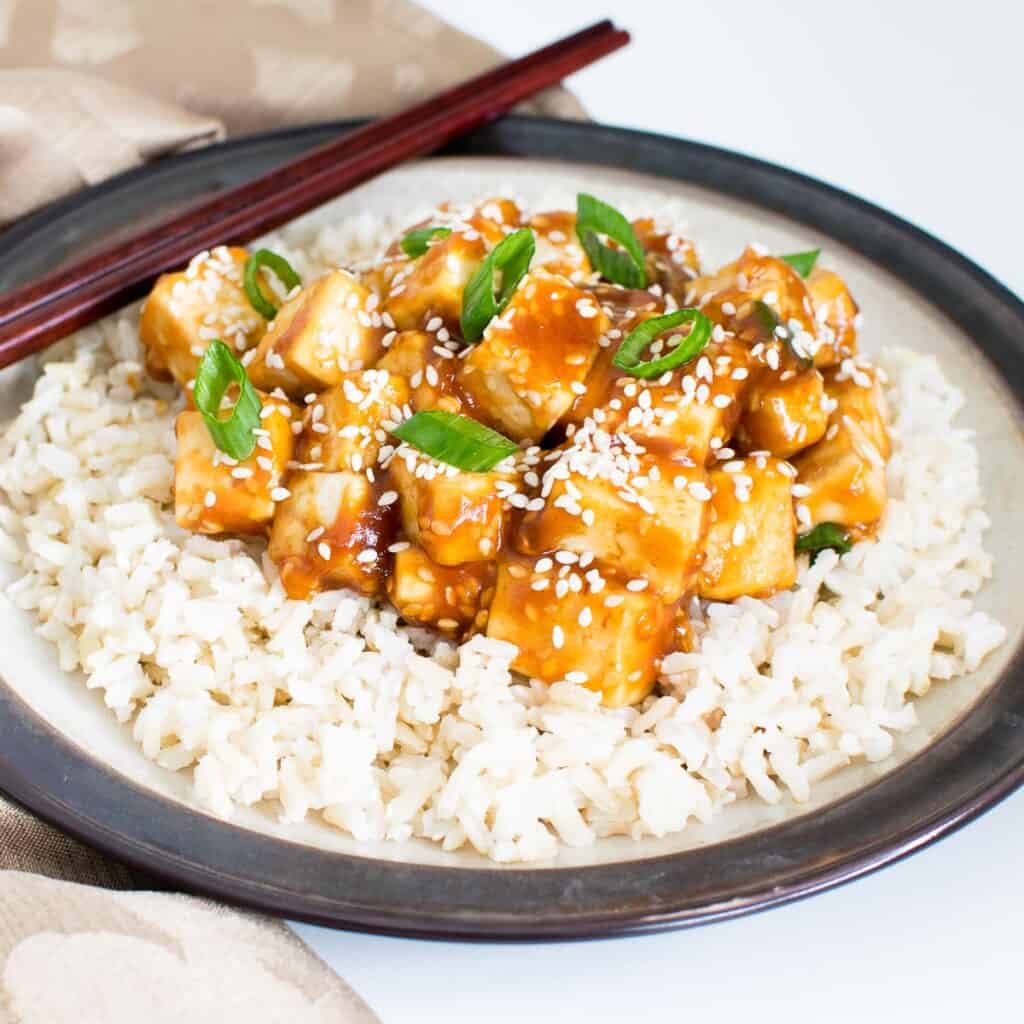 Did you make it?
If you get a chance to make this recipe then please leave your feedback in the comments along with the ratings. In addition, you may tag @kiipfit on Instagram with your recipe image because we would love to see what you cooked.
In addition, if you desire to explore more of my delicious recipes then you may checkout my cookbooks.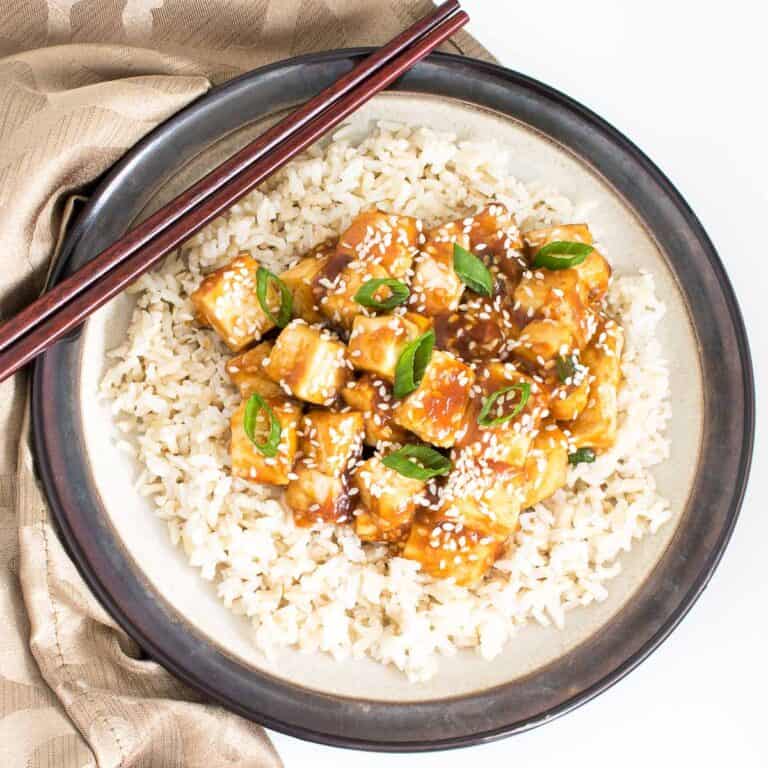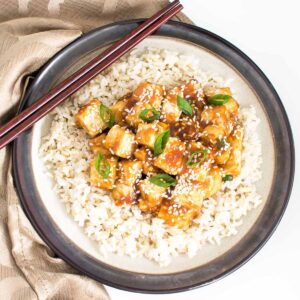 Print Recipe
Sesame Tofu
This vegan Sesame Tofu is easy, fast and a satisfying recipe for a weeknight meal. Its cooked golden and then tossed in sweet and savory sauce. It's incredible and amazingly tasty!
Instructions
Heat sesame oil in a nonstick pan at medium-high flame and toss in chopped tofu. Cook well until the bottom of each tofu piece is golden. Flip over the tofu with the help of a spatula so as to cook again until golden in color.

In the meanwhile, in a mixing bowl combine water, soy sauce, garlic, sriracha sauce, vinegar, maple syrup and cornstarch. Whisk it nicely until there are no lumps. Stir in sesame seeds and mix well. Keep it aside.

Once all the tofu pieces are well cooked and golden brown in color pour the sauce evenly over them. Let it cook for 2 minutes and then gently mix everything with spatula. It will become sticky. (do not overcook). Turn it off and garnish with green onions and served over bed of steamed or brown rice.
Notes
Make sure to press tofu nicely and for at least 15 minutes. The firmer the tofu the better texture and taste post cooking.
In a good quality nonstick pan, you may start with 1 tbsp. of oil and place the tofu pieces. This should work but if you find any sticking or drying up then add another 1 tbsp. of sesame oil but do not exceed.
Do not use wok for this recipe as the tofu pieces do not cook evenly. A nonstick frying pan or a sauté pan works best here.
Do not overcook once you pour the sauce over the cooked tofu or else it will taste bitter and burnt. It quickly binds and becomes sticky so make sure to lower the flame to low-medium after you pour the sauce and mix in about 2 minutes. It will become sticky.
Nutrition
Calories:
263
kcal
|
Carbohydrates:
15
g
|
Protein:
17
g
|
Fat:
15
g
|
Saturated Fat:
1
g
|
Sodium:
706
mg
|
Potassium:
95
mg
|
Fiber:
1
g
|
Sugar:
9
g
|
Vitamin A:
41
IU
|
Vitamin C:
5
mg
|
Calcium:
52
mg
|
Iron:
1
mg