This crunchy, warm and festive Butternut Squash Salad is a medley of seasonal produce with delectable flavors. It's made with simple dressing and has a sweet and salty taste to it. Its vegan, gluten free and super easy to make along with being perfect for all ages.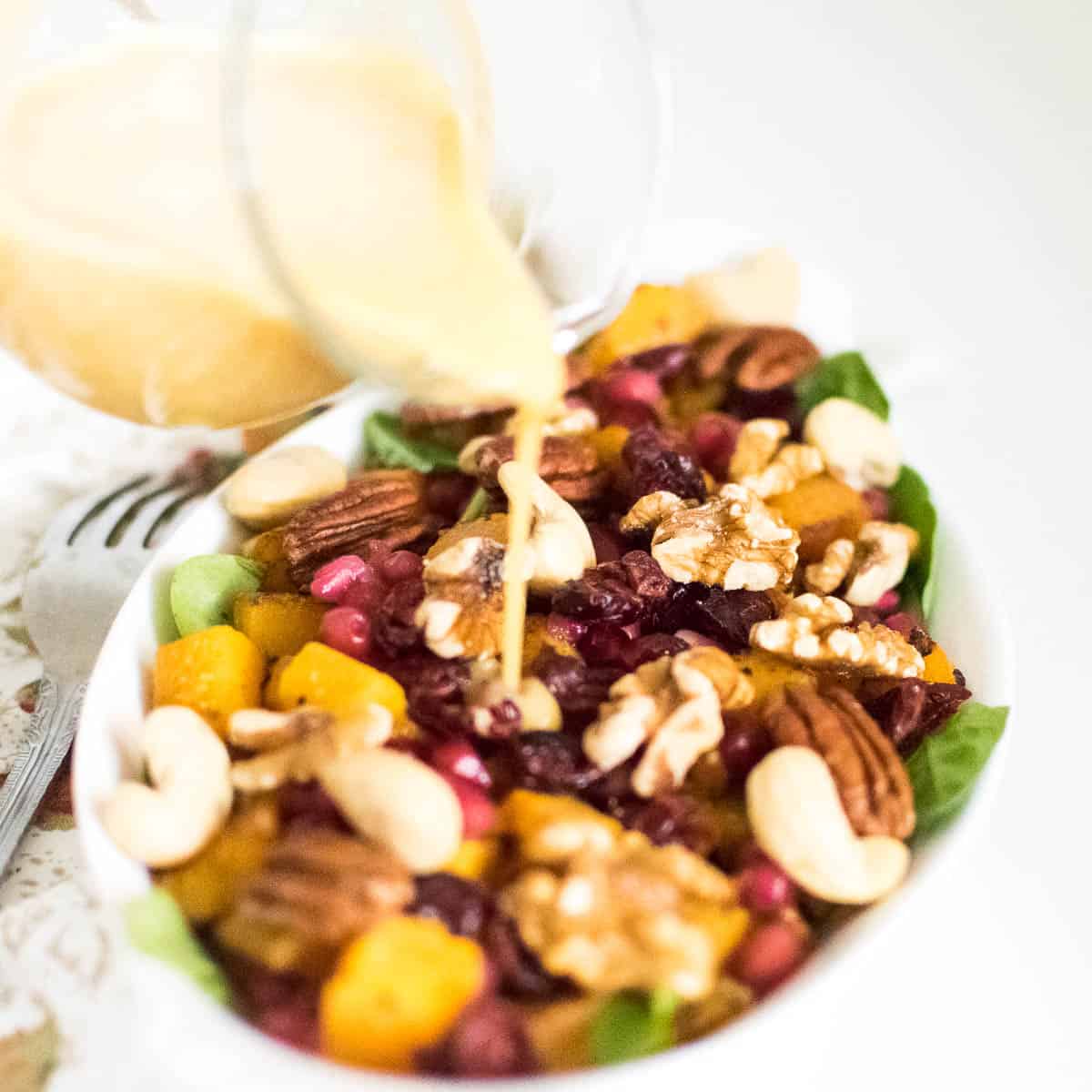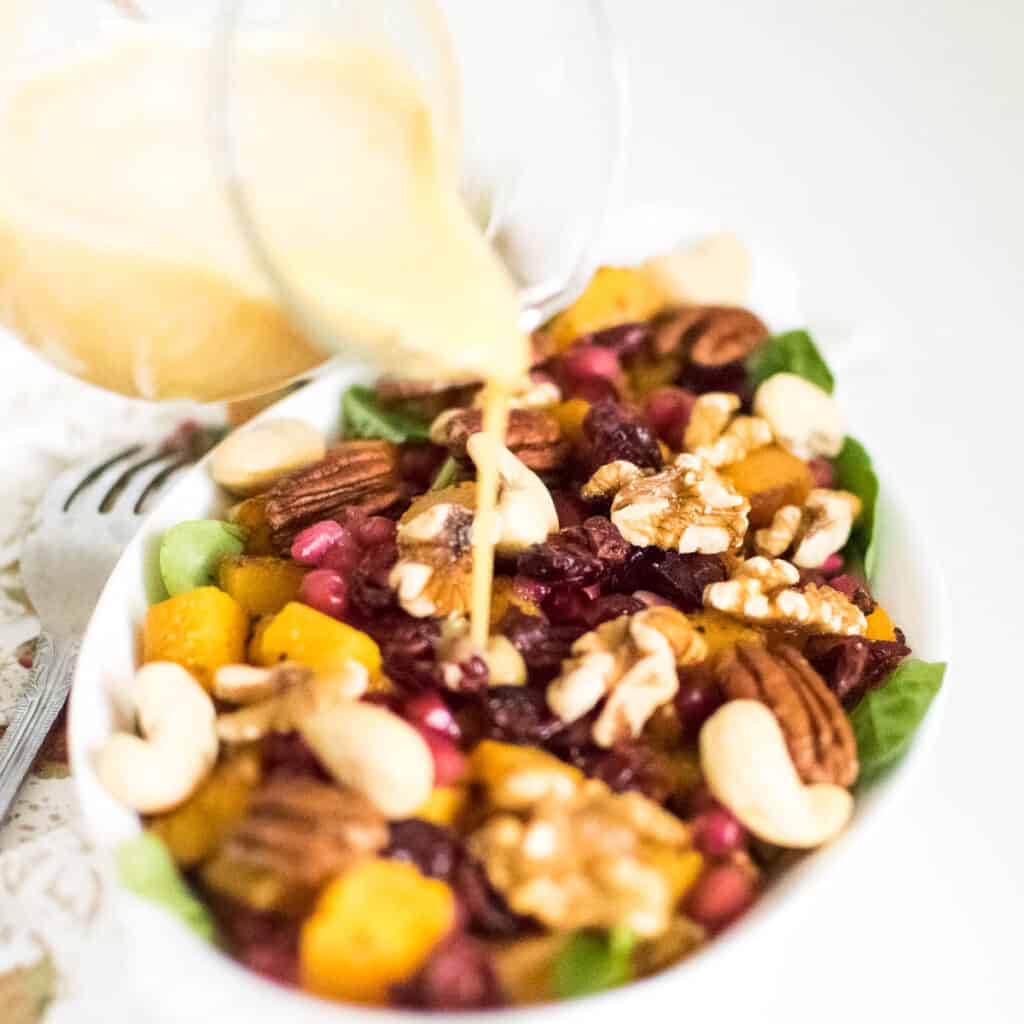 Every year during this Fall and winter, my refrigerator is stacked with butternut squash. Of all the varieties this squash variety is our favorite. Its versatile and can be converted into any type of recipes.
Therefore, I made a salad out of them this time. I also first roasted butternut squash for that extra crisp warm taste in this salad since its cold outside.
My family loved it and approved it immediately. So, I am here to share this awesome roasted butternut squash salad recipe.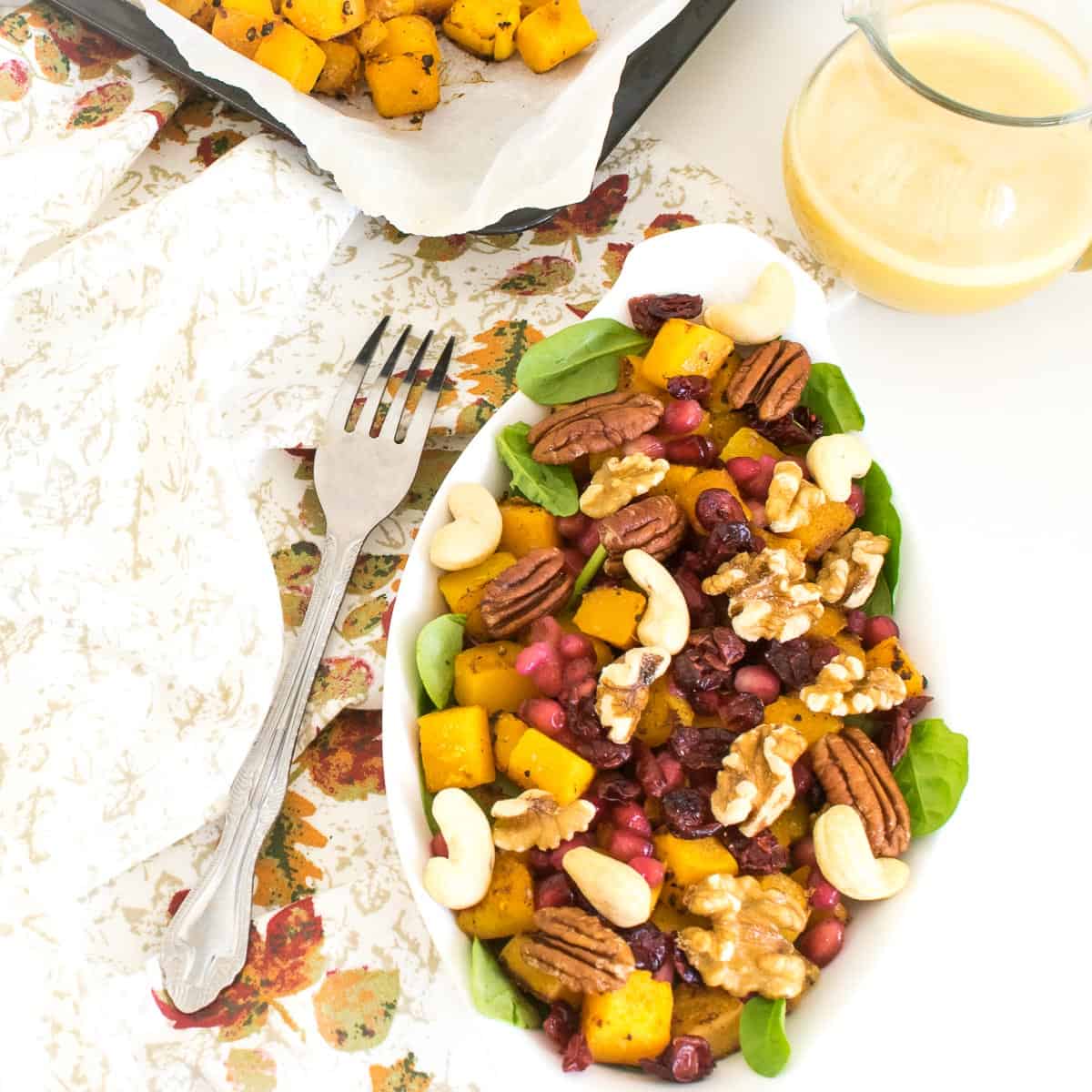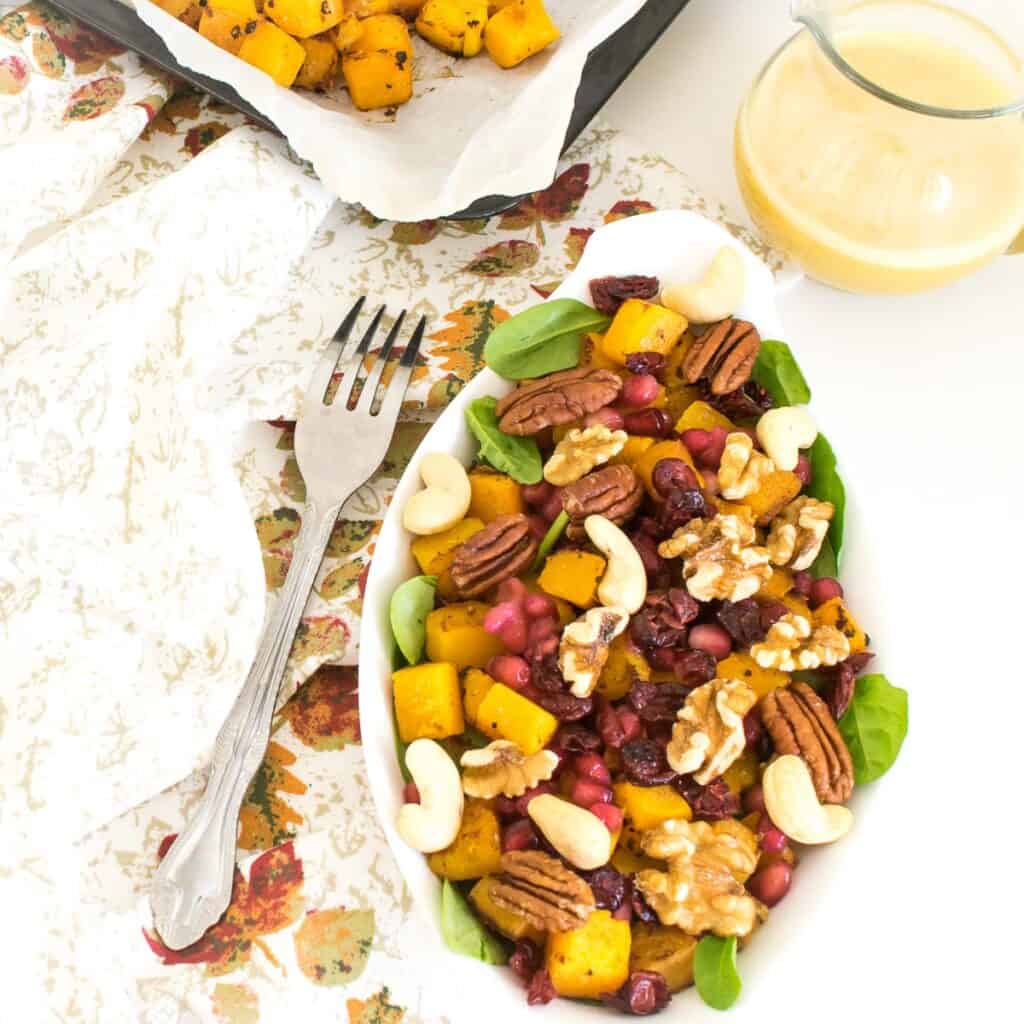 Ingredients you will need:
For the roasting
Butternut squash
Salt
Pepper
Nutritional yeast
For the dressing
Oranges
Himalayan pink salt
Pepper
Water
Maple syrup
For the salad
Baby spinach
Onions
Pomegranate kernels
Pecans
Walnuts
Cashew nuts
Dried cranberries
I have used easily available ingredients in this recipe which you may buy from any local grocery store. However, I have provided links to few of them here for your convenience.
If you plan to buy from these affiliate links then I get a small commission which in turn encourages me to bring in more delicious recipes for you all.
Ingredients notes:
Butternut squash – its at its peak during fall and winter. It comes from a squash family. This fruit is high in vitamin C, magnesium and potassium. It is deep orange in color from inside with a mild natural sweet taste to it. I like the fact that its super versatile because it can be converted into any type of recipe as in soups, salad, pasta, curry and so on.
Nutritional yeast – it is quite healthy and is a great source of vitamin B. However, I added it to give a bit of extra savory touch to the squash so as to balance out the flavors of the entire salad recipe.
Oranges – these are from citrus family and loaded with vitamin C. It brings out a nice orange, tang and yet sweetness to this salad dressing.
Maple syrup – I added just a hint of it in the orange juice so as to balance out the sour or tangy flavor if any.
Spinach – it's a green superfood which is extremely versatile. It is packed with vitamins and an extremely important ingredient for bone health.
Pecans – its low in calories and high in nutrition. It is a low GI food too and brings the crunchy earthy flavor in this salad.
Walnuts – they are extremely nutritious and is absolutely desirable in this salad.
Cashew nuts – they provide a subtle sweetness and a creamy crunch to this salad in every bite.
Pomegranate kernels – this is quite refreshing in the salad. It is juicy and sweet and loaded with iron and other vitamins and minerals.
Dried cranberries – this I used as a part of dried fruits in this salad recipe to give it a festive effect and that extra holiday flavor too.
I am sure you must have realized that this salad with butternut squash is super healthy, oil free and high in fiber and is protein packed. Moreover, you must already be having most of the ingredients. So, I would encourage you to go though the steps quickly and start with it.
I am sure this butternut squash salad recipe will top your menu chart for this season.
How to make Butternut Squash Salad
Firstly, I tossed in butternut squash with salt, pepper and nutritional yeast in the baking sheet. Then, I baked it at 400-degree Fahrenheit for about 25-30 minutes. Once done, I took it out and kept it aside.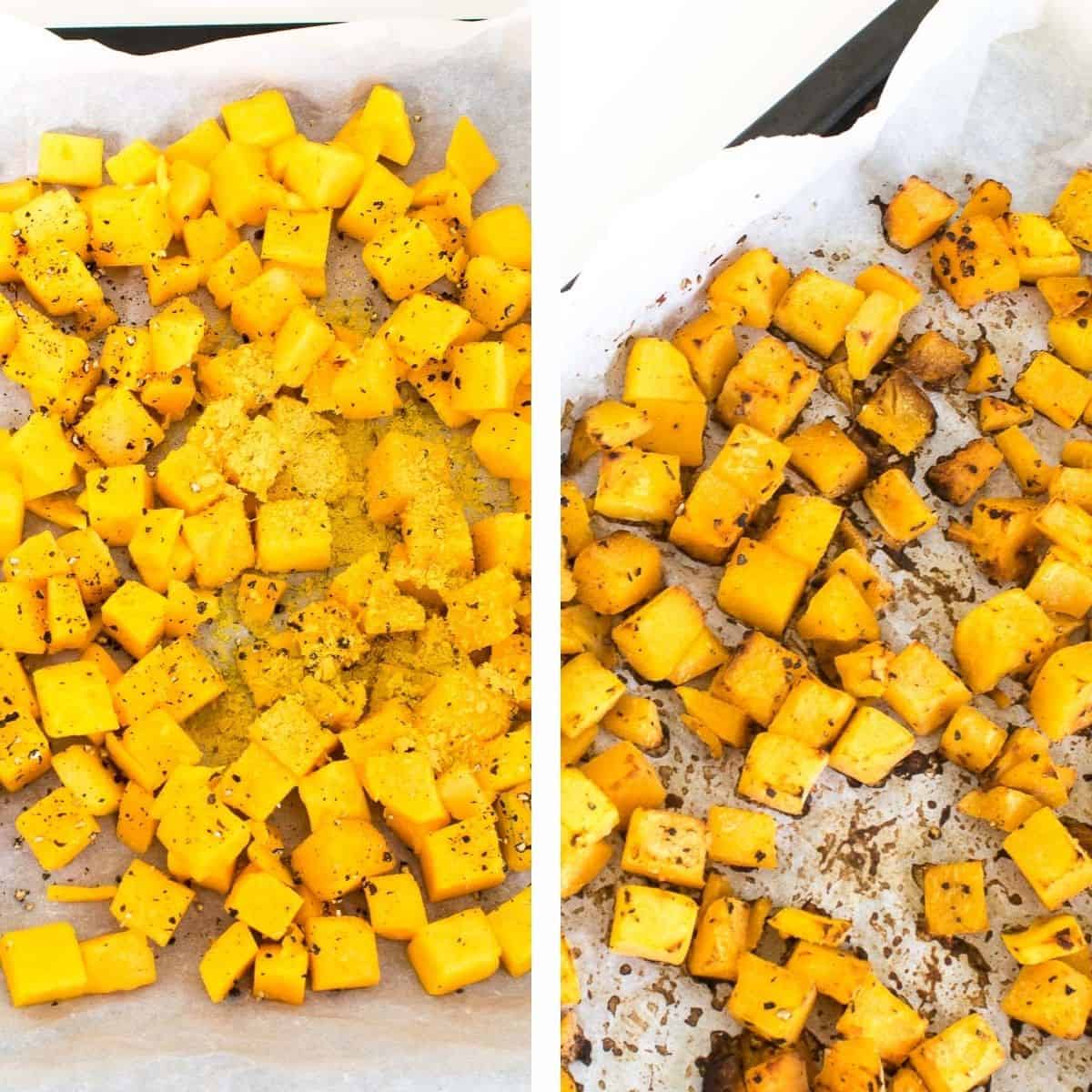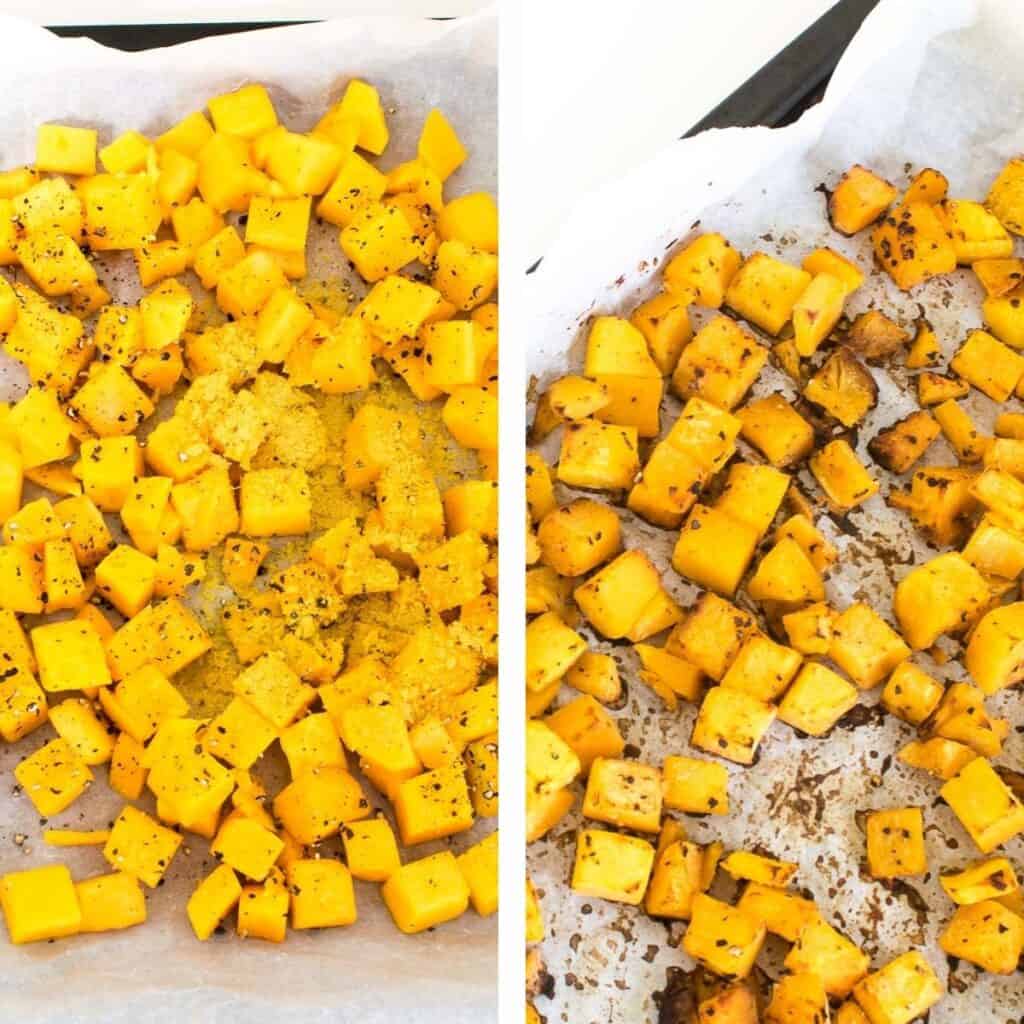 Secondly, I blended all the dressing ingredients in a blender and then strained it in a glass bowl. Again, I kept this dressing aside.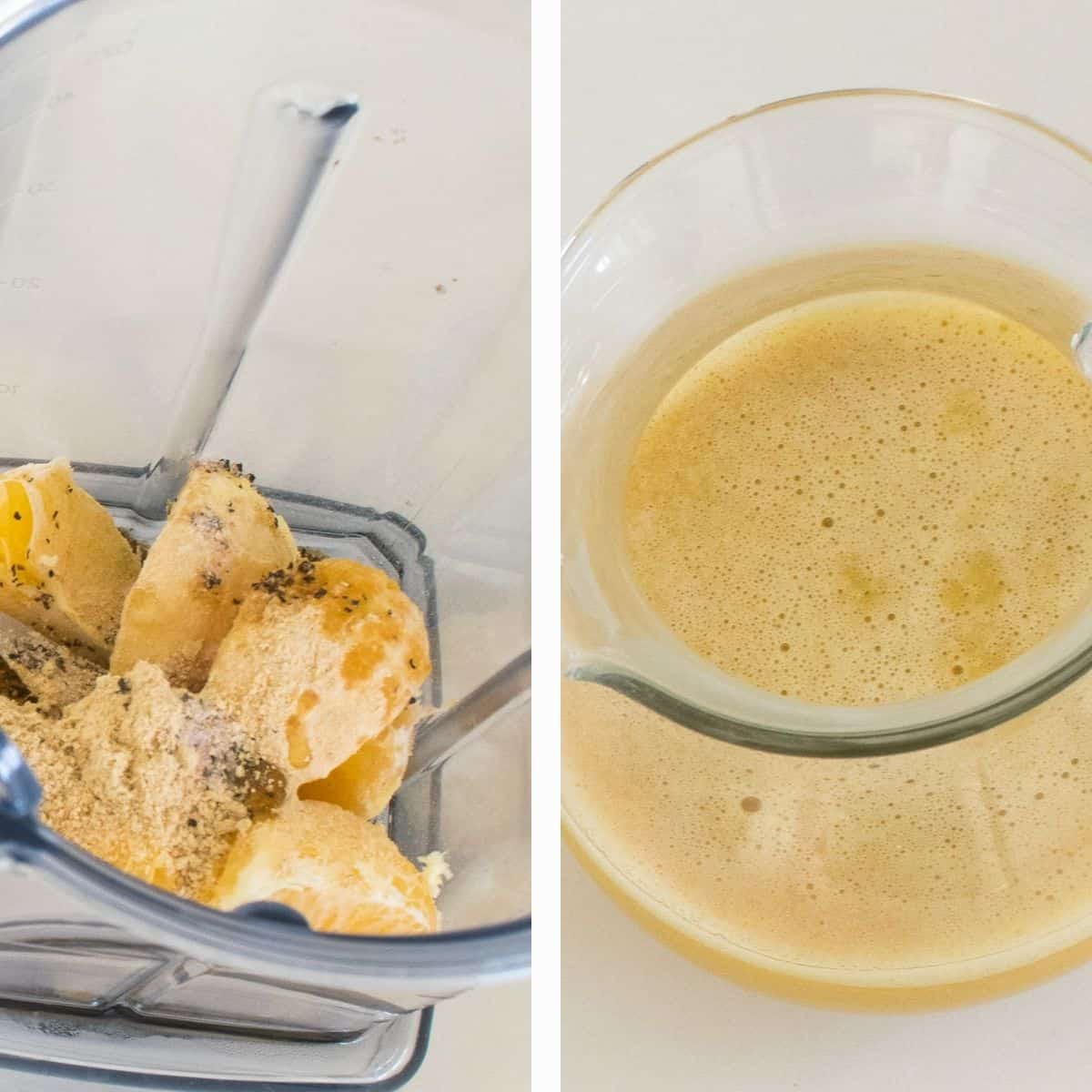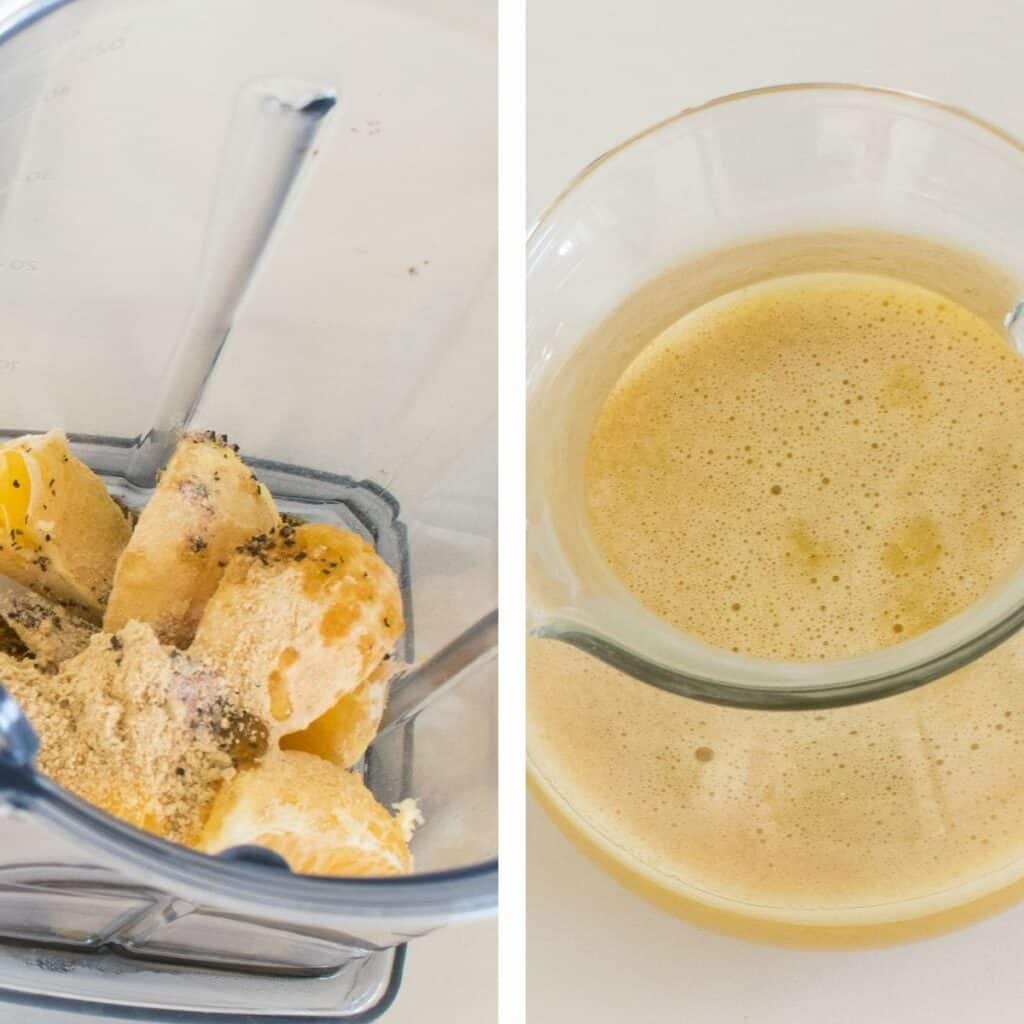 Next, I assembled all the salad ingredients in a salad bowl.
Thereafter, I tossed in roasted butternut squash to the salad bowl.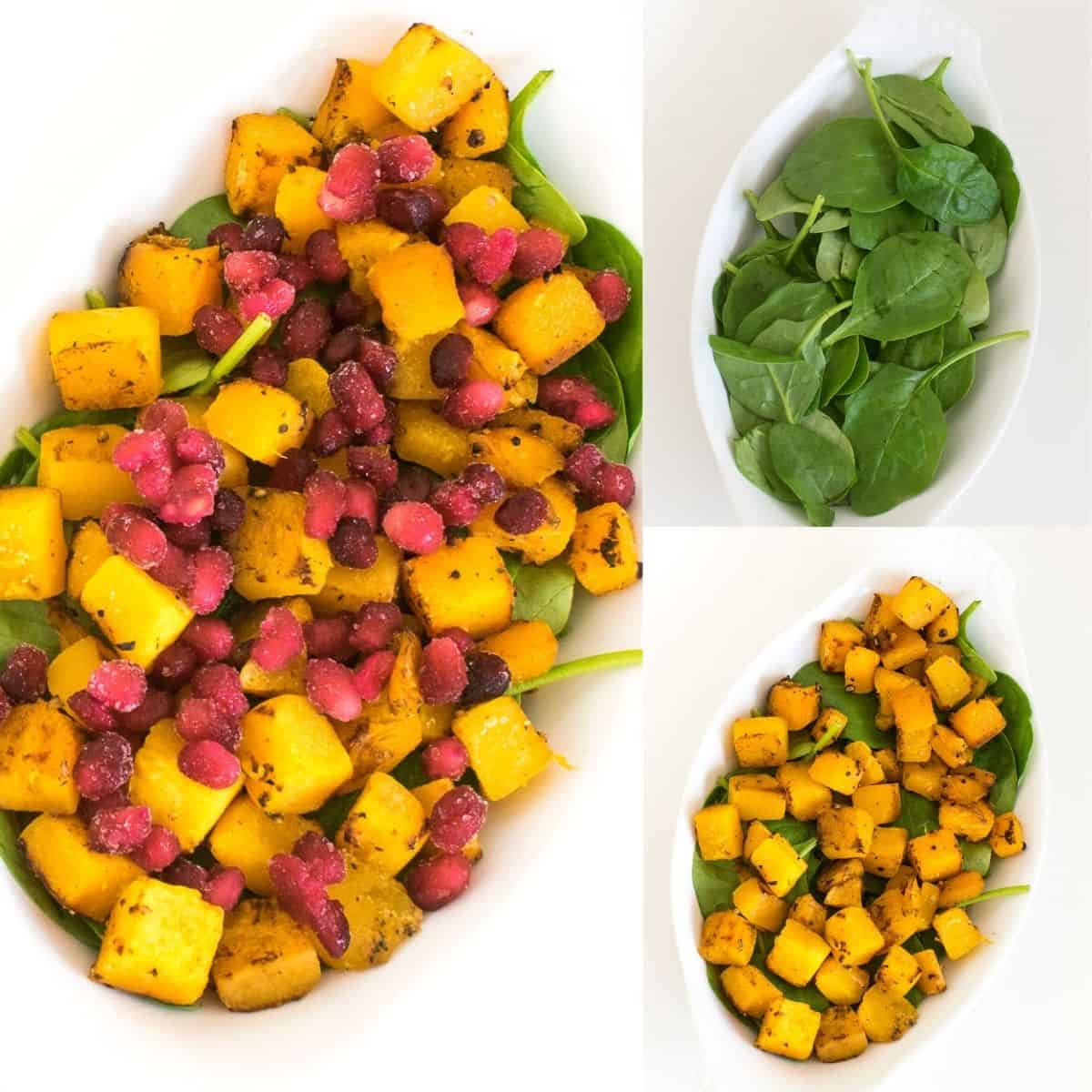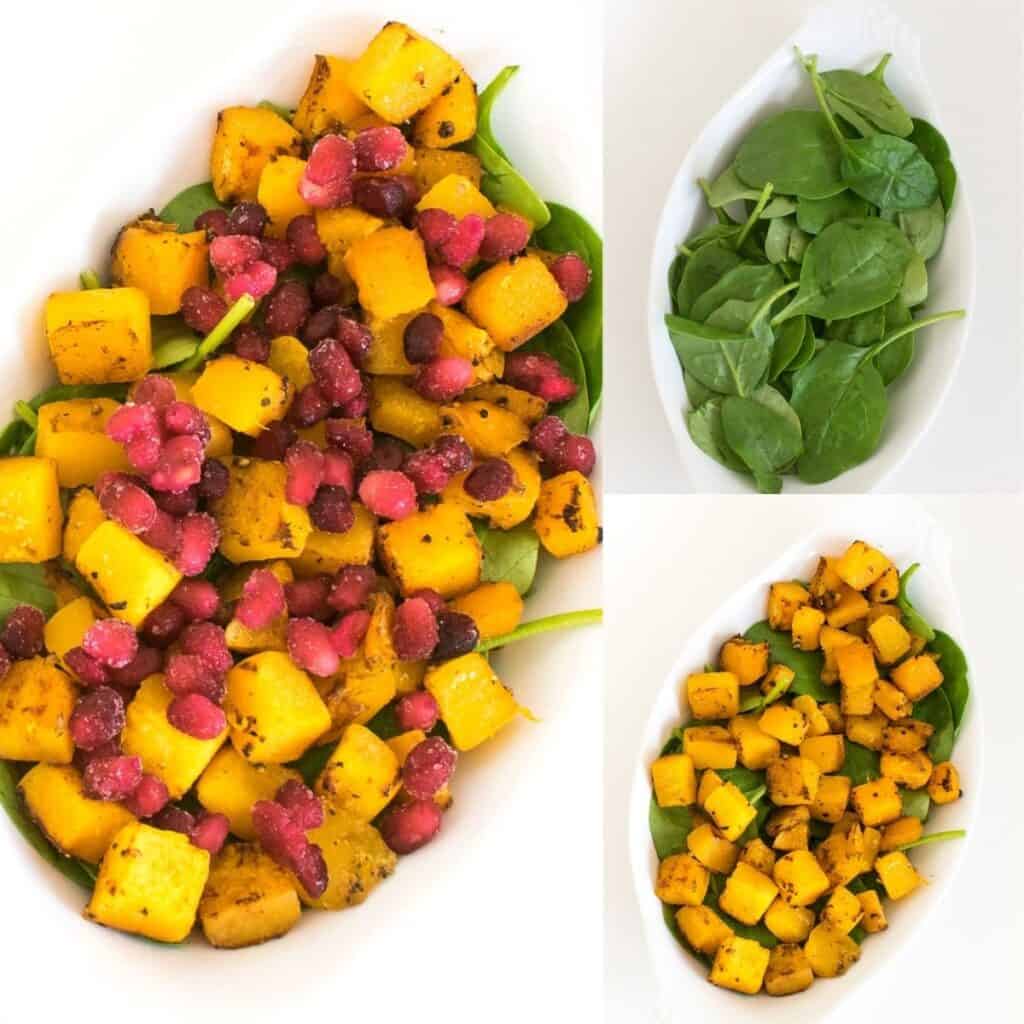 Afterwards, I drizzled the dressing and mixed it again.
Lastly, I served it immediately.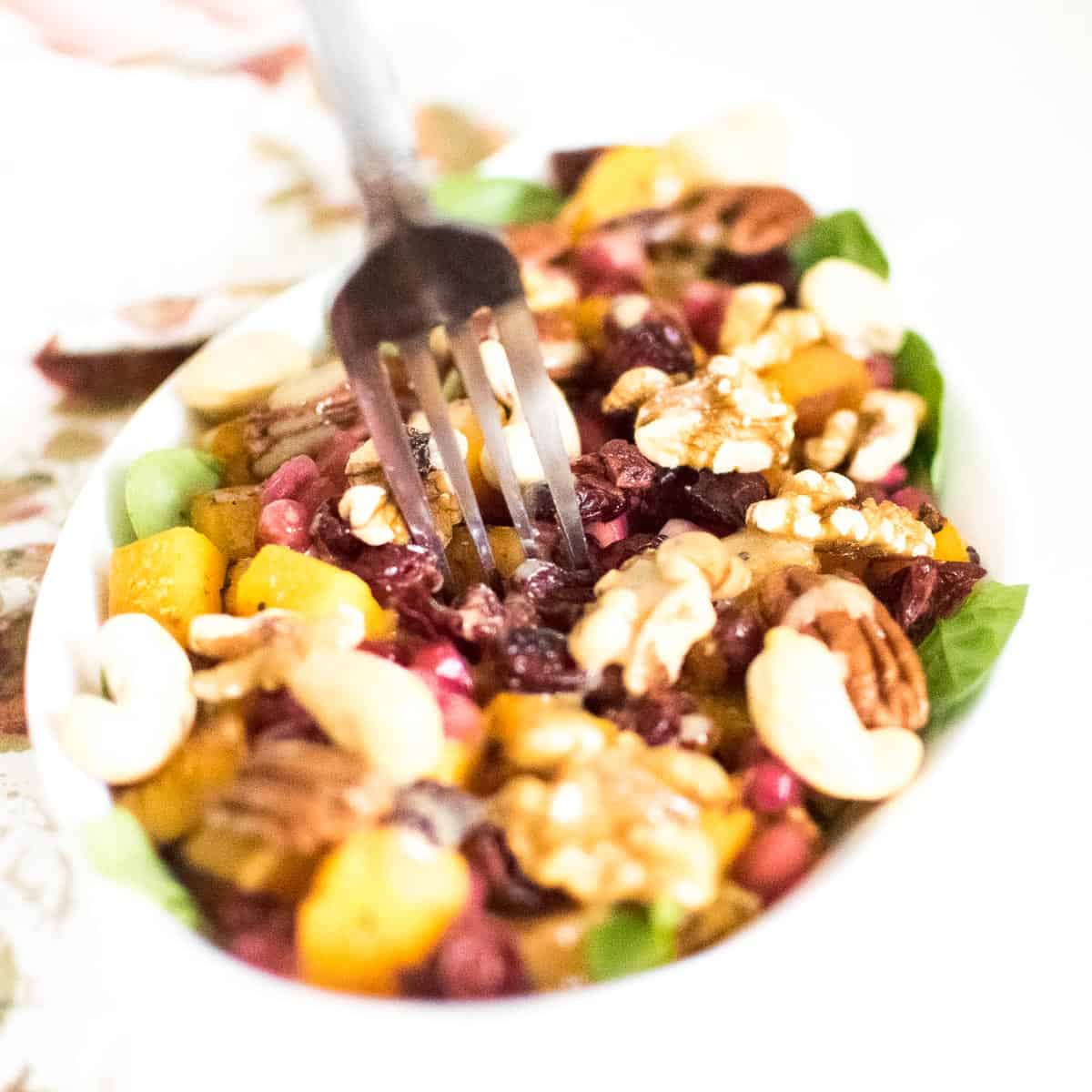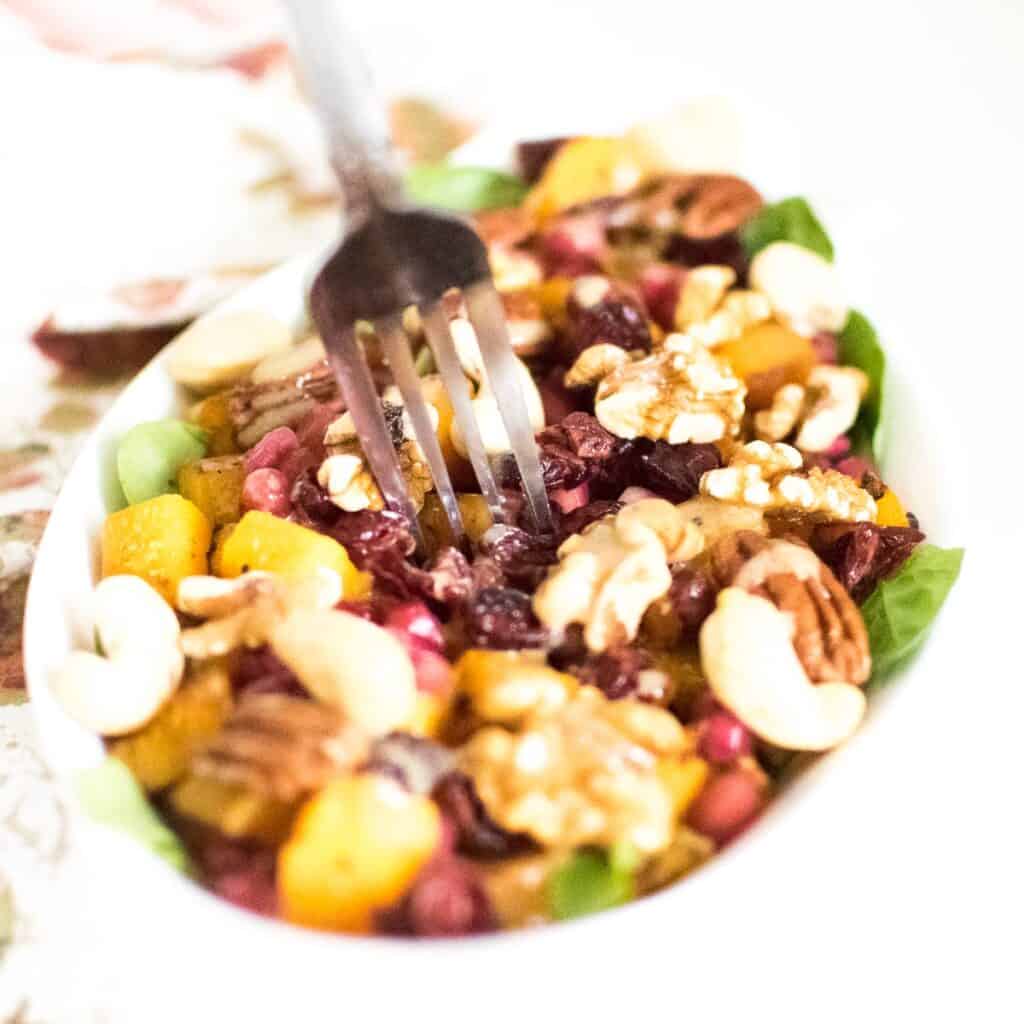 It was a perfect lunch for us. However, I served it as side salad to my daughters for dinner and they loved it.
Therefore, I can assure you that this recipe is perfect for all ages. In fact, it is a fun recipe with colorful ingredients and a variety of flavors in one bowl.
Expert tips:
Make sure to place parchment paper on the baking sheet. Since I made this oil free the squash pieces might stick in the baking sheet. Therefore, parchment paper is important here.
Make sure to chop butternut squash to bite size pieces and not very big pieces.
Toss the dressing in the salad absolutely when ready to serve to serve so a to maintain its crunchy bites and freshness of the fruits and veggies.
Butternut Squash Salad FAQs
How long does it last?
This salad tastes best when served immediately. However, you may roast the butternut squash and keep it ready ahead of time. But if you want it to be a warm salad then re-bake it again just before tossing all the ingredients.
How can I prep ahead of time for this recipe?
Its an easy recipe. Not much preparation is required. Only roast butternut squash ahead of time and keep it ready. Its best to blend the dressing at the time of serving for its fresh flavors.
Is butternut squash a fruit or a veggie?
It is basically a fruit because it has seeds inside it.
Is this salad healthy?
Yes. I made it oil free so we save on quite a bit of calories here. Moreover, I made the dressing also absolutely with fresh organic ingredients and with no processed foods. Squash is high in beta carotene and spinach is a green superfood with being all-rounder. Its rich in many vitamins and other nutrition. I used some raw nuts to add protein and healthy fats in this recipe and some fresh fruits to add a bit of more flavor and freshness. Overall, this a whole food salad and is very healthy.
Do I have to peel before roasting butternut squash?
I used peeled and chopped ready to use butternut squash from the store. However, if you plan to cut and peel it yourself then I would recommend to pop it in the microwave for 2-3 minutes so that the squash is a bit soft. Then, go ahead with peeling and chopping and then roasting.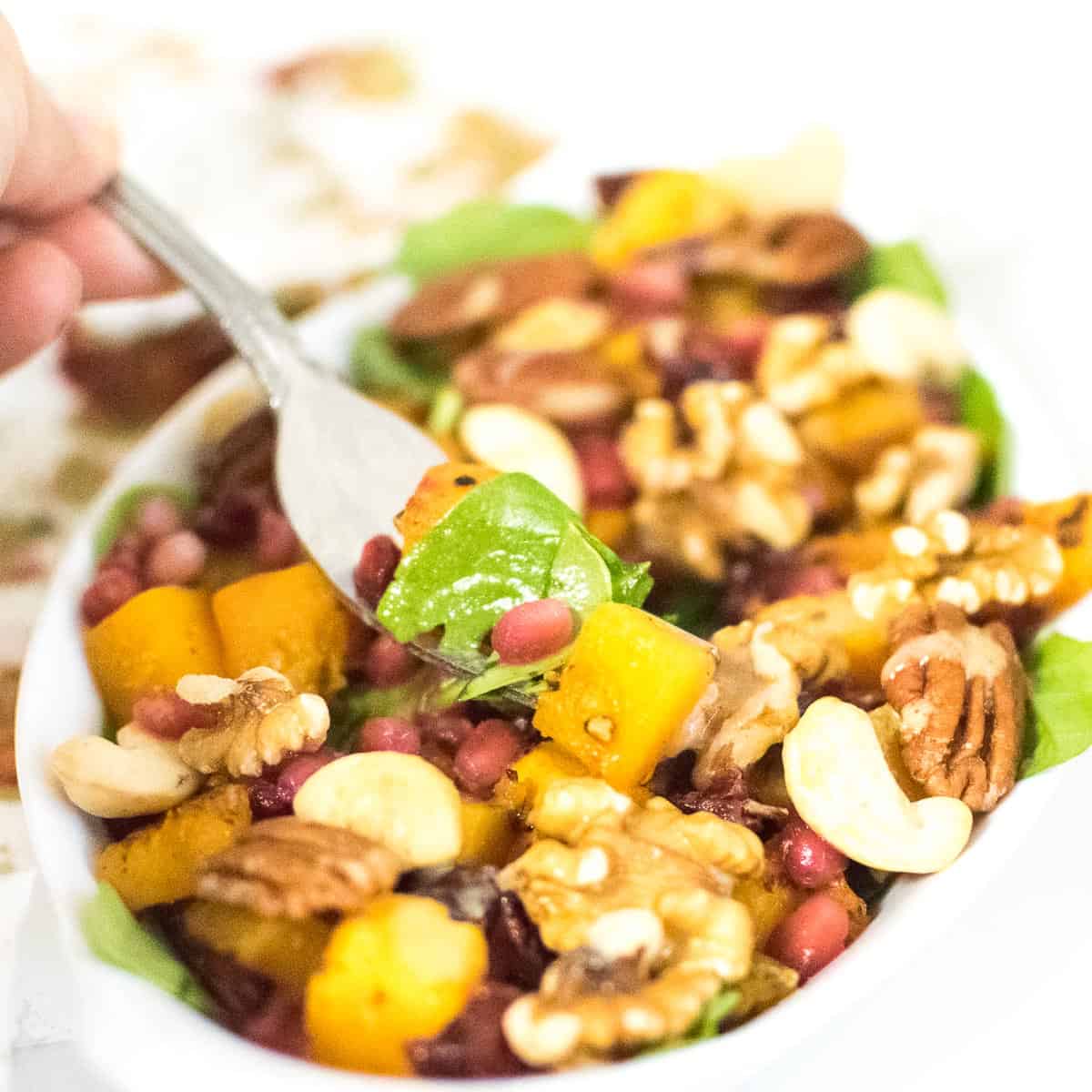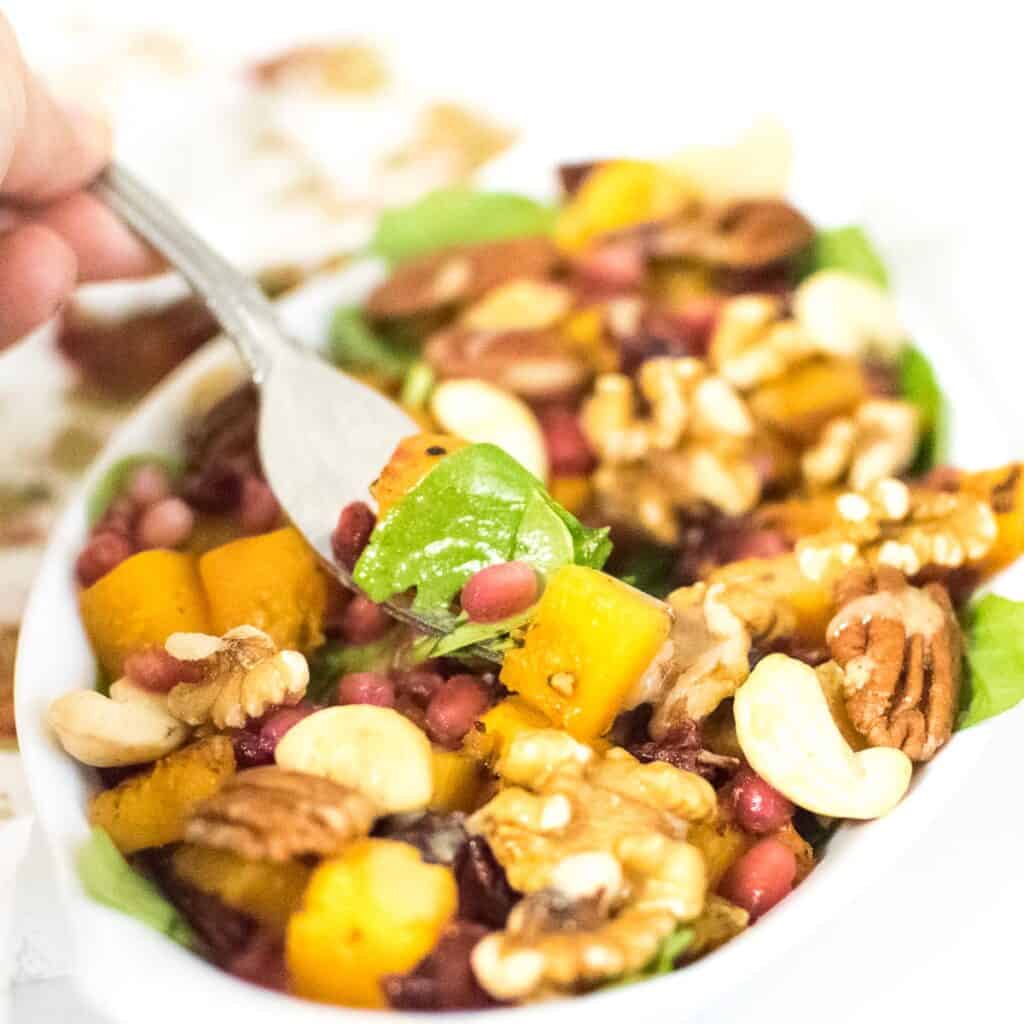 You may also like:
Jalapeno Tahini Vegan Pasta Salad
Brown Rice Papaya Salad
Lentil Sweet Potato Salad
Other butternut squash recipes:
Butternut Squash Pasta
Sriracha Butternut Squash Amaranth Soup
Butternut Squash Chia Spelt Waffles
Red Pear Butternut Squash Soup
Cajun Butternut Squash Black Rice Salad
Butternut Squash Sweet Potato Soup
Did you make it?
If you get a chance to make this recipe then please leave your feedback in the comments below along with the ratings. In addition, you may also tag @kiipfit on Instagram with your recipe image because we would love to see what you cooked.
If you desire to explore more delicious recipes of mine then you may checkout my cookbooks.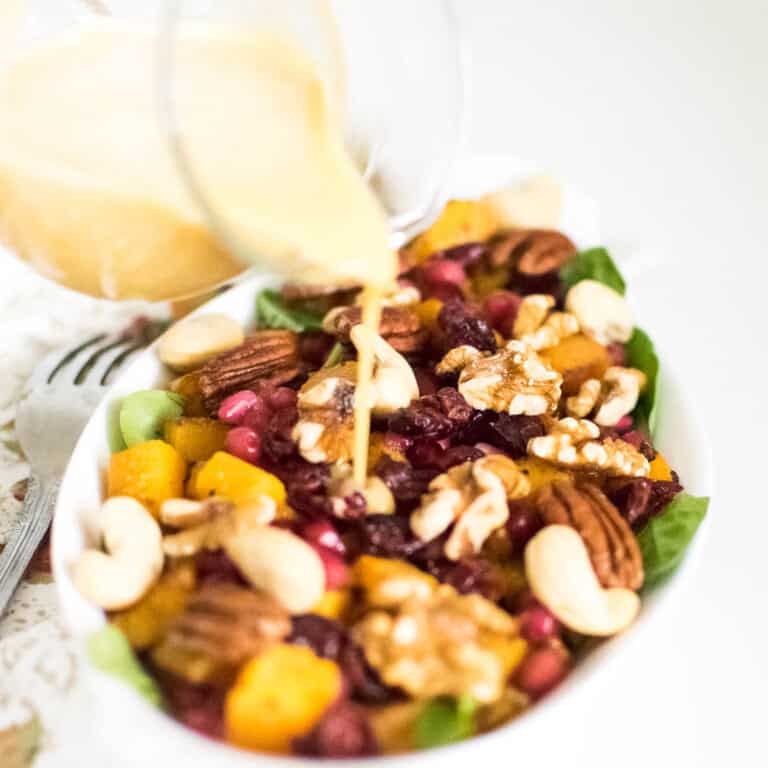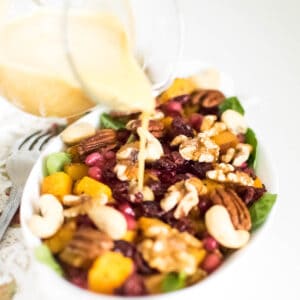 Print Recipe
Butternut Squash Salad
This crunchy, warm and festive Butternut Squash Salad is a medley of seasonal produce with delectable flavors. It's made with simple dressing and has a sweet and salty taste to it. Its vegan, gluten free and super easy to make along with being perfect for all ages.
Ingredients
For roasting
3

cups

chopped butternut squash

2

tbsp

nutritional yeast

salt as per taste

freshly ground black pepper

(as per taste)
Instructions
Preheat oven at 400-degree Fahrenheit and prepare a baking sheet with parchment paper. Combine the roasting ingredients in the baking sheet and toss with a spoon. Place it in the middle rack of the oven and bake it for 25-30 minutes or until butternut squash is brown and soft from inside. Once done, take it out and keep it aside.

In the meanwhile, in a blender combine all the dressing ingredients and blend it smooth. Then strain it with the help of a strainer and keep it aside in a glass bowl.

Now, in a salad bowl, combine all spinach, onions (if using), then roasted butternut squash and then the rest of the ingredients. Toss it with he dressing and serve immediately.
Notes
While chopping butternut squash try to chop them into smaller squares rather than very big ones. Bite size pieces are mostly preferred for this salad.
This tastes best when served immediately.
I used store bough ready use chopped butternut squash in this recipe from the fresh section. Do not use frozen chopped butternut squash for this recipe.
Nutrition
Calories:
322
kcal
|
Carbohydrates:
37
g
|
Protein:
10
g
|
Fat:
18
g
|
Saturated Fat:
1
g
|
Sodium:
15
mg
|
Potassium:
348
mg
|
Fiber:
4
g
|
Sugar:
17
g
|
Vitamin A:
1752
IU
|
Vitamin C:
21
mg
|
Calcium:
34
mg
|
Iron:
1
mg