This creamy and flavorful Butternut Squash Pasta is a delectable Fall meal. Its easy to make and is comforting in every bite. It is vegan and loaded with aromatic herb sage, walnuts and simple seasonings.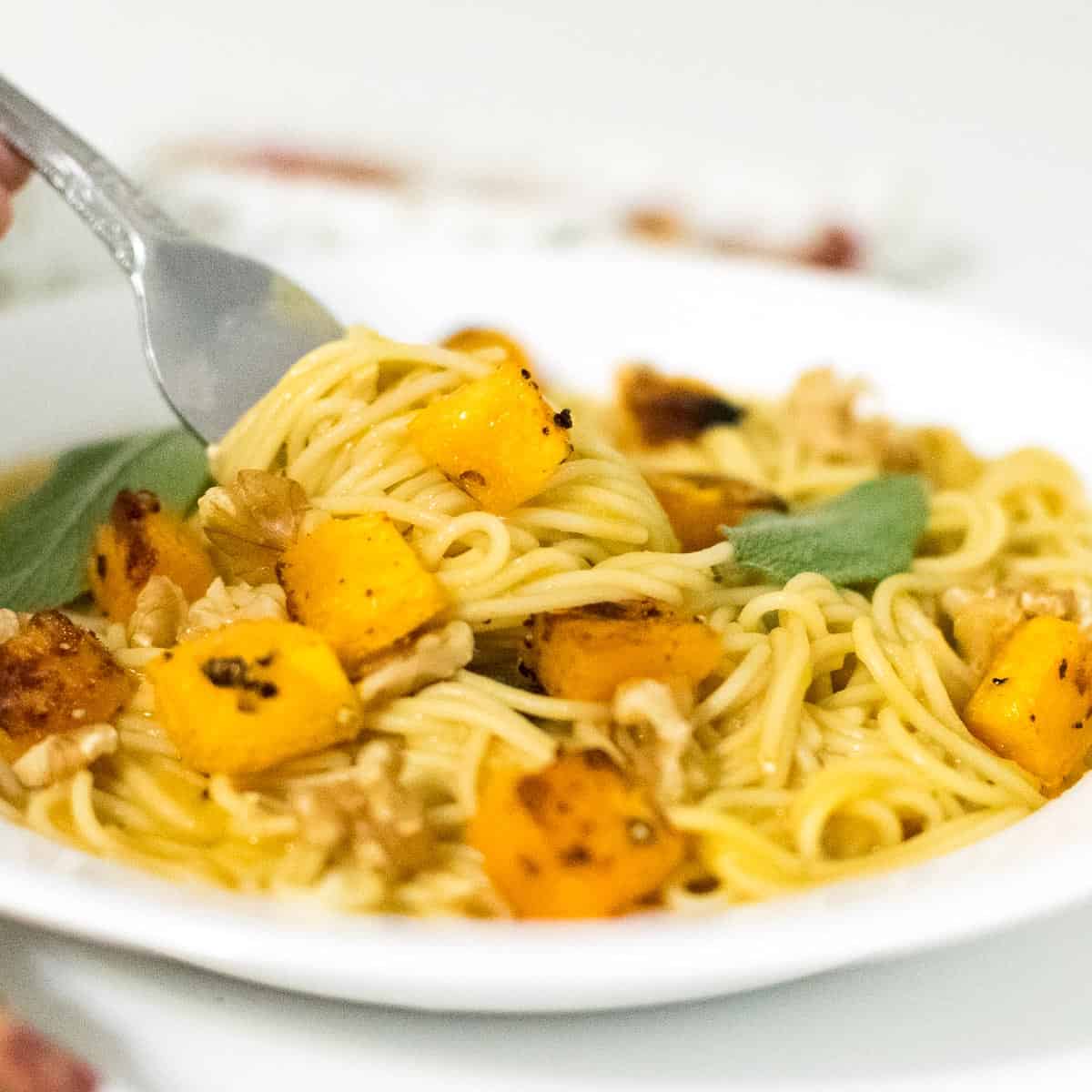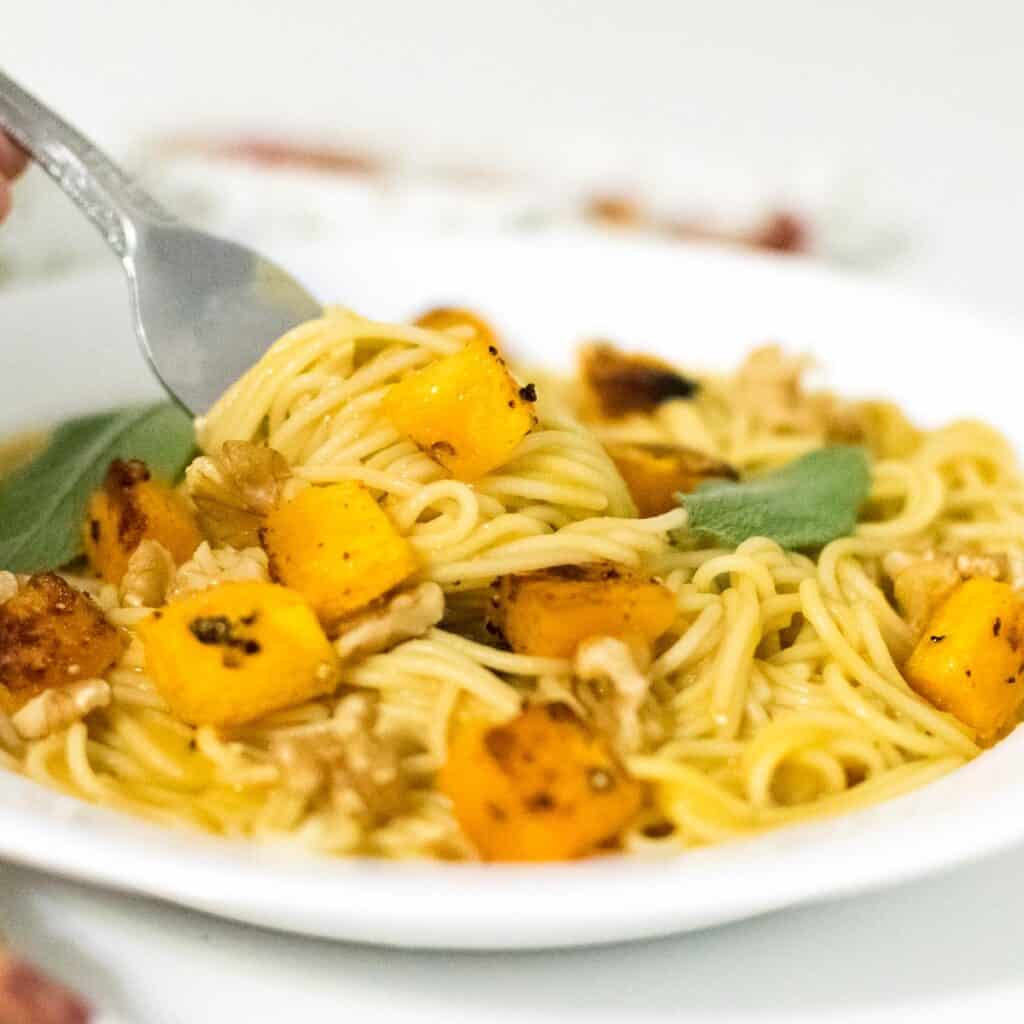 We as a family are pasta crazy. So, any recipe that includes pasta serves pretty well for us. So therefore, when I came up with this recipe, I had to go a little beyond to get approvals on it.
If you want to go a little beyond imagination then my beetroot pink sauce pasta is just for you.
Usually, its marinara sauce over pastas but since its fall and butter squash has flooded the market, I really wanted to try something different. Therefore, I decided to make a pasta recipe with butternut squash sauce.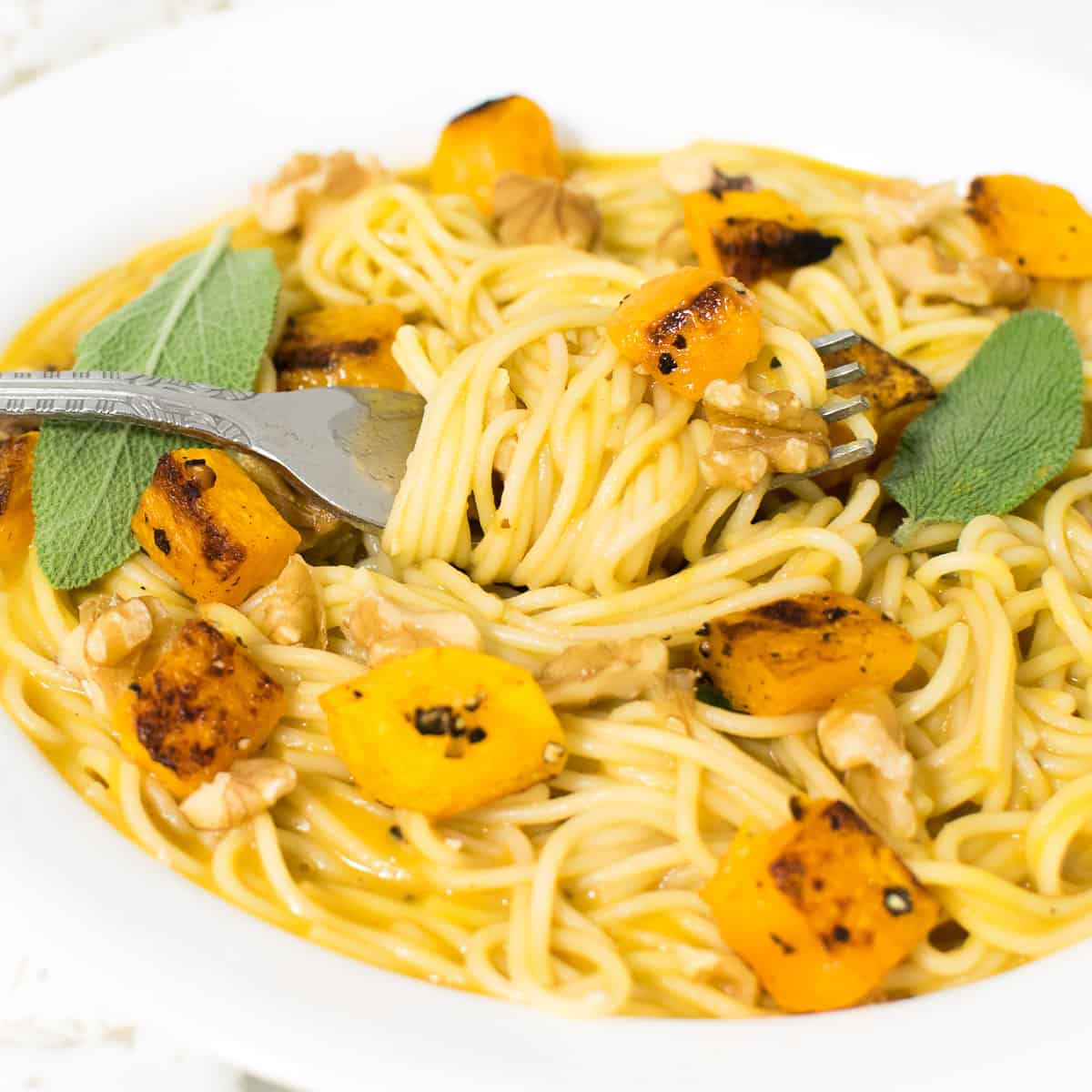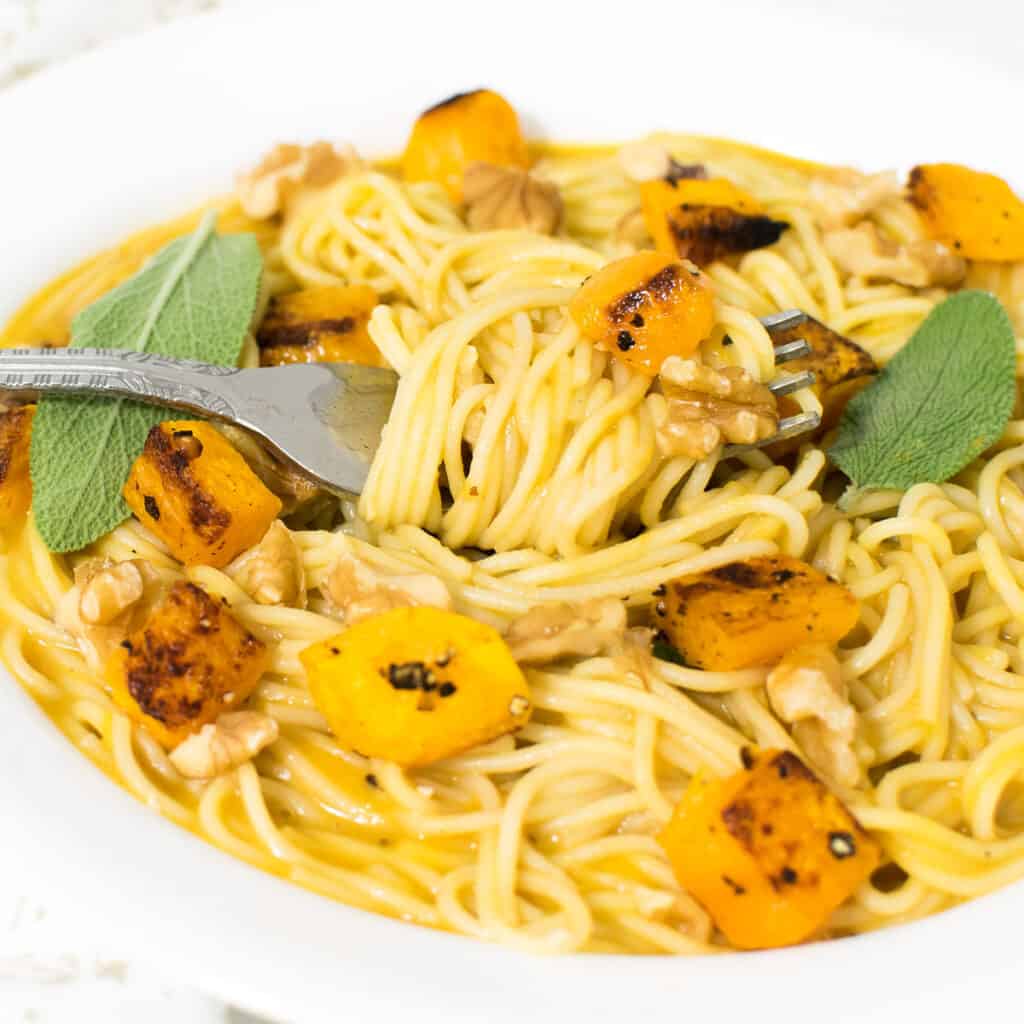 I have tried few versions of this and after getting my friends approval and of course my dear family, I am here to share my latest creation.
Ingredients for Butternut Squash Pasta
For roasting
Butternut squash
Cooking spray
Salt
Freshly ground black pepper
For the sauce
Vegetable broth
Water
Garlic powder
Onion powder
Nutritional yeast
Butternut squash
Salt
Crushed black pepper
Others
Vegan butter
Sage leaves
Walnuts
Angel hair pasta/thin spaghetti
Salt
I have used these easily available ingredients in this recipe which you may buy from any local grocery store. However, I have provided links to few of them for your convenience.
If you plan to buy from these affiliate links then I get a small commission which in turn encourages me to bring out more delicious recipes for you all.
Ingredients notes:
Butternut squash – it's the highlight of this recipe. I have included this vegetable here in two different ways. I have roasted it to add as topping and also blended it as a sauce. Also, it's a great source for antioxidants, vitamin C and E. At the same time, it helps in reducing inflammations.
Vegetable broth – this adds a bit of nutrition and also lot of flavor to its sauce.
Nutritional yeast – since it's a vegan recipe I used nutritional yeast to add a bit of cheesy and sweet nutty flavor to the sauce. Also, it is nutritious because it contains protein, vitamins and minerals along with being a great source of antioxidants. Moreover, it helps boost immunity and lowers cholesterol as well.
Walnuts – this gives a nice crunch to this recipe. It also balances out all the flavors. However, after sautéing it in vegan butter it becomes tastier. Walnuts in general are very nutritious and is a good idea to include this nut in your diet as much as possible.
Sage leaves – it's herb and makes this recipe aromatic. It has an earthy and peppery taste to it. It holds its own bold flavor in a recipe. Here I sautéed it in vegan butter to give a slight crispy texture. It also has many health benefits as herb itself. It is a great source of antioxidants and helps improving memory along with supporting oral health.
So, you must have realized by now that I have used these easy and simple ingredients. I am sure you must be already be having most of them in your kitchen.

Trust me, just follow the listed few simple steps and you will enjoy definitely this butternut squash pasta recipe.
How to make Butternut Squash Pasta
Firstly, in a mixing bowl I combined all the roasting ingredients and mixed it well. Then, I spooned them out on the prepared baking sheet and baked them at 400-degree Fahrenheit for about 30 minutes or until they were well cooked.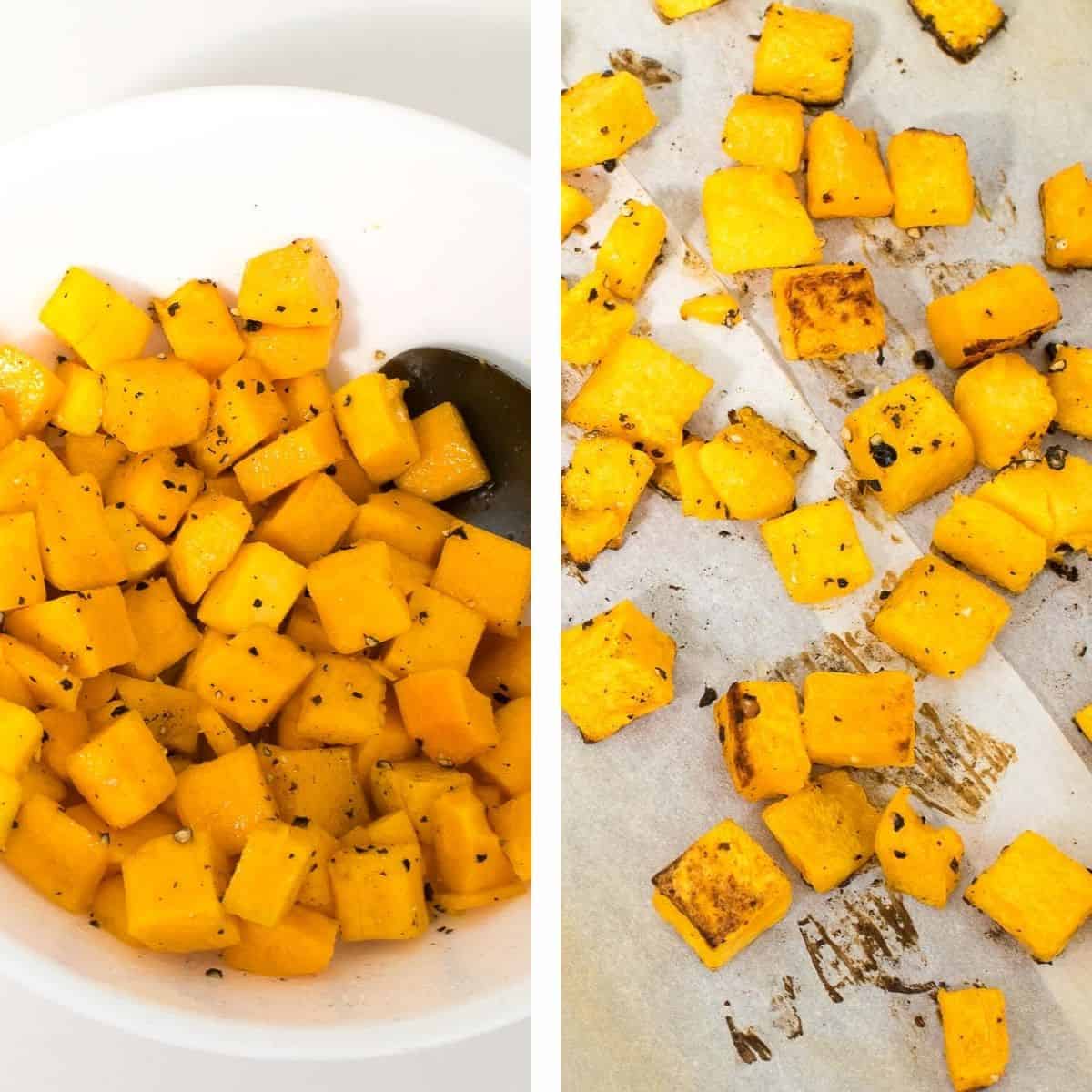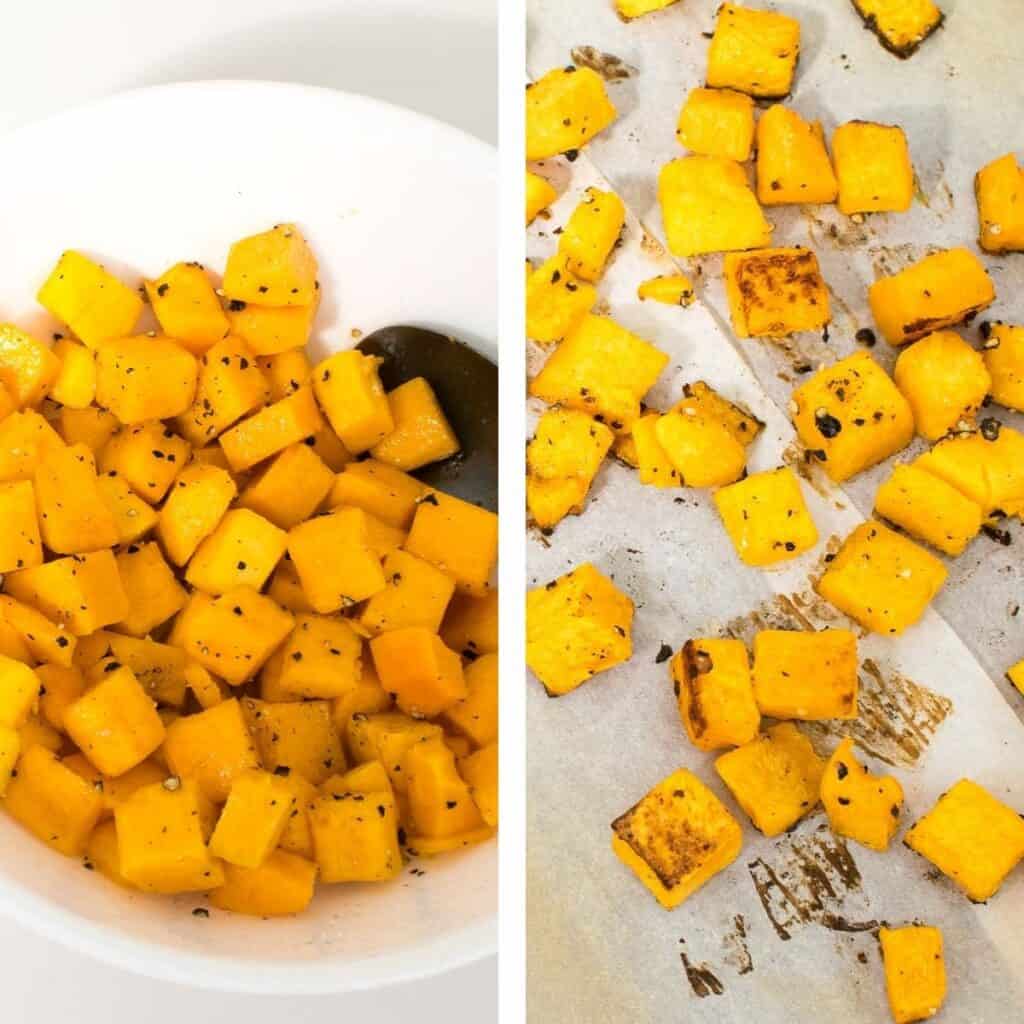 In the meanwhile, I cooked all the sauce ingredients in a saucepan until the squash was soft.
Next, I blended it in a blender and kept it aside.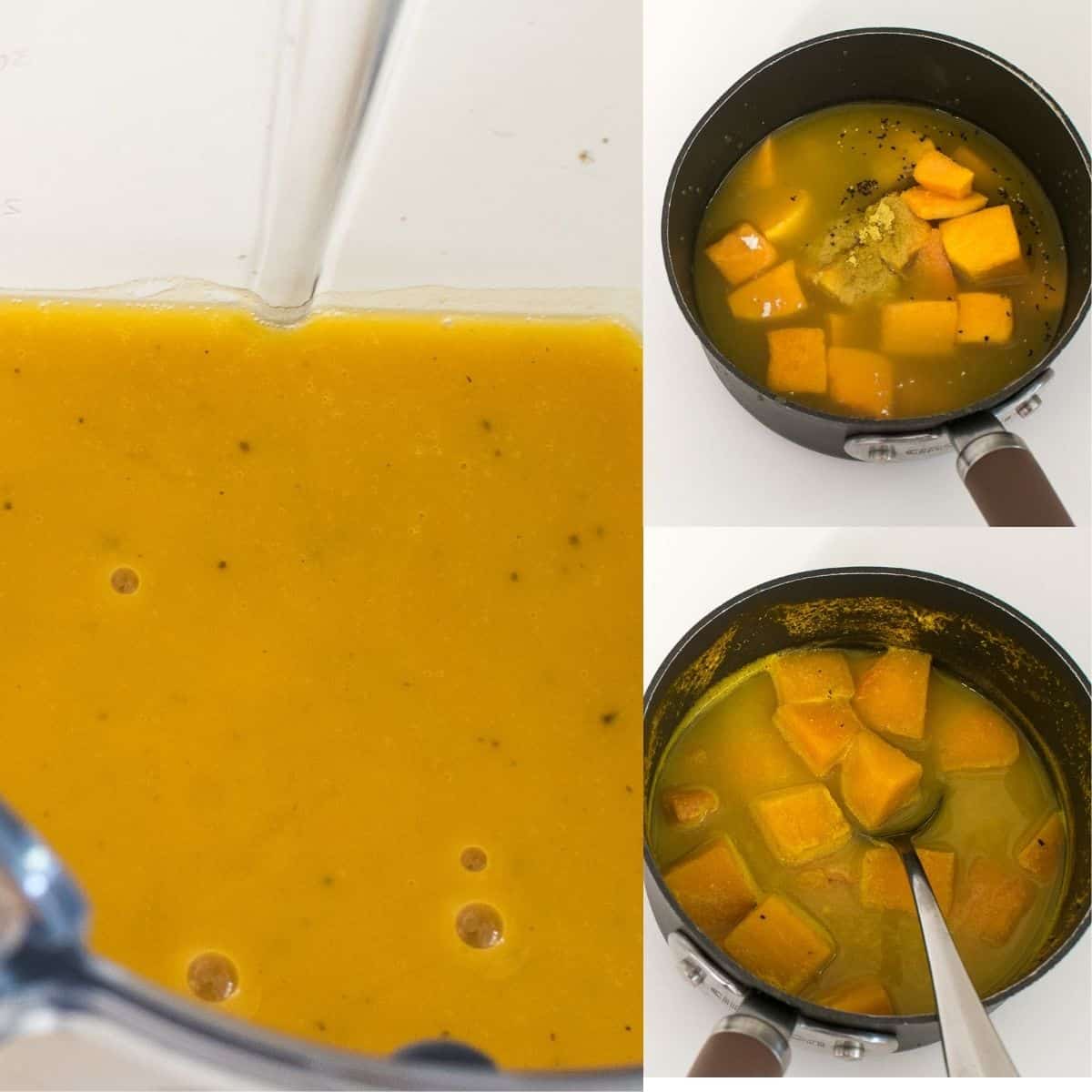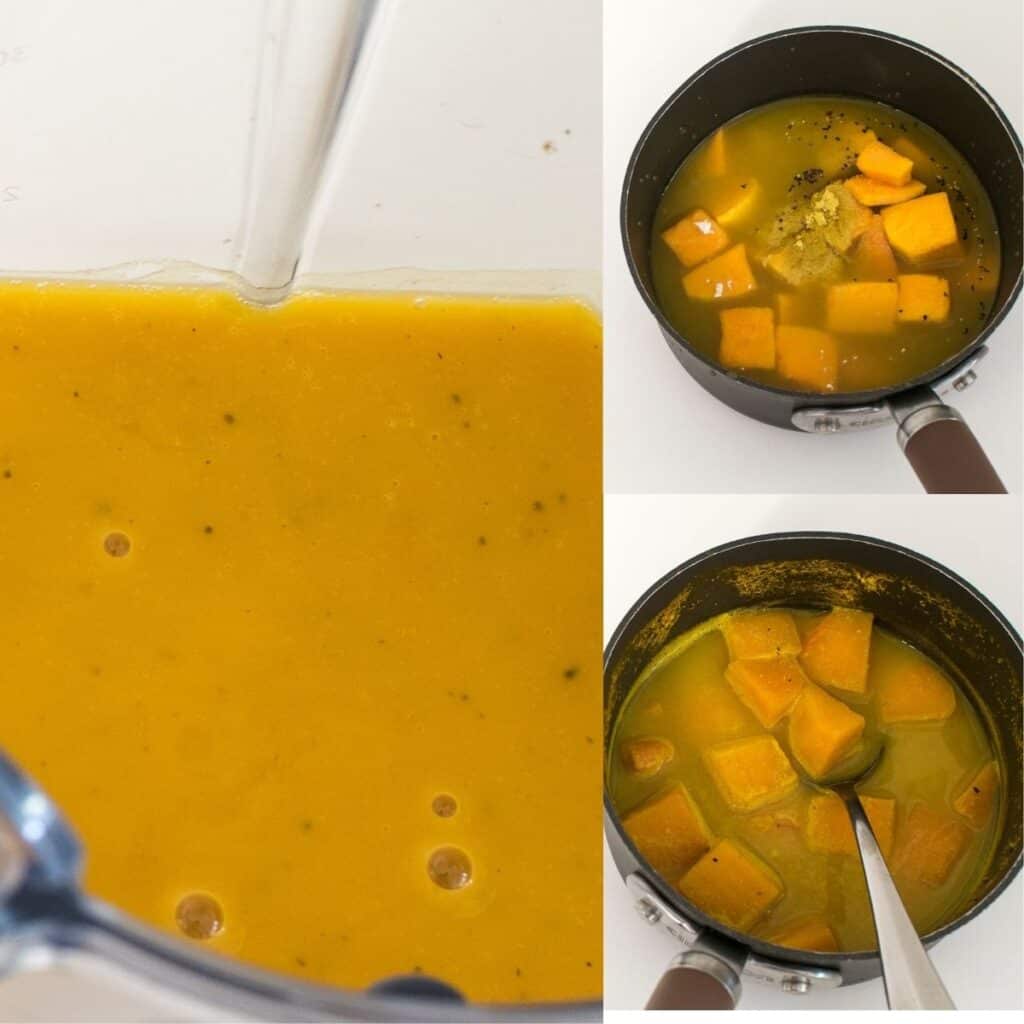 Thereafter, I melted vegan butter in a nonstick sauté pan and added sage leaves and walnuts to it. Then, I sauteed it only for 2 minutes.
Afterwards, I tossed in cooked angel hair pasta and salt to it.
Lastly, I pour the sauce over the sautéed pasta and mixed it with the help of tongs.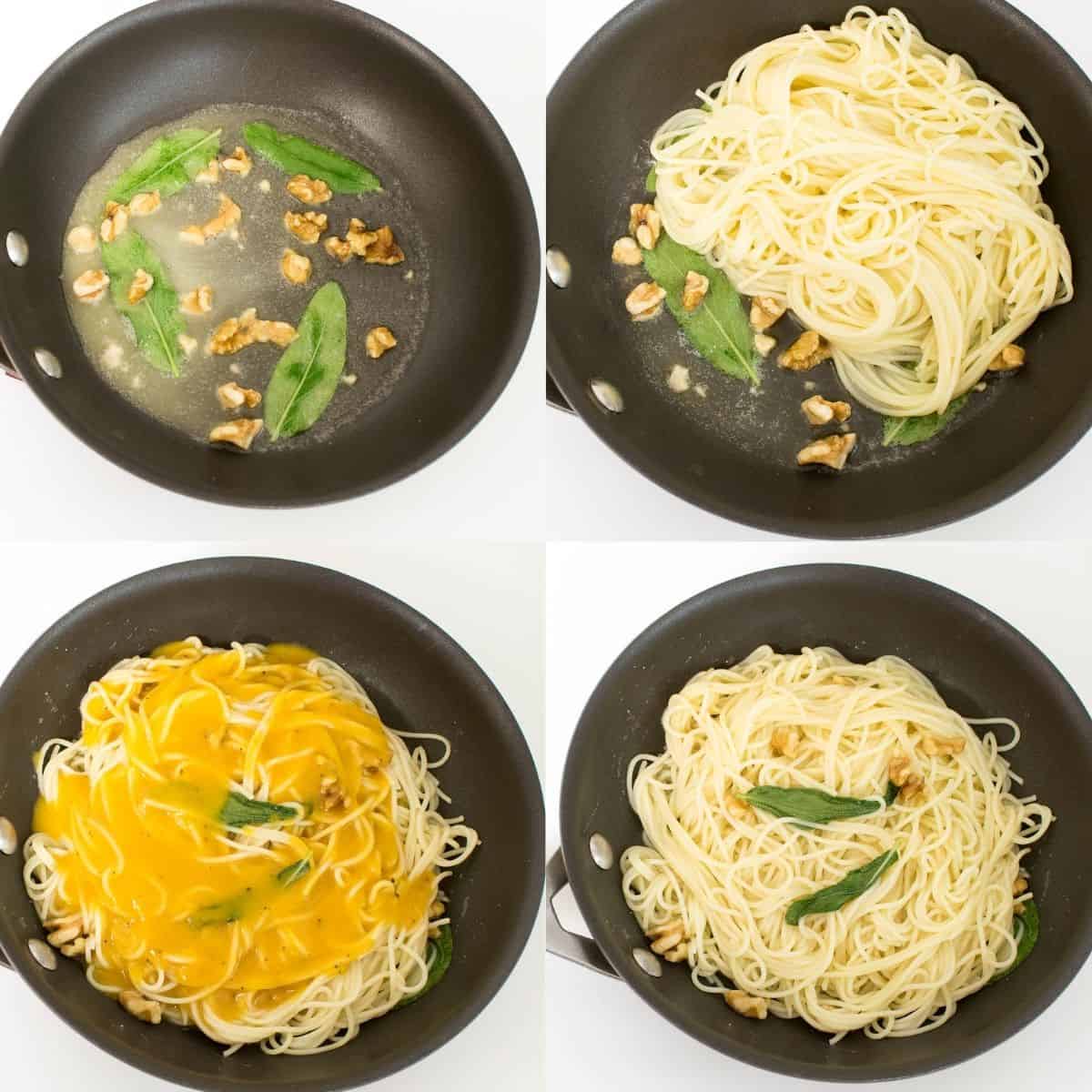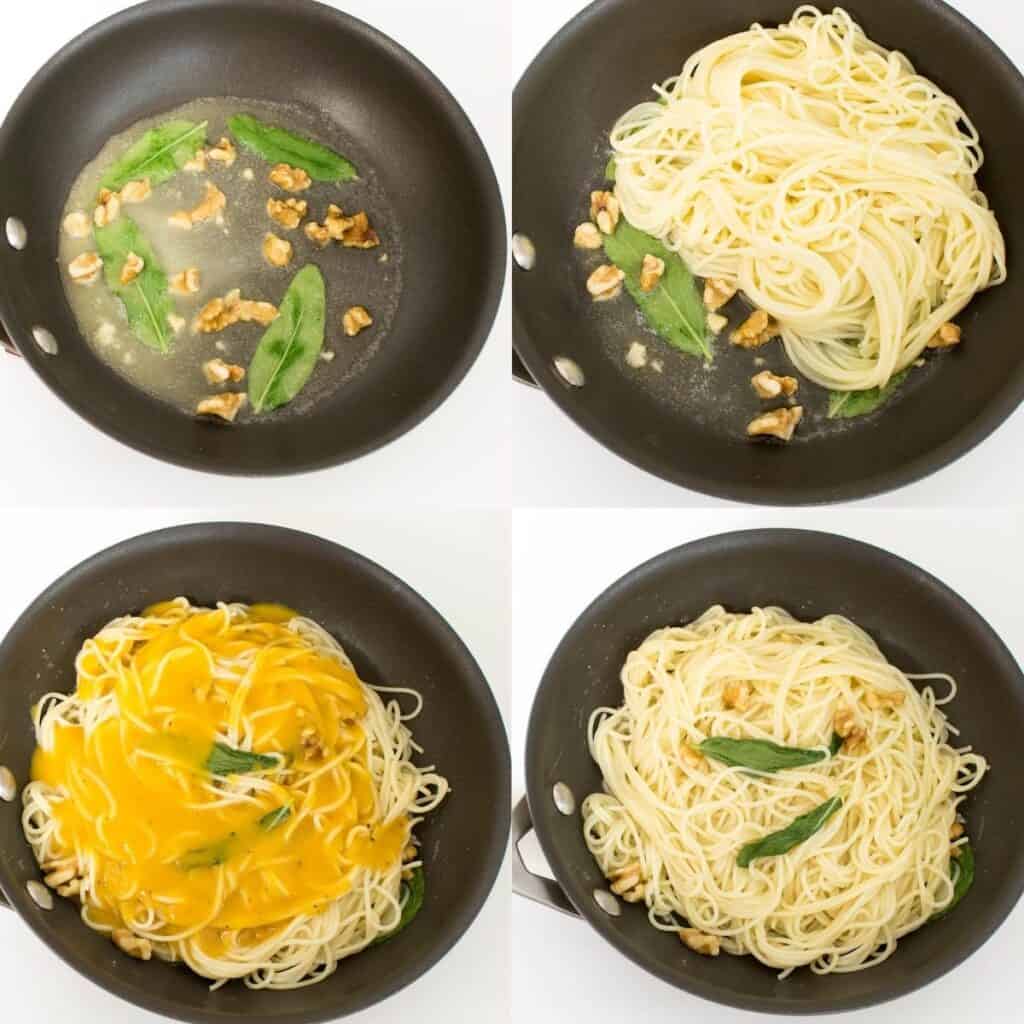 Later, I served this pasta by topping it with roasted butternut squash.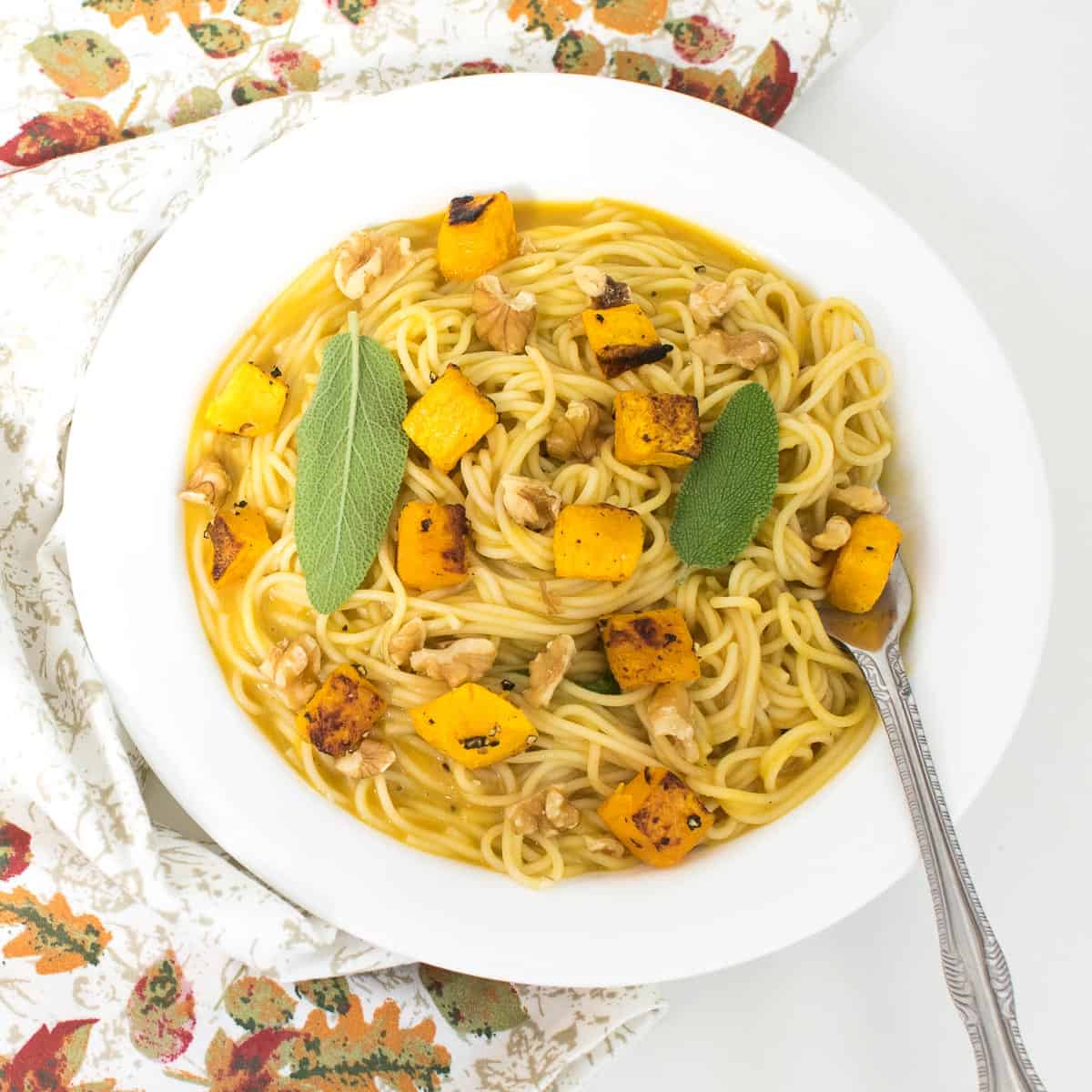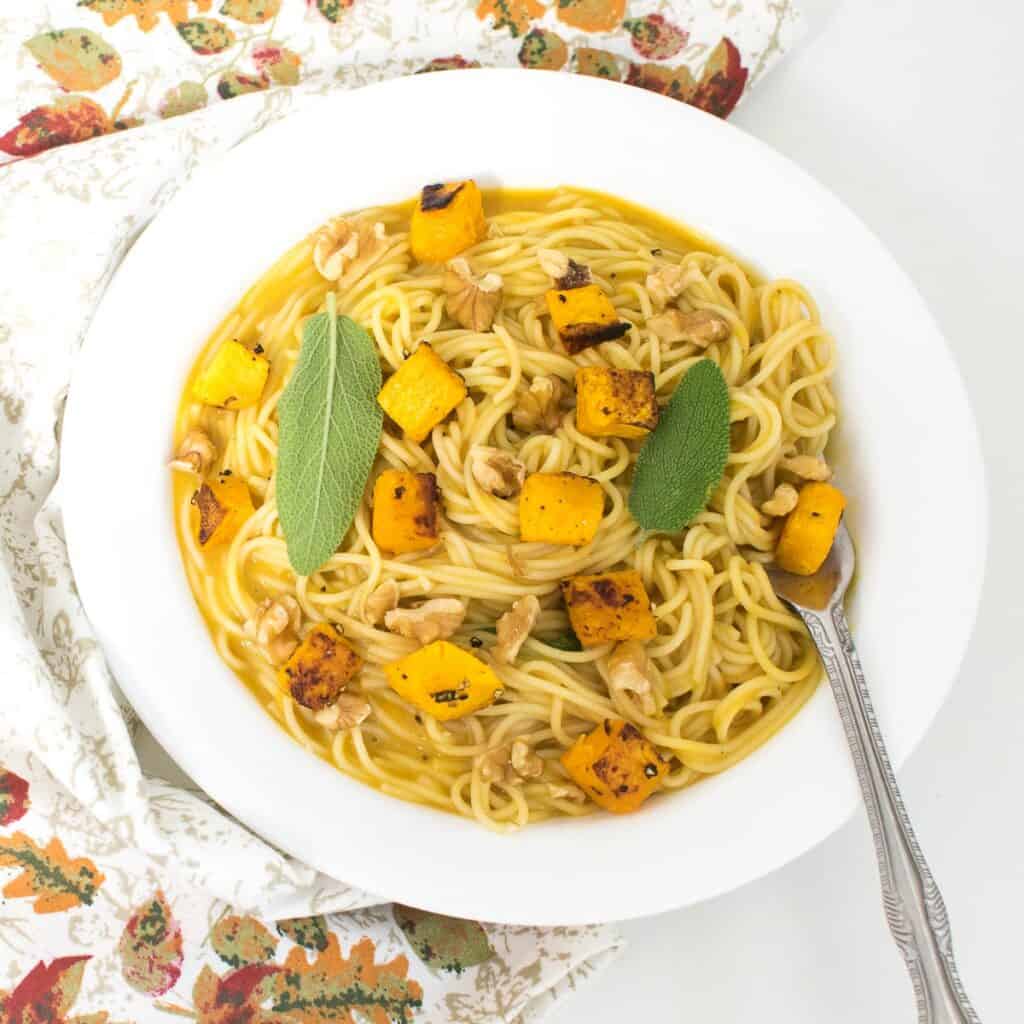 We all ate this warm bowl of squash pasta heartily and happily.
Its a fun recipe and is definitely a crowd pleaser. It is a delicious alternate to the regular marinara pasta.
Expert tips:
To get the best results, boil the pasta only when the sauce it ready. As soon as the pasta is boiled drain it and toss it in vegan butter so that the pasta does not dry up or become sticky.
When you sauté sage leaves and walnuts make sure to keep the leaves texture to its original form as much as possible.
If you use standing blender then I would recommend you to wait for the sauce to cool down a bit before blending to avoid any overflowing or splashing.
Butternut Squash Pasta FAQs
How long does it last?
This recipe tastes best when served immediately. However, you can prepare the sauce and refrigerate for about a week. When ready just follow the instructions and enjoy.
Can I roast butternut squash ahead of time?
Yes, you may but to get the crisp bites its best to coordinate its timing with the main dish.
Is it healthy?
I have used mostly healthy ingredients but there is a lot of scope of saving on calories here and make it healthier. For example, you may swap regular angle hair pasta with a whole grain one or use whole grain thin spaghetti. You may skip vegan butter and cooking spray altogether and save on some fats (explained in notes). However, I have used the fats in minimum quantity. Moreover, some good fats (macronutrient) are required for the body's metabolism.
Can I freeze the sauce?
I have personally not tried freezing it but refrigeration is possible for about a week.
What pairs well with this dish?
It's a complete meal in itself. However, you may add some garlic breads on the side if desired.
If I want to use the whole butternut squash then how do I handle it?
Usually, I use the store bought freshly chopped butternut squash for convenience. However, if you plan to use the whole squash then firstly rinse it and slice away its two sides. Then, with the help of a very good peeler, peel away its skin. Then, with a sharp knife (chefs' knife) slice it lengthwise first. Clean it from inside and then chop it into desired pieces.
How does this recipe taste like?
It's a savory pasta recipe. It has a mild sweetness of the butternut squash and is salty from the seasonings along with a crunch of walnuts and slippery pasta. Plus, it has a nice subtle flavor of nutritional yeast along with aromatic sage leaves. The roasted butternut squash on the pasta adds a lot of taste to this recipe with its natural sweetness and our mild seasoning.
I would insist you on making this butternut squash pasta from scratch because it's the perfect season to to enjoy this Fall produce and have a cozy family dinner.
You may also like:
Lemon Pasta
Baked Cashew Cream Vegetable Pasta
Tofu Steak Spaghetti
Spaghetti Aglio e olio
Creamy Coconut Pasta
Other butternut squash recipes that you may like:
Sriracha Butternut Squash Soup
Butternut Squash Sweet Potato Soup
Butternut Squash Tofu Salad with Roasted Hazelnuts
Did you make it?
If you get a chance to make this recipe the please leave your feedback in the comments below along with the ratings. In addition, you may tag @kiipfit on Instagram with your recipe images because we would love to see what you cooked.
If you desire to explore more of my delicious recipes then you may checkout my cookbooks.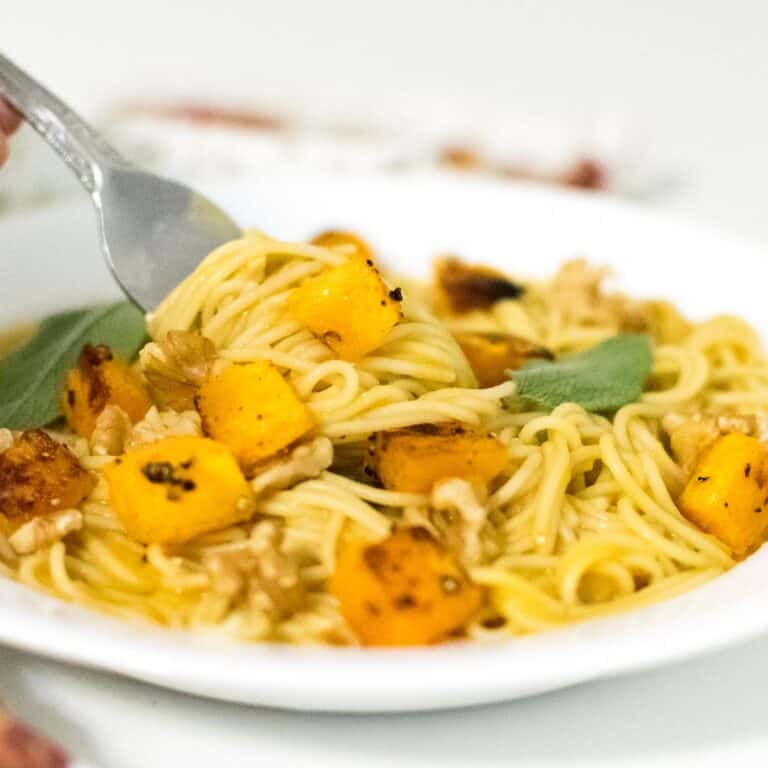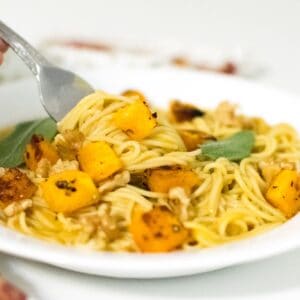 Print Recipe
Butternut Squash Pasta
This creamy and flavorful Butternut Squash Pasta is a delectable Fall meal. Its easy to make and is comforting in every bite. It is vegan and loaded with aromatic herb sage, walnuts and simple seasonings.
Ingredients
For roasting
3/4

cups

butternut squash chunks

cooking spray

salt as per taste

Freshly ground black pepper

(as per taste)
Instructions
Preheat oven at 400-degree Fahrenheit and prepare a baking sheet with a parchment paper. In a mixing bowl combine all the ingredients for roasting the squash and mix it well with a spoon. Place them on the prepared baking sheet and bake for 30 minutes or until its brown and crisp from outside and soft from inside.

In the meanwhile, combine all the sauce ingredients in a stockpot/sauce pan. Stir and cook covered until butternut squash softens. Turn it off cool down a bit.

Blend it either with an immersion blender in the pot or in a standing blender.

Heat a nonstick pan, melt vegan butter and add sage leaves and walnuts to it at low – medium heat. Sauté for 2 minutes (we do not want to overcook at this point).

Toss in angel hair pasta and salt and mix well.

Pour the sauce on it and toss it again very nicely.

Turn it off, taste test the salt at this point and adjust as per your taste. Serve the pasta in the serving plate. Top it with roasted butternut squash and serve immediately.
Notes
For roasting butternut squash options:
Air fry option – after mixing the squash in a bowl place them in the air fryer basket and attach it to the air fryer. Bake them at 400 degree for about 8-10 minutes or until crispy and brownish.
For toaster oven option – After mixing squash in a mixing bowl place them in a baking sheet and turn it on the toaster mode. Toast it for 10 minutes or until crispy and brownish.
For oil free option:
Roast the squash without cooking spray as explained above.
Put about 2-3 sage leaves in the boiling sauce and then blend it as explained above. Once it is blended pour the sauce over the cooked angel hair pasta/thin spaghetti and toss it very well. Top it with chopped walnuts roasted butternut squash.
This recipe tastes best when served immediately because the pasta will absorb all the sauce.
Nutrition
Calories:
356
kcal
|
Carbohydrates:
49
g
|
Protein:
14
g
|
Fat:
11
g
|
Saturated Fat:
2
g
|
Sodium:
433
mg
|
Potassium:
97
mg
|
Fiber:
1
g
|
Sugar:
1
g
|
Vitamin A:
392
IU
|
Calcium:
11
mg
|
Iron:
1
mg