This luscious beautiful Beetroot Pink Sauce Pasta is an impressive way to bring a change in your pasta dish. Its creamy, vegan, dairy free, made with few simple ingredients and is a family friendly recipe.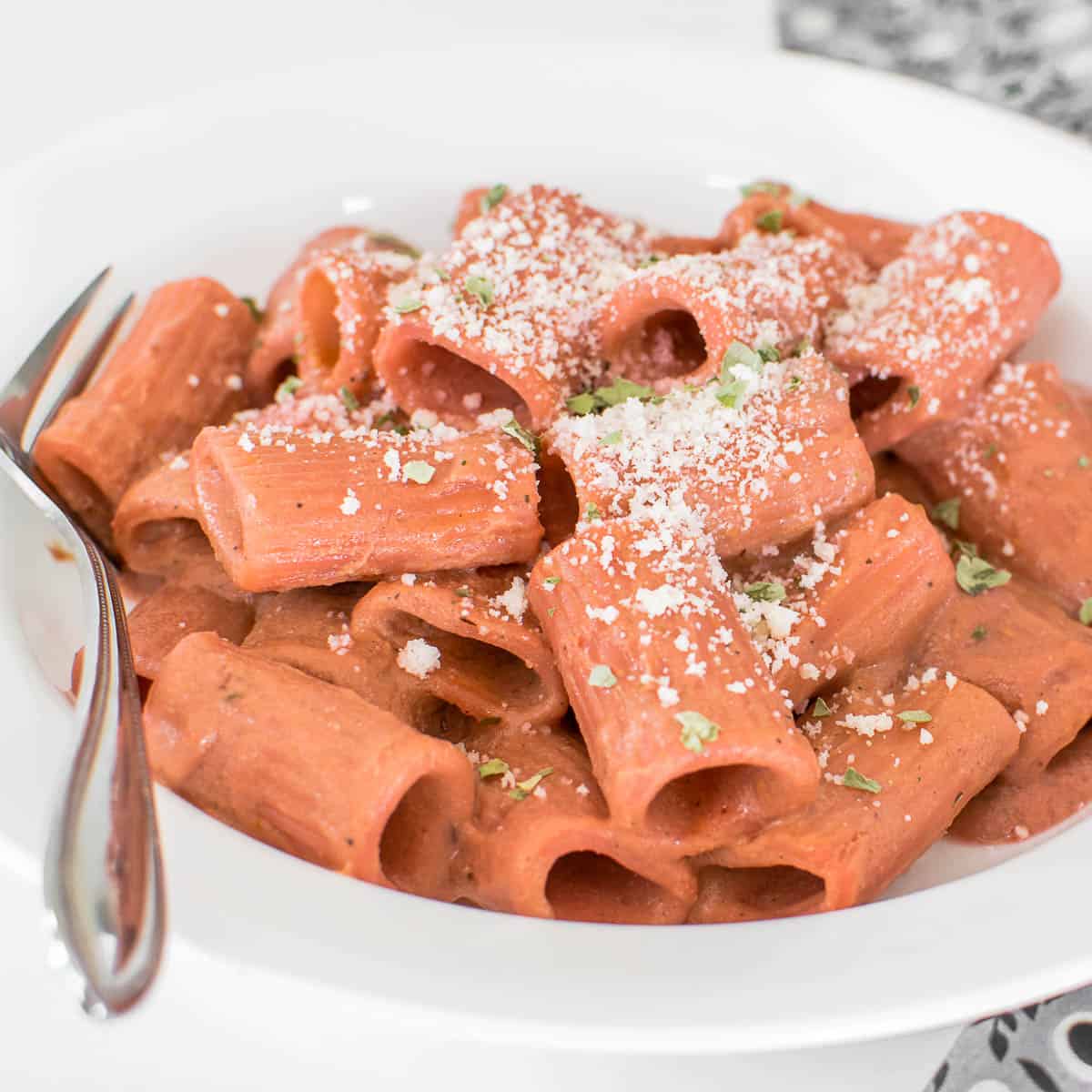 Beetroot is an amazing vegetable that brings out the best color in any dish. I often make my spicy beet burger and we simply love it.
Pasta is my favorite comfort food and its quick to toss into sauces and vegetables. This time, I decided to go a bit beyond and try the famous pink sauce for my pasta.
I tried many variations but I was looking for a natural pink color. So, it struck me to make beet pasta sauce.
My family immediately loved this pink sauce pasta made with beet. Hence, I was super happy to discover a delicious way to include this nutritious vegetable into our diet.
What is pink sauce?
It is basically a pink dipping sauce that was created by a private chef and went viral on TikTok. However, a British condiment known as Marie Rose Sauce made with tomatoes and mayonnaise is sometimes referred to as pink sauce. The Italian pink sauce or Parma Rosa for pastas, was made with the combination of cream and tomato sauce. Over time and with many variations it became popular as pink sauce.
In my recipe, I decided to make it with a combination of beetroot and tomato puree as the base ingredients. For the creamy texture I decided to go with cashew nuts. Hence my healthy vegan pink sauce pasta is a delightful meal and very easy to make.
Health benefits of beetroot
Beetroot is packed with many nutrients but its particularly high in fiber and an excellent source of folate. It is also packed with potassium, magnesium and most importantly iron. Beet facilitates many health benefits some of which are like increased blood flow thereby improving exercise performances. It is also known to lower blood pressure.
Why you will love this
Its healthy and vegan
Made with vegetable and has no food color/dye
Its easy and takes less than 30 minutes to serve.
A nice variation to regular pasta sauce
Pretty to present
Ingredients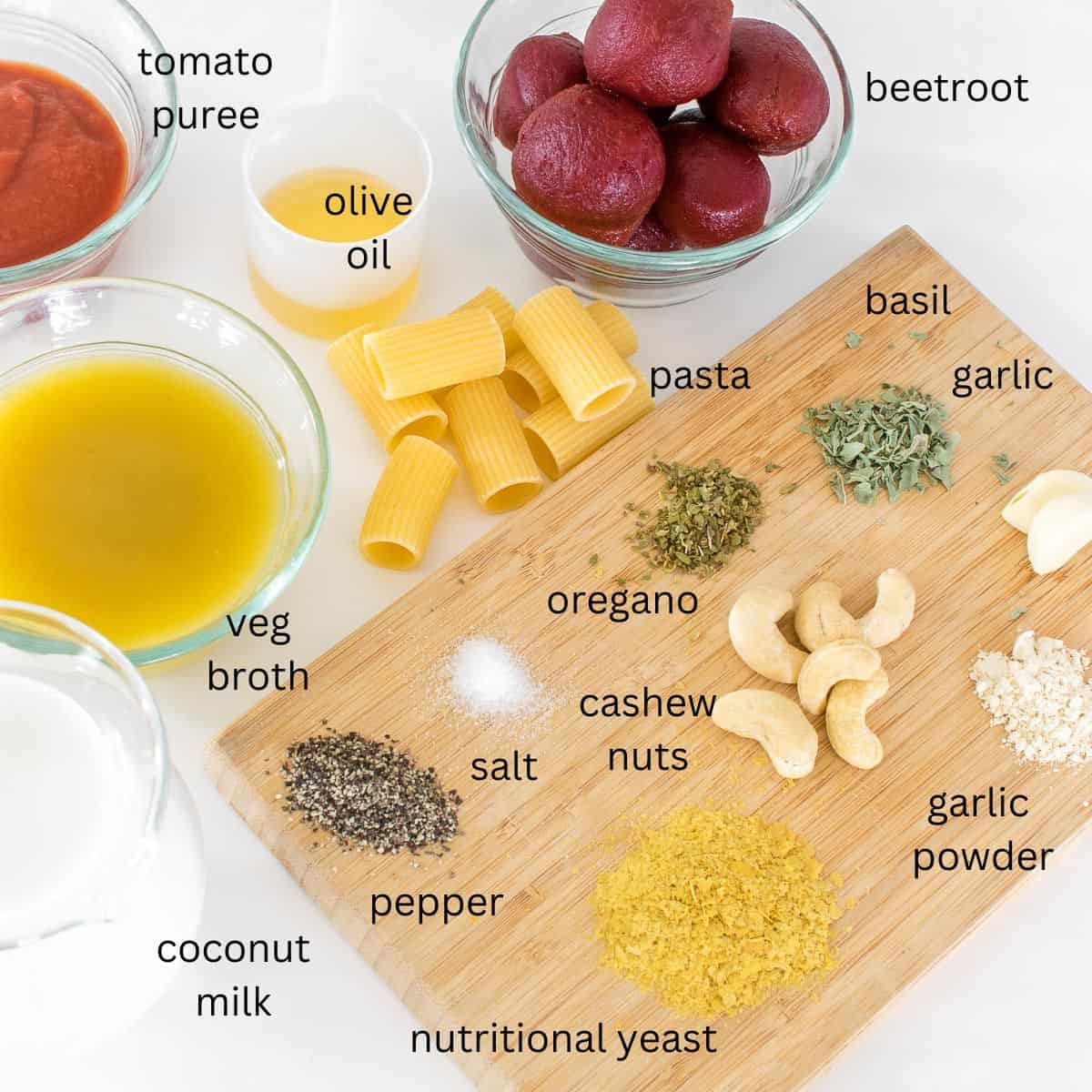 Ingredients notes
Beetroot – I used canned beets for convenience. Moreover, canned beets made the sauce smooth.
Cashew nuts – this made my vegan pink sauce pasta creamier and gave it thick saucy texture.
Herbs – fresh or dried, both works here.
Tomato puree – I added a little of it in this beet pasta sauce to give it a base and a slight tang to it.
Nutritional yeast – this adds B12 in my recipe along with some cheesy flavor.
Vegetable broth – I added vegetable broth instead of water to add more nutrition. Moreover, vegetable broth is more flavorful that regular water which makes this pink sauce pasta even tastier.
Coconut milk – I used tetra pack coconut milk to keep this sauce light on calories.
Pasta – rigatoni is my favorite for this dish but penne also work here.
For detailed measurement of ingredients, please scroll down to the printable recipe card at the bottom of this post.
How to make
Step 1 – sauce
Firstly, I combined all the sauce ingredients ( beet, nuts, herbs, tomato puree, nutritional yeast, coconut milk, veg broth and seasonings) in the blender.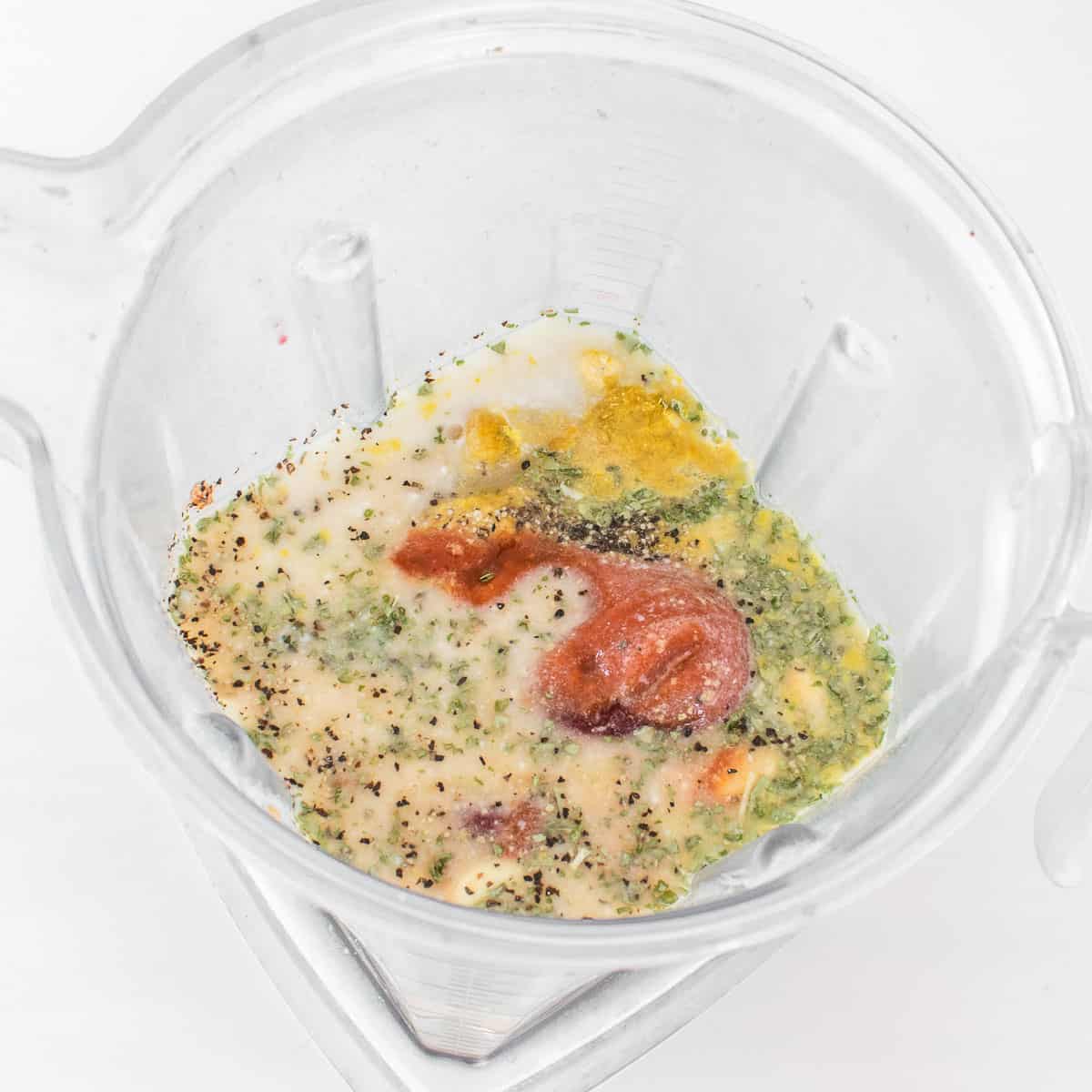 Secondly, I blended it very smooth until it was creamy and pink in color. Then, I kept it aside.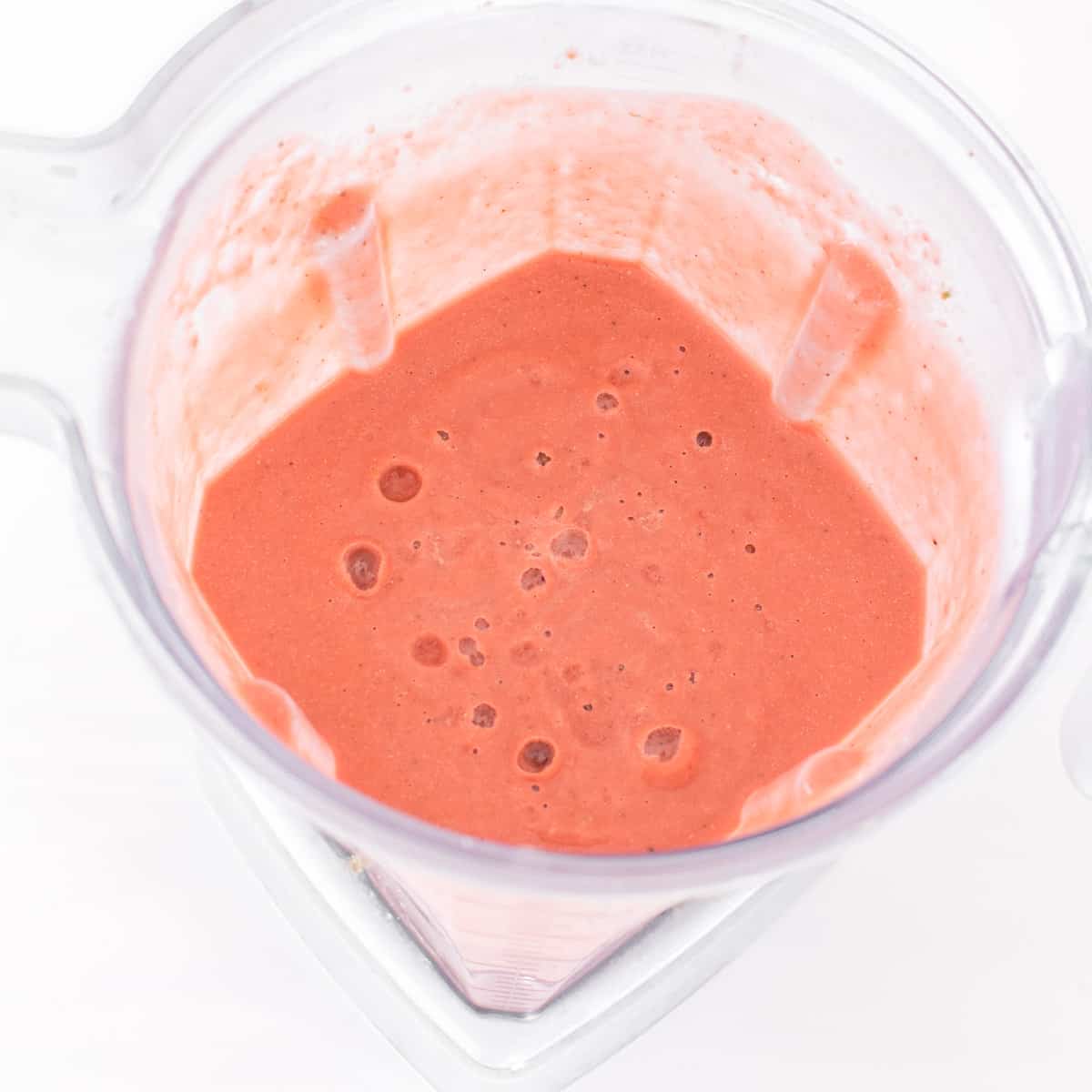 Step 2 – assembling
Firstly, I heated oil in a nonstick pan and flavored it with garlic powder and oregano.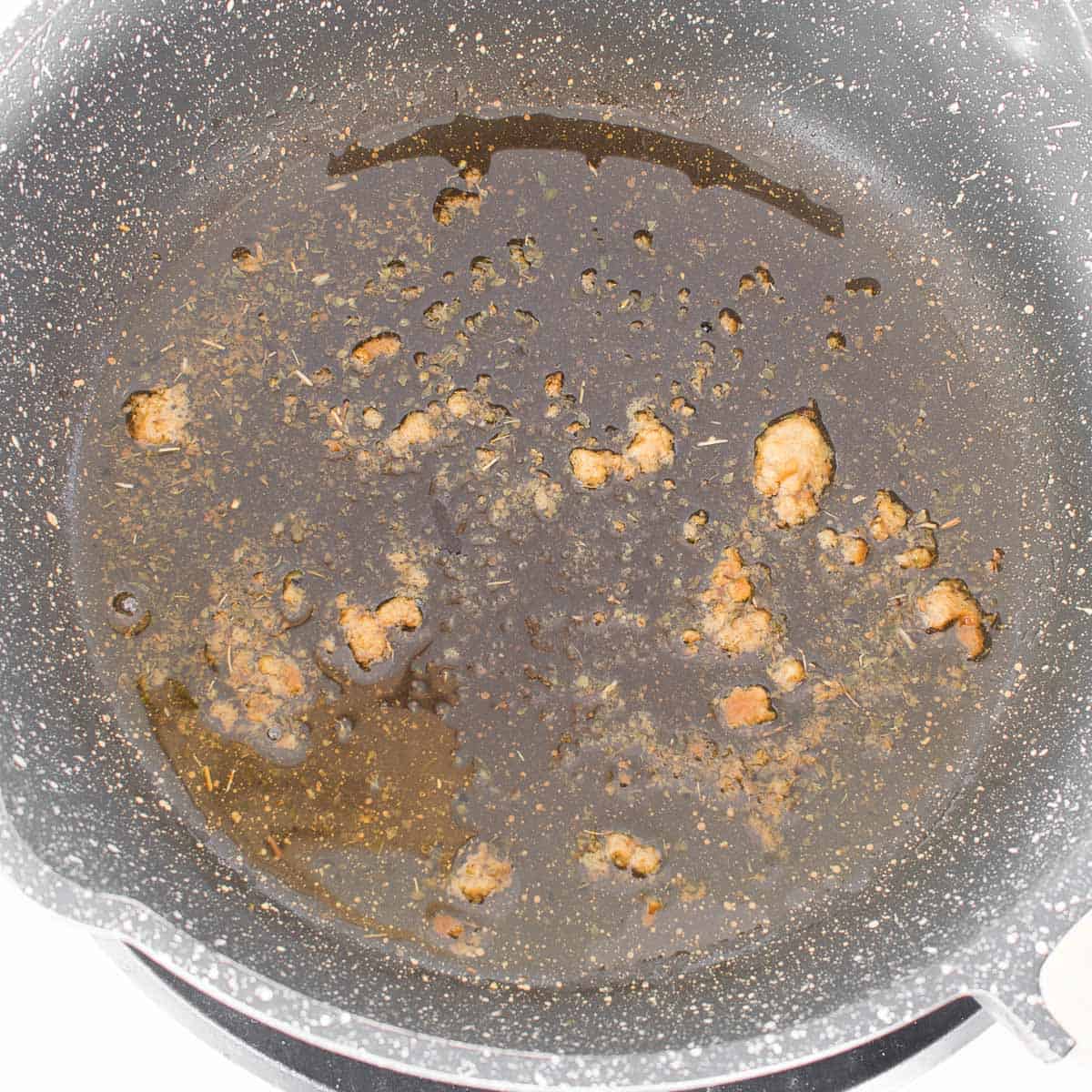 Secondly, I tossed in cooked pasta and coated each of it with the herbed oil.
Next, I stirred in the blended beet sauce and reserved pasta water into it. Then, I mixed it well.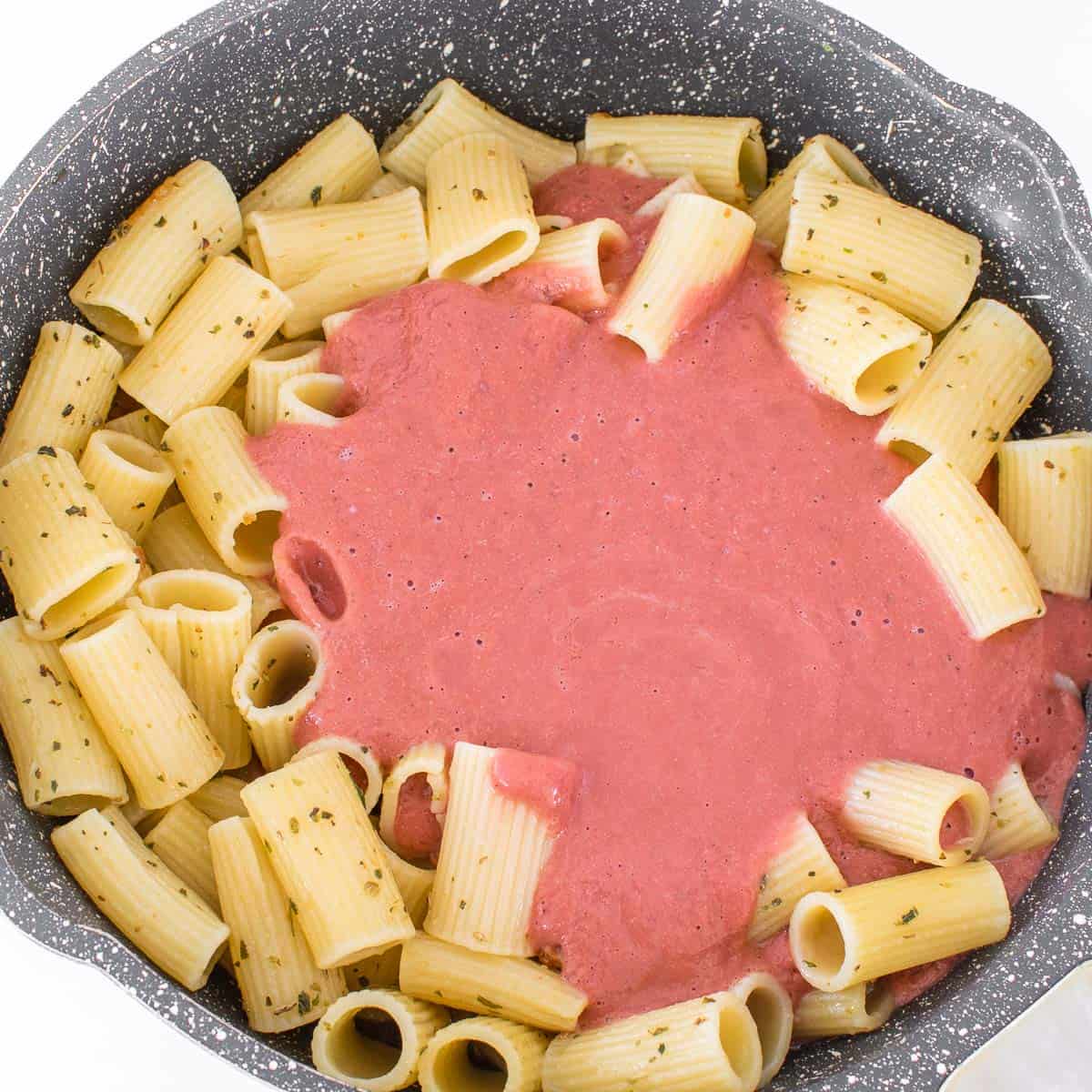 Henceforth, I let it cook for 5-7 minutes until the sauce started to thicken.
Thereafter, I adjusted salt and pepper in it and mixed it gently.
Afterwards, I turned it off the flame and covered the pan with a lid. Then, I let it sit for few minutes.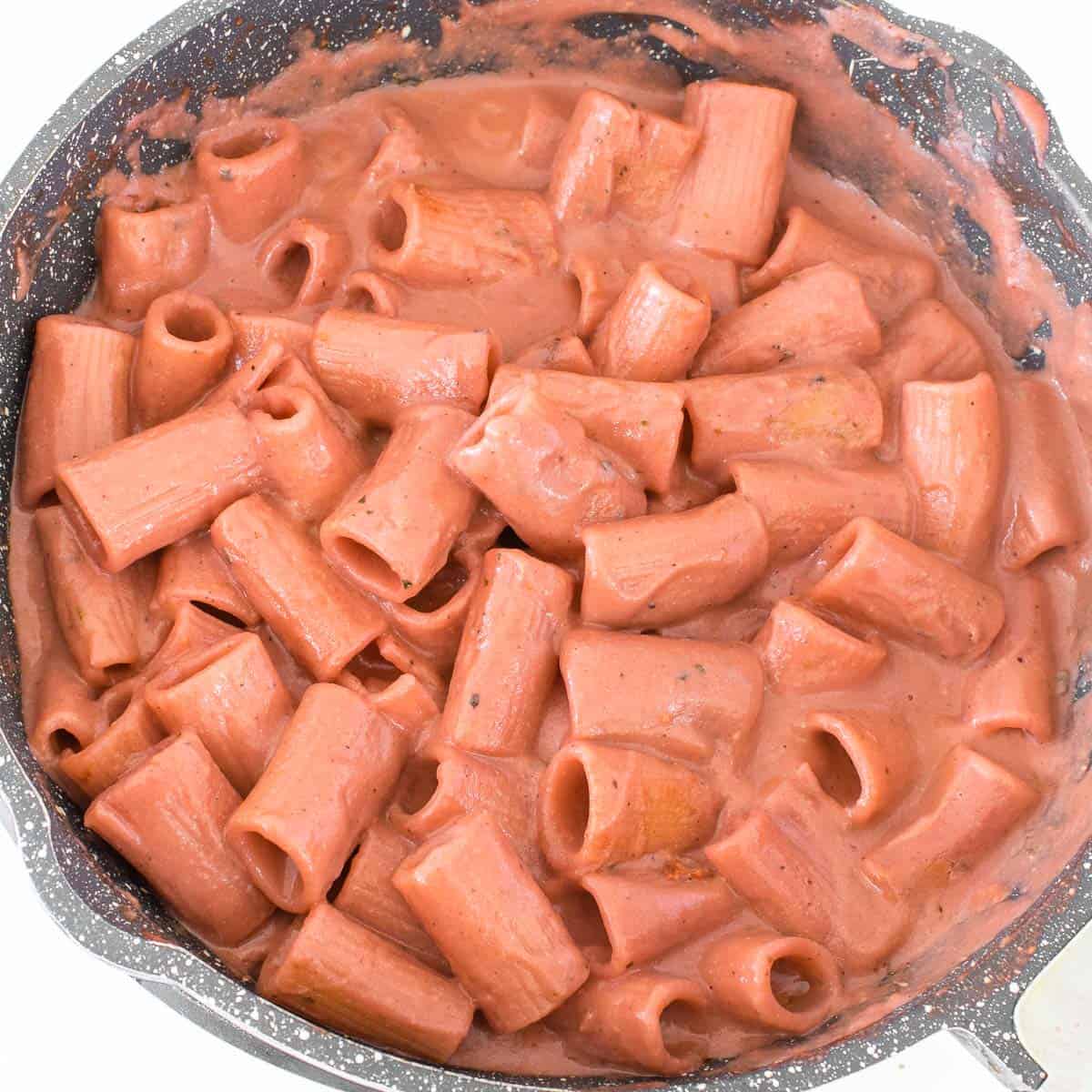 Lastly, I served it on the serving plates and garnished it.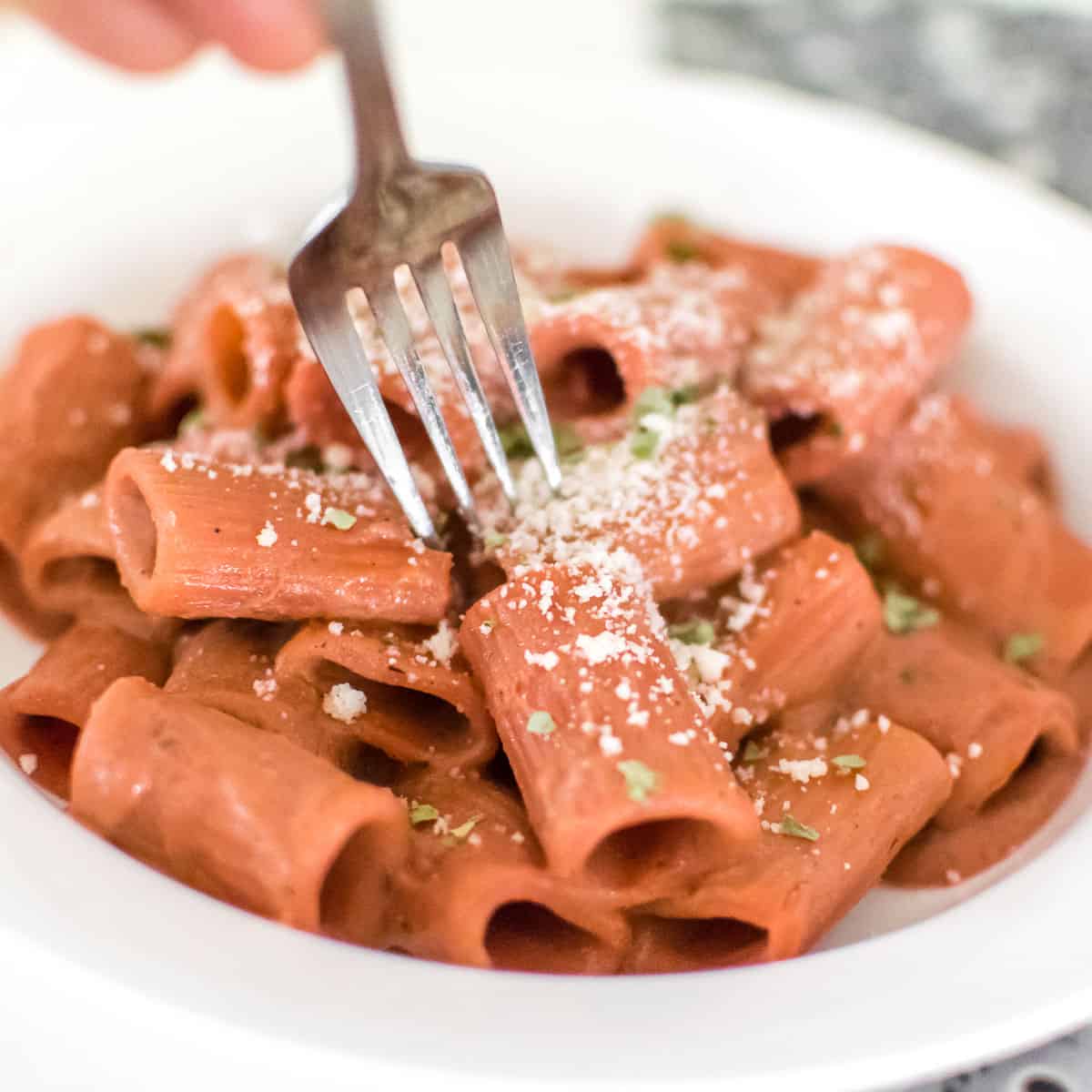 This beet sauce pasta was outstanding in taste and texture. It was beautiful and so attractive too.
I have already made it so many times before posting here. You will love it too and I promise you that.
Serving tips
This pink sauce pasta can be served as is and is a compete dish by itself. However, you may add a side salad to make it complete and a healthy dinner roll.
Expert tips
Do not rush through the blending process. It is important to blend it smooth for the beautiful pink color.
Most importantly, do not overcook pasta and keep it al dente. This will help to avoid breaking or mashing of pasta when cooked in the beet sauce.
Frequently Asked Questions (FAQs)
How long does it last?
This tastes best when served immediately. However, the leftovers can be refrigerated to be used the next day. Warm it in the microwave before serving.
Does it take like beetroot?
No, you wont taste the beetroot in this recipe at all. You will just enjoy its nutrition and color. This beet pasta has smooth taste and a creamy texture. Its salty and cheesy and not spicy.
Is it healthy?
My pink sauce pasta is made with beet and other natural ingredients. It is made with care and all the nutritious yet simple ingredients. Moreover, its dairy free and vegan and is healthy. You may use whole grain pasta of your choice to add complex carbohydrate in this dish.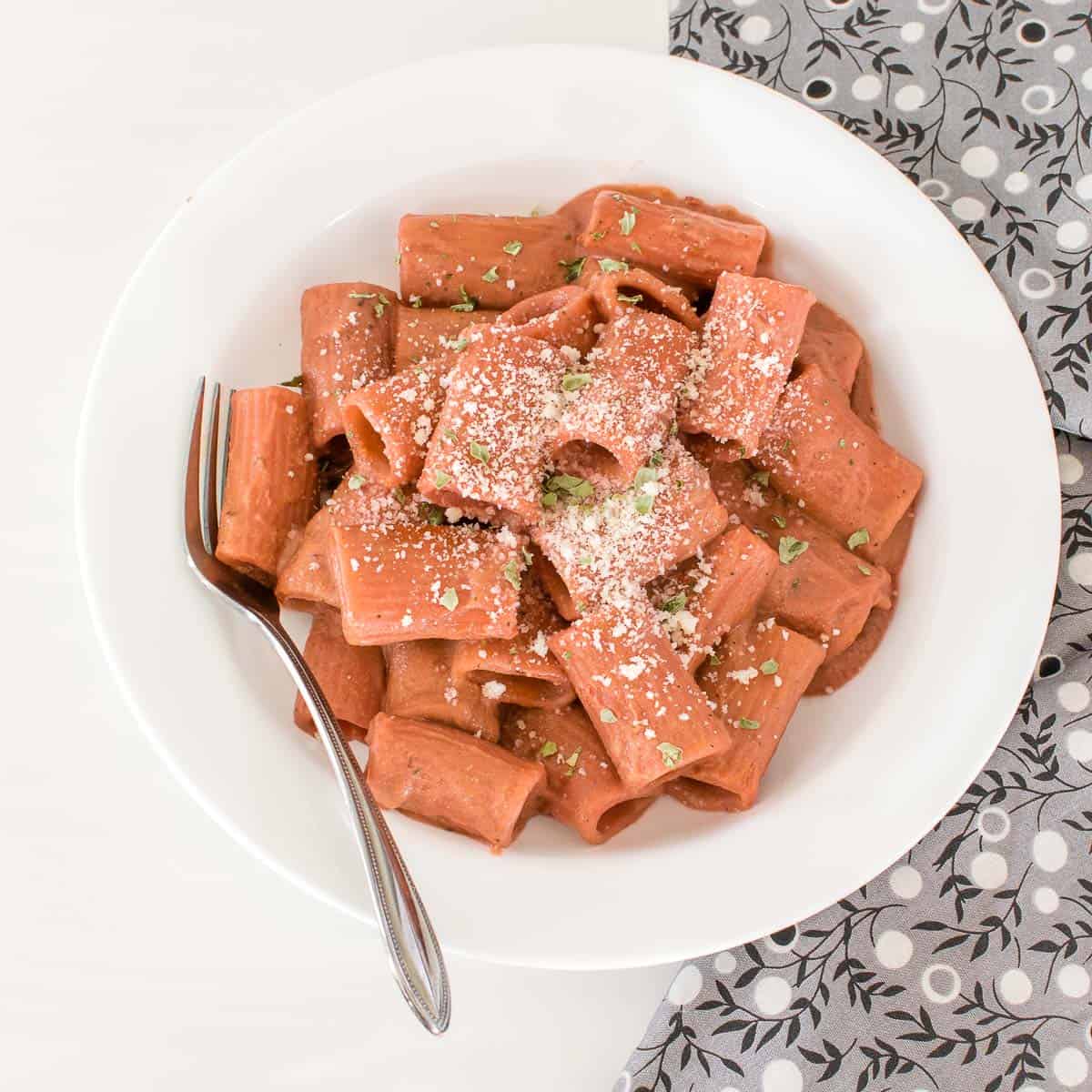 More vegan pasta recipes
Lemon Pasta
Vegan Avocado Pasta
Hummus Pasta
Vegan Pasta Primavera
Butternut Squash Pasta
This post may contain affiliate links which means that if you click on them and make a purchase, I will get a small commission. Moreover, I share only those products which I use personally and love.
I hope you enjoy this recipe as much as we did. I am very excited to hear back from you.
Where to find me?
Follow me on Facebook or on Twitter. You may tag @kiipfit on Instagram with your recipe remake images because I would love to see what you cooked.
Did you make it?
If you get a chance to make this recipe then please leave your feedback in the comments below along with a 5-star rating.
In addition, you may checkout my cookbook for everyday comfort vegan recipes.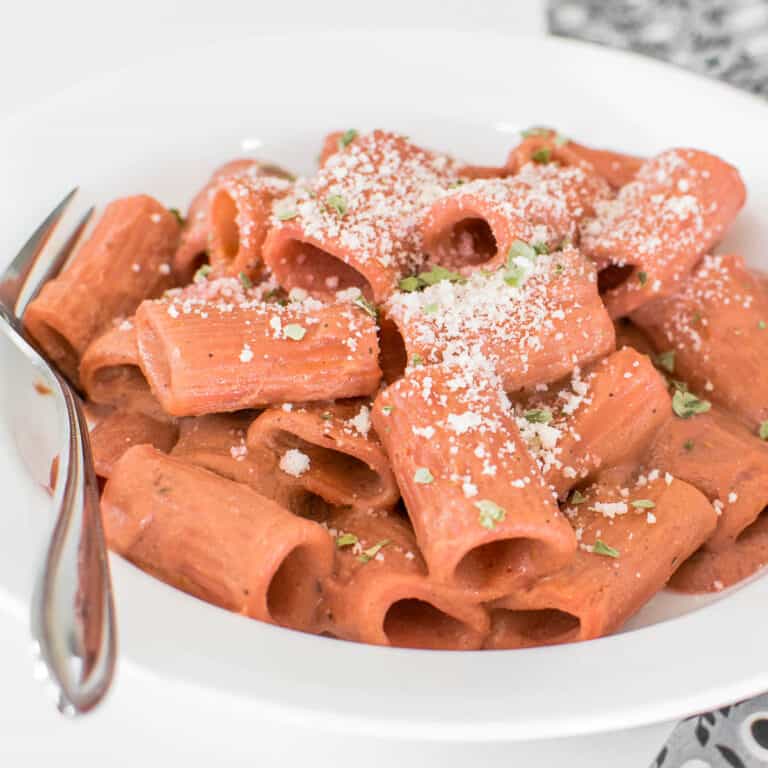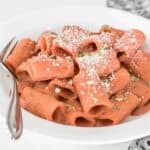 Print Recipe
Beetroot Pink Sauce Pasta
This luscious beautiful Beetroot Pink Sauce Pasta is an impressive way to bring a change in your pasta dish. Its creamy, vegan, dairy free, made with few simple ingredients and is a family friendly recipe.
Instructions
In a blender combine all the sauce ingredients (beetroot, cashew nuts, garlic, basil, tomato puree, nutritional yeast, coconut milk, vegetable broth, salt and pepper). Blend it smooth until creamy and pink in color. Keep it aside.

Heat oil in a nonstick pan at high flame. Bring the flame to medium heat and add garlic powder and oregano to it. Whisk it well in the pan so that the herbs are blended in the hot oil.

Toss in cooked pasta so that each pasta is coated with the herbed oil.

Fold in the pink sauce and the reserved pasta water and mix gently without breaking any pasta. Let it cook at medium flame for 5-7 minutes or until the sauce starts to thicken. Mix gently at intervals to make sure that it does not stick at the bottom of the pan.

Adjust salt and pepper and mix gently so that pasta retains its shape and texture. Turn off the flame and cover the pan with the lid and let it rest for 2-3 minutes.

Remove the lid and gently mix it again. Scoop it in the serving plates and garnish with parmesan cheese and herbs if desired. Enjoy!
Notes
For pasta water – Just when pasta is al dente dip the measuring cup in the pasta and reserve its water and keep it aside for future use.
when buying canned beet make sure the ingredients label in the can mentions water, salt and beets and no other ingredients. 
When cooking pasta follow the package instructions but do not overcook. The pasta will be cooked again in the sauce so that it can absorb all the flavors.
The measurement mentioned above for the pasta is for uncooked pasta. Hence, boil 8 oz pasta that is half of pasta box. 
Rigatoni pasta works best here but you can also use penne pasta if desired.
This taste best when served immediately, but the leftovers can be refrigerated in a glass container to be used the next day. Make sure to warm it in the microwave before serving.
Nutrition
Calories:
339
kcal
|
Carbohydrates:
53
g
|
Protein:
10
g
|
Fat:
10
g
|
Saturated Fat:
14
g
|
Polyunsaturated Fat:
1
g
|
Monounsaturated Fat:
5
g
|
Sodium:
134
mg
|
Potassium:
471
mg
|
Fiber:
5
g
|
Sugar:
5
g
|
Vitamin A:
107
IU
|
Vitamin C:
3
mg
|
Calcium:
40
mg
|
Iron:
3
mg