Butternut Squash Tofu Salad with Toasted Hazelnuts is divine. Its a warm salad and packed with protein. Its easy to make and is flavored with fresh herbs.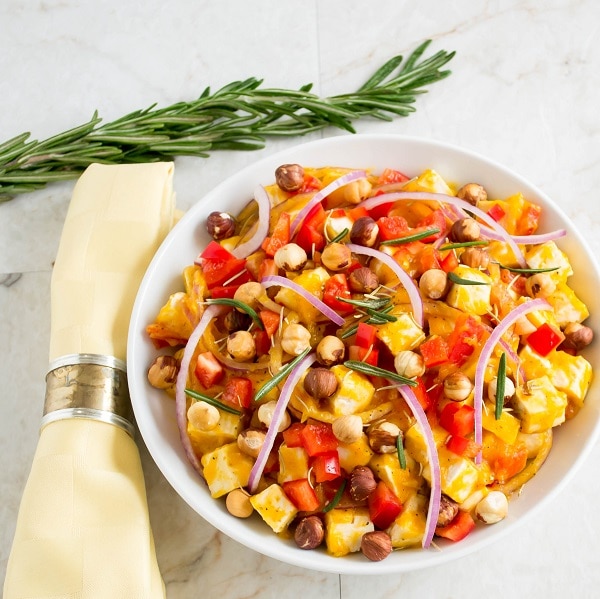 Warm Salad, cold winter and Thanksgiving dinner with family and friends 🙂 . Baked tofu in Butternut squash sauce and toasted hazelnuts with simple spices. Divine!

When I decided to make butternut squash sauce I realized it was easy to cook. It was just a matter of 5-7 minutes.
I wondered why? It used to take me a long time to make baby food for my baby couple of years back with butternut squash.
I guess I was just being a typical new mom. As I was always extra cautious and extra hyper about everything related to her baby 🙂 .
Also it was easier to feed my toddler this time than earlier. Time flies and my baby has grown up 🙂 . Hmmm. Okay coming back to the salad it's delicious and every bite comes with satisfactory flavors.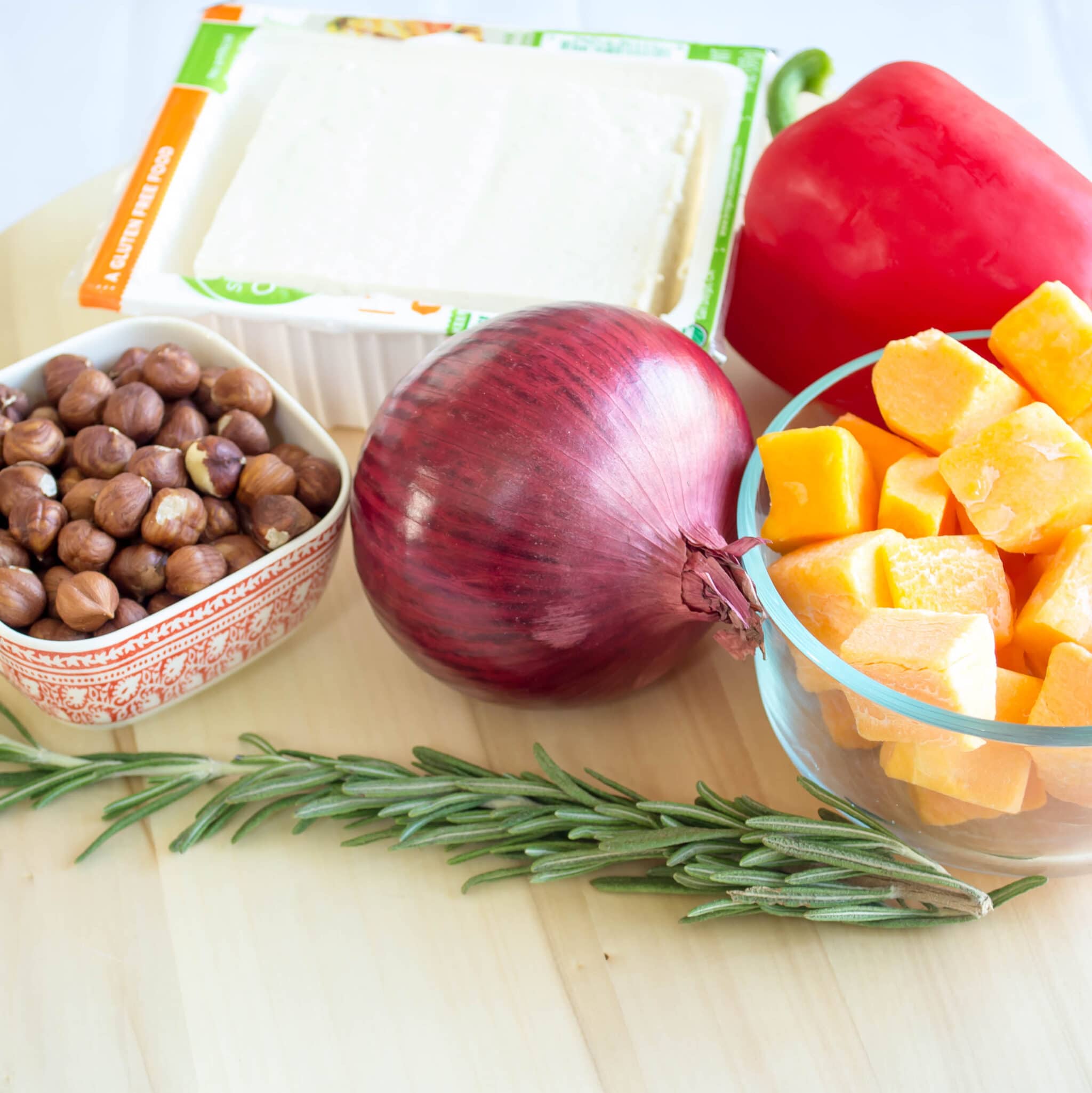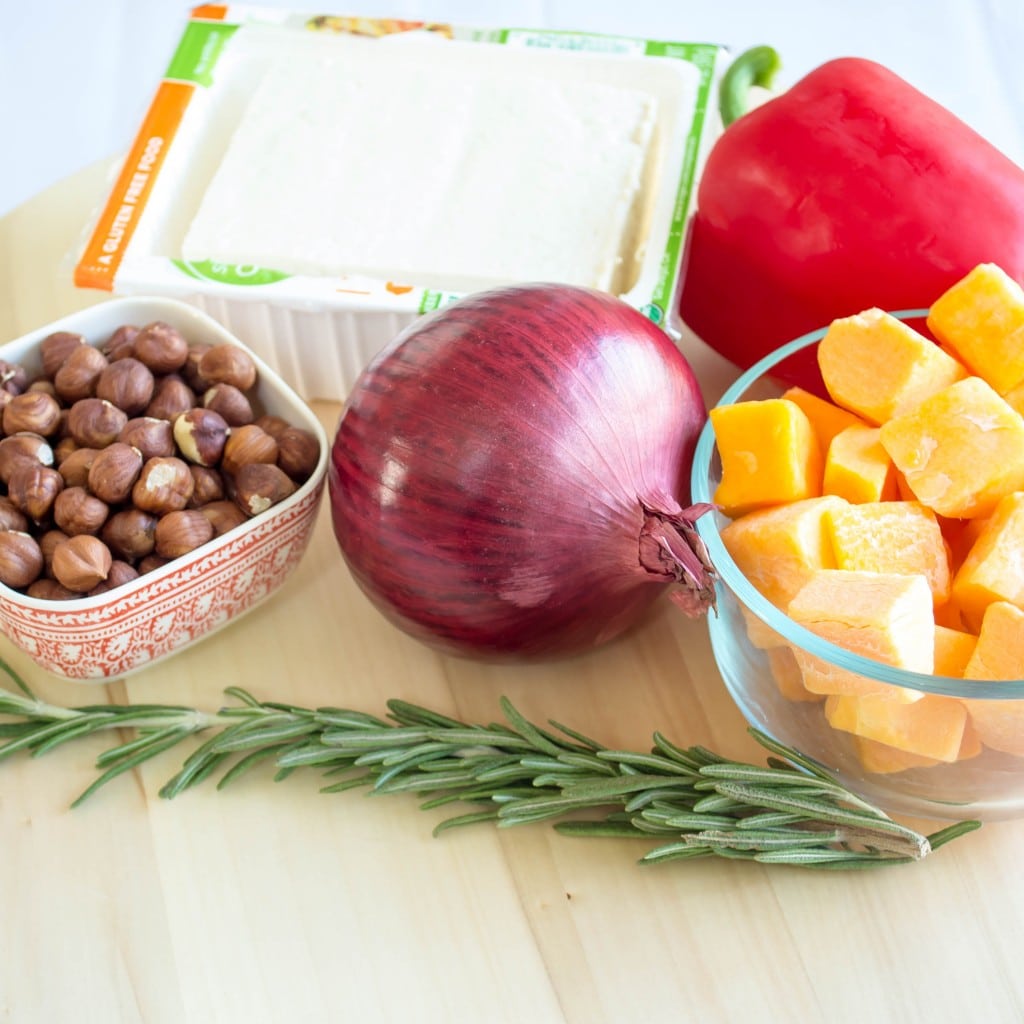 Toasted hazelnuts make the salad crunchy. I am crazy for toasted hazelnuts. So, whenever I get a chance I roast a big jar full of these delicious nuts.
I am still munching on toasted hazelnuts while writing. It's hard for me to resist these savory nuts. My jar always gets empty in a week's time though it should last for 2 weeks.
With baked tofu the salad is filling and can be served as a main dish or as a side dish. I used dried and fresh rosemary to add to the aroma and extra flavor to Butternut Squash Tofu Salad with Toasted Hazelnuts.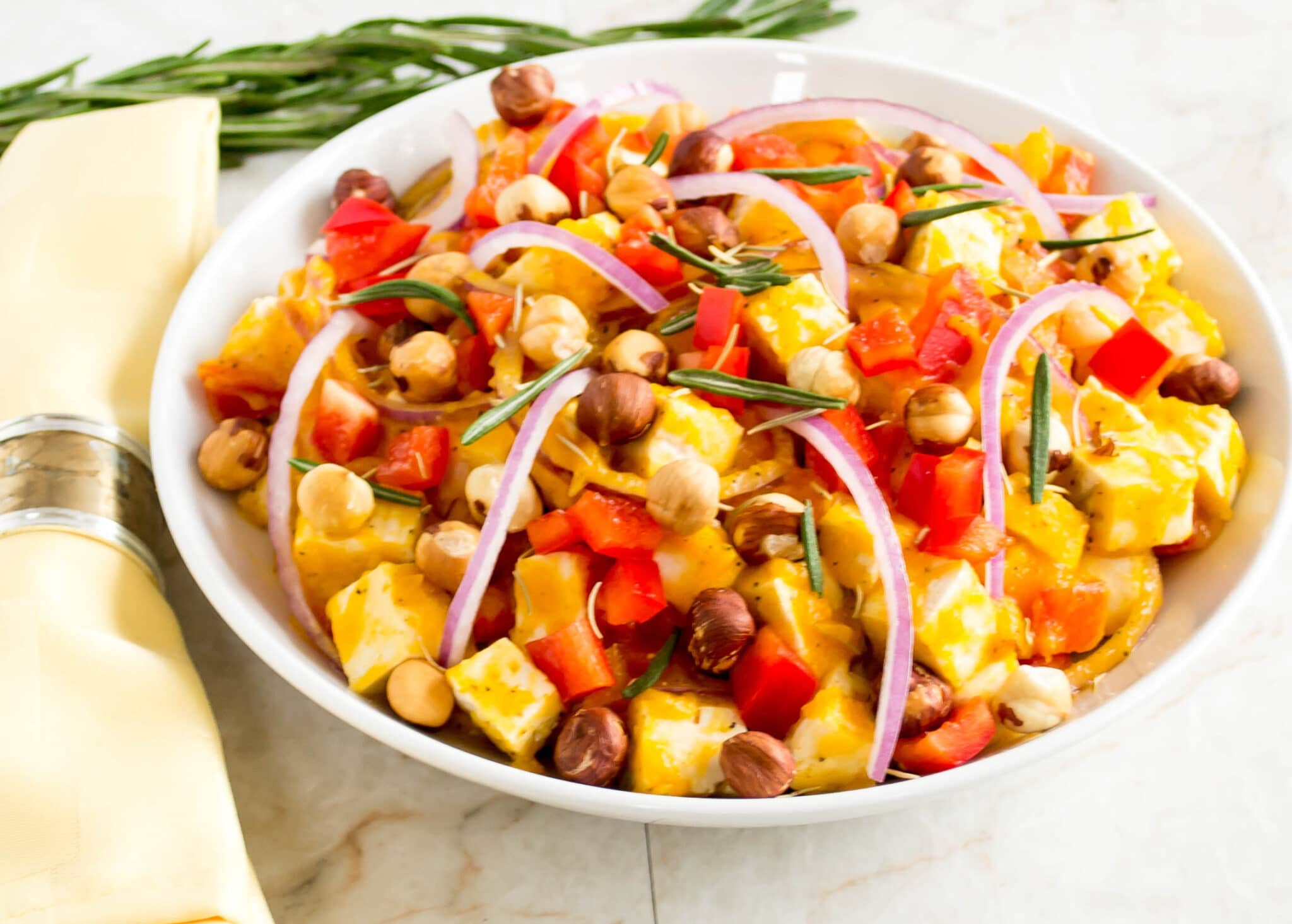 Did you make it?
If you get a chance to make this recipe then please leave your feedback in the comments below along with the ratings.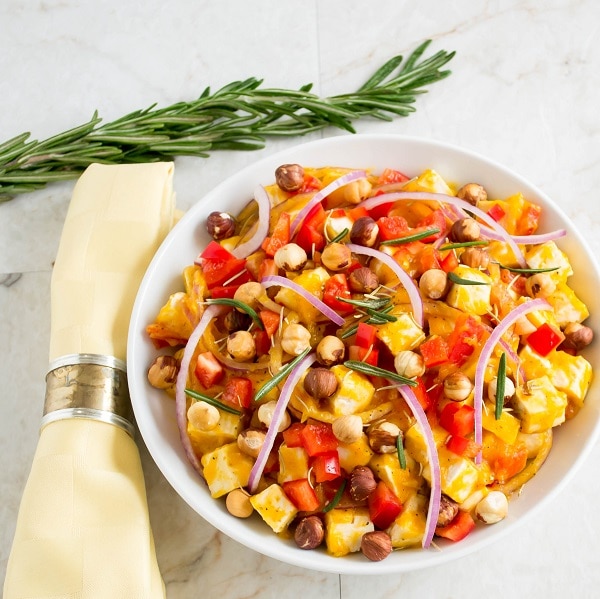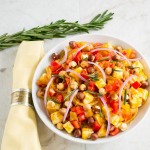 Print Recipe
Butternut Squash Tofu Salad Toasted Hazelnuts
Butternut Squash Tofu Salad with Toasted Hazelnuts is divine. its a warm salad and packed with protein. Its easy to make and is flavored with fresh herbs. 
Ingredients
1

14 oz

pack of extra firm tofu

(drained, pressed and chopped)

1/2

cup

raw hazelnuts

2

cups

chopped butternut squash

1/2

cup

water

1

tsp

salt

1/2

tsp

crushed black pepper

1

tsp

fresh rosemary

1/4

tsp

lemon juice

1

whole

red bell pepper

(chopped)

1/2

of whole

red onion

(finely sliced)
Instructions
Preheat oven at 370 degree Fahrenheit. Prepare 2 cookie sheets with a liner/parchment paper.

In one cookie sheet spread the tofu pieces and in another cookie sheet spread the hazelnuts.

Put the cookie sheets in the oven and bake. Bake hazelnuts for 5-7 minutes and tofu for 20 minutes.

In the meantime combine water and squash in a saucepan. Cover and boil for 5 minutes or until the squash pieces are soft.

When the squash is boiled let it cool for a while and grind into a smooth paste.

In a bowl combine salt, black pepper, rosemary, lemon juice and squash puree and keep it aside.

When the hazelnuts are done take it out of the oven and let the tofu cook in the same oven. Let the nuts cool and rub gently between palms or with paper towel to remove the skin.

Once the tofu is cooked for 20 minutes or until very light golden brown in color take it out from the oven.

In salad bowl combine all the ingredients and mix gently so that the tofu retains its shape.

Garnish with more hazelnuts and/or rosemary and serve immediately.

This salad tastes great when warm but can be served at room temperature also.
Notes
Make sure to drain and press the water out of tofu so that tofu ca be baked in less time and it is firm enough to be mixed into a salad.
Make sure to bake the hazelnuts only for 5-7 minutes or else it will get burned very easily.
Feel free to use dried and/or fresh rosemary herbs. It adds to the flavor of the salad.
Nutrition
Calories:
294
kcal
|
Carbohydrates:
20
g
|
Protein:
20
g
|
Fat:
18
g
|
Sodium:
583
mg
|
Sugar:
1
g
|
Vitamin C:
1
mg