This easy Vegan Carbonara is full on comforting and has the same old flavors. The simple creamy sauce coated well along the noodles and flavored with chewy, salted and smoky sun-dried tomato bites. This classic Italian recipe is heavenly and a perfect weeknight meal.
This is a sponsored post but I have used the product myself. So, all the opinions and reviews are mine.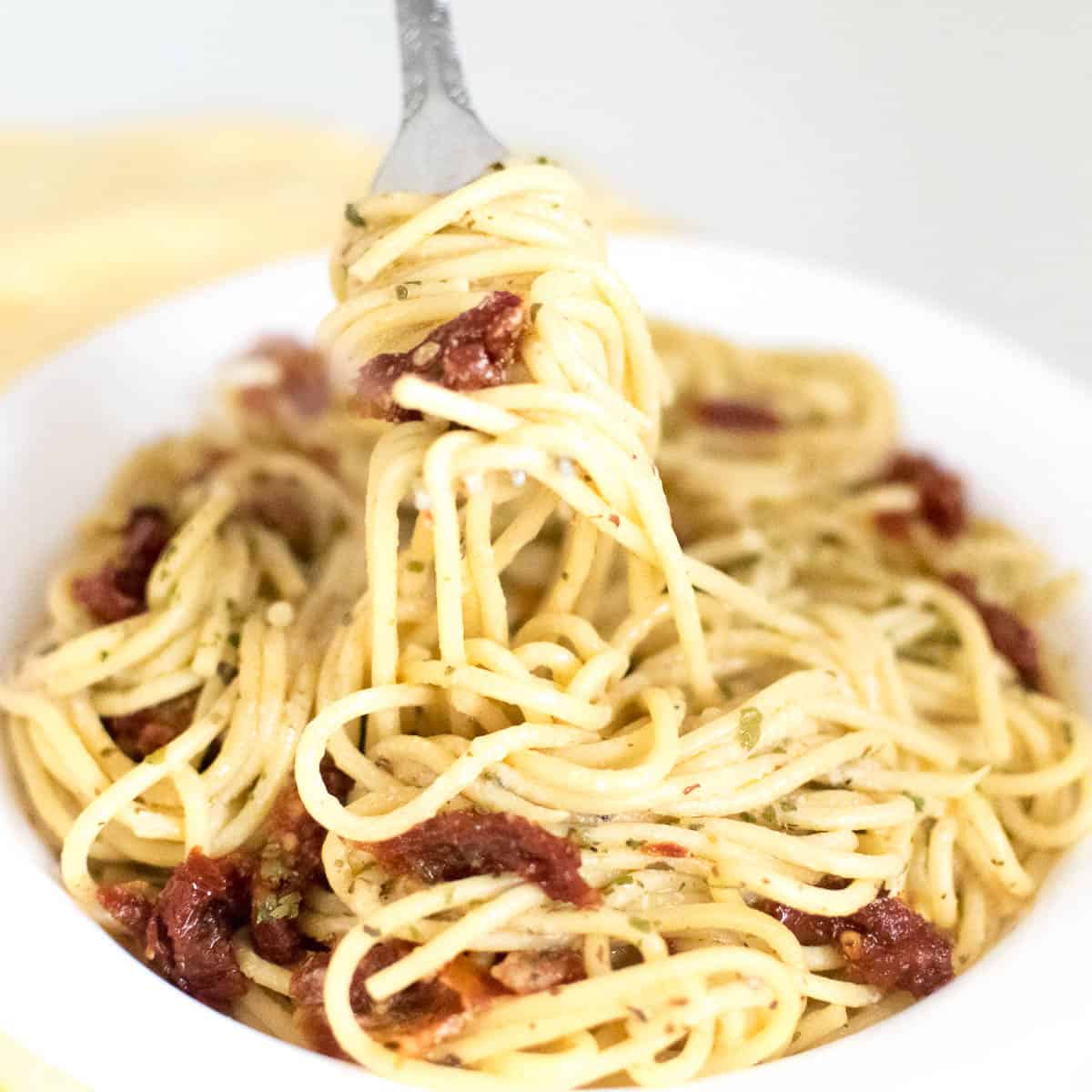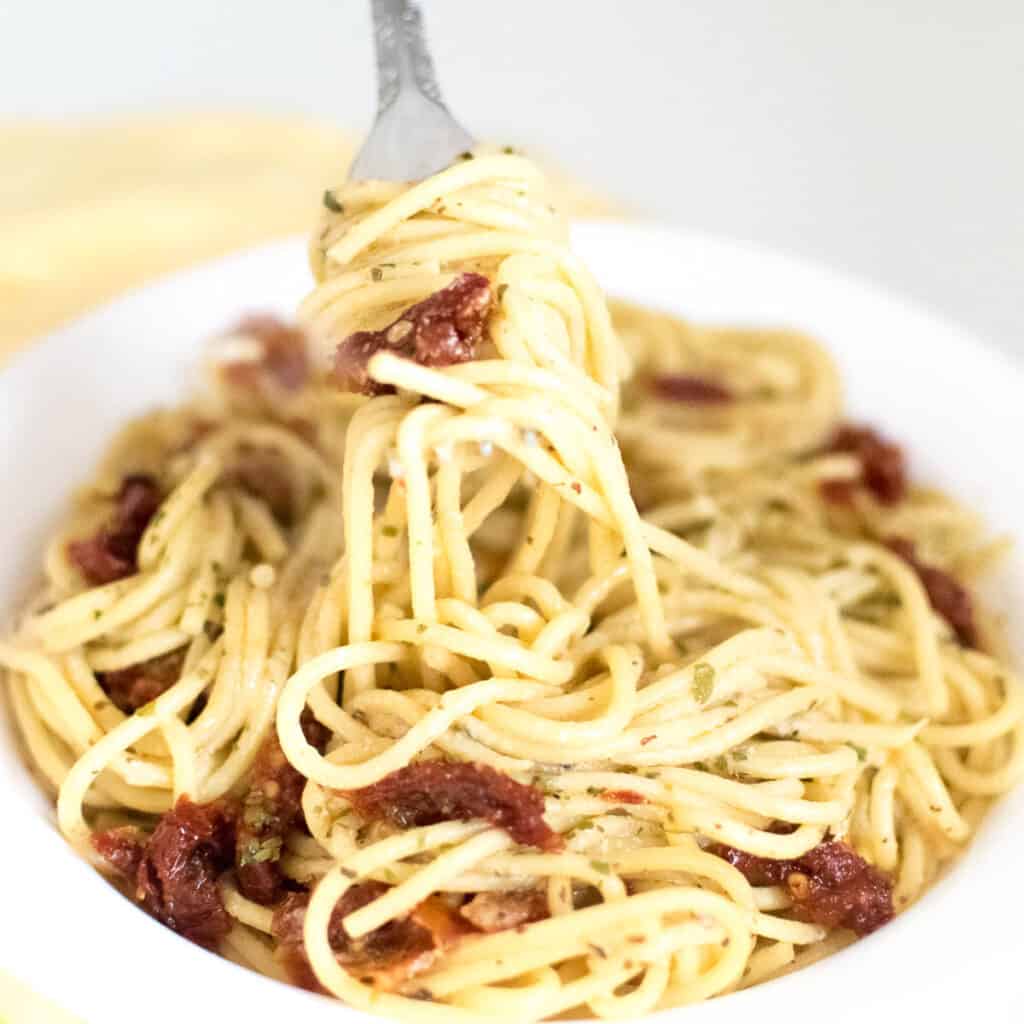 Traditionally, carbonara sauce is made with eggs. However, they make sure not to overcook eggs and should be saucy and then coated into pasta.
Here, I have replicated this vegan carbonara sauce with the combination of coconut milk and flaxmeal. Trust me it works wonders and brings out the same traditional taste.
It is fun to veganize your old favorites and especially if it replicates the same old taste. It is so soothing to indulge in old classics most of the times especially on a busy and hectic nights.
You must also try my vegan lentil Bolognese for a comfort weeknight meal.
I have been creative in most of my pasta recipes which I have listed here that you may like:
Tofu Steak Spaghetti
Spaghetti Aglio e Olio
Vegan Habanero Cauliflower Spaghetti
Spicy Garlic Spaghetti in Broccoli Cheese Sauce
Butternut Squash Pasta
Lemon Pasta
Also, I have tried being more creative with this recipe is by adding smoke BBQ corns from Love Corn. I am thankful to momsmeet for introducing me to this wonderful company and I got a chance to try and review their product.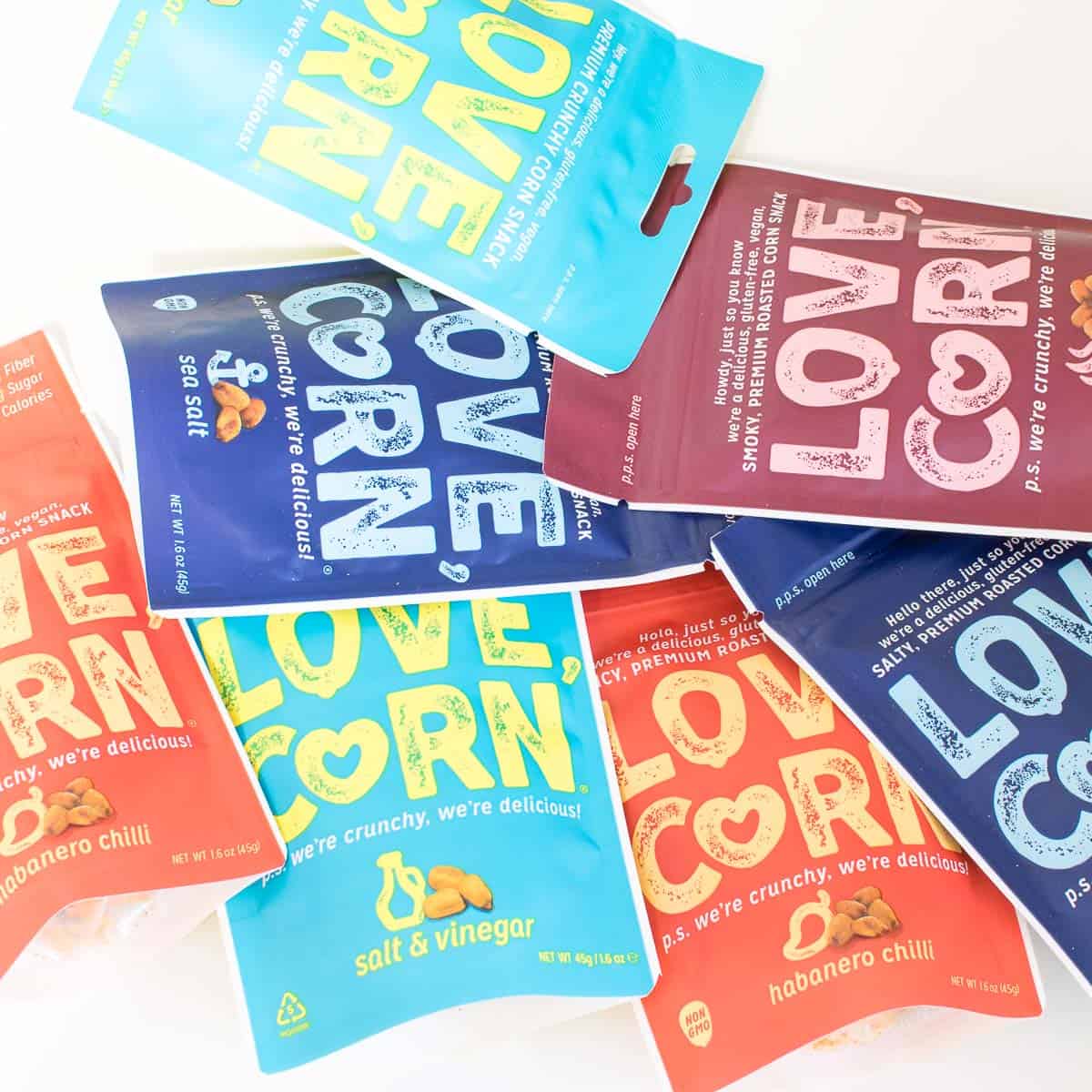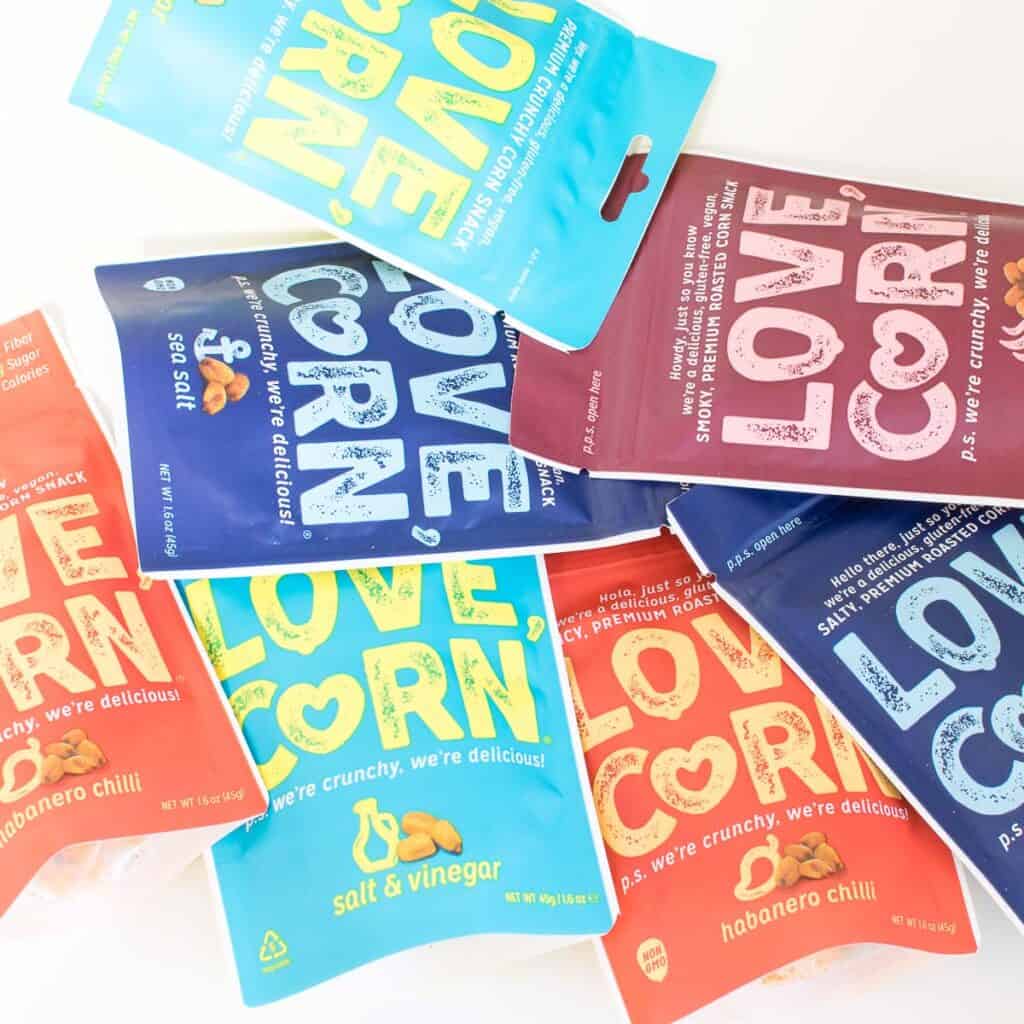 I must say that we simply gorged on the crunchy, flavorful and utmost delicious corns. Its vegan, gluten free, sugar free and non-GMO as well. Moreover, they are kid friendly too.
I have tried them as toppings on salads and soups but adding it on this pasta recipe was absolutely incredible.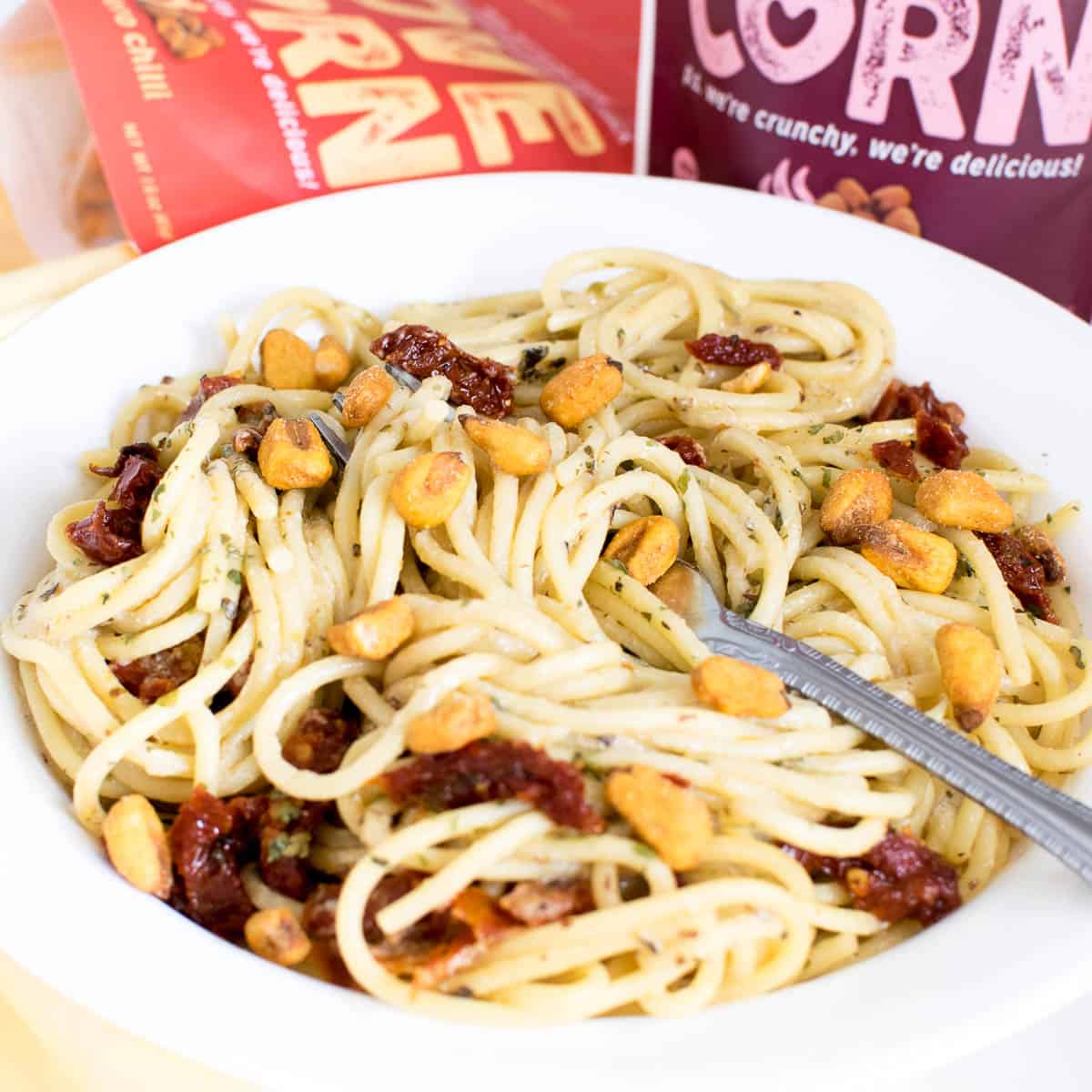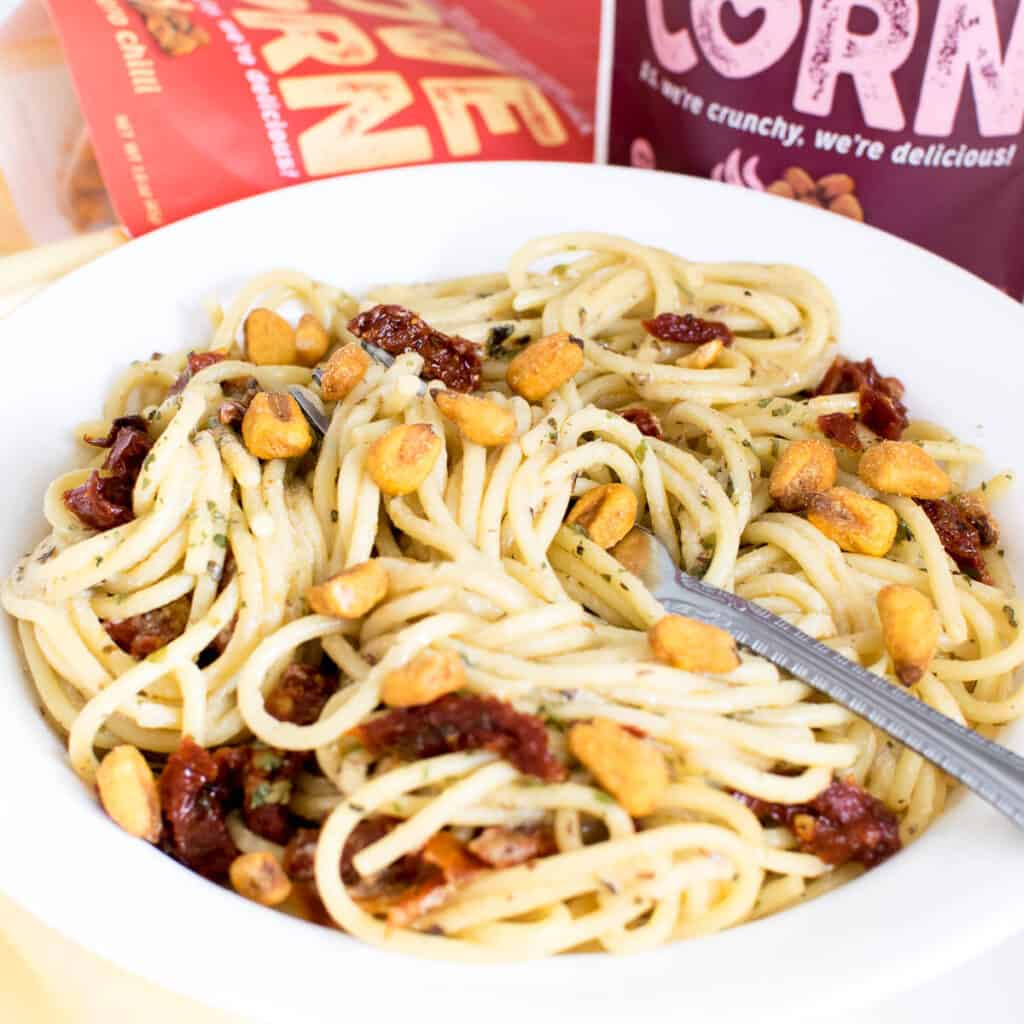 They are basically corn kernels packed with flavors like salt and vinegar, BBQ, habanero and sea salt. These are easily available online and in store store which you may find out here. They also have 25% discount on their website for my audience. Use the code MOMSLOVE at checkout.
However, for this vegan spaghetti carbonara, I must have tried it on my husband several times. To my surprise not even once could he figure out the difference and totally fell for my healthier recipe.
So, here I am to share this vegan carbonara recipe with you:
Ingredients you will:
Sundried tomatoes
Liquid smoke
Coconut milk
Flaxmeal
Nutritional yeast
Garlic powder
Parsley
Salt
Crushed black pepper
Spaghetti
I have used all these easily available ingredients in this recipe which you may buy from any local grocery store. However, I have provided links to few of them here for your convenience.
If you plan to buy from these affiliate links then I get a small commission which in turn encourages me to bring in more delicious recipes for you all.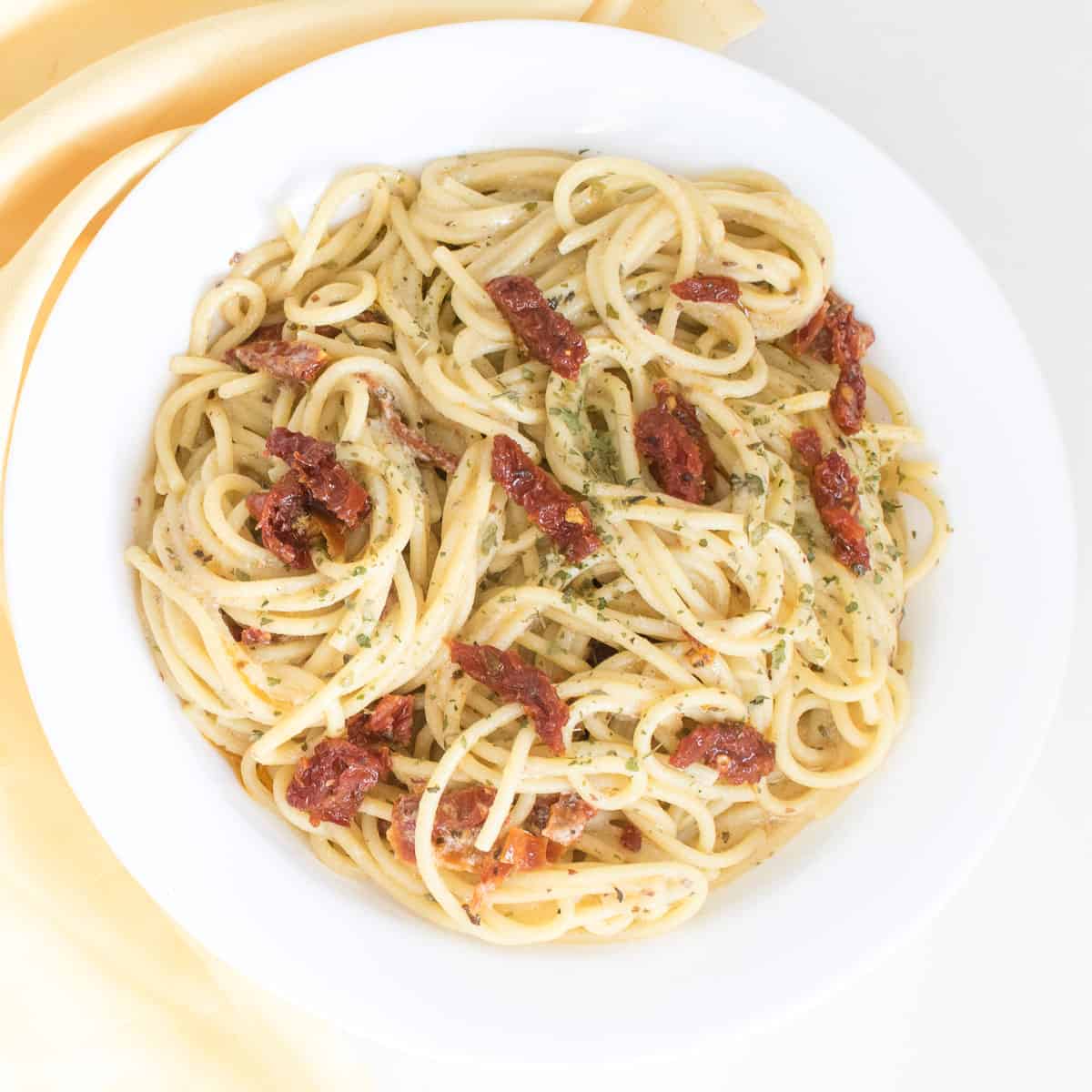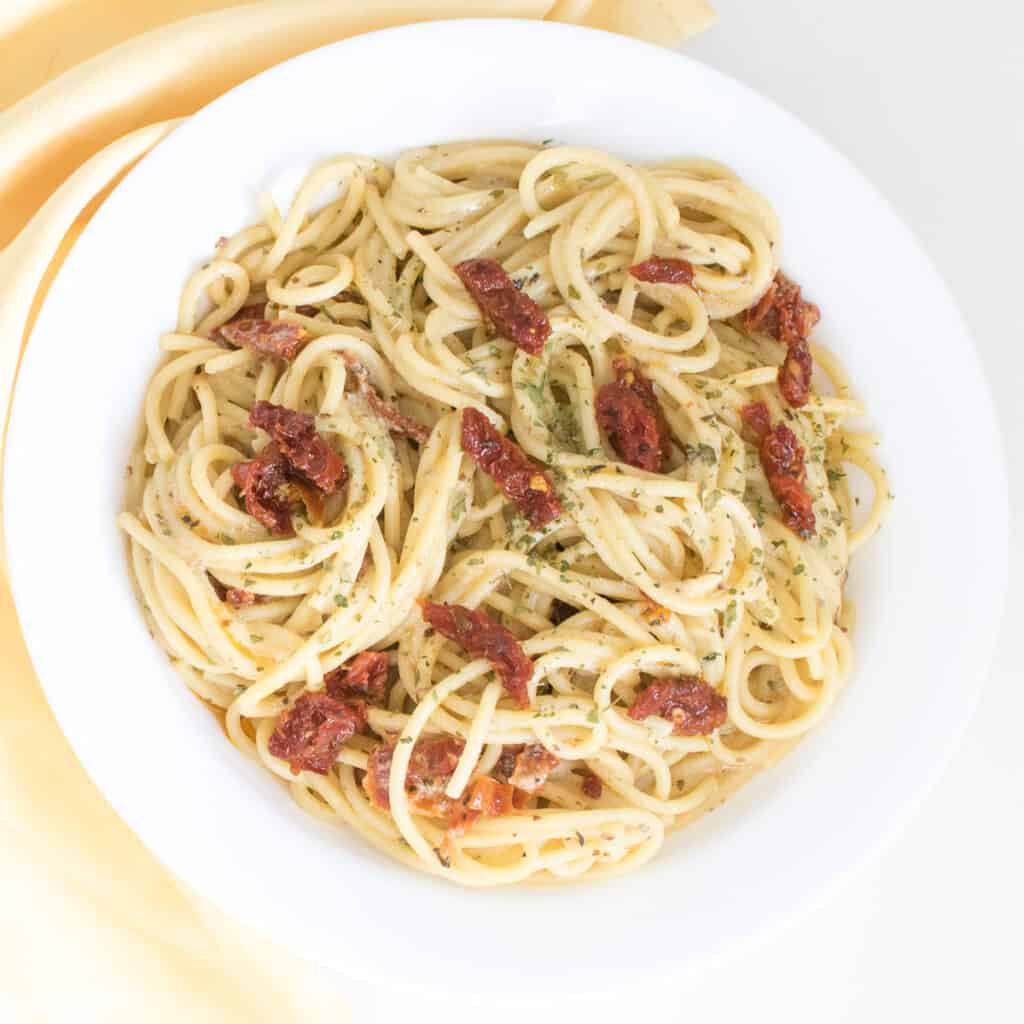 Ingredients notes:
Coconut milk – I used tetra pack which comes just like any other milk. I used it so that this recipe is not very coconutty and is lower in calories and lighter on the tummy.
Flaxmeal – it's an awesome vegan egg substitute. Moreover, when I whisk it with coconut milk it replicates the egg texture very well. Also, this adds lot of fiber, healthy fats and other nutrition to this recipe.
Sundried tomatoes – I wanted to go on a very simple and easy note so I decided to add smoky flavor to sun dried tomatoes. It gives that natural color of the real bacon and moreover it adds a lot of chewiness and some mild tang to this recipe. However, you may also use my tempeh bacon for this recipe if desired.
Liquid smoke – it is basically a liquid form of smoky flavor and aroma which helps bring the right bacon flavor in a vegan form.
How to make Vegan Carbonara
Firstly, in a bowl, I soaked sun dried tomatoes in liquid smoke and kept it aside.
Secondly, I heated a nonstick pan and combined coconut milk and flaxmeal in it.
Then, I whisked it until its was well blended and there were no lumps.
Next, just before it started to boil, I stirred in nutritional yeast. Then, I let it boil for few minutes.
Thereafter, I added the garlic, parsley, salt and pepper to it. Again, I let it cook for some more time until it started to thicken a bit.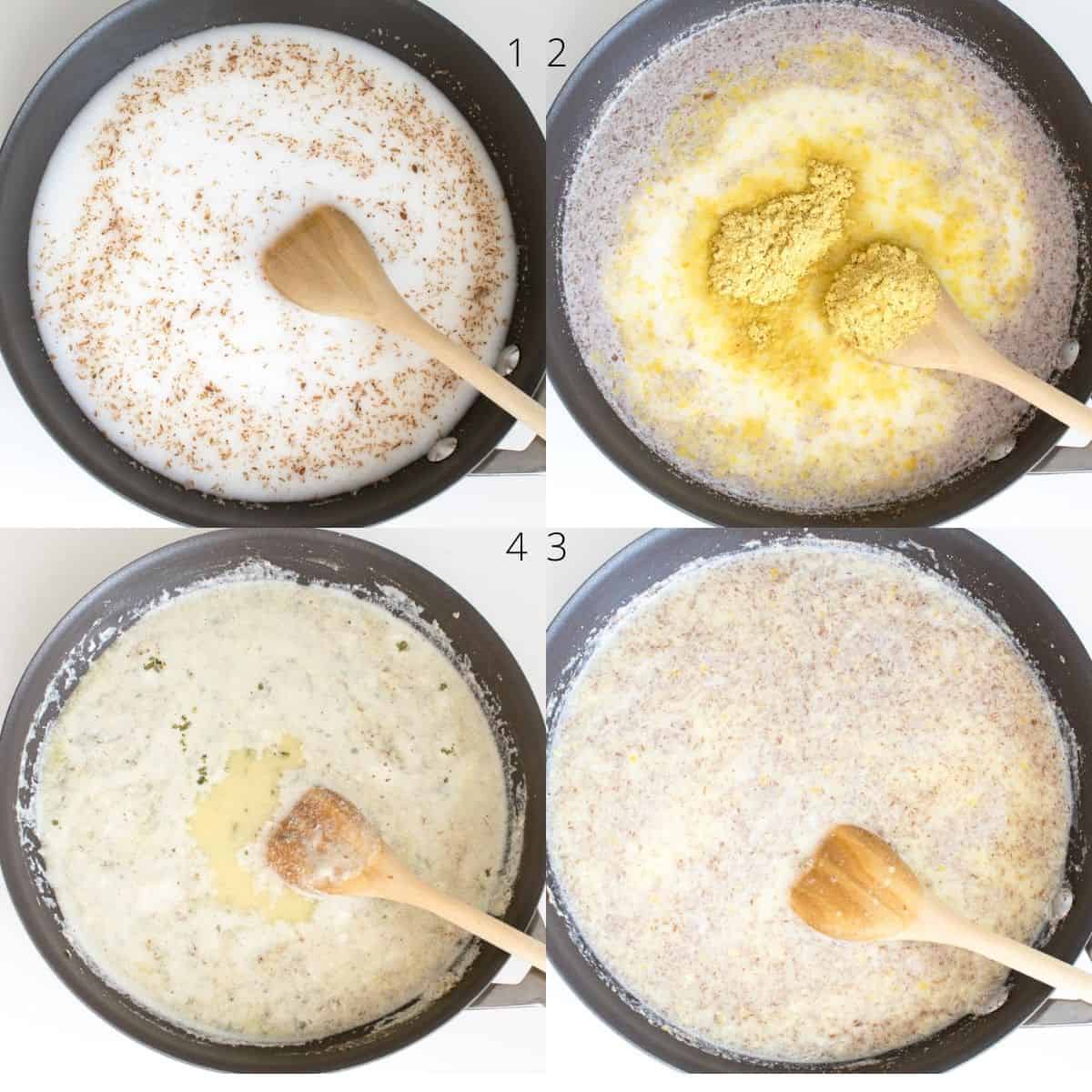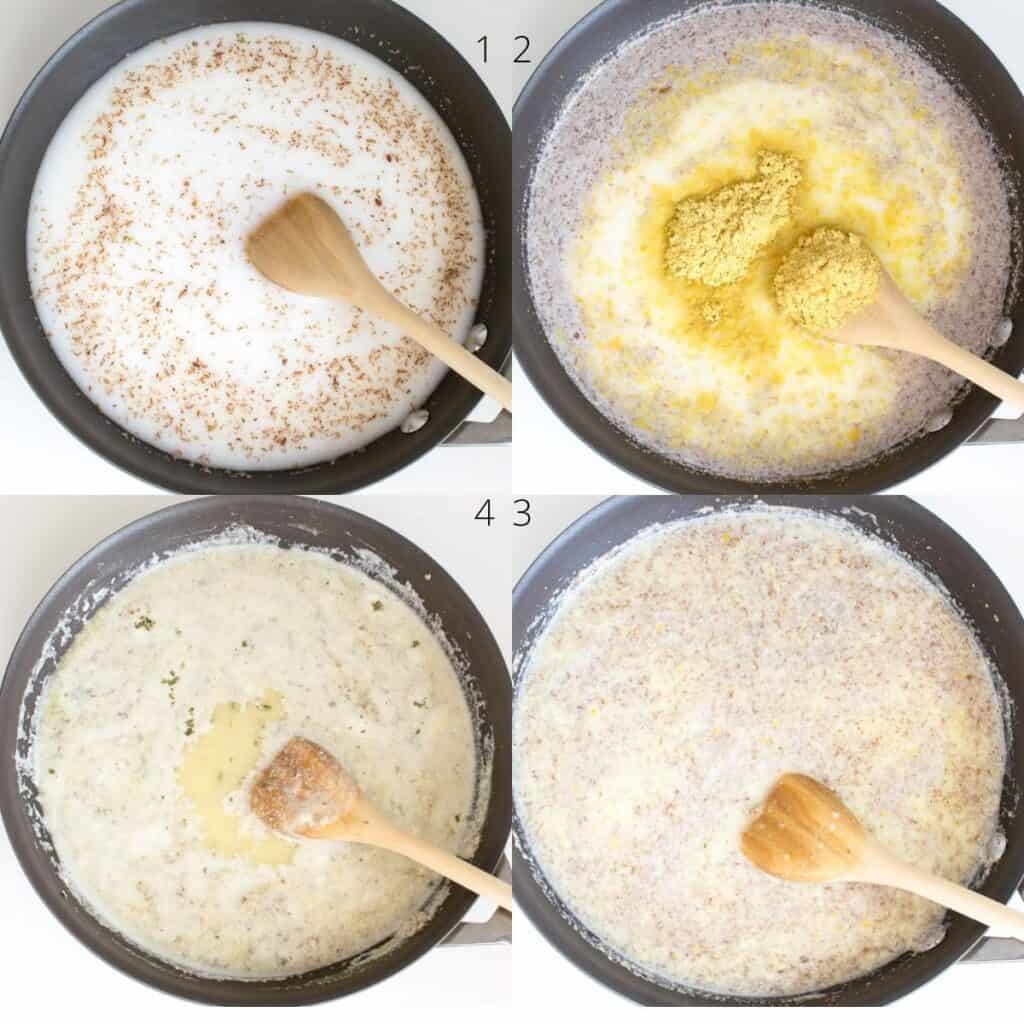 Afterwards, I tossed in half cooked spaghetti in the sauce and let it boil at low-medium flame well until the pasta was well cooked and fluffed.
Lastly, I added soaked sun-dried tomatoes to it and turned it off. Then, I let it rest covered for 10-15 minutes or until the spaghetti was well coated with the sauce and the liquid was mostly absorbed.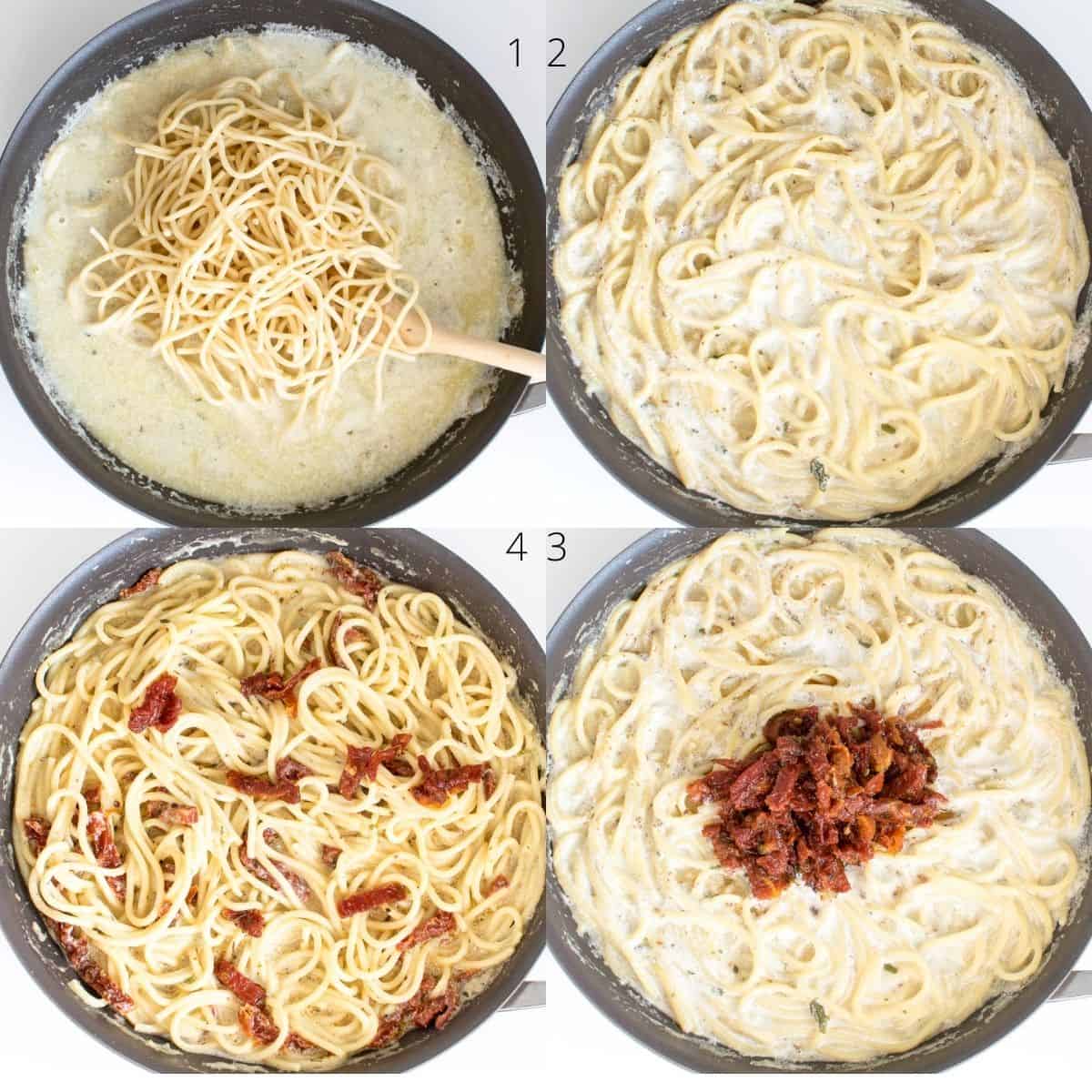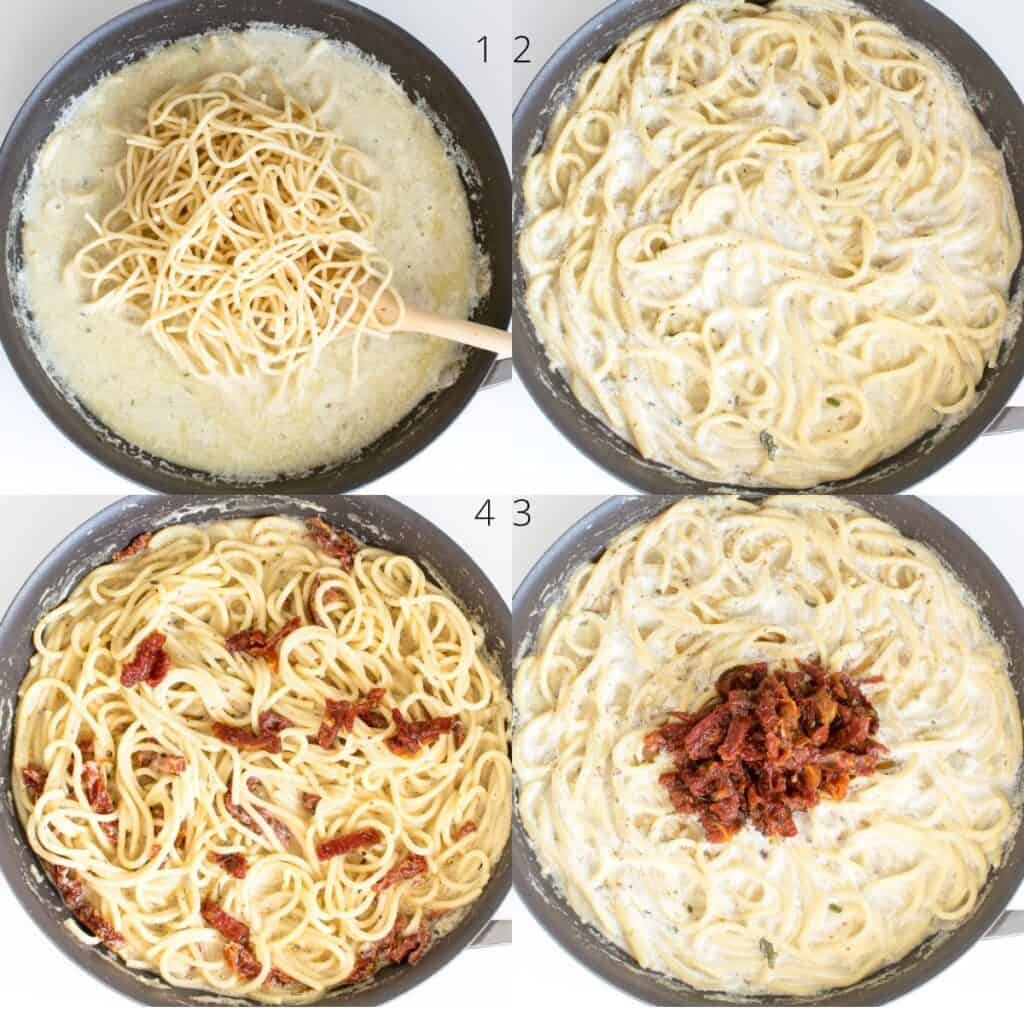 As soon as it was ready, I immediately scooped out a large portion. We heartily enjoyed this soothing pasta recipe.
My husband became a fan immediately. Even though he is not so much into pasta yet he wanted a second helping. I was delighted at his reaction to my recipe.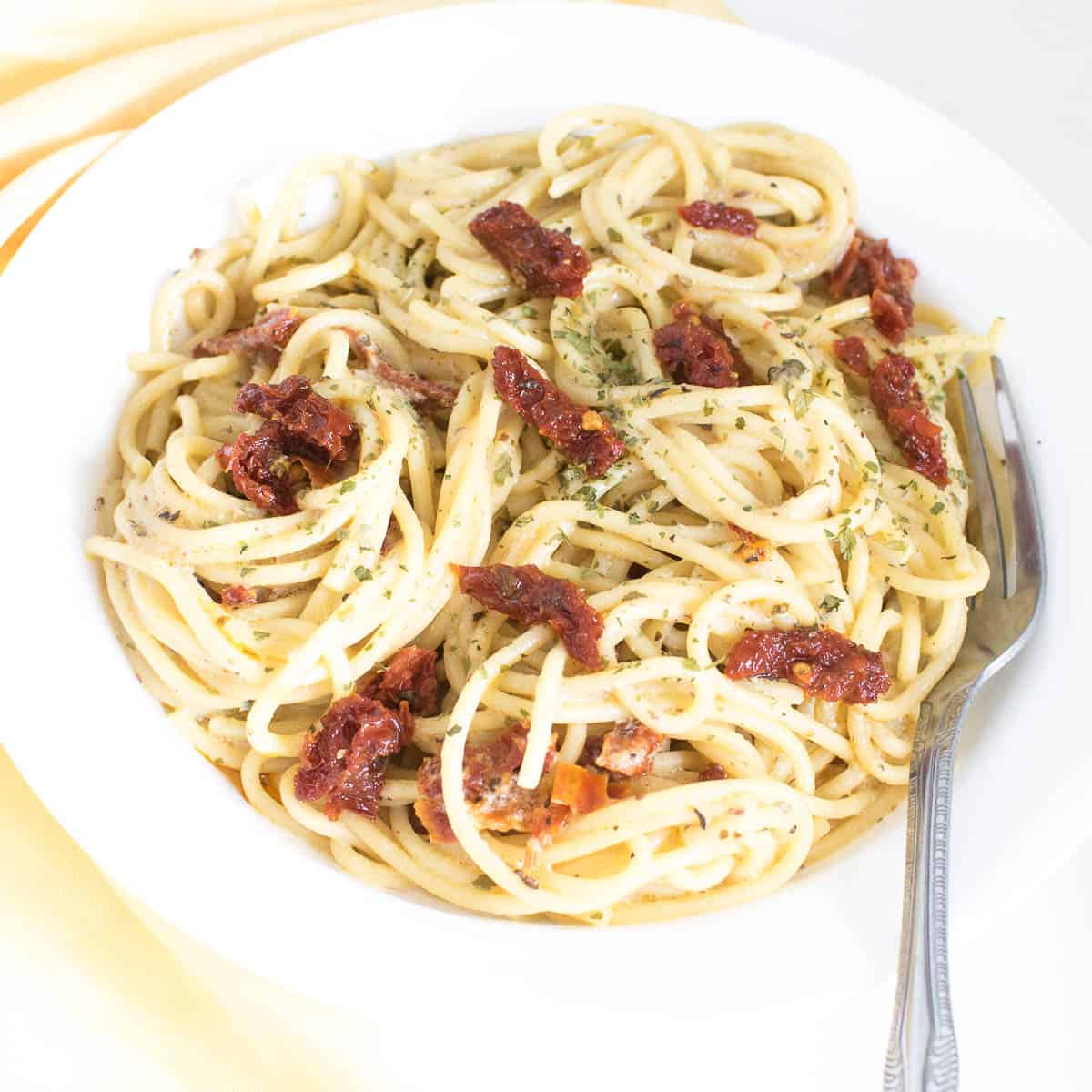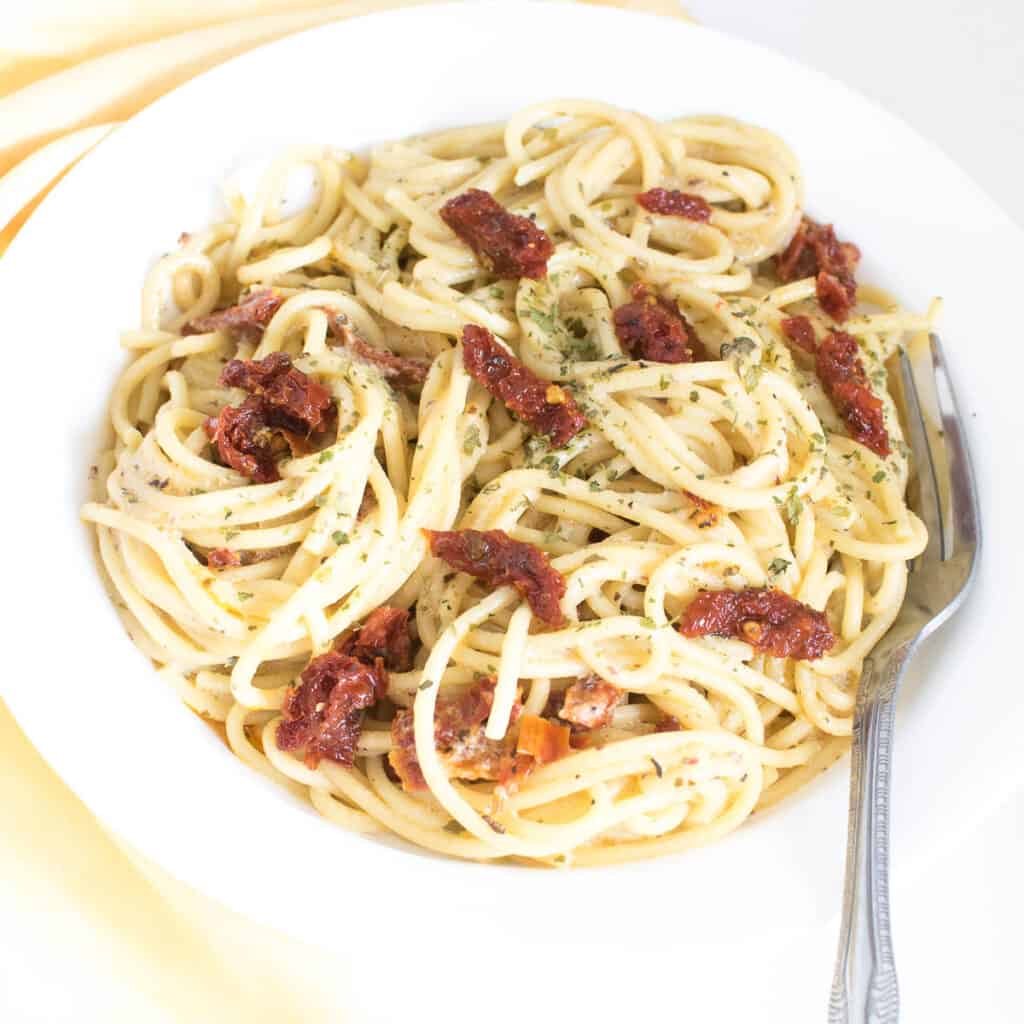 I am sure you must be having all these ingredients in your kitchen pantry and refrigerator. So, I insist you to get started with deliciousness ASAP.
Expert tips:
Make sure to whisk milk and flaxmeal properly. There should not be any lumps.
While cooking coconut milk on high make sure to stir at intervals so as to avoid any curdling and sticking. This also prevents over flowing.
It is important to note that the spaghetti should be cooked in plain water and then drain it when half done. Then, when you toss it in the sauce let it cook well. Do not be in a rush.
Vegan Carbonara FAQs
How long does it last?
This tastes best when served as soon as it is ready. However, you may refrigerate the leftovers to be used for lunch the next day.
Is it healthy?
I have mostly used healthy ingredients. In fact, it has no added oil except for that I used oil packed sun-dried tomatoes because with the addition of liquid smoke we would need all that flavor. Here, I used regular white spaghetti so that the ultimate result is creamy and silky but you may use whole grain spaghetti and make it healthier. Overall, this dish can be enjoyed frequently.
How does it taste?
It is rich, thick, creamy and silky with a strong smoky flavor along with the chewiness of the sun dried tomatoes.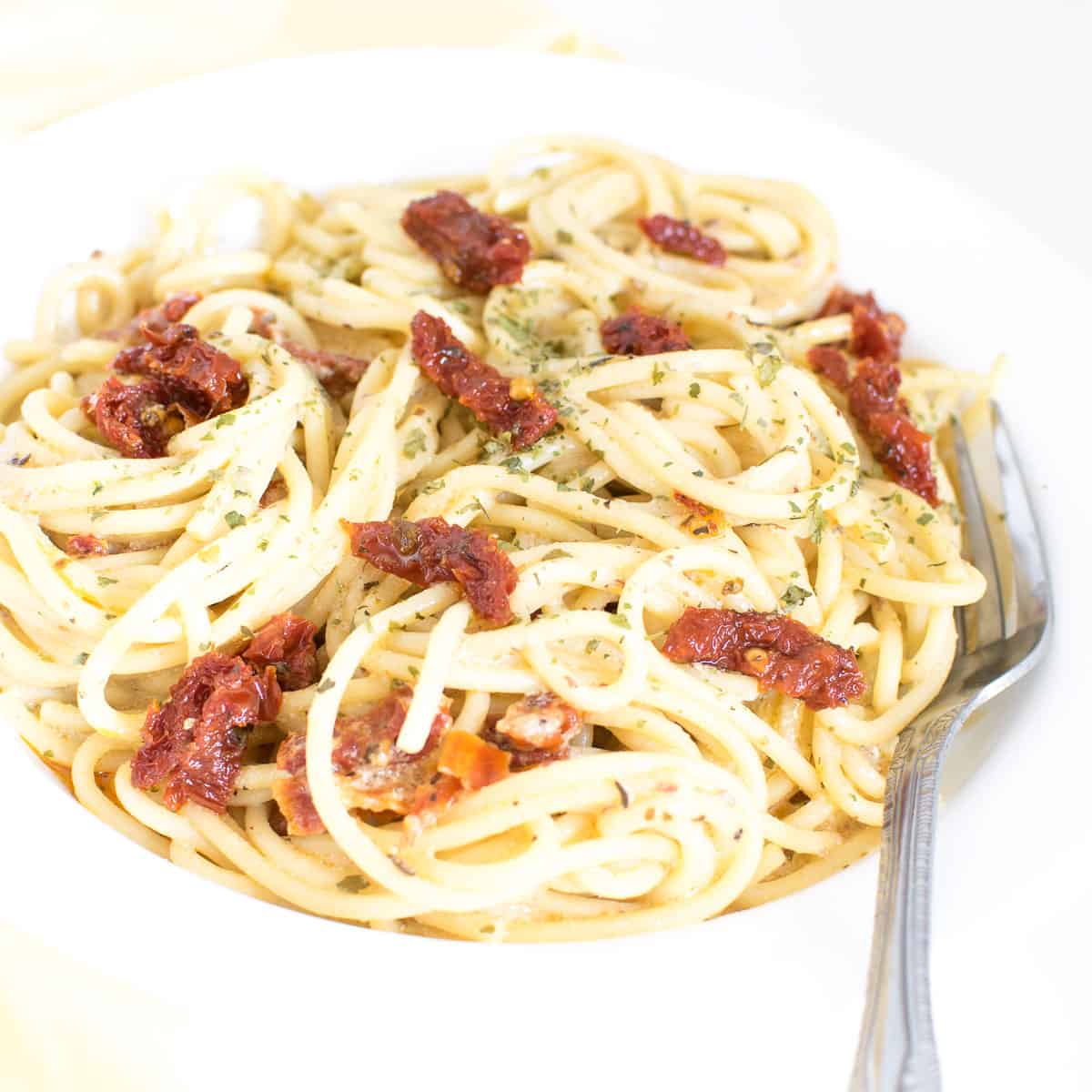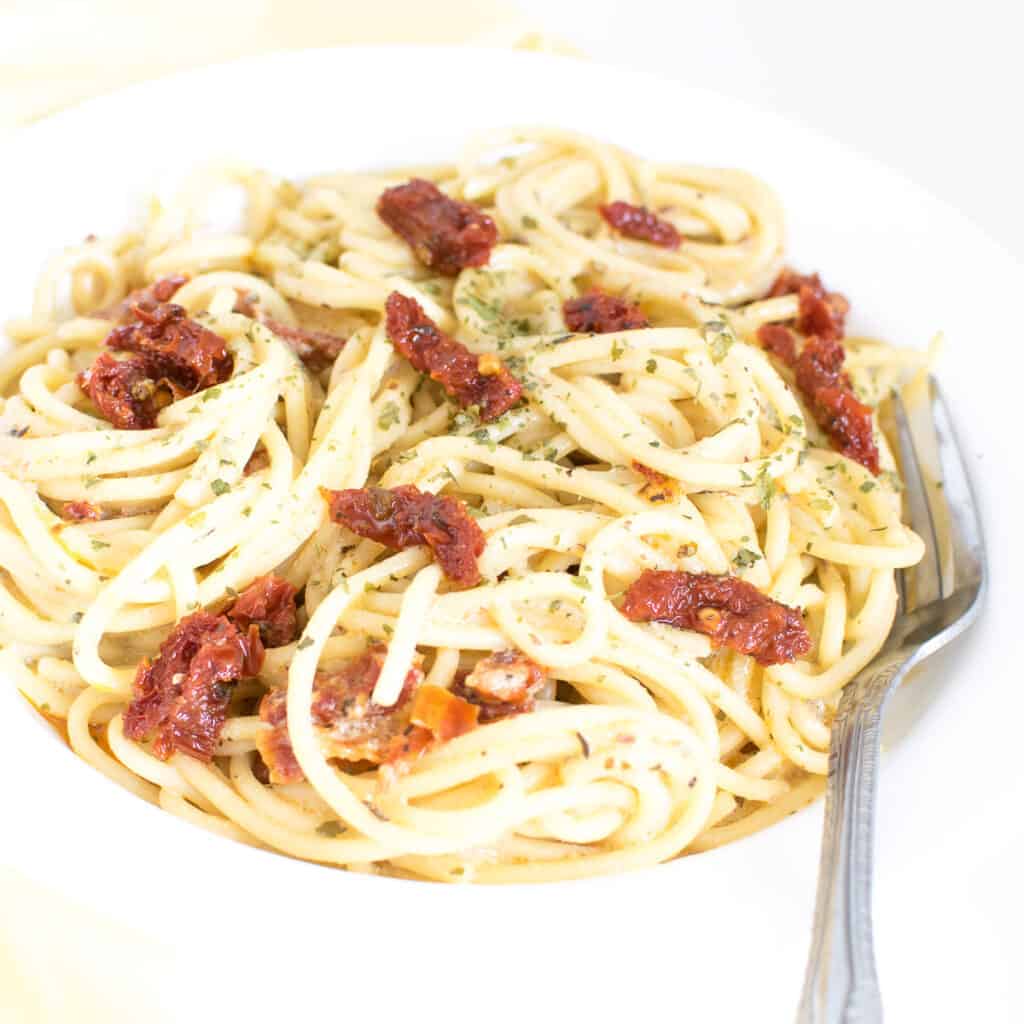 Did you make it?
If you get a chance to make this recipe then please leave your feedback in the comments below along with the ratings. In addition, you may tag @kiipfit on Instagram along with recipe image because we would love to see what you cooked.
In addition, if you desire to explore more of my delicious recipes than you may checkout my cookbooks.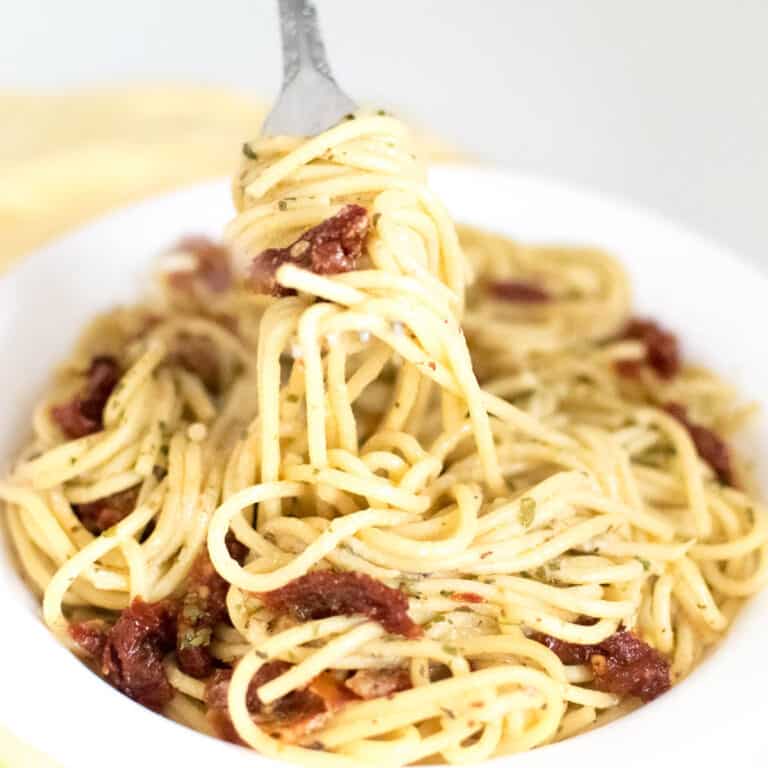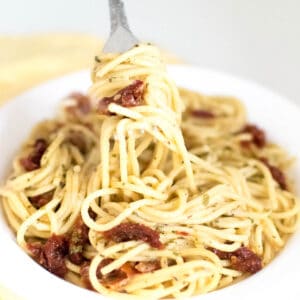 Print Recipe
Vegan Carbonara
This easy Vegan Carbonara is full on comforting and has the same old flavors. The simple creamy sauce coated well along the noodles and flavored with chewy, salted and smoky sun-dried tomato bites. This classic Italian recipe is heavenly and a perfect weeknight meal.
Instructions
In a bowl combine sundried tomatoes and liquid smoke. Keep it aside.

Heat a nonstick pan and combine coconut milk and flaxmeal. Stir until well blended and there are no lumps ( about 2-3 minutes).

Just before it starts to bubble add nutritional yeast and stir nicely. Let it boil at medium flame uncovered. Stir at intervals to make sure it does not over flow and the milk does not curdle and does not stick at the bottom also. (about 5 minutes).

Now, add garlic, parsley, salt and black pepper. Stir and let it cook until it starts reducing. (about 3-4 minutes).

Now, toss in half cooked spaghetti in the sauce and let it cook at low-medium until spaghetti is fluffed and fully cooked (about 4-5 minutes).

Now, add soaked sundried tomatoes to it and mix again. Turn off the flame and let it rest covered for about 10-15 minutes. It will thicken and become creamy and the liquid will will be absorbed. However, the consistency would be saucy and not dry. Serve hot.
Notes
To cook spaghetti – bring water to boil and add spaghetti to it. Then let it boil until it is half done. Do not let it cook completely. Drain it when half done. The spaghetti needs to be cooked in the sauce as mentioned above in the steps.
Fresh garlic also works in this recipe just make sure it is well minced.
Make sure to use coconut milk that comes in tetra pack just like any other milk.
You may also use my tempeh bacon recipe instead of sundried tomato in this pasta.
The corn topping is absolutely optional. But incase you like some crunchy bites then please get the one that is mentioned in the recipe above so as to achieve the exact original taste.
Nutrition
Calories:
447
kcal
|
Carbohydrates:
51
g
|
Protein:
14
g
|
Fat:
20
g
|
Saturated Fat:
69
g
|
Sodium:
114
mg
|
Potassium:
200
mg
|
Fiber:
18
g
|
Sugar:
17
g
|
Vitamin A:
236
IU
|
Vitamin C:
28
mg
|
Calcium:
122
mg
|
Iron:
9
mg