This classic Italian Vegan Cacio e Pepe is made simple and easy with homemade cheese sauce. It's packed with delicious flavors, so peppery and perfectly salty too. It's an ultimate comfort food with a simple ingredient list.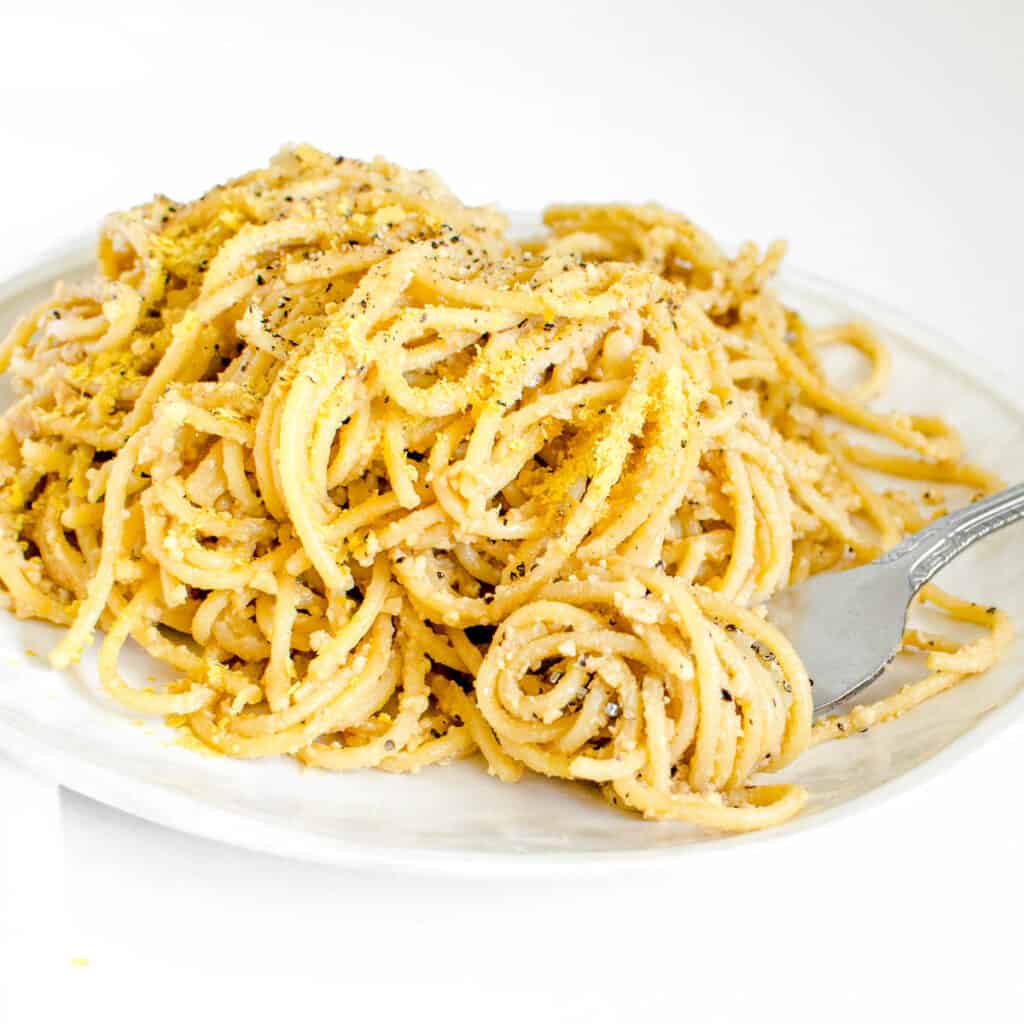 What is Cacio e Pepe?
Originally this recipe is a simple mix of parmesan and black pepper in lots of oil with a distinct saltiness to it. It's a traditional Italian dish from Rome. Basically, it means a cheese and pepper and that is what it is made from. However, I made my own cheese version here to veganize this recipe with pantry staples.
I have tried many vegan versions of this cacio e pepe where miso paste is used. However, its not always possible to run to the store to get certain ingredients.

Therefore, I decided to come up with my own version with the ingredients that I had in my pantry.
I was surprised that I got the same taste and texture. Therefore, I was happy with my innovation. But I was waiting for final approval from my husband who is absolutely a picky eater when it comes to Italian dishes.
However, he loved it and wanted me to make it more frequently. So, just to be double sure, I made it again in the same week and served him for dinner. It was an instant hit.
I reduced the black pepper for my kids and they simply loved this cacio e pepe pasta and asked for lunch the next day.
Therefore, I found a new and quick weeknight dinner idea and a lunch box idea.
My other Italian recipes that you may like:
Vegan Pizza Rolls
Vegan Carbonara
Lemon Pasta
Sun Dried Tomato Pesto
Spaghetti Aglio e Olio
Instant Pot Pasta Fagioli Soup
Spicy Garlic Spaghetti in Broccoli Cheese Sauce
Red Wine Vinegar Tofu with Quinoa
Hence, now at least once a week, my very Indian husband enjoys this pasta recipe because he says it's the best vegan cacio e pepe.
Therefore, I decided to click few pictures to make it visually possible for you to imagine its deliciousness.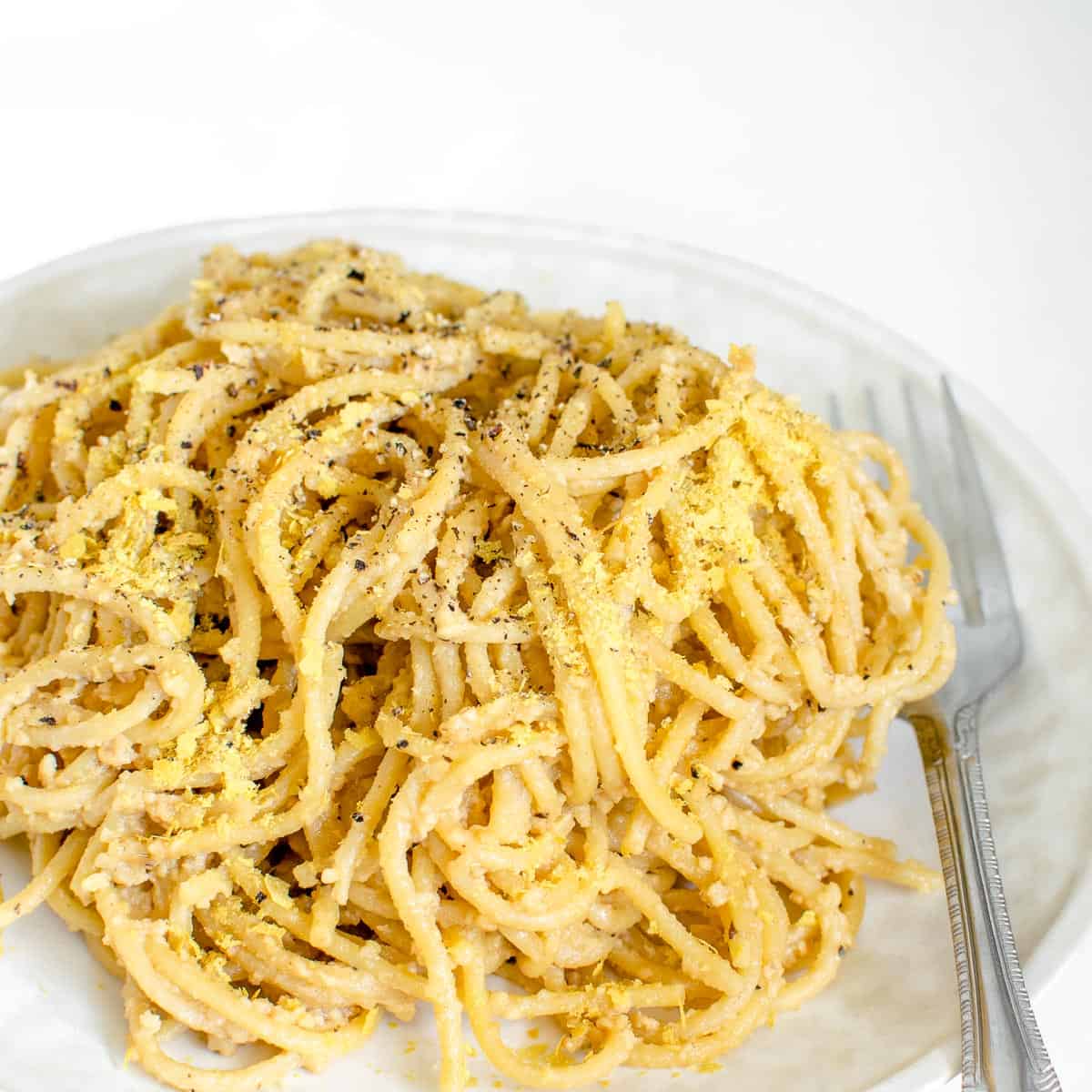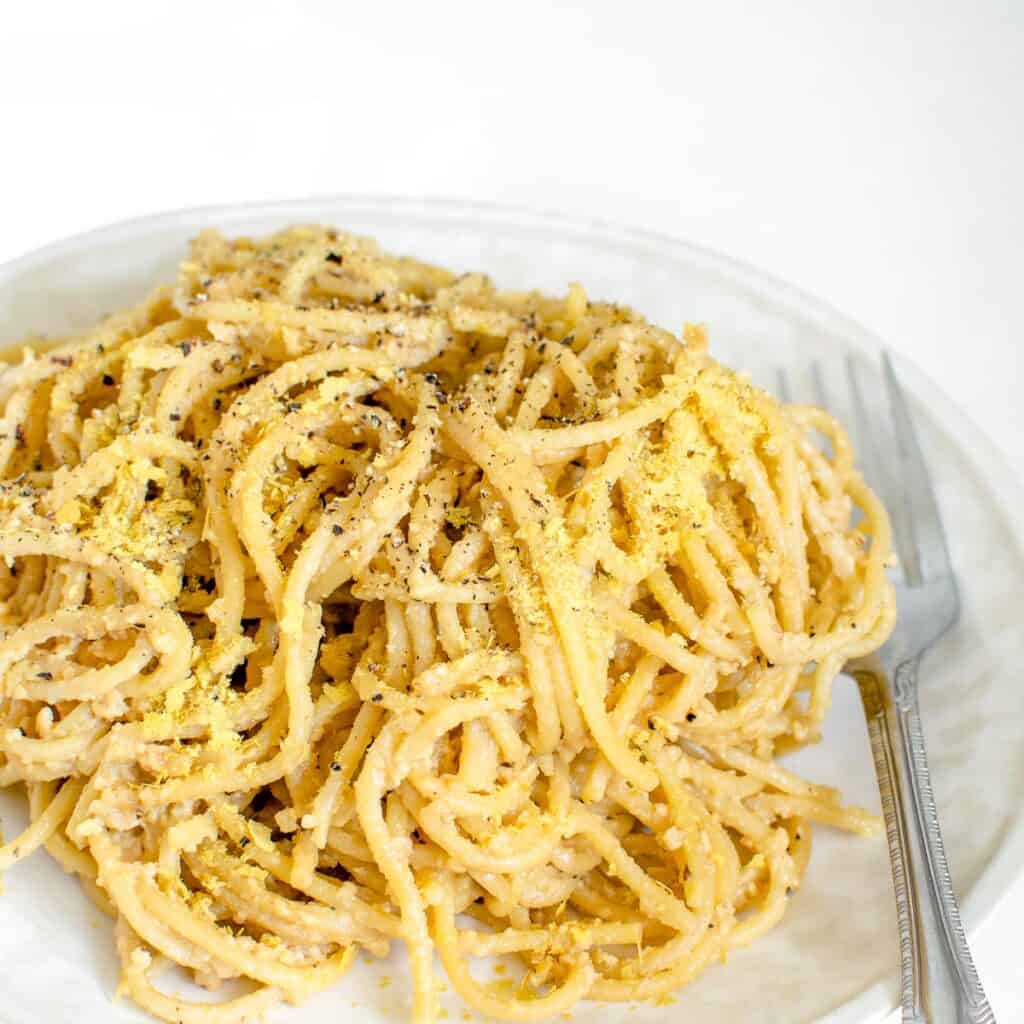 So, lets get started with it as I am so excited to share this awesome vegan cacio e pepe recipe with you.
Ingredients you will need
Cashew nuts
Nutritional yeast
Salt
Olive oil/vegan butter
Garlic powder
Soy sauce
Pasta water/plain water
More salt to taste
Waves of crushed black pepper
Cooked spaghetti
I have used these easily available ingredients which you may buy from any local grocery store. However, I have provided links to few of them here for your convenience.
If you plan to buy from these affiliate links then I get a small commission which in turn encourages me to bring in more delicious recipes for you all.
Ingredients notes:
Cashew nuts – this gives a nice nutty and mild sweetness to this recipe. Also, its great to make powdered cheese here. These are healthy, high in protein and a great source of healthy fats like essential fatty acids.
Nutritional yeast – this is a must to make this cheese powder. It's a great source of B12 and gives a great texture and color to this pasta dish. It also helps to lower cholesterol and protect against oxidative damage. It's a great source of antioxidants and other vitamins and minerals.
Olive oil – It is a preferred oil in many Italian recipes because of its texture and flavor. Moreover, it's a heart healthy oil packed with antioxidants and helps in lowering bad cholesterol. However, you may substitute it with vegan butter here if desired.
Garlic powder – this dissolve pretty well in the recipe but you may substitute it with fresh minced garlic too for a stronger aroma. Overall garlic is a heart healthy, and lowers blood pressure along with being low in calories.
Soy sauce – I used it to substitute miso paste since I like the flavor of soy sauce better in this variation. It adds a nice salty texture and is more easily available too.
Spaghetti – I generally use whole grain spaghetti because its healthier and high in fiber. You may use regular spaghetti which works excellent here. However, you may use whole wheat or quinoa-based spaghetti too. Any legume based or veggie-based spaghetti would taste differently here so I would recommend using the ones that's mentioned in the recipe.
Now, that you have gone through the ingredients in details, lets go through the steps.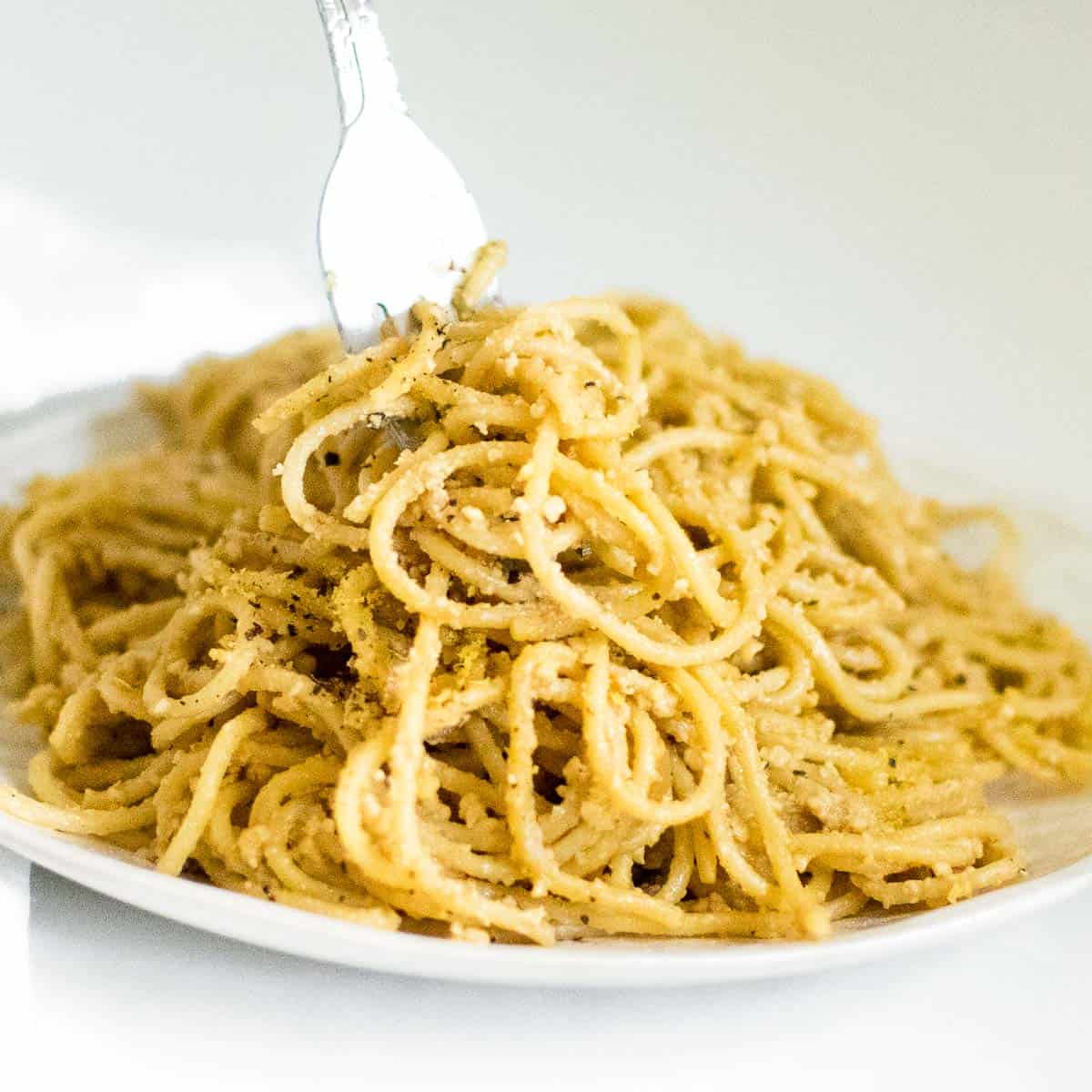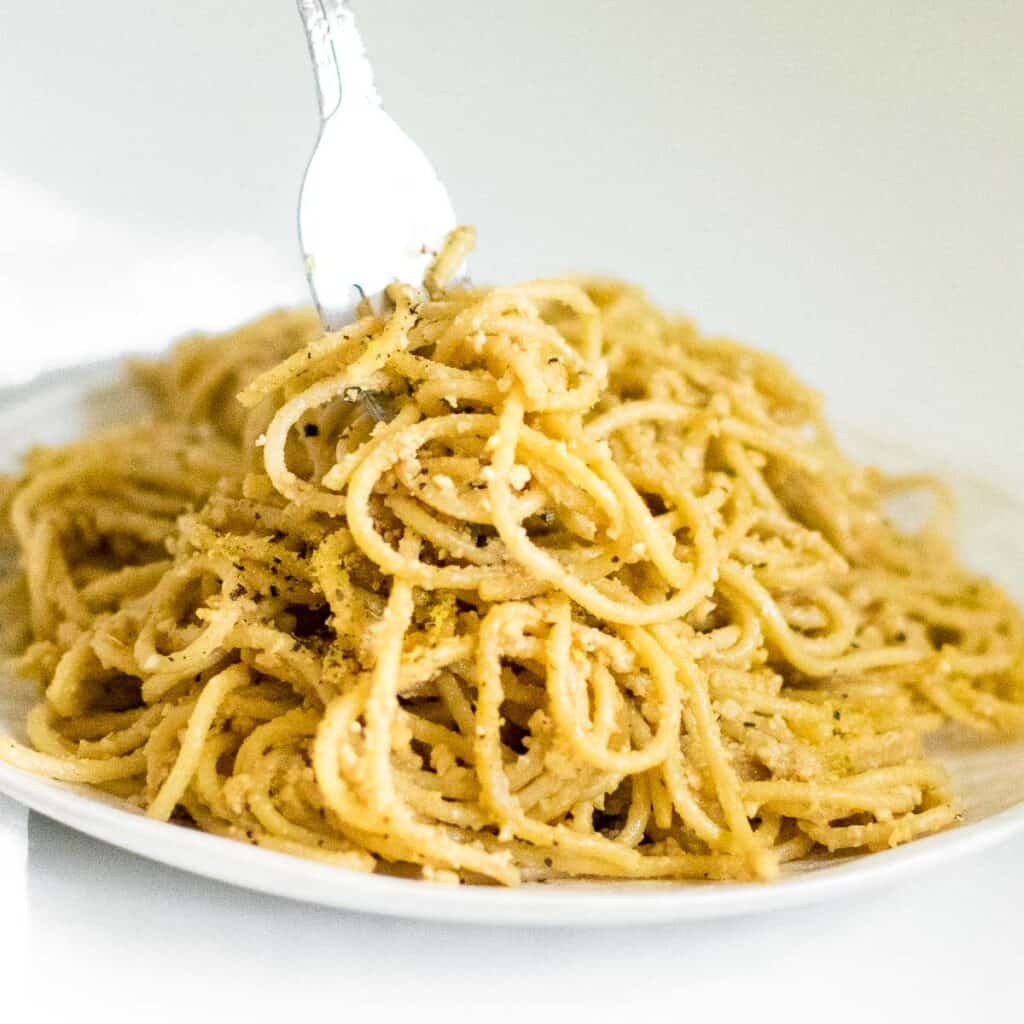 Its easy and simple and I guarantee you will love this dish as mush as we did.
You will enjoy that smile of satisfaction on your loved one's face when you serve this warm and mouthwatering dinner.
For detailed measurements of the ingredients, please scroll down to the printable recipe card.
How to make Vegan Cacio e Pepe
Step1: how to make vegan cheese
Firstly, I combine cashew nuts, nutritional yeast and 1/2 tsp salt in a food processor and ground it into a fine powder. Then, I kept it aside.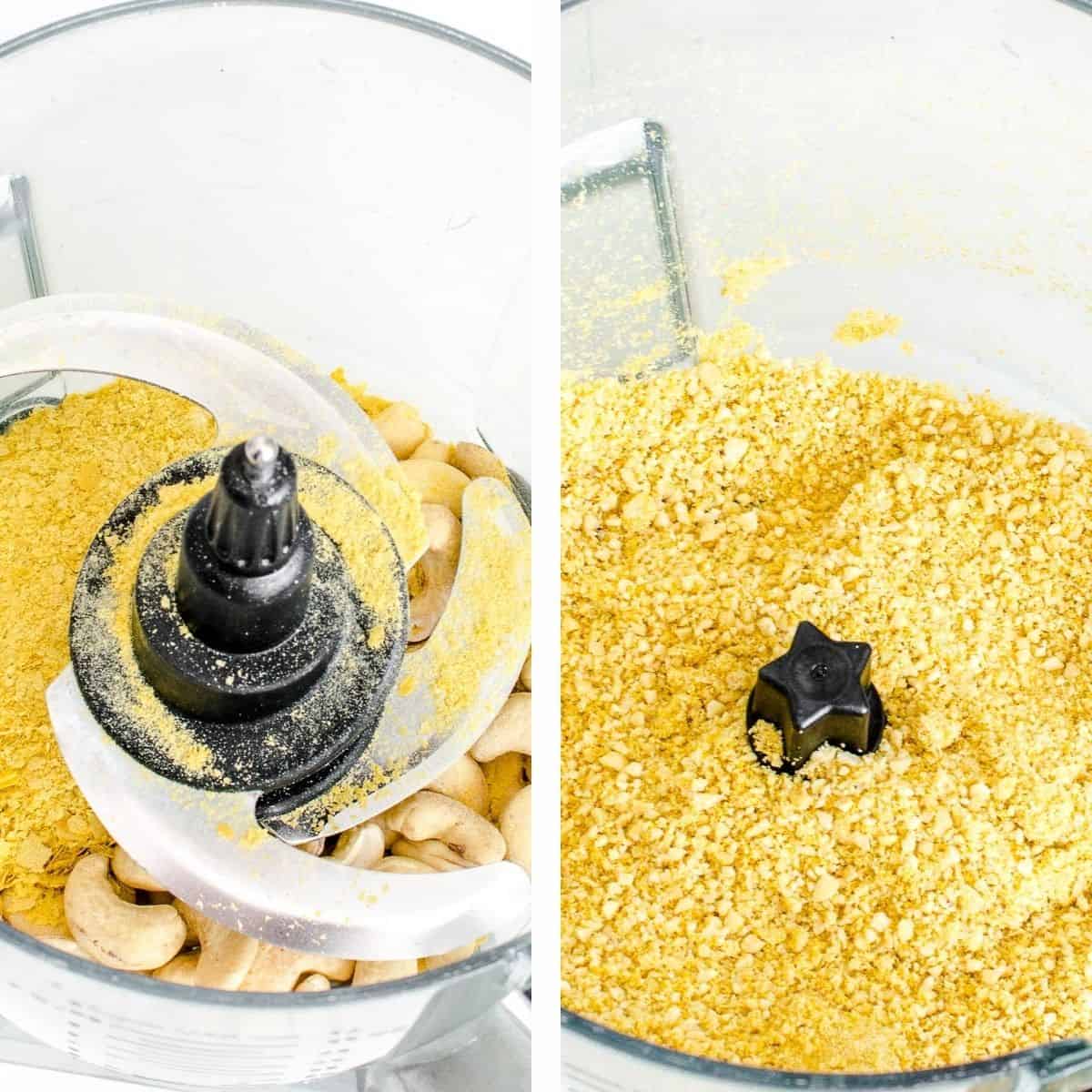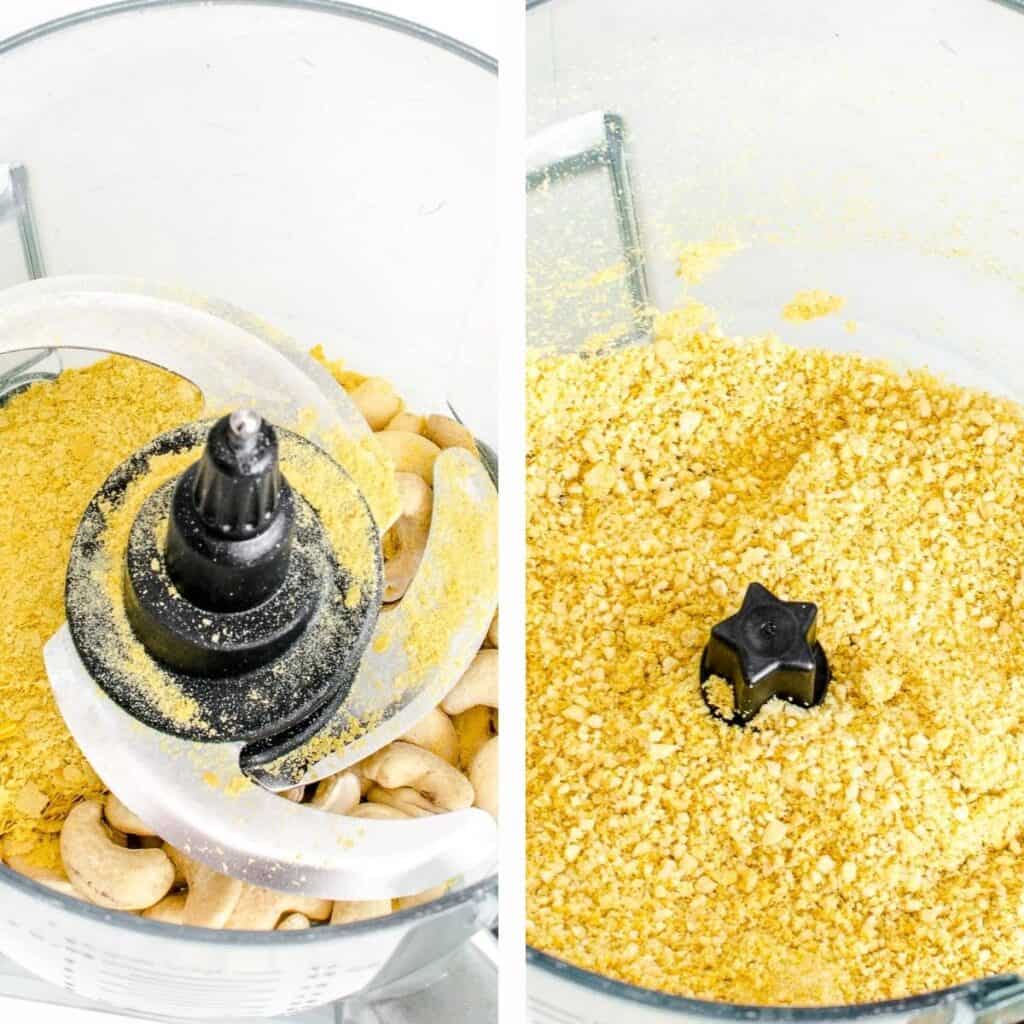 Step2: how to make a cheese sauce
Firstly, I heated oil in a nonstick pan and sautéed garlic powder and soy sauce in it.
Secondly, I added ground cashew mixture to it and mixed it well until coated with oil.
Thereafter, I added water, salt and pepper to it. Then, I stirred it at high flame until it started to thicken. Then, I lowered the flame and let it stay warm and cooked a bit more.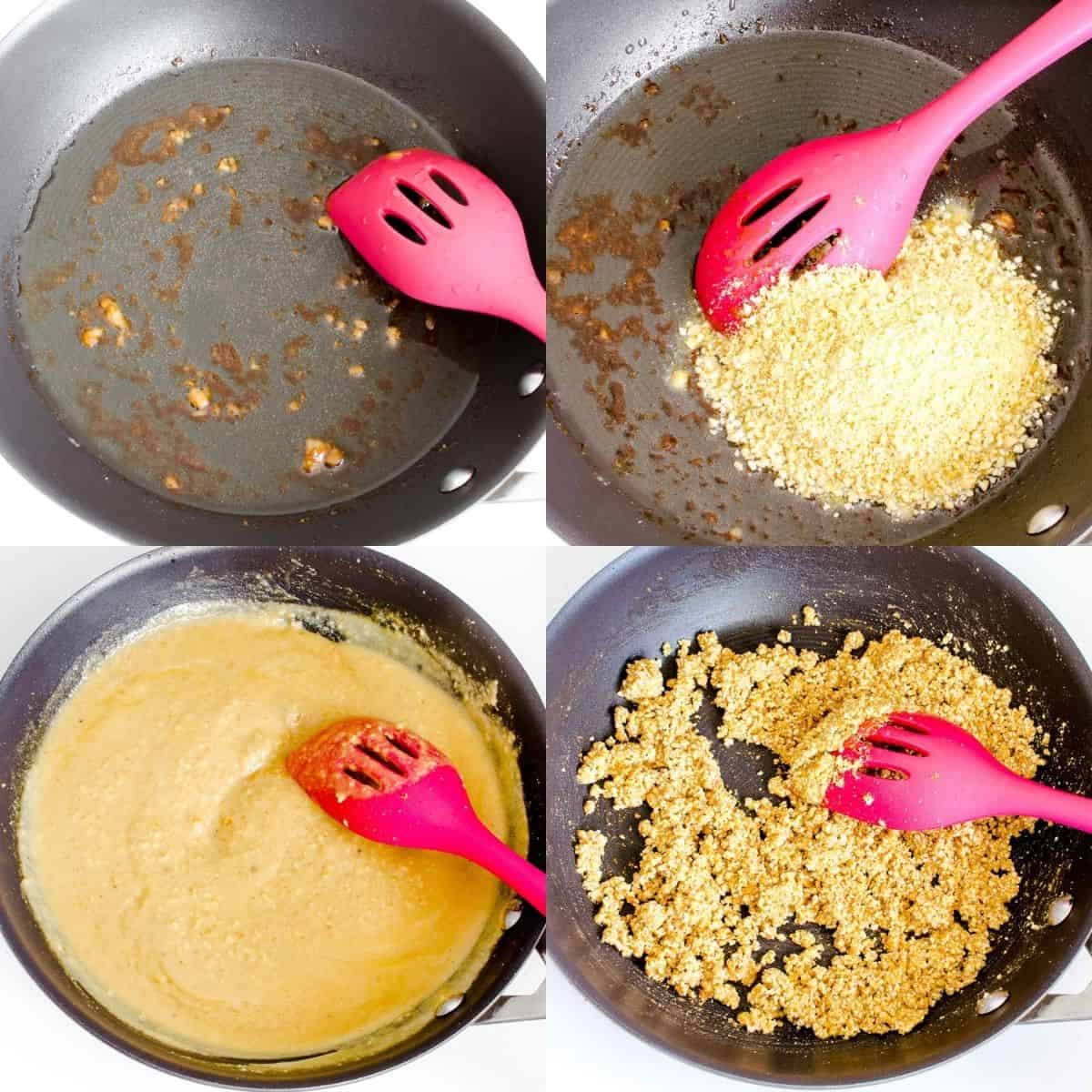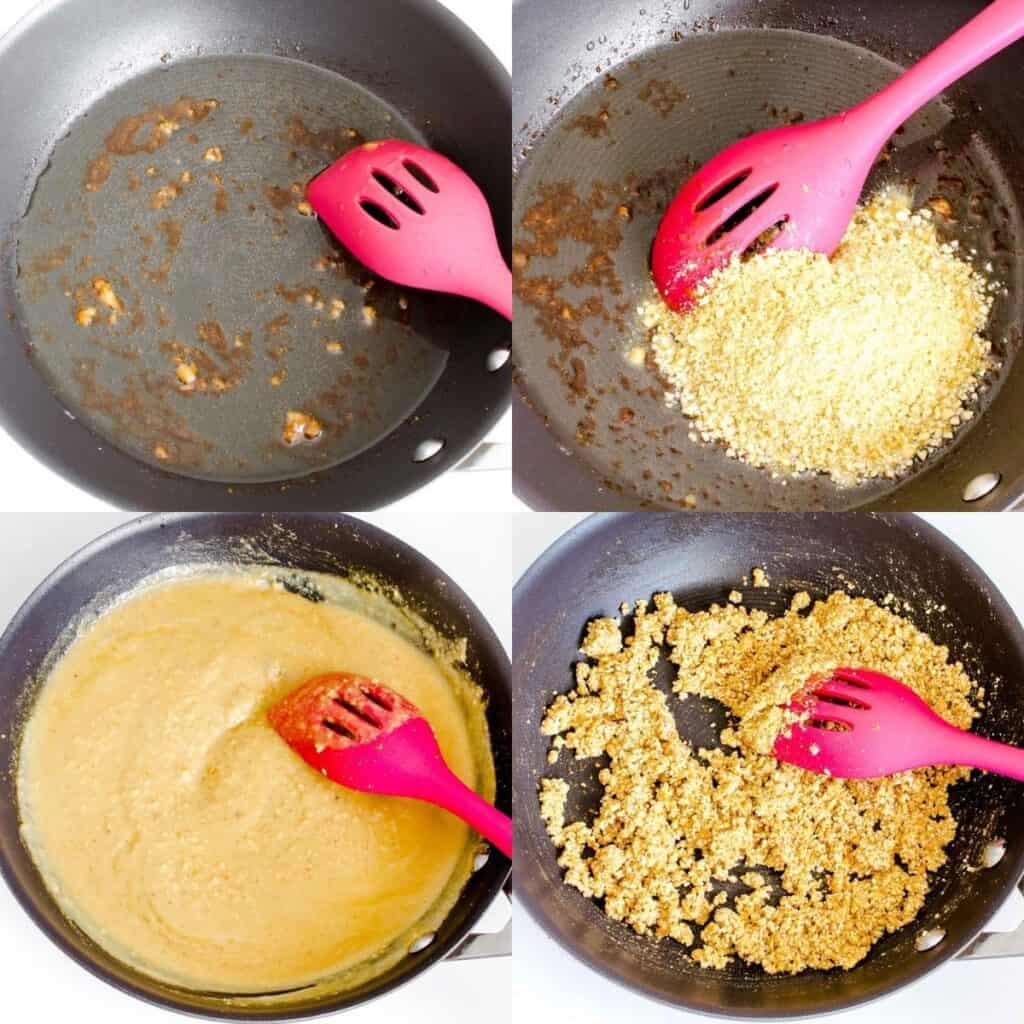 Step3: how to assemble
I cooked the sauce until it was like a thick paste, then, I tossed in cooked spaghetti and mixed it well with the help of tongs.
Lastly, I garnished it with more garlic powder, black pepper and nutritional yeast.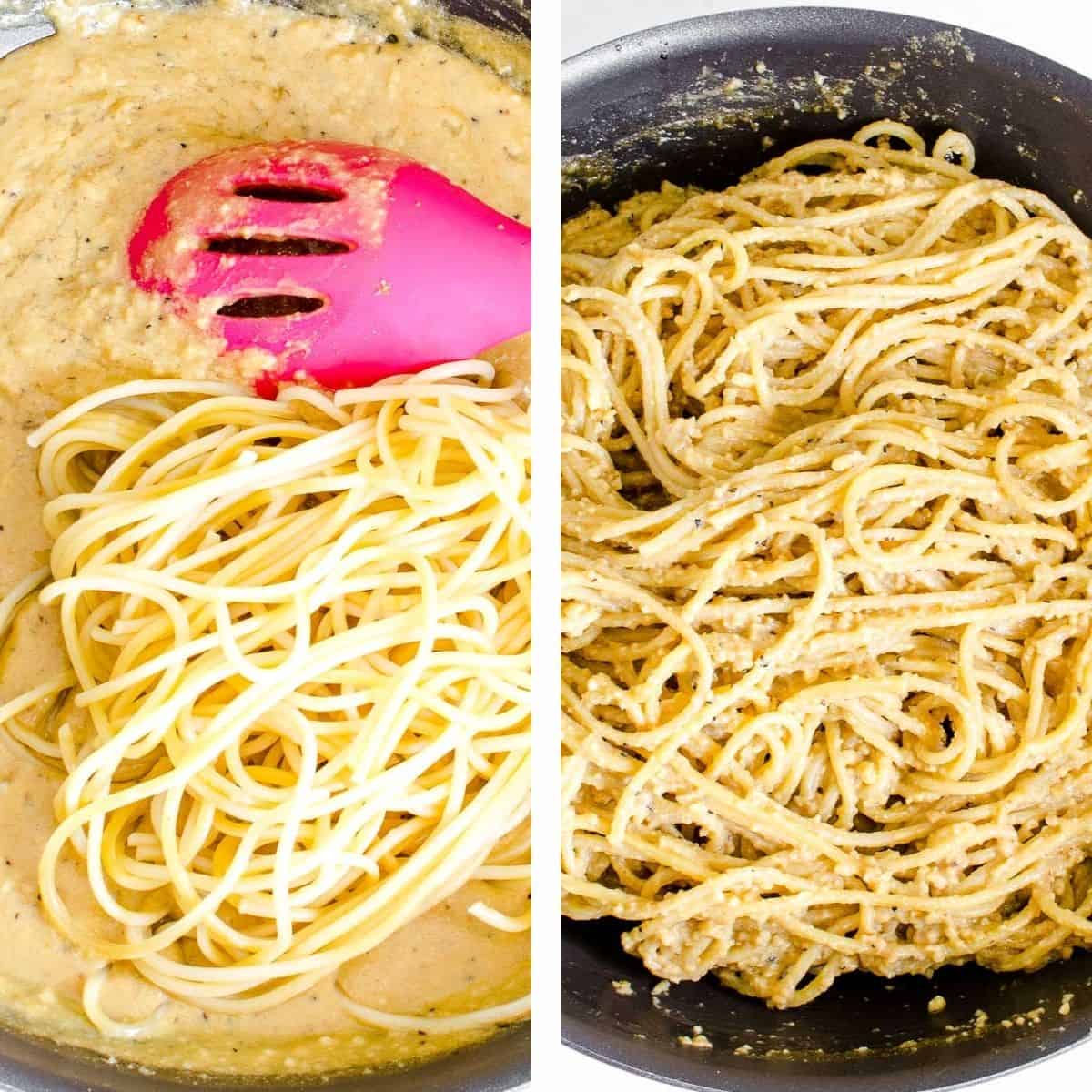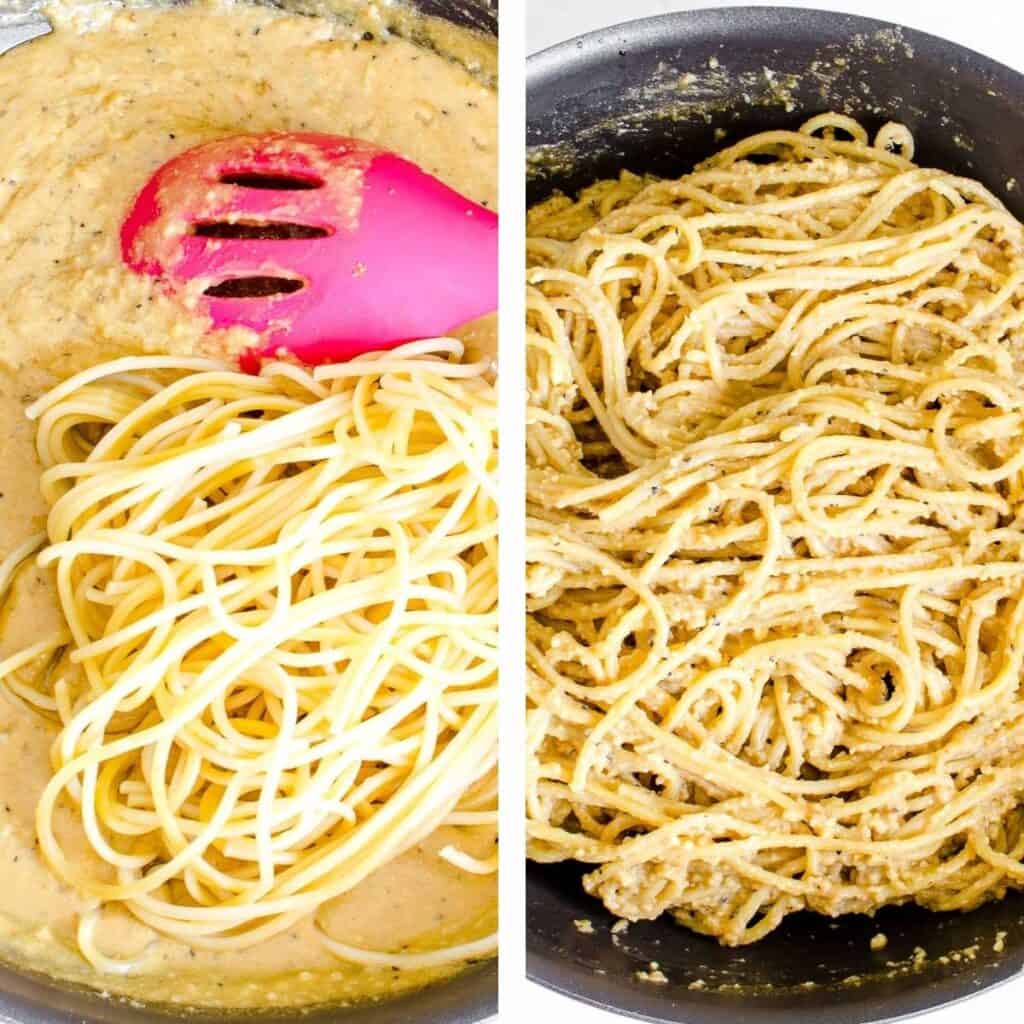 Then, I served it immediately.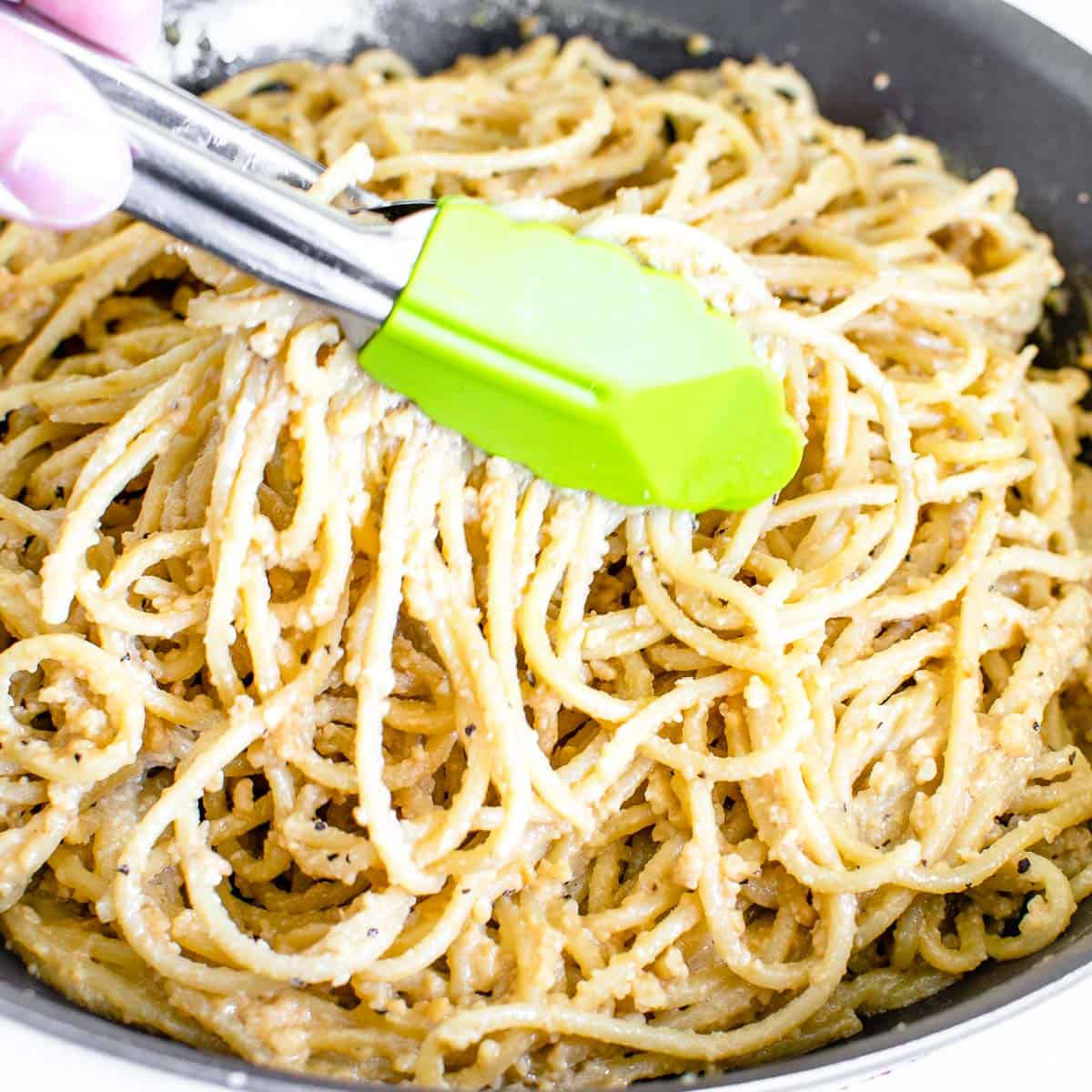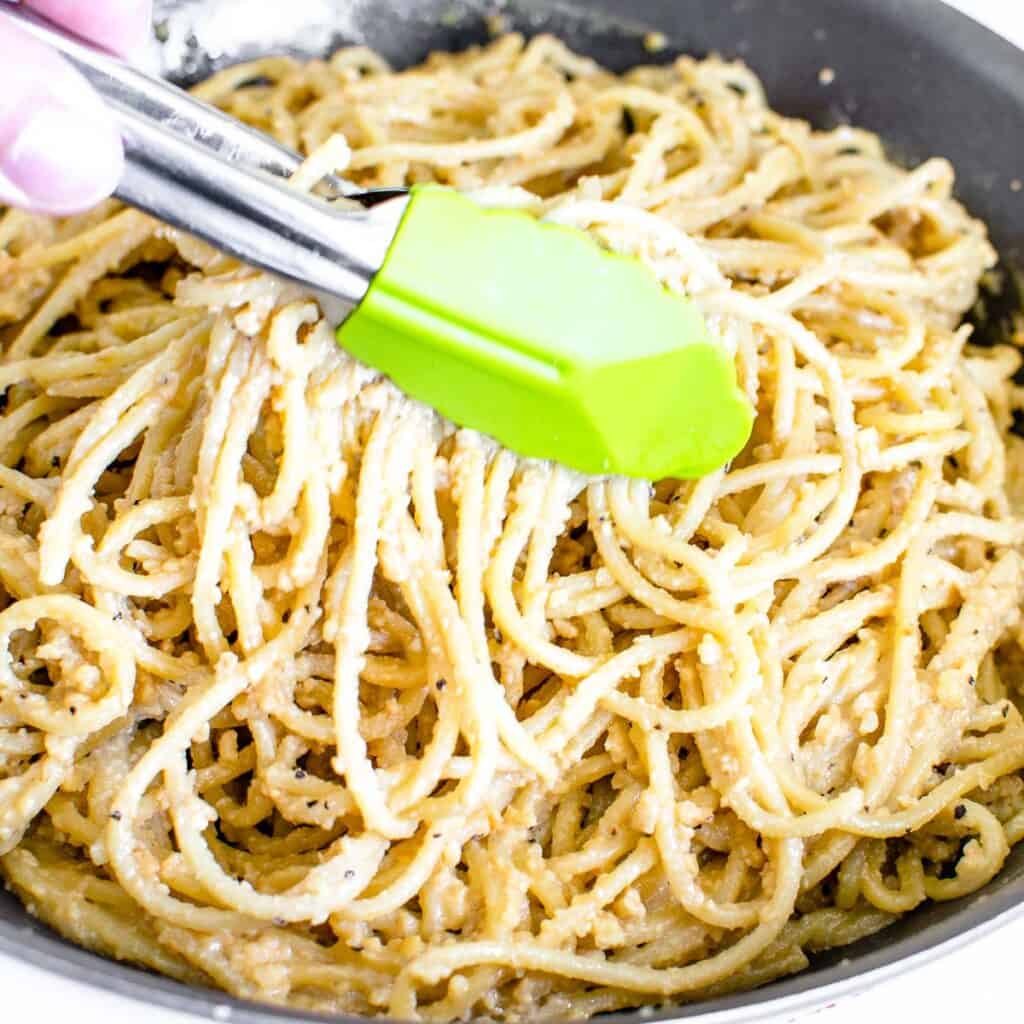 Voila! I had no leftovers. We cherished our dinner.
It was comforting midweek meal for us and so satisfying too.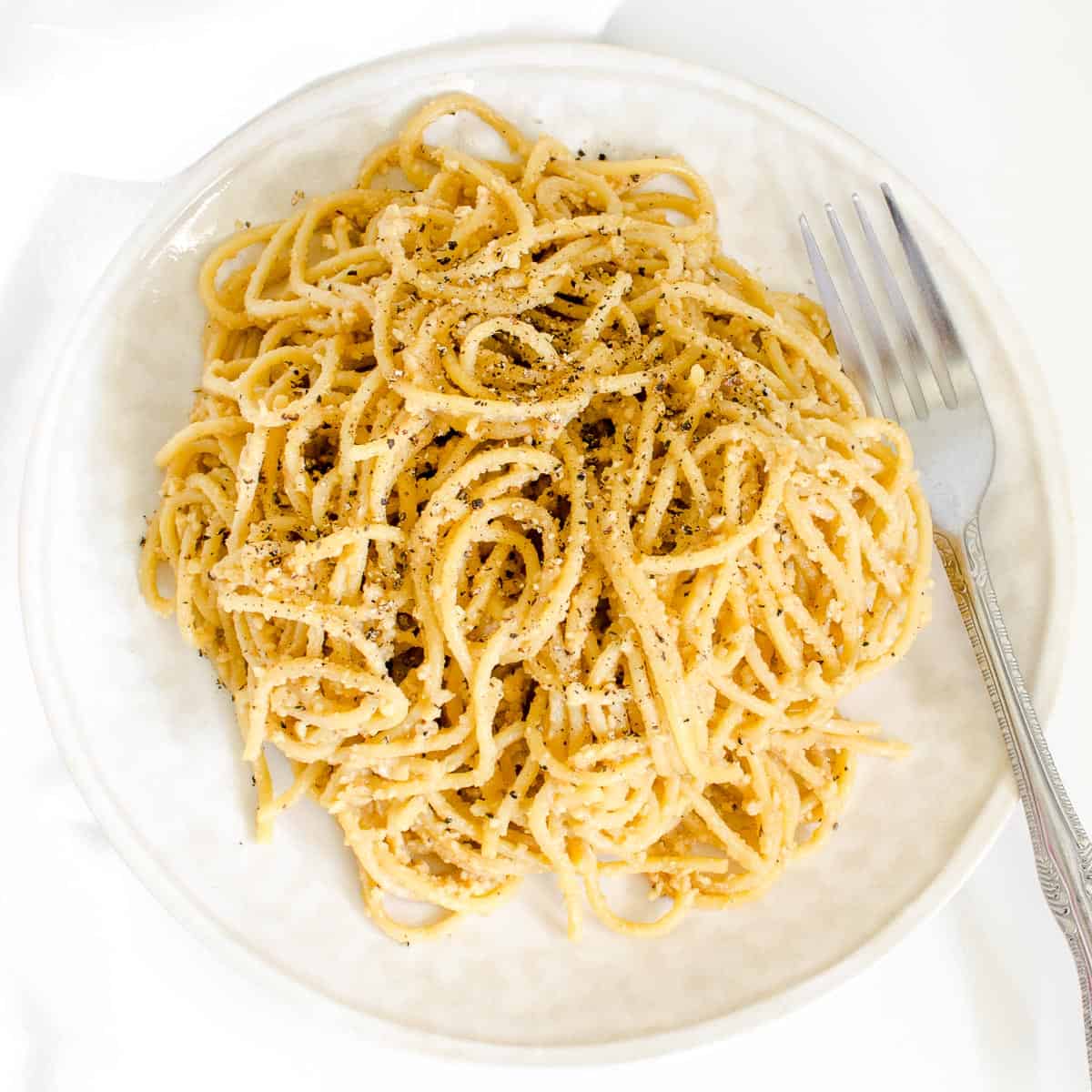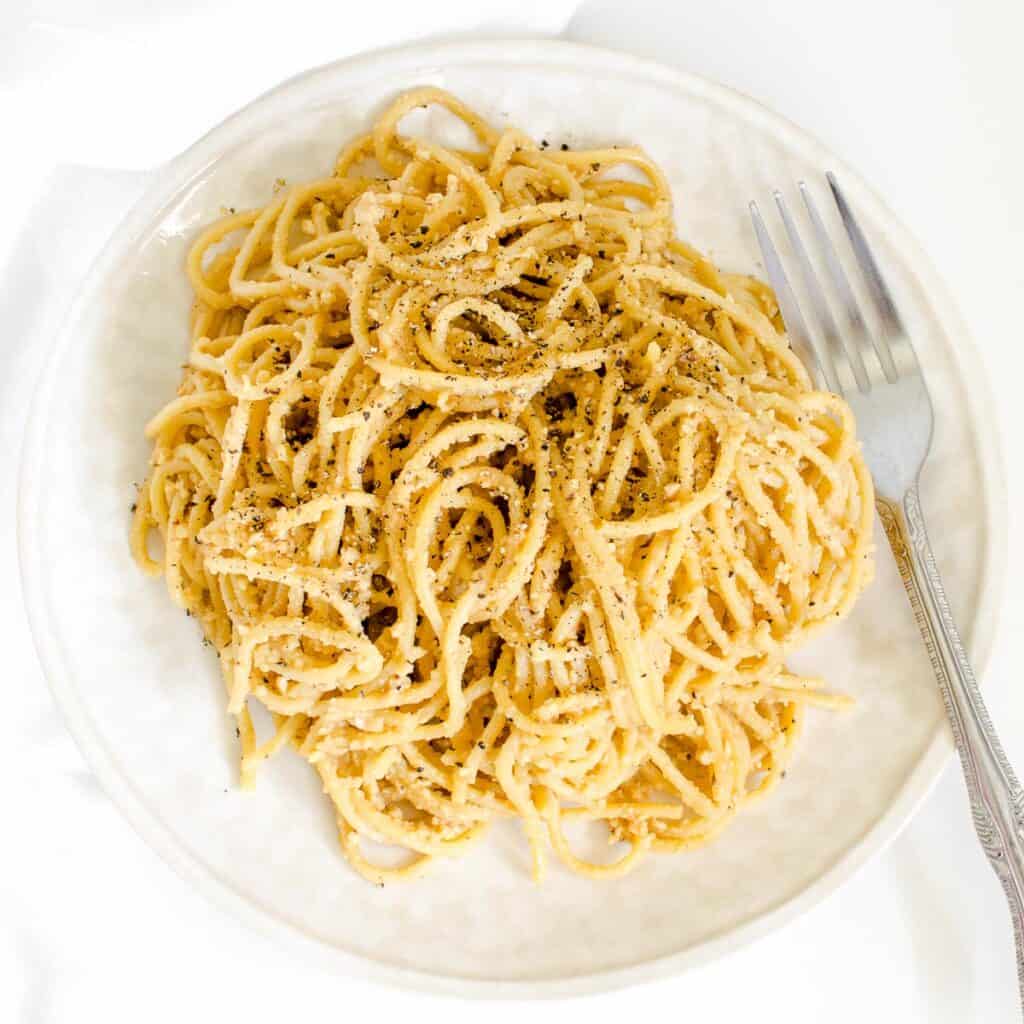 Expert tips:
Do not let garlic powder and soy sauce burn in the oil. If you feel that the oil is too hot. Turn off the flame and then add these two ingredients and dissolve well.
It is important to note that the cheese sauce should be in a pouring paste form and not thick and dry. This consistency is important to make the tossing of spaghetti easy.
Vegan Cacio e Pepe FAQs
How long does this last?
It tastes best when served immediately. However, refrigerate the leftovers to be used for lunch the next day but warm it very well.
How do I prep it ahead of time?
You may grind the cashew mixture and store it in an air tight container at room temperature for 3-4 days. Then follow the rest of the steps as mentioned.
What is the best way to reheat it?
Simply add the leftovers to the nonstick pan and splash little water on it. Toss it well and serve. If you desire to microwave then, place the leftovers in a microwavable bowl. Splash some water and heat it at high for 30 seconds. Take it out and toss it with a fork. Put it again in the microwave for 10-15 seconds and enjoy.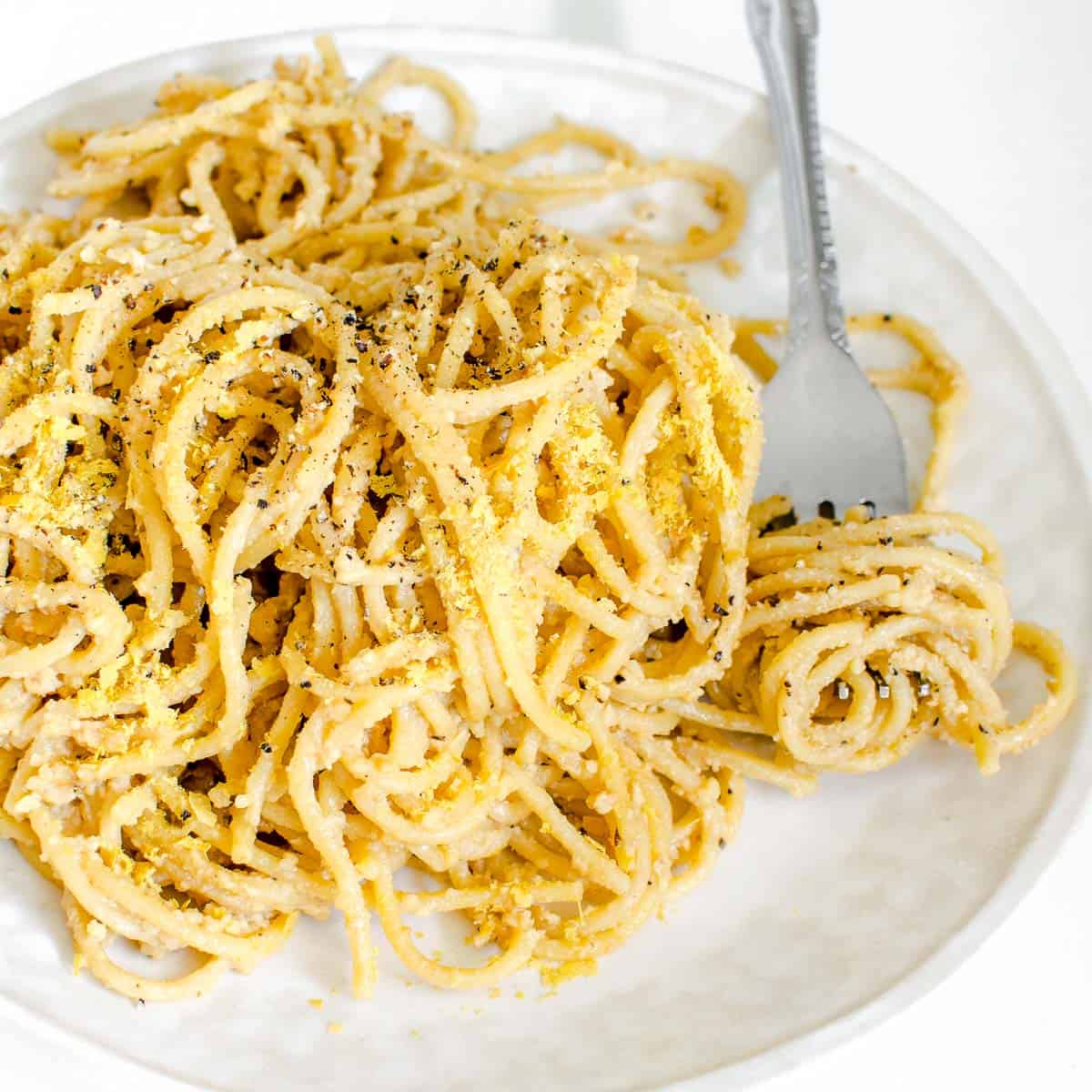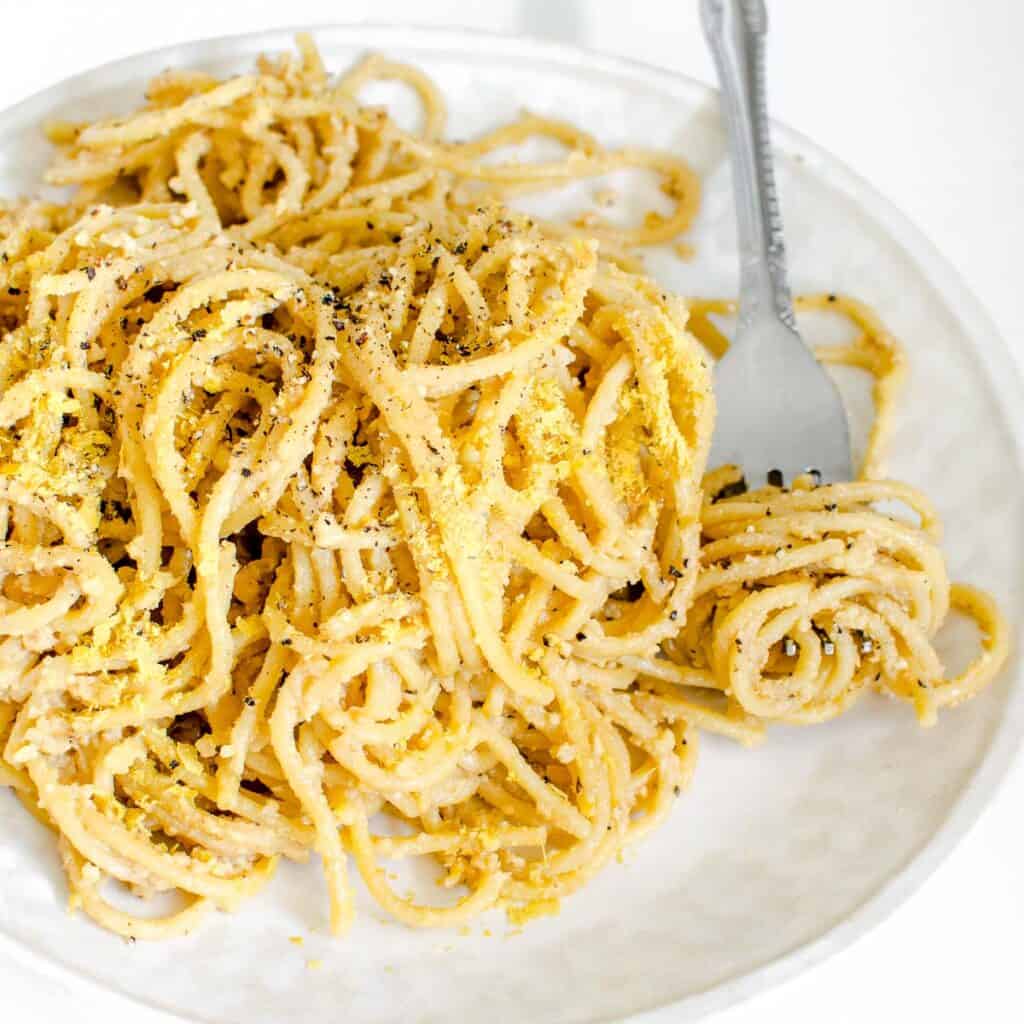 Did you make it?
Please leave a 5 star along with your feedback in the comments if you get a chance to make this recipe. In addition, you may tag @kiipfit on Instagram with your remake image or follow me on Facebook for frequent updates.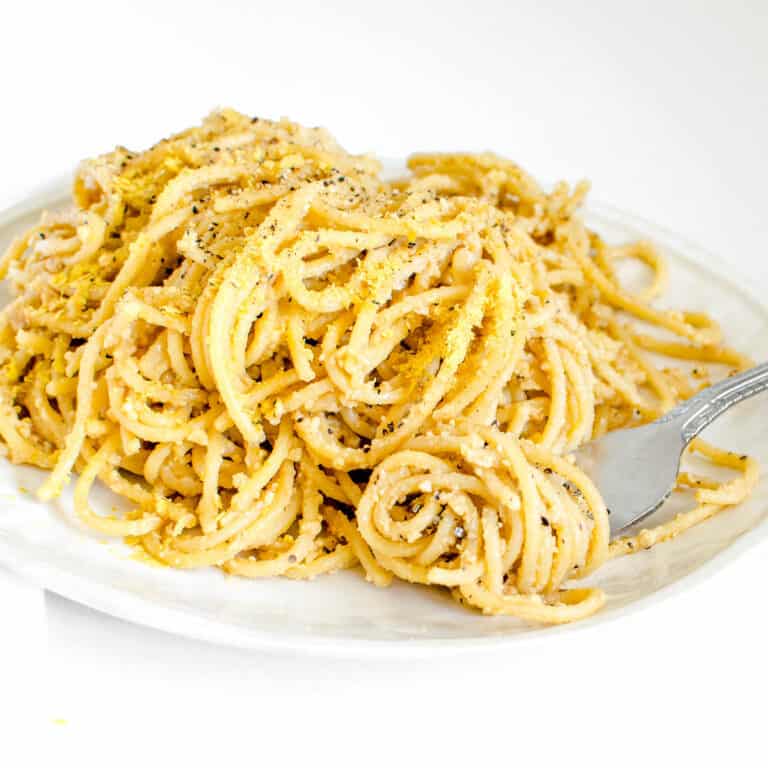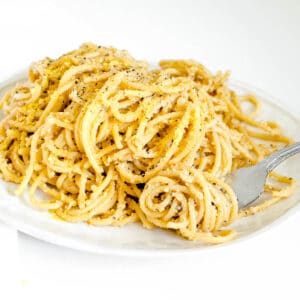 Print Recipe
Vegan Cacio e Pepe
This classic Italian Vegan Cacio e Pepe is made simple and easy with homemade cheese sauce. It's packed with delicious flavors, so peppery and perfectly salty too. It's an ultimate comfort food with a simple ingredient list.
Ingredients
others
3

tbsp

olive oil

1

tsp

garlic powder

3

tbsp

soy sauce

1

cup

reserved pasta water/plain water

1

tsp

crushed black pepper

more salt as per taste

4

cups

cooked spaghetti

(regular/whole grain)
Instructions
In a food processor combine cashew nuts, nutritional yeast and ½ tsp salt and grind it into a powder. Keep it aside.

Heat oil in a non-stick pan and add garlic powder and soy sauce and mix until garlic powder dissolves in it.

Add the ground cashew mixture to it and sauté well until well coated with oil.

Add water and stir. Cook at high until a paste is formed. Season it with more salt and black pepper and stir it again.

Toss in cooked spaghetti and mix well. Garnish with more freshly ground black pepper and nutritional yeast. Serve immediately.
Notes
For pasta water – Boil spaghetti as per package instructions. Just before draining it simply measure a cup of that water directly from it and keep it aside. Drain the rest of the water.
You may also substitute oil with vegan butter for creamier taste and texture. Use about 3 tbsp. heaped vegan butter in this case.
Try to grind the cashew mixture as fine as possible to avoid clumps while cooking.
You may garnish this recipe with vegan parmesan if desired.
This recipe should taste salty and peppery so make sure to add enough salt and pepper to balance of the end result. You may sprinkle some crushed chili flakes for a spicy version.
4 cups cooked spaghetti is about ¾ of 1 lb. box of uncooked spaghetti.
Nutrition
Calories:
417
kcal
|
Carbohydrates:
50
g
|
Protein:
14
g
|
Fat:
18
g
|
Saturated Fat:
2
g
|
Sodium:
1047
mg
|
Potassium:
155
mg
|
Fiber:
3
g
|
Sugar:
1
g
|
Vitamin C:
1
mg
|
Calcium:
13
mg
|
Iron:
2
mg