This oil free Vegan Peach Cobbler is the ultimate summer dessert. It features a sweet and juicy fruit filling and topped with oat flour biscuit cake. Pair it with vegan vanilla ice cream and enjoy all the deliciousness in one bowl.
This is a sponsored post but I have used the product myself and genuinely love it. Therefore, the opinion and the review are all mine.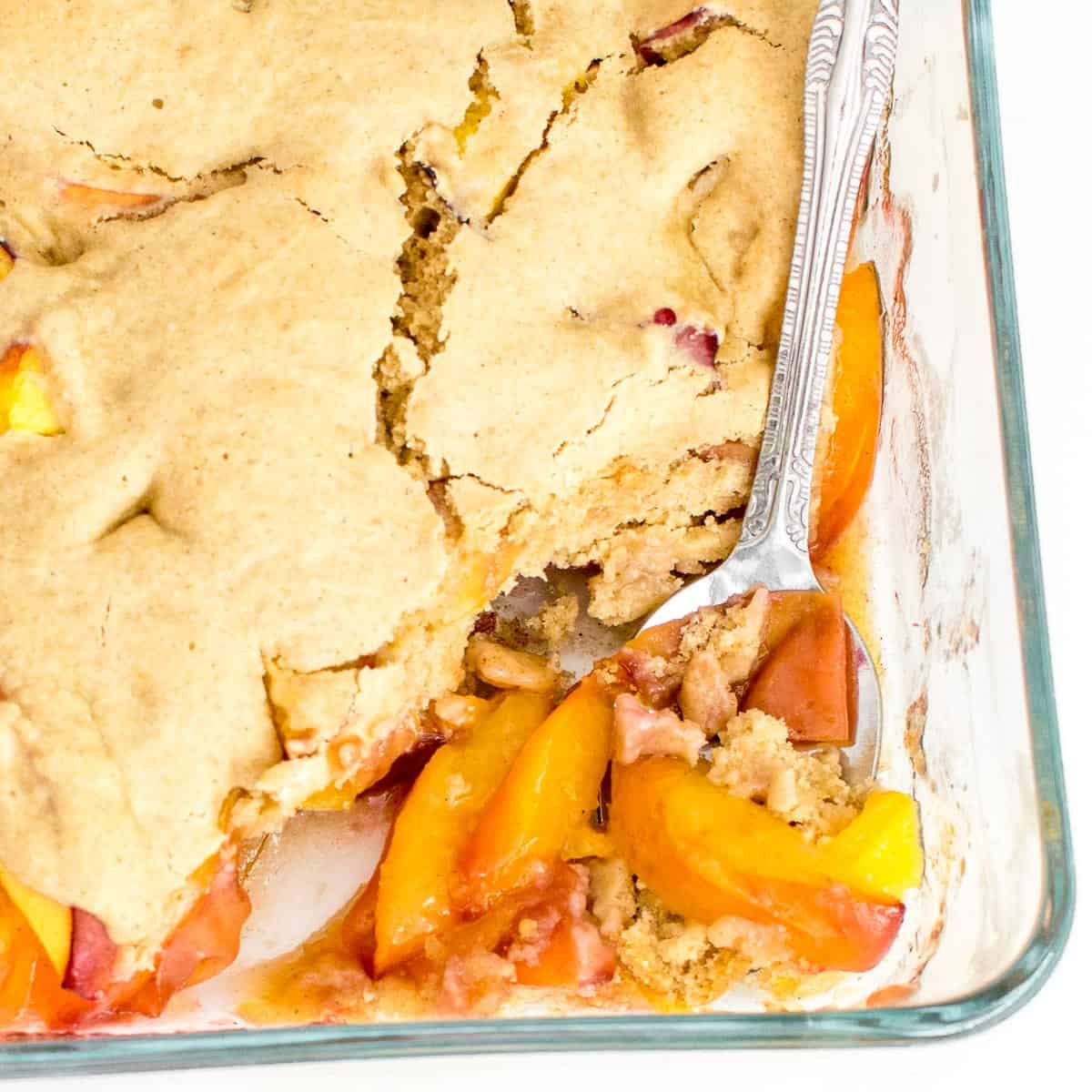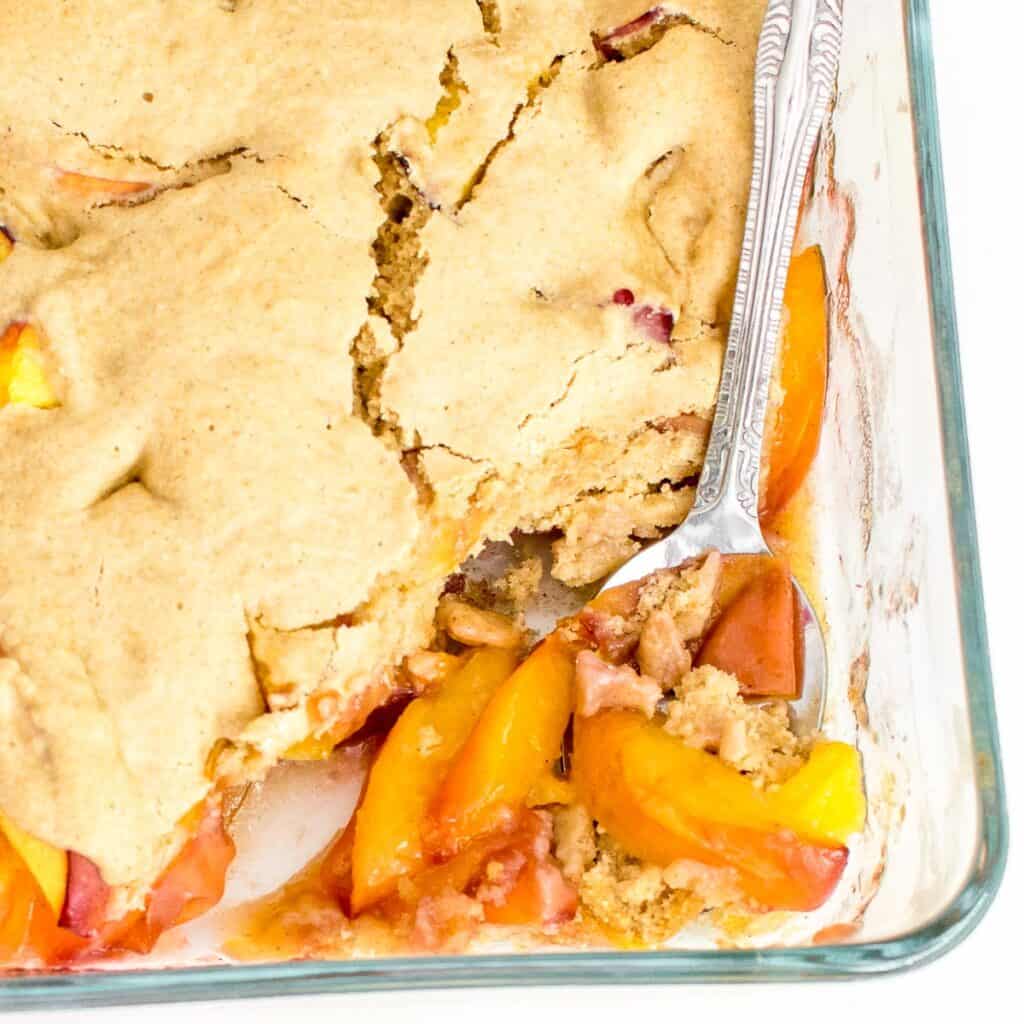 Peaches are at its peak and what can be a better way to enjoy this fruit. Of course I had to bake it into an easy peasy dessert. So, I also made air fryer peaches and its delicious.
Another recipe with peaches is my famous peach salsa which is a hit with my friends and family.
I got this beautiful chef's knife from Tuo Cutlery and I was even more excited to use it in my recipe. It's the best knife that I have used so far and has the perfect sharpness. It was absolutely easy and delightful to cut through the ripe peaches with my new knife.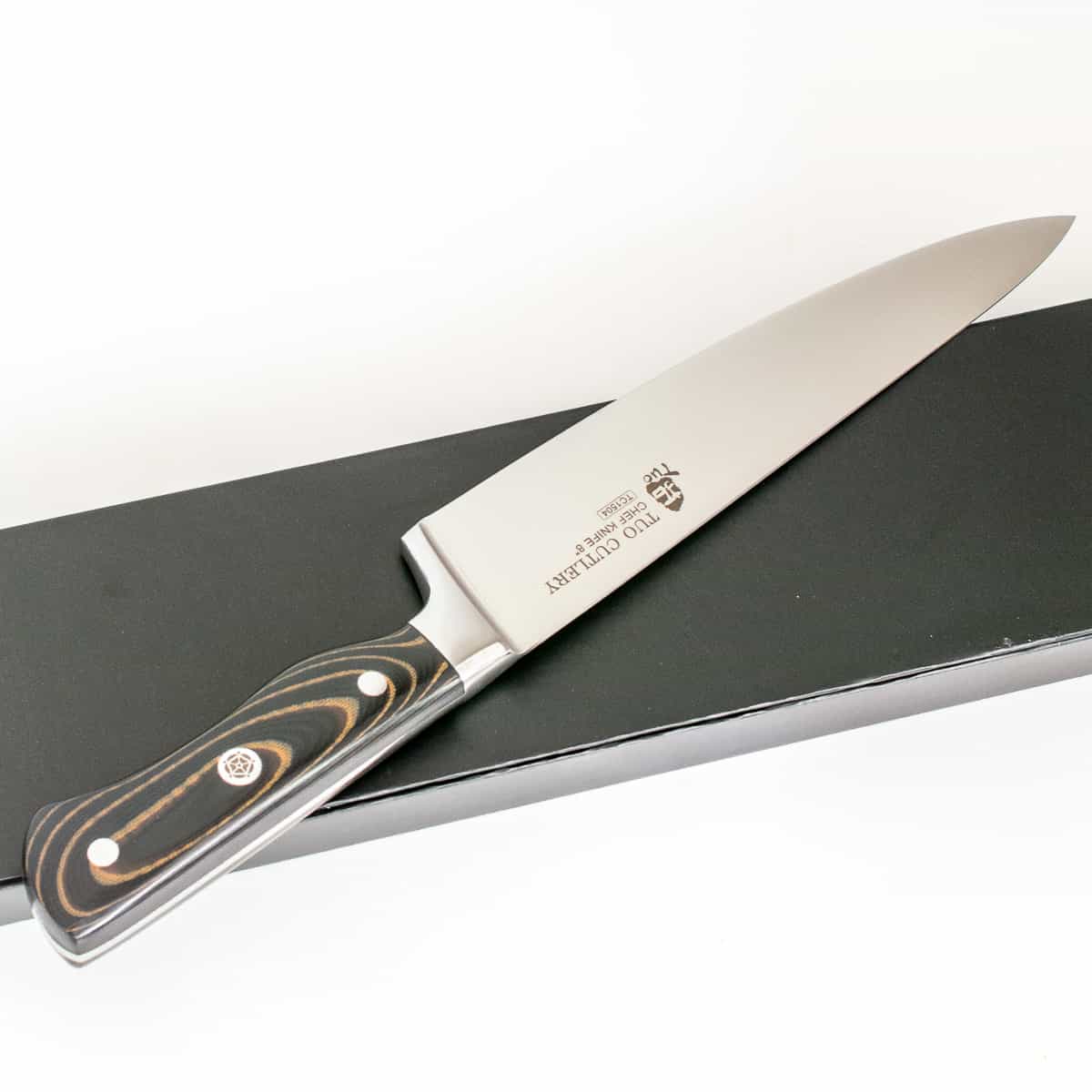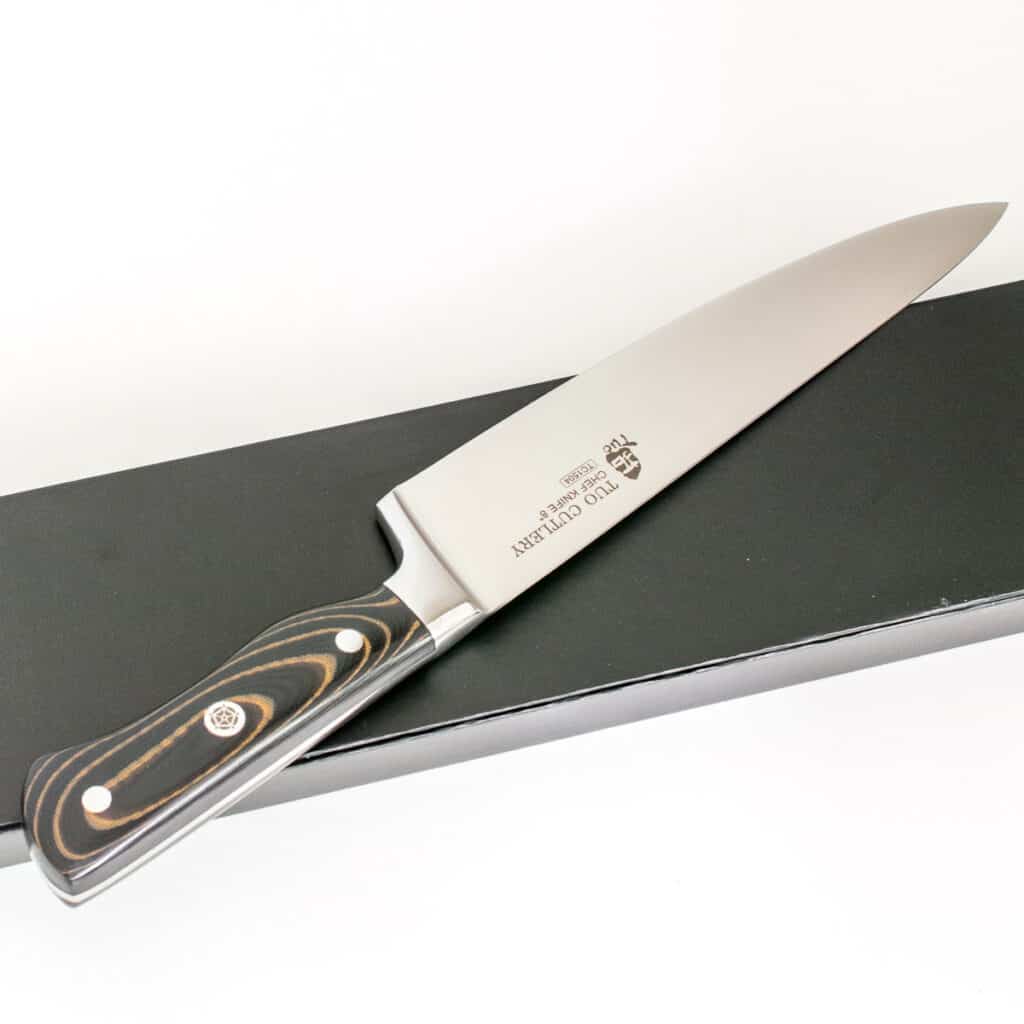 This 8 inch chef's knife has a flat blade and is narrow making it perfect for slicing and push cutting. It's a beautiful hand polished satin finished blade and is also stainless steel. This knife is robust with a comfortable grip and is durable too.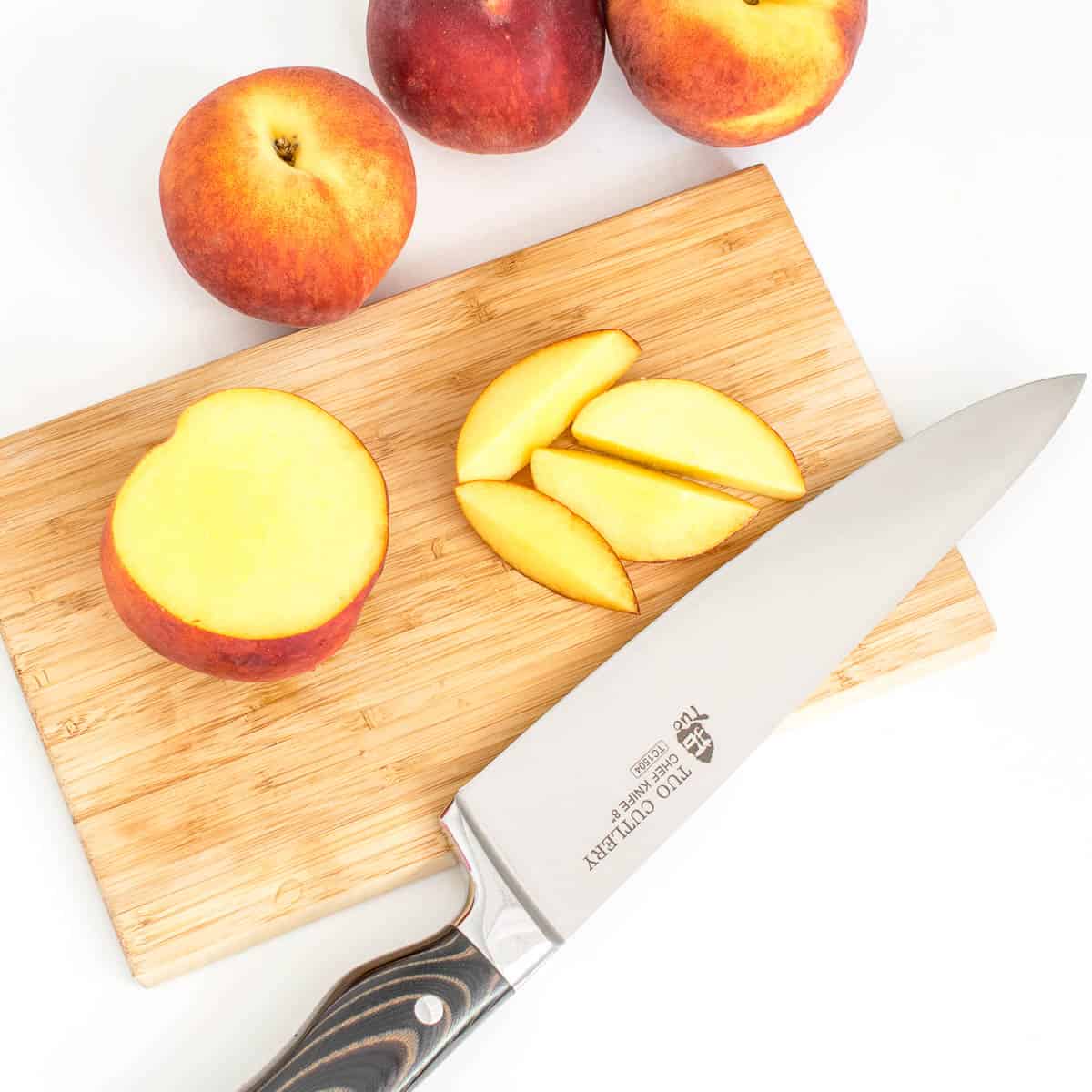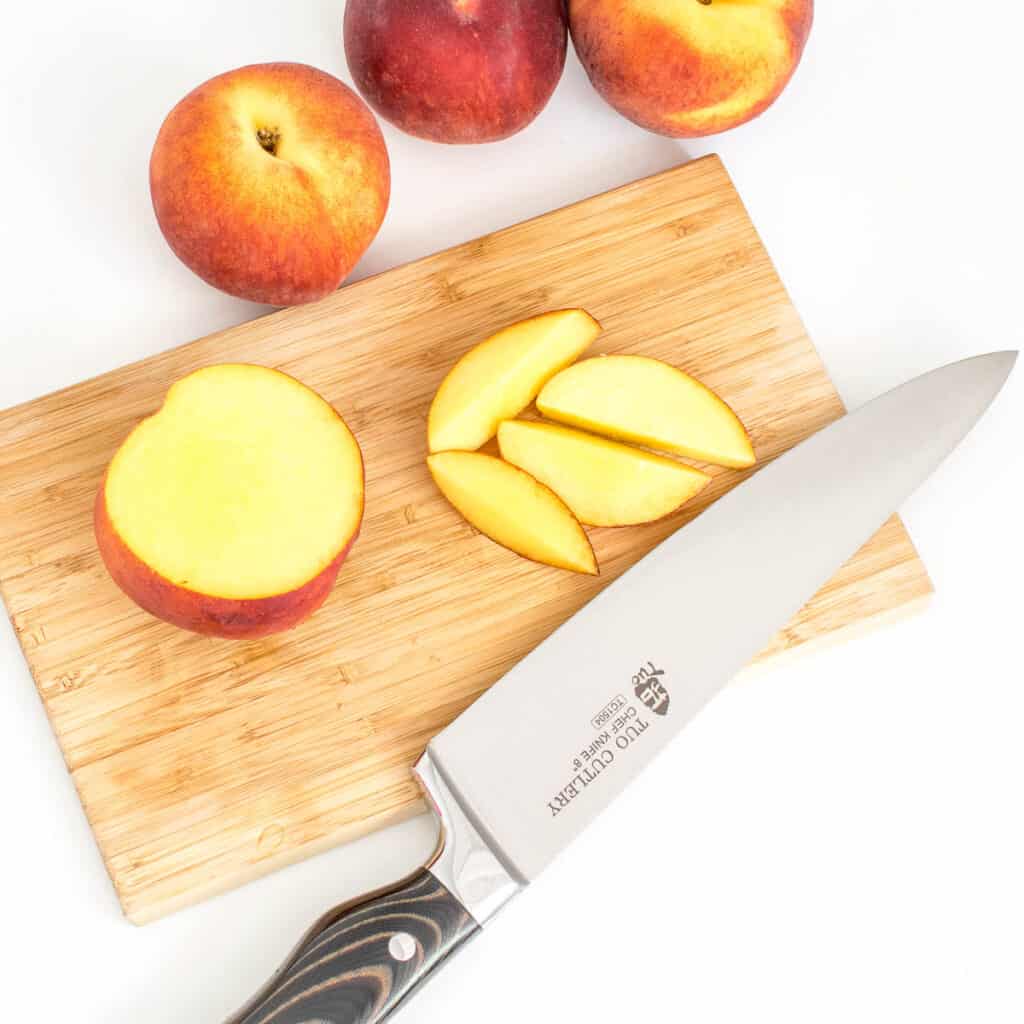 During this time, I always stock my refrigerator with peaches and snack on them as is all day. Sometimes, I make desserts out of them. This time I wanted to bake something that could pair with something frozen.
Since its hot outside so ice cream on the side is a must. Therefore, the combination of this healthy vegan peach cobbler along with vegan ice cream is our top most favorite.
My daughter love peaches and enjoys them raw. But when I baked them into this dessert, she could not stop munching on it. She was totally ecstatic with its flavors and the mild crisp toping.
Since, peaches are so popular with my family so I often blend this peach smoothie for them as well.
If you are looking to impress your friends and relatives then you must try this roasted peach parfait as well. It beautiful to present and absolutely delish in every bite.
I also tried this fruit in a savory dish and it was sooo good.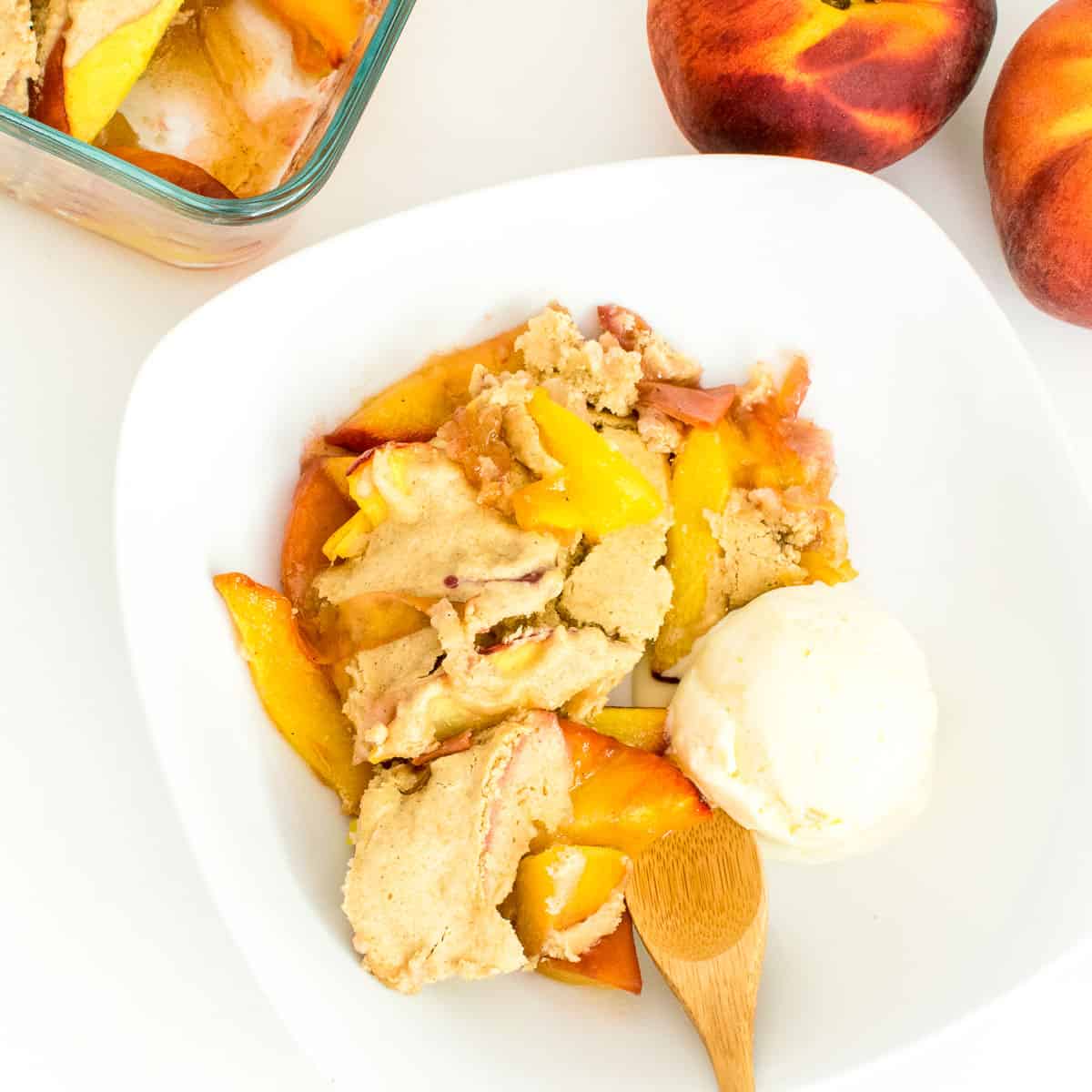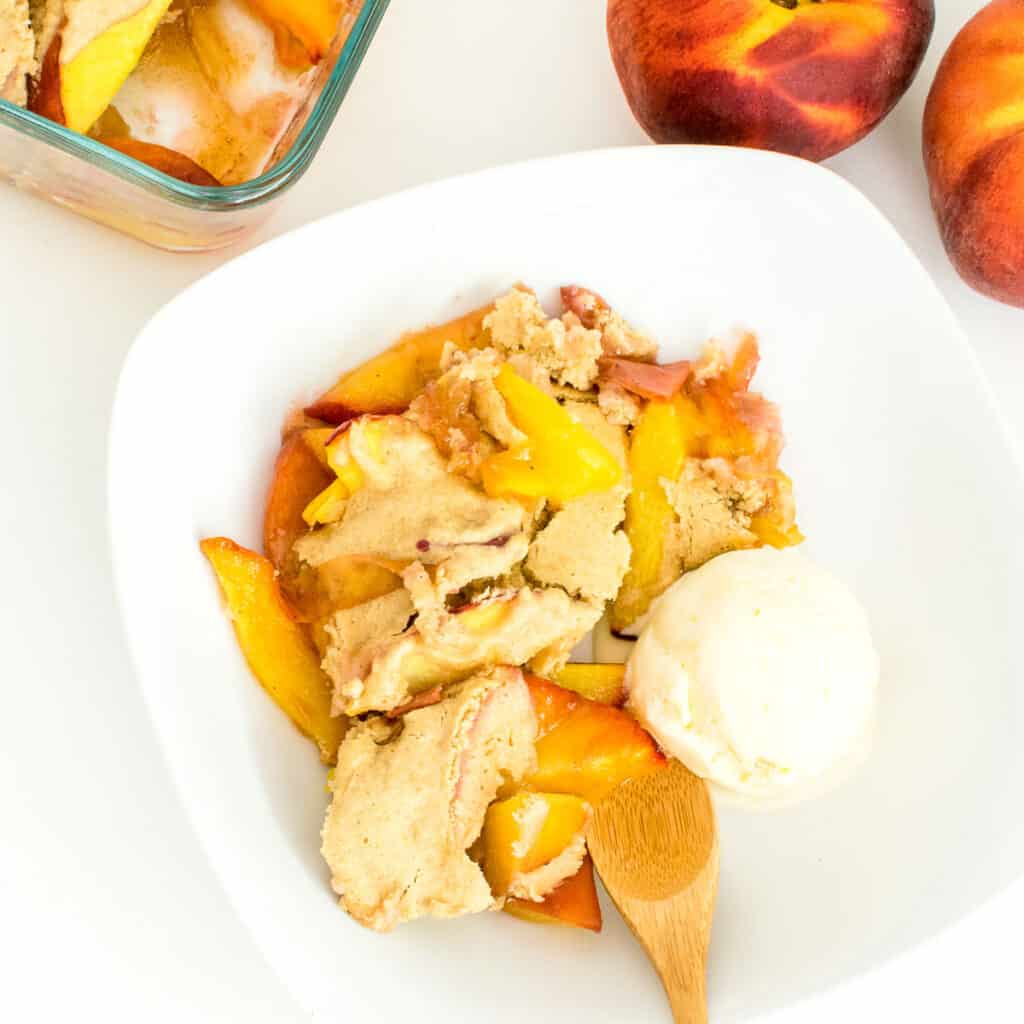 Overall, this fruit is versatile and delicious along with being nutritious.
My other summer dessert that might interest you:
Vegan Banana Cream Pie
Blueberry Oatmeal Cookies
Cherry Cake
Vegan Strawberry Cake
However, today I am here to share this vegan peach cobbler recipe with you all.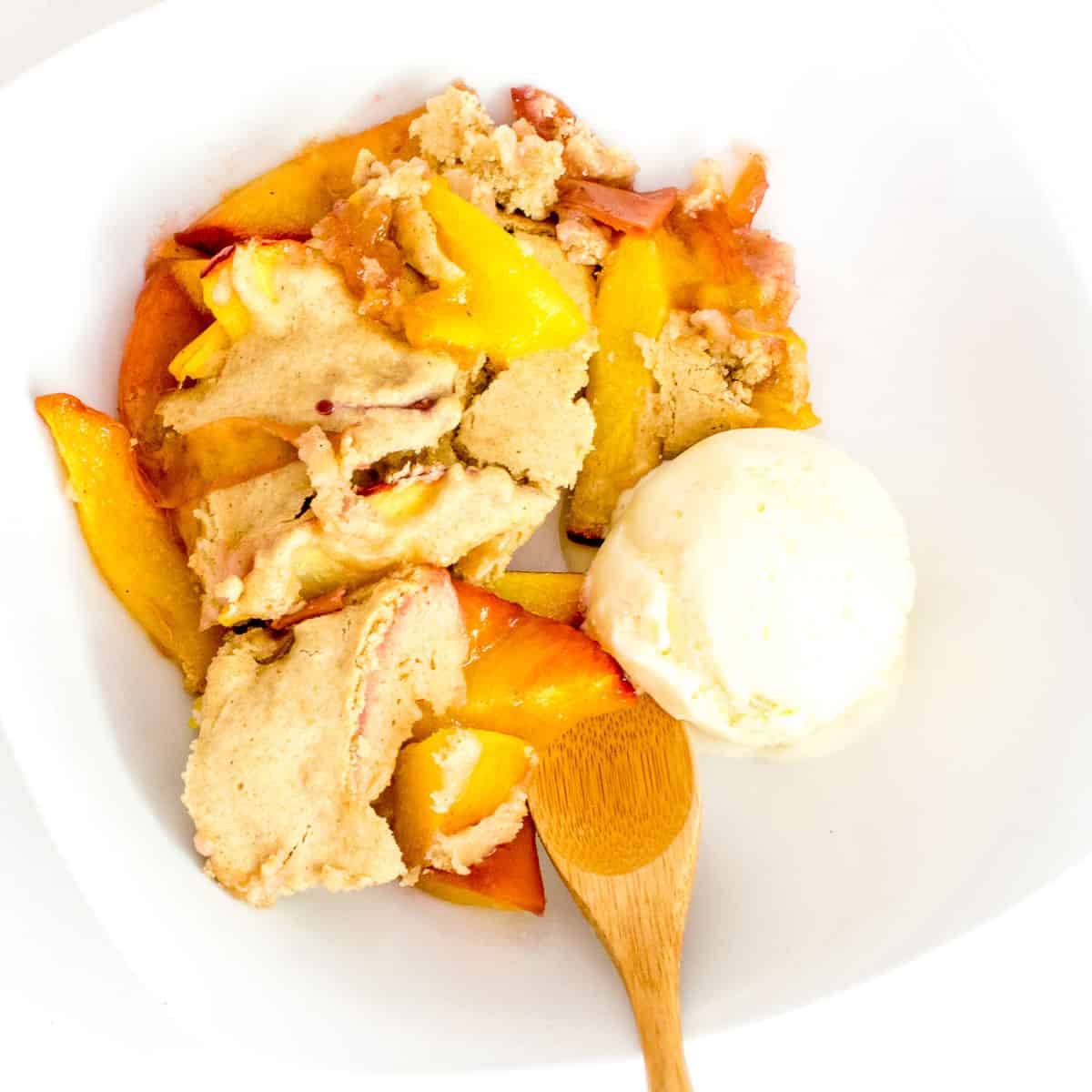 Ingredients you will need
Filling
Peaches
Cornstarch
Maple syrup
Vanilla extract
Cinnamon
Topping
Oat flour
baking powder
Salt
Maple syrup
Oat milk
I have used these easily available ingredients in this recipe which you may buy from any local grocery store. However, I have provided links to few of them here for your convenience.
If you plan to buy from these affiliate links then I get a small commission which in turn encourages me to bring in more delicious recipe for you all.
Ingredients notes:
Peaches – it's a summer fruit and high in vitamin C plus fiber. It has a sweet and mild tang to it. Its hydrating and is the hero of this dish.
Cornstarch – I used it to roughly thicken the juices in the process of baking. This helps in keeping the same taste and flavors.
Maple syrup – it's a healthier sweetener but you may use brown sugar as well here.
Cinnamon – this gives a nice punch and an extra flavor to this dish.
Oat flour – its healthier and is whole grain. You may simply grind the regular oats at home and use it here if desired.
Oat milk – Even though any dairy free milk can be used here but oat milk brings a subtle sweetness to the batter.
After going through the steps, I am sure you must be excited to try this recipe ASAP.
So, now just read through the steps and enjoy this decadent summer dessert with your loved ones.
How to make Vegan Peach Cobbler
Step1: How to make the filling
Firstly, in a mixing bowl, I combined all the filling ingredients and tossed it well. Then I kept it aside so that it soaks for some time.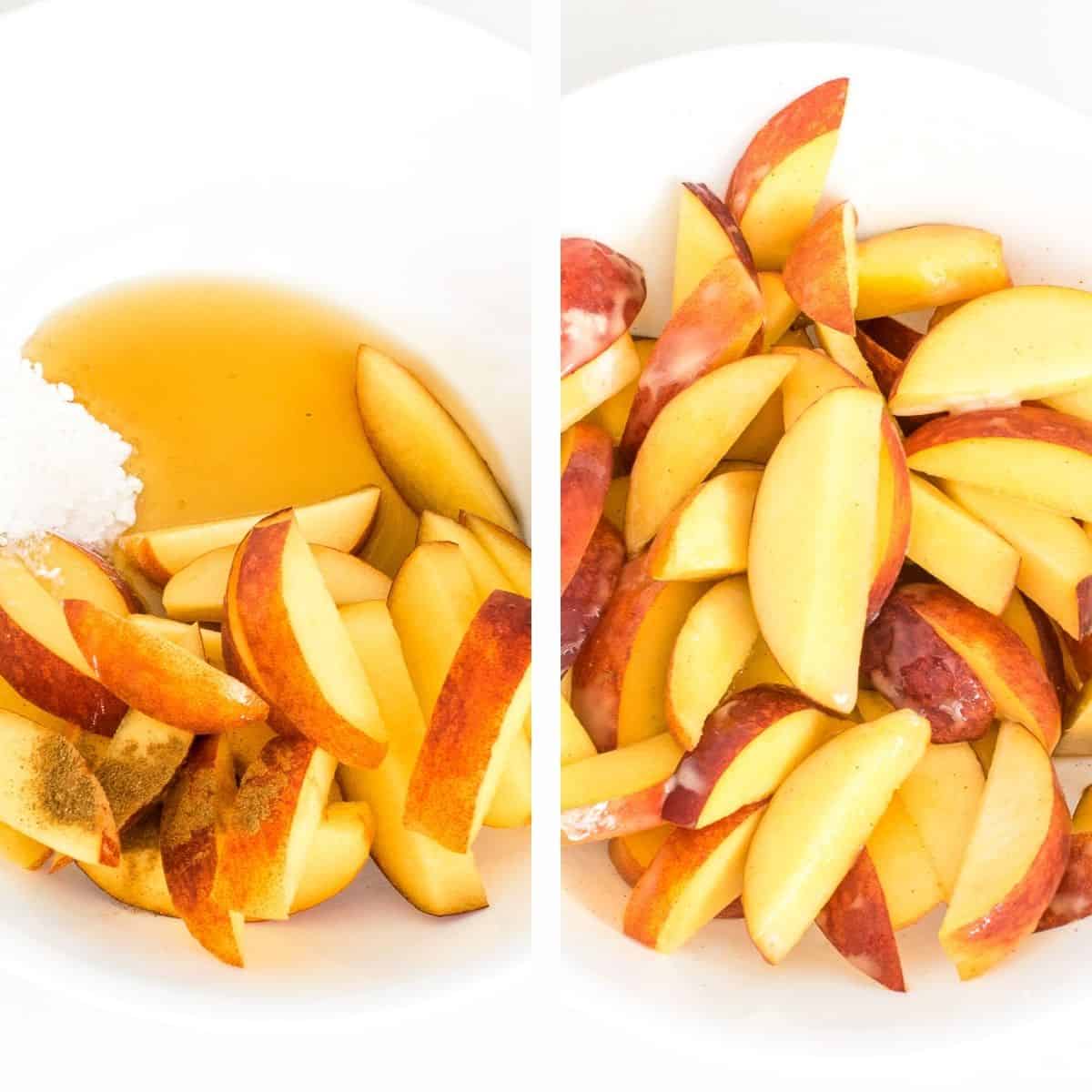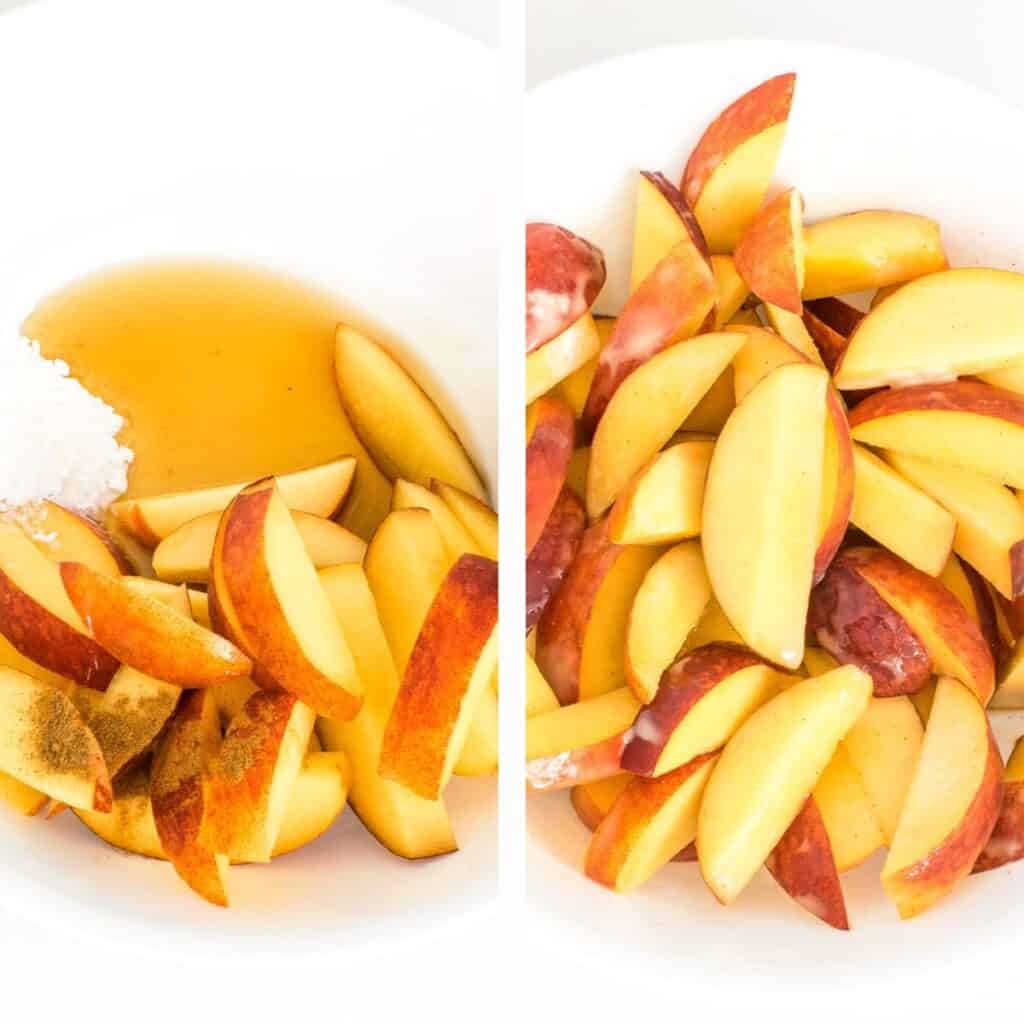 Step2: how to make the batter
In this step, firstly, I combined all the dry ingredients and mixed it well with a spoon.
Secondly, I poured in the wet ingredients and whipped it into a thick batter. Then, I kept this aside also.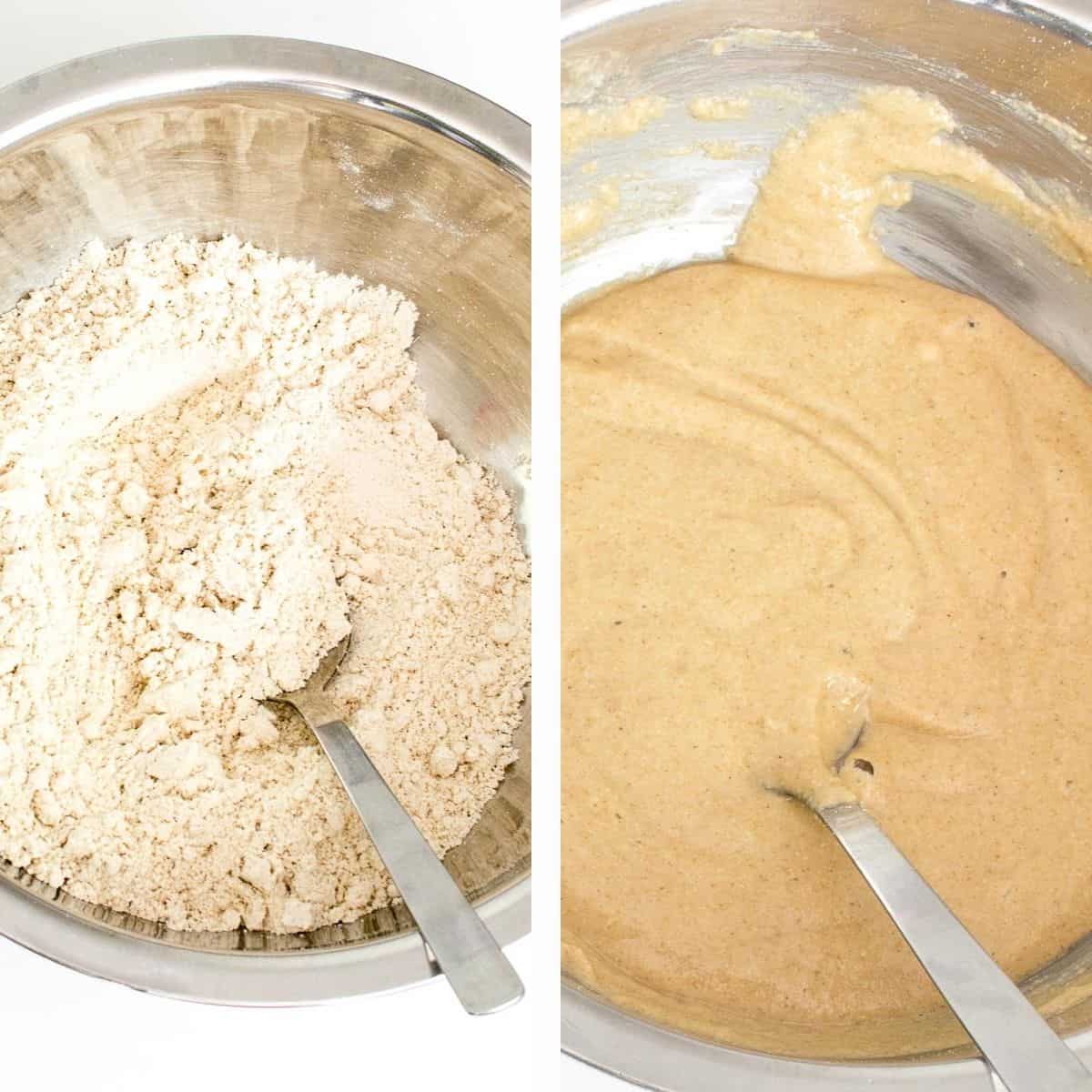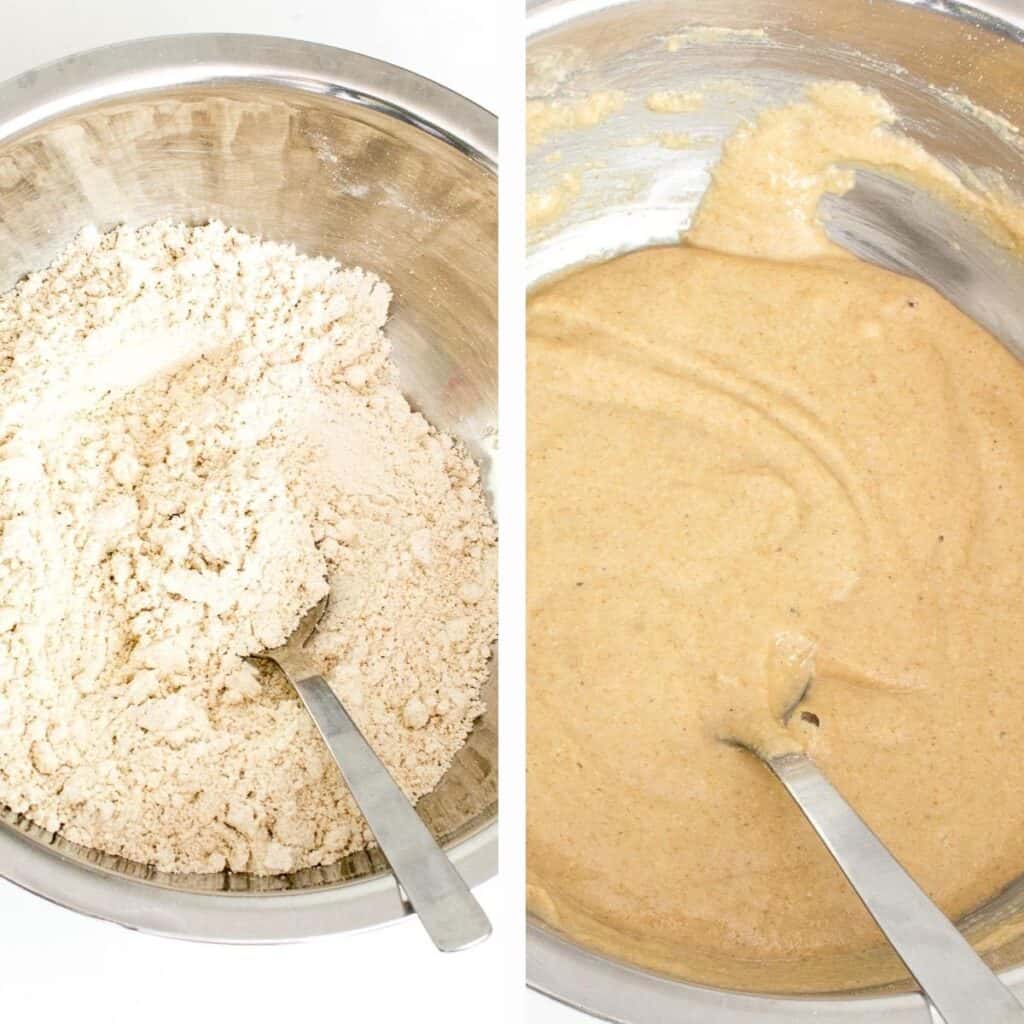 Step3: how to assemble and bake
Now, I spooned the filling on a greased baking dish and made sure to spread it evenly with a spoon. I made it as the first layer.
Thereafter, I topped it with the batter and covered the filling as much as possible.
Afterwards, I placed it in the middle rack of the oven and baked it for 35 minutes or until golden in color.
When it was done, I turned it off and took it out.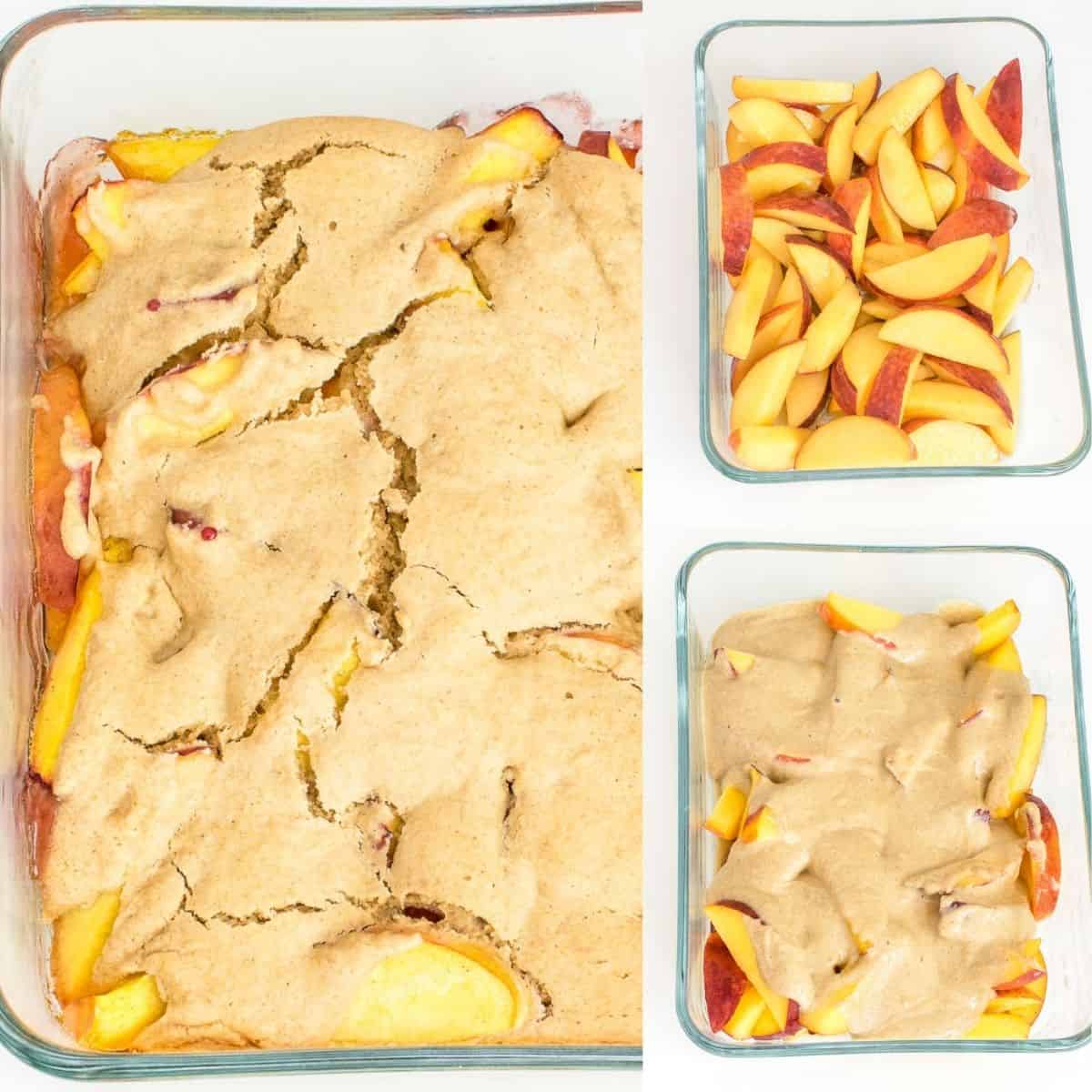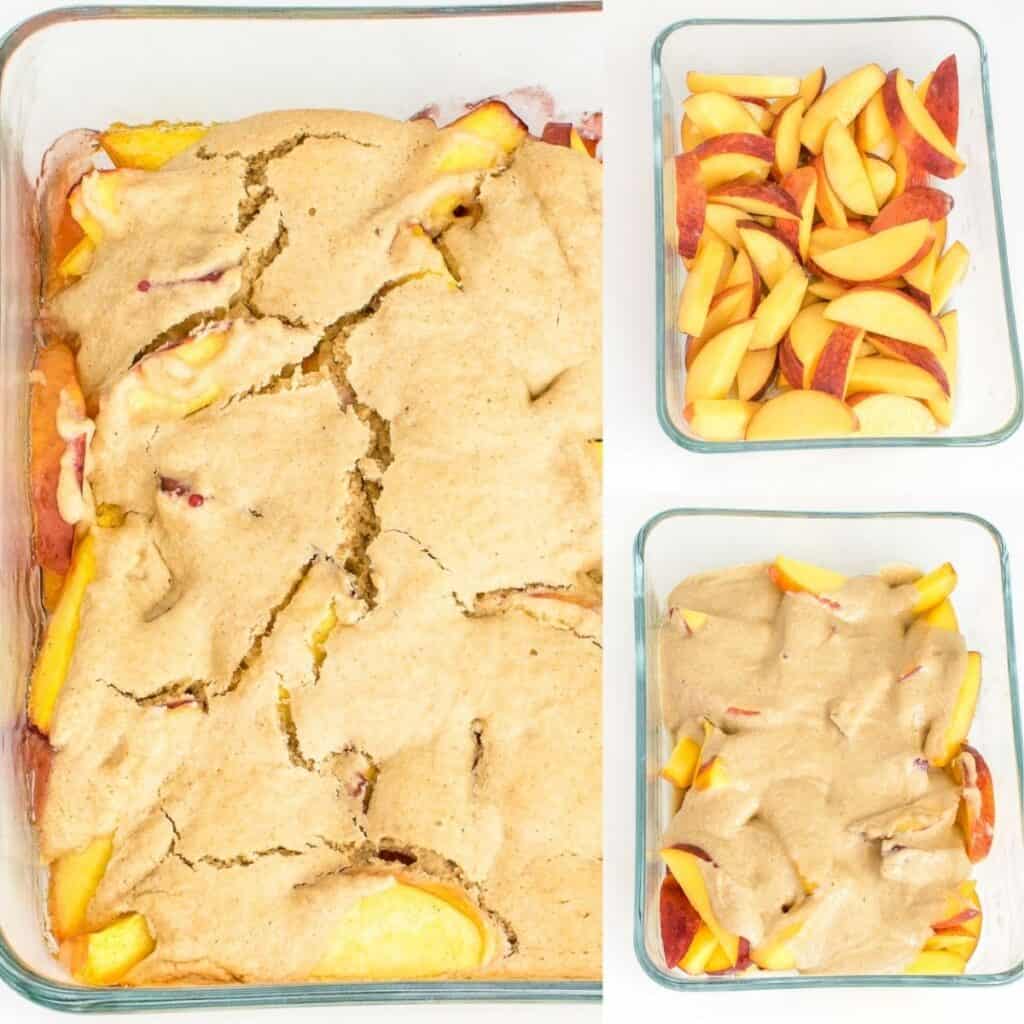 We enjoyed it immediately while it was still warm with scoops of vegan ice cream.
It was an instant hit and the entire dish was finished within minutes.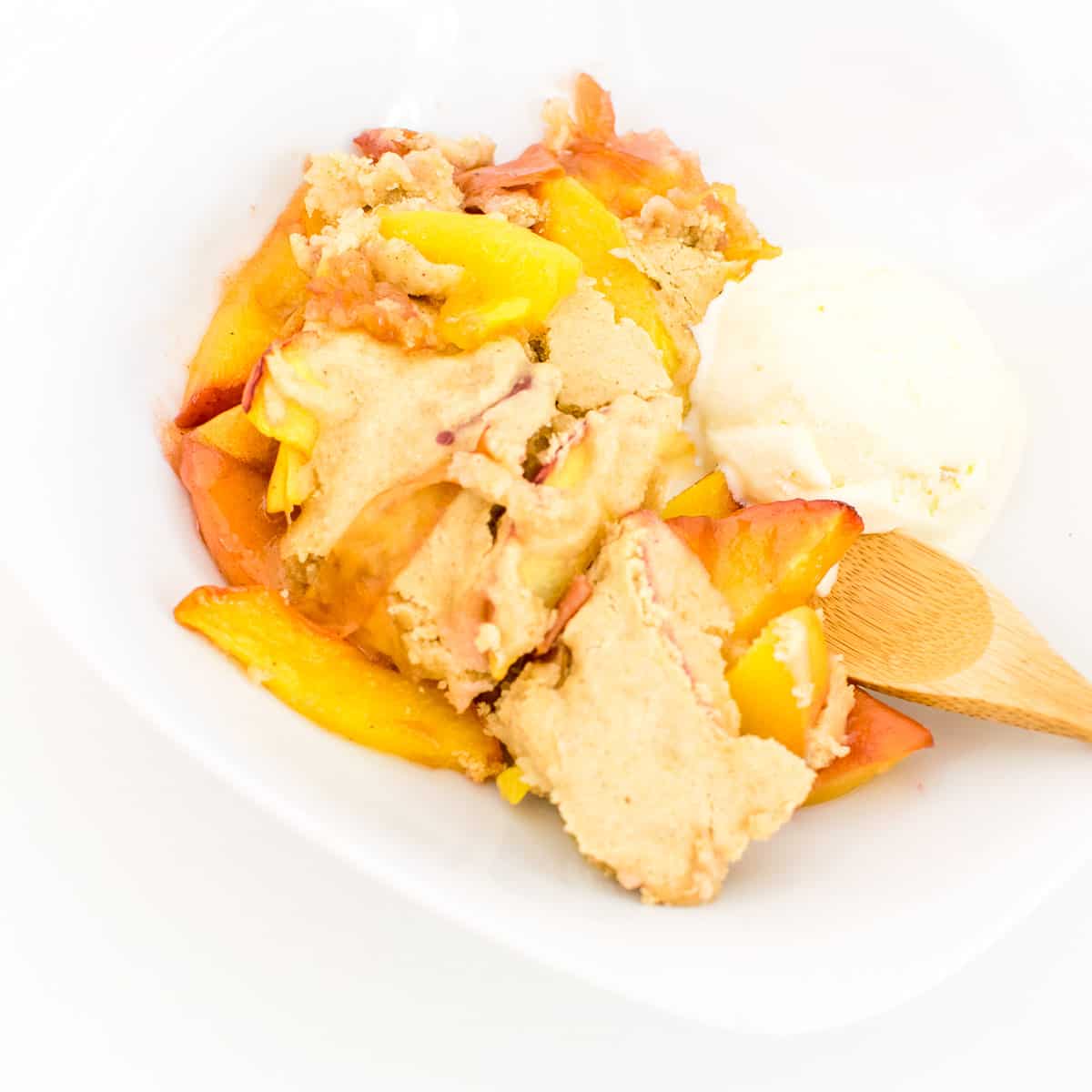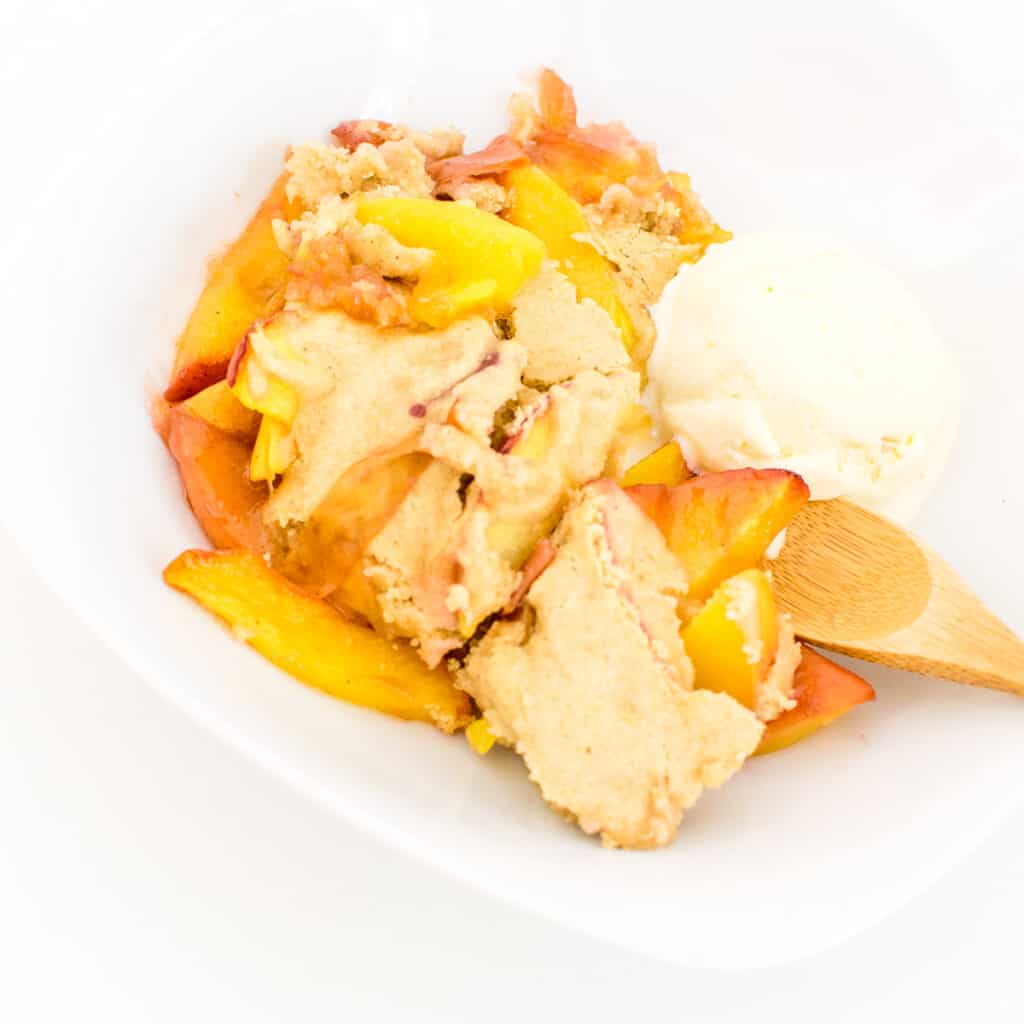 My family said it was the best vegan peach dessert so far.
Expert tips:
Make sure to let soak the peaches so toss the filling as soon as you start with the recipe.
If you wish to peel the skin then do so with a peeler but trust me the skin really tastes good here.
It is important to note that while grinding you're your own oat flour, measure ¼ cup more. Grind it in a food processor until its in a powdered form and then measure it again to 1 cup.
Vegan Peach Cobbler FAQs
How long does it last?
You may refrigerate the leftovers for about 2 weeks in an air tight glass container. Simply warm it up for 1 minutes in microwave and pair it with ice cream.
Can I use canned peaches?
I used fresh peaches to get the perfect tastes and texture, so, I would recommend using the fresh ones. However, you may use frozen sliced peaches but make sure to bring it in room temperature before starting with this recipe. Canned peaches may make this recipe very mushy or gummy.
What variety of peaches can I use for this recipe?
I have tested this recipe with yellow peaches and yellow nectarines and both tastes excellent as long as they are ripe.
Is it healthy?
Mostly it is healthy. I made it oil free so we save on lot of calories. I used maple syrup at minimum quantity. The only processed food I used was cornstarch in a minimum quantity to thicken this vegan cobbler.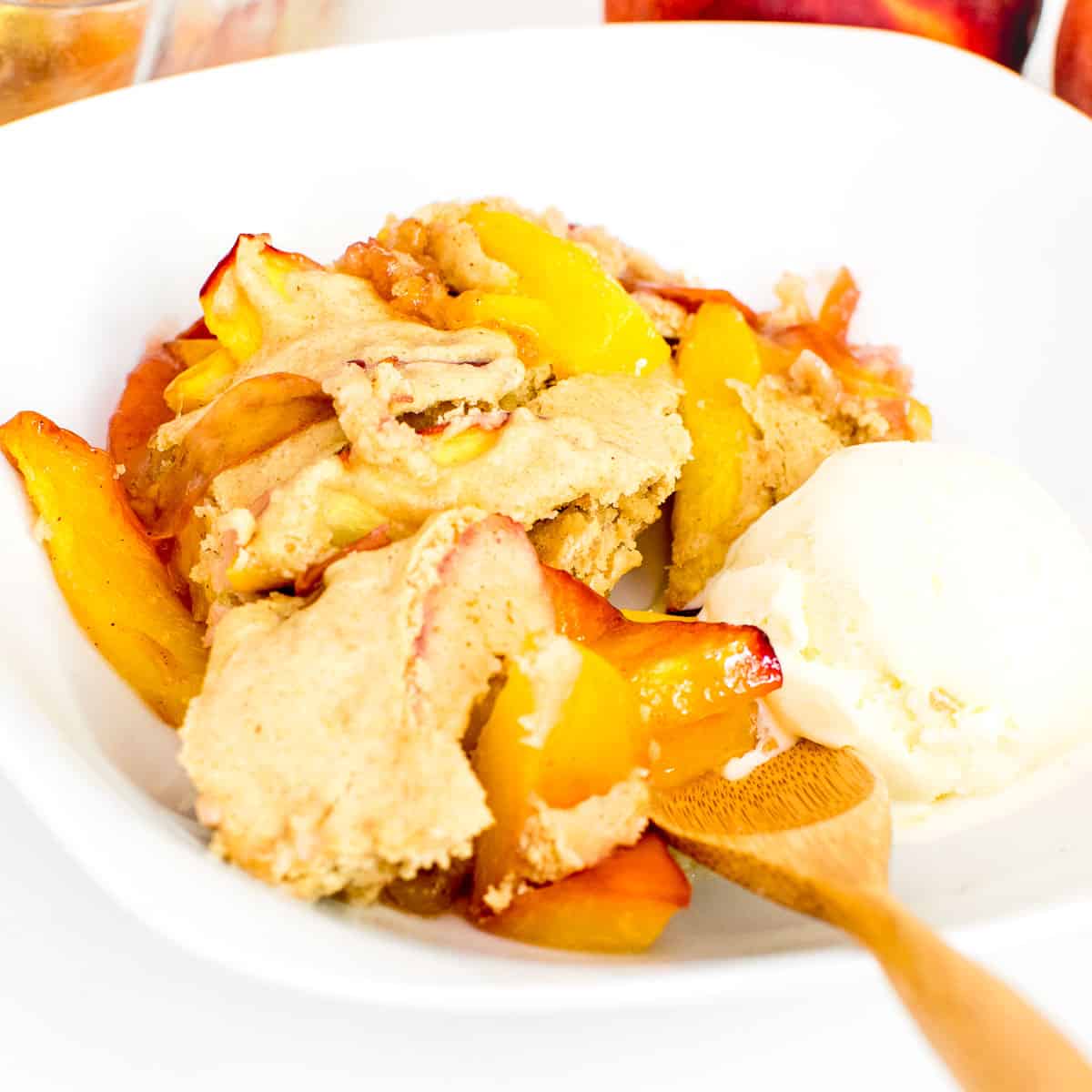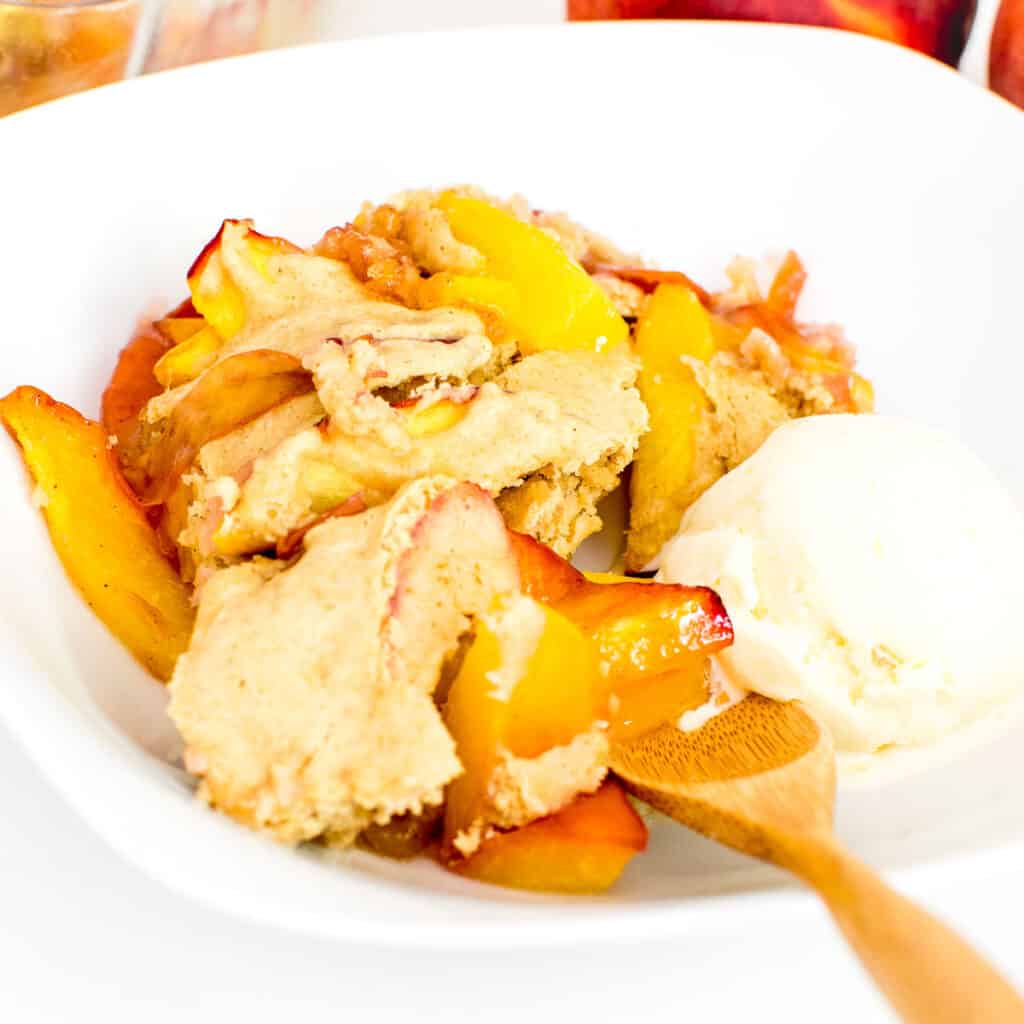 Did you make it?
If you get a chance to make this recipe then please leave your feedback in the comments along with a 5-star rating. In addition, you may tag @kiipfit on Instagram with your recipe remake image because we would love to see what you cooked.
You may also checkout my cookbook for everyday easy and comforting vegan recipes.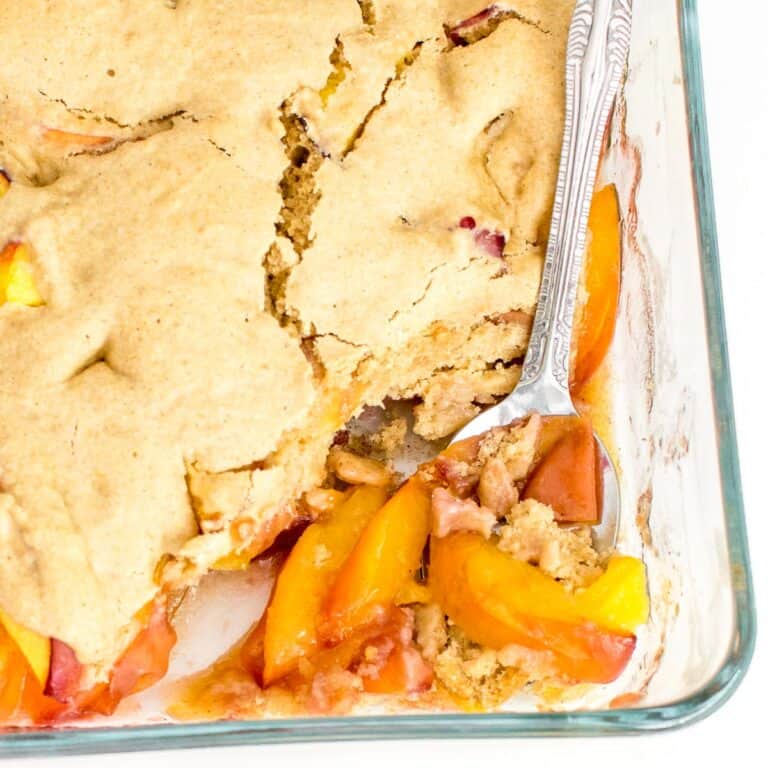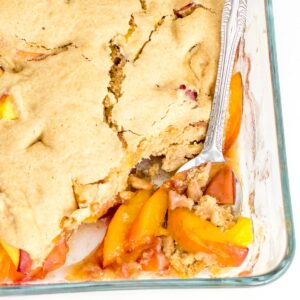 Print Recipe
Vegan Peach Cobbler
This oil free Vegan Peach Cobbler is the ultimate summer dessert. It features a sweet and juicy fruit filling and topped with oat flour biscuit cake. Pair it with vegan vanilla ice cream and enjoy all the deliciousness in one bowl.
Instructions
Preheat oven at 350-degree Fahrenheit and grease with a cooking spray a 6-inch square or 6*8-inch rectangle baking dish. In a mixing bowl combine all the ingredients of peach filling and mix gently until all the ingredients are well blended (Make sure the peaches don't break). Keep it aside.

In another bowl, combine oat flour, baking powder and salt. Mix well. Now, add maple syrup and oat milk to it and whip into a thick batter.

Now, spoon out the peach filling in the prepared baking dish and spread it evenly.

Then, drop the batter roughly at the peach filling to cover as much as possible or simply pour it and spread with a spoon at the top of peach filling. Its ok if the batter does not cover the filling perfectly.

Place it in the middle rack of the oven for 35 minutes or until its top is golden in color. Turn it off and take it out. Scoop and enjoy with vegan ice cream.
Notes
I baked the peaches with the skin on since my family loves it that way. Feel free to peel the peaches if you so desire.
Make sure to get soft peached for this recipe so that its juicy and sweet. This helps in minimizing the added sweetener.
You may grind your own oat flour. Simply add 1 ¼ cup old fashioned oats in the food processor and grind it until its powdered form. Then, measure it again to 1 cup and use it in this recipe as explained.
This recipe can be refrigerated in an air tight glass container for about 2 weeks. Simply microwave and top it with your favorite ice cream.
Nutrition
Calories:
173
kcal
|
Carbohydrates:
34
g
|
Protein:
4
g
|
Fat:
2
g
|
Saturated Fat:
1
g
|
Polyunsaturated Fat:
1
g
|
Monounsaturated Fat:
1
g
|
Sodium:
128
mg
|
Potassium:
227
mg
|
Fiber:
2
g
|
Sugar:
15
g
|
Vitamin A:
19
IU
|
Vitamin C:
1
mg
|
Calcium:
87
mg
|
Iron:
1
mg