This Vegan Banana Cream Pie features sweet creamy filling topped with fresh sliced bananas and crispy crust. It's an easy dessert recipe with cooling summer flavors.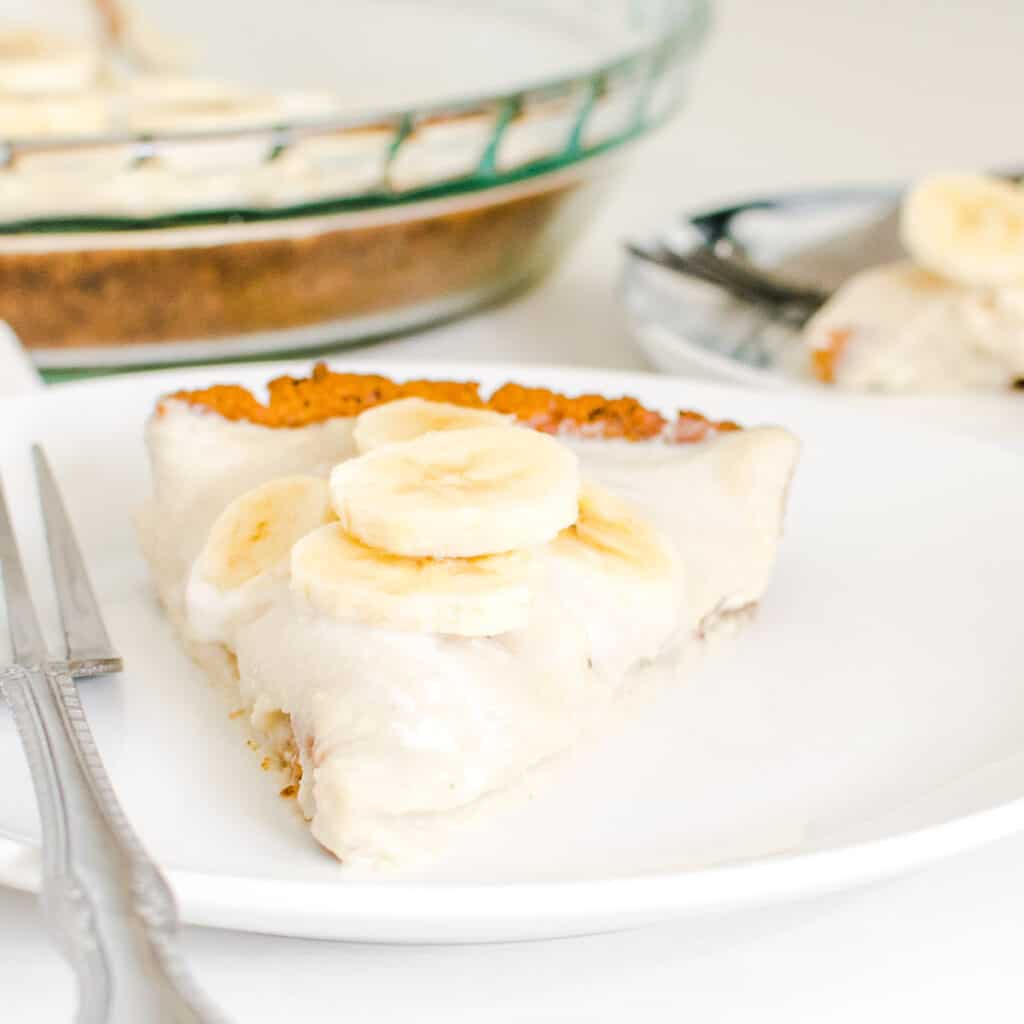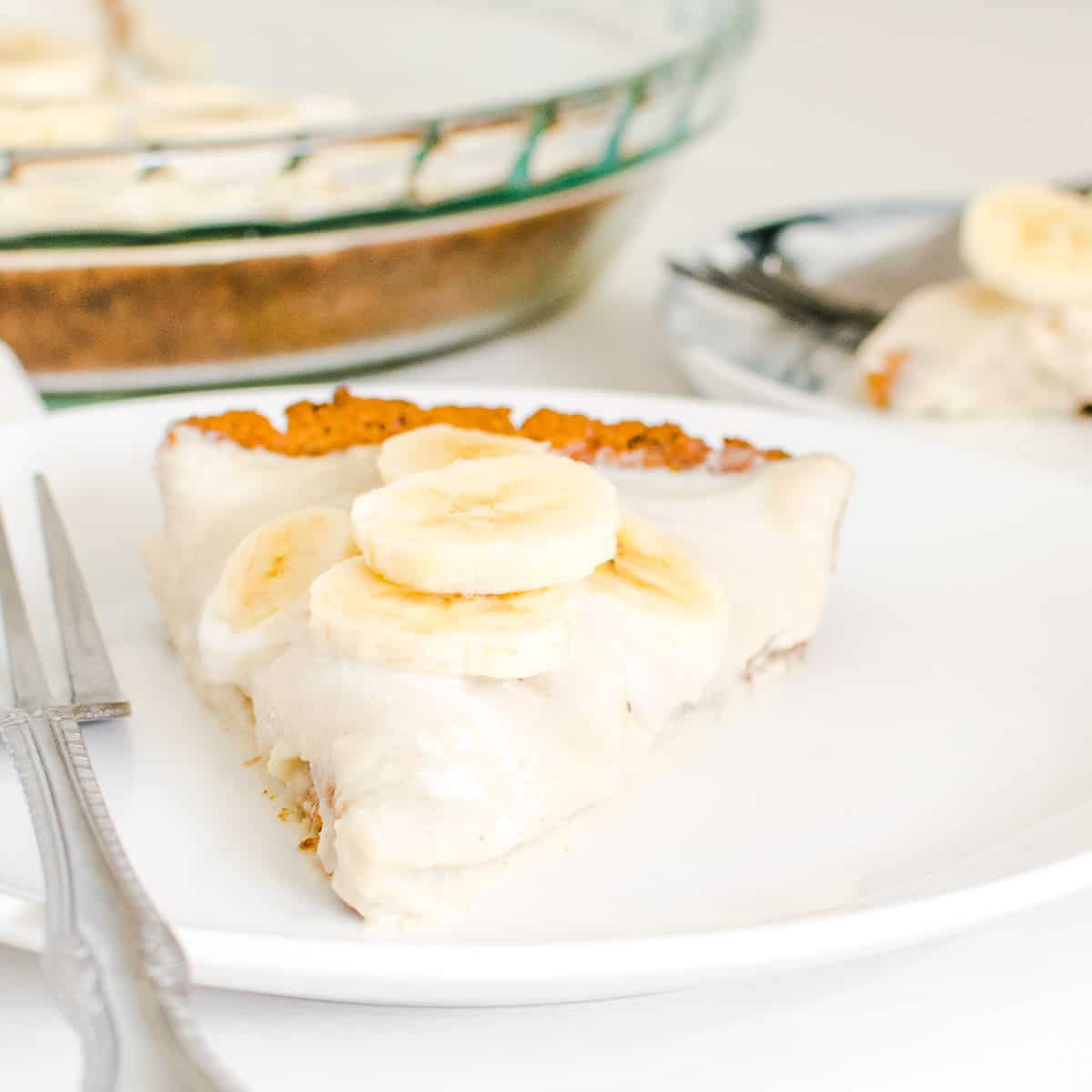 I love when people appreciate my efforts to create healthy desserts with the same old comforting taste.
Banana is a staple snack in my house. Its always stacked and kids can simply gorge on this fruit. Its amazingly satisfying and filling. My daughter routinely snacks on it before her gymnastic classes.
Hence, she loves to snack on my homemade chocolate pie.
I also recommend making my easy vegan blueberry pie recipe.
Sometimes, when we crave for dessert but want to go for super healthy option, we simply enjoy this soft, sweet and nutritious fruit.
I love to experiment a variety of recipes with banana. However, banana milkshake is my kids favorite so far. I like to keep banana protein bars as well in my refrigerator for pre-workout snack.
My other recipes that consist of bananas are:
Peanut Butter Banana Amaranth Cookies
Baked Banana Chocolate Popsicles
Vegan Lemon Cookies
Kale Smoothie
Snowball Cookies
Vegan Chocolate Cake
It's a versatile fruit and a great natural sweetener. Since I started cooking vegan, most my desserts and smoothies are sweetened with bananas.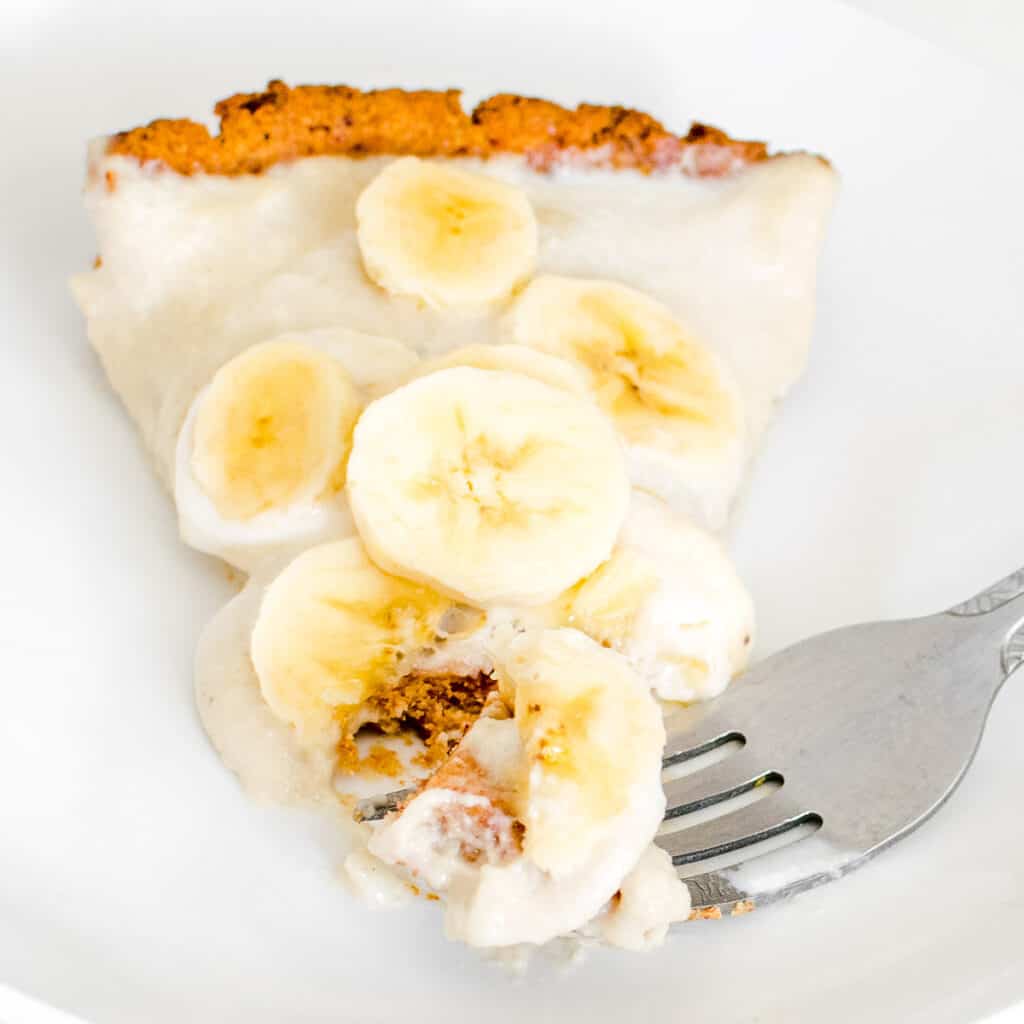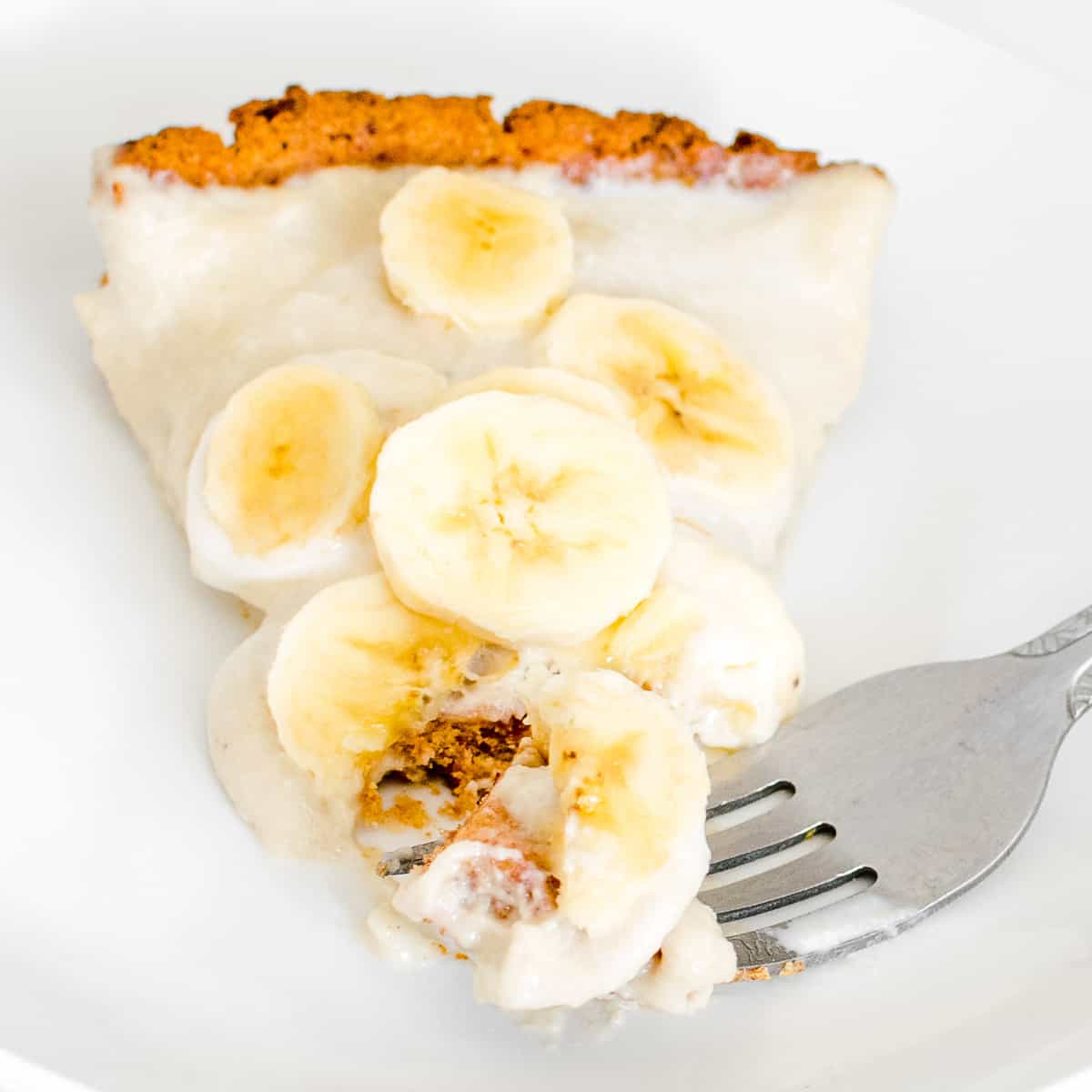 However, I tried this vegan banana pie for the first time. I love pies but making it at home from scratch was absolutely fun. It totally took me by surprise with its simplicity.
I am so motivated to try more dessert pie recipes that you may find me posting here more often. So, stay tuned!
However, this banana cream pie was an instant hit in my house. The moment I announced its ready…. the slices were gone within minutes.
Therefore, I made it again twice in the same week. Finally, I got a chance to click few images for you. Hence, I am here to share this awesome vegan banana cram pie recipe with you all.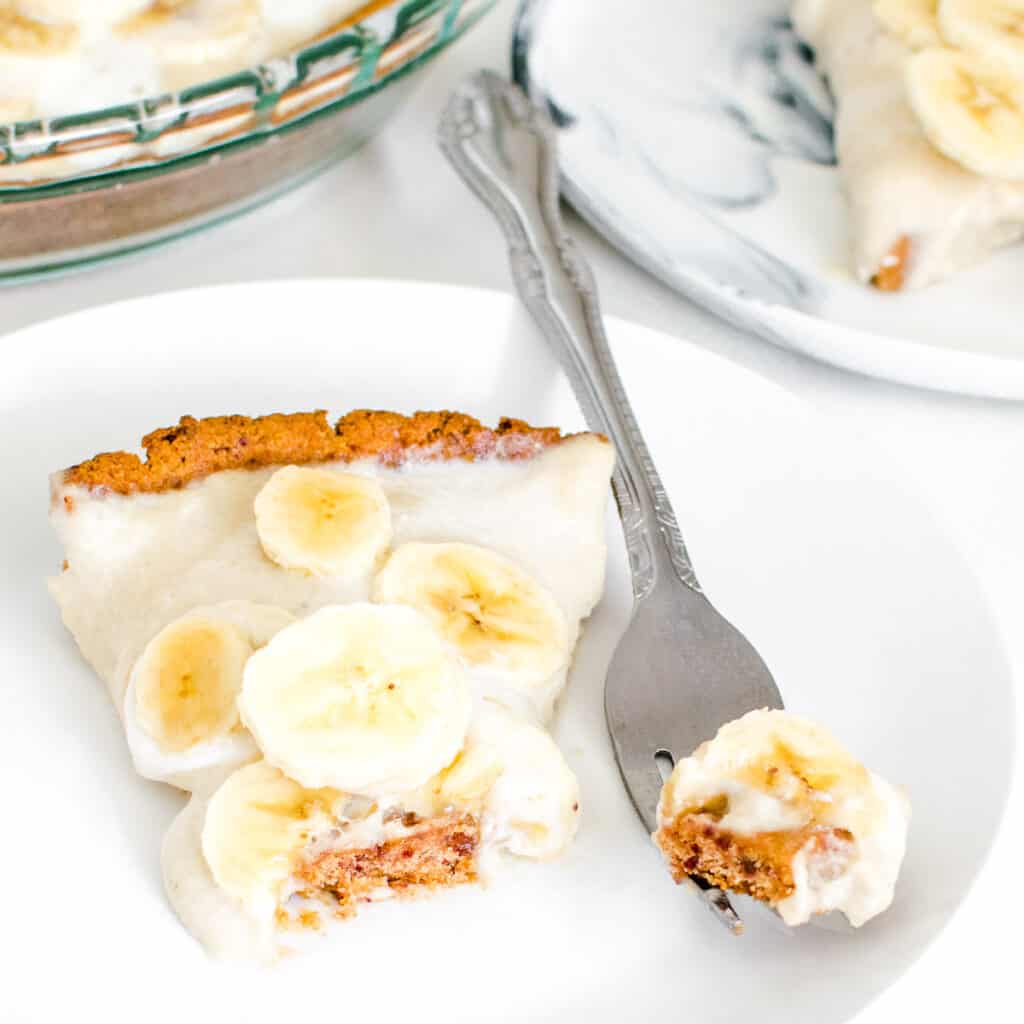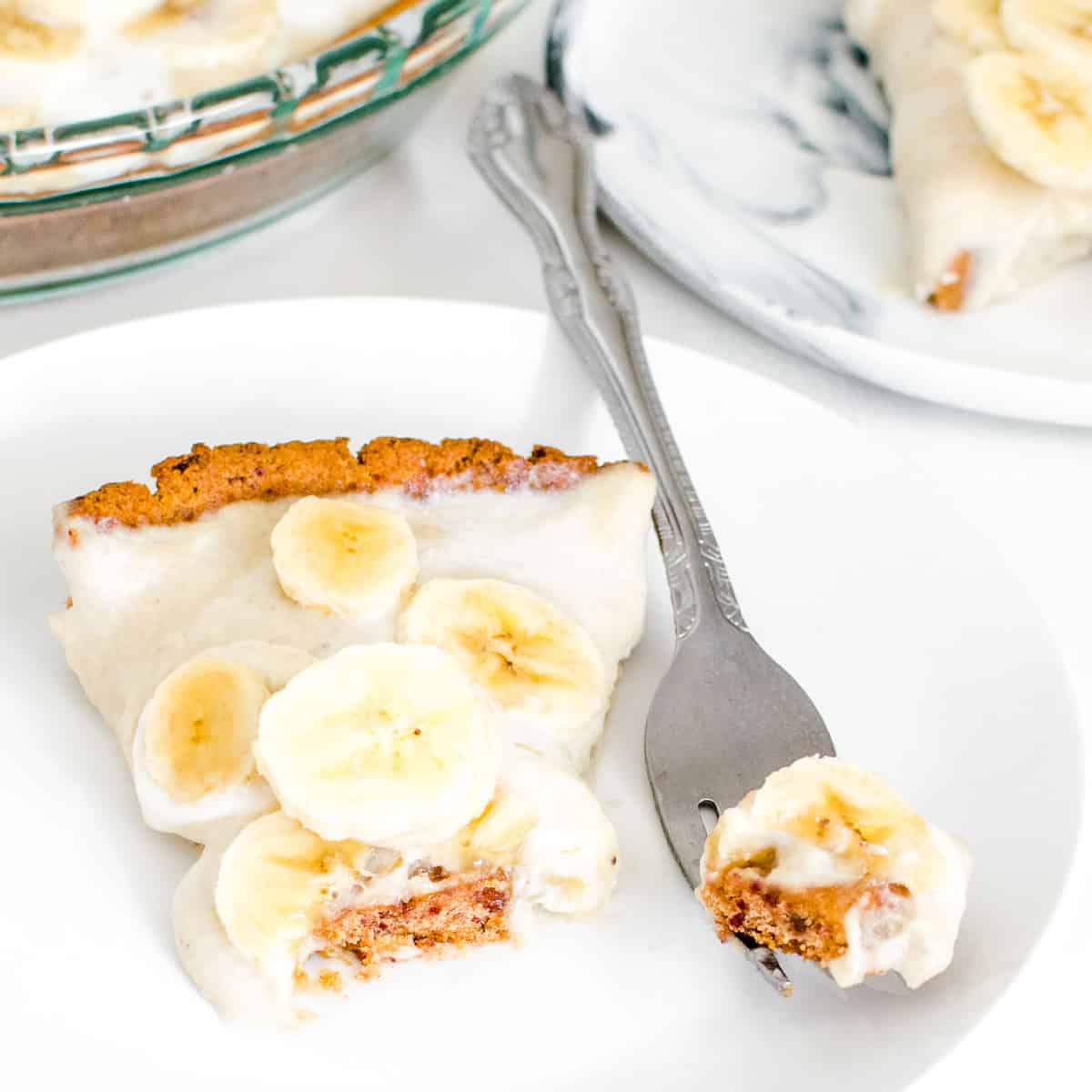 Ingredients you will need:
For pie crust
Dates
Almond flour
Brown rice flour
Salt
Dairy free milk
For the filling
Dairy free milk
Cashew nuts
Banana
Vanilla extract
Granulated sugar
For serving
Coconut whipped cream
Banana slices
I have used these easily available ingredients here which you may buy from any local grocery store. However, I have provided links to few of them here for your convenience.
If you plan to buy from these affiliate links then I get a small commission which in turn encourages me to bring in more delicious recipes for you all.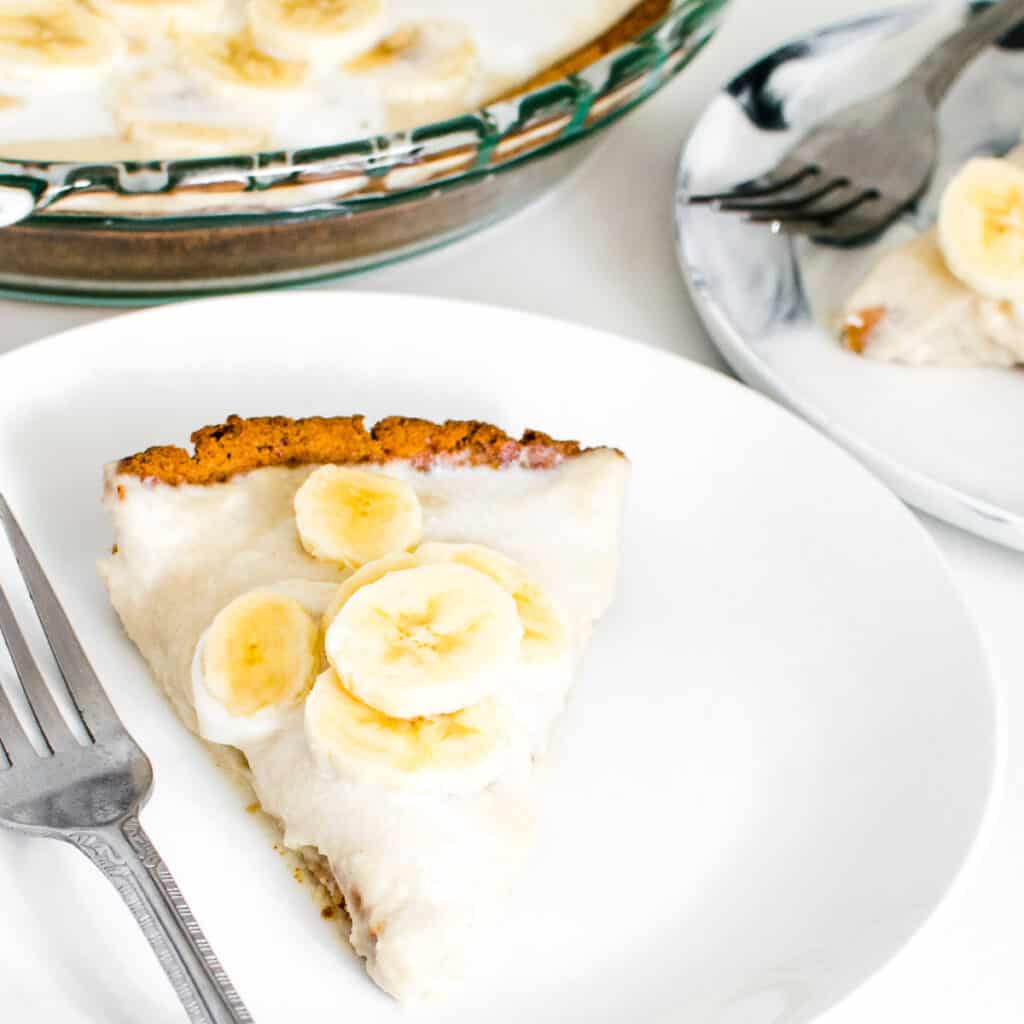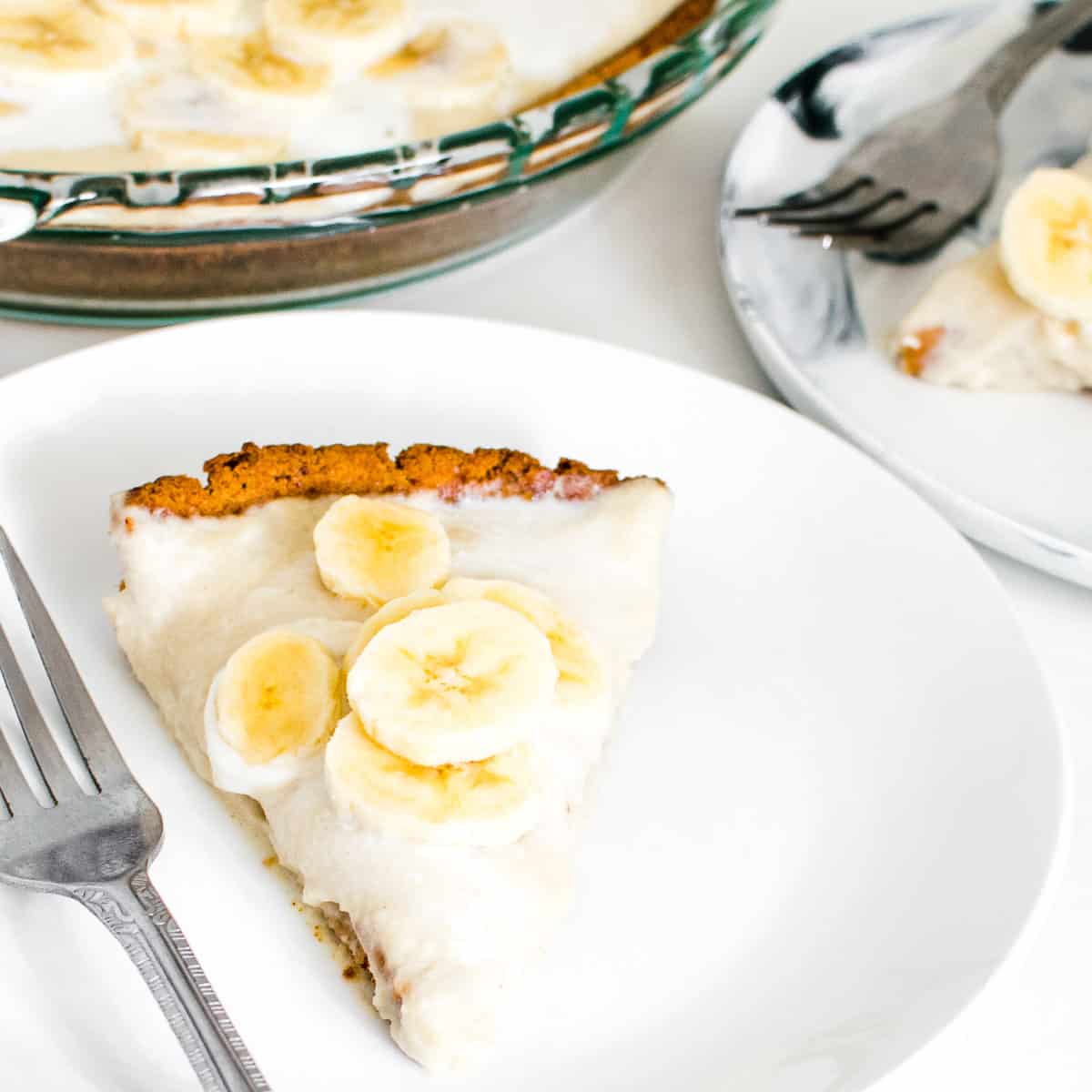 Ingredients notes:
Dates – I used pitted dates as the base of the crust. This helps in sweetening the recipe naturally and also binds well without any other binding agent. Overall dates make this pie crust easy to bake and healthier too. Dates have many health benefits including being high in fiber.
Almond flour – it's a powdered form of almonds and is gluten free. It gives a nutty flavor at its base.
Brown rice flour – it's a powdered form of brown rice which helps in baking nicely and gives a crispy texture to this recipe. You may use regular rice flour also but brown rice flour is healthier due to its fiber content. However, oats flour also works in this recipe if desired.
Dairy free milk – I prefer using oats milk or almond milk in this recipe. However, any unsweetened dairy free milk works here except coconut milk.
Cashew nuts – I made the cream filling with cashew nuts to make it protein rich and more nutritious. Plus, this way we do not have cook the filling and is quicker to make. These nuts also add healthy fats to this banana dessert.
Granulate sugar – I used it so as to maintain its white color. You may use brown sugar as well if you are not worried about its white color. I would recommend to not use maple syrup here as it will make the cream filling more liquid which will not set in the refrigerator very well.
Banana – it's the main ingredient here. It's a nutritious fruit with being high in fiber and potassium. However, while blending I used very ripe banana to as to balance the sweetness of the cream filling. But when topping the pie with its slices make sure its just about ripe and not too ripe so as to make it presentable as well.
Coconut whipped cream – you may use your choice of any dairy free whipped cream for this. I used it to give this pie a cooling and creamy effect just before serving. You may also serve this with vegan vanilla ice cream if desired.
After going through the ingredients in detail I am sure you are ready to dig into this delicious vegan gluten free banana cream pie.
Now, all you have to do it to go through the easy steps and indulge into this dessert recipe all through the season. Its absolutely irresistible and kid friendly too.
How to make Vegan Banana Cream Pie
Step 1: how to make the crust
Firstly, in a food processor, I combined all the crust ingredients (except milk) in and processed it until powdered.
Secondly, I unlocked it and then added the milk.
Then, I processed it again until a dough was form.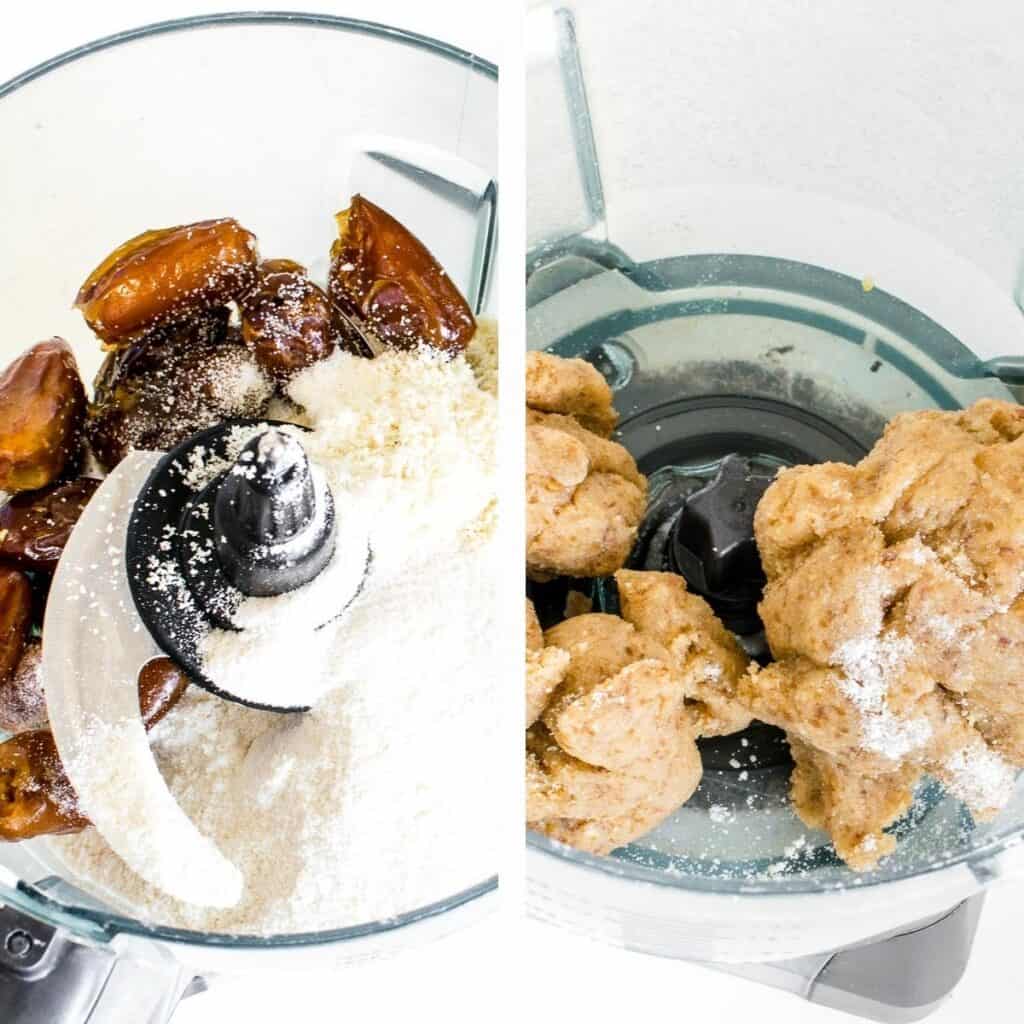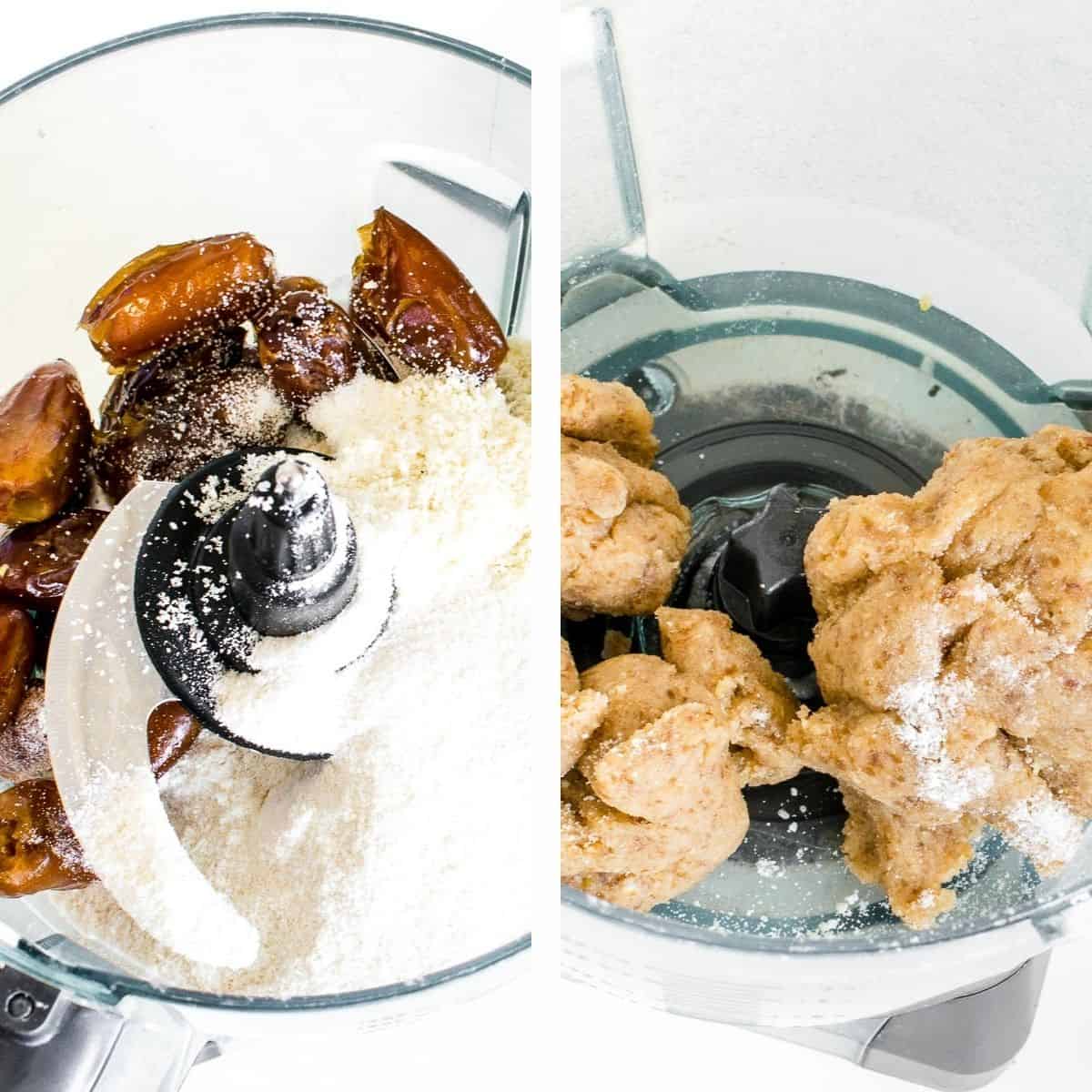 Next, I took the dough out and kneaded it into a smooth ball in the prepared pie pan which was greased. This way the dough was covered with the sprayed oil.
Thereafter, I started pressing the dough with my hands shaping it as per the pie pan.
Afterwards, I dabbed its top gently with a tissue paper to remove the excess oil.
Then, I placed it in the preheated oven at 350-degree Fahrenheit for 20 minutes.
Once done, I turned it off and took it out of the oven. Then, I let it cool down at room temperature.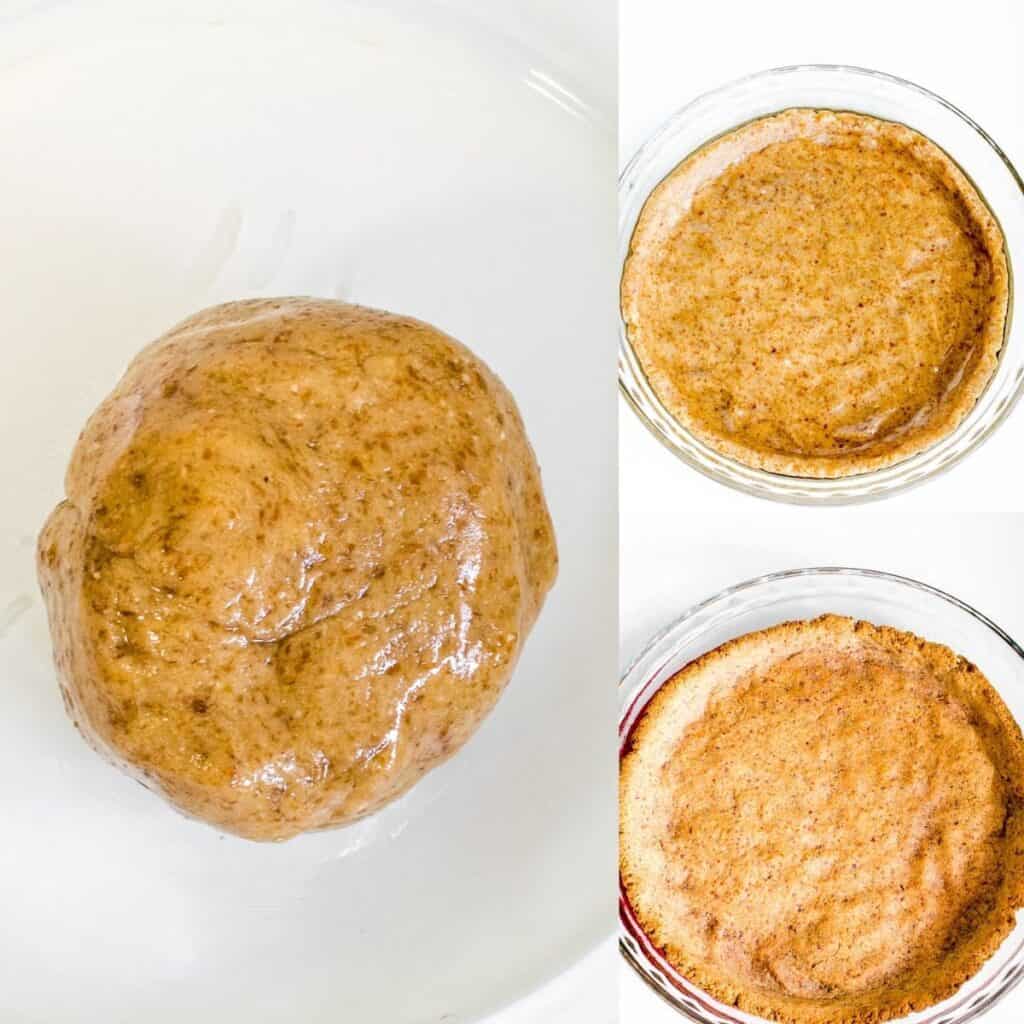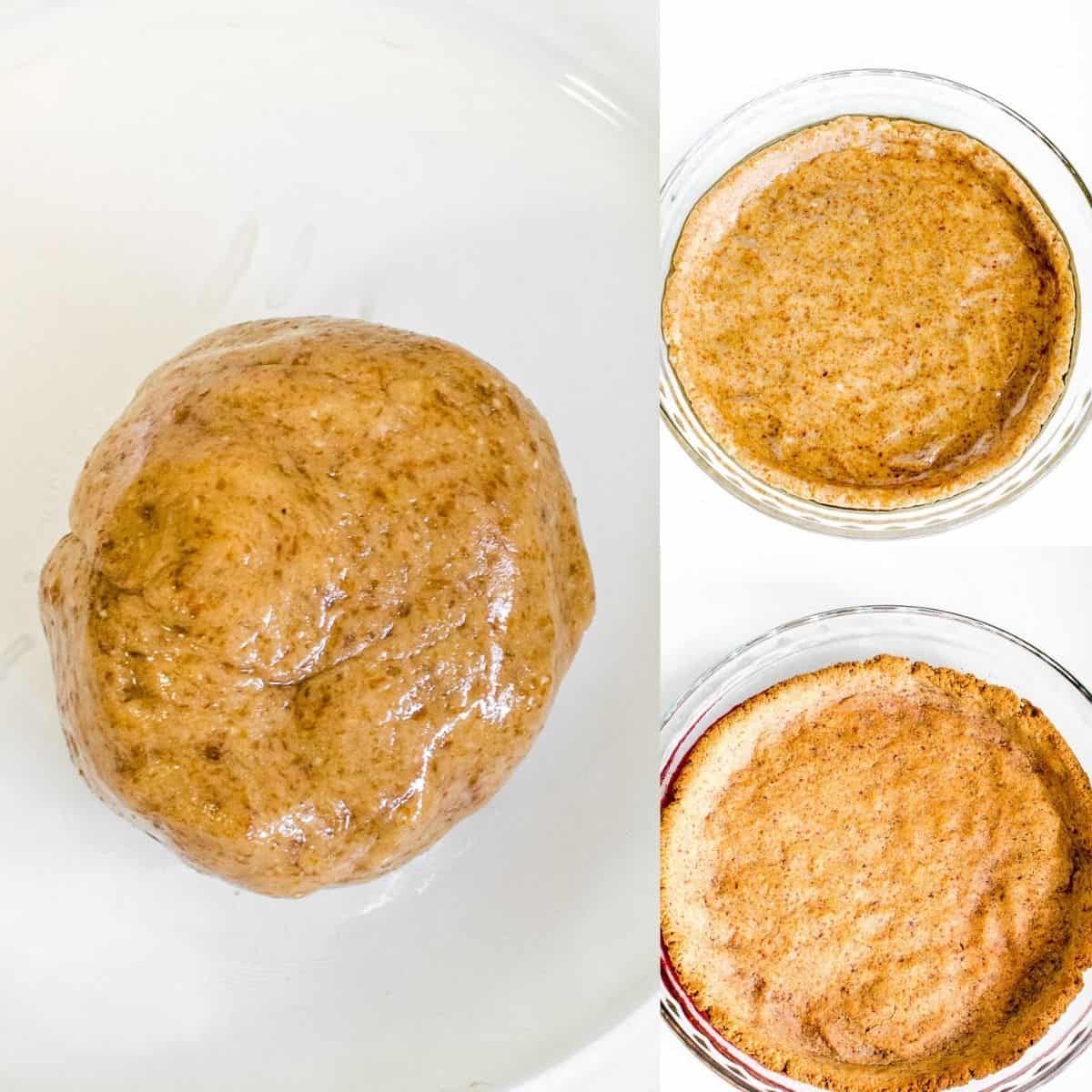 Step 2: how to make cream filling
Firstly, I soaked cashew nuts in hot water until they were soft and ready to be blended. Then, I drained them.
Secondly, I combined all the filling ingredients in the blender and blended it smooth and until it was creamy. Then, I kept it aside.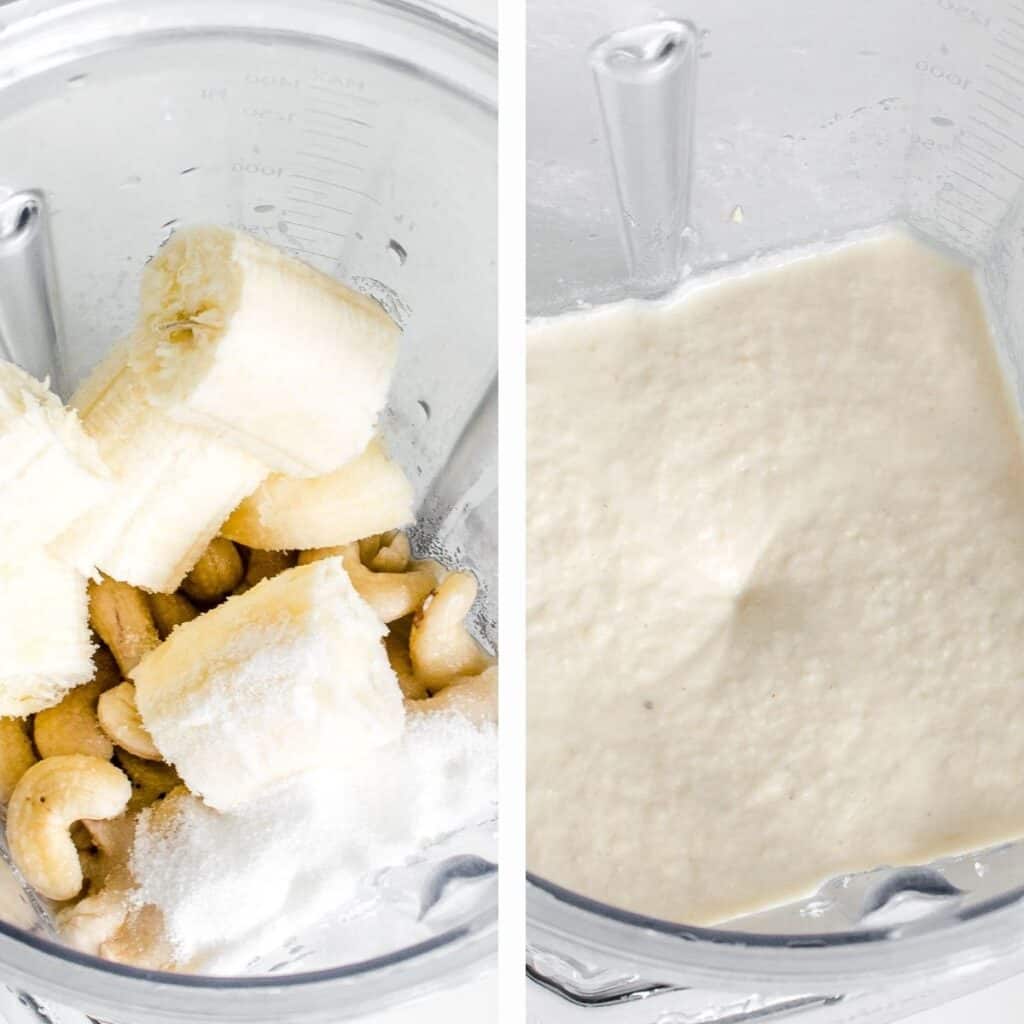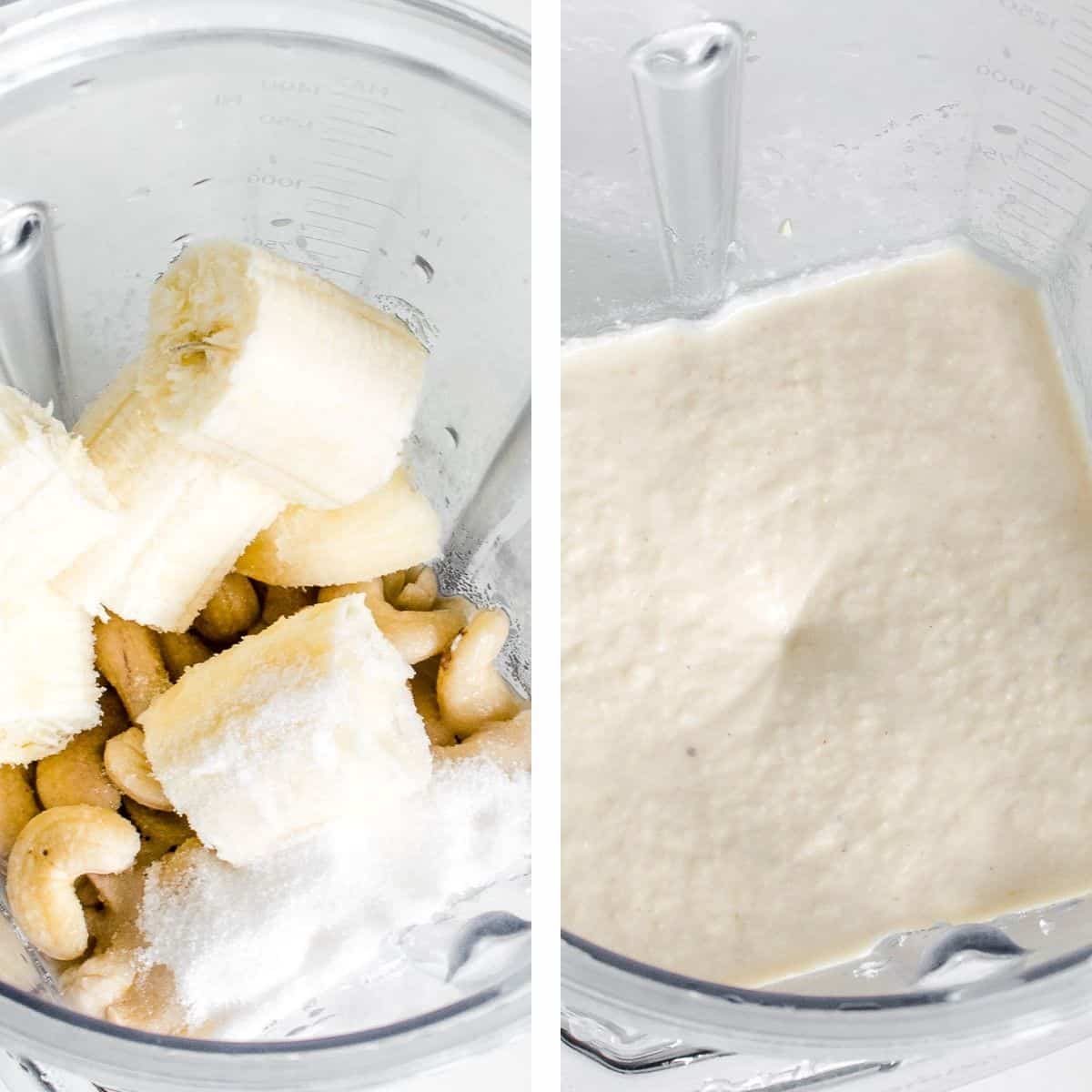 Step3: how to refrigerate
Once the crust was cooled to room temperature, I spooned out the blended cream filling on the crust.
Then, I spread it evenly with a spatula.
Next, I covered it nicely and firmly with a cling wrapper making sure the center does not touch the cream at all.
Thereafter, I refrigerated it for at least 3 hours or until it was nicely set and chilled.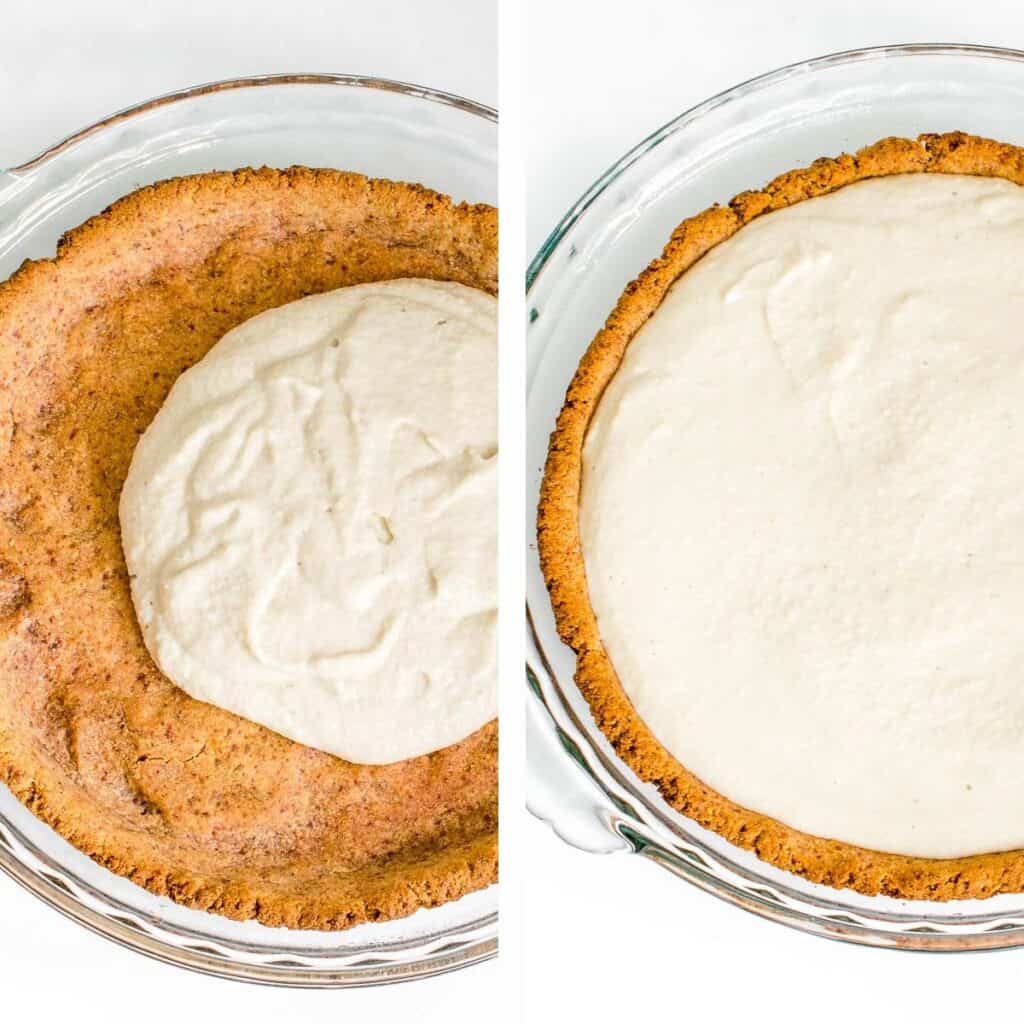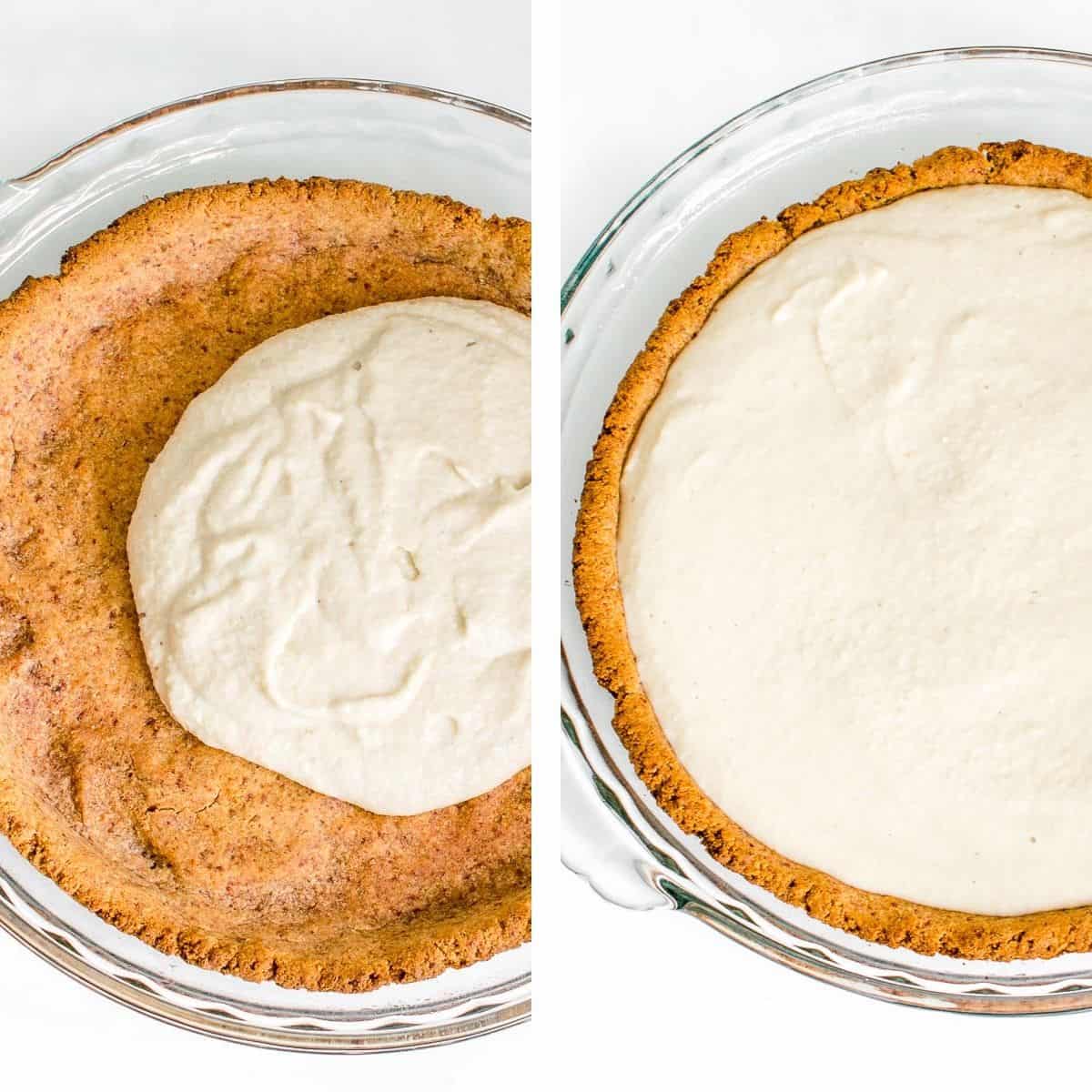 Step4: How to serve
I took out the cling wrapper.
Then, I topped it with sliced banana.
Next, I covered it with whipped cream evenly and again topped with banana slices.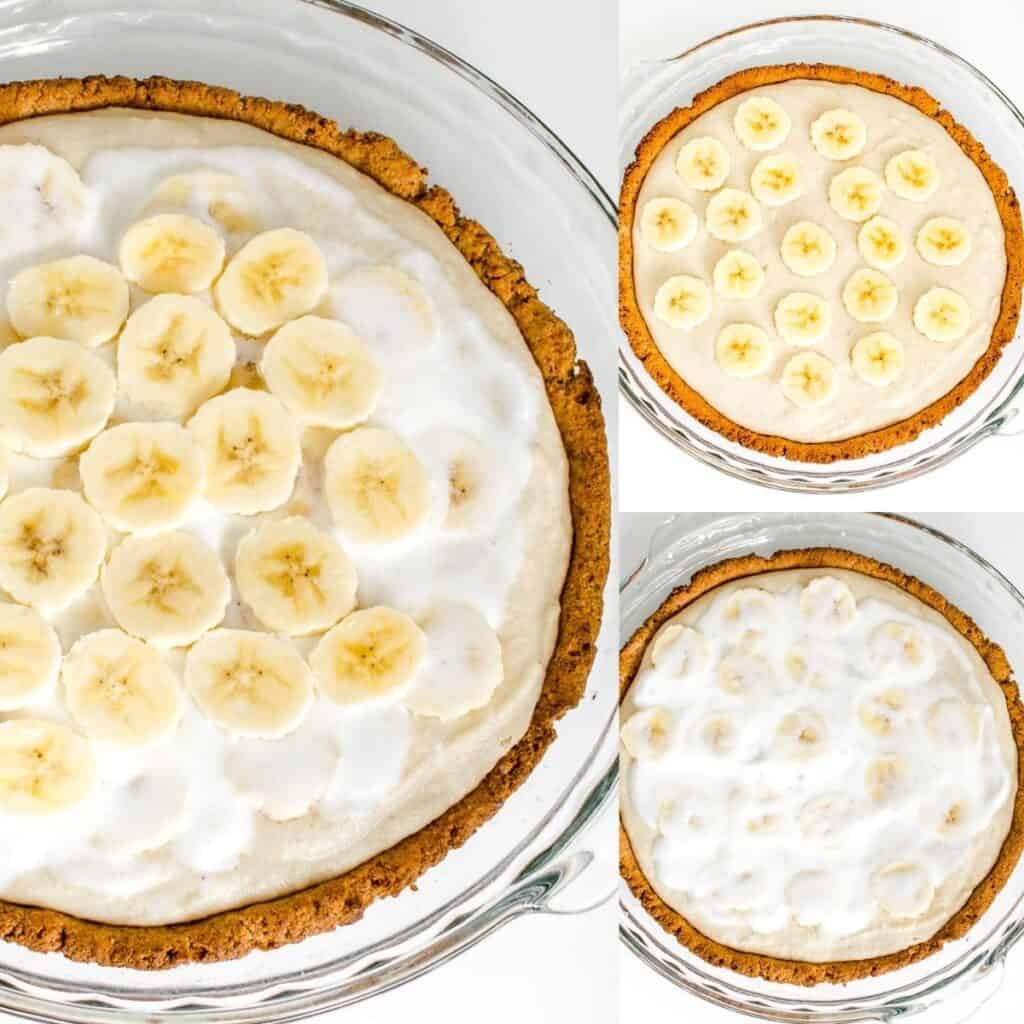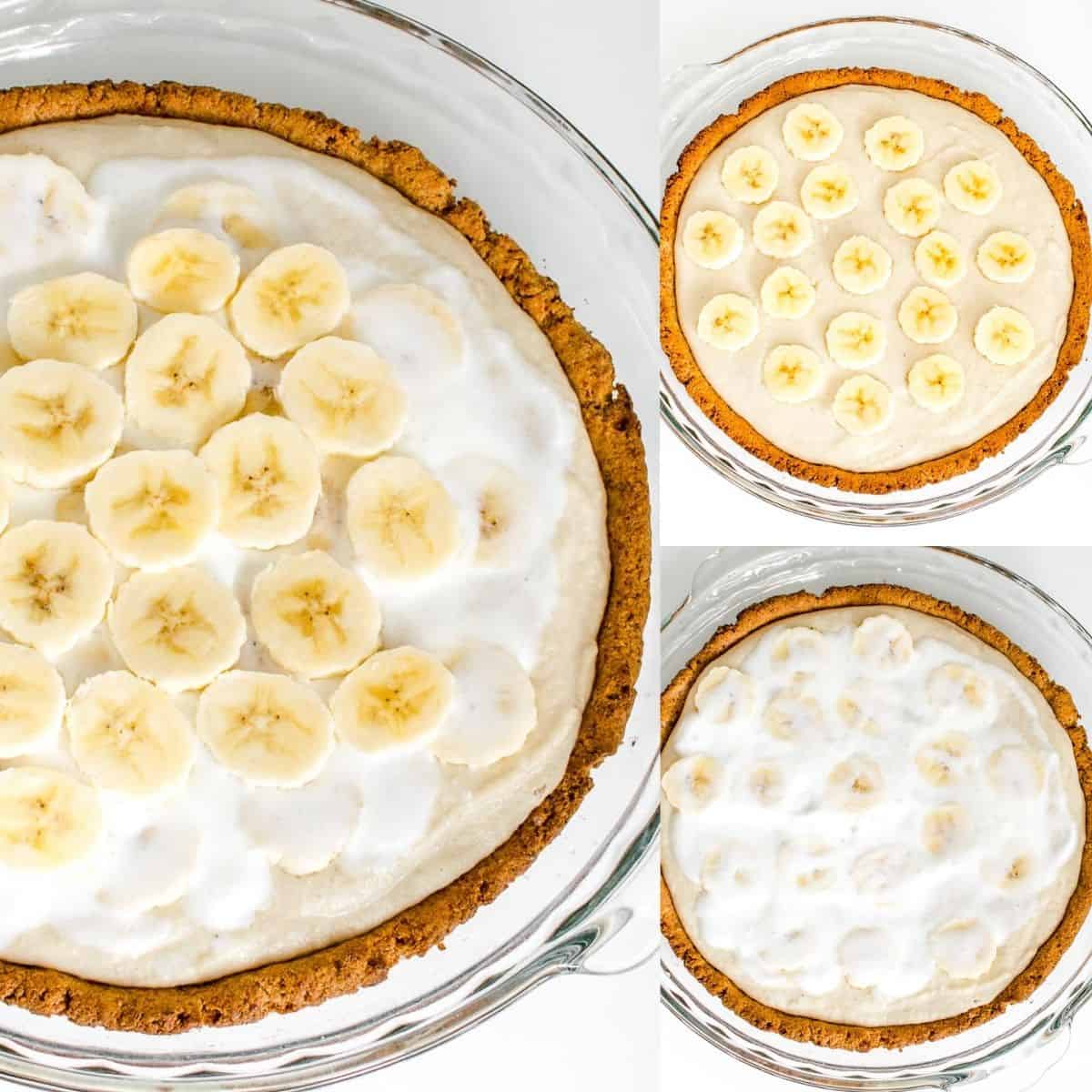 Afterwards, I sliced the banana pie and served it.
My kids adored this vegan cool and creamy dessert. They loved it instantly and finished the entire pie.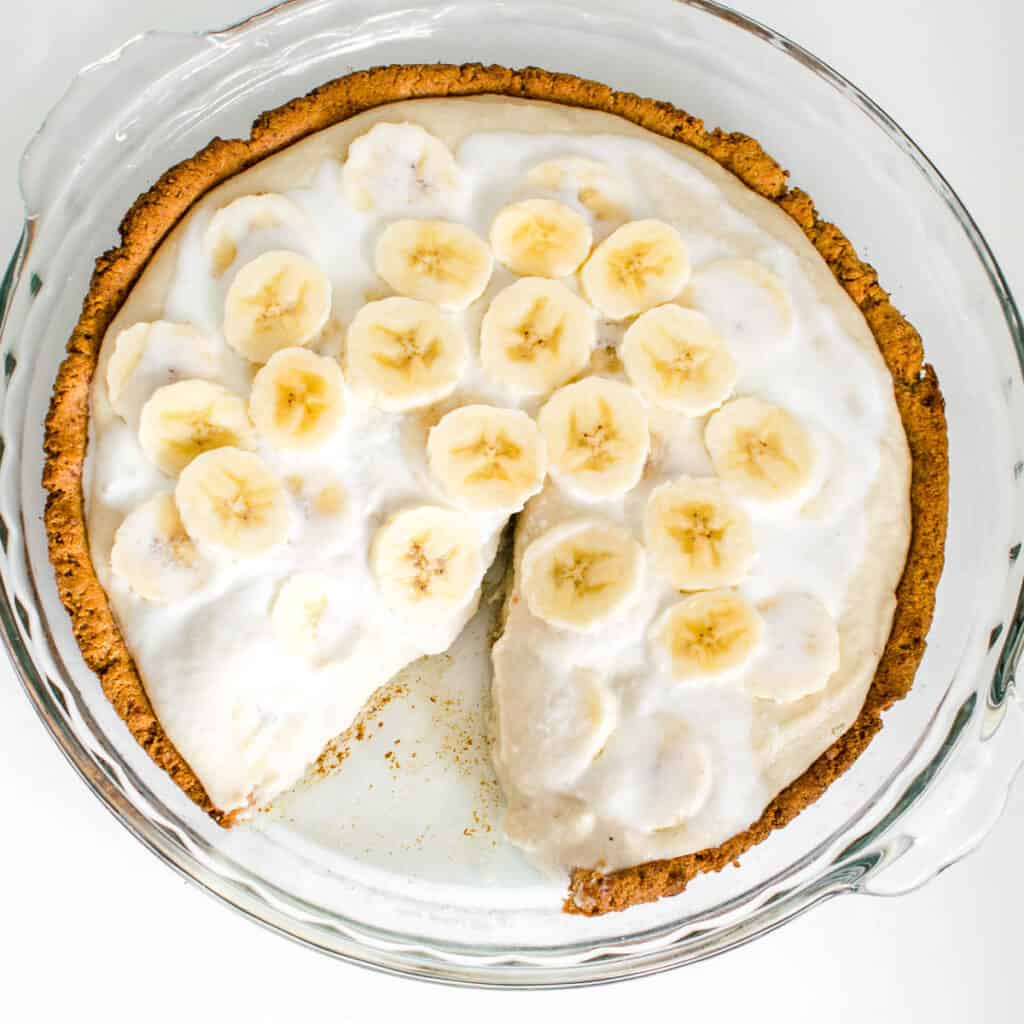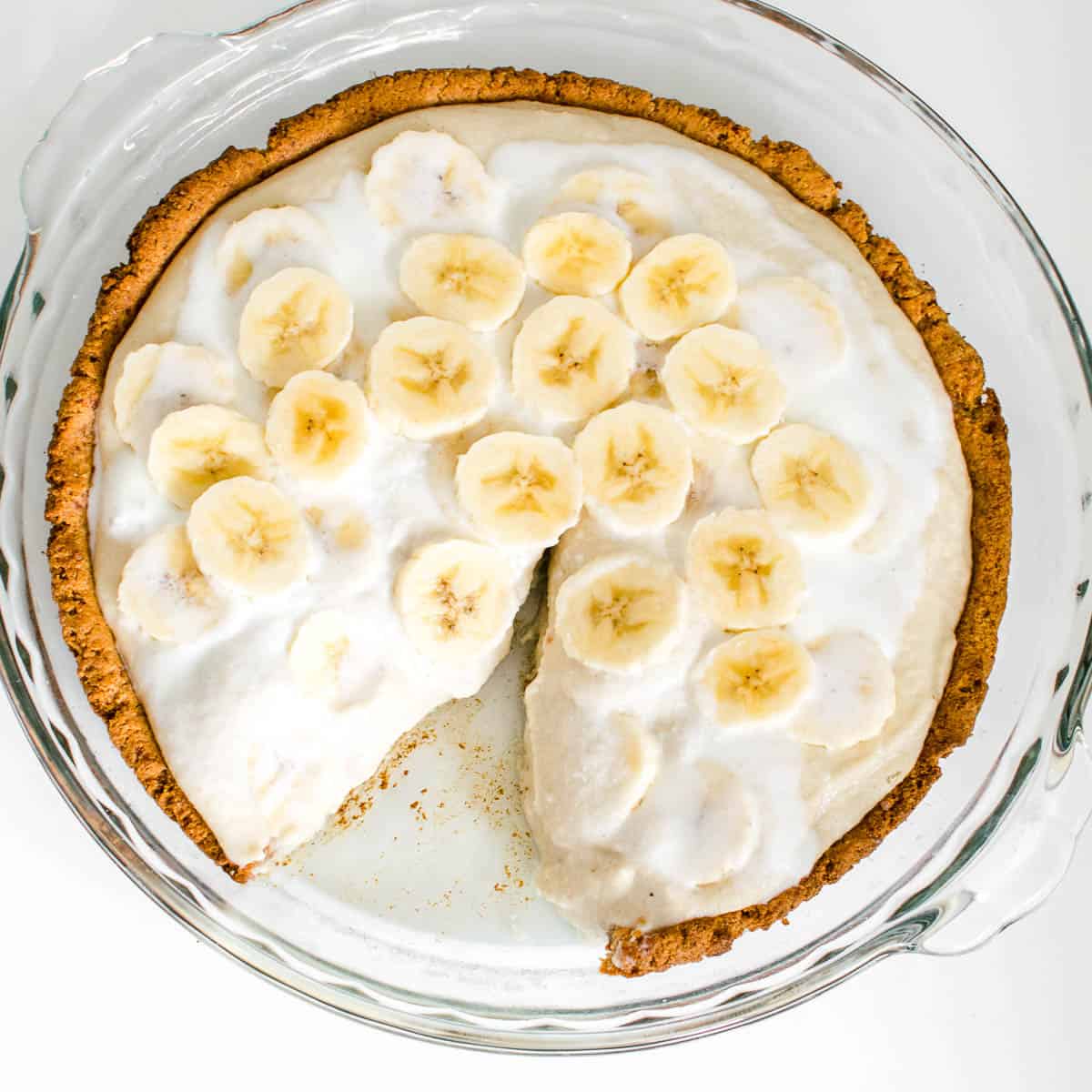 I insist you get started with this recipe ASAP because I guarantee you will love it as much as we did.
Expert tips:
Grease the pan very well or else the crust may stick.
While kneading the dough to a smooth ball which takes about 20 seconds, you must knead it in the prepared greased pan so that the dough is coated with oil. If desired you may grease the baking again with the cooking spray so as to avoid any sticky after baking. Then, after shaping it, make sure to dab the extra oil form the dough with the help of a tissue.
After the crust is baked but before it cools down, you may dab its top again gently to remove the extra oil. However, that oil is from the dates and almonds so it ok to consume.
Cover it with whipped cream only when ready to serve to attain the maximum taste and texture.
Vegan Banana Cream Pie FAQs
How long do they last?
After setting in the refrigerator, these taste best when served immediately. However, wrap it again with a cling wrapper and refrigerate for later use up to 1 week.
Is it healthy?
I have made the crust with healthy ingredients and oil free. The only oil I used to knead the dough is the cooking spray already greased in the pan. Nothing extra. I have cashew nuts to add protein and healthy fats for the filling. Fresh bananas are healthy and used minimum sugar to maintain its natural white color. Overall, it's a healthier dessert that can be enjoyed frequently.
Why is the filling so soft?
The filling is soft but not runny because I have not used cornstarch. I made it with natural whole food ingredients to keep it as healthy as possible with the same taste. I also wanted to make something with minimum cooking.
What can I substitute whipped cream with?
Coconut or almond whipped cream works best here but you may serve it with vanilla ice cream as the topping also. However, it will melt if refrigerated for later use. So, serve ice cream over sliced bananas immediately. Refrigerate the leftovers without ice cream though.
How does the crust taste like?
Its crispy and sweet with nutty flavor. It has good texture and does not become too soggy. However, it will still have a soft and chewy inside because of the dates.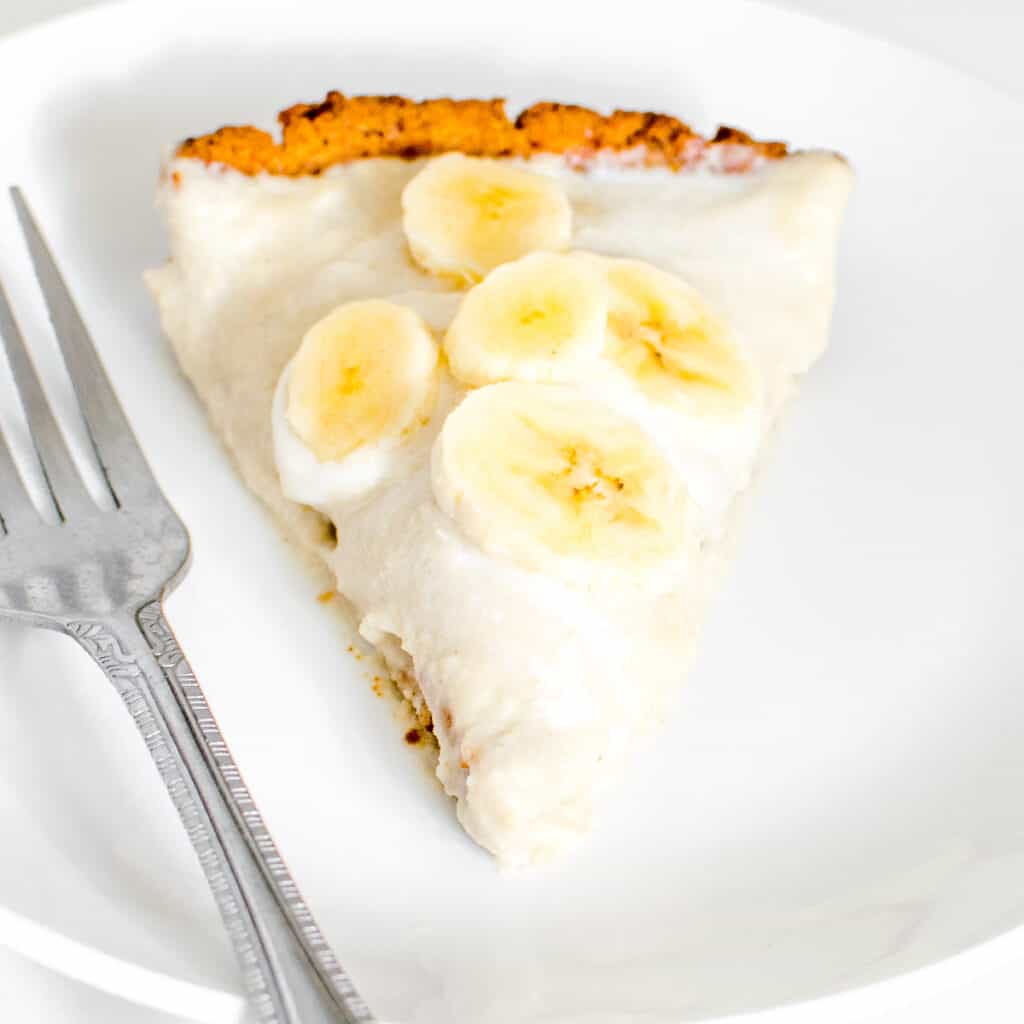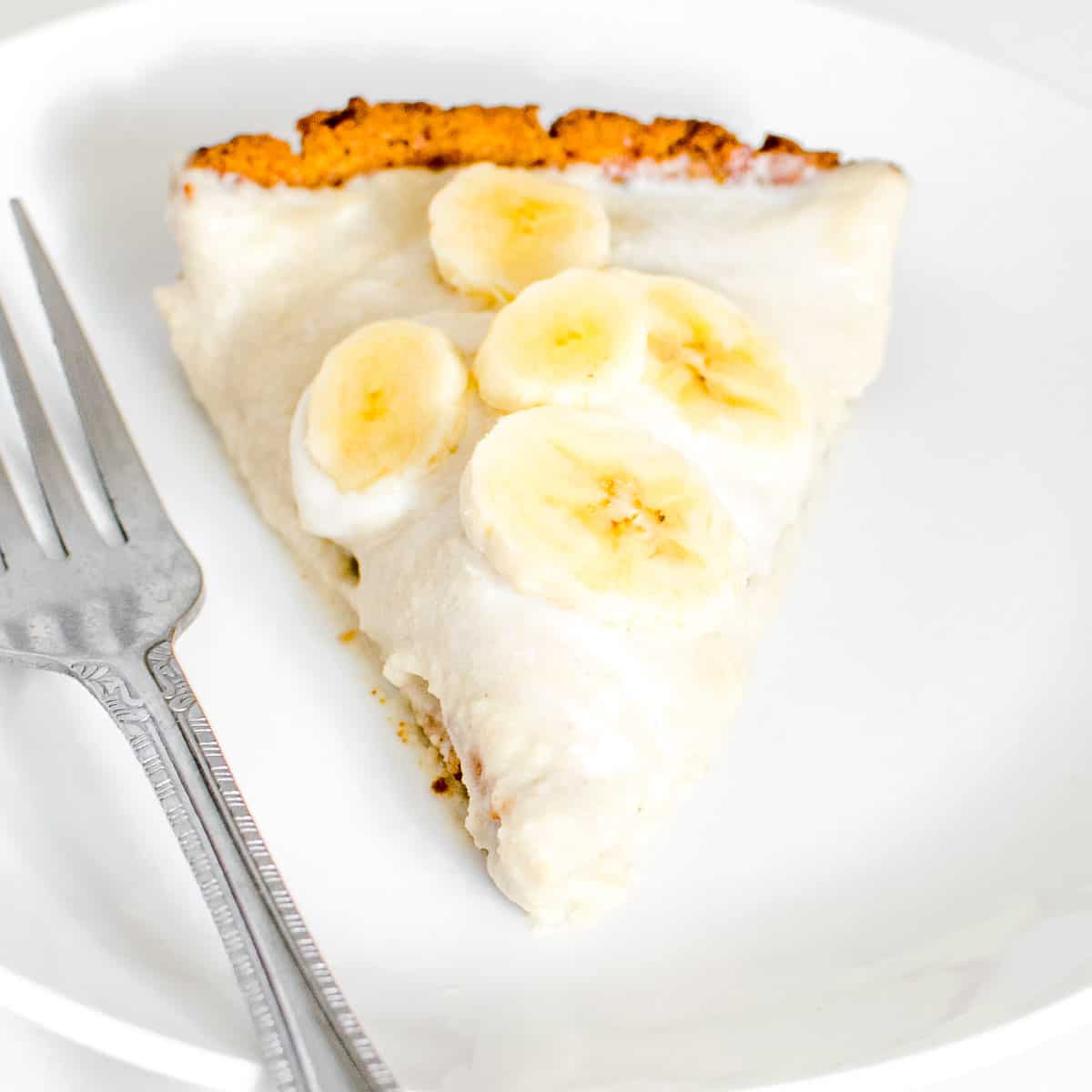 Did you make it?
Please leave a 5-star rating if you get a chance to make this recipe. I would appreciate your feedback in the comments as well because it helps me improvise and also gives me pleasure to see that you enjoyed my recipe.
Tag @kiipfit on Instagram with your remakes and follow me on Facebook.
Check out my cookbook for more healthy everyday vegan recipes.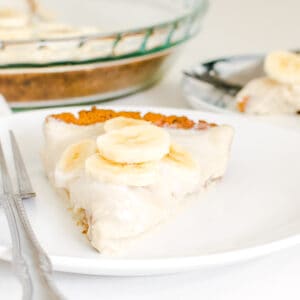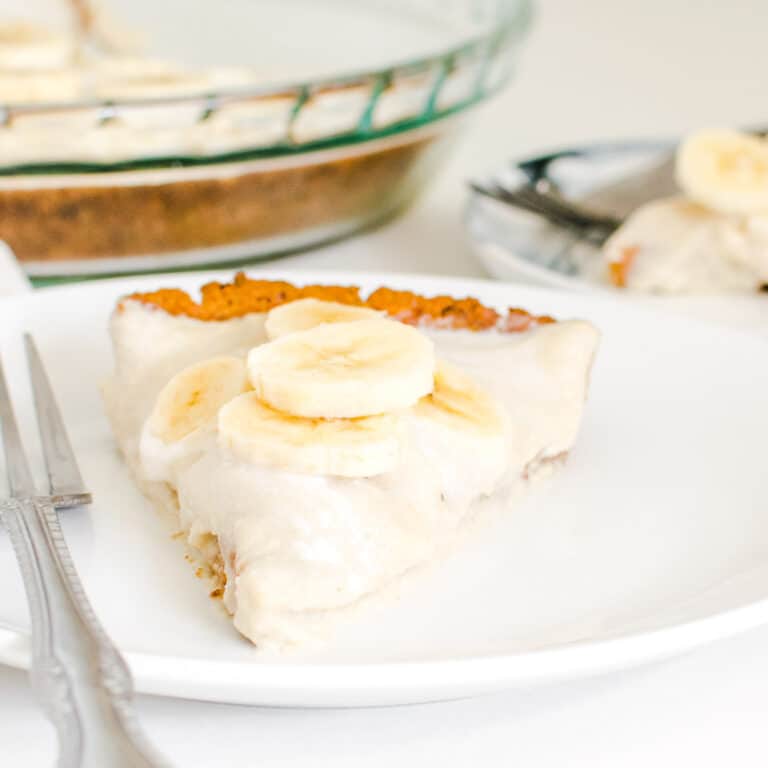 Print Recipe
Vegan Banana Cream Pie
This Vegan Banana Cream Pie features sweet creamy filling topped with fresh sliced bananas and crispy crust. It's an easy dessert recipe with cooling summer flavors.
Ingredients
for the filling
1

cup

raw cashew nuts

(soaked in hot water and drained)

1/2

cup

unsweetened dairy free milk

2

tbsp

granulated sugar

1

large

ripe banana

1

tsp

vanilla extract
Instructions
Preheat oven at 350-degree Fahrenheit and grease a baking pie pan very nicely. If you plan to put the parchment paper then grease your baking pie pan then place the parchment paper (sized properly) and then grease the parchment again lightly. In a food processor, combine all the piecrust ingredients (except milk) and grind it is powdered. Then, stop and add 2 tbsp dairy free milk to it and grind until it forms a dough and sticks to each other.

Take it out on the prepared pie pan and knead it gently for 20 seconds into a smooth dough so that it coats with the sprayed oil. (do not over do this step). If you feel your baking pan has dried up after this process then grease it again with the cooking spray so that the crust does not stick to it after baking.

Then, press it with hands shaping it as per the pie pan. Dab the extra oil from its top gently with a kitchen tissue paper. Bake it in the middle rack of the oven for 20 minutes. Once done, take it out and let it cool at room temperature for 15 minutes.

In the meanwhile, combine all the filling ingredients in the blender and blend it smooth. Keep it aside.

Pour this filling on the baked pie and spread it evenly with the flat spatula. Cover the pan with a cling wrapper making sure it does not touch the cream filling at the center. Tighten the cling wrapper on the sides on the pan and refrigerate for at least 3 hours to settle it. You may leave it overnight to settle if desired.

Place 1 banana thinly sliced horizontally on its top in a single layer.

Then, roughly spray the coconut whipped cream and spread it with a spoon evenly in a thin layer over the sliced bananas.

Garnish it again with banana slices and serve. Cover the leftovers with a cling wrapper and refrigerate to be used later.
Notes
Layer the pie when ready to serve especially the whipped cream.
You may substitute whipped cream with vanilla ice cream if desired but serve immediately or else the ice cream will melt. You may top individual with a scoop of ice cream over banana slices so that if nay leftovers you may refrigerate without the ice cream.
you may roughly spray the whipped cream directly on the pie or start with 2 tbsp. and go up to maximum 1/4 cup of whipped cream. It should be a thin layer or else it will over power other flavors.
The filling in this recipe is not too firm and not runny as well. Its soft and can be spooned easily.
This recipe serves 8 slices and the serving size is 1 slice per person.
Cover the leftovers with cling wrapper again and refrigerate to be used later upto 1 week. 
Nutrition
Calories:
274
kcal
|
Carbohydrates:
42
g
|
Protein:
6
g
|
Fat:
11
g
|
Saturated Fat:
1
g
|
Sodium:
74
mg
|
Potassium:
196
mg
|
Fiber:
2
g
|
Sugar:
9
g
|
Vitamin A:
30
IU
|
Vitamin C:
4
mg
|
Calcium:
18
mg
|
Iron:
1
mg