This oil free vegan Pistachio Cake Recipe is soft, fluffy and melt in mouth. It's a delightful treat for all year round and is made with very simple ingredients. It is made from scratch and garnished beautifully.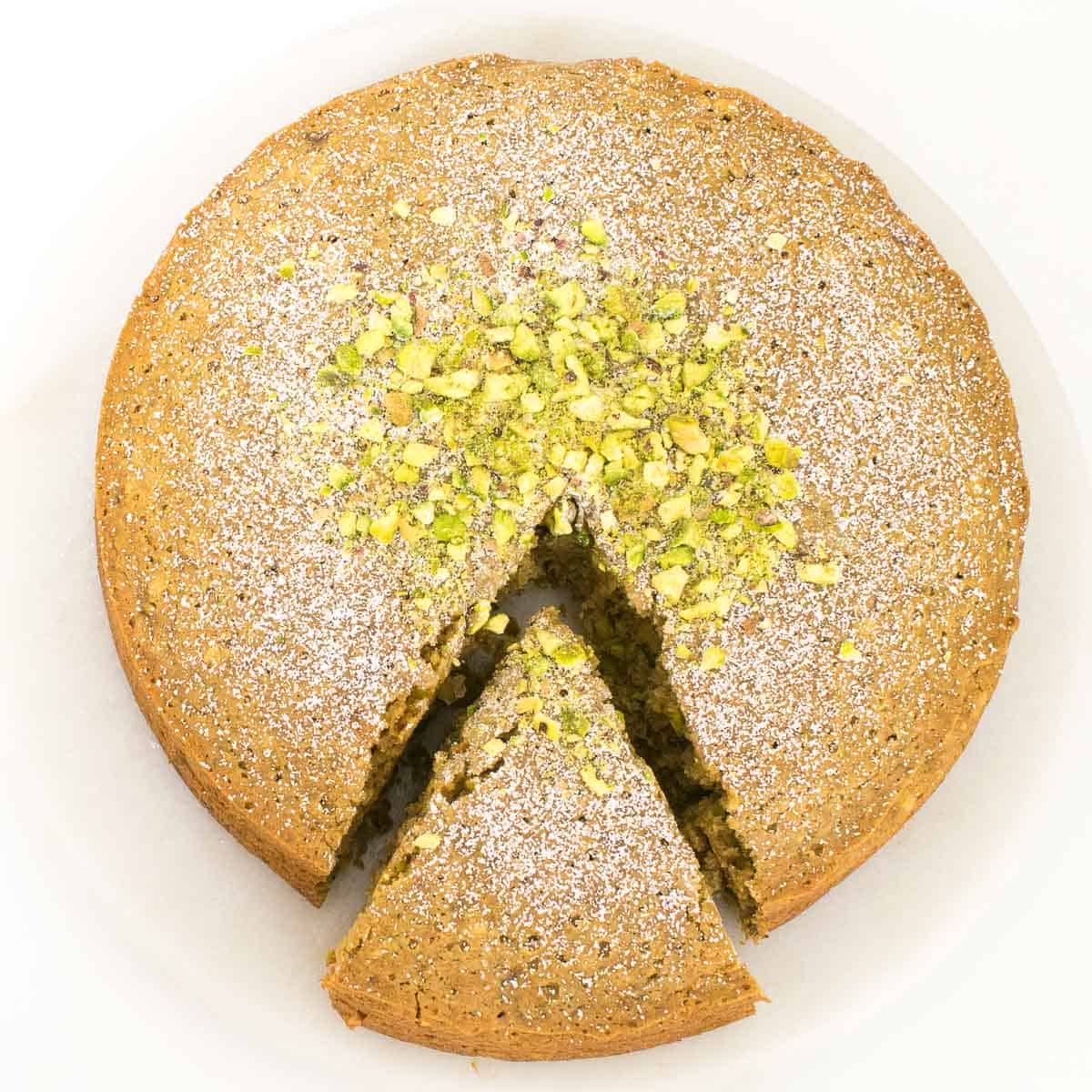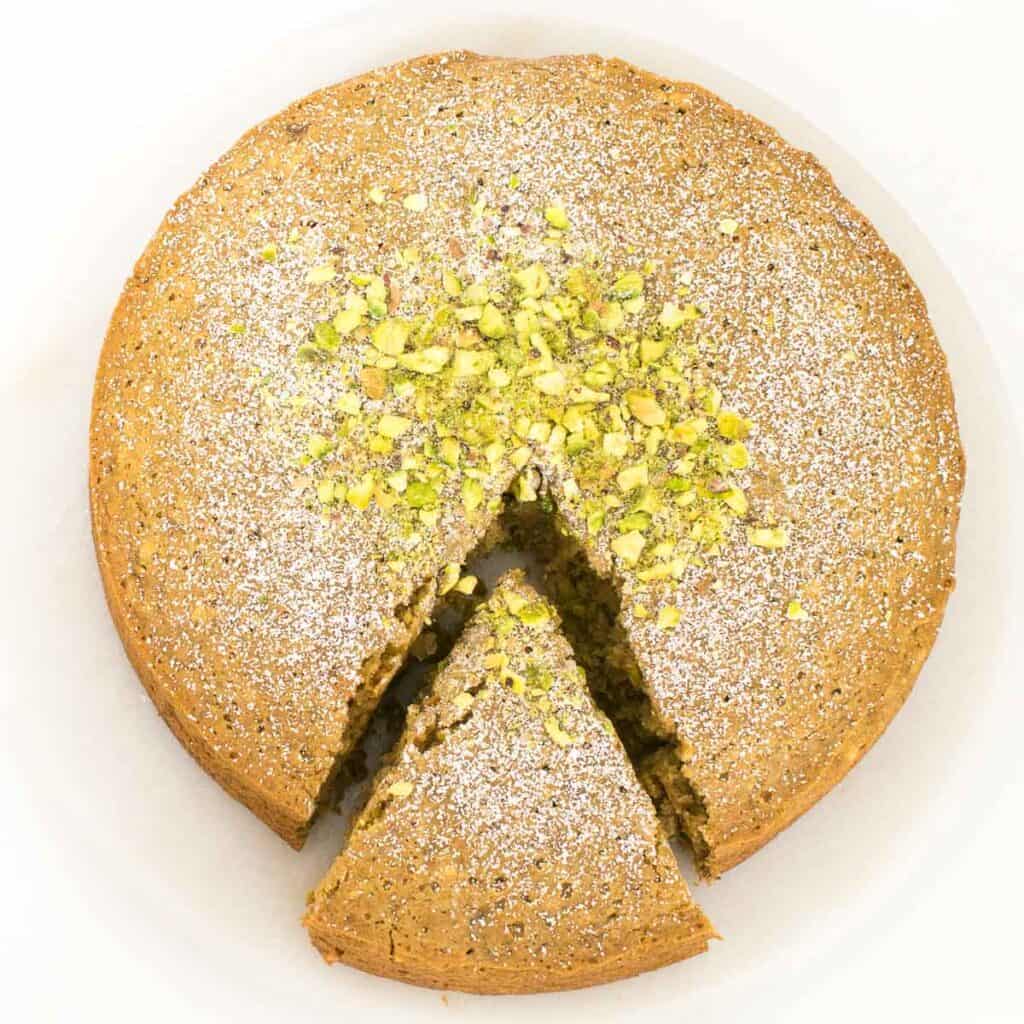 Diwali which is an Indian festival is coming up. Traditionally, we use a lot of dry fruits are used in cooking during this time. Pistachio is something that is most commonly used because it brings out a wonderful color and enhances the presentation of any dish.
Therefore, I decided to bake this cake from scratch by using this ingredient that would make all age groups happy. My family loves it and I have already made this pistachio cake 3 times.
I love baking healthy and so I baked this vegan pear cake from scratch too.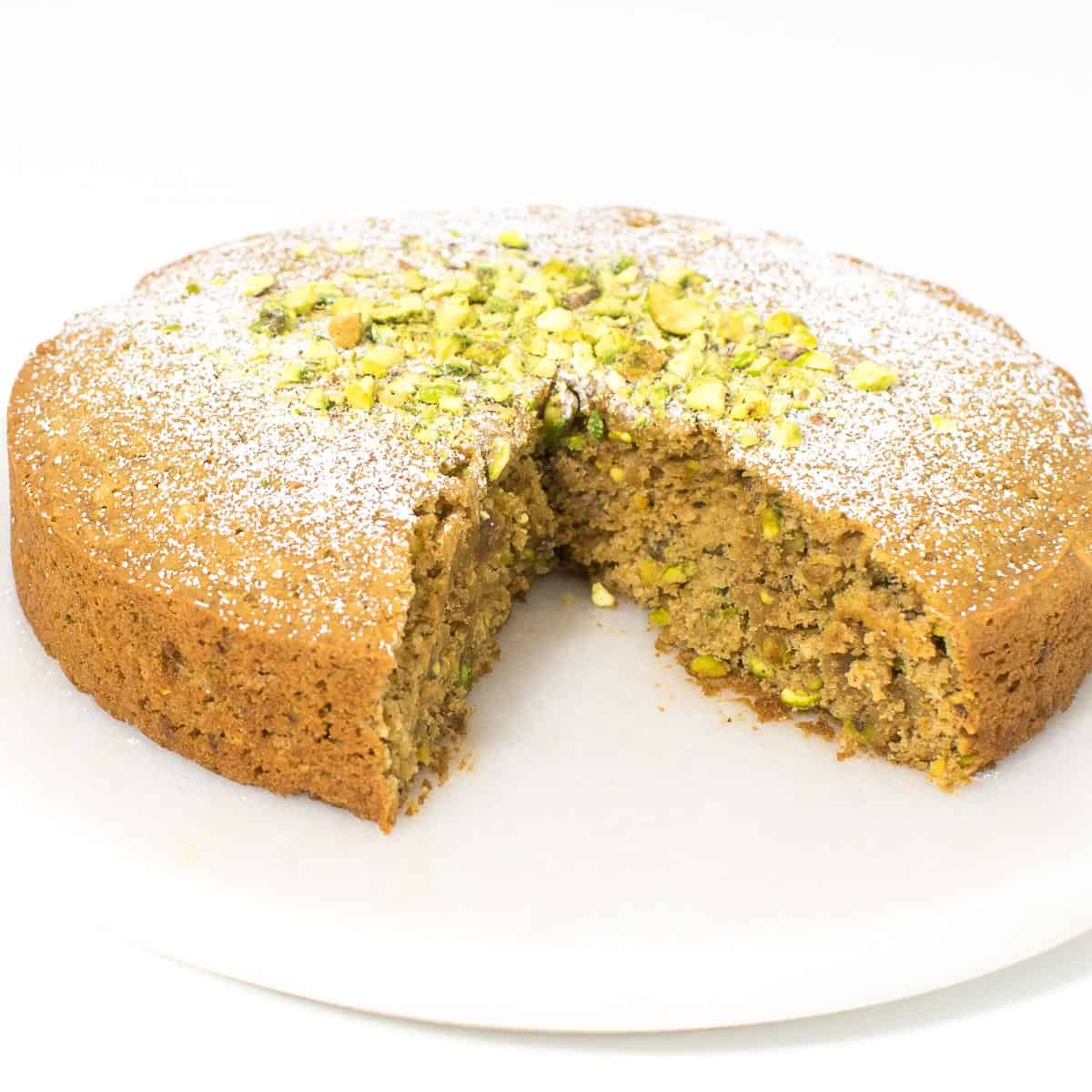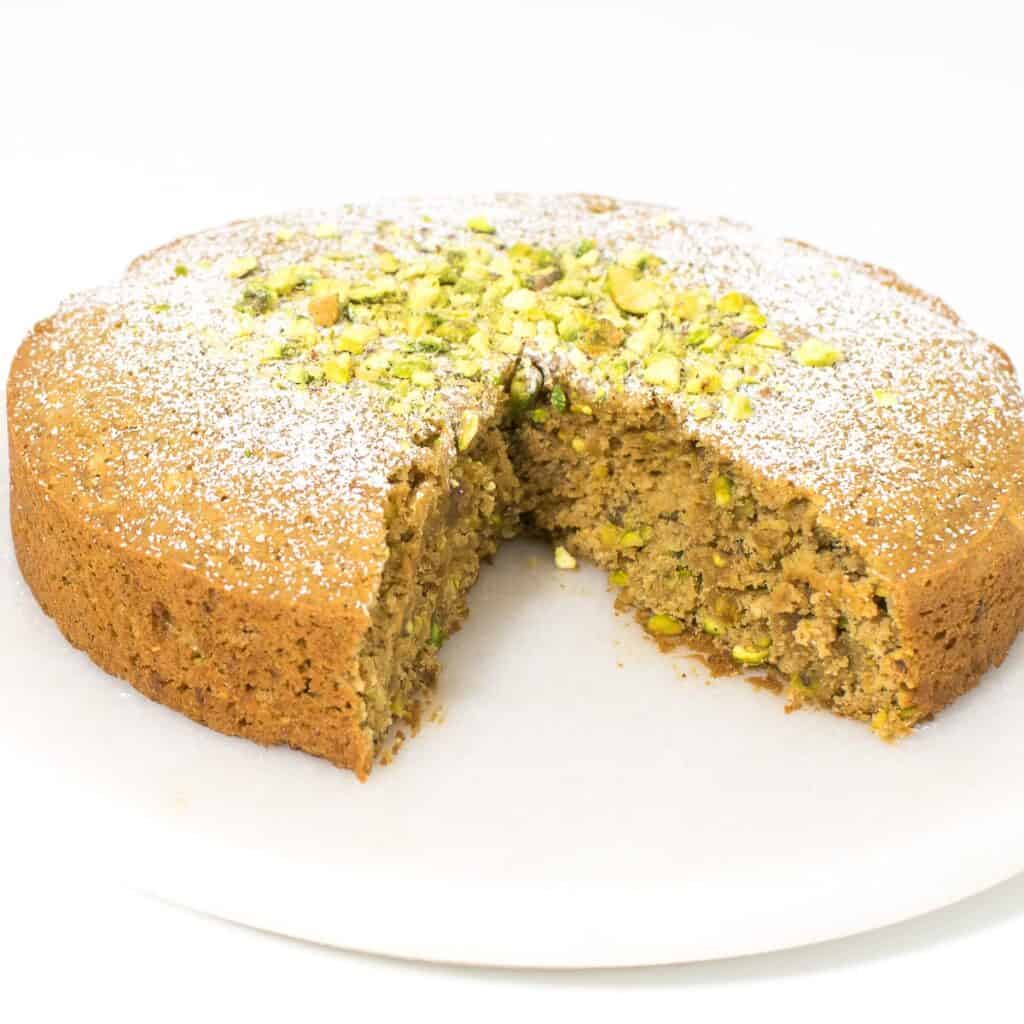 Now, its your turn to bake it so here I am sharing this recipe in details with you.
Ingredients you will need
Pistachio
Whole wheat flour
Brown sugar
Cardamom powder
Baking powder
Baking soda
Salt
Dairy free milk
Vanilla extract
Vinegar
I have used these easily available ingredients in this recipe which you may buy from any local grocery store. However, I have provided links to few of them here for your convenience.
If you plan to buy from these affiliate links then I get a small commission which in turn encourages me to bring in more delicious recipes for you all.
Ingredients notes:
Pistachio – It is the star of my recipe. It is the member of a cashew family and is commonly used in Indian desserts. Its high in potassium and helps in cardiovascular health. It is loaded with vitamins and minerals and helps blood sugar and blood pressure in check. It is also a great source of protein.
Whole wheat flour – it is high in fiber as compared to the processed white flour. It is healthier and has many vitamins and other nutrients restored in it.
Cardamom powder – this gives a nice sweet tinge to this cake recipe. It flavors this vegan cake perfectly and balances pistachios very well.
So, by now, you must have realized that I have used extremely simple ingredients in this recipe of pistachio cake.
How to make Pistachio Cake recipe
Firstly, I crushed pistachios in the food processor.
Secondly, I combined all the dry ingredients in a mixing bowl. Then, I mixed it until there were no lumps.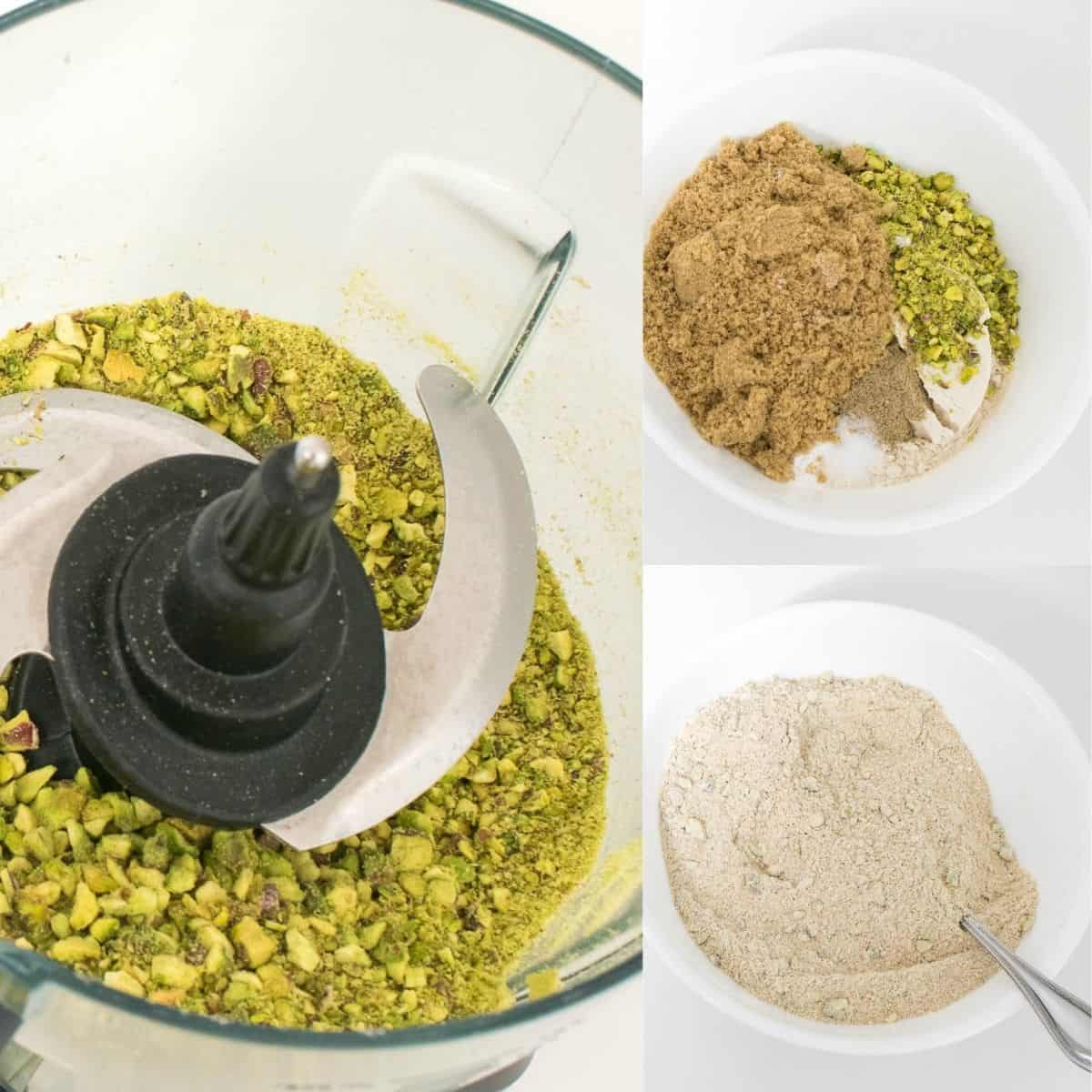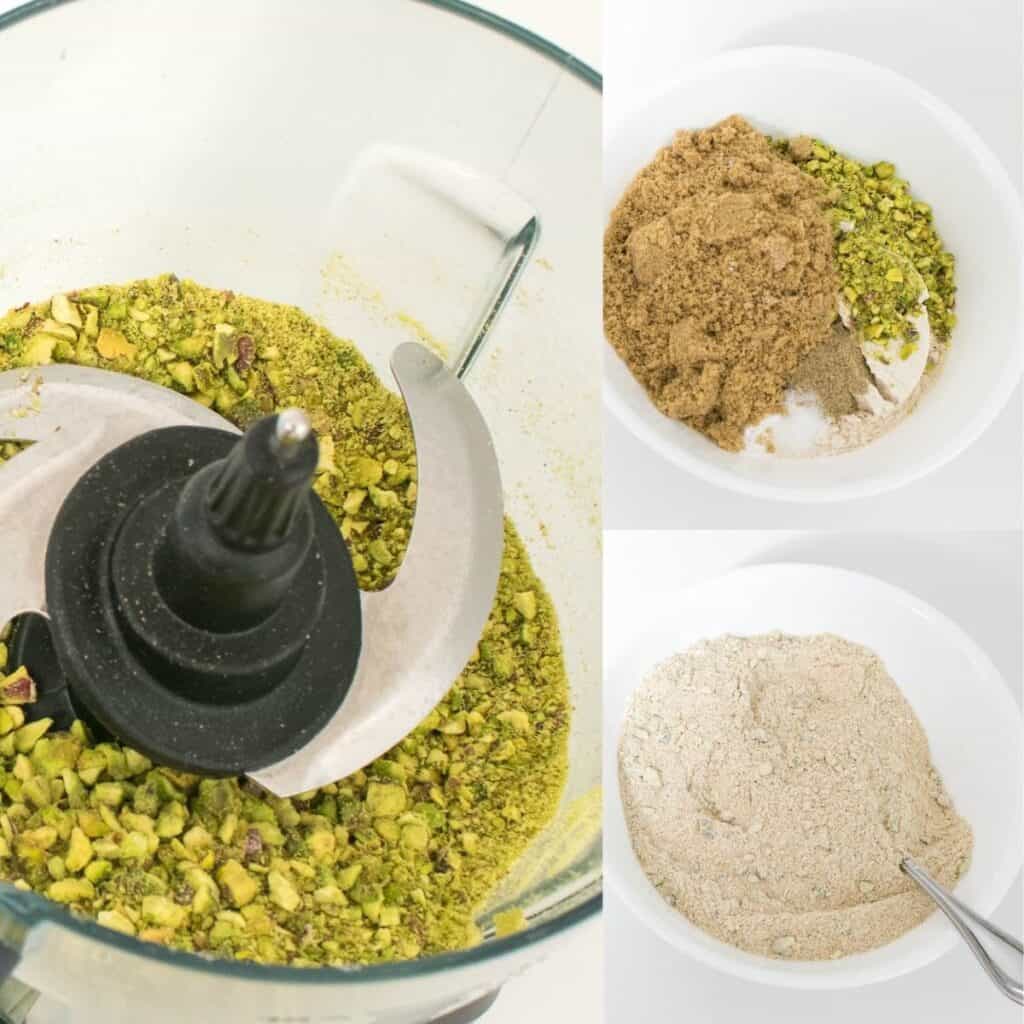 Next, I combined all the wet ingredients in another bowl.
Thereafter, I folded in wet ingredients into the dry ingredients and whipped it into a smooth batter.
Afterwards, I poured the batter in the prepared cake pan and baked it in the pre-heated oven for 30 minutes or until the tester came out clean.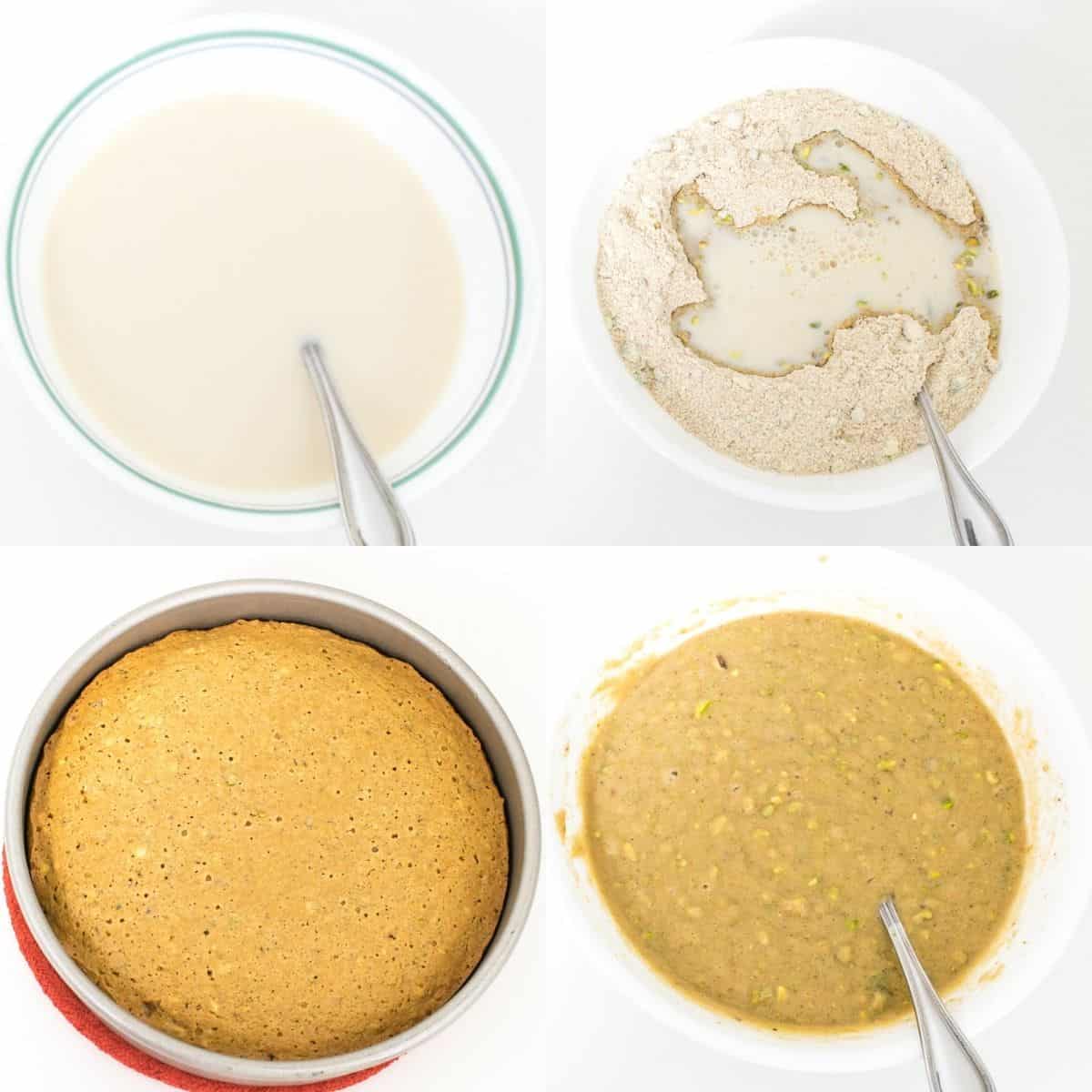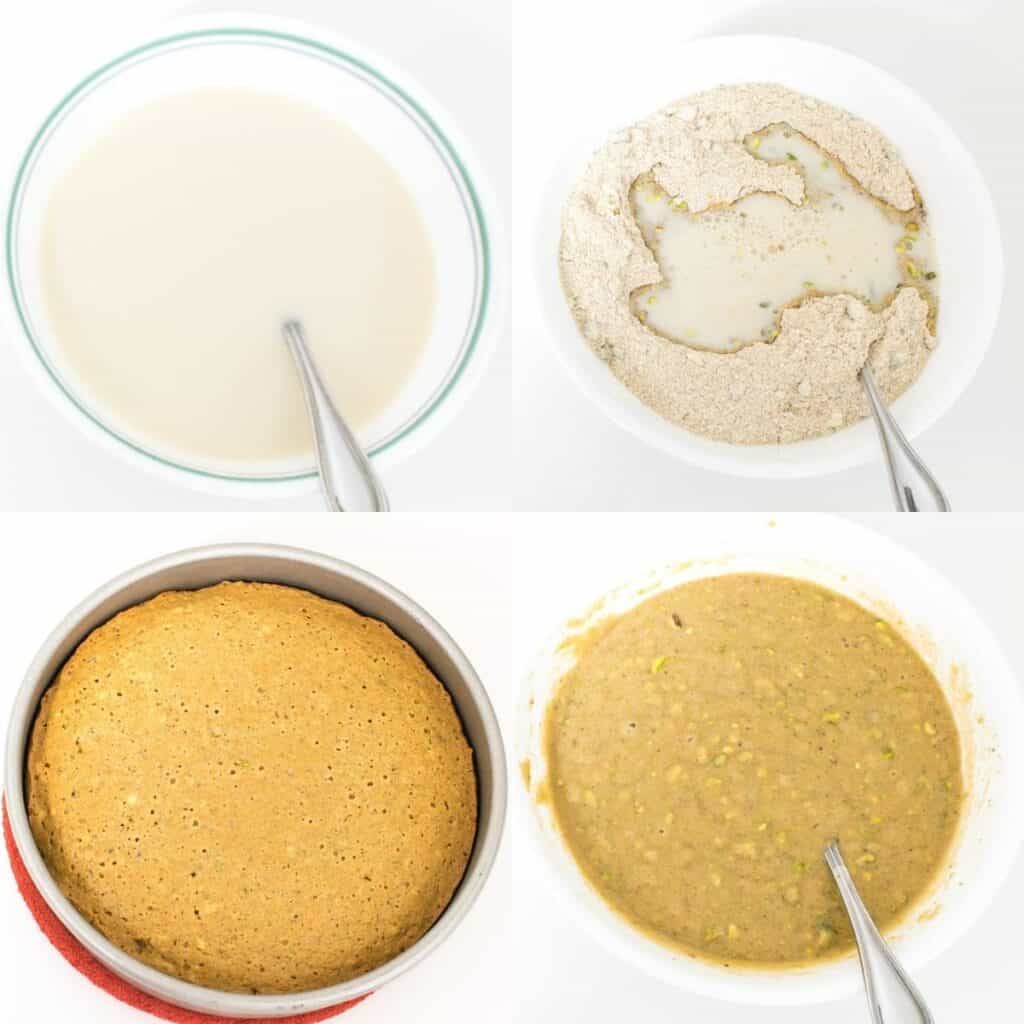 Then, I turned of the oven and took it out. Subsequently, I placed the cake pan on a flat surface and let it cool down a bit for sometime until the cake starts to leave the sides.
Lastly, I inverted the cake pan on a flat surface.
Later, I garnished it with powdered sugar and some chopped pistachios. Now, I sliced the cake and served.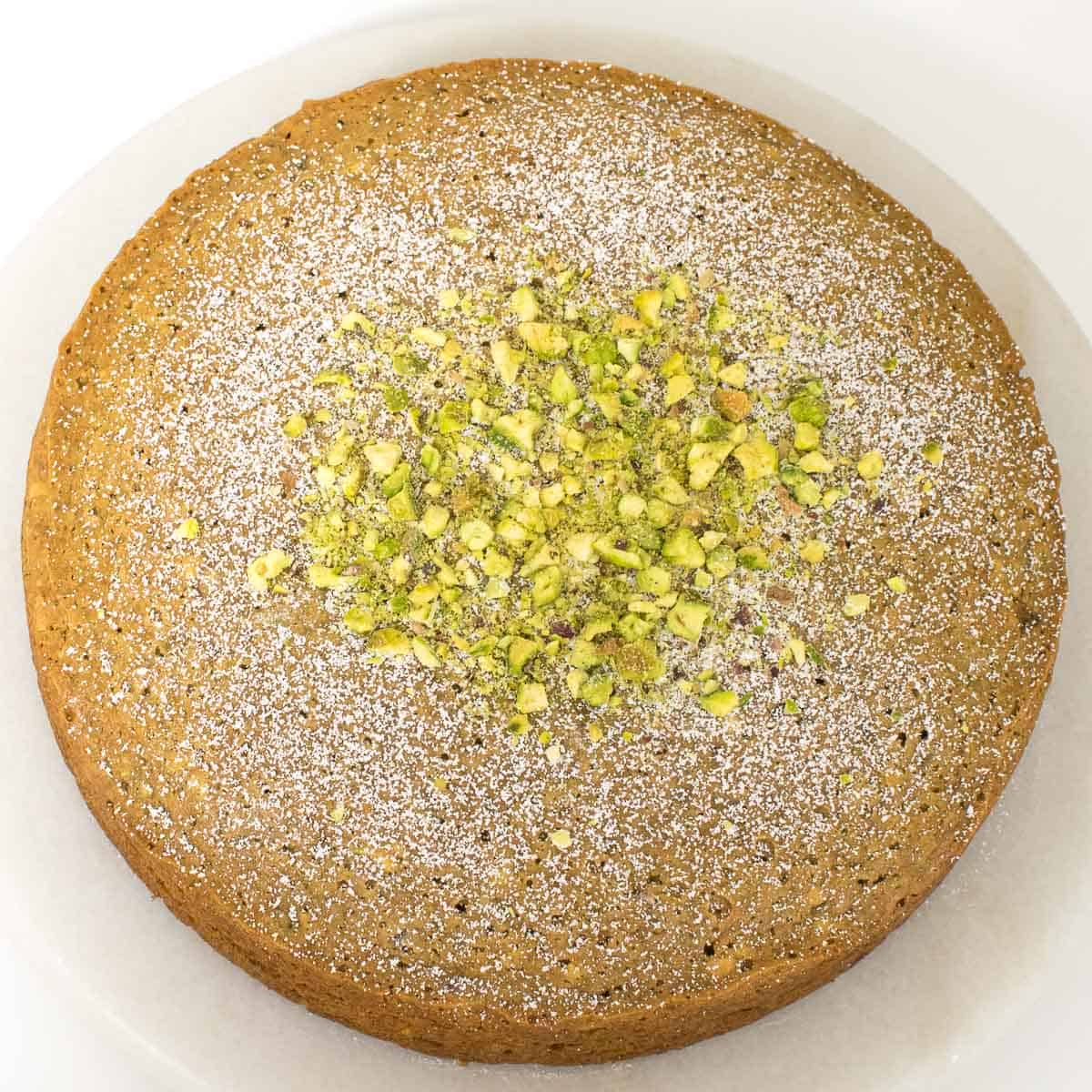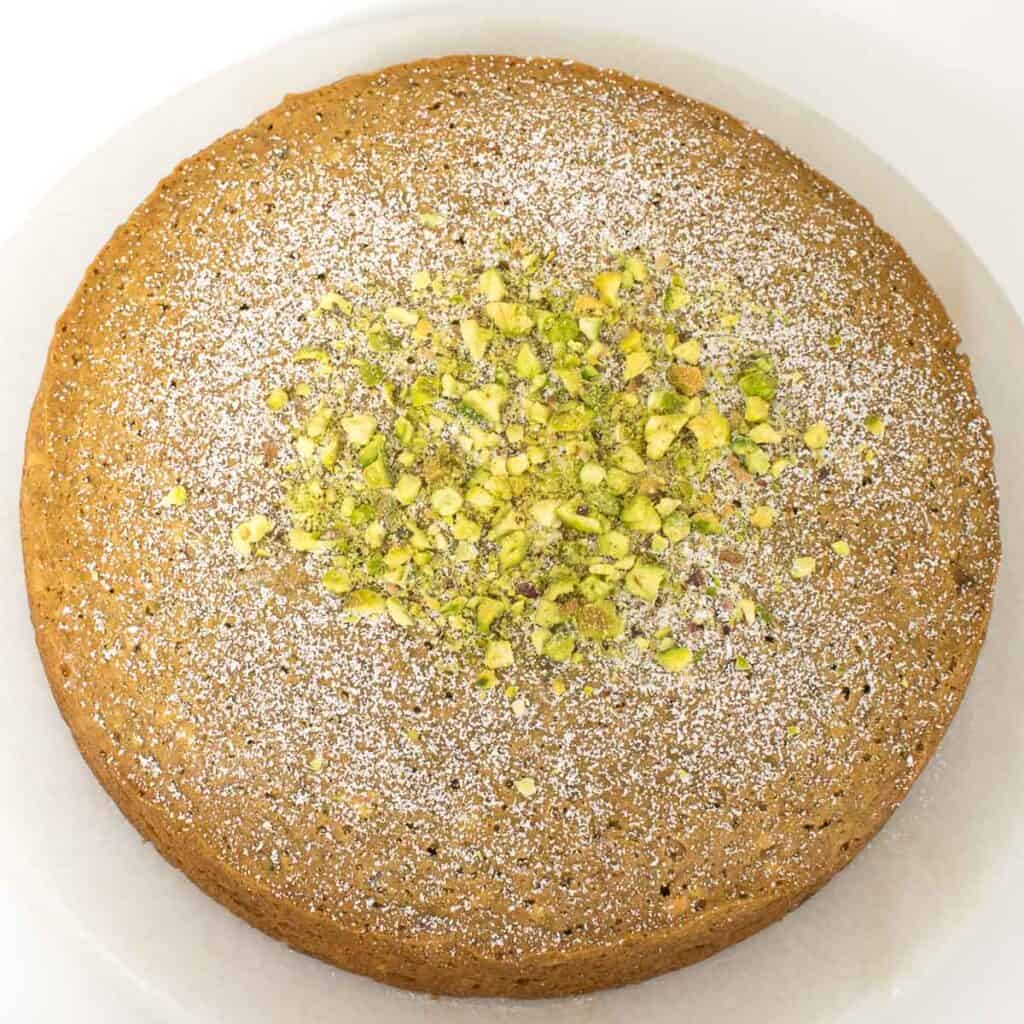 We all enjoyed it heartily. Infact my kids ate half of it even before I got a chance to garnish. So therefore, you may enjoy this pista cake (Indian name) as is or garnish it to serve to your guests.
I am sure your family and friends will enjoy this immensely. Moreover, you can bake it and wrap it as a Diwali gift for your friends and relatives.
Expert tips:
It is important to note that while crushing the pistachios it should not be in powdered form, instead it should look like finely chopped.
While measuring the whole wheat flour, dip the measuring cup directly into its container and then cut the extra at its top with your finger or a knife.
When you measure brown sugar measure it unpacked.
Basically, if you have gone through the steps, you may have noticed that it's the easiest cake to bake. Moreover, it is very easy and simple to handle whole wheat flour for baking because it binds well and rises well too.
Pistachio Cake Recipe FAQs
How long does it last?
We personally like it fresh out of the oven and warm. The leftovers can be refrigerated in an air tight container for about a week.
Is it healthy?
It is a dessert. Even though I have used whole wheat flour which is high in fiber but it has a good amount of brown sugar. So, therefore, the ingredients in it are definitely healthier from nutrition point of view. However, if you are on a weight loss plan then I would recommend enjoying it occasionally only on your cheat days or for celebrations.
Is it a pound cake?
Yes, it is a pound cake with delectable flavors.
How does pistachio tastes like?
Pistachios are mild sweet but mostly bland. It is softer than other nuts comparatively.
How do I make the pistachio taste stronger in this recipe?
This cake has pistachio bites which is quite prominent. On popular feedback by my friends and family, this cake tastes best as is. However, if you are still looking for a stronger pistachio taste then you may add ¼ tsp almond extract to this cake along with the vanilla extract.
I think that if you check your pantry you should be able to pull out most of the ingredients. So, why wait?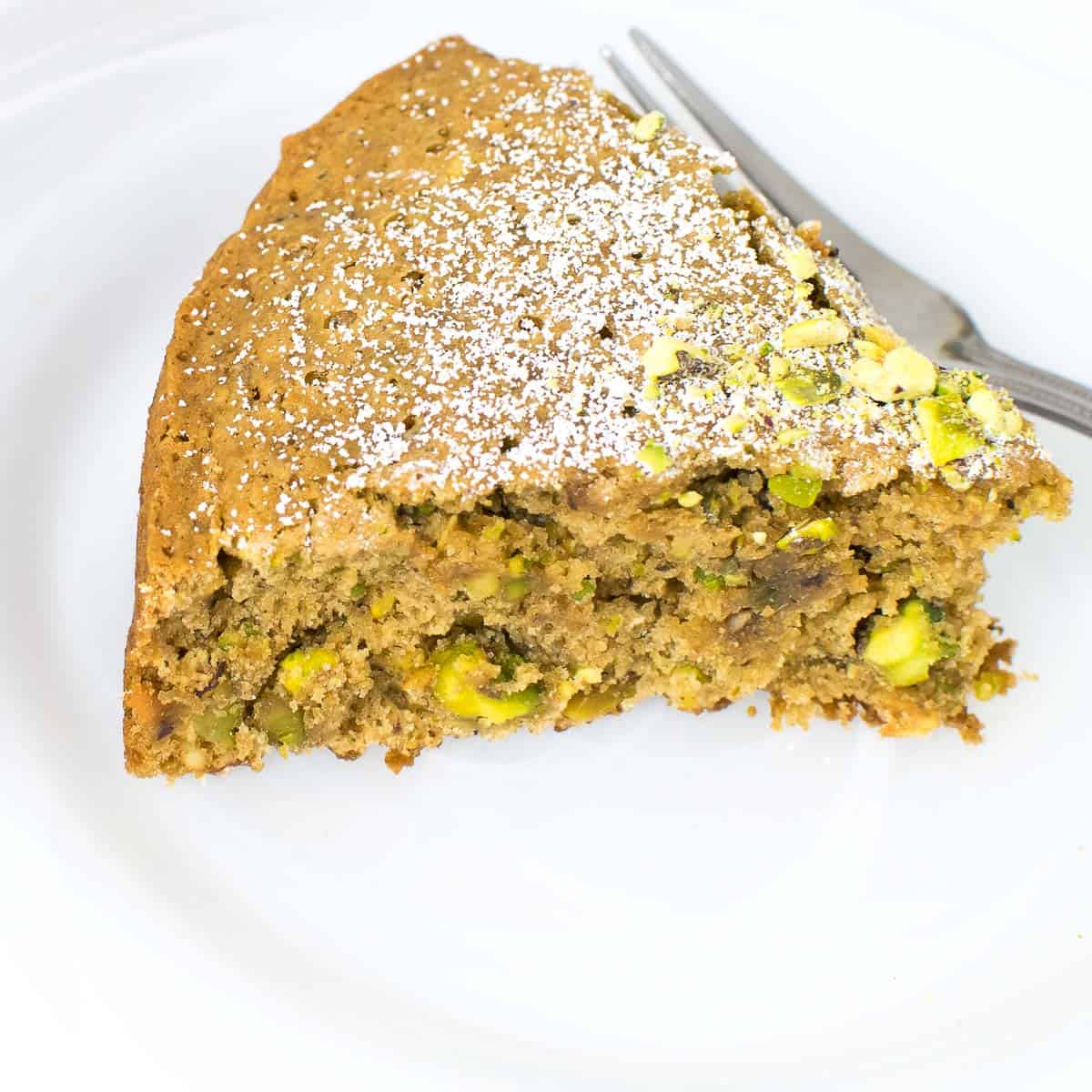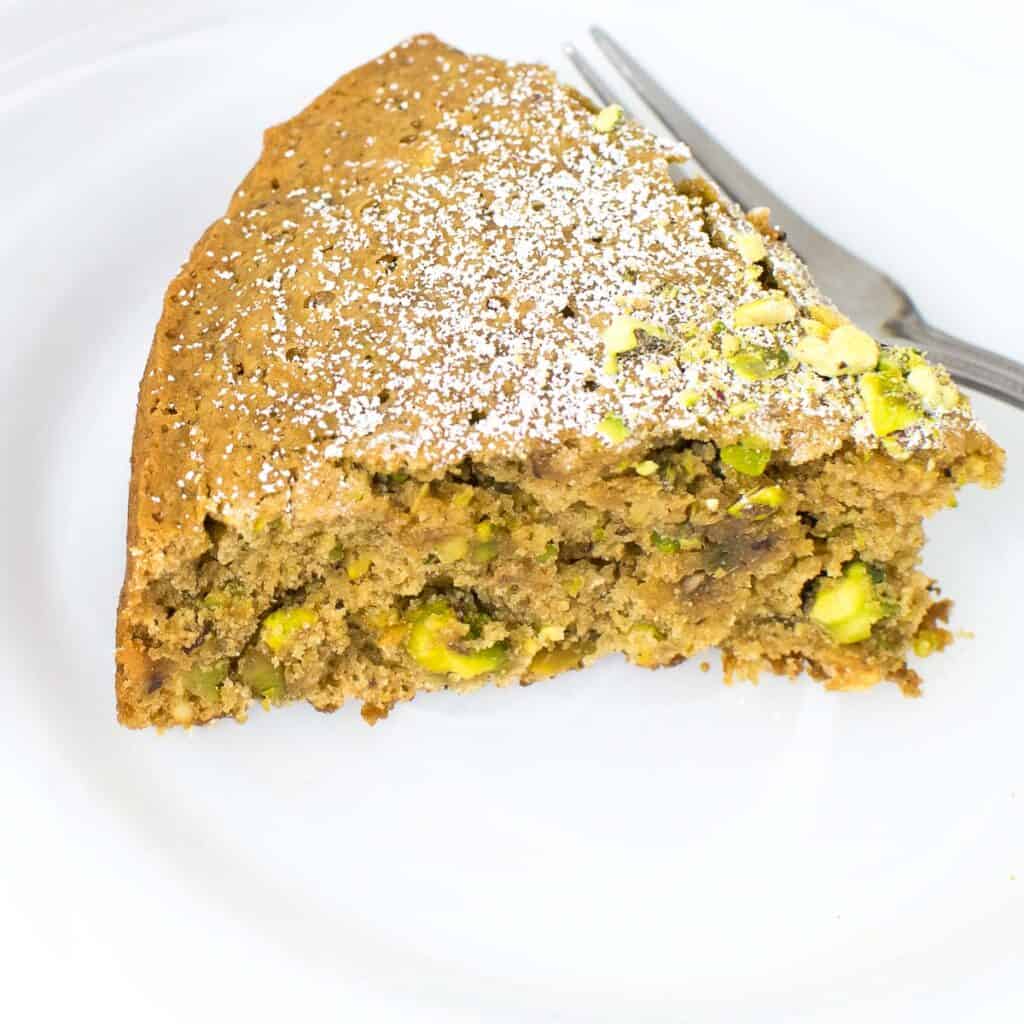 Therefore, I insist you to get started with this pistachio sponge cake so you also enjoy this dessert with your loved ones.
You may also like:
Vegan Lemon Cake
Pumpkin Cake recipe with Quinoa Flour
Oil Free Cherry Cake
Vegan Strawberry Cake
Vegan Carrot Cake with Oat flour
Easy Vegan Chocolate Cake
Pan Seared Apple Almond Cake
Did you make it?
If you get a chance to make this recipe then please leave your feedback in the comments below along with the ratings. In addition, you may tag @kiipfit on Instagram with your recipe image because we would love to see what you cooked.
If you desire to explore more of my delicious recipes then you may check out my cookbooks.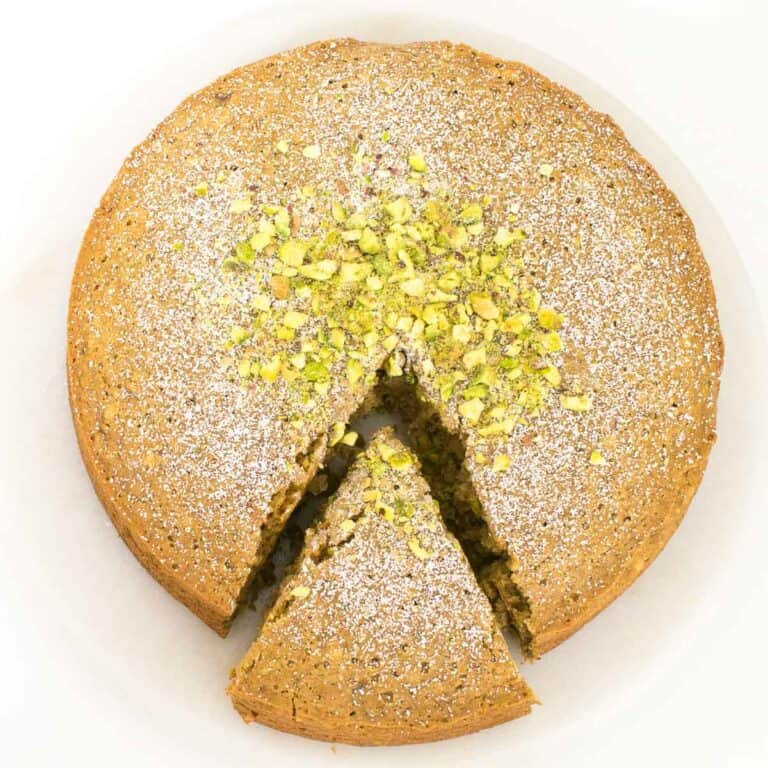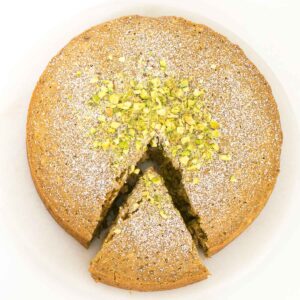 Print Recipe
Pistachio Cake Recipe
This oil free vegan Pistachio Cake Recipe is soft, fluffy and melt in mouth. It's a delightful treat for all year round and is made with very simple ingredients. It is made from scratch and garnished beautifully.
Ingredients
wet ingredients
1

cup

dairy free milk

1

tsp

vanilla extract

1/2

tbsp

white vinegar
Instructions
Preheat oven at 350-degree Fahrenheit. Grease and then place a parchment paper in an 8-inch round cake pan. In the food processor combine the raw pistachio and grind it in a crush mode or pulse it until it has the chopped effect.

In a mixing bowl combine all the dry ingredients including crushed pistachios. Mix it well until there are no lumps.

In another bowl whip up the wet ingredients.

Now, fold in wet ingredients into the dry ingredients and whip up the batter well with a spoon.

Now, pour the batter at the center of the prepared cake pan. Tap it a bit to make sure it is spread evenly and place it in the middle rack of the oven. Bake it for 30 minutes or until the tester comes out clean. Turn it off and take it out of the oven. Place it on a flat surface to cool down a bit so that the cake starts to leave its side.

Invert the cake pan on a flat surface. gently, pull out its parchment paper. You may slice and enjoy it as is. If you want to garnish then in a small strainer/sieve put some powdered sugar and tap it on the cake evenly. Sprinkle some chopped pistachio. Slice and serve.
Notes
Make sure that pistachio is not completely powdered. It should look like finely chopped.
You may grease the pan directly.
If you plan to use the parchment paper, then make sure to cut it exactly in the cake pan shape. Grease the cake first then place the parchment paper in it. This way you avoid that tiny bit of oil as well.
Garnishing is optional.
I have provided the nutritional information without the garnishing. So if you garnish this cake its nutritional value might change a bit.
Nutrition
Calories:
211
kcal
|
Carbohydrates:
33
g
|
Protein:
5
g
|
Fat:
7
g
|
Saturated Fat:
1
g
|
Sodium:
175
mg
|
Potassium:
196
mg
|
Fiber:
2
g
|
Sugar:
28
g
|
Vitamin A:
116
IU
|
Vitamin C:
2
mg
|
Calcium:
96
mg
|
Iron:
1
mg