This oil free Vegan Coconut Cake is moist, soft, fluffy and packed with delicious flavors and perfectly sweetened. It's made with brown rice flour as the sponge base and covered with soft and smooth and creamy coconutty frosting. It's a perfect crowd pleaser.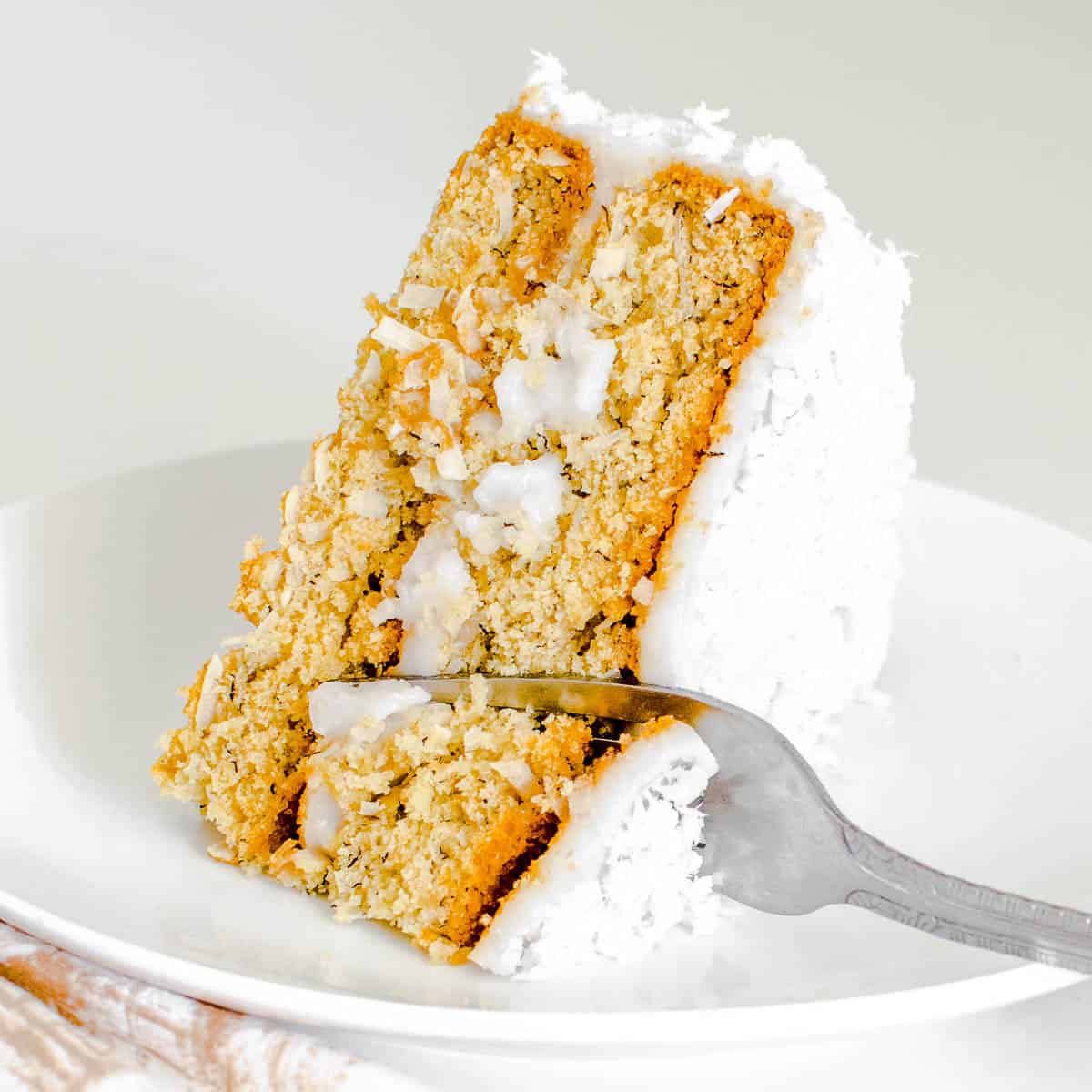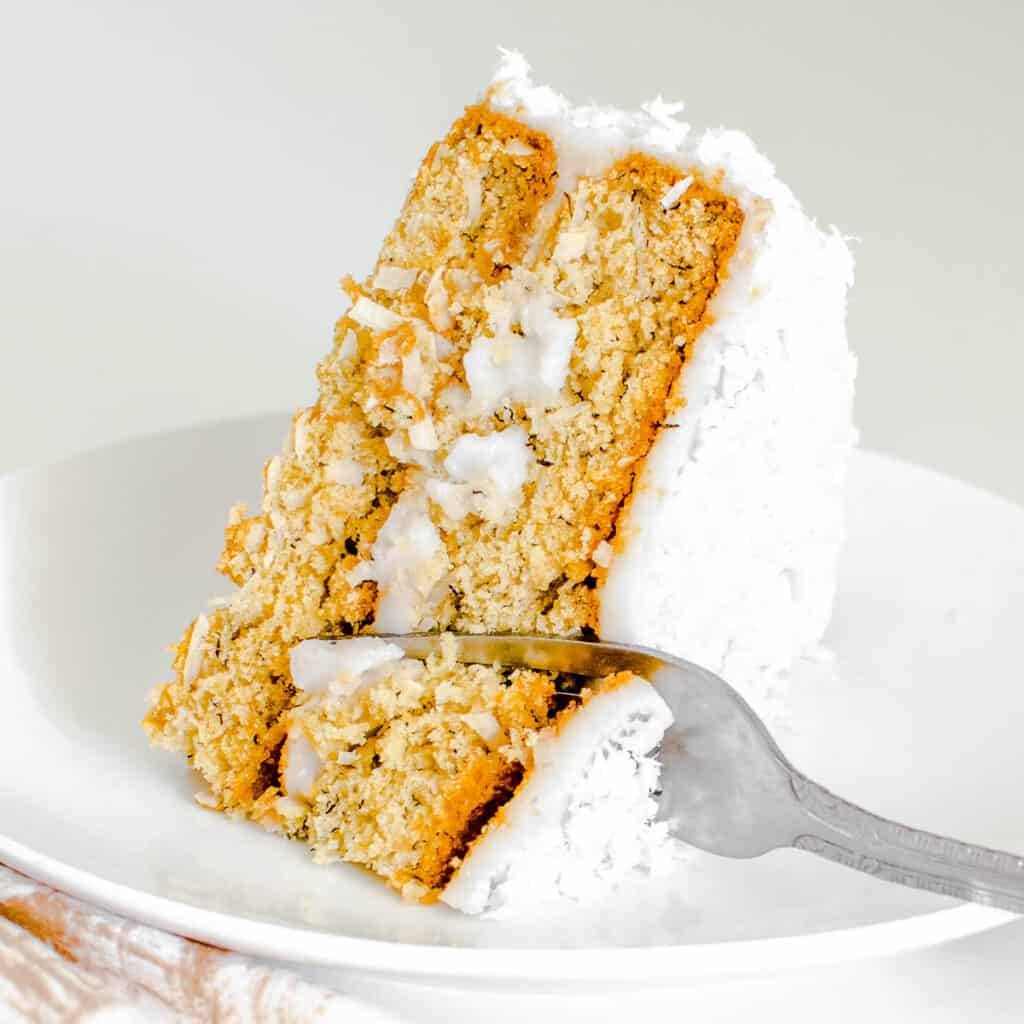 This coconut cake screams summer! Whether its easter, spring or any occasion, it's a beautiful dessert to present. Its gluten free too so as to fit into many other types of diet too.
Even though I have worked with brown rice flour earlier in a savory recipe like vegan dumplings but I tried baking with it for the first time. It was a fun experience. Every time I practiced this dairy free coconut cake, I got super excited with the outcome. Finally, I settled down with this recipe.
My family loved it soooo much that they made a meal of out this dessert.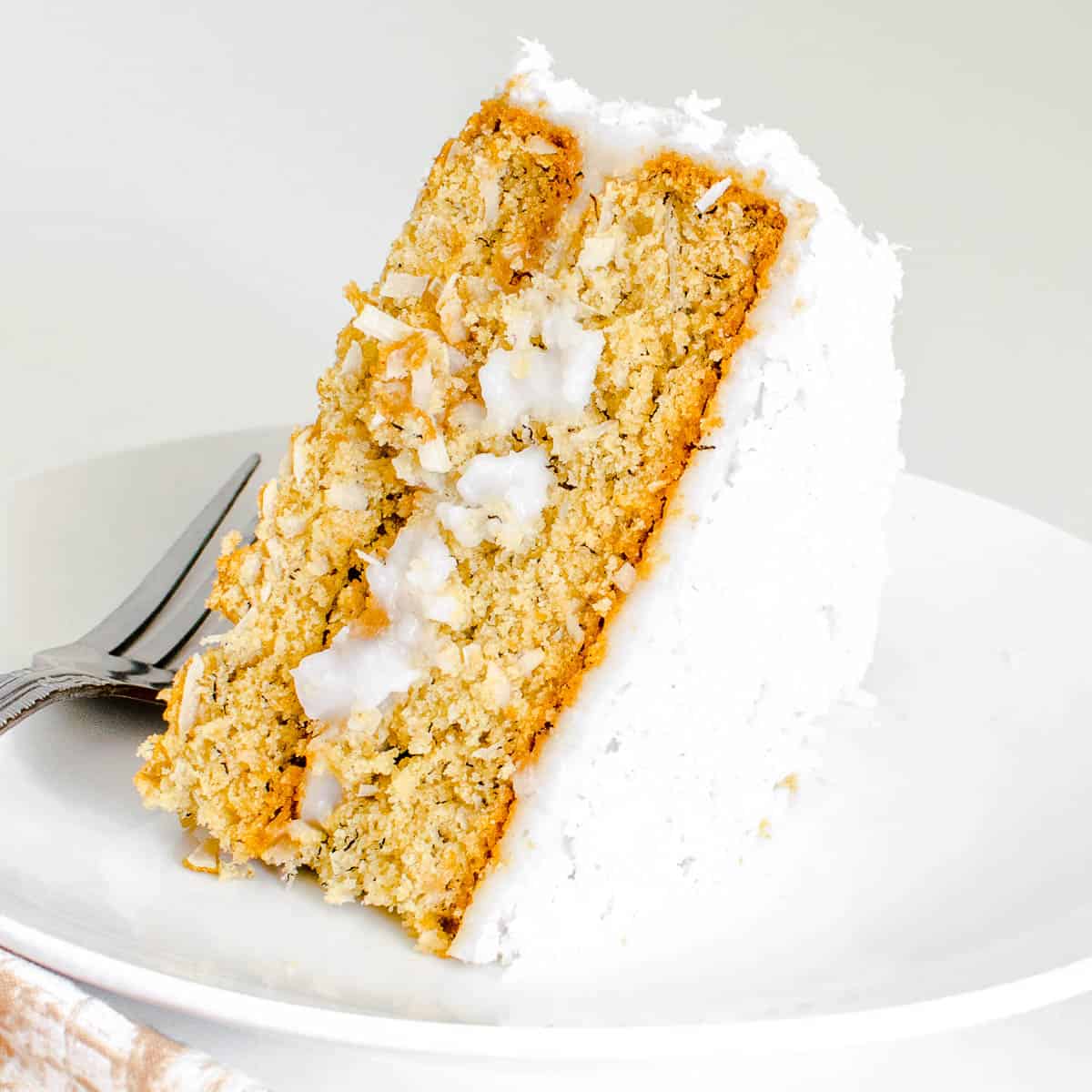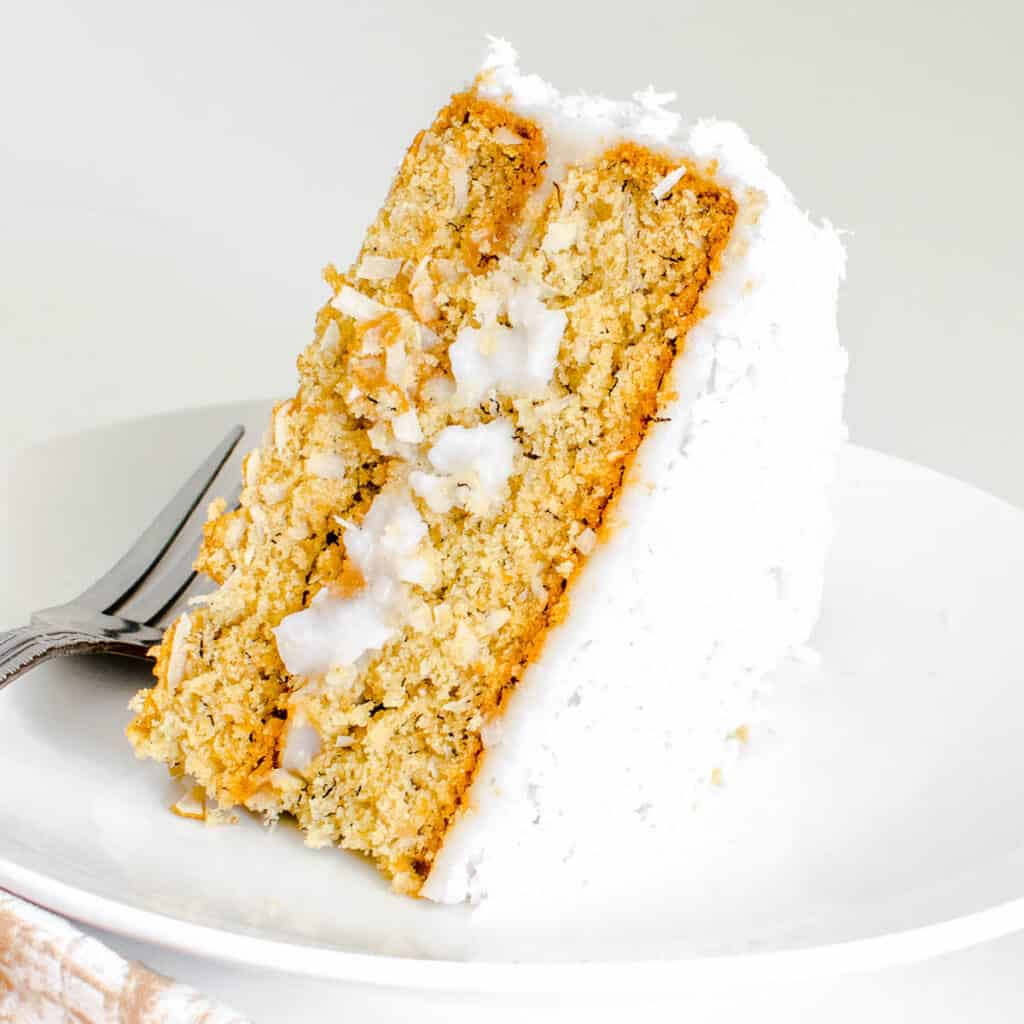 It's a simple two layered cake. However, brown rice flour is very different form the regular flour so it is important follow this recipe exactly as explained.
My other favorite cake recipes that you might like are:
Peanut Butter Cake
Red Velvet Cake
Pistachio Cake
Cherry Cake
Vegan Strawberry Cake
However, this is our recent favorite. So, I am here to share this vegan coconut cake recipe with you all.
Ingredients you will need:
Dry ingredients
Brown rice flour
Coconut flakes
Baking powder
Baking soda
Salt
Wet ingredients
Banana
Coconut cream
Maple syrup
Vanilla extract
Coconut extract
Apple cider vinegar
Frosting
Coconut milk
Coconut cream
Cornstarch
Granulated sugar
Coconut extract
Topping
Frozen shredded coconut
I have used these easily available ingredients which you may buy from any local grocery store. However, I have provided links to few of them here for your convenience.
If you plan to buy from these affiliate links then I get a small commission which in turn encourages me to bring in more delicious recipes for you all.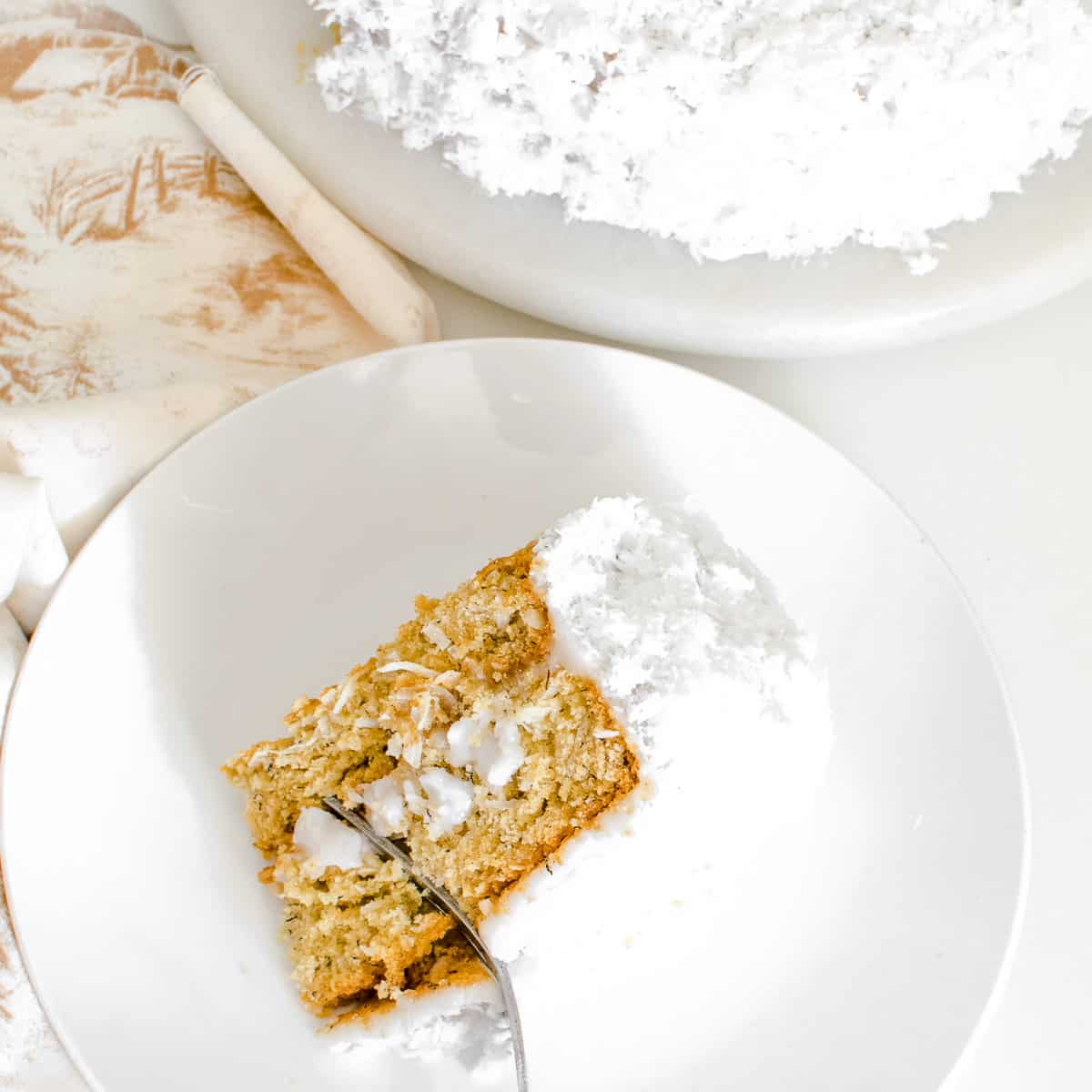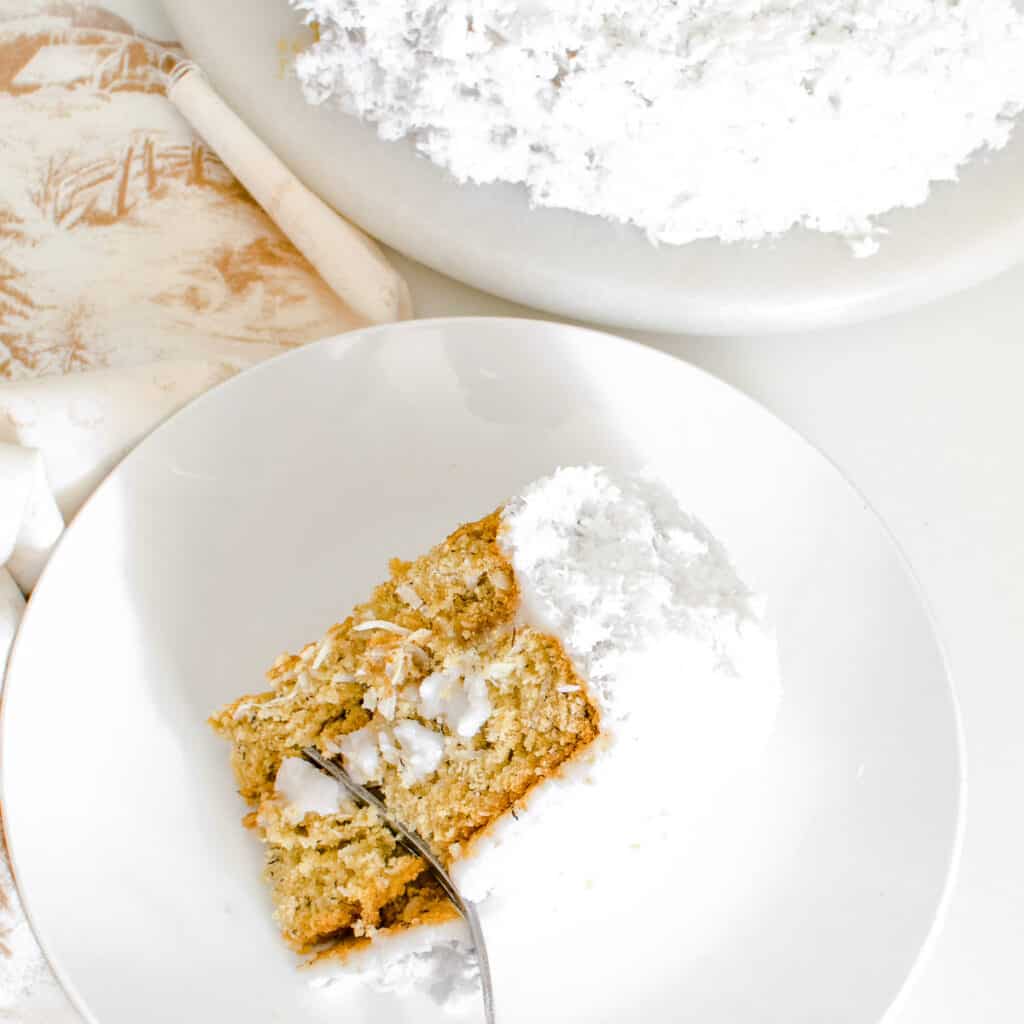 Ingredients notes:
Brown rice flour – it's a gluten free ground brown rice. Its very different from the regular flour and does not absorb too much liquid. Therefore, it is important to stick to the measurements. However, it rises perfectly well and make the cake as soft and fluffy as other flour. It definitely makes this cake a bit crumbly so cooling it down completely is very important here. Brown rice flour offers many health benefits like helps lower blood sugar levels and makes this dessert healthy. It also helps in weight management.
Coconut flakes – I used dried and unsweetened coconut flakes in this recipe. It works better when I added it as a dry ingredient. The dried form works better while baking. However, I have used fresh shredded coconut for the covering of the cake which enhances its taste immensely and balances the sweetness to perfection.
Coconut cream – this adds moisture to this dessert along with a strong coconutty flavor to it. Its an important ingredient here. However, make sure to use only the white cream portion and discard the liquid water in the can. This vegan cake requires almost 1 can of it.
Coconut milk – I like to use lightened unsweetened coconut milk that comes in tetra pack. This way I can lighten the entire recipe and lower the calories as well.
Cornstarch – I used this in a small amount to bind the frosting and bring out the icing texture of it.
Granulated sugar – I used this to maintain the white color of the frosting. You may substitute it with maple syrup but the frosting color might change a bit. However, after covering with the shredded coconut the overall cake would be white.
Banana – I used it to sweeten this recipe naturally and also as an egg substitute. Make sure to use a large ripe banana and not overripe or the very brown one.
After going through the details of the ingredients, now, all you have to do is to go through the steps thoroughly.
Thereafter, I insist you to get started with this eggless coconut cake recipe because I guarantee your family and friends would become your baking fan.
How to make Vegan Coconut Cake
Step 1: how to bake
Firstly, I combined all the dry ingredients in a mixing bowl and mixed it with a spoon. Then, I kept it aside.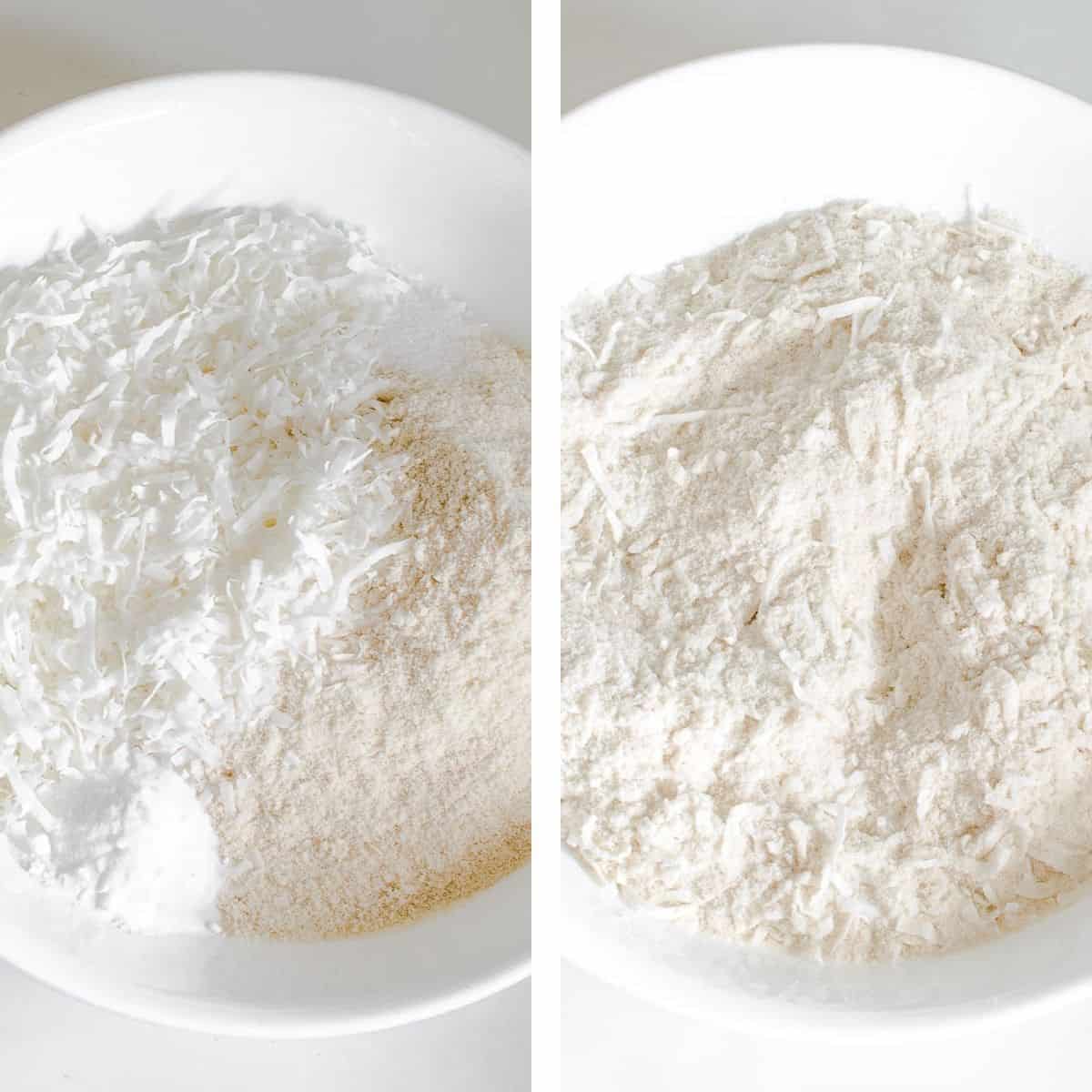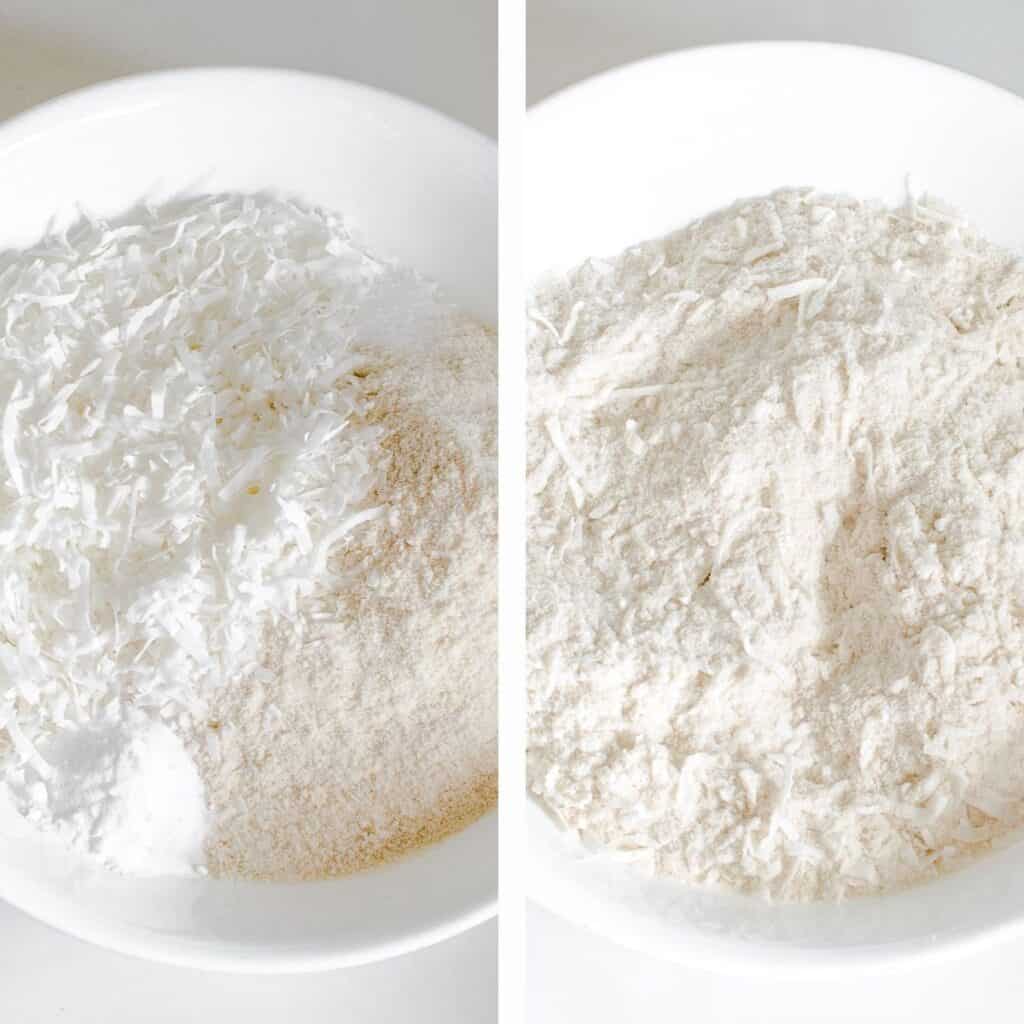 Secondly, I mashed a large banana in another mixing bowl. Then, with the help of hand electric mixer I beat in coconut cream until it was well blended.
Next, I beat in the rest of the wet ingredients.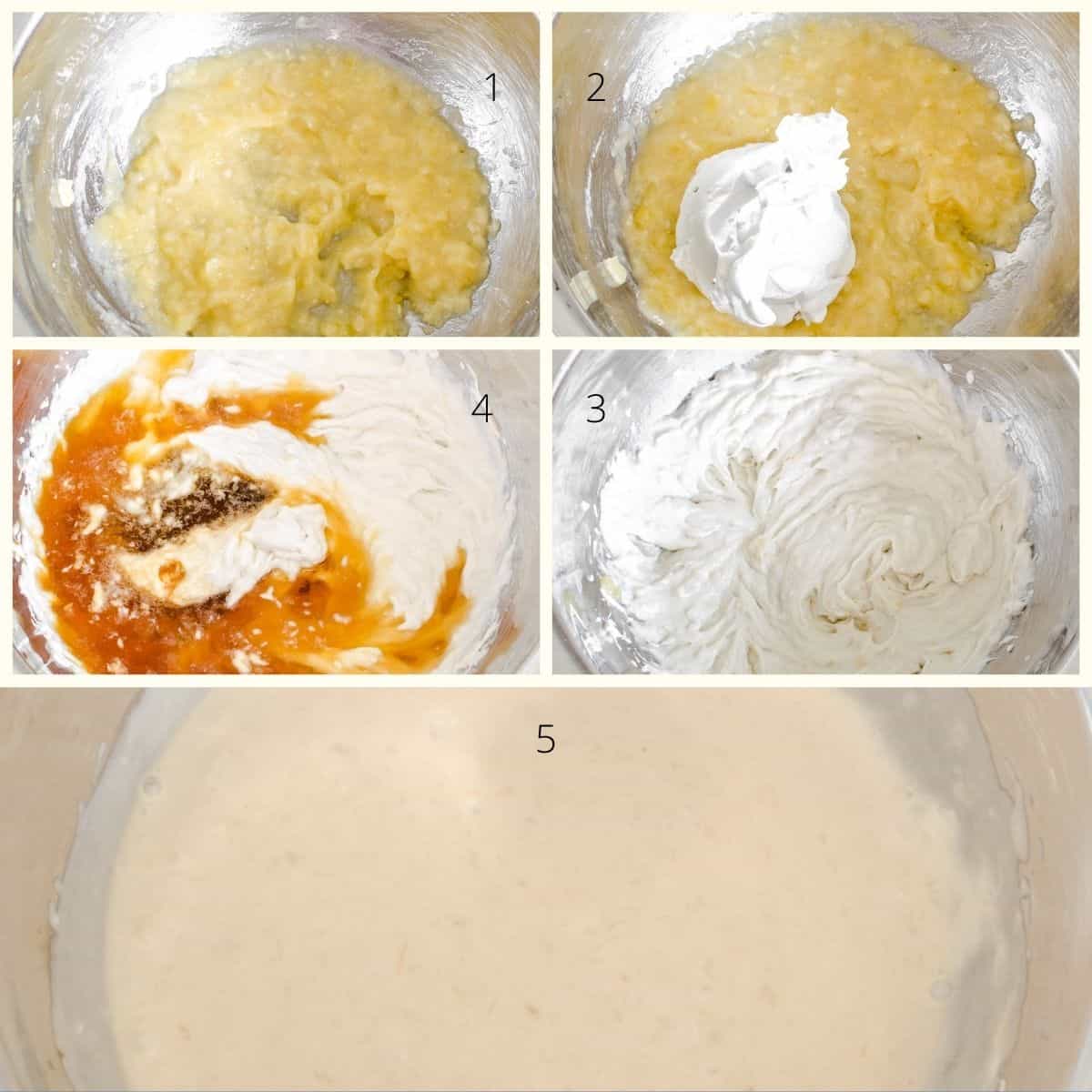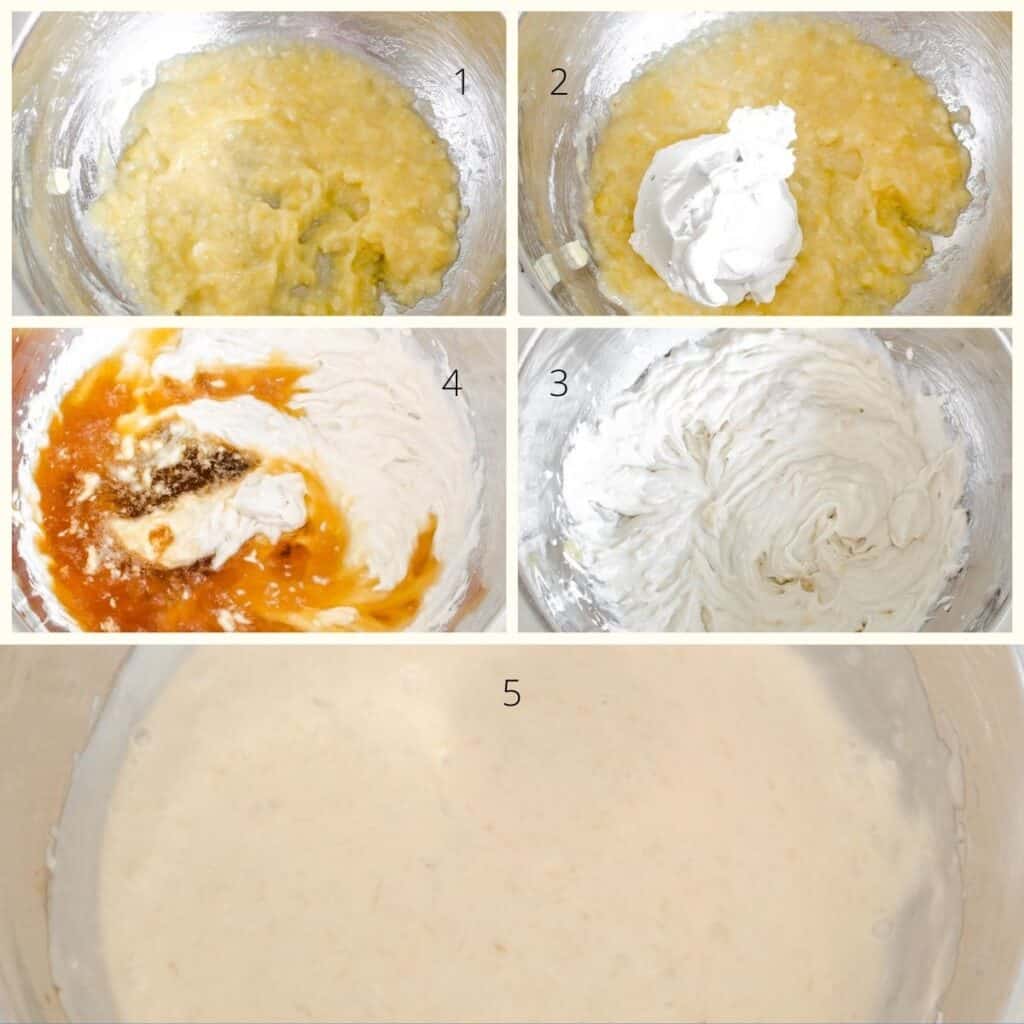 Thereafter, I folded in dry ingredients into the wet ingredients and then beat it again at a low speed.
Afterwards, I mixed the batter with a spatula scraping the sides.
Then, I spooned out the batter equally in two cake pans and placed in the preheated oven at 350 degree for about 25 minutes. Once the tester came out clean, I turned it off and took out the cakes.
Later, I placed them on a flat surface and let them cool completely.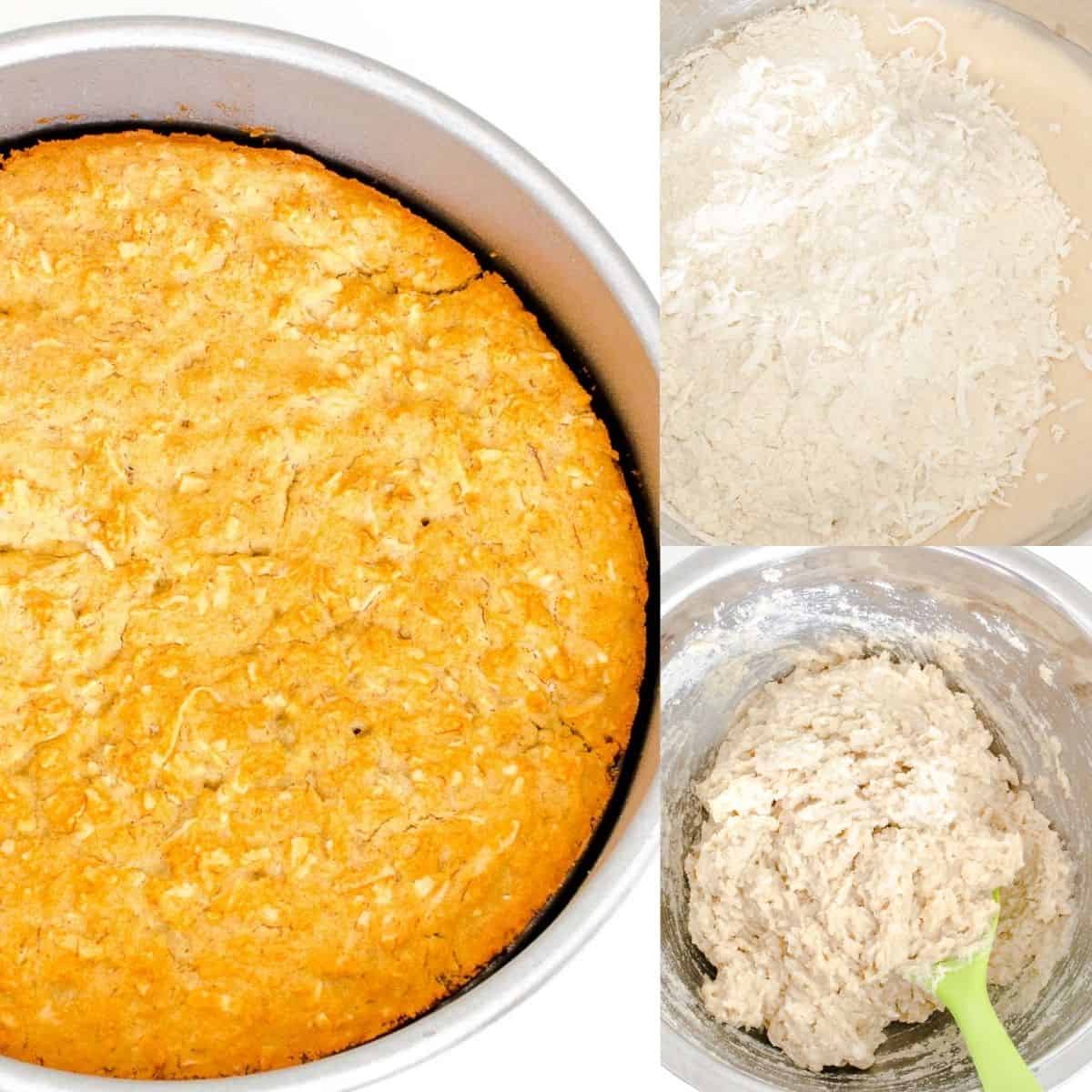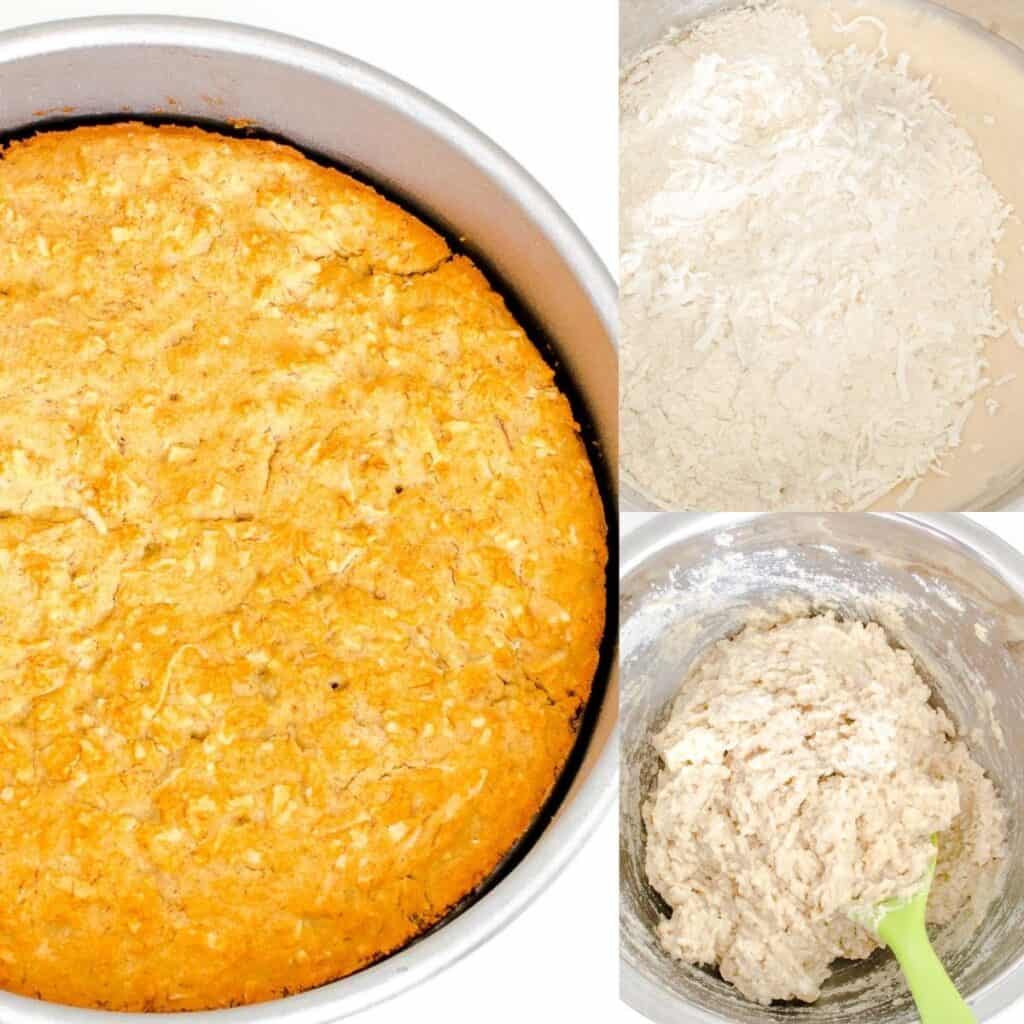 Step2: how to whip up the frosting
Firstly, in a saucepan I combined all the frosting ingredients (except coconut extract).
Secondly, I whisked it properly until there were no lumps.
Next, I cooked it at high flame and continued stirring until it started to thicken.
As soon as it was a bit clumpy, I removed it from the heat and stirred in coconut extract.
Lastly, I whisked it vigorously and refrigerated it for 10 minutes to cool down quickly.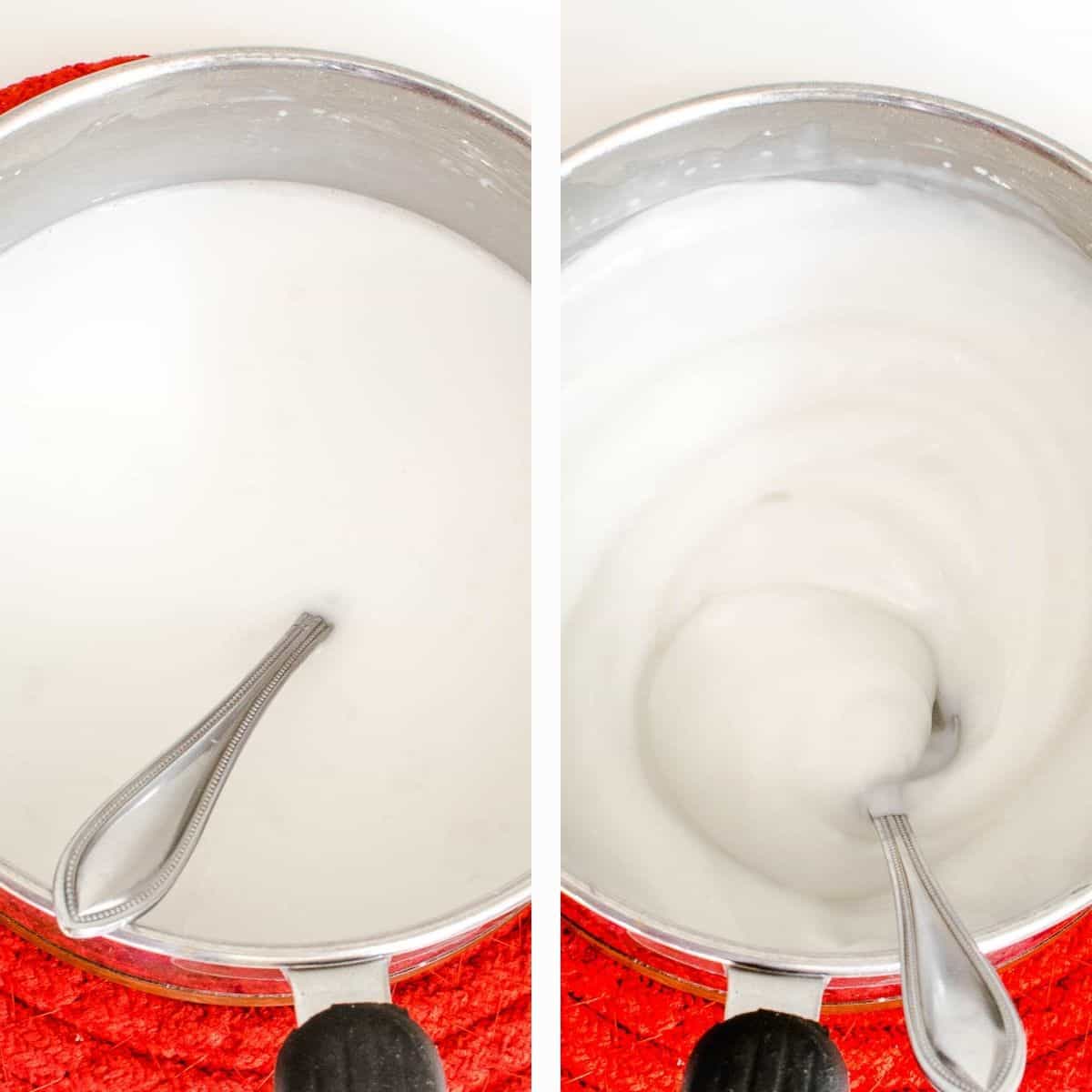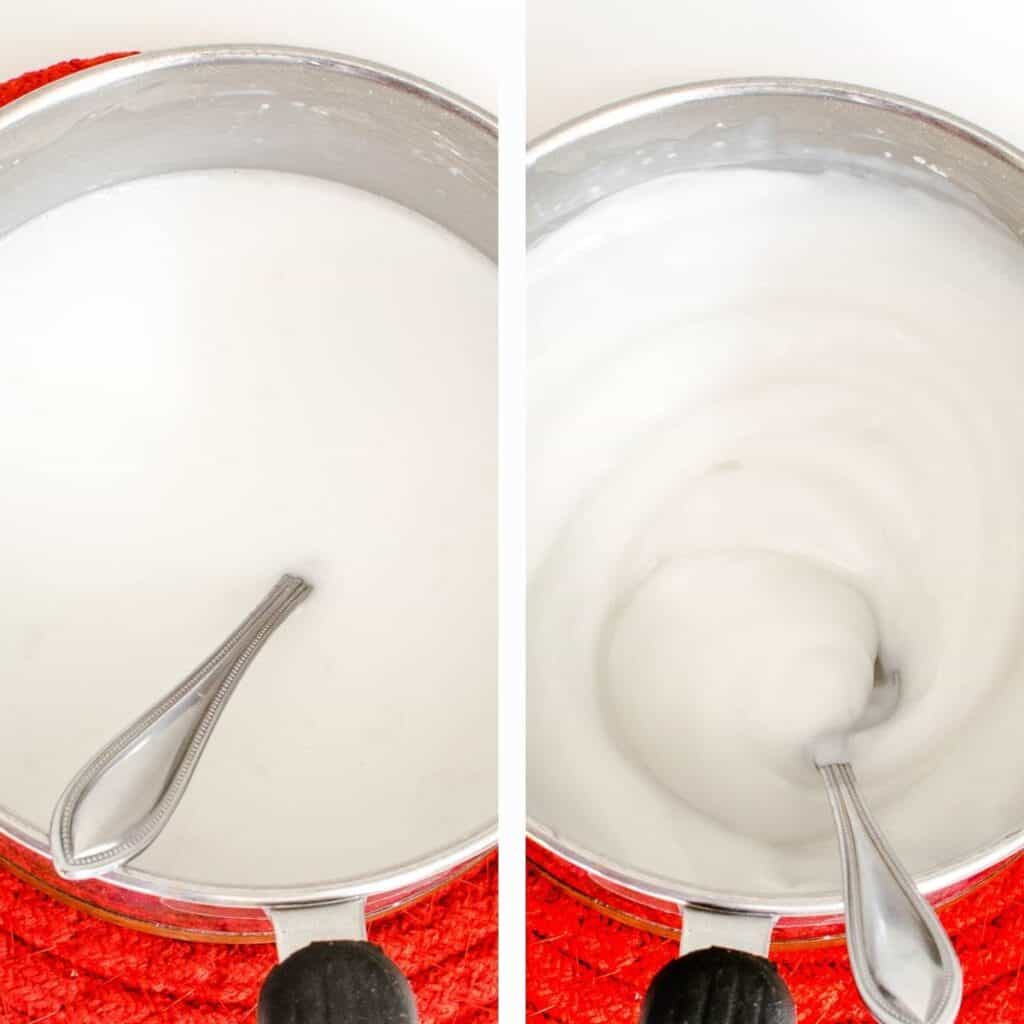 Step3: how to assemble
Firstly, I inverted one of the cakes on a flat working surface.
Secondly, with the help of a butter knife I spread its top with about 1 cup frosting.
Next, I inverted the second cake on it.
Thereafter, I covered the entire cake with the frosting.
Afterwards, with the cake smoother, I evened out the frosting and smoothened it by removing the excess frosting.
Lastly, I covered the entire cake with the defrosted shredded coconut.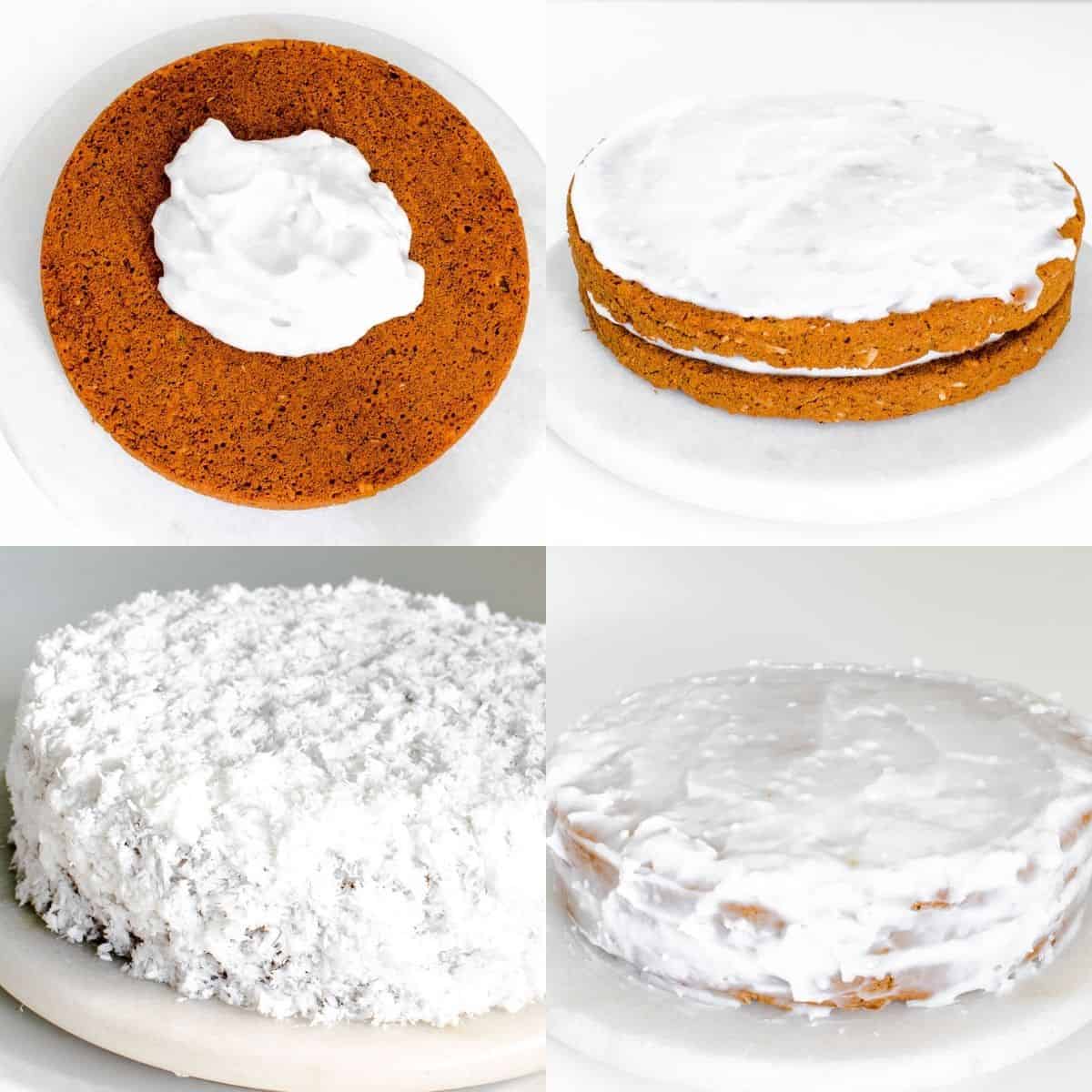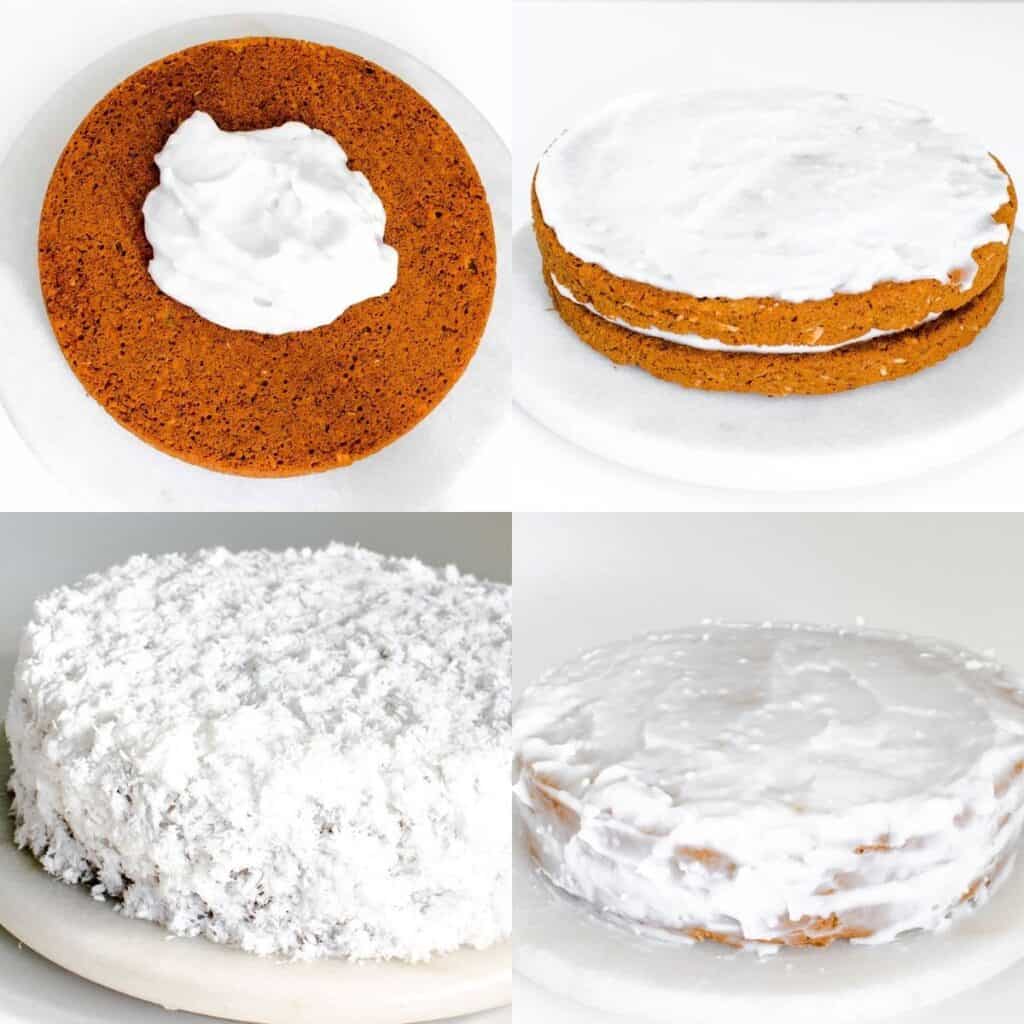 We all enjoyed it heartily and almost finished half of it the same day.
It's a beautiful and lip smackingly delicious cake along with being healthier.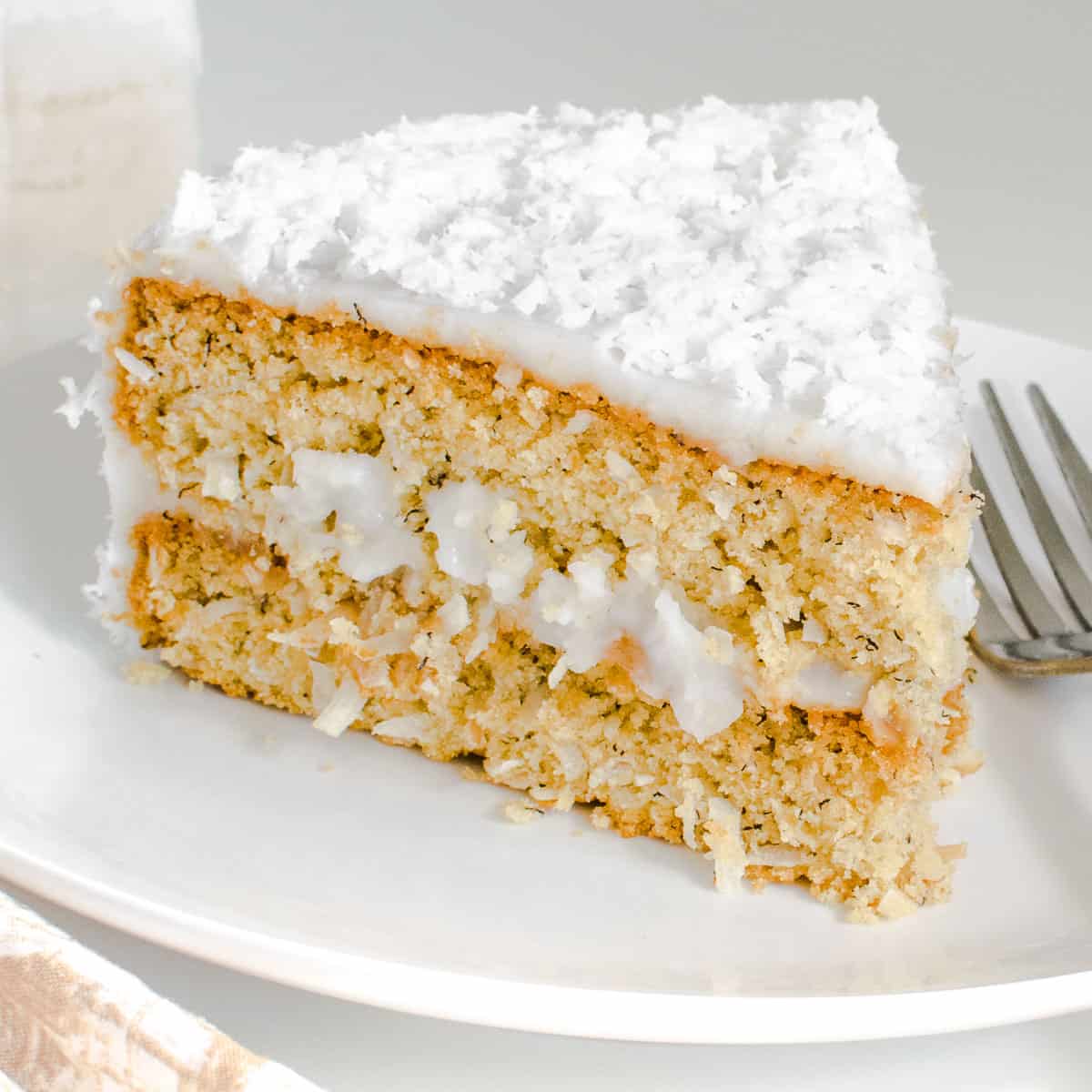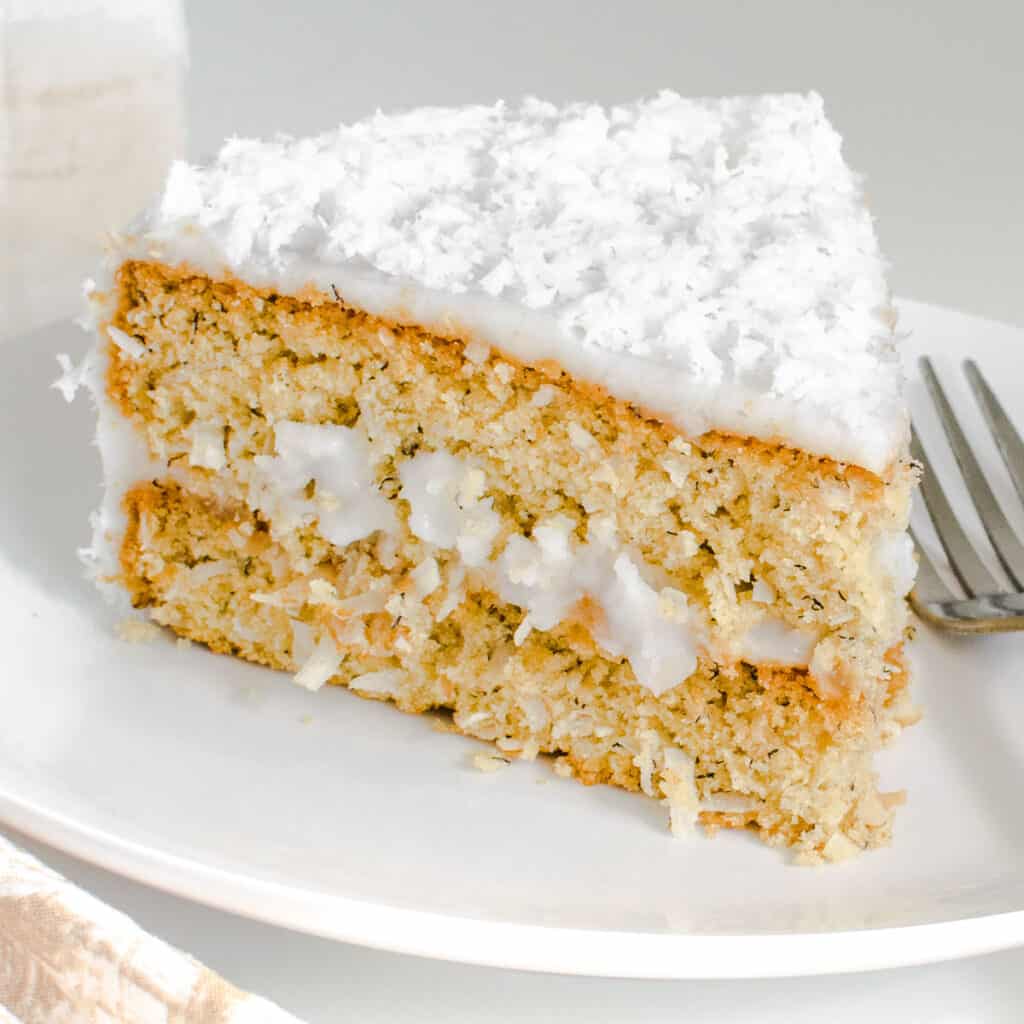 Expert tips:
While whipping up the batter make sure to beat it first with the hand electric mixer to make it easy. Then, before, spooning it out in the cake pans, you must mix it with a spatula.
If you have time you may let the frosting cool at room temperature. However, before covering the cake make sure to whisk it once to make it fluffy.
I have used dried Coconut flakes and fresh shredded coconut in this recipe. These two ingredients are different and works differently as well. So, make sure to use dried coconut flakes inside the cake to bake and shredded coconut for the covering.
It is important to note that you must bring all the ingredients to room temperature before starting to bake this recipe.
Vegan Coconut Cake FAQs
How long does it last?
It tastes best when served the same day. However, refrigerate the leftovers in an air tight container for about 1 week.
How does it taste?
It tastes very coconutty. Brown rice flour does not have any significate taste after baking in this particular recipe. So therefore, this cake will taste of coconut and not too sweet also. However, it does have a slight crunch and chewiness from the shredded coconut.
How is the texture?
It rises perfectly just like regular cake and forms a nice soft and fluffy texture inside. It is slightly crumbly due to the nature of brown rice flour. At the same time, it binds well. As it cools down the cake becomes firmer.
Can I use full fat coconut milk instead of coconut cream?
I insist on using coconut cream here for two reasons. Firstly, it provides a natural sweetness to the cake and a smooth coconut flavor. Secondly, its oil and butter free, so coconut cream provides moisture to this cake.
Can I use dried coconut flakes to cover the cake instead of shredded coconut?
Dried coconut flakes will taste very crunchy and dry as an outer layer. Therefore, using the fresh shredded coconut which is frozen and then defrosted works excellent here. This provides the perfect texture and taste to it. However, you use fresh shredded coconut also but frozen is more easily available in the store and super easy to use.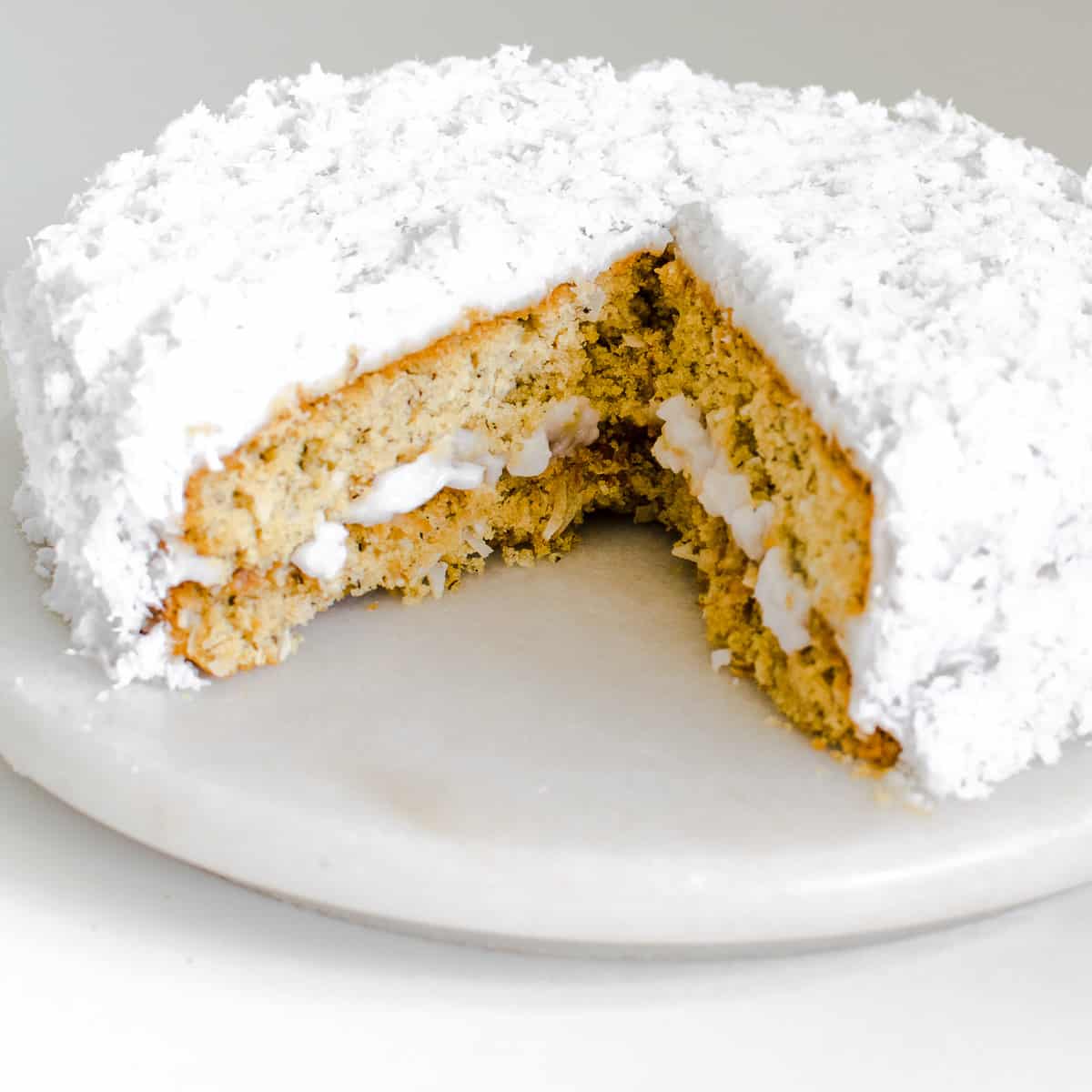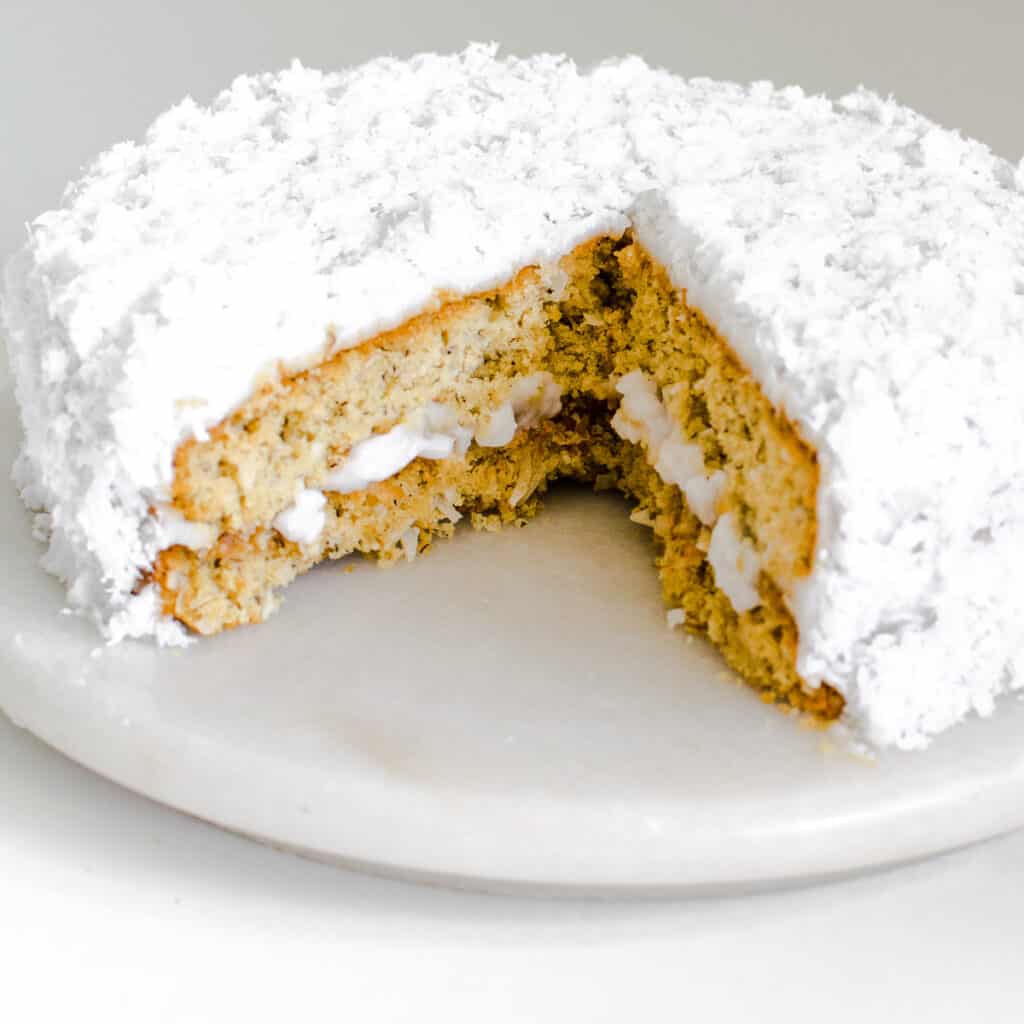 Did you make it?
Please leave a 5-star rating in the comments along with your feedback if you get a chance to make this vegan coconut cake.
In addition, you may tag @kiipfit on Instagram with your recipe image because we love to see your remakes. Follow me on Facebook for regular updates and recipe videos.
If you desire to explore more delicious recipes of my then you may check out my cookbooks.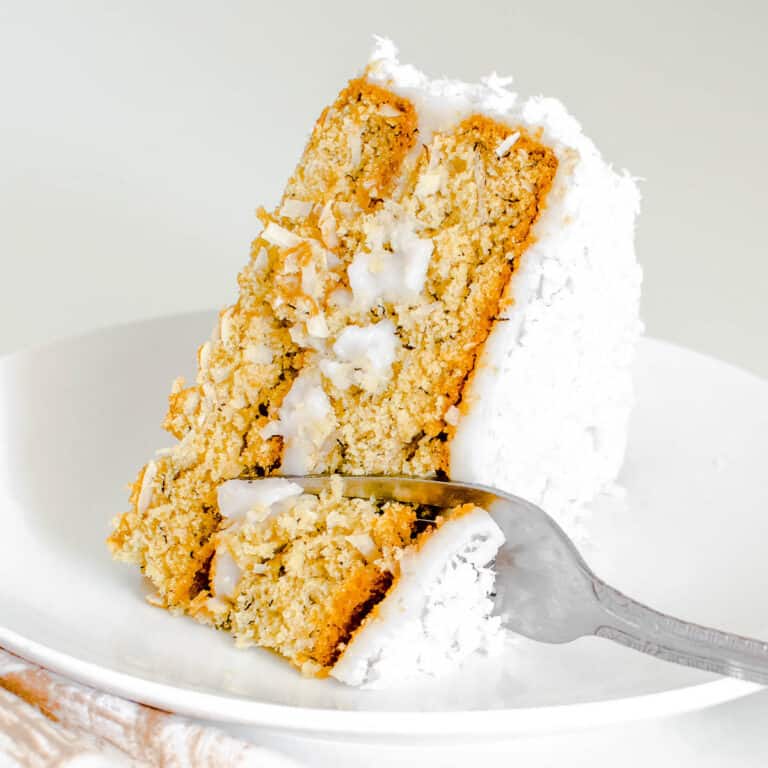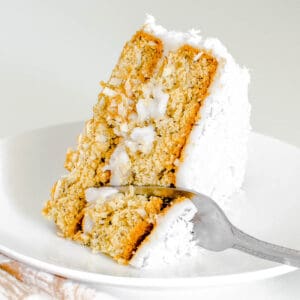 Print Recipe
Vegan Coconut Cake
This oil free Vegan Coconut Cake is moist, soft, fluffy and packed with delicious flavors and perfectly sweetened. It's made with brown rice flour as the sponge base and covered with soft and smooth and creamy coconutty frosting. It's a perfect crowd pleaser.
Ingredients
Wet ingredients
1

large

ripe banana

(not over ripe)

1/2

cup

unsweetened canned coconut cream

(only white cream portion)

1/2

cup

maple syrup

1

tsp

vanilla extract

1

tsp

coconut extract

1

tbsp

apple cider vinegar
Topping
1 1/2

cups

unsweetened shredded coconut

(fresh/frozen)
Instructions
Preheat oven at 350-degree Fahrenheit and prepare two 8-inch round cake pans by greasing them thoroughly. In a mixing bowl combine all the dry ingredients and mix it with a spoon very well. There should no be any lumps of baking soda. Keep it aside.

In a large mixing bowl mash banana and add ½ cup coconut cream (only white) in it. Beat it with a hand electric mixer at medium speed until its creamy and well mixed. (about 3 minutes).

Add rest of the wet ingredients to it and beat it again with the hand electric mixer at medium speed for 2-3 minutes.

Now, fold in dry ingredients into the wet ingredients and beat it again at low speed until a batter is formed. Then, fold the batter again manually with a spatula scraping from all sides. This will be a thick but soft batter and not pouring consistency.

Spoon it out equally in the two cake pans. Tap it very nicely so as to spread it evenly throughout. This may take about 1-2minutes. Place them in the middle rack of the oven and bake it for 25-30minutes or until the tester comes out clean. Let the top slightly brown but not too much. Do not exceed 30 minutes or else it will burn. Once done turn off the oven and take them out. Place them on a fat surface and let cool completely (about15 minutes).

In the meanwhile, combine all the frosting ingredients in a saucepan (except coconut extract). Whisk it very well until there are no lumps. Turn it on at high flame and keep stirring continuously until it starts to thicken. Remove from flame and add coconut extra to it. Whisk it vigorously until it thickens nicely and settles down in consistency. Place the pan in the refrigerate for quick cooling for 10 minutes. Once cooled whisk again to make it fluffy and ready to use it.

Now, invert one of the cakes pan on a flat surface. With the help of a butter knife cover the top of it with about 1 cup frosting.

Then, invert the second cake on the first one and cover the entire cake with the frosting. Then, with a cake smoother smoothen it by removing the extra frosting.

Lastly, cover the entire cake with defrosted shredded coconut. Slice and enjoy.
Notes
Make sure to defrost the shredded coconut at room temperature before covering the cake.
Shredded coconut that I used in this recipe as the topping is different from dried coconut flakes. Shredded coconut is basically fresh grated coconut that is frozen which is easily available in Trader's joe or in any Indian store in the frozen section.
Brown Rice flour is gluten free and does not absorb too much liquid so be careful of the measurements.
Use only the white cream portion and discard the leftover liquid.
For the frosting, you may substitute sugar for maple syrup but the frosting color may change slightly.
Do not add coconut extract in the frosting while coking. It should be added once it starts to thicken and is removed from flame so as to get the right flavor.
I used lightened coconut milk that comes in tetra pack just like any other milk.
Most importantly, let the cake cool down completely before layering and slicing. This will firm up the cake and make it less crumbly.
Nutrition
Calories:
355
kcal
|
Carbohydrates:
48
g
|
Protein:
4
g
|
Fat:
17
g
|
Saturated Fat:
16
g
|
Sodium:
183
mg
|
Potassium:
390
mg
|
Fiber:
5
g
|
Sugar:
19
g
|
Vitamin A:
9
IU
|
Vitamin C:
2
mg
|
Calcium:
49
mg
|
Iron:
2
mg